Walk to Belle Isle, 6 min drive to downtown! A spacious 1BR corner loft overlooking the river and two parks. Lots of light and beautiful view. Convenient location off Jefferson Ave and Detroit's Riverwalk. Gated parking for one car. First time visitors to Detroit and city regulars will enjoy using my loft as a base of operations. I've been a contributing author to Wildsam Field Guides, an eclectic guidebook publisher, and have great recommendations for most cravings in this unique city.
[This loft is often booked. If it is, have a look at my three other spaces near by, including my sailboat. Just click on my profile picture to find them.] This loft is beautiful, open, and full of light. A perfect retreat in Detroit. I grew up in Montana, lived in India for a few years, and ran a journalism startup in Detroit called Jaunt, so I have decorated my place with remnants of my travels. I also contributed to a Detroit guidebook called WildSam Field Guides, so I can help you put together a good itinerary or fill any holes you might have. I mostly live on my sailboat during the summer and I teach Marine Science on a sailing school vessel. The loft is all open except for the bathroom. The bedroom is separated by a wall without a ceiling. The kitchen has all the basic essentials and utensils plus coffee, tea, cereal, oatmeal, etc. for breakfast. I have an HDTV with Blu-Ray, Roku, Netflix, Amazon Prime, and an HD OTR antennae for NBC, ABC, FOX, etc. Then there's the bed. Queen and super comfortable - I splurged on the bed because good sleep is really important to me. For extra guests, there is a queen pull-out sofa in the common area. The apartment can accommodate up to four (two in each queen bed) but you're starting to get a little cramped. I will decline requests for greater than four people unless you have a special circumstance. There are two A/C units: one window-mounted right next to the bed and the other in the living room space. They do a good job on the loft 90% of the time, but if the sun is glaring and it is scorching hot, they won't be able to create the refrigerated A/C frigidity we are used to with central air. The bedroom unit works perfectly if you shut the door to the common area. In the winter, you can turn the heat up as much as you like and make it toasty warm.
I moved here in October, 2014 from the nearby West Village area where there are a few great new restaurants, like Craft Work, Detroit Vegan Soul, and Red Hook Coffee. The loft is on the Riverwalk, which is a bike/walk trail connecting you to downtown and Eastern Market via the Dequindre Cut, a converted rail line that runs off of the Riverwalk. I am also walking distance to the Belle Isle bridge. The building is kitty corner to a Coast Guard base, a U.S. Federal building, and the offices of a private security firm. The streets are lit and other residents of the building are frequently coming and going. I have always felt that the area around where I live is quite safe.
The person greeting us and everybody we have been in touch regarding the apartment was kind and welcoming. The Loft Apartment itself was wonderful in a quiet neighborhood. Thane gave us a fantastic list of tipps for things to do and see in Detroit beforehand and a bottle of nice wine was on the table when we arrived, both very attentive and much appreciated.
Sandra
2015-11-22T00:00:00Z
Great loft space along the riverwalk. Thane is a wonderful host and the place is very well equipped for business or vacation travel. The recommendations around the area are also top notch. While the walls are thin the noise was not that big of a deal. Overall definitely a five star spot
Matthew
2016-05-28T00:00:00Z
Perfect loft with a great view!
Olivia
2015-06-18T00:00:00Z
We couldn't have been happier with our stay at Thane's loft. It looks and feels exactly as pictured and really added to our overall Detroit experience. A few earlier reviews mentioned concerns with soundproofing, but we didn't have any issue with this (especially given this is a corner unit). Thane prepared a great list of recommendations for us, which we took full advantage of. We wouldn't hesitate to stay here again and would recommend this listing to any family, friend, or fellow Airbnb members. Thanks for sharing this space with the Airbnb community Thane!
Corey
2016-05-09T00:00:00Z
Thane's apartment is great. nicely decorated, comfortable and pleasant. everything promised was provided and I would recommend for anyone traveling to Detroit who wants a local experience. As described the neighbors can a little loud at times, but if you have ever lived in a loft apartment is the norm. I look forward to staying here again when I travel on business. best wishes, Tayyi(URL HIDDEN)
Tayyib
2016-02-14T00:00:00Z
we felt welcome. the neighbor hood was friendly and in a prime location.
Alex
2016-07-14T00:00:00Z
Communication with Thane was great; check in was pretty easy. The location is great, close to downtown and with nice water views. The loft was large enough to accommodate the three of us. It was pretty clean and well furnished. Cool spot if you like raw lofts. Major negative point was the noise; the loft isn't well insulated; we could hear the upstairs neighbors as if they were staying with us, it woke us up several times at night. Overall, nice place in a nice location
Sam
2016-03-09T00:00:00Z
Great location....exactly as described and shown in the photos. Highly recommended esp if you want a chance to explore the riverfront and enjoy living like a local. Host was even kind enough to have netflix set up for airbnb guests. Highly recommended
marvin
2016-12-21T00:00:00Z
Rodzaj pokoju
Całe miejsce
---
Rodzaj nieruchomości
Loft
---
Mieści
4
---
Sypialnie
Detroit, Michigan, Stany Zjednoczone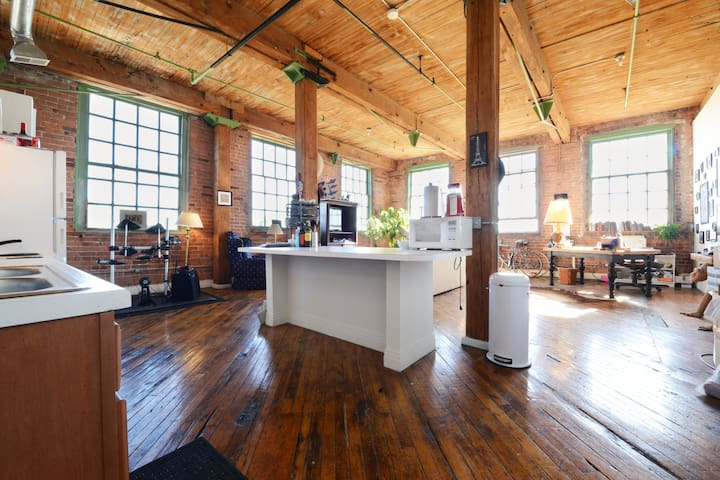 A beautiful, open, airy loft space housed within a completely renovated 1926 industrial building. Centrally located on Woodward Avenue in New Center to tons of local restaurants, bars, and coffee shops in New Center and Midtown. Relax, you're home.
This is a modern loft apartment housed within a completely renovated 1926 building that originally housed graphic artists for General Motors, and other companies. Designed by famed-Detroit architect Albert Kahn, you'll notice the signature art-deco front-facade and incredible lobby of the building. All the character of the loft is still intact, from the concrete floors, brick exterior wall, and the mushroom columns Albert Kahn was known for. Home includes a large kitchen, front load washer and dryer, incredibly fast internet with wifi and one bedroom with a queen-sized bed. This building is incredibly peaceful, quiet, and relaxing; while being just blocks away from anything you'd want to do in the city. Kitchen includes gas stove/oven, stainless steel sink, refrigerator, toaster, pots, pans, coffee maker, and any other utensils you need to call Detroit home for a few days. You'll find a single bedroom (this was originally a studio unit, but has been converted into a completely-walled one bedroom unit). Beautifully comfortable queen bed, small dresser, and chair. The main bathroom includes a subway tile shower/tub, sink, and any towels and amenities you'll need to make your stay perfect. Awesomely comfy white cotton sheets are included in the bedroom. The living room includes a couch (can be used for extra sleeping space, but isn't a pull-out), coffee table, and two chairs. 50" HDTV is hooked up to an Apple TV with Netflix. Outdoor space includes a small patio (which you'll enter from) with two bistro chairs and table. Enjoy the sunny back-alley of the building with a drink of your choice from the fridge. Local spots within walking/biking distance include the incredibly beautiful art-deco Fisher and Albert Kahn buildings; Midtown Shopping (Shinola, Willys, Nora, Hugh, Carhartt, Fellow Barber, City Bird, Nest, and more); the mid-century gardens and campus at Wayne State, and more. Local attractions include the city and public art, Belle Isle with its beaches, waterpark, Albert Kahn designed conservatory and aquarium, and trails. The world is your oyster. Restaurants nearby including fast food, Northern Lights Lounge, Falafill, Dangerously Delicious Pies, City Wings, Motor City Brewing Works, Jolly Pumpkin, and more. The loft is all yours while you're here. Enjoy, relax, and hang out. I prefer text and AirBnB message for communication. Taking photos during your stay? Make sure you #thatdetroitloft.
Awesome location right on Woodward at the Midtown/New Center border. Just a few blocks either way to a ridiculous amount of inspiration, character, activities, and restaurants. Take in the Detroit Institute of Arts, or check out the art-deco skyscrapers of New Center.
I can't recommend Jesse's place enough!!!!! Everything looks exactly as it does in the photos! My girlfriend and I enjoyed using the kitchen to make dinner, lounging on the couches, and listening to the records.
Ryan
2016-01-18T00:00:00Z
What a total gem in Detroit! The space was even better in person. From the flawless mid-century aesthetic, to the collection of timeless vinyl records, this was the perfect style & vibe of Detroit. I want an exact replica of my own...or I'll just have to visit again. Very clean with all the amenities & Jesse was very prompt & polite in communicating. Thanks for a great experience!
Douglas
2016-06-21T00:00:00Z
Fantastic space! Absolutely loved our time here! Easy parking and close to everything. We'll be back!
Brandy
2016-10-10T00:00:00Z
Jesse was a lovely host answering my numerous! questions about his wonderful city with quick, informative responses. The apartment was great (Jesse has a keen eye for mid-century and wonderful Detroit-oblia.), spotlessly clean and in a really good (and safe) location. If you are considering a visit to D-town (go!) Jesse and his loft will make you feel right at home.
avery
2016-04-25T00:00:00Z
Jesse is the perfect air bnb host. His place is extremely comfortable and beautifully decorated. I will be re-booking in the near future. It was overall an amazing experience.
Christian
2017-02-05T00:00:00Z
Loved staying in the beautiful space! Great location and easy to Uber to and from.
Alyssa
2016-09-17T00:00:00Z
This was my second visit to Jesse's apartment. Jesse is very responsive on the front side with questions and is easy to communicate with. He is very accommodating. The space is comfortable and easy to relax in, close to all midtown has to offer. The natural light through the windows is awesome. Accessing the apartment via lockbox makes check in and check out seamless.
Terah
2016-10-20T00:00:00Z
The loft was as described. Communication with Jesse was very good. Everything was fine.
Leonid
2016-10-08T00:00:00Z
Rodzaj pokoju
Całe miejsce
---
Rodzaj nieruchomości
Loft
---
Mieści
4
---
Sypialnie
Detroit, Michigan, Stany Zjednoczone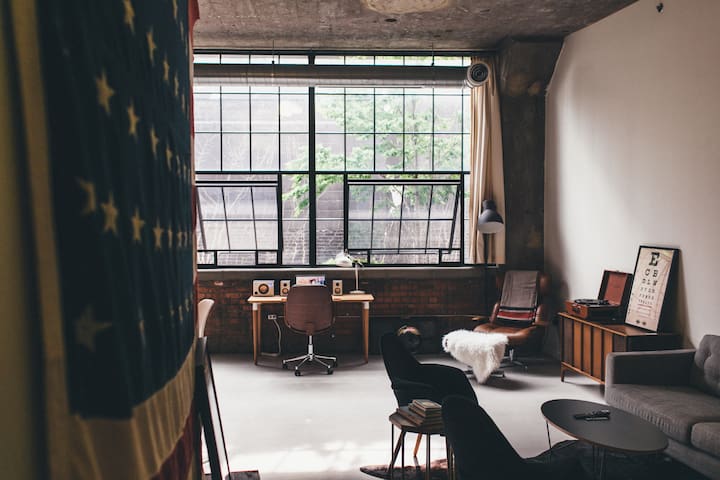 Welcome to Woodbridge Farm! ...a friendly, spacious & quiet neighborhood, close to all of the happenings in/around Detroit. Enjoy the newly renovated 2nd floor of our 1884 Historic house. The apt is cozy w/ yummy architectural/design details.
WOODBRIDGE FARM: We love it here! ...very special and unique. The street is filled with Urban Pioneers and creative types; artists, musicians, gardeners, and makers. You will find that most homes sit on larger pieces of land, giving Woodbridge Farms a unique feel. Many of the houses in the area have undergone impressive renovations, and for the others the renovation is underway. We have completed the interior renovations of this home, and soon we will start renovation on the house next door, which we also own. From the outside they look a little rough, but keep coming back and you will be able to witness the transformation! US & OUR RENOVATION PROJECTS: We are longtime Detroiter's. We are committed to the City, and we are so happy to have been a part of the revitalization of Detroit. We love old homes …and we love to renovate them! Zac is a general contractor, and Renee is an Interior Designer. Together, we have been restoring old homes in Woodbridge for the last 15 years. LOCATION: You are a short walk/drive from Detroit's midtown area, where you will find a variety of restaurants and shopping. Both Corktown and Downtown are within a few miles. It is a very quiet neighborhood, conveniently located to all major freeways. Lots of parking. THE LISTING: Newly renovated, with the best of care. Open plan kitchen, dining, and living. King size bed with fine linens and nice pillows. The bedroom windows are opposite the sun rise. It is a very peaceful space, bright, open and fresh. We are sure you will love the apartment. It is clean and private. We have an office on the first floor that is completely separate from the space. Zac is typically there M-F 9-5 should you need to fax ,copy or have any questions. If you have any special requests we will do our best to accommodate you, if given a bit of notice. We live 2 blocks away from the apartment should anything urgent come up.
I had such a great time here,the space is amaizing,super creative and unique,it's probably one of the nicest airbnb's I have stayed at.I love Detroit and I love Zac and Renee's house.I also adore taco the cutest cat in the world! xo
Nkhmise
2017-02-24T00:00:00Z
Probably the best Airbnb we have ever stayed in. The apartment is amazing, with wonderful amenities and incredible, thoughtful design. Plus, Taco is the friendliest cat. The location is great - a quiet, character rich neighborhood that is centrally located. A highly recommended rental!
Edward
2017-01-16T00:00:00Z
Beautiful space in Detroit! As you can see from the photos, the decorating is gorgeous and the space is bright and open. Zac and Renee were responsive and very easy to communicate with. Highly recommend.
Rachel
2017-04-06T00:00:00Z
We loved staying at Zac & Renee's place! The space was both beautiful and comfortable.
Alicia
2017-03-26T00:00:00Z
Beautiful space
Adam
2017-03-17T00:00:00Z
It was so great. We had to go back a second time!
Kirstin
2017-03-30T00:00:00Z
This apartment is amazing. Zac and Renee did such a fantastic job making the apartment warm and welcoming. The decor and set up of the place is so comfortable. They were very helpful and kind during my arrival and departure, and the house cat Taco is the sweetest. Highly recommend this place.
Rachel
2016-06-10T00:00:00Z
This space helped us fall in love with Detroit during our short stay. Highly recommended!
Austin
2016-11-15T00:00:00Z
Rodzaj pokoju
Całe miejsce
---
Rodzaj nieruchomości
Apartament
---
Mieści
2
---
Sypialnie
Detroit, Michigan, Stany Zjednoczone
Upstairs from Slows BBQ and on the same block as Astro, Sugar House and Gold Cash Gold, this two-bedroom neighborhood inn provides an immersive, welcoming travel experience in the heart Corktown, Detroit's oldest neighborhood.
A small-scale, design-focused Detroit inn, Honor & Folly is reminiscent of the way folks used to travel: a few beds above the village pub or restaurant. You'll be immersed in this historical neighborhood that's also at the forefront of the city's current revitalization. Featured in Martha Stewart Living, Food & Wine, Bon Appetit (made the 40 "Best Food Lovers Hotels in America" Awards), The Globe and Mail, Details Magazine, Conde Nast Traveller UK, and Afar. With a prime Corktown location, you'll be situated smack into the middle of one of the most thriving, charming and walk-able neighborhoods in the city—right across from the city's most beautiful icon of urban decay: the old train station. Admire it up-close or enjoy the beautiful view through the big living room windows—you can even see the Ambassador Bridge! Sharing a block with Slows, Astro, Gold Cash Gold and Sugar House, Honor & Folly also offers plenty of other nearby bars, shops and restaurants within a quick stroll (I provide guests with a list of my favorite recommendations), as well as easy access to downtown. The well-appointed space is decorated with goods made by Detroit and Midwest-based designers and artisans—much of which is also for sale. There are two bedrooms, each with a queen bed and its own bathroom, for a capacity of four people, with additional possible sleeping arrangements for kids. From time to time, Honor & Folly is used as a community space, hosting workshops or events, but you will have the space entirely to yourself during your stay. OTHER AMENITIES: outdoor balcony | local design | fully stocked cooking kitchen | potential to arrange custom catering, private dinner parties, etc.
What a find. I was lucky to have this beautiful space available for a short business trip during the Detroit Auto Show. The "loft" is beautifully done, tasteful and comfortable. I felt the proximity to other parts of the city was great. Meghan had all the info I needed, when I needed it, so my arrival was totally painless. The location was perfect for me to discover what Detroit has to offer in areas like Corktown. In fact, great restaurant and drinking options right downstairs. A total bonus when the snow finally came, and temperatures dropped. I will be checking with Meghan first on all my return visits to Detroit. You must check it out.
Bruce
2016-01-13T00:00:00Z
This was my first Airbnb experience, and it was lovely from beginning to end. Megan provided us with detailed information about the property and nearby amenities. Her suggestions for local services, restaurants and activities were great, and the information she gave us was very helpful. The property itself is charming and very well-located, and it made our weekend get-away all the more enjoyable. It was hard to leave at the end of our stay, and I look forward to having an excuse and/or another opportunity to return. Thank you, Megan!
Rebecca
2015-11-23T00:00:00Z
A wonderful flat and location.
Clynton
2015-03-14T00:00:00Z
The place was delightful. Huge and airy and interesting in a fun neighbourhood. Very cool design of an old space. Plenty of room for 4 of us. We loved the place and exploring Corktown and downtown on foot and other areas easily accessible by car. Meghan was quickly responsive to the few questions we had and got us a restaurant reservation we wanted. We booked 3 nights this time but would love to return in the future to hang out in the great space and see more of wonderful Detroit and its friendly people.
wendy
2016-11-07T00:00:00Z
From my first inquiry on the listing Meghan was extremely responsive. The place was even better than described and we had the best time. I hosted a group of 8 clients for a pop-up salon before Fash Bash and the space was plenty roomy enough for 8 women to get hair/makeup done and move about with ease. We didn't stay the night there so I can speak to the comfort of beds but the living space was incredibly charming and clean! We will be renting avian hopefully in the near future. Thanks for everything, Meghan!
Julia
2016-08-12T00:00:00Z
Honor and Folly is my favorite place to stay, not just in Detroit, but of all the places I've stayed in cities in the U.S. It is adorable, functional, and Meghan is a fabulous host.
Susie
2016-04-14T00:00:00Z
Such a cozy, comfortable weekend! This apartment is the best AirBNB apartment that I have ever stayed in. The location in Corktown is perfect. It's right above a tasty coffee shop and many trendy restaurants. The two bedrooms and two bathrooms are comfortable, and there are lots of blankets to cuddle up on a cold Detroit weekend. The kitchen and living room are open concept with lots of open space if you want to invite company over for dinner. Highly recommend this place!
Caroline
2015-11-03T00:00:00Z
Once again, our stay was nothing short of incredible. The place is every bit as beautiful as the pictures and located in the perfect place. Slows BBQ is just below and has the best BBQ in town. Also, right next door Astro's coffee is the great with wine bars and other food within walking distance. Overall, if you like good food and a place that feels like home, there's no better place to stay in Detroit.
Clarence
2014-05-28T00:00:00Z
Rodzaj pokoju
Całe miejsce
---
Rodzaj nieruchomości
Apartament
---
Mieści
4
---
Sypialnie
Detroit, Michigan, Stany Zjednoczone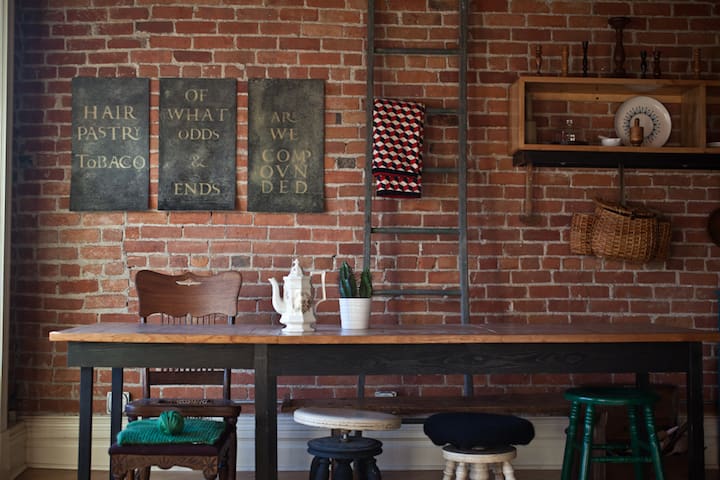 This building is a "soft-landing" for creative professionals seeking a home-base while filming movies, producing albums or making culturally relevant contribution. We love to host large groups from across the globe. Last year we hosted 1000+ guests!
This 12 unit lofts building offers panoramic views of the city! Located in the Albert Kahn designed warehouse district, this building sits in the cradle of America's Industrial Design Revolution. Each unit ranges from (PHONE NUMBER HIDDEN)SF. First floor units are two story lofts and second floor units are three story lofts with private roof terraces. The units are fully furnished and include items such as: 50 inch flatscreen tv's, Keurig coffee maker, tea distiller, pots, pans, plates, towel and WIFI of course!
This two story warehouse was constructed in 1914 by Jam Handy. After a successful career as an Olympian athlete, Handy pioneered visual learning and contributed immensely to the areas of motion picture production, film technology, and telecommunications. Many of the building on this block were part of his film production complex that produced 7,000+ films. This building and neighborhood continues to be a welcoming place for industrial design thinking. Henry Ford invented the Model T two blocks away, Motown's Hitsville 8 blocks away, Shinola headquarters 5 blocks away, and the list goes on…
My stay with Kyle was amazing. He is awesome and very professional. The loft we stayed is was exactly like the pictures, I'm the type of person that I read just about every review before I even consider booking and when I read Kyle reviews at least 100% of them was positive!! so I booked, when my friends and I arrived and walked into our loft it was beautiful, looked EXACTLY like the pictures. Very clean, very big, everything was perfect and I don't have one complaint! Thanks Kyle for everything and I will be booking with you again!
Justine
2016-05-15T00:00:00Z
This was our second time staying at this location. Kyle is always a great host and the space is excellent for corporate events/stays.
Adrian
2017-01-06T00:00:00Z
My girlfriend and another couple stayed here this past weekend and we had an amazing experience. The host provides easy instructions for you to park and receive keys. He was always so helpful checking up on us via texts if we needed anything which was nice but still gave us our space at the same time. The location is only about 5 min from downtown Detroit so it's pretty easy to drive there and still be apart of the area. The place was VERY spacious and clean. It was definitely one of the better Airbnbs we stayed at. We would definitely stay here again. It has a rooftop access which is nice for summer evenings. All in all we had a GREAT experience here.
Porfirio
2016-06-27T00:00:00Z
Great apartment and perfect location for exploring the city.
Rupal
2017-02-26T00:00:00Z
I can't say enough great things about Kyle's place. Very big, very clean and very cool. Defintely made our stay in Detroit incredible. Kyle was a great host who made sure everything went according to plan with no unpleasant surprises. Would definitely recommend staying here as you won't be disappointed!
Cory
2016-10-17T00:00:00Z
We loved our experience at the Loft! The space was great, the house living area was just as showed in the pictures, bright and fun. Bathroom and guest towels, along with everything you will need to get ready for the town. Great Hosts, great music on the record player, and some wonderful recommendations. Really cannot ask for more!
Angel
2016-04-26T00:00:00Z
Kyle was a awesome host of his loft. We will definitely be staying at this beautiful space again! It was close to coffee shops and venues with private parking.
Milah
2016-10-14T00:00:00Z
Super great stay at Kyle's place
Chris
2016-09-15T00:00:00Z
Rodzaj pokoju
Całe miejsce
---
Rodzaj nieruchomości
Loft
---
Mieści
16
---
Sypialnie
Detroit, Michigan, Stany Zjednoczone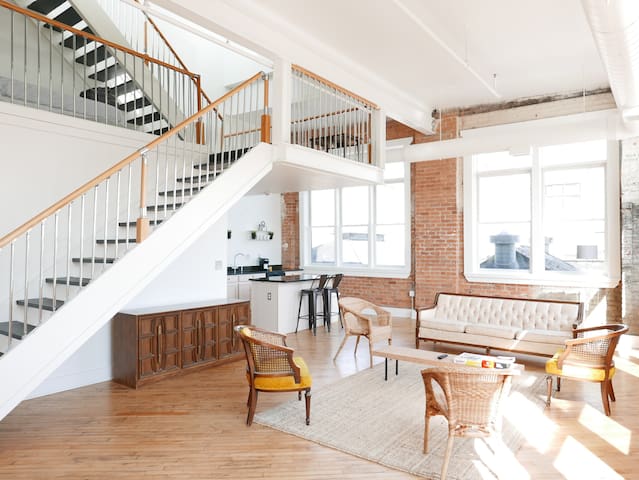 This is a studio apartment across the street from Detroit's Selden Standard where Head Chef Andy has recently been nominated, for the third year, a James Beard semi-finalist. We are walking distance from the DIA, Wayne State campus, and the Charles H. Wright Museum of African American History.
This 1880s Gothic-Victorian Mansion was renovated in 2015. Everything is new, clean and modern. There is a queen sized bed, ample closet space, a full kitchen and private bathroom. The space gets great light.
We have a great location in Midtown Detroit, many great bars, restaurants, and shops are within walking distance. Popular nearby attractions include the DIA, MOCAD, Chartreuse, Jolly Pumpkin, Hop Cat, Motor City Brewing Works, Great Lakes Coffee and Whole Foods.
Lovely studio filled with light in the heart of Detroit. (Seriously: The pictures don't do it justice.) Safe, clean, and close to everything. You can walk to bars, coffee, restaurants, and museums. (I'd recommend getting a bike if the weather is right—Detroit is best explored on two wheels.) And we had no problem getting an Uber when we wanted to go elsewhere in the city. This is the perfect spot for a weekend in Detroit. Sarah was super quick to respond to any questions we had and made our trip smooth and easy. We'll be back again soon!
Bill
2015-08-02T00:00:00Z
Space was clean and was well represented of the photos. Sarah had the instructions in getting into the space on her page that were very clear. Not a whole lot of communication with host which was fine, she pretty much lays out her recommendations on her profile as well.
haley
2015-08-04T00:00:00Z
Sarah's place was great. I loved the decor and location, and felt really comfortable staying there. Would gladly stay again!
Rebecca
2016-09-30T00:00:00Z
Sarah's spot is super, super close to cute shops, many highly rated restaurants and awesome neighborhoods to wander. Plus, we were able to let ourselves in via her instructions, so our delayed travel didn't add even more stress to the trip - we knew we could arrive whenever. Thanks again, Sarah!
Katharine
2016-12-24T00:00:00Z
We were stuck for a place to stay and Sarah accepted us at the last minute, which was a huge. It is an older building but the renovation is brand new and was perfectly laid out. The communication was top notch and the access the property was very well thought out as well.
Mark
2015-07-17T00:00:00Z
The studio apartment is absolutely beautiful. The location is ideal for anyone wanting to check out Midtown, with bars and restaurants just a short 2 block walk away. Would recommend Sarah's place to anyone!
Drew & Brittany
2015-09-12T00:00:00Z
Sarah's studio in midtown Detroit was terrific! The apartment is incredibly clean and in a great area in the heart of where all the growth and revitalization is happening in D-Town (Shinola, Filson, new apartments, etc.). It was a very quick uber (or longer walk) to down town. Sarah is brief but very nice and responsive before and during the stay!
Scott
2016-08-22T00:00:00Z
Sarah's place was fantastic - exactly as described - clean, great location, and lovely sophisticated touch. It had all amenities I could think of and was very comfortable and convenient. I'll definitely be back again!
Ishita
2016-10-18T00:00:00Z
Rodzaj pokoju
Całe miejsce
---
Rodzaj nieruchomości
Apartament
---
Mieści
2
---
Sypialnie
Detroit, Michigan, Stany Zjednoczone
Just outside of the downtown noise, this home offers a comfortable space to stay while you're in Windsor. Just one mile from Caesars casino and the Detroit tunnel, the home offers wifi, Netflix, laundry, and a large porch to enjoy your morning coffee
Third floor loft, includes a bed, desk, Keurig, and AppleTV upon request
The home is located one mile from the Windsor/Detroit tunnel and Caesars casino.
Very clean and well-situated. Good AirBnB stay except that the host was uncommunicative prior to arriving.
Dominic
2017-02-12T00:00:00Z
We stayed here overnight after seeing a show at the casino. It was a perfect spot for a restful night. A quick uber ride to our destination.
Angela
2017-02-05T00:00:00Z
Mary sets a level of excellence that all AirBnb hosts should strive for. She was very quick in responding messages and made sure we had a pleasant stay. My parents were initially worried about staying in a loft during winter, but they were very pleased to find it warm, clean and spacious. One small downside is the lack of a room door lock (drawn curtains instead), but the private third floor room location provided extra privacy and we felt very safe. Mary's place is very well-maintained and family-friendly. There are spacious common areas to cook, dine, and watch TV. Grocery stores, restaurants, and public transportation are well within walking distances. The neighborhood is also quiet at night. Overall, it was a wonderful stay at Mary's place. I am very happy that my parents' first AirBnb stay was with the best host in Windsor.
Hsin-pei
2017-02-02T00:00:00Z
A beautiful, homey space to be in. Clean, friendly, and central location with a great little diner called Ten Friends (go!) around the corner. I'll definitely be here again if I'm back in Windsor. Couldn't have asked for anything more.
Amy
2017-03-02T00:00:00Z
What a great experience. Comfy bed and very clean.
Corrina
2017-01-02T00:00:00Z
Clean, modern, cozy, and friendly place. I felt safe and supported there.
Michele
2016-11-13T00:00:00Z
Mary was very helpful and went above and beyond to accommodate me. This was a great place to stay for a night in Windsor!
Marika
2016-06-02T00:00:00Z
Mary was a gracious host and made me feel very welcome. The bathroom and kitchen facilities were very spacious. There were a box of Walker chocolates on the bed as a welcome gift too. The first morning she made me breakfast even though that was not part of the package. I can highly recommend her place for all the above reasons and that it was in a safe neighborhood. The bedroom also had a Keurig coffee maker and I love coffee.
John
2016-02-08T00:00:00Z
Rodzaj pokoju
Pokój prywatny
---
Rodzaj nieruchomości
Dom
---
Mieści
2
---
Sypialnie
Windsor, Ontario, Kanada
Bright and airy, so comfortable you won't want to leave. My home offers everything you need. Lots of parking available in driveway. 5 minute walk to Tim Horton's, restaurants, groceries and convenience stores. 15 minute walk to LCBO and Devonshire Mall. The Ambassador Bridge or Detroit Tunnel is an 8 minute drive to the USA.
Immaculate and modern. Guests will enjoy a most comfortable night's sleep in a top of the line Queen bed. Relax and enjoy your morning coffee or tea on the deck overlooking the backyard.
Good restaurants located nearby on Howard Ave. such as; Timmy's, The Keg, Thai, The Michigan Dinner and other fast food chains such as Wendy's, Arby's and McDonald's. Remington Park, public pool and library are minutes away.
Riccardo's place is a must stay when visiting Windsor. You won't be disappointed!
Mike
2017-04-02T00:00:00Z
A beautiful and inviting place to stay. This host makes his home a positive experience for anyone who is looking for more than a hotel type atmosphere. I will definitely stay here again!!!!!! Thank you.
Mike
2017-01-22T00:00:00Z
Absolutely wonderful Airbnb experience. The location is close to everywhere in Windsor and the house is great and very private, Ricardo has very easy going and inviting personality he truly make you feel that his home is your home. I will make this Airbnb my official home away from home when I am in Windsor
Dean
2017-03-24T00:00:00Z
Was greeted by Riccardo even though I arrived at midnight. He was kind to show me the property, give me water, coffee and a basket of hygienic products! Amazingly comfortable bed and very clean. Felt at home.
Vlad
2016-09-13T00:00:00Z
The host was great and the place was as expected. Very nice!
Vinnie
2016-09-26T00:00:00Z
The host is very welcoming and gracious. The area is quiet and relaxing. No complaints at all.
Vinnie
2016-09-22T00:00:00Z
Ricardo was a wonderful host. He made sure that we were able to get in to the home and asked if everything was okay on our first night. Made my husband and I feel right at home.
Cheryl
2016-10-23T00:00:00Z
I rented a room for my two children who are staring the university. He is a great host. The room was very clean, in a great location. He accommodated an extra bed by moving furniture in the room. He had clear instructions for everything my children needed to do and was very approachable. Great experience!
Muhammad
2016-09-15T00:00:00Z
Rodzaj pokoju
Pokój prywatny
---
Rodzaj nieruchomości
Dom
---
Mieści
2
---
Sypialnie
Windsor, Ontario, Kanada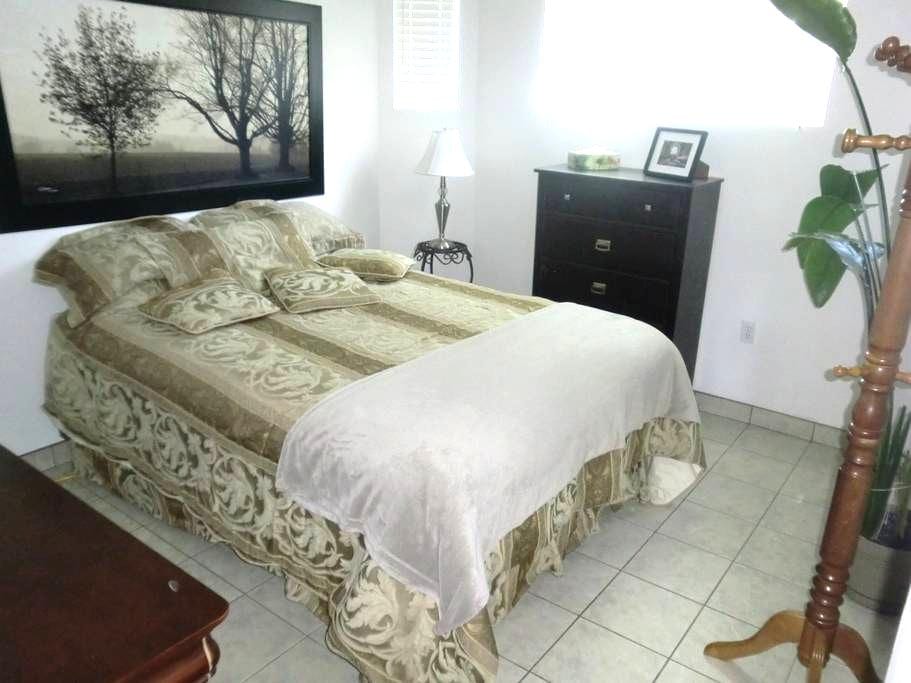 Located in a nice descent residential neighborhood; a walking distance from the University of Windsor; close to shopping and a public library. You'll love the cleanliness, privacy, quietness and simply refreshing atmosphere. A great rental for solo adventurers, business travelers and mature students. Contact us with any questions, and we'll be more than happy to assist you. Calendar and check in/check out is negotiable.
Residential and quiet
For a comfortable stay in Windsor this place is highly recommended. The host is really amazing and he makes you feel welcome.
celestine
2017-03-06T00:00:00Z
Amazing place. Excellent host
Eugen
2017-04-01T00:00:00Z
good place for tourist
Quan
2017-03-09T00:00:00Z
It is a great and nice place. I really enjoyed my stay in this house. It is very clean and organized place in quiet neighbourhood. Jonathan is a friendly, respectful and very nice person. Thanks Jonathan. I am really glad that I met you.
Ajeili
2017-03-31T00:00:00Z
Rodzaj pokoju
Pokój prywatny
---
Rodzaj nieruchomości
Dom
---
Mieści
1
---
Sypialnie
Windsor, Ontario, Kanada
Location offers great access to main roads, a short drive to downtown. Great for business professionals and short term placement students. Enjoy a bit of country in the city. 5 minute drive from Ambassador Bridge. Upper level includes shared sitting room, bathroom and studio kitchen. Check out the other 2 rooms I have listed. Queen size beds in those rooms. Based on our reviews, you can be assured we will provide you with a comfortable, restful place to stay!
Unique space, very large rooms. Shared sitting room and functional kitchenette for basic cooking or reheating meals. Very clean.
One of easiest accessible areas of Windsor. 2 minutes from 401, 5 minutes to Ambassador Bridge to Detroit. 12 minutes to Downtown entertainment district. Nearby access to EC Row Expressway provides ability to cross the city quickly. Malden and Ojibway Parks close, miles of trails on nearby Herb Gray Parkway.
Absolutely perfect weekend at Tammy's and Greg's. What a incredibly phenomenal home. Its twice as good as a 5 star hotel at 1/5th the price! I came down to Windsor on a business trip and luckily I found this place over Airbnb. Each morning I woke up to fresh muffins and hot coffee served by Tammy. One of the mornings I was in a rush with no time for my much needed coffee so Tammy had a to-go thermos waiting for me at the front door. The view from the back yard was amazing, on a 9acre property which backs out onto a forest, it felt like a dream home. The neighbours often feed deer in the mornings, which is an amazing sight to wake up to. Id definitely recommend this home to any family or friend
Pedro
2016-02-07T00:00:00Z
Tammy and Greg were fantastic hosts . I felt very comfortable in this home . Bed was comfortable and they had pretty much everything you would need . Home was very clean . I would go back again .
Darryl
2016-09-27T00:00:00Z
Simply awesome!! Convenient location! Safe and quite neighborhood! This is easily one of my best Airbnb stays so far. Tammy is a nice person and a great host. Room is super clean! Will have to stay again on my next trip!
Y
2016-06-14T00:00:00Z
I stayed at Tammy's while attending an event at St Clair College. The location was great, house was spotless and both Tammy and Greg went out of their way to ensure my time there was enjoyable. Would definitely recommend.
John and Cherie
2016-03-21T00:00:00Z
This was an exceptional place to stay! Tammy is generous, cheerful, and kind. The bed in my room was extremely comfortable. The bathroom, room, sitting room, and kitchenette were clean and well equipped. There was coffee and a continental breakfast every morning. I don't eat cane sugar, and was thrilled to find honey to sweeten my tea, and sugar free jam natural peanut butter to put on my toast, as well as a full basket of fruit to enjoy whenever I liked. I found a jewel, and will be going back every time I return to Windsor. I can't wait to see the extraordinary garden and forested backyard in summer or fall! Thank you Tammy!
Fi
2017-02-18T00:00:00Z
Tammy was very welcoming, everything was clean and perfect. I felt as if I am home.
Hussam
2017-03-22T00:00:00Z
What a treat! Tammy has a great setup... clean, we'll taken care of property... cozy bed. So nice! Everything was there. Coffee, fruit, bagels... it was such a pleasure
Lisa
2017-03-28T00:00:00Z
Great place, location and host
yusuf
2017-03-01T00:00:00Z
Rodzaj pokoju
Pokój prywatny
---
Rodzaj nieruchomości
Dom
---
Mieści
1
---
Sypialnie
Windsor, Ontario, Kanada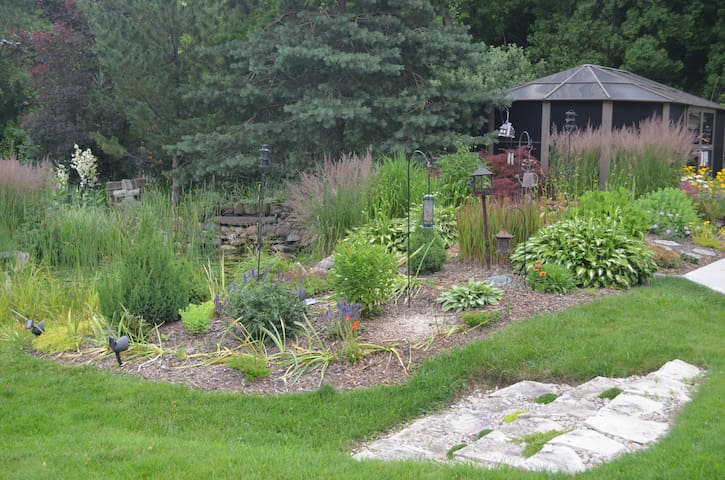 Cozy room, comfortable, in a nice beautiful house; situated in quiet neighborhood.
Cozy room, comfortable, in a nice beautiful house; situated in quiet neighborhood. A shopping mall is a few blocks away and transportation is close by. Free Parking and wireless access.
Quiet family neighborhood, there is a mall, stores and restaurants are nearby.
The place is so quite and clean. Highly recommended
Abdul
2017-04-08T00:00:00Z
Edwards place is a great value. The bedroom was warm and comfortable.
Dwight
2017-02-23T00:00:00Z
Edward is a very nice and receptive person with a good sense of humor. Very helpful...He assisted me in getting my luggage in and out of his house. The house is nice and comfy place to stay. Located in a serene environment and very close to all basic amenities you need for a travel trip...
Christopher
2017-02-03T00:00:00Z
Enjoyed my stay.Host was very pleasant and corteous and the house is very clean and in a quite neighbourhood.Will Definately go again
Admire
2016-04-07T00:00:00Z
Edward was a great Host . Always available for anything at any time. Very nice and cordial. Always very helpful and courteous for anything. Place is very clean and perfect for a stay. It was like another home away from home. i really enjoyed my stay . Wish Edward success in every endevour he takes on..
Preetinder
2017-03-24T00:00:00Z
Ed was a great host. He had allowed me an early check-in and was very responsive to my messages before and after my check-in. His home was very clean and neat. I would highly recommend his home to Airbnb guests.
Marcus
2017-04-01T00:00:00Z
Excelente lugar, muy limpio, cerca de la parada de autobús, Edward es una persona muy amable y me dio varias recomendaciones, el esta al tanto de su huesped, hay un parque muy bonito cerca de su casa.
Fredo
2017-04-09T00:00:00Z
While working in Windsor during the past few weeks I rented motel rooms but my stays were limited to just sleeping and showers. Learning about Air BNB and Edwards location provided good value to me. Edward did everything possible to make me feel welcome.
Jim
2016-07-04T00:00:00Z
Rodzaj pokoju
Pokój prywatny
---
Rodzaj nieruchomości
Dom
---
Mieści
1
---
Sypialnie
Windsor, Ontario, Kanada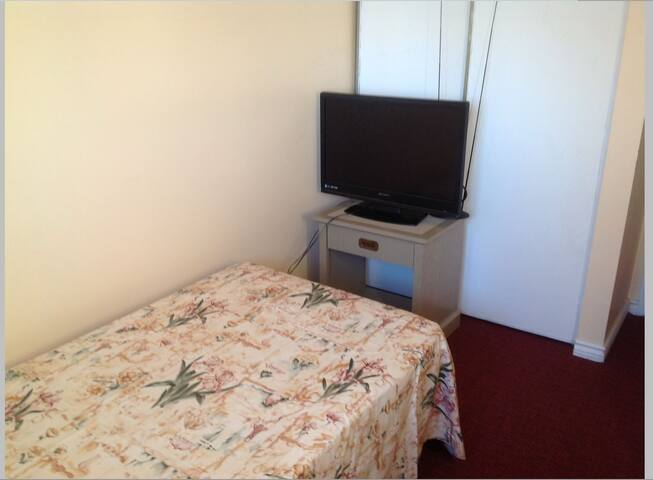 My fiancé and I live here with our puppy. Our place is close to Restaurants, public transportation, stores, university of Windsor, and downtown Windsor. You'll love it because we are friendly hosts and will provide you with information about what is around. Our place is good for solo adventurers and business travellers. We also have a very cute puppy in the apartment who is full of joy.
Our place is a quadruplex and we occupy one of the units in the building. It is an old building with beautiful hardwood floors and bay windows decorated to feel cozy and comfortable.
You are within a 10 minute walk to the river which is especially beautiful at night. Our building is located on a busy street. This means it is close to a drug store (which also has some basic supplies and groceries), some small restaurants, and the downtown bus stop right in front. This also does mean that a lot of traffic passes by, including some heavy vehicles carrying freight across the border. I have attached a photo to provide you with a visual. Our apartment is within walking distance of the University of Windsor (15 min walk). It is also in between the tunnel and the Ambassador Bridge which both lead to Detroit, Michigan. It is only a few minutes from the Caesars casino.
the host was really nice during my stay
Jin
2017-03-31T00:00:00Z
Incredibly hospitable, very nice people, good location, especially for the price. Would definitely stay here again!
Zachary
2017-01-28T00:00:00Z
Great welcoming host and provides a decent place to stay , nearby restaurants, public transport and parking for car
Maan
2016-11-06T00:00:00Z
The communication and the process was smooth and seamless. The room was very comfortable and just the right warmth to snuggle in on a winter morning :) The place is well located to get around by foot or by transit. Having the Shoppers Drug Mart so close was very comforting. There are many places around for a good & warm meal as well!!
Liza
2016-12-28T00:00:00Z
Great hosts and a nice place to stay. Very convenient for the shop opposite where you can get most of what you need. Not far to walk to restaurants with lots to choose from. Very good hosts have to say they were so quick to respond and very helpful.
David
2017-01-06T00:00:00Z
I stayed here when I wanted to see Detroit. It's about 45 minutes to Detroit if you take the tunnel bus, which made it a good place for my purpose. Rashin was absolutely great as a host. She was very nice and helpful. I'd definetely recommend staying at her place!
Jan Willem
2016-10-17T00:00:00Z
host was great, building was not what was expected.
Mara
2016-10-09T00:00:00Z
Sales reps had a great stay. Thanks!
Kate
2016-09-25T00:00:00Z
Rodzaj pokoju
Pokój prywatny
---
Rodzaj nieruchomości
Apartament
---
Mieści
1
---
Sypialnie
Windsor, Ontario, Kanada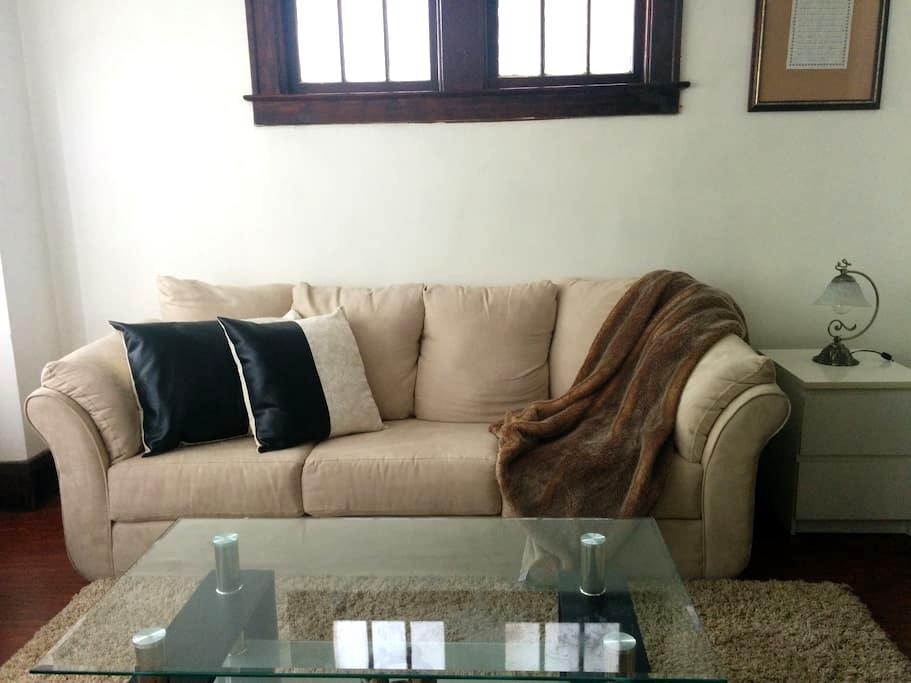 My place is close to The University of Windsor and is great for a visit for the weekend.Great views of the Detroit River also! Come for the weekend or if you want to stay for a short term visiting with family or friends. Great for visiting your kids at University too. You'll love my place because is very cosy and has lots of natural light.. My place is good for solo adventurers and business travellers.
It is right next to the Ambassador Bridge and close to downtown Detroit.
Close to a lot of amenities and bus stops
Aditi was very welcoming, and made me feel at home right away. She gave me good tips for restaurants and services in the area, and I had no problems reaching her if I needed anything. My room was clean, private and suited my needs very well. I loved being close to the riverwalk and main streets into Windsor, as well as having quick access to the Ambassador Bridge to cross the border. Most of all, Aditi made my first Airbnb a great experience, and I highly recommend her place! I will call her again when I'm in the area.
Jessica
2016-09-19T00:00:00Z
Aditi is a wonderful, friendly and outgoing host, and is easy to communicate with. Staying at her apartment reminds me of the comfort of my own home. The apartment is beautifully decorated, clean, and well-kept—has a gorgeous view to the Detroit River. It's strategically located near the University of Windsor, in a historic district called Old Sandwich Town, where you'll find quite a few quaint restaurants and pubs. The room is private with access to a private washroom. Amenities are provided when needed as well. The bed was comfortable with clean comfy bedding. Checking in and out was a breeze. Highly recommend Aditi's place without any hesitation and would personally return when I'm next in Windsor!
Annisa
2017-01-29T00:00:00Z
My stay at Aditi's place was wonderful. The location is convenient and is right next to the Ambassador Bridge. The room was clean and the bed was comfortable. Aditi was a wonderful host and is a very real person with a great personality. I would not hesitate to contact her the next time that I'm in Windsor. A full five stars to her!
Nathan
2016-10-10T00:00:00Z
Aditi's place is fantastic! Comfy bed, quiet room and private washroom all made my stay a great one. Aditi is super friendly and very accommodating especially when I had to work late (it was a work trip). I will definitely stay again!
Deanna
2016-11-21T00:00:00Z
Friendly host, walking distance to waterfront park
Billy
2017-04-02T00:00:00Z
My stay at Aditi's was great, she is truly a super host. She was friendly,extra helpful,cool, and super nice. Her place was also wonderful, clean, comfortable and just perfect. I would definitely be back again, and i highly recommend this place to anyone who is coming to windsor.
Opeyemi
2017-01-23T00:00:00Z
Aditi was a great and awesome host. Her place was as clean as a fine art museum. Completely spotless and smells like spring flowers. Staying at her place was one of the best decisions I have made lately. Thank you a lot for your hospitality.
Ramen
2016-10-14T00:00:00Z
Aditi is a very down-to-earth person who is quite considerate of her guests. I would stay here again.
Paul
2016-12-10T00:00:00Z
Rodzaj pokoju
Pokój prywatny
---
Rodzaj nieruchomości
Kondominium
---
Mieści
2
---
Sypialnie
Windsor, Ontario, Kanada
nicely decorated, and you will have your complete privacy. This unit has two stories with a beautiful attic, and it is able to host 7 people with 2 full size beds and 1 bunker bed. My houses are ideal for couples, solo travelers adventure, business travellers, families with young children.
This is a betuatiful duplex home! One of the unit is for rent. It has its own entrance, and it is a 3 floors apartment with fully equipt kitchen and tasted furnished furniture. You will have you complete privacy!
I like the house quiet, safe, close to the river, you can also fishing.
Very good value. This unit comfortably sleeps three couples with room to spare. The full kitchen is great for longer stays. Didn't hear a peep from the other tenant below.
Drew
2017-01-10T00:00:00Z
This house was perfect for out weekend away! It was clean and had everything we needed for the adults and kids. Shiyun provided everything we needed for a great breakfast. I would definetly go back. Thank you for a great vacation
Samantha
2017-02-20T00:00:00Z
Absolutely amazing place. Stayed here with our 4 kids, ages 5-9, and was perfect. The finished space in the attic was amazing and allowed us to visit with family and friends while the kids played upstairs. Communication was amazing and easy, and Shiyun contacted us to tell us it was ready a little early. Will be our first choice when we are back in Windsor.
Jay
2016-12-30T00:00:00Z
An awesome place to stay! It was clean & comfortable & owners were really warm & welcoming.
Rubeena
2016-09-30T00:00:00Z
Perfect experience. We stayed for 6 nights and we were very pleased with our stay. A pretty much full kitchen plus all the breads, fruit, juice, and milk they left for us made it easy to stay in and relax if we wanted to. There were 4 of us and it was a perfect size for us in that my husband and I had our own space and bathroom, my friend and her boyfriend had their own rooms and then shared a bathroom, then we had the living room and kitchen. Funny story, we actually could not locate the attic space at first where my husband and I stayed due to the door being a tight fit and we thought it was a non budging locked door. Luckily curiosity won out and we found it right before we were going to bed that first evening. So just remember that the door that leads to the attic space is right next to the stairs. Being tall meant we did a lot of bending/squatting up in the attic space but seriously just fine in the long run. We would still stay here again in a heart beat. Shiyun's family was very responsive to any additional needs we had such as when we ran out of coffee filters, needed to borrow an ironing board, and a new trash bag. The location is so close to many things. We walked everywhere easy. We walked to the lake, to the grocery store, to restaurants, to beautiful neighborhoods... Then it was just a 5 to 10 minute drive to downtown and a ton of other historic areas or parks. We had a great time.
Alison
2016-09-05T00:00:00Z
very nice place, enjoyed all the breakfast left for us, would stay here again in the future!
Madeline
2016-04-25T00:00:00Z
Great experience worth it.
Greg
2016-11-26T00:00:00Z
Nice simple place !
Francis
2017-03-19T00:00:00Z
Rodzaj pokoju
Całe miejsce
---
Rodzaj nieruchomości
Apartament
---
Mieści
8
---
Sypialnie
Windsor, Ontario, Kanada
1 km from Caesars casino and the Detroit tunnel. This room offers a queen size bed, desk, Keurig, walk in closet, wifi, and Apple TV with Netflix upon request. All common areas in the home including kitchen and laundry are accessible!
This stay was exceptional. We arrived late at night from our flight in and everything was ready for us. The next morning we had a warm welcome. We were invited to use all the public areas of the home and learned about the local are and attractions from chatting with the host. Over all amazing stay and would recommend to anyone.
Jennifer
2017-01-23T00:00:00Z
Mary was communicative and we enjoyed our brief stay at her place. Everything was clean and the bed very comfortable and the process was very smooth!
Slyvon
2016-07-01T00:00:00Z
My boyfriend and I really enjoyed our stay here! The house is located in a quiet and peaceful neighborhood not too far from the Windsor Tunnel, making it very easy for us to cross the border to get to Detroit on a daily basis for a music festival we attended. Mary was very accommodating regarding the check-in and check-out, which we greatly appreciated! The room was perfect and we immediately felt very much at home. I highly recommend this room to anyone looking to escape the hustle and bustle of the big city, while still being able to have it within reach. I would definitely stay here again in the future.
Sharon
2016-06-01T00:00:00Z
We enjoyed staying at Mary's place, everything was very clean and as expected! Lots of parking infront of the house... Would definitely stay there again :)
Sofia
2016-09-12T00:00:00Z
This was the first time I used Airbnb and I couldn't have asked for a better host in Mary. The location is as described, very clean and cozy, but Mary went above and beyond when my stay needed to be extended and on very short notice Mary was able to make arrangments for me to stay.
Igor
2016-09-01T00:00:00Z
Just perfect. And not expensive at all. The house is indeed very clean en cosy. Great shower. And.. We had Netflix in the room! Sisters are very friendly. Border is 5min away from the house. Parking on the driveway
Ben
2016-06-26T00:00:00Z
We enjoyed our one night at Marys place. Even if we didn't had the chance to meet Mary it was easy to get the key and everything was clean so its a nice house to stay.
Julia
2016-03-28T00:00:00Z
Mary did an excellent job at making me feel comfortable. Her house was very clean and stylish. I felt like I was right at home. I would definitely go back in the future. She also makes great squash.
Cheyenne
2016-01-31T00:00:00Z
Rodzaj pokoju
Pokój prywatny
---
Rodzaj nieruchomości
Dom
---
Mieści
2
---
Sypialnie
Windsor, Ontario, Kanada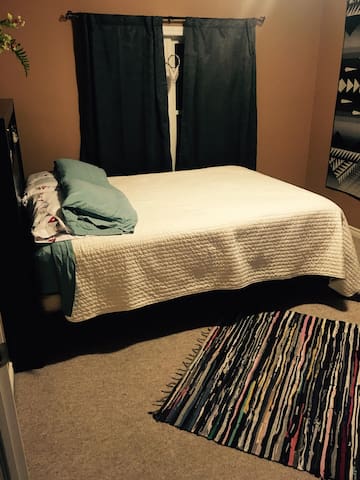 1 bedroom apartment in Detroit's Midtown area. Within walking distance of numerous bars, restaurants, music venues, and more.
Comfy couch, kitchen, bedroom with TVs and wifi.
Walking distance to parks, 5 star restaurants, and dive bars -- good for anything you're looking for!
The host canceled this reservation the day before arrival. This is an automated posting.
Melissa
2017-04-09T00:00:00Z
Rodzaj pokoju
Pokój prywatny
---
Rodzaj nieruchomości
Apartament
---
Mieści
2
---
Sypialnie
Detroit, Michigan, Stany Zjednoczone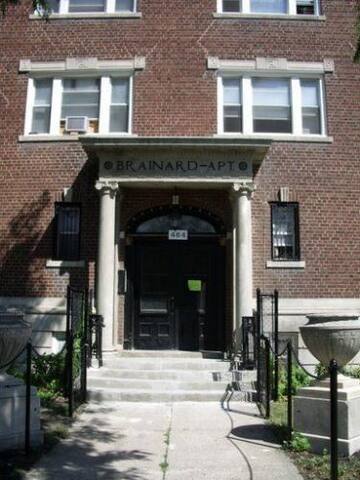 Beautiful clean spacious basement apartment with 1 master bedroom and additional single room for a nice stay away from home. Kitchen is fully equiped and apartment also has washer dryer. Heated pool for guests and nice relaxing backyard for to be enjoyed for all those hot summer days. Barbecue and outdoor dinning is also available for guests if needed. About 25 minutes from the border, you can also enjoy all the exciting things to do in Detroit as well as our own Ceasars Casino
The space is very cozy and has lots of natural light for a basement apartment. This very spacious unit has a great size kitchen and lot
You are walking distance from the Detroit river. In the summertime enjoy nice walks along the boardwalk along riverside drive. Many parks along the way and local beach approx 10 minute walk. A block away from Cedarwood apartment you have a beautiful manmade lake with trails and little side hill will full view of water and surroundings. Nice way to relax and enjoy natures wonders.
I had a great time staying at this air b&b! It had all of the comforts of home and was incredibly affordable. It's located in a beautiful neighbourhood close to transit and about 15 minutes to anywhere you might want to go. The backyards is beautiful with a nice in ground pool to use during summer. I would definitely stay here again and recommend it to anyone else who might be considering booking.
Tommi Lee
2017-04-09T00:00:00Z
It was a really comfortable stay, it had all the amenities of an apartment. Very nice area, great for walks. The hosts were really kind and made sure we were taken care of. I would recommend this airbnb.
Harkiran
2017-04-04T00:00:00Z
Rodzaj pokoju
Całe miejsce
---
Rodzaj nieruchomości
Apartament
---
Mieści
3
---
Sypialnie
Windsor, Ontario, Kanada
Semi-Detached home with private gated backyard in a quiet & safe neighbourhood. Free wi-fi and laundry on site. One king size bed and one pull out couch in the spacious living room. Close to amenities, grocery shopping, restaurants, WFCU centre and more.
Cute, cozy, simple and clean semi-detached home. Unique layout with a fireplace, washer / dryer, king size bed, gated backyard, parking & more.
Quiet & safe neighbourhood! Backyard is gated and faces large, open, well-kept and mostly unused backyards. Also a fire pit / chiminea and BBQ on the patio.
Fantastic little spot that exceeded the value of any top hotel in town with comfort and privacy. It was clean, comfortable and very well appointed. I would highly recommend this!
James
2017-04-09T00:00:00Z
Rodzaj pokoju
Całe miejsce
---
Rodzaj nieruchomości
Dom
---
Mieści
4
---
Sypialnie
Windsor, Ontario, Kanada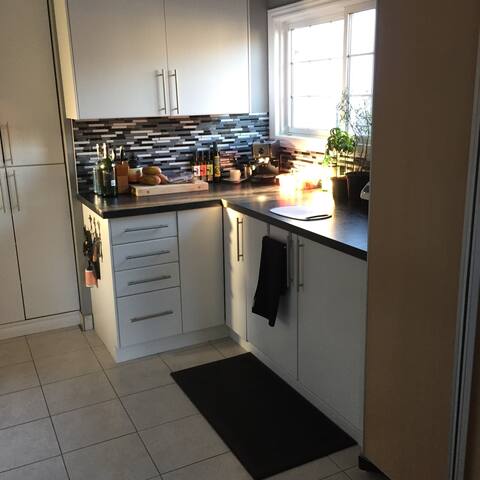 Windsor - Airbnb
:
Średnia ocena:

4.91

/

5

gwiazdek od

1061

gości