The room is a single room with a single bed, wardrobe,shelves,chest drawer, small table and a bench. In house there are one big kitchen with all the amenities you needed to cook/prepare your breakfast/meal, even laundry. Super fast Fiber Optic inc. Bedding/towel provided Sharing big kitchen with all the amenities:fridge, freezer, dish washer, w. machine DIY breakfast provided:Tea Biscuit Coffee
Spacious, harmonic house share 5 minutes to the Centre Milton Keynes, ideal for shopping and commute. DIY breakfast is provided, if you are short of anything please do let Patrick know and he will sort something for you! Some guests on their feedback have noted that the floorboards make some noise, be aware we will try to correct this asap, and sorry if there is some noise!.
Nise place and good service
Mark
2016-08-06T00:00:00Z
Work date changes meant I did not stay this time. But have another week booked soon
nathan
2016-04-30T00:00:00Z
I did not meet Yile, as I was only there one night. But one of his tenants let me in. The room was exactly like the picture. Clean and comfortable.
James
2016-04-17T00:00:00Z
Was good for a quick one night stay, nice having tea and biscuits available in the room. Other guests were very quiet and was an easy stay.
Kirstin
2016-10-07T00:00:00Z
I was only in Betty's for two nights while working but all went smoothly and was pretty much as advertise.
Kieran
2016-07-27T00:00:00Z
Good, clean, friendly location. Enjoyed my visit once again.
Raymond
2016-02-05T00:00:00Z
Clean small room in area close to center. Great stay.
Guy
2017-03-28T00:00:00Z
Fit for purpose; tidy. Would stay there again.
Stephen
2016-12-07T00:00:00Z
Rodzaj pokoju
Pokój prywatny
---
Rodzaj nieruchomości
Wikt i opierunek
---
Mieści
1
---
Sypialnie
Milton Keynes, Buckinghamshire, Wielka Brytania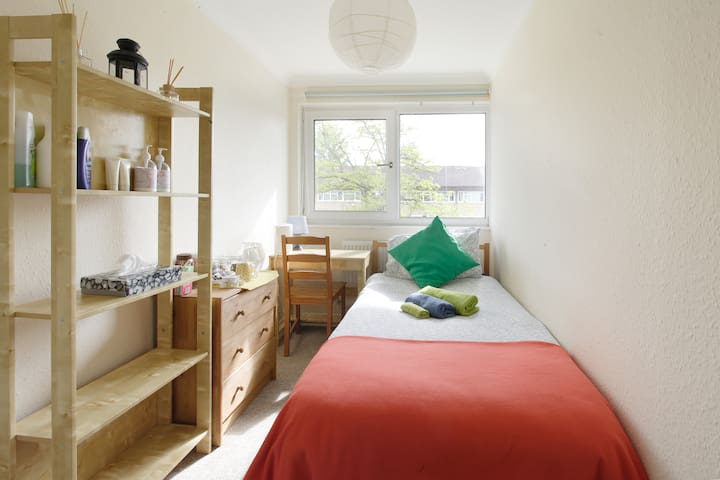 Self-contained chalet offering complete privacy. Stunning south facing views down the Hambleden Valley. The kitchenette has a combi-oven, fridge & two ring stove. There is plenty of free parking space and unlimited free wifi. We can offer a spare, floor based mattress for a young child or there is room for a travel cot . We are located in the beautiful village of Fingest, close to: Turville aka Dibley, Hambleden - location of Midsomer Murders, and the windmill of Chitty Chitty Bang Bang fame.
Stand-alone chalet with off road parking, on-suite shower room and beautiful views over Fingest valley. There is patio outside the front door with table and chairs where you can sit and relax while you admire the views. The chalet is very well insulated with an electric radiator and heated towel rail, so you definitely will not be cold.
Loved the comfy bed, and waking up to see deer across the valley was also a hilight, lovely place to stay.
Chris
2016-12-08T00:00:00Z
We had a fantastic stay in Stuart's chalet. It was calm and quiet with a beautiful view. Just what we needed to get away from the busyness of family life! We would wholeheartedly recommend a stay here.
Claire
2017-04-03T00:00:00Z
Excellent stay as always. Easy check in and lovely location.
Chris
2017-02-12T00:00:00Z
Very nice and secluded great value for money very clean and bed was very comfy
Alfie
2016-12-10T00:00:00Z
Superb view in the morning! Great host and great place!
Kevin
2017-02-28T00:00:00Z
Had a lovely quiet time here, very peaceful and in a lovely location. Stuart provides everything you could need and is a great host!
Alan
2017-03-16T00:00:00Z
Stuart responded quickly to all of our questions and was very helpful. The cottage has beautiful views and is nicely stocked with cookware, utensils and extras. Please note that Stuart's house is right next door so take that into consideration if you want privacy.
Christine
2017-03-10T00:00:00Z
Lovely hideaway, peaceful with beautiful views. Stuart was a nice and helpful host who was efficient in answering my questions prior to our stay. He was very kind as to supply us with takeout menus when enquired as we didn't want to leave the Chalet to find a restaurant. Tea, coffee, milk were also provided with a good DVD selection which was a nice surprise. Would be happy to stay again. Thank you for a wonderful stay.
Gabrielle
2017-01-02T00:00:00Z
Rodzaj pokoju
Całe miejsce
---
Rodzaj nieruchomości
Chatka w górach
---
Mieści
2
---
Sypialnie
Buckinghamshire, Anglia, Wielka Brytania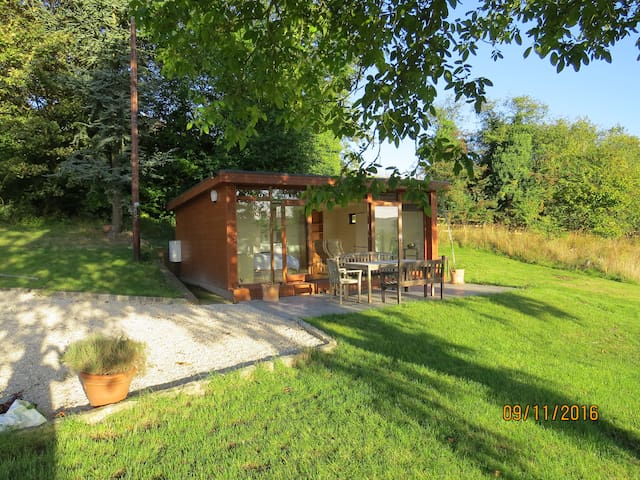 Our welcoming detached house in Bradwell village (a short 20 min walk to Milton Keynes station and has two bedrooms available with breakfast. This is the smaller room but there are plenty of amenities and we think you will find your stay very comfortable as we strive to be accommodating.
Our welcoming detached house in Bradwell village (a short 20 min walk to Milton Keynes station and a 40 minute from the town centre) has a single and a double bedroom available with breakfast. This is the smaller room but there are plenty of amenities and we think you will find your stay very comfortable as we strive to be accommodating. The 2 rooms available are private and not shared. This room is small but comfortable and as it shows in the photo there is a desk and chair, comfy standard size single bed and build in wardrobes. The mattress is firm but we also have the option of adding a memory foam topper for those who prefer it. Please let us know in advance of your stay if you prefer the memory foam. There is also a tv, mirror and unlimited wifi. The main bathroom has a shower, bath and toilet and only the children use it for there baths in the day as we have ensuite , it is for solely for guests during there stay. Guests have access to kitchen during meal times, dining room, bathroom with bath and shower. The bathroom is shared by the guests but not with us as we have an ensuite. We are a welcoming family who love to learn about cultures and try our best to be accommodating. I love that there is so much open space and that its in a lovely village. There are plenty of pedestrian routes aswell as a bus into the main town which has nightlife, many restaurants, great train links into London. The town also has a snowboarding facility! It is a short walk of approx 20 to Milton Keynes central station via pedestrian red route. There is also good bus links and the local bus stop is a 5 minute walk. Breakfast will be continental (cereal, porridge, tea, coffee, toast), and is self service laid out in the breakfast room. We have two calm shy cats
I love that there is so much open space and that its in a lovely village. There are plenty of pedestrian routes aswell as a bus into the main town which has nightlife, many restaurants, great train links into London. The town also has a snowboarding facility! We live a 20 minute walk from the station and 40 minute walk from the centre of town.
Great location, high standard.
Rafal
2017-01-26T00:00:00Z
Great place and people on my fav list
Russell
2017-02-24T00:00:00Z
Jay is a great host, super friendly, very kind. She has two little kids but she has time to clean the room, the bathroom, every day fresh towels. Jay even changes the bed sheets! Any guest will feel like at home. Thank You Jay for being a great host.
Aguś
2016-11-30T00:00:00Z
Jay and her family are lovely They make you feel like you are at home Nothing is too much for them Recommend that you exsperiace it for yourselves You will not be disappointed
Kevin
2016-12-14T00:00:00Z
Comfortable bed and a great host, all you could wish for!
Natalie
2017-04-05T00:00:00Z
Lovely family with a lovely family home. A pleasure to stay with them as always. Thanks y'all !
Tony
2017-02-17T00:00:00Z
Welcoming and helpful host, and a comfortable stay. Thanks Jay!
Simon
2017-01-11T00:00:00Z
It is single bedroom in a nice family home located near centre of the town in a quiet area. The room is basic but clean. Jay has lovely family that is welcoming and respectful.
Najam
2017-02-15T00:00:00Z
Rodzaj pokoju
Pokój prywatny
---
Rodzaj nieruchomości
Dom
---
Mieści
1
---
Sypialnie
Bradwell, Milton Keynes, Wielka Brytania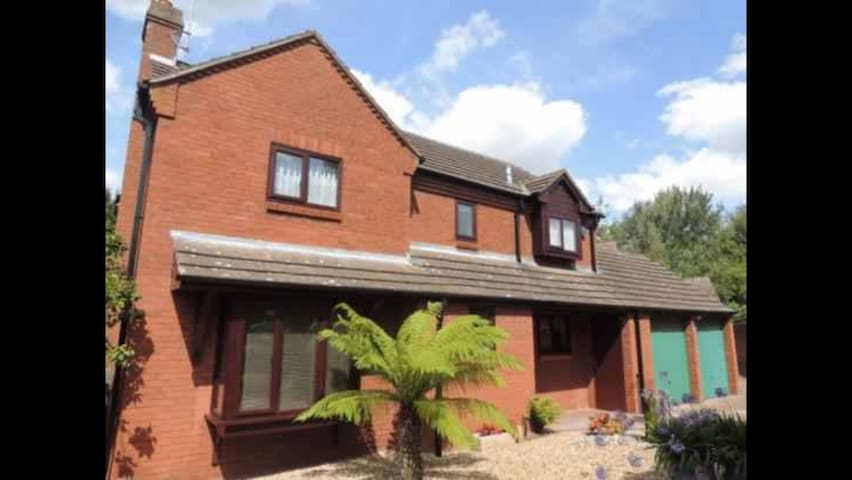 Feel at home in our comfy single. Peaceful yet conveniently located only minutes from Maidenhead Town and station with trains to London and handy road access for M4, Heathrow and M40. Our home has FREE Infinity WiFi, parking, and attractive garden.
Having lived overseas for many years notably Africa and the Middle East our home is a reflection of many fascinating countries. It is relaxed, clean and tidy, a genuine home from home, we enjoy it and hope you will enjoy it too!
Situated in a very quiet residential but central area of Maidenhead our home is perfect as a base to commute from, to explore the area and London, or to attend any of the many prestigious local events in Buckinghamshire, Berkshire and Surrey.
I have been staying with Alex 3-4 days a week since February when I commenced working on a project in Maidenhead. It's everything I need. Comfy bed, pleasant and clean bathroom, breakfast available, fresh coffee and when possible great dinner and company. Alex is a great host and always makes her guests feel extremely welcome. Highly recommended.
Simon
2016-09-23T00:00:00Z
Thanks for being so accommodating to my changing plans and for an enjoyable stay.
Simon
2016-10-14T00:00:00Z
Perfect host, perfect house, perfect room & bathroom. Thanks as always Alex.
Simon
2016-12-16T00:00:00Z
Always very easy. Grear communications, comfortable room, great food and the other guests as well as an excellent host make for a pleasant stay. Home from home! Thank you.
Simon
2016-10-05T00:00:00Z
Hello everyone Alex is a very kind & accommodating lady. Her residence is exceptional with extremely clean environment & well maintained outside Space. The location was a little tricky to find but on calling she gave excellent directions as the entrance to road was discreet. The room I stayed in was light & airy, towels fluffy & absolutely gorgeous feeling bed linen. I would absolutely recommend Alex as a host &a fabulous location if needling accommodation for the Maidenhead area. Best wishes all Roxy
Roxane
2016-08-07T00:00:00Z
Alex was a great host, very considerate and lovely to get on with. The house is beautifully kept, very comfortable and ideal for me visiting a local company. I really appreciated the restaurant tips form Alex and her willingness to share local information which made my stay more comfortable. Thank you Alex.
Tracy
2015-11-27T00:00:00Z
Ha sido un placer hospedarse en la casa de Alex. Todo está muy limpio, la cocina con todo lo necesario. Alex consiguió que me sintiese muy cómodo, gracias.
Francisco
2015-09-24T00:00:00Z
Alex was the perfect host as always. Given the excellent weather last week Alex prepared a fantastic home cooked meal on the BBQ for her guests whilst we took in some rare evening sunshine. Thanks as always.
Simon
2016-07-22T00:00:00Z
Rodzaj pokoju
Pokój prywatny
---
Rodzaj nieruchomości
Dom
---
Mieści
1
---
Sypialnie
Maidenhead, Wielka Brytania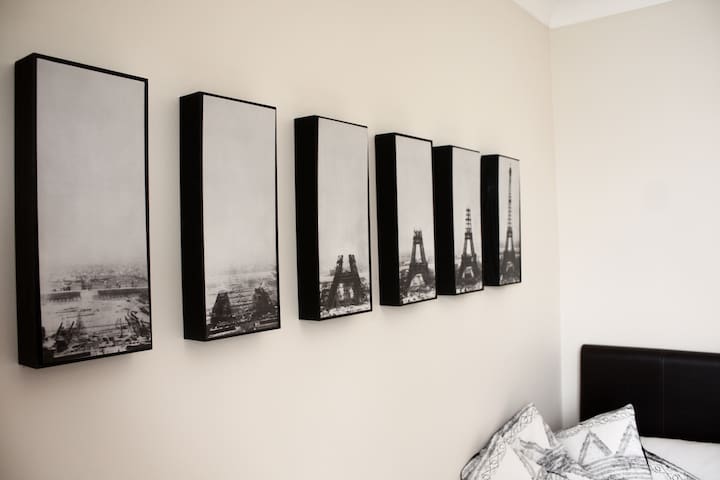 Light and sunny room in a 3-bedroomed house in a quiet cul-de-sac. Use of bathroom (shower & bath). Bright and airy with comfy large single bed, wardrobe, bedside table. Parking. Close to M40 and railway station
-Lovely modern house -Friendly dog -Comfortable bed -Chris and Claire are very accommodating and have fantastic hospitality! -100% would recommend
Fin
2016-06-15T00:00:00Z
Very lovely welcome by both Chris and Claire ( and Rosie), room was lovely,clean and airy. Had the best nights sleep! Breakfast all laid out ready for an early start. Would definatley recommend and would love to stay again, Thank you very much!
Lynsey
2016-06-24T00:00:00Z
Chris and Claire are two really welcoming people. They knew how to make me feel comfortable immediately in their charming house. The bedroom is nicely decorated as well and very clean. I really enjoyed the cosy double bed for a good night of sleep. I definitely recommend their place for your stay!
Charlotte
2016-07-12T00:00:00Z
Lovely home. Very relaxed and peaceful
Emma
2017-02-14T00:00:00Z
Although my stay was brief it was extremely comfortable with warm and friendly hosts and a very restful nights sleep! Plus the restaurant they recommended was fantastic! I wouldn't hesitate to recommend this place to stay
mark
2016-09-23T00:00:00Z
A lovely and friendly place.Very comfortable. Immaculately clean. Chris and Claire are wonderful hosts.
Carole
2017-02-08T00:00:00Z
chris and claire are very nice host. the house is just make me feel like home. very clean and tidy.
Wahsung
2016-07-30T00:00:00Z
Perfect, as usual
Jo
2016-10-18T00:00:00Z
Rodzaj pokoju
Pokój prywatny
---
Rodzaj nieruchomości
Dom
---
Mieści
1
---
Sypialnie
High Wycombe, Wielka Brytania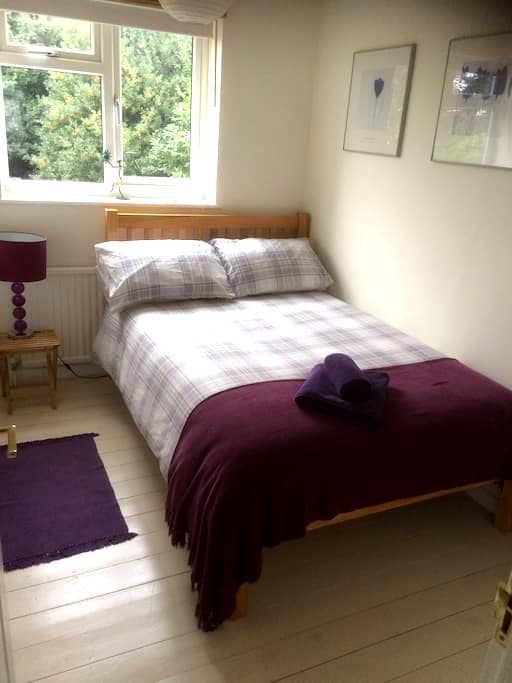 Comfortably furnished and relaxing room with private bath/shower and WC. We are a couple of minutes walk from Farnham Common High Street with its local shops, restaurants and pubs. The area is lovely and quiet and we are a two minute walk to Burnham Beeches historical woodland area with lots of beautiful walks. The nearest train stations are Slough (approx 3 miles) Burnham (approx 2.5miles) Also bus stops within two minutes with buses going directly to Slough, High Wycombe and Beaconsfield.
Lovely, comfortable and cosy double room in our relaxing home. Private bath/shower/wc for your own personal use just off the hall. Do you need an extra room when booking with us? If so we have one extra double bedroom which we can make available to you if you are planning a stay and need to have two separate bedrooms. Please message us for further details about pricing and specific details, thanks. Please help yourself to tea and coffee as well as cereal and bread in our kitchen, also feel free to use our fridge in our kitchen to store any perishable items of food. We provide clean, quality bedding and towels which are changed weekly for stays over a week. Toiletries provided; shower gel, bubble bath and shampoo as well as some essential oils should you wish to use them. There is a television and sky box in the room as well as in the lounge and a double wardrobe for your use in the bedroom. We want you to feel at home and relaxed whilst you stay with us as we would want to feel if we were guests in someone's home. We also understand that some guests will want to join us in the lounge and others want to spend their time in their room, we respect your wishes either way.
Lovely quiet and relaxing location. There are shops, including a small Tesco and Sainsbury's which are open until late as well as lovely restaurants, coffee shops and very good pubs within a few minutes walk. We are also a couple of minutes walk from Burnham Beeches renowned for its beautiful walks and wildlife. There are also many beautiful areas within a short drive from here which have a wealth of historical and cultural interest. We're also a short drive to Pinewood Studios , Windsor and Slough Trading Estate so are well located for business trips.
Please see my other reviews...
Catriona
2016-11-18T00:00:00Z
Fabulous as ever
Catriona
2017-02-17T00:00:00Z
Absolute gem of a stay, two incredibly great hosts. Would definitely recommend people staying here.
Akash
2016-11-14T00:00:00Z
I love staying here. MIchael and Neil are wonderful hosts and the accommodation is luxurious. It is perfect for a weekend stay close to Burnham Beeches for autumnal walks and with Eton, Windsor and Beaconsfield close by great for exploring this part of the world.
Catriona
2016-11-11T00:00:00Z
Michael and Neil are fabulous hosts. I have enjoyed every minute I have spent in their home. The accommodation is excellent.
Catriona
2017-04-07T00:00:00Z
Great accommodation and the perfect hosts, very welcoming and couldn't do more for you.
Scott
2017-04-05T00:00:00Z
Very welcoming and helpful hosts. Lovely and spotless home. Would definitely stay here again if the occasion arose.
Jennifer
2016-12-18T00:00:00Z
A fab place that I would definitely recommend. Very friendly hosts with a lovely house, and a very comfy bed ! Great for film studios and quick to the motorways. Plenty of shops and pubs within a five minute walk I would definitely book again and also recommend
Jonathan
2016-10-14T00:00:00Z
Rodzaj pokoju
Pokój prywatny
---
Rodzaj nieruchomości
Dom
---
Mieści
2
---
Sypialnie
Slough, Anglia, Wielka Brytania
This modern, executive, newly decorated annexe is situated in the stunning village of Studham, close to Whipsnade Zoo, Luton Hoe, Hemel Hempstead, St Albans, Milton Keynes, Warner Studios, Woburn, Dunstable Downs and Luton /Heathrow Airports. A great location, self contained with own entrance, M1, M25 both a short car ride away. Many stations into London nearby.
The annexe occupies an area of approximately 278 square feet and is suitable for holiday or business stopovers. It is a triple aspect room, making it very light and airy. It is clean and well equipt with a comfortable king sized bed, luxury, quality bedding, duck and down filled duvet ( which can be changed to microfibre for those with allergies), and quality fluffy towels. There are floor to ceiling wardrobes with hangers, shelves and drawers, so that you can arrange your clothing easily. We do not allow open flamed candles but do provide remote controled candles. There's a large dining table and comfy chairs, kitchenette, lounge chair, desktop working place, fridge, microwave, iron, ironing board, hairdryer, shampoo, free wifi, Flat screen wall mounted Smart. TV with free view. A breakfast hamper is provided, with chilled milk and juices in the in room fridge. An evening menu is available at an additional cost. The en suite, has a modern double soft water rain shower, counter top sink with cupboards under and a low level toilet. Studham is set in the Chiltern Hills and is an area of outstanding Beauty. If the weather is good, why not sit in our beautiful garden with a drink and listen to the sounds of the zoo train, elephants and lions,( you really can hear them in the garden)
The property is located in a very quiet residential area, in the Chiltern Hills. However, if you need easy access to the M1 / M 25 they can be reached within approximately 10 minutes. It is an area of outstanding beauty and there are many walks along the Chiltern Way and stunning views across Dunstable Downs and if you are prone to kite flying, that's the place to go. Although there is not a shop in the village, there are convenient stores within a 5 minute drive. Two pubs which serve food both at lunchtime and in the evening are a short walk away or just hop into your car and drive. So if on a business stopover, this is ideal or on a short break, there's ample to do in the area. There are also many cycle routes around Studham, so this is an amazing base for the cyclist. We are able to store cycles safely in our locked garage.
Eve was a superb host of a stunning property. Everything you need for just one night or a few nights if your visiting the area. Can't recommend it more the little details were wonderful and will definitely be staying again.
David
2016-09-22T00:00:00Z
Gorgeous self contained annex. Really comfortable and well appointed. Beautiful white sheets on the bed and high quality white towels - beautifully and tastefully decorated.! They also allow you to sit in the garden. Very quiet and peaceful. The annex was immaculately clean and Eve thought of everything! plenty of tea and coffee, bread, butter, milk . Overall I cannot recommend this place highly enough- kind, welcoming and hospitable hosts - you will not be disappointed! Book it now! Excellent value!
Debbie
2016-08-19T00:00:00Z
My second visit here and I hope to have many more. Absolutely fantastic, I don't think there are enough words to do my stay justice!! Every little thing you can think of with the most delightful people I have encountered. I cant recommend highly enough.
Debbie
2016-09-09T00:00:00Z
Eve was a wonderful host. She communicated very promptly during the booking process and that made me feel very at ease as this was my first booking through Air B n B. She was very accommodating and very responsive when I had to let her know my flight was delayed. She responded promptly and had infact been following flight times. Her efficiency also helped to ease any nerves I might have had. Her beautiful annexe is stunning, outstandingly clean, and has everything you could want on a break away from home. It was just the 'haven' I needed after a very intense residential course abroad. Eve and David seemed to know just how much help to offer and genuinely wanted to ensure my stay was perfect. It was. When I have need to stay in Herts again I will be certainly booking with them again.
Debbie
2016-09-20T00:00:00Z
This was my second visit to Eve's executive self contained annexe and it won't be my last as I wouldn't dream of staying anywhere else now, if I'm in her general area. Eve made we feel so welcome again and it was an absolute delight to be back in their wonderful annexe. Eve is so considerate, responsive and supportive and is always is striving to make my experience even better. How she can do that I don't know because her accommodation and service is perfect as is her un-intrusive support and kindness. I would highly recommend Eve's although for selfish reasons I don't want it to get so popular that I can't book in again, lol.
Debbie
2016-10-18T00:00:00Z
very good place to stay - home from home for my husband :) Nice village pub nearby, with good food. 10 min drive from Dunstable. Eva is very good host!!
Zuzana
2017-01-27T00:00:00Z
Another great stay. 5 star accommodation.
Zuzana
2017-03-10T00:00:00Z
Eve was a FANTASTIC host! She communicated well before we arrived and her room is absolutely immaculate! We were able to use the garden (which is stunning) and the location was ideal for my daughter and I to go to Whipsnade Zoo. Fantastic Airbnb experience! Thank you for your hospitality Eve.....
Maureen
2016-08-05T00:00:00Z
Rodzaj pokoju
Całe miejsce
---
Rodzaj nieruchomości
Inny
---
Mieści
2
---
Sypialnie
Studham, Anglia, Wielka Brytania
Double room with king size bed with memory foam mattress. Wifi . 36 inch TV ,DVD in room .Double wardrobe. Share bathroom with shower which is next to room . Breakfast toast/cereal/selection of hot drinks. Private parking. One Stop, Pizza, Indian ,PH, PO & bus stops only 5 minute walk. Please leave key with me or in room and not in front door. The front door locks behind you so you will need your key to get in!
Clean and friendy host and Nala the cat. Love cooking and very busy life with various hobbies and interests. Big bed and tv in double room ready for guest. Towels,shampoo and light breakfast provided. Bed against the wall so only suitable for single guests.
Parking Please park on my private drive at the side of property or on public road behind my car at the front of property. Sorry no commercial large vehicles in close. There is a nearby public large car park if needed. Keeping my neighbours happy. Thank you.
This was my first air BnB and it was amazing! Gayle is a wonderful women, very bubbly and it was great to meet her! Beautiful house and area also!
Jamal
2016-07-27T00:00:00Z
Comfy bed, felt very welcome. Would recommend to anyone, thanks very much for having me
Adam
2016-06-09T00:00:00Z
lovely friendly lady and she even posted a parcel for me. awesome..
Scott
2016-11-25T00:00:00Z
I had a very pleasent 3 night stay in Gayles house. I enjoyed a comfortable bed and my own bathroom next to my room. Gayle was very welcoming and always trying to make my stay as comfortable aus possible. I liked it.
Peter
2016-05-14T00:00:00Z
Another great stay with Gayle and family, again made to feel very welcome from the start and would highly recommend this listing if your staying in this area. Thank you Gayle.
Richard
2016-03-19T00:00:00Z
Great place to be thanks for the cosy room And most important of all the bed is really great It's really worth the price
Dan
2016-11-17T00:00:00Z
Gayle was a lovely,warm and welcoming person. She is very tidy and clean. The house was very homely and the environment is very quiet. Perfect description of the property.
Ese
2015-10-30T00:00:00Z
Gayle was an awesome host! I never had a more helpful and caring host. She made my first trip in the UK a delightful one. She always made me feel like home. Better yet, I was treated as if I were one of her own. She even gave me a ride to the train station the next morning! I would definitely recommend friends and family to stay here. I will absolutely stay here again!
Andrei Kurt
2016-07-11T00:00:00Z
Rodzaj pokoju
Pokój prywatny
---
Rodzaj nieruchomości
Wikt i opierunek
---
Mieści
1
---
Sypialnie
Emerson Valley, Wielka Brytania
Double room on the top floor of a town house with private bathroom. Only 2 minutes walk from the river, shops and restaurants. Wifi and off road parking. Self serve breakfast available if required.
A lovely laid back stay in beautiful marlow with Jane and her husband. Brilliant location, with the central High street minutes away. We went to the hand and flowers which was an easy walk in the evening to the house and Jane was very accommodating in the lateness of coming back. Would highly recommend for a stay.
Cheyenne
2016-05-14T00:00:00Z
Lovely clean, comfortable room a short walk from the high street. Very friendly hosts.
Nick
2016-11-03T00:00:00Z
This was our first experience of Airbnb and it exceeded our expectations! Jane gave us a very warm welcome and looked after us incredibly well. The room was really comfortable and very well appointed as were the bathroom facilities which were excellent. The morning tea and biscuits were a nice touch and particularly appreciated. We would thoroughly recommend staying here!
Mary
2016-12-11T00:00:00Z
Stayed here last night, perfect location, perfect hosts and a very comfy bed- definitely recommend 5*
jenny
2016-12-18T00:00:00Z
Jane is a lovely host and made both my partner and I feel very welcome. A very comfortable room as described with bathroom access and tea and coffee faculties provided. A perfect location for attending a wedding at Marlow church and a 1-2 minute walk to the The very pretty marlow high street.
Victoria
2016-05-30T00:00:00Z
Great b&b, very friendly and accommodating. Will definitely return.
MICHAELA
2016-05-26T00:00:00Z
Jane and her husband were very pleasant and welcoming hosts, and went out of their way to make sure my wife and I had the best experience possible while in Marlow. Their home if very clean and comfortable, and within walking distance of just about everything you might want to see.
Dustin
2016-07-17T00:00:00Z
Jane and Andrew made us feel so welcome and their home is absolutely beautiful. They met us at the airport and made our arrival so comfortable. Their home is so central, yet in a quiet street. It took no more than 2 minutes to get to Marlow high street. Our bedroom and bathroom were beautifully decorated and perfectly clean. Tea and coffee with sugar and milk, was made available in our room, accompanied by two beautiful little chocolate Easter eggs. The room was so quiet and we both slept so well. I woke up feeling this is much better than any hotel.
Lisa
2016-03-25T00:00:00Z
Rodzaj pokoju
Pokój prywatny
---
Rodzaj nieruchomości
Szeregowiec
---
Mieści
2
---
Sypialnie
Marlow, Wielka Brytania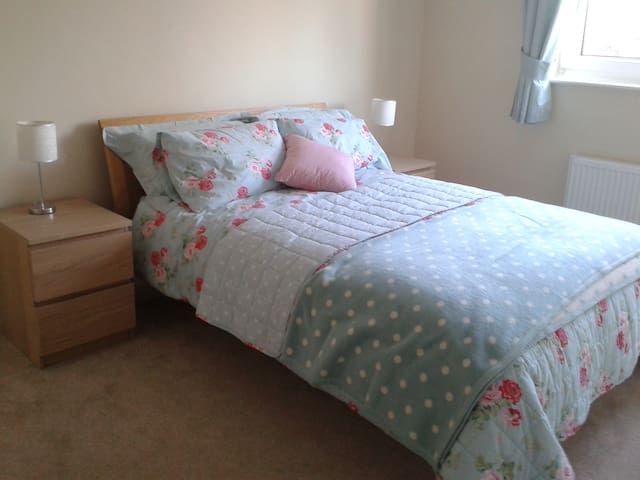 Double bed in warm room. Two shared bathrooms, lounge and kitchen. Modern house close to town centre and station. Unusual shaped house in an award winning development. Ideal for exploring the Chiltern Hills, London and Oxford. Please mote: I have pets, there is no parking and breakfast is help yourself.
Modern unusual shaped space.
This house is very modern and it is convenient for the town centre, bus and train stations, but there only one parking space which I use. You are welcome to have breakfast if you want: toast or cereal, yogurt and fruit, tea or coffee. Just help yourself. If you want anything specific please leg me know before you arrive.
Hi- I stayed at Ian's place for 5 nights. Ian is a remarkable host and an amazing person. I loved Ben and Ty, Dog & cat respectively. Ian took care of everything from the beginning as a host and i did not feel like away from home for a single moment. We also had few insightful conversations. The house was quiet, peaceful, close to my work and city centre. Thanks for making my stay a memorable one :-) Good luck
Muhammad Mudassar
2016-07-23T00:00:00Z
Our stay at Ian's house was absolutely delightful. The room is very nice, clean and bright. His two animals Ben (dog) and Ty (cat) are incredibly friendly and welcoming as well. We had some really nice conversations with Ian and he has been very welcoming and friendly throughout our stay. I can only recommend staying here - very friendly host, lovely animals and good location close to town center and train/bus station. Thank you Ian!
Marc
2016-07-08T00:00:00Z
I had such a lovely stay here, Ian was a great host and so friendly. It was a real home from home for a first time airbnb traveller. Would gladly return! Thank you.
Emily
2016-10-22T00:00:00Z
Ian was a lovely guy, apart from there not being breakfast we had a nice stay
Jodi
2016-07-11T00:00:00Z
A perfect stay. Ian was a genial host who did his utmost to make us feel welcome and at home. His house was spotless, the bed was very comfy and we were treated to some excellent coffee, stimulating conversation and even some nutella! I don't think you could do better than staying with Ian if you're in the area. We'd certainly go back if we were down that way.
Glyn
2016-08-01T00:00:00Z
Ian was the most wonderful and friendly host. We stayed with him when we were waiting for a flat and he went out of his way to help us during our slightly stressful moving period. The room was lovely, the house was nice and modern, and the animals were just the cutest and friendliest! Thank you Ian!
Thea
2016-07-18T00:00:00Z
Ian was a brilliant host. The accommodation is as described and very central. It exceeded expectations and I highly recommend staying there.
Mitch
2016-12-04T00:00:00Z
A lovely stay with Ian and his pets! A great place to come back to after work. Thanks Ian for being so welcoming!!!
Janet
2016-11-10T00:00:00Z
Rodzaj pokoju
Pokój prywatny
---
Rodzaj nieruchomości
Dom
---
Mieści
2
---
Sypialnie
Aylesbury, Buckinghamshire, Wielka Brytania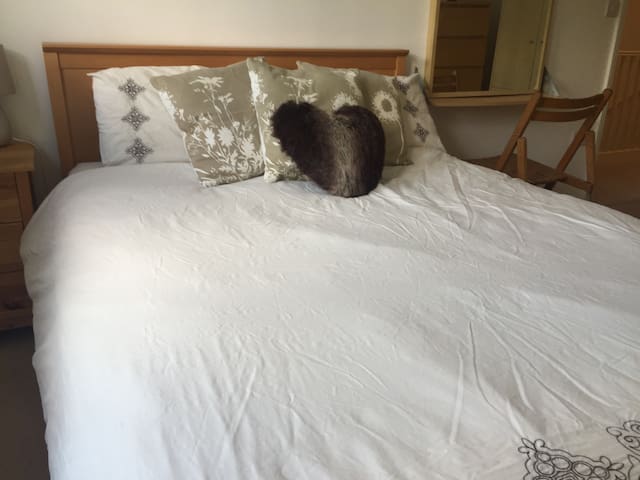 Our Barn is an easy drive to MK business,Dunstable and Leighton Buzzard It is down a delightful narrow leafy lane. It is great for business travellers. Ideally quiet and very restful. A real home and everyone who sets foot in here seems to feel at home. (Please read reviews of our other guests in the main bedroom) We have some superb walks also up to the Maidenbower, and the Downs, also a delightful walk up the lane to the White Lion Pub, or along the cycle path to The Five Bells at Stanbridge.
Your bedroom is tastefully decorated in pastel shades and the bed is a very comfortable 4ft6ins pocket sprung double bed, goose down duvet and soft towels. Tea and coffee making tray in your room too. Also a beamed ceiling Underfloor heating. You have your own bathroom again with beamed ceiling, full size bath with shower as seen in photos. (Please read reviews on my other room which I have had on airbnb for a while.) A Continental Breakfast is provided on the dining room table with a variety of cereals, yogurts, ham and cheese, toast and tea/coffee/fruit juices.
Our neighbourhood is unique in that it is down a leafy tiny lane, with an old postbox in the wall in the lane, also the Maidenbower is a lovely walk round, cycle track to Stanbridge in one direction and up to Dunstable Downs and onto the Ridgeway in the other direction. Both are bridle ways and beautiful walks.
Rosemary and Alistair made us feel very welcome. Fantastic quite place for a weekend getaway. We couldn't have found a better place to stay.
Pierre
2016-11-06T00:00:00Z
Brilliant as usual - home from home thanks Rosemary!
Sean
2016-10-18T00:00:00Z
Super keen for feedback this is simply the best Airbandb in the country. Period! Thanks for another great stay.
Sean
2016-12-15T00:00:00Z
This is a great place to stay at.
Jonathan
2017-02-23T00:00:00Z
This is an excellent place to stay with attentive and welcoming hosts.
Jonathan
2017-01-18T00:00:00Z
Brilliant hosts, lovely room = comfortable stay, thank you again!
Richard
2017-02-16T00:00:00Z
Great place to stay, highly recommend. Lovely room with great facilities and friendly and welcoming hosts.
Anjie
2017-03-10T00:00:00Z
This is a lovely place to stay at.
Jonathan
2017-01-25T00:00:00Z
Rodzaj pokoju
Pokój prywatny
---
Rodzaj nieruchomości
Dom
---
Mieści
2
---
Sypialnie
Dunstable, Anglia, Wielka Brytania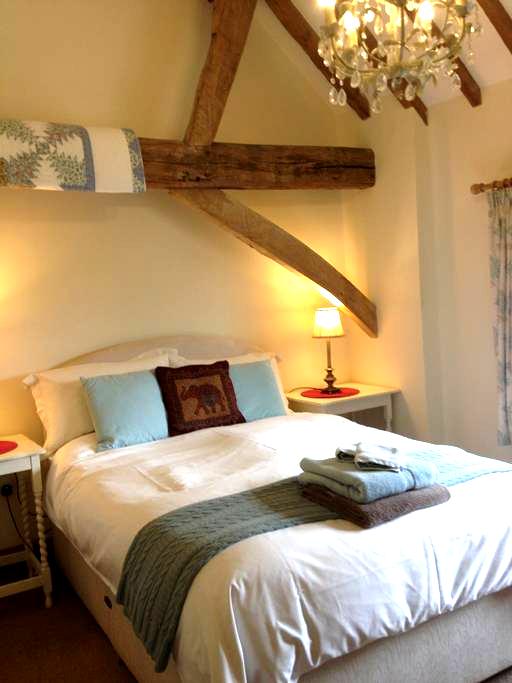 We are in the heart of Wallingford, minutes from the Market Square and the River Thames. Our quiet room for guests has a double bed and plenty of space.
We have a room available in our pretty townhouse that we are able to rent out to visitors to Wallingford. The room is spacious, quiet and has a double bed. We offer breakfast and wi-fi/computer access and a warm welcome. The house has a spacious living and dining area and a pretty garden that you can share with us. We also have a car parking space that you are welcome to use. We live two minutes from the River Thames and five minutes from the Market square. Wallingford is a lovely Oxfordshire market town, it has a full range of cafes, pubs and restaurants and easy access to Oxford and the Chilterns. Please note this is a non-smoking house. We charge £50 a night for two people or £35 if one person.
Nice room in a small flat about 30 min outside of Oxford. Wallingford is a storybook little village with extensive walking trails along the Thames. Danny and Everton were lovely. Danny gave me excellent directions and really offered helpful advice about where to eat, things to see and the best transportation. The room was clean and comfortable, and (perhaps because I was the only guest) I had a private bath. I felt very well cared for.
Heather
2015-10-07T00:00:00Z
Danny waited in for us to arrive and made us feel very welcome. Even gave us his parking space. Great location, so near town. Room was perfect for our stay.
Marie
2016-06-12T00:00:00Z
Everything was perfect. The house is neat and comfortable, Danny and Everton are very welcoming and caring hosts and the breakfast was really good. Thank you for a very pleasant stay!
Clara
2016-03-24T00:00:00Z
Perfectly fine, easy, comfortable and clean room in pretty Wallingford. Definitely recommend Danny as a host.
Alex
2015-09-14T00:00:00Z
Had a fantastic stay, Danny and Everton were very kind and friendly hosts and made sure I felt right at home. The breakfast was nicely laid out every morning and was just right for getting through a long day at work! The room was comfy, clean and spacious with the convenience of only being a few mins from the centre of Wallingford. Would recommend this place
Connor
2016-08-17T00:00:00Z
Danny is a fabulous accommodating host, the house is totally immaculate and very very calm after a very long day at work it was blissful to arrive to such a welcoming warm home with the added bonus of a healthy breakfast. I would not hesitate to recommend this superb accommodation to anyone. I felt was at home rather than at a B&B. I am very much looking foward to my next stay.
Celina
2016-10-07T00:00:00Z
Close to the town centre, comfortable room and a nice breakfast. Parking close by
Phil
2015-12-23T00:00:00Z
Great host as always. Room and bath spotless, atmosphere open and friendly. I highly recommend this place and these hosts.
Philipp
2016-08-19T00:00:00Z
Rodzaj pokoju
Pokój prywatny
---
Rodzaj nieruchomości
Szeregowiec
---
Mieści
2
---
Sypialnie
Wallingford, Wielka Brytania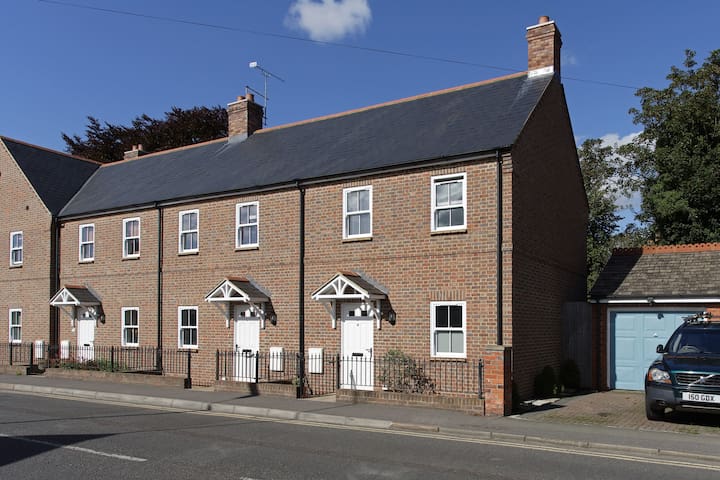 A quiet ground floor double bedroom with an adjacent private and large double shower room for own use but it is not en-suite. Breakfast is excluded with this room. Hot drink making facilities with tea, coffee and fresh milk supplied. Wireless broadband 26MB/s download with unrestricted bandwidth. Laptop desk. Use of kitchen/dining room is welcome. With no close neighbours, guests need not be concerned to be too quiet in the bedroom because it is at the other end of the house to the hosts.
The house is located in a quiet private road which is just under one mile from the town centre and adjacent to pretty countryside. There is a circular drive with ample parking.
The house is by the Greensand Ridge walk which runs from Leighton Buzzard to past Woburn. The house is also close to the river Ouzel and to the Grand Union Canal, which runs south to London and North to Birmingham, and which has a tarmac foot and cycle path south into the town and north to Milton Keynes, connecting with that City's Redway cycle network. The surrounding countryside has extensive beech woods on sandy terrain and from the house you can walk by the river into the town or head northwards towards Woburn, Milton Keynes and Bedford.
Jenny and Nicholas were fantastic hosts. They saved my life and accepted my request 1hour before I arrived! The whole stay was perfect and they're both warm and friendly. Room was huge and house is beautiful.
Hattie
2017-02-07T00:00:00Z
Our hosts made us feel very welcome and comfortable. This place was conveniently located within walking distance of the town centre and competitively priced. We cannot fault this visit.
Steve
2017-03-12T00:00:00Z
Stayed on business, booked last minute. Couldn't have been more laid back about everything.
Jack
2017-01-25T00:00:00Z
Very clean and very comfortable accommodation......and Nicholas and Jennifer are great hosts!
Warren
2017-01-18T00:00:00Z
My second stay by Nicholas & Jenny. Large and cosy house in a quiet location not far from the city centre. The 3 rooms are very confortable. Nicholas & Jenny are very hospitable and have a real "joie de vivre" which make the staying very pleasant.
Alain
2017-01-27T00:00:00Z
Great people and a really nice place, would be particluarly nice in summer.
Paul
2017-02-16T00:00:00Z
I received a fabulous welcome. My spacious room and adjacent bathroom were decorated to a high standard and beautifully clean. I'd highly recommend to anyone thinking of staying within the area.
Carrie
2017-03-08T00:00:00Z
Excellent up-scale B&B in a quiet wooded residential area, in walking distance of Leighton Buzzard town centre. Spacious and well-equipped room with great bathroom. High-quality continental breakfast. Perfect hosts that are happy to chat - if you want to(URL HIDDEN)
Stephen
2017-02-09T00:00:00Z
Rodzaj pokoju
Pokój prywatny
---
Rodzaj nieruchomości
Dom
---
Mieści
2
---
Sypialnie
Leighton Buzzard, Anglia, Wielka Brytania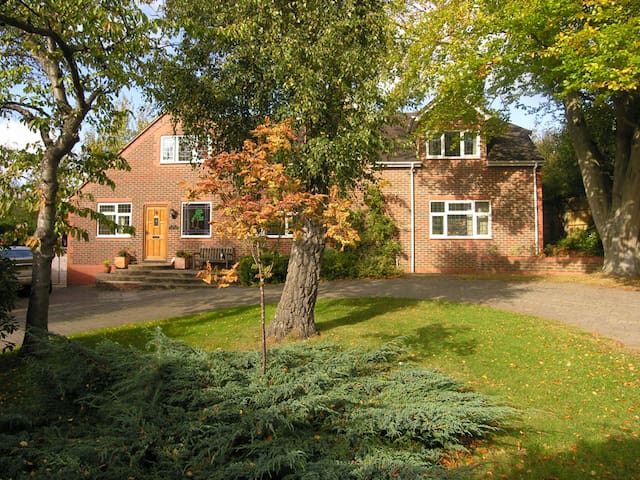 Your comfortable kingsized double room is located in an old stone farmhouse in Stratton Audley. We have a large private drive to accommodate cars and we are also biker friendly! We are 3 minutes from Bicester town and Bicester Village by car. The room can accommodate a couple. It has a large comfortable king size bed and a private bathroom for sole use. We provide tea and coffee making facilities and a light self serve breakfast which can be taken in your room. There is wifi available.
Please note that there are photos of 2 different bedrooms shown as we alternate between using them both. Only one is ever used at a time to ensure that our guests have private use of the bathroom. They both offer the same facilities. A light self service breakfast is included, which guests can take in their rooms. However if a full English breakfast is required this can be offered at £10 a person and will be served in the conservatory overlooking the garden.
The village of Stratton Audley is small and picturesque. It has a church and a pub called the Red Lion serving food. It is only a 3 minute drive from the center of Bicester, and to both the train stations which can take you to either London in one direction or Birmingham in the other. There are also frequernt trains to Oxford as well as buses from the centre of Bicester to Oxford and Milton Keynes and many other destinations There are many lovely walks in the area including the Cross Bucks Way which passes through the village. Bicester and the surrounding villages offer a great choice of restaurants and Oxford of course has a wealth of restaurants. We are also close to many tourist attractions including Oxford the Cotswolds and to Stratford on Avon . We are very centrally placed for visiting many parts of the country and are close to several airports for those wanting a stop off on the way to catch a plane.
Lovely stay at a fantastic and beautiful farm house. Immaculately clean with lots of love touches - thanks for having us!!!
Basia
2016-09-18T00:00:00Z
Cathryn & Martin were lovely & were most helpful with all of our questions.
Sharron
2016-07-22T00:00:00Z
Great experience in a lovely home. Everything I needed was there. Martin and Cassie were great. I look forward to staying again in the future.
Toby
2016-09-13T00:00:00Z
Lovely old character building. Very comfortable bed with big feather down quilts. That plus own bathroom adds up to a very comfortable stay.
Bruce
2016-10-28T00:00:00Z
the welcoming was perfect... the area is lovely , the church off the small village is cute ...our stay was just perfect on the way for huddersfield. thank you ! Jonathan & Dany LLOYD
DANIELE
2016-09-01T00:00:00Z
Cathryn and family was kind and helpful host. The house is lovely and beautiful area. Room & bathroom in clean,tidy and quiet. I had a good sleep. Highly recommend staying here. Thank you very much Cassie and family!
Kiyoaki
2016-06-07T00:00:00Z
Really comfortable room and lovely rural location. Lots of privacy but also very welcoming hosts. Great stay!
Ralph
2016-08-03T00:00:00Z
We had a great stay at Cathryn's house in a lovely double room with our own nice private bathroom. The bed was extremely comfy - we couldn't have had a better nights sleep! Cathryn's house is lovely with a nice garden and is located in a quaint village only 5mins drive from Bicester town and Bicester Village shopping complex. Cathryn was very flexible with our arrival and departure times which made our stay that much easier. Thanks again for a lovely stay.
Matthew
2016-06-06T00:00:00Z
Rodzaj pokoju
Pokój prywatny
---
Rodzaj nieruchomości
Dom
---
Mieści
2
---
Sypialnie
Oxfordshire, Anglia, Wielka Brytania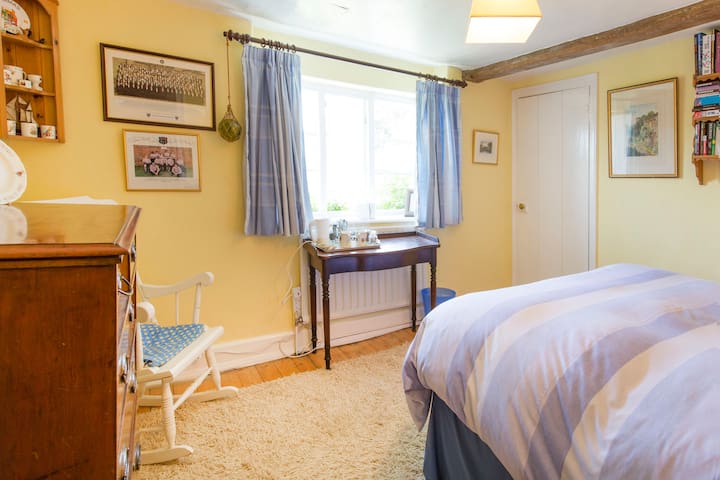 3 Bedroom house on the edge of a small market town in the countryside. The town has some lovely walks with four pubs and plenty of places to eat. The kitchen is new and easy to use, it leads onto a large conservatory overlooking the garden. Guests are welcome to eat here while they watch the birds in the garden.
Well behaved dog/s are well come at an extra charge of £3 per night. This is a very dog friendly house!
Close to Silverstone - Stowe School - Waddeston Manor - Claydon House - Addington Equestrian Center
Rodzaj pokoju
Pokój prywatny
---
Rodzaj nieruchomości
Dom
---
Mieści
1
---
Sypialnie
Winslow, Anglia, Wielka Brytania
Comfy and airy double bedroom overlooking garden in quiet area, 15mn walk from the tube and mainline (about 40mns) station into central London, 10mns from shops and restaurants, and bordering the Chess Valley (ideal for walkers). Calm simplicity and a warm welcome.
The bedroom is bright and airy and overlooks a West-facing garden, so you may enjoy some beautiful sunsets. Double bed with memory foam mattress. There is a closet with space at your disposal for hanging clothes and storing your luggage. A dropleaf table can be opened to be used as a desk, with a folding chair you will find in the closet. Full length mirror. If you wish to book just for one night at the weekend, Friday or Saturday night, please make a request to book for 2 nights (Friday/Sat or Sat/Sunday) and I will send you an offer based on a price for the room of £45 for one person, or £55 for 2 people for the night.
Being on the edge of this small town is very special, best of both world - a 10 mn walk to the main street with food shops and restaurants, and very close to fields and woods, and a network of public footpaths along the Chess Valley. There is a little corner shop/newsagent for essentials 5 mns from the house.
Helene was a great host--easy-going, friendly but not intrusive, and very helpful when my computer developed WiFi trouble. She made my 19-day work trip very straightforward, and it always felt good to return to the house at the end of each day. Recommended!
Caroline
2016-04-30T00:00:00Z
I had the most lovely time staying with Hélène. She was kind, friendly and made me feel welcome in her home. The house is warm and comfortable. It's located in a quiet street a short walk to town. I would definitely recommend staying here!
Alice
2017-01-13T00:00:00Z
Helene is a lovely lady and a lovely host. Her house was perfectly located for me and the bed is really comfy! The room is spacious and I was made to feel very welcome.
Sharon
2016-05-13T00:00:00Z
Great room and location, everything needed was provided, wifi included. Helene is a genuinely courteous host.
L
2016-12-28T00:00:00Z
You receive a warm and friendly greeting on arrival, and Helene is a wonderful host. After a quick run through where everything is, you are left to get settled in. The room is as described with a lovely comfy bed. On street parking is straightforward with plenty of space. I would definite stay here again.
David
2016-05-27T00:00:00Z
The home in Amersham is in a very peaceful part of the Chiltern countryside and is ideal for walkers. Helene is a great host and makes you feel most welcome. The cat is friendly and no trouble at all. I hope to return at some point in the future.
scott
2016-03-15T00:00:00Z
Enjoyed my stay with Helene, room was very cosy and welcoming and she was very accommodating and friendly (especially the cat). Definitely recommended to those who appreciates a peaceful and serene place to stay. Thank you for being a very good host!
Gideon
2016-07-04T00:00:00Z
A very pleasant stay at number 9… Helene was very warm and welcoming. Both the bedroom and the bathroom were spotlessly clean, and an extremely comfy double bed bode for a great night's sleep. A nice quite area, with easy parking on the street, meant this was the perfect place for me to relax after my working day. Oh, and if you like cats, as mentioned in quite a few previous reviews, there's a very friendly one quite happy to be fussed for as long as you care to do so. In short, I was very happy with my three night stay in Amersham. Thank you again Helene.
Chris
2016-10-21T00:00:00Z
Rodzaj pokoju
Pokój prywatny
---
Rodzaj nieruchomości
Dom
---
Mieści
2
---
Sypialnie
Amersham, Wielka Brytania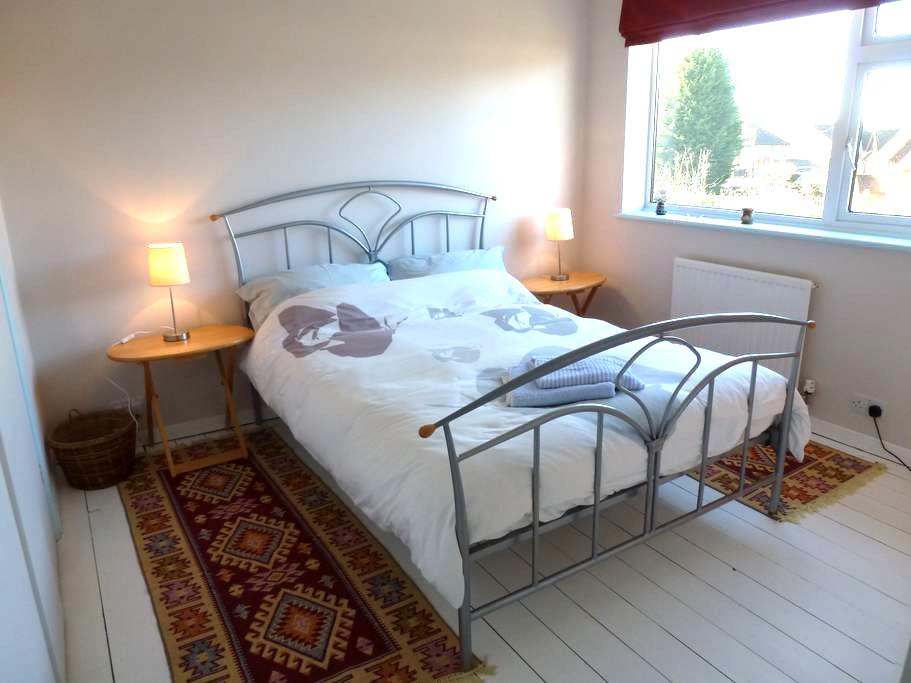 Charming 2 double bedroom House in the beautiful town of Henley-on-Thames, Oxfordshire. Free car parking and free Wifi. With excellent transport links to Central London (38 miles) and Oxford (20 miles) this house is perfect for tourism or business.
Luxurious 2 double bedroom House in the beautiful town of Henley-on-Thames, Oxfordshire. This newly renovated Luxurious 2 double bedroom House is located in central Henley-on-Thames, one of the oldest settlements in Oxfordshire. It is a bustling, historic, riverside, market town, home to the Henley Royal Regatta and is well known for its rowing tradition as well as having many other unique features to its name. Situated an 45 minutes west of London, and in easy reach of Oxford, Windsor, Marlow and Reading, the town has much to offer the visitor, business and its 10,000 or so residents, whilst supporting the many small, attractive villages in the countryside around. The town's prosperity goes back to the 12th century as river trade developed because of the town's position. Today there is a comfortable mix of architectural styles spanning the centuries. The Tourist Information Centre itself is a fine example of painstaking restoration to preserve the details of one of Henley's older buildings. Henley offers a wide range of attractions whether you simply want to take a quiet trip on the river, visit the art galleries, visit historic houses, enjoy the River & Rowing Museum, rummage through antiques, browse fashion shops, or simply stroll, eat and drink in relaxing surroundings. Henley prides itself on its strong retail offering with the main shopping area being concentrated in Bell Street, Duke Street, Market Place and Hart Street. There is an abundance of hotels, pubs, cafes and restaurants. The River and Rowing Museum in its award-winning building is proving to be a magnet for those who want to visit the Wind in the Willows permanent display, learn about the history of rowing, the mighty Thames and, of course, the town. Amenities The house is situated 5 minutes from central Henley. There is a railway station, cab and bus stop within a minutes' walk. You will also have access to local shops e.g Sainsbury's, Tesco, Waitrose, Boots, WHsmith, as well as a Post Office. The Angel on Bridge, Pub & Restaurant is only a 5 minute walk. Described as a warm, welcoming and cosy pub, the Angel on the bridge is Henley's only pub on the Thames and attracts many visitors to the town. During the summer the riverside terrace offers outdoor eating, socialising and a relaxing area to escape and watch the river go by. Shared with the local swans and wildlife the Angel on the Bridge is a popular place during the day and evening. Excellent restaurants and bars all within walking distance include The Henley Brew House, housed in what was formerly a Victorian police station, The Henley Brew House is a charming free-house pub in the centre of the bustling market town of Henley-on-Thames. Boasting a tastefully decorated lounge, bar and dining area, it is also home to our very own micro brewery. The Little Angel, Three Tuns, Hotel Du Vin, La Bodega, The Giggling Squid, Villa Marina, La Bodega and Spice Merchant are just a few of the other great eating places in Henley. You have the choice of lovely walks or boat trips along the river Thames. Nearby is Oxford, The City of Dreaming Spires, is famous the world over for its University and place in history. For over 800 years, it has been a home to royalty and scholars, and since the 9th century an established town, although people are known to have lived in the area for thousands of years. With its mix of ancient and modern, there is plenty for both the tourist and resident to do. Whether it's visiting one of the many historic buildings, colleges or museums, going out for a drink or a meal, taking in a show or shopping till you drop, Oxford has it all. Windsor is only a 25 minute drive, it is home to two of the UK's Top 20 visitor attractions, Windsor Castle and Legoland Windsor Resort, but there are many more to visit and enjoy throughout the borough. Why not add Eton College, the Changing of the Guard, the Savill Garden, Ascot Racecourse, Royal Windsor Racecourse plus many others, to your itinerary for the perfect trip. London is only 45 minutes where you have the Houses of Parliament, Big Ben, and Buckingham Palace. The London Eye is also a short distance from here or you can take a train directly from the Apartment to Charing Cross (Trafalgar Square) via London Bridge which only takes 21 minutes. This takes you to within a walking distance to one of the world's most famous square, The Trafalgar Square, with Covent Garden, Buckingham Palace, and the London Eye; the world's largest observation wheel offering spectacular views of the London skyline, all within a walking distance. The world famous shopping areas including Oxford Street, Regent Street, Bond Street, Knightsbridge and Kings Road, Chelsea are all with easy reach. Here you will find legendary shops such as Selfridges, John Lewis, Harrods and Hamleys as well as top designer boutiques including, Gucci, Armani, Ralph Lauren, Tommy Hilfiger, and Jimmy Choo. Europes biggest shopping mall, Westfield is also in close proximity and you have a choice of Shepherds Bush or Stratford City. Inside the Apartment Bedrooms There are 2 king size double rooms. Quality bed linens are provided for both bedrooms. Bathroom Tiled in beautiful Travertine the bathroom has a powerful shower, WC, wash hand basin, and heated towel rail. Towels are provided. Kitchen The kitchen is fully equipped with Electric Hob and Oven with Grill, Toaster, kettle, washing machine, American style fridge/ freezer, complete Crockery set, Pots and Pans and a complete set of kitchen utensils. Open Plan Living room The apartment boasts a large open plan living area with French doors to the rear garden including patio table, umbrella and 4 chairs. There is a High Definition Flat Screen LED TV, DVD/CD Home Theatre System. A stylish and contemporary Hole In The Wall Gas Fire. For maximum comfort a stunning 4 Seater dining table is provided as well as a two luxurious Tetrad Sofas with scatter cushions. This house offers you best all round value for money without compromising on quality or facilities. All the amenities you require are within a short walking distance away and when you consider that the train station is at your doorstep this is really a superb choice of accommodation. I am happy to provide further information or answer any questions you may have any time. Contact me now to avoid disappointment and let me welcome you to the wonderful Henley-on-Thames and all that it offers. Best wishes, Peter
The listing description was accurate. Clean apartment and a very welcoming host. Thank you
Heart-Of-Gold (syds)
2016-02-20T00:00:00Z
Peter's house was perfect for our needs - with comfortable beds and excellently equipped. Enjoyed seeing the red kites wheeling in the sky and roosting in trees opposite. In fact there was a surprising abundance of wildlife all around. Parking was no problem and the property is a relatively short walk from the Thames. Delighted to recommend to anyone looking to stay somewhere nice, clean and comfortable in this area, which seems to be a bit short on self-catering accommodation generally. We were only able to stay for two days, which was a pity. Hopefully we may have cause to visit again. Thank you Peter.
Andrew
2015-06-15T00:00:00Z
We had a very good time.
Madeline
2016-10-14T00:00:00Z
.
Annette
2017-01-13T00:00:00Z
Check in went smoothly and Peter was very helpful. The accommodation is lovely, clean, and really comfortable. A very relaxing space. We were on a training camp and it was perfect to come back to Peter's house after a long day, feeling physically and mentally tired. A soak in the bath or a power shower did the trick to ease away the aches and pains before preparing dinner. Thank you, Peter. :)
Kate
2016-10-01T00:00:00Z
A gorgeous, convenient and clean stay in Henley. Highly recommended!
Ledia
2016-05-28T00:00:00Z
A great place to stay if you want to visit Henley. Peter is a warm host who welcomed us on our arrival and showed us around the house. The house is faboulous, equipped to a high standard and everything is in good order. The town centre, shops and restaurants are in walking distance (10 minutes). Another advantage of the house is that there is ample free parking space in front of the house, which can be a problem in other parts of the town. The only little minus is that there is no wifi connection in the house.
Klaus
2015-11-20T00:00:00Z
Well appointed property a short walk up the hill from town. Perfect Base for a couple or family. Great value for money.
Dave
2015-01-26T00:00:00Z
Rodzaj pokoju
Całe miejsce
---
Rodzaj nieruchomości
Dom
---
Mieści
4
---
Sypialnie
Henley-on-Thames, Oxfordshire, Wielka Brytania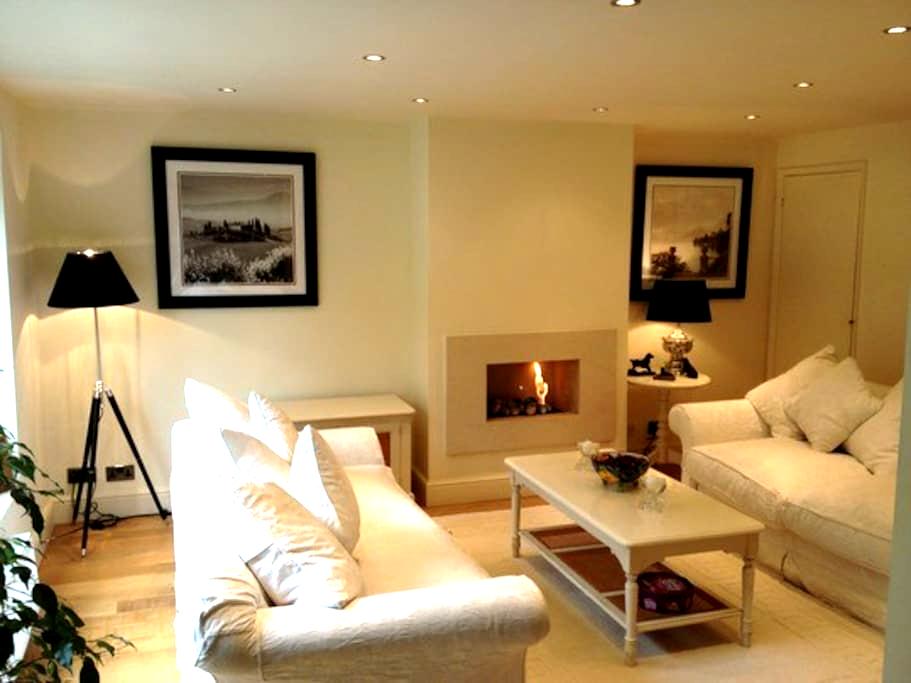 Friendly, easy-going host. My lovely picturesque grade II listed Victorian manor house is situated close to Berkhamsted in an area of outstanding natural beauty in the heart of the Chilterns Hills. Close to Ashridge forest and common. With fast access to London by train and close to Heathrow and Luton airports, the house is rich in history and is currently being restored. Couples and solos welcome. Full english/continental breakfast available on request.
Double room with access to shared bathroom in beautiful country manor house.
We are a 5/10 minute walk to Ashridge national park and forest as well as The Grand Union Canal. By walking or cycling along the canal in either direction you will come to Tring or Berkhamsted, both historic market towns with friendly locals and great restaurants/coffee houses. Nearby we have The Cowroast Inn, a friendly country pub which serves local beers and food, alternatively you can take a 30 minute hike through Ashridge estate to Aldbury where you can find the Valiant Trooper and The Greyhound, both of which also serve food.
Manor House is beautiful, being renovated as stated. Room was clean, with some great art work on the walls. Bed super comfy. Shared bathroom. About an hours walk to Tring which is very pretty. Jules was very easy to communicate with. Looks like a lot of people are staying the manor. Would love to know a bit more about its history!
Madeline
2017-03-18T00:00:00Z
Brilliant property in a lovely part of the country.
Will
2017-02-26T00:00:00Z
A grand old house in a fabulous scenic location. The house is being renovated ..... but a wonderful opportunity to stay in an historic old home. Your bedroom and the bathroom have been tastefully renovated and are spacious and comfortable. Seriously one of the most comfortable beds I have ever slept in ! ... Wifi, desk lovely room .... working here in winter with the fire on would be pure bliss !!!
Alison
2017-03-23T00:00:00Z
Jules was a lovely host in this beautiful manor house which he is currently renovating. Nothing was too much trouble and the grounds and surrounding walks are stunning. The room was clean and tidy, as was the shared bathroom. Thankyou Jules, we will be staying again.
Lee
2017-01-19T00:00:00Z
Highly recommend staying here. Lovely comfortable room and jules was really friendly and nothing was too much trouble. Will definately stay again.
Colin
2017-01-25T00:00:00Z
The host canceled this reservation 150 days before arrival. This is an automated posting.
Alan
2017-01-18T00:00:00Z
Perfect for me the house has got history and iis being restored thats why the price is good .The bedroom was very comfy and warm . Juls was instantly on hand when I got slightly lost. So what more can I say other than I loved it and Id highly recommend you give it a go.
Tina
2017-02-10T00:00:00Z
Nice place, nice people, great location and great value
Steve
2017-02-21T00:00:00Z
Rodzaj pokoju
Pokój prywatny
---
Rodzaj nieruchomości
Dom
---
Mieści
2
---
Sypialnie
Hertfordshire, Anglia, Wielka Brytania
Buckinghamshire - Airbnb
:
Średnia ocena:

4.86

/

5

gwiazdek od

1034

gości
Wpisz daty, by zobaczyć pełną cenę. Obowiązują dodatkowe opłaty. Cena może uwzględniać podatek.