Make sure to bring you swimmers. Finish the day with a spa over looking Black Hill reserve Our House can accommodate all travelers. I can cook so you won't need to worry about what you should do for dinner. If you have any questions I will reply fast. see you soon. :)
We have a heated spa and pool. And offer gourmet meals.
We are backing onto a national park, that's amazing to walk through. Also there is a full size oval backing onto our house.
Very welcoming and lovely place. Spacious and well located in a very nice and safe neighborhood. Great company with friendly dogs in a happy home.
Ben
2017-02-11T00:00:00Z
Hayden and his family were absolutely lovely. We were welcomed the moment we entered and was shown around to familiarize our surroundings. The views are spectacular and my children loved their walk through the national park which is directly out their backdoor. Now to Hayden meals..... my children are the most fussy of children and when Hayden first mentioned he ate vegan I was skeptical at trying them but they were amazing and the kids actually ate all their meals and went back for seconds. Hayden did give us the option to have meals with meat but I chose to try something different and I am sure glad I did. His meals are restaurant quality and we'll worth the price with the time thought and effort put in and it was much appreciated leaving me more time to spend with my children. This was an amazing experience and my family already want to go back and we only just left. Their home is stunning and I thank them for being so welcoming and will be back there soon if they continue on this endeavor. Rate 10/10
Laura
2017-01-14T00:00:00Z
Very relaxing time a short drive from the city but feels very secluded. Spacious beautiful home, very comfortable stay, and terrific flat white to start the day. While I didn't take him up on the offer to make dinner, the man can cook! Great for couples or medium groups of people. Awesome place and host
Cary
2017-02-25T00:00:00Z
First off, Hayden is a warm and welcoming host! Super-laid back, well-travelled himself, and a fantastic chef. He gave us tons of helpful hints for the right things to do during our stay in Adelaide, and was a great conversationalist during the time we spent together. Next, the house: - Beautiful, clean, modern interior (just remodeled) with fantastic kitchen equipment and a lovely open dining area. Lovely glass-enclosed sitting room with comfortable couches just next to the newly finished pool and jacuzzi. - Bathrooms and bedrooms clean and comfortable. - There are a couple of super-friendly Maltese poodles, as well ... favourites of ours, as they were always interested in a scratch or rub and very pleasant company. - Location is in the foothills just northeast of Adelaide, so hiring a car is desirable as taxis/public transit aren't the most convenient. However, very worth it, especially if seeing the area (wine country etc.) is part of your plan while in Adelaide. - Screaming fast wi-fi, if that's your thing. ;-) Finally, do take Hayden up on his offer to cook and split grocery costs: his cooking is fantastic and he selected some absolutely fresh and tasty produce at excellent prices. Can't go wrong! (We were also fortunate to meet his parents and grandparents, who were all extremely welcoming and kind. A very pleasant family experience. :-) We would absolutely stay again, and would encourage anyone who is seeking a peaceful, relaxing atmosphere after a day out-and-about to book Hayden's place.
Greg
2016-12-04T00:00:00Z
A lovely family home in the Adelaide hills, boasting a superb view over bushland to the city skyline. It was a delight not only to enjoy Hayden's cooking and barista skills, but also to be welcomed into his family. A really wonderful stay.
Peter
2017-03-12T00:00:00Z
Perfect place to stay with fantastic service. Thanks Hayden, would definitely do it again
Matt
2017-03-11T00:00:00Z
Hayden was our virtuoso cook, driver, concierge, and spa attendant during the four days we were visiting Adelaide for wine touring. He is truly a full-service host -- and did we mention he's a really nice guy, too? The space is a large home in a luxury neighborhood with a lovely view, including a wild koala in the eucalyptus just off the deck! Caveat emptor: as of our visit in late March 2017, the host/factotum is in the middle of renovating, so expect some unfinished edges (nothing affecting the basics, though).
Heather
2017-04-02T00:00:00Z
We traveled to Athelstone, South Australia from Long Island, New York, USA to attend our son's wedding to a local Athelstone girl. We wanted to be close to them to meet and greet in a family friendly atmosphere. We needed to sleep 3 and 4 for the wedding. Never have used airbnb, I was skeptical. My other son had suggested it and this event being an adventure, why not try it? I am an experienced world traveler over decades of travel. Having stayed in simple pensions to fancy hotels, to people's homes in countries all over the world, this topped all. We had such a welcoming amazing experience with Hayden and his family. It was a huge part of the adventure with Koala's and a national park literally out the backyard. The Australian hospitality and life style is the best. We didn't want to leave. Gourmet meals, enjoying the hot tub looking up at stars we've never seen before with great company, conversation and humor. It just doesn't get any better than that! Come here! 5 stars
Lois
2017-03-21T00:00:00Z
Rodzaj pokoju
Pokój prywatny
---
Rodzaj nieruchomości
Dom
---
Mieści
7
---
Sypialnie
Athelstone, Australia Południowa, Australia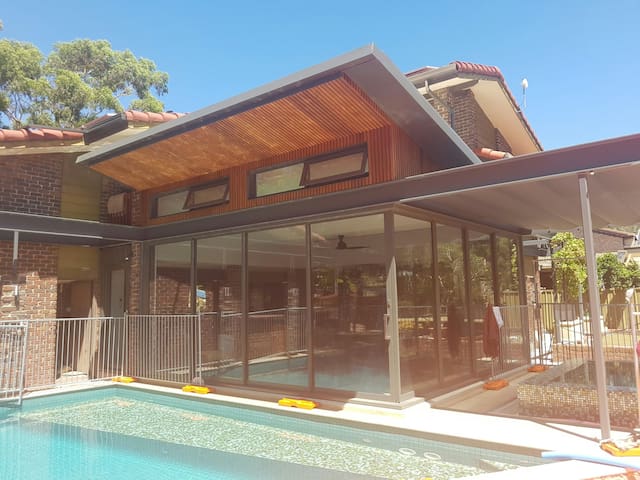 Our newly listed home is within walking distance to conservation parks with stunning views, and public transport to the city centre. We live on a quiet no-through street with cafes, restaurants, supermarkets and amenities within a few minutes' drive away. The Studio Apartment is completely detached from our home ensuring your privacy and includes a kitchenette (microwave cooking only) and en-suite.
Enjoy living among beautiful Australian gum trees and bushland conservation parks. We are close to Linear Park (River Torrens) with lovely walking/cycle trails all the way in to the city and beyond to the beach. We are also a 5 minute drive from the Morialta Falls with the many walking trails nearby within the Park. The CBD is a 30 minute bus ride. There are plenty of eating places and shopping facilities nearby.
Our neighbourhood is surrounded by trees and parks and is in the foothills of Adelaide East. It is generally cooler in the summer than in the CBD and as we are on the edge of the city and on a no-through road, is a very quiet area.
Julie was there to meet us on arrival & then gave us our privacy. Lovely modern & clean room. Good position & quiet neighbourhood.
Peter
2016-10-26T00:00:00Z
Julie was welcoming and the picture you see is what you get. The neighbourhood is quiet. Julie and her husband parked their vehicles outside to ensure I can park in their undercover carport although the weather was predicted to be average that day was very kind of them. Julie took extensive care to ensure our room was warm before we arrived. Julie provided complete privacy. What ever we requested Julie provided eg: Additional toilet rolls. Julie also helped us with washing up our dishes as there is no basin to do this in the kitchen, although there is a wash basin in the bathroom. Will recommend for other to stay.
Sashi
2016-10-01T00:00:00Z
Julie was a great host, friendly and helpful. The studio is very well equipped with a lovely comfortable bed. A very expensive continental breakfast is provided and Julie is on hand if you require anything extra. The studio is private looking out onto the garden. The position suited us very well, easy access to the Adelaide Hills and an easy 20 minute run into the city. Highly recommended.
Gillian
2016-09-26T00:00:00Z
It's been a great time living at Julie's place! She's very helpful and kind! The place is very clean & quite! High recommended!
Catherine
2016-10-07T00:00:00Z
Julie & Mark were very accommodating with my late arrival. The apartment is great and the bed very comfy. Would definitely stay again.
Yale
2016-09-25T00:00:00Z
Julie met us on arrival (around 7pm) and showed us the studio. She explained how everything worked and then left us alone for the rest of our stay which was appreciated. The studio was cosy (Adelaide temps were averaging around 16C for our stay!), the bed was very comfortable and the heater worked well. Athelstone is a beautiful quiet suburb, only about 20 minutes to the city and very close to where we needed to be.
Patricia
2016-11-14T00:00:00Z
Being our first air bnb booking Julie was awesome at making the experience top notch, the self contained unit had everything we needed, a big private yard for the dogs to make themselves at home too. Will definitely be returning when visiting adel again. (Julie also supplies way more than what was needed for us in terms of breakfast materials and help if needed) Highly recommended :)
'Jon
2016-09-19T00:00:00Z
Julie made us feel very welcome, the suburb was lovely, quiet and pretty. We went for a nice stroll through the nearby reserve and felt very safe. The room was perfect, clean and had all that we needed, it had a lovely outlook and was well priced.
Karen
2016-11-05T00:00:00Z
Rodzaj pokoju
Całe miejsce
---
Rodzaj nieruchomości
Wikt i opierunek
---
Mieści
2
---
Sypialnie
Athelstone, Australia Południowa, Australia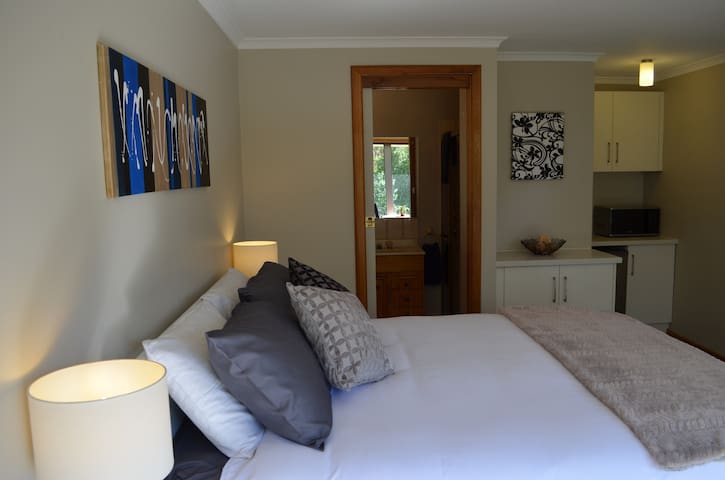 Spacious, comfortable and clean private master bedroom with private bathroom and walk in wardrobe. Located in a scenic and safe area.
Very safe and beautiful location.
Dana and her daughter Rufina were lovely hosts. Felt like being in own home for us. Would definitely stay again if in Adelaide!
Aino
2017-04-05T00:00:00Z
Dana's place is clean, tidy and spacious. And Dana is a friendly and generous host. We had a wonderful night there.
Suki
2017-04-07T00:00:00Z
Rodzaj pokoju
Pokój prywatny
---
Rodzaj nieruchomości
Dom
---
Mieści
2
---
Sypialnie
Athelstone, Australia Południowa, Australia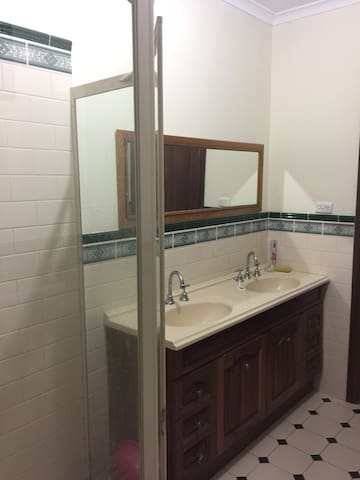 Cosy, quiet and secure apartment situated in friendly neighbourhood. Conveniently situated just a stone throw from the Torrens Linear Park, great for walking, riding and all other recreational activities. The bus stop is a short 3-minute walk – it's a 15-minute trip into the heart of the city. Private undercover parking is also available. Unlimited WIFI available, extra bedding can be provided at your request.
Rodzaj pokoju
Całe miejsce
---
Rodzaj nieruchomości
Apartament
---
Mieści
3
---
Sypialnie
Marden, Australia Południowa, Australia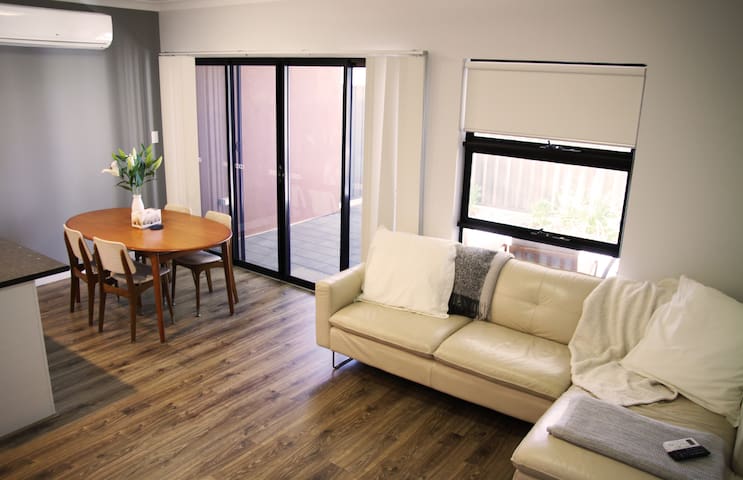 A small comfortable space, surrounded by towering Gum trees, next to a large nature reserve. The unit has a bathroom, bedroom, and kitchen equipped with the essentials required for making meals. Attached to the main house, but with its own secure entrances, and its own patio areas. You can come and go as you please. Perfect for a couple or the single traveler.
We are the last of the suburbs before you enter the Adelaide hills and yet we are still close to the city (Adelaide city is 17 km away, a 30 minute drive or a bus ride of 40 minutes). The unit consists of: * Bedroom with queen sized bed, TV, linen and towels, reverse cycle airconditioning. * Kitchenette with: Hotplates (portable type), fridge, Convection/microwave oven, toaster, kettle, coffee appliances, pots/pans, utensils, crockery, coffee/tea. A small dining table and chairs. * Ensuite sized bathroom with sink, toilet, shower, soap, shampoo and conditioner, hairdryer. The unit is attached to the main house with its own front and rear entrances, all with security screens and locks. The bedroom has a large glass sliding door for garden views and cooling afternoon valley breezes, and air conditioning for those hot days. We will supply white bread and full cream milk for you to use, but if you have a preference please let us know, we are happy to provide other types of bread and milk. You will have access to your own rear patio and the front garden, there is also a small front patio area that is screened off from the rest of the garden. A 320 hectare nature park is right next door with ruins to explore and many hiking and riding trails ranging from easy to tough.
We are the last of the suburbs before you hit the Adelaide hills and yet we are still close to the city (Adelaide city is a 30 minute drive, 1 hour bicycle ride, or a bus ride of 35 minutes). The Tea Tree Plaza shopping center is within a 15 minute bus ride. Mostly though, you want to be here for the trees and nature. This is a very green suburb with lots of natural parklands very close by. We regulary see Kangaroos, Koalas, many bird species and lots of other fauna and flora. You can chill out on the balcony and enjoy the cooling valley breezes and bird song from many local varieties (the Kookaburras love to call to us from the trees). Or you could go for a walk through the park, the old nursery ruins are a pleasant 20 minute walk away on a well maintained trail. If you feel like a challenge there are some quite difficult trails to be found also.
Stuart and Anneliese - most welcoming, friendly and accommodating. Lovely little extra touches (like a snack basket of fruit, chocolate snacks and coffee bags). A cosy, warm, well equipped unit for a wintery weekend stay in Adelaide in a lovely treed location opposite a great recreation park. All good.
Bronwyn
2015-06-01T00:00:00Z
We enjoyed our stay, the accomodation was clean , tidy and suited us perfectly. I would recommend Stuart and Anneliese's place to anyone staying in Adelaide.
David
2017-02-23T00:00:00Z
My husband's mother and grandmother from Brazil stayed 3 weeks at Stuart and Anneliese's place and were extremely happy with the accommodation and service. They were especially happy with the breakfast supplies including fruit and Beerenberg jam. My mother-in-law saw a kangaroo on her morning walk which made her love her stay even more! Stuart and Anneliese were very friendly and helpful but not intrusive. My mother-in law and grandmother-in-law are looking forward to staying there again and we will definitely recommend the accommodation to others.
Beatrice
2016-03-25T00:00:00Z
Place is spacious, outlook is very peaceful and private. You hear the birds chirping in the evenings . Facilities we're good even has washing machine facilities which was great.
Charlotte
2016-11-27T00:00:00Z
Accommodation is perfect for 1 or 2 persons with very friendly hosts. Close to many Adelaide attractions including Barossa Valley, Hahndorf, Adelaide city and shopping. We were lucky enough to see a koala in our street and there is a nature walk across the road, not to mention a really nice English Pub just down the road. Would recommend highly to anyone interested in a S.A getaway.
Pat
2017-01-20T00:00:00Z
Yes
Charles
2016-11-03T00:00:00Z
We were welcomed warmly even though weather was bleak! And candles at the ready for the blackout! Very clean and comfortable. Pity we couldn't explore the local walks. Hopefully next time!
heather
2016-09-29T00:00:00Z
Lovely place to stay. Beautiful setting. Nearby park for lovely bush walks.
Andrew
2015-12-26T00:00:00Z
Rodzaj pokoju
Całe miejsce
---
Rodzaj nieruchomości
Apartament
---
Mieści
2
---
Sypialnie
Vista, Australia Południowa, Australia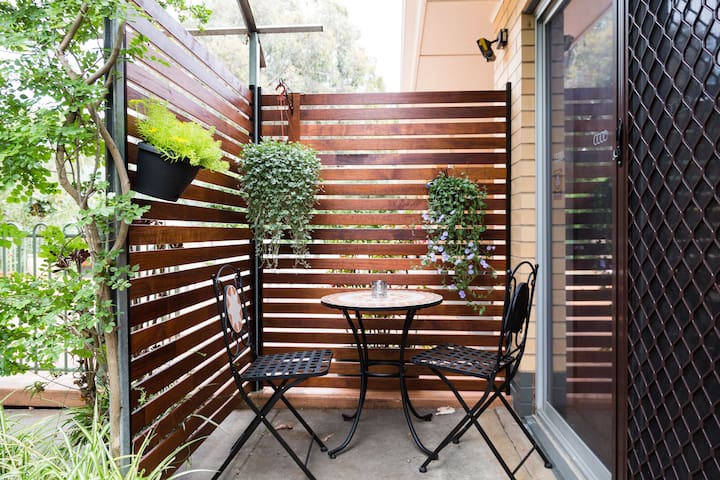 Set in Adelaide's quiet, leafy, Eastern area, this beautiful sandstone home is the perfect place to base your Adelaide stay. Only 10 minutes to the city and two minutes from the Adelaide Hills with wineries and beautiful bush walks, it never disappoints those who are looking for a quiet retreat while they visit our wonderful city!
This is a comfortable, renovated, light and airy home. The garden is lovely to sit in with a cup of coffee and watch the birds at breakfast or to relax with a glass of wine on a warm evening. Tea and coffee are provided for guests. Each bedroom includes a queen size bed and wardrobe facilities. One bedroom also has a table and chair. If your booking is for two people, but you wish to have both bedrooms, there is an additional cost of $35 per night. There is a private bathroom with shower and toilet. I live in the front half of the house, and my guests stay in the back half. You have your own living area including the kitchen, lounge with TV and dining room. Its up to you to let me know how much privacy you require. Some guests like to share the space with me, some prefer to have the space to themselves. I'm very relaxed about it. Just let me know and I will accommodate your needs. For your convenience, I provide environmentally friendly body wash, shampoo and conditioner. There is a hair dryer in the guests bathroom. There is also an iron and ironing table provided in the kitchen. A comment I hear frequently from guests is "Its so quiet here", and its true, there is no traffic noise, all you hear are the birds.
My home is next to a park with large gum trees. Sometimes a koala can be seen in the nearby gum trees. The neighbourhood is peaceful and quiet yet it is only 10 minutes drive to the city and 5 minutes from The Parade. In the neighbourhood there is the very popular Rena's Thai restaurant for dine in or take away meals. The Erindale shops also include a lovely cafe, an Indian restaurant, seafood restaurant, bakery, fruit and vegetables shop, butcher, supermarket and even pharmacy and hairdresser. You are also near the large Hazelwood Park which has a 50 metre heated, outside swimming pool, water play areas and an adventure playground. This is a great place for families. 10 minutes away is Cleland Wildlife Reserve where you can cuddle a koala or walk next to kangaroos, wallabies and emus. You are just 5 minutes drive from Waterfall Gully with a delightful cafe - the best Devonshire tea around - you can relax here, near the waterfall, surrounded by the hills of the Mt Lofty National Park. If you are active, you can take the 3.9 kilometre walk to the top of Mt Lofty!!! Personally I love this walk all year round. In recent years many cafes and restaurants have opened in this area .. most of them less than 5 minutes from home. While its fun to go into the city for its bars and festivals, Its also great to be able to dine locally and walk home. I've included photos of some of the places you may enjoy. Note that I took the photos after hours, so there's no people .. just to be careful about privacy .. but most places here require bookings on the busy nights of the week. In less than an hours drive you can be in premium wine growing areas, whether the Barossa Valley or McLaren Vale.
Highly recommended to stay with Caristia' sweet home. She is very response, nice and minded person all the time. She recommend the cafe was so good and helped me book in advance. The best thing like to meet the friend and chat for a while. She shared with me not only the place to stay...far beyond than it. That's the best part to stay. Appreciated Caristia and all the best!
jacqueline
2016-09-25T00:00:00Z
Attention Cyclists! This is a perfect place to stay to enjoy some of Adelaide's most beautiful hillclimbs. So convenient to be right in th midst of climbing country & so close to th city too. Its a beautiful green space to relax in after a day of touring too. Caristia is a charming knowledgeable host who gets the balance of assistance & space just right.
Fe
2017-01-23T00:00:00Z
Staying with Caristia was absolutely lovely! Her house is a nice safehaven away from the busy Adelaide center. Especially after a long flight it was a very relaxing place to stay. Everything was very clean and well organised. Would recommend!
Vera
2015-10-27T00:00:00Z
Caristia is very nice host who tries to accommodate the needs of the guests. Although I have booked her house in a hurry, Caristia tried her best to get her house prepared. Caristia's house is clean and comfortable, together with all bath supplies and fast wifi provided. Caristia also takes good care of guests as she always concerns whether we need anything and if we are warm enough. Definitely would recommend Caristia's house to everyone!
Sin-Ting
2016-09-10T00:00:00Z
Caristia is the most wonderful host, so welcoming and friendly. Her house is beautiful, very clean and the bed is sooo comfortable. Got nothing but good things to say about this place and would recommend it to anyone. Thanks Caristia, hope to see you again soon!
Flavia
2016-11-27T00:00:00Z
We had the most wonderful three days with Caristia in her gorgeous home. She is the most welcoming, generous and caring host and we felt privileged to stay with her. Her house is in the most lovely suburb and is beautifully renovated and spotlessly clean with crisp bed linen and all the amenities we could wish for. Thank you Caristia for making our Adelaide stay memorable and just perfect.
Sally
2015-11-12T00:00:00Z
this is a the best travel experience.
liu
2017-02-15T00:00:00Z
Caristia's house in a lovely location that's not too far from the heart of the city. Buses run frequently but getting back late can be an issue if you don't want to take a taxi. Caristia really made me feel welcome and gave me a good overview of how to get about and what there was to go and see in and around Adelaide. The room was nice and quiet and the bed very comfortable. Caristia was very kind enough to come and pick from the city when I mistimed my buses, which was much appreciated. Shops are a short walk away and the local area is green and quiet and there is lots to explore if you're willing to walk around the local area. The city is about 10-15 minutes on the bus (depending on the number of people who get on) and its easy to walk from the bus stops to different sights and attractions around the CBD. I had an early flight on the day I left and Caristia helped me to book my taxi and got up to see me out the door which was nice and wholly unexpected. Thanks for the pleasant time.
Nic
2015-03-15T00:00:00Z
Rodzaj pokoju
Całe miejsce
---
Rodzaj nieruchomości
Dom
---
Mieści
4
---
Sypialnie
Adelaide , Australia Południowa, Australia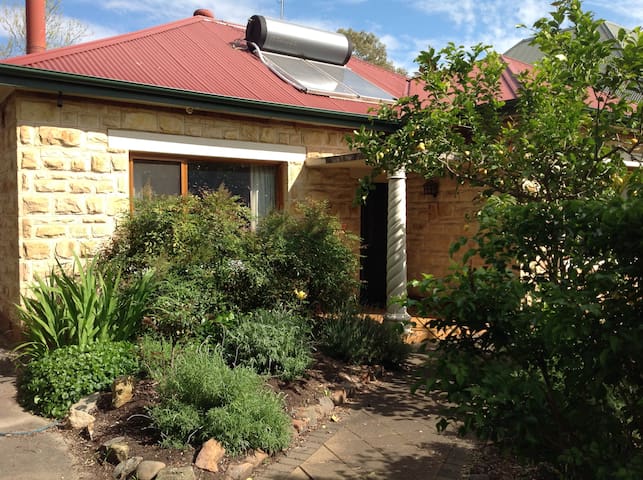 This sanctuary is close to public transport and family-friendly activities. You'll love my place because of the ambiance, the outdoors space, and the neighbourhood. My place is good for couples, solo adventurers, business travellers, and families (with kids).
The space is very calm and nurturing. Plenty of space to unwind and take in the natural settings. We also have provided quality appliances such as split system heating /cooling, coffee machine, Bose stereo, and Fetch TV is available.
This house is located within 5 minutes walk to the scenic Linear Park. With bike paths, streams housing families of ducks, and shady grassed areas perfect for picnics.
Our stay with Kate was a wonderful experience all round, it was easy to book, the communication was excellent, the house was perfect for what we wanted and the location was great. It was within 10 minutes of a major Westfield shopping centre, 2 blocks from local shops that had nearly everything you could want and close to a major artery that distributed us easily to the city and surrounds. It was half an hour from the wineries, the main reason we went to Adelaide. We could not have been more pleased. Kate made us feel so welcome and it was like home away from home. The house had everything we wanted and more and the beds were very comfortable. The view to the mountains over the back deck was so beautiful. It was very peaceful and relaxing.
robert
2016-11-28T00:00:00Z
beautiful place with a fantastic view! kate has everything you need in her kitchen and the beds are very comfortable. The driveway is indeed a bit challeging but nothing major. would definitely recommend her place!
Anne-Sophie
2017-01-01T00:00:00Z
We spent 3 nights at Kate's place in our first trip to Adelaide. Kate's place was clean, beautiful and the perfect central location to start our adventures in handorf, barossa and the city. Thanks for the amazing stay Kate!
joshua
2017-02-01T00:00:00Z
Very relaxing house. Great views. Excellent communication with the host. Would definitely stay there again when visiting Adelaide.
Darren
2016-12-30T00:00:00Z
Could not have been happier, the accommodation was the cherry on top of a great weekend. Dealing with Kate was stress free and easy, from initial booking to checkout. Her quick response to the few questions I had was great, and we couldn't have felt more welcome. I will definitely recommend.
Thomas
2016-12-03T00:00:00Z
A wonderful house. Kate has provided a very comfortable home away from home with spacious living areas. Yes the driveway is a bit tricky but room on the road to park. A nice quiet suburb with great views on the deck of the hills.
Annette
2017-03-04T00:00:00Z
We stayed here whilst visiting family and loved every minute of it! Observation is warm and inviting and we felt instantly at home. Only a short walk/drive to the shops, in a quiet secluded and scenic part of adelaide with a fantastic view!
Jeremy
2017-01-29T00:00:00Z
Great place to stay. Very comfortable well provisioned. Good location. Driveway difficult, and needs to be addressed. Otherwise all good!
alison
2016-12-27T00:00:00Z
Rodzaj pokoju
Całe miejsce
---
Rodzaj nieruchomości
Dom
---
Mieści
6
---
Sypialnie
Highbury, Australia Południowa, Australia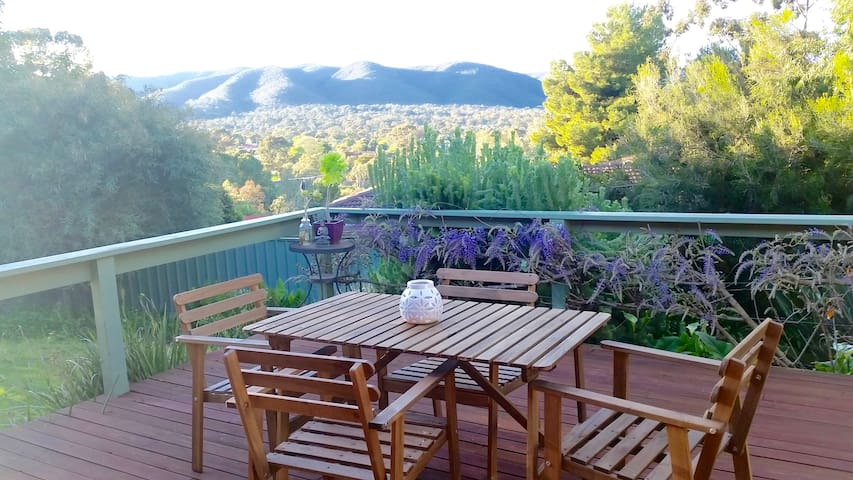 Set off the road at the back of a group of 4. BBQ avaible. Shared bathroom with bath and separate loo. Room has queen bed, price is for one guest. Extra guest is extra charge, please contact me. Only 300m to public transport. With house trained dog.
Comfort for one, extra cozy for two and no room for three. However if you are lonely my dog will comfort you.
Food and clothing shops are within easy walking distance. It's quite and a safe neighbourhood.
I had a verry nice stay, Sally is a good host and will do everything to help you. Close to city and everything is like on the pictures. Oh and the dog is supercute!
Sofie
2016-11-15T00:00:00Z
Had a great time staying at Sally's. We didn't spend much time with Sally as she was out a lot but she was very kind and took us in last minute and made us feel very welcome. Her dog was adorable too! Good place to explore Adelaide from
Freya
2016-07-07T00:00:00Z
Sally was incredibly welcoming, on the 2nd night I was there she baked me some vegan cupcakes! I had amazing time staying with Sally. The room was very spacious, it looked into the backyard and I had room in the closet to store my things. The house was within walking distance to local shops, I had a car but it would be really easy to get around if you didn't. Next time I'm visiting Adelaide I will definitely be staying there again!
Lauren
2016-02-27T00:00:00Z
Sally was great company, easy to talk to and very hospitable. This place for perfect for my friend and I as we used it as solely home base and stayed out all day. Her place is only 20mins by bus from the city and it is in a quiet location, great after a long day of sightseeing but also great if you just need to chill.
Valentina
2016-02-09T00:00:00Z
Sally a été très accueillante et disponible toujours prête à rendre service et tout à fait sympathique
Nicolas
2016-08-15T00:00:00Z
Sally was a very welcoming host and made me feel most comfortable on arrival. The apartment was perfectly located in a leafy green suburb between the CBD and the Adelaide Hills. I would highly recommend this sublet to anyone looking for a room in a clean, well maintained apartment just minutes from many of Adelaide's tourist attractions. Thanks Sally!
Dan
2016-02-02T00:00:00Z
Really wonderful place to stay....nice and quite ...everthin i was expecting.close to the city and shops aswell.really recommend it
Shikku
2017-01-10T00:00:00Z
This was exactly the place I needed and hoped for! An incredibly quiet and restful, and the room was perfect for my quick stay in town. I found the bed perfect and really comfortable for my long frame. When I returned from the bus stop late at night, I always felt incredibly safe as well. Sally is a wonderful host, and I am absolutely in love with her dog, Spud!
Aurélie
2017-03-15T00:00:00Z
Rodzaj pokoju
Pokój prywatny
---
Rodzaj nieruchomości
Dom
---
Mieści
2
---
Sypialnie
Saint Morris, Australia Południowa, Australia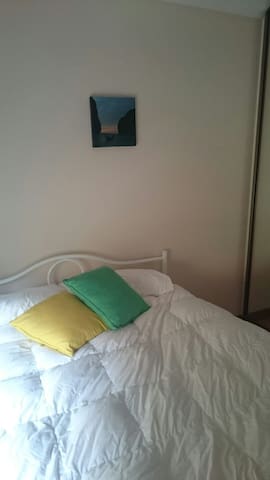 House for rent at Windsor Gardens, 5 bedrooms, Alarm, Aircond, fully renovated house, very good conditions, 10 minutes to Adelaide CBD, close to all facilities. ring Alex on (PHONE NUMBER HIDDEN)
Rodzaj pokoju
Całe miejsce
---
Rodzaj nieruchomości
Dom
---
Mieści
5
---
Sypialnie
Windsor Gardens, Australia Południowa, Australia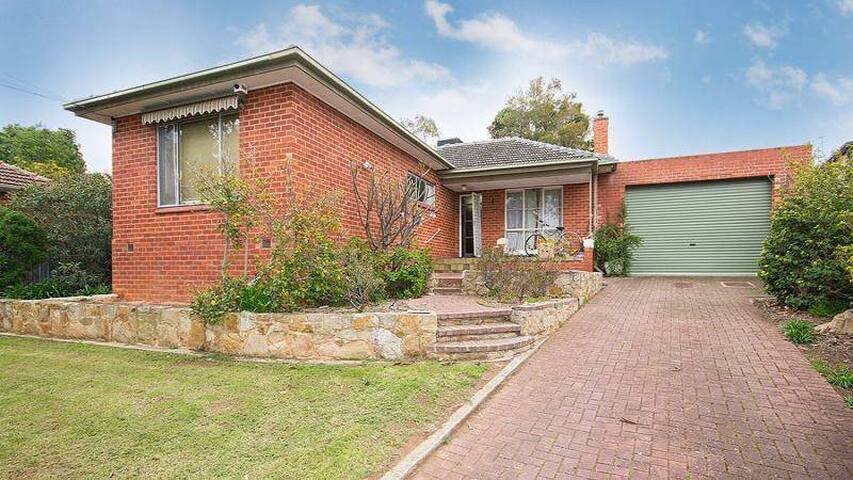 Modern, secure, light filled home opposite park with secure garaging for 2 cars. Enjoy your morning coffee on the back verandah as you plan your day in Adelaide. This beautifully furnished home will delight you as soon as you walk in. It has everything you need to make you feel at home. Fully furnished home with soft comfy beds and fluffy towels. A well equipped kitchen to cook up a storm and then load the dishwasher and put your feet up.
This beautiful home with a private rear yard where you can enjoy your morning coffee while you plan your day. Secure lock up garage for 2 cars. Modern kitchen and bathrooms with many amenities.
Broadview is a very quiet neighbourhood and the home is located near public transport and shops.
Rodzaj pokoju
Całe miejsce
---
Rodzaj nieruchomości
Dom
---
Mieści
8
---
Sypialnie
Broadview, Australia Południowa, Australia
Brand new 4 bedroom house , fully furnished ,just move in and relax Located in Newton,20 minutes to Adelaide CBD. We have many fully furnished houses for short term rentals. Great for new migrants,working contracts,holiday makers and families relocating to Adelaide. Free unlimited wireless internet. (we have 2 houses next door to each other for large groups,discounts for 30 days or more We DONT accept small bOokings in the middle of a month,only inbetween gaps. Upto 9 people
The entire house is yours.There is a garage and driveway for parking.PLEASE NOTE-we only accept small bookings when there are gaps in between bookings .we wont accept small bookings in the middle of months.
Very good for our needs.
Colin
2017-03-13T00:00:00Z
We had a lovely time here. It was spacious and comfortable and perfect for our needs.
Alison
2017-02-02T00:00:00Z
Very neat and clean high quality utensils and other amenities. It woud be good if have also provided the dryer for clothes. Ironing board and iron facility. Of course the Internet
Wasim
2016-12-29T00:00:00Z
Dominique's house was excellent. About a 20 minute drive from town. A very quiet area. The house was clean, comfortable and well-equipped.
Thomas
2017-03-05T00:00:00Z
Rodzaj pokoju
Całe miejsce
---
Rodzaj nieruchomości
Dom
---
Mieści
9
---
Sypialnie
Newton, Australia Południowa, Australia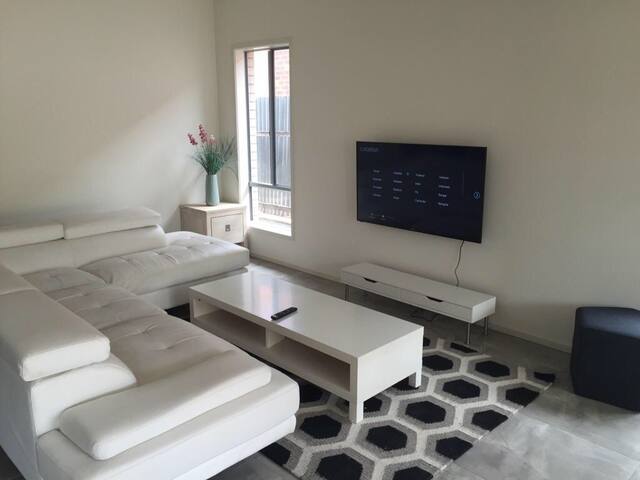 Enjoy the Kookaburras, walks along the bubbling creek, ducks on ponds, sheltered picnic and playground areas and all within 1 km easy reach of shops, gym and golf course or 3.5 kms to major shopping precinct, to cinemas. City centre is 15 mins drive away. You'll love my place because of the location, the ambiance, the outdoors space, peaceful surrounds. My place is good for couples, business travelers, families (with kids), and furry friends (pets).
Comfortable for 2-3 guests Ample parking Quiet and great walks Close to shops and public transport Dog friendly Clean - mattresses cleaned after each guest.
Quiet neighbourhood Peaceful, parklike surrounds
The host canceled this reservation 75 days before arrival. This is an automated posting.
Dong
2016-12-25T00:00:00Z
Peeter is a very friendly and helpful host and we had a very good three weeks stay in his apartment. All the equipment for a self-contained flat we needed was there. The surroundings are beautiful to have nice walks along the river. Klaus from Germany
Louise
2016-11-22T00:00:00Z
Great little place to stay when visiting Adelaide. It has everything you need at a great price
Deborah
2017-01-29T00:00:00Z
We felt very comfortable & relaxed in the unit. It was spacious and airy. We loved the walks nearby plus the close vicinity to a shopping centre. The unit had excellent aircon plus everything else that was needed to make our stay comfortable. Would recommend it to anyone wanting a pet friendly unit near Adelaide.
Rosemary
2016-09-24T00:00:00Z
Rodzaj pokoju
Całe miejsce
---
Rodzaj nieruchomości
Apartament
---
Mieści
3
---
Sypialnie
Valley View, Australia Południowa, Australia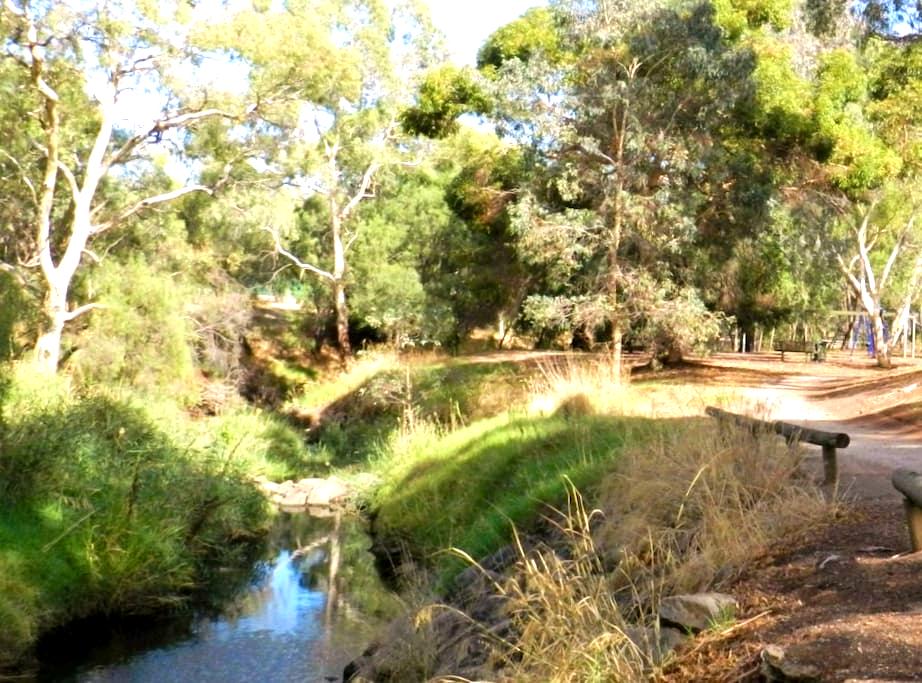 My place is close to the restaurants and organic retail outlets of Magill Rd, vibrant and bustling cafes and the Cabaret Festival! Begin your outback experience in your own private space. Rustic and rural on the outside, a luxurious space punctuated with original artefacts from our travels to Australia's interior awaits. As a couple, solo adventurer or business traveller you'll love my place because of the tasty SA produce, free wifi, privacy & easy access to the city which is 4 km away
.…a slice of the Australian Outback in the (leafy eastern) suburbs Nestled just a leisurely 5-minute stroll from the restaurants and organic retail outlets of Magill Rd, and a short distance to the vibrant and bustling cafes and shops of The Parade, is your little piece of Outback Australia. Just 4km from the center of the City of Adelaide, a different world awaits. Enter your very own private space to begin your outback experience. Rustic and rural on the outside, your own private studio offers a luxurious space punctuated with original artifacts from our travels to Australia's interior. Relax on arrival with some tasty South Australian produce before heading out to explore nearby Morialta Conservation Park (complete with koalas!), have dinner and drinks at one of the many small bars in the CBD's laneways, discover the beauty of the Adelaide Hills, the wineries of the Barossa Valley and McLaren Vale and the stunning coastline of the Fleurieu Peninsula.
There are lots of restaurants, cafes and hotels within walking distance. I am happy to recommend some or you can take a stroll and see what captures your imagination! Parks and open spaces abound on Magill Rd, The Parade, and in St Morris and Trinity Gardens.
Di's place was beautiful and far exceeded our expectations! It was comfortable, homely, welcoming and very relaxing. The studio is full of beautiful Australian artefacts that give it so much character and we are so happy that we got to stay there. Highly recommended!!!
Dana
2017-03-13T00:00:00Z
Nous avons adoré passer la soirée/nuit de la Saint-Valentin dans "l'outback studio" comme nous avons également beaucoup apprécié les nombreuses attentions et détails glissés dans chaque recoin. La chambre entièrement rénovée et très bien équipée (TV, lecteur dvd, frigo, toaster, friteuse, thé, eau fraîche, ...) est séparée de la maison et vous disposerez également de votre propre salle de bain avec une grande douche, une machine à laver et un WC. Des bouteilles de vin en suppléments sont également à disposition! ;) Nous y retournerons volontier si nous en avons l'occasion et si possible pour plusieurs nuits!!
Patrick
2017-02-15T00:00:00Z
So much greatness to say about Di's little place. Cute, cozy and welcoming, with all your amenities. The bed is nice sized an comfortable, with tea and coffee fixings at the ready. Walking distance to great cafes, and just a quick 10 min Uber to city center. For those who may be put off by the separate bathroom, don't be. The locations is completely private, with ample lighting (day or night). Sparkly clean bathroom, with large shower and separate toilet. We loved the little piece of outback, and will definitely book again when in Adelaide.
Teah
2017-03-23T00:00:00Z
Wonderful place. Well appointed with thoughtful extras. Di was great with communication. Would recommend for both work and a holiday. Would definitely stay again.
Tom
2017-02-11T00:00:00Z
Cool place. Close to public transport taking you to city. Good value. Amazing welcome basket put out by Di which was a really nice touch.
Praveen
2017-02-26T00:00:00Z
I had an excellent night at Di's place. It was extremely comfortable, well decorated in an excellent location. I loved the little artefacts around the room with tags about their origins and loved the welcome basket. Fantastic stay!
Celeste
2017-03-07T00:00:00Z
Great central spot to base yourself and explore the barrosa valley, Adelaide hills and out to the coast
David
2017-02-18T00:00:00Z
This is a nice relaxing space very comfortable and quiet would definitely do a return visit
Judianne
2017-02-11T00:00:00Z
Rodzaj pokoju
Całe miejsce
---
Rodzaj nieruchomości
Wikt i opierunek
---
Mieści
2
---
Sypialnie
Saint Morris, Australia Południowa, Australia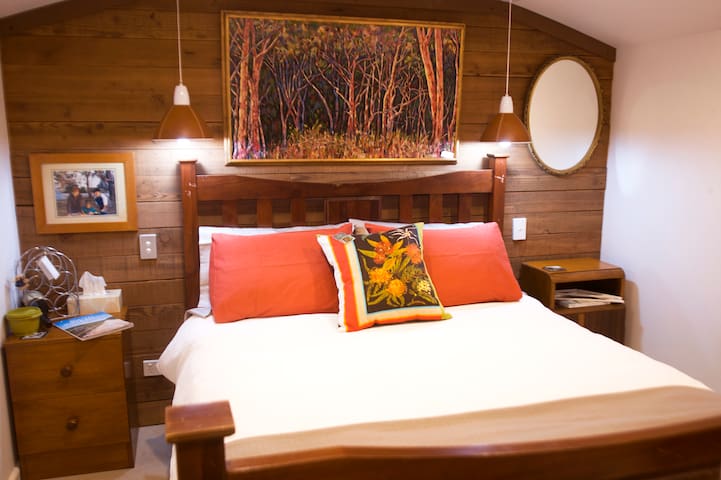 Very convenient location, close to bus stop, 12-15 minute drive to city, serene, quiet, affluent suburb in the foothills, on the high side of the road overlooking city-scapes. Modern open-plan double story house built in 2008. Three rooms on offer. All common areas inc kitchen, family, dining, lounge, balcony and theatre room are accessible to guests. This house is shared by very hospitable hosts who love to look after the guests and offer travel guidance if needed.
Beautiful Georgian mansion-look double story house on the foothills - in the vicinity of three famous wineries - one right at our door-step. Upstairs balcony overlooks the shapely vineyards of legendary Penfold winery, and city sunset views. This is the place you would like to relax in after discovering the surroundings of SA.
Trendy cafes, eateries, boutiques and cinema down the road (5 min drive), supermarket 15-20 min walking distance, hiking trails nearby on gentle slopes makes this property unique for weekenders. CBD (with rundle mall, botanic gardens, SA museum & art gallery etc) only 7 km away.
Our stay with Rajni and Arun was a real enjoyable experience and I would recommend their place to anyone looking for a comfortable and cozy stay in Adelaide.
S
2016-09-15T00:00:00Z
We had a warm welcome by Sahil and the house is very beautiful and well maintained. Felt very homely and enjoyed the stay.Close to city and very convenient.
Prathima
2016-04-26T00:00:00Z
This home is everything it's presented to be and more. Our hosts were very inviting and accommodated special requests without hesitation. The home is immaculate and exactly as advertised plus a little more. Rooms were private and comfortable. The deck and views are amazing. It was the perfect location for our business trip. Thanks for having us Rajni. We look forward to our next stay.
Aron
2017-03-04T00:00:00Z
My wife daughter and two friends stayed with Rajni, they were very happy with their stay and said Rajni was delightful and would definitely go back again. Thank you for your hospitality and for providing a friendly comfortable stay.
David
2017-02-19T00:00:00Z
Rajni was a good host. We were visiting from interstate due to a terminally ill mother in hospital and Rajni was respectful of this.
Janine
2017-03-19T00:00:00Z
Wonderful facilities and excellent hospitality
Elise
2017-03-15T00:00:00Z
The house is well located in a quite district and very close to the city. The house is just like what pictures showed, spacious and well decorated. The room is very clean with ensuite bathroom. Rajni and Arun are great, open mind and easy to communicate. You'll definitely find the common topics with them. It's a great experience and wish to come back soon! Thanks, Rajni and Arun.
Lelfin
2017-04-09T00:00:00Z
Our host was very nice to us, even though it was a short stay for me and my friend, Rajni and her husband were very warm and showed us a lot of generosity when we stayed there, always offered any help. Their home is very beautiful and has a very nice view, definitely would have loved to stay longer if i had the chance.
Benson
2016-03-13T00:00:00Z
Rodzaj pokoju
Pokój prywatny
---
Rodzaj nieruchomości
Dom
---
Mieści
6
---
Sypialnie
Rosslyn Park, Australia Południowa, Australia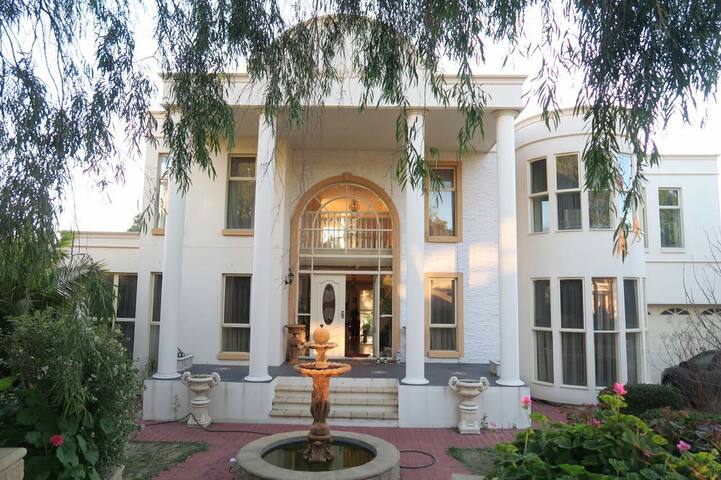 Quiet home great coastal views whilst staying 45 minute drive to the barossa Valley wine region . Historic hotels 1 minute drive away. Major Westfield shopping 5 minutes away.glen Ewin 2 minutes away.
the the 3 bedrooms contain upstairs 1queen sized bed with ensuite /toilet 2bedrooms with double beds share a downstairs toilet bathroom if both booked. all visitors are welcome to use the balcony/ barbeque upstairs and admire the Houghton hills view over the plains.
very quiet spot apart from the koalas occasional walkabout at night,be woken by the birds at first light .
Rodzaj pokoju
Całe miejsce
---
Rodzaj nieruchomości
Dom
---
Mieści
6
---
Sypialnie
Houghton, Australia Południowa, Australia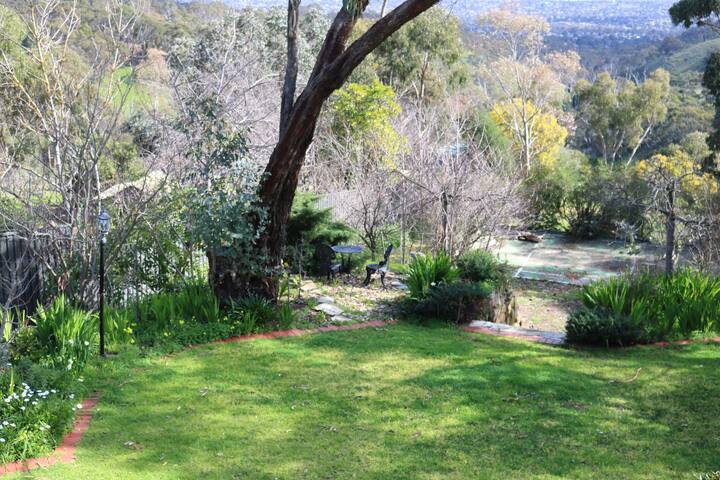 The studio is your private hideaway located behind the main house. It contains a large bedroom with a queen bed, and a living area with a sofa bed. Bathroom with shower and basic kitchen facilities, including bar fridge, kettle, toaster and use of the outdoor BBQ. Peaceful garden on a quiet tree lined street. We are close to the city, cafes's, parks, pubs and shops, walking distance to public transport. A 10 minute bus ride to and from the city and a short 15 minute walk to Norwood Parade.
Clean and tidy apartment in a great location. Lovely quiet street. Would definitely stay again.
Peter
2017-02-26T00:00:00Z
Die Unterkunft von Jasmine war perfekt für unseren kurzen Aufenthalt in Adelaide. Es ist nahe an der Stadt, Ö.V und Restaurants, Cafés und Supermarkt sind nahe. Jaamine war sehr freundlich und war für und jederzeit erreichbar und eine gute Gastgeberin!
Fabrizio
2017-02-20T00:00:00Z
A great place. Very near to city, restaurants and public transport. Jasmine as a person was also very nice to interact with. She also responded on a timely basis which was very much appreciated. Overall a good experience!!
Sanket
2017-02-11T00:00:00Z
Location is ok, we had some issues but solved it later.
Lorena
2017-03-26T00:00:00Z
Great self contained studio. Jasmine greeted me when I arrived and made me feel very welcome. Was lovely waking up to the flowers just outside the bedroom window!
Stacey
2017-02-17T00:00:00Z
Great location!
JoJo
2017-03-17T00:00:00Z
Great cosy place with all the things you need and more! Jasmine was very prompt in replying and the place is just a short drive to the city.
Kay
2017-03-13T00:00:00Z
Fantastic location, very comfortable bed. Would highly recommend Jasmine's place, it's perfect.
Henri
2017-03-29T00:00:00Z
Rodzaj pokoju
Całe miejsce
---
Rodzaj nieruchomości
Domek gościnny
---
Mieści
3
---
Sypialnie
Evandale, Australia Południowa, Australia
Located at the foot hills of Adelaide, this 1 bedroom furnished pool house is set on a quiet st surrounded by gums and birds. A 1 minute drive to the historic Fox n Firkin pub, Ruby Raya indian restaurant and the Ansteys hill conservation Park.
1 Bedroom with Double Bed, Large bathroom, Living area with Kitchen(no oven just fridge, sink and microwave) treadmill and TV Swimming Pool and Spa
Banksia Park is set in the foothills of Adelaide, it is a lovely suburb with quiet streets and plenty of bird life. It is rich in local history
I had a really nice stay. I felt welcomed and enjoyed the spacious accommodation and location. I enjoyed being away from the hustle, walking and the amazing restaurants at the end of the road. Great communication with host. I would definitely stay here again.
V
2016-05-17T00:00:00Z
The pool house is awesome. Comfortable, clean and a top location. Pity I didn't get to use the pool - it looked so inviting but alas, I was too busy. Thanks Andy!
Caterina
2017-02-13T00:00:00Z
Fantastic spot if you look forward to relax in the area after a hard working day !
Michele
2017-03-16T00:00:00Z
Very relaxing visit! Beautiful space and very kind hosts :)
Hayden
2017-02-08T00:00:00Z
Great quiet location after a long day at work, to come home to and relax and unwind. Andy and Deb are very helpful, and everything is provided for a very comfortable stay. The communication was excellent. I also felt completely uninterrupted in my own space, but having met them, I believe they would have also been very giving of their time had I wanted that too. Very friendly and considerate indeed. Thanks guys.
Adam
2017-02-24T00:00:00Z
Great space in a very relaxing location. Andy and Deb have an amazing home that they are sharing. Very helpful when asked, but it's a private space if you want.
jill
2017-03-06T00:00:00Z
Awesome stay and location
Adrian
2015-10-17T00:00:00Z
Our host Andy was very warm and welcoming! The place was exactly as expected as per the description, we had a wonderful stay in the beautiful quiet neighbourhood. Highly recommend it to anyone!
Jackie
2016-04-09T00:00:00Z
Rodzaj pokoju
Całe miejsce
---
Rodzaj nieruchomości
Inny
---
Mieści
2
---
Sypialnie
Banksia Park, Australia Południowa, Australia
Large three bedroom open plan western red cedar cabin in the Adelaide foothills set on 4.5 acres of bushland. Overlooking a lovely manicured garden, this is a true natural setting where you can sit back and enjoy nature. A five minute drive to shops and restaurants, and fifteen minutes from the city of Adelaide.
The cabin is spacious with three good sized bedrooms - one with a King bed, and two with Queens. Plenty of room for a family or friends wishing to share. The main bedroom has an ensuite and a television, and it looks out onto the picturesque garden. Split system heating and cooling is provided in the main livings areas, as well as a wood fire combustion heater during the cooler months. Sit on the front porch soaking in the sun and listening to the sounds of nature. Hear the birds tweet, watch the koalas perched in the trees, listen to the creek trickle, and just simply enjoy the serenity of the bush. There are no neighbours here, so you can indulge in a complete escape that will leave you feeling relaxed and peaceful when you leave. A pool with filter is set up for those hotter summer days (1 metre deep). Great for kids during summer months It's a great place to base yourself to explore the region - many fantastic walking trails (Horsnell Gully within walking distance), rock climbing and abseiling, wildlife and great wineries. Close proximity to Cleland Wildlife Park to experience our native animals up close, and to Morialta Conservation Park. Also a short drive to the historic German town Hahndorf. As well as accessibility to the Adelaide's top wine regions - the Adelaide Hills, Barossa Valley and McLaren Vale. As regular Air BnB guests ourselves, we understand the importance of a comfortable stay that provides a home away from home. Included in your stay is: A cooked breakfast for the first morning Tea/coffee Free wifi Linen and towels Shampoo/conditioner/soap/toothpaste Laundry facilities (including dryer) Webber and BBQ Use of the home gym and treadmill
The neighbourhood is bushland, with a quite road at the edge of the property that runs to a no through road at end is the beginning of Horsnell Gully National Park walking trails. (10 min walk to park) Hop in the car and a five minute drive will take you to the local shops, supermarkets and restaurants. If you wish to travel into the city of Adelaide it's only a 15 minute drive from our house. Norton Summit's Scenic Hotel is also just down the road, and great for good old fashioned pub, Australian Term for Hotel, meals in a relaxed environment with the locals. For a more exquisite fine dining experience, the world-renown Penfolds Magill Estate Winery is also a short five minute drive. Norwood Parade and Burnside Village with their vibrant café and restaurant cultures are a ten minute drive.
What better to have a big bed king size, in the beautiful house close to adelaide free breakfirst free very good laundry. We spend a very good time in fiona's house she is very friendly i highly recommend this air bnb And i just want say thank you.
Benjamin
2016-07-01T00:00:00Z
Ruhig gelegen und dennoch schnell in Adelaide. Einkauf und Restaurants in 5 Min erreichbar. Im Haus alles vorhanden auch laundry und Wifi. Haben sogar Koala gesichtet im Garten. 10 Min von Pennfolds Winery.
Jasmine
2017-04-06T00:00:00Z
Nice house in a beautiful area . We have had the chance to see 3 koalas in the yard ! The host is really nice.
Van
2016-07-04T00:00:00Z
Totally recommend. A lovely place with an interesting 70's feel. Very quiet, but only around 15 minutes into town! Hosts were very friendly and helpful, this is a great spot for checking out Adelaide if you want some peace and quiet at night.
Heath
2016-07-18T00:00:00Z
It was a lovely experience at Richard and Janes very cozy house. We stayed two nights. The king size bed was super comfortable, the ensuite was great. It was fabulous to use their laundry to get our washing done. Fiona was very helpful with suggestions for places to visit - the bad weather didn't get in the way of Our enjoyable stay.
Carolyne & John
2016-07-14T00:00:00Z
The host was very accommodating and pleasant to deal with. The place was exactly like advertised. Much more was delivered than expected. A very beautiful and scenic location. We felt very safe too.
Avanti
2016-07-30T00:00:00Z
It was a beautiful home with a beautiful host so thank you for that :) I was there for a week and absolutely loved the serenity and Fiona went above and beyond to ensure that I felt comfortable and at home. It was exactly what I needed and so god for the soul!
Anna
2016-08-19T00:00:00Z
Rodzaj pokoju
Całe miejsce
---
Rodzaj nieruchomości
Wikt i opierunek
---
Mieści
6
---
Sypialnie
Skye, Australia Południowa, Australia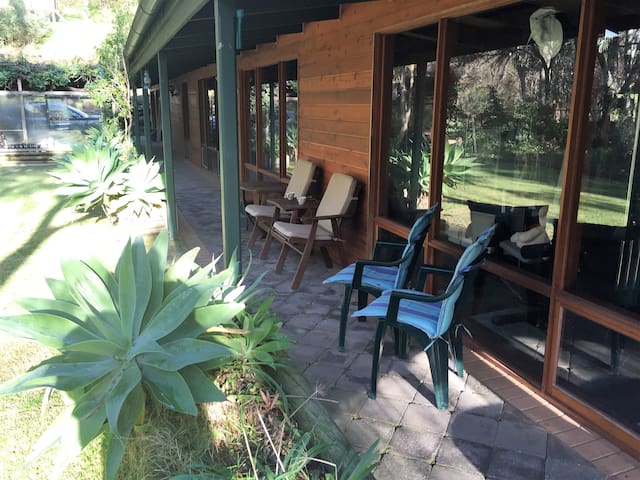 Wpisz daty, by zobaczyć pełną cenę. Obowiązują dodatkowe opłaty. Cena może uwzględniać podatek.