Our house is a wonderful getaway from urban life. As the real eco resort, it is supplied by solar energy. If you enjoy in unspoiled nature and the possibility to jump into the sea directly from your bed, this is the right place for your vacation.
Welcome to the Paradise on Earth! Our summer house is far away from city rush,surrounded by wonderful nature. It is an old stone house located directly by the sea-side, with its private beach and huge mediterranean garden, ideal for Robinson tourism! The house is divided in two completely separate units, like a semi-detached house. The part of the house that we rent consists of the ground floor and the first floor which is entered from outside of the house. On the groundfloor there is a kitchen with dining table and bathroom. On the second floor there are two bedrooms and another bathroom. In front there is a spacious terrace with rich mediterranean vegetation and the whole house is surrounded by spacious garden. The house is connected to the water supply system and the electricity is gained by solar colllectors. You can freely plug in your mobile phones, computers, radio, lamps or any other device which is not consuming much energy (less than 100 W). Our house is situated 1,5 km away from Ston. The local road is going through olive trees and mediterranean vegetation and bike ride to Ston is real pleasure. In front of the house there is a small private pier where small fishing smack can be tied up.
There are many interesting places that you can visit during your stay at Villa Andrija. Ston is a small medieval town from 14th Century, situated on the very junction of Penninsula Pelješac with land. It is famous for its long tradition in shellfish farming and salt pans. Shellfish have been farmed here from Roman times and Ston oysters are World famous. Salt pans are situated in the very center of the town and are known as the World's oldest pans where salt production hasn't changed since ancient times. Ston is surrounded by city walls 5,5 km long and they are the longest in the whole Europe. The town is surrounded by centuries old olive trees and mediterranean vegetation. In the bay there are two very famous nautic places "Kobaš" and "Broce". Broce is only 200 m away accross the bay and you can easily reach it by swimming. Dubrovnik, which is only 50 km away from our place, is known as one of the pearls of the world heritage. The Island of Mljet is a National Park and the most forested island in the Adriatic. It can be easily reached and is really worth visiting.
This was the most perfect holiday home for us - Great location (close enough to walk into town, right on the water, great character property, lots of things to do nearby, etc. Ana's parents are on hand to help with anything - Andreas and Georgia are the perfect hosts - The speak excellent English and are so entertaining.
Ruth
2015-08-28T00:00:00Z
Incredible place to stay! The hosts were amazing, the setting is beautiful and I would recommend this place to anyone!
Danny
2015-08-17T00:00:00Z
Wir verbrachten eine sehr erholsame Woche im Haus von Ana. Der Garten war wunderschön und sehr schattig, was bei den hohen Temperaturen perfekt war. Das Haus ist einfach aber sehr sauber und hat alles, was eine fünfköpfige Familie braucht. Anas Eltern, welche im Nachbarhaus wohnen, waren sehr herzlich, diskret und hilfsbereit. Wir würden jederzeit gerne wieder hinfahren! Danke an die ganze Familie von Ana.
Caroline
2016-08-01T00:00:00Z
We had a lovely week in villa Andrija. Anas parents stayed in the house next door and were the best hosts you can imagine, very friendly and generous. The house has a beautiful garden by the sea with several places to eat, drink and relax in comfortable shade on hot summer days. It is well located for exploring the region with lots of interesting places in reach for daytrips by car.
Marja
2015-06-28T00:00:00Z
We had a lovely week at Villa Andrija. The setting is beautiful and completely unspoilt. The garden felt like Eden and was laden with figs, lemons, pomegranates, grapes. We breakfasted by the sea , lunched under the grape vines and in the evening were treated to starry skies and a stunning lightening show. Ana's parents were great hosts bringing us bowls of figs, filling us in on local history and arranging for a friend to take us out in his boat. The house itself is tasteful, simple and understated. It's off grid so if you're wedded to your hair dryer it might not be for you but if you are looking for somewhere to completely unwind and appreciate life's simple pleasures (fruit from the tree, sea, sun, swimming, cycling, stars, kittens) then it's the perfect getaway.
Lucy
2014-08-27T00:00:00Z
Rodzaj pokoju
Całe miejsce
---
Rodzaj nieruchomości
Dom
---
Mieści
5
---
Sypialnie
Zaton Doli, Dubrovačko-neretvanska županija, Chorwacja
Holiday house Nikica is a great place to spend vacation away from the city crowd. Traditional dalmatian house is located in Doli, small village, 40 min drive from Dubrovnik Old Town, and 2 min drive from the beach.
Detached holiday home accomodates six people., consists of two comfortable bedrooms, bathroom, kitchen/dining room, living room and traditional tavern. The covered terrace in front of the house is full of flowers and is ideal for relaxing. The house is located by the main road with two parking places in front.
Minden rendben volt, korrekt szállásadó! A ház főút mellett áll, így szezonban éjszaka hangos lehet, nekünk szezonon kívül tökéletes volt.
Róbert
2016-05-04T00:00:00Z
We lived during 6 nights in a very Nice House with a practical situation. Marija and her family is very kind and aviable ! The region is magic ! It was perfect hollidays !
Flora
2015-08-05T00:00:00Z
Leider wird in der Beschreibung nicht erwähnt,dass die Unterkunft an einer sehr stark befahrenen Straße liegt und es auch nachts sehr laut ist. Strand ist mit dem Auto in 15 min zu erreichen.Sehr freundliche Vermieter, die leider den Lärm der Straße nicht aufwiegen.
Traute
2016-08-17T00:00:00Z
L'accoglienza e' stata calorosa ad attenderci oltre a Marija c'erano anche i suoi genitori la mamma di Marija ci ha offerto un liquore fatto in casa e (URL HIDDEN) casa e' veramente accogliente e pulitissima fornita di biancheria e tutti gli elettrodomestici e tutti i suppellettili necessari .Molto ben arredata la terrazza da godere per relax e' presente il climatizzatore nel soggiorno ma non nelle camere da letto .I genitori di Marija ci hanno offerta una cena a base di pesce freschissimo cucinata da loro e donato una bottiglia di liquore e mandorle tostate . La descrizione della casa e' completa e precisa nell'annuncio e le foto sono del tutto realistiche .unico neo è la strada principale che passa proprio sotto la casa che tuttavia rimane abbastanza rientrata ,anche per questo motivo sarebbe bene che le stanze da letto avessero il climatizzatore
Elisabetta
2015-07-30T00:00:00Z
Schöne, großzügige Wohnung, sehr sauber und komfortabel. Die Gastgeberin und ihre Eltern waren sehr freundlich und zuvorkommend. Kommunikation lief auch sehr schnell und reibungslos, kleine Gastgeschenke gab es auch. Die Terrasse war super. Die Gegend ist sehr schön und Dubrovnik ist gut erreichbar. Der Ort Doli bietet nicht viel, außer einen kleinen Strand. Man braucht unbedingt ein Auto, sonst kommt von dem Haus nicht weg, denn es gibt keinen Gehweg an der Hauptstraße. Es gibt aber in der Umgebung auch sehr schöne Sandstrände und gute Restaurants in Ston. Insgesamt empfehlenswert.
Thomas
2016-08-10T00:00:00Z
Marija was very friendly and helpfull, she and her parents made us really feel welcome and at home. The apartment was very clean and completely fulfilled our expectations.
Cornelia
2015-09-05T00:00:00Z
Nagyon jól éreztük magunkat, gyönyörű a ház, szép a kilátás. Kedvesek és segítőkészek a házigazdák. Mindennel elégedettek voltunk. Ár/érték arányban kiváló! Csak ajánlani tudjuk.
Katalin
2016-07-17T00:00:00Z
Marija nous a très bien accueilli le jour de notre arrivée. Nous avons même eu droit à un petit cadeau de bienvenue! L'appartement est spacieux, propre et très bien équipé. La terrasse est très agréable malgré la route à proximité. A recommander.
bastien
2016-07-03T00:00:00Z
Rodzaj pokoju
Całe miejsce
---
Rodzaj nieruchomości
Dom
---
Mieści
6
---
Sypialnie
Dubrownik, Dubrovačko-neretvanska županija, Chorwacja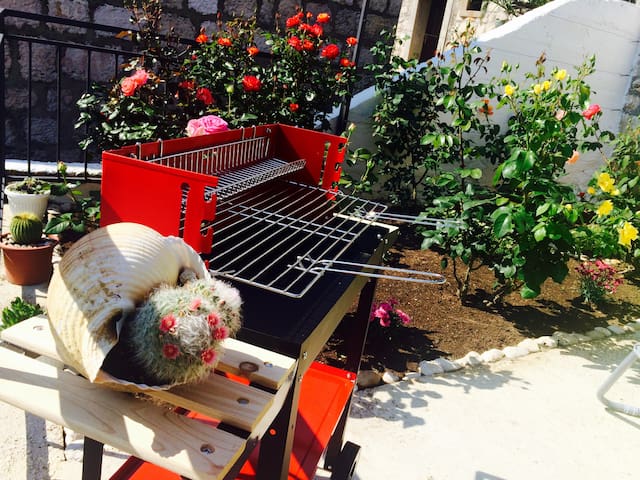 House consist of two double rooms and sofa bed in living room. There is a full kitchen with a dishwasher,toaster,coffee machine and a microwave Accommodation will provide you with a free wi fi, sat TV, air conditioning and a terrace. There is a private bathroom with shower,washing machine also come with free toiletries. Outside there is a terrace with deckchairs, parasol and bicycles which you are welcome to use for exploring area.The property offers free parking. Welcome :)
Our property offers authentic traditional restaurant where food is prepared upon request on traditional way of cooking under iron bell which is specialty of this part of Croatia. We recommend specialties like veal and lamb under the iron bell, homemade cheese and prosciutto (smoked ham), homemade bread, homemade wine, vegetables grown in our own garden.You can taste dried figs and traditional cake called "Padispanj". Beside of this fish can be prepared as well. All dishes offered here are domestic and fresh ( plaque for quality - gold medal ). Property have ethnographic collection which is interesting to look at.
Rodzaj pokoju
Całe miejsce
---
Rodzaj nieruchomości
Dom
---
Mieści
5
---
Sypialnie
Dubrownik, Dubrovnik-Neretva County, Chorwacja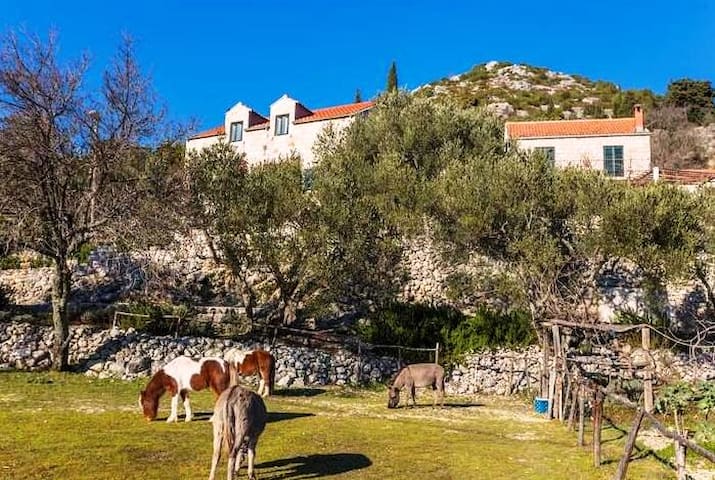 Authentic traditional old house
Rodzaj pokoju
Całe miejsce
---
Rodzaj nieruchomości
Dom
---
Mieści
6
---
Sypialnie
Dubrownik, Dubrovacko-Neretvanska County, Chorwacja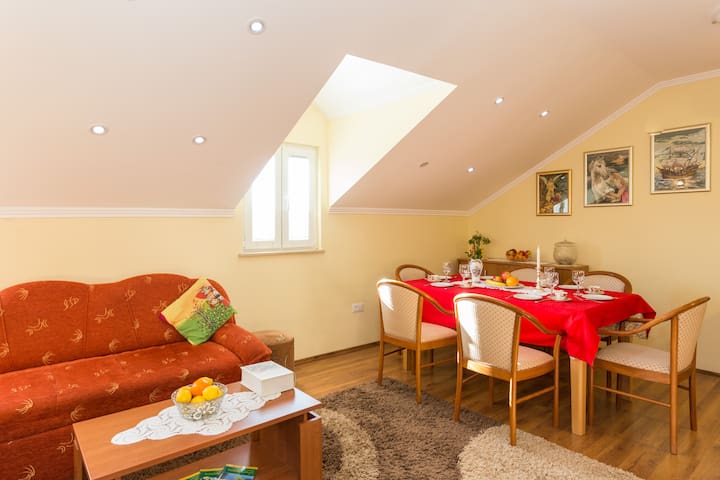 Villa Planika is located in Ratac, in a peaceful area, a few steps from sea. Near the city of Dubrovnik, just 25 minutes drive, the most known historical Old town and global destination, the villa is placed to enjoy in natural sounds of the sea and birds, and great picturesque view to Elafiti Islands Villa can accommodate 6 but it is ideal for up to 4 people; one or two couples or for a family with two adults and one or two children.
Nous avons passé un excellent séjour. le descriptif et les photos de la maison et des abords sont tout à fait fidèles à la réalité. la vue sur la mer et les iles en face est absolument sublime. Tereza et son mari très accueillants et disponibles. la plage privée est très bien aménagée (coin d'ombre et de soleil, parasols). les terrasses extérieure sont parfaites. nous avons apprécié le calme (après 2 jours passés à Dubrovnik) tout en étant assez proches des commerces et des visites (voiture obligatoire). Oui, je recommande cette location : allez y les yeux fermés ! le seul regret : nous avons trouvé notre séjour trop court !!!
ANNIE
2016-08-28T00:00:00Z
The house is wonderfull and very clean, Tereza is a very nice host. She has a beautiful vegetable garden, the tomatoes are delicious ! The car is essential. We has a very nice stay in Villa Planika.
Camille
2016-07-11T00:00:00Z
If you are reading this, stop and just book it! The place is fantastic situated halfway between between Dubrovnik old town and the Ston it's a great location to explore this part of the Croatian coastline. The place itself has a very well appointed kitchen with two good size bedrooms. There is a great bbq area with everything you need including the wood to burn. The outside space is fantastic, with a good mix of sun and shade all day, with outside dinning and numerous sun loungers, and in the evening there are great sunsets looking west toward Ston. The sea is easy to access and wonderfully clear, and you can spend hours peacefully watching the yachts sail by from 5m fishing boats to 80m super yachts. The owners could not have been more helpful they were easy to get hold of and met us in Dubrovnik to show us where the villa was. We stayed for 9 nights and could have stayed for longer.
Todd
2016-08-21T00:00:00Z
A great place to spend your vacation. Get up in the morning and jump in the sea from your private cliff. Meet the magnificent sunsets sipping the great local wine. Enjoy the solitude on the gorgeous veranda under the vines. Wish we had more time. I recommend this place with no reservations. George and Veska
George
2016-08-12T00:00:00Z
The villa was exactly what we wanted for our stay in Croatia. It was perfectly situated for an easy drive both to Dubrovnik and the Peljesac penninsula. We couldn't get enough of the fresh oysters in Mali Ston! Tereza was a lovely host, she took the time to get us completely settled in and checked in to make sure everything was fine during our stay. We loved the gardens and made a fresh salad with dinner every night. And the private access to the sea is a great spot to sit and watch the sunset. The villa is an absolutely lovely place, we recommend it!
Brian
2015-05-14T00:00:00Z
5 star stay.. the owner was perfect, she walked up to the main street to make it easy for us. we appreciated the welcome drink, home made! Theresa is a very friendly person.. the house is perfect, the private pontoon and the beautiful sea are great, a shower outside, a beautiful garden, we will return! you do need a car, but it's probably a good thing to be far from the busy world (with an easy access)
marjan
2014-08-19T00:00:00Z
Our stay at Teresa's was absolutely sublime! The house was very cozy and equipped with everything we needed. The best was the big patio and the private sea access. We spent our mornings with fresh fruit and yogurt on the patio and evenings with fresh fish! It was a perfect location to go into Dubrovnik one day and the peljsac peninsula the next. I can't wait to visit again.
Erin
2015-07-02T00:00:00Z
Rodzaj pokoju
Całe miejsce
---
Rodzaj nieruchomości
Dom
---
Mieści
6
---
Sypialnie
Dubrownik, Chorwacja
Our family house is situated in a beautifull tranquil bay of Okuklje in MLJET island in the first row by the sea with a nice view of the a bay . We offer a double bedroom with a private bathroom on the first floor of the house. The room has a balcony with a sea view and there is a large terrace. Use of kitchen is included. It is close to restaurants and dining, great views, and the beach. My place is good for couples, solo adventurers, and families (with kids).
A very nice, clean room facing the Okuklje bay, a few steps from the sea. A good place from which to visit the rest of the island (car is a must): NP Mljet, Odysseus' Cave and beaches around Saplunara(URL HIDDEN)
Chiara
2016-09-16T00:00:00Z
yes it is accurate description but it should be stressed that the accommodation is not located on the mainland
Max
2016-09-09T00:00:00Z
We were welcomed well by the host Matej's mother Maria. My wife and I wnjoyed our time very much staying at Matej's place. Everything is spot on what is said in the description and also bed is nice and comfy. The room is clean and in a quiet location. So all was perfect for our stay of two days at Matej's place. The bay of Okuklje is beautiful. I highly recommended.
Perisa
2016-08-02T00:00:00Z
Okuklje is a lovely village and Rooms Frano a nice place to stay. Maria was very welcoming, helping us with our luggage, offering us extra blankets after a thunderstorm which cooled the weather down a lot part way through our stay, and giving us a glass of a traditional Croatian liqueur on the evening just before our departure. Matej, Maria's son, who organises the bookings, always responded very promptly to any queries I had. Okuklje is a nice village and the bay really stunning. The only downside is that you really need your own transport, a car, or hire car, or be prepared to get taxis. There is a bus, but it is in the next village over a mile away. Overall though, a lovely place, well worth visiting.
Kathryn
2016-07-17T00:00:00Z
Rodzaj pokoju
Pokój prywatny
---
Rodzaj nieruchomości
Dom
---
Mieści
2
---
Sypialnie
Dubrownik, Dubrovnik-Neretva County, Chorwacja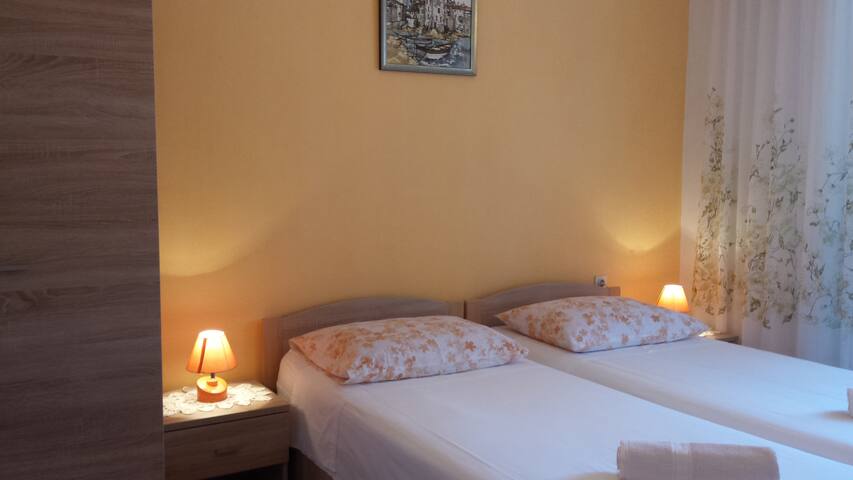 Our little house is an old traditional house isolated but only 150 m away from the center of the (URL HIDDEN) there are no next door neighbors you can use the space around for chilling out,having your meal...If you're nature lover and like walking and climbing the hills this is the best place for you. There are sunbeds on the terrace so you can also sunbath. There's no public transport on the island, so if you want to see the whole island please rent a car or scooter which you can do at the harbor!
Very friendly neighborhood, away from mass tourism,parking lot is situated near the house. Opportunity to socialise with local people but with the opportunity to have your privacy!Very safe area!Perfect for having a holiday in AUTUMN and SPRING because Babino Polje is the village exposed to the sun all day all year around.There are a lot of narrow roads around Babino Polje where you can walk around picking spahroghi and AUTUMN and SPRING fruits.Above Babino Polje there's the highest peak of the island from where you have beautiful view and can have a picnic there. In AUTUMN you can join people collecting grapes and olives and see how they make a wine and olive oil.I also own some olive fields so you can join my family collecting the olives.After collecting them we take them to the place where we make olive oil out of them so you can see the whole process making the olive oil.
Our neighbourhood is just like a part of the family.We've be living in the same neighbourhood for years so each time smeone new comes all the people around like to meet them and accept them like one of us! There's traditional style restaurant Triton close to the apartment which I highly recomend.Under the restaurant there's a bar Komarac where you can enjoy morning caffe or evening drink.The highest peak is just above the restaurant and bar. It takes 50 min walking.
This cottage was an absolute charm and Marijana was a wonderful host. She went out of her way to help us out with taxis and even invited us for a cup of coffee. The cottage was very comfortable and village life was a great experience!
Alison
2015-09-10T00:00:00Z
Super cute little cottage on the side of the hill. Very comfortable and lovely host. The little balcony with view on the garden makes for great breakfasts and lunches. Parking is easy and Mljet is just beautiful. A stay that will keep a special place in our hearts and memories.
Luca
2016-04-15T00:00:00Z
Dès le début, Marijana était très réactive aux messages, et ses informations très claires et utiles. Nous nous sommes tout de suite sentis très bien accueillis. Malgré le fait que nous soyons arrivés tard sur l'île, elle s'est débrouillée pour que nous puissions rejoindre le cottage. Comme nous avions fait longue route et que le commerce de Babino Polje était fermé, elle nous a même gentiment proposé un petit casse-croûte ! Le cottage est idéalement situé au centre de l'île, entouré de nature, avec une adorable petite terrasse donnant sur une magnifique vallée. Le logement est cosy, très propre et bien équipé. Nous recommandons fortement ce petit paradis et serions ravis d'y retourner un jour !
M-Adelyne
2016-06-23T00:00:00Z
The location was amazing, serene and relaxing. The perfect mix of exploring and chilling out. All enhanced by marijanas welcoming advice with a great place to stay
Rudi
2015-07-28T00:00:00Z
This was my second time at the cottage because I loved it so much the first time. It's a great stay if you're looking for nature, cats, dogs, wildlife and walking. Marijana is very helpful and hospitable.
Jay
2016-10-26T00:00:00Z
We both loved the trip at Babino Polje, it was one of our best souvenir from Croatia. Marijana was a perfect host, she offered us a drink when we arrived/left and a nice discussion about the island. She kindly helped us to rent a car (we thought that we could do everything by bike, big big mistake: only scooter/car rent at Sobra.) and brought us to the car rent station, thank you again! The house was clean, functional and the little terrace very pleasant. There are farm animals all around the house, there are all adorable, in particular the chicken who gave us an egg :) We spent 3 days in the cottage, we could have easily spent more time. Great experience, I highly recommand this host.
Anastasia
2015-08-05T00:00:00Z
Marijana is a great host and her apartment is comfortable and cozy and has everything you need. it is quiet and the balcony has a nice view. We enjoyed Marijana's attention and useful information.
Maria
2016-07-24T00:00:00Z
Cottage Melita was very charming and cosy with a beautiful view and everything we needed. Marijana greeted us with a warm welcome and is a genuinely nice down to earth person. We found taxis and rental cars expensive on Mljet but had good luck with hitch hiking. Our best memories are the times we spent in the village and there is a beautiful cave close by where you can swim which is walking distance. Highly recommended.
Jennifer
2016-08-14T00:00:00Z
Rodzaj pokoju
Całe miejsce
---
Rodzaj nieruchomości
Dom
---
Mieści
2
---
Sypialnie
Babino Polje, Dubrovnik-Neretva County, Chorwacja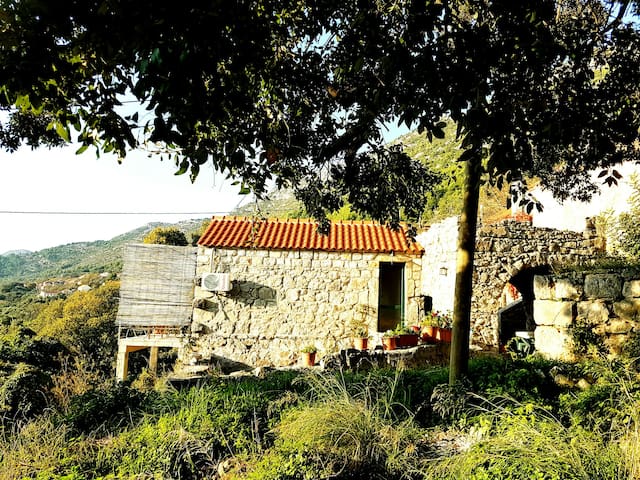 This is a room for 2 persons (double bed) with fridge and fan. The bathroom is in the hall (next door) and it is shared with another double room (Room KRILE - vacation in nature). From the hall you can go out on the balcony.
The house is located just 20m from the sea and in the surrounding area of 100m you can find few beaches, coffee bar and fish restaurant. View at Mali Ston Bay, the oyster and mussels farms. It has been well-known since Roman times, and oyster (ostrea edulis) from Hodilje and Mali Ston, as an acknowledged natural aphrodisiac has made this region world-famous. Old city of Ston, 3 km from Hodilje, is a small town with the longest stone wall in Europe (5,5km), famous salt pans and it's well known for its rich history.
Great location, beautiful village,loved swimming at the beach, eating oysters in the restaurant and visiting nearby Ston. Highly recommend!
Andrew
2016-08-12T00:00:00Z
Une petite ville calme et accueillante à l'entrée de la presque île de Peljesac. Si vous cherchez la tranquilité, c'est là qu'il faut venir. Klare est une hôte très gentille et fait tout pour que vous vous sentiez bien.
Zy
2016-08-10T00:00:00Z
Fine clean room and a warm welcome. Thanks Klare
Erik
2015-08-03T00:00:00Z
Realy nice and clean room, perfect area in the city. Was nice to stay there. Thank you Klare
Lucie
2016-07-06T00:00:00Z
Clean room, super gorgeous area, near the beach and the tiny Harbour. Plus, she offered us fresh grapes! All you need to visit Ston (if you have a car)
Jordi
2015-09-01T00:00:00Z
Klare is one of the kindest women I have ever met! As soon as we arrived she gave us homemade plum cake, cold water and took us out on the poorch - I've never seen so many stars in my life. The place was a bit hard to find given that the town has no street names, but it is so quiet and beautiful, that more than makes up for it. We stayed only two nights, and it was not nearly long enough.
Eloise
2015-07-14T00:00:00Z
Klare estuvo para recibirnos e indicarnos como llegar al apartamento. Está situado en un pequeño pueblo al lado de Ston, muy cómodo si vas en coche.
flavia
2015-07-17T00:00:00Z
We had two really good nights at Klare's location. We enjoyed the fact that we stayed close to Dubrovnik's Old City Centre, but not in the middle of the crowd. The room had everything we needed. I really recommend this place! Very friendly people who take care of your stay. Thanks!
Pleun
2016-08-22T00:00:00Z
Rodzaj pokoju
Pokój prywatny
---
Rodzaj nieruchomości
Dom
---
Mieści
2
---
Sypialnie
Hodilje, Dubrovnik-Neretva County, Chorwacja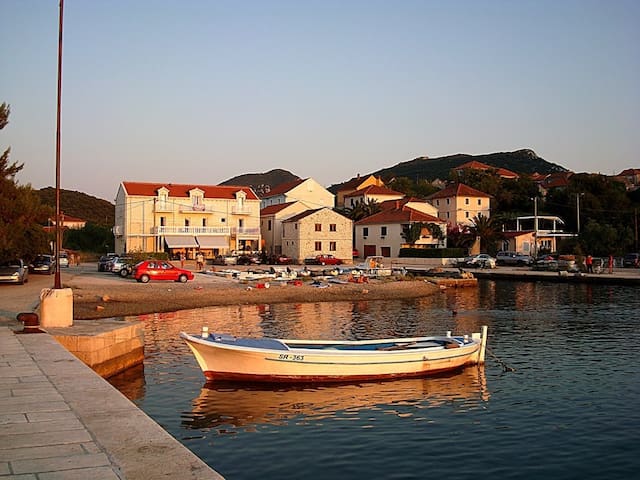 Lovely apartment 40 m2 in small quiet village by the sea.
This one bedroom apartment with garden view features free WiFi, air-conditioning, flat-screen TV and fully equipped kitchen fitted with oven, stove, refrigerator, electric kettle, coffee machine and dining area. Private bathroom comes with shower tub and washing machine. WiFi is free for guests. Parking is available for guests.
From Hodilje you can easily reach many beautiful tourist locations like: - National Park Mljet (7km to Prapratno from were you have ferry to Mljet - a 40 minute drive to island of Mljet) - Old town of Dubrovnik (55km) - Island of Korčula (60km to Orebić from where you have small ships that would take you to Korčula in 15min) - Old town of Mostar, Bosnia and Hercegovina (100km) The old town of Ston, 3 km from Hodilje is a small town with the longest stone wall in Europe (5,5 km), famous salt pans and it's well known for its rich history.
We hebben heel erg genoten van ons verblijf bij Jelena. Het appartement is netjes en schoon. We mochten de ruimte beneden gebruiken om buiten te zitten, heerlijke plek onder de bomen. Jelena en haar man en haar familie waren zeer gastvrij. We hebben de oesters met smaak opgegeten. Vanuit het huis loop je eenvoudig naar de zee voor een frisse duik. In het aangrenzende dorpje Holdije ( ook goed te lopen, 15 min max) hebben we heerlijk gegeten in het restaurant. Een paradijselijke plek. Vanuit het huis is voldoende te ondernemen voor een paar goede vakantie dagen.
Mabel
2016-08-17T00:00:00Z
We had a nice night in Jelena's apartment. The room is clean, the small beach at 5min walk is enjoyable, the seafood in the area is delicious. Thank you
Audrey
2016-08-23T00:00:00Z
Nothing to say. Just perfect. Thanks
GERARD
2016-09-16T00:00:00Z
Jelena was very welcoming and helpful. We only stayed for one day, but the room was perfect and the location was idyllic.
Christian
2016-08-07T00:00:00Z
Nous cherchions un logement pour le soir même... Très bonne communication avec Jelena, réactive et efficace! Comme nous ne sommes restés qu'une nuit, nous n'avons pas pu la rencontrer, mais avons été gentiment accueillis par sa famille. Le logement est bien situé, calme et très propre. Il manque juste un congélateur ou un friseur mais la famille de Jelena nous a permis d'utiliser le sien. Une bonne adresse à proximité immédiate de Ston.
Claudine
2016-08-12T00:00:00Z
We needed one night en route to Dubrovnik. Although a little off the beaten path (not recognized by (SENSITIVE CONTENTS HIDDEN)maps), Jelena's great directions made finding it easy. Absolutely spotlessly clean and she even left fresh fruit in the basket on the table. Welcoming!
Christine
2016-07-02T00:00:00Z
Great space, great communication. Would recommend!
michael
2016-08-23T00:00:00Z
My cousin and I stayed at Jelena's place for 1 night. Appartment is very well equiped. It was very clean. Jelena is so nice. She even left us some fruit and juice. I would definitely recommend it to anyone.
Vanja
2016-08-31T00:00:00Z
Rodzaj pokoju
Całe miejsce
---
Rodzaj nieruchomości
Dom
---
Mieści
2
---
Sypialnie
Ston, Dubrovačko-neretvanska županija, Chorwacja
☺
Really beautiful apartment with everything that we needed.
muamer
2016-09-21T00:00:00Z
Sanda's room is exactly as described (with a fridge and private bathroom) and the balcony is lovely with beautiful views. There is no access to a kitchen but there are a few restaurants within walking distance. Sobra is a lovely place to stay if you are looking to relax as it is very quiet but it is also easy to hire a car or bike at the ferry port to explore the island, especially the national park.
Polly
2016-08-26T00:00:00Z
Très agréable séjour chez Sanda qui nous a accueilli avec un très bon gâteau fait maison, on s'est régalé. Mljet est magnifique. L'appartement mis à notre disposition était confortable et fonctionnel. Merci Sanda.
Brigitte
2016-09-27T00:00:00Z
Sejour agréable chez des personnes chaleureuses. Chambre propre et conforme à la description. Je recommande vivement cette adresse.
Jean Victor
2016-08-12T00:00:00Z
Oui
Mozaika
2016-08-15T00:00:00Z
Sanda est une hôte très accueillante et disponible pour ses invités ! Nous n'avions pas pris en compte que la chambre ne disposait pas de coin pour cuisiner et Sanda a mis à notre disposition une bouilloire et de la vaisselle et nous a même proposer de faire la cuisine pour nous une soirée ! La chambre est confortable et reposante la salle de bain très propre. La terrasse de la chambre donne sur la mer, c'était magnifique !
Emilie
2016-08-28T00:00:00Z
Every think Was ok And the place is a paradise !
Morgane
2016-08-10T00:00:00Z
Location was excellent, hosts were friendly and the view was amazing. Room was clean and grocery store and a couple restaurants were very close. There was no warm water in the shower and the wifi was too weak to use. Sobra is 2km from the ferry port and you can rent a car there which is highly recommended so you can experience the whole island
Jonas
2016-09-01T00:00:00Z
Rodzaj pokoju
Pokój prywatny
---
Rodzaj nieruchomości
Dom
---
Mieści
2
---
Sypialnie
Sobra, Sobra, Chorwacja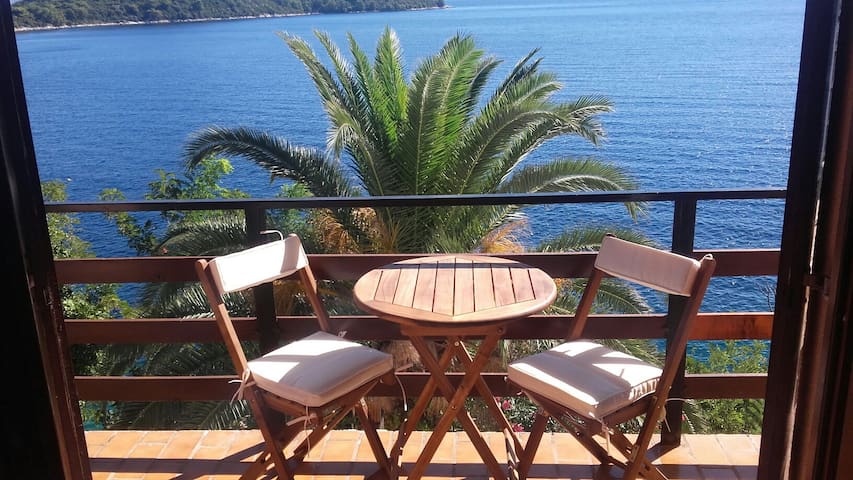 A renovated traditional stone house in a peaceful village of Mali Ston near Dubrovnik. Situated between medieval walls and a charming chapel from the same period, it offers an unique experience that is impossible to forget.
-
Check out our other property in Mali Ston: https://www.airbnb.com/rooms/1332451 Minutes from exceptional restaurants and from the sea.
Mara's summerhouse is decorated with love and was equipped with everything we needed during our stay. The private terrace offers a stunning view over the Mali Ston Channel and a great possibility to enjoy a 2-hour breakfast. Mali Ston is a nice, very silent village with 2 restaurants. The one we tried offers really good food but is a bit overpriced. If you want to try some small restaurants with good local food we recommend to also visit the bay of Kobas. Arriving at Mara's place was perfectly organized, a friend of her met us at the entrance of the village and guided us up to the house and showed is around. In the garden on the backside of the house live 3 little turtles - interesting to see them outside a zoo.
Michael
2015-09-25T00:00:00Z
The house is very nicely situated in Mali Ston and has a beautiful terrace. Mara is also a nice hostess
Victor
2015-07-24T00:00:00Z
The house is located next to the walls of Mali Ston with an awesome view to the bay! It is very clean and very lovely furnished! Thanks to Mara who is a great host!! We highly recommend to stay in this house!
Matthias & Sandra
2015-08-27T00:00:00Z
We loved our stay in Mali Ston. Mara was very helpful and the little stone cottage was very charming and contained everything we needed. The view from the terrace was incredible and a great start and end o every day.
Marta
2014-08-07T00:00:00Z
Mara's summer house is in the perfect setting; nestled at the back of peaceful Mali Ston, in the shadow of the 15th Century fortified walls and fort. It is cosy, well furnished and has all that you would need for a self-catering holiday. The terrace provides a picturesque view of the bay between the peninsula and the opposite shore on the mainland. There are sun-loungers, a couple of tables and accompanying chairs from which to enjoy a pivo or a glass or local wine, whilst taking in the surrounding scenery. The largest fortified wall in Europe, runs down the side of the summer house, offering unparalleled access to this impressive structure. You can walk to neighbouring Ston along the wall or via a cycle and pedestrian path which connects the two locations. The walk is about 1.5km and takes about 20 mins. There are three restaurants and a little local stall in Mali Ston. In nearby Ston there are numerous restaurants, shops and bars which can be reached easily. Ston also boasts impressive salt pans, the product of which is widely available in the region. Mali Ston is perfect for exploring the Pelješac Peninsula. It is a 5 - 10 min drive to Prapratno, where you can catch the ferry to Mljet island, home to one of Croatia's beautiful national parks. Dubrovnik is 50 mins drive South and heading North will take you into wine country. The Dingač region is a 30 - 40 min drive towards Orebič, where this robust red wine is available at numerous village vineyards. There's plenty to see and do in the area and Mara's summer house is a great base. We didn't actually meet Mara, as she was out of the country, but a lady called Anita looked after us on her behalf. Anita was very welcoming and made herself available for any questions or assistance that we needed. She was really helpful, and met us early when we wanted to check-out ahead of schedule to include an additional visit on our trip. There are quite a few steps up to the summer house, so those who are less able may want to take that into account. It is also very dark at night, so you often need a torch to negotiate the final few steps to the the house, although there are outside lights that can be left on for your return. There is a steady drip of tourists visiting the wall during the day, but at night it is very peaceful. Because the area is quite rural, and close to water, you may want to take some mosquito repellent. Overall, this is a great place for a peaceful, relaxing stay and a good location from which to explore a lovely corner of the Dalmatian coast.
Jonathan
2015-09-12T00:00:00Z
Great studio villa, we really enjoyed it! Mara is wonderfull host.
Davor
2015-08-22T00:00:00Z
Staying at Mara's live house was the best experience ever! The house was very clean and cosy and had everything we needed. As the house is located inside the historical wall of Mali Ston, the view from the garden was spectacular and magical. Mara is a wonderful person and she gave us a very warm welcome and made us feel at home. We can highly recommend the house and we'll certainly come back here ourselves.
Tiziana
2016-07-20T00:00:00Z
We really enjoyed our stay in Mara's lovely summer house! Everything was really uncomplicated and nice, Mara was a great host and made sure we had everything we needed, e.g. including a very detailed and helpful collection of attractions and insider tips for the surrounding area :) The apartment is located in a quiet and beautiful neighbourhood and from the terrace, you can enjoy an awesome view over the bay. If you are looking for a calm and peaceful place to stay (and don't want an overcrowded neighbourhood), this is definitely your place!
Svenja
2015-09-16T00:00:00Z
Rodzaj pokoju
Całe miejsce
---
Rodzaj nieruchomości
Dom
---
Mieści
2
---
Sypialnie
Ston, Dubrovnik-Neretva County, Chorwacja
Banići is situated 0.5km from the sea with a beautiful beach. You can enjoy in a nice quite surrounding, perfect for summer vacation, with an outstanding view from balconies. It's a great place to relax while drinking local wines and eating domestic specialties. Dubrovnik is 30km far, reached by car/bus in 45mins. There are lots of beaches, restaurants, local markets and supermarkets within a 10km radius, and organized trips to nearby islands.
There is a a bedroom with a double bed and an additional single bed if needed. The bedroom has its own bathroom. Also possible to provide a cot. There is a big garden all around the house where guests can enjoy while having a barbecue, which is also available. What could better pair with the local food than the wine? The wine, olive oil and other famous local liqueurs are produced in this very house, and you can try them when asking a host for it. In addition, if you have kids, there are baby carriages, different toys and other entertaining gadgets for different child ages to use, what can save a lot of space in your car if you are travelling with your family.
The bedroom is located on the first floor of a house in the center of a small peaceful village Banici, but close enough to Dubrovnik, Ston, Korcula and other bigger places in Dubrovnik area, reachable by car/bus in less than an hour. A lot of natural beauties are located nearby and daily trips are organized to visit them, with starting points only 5-10km far from Banici. But, what makes this place even more special is that you can reach the sea and a nice beach only by 10mins walking.
The host canceled this reservation 8 days before arrival. This is an automated posting.
Francisco
2016-08-01T00:00:00Z
Very cleaned and recently renovated bedroom as described by the owner. Banici is a small village but beautiful and not crowded beaches are nearby. Slano is close too for restaurants. Great view for the balcony of then room to watch sunset and stars at night. Host offered us free coffee in the morning, really nice gesture.
Mathieu
2016-08-01T00:00:00Z
Nice stay, lovely room and bathroom, clean and very friendly and helpful host! (Parents Petra) Also a private beach!
Wouter
2016-08-24T00:00:00Z
We had a fantastic evening in peaceful Banici! The house is big and beautiful and the yard is covered in various fruits growing all over the place. Our room was extremely clean and tidy, and had a balcony with an incredible view of the sea and surrounding mountains. The hosts were fantastic, in the evening inviting us to have some home made wine with them on their patio. We ended up drinking and talking until well after midnight! Absolutely incredible place, everything far exceeded our expectations!
Colin
2016-07-26T00:00:00Z
Petra édesapja saját készítésű borával kínált minket az első este, és feleségével együtt nagyon kedvesek és segítőkészek voltak. A ház felső emelete, ahol a vendégek szállása található, gyönyörűen felújított és tiszta.
Götzinger
2016-08-12T00:00:00Z
We strongly suggest this B&B to all those travel with own or rented car. Only 5 hundred meters walking from hidden, quite and wonderful beaches. Driving for 10 km you will find before arrive in Dubrovnik the Trsteno arboretum, a must see place in the area. The house is surrounded by green and peaceful olive trees fields and the owner will give you a worm welcome. The room is new, clean and wide with a big terrace were you can enjoy the best see view and the sunset colors...
Martina
2016-08-08T00:00:00Z
Rodzaj pokoju
Pokój prywatny
---
Rodzaj nieruchomości
Dom
---
Mieści
3
---
Sypialnie
Banići, Dubrovnik-Neretva County, Chorwacja
Our old house has been built 500 years ago and completely renovated at 2011. It takes place in quite, mediterranean street in center of Mali Ston down second largest walls in entire world. House is nice place for everyone, especially for famillys.
Entire house is combination modernity and rustic with high quality equipment. Due to fact that house is very old, for us it has sentimental meanimg. Because of this maximum effort has been invested. There is small tarrace on the mediterranean, romantic street.
The street is very quite and all neighbours are frendly.
Mario and his mother were extremely helpful in helping us get to Mali Ston. We came by bus from Split and they came to pick us up by the bus stop. They were also very kind to let us leave our bags in the house on our checkout day so that we could explore the area more freely before our bus ride in the evening. A very local feeling and a super nice place to stay at when visiting Mali Ston! The house is very modern and clean, everything was great!
Alexander
2016-10-05T00:00:00Z
The house is beautiful and quaint, with a lot of character but is restored so it's also very comfortable. Mali Ston is a tiny village but the house is as centrally located as it gets. You are right by the water (lovely view from the bedrooms) and right next to a fabulous restaurant Kapetanova Kuca. We hope to stay again soon!
Janet
2016-03-01T00:00:00Z
Beautiful place and location can't be beat. If you go to Mali Ston you must stay here.
Julia
2016-08-22T00:00:00Z
El apartamento es tal como se ve en las fotografías, cuidado todo hasta el último detalle. No pudimos conocer a Mario pero en su lugar nos esperaba su madre que nos facilitó la llegada. El lugar es muy tranquilo y acogedor y a menos de un minuto tienes dos restaurantes y amplia zona de aparcamiento. Todo fue perfecto y tanto el apartamento como sus dueños merecen un diez.
Jesus María
2016-07-18T00:00:00Z
La madre di Mario è stata gentilissima e premurosa. Appartamento tutto ristrutturato, molto bello, su tre livelli. Tutto davvero molto curato. Due camere matrimoniali, ciascuna con un bagno completo indipendente. Ottimo per due coppie. Finestra con vista del porticciolo. Posizionato vicino ai principali ristoranti. A pochi minuti dal borgo di Ston e perfetto anche come base per le partenze verso Mljet. Parcheggio trovato senza difficoltà di fronte alla casa.
Massimiliano
2016-07-31T00:00:00Z
This was my first Airbnb experience and it was entirely positive. Its a tall, small house with air conditioning in the bedrooms - fantastic in the summer. The photos of the property are accurate and the house is spotlessly clean. What the photos don't show is how comfortable the beds are and how beautiful the location is. We stayed here for three nights, Mario and his family were welcoming, friendly and helpful.
Lucy
2016-08-10T00:00:00Z
We visited Mali Ston for the famous oyster festival and had the most wonderful stay in the Medi's house. Mario and his mother were exceptional hosts. They were always available to answer our questions and help us park the car, and they left us fruit and cookies and even made us pancakes. The house is charming and ideally located on a cobblestone pedestrian street right off the port and only a minute from the entrance to the City Walls. It is comfortable and well equipped with great views from the bedroom windows. We loved visiting Mali Ston and loved staying in this house. I highly recommend it!
Sarah
2016-03-22T00:00:00Z
Estuvimos una semana. Mario y su familia nos hicieron sentir como en casa. La ubicación es inmejorable. Muy recomendable.
Federico
2016-08-17T00:00:00Z
Rodzaj pokoju
Całe miejsce
---
Rodzaj nieruchomości
Dom
---
Mieści
5
---
Sypialnie
Mali Ston, Dubrovačko-neretvanska županija, Chorwacja
Quiet, clean, private, beautiful, comfortable apartment with huge terrace (10mx5m) overlooking a walnut orchard surrounded by olive trees. 100m from private swimming cove on property and stunning view of open sea. 2 new bicycles for guest to share
Well appointed apartment with a fully equiped modern kitchen. Comfortable indoor and outdoor seating. Wood burning bbq available in common area. Walking path to the most beautiful sea views and private swimming oasis.
Sipan is an fishing island 1 hour by ferry away from Dubrovnik. There are 2 towns on this small island. Luca being the main town situated on the north side and Surgurat on the south.
Великолепно! Идеальное место что бы провести отпуск. Я бы рекомендовал молодоженам, парам и семьям с детьми лет с 5ти. Огромная терасса, гроздья вкуснейшего винограда, лучшая на Шипане(и только ваша) бухта с изумительной голубой водой. Прозрачность воды метров 10. Тихо и очень уединенно. Мисо лучший хозяин из всех у кого я останавливался. Fantastically! An ideal place to spend a holiday that. I would recommend newlyweds , couples and families with children from 5-years . A huge terrace, delicious bunches of grapes, the best on Shipane ( and only your ) Bay with amazing blue water . Transparency of water meters 10. Quiet and very private . Miso is the best of all the hosts from whom I stayed .
Andrey
2016-08-27T00:00:00Z
It was great! We were in the apartment Frederico for 4 nights. Frederico is one of three apartments on the property. You can see your neighbours from the terrace. Everything inside was clean and prepeared for us with love. I fell in love with the huge- beautiful terrace where we enjoyed Miho's homemade wine and wallnut liquer. 5 minutes of walk from the apartment was the private cove where we spent our time swimming in the sea. It was pure nature, breathtaking- just amazing! Only the guests of the three apartments can use this beach. Miho and his wife were so friendly to us, explaining us all the details about the life on the island. His wife made us a cake which was very delicious. We had a paecefull and quite vacation as we imagined it. It was a great time and we will never forget it. Hope to come back again. Thank you guys!
Antonia
2016-08-11T00:00:00Z
This place is an absolute gem. The house is tip-top and the private veranda overlooking the olive garden is exacly like the picture. The location is wonderful. The caretaker made the exeperience unforgettable though, with just the right level of attention and fresh products from the garden every day!
Erik
2016-07-29T00:00:00Z
Michael and his wife were fantastic hosts and we had a great time on the island of Sipan. The apartment had everything we needed and more and Tania was very helpful, answering queries really quickly. Thanks very much for a wonderful holiday.
Alex
2016-08-14T00:00:00Z
Had a brilliant time. The cove behind the house is lovely but if there is any wind, the water can be quite rough, The apartment and the terrace are lovely and there are lovely views all around. There are millions of grapes, figs, kiwis and lots of vegetables growing everywhere. We were given fresh fruit and vegetables everyday. We got to help with the wine making which was good fun. The apartment isn't too close to either village, but it is a 25 minute walk for 5 minutes on the good bikes that they have available so that was no problem. We were collected from the ferry and brought back which was great and they had us in for a big lunch with lots of alcohol. Had a brilliant time and would fully recommend it
Joanna
2016-09-11T00:00:00Z
We had simply amazing time at beautifull Olive Garden: a secret garden terrace in the middle of most beautifull landscape, private "grotto" / swimming place with breath taking scenery and absolutely brilliant hospitality from Miso and his lovely wife, who are taking care of the place and guests. Warmest thank you for one of the best holidays of our lives!
Milla
2016-07-10T00:00:00Z
Eine wirklich wunderbare Unterkunft an einem tollen Ort auf einer schönen Insel! Miho und seine Frau haben uns ganz herzlich empfangen und bewirtet! Die riesige Terasse des Apartments, bei unserem Aufenthalt im späten August behangen mit vollen Weinreben (an denen wir uns bedienen durften), ist wirklich toll, spendet auch in der Hitze Schatten und Kühle und war ein Riesenplus für unseren Aufenthalt mit zwei Kindern! Wir möchten sehr gerne wieder dorthin!!
Tim
2016-09-01T00:00:00Z
Rodzaj pokoju
Całe miejsce
---
Rodzaj nieruchomości
Dom
---
Mieści
3
---
Sypialnie
Šipan, Dubrovnik-Neretva County, Chorwacja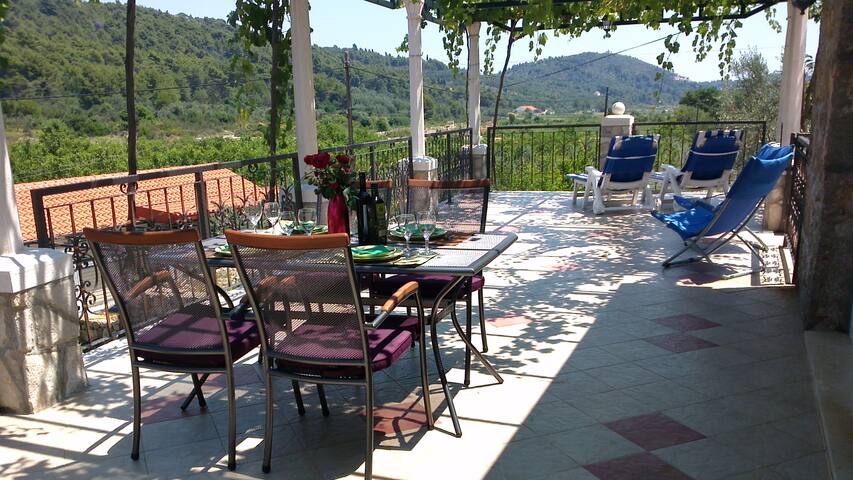 Holiday Home Anima Maris is located in Ston,1 hour drive away from UNESCO-protected Old Town of Dubrovnik. Walls of Ston is 2.5 km away from the accommodation.
This duplex two bedroom holiday home with terrace and sea view contains one bedroom with double bed and one bedroom with twin beds. Each bedroom has air conditioning. Bathroom comes with shower tub and hair dryer. There is also one sofa for one person and dining table for 5 persons. The mini kitchen has a refrigerator, microwave, water kettle, toaster and coffee machine. On the ground floor is one extra toilet with washing machine.
Property is in the center of Ston. The nearest beach is only 50 meters away,while the grocery store is 2.5 kilometers away. Dubrovnik Airport Čilipi is 1hour and 30 minutes drive away from the accommodation.
Super séjour chez D'alia.Maison conforme à la description,propre et fonctionnelle. Terrasse très agréable .avec vue exceptionnelle sur le port .Acceuil très chaleureux de Dalia ,avec de nombreux produits de bienvenue. Un grand merci aussi au papi Nicolas,qui nous à conseille ,gâté avec des sardines,du jambons ,du raisins........ Le cœur sous la main ,comme on dit chez nous,et pour clore le tout il parle parfaitement le français. Nous avons adoré notre séjour chez Dalia et le conseillons sans hésitation. U n vrai petit paradis Patricia et Christian ,
CHRISTIAN
2016-09-17T00:00:00Z
This is as pictured in the listing. The location is a small waterfront village and this house looks out onto its wharf. The interior of the house is almost-new construction, clean and functional. The hosts were very nice and left us wine and fruit. Note: the railing at the top of the marble interior staircase stops a couple steps shy of the actual top of the stairs, so I felt like I had to be careful walking in the upstairs hallway at night. There is a very good fish restaurant in the next town over, a 3 minute drive away. The clothes washing machine is brand new.
Bradley
2016-09-03T00:00:00Z
Rodzaj pokoju
Całe miejsce
---
Rodzaj nieruchomości
Dom
---
Mieści
5
---
Sypialnie
Dubrava, Dubrovačko-neretvanska županija, Chorwacja
Little house, just near the sea with a beautiful view, located 30 km west of Dubrovnik and 5 km east of Slano. House is isolated, far away from the city and people, surrounded by green rose-maries, blue sea and blue white sky. Mix smell
House 55 square metre composed of 4 spaces, bedroom (double bed) , space with hanging cupboard, bath-room and space where are kitchen, dining room and two single bed. There is terrace in front of and back yard with barbecue. Everyone can have own space for enjoying. Property of 590 square metre, strech from the Adriatic road direct to the sea. There are stairs down from the top to the sea.
My neighborhood is on the exactly distance, they do not see you and you do not see them, but if you need some help or advice they will be at your hand. They help me my guests feel as they are at home.
Fantastic stay!! The house is wonderful, we had the quiet and peacefulness we were looking for. Ina and Vlad are very warm and welcoming people. We will be back :)
Kasia
2016-10-24T00:00:00Z
This place is a perfect place for summer holidays! You can use a whole house with a terrasse where you can enjoy beautiful sea view. Also you can use grill, fresh fish or shrimps are sold in the nearest village - Slano. And, of course, the most attractive thing of this place is a "private beach" - you have your own place next to sea which only you use in "whenever you want" time :) Sea is very clean and so many different colours! Another nice thing - there is no wifi so you can completely relax ;) Ina and her husband are friendly and hospitable hosts. It was very nice to communicate with them. They didn`t disturb us during our staying there. We with my friends (4 persons) have been being there during 3 night but it was so little. Being in this place we have combined to visit Dubrovnik by rented car but next to the house there are some bus stops. So I really recommend this place if you want a quiet rest sometimes interrupting it by walking around old town. Thank you Ina!! :)
Daria
2014-07-06T00:00:00Z
Le Paradis, les pieds dans l'eau ! Située entre Slano et Trsteno, la maison correspond parfaitement avec les photos. De l'aéroport de Dubrovnik à la maison comptez une bonne demi heure. C'est facile, suivre Split, la route de la Côte. Ina et son mari nous ont accueillies, mes 3 ados et moi avec un grand sourire et des spécialités locales délicieuses. La maison était joliment repeinte et propre. Ne vous encombrez pas en bagages, il y a tout sur place. C'est un vrai petit nid romantique pour ceux qui aiment la nature avec le luxe d'une vue de carte postale et la mer à vos pieds. Du bleu du matin au soir. Loin de la foule vous apprécierez de manger sur la terrasse, de mettre vos palmes et d'aller explorer les environs. Slano n'est pas loin, vous y trouverez une boulangerie, deux supérettes, la poste pour le change, un maraicher avec des fruits et légumes gorgés de soleil, des restaurants aux prix démocratiques, un loueur de bateaux, de Jet-ski et de pédalos. A Trsteno, le bel Arborétum. Il y a un bus mais je conseille la voiture. C'est mon troisième voyage en Croatie et à chaque fois, je suis séduite. Les gens sont charmants, polis, les villages sont propres, c'est authentique et encore préservé. Aucune prétention, des moments vrais sans artifice ni bling bling. A prendre avec soi : de la crème solaire résistante à l'eau, du répulsif moustiques, des chaussures pour l'eau, un masque et des palmes ( il y a quelques paires sur place mais pas pour petits pieds). Très pratique la petite terrasse sur le côté avec une douche pour se rincer, un fil pour faire sécher les essuies et un barbecue. Sincèrement nous avons adoré et nous y retournerons très certainement. Un beau moment en famille.
Catherine
2015-07-13T00:00:00Z
This little cottage by the sea is a gem! It was exactly what we wanted after a couple days of being in the busy city of Split. It is located on the cliff, with fantastic view of the Adriatic Sea. The house is private with lots of olive trees and rosemary bushes on the property to shield you from neighboring houses. It has 2 private patios, including one right on the water with 2 beach chairs and shade - it was a perfect way to spend the day relaxing and taking a dip in the sea whenever we wanted. Although there was only 2 of us, the house could accommodate 1 or 2 more people without being overly crowded. Our hosts were gracious and accommodating. Ina was particularly sweet and welcoming. They met up with us in Slano and took us to the house, gave us some homemade limencello, and fresh figs. This was our best apartment experience in Croatia! Our only regret is that we only stayed one night.
Lance
2015-09-05T00:00:00Z
Ina and Valdo were extremely helpful showing us over the property and providing lots of information about activities in the area. The view from the balcony was stunning and especially lapped up by us morning and evening.Made all the more impressive by changing skylines, lovely sunsets, the boats going by and even a dolphin siting and a double rainbow emerging from the sea! There were no end of different places to sit and the steps down to the apartment will keep you fit but worth it. All the facilities were good and we thoroughly enjoyed our stay. Dubrovnik was only 25-30 minutes away - lovely old city but avoid the cruise ship passenger crowds if possible - and the Ston walls are a must to visit.
Christine
2016-09-20T00:00:00Z
Our experience in Ina's house has just been amazing. We arrived super late due to a big delay in our flight, but Ina & Vlad waited for us always with kind messages and a very nice and relaxed attitude, which we thanked a lot. On our arrival, they showed us the house and we chat for a while in the superb terrace. They are just great great hosts, who really want their guests to enjoy their beautiful country. They are open-minded and extremely kind. They had fresh fruit, cold water and wine and a delicious pie ready for us. It was dark when we got into the house, so we couldn't see the sea (but we could listen to it), and up there, the sky was amazingly full of stars. Please, do yourself a favour and spend some time watching them, there are apps that help you identify them, and if you have binoculars, bring them with you, you won't regret! The house has everything you may need, and besides that, you will spend most of the time in the terrace, and downstairs, by the non-cold transparent water! Bring your glasses and tube and go scuba diving, it is just a perfect area for that! The house has a lot of plants, bushes and trees, and it smells wonderful! There is a small shop in Slano, 5 minutes drive from the house, and bigger supermarkets in the villages around (we went to Tommy in Ston). If you are planning to visit Dubrovnik and its surroundings, don't hesitate to stay at Ina's, it is just PERFECT! Don't miss Ston and the Arboretum in Trsteno! Thank you, Ina and Vlad, and see you soon! :)
Belen
2015-09-10T00:00:00Z
Our hosts, Ina and Vlado are very kind people, their hospitality is exceptional. They were waiting us as we agreed. The apartment was nicely prepared, well equipped and we think it is succeed out expectation. We are totally satisfied with the house, terrace, and private beach. We spend our holiday in Dalmatia every year, but that was the best holdiday we have ever had.
Zsuzsanna
2015-09-04T00:00:00Z
It was nice and cozy stay. Ina and her husband were very helpful and nice. Thank You:)
Ausra Zekonyte
2016-07-10T00:00:00Z
Rodzaj pokoju
Całe miejsce
---
Rodzaj nieruchomości
Dom
---
Mieści
4
---
Sypialnie
Slano, Dubrovnik-Neretva County, Chorwacja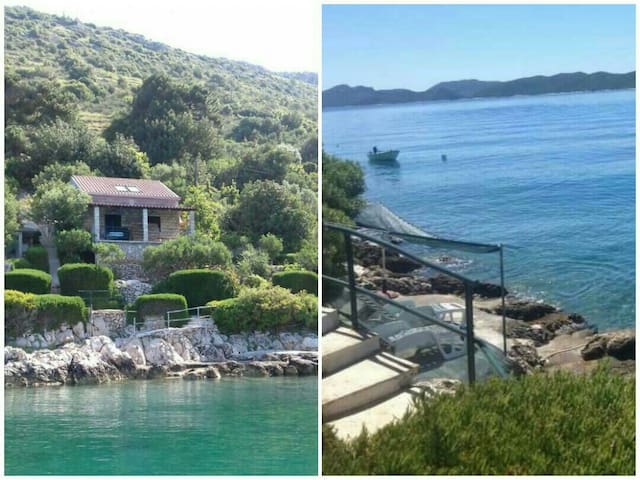 What can I say about Mljet, it is considered to be the most beautiful one of all Croatian islands. It is well known for it's white and red wine, olives and goat's cheese. Feel free to come and to see it yourself, you will be fascinated!!!
Studio apartment is a part of a family house, it is air conditioned studio apartment and it has 36 sqm. The apartment is located in Okuklje in the middle of the bay, really peaceful and friendly area. The studio has one bedroom with double, one bathroom, fully equipped kitchen and a terrace close to the sea. Bathroom has hairdryer and all facilities. In the kitchen you will find fridge, freezer, stove, microwave, toaster, kitchen utensils and dining area. In front of the apartment there is a BBC place that you can use and a free parking area - that way your car will be safe and close to you all day long. This apartment is suitable for up to 4 persons.
The area where the apartment is located is called "Okuklje". It is surrounded with public beaches (only 5 meters away from the apartment), trees... - pictures are attached. This is definitely the most quiet - and that is why my second favorite part of Mljet National park Mljet is my favorite but during the summer time it is too crowded :-).
Friendly welcome from Dolores family, that helped us with interesting information about the Island. House is very quiet, clean, with a pleasant terrace and garden very near the sea.
Claude
2016-07-26T00:00:00Z
Non eventful
Christopher
2015-10-29T00:00:00Z
We spent 6 days at Dolores' place in August 2016. The apartment is located in a beautiful spot directly at the bay. The rooms are clean and well equiped with everything you need. Swimming is possible at a little private bathing spot 50m from the house. The place is managed by Vera, who lives next door and runs another ABnB appartment in the same house. She's a very nice and caring person, spoiling us with home made cakes & muffins! We can defenitely recommend the place. Thanks for everything!
Andreas
2016-09-05T00:00:00Z
Vera is a fantastic host! Not only did she pick me up from the Sobra ferry port at only a few hours notice, she provided food and wine at the apartment. I also had a very pleasant chat with Vera and her daughter in the evening after a long day of difficult traveling. Okuklje is a tiny village that is somewhat secluded, and the bay in front of the apartment is peaceful. This is the place to go if you want to spend a week on a quiet, beautiful island! A rental car is recommended, and you should have plenty of experience driving manual shift, as they will not rent you a scooter if you don't have experience driving a manual (yes, manual) scooter. Please ask Vera to reserve an automatic car for you, and you'll be set! Be prepared for mosquitos!
Wei Chung
2016-07-20T00:00:00Z
Just wonderful - best part in our trip. I traveled with my boyfriend and stayed two nights here. We rented a car from the island and that is a must! No public transport and the distances were quite long. Plus it was so much fun driving in the mountains. We loved the island, Okuklje and the appartment as well as our so helpful and lovely hosts. Coming from overcrowded Dubrovnik, Mljet and Okuklje were amazing and relaxed - just what we wanted from our vacation in Croatia. The village is super authentic in a good way and a great place if you like quiet but still lively and local ambience and good food. They do delicious fish dishes and have great local wines! The appartment was spacious and super clean - it had everything you need. However, be prepared to mosquitos and bees in the island - there were lots of them. After our time here we did not want to leave - we sure will come back again. In Mljet, 5 days could be enough, two days is way too short time. The island had best beaches we saw in Croatia! Never seen so clean and blue water. See you soon again Okuklje! And a huge thank you for our hosts!
Anni
2015-07-21T00:00:00Z
Vera - the lady who received us was charming and kind to us! We were treated very well! Vera cooked for us amazing food and made sure that our stay was pleasant and wonderful! Apartment was perfect and very cozy! We spent our evening on terrace with view to the sea.
Anna
2016-07-07T00:00:00Z
The apartment is rent by Dolores's cousin and her family who live next to the apartment. Communication with Dolores went wrong for some reason, because we never got answer on our messages concerning arrival time etc. and when we arrived her cousin and her family didn't know we were coming. As a result the apartment wasn't ready for receiving new guests, so we had to wait some time while the apartment was being cleaned. But they apologized thoroughly and offered us a drink while waiting, so I didn't experience it as a negative. If I do have to say one negative thing: the airco is too noisy to keep it running during the night. But apart from that I would certainly recommend this apartment. For us this apartment, perfectly located in charming Okuklje, was the perfect place to spend our 2 nights on Mljet.
Hans
2015-09-05T00:00:00Z
Fantastic experience on Dolores appartment! We stayed 2 days and we would like to stay more!! Very nice & quiet place in a small typical village. Appartment is clean, well located in front of the sea, with a superb terrasse where we spent good time! Our host was perfect for us!! I recommend to everybody this address!
Thibault
2016-08-24T00:00:00Z
Rodzaj pokoju
Całe miejsce
---
Rodzaj nieruchomości
Dom
---
Mieści
4
---
Sypialnie
Okuklje, Dubrovnik-Neretva County, Chorwacja
Villa Dube is a family villa located in nice and peaceful bay of Slano, just 28 KM from City of Dubrovnik. This family residence is perfect place for travelers with children or couples for romantic escape. Sea is only 100m from house.
Slano is perfect place to spend your holidays, even if you are traveling with children or as a couple. It is nice, romantic place, full of beaches and beautiful nature. You can enjoy in long seaside walks all around the bay, hearing nothing but nice sound of waves. All main attractions, restaurants and bars are only few minutes walking distance from house. It is perfectly located to visit nearby area; Naturally protected arboretum Trsteno, Vjetrenica cave, Peljesac peninsula which is famous as wine region, same as the best region for Oysters, historical town Ston, the island of Sipan with Elaphiti islands, nearby Bosnia and Herzegovina, and off course Dubrovnik Old Town. All popular excursion destinations such as Medurgorje, Mostar, island of Korcula or Mljet, Montenegro are appx.1 h of driving from Slano
Villa Dube is a family house, offering accommodation for 16 people. If you are coming as a group we can offer in total: 2 apartments for 8 people, 1 double room, 1 garden studio for 2 people, house-side bungalow for 4
Accueil sympathique avec un verre de limonade et du gateau maison
jean-paul
2015-07-26T00:00:00Z
In a nut shell: thumbs up! Anita is a very nice and funny old Lady. We felt very welcome although the communication was limited to talking with hands and feet (we could not speak Croatioan and she could not speak English or German). However, this was no problem at all! The room was nice and clean and it had air conditioning. The house was in a great location in Slano, a small village at the coast with good restaurants. It was only 2 minutes walk to the beach. Highly recommended!
Marina
2015-08-19T00:00:00Z
Anita and her Mother are fantastic host. House is in fantastic location, very clean, apartment bave big balcony too. Anita's mother gave me figs and graves. Ewerithing was perfect. Thank you Anita. I will back!
Velid
2016-09-01T00:00:00Z
Anita is a very nice and welcoming host. She picked us up on the road a few kms away as we were lost, and lend us two bikes. The room was very cosy and clean, and not far from the beach. We didn't know Slano when we arrived, and fell in love with its quiet and beautiful landscape. All in all a very nice stay !
Charlotte
2016-07-10T00:00:00Z
Anita and her mum are really friendly. We got cake and sirup for welcome. The apartment was small but enough for two. There is big balkony and the house is in an nice area. We had breakfast and dinner once. The breakfast was simple but quiet good. The dinner was awesome! The mum of Anita cooked a local meal and we had one of our best dinner in Croatia.
Lukas
2016-10-07T00:00:00Z
The room is clean and functional, it matches the photos and the description. The neighbourhood is calm and peaceful. If you are lucky, you may have like us the pleasant surprise to taste their home-made cake, which was really tasty. Thank you!
Gwladys
2016-06-06T00:00:00Z
Anita and her family are amazing! They always helped us when we needed something and they are very charming! The house is beautiful and spacious, as our room. We had a perfect trip in Slano, thank you again Anita!!!
Mélanie
2016-08-24T00:00:00Z
The whole family was amazing! When we arrive we got some home made cake and some lemonade. When i asked if i could do some laundry, the mother did it for us and iron my boyfriends shirts. The balcony was lovely and the room also! Just for 5€ the mother makes a lovely breakfast that you can eat on the terras
Romy
2016-07-16T00:00:00Z
Rodzaj pokoju
Pokój prywatny
---
Rodzaj nieruchomości
Dom
---
Mieści
2
---
Sypialnie
Slano, Dubrovnik-Neretva County, Chorwacja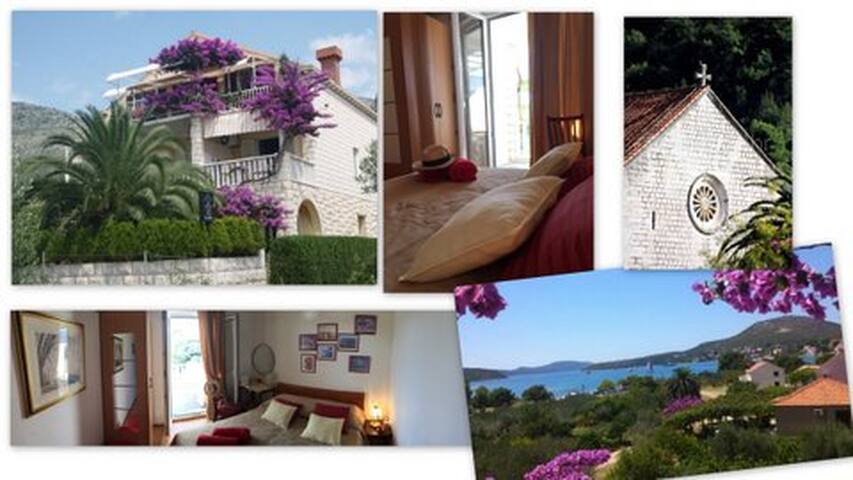 Wpisz daty, by zobaczyć pełną cenę. Obowiązują dodatkowe opłaty. Cena może uwzględniać podatek.