The space is Magical. Sondra is an angel. Treat yourself to this unique experience!
Krissi
2017-02-13T00:00:00Z
My husband and I stayed at a few AirBNBs on our trip out west, but we mention this church/house more than any other- wow do you get your money's worth. An average person will appreciate this place- but for the creative, eccentric person this airbnb is definitely where you want to wake up in the morning. What an incredible memorable living space. The bar/tv area was the original alter in this church! And we fell in love with the little library/study nook up stairs. Sondra is one of those hosts you don't just meet and forget- she has so much spunk and personality. She loves hosting people from around the world and it's so obvious in the many little things she does to make your stay the best possible experience. She had wine, bagels, fruit, cheese, and other items available to us when we arrived. She respects the privacy of her guests, but she's so easy to talk to and get to know- I'd come back like visiting an old friend. The church-house is perfect on its own, but we got a sneak peak of what's to come and we can't wait to come back and visit. Definitely worth EVERY PENNY. Fantastic, caring host and comfortable, memorable stay. She recommended checking out the La Posada hotel before we left- TOTALLY WORTH IT if you have a little extra $$ for breakfast. When we see more of rt 66, we will definitely be back for a few more days.
Jennifer
2017-02-16T00:00:00Z
Cozy, charming, eclectic...the space is a collection of three small rooms plus bath. Bed, kitchenette and bath are on the ground floor and a delightful sitting room is in the steeple above. Perfect for two. The owner's love of old treasures and her quirky, delightful aesthetic are apparent in every inch. The space is super clean and very comfortable - every need has been anticipated. The owner, Sondra, is on the premises and available but guests enjoy complete privacy.
Pat
2017-02-04T00:00:00Z
Sondra is a wonderful and generous host. Her lovely home is exactly as described and seen in the photos. We so enjoyed meeting Sondra and hope to go back to see her ... and of course stay on her corner in Winslow Arizona!
Jane
2017-03-04T00:00:00Z
An amazing find! Sondra's renovated space is eclectic, stylish and inspired. Bed is super comfy and space was cooler than described. I loved working on drawings in the steeple room. Take some time to chat with Sondra -- she's an energetic and interesting gal.
Elissa
2017-03-24T00:00:00Z
FABULOUS place to stay. Would highly recommend this location. Sondra is a wonderful host and we thoroughly enjoyed our stay. Just wish we could have stayed longer. Worth staying here if you ever make it to Winslow AZ
cindy
2017-04-03T00:00:00Z
We came to Winslow for the nearby hiking opportunities, but we found out that we wanted to spend a lot more time relaxing in The Sanctuary! Sondra has infused this former church with all the comforts of home, and the space has a lot of personality while maintaining the character of the original structure. There were spaces for relaxing, a private area for sleeping, a shower, a cozy kitchenette and a well-stocked snack fridge. And so many books! It was easy to walk to "downtown" Winslow to enjoy a few parks, shops, and restaurants. Sondra knows the best spots to eat and even suggested an off-the-beaten-path hiking area we wouldn't have found otherwise. Listen to her suggestions and you won't be disappointed.
Kelly
2017-03-03T00:00:00Z
Sondra was a wonderful hostess. She provided advice for things to do in the area. If she was unfamiliar with a location she reached out to friends to find information. Her Sanctuary is very lovely and eclectically decorated with thoughtfulness. She provided delicious breakfast of muffins/bagels, fruit, cheese, and crackers which helped keep our costs down further. We will stay again if we find ourselves in Winslow, AZ!
Isabel
2017-01-25T00:00:00Z
Rodzaj pokoju
Całe miejsce
---
Rodzaj nieruchomości
Apartament
---
Mieści
3
---
Sypialnie
Winslow, Arizona, Stany Zjednoczone
Happy Trails ist eine saubere und komfortable Zimmer, Nichtraucher 2 Schlafzimmer (4 Personen) Privathaus in einer ruhigen Wohngegend, 3 Blocks von "Standing on the Corner Park" & Route 66, historischen La Posada Hotel, 5-Sterne-Restaurant zu essen & Gärten. Authentische Vintage Arizona eingerichtet. Vor Ort frisch gerösteten Kaffee, voll ausgestattete Küche, Bad und Waschküche. Ältere tierfreundlich. Perfekt für Tagesausflüge zu allen landschaftlichen Sehenswürdigkeiten in Northern Arizona. Einfacher Zugang von I 40 Autobahn. NICHTRAUCHERHAUS.
Kostenlose Orts frisch geröstetem Kaffee und Tee angeboten. Jedes Zimmer verfügt über Deckenventilatoren, in voller Größe antiken Messingbetten mit neuen Matratzen-Sets, Teppiche über Parkettböden und einen eigenen Eingang zum vollen Bad gefliest. Schlafzimmer verfügen über eine individuell elektrische Baseboard Wärme gesteuert. Große Kommoden und Schränke für Ihre persönlichen, Kleidung und Gepäck braucht. Ein großes kombiniertes Wohn- / Essbereich mit bequemen Platz zum Entspannen, während Sie die gut ausgewählte Bibliothek und Führer Bücher zu allen im Freien, natürlichen und kulturellen Sehenswürdigkeiten, lesen, die eine große Auswahl an Reisezielen der Region in und um Northern Arizona bieten. Ein großer Garten bietet gepflegten Wohn- und Essbereich, Dieses einzigartige Haus ist das perfekte Basislager aus viele der verfügbaren bequem Tagesausflüge zu planen. Große Dienstprogramm Schrank für alle Wanderungen, Campingstühle und Fahrradtouren. Hängen Sie Ihre Schlafsäcke, während Sie hängen und planen Sie Ihre Ausflüge aus allen Führungen, Topo-Karten, Karten und Menüs von lokalen Restaurants. Komfort und Bequemlichkeit ist, was Happy Trails und Winslow hofft, unsere Gäste zu bieten.
Privatsphäre, Bequemlichkeit und Komfort in einer ruhigen Wohngegend, Happy Trails bietet eine einzigartige und authentische Erfahrung zu einem sehr günstigen Preis. Das Haus ist nur einen kurzen Spaziergang zum historischen Zentrum Winslow, Route 66, Stehen an der Ecke Park, Hubbell Trading Post, der weltberühmten La Posada Hotel and Gardens 5-Sterne an der Turquoise Room speisen. Plus einem lokalen Theater, Souvenirläden und Galerien entlang der Innenstadt von Winslow Historic Route 66. Authentische täglich frisch mexikanisches Essen kann bei E & O Restaurant in der historischen Lindbergh Flughafen gefunden werden. Mojos, unabhängig geführte Café bietet ihre eigenen frisch geröstetem Kaffee auf, die staatliche Anerkennung verdient hat. Die McHood Park City bei Clear Creek hat Picknick Armadas, Schwimmen, Angeln, Kanufahren, Wandern und Klettern Weltklasse an Jacks Canyon. Ein Hop, überspringen und ein Sprung aus der I-40 bietet Ihnen unmittelbarer Nähe der Navajo und Hopi Nationen sowie den versteinerten Wald, Painted Desert, Meteorkrater, Rock Art Ranch und zahlreiche andere Ziele der schönen Northern Arizona und den 4 Ecken. Entdecken & Northern Arizona zu entdecken, und dabei den Komfort und Bequemlichkeit des eigenen "BASE CAMP" auf Happy Trails zu genießen.
Eloise was such an amazing host, I only wish I would have had more time to spend with her. Happy Trails was immaculate and I felt right at home. The towels were fluffy, the bedding crisp and cozy, and the kitchen had everything you could need and more. Eloise left a few breakfast items (including delicious local coffee) which were a great way to start the day w/out the hassle of needing to go out - very important on a road trip! If you are passing though Winslow, definitely stay with Eloise and make time to have coffee or something with her too - I'm kicking myself that I didn't do that.
Karen
2016-05-01T00:00:00Z
Peter and I had an incredible experience at Eloise's home! I felt like I'd found a long lost childhood friend! The second night we were there we sat out in the back yard long past dark talking about everything we could think of. Eloise is an incredible human being and I know we will stay in touch with her.
Kathy
2016-05-12T00:00:00Z
Eloise was a gracious host. The space we had was quiet, clean and comfortable as well as centrally located near the downtown. She met us on the porch when we arrived and made us feel right at home. She also gave us a wonderful set of handmade greeting cards that she made because she knew we were artists too. This was our first experience in an Airbnb and we will definitely do it again! Thank you Eloise for being such a wonderful host!
Tom
2016-05-18T00:00:00Z
Eloise welcomed us very warmly and gave a clear explanation of the house and its amenities, which are many. It is exceptionally clean and full of history. The furnishings are carefully chosen period pieces, which give it charm and coziness, but the appliances are new. She gave us a nice choice of ingredients for a hearty breakfast, including fresh fruit and extra large eggs from her own chickens. Most importantly, she treated us respectfully and cordially. We liked her and the home she shared with us.
Gina
2016-06-17T00:00:00Z
Our expectations for the two days planned in Winslow absolutely exceeded our expectations, having Eloise as our host MADE our trip. She was a great communicator ahead of time and was flexible with our check-in time which is a huge plus when traveling. Upon arrival Eloise cheerfully greeted us outside at the gate and showed us around. Once you step inside of her house oh my goodness you will immediately fall in love. She had the heat going already for us, pamphlets of things to do in the area, the kitchen was totally stocked with everything we could ever need for cooking, she also had an awesome selection of coffee for us there. The rooms, kitchen, dining area, bathroom were all just so comfy and cute and welcoming as a whole. Eloise' personality was what made this Airbnb a golden experience, it was like staying with family. You will not be let down staying in her home, she is the sweetest, funniest most laid back lady you'll ever meet, you will love your stay! Thank you so much Eloise, we all miss you already!
Kalyne
2015-12-30T00:00:00Z
Beeing at Eloïse house was a great experience, as it is a real authentic place to discover. All furniture inside are ancient, in regard with the house and some of them are pieces of art! All is in working conditions, clean and complete. Location is in a quiet neighbourhood, easy to park the car and reach the city center, with all facilities. Moreover, is it located very close Route 66, that it can make easy to have a break if you are driving on Mother Road! But most of all, Eloïse is a remarkable host. She loves very much welcoming visitors and will talk about local history. You will find in the house lots of books on american and local history. Eloïse have lot of little attentions : after a long sunny driving journey, you will share with her a cold quality beer, and, for breakfast, you will find, in the fridge, milk, orange juice and eggs from her hens!!! We really enjoyed our stay in Winslow and will recommand anyone who want discover beautiful Arizona landscapes to stop at this authentic 19th century southwest styled house, with a wonderful host...
Laurent
2016-09-21T00:00:00Z
We found Happy Trails to be a cozy retreat. The kitchen was really well stocked and the home was beautiful. Eloise is a wonderful person to have as a host. She's caring and really knowledgable. Highly recommended!
Moiz
2016-11-27T00:00:00Z
If you are driving the I-40 corridor in northern Arizona, or anywhere near Winslow, staying at the Happy Trails is well worth every effort to get there. This is a full sized house, two bedrooms (we suggest the Zane Grey bedroom) a full kitchen, living room, the works! But the true gem of the Happy Trails is Eloise. Full of charm, wit, and genuine western hospitality, Eloise is one of those treasures that makes you want to come back for more. She had fresh cut flowers on the dinning table, fresh roasted and ground coffee from the local java hot spot, and even great beer waiting for us in the fridge. Eloise knows all about the history of the local area, where to go for the best dinner, best cup of coffee, and just about anything that could make a stay more interesting. She loves dogs, and suggested that when we return, we should bring ours! But one night is not a long enough stay, we are already planning a longer visit again after the January weather has moved on and Eloise's roses have started to bloom. Peggy and I highly recommend Eloise's Happy Trails.
Clay
2016-01-28T00:00:00Z
Rodzaj pokoju
Całe miejsce
---
Rodzaj nieruchomości
Dom
---
Mieści
4
---
Sypialnie
Winslow, Arizona, Stany Zjednoczone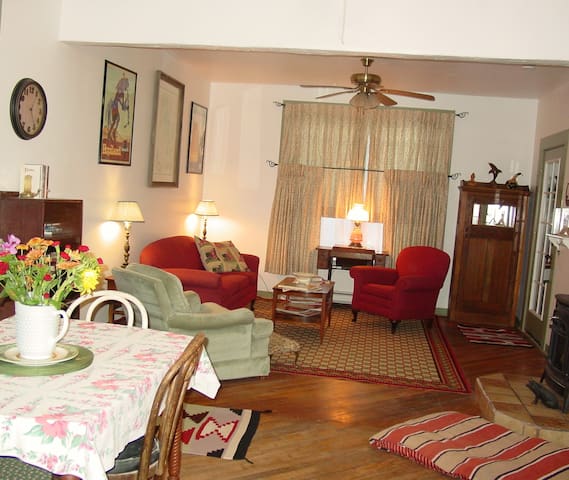 Rodzaj pokoju
Całe miejsce
---
Rodzaj nieruchomości
Dom
---
Mieści
1
---
Sypialnie
Joseph City, Arizona, Stany Zjednoczone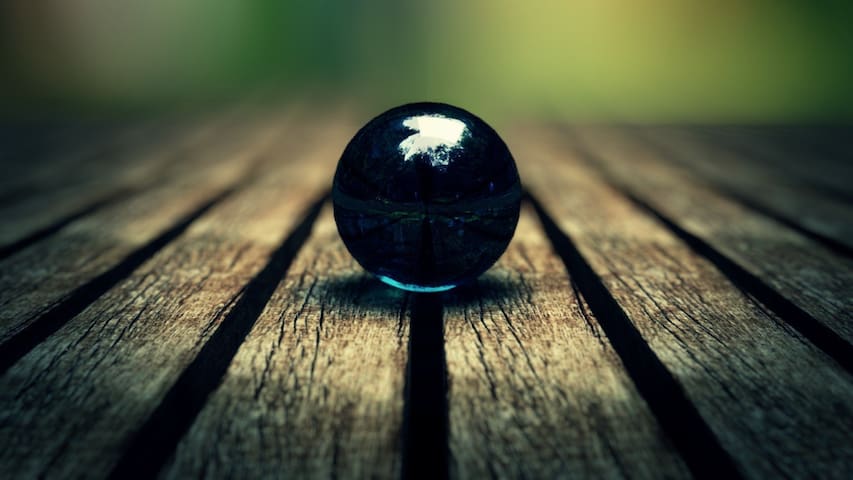 Wpisz daty, by zobaczyć pełną cenę. Obowiązują dodatkowe opłaty. Cena może uwzględniać podatek.