Gäste-Loft ist eine voll funktionsfähige 1-Zimmer-Wohnung Suite, die die White Mountain National Forest am nördlichen Ende von Pinkham Notch zwischen Dolly Copp Campingplatz und dem Androscoggin Bezirk Ranger Station in Gorham, NH grenzt. Loft ist über eine freistehende Garage auf dem Grundstück unseres Hauses gelegen neben dem White Mountain National Forest nahe der Stony Brook Wanderweg.
Jeff's place was awesome. The layout of the loft is perfect for relaxing in front of the fire in complete isolation as well as a center point for adventures into the White Mountains or quick runs into Gotham-Berlin for food or necessities. Wish I could have stayed longer, and next time I'm in the White Mountains, I'll be sure to.
Eric
2016-10-29T00:00:00Z
The loft was perfect! It was a great location, just miles from Pinkham Notch. The place was exactly as described, and Jeff even went above and beyond by providing brochures and information about the hikes and attractions nearby. We also appreciated the amenities he provided and how cozy the loft was. The king size bed was so comfortable! Jeff was extremely responsive, friendly and easy to deal with.
Angelo Justin
2016-10-08T00:00:00Z
Definitely would stay again
Landon
2016-12-11T00:00:00Z
Jeff's cabin is wonderful! It has a very comfy vibe with all the wood finish around the cabin. Jeff was nice enough to leave weather reports on the front door for us. Me and my girlfriend spent 3 nights here for a romantic getaway and we had total privacy. Jeff was just up the road if anything needed his attention. Everything in the cabin worked perfectly. Jeff was easy to contact leading up to the trip and afterwards. I would absolutely recommend Jeff's cabin to anyone looking to get out of the city and enjoy some piece and quite.
Brian
2016-11-06T00:00:00Z
This loft was awesome! Very cozy and home like. Off the beaten path but convenient for food and activities. Directions were perfect and an abundance of information provided in the loft on local trails, food recommendations and local activities. Area is perfect for foliage viewing. Highly recommend this loft! Wish we could have stayed more than one night!
Amber
2016-10-03T00:00:00Z
What a privilege to be able to stay at such an amazing spot. Perfect ski spot, cannot wait to return.
Richard
2017-02-25T00:00:00Z
Jeff was an amazing host, he went above and beyond to make our stay as comforablr as possible. I asked him if the unit had a DVD player. He responded that it did not, but he got one for us! I also like to sleep with a fan on and when we got there there was a fan in the bedroom! He was always quick to respond and couldn't have been more helpful and accommodating. The Loft was beautiful and comfortable. We noticed a fresh wood scent in the hallway when we walked in. The bed was the most amazing bed I have ever slept in in my life! Super soft and comfortable and the sheets were amazing as well. There was coffee and hot chocolate there with cream and sugar. Even the plates were really pretty it was a great place definitely would go back
Michelle
2017-04-10T00:00:00Z
Enjoyed our stay! Beautiful loft and above what we expected! Would love to come back again.
Emily
2017-02-19T00:00:00Z
Rodzaj pokoju
Całe miejsce
---
Rodzaj nieruchomości
Loft
---
Mieści
2
---
Sypialnie
Gorham, New Hampshire, Stany Zjednoczone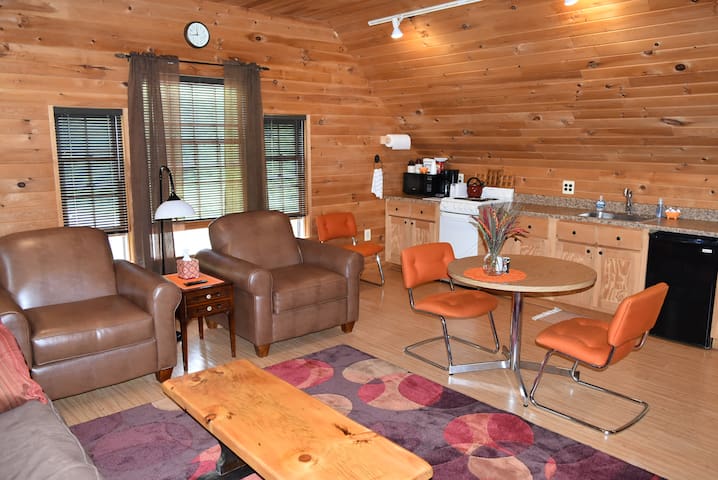 Everything was so fantastic that we stayed an extra night. The apartment is a place where you can feel like being at home. Annie is a fantastic hostess. It's really like visiting a friend. We miss it!!!
Tabea
2016-08-14T00:00:00Z
Annie's apartment is delightful - beautifully decorated with many quirky individual touches. It is spotlessly clean and well equipped with everything you need for an enjoyable stay. Annie made us very welcome and had stocked the fridge with milk, butter, eggs and cream for our arrival. The tea and biscuits were much appreciated too. The apartment is the perfect place to make yourself at home after a day out walking (the Appalachian Trail is near by) with two large relaxing sofas. The beds were comfortable and piled high with luxurious white bed linen. There is a great pub/restaurant a few minutes walk away which serves excellent food and some interesting beers. From my first enquiry Annie replied promptly and was friendly and helpful (offering directions and leaf peeping updates) and giving us advice on the local area while we were there. We couldn't have asked for more and would love to come back one day. Thank you Annie!
Janet
2015-09-29T00:00:00Z
I have to say so many WONDERFUL things about this place! Let's start with the important ones for those looking for AWESOME, charming, homey, comfortable accommodations.... THIS IS IT AND MORE!!!! The pictures are nice, but don't do true justice to the real beauty of a place prepared with personal, tasteful touches in just every corner.... In other words, the place is EVEN BETTER than it looks in the pictures!!! Annie? The perfect, most gracious hostess... accommodating, attentive, really listens to the needs of the guests, makes herself accesible to any need and questions that may arise.... Her personal touch is every where! We felt so welcomed!! We felt at home!! I wanted a special place... a place that could help a new, future family to start bonding.... What can I say other than, IT SURPASSED ALL OF MY EXPECTATIONS. All of those goals were accomplished, the place was wonderful, cozy, and we were able to bond, just like I envisioned, wanted, and prayed for. THANK YOU ANNIE, for a great experience!!! We will be back!!!
Ivelisse
2016-01-03T00:00:00Z
Perfect accommodation, perfect host! Lovely place, delightfully new and clean. Everything we needed and more. We felt right at home and made to feel very welcome. Thanks Annie!
James
2015-10-20T00:00:00Z
This is such a wonderful place to stay. Annie is super welcome and sweet. Love Love Love the vintage internal design of the house. The house is clean, nice, cozy with everything you need. And the location is perfect if u travel around the white mountain area. Definitely will come back:)
Michelle
2016-10-16T00:00:00Z
Beautiful place, scones for breakfast were a nice touch. Would heartily recommend to anyone. Just two things: 1) The stairs to the upstairs bedrooms are very very steep. Not suitable for anyone not 100% sure on their feet. 2) Town clock chimes (on the hour only) all night long. Will wake you up if you are a light sleeper. Soundproof windows might help? James
James
2016-03-08T00:00:00Z
We actually rented this space on multiple occasions for Physicians coming to the area. We have had RAVE reviews about Annie's hospitality, the place itself and how convenient it was to be right in town. A very welcoming, accommodating and pleasant host! Thank you Annie!
Nicole
2016-10-01T00:00:00Z
Annie could not have been a more wonderful host. She was so helpful and thoughtful. My family was really blown away by all of the detail and touches that make guests feel special. We've stayed at many other vacation rentals, and Annie's apartment really stands apart from the rest -- it is so clean, so stylish, and so well-appointed. It really made the trip feel like a VACATION. Thank you, Annie!
Una
2016-07-06T00:00:00Z
Rodzaj pokoju
Całe miejsce
---
Rodzaj nieruchomości
Apartament
---
Mieści
4
---
Sypialnie
Gorham, New Hampshire, Stany Zjednoczone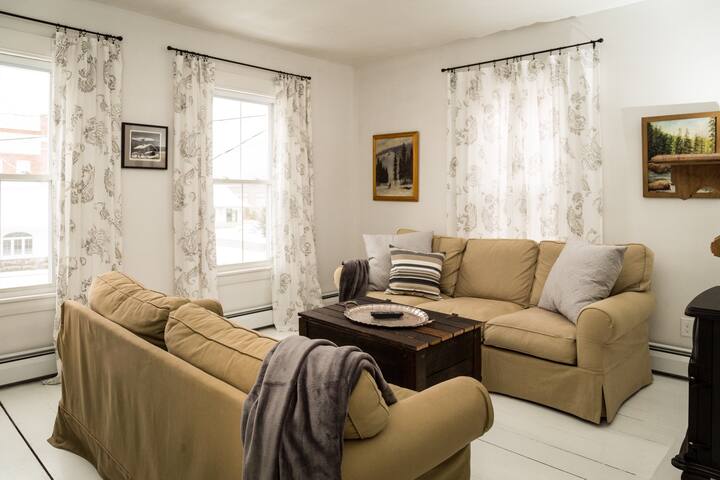 Mi lugar está cerca de parques, grandes vistas, y restaurantes y comedor. Cada suite tiene una entrada privada y se pueden alojar hasta 4 personas. Hay 1 dormitorio privado y un sofá-cama. Disfrutar de la chimenea, pantalla plana y Wi-Fi. Te va a encantar mi lugar debido a la vecindad, la cama era cómoda, la cocina. Mi lugar es bueno para parejas, aventureros en solitario, viajeros de negocios y familias (con niños).
A great stay. Everything is clean and tidy and the place even has a nice kitchen. They were great about communication and made sure we always had everything we needed plus gave us some local knowledge. I'd definitely come back here.
Andrew
2016-07-06T00:00:00Z
Our apartment was beautiful. All new very comfortable furniture. Detail for comfort, nice soft towels, bathrobes and slippers were provided plus water and complimentary coffee for keurig. Kate and her family were very nice. Right in the middle of town which was great. There was an ice cream store right next door. A flat screen tv and wifi. A nice front porch to sit on. We had a great time.
Joan
2016-08-29T00:00:00Z
Kate and Al were wonderful hosts. Arriving and getting into our suite was a seamless transition. Not only did we get what we expected, but they also provided the small things such as towels, soap, shampoo, etc. We were also provided with pamphlets about attractions in the town and places to eat. Though the pamphlets were useful Kate and Al directed us to other venues not listed that were fantastic. The town itself is a small place but it comes with everything one needs. The first night we ate at the Salt Pub and the food was amazing! Oh, and white water rafting is also a must!
Victoria
2016-08-21T00:00:00Z
Rodzaj pokoju
Całe miejsce
---
Rodzaj nieruchomości
Inny
---
Mieści
4
---
Sypialnie
Gorham, New Hampshire, Stany Zjednoczone
Situé sur la rue principale dans le centre de Gorham, NH surplombant la rivière Moose. L'un des deux appartements de 2 chambres spacieuses que nous proposons. Il est situé au 2ème étage (accès escalier, pas d'ascenseur) sur le bureau du Nord-Motoneige et VTT Location. nous sommes à proximité des White Mountains, randonnée, vtt et motoneige et bien plus encore! Il est bon pour les couples, les aventuriers en solo, les voyageurs d'affaires, les familles (avec enfants), et de grands groupes. Lien vers les activités: (URL HIDDEN)
L'appartement est très spacieux! Vous entrez dans la cuisine d'abord, qui a tout ce dont vous aurez besoin (sauf un lave-vaisselle, désolé!) Pour préparer tous vos repas. Les ustensiles de cuisine, verrerie, etc., s'il y a quelque chose que nous avons manqué, s'il vous plaît laissez-nous savoir. Nous avons une grande table dans la cuisine, et une plus petite dans le salon. Ouvert de la cuisine est le grand salon, qui en plus de la petite table dispose d'un canapé et une grande confortable chaise, un bureau et une télévision. Au bout d'une courte hall, vous trouverez la salle de bains, et de chaque côté de la salle de bains, vous trouverez les deux chambres. Chaque chambre dispose de deux lits doubles. Nous aurons les lits faits pour vous, et il y aura beaucoup de serviettes dans la salle de bain.
Gorham, NH est un endroit fabuleux pour les amateurs de plein air! Les randonnées pédestres et VTT / motoneige qui sont à proximité sont vraiment à couper le souffle et nous sommes ravis que les gens viennent pour rester en profiter. Nous sommes également à proximité de Village et Storyland du Père Noël, donc avons eu des familles séjournant avec nous en visitant les parcs. Nous sommes un facile 30 minutes à North Conway, NH, donc si vous voulez profiter de certains magasins d'usine, mais sortir de la foule, puis Gorham est l'endroit pour vous!
Exactly as described. Nice, comfy place with a big deck. Walking distance to everything in the town. Great communication and nice folks on site. We plan to return!
Vance
2017-02-20T00:00:00Z
Near of withe mountains, lot of Space for a hikers group
Raphael
2017-02-05T00:00:00Z
After a 7 hour drive it was very pleasant to step into the apartment filled with freshness of the mountain air. Another pleasant touch were the fresh flowers on the dining table. The keypad on the door is awesome! Our group had to split up and it was a super convenience not to have to juggle keys. It is very spacious and with 7 people we felt very comfortable and not on each others toes. The location is perfect, there is a gas station across the street for anything you forgot to pack. It's very close to several trail heads, if you're hiking the Presidential. Also if you hike and want to wash your clothes, there is even a washer and a dryer!
Madina
2016-09-18T00:00:00Z
This place is amazing to stay for a weekend to enjoy life! It is very close to some ski resorts and to the hiking spots! We've visited it to hike Mt.Washington and it was great! Big common room, nice kitchen, porch and BBQ!!!
Iasha
2016-10-16T00:00:00Z
Awesome place to stay, and the ATV rentals were so fun!
Elley
2016-09-05T00:00:00Z
This is the second time we come back here, and we liked it a lot! The staff of the ATV rental (just below the apartment) was very nice with us. We felt like at home! It is very close to the trailhead of Mt. Adams, and just 20 minutes away from Mt. Washington. The only drawbak, which is uncontrollable, is the train that passes very near during the night, but when you're sleeping, you don't hear it! (but if you don't sleep like me because you're too excited by your ascent of Mt Adams the next day, you do hear it...)
Audrée
2017-01-29T00:00:00Z
Rodzaj pokoju
Całe miejsce
---
Rodzaj nieruchomości
Apartament
---
Mieści
8
---
Sypialnie
Gorham, New Hampshire, Stany Zjednoczone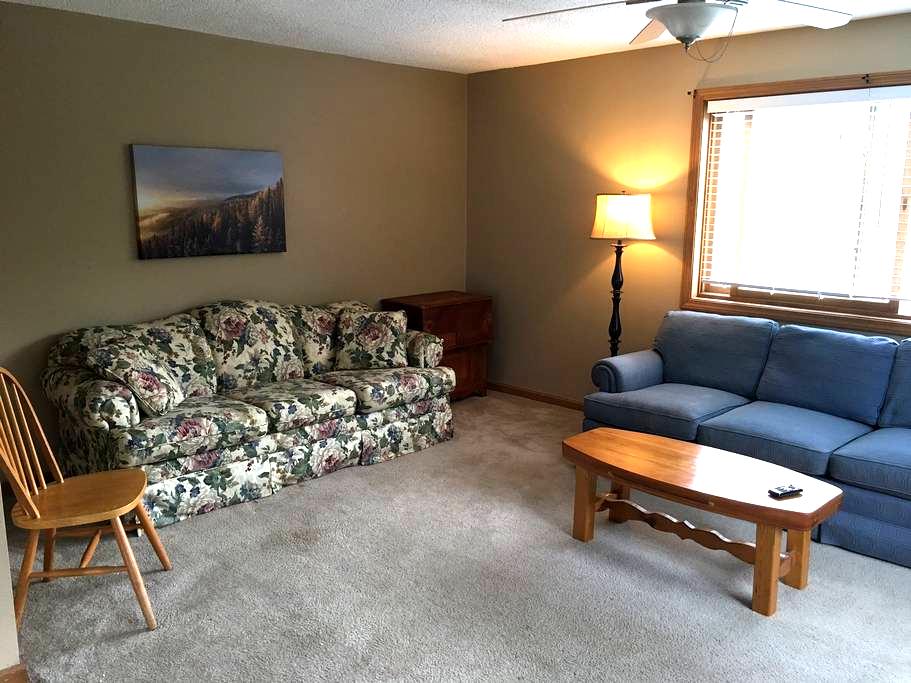 Ten dom znajduje się na wspólnej trasie i ATV 1000ft od ATV trailhead. Można jeździć na ATV lub snowmachine prawo od domu. Lokalizacja jest o pół mili do restauracji i barów. Jest mnóstwo miejsc parkingowych dla pojazdów terenowych i ogrzewany garaż do ich przechowywania. Jeżeli nie jesteś tutaj, aby jeździć ATV, istnieje wiele lokalnych atrakcji w pobliżu, takie jak Story Land, Santas Village, Wildcat i niedzielę River.
Dom jest duży 2 BR o 2300sq ft. Na .77 arów.
Spokojna okolica w pobliżu ATV szlaku.
The place was very clean and centrally located in Gorham. Missy was very quick to respond to any questions as well!
Asta
2016-12-29T00:00:00Z
Great communication, very accommodating, highly recommended. I would go there again !
Marius
2016-10-10T00:00:00Z
Rodzaj pokoju
Całe miejsce
---
Rodzaj nieruchomości
Apartament
---
Mieści
6
---
Sypialnie
Gorham, New Hampshire, Stany Zjednoczone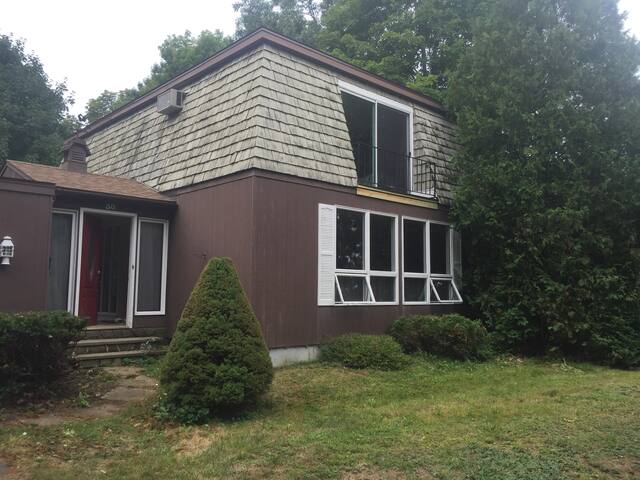 The location was excellent for hiking and the apartment was clean and comfortable. Recommended for anyone looking for a nice place to spend some time in the area.
Timothy
2016-06-06T00:00:00Z
Wonderful apartment, wonderful people! Pro's -Clean -Fully stocked kitchen -Laundry room -Full bathroom with linens -Great location -Located over an affordable ATV & Snowmobile rental shop if that is what you are in Gorham to do :) Con's -No AC (host did immediately get us a few oscillating fans to help) -Located on truck route with bedrooms facing the road so its pretty noisy for sleep if you're not used to traffic noise
Ashley
2016-08-08T00:00:00Z
We were very happy about the place: we had beautiful flowers to welcome us, it was very clean, we had a lot of space in the kitchen and living room, the beds were comfortable, there were appropriate dishes to cook, towels for the shower, and we succeeded to take 6 showers in a row and not miss hot water! It's very close to Mount Washington (20 minutes by car), and there is a beautiful view on the mountains. It is above a snowmobile rental but it was still a very quiet place. There is a convenience store just in front, a grocery not too far and a good oven baked pizza accessible by foot. It corresponded very well to the description, and the host always answered e-mails vert quickly.
Audrée
2016-01-31T00:00:00Z
Sarah was wonderful. We were there for a funeral, we had all traveled long distances from around the US. The apartment accommodated 8 of us saving us lots of money. She checked in on us as well as Rob who runs the business downstairs. She even let us check out a little later. It is walking distance to restaurants and stores. Very clean and equipped.
Ann
2016-06-05T00:00:00Z
Perfect for a day hiking in the whites. Very close to trail heads. And a nice place to have a good nights rest before a long weekend of hiking.
Caitlin
2016-08-27T00:00:00Z
We had a quick stay @ White mountain, and this place is very convenient and inexpensive. Sarah was really nice to guide us when we arrived. :-) The rooms were big and clean, quite nice!
Tiannan
2016-09-04T00:00:00Z
Great location, close to Mount Washington trails and grocery stores. It was great to have a grill to cook dinner. Sarah replied very quickly to my emails and was helpful and friendly. The only thing is that there is a railroad right next to it and the train passed by twice in one night, so if you are a light sleeper I would recommend to bring earplugs!
Gabrielle
2016-07-25T00:00:00Z
The space was accurate to the photos. It's over an ATV rental business that has some noise while they clean the machines during business hours, but it was quiet at night aside from some noise from being very close to the main drag through town. There were beds for 4, but we comfortably slept 7 with a couple of air mattresses and a couch. We'd gladly stay again next time we are in Gorham.
Adam
2016-07-18T00:00:00Z
Rodzaj pokoju
Całe miejsce
---
Rodzaj nieruchomości
Apartament
---
Mieści
8
---
Sypialnie
Gorham, New Hampshire, Stany Zjednoczone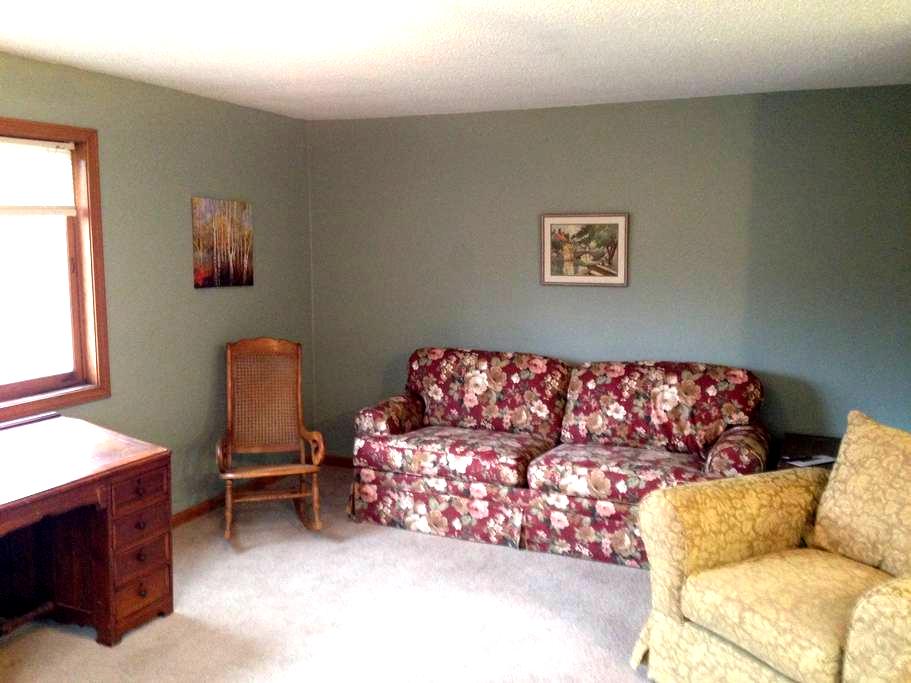 Rodzaj pokoju
Całe miejsce
---
Rodzaj nieruchomości
Dom
---
Mieści
12
---
Sypialnie
Gorham, New Hampshire, Stany Zjednoczone
Wpisz daty, by zobaczyć pełną cenę. Obowiązują dodatkowe opłaty. Cena może uwzględniać podatek.