Wpisz daty, by zobaczyć pełną cenę. Obowiązują dodatkowe opłaty. Cena może uwzględniać podatek.
Our host was great, met us at the apartment and showed us where everything was. The apartment met all of our needs. The location was perfect for what we wanted to see while on the 1st leg of our journey. Sights were a very short walk away, and shops and restaurants were on the same street. Some great pastries and gelato!
Leslie
March 2016
Notre famille a passé un excellent séjour chez Vera "I colori di Borgo Pio". L'appartement est accueillant, confortable et calme. Vera a été très à l'écoute
Emmanuelle
April 2016
Con la mia famiglia abbiamo trascorso 5 giorni nell'appartamento di Vera. Corrisponde pienamente alla descrizione e l'accoglienza è stata ottima. Disponibilissima Vera x ogni necessità. Esperienza sicuramente da ripetere e consigliare. Attenzione... Appartamento posto al 2 piano, scala ripida e ascensore vietato a chi soffre di claustrofobia!
Katia
June 2016
L'accoglienza è stata buona, quartiere molto frequentato ma tranquillo; vicinissimo al vaticano, castel Sant'Angelo e alla fermata dei bus.
Simone
April 2016
We loved the location and the neighborhood. St Peter's was just in our backyard, and there were a lot of resturants, souvenir shops, mini marts in the area! Also a great walking distance to the Metro and bus stop. Communication was smooth & Vincenzo was so patient to answer all my questions :) He was amazing and so hospitable!
Trisia
October 2016
El apartamento de Vera tiene una ubicación perfecta para visitar la Roma clásica pues además de estar a pocos metros del Vaticano, está a pocos minutos andando de los principales monumentos.
Angel F.
September 2016
The location of the apartment was perfect, it's steps away from the Vatican. It is much bigger than we expected, and it was clean. We had a great time, and would stay here again but there were some minor issues to consider: while there is an elevator, it is is very tiny and only holds one person, so consider that you might have to go up the stairs. The main bed was actually two individual mattresses pushed together, so it was somewhat uncomfortable at night. The WIFI was unreliable. Besides that, the apartment had everything ready for us, and our host was kind enough to have some stuff for us for breakfast the next day. I would stay here again.
Chantal
September 2016
An ideal place to visit Rome/Vatican city. It is a few steps away from Saint Peter's cathedral. My parents were thrilled to be able to go into the Vatican so easily. Transportation is fairly accesible. If you are a walker like I am you can even make the trip to Colosseum by foot. everything is very close and lots of shops and restaurants. Great Place. Thank you.
Enrique
September 2016
Typ pokoju
Całe miejsce
---
Rodzaj nieruchomości
---
Mieści
5
---
Sypialnie
1
Borgo, Vaticano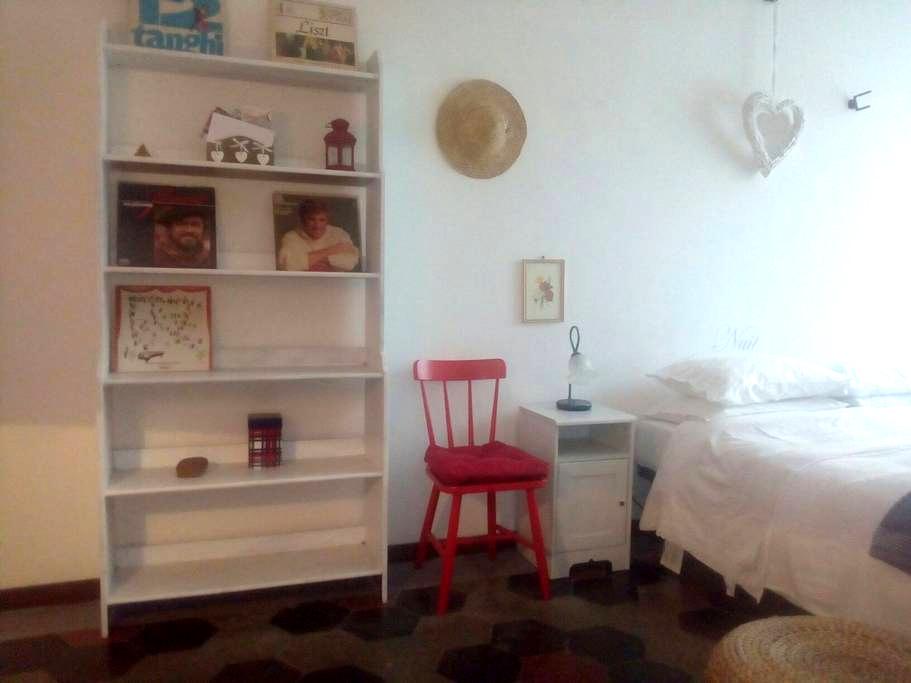 The apartment was larger than expected and centrally located. The Vatican and other attractions are within walking distance. Public transportation is a block away. There is a bakery, grocery store, restaurants on the street and also near by. The apartment was clean, well furnished, comfortable and we enjoyed our stay. Alessia arranged airport pick up and drop off service for us. This was a nice touch especially after a long flight. There was a slight miscommunication about the meeting point for our driver. I texted about the problem and immediately received a reply and phone call! I'd book this location again. Thank you for hosting us.
Aurora
October 2016
si era medianamente correcta, cerca del subte, barrio tranquilo, todo bien, la LIMPIEZA al llegar arruinó todo
Alejandro
August 2016
Salva's place is a great location if you want to stay in Vatican. Very close to St Pieter and many restaurants, market, shops, taxi. You can just find them very easy. It was a pleasant stay.
Ira
November 2016
Все было хорошо Заселили вовремя Приятные люди Жилье именно такое как мы и ожидали All was fine settled in time Nice people Housing is such as we expected
Wladimir
October 2016
It was a great experience actually living in a Roman apt! We loved the apt and all the amenities, we felt very safe, the apt is great and in a great location! Can wait to book again next time we visit Rome!!!
Antonio (Tony)
September 2016
The place is a walking distance to museums and St Peter's Square and near shops and restaurants . The apartment is clean and spacious but a little problem with the main bedroom, no air conditioner only ceiling fan, it's warm even when we open the windows ..Not suitable during hot season.. The second room got the air-conditioner so with the lounge room which is excellent ..The double bed is a little hard for me but maybe ok to other people... All in all, we had a nice stay and Salvatore is an excellent host. He is very helpful and left us basic groceries which is greatly appreciated..We would come back and stay there next time we visit Rome again....
Marieta
August 2016
Muy buena ubicación, muy espacioso para varias personas
Diego
August 2016
All was excellent. Salvatore is a great host and the apartment is like the photos, very luminous and close to the Vatican.
Pau
June 2016
Typ pokoju
Całe miejsce
---
Rodzaj nieruchomości
---
Mieści
7
---
Sypialnie
2
Prati, Roma vaticano