** Please take your time and read whole listing ** Apartment is located in the city of Krk, on west side of town. Apartment can fit up to 2 people total. It has nice balcony with the sea view. Take a look at the description for more info. On your messages or inquiries i will respond within 5 minutes.
• Comfortable king size Bed • Baby Cot for the baby if it's needed • Dining area with table and chairs • Full kitchen includes all utensils. • Towels and bed sheets are provided. • Free Wi-Fi – 20 mbit/s every apt has its own access point for full signal • Free Air-condition • Grill for the BBQ • Washing machine - we don't have in each apartment, in case you need one you can ask. • Whole floor is yours! Balcony, toilet, studio. Nothing is shared with other guests.
Apartment is situated in a quiet location in the City of Krk. I just want to let you know that It's 10 minutes away by foot and 2 minutes by car from the city center and beaches. There is no need for a car unless you want to explore other places on the island.
We had a great stay in the apartment, Siniša was a great host. Nice and clean apartment with a great roof terrace for breakfast. Parking is available right in front of the house. Everything is in perfect walking distance, so you don't need to move the car during your stay! We'd love to come back.
Philipp
2016-05-20T00:00:00Z
Great room, clean and spacious. Would recommend and stay here again!
Austin
2016-11-21T00:00:00Z
It was a very Nice stay. The view from the room is really beautiful. I recommend !
Emilie
2016-06-05T00:00:00Z
Hosts were very nice! Everything was as it was supposed to be. We loved a small terrace on the roof, which turned out to be a great place for a brekfast in a sunny morning. Recommended!
Jure
2016-03-28T00:00:00Z
Siniša est un hôte très accueillant et très disposé à aider ses invités. Il n'a pas hésité à nous emmener au restaurant :D) avec sa voiture pour nous éviter de nous faire tremper par la pluie. Quant au logement, il est confortable, très bien chauffé et bien situé pas loin du centre. Merci encore pour tout Siniša, je reviendrai avec plaisir lors de mon prochain passage par Krk!!
Martin
2016-02-17T00:00:00Z
My husband and I loved our one night stay in Siniša's comfortable, airy and spacious apartment! The apartment also has a great balcony with a fantastic view of the town. The town itself is about a 10 minute walk (you just take these stairs all the way down to the harbor), which was super fun to explore. The apartment is in a quiet area, so we were able to leave the window open and enjoy the fragrant seaside air. Thank you so much Siniša, we hope to stay with you again!
Dragana
2016-06-09T00:00:00Z
The Appartement is super clean and very easy to reach from the city center. Siniša was very friendly and helpful. He answered immediately to my mails. I booked the Appartement an hour before arriving.
Natascha
2015-10-12T00:00:00Z
Sinisa was a very kindly and wakeful host. Everething was as describted, we felt fine and warm welcomed. Perfect apartman!
Alexander
2015-11-07T00:00:00Z
Rodzaj pokoju
Całe miejsce
---
Rodzaj nieruchomości
Apartament
---
Mieści
2
---
Sypialnie
Krk, Primorsko-goranska županija, Chorwacja
You'll love our place because of the beautiful and spacious outdoor space and peacefully ambiance. My place is good for couples, solo adventurers, and furry friends (pets).
You can order or pick up fresh vegetables from familiy garden every day.
Our neighborhood is unigue because of stillness and sound of birds which village can give you. You can avoid summer crowd and find your peace here. This place is perfect for couples wishing to explore the Islad. It's perfect place for your pets.
The host canceled this reservation 29 days before arrival. This is an automated posting.
Jonas
2016-06-29T00:00:00Z
Very clean little flat, brand new and fully equipped with a nice terrace. We had everything we needed for a quiet and peaceful holiday. There isn't much to see in the village, but if you're with car you can reach every spot of the island easily. Marija is attentive, helpful and always available, she made us feel like home, we even got fresh vegetables from their home garden! She gave us good advices on what to see and where to go, some really nice places without turists. All in all, our best Airbnb experience so far!
Tamás
2016-07-28T00:00:00Z
Nous avons passé cinq jours formidables chez Marija. Le studio est aménagé avec goût dans les moindres détails et la terrasse avec vue sur le jardin est plus qu'agréable. Nous nous sommes régalées des légumes du potager et des figues cueillies sur l'arbre. Le village de Vrh est calme et pratique: deux restaurants, un bar, un supermarché. Il y a pleins de jolies criques ou plages à quelques kilomètres. L'accueil réservé par Marija et sa famille est fait dans une grande générosité et dans un souci permanent que l'on ait tout ce qu'il faut et que l'on se sente bien chez eux. Nous espérons réellement pouvoir y retourner au plus vite!
Cécile
2016-09-02T00:00:00Z
It is a very lovely appartement, with a very nice terrace and a superb bathroom. The interior is brand new, and furnished with much love for details. As it is located in Vrh, you can expect a very quiet surrounding - nonetheless, the city of Krk is only a few minutes away by car. The hosts were very, very friendly - the basket with vegetables was superb (especially the tomatoes ;).
Philipp
2016-08-07T00:00:00Z
Marija è stata subito molto disponibile per darci informazioni precise su come raggiungere la casa (fatalità, poco prima del nostro arrivo il comune stava rinominando le strade, quindi il navigatore non riconosceva l'indirizzo). Ci ha accolte illustrandoci il funzionamento della casa e una cantina/dispensa con la verdura dell'orto (patate, cipolle e aglio), che potevamo prendere liberamente, così come i fichi direttamente dall'albero . La prima mattina, il padre ci ha portato pomodori (buonissimi!) e cetrioli appena raccolti dall'orto, invitandoci a prendere direttamente quello che desideravamo. L'appartamento è molto piccolo e curato in ogni minimo dettaglio, sia dal punto di vista logistico (non mancava nulla: aria condizionata, wifi, bollitore, microonde, tostiera, macchina per il caffè americano etc) che estetico, come si può vedere dalle foto. Pulizia impeccabile e letto comodissimo. La doccia ha sia un soffione enorme che la doccetta mobile. Abbiamo usato l'aria condizionata (nello specifico solo la funzione deumidificatore) quasi tutte le notti, perchè l'unica finestra della casa è la porta scorrevole d'ingresso e abbiamo preferito chiuderla. Ci ha lasciato un opuscolo di informazioni turistiche e una mappa dell'isola, molto utile per pianificare gli spostamenti verso le varie spiagge. La località nell'entroterra ci ha permesso di spostarci agevolmente, eravamo a massimo 20 minuti da ogni destinazione. Torneremo sicuramente.
Diletta
2016-09-07T00:00:00Z
Very nice, clean and cozy apartment! We had a pleasant stay. :)
Leon
2017-04-01T00:00:00Z
Rodzaj pokoju
Całe miejsce
---
Rodzaj nieruchomości
Apartament
---
Mieści
2
---
Sypialnie
Krk, Primorje-Gorski Kotar - hrabstwo, Chorwacja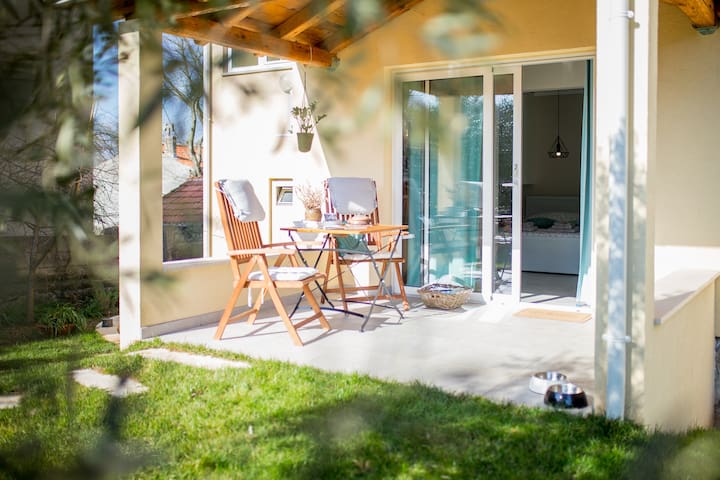 Studio apartment in Krk, Croatia. Stylish yet affordable private apartment located on one of the jewels of the Adriatic.
The apartment (of 30 m2) is on the ground floor. It has got a terrace with table and chairs. The apartment has a bedroom with double bed, a bathroom (with shower), a kitchen with a small dining area. The apartment is rated three stars. It is equipped with Air condition, WiFi, TV set - cable, coffee machine, toaster, kettle, hairdryer etc. Clean linen and towels are provided on a weekly basis. Final cleaning is included in the price.
The house is situated in a lovely and quiet part of the Krk town. It's surrounded with trees (olive trees, palm trees) and flowers. It is about 10 minutes walk to the nearest beach and to the town centre.
The host canceled this reservation 216 days before arrival. This is an automated posting.
Willi
2017-01-02T00:00:00Z
Schöne Wohnung in zentraler Lage. Man ist in wenigen Minuten in der Altstadt und am Strand. Wir hatten einen sehr schönen Aufenthalt. Wir kommen gerne wieder. Die Vermieterin war sehr nett und hat uns gleich mit Insidertipps zu Ihrer Insel versorgt.
Ralf
2015-09-05T00:00:00Z
Tolle Unterkunft mitten in Krk. In fünf Minuten ist man im Zentrum und auch am Strand. Zurück geht es "bergauf" und man braucht sieben Minuten. Man wird sehr freundlich im perfekten Deutsch begrüßt und falls etwas benötigt wird, ist immer jemand zu Hause. Es gibt eine schöne Terasse mit einen "schmalen" Blick aufs Meer. Für das Auto gibt es einen sehr guten Aubstellplatz!
Günter
2016-09-26T00:00:00Z
Wir haben uns sehr Wohl gefühlt. Wir wurden freundlich empfangen. Die Tür von Ruzica stand uns immer offen. Das Appartment war sehr schön mit kleinem Blick aufs Meer. Man ist schnell in der schönen Altstadt und am Hafen von Krk. Wir können einen Urlaub dort empfehlen.
Stefan
2016-10-09T00:00:00Z
L'arrivo all'alloggio è stato semplice. L'accoglienza buona. La proprietaria è stat molto disponibile e insieme alla figlia Karla che parla perfettamente l'italiano ci hanno accolti molto bene. La casa è molto vicina al centro di Krk che è un vero gioiello. Comode le due stanze da letto e i due bagni. Per due coppie è l'ideale
Massimo
2015-07-08T00:00:00Z
Nice apartment with a good terrace, not far from the main town only 10 min walk. Ruzica and her family were very pleasent
Georgia
2015-08-02T00:00:00Z
Nice apartment. Just five minutes far from the center of beautiful Krk. Host was very friendly
Alessandro
2016-09-22T00:00:00Z
Very beautiful apartment studio. Had everything you need (dishwasher, tools for cooking etc.). The little terrace is a very nice place to eat and chill and is just underneath a fig tree! Friendly and helpful hosts. Very close to the center (maybe 7 minutes by foot). Would surely recommend staying here.
Tessel
2016-09-14T00:00:00Z
Rodzaj pokoju
Całe miejsce
---
Rodzaj nieruchomości
Apartament
---
Mieści
2
---
Sypialnie
Krk, Primorje-Gorski Kotar - hrabstwo, Chorwacja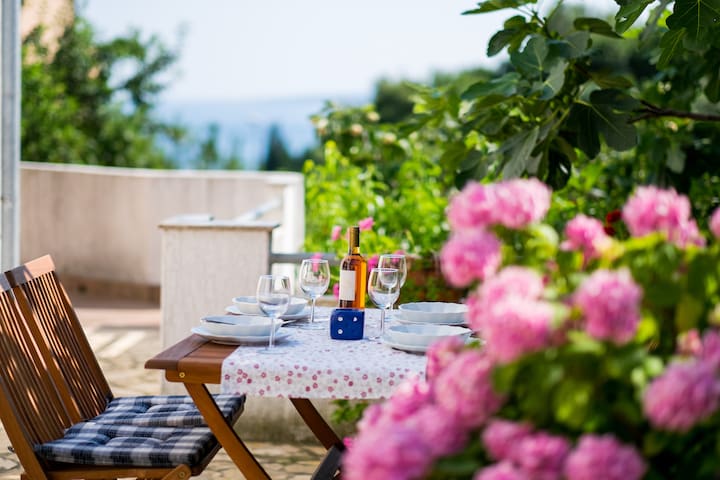 Our lovely apartment is in the perfect location, only 5 minute walking distance from the old town of Krk and beach. Close to restaurants and grocery (2 min). It is surrounded with big and beautiful garden so you can relax and enjoy yourself outside of the apartment. We also have free private parking for our guests.
Beach and city center are only 5 minutes walking distance. Grocery, restaurant, coffee is 2 minutes walking distance.
Rodzaj pokoju
Całe miejsce
---
Rodzaj nieruchomości
Apartament
---
Mieści
4
---
Sypialnie
Krk, Primorsko-goranska županija, Chorwacja
Brand new renovated bathroom! Pictures soon. :-) Enjoy your stay in this 350 years old stone house equiped with today's technology and a fantastic library. Get yourself comfortable just meters from the sea in the heart of old town of Krk.
Located in heart of 2700 years old Roman town Krk, this ancient house will offer you peace and tranquility. Enjoy yourself reading a book next to a fireplace or take a 3 minutes walk to the nearest beach.
Very nice app. Clean and cosy in the center of the city. The parkingplace is also very convenient. Thnks!
rosanne
2016-08-24T00:00:00Z
Hübsches Häuschen inmitten der Altstadt! Sauber und gepflegt, das Bett könnte bequemer sein aber sonst alles gut!
Tamara
2016-10-06T00:00:00Z
Matija ist ein sehr netter Vermieter. Er hat sich gut um uns gekümmert und gab uns einige gute Tipps. Das Apartment liegt super zentral und ist top ausgestattet. Alles was man für einen netten Aufenthalt benötigt. Jederzeit wieder und sehr zu empfehlen!!
Lars
2016-09-29T00:00:00Z
The flat is exactly as described in a very nice quiet street. It's five min walk from everything. A very nice and relaxing stay. Don't bring any books, Matija's library has enough books for years :)
Elyah Othman
2016-07-05T00:00:00Z
We spent 6 six days in Matija's house, everything was fantastic. Matija was very kind and helpful, everything went as expected. The house is clean and modern inside, in the center of the old town it was close to the beach. I would recommend it to everyone, hope we come back one day! :)
Domonkos
2016-09-04T00:00:00Z
We had a great stay at the Bookery! Matija made us feel very welcome and the apartment was clean and equipped well beyond anything you would expect from an Air bnb rental. We also loved the library which had numerous books in several languages. If you are coming to Krk and are looking for a cosy central place to stay, then it is perfect!
Natallia
2016-07-12T00:00:00Z
Total freundlicher Gastgeber und ein super Apartment für einen Trip nach Krk. Die Wohnung liegt zentral, aber auch ruhig. Man merkt, dass Matija sie mit viel Liebe eingerichtet hat. An Einrichtung ist alles vorhanden, was man benötigt. Mit drei Personen kann es ab und zu etwas eng werden, aber für zwei ist die Wohnung ideal.
Nadja
2016-07-29T00:00:00Z
Matija's Freund hat uns an einem markanten Punkt in Krk abgeholt und uns gezeigt wo wir unser Auto abstellen können. Anschließend ging er mit uns zu Fuß (Fußgängerzone) zum Haus. Alles in allem war das Apartment wirklich schön und sauber. Ich komme gerne wieder.
Daria
2016-07-10T00:00:00Z
Rodzaj pokoju
Całe miejsce
---
Rodzaj nieruchomości
Dom
---
Mieści
3
---
Sypialnie
Krk, Primorsko-goranska županija, Chorwacja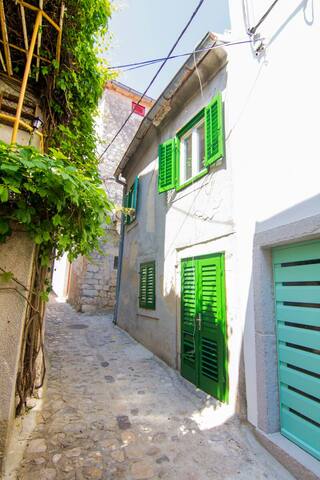 APARTMENT HOUSE THAT CAN ACCOMMODATE 2 TO 3 PEOPLE IT'S ONLY 5 MINUTES BY FOOT FROM THE FIRST BEACH & 5 MINUTES BY FOOT FROM THE "OLD TOWN" OF KRK.
Apartment house that stands on its own in our yard our former guests called Barby House. Why? Simply because it's small, sweet and peaceful. The house has 1 marriage bedroom, fully equipped kitchen and dinning area, bathroom and hall and a big terrace. Second bed 1 person can be provided by request in the dinning area.
Apartment is situated in the quiet location in the City of Krk. It's 5 minutes away by foot from the first beach and from the old part of the city. City of Krk has great sound isolation with Roman city walls that you can even see from our yard!
Wszystko ok, polecam
Krzysztof
2016-05-04T00:00:00Z
Mile is a very warm-hearted host and welcomed us with some homemade wine under his kiwi-arbor. Thank you for the nice talk and for making us feel very comfortable at your place! I would totally recommend the apartment, also for families.
Lena
2016-07-27T00:00:00Z
We only spent the night at Mile's place, so it's difficult to judge. It is very small. We couldn't even really find a place where we could leave our luggage open. There was hot water, wifi and kitchen with appliances and crockery, that's all we used. No washer. Towels were small and didn't look as clean as I would have liked. Parking was easy right in front of the place. Mile was cool and lives next to the place so checking in and out was easy. It's located very close to the top of the old town. There's nothing wrong really but I guess I would not recommend for the price we paid (34 euro + airbnb fee).
Pascal
2014-09-22T00:00:00Z
Thank you Mile for making my first Airbnb experience great! The little house is wonderful and offers everything you would need for some quiet days. I especially liked the little patio and the look from the bedroom window.. You can easily walk to the beach and into town within 10minutes. I recommend Mile!
Stephanie
2013-09-24T00:00:00Z
We felt very welcome at Krk! The appartment is very close to the city-center, easy to find and is fully equipped. We got a glass of hand-made red wine which was delicious. Mr. Zrilic speaks German very well. We hope to come back soon, thank you!
Malte
2014-09-27T00:00:00Z
Siamo stati ospiti di Mile per 14 giorni, al nostro arrivo a Krk, nonostante il nostro ritardo, Mile e sua moglie ci hanno accolto con molta ospitalità, facendoci subito sentire come a casa. Mile parla molto bene l'italiano come altre lingue e ci ha fornito indicazioni utili sui posti da visitare. L'appartamento è esattamente come mostrato nelle foto, molto pulito, luminoso, con Wi-fi e tutto il necessario per cucinare; forno, piano cottura e frigo erano ottimi. L'appartamento ha le zanzariere su tutti gli infissi e la sua posizione consente di poter andare a dormire a qualunque orario, senza la baraonda del centro storico. Dall'appartamento è possibile raggiungere il centro storico, ed alcune delle spiagge di Krk, in pochi minuti. Anche il centro commerciale rimane a 5 minuti di macchina dall'abitazione. Il quartiere è molto tranquillo ed è esclusivamente residenziale, adatto a chi ama il relax e la privicy. Mile e sua moglie sono stati molto disponibili nell'aiutarci durante tutti e 14 i giorni della nostra vacanza, consigliatissimo a chiunque volesse passare le vacanze a Krk
Claudio
2015-06-29T00:00:00Z
Mile speaks only a little English (but good German and Italian I understand), so his daughter was very helpful in explaining things when we arrived. The apartment is brilliant, with a good kitchen and living area, a nice terrace for breakfast, and a very comfortably bed. The location is also good, an easy walk into town or towards the beach - maybe more like 10 minute, but still no problem. We really enjoyed our stay.
Tim
2015-09-23T00:00:00Z
Mile was a very friendly and nice host. We enjoyed the privacy and calm area when staying over the weekend.
Gregor
2016-03-23T00:00:00Z
Rodzaj pokoju
Całe miejsce
---
Rodzaj nieruchomości
Apartament
---
Mieści
3
---
Sypialnie
Krk, Chorwacja
Our family apartment (32m2) is situated on the island of Krk, a beautiful vacation spot on the biggest island of Croatia. We are only a short distance from Dunat Beach. Out of the way and nestled among olive trees, you will find a cozy place for regeneration. The apartment was refurbished in 2016 to include updated, modern amenities for a comfortable stay. We love to collect feedback from our guests and we strive for excellent guest service and a great vacation experience.  Welcome!
Kaja's family apartment consists of: •Bedroom for parents, with a queen size bed and wardrobe •Bedroom for children, with a bunk bed •Bathroom with shower •Small kitchen with a big fridge, microwave, toaster, coffee machine and all equipment required for cooking •Residential area with a small dining table, TV and (bed-)sofa •Completely private outdoor area, with a lounge and a small size outdoor pool (for cooling down, not for swimming) •First aid kit available •Hairdryer What we improved, based on our experience and constructive feedback by our valuable guests: •Grill for outdoor area •Fixed French window •Cushioned doors to reduce noise •Improved bathroom ventilation •Smoke detector •Washer in washroom •Fire extinguisher •Laundry rack •Electric iron and ironing board on request •Baby chair and bed on request
We are happy to recommend to you our local favorite restaurants, hotspots, shops and activities.  Our favourite restaurants on the island of Krk: •Pizza Galija in Krk •Hotel Marina in Krk •Konoba Nada in Vrbnik •Kanajt in Punat •Kuca Krckog Prsuta in Vrh •Casa di Francopane in Krk •Cocktail Bar Volsonis in Krk Beaches •Private beach Galapagos near Dunat (5 minutes from apartment by car) •Public beach Dunat, with beach volleyball field, beach bar, restaurant, diving center, play ground, parking •Public beach in Baska Activities •Kable Krk near Dunat (5 minutes from apartment by car) for water skiing and wake boarding •Boat trip Dunat - Krk •Trip to island Kosljun •Biking on over 30km - extra bike routes •Evening promenade between Dunat and Punat along the bay •Fishing •Visiting Glagolica Plate •Diving
Great host and great apartment: it was exactly as described/showed with everything you need for a comfortable holiday (including a microwave oven) and absolutely clean. The best part was of course the outside, with a huge sofa and a gorgeous wheel-chair you'll get addicted of. Pool included, this is an ideal set for breakfasts or aperitivi at sunset, as well as lunch and dining. Any occasion is good to just chill out and breath the fresh air and enjoy the peaceful surroundings. If you're a disco-fan this may not suite you, if you want to relax and just forget your normal life and recharge your batteries, you'll love it. Muraj is 10 minutes away from the center of Punat (by car) and 5 minutes to grocery/bar/restaurant/post office/bakery, so you won't surely starve and will have enough things to fill the fridge (with full working freezer) of the apartment. If I come back to Krk, will definitely consider this as my first choice. One small hint to reach it: street downhill is quite small, I suggest to drive uphill from Punat, you will find it easily and have less "problems" with the tiny road. We were 3 people for 5 days, enjoyed it a lot !!! :-)
Roberto
2016-07-08T00:00:00Z
We had a really pleasant stay at the apartment. We enjoyed the calm neighborhood off from the mainstream tourism, and Kaja was super lovely. It was very clean and the terrace+pool is awesome :) The apartment is definitely easier to find when going via Kornic (it was mentioned somewhere, but we didn't remember when we arrived).
Harald
2016-08-22T00:00:00Z
Hat alles reibungslos geklappt. Wurde bereits erwartet, Schlüsselübergabe unkompliziert, alles bereits vorbereitet und bezugsbereit. Sehr grosse Gastfreundschaft, sehr hilfsbereit und entgegenkommend. Immer gerne wieder!
Markus
2016-10-05T00:00:00Z
Our stay at Ante's family house was perfect. The pictures are all them true to describe the house, even the pool is bigger than it appears to be in the photos. We were received and showed the house by Ante's mom, that managed to explain us all we needed to know despite she doesn't speak English but German. The house was clean, and well furnished, and the surrounding area is wonderful, and very close to everything. And when the night comes, look at the stars getting relaxed in the patio... Simply no words for this! Thanks Ante and family!
Ernesto
2016-07-31T00:00:00Z
Sehr freundliche Gastgeber. Wir haben uns sehr wohl gefühlt. Da wir den ganzen Urlaub über traumhaftes Wetter hatten, konnten wir die schöne, große Terrasse, dank der bequemen Sitzmöbel zu unserem Wohnzimmer machen. Der Pool ist nicht tief und bestens geeignet für Kinder. Dank der ruhigen Lage haben wir uns bestens erholt.
Reinhold
2016-09-05T00:00:00Z
Ante's apartment was absolute perfect for our family Holiday. It was exactly like on the pictures, big enough, very clean and modern and tasteful furnished. We really enjoyed the nice and cosy lounge terrace with the small pool (it is bigger than it is looks on the pics). The location was also perfect for us, the best beach (galapagos beach) is only 2 minutes by car, and it is beautiful. The internet (wifi) works perfectly, the TV is big and nice, we had to use (our own) (SENSITIVE CONTENTS HIDDEN) chrome stick to see internet on TV, but as I saw, the TV could play the photos and other files from usb sticks too. It was a very good and relaxing place after the sightseeing days or after the beaches. Krk is beautiful! Ante's mother helped us with the check-in, and gave us everything we needed during our stay. She is really kind and helpful. She made our little son a birthday cake on his birthday! It was really a big surprise and very nice from her! Amazing place with amazing host! We loved every minute of our Holiday. Thank you very much! We can absolute highly recommend this holiday apartment in Krk to everyone! :)
Gábor
2016-07-29T00:00:00Z
La maison de Ante est agréable et fonctionnelle Nous avons été accueilli Par sa maman une charmante personne! Merci pour le petit cadeau de départ Nous y avons séjourné deux nuits et avons profitez des jolis criques de l île de krk
Nathalie
2016-08-05T00:00:00Z
Un super accueil. Photos et description conforme à l'annonce. Un bon séjour. Merci pour le petit cadeau de départ
David
2016-08-04T00:00:00Z
Rodzaj pokoju
Całe miejsce
---
Rodzaj nieruchomości
Apartament
---
Mieści
4
---
Sypialnie
Muraj, Primorsko-goranska županija, Chorwacja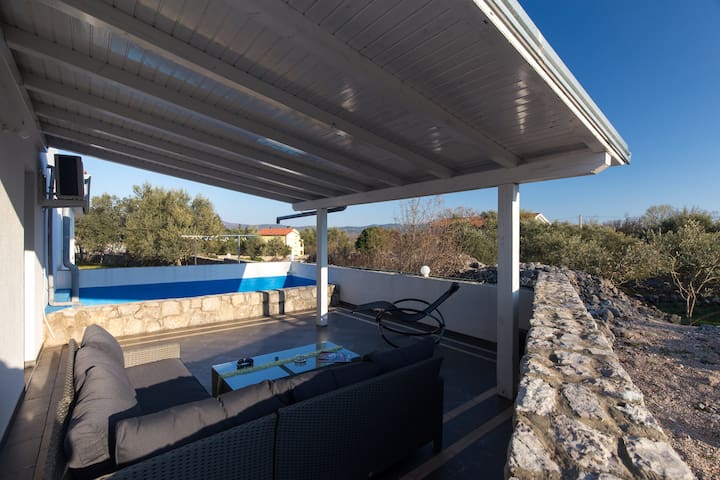 Nice comfortable, two bedrooms, new built apartment on the quiet location, Island Krk, town Krk, Croatia. Ground flour. It comfortably fits four persons.
We use only quality materials to arrange interior like Italian ceramic tiles, all paint are water-based so it suitable for allergic. Smoking is allowed at balcony only.
Wir hatten einen fantastischen Aufenthalt in diesem schönen Appartement. Sauber, moden, ruhig, perfekt ausgestattet incl. Geschirrspüler und Klimaanlage, großer Fernseher, große Terrasse und viel Platz. Und vor allem: ein perfekter Gastgeber. Dani ist sehr nett, hilfsbereit und stets bemüht um seine Gäste. Man fühlt sich hier sehr wohl. Das schönste Erlebnis war die Bootsfahrt mit Dani übers Meer...vielen Dank Dani, meinen Kindern und mir hat es sehr gut gefallen bei Dir auf Krk. Wir kommen gerne wieder! Alles Gute für Dich und Deine nette Familie... Eckard, Vivienne und Alice aus Paderborn
Eckard
2015-07-12T00:00:00Z
We had a great week at Dani's place. The apartment was super clean, comfortable and spacious. Everything we needed was inside and if bot, Dani was the most helpful host i know. He even helped us finding a car center to repair our car during the vacation. When we arrived, everything was ready for us and Dani had even cooled some drinks for us in the fridge. He is always in a good mood and never too busy to help his guests out. It was also the perfect place to stay with our dogs because Dani and Krk in general are very dog-friendly. We would come back any time to stay with Dani again!!!
Melissa
2016-09-25T00:00:00Z
Very nice and clean appartment, located close to the center, a short drive by car 2-5min) and about 10-15min walk. Appartment looks exactly like the pictures showed on airbnb. Dani welcomend us with cold drinks and took us to the beach with his family. He showed us around and explained everythig we needed to know. He even offered us to take us with his boat to an other island, unfortunately we didn't have enough time to do it. Dani and his family are really friendly and helpful. I would definiately recommend to stay at his appartment in Krk :)
Nina Katharina
2016-07-29T00:00:00Z
Great apartment, great hosts! I am so glad to have chosen this apartment! The new pictures do it justice, it is bright and cheery, spotless clean and it has a dishwasher! The terrace is lovely. Everything you could need is provided and if you are missing something, just let Dani and Ivana know. I have already recommended this place to half a dozen people and hope to stay there again in the future. Thanks guys!
Renata
2015-06-03T00:00:00Z
The apartment is spacious, conformable and clean in quiet neighborhood just 10 to 15 minutes from the beach or the city center. We were there with 2 children who had enough space to play in their room, in the living room, or on the terrace. The owner was very helpful and kind to show us around in Krk, to recommend some places on the island. Thanks to his hospitality and the comfort of his apartment we had one of the best vacations in years and will surely come back. I would warmly recommend it to everybody.
Milan
2015-08-02T00:00:00Z
If you are looking for a place to stay in Krk, close to the centre, but in a quiet neighbourhood, this is the perfect place! Đani is a superb host. Shows the town and the best places to go. Every ingredient for a great holiday.
Joke
2016-08-02T00:00:00Z
L'accoglienza di Dani è stata ottima: gentile, disponibile e cortese. Un appartamento molto bello, accogliente, spazioso, ben arredato, studiato nei particolari e soprattutto pulito. Bene anche il parcheggi all'ombra. Si trova in una zona residenziale tranquilla in 10min circa si arriva nel centro del paese o alle spiagge. Ci siamo trovati molto bene speriamo di tornare. Grazie
elena
2015-06-22T00:00:00Z
Lovely spacious nice and clean apartment. Well located from 10-15 min walk from the city centre. We were late, but Dani made things easy for us to get the key at our arrival. Rooms are spacious and comfy. We had a really great time, and had everything expected described for the apartment. We will recommend this appartment for sure
Magali
2015-10-01T00:00:00Z
Rodzaj pokoju
Całe miejsce
---
Rodzaj nieruchomości
Apartament
---
Mieści
5
---
Sypialnie
Krk, Primorsko-goranska županija, Chorwacja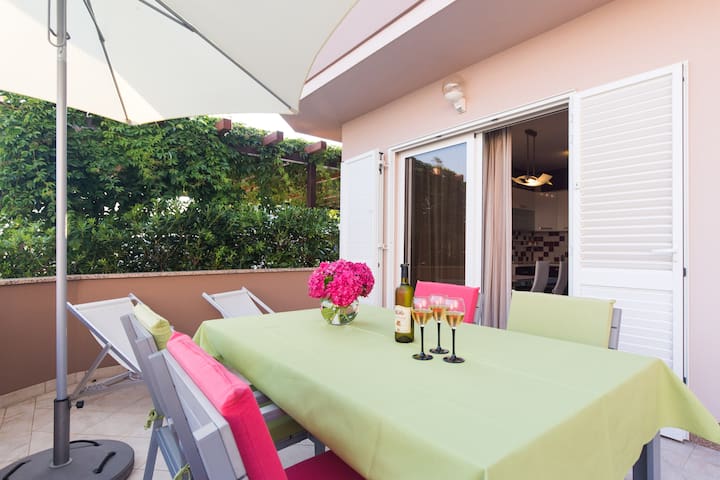 You'll love my place because of the great location near the beach and the spacious garden with terrace. We offer free parking for your cars. You can even bring your boat. Pets are welcome. My place is close to beach, grocery store, restaurants and dining.
Apartment equipped with everything necessary for your great stay in Pinezici. On big terrace you can sit and enjoy your morning coffe or tea in the peace, read a book, or simply lie in the deck chair. The beach is 10 min walk from the apartment or if you want you can drive to the beach where is free parking available.
Quiet and peaceful neighbourhood ideal for relaxing and enjoying your holiday away from noise and crowded places
Værten and hans kone, modtog os begge, der var meget rent, og de havde lagt vand, øl, og sat kager frem. Værten kørte os ned til stranden, og viste os de faciliteter der var der. Der var liggestole og parasoller til rådighed, desuden dejlig terrasse. Vi kommer gerne igen. Eneste mangel er at der ikke er en restaurant i byen.
Susanne
2016-07-22T00:00:00Z
Our Holiday in Penizici was great. The accommodation is huge and has AC. The family Toth was very friendly and helpful at our questions and had good tipps for actions nearby. Also we had everything what you need for a family with two kids. In the Appartement are utilities for cooking, towels and stuff for the bedrooms. The wet towels could hang at the line outside and Josip and his wife gave us fresh bed utilities and towels without need to ask for. Thank you for a pleasant time at the island of Krk.
Waldemar
2016-07-15T00:00:00Z
Rodzaj pokoju
Całe miejsce
---
Rodzaj nieruchomości
Apartament
---
Mieści
6
---
Sypialnie
Pinezići, Primorsko-goranska županija, Chorwacja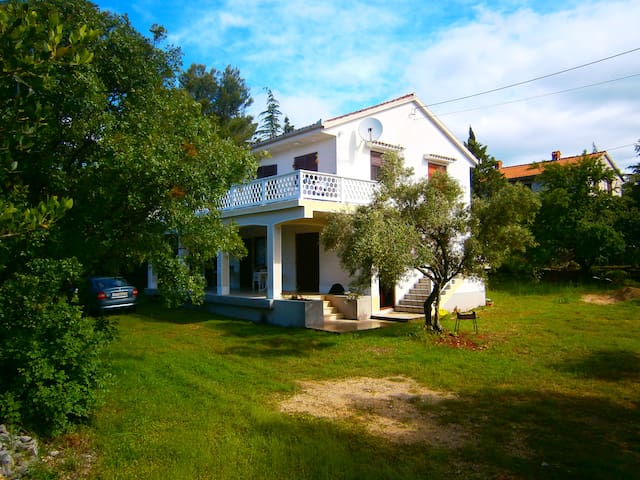 Comfortable one bedroom apartment in a quiet zone in the town of Krk, ten-minute-walk away from the old town centre and 400 metres away from the nearest beach. It has a balcony overlooking the sea and a garden terrace with a BBQ.
The apartment is located on the second floor of the family house. It is a 40 m2 apartment including a bedroom (double bed), bathroom with a shower, and a large room with a kitchenette, dining room and a living room with an extra bed. It accommodates four people. The apartment is equipped with a TV set offering satellite channels, and with wireless internet. It has a balcony overlooking the sea and an extra terrace beside the front door.
The apartment is in a quiet and friendly neighborhood and yet not far away from the beaches and crowd and dynamic of the old town centre. Local extraordinary gastronomic offer is well-known for high-quality fresh fish and lamb. The biggest vineyards of the autochthonous Croatian grape cultivar – Vrbnička žlahtina, are located on the island. The island is covered with numerous hiking and bicycle trails. You can take a trip on one of the many excursion boats that will take you to hidden bays and lagoons, where the sea is crystal clear. The Island of Krk is connected to the mainland by a bridge. From ferry port in Valbiska bay you can visit the other three big islands of the Kvarner Gulf: Cres, Lošinj and Rab.
Un apartamento muy amplio. Extraordinario para nosotros. Situado en un barrio sin ningún ruido, residencial. Tiene bonita panorámica desde la terraza del salón. Al centro se llega en 10 minutos andando. Hemos estado muy contentos.
javier
2014-09-06T00:00:00Z
Zeljko nous a accueilli tres chaleureusement, l'appartement est impeccable, propre et fonctionnel.(et bien équipé ) Il nous a été tres facile de communiquer avec Zeljko qui s'est montré tres disponible. Quelques heures avant notre arrivee les verres de bienvenus etaient mis au frais. Super expérience.
Azélie et Rémi
2016-06-26T00:00:00Z
This delightful 2nd floor apartment is just 5 minutes walk from the old town of Krk. Zeljko was very easy to communicate with and was very happy to offer us help in where to go in the old town. He even left us a couple of beers in the fridge as a welcome drink! - We drank these on the balcony, which has a brilliant view. The room is very big, with a new bathroom which is modern, and well equipped. The bedroom is spacious and Zeljko conveniently included 2 duvets (so for all you couples who have someone who steals the duvet, this is a god send).
Danielle
2016-06-08T00:00:00Z
Wir waren Ende Oktober für 2 Nächte bei Zeljko in Krk. Von den Balkonen hatten wir einen traumhaften Ausblick auf das Meer und genossen dort die Sonne. Das Apartment ist gepflegt, gut modernisiert, sauber und hell. Besonders gefallen hat uns das großzügige Wohnzimmer mit Wohnküche und schnellem Internet. Um das Haus gibt es einen verwinkelten Garten und eine Terrasse mit Grill. Von der Wohnung aus ist der Ortskern gut erreichbar. Die Kommunikation vorab und auch vor Ort war reibungslos und sehr herzlich. Zeljko spricht sehr gut englisch. Wir kommen gerne wieder!
Daniel
2016-11-01T00:00:00Z
Very nice apartment, lovely view from the balcony. Clean and well appointed,maybe include an iron for future guests. Would highly recommend . Thanks Diana and Dave
Dave & Diana
2016-06-15T00:00:00Z
Grand et bel appartement situé à 10 minutes à pied du centre de Krk. Ce logement est lumineux, bien équipé et a un balcon avec vue sur la mer. L'hôte nous y a très bien accueilli. Thank you again ! Nina & Julien
Nina
2016-04-29T00:00:00Z
This is my favourite Airbnb that I've stayed at so far. Very clean, the garden is very pretty, the location is great. The size was perfect for me and my boyfriend and Katarina and Zeljko were very helpful and hospitable. I'd recommend staying here!
Serina
2015-05-29T00:00:00Z
Zeljko war ein super Gastgeber, der einen bei Fragen weitergeholfen hat und einem ansonsten seine Ruhe gelassen hat. Das Apartment war, abgesehen von einem Backofen, mit allem ausgestattet, sauber und entsprechend der Bilder. Innerhalb von 5-10 min. war man in der Stadt und auch der Rückweg war, trotz ordentlicher Steigung nicht zu anstrengend.
Leonard
2016-09-30T00:00:00Z
Rodzaj pokoju
Całe miejsce
---
Rodzaj nieruchomości
Apartament
---
Mieści
4
---
Sypialnie
Krk, Primorje-Gorski Kotar - hrabstwo, Chorwacja
Cozy apartment for your stay in Krk town on Krk island, Croatia Studio is ideal for two people, i.e. a romantic couple or a couple with a child. It is located in the building on the ground floor. In front of the studio is a terrace overlooking nicely decorated garden. Also on the terrace is a table with chairs and sun loungers. The studio consists of: • Living room with a kitchen, this room is also the bedroom • Bathroom with shower • Toilet Studio is located 300 meters from the first store; the nearest beach is 350 meters away and the center of the town is 450 meters away. In the living room there's a dining table with chairs, pull out sofa that overnight serves as a bed (forever set as bed), a wardrobe and a kitchen with all necessary things for cuisine. There is also third extra bed if (website hidden) is done with gas bottle. Living room also contains LED TV (Croatian channels) and air conditioning. Movable bed is also at your disposal. Hairdryer and iron are in the wardrobe. Bed linen and towels are included. Free parking is available at site. Just in front of the terrace is a garden and further to the right is a grill that can be freely used all year round. Also next to the garden is a wooden table and chairs for dining. Check In/Out times are flexible except if there is another couple or person either checking out on the day you are arriving, or checking in on the day that you are departing. If this is the case then: Check In time is 1:00 pm or later Check Out time is 10:00 pm Air condition is 5,00 € per day and it is included in the price.
You are literally 5 minutes walk from Krk bus station, which is just nearby the main traffic circle in Krk town. Here you are looking at the city harbor with the cathedral tower at your sight; to get to the center of the town is another 300 meters of boardwalk. If you go straight by the bus station (not into the town), following the sea bank (seaboard) you'll get to the one of the most famous beaches in Krk town called Ježevac. Here is also a camping site with the same name, tennis court, beach bar and few restaurants. If you wish to be alone and not distracted with the many (tourists) you can follow along the trail and to get to more solely beaches, i.e. rocky beaches. Also these trails are great for bicycle routes.
Alles ging bestens, tolles apartman eingerichtet mit allen was man brauchen kann! Lage toll, nah zum Zentrum und auch zum beach.
Vera
2015-07-19T00:00:00Z
Casa accogliente e carina dotata dello stretto necessario per una vacanza. ...relativamente vicino al mare...tutto come descritto ...non c'è connessione per usare (SENSITIVE CONTENTS HIDDEN) ma un tablet vi aiuterà per notizie e quant'altro
Anna
2016-08-08T00:00:00Z
Very comfortable apartment, in a convenient location. Small but it has everything you need, and the terrace is perfect with the garden! Maybe we come back next year.
Bori
2015-09-22T00:00:00Z
Das kleine Apartment hält was es verspricht und ist die perfekte Basis für einen entspannten Urlaub auf der Insel Krk. Ruhig gelegen, mit einer schönen Sonnenterrasse dauert es nur wenige Fußminuten zum Strand bzw. zur nächsten Einkaufsmöglichkeit. Mihovil selbst war leider nicht vor Ort, deshalb wurde alles über eine Tourist Agency abgewickelt, was problemlos verlief. Gerne wieder!
Jonas
2014-08-13T00:00:00Z
In all honesty we found a perfect hospitality. The apartment is in a good location, near the beach and the center of Krk. It is equipped with every comfort and Mihovil was made available to make our holiday. Grazie di tutto, thanks, spero di tornare presto, Federica e Mauro
Federica
2015-07-08T00:00:00Z
The studio was lovely quite and nice, near the city center and the other facilities, it was very clean and comfortable. Mihovil was very helpful to answer at some questions about the island. I reccomend the studio to anybody who wants to relax and visiting Krk.
Matteo
2015-07-25T00:00:00Z
Mihovil hat alles gut organisiert. Appartment passt. Leider gab es zuviel Regen, so ist es halt im September ;)
inga
2016-09-24T00:00:00Z
Kleines,praktisches Studio mit allem,was man so braucht, im Erdgeschoss eines mehrstöckigen Wohnhauses in ruhiger Lage. Von eigener Terrasse hat man den Blick in den schönen Garten.Krk Innenstadt und Meer fussläufig erreichbar. Krk eignet sich als guter Ausgangspunkt für viele Ausflugsziele. Mihovil haben wir leider nicht kennengelernt.
Jeannette
2013-09-02T00:00:00Z
Rodzaj pokoju
Całe miejsce
---
Rodzaj nieruchomości
Apartament
---
Mieści
2
---
Sypialnie
Krk, Primorje-Gorski Kotar - hrabstwo, Chorwacja
Jest to najmniejszy pokój w naszym domu, ale najcichsze z wejściem prywatności i osobistej. Będziesz miał everithing trzeba: prysznic, kuchnia, lodówka, i dużo światła dziennego dzięki naszej niezwykłej oknie
Dom znajduje się w starej części miasta, w strefie dla pieszych. Jest to wygodne i doskonale nadaje się dla dzieci i zwierząt domowych
Tutto bene Marta è molto gentile ed educata. Parla molto bene l inglese. Mi ha pure riservato un tavolo ed accompagnato in pizzeria.
Flavio
2016-12-31T00:00:00Z
The place is in the center of Krk, very close to the main square. The space is very little, but there is all you need and is absolutely water-proof (we met a very heavy storm during first night)!
CASA ROSELLA
2016-10-04T00:00:00Z
great location, very nice hostess, and a fine small place for a traveler on a budget!
Daisy
2016-09-18T00:00:00Z
Top position in old town....but but
Ivica
2016-10-25T00:00:00Z
Alles war soweit ok.
Freddy
2017-02-19T00:00:00Z
Rodzaj pokoju
Pokój prywatny
---
Rodzaj nieruchomości
Dom
---
Mieści
2
---
Sypialnie
Krk, Primorsko-goranska županija, HR, hrvatska, Chorwacja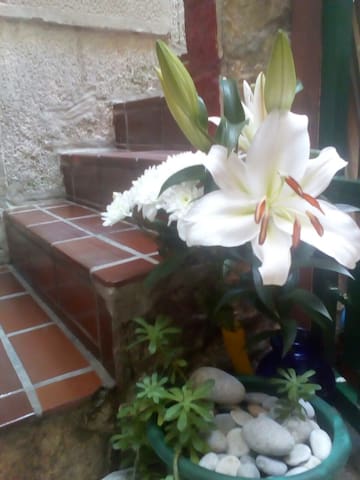 Sunny and cozy, modern apartment, with beautiful views. Located close to city center, but in quiet neighborhood, near beaches, restaurants and shops. • Free Air-condition • Free Wifi • Free parking on premises
NEW!! The main living space has a fabulous view of the old town of Krk. A balcony adjoins this same living room for additional views of the city and the neighborhood. Area to enjoy a good book on a sunny afternoon. The Flat allows abundant sunlight to flow into the living areas throughout the day. The big windows and a skylight located throughout provide a bright and cheery environment. Decorated smartly, with style and comfort taken into consideration, the flat is furnished with both modern and timeless furniture. Flat screen satellite television, air condition, wireless internet and stainless appliances, linen, will all add to your enjoyment while staying in this lovely top floor apartment. Pebble beaches are 500 meters by foot, the city center with restaurants, shops is just 280 meters away. A tap water is safe to drink:)
Friendly neighborhood of private family houses, close to the beach and restaurant's and shops. The city of Krk offers various interesting events such as wine fest, medieval town celebration, fig days, entertainment for children, the beach fun: fitness and yoga on public beaches.....
Great appartment : really clean, fully equiped, sunny, no noise, close from the sea and the shops. And you can grab figues from the balcony ! Tatjana has been very helpful and nice. A can't miss !
Arnaud
2014-08-21T00:00:00Z
It is a great apartment, closed to the city centre and to the beach as well. It is also very quiet and has got a good view from the balcony. I recommend it for everybody. Tatjana was very helpful. Thanks for her!
Ferenc
2016-06-06T00:00:00Z
Siamo arrivati in anticipo ma Tatjana aveva lasciato chiavi e indicazioni e quindi non abbiamo avuto nessun problema.L'appartamento é come descritto molto luminoso e moderno. Molto comodo sia alla spiaggia che al centro. Consigliato!
Katia
2016-06-28T00:00:00Z
Tatjana was a lovely and perfect host. Communication work very well and quick. The accomondation was settle perfect between the city center of Krk and the beach. It was very well equipped and the balkony was wonderful. Highly recommend Tatjana as host.
Martin
2016-09-18T00:00:00Z
Everything was cool, Tatjana and her family were great hosts. Images are matching the reality. Apartment was very clean, close to the city center and restaurants. Beach was 5 min walk. Would recommend to everyone. Thanks Tatjana.
Martin
2016-09-04T00:00:00Z
The apartment was very nice, tidy and very cosy situated in the town. On walking distance (4-5 min) to the harbour and restaurants and a good restaurant at the corner of the street. Be aware for the mosquitos but that is a environment thing . . . :-)
Erik and Iris
2016-06-20T00:00:00Z
Everthing was perfect. The appartement is very nice and clean, the view from the large balcony is amazing. The equipment is more than enough. We had a great time on the beautiful and relaxed island of Krk. Advisable.
Oliver
2015-07-21T00:00:00Z
Great appartment! Good situated, large shower, comfortable bed, clean, cozy, nice neighborhood. Recommendable!
Christiane
2015-08-09T00:00:00Z
Rodzaj pokoju
Całe miejsce
---
Rodzaj nieruchomości
Apartament
---
Mieści
3
---
Sypialnie
Krk, Primorje-Gorski Kotar - hrabstwo, Chorwacja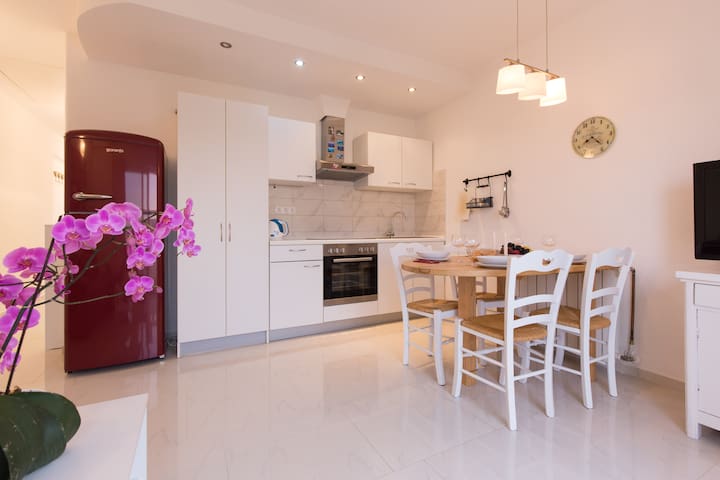 House 5395 in the town of Malinska, Krk - Kvarner has accommodation units of type Apartment (3), Studio flat (1) and is 450 m away from the sea. A beach is nearby (concrete slabs). Other guests will most likely be present in the house during your holiday. During your holiday, your hosts will also be present in the house. The house owner is under no obligation to accept additional persons and pets that were not stated in the reservation request and it is necessary to report them in advance.
Studio flat can accommodate 3 guests. Beds are situated in 1 sleeping rooms, within 17m2. Guests can use the private balcony to enjoy the warm summer evenings. Food can be prepared using barbecue which is shared with other guests too. This accommodation unit welcomes pets at an additional charge. INCLUDED IN THE PRICE: tourist tax, final cleaning, parking, internet. OBLIGATORY ADDITIONAL COSTS: short stay surcharge. OPTIONAL ADDITIONAL COSTS: pets (€6.00 per night). The availability of additional services for your chosen dates of stay, as well as their prices (if none are listed) must be checked ahead of time. Any additional services not shown in the price calculation are payable directly to the property owner and only if used by the visitor. AMENITIES Courtyard (400m2, Sitting area), Parking lot (Number of parking spaces: 4, Distance from the house: In the courtyard), Barbecue (shared), WiFi Internet LOCATION AND ACCESS The property is located by the main road Main road between the property and the beach Car access possible: Yes The facility is not located in quiet surroundings The property is surrounded by greenery DISTANCES Sea: 450 m Beach: 450 m Supermarket: 40 m Restaurant: 400 m Emergency room: 12 km Post office: 1 km Disco: 500 m Diving Centre: 550 m Pharmacy: 700 m Internet cafe: 500 m Exchange office: 650 m Tourist info: 750 m No of people can fit in is 3
Rodzaj pokoju
Całe miejsce
---
Rodzaj nieruchomości
Inny
---
Mieści
3
---
Sypialnie
Bogovići, Primorsko-goranska županija, Chorwacja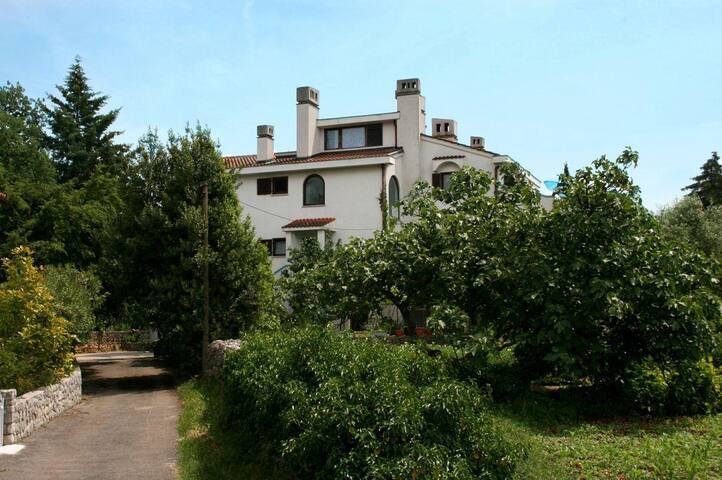 Our Apartments are located in Krk town and are located 200 m from the beach (a 5 minute walk), and 900 m from the cultural and historical center of the town (a 15 minute walk). There are pebble, rocky and sand beaches, shop and sports objects.
Apartment 3, size 22m2 (studio) is for 2 persons. The apartment is located on the first floor with a separate entrance and opens to the garden where there is a set of seats available only to guests from Apartment 3. The apartment has a layout of a studio with a French bed 160x200 (for 2 persons). It has a bathroom with a shower cabin and a fully equipped kitchen with a dining table, fridge with deep freezer, stove (electrical current), a filter coffee machine, electric kettle, cutlery. The apartment has also: cable TV, Free WiFi flat Internet, and air condition with manual directing, a safe for valuables/ personal documents.
The apartements are in the family house neighbourhood whereby it is expected from guests to respect night quietness. But for those guests who wish to enjoy amusement or fun, there is always something going on in the city of Krk - either through some organised amusement or event, local traditions or through some concert or just through good music in the pubs in the center of Krk either during the day or in the evening. The main events are always listed in advance in the Calendar of Events that could be found on local touristic comunity board. You can find the web links of Calendar of Events listed on our House Manual information. Here are just some of the events for city of Krk: SPRING IN KRK 1st MayLABOR DAY FEST Traditional celebration of Labor Day with entertainment and gastronomic offer on Krk waterfront 1st – 18th MayEXHIBITION ¨LABOR DAY INCUBATOR¨ The common theme exhibition at the gallery Decumanus on the subject of mass tourism 6th – 28th MayKRK FOOD FEST – Lamb and Cheese days Gastronomic event in which you can enjoy menus with lamb and Krk cheese in Krk restaurants 14th MayFIREFIGHTING CYCLING RACE Charity Bicycle Ride organized by Public fire brigade Krk Start of the tour is scheduled at 10:00am , followed by a special program for participants on Krk waterfront. 19th – 21st MayKRK BIKE STORY 2017. - Spring Bike Adventure Traditional three-day cycling event which combines cuisine and entertainment with guided bicycle tours!! Applications and information on 1st – 6th JuneDAYS OF THE CITY OF KRK Programmes on the occasion of celebrating St Quirinus, patron of Krk Diocese and the city of Krk, organized by the Centre for Culture of the City of Krk. 10th JuneKVIR 'n' BASS One-day festival of electronic music, a festival of young DJs and bands that playing electronic music. 16th – 23rd JuneFRIENDS OF THE SEA : GAMES Photo exhibition at the Krk Waterfront on the theme of games by the sea 21st JuneTRAMONTO Jazz/ethno concert on the square ¨Krčkih glagoljaša¨ 23rd JuneGREETING SUMMER Say hello to the first days of summer, with various artists and Marko Tolja who will bring warm sounds to the Krk Waterfront. 1st July29th MEETING OF THE ISLAND OF KRK SOPILA PLAYERS in Pinezići 1st and 2nd JulyKRK REGATTA Regatta in the waters of Krk 5th JulyTRAMONTO Jazz/ethno concert on the square ¨Krčkih glagoljaša¨ 10th July – 24th August61st KRK SUMMER EVENTS Traditional cultural events organized during the summer months, a programme of events complex of musical and theatrical displays of classical music concerts, ballet and drama. 14th JulySUMMER IN KVARNER International Folklore Festival on the Krk Waterfront 19th JulyTRAMONTO Jazz/ethno concert on the square ¨Krčkih glagoljaša¨ 23rd JulyPROMOTIVA 2017 International Beach Volleyball Tournament and Croatian Championship at the beach Dunat 24. July- 3.AugustDUO LIVE Live music on the Vela placa Square 25th JulyJAKOVLJA Folk Fest in Kornić 29th JulyCROATIA OPEN 2017. Croatian international championship in orienteering 2nd AugustTRAMONTO Jazz/ethno concert on the square ¨Krčkih glagoljaša¨ 5th AugustKRK CITY MUSIC Promenade concert of brass band 08th – 10th August493. KRK FAIR – LOVREČEVA In these three days the city of Krk is transformed into a huge stage on which scenes from the Middle Ages alternate with those of modern times, all accompanied with entertainment, cultural, commercial and gastronomic offer which will present all the best offered by the island of Krk and the entire Croatia. The Krk Fair should not be missed! 12th AugustKRK OPEN Regatta in the waters of Krk 14th – 15th August20th- KRK SAILS NIGHT BOAT DANCE Night sailing with live music in the eve of the fest of the Assumption, entertainment program on Krk waterfront KRK SAILS Regatta of old vessels organized in Krk waters, Regatta starts at noon, in the evening there will be an entertainment program on the Krk Waterfront 15th AugustKRK CITY MUSIC Promenade concert of brass band 16th AugustTRAMONTO Jazz/ethno concert on the square ¨Krčkih glagoljaša¨ 19th AugustEVO TI PA SLUŠAJ! (HERE YOU ARE AND LISTEN!) Traditional rock festival of Krk demo bands organized by an Krk Associoatin ¨Kreativni Krk¨, designed as an opportunity to present the rich demo scene of the island Krk AUTUMN IN KRK 1 st - 3rd SeptemberFIG DAYS Entertaining and gastronomic event dedicated to figs. Krk restaurants will serve dishes with figs, and the Vela placa Square will host an rich exhibition and entertainment program. 10th SeptemberBODUL BIKE Traditional guided recreative cycling tour
Tanja jest bardzo miłą i kontaktową osobą. Okolica była bardzo atrakcyjna, dużo restauracji, bardzo ciekawa stara część miasta, warta zwiedzenia. Plaże bardzo fajne. Nasz pobyt był bardzo udany.
Szymon
2016-08-13T00:00:00Z
L'appartamento si trova a 10 minuti a piedi dal centro di Krk, in una zona piena di appartamenti in affitto, vicino alla spiaggia (cementata) di Krk. Al nostro arrivo ci ha accolti la madre di Tanja, gentilissima e disponibile. L'appartmento è piccolo ma accogliente, comprende anche un bel giardino. Abbiamo parcheggiato comodamente nel cortile dell'edificio. Comodissimo sia per stare a Krk, sia per girare nei dintorni (opzione caldamente consigliata).
Andrea
2016-08-14T00:00:00Z
Thanks to tanja and her mum to make our time in krk so great. The apartment is really good, clean and the kitchen have everything you need. My favourite part of the house is the garden, amazing to have breakfast and enjoy the environment. Tanja's mum was waiting for us. She is absolutely lovely. I really recommend everyone that want to go to krk stay with them. The beaches are just 10 minutes walking from the house and the old town just 15 minutes. Thanks Tanja again All the best
andrea
2016-09-13T00:00:00Z
Beautiful place, near the center and the sea. In about 5min walking you will get to the center of the old town of Krk or the beaches, really quite in the evening. You can enjoy the small garden outside the apartment. All the people in the house do the possible to make your stay comfortable. Parking is in the house. Zagreb is only a few hours to krk, really beautiful and culturale city, if you have a day off absolutely you have to go there. Thank you all, we will come back!
Christian
2016-07-21T00:00:00Z
Appartement parfait, très propre avec un jardin privatif très agréable. A 10 min a pied de la mer, avec des bords de mer très jolis et bien aménagés. Très bon accueil par des gens très sympathiques.
Marion
2015-08-09T00:00:00Z
Tanja je bila Divan domacin. Smjestaj savrseno odgovara datom opisu. Evrything was great as here described.
jasna
2015-09-19T00:00:00Z
The studio was very wonderful with everything (kitchen staff, ecc)also with great little garden where have breakfast or dinner. Less then 10minutes from the sea and the city center of Krk. We parked the car without problem. The host was very fine with cake, figs for us and kind support. All the information provided in the decription of the house was respected. - L'appartamento era comodo e confortevole con tutto il necessario (lenzuola, salviette, accessori per la cucina). Un giardino esterno dove poter fare colazione in atmosfera tranquilla. Location ottima a meno di 10min dalla mare di Krk e anche dal centro del paese: tutto a piedi. La macchina abbiamo potuto parcheggiarla nel cortile interno. grande ospitalità e disponibilità. Grazie!!
Nazzara
2015-09-13T00:00:00Z
Wir haben uns bei Tanja und in ihrem Apartment sehr wohl gefühlt. Es ist definitiv sehr sauber (und da bin ich anspruchsvoll) und das Zimmer sogar größer als erwartet. Klimaanlage, Internet, Fernsehen... alles hat hervorragend funktioniert. Riesen Highlight war der kleine private Gartenabschnitt, wo man gemütlich im Schatten frühstücken kann. Tanja ist eine tolle Gastgeberin, immer ansprechbar, gibt Ausflugtipps und es gab auch einen Begrüßungssaft (nachdem wir Bier abgelehnt hatten ;) ). Die Unterkunft ist definitiv weiter zu empfehlen! Winziger Punkt, der uns persönlich nicht 100% gefallen hat war der Strandabschnitt... da ist jedoch zu bedenken, dass wir in der Hauptsaison da waren und dies Geschmackssache ist (viel Betrieb, riesen Hüpfburg zerstört etwas das Idyllische des Meeres, teilweise etwas lauter). Er ist sehr gut geeignet für Kinder (sehr flacher Einstieg). Wenn man jedoch ein bisschen herum fährt, findet man sehr schöne und sogar trotz Hauptsaison auch ruhige Strände. Und die Insel an sich ist ebenfalls sehr sehenswert! Dafür ist die Stadt Krk und das Apartment ein super Ausgangspunkt. Wir kommen auf jeden Fall gerne wieder. Danke Tanja!
Anna
2016-07-30T00:00:00Z
Rodzaj pokoju
Całe miejsce
---
Rodzaj nieruchomości
Apartament
---
Mieści
2
---
Sypialnie
Krk, Primorsko-goranska županija, Chorwacja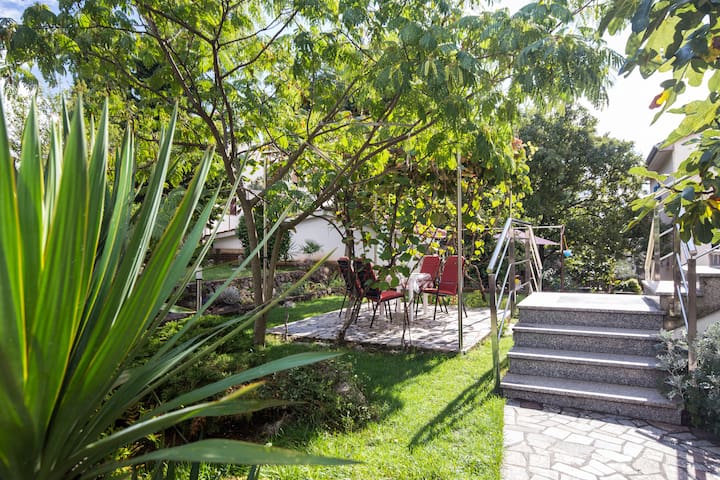 Renovated stone house is situated in the quiet location in the old town core of City of Krk. House is just few minutes away walking to the basic facilities. It is refurbished to contribute the protected ambiental values of the old town.
The space is organized in 36sqm on three floors (3x12sqm) - groundfloor with kitchen, dining room and a bathroom, 1st floor is made for living room with pull out sofa (sleeps 2), and on the attic we have bedroom with double bed (sleeps 2). The interior is completely refurbished end equipped. The house has it's own entrance and the whole house is yours!
Renovated stone house is situated in the quiet location in the old town core of City of Krk. The windows have south orientation. House is just few minutes away walking to the basic facilities, such as: beach (200m), main city square (250m), car park (150m), hospital (500m).
Vedran was really helpful letting us check in earlier and leave our heavy bags to collect later! Any questions we had he was willing to answer and the apartment was really comfortable.
Mae
2016-06-11T00:00:00Z
The Stone House was quite the charming holiday place we hoped it will be! Small, but really nice and practical build, everything inside looked brand new, tasteful and very clean. Vedran wasn't there, as he was traveling as well, but his friend Smiljana was super friendly and helpful. The center was just around the corner from the house, and you could also reach the sea and a couple of good restaurants in maximum 5 minutes of walking. We would warmly recommend Vedran's place if you're looking for a nice island holiday in the beautiful Croatia. Thank you again Vedran and Smiljana for having us. All the best from Switzerland.
Ollie
2014-07-23T00:00:00Z
Vedran hat uns mehrmal kontaktiert, ob alles i.O. ist. Der Kontakt wahr sehr angenehm. Vedran ist ein wirklicher Gastgeber - unkompliziert und freundlich. Alle Zusagen - Schlüsselübergabe und Rückgabe - wurden genau eingehalten. Wir kommen gerne wieder.
Maike
2016-11-03T00:00:00Z
Ich kann die Unterkunft nur empfehlen! Die Lage in der Altstadt ist wunderbar, die Ausstattung der Unterkunft war super. Ideal für Paare geeignet. Auch wenn wir Vedran leider nicht selbst angetroffen haben, so hat er uns gute Tipps gegeben und wirkte sehr sympathisch am Telefon. Danke für die schöne Zeit die wir in in Krk verbringen durften! Gerne und jederzeit wieder!
Lisa
2015-06-20T00:00:00Z
It was my first time in Croatia and in Krk. I would say Verdan's house brightened my experience. The house is very cosy and very well planned. It is situated in the old city of krk inside the city walls. The place is highly recommended.
Julia
2016-05-30T00:00:00Z
One of the best Air bnb accomodations i've ever had. Vedran is such a nice host, answered so quickly everytime. The house is so charmy and has a wonderful design and architecture. We just stayed 4 days, but wish to stay longer. The house has a perfect location, in the middle of the old town and close to all beaches and restaurants. Its really clean and so comfortable, and we where so happy for the good- sleeping nights because of the air conditioner. We will come back- for sure!!!!!
dani
2015-07-07T00:00:00Z
Hello Vedran, we had wonderful week in the stone house and everything was fine for us. Two things we noticed in the house: One day when it rained water came in under the front door. This can be a problem during the winter when nobody is in the house. And the light in the bathroom switches on and off every few minutes. It is probably getting too hot. For us this was no problem and we really like the house, especially the combination of the old stone house with modern interior. Best wishes, Angela
Angela
2016-09-10T00:00:00Z
Vi hadde fem dager på Øya Krk. Vedran var veldig pålitelig og behjelpelig i forhold til alt vi lurte på. Svarte raskt på henvendelser og ringte oss da vi hadde sjekket innfor å høre om alt var i orden. En nabo tok seg av innsjekk, og hentet nøkkelen til avtalt tid da vi skulle reise. Huset er praktisk og fint. Rent og ordentlig. Beliggenheten er perfekt inne i den gamle bydelen. Man parkerer på utsiden av denne bydelen. Men det er ikke noe problem, korte avstander. Og veldig godt å slippe biltrafikk der inne. Vi hadde leiebil under hele oppholdet og oppsøkte den stille og rolige stranden Stara Baska ca 25 min kjøring fra Krk. En perle om man liker denne type naturopplevelser. Øya er flott. Huset anbefales på det varmeste.
Lene
2016-07-11T00:00:00Z
Rodzaj pokoju
Całe miejsce
---
Rodzaj nieruchomości
Dom
---
Mieści
4
---
Sypialnie
Krk, Primorje-Gorski Kotar - hrabstwo, Chorwacja
Yellow-orange painted apartment with flat tv, green sofa and full equipped kitchen. Apartment is north/west oriented. Mornings are full of sun, while the evenings are pleasant. Balcony with sea view is great for drinking coffee and chiling out.
37 square meters of space which includes one bedroom, bathroom, big living room with sofa, kitchen and balcony. Situated on the first floor.
Calm and peaceful.
Cvjetana z možem nas je zelo lepo sprejela in razkazala apartma, ki je bil čist, urejen in opremljen z vsem potrebnim, kot je bilo opisano na spletu. Lokacija je zelo mirna in primerna za družine, plaže so zelo lepe (parkiranje je brezplačno). Super....priporočam.
Sebastjan
2016-07-04T00:00:00Z
l'accoglienza di Philip e della sua famiglia è stata davvero fantastica. Si sono dimostrate persone molto gentili, disponibili e di piacevole compagnia. Philip ci ha suggerito anche spiagge li vicino a dir poco meravigliose, prenotato il ristorante...insomma molto più di quanto ci aspettassimo. L'appartamento molto molto pulito e ben fornito di tutto, con molti cambi asciugamani. Ci torneremo sicuramente perché ci siamo trovati davvero bene. SUPER...come amano dire i croati.
Gabriella
2015-08-29T00:00:00Z
Nastanitev je bila taka, kot jo opisuje ponudnik. Gostiteljica je bila prijazna in ustrežljiva. Pot do morja je relativno kratka in v ne prevročem dnevu prav prijetna. Priporočamo!
Jure
2016-09-06T00:00:00Z
Bellissimo alloggio dotato di tutti i confort,pulito, spiaggia e mare meraviglioso
mauro
2015-08-16T00:00:00Z
Thanks Cvjetana for having us :) Very modern apartment. Good parking. It's about 20 min walk from the beach. A little market is close to the apartment and they have everything you need.
Ulf
2016-08-26T00:00:00Z
Appartamento carino proprietari gentilissimi molto consigliato
Elisabetta
2016-08-11T00:00:00Z
Everything as described. Cvjetana was friendly, accessible and really adaptive. Nice place, good view. Highly recomended.
Luka
2016-09-11T00:00:00Z
It was a very nice experience, we had a great stay. The apartment is comfortably and the host very kind and friendly. There is a lovely little beach at walking distance from the apartment. Thank you for a Great Holiday!
Jonas
2016-07-11T00:00:00Z
Rodzaj pokoju
Całe miejsce
---
Rodzaj nieruchomości
Apartament
---
Mieści
4
---
Sypialnie
Pinezići, Primorsko-goranska županija, Chorwacja
UPDATE: Apt. has been renewed for 2017 season, please look at the pictures! We want to improve your experience and offer more comfort. New beds, tables, closets, TV, better internet speed, redecorated and freshly painted walls and much more. We are looking forward for your feedback! Perfect for couples or family with children. Located in the quiet neighborhood, with only 15' walk to the beach and 10' walk to the old city.
Obwohl Matija selbst nicht anwesend war, haben uns seine Eltern herzlich empfangen und uns den ganzen Aufenthalt lange gut versorgt. Die Benutzung des Grillers im Vorplatz hat gut funktioniert! Appartment ist ausreichend groß und sauber, lediglich einen Mistkübel haben wir vermisst. Zum Schwimmen muss man ein Stück mit dem Auto fahren, da es in Krk Stadt keine wirkliche Bademöglichkeit gibt. Das appartment ist definitiv eine gute Wahl für einen Aufenthalt in Krk Stadt!
Martin
2014-07-22T00:00:00Z
The place was nost cleaned properly : dust, hair from previous guests. The pictures are not relevant : the furniture is old (the big cabinet is smelly and almost dismantling), the equipments are old and not well maintained/cleaned - the cooker hood very dirty, the shower cabin old and yellow from improper cleaning, the plugs and switches are old and sticking out from the wall; the walls were painted a long time ago. The upper bed not comfortable at all. Overall not a good experience.
Mircea
2016-07-23T00:00:00Z
Siamo stati molto contenti. L'allogio e piccolo ma molto confortevole. Il centro e vicinissimo, il negozio anche (200m) con tutto cio che ti serve. Ha un piccolo terazzo con una bellissima vista. I proprietarii sono stati molto gentili (ci hanno fatto anche il dolce). Lo consiglio!
Kristina
2016-08-22T00:00:00Z
The apparment was like on the picture. Well located and a nice balcony to relax. Unfortunately the Wifi wasn't working at all and some basic items in the kitchen where missing.
Romina
2014-07-28T00:00:00Z
Der Kontakt mit Matija verlief sehr gut selber war sie nicht vor Ort aber ihre Eltern haben uns in Empfang genommen . Die Unterkunft war sauber und sogar ein kleines Kinderbett für unseren größeren Sohn war da ! Zum Meer und in die Stadt in Krk muss man etwas laufen und es geht Steil zurück man kann aber auch mit denn Bus fahren allerdings hat uns das Meer in Baska mehr gefallen aber das ist nur mit den Auto möglich . Wir waren 20 Tage und haben auch einmal frische Bettwäsche bekommen was ich sehr toll fand wäre aber durch die vorhandene Waschmaschine auch selber gegangen . Allerdings ist mit mit Kindern eine Waschmaschine natürlich Klasse ! Als Fazit war die Unterkunft gut nur etwas mehr Utensilien in der Küche wären schön gewesen und mit Kindern ist es doch etwas schwierig da man keinen separaten Schlafraum hat bleibt man am Abend auf den Balkon was bei denn guten Wetter in der Hochsaison aber für und kein Problem war !
Eva
2015-08-09T00:00:00Z
Schöne Unterkunft insbesondere der Balkon am Abend war für uns sehr schön
Otto
2016-06-11T00:00:00Z
The appartment was very comfortable, clean and big enough. The balcony was very nice and it was good situated near the oldtown of krk city. The only negative thing was that TV and WIFI didn't work all the 4 days and we didn't get help from the couple living downstairs. We were very sad that they get out of our way and avoided any communication with us.
Marc
2014-08-24T00:00:00Z
Bellissimo appartamento con soppalco per aggiungere fino a 3 letti. Cucina ampia. Balcone con vista mare. Materasso matrimoniale comodissimo. Quartiere tranquillo a 10 minuti a piedi dal centro. Proprietari carinissimi e riservati.
Michele
2015-07-18T00:00:00Z
Rodzaj pokoju
Całe miejsce
---
Rodzaj nieruchomości
Apartament
---
Mieści
3
---
Sypialnie
Krk, Primorje-Gorski Kotar - hrabstwo, Chorwacja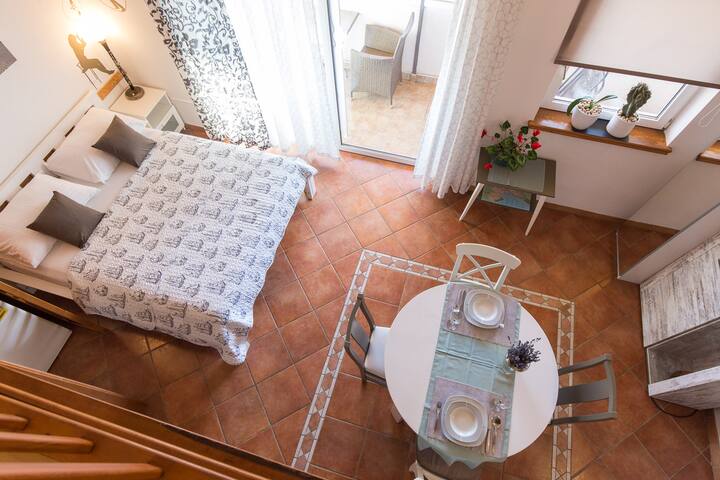 Wpisz daty, by zobaczyć pełną cenę. Obowiązują dodatkowe opłaty. Cena może uwzględniać podatek.