Peaceful bedroom located in three bedroom home. Shared bathroom with female homeowner. Females only please. There is another bedroom with enclosed bathroom located on opposite side of the home that is also an Airbnb room available to both male and female guests (two guests maximum). Owner lives on premises. This bedroom is perfect for a single traveling female on business or pleasure. I set the intention for the home to be a place of rest, privacy and peace.
Your peaceful bedroom is 10' x 15' including closet space with shelves, dresser, full-size bed and desk. You have a portable electric oil heater to set desired temperature for the bedroom. The house does have central heat and a gas fireplace for daytime comfort. There is also is a window fan that can be used on warm days with the two large windows that bring in plenty of light and fresh air.
This neighborhood was built in the 1950s on an orange grove (I have three of the remaining Valencia orange trees). It's quaint and family oriented, many people walk their dogs and it has a very comfortable feel to it. I've lived here for over seven years and have always encountered nice people and neighbors. You will fall asleep listening to peaceful crickets.
This was the best B&B I've ever stayed at! Jill was so welcoming and kind, and she provided so many little lovely things that made me feel right at home. There are two extra fluffy cats and the whole place felt like a real Yoga Retreat. I hope to stay here again very very soon!
Lauren
2016-12-06T00:00:00Z
Jill was great! She taught me a little bit about essential oils. She was super friendly and great to talk with. It was a lovely space and she's very generous. I loved talking with her - very much on the same wavelength. I would definitely stay again!
Courtney
2016-12-13T00:00:00Z
Where do I start? This was my First Airbnb experience and it was nothing I could have ever expected. Jill as a a host is soo accommodating and hospitable. I was fortunate enough to get to know her on a personal level, and she is amazing! Her property is exactly as described in the pictures. It is a very clean, cozy, & comfortable space, I woke up in the morning feeling like this was my home. She also fills her home with natural essential oils. It smells Lovely. The room I stayed in was filled with a lavender scent, which would soothe me in a great sleep. [I have sleep insomnia, so this was HUGE for me.] In the room, she also provided extra blankets, a heater, room slippers, a robe, essential oil samples and magazines, & pamphlets of local activities to enjoy in the area. As if this wasn't enough, the room also had a bowl of fruits, snacks and Jug of water for me to enjoy. The bathroom also had some nice surprises as well as the kitchen, but I will leave the rest of "Wow Factor" up to you to Experience! I definitely recommend this place and will be staying here again. If Jill isn't a SUPERHOST yet, she Should be, & I know she will be soon.
Leslie
2017-04-04T00:00:00Z
It was a pleasure to stay at Jill Marie's place. Her home is very clean, comfortable and tastefully furnished. Her attention to detail from snacks, alkaline water and aromatic essential oil diffusers as well as a very comfortable bed made for a very satisfying and refreshing stay.
Roger
2017-04-05T00:00:00Z
This was my second (okay, technically third) time staying in Jill's home, and it was so wonderful. Jill is kind and thoughtful, and both beds are so comfy! One night Jill was teaching an essential oils class and invited me to join - it was fascinating, and I suspect this is why her house always smells so nice. Waiting for a reason to stay again!
Lauren
2016-12-16T00:00:00Z
Rodzaj pokoju
Pokój prywatny
---
Rodzaj nieruchomości
Dom
---
Mieści
1
---
Sypialnie
Vista, Kalifornia, Stany Zjednoczone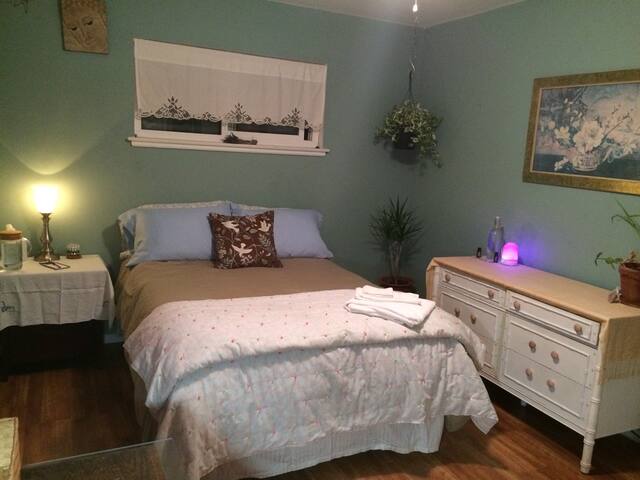 You'll love your private room & bathroom in elegant bilingual home in quiet neighborhood close to business park, Legoland, airport, beach & Safari Park! As our guest you'll also have complete access to kitchen, laundry, parking & other common areas!
Antiques & pianos adorn this elegant Spanish hacienda. Beautiful room with comfy queen sized bed, 40" TV and tasteful decor! Bargain priced since a room at hotel just 2 blocks away is $129 per night! Thanksgiving price includes Thanksgiving turkey dinner with our family!
Our nighboorhood is quiet, peaceful, close walk to nice restaurants, parks, trails & shopping.
I highly recommend this place. The location was perfect and the bonus is private bathroom. In addition you get some insider tips from Rick:-)
Katerina
2017-04-06T00:00:00Z
I was super comfortable at Rick's place -- the house is beautiful, in a lovely neighborhood, and the room + private bathroom were super clean and spacious. Lots of personal privacy and generally anything you could need. I have zero complaints and recommend booking a stay here!
Leah
2017-03-25T00:00:00Z
Rick's place was a place of harmony. He is a cool and good family guy. Introduced me to the room and environment, he is friendly and kind. Love the space.
Mei (May) & Felix
2017-03-21T00:00:00Z
Beautiful neighborhood, quiet and pleasant place with a big heart, nice and friendly family. Warmest and kindest host. Hope to come back many times !
Pedro
2017-03-09T00:00:00Z
This was my first Airbnb experience and I could not have asked for a better introduction. This place is in a great location and a safe neighbourhood. The house is comfortable and inviting with easy access, a locking bedroom, smart-TV with Netflix, a large selection of dvds, and fast Wifi. Rick and Nina are very kind, extremely helpful with directions, and provide the best recommendations for anything you'll need in the area. Great stay!
Jacob
2016-09-05T00:00:00Z
Nice place. Nice people.
Travis
2017-02-28T00:00:00Z
I am newly working in the area and until my move, need to find places to stay. This was my first time using airbnb and Rick made me feel super comfortable. He checked in with me daily and even got up and made the most Delicious smelling cinnamon rolls you could imagine. I sadly to say, missed the message and didn't get to eat any. His home was lovey. The room was nice, cozy and clean as well as the bathroom. I'm sure I'll be using Rick in the near future!
Christy
2017-01-25T00:00:00Z
Rick's place was conveniently located in my travel schedule and nicely appointed. He is a gregarious and friendly host, along with his wife Nina. Thanks for the homemade bread!
Oliver
2017-01-26T00:00:00Z
Rodzaj pokoju
Pokój prywatny
---
Rodzaj nieruchomości
Dom
---
Mieści
2
---
Sypialnie
Vista, Kalifornia, Stany Zjednoczone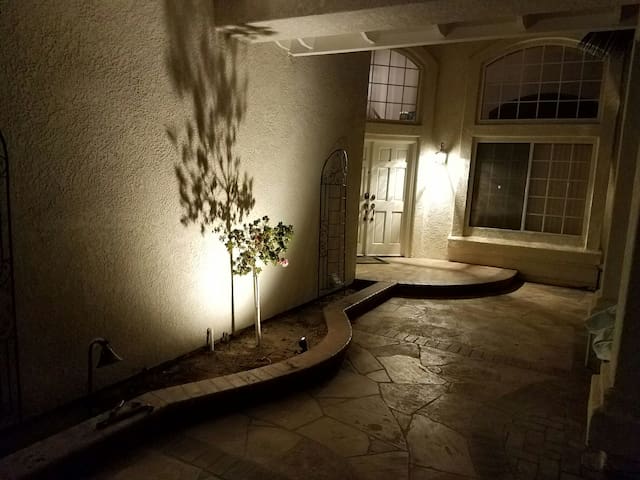 Nestled against the majestic San Marcos mountains on a hilltop, this unique 2 acre private estate makes an ideal launching spot to visit North County.Unpretentious, yet elegant guest house offers privacy as it is completely detached from the owner's main residence.The patio is for the use of the guest only.(Smoking is permitted outside.)A favorite haunt of those seeking a getaway from the concrete jungle of L.A.,this pristine haven-like setting makes for the perfect idyllic retreat.
I worked at the Four Seasons for many years. My goal was to create a high end "mini resort-like experience" at an affordable price.I designed the suite for utmost privacy. There is a nice separation between owner and guest. The large outdoor patio area is only for you to enjoy.Maximum stay allowed 10 days.Park next to suite, plenty of room for 2 cars;we can provide 2 remotes on request.Please read my entire listing;most questions are all answered in the listing.PLEASE DO NOT EMAIL ME WITH A REQUEST FOR A STAY LONGER THAN 10 DAYS;OR A REQUEST FOR A PRIVATE PARTY;BABY SHOWERS,BACHELOR PARTIES ,PHOTO SESSIONS;YOU WILL BE TURNED DOWN!I recommend using Firefox or Chrome to view my photos(AND for booking). 2 ADULTS ONLY; registered, paying guests only,please.We are specially approved by Airbnb to host corporate business travelers. Your 500-square-foot room is completely detached. Vista can get quite hot in the summer (as well as in the winter); There is an AC with a remote. Relax in the private resort-like oasis;take time to decompress.If you love succulents; this is THE place to be;I have a wonderful collection of interesting plants,many are labeled.The glass slider opens to a sweeping gorgeous view of your private garden from the suite. The patio area features mountain views, mature western landscaping, and a botanical garden with an abundance of succulents and exotic plants. Recently renovated, your space features a kitchenette with granite counter and Starbucks coffee bar, microwave, toaster, and full-size refrigerator. No need to lug water; bottled water and ice cubes are provided. Coffeemaker by the cup or by the pot. A french press and electric hot pot is available.  No stove or dishwasher. Both disposable and porcelain dishes are provided. Queen mattress by Tuft and Needle®; you have 6 pillows to choose from. Electric fireplace, sitting area and desk with charging station. Wifi, Netflix, Cable and Apple TV. We just upgraded the TV to a 50-inch flat screen w HD, DVD player and select movies. We respect the guests need for privacy. You do not share the huge patio with ANYONE else; it's reserved for you ONLY. The owner has a separate patio in the back of the estate.This property has a very rural, secluded feel to it, yet grocery stores are only a mile away.
Close to all that matters in North County -- shopping, attractions, colleges and industry.We are 2 miles to downtown Vista -we are a stones throw from Moonlight Theatre and 2 miles from Rancho Buena Vista Adobe • 3 colleges 10 minutes away: -Mira Costa, Palomar, Cal State San Marcos • Immediate area in Vista: Main St. area downtown - restaurants, breweries, theatres, weekly farmer's market •15 minutes or less: - Restaurant row - San Marcos - Carlsbad beach - Carlsbad Factory Outlet • Approx 45 min: -San Diego Zoo -Sea World -Balboa Park -Old Town • Approx. 30 min: -Wild Animal Park -Temecula - wine country and Old Town -Casinos • Approx. 75 min Disneyland
I've never had a bad experience with airbnb, but this was BY FAR my favorite! Great price for the location, just 15 min to Carlsbad/Oceanside. She lives on 2 acres, which is beautifully covered with trees and plants. Amazing view. Very relaxing. The first day I had planned to go to the beach and ended up spending the whole day on the porch, relaxing. The weather was amazing. The suite was awesome down to every last detail! I've never stayed anywhere where so many things were offered. She goes above and beyond and then some. It was super clean. She was patient with me, as I had arrived late, a lot off schedule. She had a great meal waiting for me in the fridge! She was very thorough showing me the place and all the ends and outs. It was private and detached from her main residence. She made it very clear to let her know if I needed anything. She was very responsive. Before I left, I had already talked my mom and dad and my best friend in coming to stay! I will absolutely be returning when time permits. You will definitely need a car. I was a little hesitant on not by RIGHT on the beach, but I surprisingly liked it bc it felt like you were in the mountains (well, it felt like that to me bc I'm from flat Las Vegas!) and then could drive to the beach. Best of both worlds! Great time! Thanks, Nita and Jeff!
Shavonne
2015-08-13T00:00:00Z
We had a very comfortable stay at Nita's wonderful guest house. Nita has set a very high standard by furnishing her guest house with every imaginable amenity from treats, coffee, tea, and even some basic groceries in the 'fridge, to beach equipment, high-end video with Apple TV, and even bedtime cookies and chocolates and ear-plugs in case your are with a snorer! Her gardens are inspiring and in fact we were moved to visit the nearby San Diego Botanical Gardens (in Encinitas, not San Diego) and that is something we highly recommend if you like plants and gardens. Nita is a great communicator- prompt, detailed, and helpful and greeted us and gave us a great orientation to her place.
Ron
2017-02-21T00:00:00Z
Cozy and comfortable home away from home.
Kirsten
2016-12-16T00:00:00Z
This is a beautiful, clean, private setting just as the photos on the listing portray. Nita the host has thought and provided many amenities for your stay.
Karen
2016-09-08T00:00:00Z
Nita was an amazing host! She communicated with me before and during our stay in Vista. She welcomed me and my girlfriend to her lovely guesthouse and encouraged us to contact her should we have needed anything that was not already provided. That being said, she also emphasized our privacy for the stay. Nita provided great suggestions for local dining and entertainment. Nita's bungalow/guesthouse was PRISTINE and included all of the things we may have needed (towels,laundry, hair dryer, etc.). The description of the space on Airbnb was accurate and it did not disappoint in person. The property was close to local businesses, but the gated space also made us feel like we were in a safe paradise with spectacular views! This was our first Airbnb experience, and Nita has set the bar incredibly high for our next vacation. We are actually hoping to make it back to Nita's in the future. I would recommend Nita's place with absolutely no hesitation. It was everything we hoped for, and more!
Jason
2016-02-14T00:00:00Z
Nita and Jeff were awesome host. From the moment we arrived to the time we left, everything was great. Nita was always available to us if we needed anything. Communication was great and so was the place - very private and cozy. My boyfriend and I were very pleased and can not wait to come back next time we're in California! They made our first Air BnB experience, a great experience.
Thy
2015-07-05T00:00:00Z
Like others who've stayed here have said, this place is truly an oasis. Nita was so welcoming and she has thought of everything to make this feel like a home away from home- perhaps even more luxurious than home. When I arrived, she walked me through everything I might need to know about the home and all the amenities, but she also left a binder repeating the information and with additional recommendations for the area. While she made herself available for any help I might need, she gave me all the space and privacy I wanted. Their property is tucked away on the top of a hill- very private and secure. The studio itself was extremely clean, which is very important to me. And I had the best night's sleep I've have in a long time. I could go on, but I feel as though I'm just repeating the other reviews. Nita thank you so much for everything, it was absolutely lovely and I will surely be back!
Tara
2016-01-12T00:00:00Z
Wow! The bungalow was the best Airbnb experience I have had- and I have used Airbnb 20+ times! Communication with Nita was prompt and when I arrived she gave me the tour. Every detail in this bungalow was extremely well thought out and it was truly a high end experience staying there. Can't wait to return to this beautiful property!!!
Rhonda
2015-08-24T00:00:00Z
Rodzaj pokoju
Całe miejsce
---
Rodzaj nieruchomości
Dom
---
Mieści
2
---
Sypialnie
Vista, Kalifornia, Stany Zjednoczone
The perfect place to stay! Quiet private detached studio in a great residential neighborhood. City close, but far enough away to find rest and relaxation. Nestled in a quiet neighborhood, the casita is part of a larger home setting on a large lot that provides privacy. You'll love the tasteful decor, quality furnishings and great location. My place is perfect for couples, solo adventurers, and business travelers.
This is an awesome space with a french door view, great kitchen and bath, and an awesome new mattress. Very clean, laminate floors and granite counters.
Beautiful tree lined street in a residential neighborhood.
Sharyn's place was exactly as described. Everything was conveniently laid out, instructions for wiifi, what to do for checking out, and conviently accessible to the major street to come and go easily, without getting lost. I appreciated the water and orange juice, and the fact that there was so much space. The area is quiet and I appreciated that if I needed anything, I knew I could get a hold of Sharyn. She checked in with me the day of the trip and did well communicating overall with everything. I definitely recommend if you're looking for a quiet getaway, either for vacation or for vacation and getting work done!
Jacquelyn
2017-03-24T00:00:00Z
The host canceled this reservation 38 days before arrival. This is an automated posting.
Rusty & Catherine
2017-03-14T00:00:00Z
Sharyns casita is exactly what we expected from the pictures. Small, very nicely decorated and with a super view over the valley. We really liked the water and fruits she provided and would definitely come back when we're in the area.
Edith
2017-03-26T00:00:00Z
This space was lovely . My wife and I loved our stay here and enjoyed this clean, cozy and affordable space . This is definitely the best bang for your buck. ENJOY!
Marco
2017-03-29T00:00:00Z
Rodzaj pokoju
Całe miejsce
---
Rodzaj nieruchomości
Dom
---
Mieści
2
---
Sypialnie
Vista, Kalifornia, Stany Zjednoczone
Conveniently located: near Highway 78, shopping malls with Walmart, Target, 24 Hour Fitness and many restaurants. A mile from the Buena Creek Station of The SPRINTER, a light rail connecting Oceanside, Vista, San Marcos, and Escondido. which runs every 30 min in each direction M - F. My home located next to the swimming pool, spa and club house in a Mobile Home Park. Though humble, but clean, safe, quiet and comfortable. WiFi available, kitchen,shampoo, towels, sheets ...
这个住处共有两个卧室, 两个洗手间。你有单独的卧室和洗手间。双床人。
交通便利:近78高速公路,商场,24小时健身,许多餐馆。
I loved staying here! It was truly a home away from home. The bathroom was nice and huge! My bed was comfortable. I liked that there were lots of towels and toiletries available with easy access. I was here for a conference, so I didn't get a lot of time to spend with Noelle, but she is amazing! I felt so much PEACE in her home.
val
2016-07-11T00:00:00Z
Because of my job and commute, this is truly becoming my home away from home. Three stays so far and more scheduled.
Dave
2016-08-04T00:00:00Z
Noelle was a great host and made me feel comfortable. The house was clean and comfortable with easy parking. There are stores right across the street including a Stater Brothers supermarket. I will gladly book again.
Dave
2016-07-07T00:00:00Z
Noelle was super friendly and accommodating to our late night arrival. Great host!
Vu
2016-10-07T00:00:00Z
Such a nice host! She was always charming, very friendly and make us feel like in home. The neighborhood was very quite and peaceful. Me and my little girl had a great stay... Thank you Noelle!
Luis
2016-07-04T00:00:00Z
This is my second stay with Noelle and I felt even more comfortable than the first time. She is very accommodating and tries very hard to make sure I was comfortable and had everything I needed. I will be staying with her again.
Dave
2016-07-21T00:00:00Z
This was my fourth stay. Excellent as always.
Dave
2016-08-11T00:00:00Z
Very welcoming hostess and a nice cozy room. Great hospitality. The pool was very convenient due to the Cali heat.
Rey
2016-08-18T00:00:00Z
Rodzaj pokoju
Pokój prywatny
---
Rodzaj nieruchomości
Dom
---
Mieści
2
---
Sypialnie
Vista, Kalifornia, Stany Zjednoczone
My place is good for couples, solo adventurers, and business travelers.
Quiet and private unit, separate entrance from side of the house, garden and patio space to enjoy, TV comes with cable and Netflix, WiFi in unit, driveway parking.
Gated community, pool and tennis court available. Driveway parking and access to garden.
Marion welcomed us warmly during our stay. We especially loved the cleanliness of the room and treats she left for us in our refrigerator.
Shamarr
2016-07-28T00:00:00Z
An excellent value. In a gated community. Private bedroom and bathroom with keyed exterior entrance. The host is excellent, and everything was as described. Microwave, refrigerator and coffee maker in the room also a plus.
Brian
2016-08-08T00:00:00Z
Marion was very helpful and the accommodations were excellent. The room and bath were comfortable, clean, well lit, and in a beautiful setting. Her garden and yard were beautifully landscaped and we had delicious coffee on the patio.
Michele
2016-11-11T00:00:00Z
We had a lovely stay at Marion's. Nice quiet neighborhood and wonderful garden area to relax. The cozy room comes equipped with Netflix, coffee maker, and some morning pastries. We arrived fairly late and Marion was kind enough to still greet us upon arrival.
Steven
2016-09-25T00:00:00Z
Marion is a wonderful host and her home is lovely. If you like peaceful gardens, stay here.
Brian
2016-08-17T00:00:00Z
Great
Keith
2016-06-30T00:00:00Z
Marion is amazing! It was my first air bnb experience and not only was the room beautiful and clean, the host honestly makes you feel like you belong there. She truly cares about you and your stay. Everything from private entry, bed, and bath, a small desk, large window, mini fridge, microwave, even coffee maker. Definitely check this place out if you want a cheap, relaxing trip.
Stacey
2016-06-16T00:00:00Z
We really liked our stay with Marion. It was quiet, clean and private as advertised. It is in a gated community so we felt very safe. She had some goodies in the fridge for us. Beautiful peaceful garden. We had everything we needed. Evelyn and Travis
Evelyn
2016-10-27T00:00:00Z
Rodzaj pokoju
Pokój prywatny
---
Rodzaj nieruchomości
Dom
---
Mieści
2
---
Sypialnie
Vista, Kalifornia, Stany Zjednoczone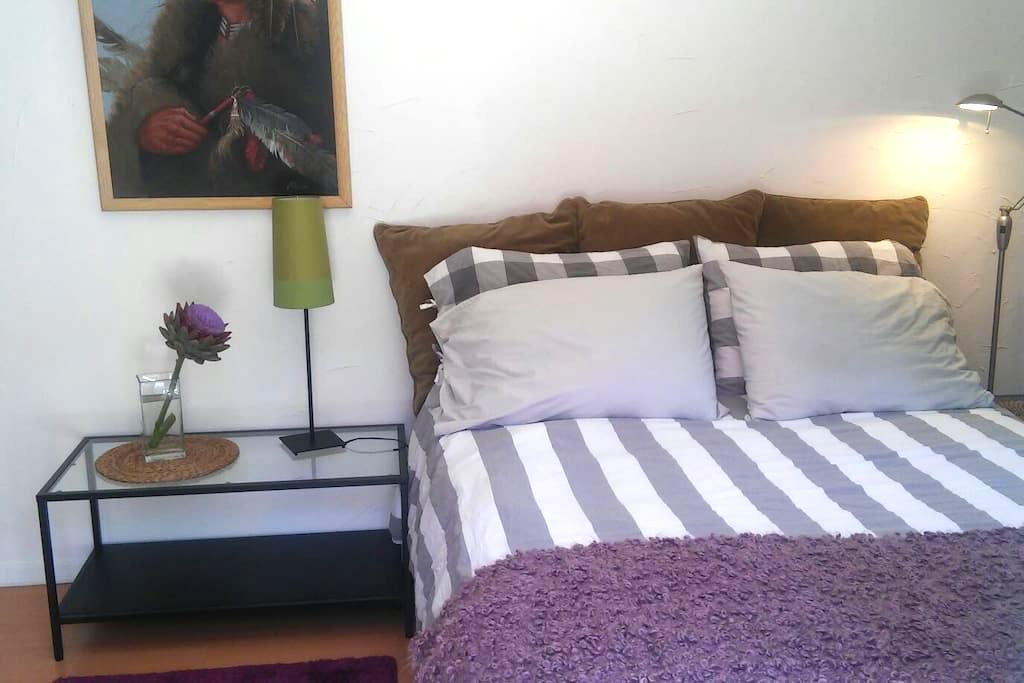 About 0.5 miles from Civic Center Dr sprinter station and 2 minutes to the 78 freeway. Conveniently located equal distance to the 15 and the 5 freeways. Gemological institute of America in Carlsbad (7 miles), close to restaurants and dining, the beach, family-friendly activities, public transport. You'll love my place because of the location, the people, the outdoors space, the neighborhood. My place is good for couples, solo adventurers, and business travelers.
Nice place, a bit picky on the shower rules but no biggie! I would stay there again if I needed.
Alexander
2017-03-28T00:00:00Z
Highly recommend. Clean and private. Beautiful home, great location.
Andre
2017-03-23T00:00:00Z
She get all the way out to provide excellent services to people staying there. Good value, services and hospitality.
Alexander
2017-02-11T00:00:00Z
Cherisse was very nice, the house was very clean, the rules of house are exactly the rules in my house. Every thing better than I expected. Thank you Cherisse.
Rodrigo
2017-02-13T00:00:00Z
Great place to stay!!
Martin
2017-02-07T00:00:00Z
It's so nice stayed there. The rules are real. Close to many places to eat and buy.
IAGO
2017-02-25T00:00:00Z
Rodzaj pokoju
Pokój prywatny
---
Rodzaj nieruchomości
Dom
---
Mieści
2
---
Sypialnie
Vista, Kalifornia, Stany Zjednoczone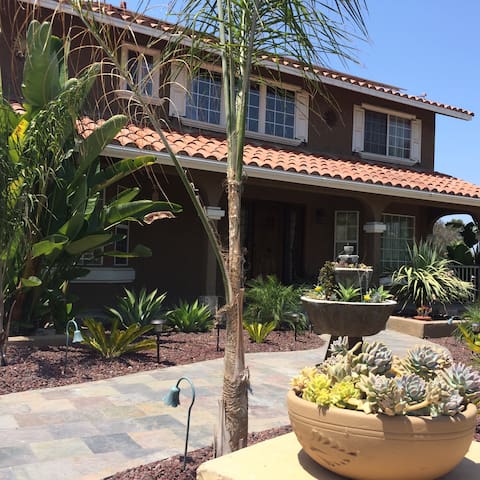 Great queen-sized bed with very high quality mattress. You will sleep like a baby! Walk-in closet and views! Bathroom is next door and shared with one other room. Close to the sprinter train, Carlsbad, the beach, the Safari Park, Palomar College, Cal State San Marcos and the GIA. You'll love my place because of the light room, walk-in closet, comfy bed, gourmet kitchen and endless backyard space. Great for couples, solo adventurers, and business travelers.
This bright queen-sized bedroom has views overlooking the backyard and mountains of vista along with a walk-in closet. Luxury linens and towels provided. Bathroom is shared with one other bedroom and has a stand-up shower. Bedroom is located very close to the backyard for great easy access! Wifi is free and available. Door is keyless sytem. The property is a 6-bedroom home with 4 bathrooms and all rooms are generally rented out to other Airbnb guests. So you will likely meet some people in the common areas from all over the world. We are an Airbnb-only home, so you know everyone is verified and held accountable.
We live in a semi-rural neighborhood which makes it feel like you are in the country even though you are about 5 minutes from the 78 freeway, restaurants, breweries and grocery stores including Target, Walmart, BabysRUs, Costco, Michaels, and more! Please note that our county street is windy and does not have sidewalks or lighting at night, but the house is usually lit up.
I stayed here last August and knew I would enjoy it just as much the second time around! This is a great home! Don't miss it!
Lila
2017-03-02T00:00:00Z
A beautiful home at a good price. I enjoyed my stay here.
David
2017-03-14T00:00:00Z
It was a wonderful stay here. Amazing place in a quite area on the hill with a gorgeous view. This is shared apartment, my room is in the downstairs, very cozy, has all the essentials and bathroom just next to the door sharing with one guest in Master (URL HIDDEN) for a quick stop.
Bo
2017-03-26T00:00:00Z
Highly recommend !
Takashi
2017-02-27T00:00:00Z
The place was beautiful and well decorated. It was kept very clean and there were chickens in the yard for farm fresh eggs! Overall a lovely home
Jen
2017-03-20T00:00:00Z
For my first air bnb experience, Alex/Chelsea set the standard really high and I hope every experience is as good or better! The home was superbly nice, immaculatey clean, had a little farm and positioned on top of a hill looking over the city of vista. My room was exactly how it was described. Clean linens, carpet, towels and everything else in general was well maintained. I definitely recommend this place and make a reservation immediately if available. Even though Alex wasn't there, Chelsea was there to manage the home. I felt welcomed, felt special and felt their warmth even though I didn't actually meet either of them in person. The time and care they spent into ones experience is evident in all the details to include the home manual and many little signs around the home. Furthermore, their communication and response to any inquires I had were fast and quick. Again, I felt so welcomed as if I were family!
Wilfred
2017-03-17T00:00:00Z
We loved Alex's place so much that we came back for another night on our way back from San Diego. Again, this was a very last minute decision but Alex and Murray were extremely accommodating. We stayed in a different room this time around. The room was very quiet, and it was oh so comfortable! When we come back to San Diego area, this would absolutely be our first choice for a place to stay!
Terry
2016-09-07T00:00:00Z
Alex is a great host and makes many accomadations for you to feel right at home. Extremely comfortable bed and quiet house at night had a great night sleep. I would highly recommend this house to anyone for any overnight stay.
Matt
2017-03-22T00:00:00Z
Rodzaj pokoju
Pokój prywatny
---
Rodzaj nieruchomości
Dom
---
Mieści
2
---
Sypialnie
Vista, Kalifornia, Stany Zjednoczone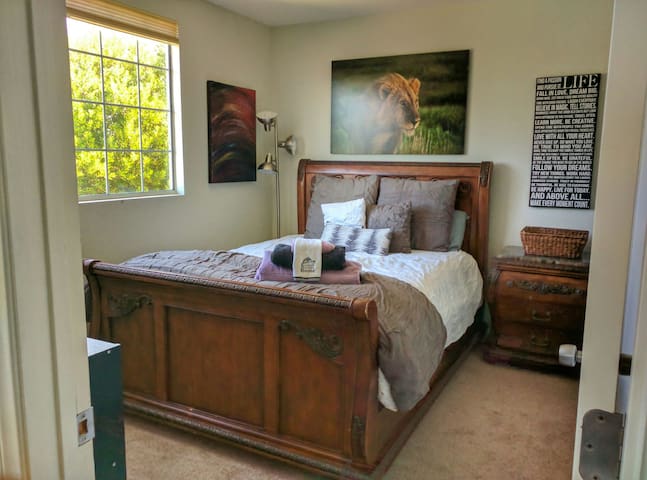 2 bedroom, 1 bathroom house in Vista, CA. This house has central Air Conditioning and Heating. Set the thermostat as desired for your comfort.
You'll sleep like a baby in Bedroom 1 on the queen sized Simmons Beautyrest Black Luxury mattress. Bedroom 2 has a twin bed. There is a full length couch in the family room that is also comfy for sleeping. Also there is central heat and air conditioning! A bit of a rarity in this area.
Don't let your vacation ruin your fitness routine! This house is right next door to a beautiful, modern 24-Hour Fitness.
Kirk was AMAZING! The communication/returning of messages was very prompt. We found everything was easily accessible and able to adapt/navigation around this charming home quickly (for the limited time we stayed). One of the best Airbnb experiences I've had so far. We would definitely recommend to anyone coming into the area, especially if you have a 24 hour gym membership. I would also return to stay, if available in the future :)
Jacquelyn
2017-03-26T00:00:00Z
Rodzaj pokoju
Całe miejsce
---
Rodzaj nieruchomości
Dom
---
Mieści
4
---
Sypialnie
Vista, Kalifornia, Stany Zjednoczone
A charming BR suite with French doors to a walkout balcony. Spacious den w/fridge & toaster oven across the hall overlooking a hillside--your private retreat for breakfast, TV, reading or relaxing at day's end. 15 min. from Outlet mall, movies, etc.
My home is designed with an elegant professional office downstairs in front for my client meetings and a spacious living area for me in the rear. Upstairs, you have a bedroom, a bathroom, and comfy den with HDTV, wireless internet, and small fridge. I have another listing entitled Stylishly Sophisticated BR Suite, which has a queen bed. So if you are a family with more than two people and are willing to share the bathroom, you may want to book that room as well. My goal is to give you comfort and privacy in a quiet, safe, secure environment whether you are here on business or exploring all that San Diego has to offer. I border on Carlsbad and San Marcos giving you easy access to all North County attractions and the business park.
The neighborhood has lots of hilly walking trails, is quiet and safe. It has close access to the 5 or 78 Freeways. You will need a car to get around and parking is easy. You are within a 15 minute drive from the ocean, Legoland, Carlsbad Outlet stores or the local rail station that can speed you downtown to Comic-Con or other events without the hassle of parking.
Listing description was accurate. Elizabeth's home is in a quiet and upscale neighborhood. The decor is classy and comfortable. And, Pierre - the cat- is way cool!
Barbara
2015-07-12T00:00:00Z
Elizabeth was a wonderful host. She did her very best to make us comfortable by finding out and providing what we wanted to eat and drink. The bed was very comfortable, and we had access to a TV and reading room, whenever we were there. It was like being at home. As my wife and I came to know her, we found her to be a very compassionate and caring individual, very intelligent, extremely capable and eager to make the death of our granddaughter less painful. We can hardly praise her enough for making our stay a memorable experience.
Charles
2015-05-04T00:00:00Z
Rodzaj pokoju
Pokój prywatny
---
Rodzaj nieruchomości
Dom
---
Mieści
2
---
Sypialnie
San Marcos, Kalifornia, Stany Zjednoczone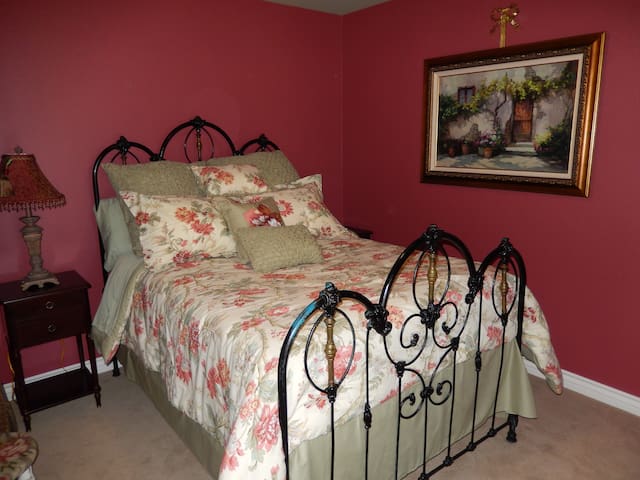 Our comfortable hippie home is close to Downtown Vista and 25 minutes to the beach. Animal lovers will feel right at home with our 3 dogs and two cats.
Comfortable bohemian home with endless animals to pet. While we don't have cable the room is equipped with an amazon fire stick that has Kodi and exodus. Basically any TV show or movie you would like.
Our neighborhood seems like it is in the country with goats and horses as neighbors. Very quiet and safe. We are a 10 minute drive to the downtown Vista area and 25 minutes to Oceanside and Carlsbad beaches.
Enjoyed my time in Adam and Autumn's bohemian, comfy abode. They're welcoming and relaxed. Their pets are friendly and nice. My room was outfitted nicely with a flat screen, interesting books, wifi, a guitar and a comfy bed. I was offered the run of the house as a friendly gesture. I recommend it to all.
Marilyn
2017-02-12T00:00:00Z
Thanks, you guys! So great, really enjoyed hanging w y'all.
Tommy
2017-02-25T00:00:00Z
Very nice hosts and a very nice room. Thank you very much, we had a great time.
Niklaus
2017-03-01T00:00:00Z
great stay, you won't be disappointed.
Cassie
2017-03-05T00:00:00Z
Very friendly couple! Extremely welcoming! I had a great stay at their place!
Chandler
2017-02-14T00:00:00Z
A clean, comfortable and private room in a beautiful house. Hosts were kind and considerate of privacy. Highly recommend.
Amanda
2017-02-19T00:00:00Z
Rodzaj pokoju
Pokój prywatny
---
Rodzaj nieruchomości
Dom
---
Mieści
2
---
Sypialnie
Vista, Kalifornia, Stany Zjednoczone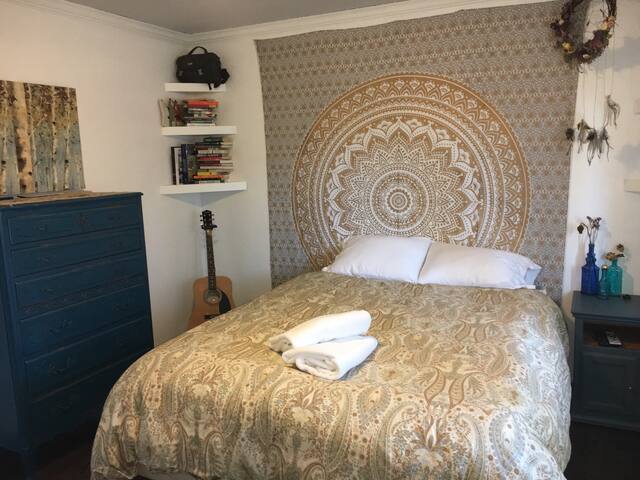 This luxury 2 bedroom house in the Hills of Vista California (near the Avacado Highway) includes an unheated pool, wireless internet, laundry machines, Amazon Prime & Netflix, cable TV, skateboard ramp, all sheets, linens, towels, outdoor bar, parking off street & more. Easy access to Legoland, Oceanside, San Diego, Camp Pendleton and more.
We offer 2 bedroom vacation home with an easy drive to Carlsbad beaches (25 minutes), Oceanside Harbor and Legoland and Temecula wine country, in between both Camp Pendleton bases and close to Carlsbad. Spacious home, quiet and peaceful with incredible views in a gated community with tennis courts. The house has a king size bed in the bedroom and two single bedroom (and yes in a boat frame). There are 2 indoor bathrooms. The full bathroom, which is shared by twin bedroom and king bedroom, has one sink and a frameless glass. There is also an exterior bathroom by pool and outdoor bar with a shower (cold only). The fully equipped kitchen includes all the pots, utensils; open kitchen, double oven, 4 burner electric stove, dishwasher, and tons of counter and storage space. Private courtyard with a small playground, swing and skateboard ramp (that we aren't responsible for injury). We are an easy drive to Carlsbad beaches, Oceanside Harbor and Legoland and Temecula wine country. Spacious home with high ceilings, reclaimed wood, natural look with modern flare. Quiet and peaceful with incredible views in a gated community with tennis courts. Dedicated laundry room. Cozy furnished house in a safe neighborhood, with an inground pool, singing birds and BBQ, Wi-Fi wireless internet, and supplied with sheets, linens, towels etc, shampoo, soap. Large living room with fireplace, formal dining area, Den, Cable TV, Amazon, DVD/CD player. The family room has a cozy brick fireplace. Two parking spaces are provided on a driveway.
The neighborhood is very quiet. We live on a cul-de-sac so there isn't any through traffic. The only noise you will hear are birds chirping, dogs barking on occasion, laughter of children playing and normal quiet neighborhood noises.
Thanks Perry, this was a great place to hang out for a couple of days. Too cold to use the pool this time of year, but the patio was great. The view is pretty spectacular. You can see all the way to the ocean during the day, and the lights at night are nice. Pretty special property. Great kitchen and living area.
Jeff
2016-10-16T00:00:00Z
We were beyond happy with our stay at this beautiful home in the hills of Vista, California. In fact, it felt like we were staying at our own private resort. To be honest, I was a little hesitant since we were the first to stay at this home and there were no prior reviews, but we were more than satisfied and would absolutely come back to stay again. The neighborhood was lovely. Nestled in a beautiful and safe gated community, we enjoyed driving around just to check out the other beautiful surrounding homes. The home itself is gorgeous... A Spanish style that you would expect from a classic Californian Hills Home. We loved the pool with a relaxing waterfall feature that overlooked the breathetaking hills and other beautiful homes. The outdoor bathroom and shower were perfect when the kids (or adults) were soaking wet and needed a quick bathroom break. Our kids really appreciated the treehouse/playset, the hammocks in the outside BBQ area and the toys and games that were provided. We also enjoyed outdoor movies by the pool and a warm fire for the cooler nights on the upstairs patio's gas fire pit with even better vantage point of the city below. Speaking of amazing views, you'll be in awe of the colorful sunsets each night. Wow! The location was far enough away from the hustle and bustle of the city but close enough to enjoy outings. We visited Legoland, spent time at the beach in Carlsbad, explored multiple breweries, enjoyed BBQs on the patio, drove through the rolling hills/mountains, relaxed by the pool day and night, and all around had an amazing and relaxing vacation. The host, Perry, was fantastic. He was incredibly responsive, promptly answered any questions we had and made sure that basic necessities were on hand. Plus, there were many extras on hand that made our stay more comfortable like picnic supplies, a cooler, pool toys, laundry supplies, paper towel, Ziploc bags, foil, food wrap and more. Plus the cabinets and drawers were all labeled so everything was very easy to find. This home is truly a gem and I think it will become a popular and coveted place to stay, if we don't buy it first :). You won't be disappointed!
Allison
2016-08-27T00:00:00Z
The Vista Pool house was such a great property. Very private, fantastic kitchen with great Pots and Pans, simply stunning sunset views. Perry was great to work with and responded to all questions within minutes day or night. I would highly recommend staying at this house.
Scott
2016-11-03T00:00:00Z
Perry was very helpful. He was always just a call away. The place was in a great neighborhood with an awesome view. The home just as pictured/described.
Daniel
2016-12-11T00:00:00Z
Rodzaj pokoju
Całe miejsce
---
Rodzaj nieruchomości
Dom
---
Mieści
4
---
Sypialnie
Vista, Kalifornia, Stany Zjednoczone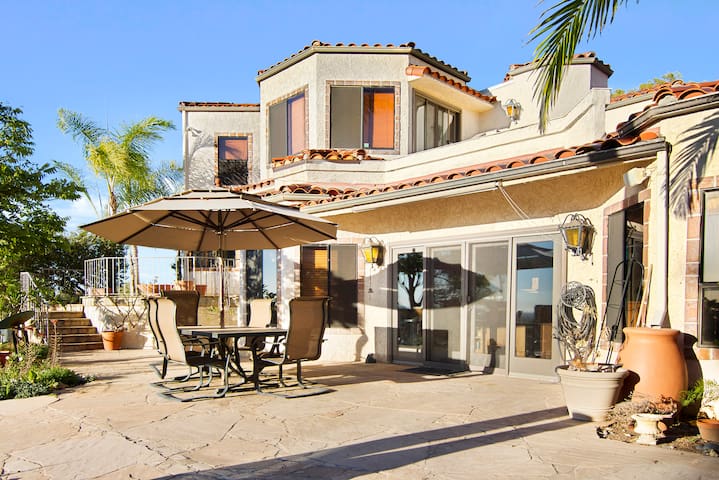 Our home is a place where memories are made, we love to meet new people & we open our hearts and home to you. We know NO strangers. We love family, friends & good food. I love to cook & try new food from new friends. I also welcome company in the kitchen. We welcome people from ALL walks of life, all ages any ethnicity, gender preferences are irrelevant. We are Lovers of all people & animals. So you must like both.(LOL) Ours dogs are lovers, they love babies, treats, cuddling and playing fetch.
Our home is warm and cozy. The bed in your room is new & memory foam. The room has dish t.v. a dresser & a fun slot machine in your room. (LOL) You can enjoy the fire place or fire pit at night. The BAR-B-Q is available anytime. We also have the Sonos entertainment system to enjoy inside & outside to play any music you can think of, Pandora, I heart radio, any music that might be on you electronic devices can be played.
Our town is really growing, downtown Vista now has lots of great Breweries to enjoy. Mother Earth, Partake Gastropub, Belching Beaver grill & Pub, Yellow Deli, The Avo Theater, Cinopolis Theater, Moonlight Amphitheater, Urban Pizza, Panera, Starbucks, Panda, Sushi, Chipotle, Chilies, 5 Guys! There is the Vista Botanical Gardens, Many parks with great play structures, Rancho Adobe, Cold Stone, Pepper tree Frosty, and many more
When you go, should definitely ask about her birds. Super nice room and amazing people. Would stay there again for sure.
Chase
2017-04-02T00:00:00Z
Great stay
Kirk
2017-03-31T00:00:00Z
My husband, son and I stayed for just a night and we were coming from a 6 hour drive. She was so kind enough to stay awake for us since we came in pretty late. She was super warm and inviting and her home was super clean and comfortable. Her pups were adorable and my son LOVED her 7 birds. The house smelt amazing as well! We will be staying here again for our next visit to legoland. It was only 10 mins away from where she lived. It was a pleasure and a joy to stay there! She provided us with snacks in our room. It was just lovely! Highly recommend it! It was our first time using air bnb and it was a wonderful first time!
Maria De Jesus
2017-03-26T00:00:00Z
Rodzaj pokoju
Pokój prywatny
---
Rodzaj nieruchomości
Dom
---
Mieści
2
---
Sypialnie
Vista, Kalifornia, Stany Zjednoczone
My home is on approx. 1/2 acre with large trees and wildlife. Everyone who comes here says it has a very peaceful and restful feeling. Vista is a quaint, beautiful agricultural area with lots of trees & rolling hills. Close to CA-78 access, parks, botanical gardens, 1/2 mile to downtown Vista with lots of activities; theaters, playhouse, groceries, shopping, breweries, wine tasting, art galleries, public transport, beach(8 miles), downtown San Diego(32 miles), San Diego Safari Park(16 miles).
Your bedroom is 10'x10' with an enclosed bathroom consisting of a sink, toilet and shower. Comfortable room with large window with a window fan on one side for fresh air, lots of light and a beautiful view of the patio garden. There is a mini-refrigerator with a separate freezer compartment and microwave in the room, along with a desk with electrical plug in for all your electronic needs. Queen size bed with a variety of medium and firm pillows, blankets and quilt for your comfort.
This neighborhood was built in the 1950's on an orange grove (I have three of the remaining Valencia orange trees). It's quaint and family oriented, many people walk their dogs and it has a very comfortable feel to it. I've lived here for seven years and always encountered nice people and neighbors. You will fall asleep listening to peaceful crickets!
Without a doubt, one of the nicest airbnb experiences that I've had. Super caring and friendly host, super clean and organized home and added touches everywhere to make things special; The hummingbird feeder outside the bedroom window, essential oil diffuser and oil samples in the bathroom, jars of alkaline water in the room. Jill has created a wonderful and healing energy in her home. An easy 15 minute walk into Vista town to local restaurants and shops.
viki
2016-10-02T00:00:00Z
Had an excellent stay in Jill Marie's home, she made me feel right at home and everything exceeded my expectations!
Chris
2017-02-28T00:00:00Z
Wow! Staying here was so much fun! Jill's place is very accommodating, the bedroom was comfortable and very calming. If you're looking for a relaxing place to stay, I would definitely recommend! :) Not only is Jill very kind and knowledgeable, she is familiar with the area and will recommend good spots! Her place is close to lots of breweries, close to the beach, and you can find lots to do. Looking forward to staying here in the future again, thank you Jill!
Alejandra
2017-03-19T00:00:00Z
She made me feel very welcome! Her home is well scented from the essential oils and diffusers, if I'm not mistaken. She's very friendly everytime I walk into the home. Can't wait to stay again!
Nicholas
2017-01-01T00:00:00Z
This is one of the nicest Airbnb listings I've stayed in. Beautiful, peaceful setting, very calm and quiet, yet close to downtown Vista where the breweries and restaurants are. Our host JillMarie, was kind and helpful. She took great care of us, even making us freshly-squeezed juice using the oranges from her own tree! I can't recommend her highly enough!
Pratik
2016-09-05T00:00:00Z
When I arrived, Jill Marie was there to greet me. She showed me around and immediately made me feel at home. She was welcoming and very respectful of my privacy. Her home is absolutely beautiful. She has created a very relaxed environment. The pictures and description were just as described, and even more inviting than I expected. My bedroom had its own private bathroom and she even provided samples of oils and lotions that she uses in her wellness practice. She also had toiletries in the medicine cabinet in case her guests forgot a toothbrush or other items. This is just a small example her thoughtfulness and desire to take good care of her guests. Her yard is also very beautiful. The hummingbird feeder right outside my window provided a special treat in the morning.
Jean
2016-10-25T00:00:00Z
Jill Marie is a great airbnb host! She has thought of everything to make the stay wonderful!
Barbara
2016-10-15T00:00:00Z
Jill was a very thoughtful host. I appreciated her attention to detail (high quality tea, Carlsbad artesianal well water, essential oils and other goodies readily available). Her home was beautiful and the room was very comfortable. I would definatly stay there again.
Heather
2016-09-02T00:00:00Z
Rodzaj pokoju
Pokój prywatny
---
Rodzaj nieruchomości
Dom
---
Mieści
2
---
Sypialnie
Vista, Kalifornia, Stany Zjednoczone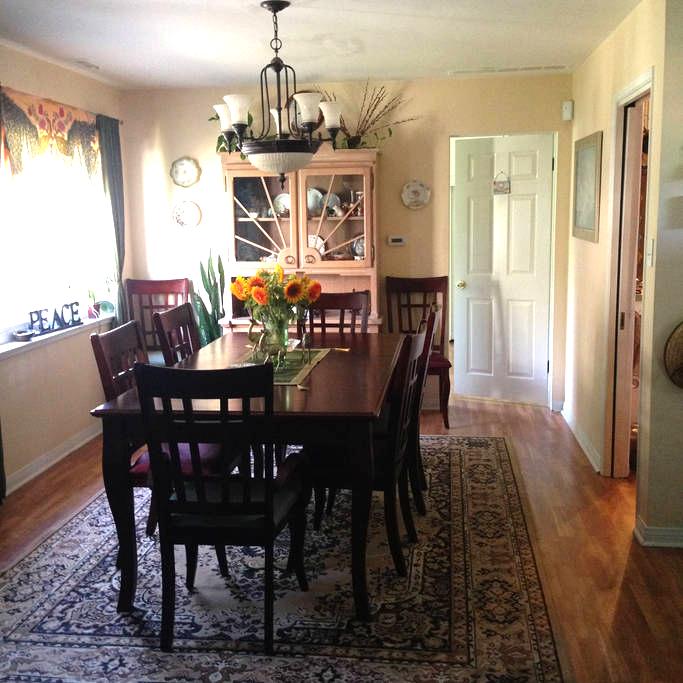 Welcome to Panorama Vista featuring some of the most amazing views San Diego County has to offer. Sweeping ocean views from every room. Enjoy a beautiful unobstructed ocean sunset! Gated contemporary style home, high ceilings, light & bright. Two huge master suites with massive picture windows and one pool view bedroom. All bedrooms are ensuites with gorgeous private baths.
Welcome to Panorama Vista featuring some of the most amazing views San Diego County has to offer. Sweeping ocean views from every room. Enjoy a beautiful unobstructed ocean sunset! Gated contemporary style home, high ceilings, light & bright. Two huge master suites with massive picture windows and one pool view bedroom. All bedrooms are ensuites with gorgeous private baths. Gourmet kitchen with Bertozonni stainless gas stove, wine fridge & full sized fridge, granite counters, glass tile backsplash, large stainless farm sink with ocean view. Dining table for 6, bar seating for 4, and outdoor dining for 8. Indulge with a 38x18 private pool with cabana, private sauna, private hot tub, and built in BBQ. Ample gated parking. Also included: Linens Bath Towels Pool Towels Beach Towels Beach Chairs & Umbrella Whole Home Sonos Sound System Nespresso Machine Apple TV High Speed WiFi Weekly Cleaning and Pool Service 4-seater convertible Audi S5 available with rental upon availability. Local trips only. You must submit a copy of your drivers license and proof of insurance prior to your stay. Please inquire. This is your perfect vacation rental for SoCal sun, fun, and amazing views!
Read about our neighborhood and region on (URL HIDDEN) Situated within both North County San Diego Coastal & Inland. Coastal: Immerse yourself in a laid-back, Southern California lifestyle Anchored by historic Highway 101, this stretch of California coastline has some of the best surfing anywhere in the world and a laid-back, SoCal vibe all its own. Here you'll find plenty of dining options and shopping opportunities including the Cedros Avenue Design District, the Carlsbad Premium Outlets, several upscale malls and unique, local boutiques. North County has everything from five-star fare at Addison to authentic traditional Mexican food, along with craft brew tasting rooms, urban wineries, and seaside watering holes. If you're looking for outdoor adventures in San Diego, the north region has plenty. From hiking and horseback riding in Los Peñasquitos Canyon Preserve and stand-up paddle boarding and kayaking in Carlsbad Lagoon, to biking along the coast, or sport fishing, whale watching or surfing, from La Jolla to Oceanside outdoor enthusiasts are sure to be entertained. The North County Coastal region is also home to some of San Diego's top attractions, including LEGOLAND California, SeaLife Aquarium and Legoland Water Park, the Flower Fields at Carlsbad, and the Del Mar Fairgrounds, host to the Del Mar Fair from mid-June to early July, followed by the Del Mar Thoroughbred Racing season. There's also the San Diego Botanic Garden for a look at native flora and fauna. At the Eastern border of North County, you'll find the San Diego Zoo Safari Park, Las Vegas style Indian Casino Gaming and plenty of great wineries and local breweries. San Diego's North County Coastal and Inland regions are also a paradise for golfers, with over 40 diverse courses to choose from. Graced by cooling breezes from the Pacific Ocean, the Arnold Palmer-designed Park Hyatt Aviara and Tom Fazio-designed Fairmont Grand Del Mar golf courses are uniquely sculpted around the natural landscapes and native vegetation. A stay in San Diego's North region puts you just an hour from Disneyland, yet still close to Downtown San Diego where the museums of Balboa Park, the San Diego Zoo, Gaslamp Quarter and SeaWorld San Diego are easy to reach. Inland: Get outside and play A beautiful area of rolling hills and winding roads, San Diego's North County Inland is an exceptional place to spend time outdoors. Hike or bike to the top of Palomar Mountain, or golf at over 40 courses carved out of the natural landscape. Spend an afternoon at one of the local wineries or on a craft beer tour at one of the many local breweries that enliven this area. And no trip to San Diego would be complete without a visit to the San Diego Zoo Safari Park, where you can venture to Africa and Asia without having to leave Southern California. For an off-the-beaten-path experience, head to the family friendly Leo Carrillo Ranch Historic Park where the entrance is free and the kids can get up close to dozens of brilliant peacocks. North County's inland region provides easy access to the best of Southern California with plenty of luxury resorts and family friendly hotels. Halfway between downtown San Diego and Anaheim, North County is an easy freeway drive to the Magic Kingdom at Disneyland, the gorgeous beaches of North County Coastal, the museums of Balboa Park, and Downtown San Diego, where the nightlife of the Gaslamp Quarter awaits. Dining is a treat in North County too and options range from elegant to more casual experiences. As a region with strong agricultural roots, many of the chefs have also forged strong bonds with area farmers and infuse their cuisine with local, seasonal and farm fresh ingredients.
Rodzaj pokoju
Całe miejsce
---
Rodzaj nieruchomości
Dom
---
Mieści
8
---
Sypialnie
Vista, Kalifornia, Stany Zjednoczone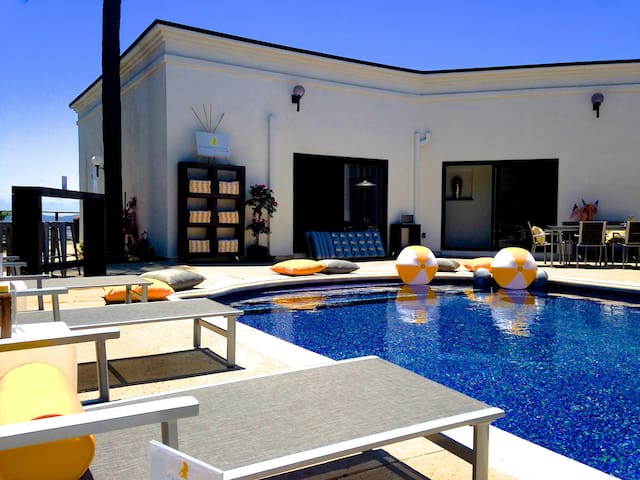 My place is close to the beach. You'll love my place because of the high ceilings and the comfy beds. My place is good for couples, families (with kids), and big groups.
Beautiful, large family home. Around 2800 sq ft. Open floor plan with the kitchen and family room. Plenty of space for a large family.
We live about 15 minutes from the beach. There are great restaurants, movie theaters, and parks close by. There are also two grocery stores about 5 minutes from the house.
Jenae is a great host with a beautiful home. The house is very spacious with high ceiling and each bedroom has its own personality. I was able to see her love for her family in every part of the home, which is not something I would see in an AirBnB house often. She accommodated to all our needs and we felt at home during the stay. Highly recommended!
Sojeong
2017-02-26T00:00:00Z
When we walked in there was a chalkboard that they wrote a personal welcome to me and my family. That was a very nice touch. Neighborhood with quiet we felt very confortable in the home . It was just as she described it. Location was perfect for us we were there to go to Legoland and it was not to far . Overall my family and I enjoyed it and felt very welcome . Jenae and I had text back and forth a bit before my visit and she was very nice made me feel like a friend . Very lovely family to rent from.
Monica
2016-06-27T00:00:00Z
Jenae was a great host and very easy to work with. The house was as nice as the pictures portrayed. I would recommend this house to anyone staying in the area!
John
2016-07-11T00:00:00Z
Absolutely a beautiful home and beautiful owners. Jenae went above and beyond to ensure that our stay was as perfect as possible. There was a board just inside the front door that had all kinds of wonderful information for our visit.
Stephanie
2016-07-04T00:00:00Z
Rodzaj pokoju
Całe miejsce
---
Rodzaj nieruchomości
Dom
---
Mieści
10
---
Sypialnie
Vista, Kalifornia, Stany Zjednoczone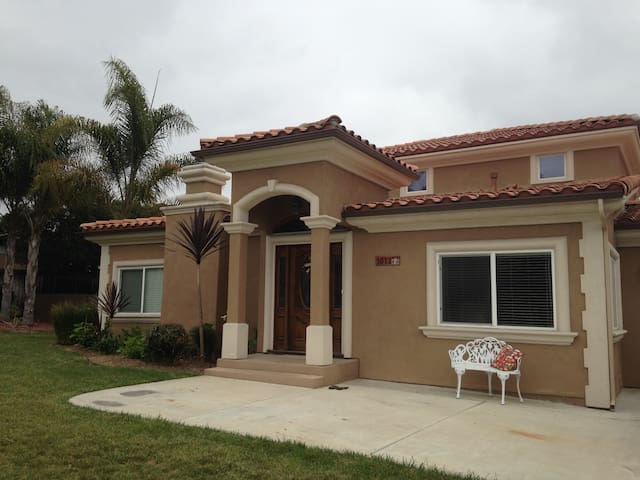 Enjoy every minute of your vacation, tanning by the *pool or relaxing at night in the hot tub. BBQ, Fire pit & 2 yards to enjoy fun games of basketball, volleyball pickle ball & croquet! Have some fun inside playing pool, foosball, or ping pong! 11 miles from the beach. *Please note there is an additional charge of $100.00 per day to heat up the pool.
•Master with walk in closet , dual sinks, tub & shower , balcony •2nd bedroom had own bathroom •3 & 4 bedroom share a bathroom with dual sinks I have listed 3 couches (1 person per couch) but we also have a couch that turns into 3 recliners, each is separated by an arm rest/cup holder •Game room with pool table •Ping Pong & Foos ball in garage •2 yards with tons of activities available •Plenty of Parking (shared driveway with neighbor )
Located in quiet cul-de-sac Close to Legoland, 11 miles from Oceanside Harbor & Pier, 5-7 min Luxury Movie theater, restaurants, bowling, etc
Rodzaj pokoju
Całe miejsce
---
Rodzaj nieruchomości
Dom
---
Mieści
13
---
Sypialnie
Vista, Kalifornia, Stany Zjednoczone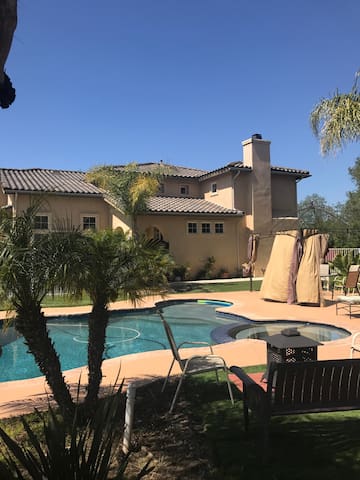 We offer you a beautiful private bedroom and bath in our Vista home for a minimum 2 night stay. We live in a quiet, pretty and well-watched Shadowridge neighborhood where you will have access to our community pool and spa. We adorned this bedroom and bathroom keeping in mind beauty, relaxation, and your comfort. We are within walking and biking distance of a village shopping center, a coffee & gelato shop, and miles of hiking in wildlife protected areas in the Buena Vista Park.
We adorned this bedroom and bathroom keeping in mind beauty, relaxation, and your comfort. There is a memory foam pad on the queen mattress, an assortment of pillows for your desired firmness, extra blankets for those chilly nights, a full dresser and closet room for your items. There are fresh, plush towels available for your use and tub suitable for soaking.
We live in a quiet, pretty and well-watched Shadowridge neighborhood where you will have access to our community pool and spa. We are within walking and biking distance of Albertson's, a coffee and gelato shop, and miles of hiking in wildlife protected areas in the Buena Vista Park. We are 15 minutes drive from the Oceanside Beach and as well as Encinitas, San Marcos, and Escondido. There is a local farmer's market on Saturdays and a truly phenomenal variety of fun things to do every day in Vista and SD North County.
I was attending a graduation and was rushed for time. Adam did what he could to make sure that I was going to be on time by keeping in contact and left a key to ensure we'd be able to get in! The room was very nice, comfortable, and clean, with a bed we had no problem stretching out on. He made us feel welcome, made sure we knew where things were, and even did some shopping for breakfast items before we arrived! It was a very nice experience.
Steven
2016-05-30T00:00:00Z
Rodzaj pokoju
Pokój prywatny
---
Rodzaj nieruchomości
Dom
---
Mieści
2
---
Sypialnie
Vista, Kalifornia, Stany Zjednoczone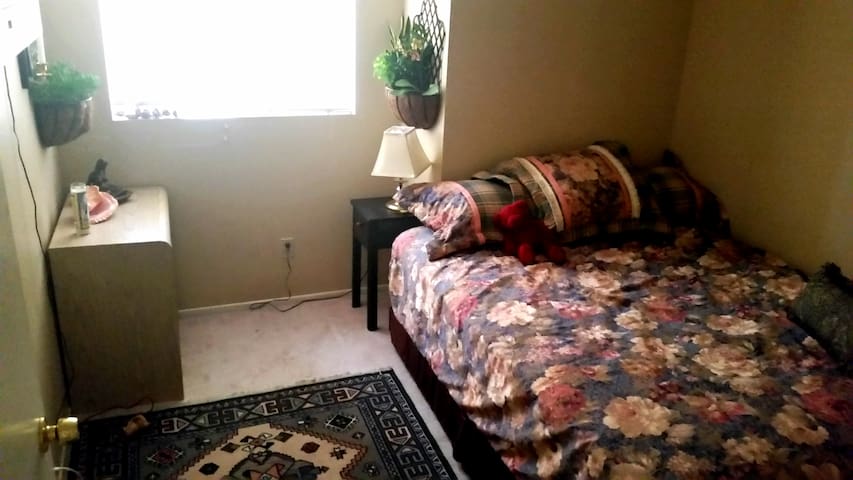 1

–

18

z

300+ Wynajmów domów
Wpisz daty, by zobaczyć pełną cenę. Obowiązują dodatkowe opłaty. Cena może uwzględniać podatek.