Biały pokój, w którym można zdystansować się od chaosu i zamieszania. Hammam zregenerować swoje ciało i duszę.
To jak wielki niezależnego mieszkania, bez kuchni. Ale serwowane wspaniałe śniadanie dla ciebie każdego ranka! Przy wjeździe do Chianti, w sercu Toskanii, "La Casa" kompleks wypoczynkowy zostały niedawno i starannie odrestaurowana zgodnie z miejscową tradycją i okolic. Znajduje się on w małej miejscowości wiejskich, gdzie można delektować się cisza, kolory i zapachy Toskanii. Jest to idealna baza wypadowa do zwiedzania okolicy, samochodem lub pieszo, odkrywając swoje tradycje i kuchnię ... a przynajmniej, ale nie mógł jesteśmy blisko gniazdka Prada (5 ') :-)) La Stalla jest pokój 25sm z 50sm salonie. Zgodnie z ogrzewaniem podłogowym oraz klimatyzacją. Łazienka z łaźni tureckiej. Dystans: • Gaiole in Chianti 25 minut • Radda in Chianti 30 minut • Arezzo 40 km (35 minut) • Parchi Termali di Rapolano (40 minut) • Florencja 50 km (45 minut) • le Crete Senesi 45 minut • Siena 45 km (45 minut) • Castellina in Chianti 45 minut • Monteriggioni 1 h • Montepulciano e Cortona 1 h • Pienza 1 on 10 minut • San Gimignano 1 on 15 minut • Parchi Termali di Bagno Vignone (1 on 20 minut) • Lucca 1 on 30 minut • Pisa 1 on 30 minut • Volterra 1 on 30 minut Wylot: • gniazdko Prada w Montevarchi; (5 minut) • The Mall w Leccio (FI) (Armani, Gucci, Dolce & Gabbana, Fendi, Hogan ...): (35 minut)
Paola and Piero was wonderful, warm hosts.
Julian
2015-05-23T00:00:00Z
We stayed in the 'stalla', really fancy and cool apartment! Piero is very kind and helps out with trips and nice real Italian restaurants in the neighbourhoud. They serve a nice breakfast every morning. And the hottub with view is a must to try!
Marloes
2016-09-26T00:00:00Z
We had a lovely time staying here! Paola was so helpful everyday. Making us breakfast every morning and then showing us where we can go everyday! She is so gracious and it was a pleasure to stay in her home. We will defiantly come back the next time we are in Tuscany!
Courtney
2015-08-26T00:00:00Z
Paola and her husband were very accommodating! Wonderful apartment, beautiful location and very friendly hosts! We loved the feel of the apartment, and the look. It was easy to get to in the daytime using (SENSITIVE CONTENTS HIDDEN) GPS and it was 10 minutes from the town center. Keep in mind that most of the story in Montavarchi close early, so get your shopping done early. Summer mosquitos were the only problem and issue, but that's not Paola fault. Definitely need a car rental to get here though.
Eric
2015-07-01T00:00:00Z
Paola was an amazing host. The apartment was beautiful, tastefully designed and sunny. The breakfast was delicious. Highly recommend a Tuscan sojourn there!
Sanya
2014-08-24T00:00:00Z
Incredible. Paola and Piero have what can only be described as a magical place hidden away in the hills of Tuscany. Amazing views, warm hospitality, and just a magical stay that truly was a highlight of our trip. Additionally, the location is perfect for visiting wineries in the Chianti region and Piero had some fantastic recommendations to help us navigate the area and find wineries that matched our budget/tastes. An absolutely phenomenal place that I can't recommend more highly.
Rishi
2016-05-20T00:00:00Z
Thank you Paola, Piero, Michael and the cats for making our stay so very special. We felt so comfortable in our beautiful apartment. You are impeccable hosts and wonderful people. The pleasure was all ours. Grazie! Gracias! Thank you for everything.
michelle
2015-10-14T00:00:00Z
We had a wonderful stay at this lovely bnb! The hosts were extremely helpful and friendly, and the apartment was beautiful in the hills of Tuscany. Thank you Pier and Paolo!
Shuting
2011-12-16T00:00:00Z
Rodzaj pokoju
Całe miejsce
---
Rodzaj nieruchomości
Wikt i opierunek
---
Mieści
2
---
Sypialnie
Montevarchi, Toskania, Włochy
il 'Fienile', come tutti gli appartamenti de la CasA sul SentierO, è stato ristrutturato nel rispetto delle forme e dei materiali tradizionali, secondo i dettami della bioarchitettura.
Alle porte del Chianti, nel cuore della Toscana, "Il Fienile è un appartamento ecentemente ristrutturato nel rispetto della tradizione e dell'ambiente. E' situato in un piccolo borgo rurale e permette di assaporare il silenzio, i colori ed i profumi della campagna toscana.Appartamento di 60 mq. .E' composto da cucina, camera matrimoniale con vista, soggiorno con divano letto e bagno con doccia per due.Riscaldamento e condizionamento a pavimento.Un divano dove riposarsi.Un libro.Una lampada/scultura.Una scala per salire nella stanza del vento.Un letto bianco.Una doccia dove, in due, ci si può perdere nei giochi d'acqua. Il Fienile' è un luogo dove fermarsi per guardare quello che c'è intorno a te.E anche quello che c'è dentro di te. A poca distanza da "la Casa sul Sentiero" partono alcuni tra gli itinerari più belli del Chianti: Badia Coltibuono, Radda in Chianti, Vertine, San Gusmè, Castelnuovo Berardenga, il Castello di Brolio, le terme di Rapolano, sono tutte località facilmente raggiungibili. L'appartamento ha ingresso indipendente. Noi abitiamo nel piccolo borgo, di fronte all'appartamento. Di norma un componente della nostra famiglia è sempre presente nel borgo. La CasA è situata in collina, ma a soli 5 minuti dalla stazione ferroviaria di Montevarchi. E' una zona molto tranquilla. Nel Valdarno, come in gran parte della Toscana, le zone rurali non sono servite da mezzi pubblici. E' quindi fondamentale l'uso dell'auto.
La CasA è situata in collina, ma a soli 5 minuti dalla stazione ferroviaria di Montevarchi. E' una zona molto tranquilla.
Il Fienile was absolutely lovely, and we enjoyed getting to know Paola and her family -- especially over traditional Tuscan food. We really appreciated their hospitality and care for us. The village is very quiet and remote, a very different setting from the hustle and bustle of major tourist cities like Florence and Rome. Would definitely recommend for anyone looking for some real R&R.
Lynnette
2012-09-26T00:00:00Z
Paola and Piero are the most perfect and charming hosts that you could wish for, so friendly and accommodating in their lovely bed and breakfast deep in the heart of the Tuscan countryside. Whether it was preparing a lovely breakfast each day, with fresh bread and pastries, or providing emergency icepacks after bicycling mishaps, they were very generous with their time. They also gave us lots of great advice and help in making reservations. The apartment is beautiful and romantic and has wonderful views over the surrounding countryside. All in all, we could not have asked for a better place to stay during our week in Tuscany. Montevarchi is also very conveniently located for all the major attractions in like Florence, Siena, Chianti, Montalcino, San Gimignano and Arezzo. Paola y Piero son unos anfitriones perfectos; muy amistosos y agradable. Tienen una bella casa en el corazón de la Toscana! Cada día, ellos hicieron un delicioso desayuno, con pan fresco y pasteles y nos ayudaron con reservaciones para restaurantes también. El apartamento es precioso y romántica y lo tiene vistas maravillosas. En conclusión, desde nuestra calurosa bienvenida hasta las deliciosas comidas y el increíble servicio, no podríamos haber pedido unas mejores vacaciones. Montevarchi es circa Florencia, Siena y otros lugares que muy interesante para los visitantes.
Andrew
2014-04-29T00:00:00Z
We highly recommend this accommodation if you are visiting central/eastern Tuscany. The location is breathtaking and the rooms are well decorated with a modern twist. It accommodates everything you need. Paola and Pierro were the ideal hosts. They provided us with great breakfast and relaxing atmosphere. Also, they gave us great tips for day trips and visits in the area.
caroline and marten
2014-06-19T00:00:00Z
My family and I loved staying at the B&B. It was the highlight of our trip in Italy. Awesome view, great hosts, and beautiful house. Paola and Piero were amazing. We enjoyed eating dinner the first night (one of my best meals in Italy) and the breakfast was lovely. I went for an early morning run with Piero to Torre di Galatrona and it was an amazing experience.
Ammar
2014-06-21T00:00:00Z
This is the PERFECT Tuscan getaway. The location is idyllic, set on top of a hill with panoramic views of the Tuscan countryside. True tranquility. The buildings are stunning, perfectly mixing the traditional with all the modern commodities. The hosts have paid a lot of attention to detail and you get a real sense that they take great pride in providing a quality experience for their guests. Breakfast was served in the hosts' house with a lovely range of Italian pastries, as much coffee as you like as well as home made jams. The atmosphere at breakfast was convivial and provided the perfect chance to chat the other guests and the hosts about themselves and about what the region has to offer. Paola and her husband are the perfect hosts: professional yet friendly, accommodating, available and freely offer up advice about how to make the most of your stay. They will very modestly claim to know little English but can hold conversations in English quite comfortably. The price to quality ratio of this BnB is truly outstanding. I couldn't recommend this place more highly and can't wait to return for a longer stay!
Phil & Flo
2013-08-19T00:00:00Z
Un endroit magnifique. L'appartement contient 2 étages. En bas vous avez une petite cuisine avec une table, un grand salon et une salle de bain avec une douche énorme. Un escalier vous mène vers la chambre qui est très jolie : le lit se trouve au milieu de la pièce et il y a des vitres de chaque côté. La construction de cette petite maison est grandiose. C'était un endroit où les fermiers gardaient la nourriture pour les animaux. Maitenant c'est tout rénové, mais la maison à garder son charme. Le jardin est agréable et vous avez une belle vue. Paola et son mari sont des gens aimables. Ils nous ont bien acceuiller et ils nous ont donné des info's sur les villages dans le coin (comme Sienne) et sur des restaurants. Paola parle bien le français, son mari parle l'anglais. C'était une expérience géniale et on y retournera certainement si on est dans le coin.
guillaume
2013-09-08T00:00:00Z
We have a real tuscany experience during our stay in this very special place. The apartament is beaultiful and very confortable, the views of tuscany fields are amazing. Paola and Pierro are the best hosters ever! Paola gave us very precious tips about where to visit and dinner, and what to eat in each place. The breakfast is perfect! Paola show us cakes and other things traditional in tuscany, that is the reason I say it is a really tuscany experience! Gracie e tanti Paola and Pierre!
Jana
2015-05-12T00:00:00Z
It was a wonderful experience to stay in the waby appartment fienile. The place is magical with incredible views of the arno valley and the mountains arround and the appartment was very cosy and so romantic. Our Hosts were so correct, nice and helpfull. The breakfast was just great! Paolla is a very special and delicate Lady and her husband is a gentleman I deeply reccmmend!
Ana
2015-08-18T00:00:00Z
Rodzaj pokoju
Całe miejsce
---
Rodzaj nieruchomości
Apartament
---
Mieści
2
---
Sypialnie
Montevarchi, Toskania, Włochy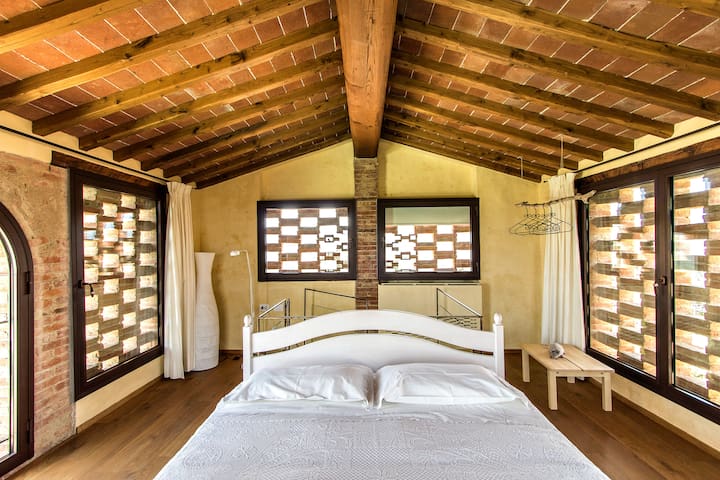 un luogo dove immergersi nella natura e camminare a passo lento,riscoprendo i sapori e i profumi della terra. una camera con la sua vista sul bosco e verso la torre. Semplice ed essenziale in stile toscano.
una camera in stile toscano al piano terra di un antica casa colonica di più di 250 anni. in posizione dominante su una collina da trent'anni vive con la nostra famiglia. uliveti e boschi dominano il paesaggio; il silenzio della natura; la genuinità della campagna. camera matrimoniale con arrendamento essenziale e semplice. Bagno privato. tra Firenze, Siena ed Arezzo è la base per visitare le città d'arte e i piccoli borghi della Toscana, ma anche oltre per Pienza, Cortona, il lago Trasimeno.
il Valdarno è un luogo tranquillo: abbiamo un interessante Museo Paleontologico, da visitare anche con i più piccoli; un oasi naturale, quella di Bandella, che in estate fa favolose gite in barca; piccoli ristorantini da scoprire nel centro storico, o bar da sfiziosi aperitivi; il massiccio del Pratomagno dove fare lunghe camminate ed escursioni; il Chianti a due passi per le degustazioni dei famosi vini.
We had a wonderful stay. The place has a beautiful view and a very homely feel about it. Camilla's parents were very friendly and accommodating. They even picked us up from the station and dropped us to the station the next day. They gave us a real feel of the countryside lifestyle and the home cooked meals were the icing on the çake. Would highly recommend this place to anyone looking for a quiet, clean stay in the countryside.
Athmika
2016-08-31T00:00:00Z
Un posto bellissimo immerso nella campagna Toscana...familiarità e cortesia...non si può chiedere di più!
Melissa
2015-07-26T00:00:00Z
Kind owner. Simple, but authentic accommodation. On the top of the hill you've a beautiful panoramic view of the tuscany landscape, with donkey, horse, rabbits, cats, pigeons and chickens (and noisy rooster) on the courtyard. Breakfast is local, simple, with home made products.
Maarten
2015-08-19T00:00:00Z
Wunderbare Unterkunft im toskanischen Stil, sehr authentisch eingerichtet, inmitten von Olivenhainen . Wir waren nur eine Nacht auf der Durchreise und es war eine fantastische Zwischenstation. Nach der langen Fahrt haben wir das leckere, typisch toskanische Abendessen (Vorbestellung) am offenen Kamin genossen. Wir hatten mit Camilla leider nur Mailkontakt, aber die Eltern auf dem Hof regeln alles vor Ort perfekt. Wir haben uns sehr wohlgefühlt, vielen Dank für alles! Es hätte besser nicht sein können. Ulrich und Annette
Ulrich
2016-05-18T00:00:00Z
Wir wurden sehr herzlich empfangen!Es war etwas schwer zu finden aber man hat ja einen Mund um zu fragen.Wir hatten auch das Abendessen gebucht ,das war super lecker!!!! Frühstück ebenso!!Das Zimmer war gemütlich und sauber.Ein herrlicher Ausblick ,eine Ruhe,wir haben uns sehr wohl gefühlt. Vielen Dank sagen Carola und Bernd
Bernhard
2016-09-13T00:00:00Z
Had a pleasant stay. Very friendly and helpful. The accommodation was great.
Kylie
2015-11-19T00:00:00Z
I think it would be safe to say that Casa del Monte was our highlight of Italy. Unfortunately we didn't get to meet Camilla, but her father was an excellent host. He thought that his house had the best view in Tuscany, and we totally agreed, the location is simply stunning - like something out of a film. The house itself was beautifully restored and looked after, and the rooms were of a much higher standard than we had expected. We stayed here as a base to visit Florence, as it was so much easier to get the train in from the local station at Montevarchi (we actually parked at Figline Valdarno so we could get the fast the fast train) into the centre of Florence. We were welcomed with a glass of very nice Chianti, and some nibbles (we were lucky enough to be able to try some of Vincenzo's (?) absolutely fantastic home-made prosciutto! It was amazing!), and he recommended some places to eat. One place near the tennis club in Montevarchi, which was full, and another place in the village (Lo Schicchero) which had the most beautiful seafood menu. In the morning, Vincenzo took us for a tour of his "farm". My father is a farmer, so absolutely loved seeing the animals and the vegetable garden. I think they would have moved there tomorrow if they could - they certainly would have rather stayed there then visiting Florence! I highly recommend Casa del Monte for at least one night, but more if you have the opportunity. It is great value, and now, thinking back to our trip to Italy, our stay with Vincenzo is the first memory that comes to mind. I will definitely come back here again, hopefully for longer than one night.
Mark
2015-09-22T00:00:00Z
Our stay here was absolutely amazing! It was the highlight of our trip to Italy. Our hosts were beyond friendly, helpful and kind. The farm and gardens are beautiful, the view is incredible! The room was nicely decorated, comfortable, and very clean. And the food....wow, wow, wow!!
Gianina
2016-08-01T00:00:00Z
Rodzaj pokoju
Pokój prywatny
---
Rodzaj nieruchomości
Wikt i opierunek
---
Mieści
2
---
Sypialnie
Mercatale Valdarno, Toskania, Włochy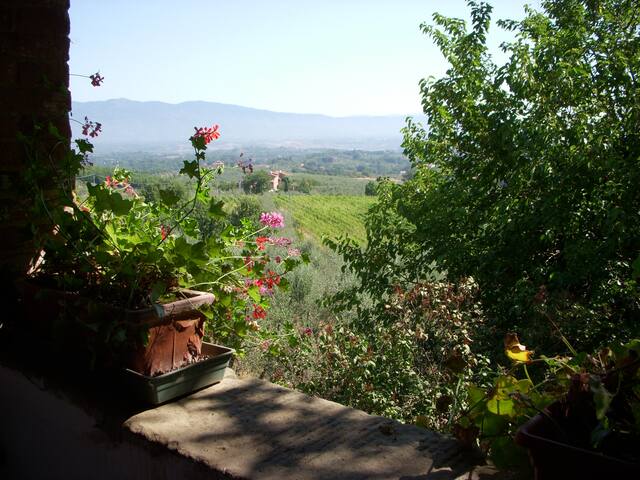 Nice room for 2 people in the beautiful Chianti countryside, in the middle of Florence, Siena and Arezzo. Free parking, two bicycles if you ask, WIFI. Best place for relax, thermal baths, trekking, excursions, history, PRADA, good food and wine
Beautiful and comfortable apartment with: 65 inches TV Flat WiFi Hairdryer Towels Laundry machine on request for a little extra fee Bicycles on request for a little extra fee THE THIRD BED I got a sofa bed in the living room
Very quiet neighborhood, 5 minutes to grocery, marketplace, pizza shop, theatre, tobacco shop, icecream shop, main square, police station
Francesco jest świetnym gospodarzem, mimo że nie udało nam się dłużej porozmawiać, bo musiał wyjść na noc do pracy, zrobił na nas bardzo miłe wrażenie. Jego mieszkanie jest czyste, nowocześnie urządzone, można korzystać z WIFI i zjeść śniadanie na słonecznym tarasie. Kontakt z nim jest szybki i bezproblemowy. Dziękujemy!
Anna
2015-09-02T00:00:00Z
Super miejsce na odpoczynek w ciszy i spokoju. Zakończyłam tam swoją podróż po Toskanii. Apartament komfortowy. Na śniadanie pyszna kawa i słodkości, które można było spożyć na balkonie z pięknym widokiem :) Gospodarze bardzo mili i pomocni. Super też, że można było skorzystać z roweru, by zwiedzić piękną okolicę. Polecam wszystkim!!!
Iwona
2016-09-15T00:00:00Z
Francesco es un muy buen anfitrión. Nos brindó consejos sobre lugares a visitar, buenas charlas, y estuvo siempre atento con hacernos sentir cómodos. Muy fácil de convivir. Recomiendo totalmente ;)
Ale
2017-01-18T00:00:00Z
Non ho conosciuto personalmente Francesco ma sua madre mi ha accolto con molta cordialità nonostante il mio arrivo anticipato di un'ora rispetto ai piani. Appartamento moderno e pulito, molto spazioso e centrale. Mi sono sentito davvero a mio agio.
Matteo
2017-03-31T00:00:00Z
Francesco was the perfect host. He was incredibly nice, and very good at communicating with us. We had lots of questions and he was always happy to help. If you are lucky enough to meet his father you will be in for a treat! They are both such lovely people. The apartment is perfect too. It has has an incredible view and a couple delicious restaurants within walking distance. We would highly recommend anyone to stay here, and will definitely stay there again if we get the chance!
Erin
2015-06-26T00:00:00Z
It was absolutey amazing! The Apartment was surprisingly large especially for the Price. The interior was very stylish and modern. It was very clean and well equipped. The host was incredibly friendly and helpful, doing everything to make the stay comfortable. Awesome view from the balcony over the tuscan hills. Cavriglia itself hasn't much to offer, but it's a good hub to explore the rest of tuscany.
Kim
2015-09-13T00:00:00Z
We stayed in Francesco place 4 nights and I can say that we are in total satisfied from his hospitality. Most of the time he was not here so we were alone in his apartment, what gave more to our comfort. However he was available on phone for any need we had. Neighborhood is quiet, small and a bit to sterile for Italian type. There is supermarket, pharmacy and Pizza place few steps away from his house. Highlight of our trip was one restaurant recommended from Francesco "Paposilenno". Make sure you visit this place you wont regraded. The thing that we didn't like is the connection between Cavriglia and Florence. This should definitely be clearly stated before you choose this place and it wasn't. If you don't have a car you should chose another place. There is only one line of bus that is connecting this place with the bigger one "San Giovani Valdarno" from where you need to catch train to Florence. This bus you can catch it only in the morning around 08:30 and the next one is after 13:30, so if you mist it you will be stuck until the noon in this place. Also for coming back from Florence, you need to be latest at 16:30 or 17:00 at the train station, because after that you don't have bus. Total cost of traveling from his house to Florence and back will be around 25 EUR for two people. Another thing that was not stated is that if he is not home (most of the time when we were there he was out) you need to arrange with his neighbor to pick you up from the train station which will cost you 10 EUR for two people, with the bus will be around 3 euros. The last day we had wine tour with his father, this was the worst decision that we had on this trip. His father is great guy,but he barely speaks English. We agreed to have tour week before we arrived, so when we sow that the weather will be rainy on that day it was not fair to cancel the trip. His father said that is not going to change anything so we went. This trip cost us 100 euros. His father drove us to 3 castles in Chianti region where we paid tickets for entry. I think if he speaks English maybe it would be different impression, like this we had feeling that we gave the money for nothing. All in all our stay was satisfied, if we had proper tour it would been great :)
Toni
2015-10-11T00:00:00Z
Francesco è stato un host semplicemente meraviglioso, una persona davvero piacevole con cui dialogare. La casa è pulita, dotata di ogni confort e decorata con tanta cura. Un soggiorno veramente perfetto.
Chiara
2016-09-11T00:00:00Z
Rodzaj pokoju
Pokój prywatny
---
Rodzaj nieruchomości
Apartament
---
Mieści
2
---
Sypialnie
Cavriglia, Toskania, Włochy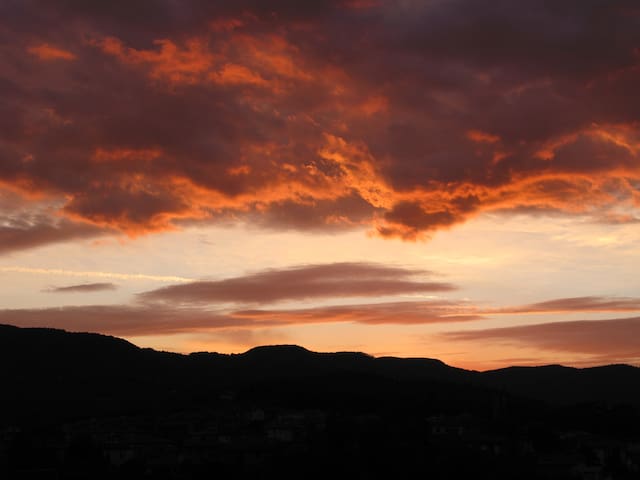 Situato alle porte del CHIANTI, in un piccolo borgo medioevale, l'appartamento è stato recentemente ristrutturato in stile moderno. Gode di un'ampia vista sulle verdi colline toscane, silenzioso e confortevole è l'ideale per una vacanza rilassante.
Dotato di porzione di terrazzo con possibilità di tavolo per pasti Ampio soggiorno, due camere da letto, una matrimoniale e una singola, bagno con doccia, è fornita di elettrodomestici (lavastoviglie, forno a microonde, forno tradizionale, frigo, aria condizionate). La biancheria è fornita (lenzuola, coperte, asciugamani, asciugamani da cucina). Parcheggio gratuito. Pacco di benvenuto. A Cavriglia ( a 3 Km) presenti :farmacia, ambulatori medici, negozi alimentari, banca, ufficio postale. e alcuni ristoranti di pregio.
Il borgo medioevale di Montegonzi è uno dei più belli del chianti, gode di una vista panoramica di tutta la valle dell'Arno.
We were at the wedding of a friend in Montegonzi with our son and had a fantastic stay at this place. The apartment looks even better than on the photos. Everything is very clean and brand new. Laura and Tommaso are a great example of the Italian hospitality. They were very caring and have a lovely family. Thank you for everything. The view on the valley is extraordinary and the whole area just lovely. Highly recommended!
Boris
2016-06-21T00:00:00Z
We stayed at Laura and Tommaso's for three days and we really enjoyed it. They took a great care of us and prepared a very clean and comfortable apartment. They even left us some snacks for the breakfast and brought some toys for our kids on the day we arrived. That was very thoughtful of them. The surrounding area is beautiful and definitely worth visiting with Laura and Tommaso!
Lidia
2016-06-07T00:00:00Z
We had a lovely stay in Tommasso's flat. It is located in a tiny village on a hillside, with narrow streets and no traffic. Absolutely quiet, with just birdsong breaking the silence. Tommasso and his family are really helpful and kind. The flat has one large bedroom and one small one, and a large kitchen/dining/living area. There is a terrace outside with beautiful views over the valley towards distant hills and mountains. We can certainly recommend it and would love to go back!
Michael
2015-10-05T00:00:00Z
Accoglienza perfetta, massima disponibilità, gentilezza e discrezione da parte di Tommaso e Laura. Appartamento molto carino, pulitissimo e curato, con tutto il necessario per sentirsi come a casa propria. Posizione tranquilla, in mezzo alla campagna toscana, a 10-15 minuti da Montevarchi. Consigliatissimo!
Giada
2015-11-14T00:00:00Z
Si vous souhaitez visiter Florence (vous pouvez prendre le train à quelques km et arriver dans le centre historique en toute tranquillité), Sienne, et la région du Chianti, allez chez Tommaso et Laura leur location est superbe, propre, entièrement restaurée, avec une terrasse qui permet de profiter du paysage toscan et ce dans un très beau village. Quant à Tommaso et laura ils sont accueillants, conviviaux et généreux. Allez y en toute confiance. Merci à eux deux
Laurette
2016-09-26T00:00:00Z
Proprietari gentili, disponibili e mai invadenti. Siamo stati divinamente, la casa risulta pulita, comoda e confortevole. Tutto è nuovo o quasi. Posizione favolosa, panorama mozzafiato. Sicuramente uno dei migliori posti dove soggiornare per visitare i dintorni di questa splendida regione.
Francesco
2016-04-10T00:00:00Z
The flat is very lovely - fantastico view and clean and comfortable accommodation. Laura was very kind, greeted us and met our needs, provided pasta and wine. This place is a gorgeous find in a gorgeous land!
Jacob
2016-09-18T00:00:00Z
Tommaso and Laura were great hosts. They made us feel very welcome, with a welcome basket of local goodies..wine, honey, pasta sauce, spaghetti and biscotti! Such a treat! Laura explained to us about sights to see locally and left good information on the train and nearby villages to visit. The little village was so unique and homey. The townspeople gathered around each other to visit near their homes, so every time we passed them in the streets, they greeted us warmly. The apartment was very clean and modern....everything described in the listing and then some! the bed was very comfortable. We have done a lot of traveling around the world, and this by far is the best AirBnB we have stayed in. The convenience of getting around was a plus...restaurants within walking distance or close by car. Staying in a Medival village was like a fairytale! Laura and Tommaso made our stay very comfortable and enjoyable.
Pegi
2016-07-31T00:00:00Z
Rodzaj pokoju
Całe miejsce
---
Rodzaj nieruchomości
Apartament
---
Mieści
3
---
Sypialnie
Cavriglia, Arezzo, Włochy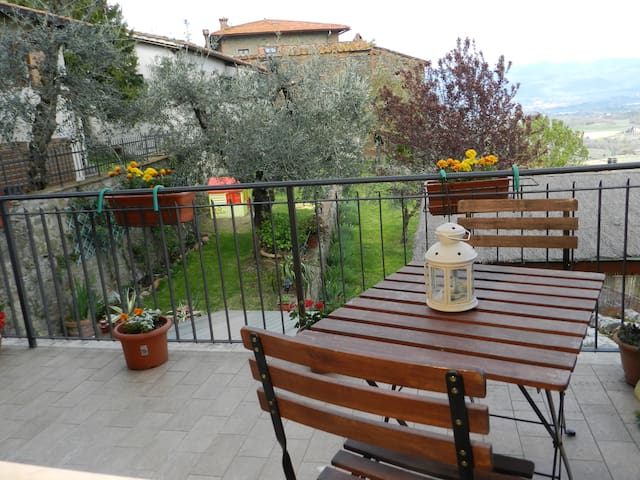 Dom jest idealny dla pary, rodziny lub grupy przyjaciół, którzy chcą 4 do zwiedzania Toskanii; można zatrzymać się w projektowanie kamienia siano strychu znajduje się w Valdarno z tego obszaru można łatwo dotrzeć Florencja, Siena, Arezzo, Cortona, San Gimignano i Chianti; Po dniu spędzonym w naszym pięknym regionie, można zrelaksować się latem w prywatnym basenem z widokiem na Toskanię! Dom ma dwie kondygnacje: na parterze znajdują się salon, kuchnia i łazienka; Kuchnia wyposażona jest kuchenka indukcyjna, piekarnik, mikrofalówka, zmywarka do naczyń i pralka; W salonie znajduje się duża sofa, telewizja satelitarna; z ogromnej szklane drzwi można podziwiać ogród i basen; na pierwszym piętrze znajdują się w głównej sypialni z widokiem panoramicznym, wanna z prysznicem, pokój z dostępem do tyłu ogrodu; w domu z kamienia, więc temperatura jest zawsze dobre, także w gorącej Toskanii latem, jednak istnieje system klimatyzacji; w okresie zimowym, można również korzystać z kominka do ogrzewania. Obiekt jest ogrodzony, a najbliższa wioska jest Montevarchi (5 km); NIE LUBISZ w listopadzie lub grudniu? Jeśli pochodzą jesienią lub zimą, będzie nam miło zaoferować Państwu świeżą oliwę wykonane z roślin z gajów oliwnych, które otaczają własność! odległości: -Florence: 50 km -Arezzo: 35 km -Siena: 45 km -Gaiole In Chianti: 20 km Cortona :: 84 km -San Gimignano: 66 km -Prada Shopping Center: 8 km -The Mall Shopping Center (Gucci, D & G, Valentino, ect): 33 km Skontaktuj się z nami za pobyt krótszy niż 6 nocy! ******************************* Dom jest idealny dla pary, dla rodziny lub czterech przyjaciół, którzy chcą odkrywać Toskanii, ale życia w środowisku projektowania, utworzonego w kamiennej stodole; Willa znajduje się w Valdarno Aretino, obszar, który pozwala na łatwy dostęp do Florencja, Siena, Arezzo, Cortona, San Gimignano i okolicę Chianti w krótkim czasie; z powrotem swoich dni relaksu na prywatnym basenem znajduje się w przedniej części salonie; dom zbudowany jest na dwóch poziomach: na parterze jest duży salon z kuchnią, jadalnią i łazienką; Kuchnia wyposażona jest w kuchenkę indukcyjną, piekarnik, zmywarka do naczyń i pralka; W salonie znajduje się duża skórzana sofa i telewizję satelitarną; z dużym szklane drzwi, które rozświetla pomieszczenie, można podziwiać ogród i basen. Na piętrze są sypialnia z panoramicznym widokiem, łazienka z prysznicem, pokój dwuosobowy, który prowadzi do tyłu ogrodu; dom wykonany jest z kamienia, więc jest chłodno nawet w gorącej Toskanii latem, ale istnieje również system klimatyzacji do chłodzenia pomieszczeń; w zimie, można włączyć kominka i ogrzewania; Obiekt jest ogrodzony i najbliższy jest miastem Montevarchi się około 5 km; Przybywając w listopadzie lub grudniu? Będziemy szczęśliwi mogąc zaoferować nowy olej wykonany z roślin otaczających własność! Odległości wskazane przez (SENSITIVE CONTENTS HIDDEN) Maps: Firenze: 50 km Arezzo: 35 km Siena: 45 km Gaiole in Chianti: 20 km Cortona: 84 km San Gimignano: 66 km Prada centrum handlowe: 8 km The Mall Shopping Center (Gucci, D & G, Valentino, ect): 33 km Prosimy o kontakt w przypadku pobytu krótszego niż 6 nocy!
Piękne miejsce z niesamowitym widokiem, super basen i otoczenie! wszystko usytuowane w gaju oliwnym ! bardzo ladne wnetrze z wszystkim potrzebnymi naczyniami do gotowania i wypoczynku. Polecam.
Michal
2015-06-07T00:00:00Z
We had a lovely time staying in this villa. Perched high on a hill with a great view of the Tuscan landscape, it was a great place to just relax and forget about work for a while. The house is on the edge of a tiny village, so very private and there's no hassle with neighbors. Both Claudia, who manages the property, and the owners Susanna and Andrea, communicated very clearly with us. Claudia's English is perfect and this made things easy for us when we were sorting our trip out. Susanna in particular was very warm and eager to be the perfect hostess. She welcomed us with a basket of local goodies, a pile of information on the local area (including the train schedules to Florence!) and she offered us the opportunity to raid the garden, which was filled with tomatoes, cucumbers and other tasty veggies. Even after our visit she was in touch to see if we had enjoyed our stay. The villa looked exactly as it did in the photos. It's an eclectic house, mixing more traditional elements of Italy with modern architecture and art, which the owners clearly enjoy. The garden is large and beautiful and the pool was a treat. The open kitchen (with a proper large fridge and freezer) was fully-equipped and quite convenient in terms of one not having to leave the group to go and cook. Susanna and Andrea provide internet, but the connection is with a dongle, which meant we were unable to link iPads and telephones to it. We slept very well in the house, including on the second bed, which was a sofa bed. It slept very well, although may seem a bit small for people who are taller or heavier than we were. The shared bathroom was very clean and pretty roomy as was the downstairs loo. We also found it a treat to use the outdoor shower next to the pool in the morning. All in all, we had a very lovely visit. The house was great, the view fantastic and our hosts were top notch! We are delighted to have been able to stay here.
Rudolph and Karl
2012-09-09T00:00:00Z
Absolutely perfect. We have rented well over 30 houses over the years (although none in Tuscany before), and this is as good as the very best of them. The pictures do not do it justice - it is WAY better than it looks. Amazing place. I am 50 this year, and this was the best holiday I've ever had - seriously. The villa is 100% private, the views are amazing, the pool is lovely, and rooms are great. Claudia, Suzanna and her father and sister were so helpful when they needed to be, but completely left us alone otherwise. Cannot recommend it highly enough. We can't wait to return!
Patrick
2013-08-18T00:00:00Z
A lovely house in a beautiful location. So peaceful, not a sound to be heard, amazing views. Really enjoyed our stay and didn't want to leave.
Pat
2015-08-25T00:00:00Z
We had an absolutely amazing time at the villa. The owner, Susanna, was extremely warm and hospitable from start to finish. We were greeted with a basket of goodies to kick off our stay, including a bottle of olive oil from the property. We were also invited to take advantage of the bounty from the garden. She was very responsive to any questions we had once we had settled in. The property itself more than met our expectations, from the beautiful views, to the relaxing pool and outdoor seating area and tasteful interior decor. It's obvious much care and thought has been put into this lovely home and I would wholeheartedly recommend it to anyone seeking a relaxing and exceptionally comfortable stay in Tuscany. Thank you, Susanna! We hope to see you again one day.
Todd
2014-06-27T00:00:00Z
We had a perfect summer holiday experience, a true hide-away that allowed for privacy and yet ideally located to discover Tuscany. Claudia and the hosts were amazing and we will remember this experience as very special.
Sonja
2013-07-28T00:00:00Z
A spectacular villa with unrivalled views. If you get a chance to stay here then grab it with both hands! As others have said it is even better than the pictures. Thanks Susanna and Claudia.
Simon
2015-09-08T00:00:00Z
This villa is magical! From walking in for the first time to leaving after our week, each time it was hard to leave. It is a beautiful villa with an even more amazing view. The owner left us a welcome basket, and past guests left ideas on places to visit or eat. Our suggestions are to: #1- Stay in this villa. It's the perfect place to make your Tuscany hub. We visited Siena, Florence, and other Tuscan villages very easily. #2- Eat at Ricardo e Daniele in Montevarchi at least once if not every night. You won't regret it. #3- Book a wine tour with Christian at Viaggi D'Ambra. He's fantastic. #4- Take a cooking class or book a lunch at Sovestro in San Gimignano. Their food and wine are delicious.
Adrianne
2015-09-18T00:00:00Z
Rodzaj pokoju
Całe miejsce
---
Rodzaj nieruchomości
Willa
---
Mieści
4
---
Sypialnie
Montevarchi, Toskania, Włochy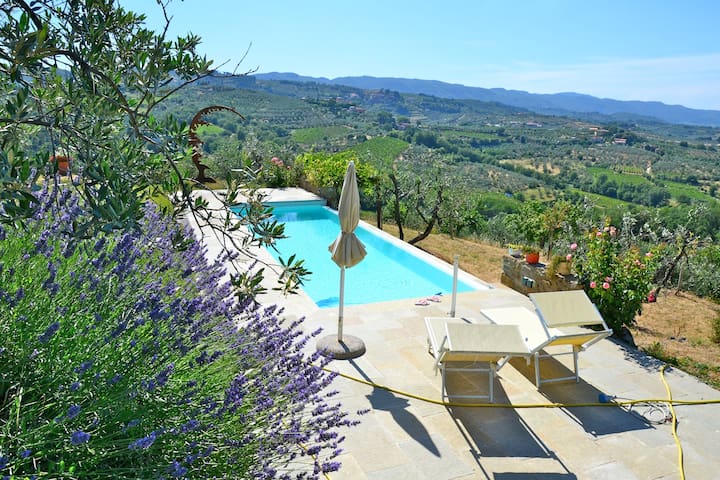 Splendid, całkowicie odnowiony dom położony jest w średniowiecznym miasteczku Montegonzi. Wioska jest otoczona przez rozległe gaje oliwne i winnice, jest to ostatni z wzgórz Chianti około 60 km od Florencji, 55 km od Sieny An
Dom położony jest w zabytkowej miejscowości Montegonzi dobrze zachowane i zamieszkane jeszcze dziś. W najwyższej części wsi jest "Cassero" stara, średniowieczna rezydencja XII wieku. Jest to dom wolnostojący, który może pomieścić do 5 osób, odnowiony z wysokiej jakości wykończenia, która odbywa się na trzech poziomach. Na parterze znajduje się duża i wyposażona kuchnia; Na pierwszym piętrze duża sypialnia z kamieniami i belkami stropowymi z dołączoną łazienka i sypialnia z łóżkiem piętrowym, gdzie można podziwiać wspaniały widok na okoliczne wzgórza; na podłodze pod kuchnią, mały pokój z kanapą i dużym głównej łazience. Wszystkie media są wliczone w cenę.
Kilka metrów od domu znajduje się sklep spożywczy i różne rodzaje i Osteria gdzie można spróbować typowych dań kuchni toskańskiej, które liczone wśród swoich gości był premier Wielkiej Brytanii David Cameron. W pobliżu znajduje się ujeżdżalnia koni. To miejsce jest idealne dla turystyki pieszej i piękne góry - rowerowej w okolicznych lasach. Miasto jest idealnym miejscem na różne wycieczki jest położony dokładnie w środku trójkąta Florencja - Siena - Arezzo łóżeczka miasta średniowiecznej i renesansowej sztuki. W bezpośrednim sąsiedztwie znajdują się farmy i winnice, gdzie można kupić typowe toskańskie produkty (wino, olej, mięso, mięso itp.) W zamknięciu Valdarno ośrodki są również liczne Outlet markowych ubrań i skóry.
We had a fabulous stay at Leonardo and Laura's apartment in Montegonzi and I would thoroughly recommend a stay there. The apartment was clean and spacious and had the most amazing views from both bedrooms. To top it off you're in the heart of the small village with a delicious deli and restaurant next door. Leonardo and Laura provided great communication and helped with directions and recommendations of things to do during your stay. We could t have been happier with our choice!
Kate
2016-07-17T00:00:00Z
Der Aufenthalt in dem Haus von Leonardo und Laura war einfach fantastisch! Das Haus ist schön und geschmackvoll eingerichtet und es war sehr sauber. Montegonzi ist ein idyllisches, romantisches kleines Örtchen mit einer grossartigen Aussicht über die Weinberge und Olivenhaine. Es gibt ein gut sortiertes Lärchen und ein Restaurant. Wir waren rundum zufrieden.
Berenike
2014-08-24T00:00:00Z
Wir hatten eine wundervolle Zeit bei Laura und Leonardo in Montegonzi. Leonardo hat uns vor unserer Ankunft mit einer Wegbeschreibung und Karten für die Umgebung versorgt. Er war sehr flexibel und hat uns trotz einer kleinen Verspätung persönlich in Empfang genommen. Das Apartment ist voll ausgestattet und sollte es an etwas fehlen, dann unterstützt Leonardo gerne. Die Lage ist neben der Kirche ist wunderschön und von den Zimmern aus hat man hat einen tollen Blick ins Umland. Wir haben uns rund um wohl gefühlt und würden jederzeit wiederkommen. Herzlichen Dank and Leonardo und Laura, Lasse und Marie-Therese
Marie-Therese
2016-08-01T00:00:00Z
Very cosy traditional house in Montegonzi. Charmingly renovated. Slept four of us relatively comfortably, may be a bit of a squeeze with more people. As its situated right in the town, it was quite noisy at night as the locals gather outside the house and chat. It was a lovely location though, and a great gateway to the rest of Tuscany.
Charlotte
2016-07-22T00:00:00Z
We were invited to a wedding in and around Montegonzi, so I found that little place that seemed to be in the middle of all the venues around that little ancient village. It turned out that San Pietro Church was 4 houses apart and we could leave the house while the bells were ringing. That wasjust perfect and very easy! On the way to the apartment is a small shop with excellent italian coffee, fresh made sandwiches and a very good restaurant too. All the neighbours were very friendly and open to us. We had a pleasant stay at this awesome renovation of an old building that we felt very comfortable with! We also managed to do a nice Daytrip to Siena, they gave us very good recommendation around the area and directions. It was the best Place for a wedding-weekend in Montegonzi for Friends like us and we all would like to come back one day! Thank you Laura&Leonardo! Take Care of you & this House! Yasmin
Yasmin
2016-06-20T00:00:00Z
Beautifully renovated house, which was a perfect base to explore the surrounding area and the hosts always got back to me quickly and answered any questions I had. We thoroughly recommend this gorgeous home in the Tuscan hills :o)
Joe
2016-10-27T00:00:00Z
Permanenza veramente piacevole, grazie ad un alloggio persino al di sopra delle aspettative! Leonardo & Laura sono stati molto precisi e tempestivi nel rispondere ad ogni domanda, assicurando che tutto fosse pronto al nostro arrivo. Nel cuore dell'affascinante "centro storico" di Montegonzi, un angolo tranquillo e "charmant", rinnovato con molto gusto. Grazie per l'accoglienza e complimenti per la vostra dimora!
Alessio
2016-01-04T00:00:00Z
I had the most wonderful stay here - couldn't have asked for more. A beautiful home with gorgeous veiws and Montegonzi is just lovely - everyone was so friendly and welcoming. I can't wait to visit again. Many thanks, Leonardo and Laura.
Jeremy
2015-06-10T00:00:00Z
Rodzaj pokoju
Całe miejsce
---
Rodzaj nieruchomości
Dom
---
Mieści
5
---
Sypialnie
Montegonzi, Toskania, Włochy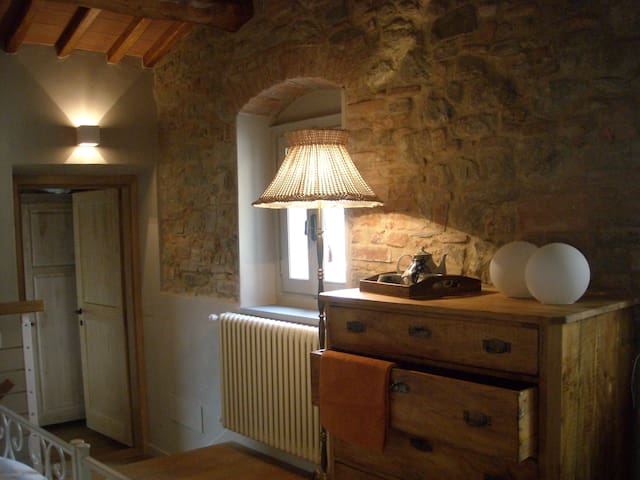 The Apartment is complentely renewed and it is very spaciouse, composed by a living room with a fully equipped kitchen, spaciouse bedroom and bathroom with shower. the apartment is directly connected to the garden.
La Tuia Vacanze is an elegant and comfortable guest-house. The house is composed of two separate apartments with only the garden in common. The apt x2 can accomodate only maximum two persons and it is composed by kitchen fully equipped (gas hob, fridge) with living room, spaciouse bedroom room with an en suite bathroom. Wide garden with a patio equipped with sofa, chairs and table and beah chairs. Private parking Barbeque
The peace and the quiete of the Country side is unique with the view of the Mountains just in front of the house. Around there are many possibility for any kind of interest: nature, cities, culture, museum, thermae, shopping.
Rodzaj pokoju
Całe miejsce
---
Rodzaj nieruchomości
Apartament
---
Mieści
2
---
Sypialnie
Montevarchi, Toskania, Włochy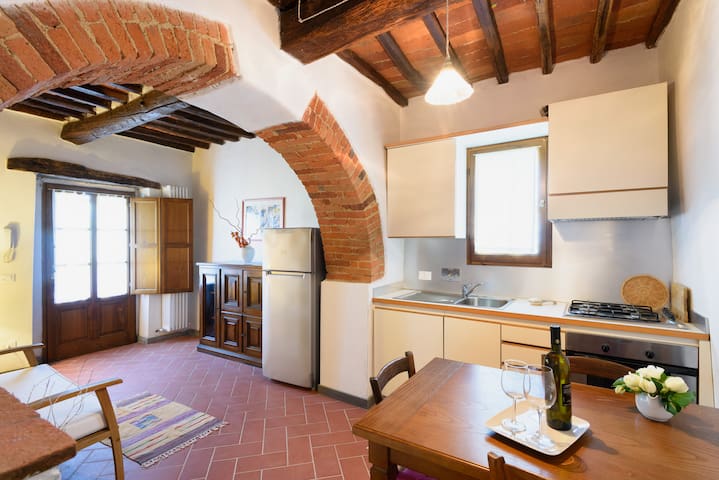 Charming accommodation in old farm "Fattoria di Rendola", Margherita (daisy) room is surrounded by cypress, olives trees and vineyards. Great location for relax in our swimming pool and perfect start point to discover Tuscany. Beautiful landscape and breath-taking views of the Tuscan hills. 40 km from Florence, between Chianti and Valdarno. Own production of extra virgin olive oil, Chianti wine. Typical Tuscan cuisine in our Restaurant Osteria di Rendola. Breakfast on request at the time
Welcome in Tuscany. Our farm, Fattoria di Rendola, will welcome you among olive groves, vineyards and rolling hills. La Fattoria di Rendola is a 5-minute drive from the center of Montevarchi, and from Montevarchi train station, 15 minutes' drive from the motorway A1, exit Valdarno, but at the same time it is immersed in the green Tuscan hills. The view of the landscape is great, the location is easily accessible and ideal for exploring Tuscany. Margherita (daisy) double bedroom is located on ground floor in the old manor house, dating from the year 1600. Daisy is a very large and comfortable double bedroom with air conditioning, heating, wifi, tv, desk for laptop. The bathroom is private and at your exclusive use, it is inside the room and includes toilet, bidet, sink, shower, bath tub, hairdryer, washing machine, drying rack. The room is ideal for a couple but we can add a single bed for your child. We provide sheets, towels and essential supplies for the bathroom. Breakfast is not included but can be ordered at the restaurant on time paying directly In front of the house there are tables and chairs at your disposal to have your meals, breakfast or drink a glass of Chianti wine. The outdoors areas, swimming pool,gardens are shared with the others guests, but are very large so you will find your space. On the farm we produce extra virgin olive oil, Chianti wine, and we have a very well known restaurant called Osteria di Rendola. Our dishes are typical of the Tuscan cuisine, the products used are of the territory. We are in the countryside so need a car, here there is a large free parking
I suggest you to visit: Firenze (40 minutes by car or by train from Montevarchi train station); Siena (45 minutes driving); Cortona (50 minutes by car or by train); Arezzo, the town of "Beautiful life" (20 minutes driving or by train) The Chianti area with a lot of beautiful small towns, Radda in Chianti, Castellina in Chianti, Greve and others, 30 minutes driving You must go absolutely to Rapolano Terme, Siena direction, 30 minutes driving. Here are two large and beautiful spa complex with hot and sulphurous water, Indoor and outdoor pool overlooking a beautiful landscape of hills around Siena, famous "crete senesi" For your italian luxury shopping at low prices: Prada space 8 km, Levanella town; The mall shopping center at Leccio; incisa valdarno 30 minutes driving, you will find all the best italian stylist like Gucci; Tod's, Bottega veneta, Armani, Valentino and others Exit motorway A1 Valdarno, Montevarchi and Mercatale direction, about 20 minutes by car to get here. Both in Montevarchi and Mercatale you'll find grocery stores and markets
Rodzaj pokoju
Pokój prywatny
---
Rodzaj nieruchomości
Dom
---
Mieści
3
---
Sypialnie
Rendola, Toskania, Włochy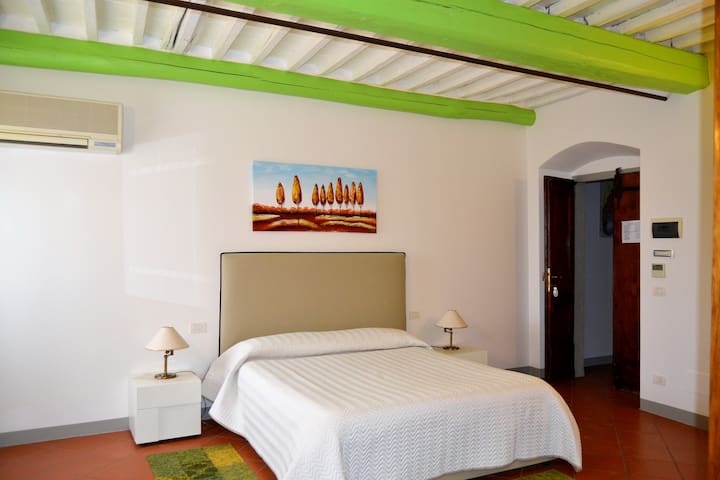 Dla wszystkich tych, którzy kochają sztukę, historię i kulturę miastach takich jak Florencja, Siena i całej Toskanii, ale jednocześnie cenią sobie spokój, spokoju i prawdziwej gościnności że stary dworek, otoczony zielenią, może zaoferować.
Mój dom jest zanurzona w Toskanii, w pięknym miejscu, w którym można podziwiać niesamowity widok. Czym charakteryzuje je i sprawia, że jest wyjątkowy jest prostota i ciepło rodziny, która również (URL HIDDEN) praca, którą wykonujemy, dbamy o ziemię, robimy biodynamiczne rolnictwo i produkują olej najwyższej jakości.
A także dom jest także i przede gospodarstwie. Rina, nauczyciel, i jej mąż Battista, architekt, miłości i pracy na ziemi i uprawiania rolnictwo biodynamiczne. Celem firmy jest produkcja zdrowej żywności, przy jednoczesnej ochronie środowiska naturalnego i istot żywych, które są jego częścią. W ten sposób przyczyniają się do zrównoważonego i zdrowego gospodarstwie fizycznego i duchowego rozwoju dell'uomo.È również, dlaczego nasza księga gości, mogą korzystać z kuchni, proste i zdrowe.
Rina's place was great! Would definitely recommend. Spacious and clean location. Rina and her husband welcomed us like family. They really want you to have a good stay. They welcomed us to their kitchen and let us try products from Tuscany. Everyone who is near should stay here!
Linda
2016-09-05T00:00:00Z
Joy, joy, joy!!! What else can I say. Sometimes some experiences in life cannot be expressed other than this. I came to Italy after many years of waiting, and was in need of tranquility and a place to escape the hustle of live. I had no great expectations and just let the City guide me, which it did, to the wonderful Tuscan hills of Montegonzi and to the wonderful warm home and open fire of two equally wonderful people, Rina and Battisto I picked olives, yes, in the middle of the plentiful trees picking the very oil that would accompany my many delicious rustic dishes prepared everyday by Rina. Another special unexpected offering that I was so very grateful for. If you want to find a hidden gem, or two, then go to Faggeto and delight in the comforts of their culture, hospitality and kindness. I guarantee you will leave a little piece of your heart and soul to return to. Thank you Rina and Battisto, for everything, and for making my visit more special than my expectations could ever have done. I know I will see you soon in l,orto with my kaki and a lovely glass of vino under the Tuscan sun. Much love Amanda xx
Amanda
2015-11-14T00:00:00Z
Rina is a fantastic host. Her pear and chocolate pastry for breakfast was amazing. She really looked after us. Thank you Rina.
Jesse
2016-08-09T00:00:00Z
Un'accoglienza familiare, mi sono sentito come a casa mia, calore ed ospitalità
Massimiliano
2015-08-24T00:00:00Z
Quando siamo arivati a Montegonzi ci siamo accorti subito che era un luogo speciale. Abbiamo trovato Rina ad accoglierci dopo che, con molta premura, ci aveva fornito tutte le indicazioni necessarie per raggiungere il posto. L'accoglienza è stata eccezionale, Rina e Battista ci hanno considerato subito come parte della famiglia. Abbiamo condiviso l'amore per le cose semplici, per la natura e la speranza che certi sogni si possano veramente realizzare. All'ingresso della casa una scritta: "Si entra da ospiti, si esce da amici". Vero! Struttura molto bella, immersa nel verde ben curato da Battista. Camere pulite ed accoglienti. Colazione super, Rina ogni giorno ci preparava dolci freschi con marmellate e composte di frutta fatte in casa! A presto! Ale, Anna, Elisa, Paolo, Nadia e Mary.
Ale
2016-10-04T00:00:00Z
La casa di Rina e Battista è una cascina in mezzo agli ulivi e al bosco, sperduta nel verde, ma allo stesso tempo a 35 minuti da Firenze. Rina e Battista sono due persone splendide e ci hanno fatto sentire come a casa. Ci hanno fatto mangiare davanti al camino insieme a loro (cibo buonissimo preparato coi loro prodotti biodinamici) e la loro filosofia di vita ci ha riempito il cuore. Battista ci ha portato in giro per l'orto e gli ulivi e ci ha raccontato la sua passione per la natura e il rispetto con cui tratta i suoi prodotti. Rina ci ha preparato una colazione con dolcini e marmellate tutti rigorosamente preparati da lei con i loro prodotti. Stare da loro, anche se per poco, è stato rigenerante e fa pensare che la felicità è a portata di mano, basta solo avere il coraggio e la passione per fare certe scelte. E' stata un'esperienza memorabile e torneremo sicuramente a trovarli, sperando di poter rimanere di più!
noemi
2016-03-30T00:00:00Z
Baptiste et Rina sont tellement chaleureux et accueillants qu'au bout de quelques minutes, on avait déjà l'impression de les connaître depuis toujours. Nous avons été plus que dorlotés pendant ces 6 jours en Toscane. Baptiste nous a fait visiter leur verger et leur grand potager en nous expliquant sa passion pour le terroir et sa démarche pour une agriculture au rythme de la nature, Rina nous a concocté des bons plats toscans et calabrais que vous ne trouverez dans aucun restaurants. Nous leur avons acheté quelques produits, dommage que le poids de nos valises nous limitait car nous en aurions pris plus tellement c'était bon. Si vous êtes francophones, sachez que Rina et Baptiste parlent très bien français et sont très cultivés, on a ainsi pu refaire le monde ensemble pendant des heures sans voir le temps passer au fil des éclats de rire. Du point de vue pratique, nous avons occupé la chambre "Sénèque" : très confortable et spacieuse. Nous avions des toilettes et une salle de bain que pour nous. Leur ferme est très bien tenue, confortable et d'une propreté impeccable. Elle est située à 5 minutes à pieds d'un petit village, à 5 minutes en voiture d'un plus gros village et à 15 minutes en voiture d'une ville. Les sites les plus beaux de Toscane sont rapidement accessibles en voiture. Bref, un séjour merveilleux. Rina et Baptiste nous on confié avoir des projets pour rendre leur ferme plus belle et plus confortable encore... Nous avons hâte d'y retourner pour voir ça !
Gilles
2016-09-15T00:00:00Z
Nous avons passé une soirée et une nuit extraordinaire au côté de Rina et Batista. Nous les remercions encore pour leur accueil, leur gentillesse et le repas qu'ils nous ont fait partager à leur côté. Nous recommandons cet endroit aux personnes souhaitant vivre une expérience forte en immersion dans la culture italienne et l'agriculture en biodynamie ! Encore un GRAND merci pour tout !! Nous espérons pouvoir vous revoir un jour ! Charlotte & Alexandre
Charlotte
2016-02-20T00:00:00Z
Rodzaj pokoju
Pokój prywatny
---
Rodzaj nieruchomości
Wikt i opierunek
---
Mieści
7
---
Sypialnie
Montegonzi, Toskania, Włochy
Un piccolo edificio di per sé, l'ingresso è in un salotto abbastanza. Piccola cucina / sala da pranzo ha piano di cottura e frigorifero. bagno con doccia, ecc e al primo piano è una camera matrimoniale e un altro bagno. nella piscina giardino, gazebo e nuoto
The cottage in Montevarchi is simply beautiful. We felt completely relaxed and enjoyed the silence in the middle of Olive trees and vineyards. Dino and Anna are amazingly warm and welcoming. We felt at home instantly. Luckily our First night we experienced a tuscan DInner by anna and Dino and other guests and family. It was such a fun night with great food and delicious Red wine of Dinos agriculture. Here you can experience and enjoy agriturismo at its best!!
Krissy
2016-08-30T00:00:00Z
Ha sido una semana fantástica en casa de dino y ana..grandes anfitriones ...generosos y amables que te hacen sentir como en tu propia casa.Un entorno idílico con gente genial.Muy muy recomendable si buscas tranquilidad.
Lydia
2016-09-10T00:00:00Z
This is a fantastic place and lovely people. Anna and Dino are very hospitable, open-minded, welcoming and helpful. It's a place we recommend to anyone who wants to commune with nature, stunning views and tranquility. Pets właścicieli- 5 cats and 3 dogs are very friendly, exceptional and come looking for the same sensitivity. We are pleased that we were able to get to know Anna and Dino and warmly greet them from. Malvina and Kamil. P.S. Do not forget to arrange with them the evening of pizza and chestnuts! :)
Malwina
2015-10-24T00:00:00Z
Un séjour impérissable chez Dino et Anna, sympathiques et accueillants s'il en est !! Un cadre idyllique, un lieu accueillant et des hôte généreux, que demander de plus !! Nous y reviendrions volontiers.
Jérôme
2016-07-21T00:00:00Z
Dino and Anna are generous hosts and their energy knows no bounds. We were given fresh fruit from the garden, homemade red wine, olive oil and vinegar. The setting of Le Chuise is in picture perfect Tuscany, very much off the beaten track. We were fortunate that they organized one of their pizza evenings for us. There is a small village shop with limited supplies in the area - the main shops and restaurants are in Montevarchi, about a 15-20 minute drive, so ensure you are stocked up at the end of the day.
Evert
2016-06-17T00:00:00Z
Un séjour exceptionnel! Anna et Dino sont toujours très disponibles et on a à peine le temps de poser une question qu'on a déjà une solution/réponse... Très agréable d'avoir pu goûter à leurs produits... Un petit coin de paradis au cœur de la Toscane :-) Merci pour tout
Emilie
2016-07-27T00:00:00Z
Un excellent séjour chez Dino et Anna, sympathiques et très accueillants ! Un cadre préservé, un lieu accueillant et des hôte généreux, qui nous ont reçu comme si l'on faisait partie de la famille !
Candice
2016-08-18T00:00:00Z
WOW. What can I say. If I say the truth, everyone will book here and we wont be able to get a reservation!!! Anna and Dino are 2 of the most hospitable and friendly people we have ever met. Our stay at their home was so spectacular, we will absolutely go back. But this time we will stay much longer. The grounds, the fruit trees, the farm, the pool, and the dogs all helped to make our stay great. Anna and Dino are so sweet you cant help but love them, they attended to our every need. Everything about this location was superb!!! Except leaving.
tom
2016-07-30T00:00:00Z
Rodzaj pokoju
Całe miejsce
---
Rodzaj nieruchomości
Apartament
---
Mieści
3
---
Sypialnie
Montevarchi, Arezzo Tuscany, Włochy
A perfect getaway spot, in the quiet Tuscan countryside with a fabulous panoramic terrace. Take the sun, dine in the shade of the huge chestnut tree, watch the sun set over Chianti. The cottage has been beautifully restored. Air con and cable wifi.
At Podere La Rota you'll be completely private with the owners in a separate house nearby if you have a problem or need advice on where to go / what to see. We have tried to think of everything so you'll feel at home from the minute you arrive. If the view and the furnishings don't bowl you over, the free welcome pack certainly will! Spumante and nibbles to unwind, a plate of cold meats and mozzarella salad for a generous arrival evening snack and a continental breakfast for your first morning. Enjoy!
Podere La Rota is surrounded by olive groves and vineyards. It's a 10 minute walk outside the village of Moncioni, a tiny Tuscan village on a hill overlooking the Valdarno valley. Moncioni has a well-stocked village shop run by cheery Roberto and a fine dining restaurant. 5 miles down the hill is Montevarchi, the 'capital' of the Valdarno area. With a population of 20,000, it's got plenty of bars and restaurants, several supermarkets and a daily farmers' market for local produce, much of it organic. The train station is the best way of getting to Florence avoiding the hassles and worries of parking. To the west are the towns of Chianti, Gaiole, Radda, Castellina, and many scenic drives including Siena and San Gimignano. You won't run out of places to see!
Rodzaj pokoju
Całe miejsce
---
Rodzaj nieruchomości
Dom
---
Mieści
2
---
Sypialnie
Moncioni, Toskania, Włochy
Our romantic Girasole is a yellow-coloured 24-sq-metre apartment, convincing with its special comfort. Besides an antique double bed (160x200 cm) there is a small kitchen units with two vitroceramic hot plates, refrigerator, coffee machine,
Girasole is our little romantic sun-yellow 24 sq. m apartment with special comfort and charm. Besides an antique double high-quality bed with 160 x 200 cm, there is a small kitchen with two hot plates, a refrigerator, coffee machine, water heater, toaster and dishes (you'll want for nothing). The living room as well as the bathroom with a shower, WC, bidet and a green-marble-topped basin – share a sunflower theme. A gallery, equipped with antique furniture, invites you for a dinner for two. From here you've a fantastic view of the Chianti Hills spreads out before your eyes. Enjoy a glass of wine in your private mediterranean patio with teak garden furniture in front of you apartment. "Ventena Vecchia Antico Frantoio" Historic romantic estate in the Chianti Region with 7 luxurious, romantic apartments, pool in panoramic position in a nature reserve, for your Tuscany tour central located Just below the small picture postcard village of Moncioni, in the heart of Tuscany lies "Ventena Vecchia Antico Frantoio" the historical farm house and Tuscany villa which dates back to the 1200 century, meticulously restored and now with modern concepts of hospitality in a tastefully refined manner. Ventena Vecchia's has a spectacular panoramic view of the picturesque hills of Chianti, the mountain of Pratomagno and over the Arno's River Valley. A harmoniously integrated into the landscape we've a swimming pool in panoramic position, 5 x 13 m, invites you to refresh and to relax. In this idyllic property full of charm you expect 7 individually holiday apartments for your Tuscany vacation are styled and decorated with antiques furnitures. Free WIFI in the apartment and outside, Satellite TV, safe, floor heating are required. The kitchens are fully equipped with ceramic hob, dishwasher (Girasole and Corbezzolo not), fridge, coffee machine and toaster. From each apartment you've an enchanting view of the picturesque soft hills and breathtaking panoramic views.
Additional Information Culture and Fashion: Culture and Fashion: the adjacent "Chianti Classico" area is for wine lovers a paradise and the wine street "Strada del Chianti" is 5 km nearby our property in Chianti. We will help you with wine tastings. By our traffic-favorable situation you reach important culture cities and following highlights near us like Siena and Florence - 50 km (the center of the city Florence is also easily and relaxed reached by train in 45 minutes), Arezzo - 35 km, San Gimignano - 60 km, Volterra 85, Cortona - 70 km, Montepulciano, Pienza and Montalcino 85 km, Lucca and Pisa 135 km ...within a short time. The 3 biggest factory fashion outlets of the most famous fashion brands in Italy, 8 km from us in Montevarchi-Levanella the "Space": Prada & Miu Miu & Helmut Lang - or 30 km near Leccio Reggello in "THE MALL": Bottega Veneta, Dolce & Gabbana, Gucci, Etro, Fendi, Feragamo, Moschino, Armani, Roberto Cavalli, Sergio Rossi, Valentino, Versace, Loro Piana, Tods oder Zegna or 62 km "Valdichiana Outlet Village" with more sportiv brand like: Adidas, Benetton, Calvin Klein, Campion, Conte of Florence, Enrico Covri, Gap, Gaudi Geox, Guess, Kappa, Levi's, Nike, Replay, Rifle, Samsonite, Sisley, Swatch, Timberland, Tommy Hilfiger, Yamamay... - all are located in close proximity! Activities: in the closer environment possible: Nordic Walking, jogging, golf, riding, wheel driving, Mountain Bike, swimming, tennis or simply relax at our pool in panoramic position.
Wir hatten eine tolle und entspannte Zeit in der wunderschönen restaurierten Mühle.
Lucie
2016-09-01T00:00:00Z
Alles war wunderbar, sehr zu empfehlen! Ein perfekter Ort, ruhig mit Wahnsinns Aussicht und sehr gepflegt.
Jonas
2016-08-13T00:00:00Z
We felt welcome in the apartment and we loved the place. Very relaxing and cosy. We had everything we needed and the hosts was around to help if we had any questions. Not the last time we will visit Montevarchi!
Freja
2016-08-28T00:00:00Z
Beautifully maintained restored farmhouse surrounded by nothing but nature, super quiet but still only 1km from nearest village and 10min by car to major town. Excellent house wine, house olive oil, house arrival meal, house limoncello, very friendly but sufficiently discreet hosts, who respect privacy. They have plenty of great tips for high quality, not expensive places in the neighborhood.
Jason
2016-09-14T00:00:00Z
Rodzaj pokoju
Pokój prywatny
---
Rodzaj nieruchomości
Apartament
---
Mieści
2
---
Sypialnie
Montevarchi, Toskania, Włochy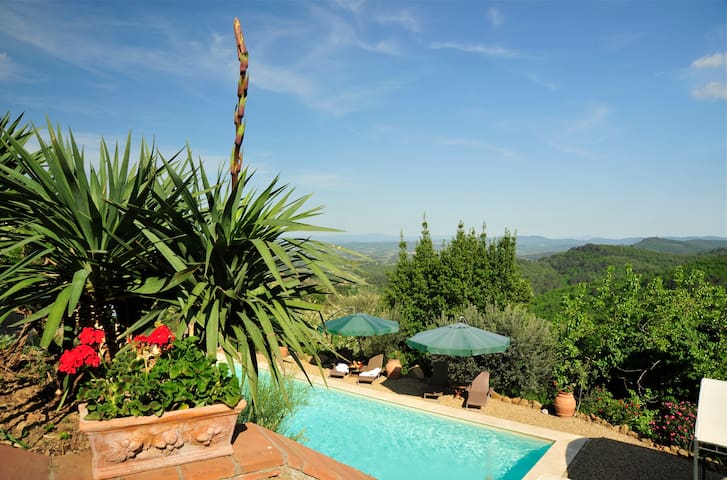 Pisa entstand mit dem benachbarten Appartment Cortona & dem daneben liegenden Seminarraum auf den Grundmauern des letzten Ruinenteils des Gutes. Das Ensemble teilt sich die lange Ostterrasse mit Blick nach Moncioni. Im EG am Eingang die helle Wohnküche & dahinter das Bad. Eine offene Treppe führt hinauf ins Schlafzimmer. Pisa eignet sich mit 50 qm für 1 bis 2 Personen. Unter dem Fenster, das auf die Südterasse mit Olivenbaum und Zisterne blickt, liegt noch die kleine Frühstücksterrasse.
Montevarchi Outlets: Prada, Jil Sander, Miu-Miu, Helmut Lang SPACE | Strada Statale 69 | Levanella | Montevarchi Geöffnet: Montag bis Samstag 9 bis 18 Uhr, Sonntag 15 bis 19.30 Uhr Anfahrt: Zur A1-Autobahn-Mautstelle Valdarno/Montevarchi. Entlang der Autobahn nach Süden bis Levanella. Am Ortsende an einer Kreuzung links in ein Gewerbegebiet. Großes Gebäude ohne Firmenaufschrift. Der Eingang ist auf der rückwärtigen Seite. 28 km von Montevarchi Outlets: Alexander McQueen, Armani Jeans, Balenciaga, Bottega Veneta, Burberry, Emanuel Ungaro, Ermenegildo Zegna, Fendi, Giorgio Armani, Gucci, Hogan, I Pinco Pallino, La Perla, Loro Piana, Marni, Pucci, Salvatore Ferragamo, Sergio Rossi, Stella McCartney, Tod's, Valentino, Yohji Yamamoto, Yves Saint Laurent THE MALL | Via Europa, 8 | 50060 Leccio Reggello (FI) Geöffnet Montag bis Sonntag von 10 bis 19 Uhr Autobahn A1 bis Incisa (nächste Ausfahrt nach Montevarchi Richtung Florenz). Rechts nach Pontassieve bis Leccio. Am Ortsende von Leccio auf der linken Seite. Nördlich Florenz: Barberino Designer Outlet Riesiges Outlet Center im Stil eines toskanischen Renaissance-Dorfes
Rodzaj pokoju
Całe miejsce
---
Rodzaj nieruchomości
Apartament
---
Mieści
2
---
Sypialnie
Moncioni, Toskania, Włochy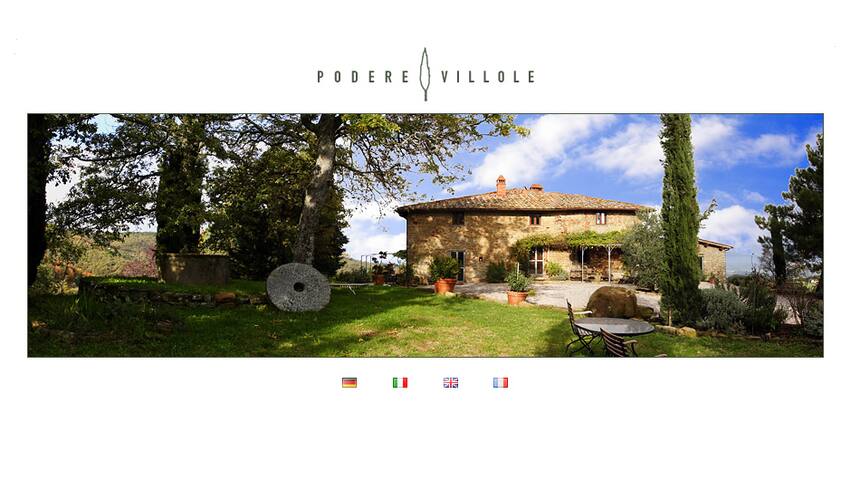 On a secluded hilltop near picturesque Moncioni this 1700's farmhouse offers all charms of Tuscany with the twist of designer, timeless contemporary interiors and panoramic pool. The house has been featured in many interior magazines.
Set on a hilltop, the villa is walking distance from the village of Moncioni but is off the main roads and hidden in the wonderful woods surrounding this area of the Chianti. The private pool is sitting between the villa and the "oliveta", the olive trees land just above the house, and it offers wonderful panoramic view of the valley and is a rethatching place for sunset gazing. Guests will have sole access to the pool. No sharing, just privacy and stunning views. Ideal for families with children and group of friends, the house: - Sleeps: 8 + 1 (extra beds in one of the double room) - We have an option of an additional double bedroom on a seperate, fully restructured barn (double bedroom, bathroom and livingroom) just by the pool - Bedrooms: 4 - Bathrooms: 3 (plus one in the barn) - Large private gardens and woods leading all the way to the edges of the montains - ideal for long walks - Private panoramic pool - Secluded plaform in the woods with panoramic view of the valley ideal for relaxation, privat time, exercise or yoga Moncioni is just above Montevarchi, home of the main Prada outlestore and one highway exit away from The Mall. The villa has been featured in many interior design magazines across Europe. The villa has 4 bedroom, all with double beds. One has an additional single beds. The large kitchen is stocked with all cooking utensils, plates and glassware. From the kitchen guests will have direct access to the terrace, offering al fresco dining and stunning sunset views.
Suggestions and ideas about things to when in Moncioni. Near the house: •The house sits less than 1.5km from the village of Moncioni. Its close enough for a lovely walk back to the village where you can find: •"La bottega di Moncioni" the local café and grocery shop. They sell all basics you may need on a daily basis and you can get an easy eperitivo there •Villa Sassolini, a wonderful boutique hotel (URL HIDDEN) ideal for a lunch by the pool or dinner •Villa Sassolini offers also spa treatments. The spa is brand new and definitely worth visiting (URL HIDDEN) •If you fancy a nice hike, take the right turn when at the bottom of the house road and walk uphill. You can follow the various path through the woods and if you walk far enough you'll end up on top of the hill opposite the house. Quite a walk but really refreshing. Note: watch your path or you may get lost! Away from the house: Wine tasting: •Our favourite local is Capannelle in Gaiole in Chianti (URL HIDDEN) . Gaiole is on the other side of the hill opposite the house but the driving around takes about 40min. the wineyard offers wine-tasting and their "cantina" is definitely worth visiting. Call in advance for booking •There are plenty more in the area. Amongst the best is Castello di Brolio… •…But if you fancy driving all the way to Maremma (about 2, 3 hours drive toward the seaside), then we would definitely recommend Rocca di Frassinello (URL HIDDEN) A JV between Panerai and Baron de Rothschild features a stunning Renzo Piano designed building. Getting there can be done by driving the slow road and stopping in local cafes and restaurants on the way. Makes it for a great day trip! •Tour operator Viator offers guided tours (min 3 people) of wineries in the chianti region Need more Pool and Spa time? Drive to Il Borro (URL HIDDEN) home of Ferragamo's Villas and SPA. Shopping: Moncioni is minutes away from Montevarchi. There you will find: •The local COOP, one of the best supermarkets you'll ever visit. Seriously its just a food fest! Lots of local produce fresh food, seafood and meat, lots of tatsting vegebles. All at very low prices. The location is well advertised on the way, can't miss it •The famous Prada outlet, SPACE (URL HIDDEN) You'll find there Prada, Miu MIu, Jill Sanders, and lots of shoes! This is not your ordinary outlet, the design of the shop mimics the design of any Prada boutique. Its opens most days of the year, including Sundays Further away from Montevarchi, in fact 1 highway stop away (circa 40 min drive) is The Mall, home of one of the largest outlet stores in Italy. From Gucci to Yves St Lauren, Dior, Armani, Zegna etc. All there! Restaurants Note, in high season – July and August especially – restaurants get quickly booked. Call them in advance. We have also experimented with chef doing private dining, and has been great. if you are intersted we can help with it. Obviusly subject to the chef's availability. Moncioni itself offers only Villa Sassolini. Call them to book, but their pool-side dining is pretty awesome. Then in order of vicinity (more or less): •Just about 15 min drive opposite directions of Moncioni, you'll find Osteria di Starda (URL HIDDEN) The menue there is simple and relatively inexpensive. Classic Tuscan food, usually they are very friendly. Worth calling to check they are open / have tables •In Cavriglia, just 20 min drive you find Papposileno (URL HIDDEN) Modern design and wonderful menu its one of our favourite. The chef researches local produce and is very inventive. Greta wine selection too •In San Giovanni – beautiful little town – Osteria dell'Angelo (URL HIDDEN) . A few friends told me "best stake I ever had", I hardly disagree! The couple owning this place is simply wonderful. Such a joy just to chat with them. I never miss a visit when in town •30 min drive is a little gem, Osteria Il Canto Del Maggio (URL HIDDEN) set around the little village of Penna (use GPS or work out a map, not too straightforward to find!), it's the best, romantic al fresco dining of the surroundings. Food is great, service can be slow but hey, we are all chilling here right? •Down towards Radda in Chianti (just on the way to Gaiole), you'll find Le Panzanelle. Its just wonderful, great food and friendly staff. Favourite place of the locals too •Looking for dining in style: back to Il Borro. The main restaurant is elegant, has a great wine selection, impeccable service and wonderful food. We had our Xmas dinner there in 2015. Ended up have half of the meal with the staff and chefs, they were just fun and great to spend time with •Obviously there is more. Some of the restautnats in Radda in Chianti, Greve in Cianti etc are excellent too. Let me know if you are looking for more and I'll help! Some of our favourite daytrips: •Siena and Firenze obviously! •Val d'Orcia is the classic Tuscan postcard place •San Gimignano •Arezzo (great for vintage shopping) •Lucca •And plenty more. Again just ask and I'll be more than happy to help Cooking classes Toscana Mia in Gaiole offers tailored cooking courses (URL HIDDEN) Not far In Greve in Chianti you'll find other options (URL HIDDEN)
Fabrizio's house is as stunning as it looks on the pictures, and is a great place to stay. At arrival the gardner showed us around, and during our stay we could also reach out to Fabrizio when needed. And his hospitality didn't stop after we left, he also helped us by shipping a bag with our personal belongings that we accidentally left at his place. So great experience!
Joris
2016-08-31T00:00:00Z
We stayed in Moncioni for 8 nights, two families with the children. The house is lovely, very good equipped – had everything we could need. The pool is very nice and useful. The place in the middle of the forest – very quiet. You can really relax there. Fabrizio was very helpful and kind. Perfect house for rest and relax. Children were also very happy there. One of the best holidays ever. In the neighbourhood (about 3 KM) there is a small shop and few nice restaurants.
Artur
2016-07-07T00:00:00Z
Nous avons passé 2 semaines très agréables dans ce havre de paix avec nos 3 ados. La maison est parfaite pour se reposer et visiter les alentours. Elle est spacieuse et décorée avec goût pour les amateurs d'art contemporain. Le propriétaire est toujours soucieux de notre bien être et toujours disponible et arrangeant.
Christine
2016-08-14T00:00:00Z
Fantastisk hus, der er super lækkert indrettet. Vi havde en hyggelig uge hvor vi var to familier med børn. Huset ligger med flot udsigt til uspoleret natur og man kan stort set ikke se andre huse. Ligger lidt afsides, så man skal være klar på at der er et stykke vej til indkøb og restauranter.
Anders
2016-07-30T00:00:00Z
Excellent Host + excellent house + nice beautiful Chianti countryside. Really relaxing time!
Sebastian
2016-07-21T00:00:00Z
The host canceled this reservation 7 days before arrival. This is an automated posting.
Tim
2016-10-27T00:00:00Z
Rodzaj pokoju
Całe miejsce
---
Rodzaj nieruchomości
Dom
---
Mieści
9
---
Sypialnie
Moncioni, Toskania, Włochy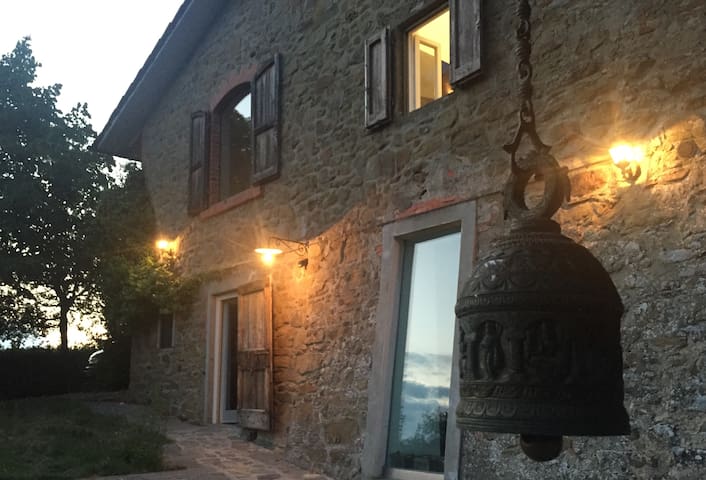 "Borghetto". In a typical ancient hamlet, near of the Chianti region, our loft is ready to welcome visitors from around the world to live a unique experience in our fascinating land. 30 km from Siena, 40 km from Arezzo and 50 km from Florence.
Rodzaj pokoju
Całe miejsce
---
Rodzaj nieruchomości
Apartament
---
Mieści
2
---
Sypialnie
Cavriglia, Toskania, Włochy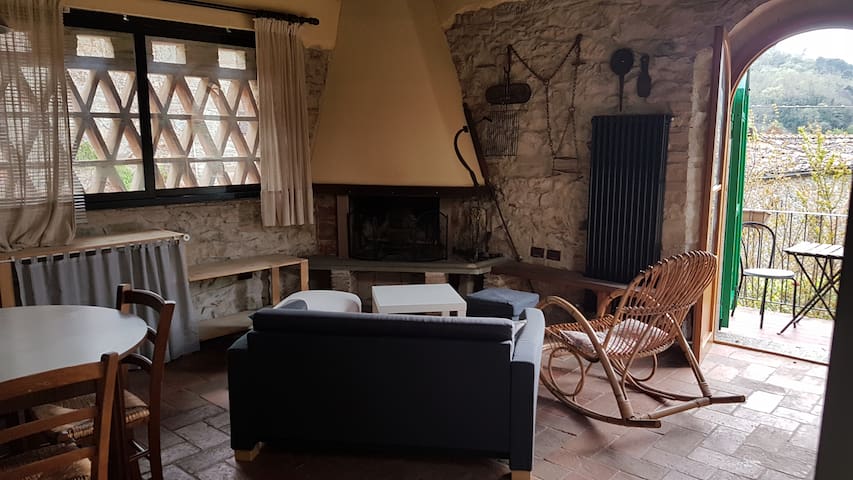 Close to highway Florence Arezzo Siena are reachable in 20 min. Pool covered by a porch which enables to swim all day long. House faces a valley painted by Leonardo in "La Gioconda". In few min. you can visit live Leonardo's bridge and badlands.
Covered pool by a porch which enables to swim at any season, even at night. Its strategic position which enables to reach famous cities such as Florence, Arezzo and Siena in just 20 min.
It is very quiet and welcoming. The property is close to horse riding sites and golf courses.
Great villa to stay in. Saverio met us and welcomed us and also his grandad. Lovely villa in hills past Montevarchi, great views, swimming pool. Need a car as it is remote, but ideal for a real break away from things. Thanks Saverio and Simone.
Robert
2016-04-30T00:00:00Z
The location is amazing and the hosts extremely nice (especially the grandfather). Great value for money, our honeymoon was lovely!
Crista
2016-09-05T00:00:00Z
Once the host received the deposit none of my messages were returned. We asked for early check in, never heard. Ok, we show up at 4:00 and no one is there! We text, nothing, call, no answer. After 20 min they answer and say 'be there in 5 min.' They show up 45 min late as we sat in the driveway locked out of the property. The property is beautiful, lots of plants, fruit trees, nice view. The house is dark and not very usable, it's an older house with no AC and a mother in law suite added on (with AC). It's basically like staying in an appartment. The pool is enclosed and we were told it could be opened, it could not. Inside this hothouse it was almost 100 degrees! The water was like a bath which made the pool unusable really. The worst part was when the wifi 'ran out.' They said they had to pay more in for more wifi, fine, we wait, and wait and wait. Twice they say they will get it on.. Our final 2 days were spent without wifi, which we needed since we had very limited phone service. Not only did they never answer texts, but the last day they actually hung up when I called!! Guess they thought they'd ignore us till we checked out so they wouldn't have to pay the 40 euro to re-up their wifi. We found this very rude, what host picks up and slams the phone down on guests?? For the price there's much better available in Tuscany. We would know as we've been here 5 times and this was the worst stay yet. look elsewhere.
marc
2016-07-01T00:00:00Z
Simone, his mother and grandparents were waiting for us and showed us this beautiful house. The house is fantastic, very well equipped, nothing to be missed, with beautiful garden and amazing view on hill and vineyards. The house is located on very quite and peaceful location. You can find big supermarket on 10min driving and even most important - lot of wineries with Chianti Classico around the village. If you like Tuscany and Chianti region, this is the wright place for the family! The only thing that we were missing was wi-fi rooter that was listed on the house page. We had to buy ourselves mobile wi-fi rooter.
Zoran
2015-05-30T00:00:00Z
The hosts were welcoming, but unfortunately we had to wait over an hour in 38 degree weather for them to greet us. The house was authentic Italian and absolutely gorgeous. The view was breathtaking and the pool was a great addition for the kids!
Tanya
2016-07-17T00:00:00Z
This was our abaolute FAVORITE place.we ataywd on our the week trip to Italy and France. Hated to leave! the beds were comfy and the layout allowed both privacy and togetherness easily for our group of seven. IT'S AN ABSOLUTELY GORGEOUS SPOT!! And we loved all the family members/owners we meet Truly lovely people and gracious hosts. We all wish we spoke Italian so we could get to know them better! If ever fortunate to go to this region again, we will definitely look no further than this accommodation. The only issue we had was with ants. That was addressed with spray provided the next day. But since our daughter is seven months pregnant, we bought traps that killed them off in 16 hours. This would not keep me from returning. Next time will be for two weeks instead of one.
Lisa
2016-06-18T00:00:00Z
The house is in the heart of Tuscany. We could easily drive to Siena, San Gimignano, Firenze, Chianti, etc. It has a large garden and this was vey good for us as we stayed as a large group of families with 3 kids. Also kitchen is well equipped. View in the garden is perfect and relaxing.
Metin
2015-09-22T00:00:00Z
Le propriétaire est venu nous chercher à la sortie de l'autoroute malgré l'heure tardive et nous a conduit à la maison. La maison est très bien ammenagee avec deux logements colles mais distinct ce qui permet à deux familles de s'organiser facilement. La piscine est sécurisé et agréable Les trois terrasses offrent une vue splendide malheureusement l'arrosage automatique et les fontaines facilité la prolifération des moustiques et nous avons été attaqué et ca a été très penible car nous sommes tous les dix recouvert de boutons qui démangent énorment Il n'y a pas de wifi, ce n'est pas très gênant mais il faut le dire La localisation est un peux loin de l'entrée d'autoroute et convient à des gens qui souhaite reste sur place plutôt qu'à des Globe trotter. Ne vous étonnez pas de voir arrivée tous les deux jours le papy et son ami pour l'entretien du jardin, c'est un peux surprenant ! Merci à Simone et saverio pour leur accueil
Ludovic
2016-08-11T00:00:00Z
Rodzaj pokoju
Całe miejsce
---
Rodzaj nieruchomości
Willa
---
Mieści
10
---
Sypialnie
Cavriglia, Toskania, Włochy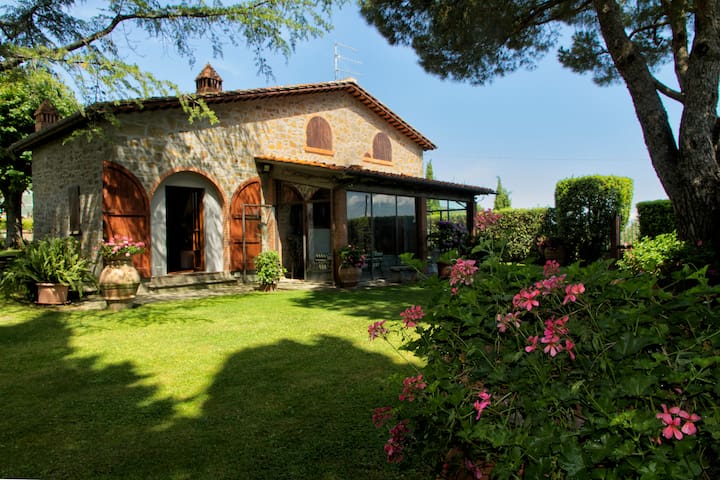 Villa Poggio a Mandria znajduje się w Toskanii, na wzgórzach Chianti w obrębie 30 km (20 mil) promieniu Siena, Florencja i Arezzo. -1 km (0,6 mil), lub 5 min. samochodem jest Montegonzi, miły mała wioska
Villa Poggio a Mandria mieści się w pięknym gaju oliwnym około siedmiu hektarów, w ramach tej samej nazwie gospodarstwie; w gospodarstwie kultywujemy drzew oliwnych i winnic, z których produkujemy oliwą z oliwek i wino Chianti. Jest bramą do Chianti, i jest to dobra baza do dotrzeć do najpiękniejszych miast Toskanii (Arezzo, Florencja, Siena, San Gimignano, Volterra) w mniej niż godzinę. Na okolicznych wzgórzach są średniowieczne wioski, które oferują gościom wspaniałą atmosferę przeszłości i możliwość spacerów w dziewiczej wsi. Wycieczki i odległości • Florencja 50 km (45 minut) • Arezzo 40 km (35 minut) • Siena 45 km (45 minut) • Lucca 1 on 30 minut • San Gimignano 1 on 15 minut • Volterra 1 on 30 minut • Monteriggioni 1 H • Gaiole in Chianti 15 minut • Radda 20 minut w Chianti • Castellina in Chianti 30 minut • Pienza 1 on 10 minut • Montepulciano e Cortona 1 H • Le Crete Senesi 45 minut • Parchi Termali di Rapolano (40 minut) • Parchi Termali di Bagno Vignone (1 on 20 minut) • The Rose Garden Fineschi w Cavriglia, który posiada największą kolekcję róż w Europie; • miasto Loro Ciuffenna z średniowieczny most i kościół romański Gropina; • wiejskiego muzeum Gaville, z osiemnastowiecznej młyna nienaruszone; • Galatrona Tower w Mercatale Valdarno. I na zakupy ... • wylot Prada Montevarchi; • centrum handlowym w Leccio (FI) (Armani, Gucci, Dolce & Gabbana, Fendi, Hogan ...) • odpływ Barberino di Mugello (FI) lub Foiano della Chiana (AR). Zresztą nasi goście będą chcieli spędzać czas, będziemy dla nich dostępne dla rad, pomysłów, informacji, lub nawet tylko na filiżankę kawy lub kieliszek wina. Claudia i Leonardo
Jest to idealne miejsce dla każdego, kto chciałby spędzić relaksujące chwile i przeżywać proste i naturalne wartości życia wiejskiego. Co sprawia, że pobyt w Villa Poggio a Mandria to niewątpliwie panoramiczny widok i cicho ..........
We cant say enough wonderful things about Lorenzo and Claudia. They have such a beautiful place and they are both very giving and genuine people. It felt like we were staying with family. The property is gorgeous, amazingly located and very well maintained. Wish we could have stayed longer.
Nick
2012-06-20T00:00:00Z
We stayed two nights in this B&B and would really recommend staying here to anyone! The house is beautiful! It is surrounded by olive trees and vineyards and has very good typical restaurants just nearby. The hosts were very nice and helpful and gave us many recommendations on places to visit and things to do. All in all I think it's a perfect starting point for anyone wanting to visit Tuscany.
Camille
2012-04-13T00:00:00Z
We had a great stay with Leonardo and Claudia! They were lovely hosts, and their property is in a beautiful setting amongst a large olive grove. The room and bathroom were gorgeous as well, with beautiful woodwork.
Jessica
2013-08-13T00:00:00Z
We spent two beautiful weeks here at this lovley house!! Claudia and Leonardo sure take care of this place, everything is clean, nice and organist. If we had any questions or wish they made sure to please us. You have a lot of space in the sleeping room and the beds are also very comfortable. There child and dog friendly which means a lot. We we're able to relax and enjoy this place. The garden with the nice view over the olive trees is just priceless. Its very calm you only hear birds. Its also easy to reach different beautiful villages like Radda in Chianti by car. There a couple of restaurants near by that have really good food. Also the grocery store is only about 8 min away and has everything you need. This house is a place we will return someday. We didn't wanna leave. Thank you again for everything. Highly recommended.
Marisa
2015-06-27T00:00:00Z
We have had an incredible week at Leonardo and Claudia's beautiful house. We stayed with another couple and our babies. The house suited us very all very well and had a very nice garden with pool. The kitchen is well appointed and everything was very clean. It was a decent drive to the nearest shops so you just need to be organised to avoid regular trips. We hope to go back some day. Thank you so much for a truly magnificent stay!
Kat
2016-06-08T00:00:00Z
This is a perfect villa to rent if you are looking for a very clean, well equipped property that is centrally located in a Tuscan hill town. The pictures do not do justice to how beautiful this place is! Our family took day trips to Venice, Florence, Siena, Cinque Terre, Lucca, Pisa, Volterra and San Gimignano, and loved returning to "our villa" at the end of the day to relax, swim, and take in the views. Claudia and Leonardo are very kind and gracious hosts, and provided thoughtful touches throughout our stay, from breakfast items when we arrived, wine and olive oil that they made, to baking a delicious strudel when our daughter developed a fever. We hope Poggio a Mandria is available when you are booking your trip, as it was truly a memorable part of our holiday. Lis(URL HIDDEN)Boston, M(URL HIDDEN)July 2015
lisa
2015-07-04T00:00:00Z
Leonardo and Claudia are wonderful people. We had a great time with them in their fantastic house! I think it's the best place we've stayed in during our trip in Tuscany. I really wish to come back to enjoy this peacefulness again, and also their great vin santo!
Rebecca
2012-08-15T00:00:00Z
Um es mit den Worten von Lou Reed zu sagen: "Just a perfect holyday, I'm glad I spent it there". Ein wunderschönes Haus inmitten eines Olivenhains. Sehr sauber und gut ausgerüstet, alles was man braucht ist vorhanden. Wir fühlten uns sofort heimisch. Nicht zuletzt wegen der grossen, gut ausgestatteten Wohnküche in der wir viel Zeit verbrachten um zusammen zu kochen, essen, spielen, ... Ich kann mir keinen besseren Ort vorstellen um zu entspannen und hoffe eines Tages wieder einige Tage im "Poggio a Mandria" verbringen zu können. Claudia & Leonardo haben alles dafür getan, dass wir uns wohlfühlten.
Uwe
2015-09-21T00:00:00Z
Rodzaj pokoju
Całe miejsce
---
Rodzaj nieruchomości
Willa
---
Mieści
10
---
Sypialnie
Cavriglia, Arezzo, Toskania, Włochy