XVII siècle ferme catalane, rénové, situé dans la ville de Vall-Llobrega, près de Palamós et Palafrugell. Dans un environnement privilégié, entouré par la nature et la tranquillité. Il se trouve à 5 minutes des plages de La Fosca ou Castell. Situé dans un cadre idéal pour pratiquer BTT, sentiers de randonnée autour de la Costa Brava .... HUTG-022883
The distribution has two floors, on the ground floor area available day; with a large kitchen with dishwasher, oven, microwave and coffee maker; a living room with fireplace, TV and stereo with access to the outside where the pool and barbecue. The area consists of 2 double rooms and two double rooms, a bathroom and exit to the terrace. Air conditioner.
Rodzaj pokoju
Całe miejsce
---
Rodzaj nieruchomości
Dom
---
Mieści
8
---
Sypialnie
Vall-llobrega, Catalunya, Hiszpania
Aquesta preciosa vila reformada al turó és un gran destí de vacances que atén moltes necessitats. Situat en un poble tranquil a només 7 minuts amb cotxe de Palamós, els clients poden gaudir de l'entorn tranquil de la vila o accedir ràpidament a la platja propera. Número de registre HUTG001924
El [manuki mes] és una vila recentment renovada en el pujol, i és un gran destí de vacances que atén moltes necessitats. Situat en un poble tranquil a només 7 minuts amb cotxe de Palamós, els clients poden gaudir de l'entorn tranquil de la vila o accedir ràpidament a la platja propera, la vida urbana de les ciutats properes. Descansant a la piscina amb una vista espectacular al mar és tan bonic com gaudir de la casa moderna totalment equipada. Per això vam triar Palamos La propietat [manuki mes] ha estat a la família des que va ser construït el 1972. Després de més de 40 anys ens vam adonar que seria temps per a una millora substancial i també inquilins desitjos canviat amb el temps. Així que vam decidir per una remodelació completa de la vila durant l'any 2015, que inclou tot, des de l'aïllament de modernització de pla pis-canvis i addició d'una piscina privada. A partir de 2016 aquest "nou" impressionant vila serà més còmode que mai per a les vacances fins i tot millor que els que ja teníem. El que fa que aquesta vila única? Hi ha alguna cosa per a tothom al [manuki mes]. Òbviament, en l'estiu es troba la piscina, les acollidores platges, de vegades la costa aspra i tot el que es pugui imaginar pel que fa a les activitats d'estiu. Fora de temporada el clima és majoritàriament molt agradable i caminar, anar en bicicleta i un programa cultural que valgui la pena anar a visitar. A més del que la regió té per oferir, el [manuki mes] Villa va ser dissenyat amb cura al detall i amb molt d'amor com una bonica casa de vacances.
El poble de Vall-llobrega està al mig entre Palamós i Palafrugell a la Costa Brava. Les dues ciutats ofereixen nombroses possibilitats per a fer la compra, roba, records i similars. El poble en si atén un restaurant, un bar i un forn de pa, així com una església amb serveis actius. Només un parell de minuts de la casa es troba la bonica platja anomenada "Platja Castell" i el turó darrere de la casa ofereix excursions a peu, córrer i anar en bicicleta de muntanya.
We really enjoyed our stay in Costa Brava. We were greeted by Maria, and she introduced us to the house and how everything works. What a lovely house and the best part was lying by the pool and enjoying the afternoon breeze. The view is extraordinary and waking up in the morning and looking over Costa Brava just wonderful.
Romero
2016-04-17T00:00:00Z
The host canceled this reservation 207 days before arrival. This is an automated posting.
Malin
2016-09-25T00:00:00Z
We had a wonderful stay at Mas Manuki and will definitely be returning to this perfect retreat! We (family of 3, with a 4 year old child) loved everything in the house. The house looked even better than the pictures on Airbnb. The finishings were high standard and the interior of the house was very nicely decorated. We had one day of poor weather but it was very nice to spend a day inside to enjoy the interior. The infinity pool was amazing (clean and nicely maintained) and emphasized the beautiful (sea) views. There is sun all day long but also plenty of shaded areas. The owner was extremely responsive before, during and after our stay. We maintained in contact via email and (SENSITIVE CONTENTS HIDDEN) and replies were always immediate. The neighborhood was also very quiet and we had good privacy - something you can never be sure of in advance. So was a pleasant surprise. We can't say enough good things about this stunning house and we will definitely be returning here.
Vanessa
2016-09-17T00:00:00Z
Wir haben insgesamt 6 Tage dort verbracht und waren begeistert. Das Haus ist genau so wie im Inserat beschrieben, ist sauber und lädt zum Wohlfühlen und Entspannen ein. Zudem war der Vermieter auch immer per (SENSITIVE CONTENTS HIDDEN) erreichbar falls man mal eine Frage zum Haus oder der Umgebung hatte. Klare Weiterempfehlung für jeden der eine ruhig gelegene Unterkunft mit Stil an der Costa Brava sucht! Wir kommen wieder...
Martin
2016-09-09T00:00:00Z
Rodzaj pokoju
Całe miejsce
---
Rodzaj nieruchomości
Dom
---
Mieści
8
---
Sypialnie
Vall-llobrega, Catalunya, Hiszpania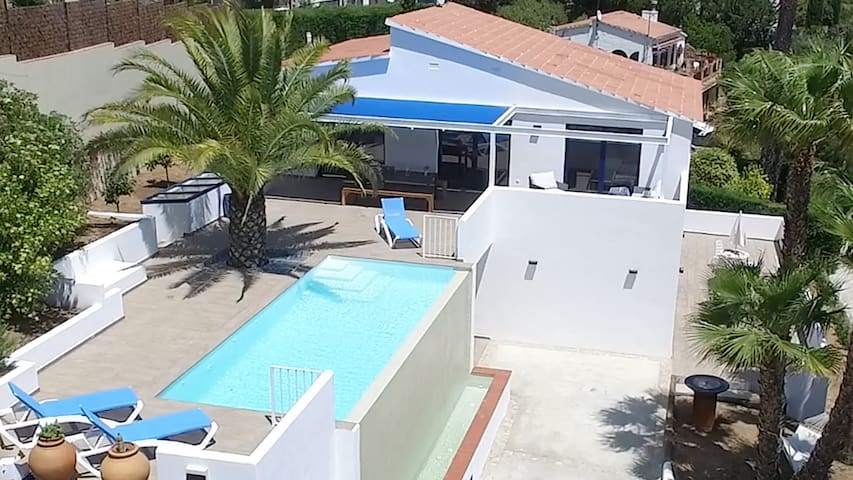 Vivienda aislada 50 metros a pie de la playa de La Fosca, en Palamós. Jardín en la parte delantera y trasera, solarium arriba. Patio interior. Barbacoa. Se puede aparcar 2 coches en el patio o aparcamiento en frente de la casa. Supermercado al lado de la casa. Ideal para vacaciones con su familia o amigos, Begur, Calella, Tamariu cerca.
Rodzaj pokoju
Całe miejsce
---
Rodzaj nieruchomości
Dom
---
Mieści
10
---
Sypialnie
Palamós, Catalunya, Hiszpania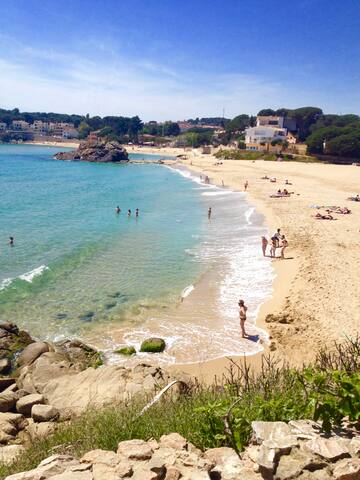 Farmhouse in the Costa Brava. The house is a traditional farmhouse located very close to beautiful beaches of the Costa Brava. There is access to the pool area with barbecue and a very large plot with fruit and olive trees.
The house is a traditional Catalan farmhouse and has a field
Rodzaj pokoju
Pokój prywatny
---
Rodzaj nieruchomości
Dom
---
Mieści
2
---
Sypialnie
Vall-llobrega, Catalunya, Hiszpania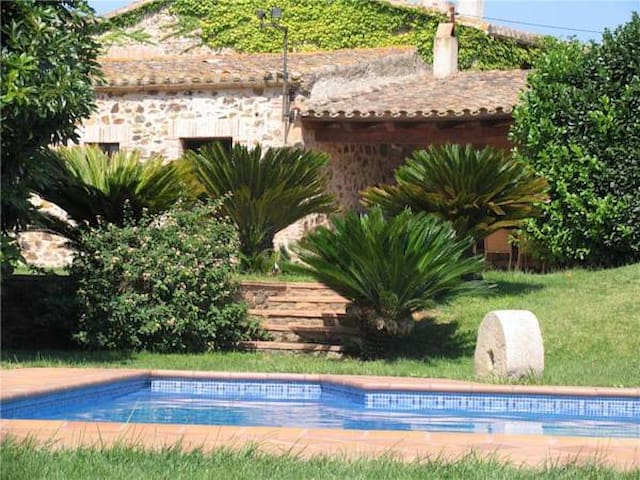 Planta baja de una casa ideal para familias con jardín, tres habitaciones, dos baños y un amplio salón-comedor muy soleado, en urbanización tranquila a cinco minutos de la playa de San Antonio de Calonge.
It is a comfortable and pretty home, especially for families with children as the garden is spacious to play. It is five minutes from both the beaches of San Antonio de Calonge as of Palamós. It is a quiet area to enjoy its easy and fast access to the best of the Costa Brava: its pristine beaches (Begur), its lovely walks (Calella de Palafrugell) , rich gastronomy ( Palamós) , festivals and customs ( Sardanas and Havaneras music almost every weekend in summer) and above the sun and the Mediterranean!!
The house is in a residential area among pine trees , is located near the shopping area nearby towns . There are several supermarkets within 5 minutes drive ( Esclat , Mercadona , Lidl ... ) , as well as several cafes and restaurants both in Sant Antoni de Calonge and Palamos. The new municipal swimming pool Palamos is located in the parallel street about 5 minutes walk .
The host, Lluis was extremely kind and went out of his way to be helpful. We were also delightfully surprised at how clean and spacious the place was.
Andrea
2016-08-01T00:00:00Z
La casa es muy grande, bien amueblada, cómoda y con una cocina muy bien equipada y dos baños estupendos. Nos prepararon una cuna de viaje para mi hijo y además tienen juguetes en la casa con lo que para el fue un sitio mágico. Por la noche con las persianas bajadas y la ventana abierta no se oía ningún ruido y hasta nos hemos tapado para dormir disfrutando de no morir de calor en pleno agosto. Nos hemos sentido como en casa y hemos podido disfrutar de las playas de Palamós y de Sant Antoni de Calonge que están a un corto paseo de la casa. El jardín muy amplio y bien acondicionado con una gran mesa para poder comer y cenar fuera a la fresca. Gracias Elisenda y Luis por acogernos en vuestra casa y permitirnos disfrutar de ella. Sin duda recomendamos la estancia y posiblemente repetiremos el año que viene.
Raquel
2016-08-21T00:00:00Z
Casa muy bien, jardín muy agradable, zona muy tranquila, cerca de la playa, bien equipada y muy limpia y el anfitrión muy amable y atento, todo genial ,muy contentos, recomendable.
Encarna
2016-08-04T00:00:00Z
The host canceled this reservation 125 days before arrival. This is an automated posting.
Lucy
2017-04-04T00:00:00Z
Excellent séjour chez Elisenda, hôte très accueillant et fort sympathique. Endroit très bien situé. A recommander!
Yvan
2015-08-15T00:00:00Z
Logement conforme à la description. Jardin agréable et ombragé. Quartier calme et bien placé même si on utilise la voiture.
benet
2016-08-15T00:00:00Z
Estuvimos muy bien toda la familia en casa de Elisenda y Lluís. La casa es cómoda, luminosa y espaciosa. Un lujo las sobremesas en el jardín resguardado del sol. Zona muy tranquila a 10 minutos de la playa y a 5 de varios supermercados. Los anfitriones muy amables y serviciales. Moltes gràcies per l'estada Elisenda i Lluís !!!!
Monica
2016-08-30T00:00:00Z
Nous avons passé un excellent séjour à Calonges. Elisenda et son mari sont très sympathiques et ont tout fait pour rendre notre séjour agréable ( entrée dans les lieux quelques heures avant notre arrivée prévue, doc. touristique et livres en français). La villa est dans un quartier très calme à 5 mn en voiture des plages. Le jardin est ombragé et la maison fraiche. Nous n'hésiterons pas à y retourner lors d'un prochain séjour dans la région.
lucile
2016-08-27T00:00:00Z
Rodzaj pokoju
Całe miejsce
---
Rodzaj nieruchomości
Dom
---
Mieści
6
---
Sypialnie
Calonge, Catalunya, Hiszpania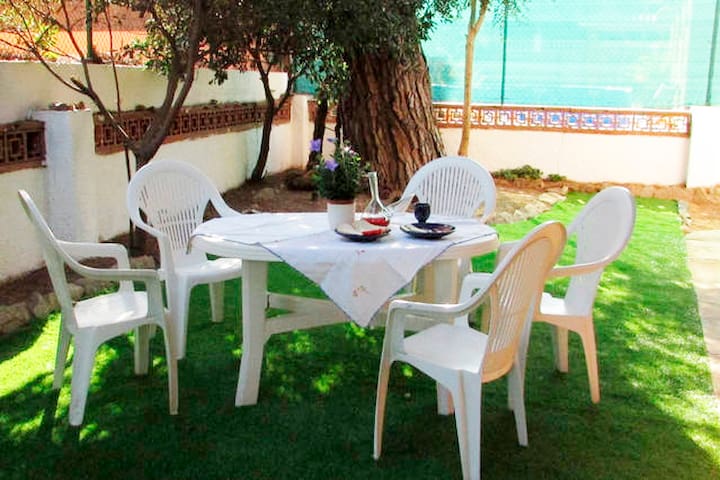 Excellent quality house with sea views House size 300 mts., On two floors. Main floor: Large covered terrace and pool with beautiful views. 30m2 living room large windows overlooking the garden and sea, dining room of 18 mts 18 mts kitchen with oven, dishwasher, microwave, full equipped 2 single rooms 8 mts each with access to garden, 2 bedrooms, 12 m, overlooking the garden and the sea, and 2 double rooms 12 mts, double rooms and 18 mts 15 3 bathrooms with bath and shower each of about 5 meters 1000 mts garden flat with central pool 10 x 5 meters with sea views, accompanied by gazebo with garden furniture. Covered porch with barbecue. Check in date and check out dates are always from saturday to saturday What can you do on the Costa Brava? Walk, ski, run, pedal, play, sail, jump, nothing and, above all, live the Costa Brava and Pyrenees of Girona practicing what you like. Wine Routes More than 30% of the total surface area of the regions of Gerona is protected because of its natural interest. The most important natural areas of the Costa Brava are: Cape of Creus Natural Park Ampurdán Marshes Natural Park Medas Islands Botanical Gardens Ses Negres Callas and beaches The Costa Brava enjoys a mild climate, typical of the Mediterranean: neither the cold of the winters nor the heat of summers are extreme. The average annual temperature varies between 14 ° C and 20 ° C. The hottest months are July and August with minimum temperatures of 16 ° C and highs of 35 ° C, while November is the rainiest; December, January and February are the coldest.
Excellent quality house with sea views House size 300 mts., On two floors. Main floor: Large covered terrace and pool with beautiful views. 30m2 living room large windows overlooking the garden and sea, dining room of 18 mts 18 mts kitchen with oven, dishwasher, microwave, full equipped 2 single rooms 8 mts each with access to garden, 2 bedrooms, 12 m, overlooking the garden and the sea, and 2 double rooms 12 mts, double rooms and 18 mts 15 3 bathrooms with bath and shower each of about 5 meters 1000 mts garden flat with central pool 10 x 5 meters with sea views, accompanied by gazebo with garden furniture. Covered porch with barbecue. Check in date and check out dates are always from saturday to saturday
Rodzaj pokoju
Całe miejsce
---
Rodzaj nieruchomości
Dom
---
Mieści
12
---
Sypialnie
VALL-LLOBREGA, Katalonia, Hiszpania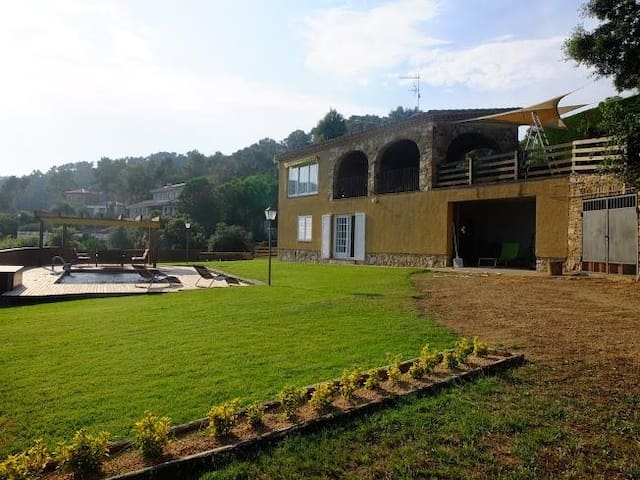 La maison est ensoleillée, dans un quartier calme de la Costa Brava à proximité de Palafrugell, Platja d'Aro, Pals, Begur, Calella de Palafrugell, Llafranc, Tamariu et Palamos. Il est bien relié à 200 mt. sortir de l'autoroute, mais à la bonne distance pour le confort. Bien qu'il n'y ait pas de parking, vous pouvez vous garer devant la porte de la maison normalement sans problème. Recommandé pour être proche de tout, mais calme si on le souhaite.
It is the top floor of a house. With access to the garden of the house as a whole that is a part of artificial turf and stone another area.
A proximité se trouvent les plages de Llafranch et Calella de Palafrugell. Il est conseillé de visiter Pals, qui conserve une grande partie de ses rues médiévales. Il est une excursion à proximité et les environs sont très agréables. Vous pouvez également monter le phare de Saint-Sébastien où vous pourrez profiter des vues incomparables compte tenu de son emplacement privilégié. A proximité se trouve également le village de Monells lieu à ne pas manquer pour son aspect médiéval bien préservé. Si nous voulons nous plonger dans l'agitation des achats et de la foule, nous pouvons aller à Playa de Aro, où vous pourrez profiter d'une multitude de distractions.
Rodzaj pokoju
Całe miejsce
---
Rodzaj nieruchomości
Dom
---
Mieści
5
---
Sypialnie
Mont-ras, Catalunya, Hiszpania
Luxus typisch katalanische 3500 m2 Grundstück und 450 m2 Haus 4 km vom Strand entfernt. vollständig restauriert ideal für einen Urlaub mit der Familie oder Freunden.
Wir haben 1 Küche, mit Geräten und Utensilien, para Industrie ideal ausgestattet Bankette, Veranstaltungen aller Art, Geburtstage. oder wenn wir täglich wechselnde Menüs Desea machen, was eine SU messen. Hat 8 habitaciones mit privaten Terrassen und Fernsehen, 3 mit Badewanne Möchten Sie 5 mit Massagedusche, 3 Zimmer, 1 Speise para 35 Personen, 2 Kamine und 2 WC.
Das Haus befindet sich am Fuße der Berge, 4 km. das Meer mit Greenways (Zyklus) bis zum Strand.
Zeer vriendelijke verhuurder, verhuurder reageerd vrijwel direct op mails. Alles wat er is aangeboden was er. Geen verborgen kosten achteraf. Profesionele keuken dus erg handig voor grote groepen/of meerdere gezinnen. 7 min rijden vanaf het strand en 5 min vanaf (grote)supermarkten. Wij gaan volgend jaar weer bij deze verhuurder huren. het is ons erg bevallen.
Eduard
2016-05-08T00:00:00Z
Hemos estado muy a gusto. Hemos pasado un gran fin de semana familiar de relax. José y su mujer son grandes anfitriones. Nos ayudaron en todo momento y nos facilitaron soluciones en las ocasiones que lo necesitamos. Muchas gracias! Volveremos!
Sira
2016-10-02T00:00:00Z
Una gran experiència a Mas de les Flors. Tant Jose com Maite molt amables i atents a qualsevol necessitat. La casa és espectacular i molt preparada per grups i celebracions. Intentarem tornar a l'estiu per gaudir encara més dels exteriors.
Núria
2015-12-20T00:00:00Z
Espacios correctos y zona exterior muy agradable. Facilidades para late check out. Limpieza insuficiente, mosquiteras en ventanas rotas, aire acondicionado anulado, problemas con la electricidad y mal funcionamiento de los electrodomésticos.
Luz
2015-06-14T00:00:00Z
Rodzaj pokoju
Całe miejsce
---
Rodzaj nieruchomości
Dom
---
Mieści
16
---
Sypialnie
Mont-ras, Catalunya, Hiszpania
Maison ligne de front dans la magnifique plage de La Fosca (Palamos) sur la Costa Brava. La maison est indépendante et fait partie d'une promenade avec vue sur la plage spectaculaire Fosca. Il dispose également d'une grande terrasse en face de la mer.
Il est un rêve devenu réalité, parce que vous vous sentirez vivant juste en face de la mer à 30 secondes de la plage de la Fosca, l'une des plages les mieux préservées de la Costa Brava. Il dispose d'une grande terrasse surplombant la mer où ils peuvent profiter theirbreakfast, le déjeuner et le dîner dans un cadre inoubliable.
Situé sur la Costa Brava, cette maison est près de la mer, de sorte que vous pouvez nager toutes les fois que vous voulez juste en bas de l'escalier de la maison. Aussi avons option très intéressante pour marcher le Camino de Ronda (suivant la côte) à travers la merveilleuse Alguer Creek et d'atteindre Cala Castell, l'une des plus belles criques de l'état naturel Costa Brava.
La Fosca fut pour nous un super séjour dans une maison authentique au style rétro. La baie est tranquille et superbe et il y a moyen de faire de superbe balade sur le bord de mer avec de superbe calanque sauvage La baie de la Fosca est entouré de nouvelle habitation mais elle n'est pas du tout dénaturé par de mega hôtel. En ce qui concerne la maison elle est superbement situé avec une vue sur la mer et la baie collé à la plage. En ce qui concerne. En ce qui concerne le confort ce fut acceptable, quelques ressort dans un des petit lit qui ressortait, un peu de problème avec la mise a la terre de l'électricité et une des chambres et à repeindre. Pour le prix que nous avons payé c'est le minimum acceptable. Mais Manel est super sympa et la vue et l'emplacement sont superbe
Frédéric
2015-07-15T00:00:00Z
A la casa le hacía falta una reforma importante.
David
2016-07-23T00:00:00Z
Rodzaj pokoju
Całe miejsce
---
Rodzaj nieruchomości
Dom
---
Mieści
8
---
Sypialnie
Palamós, Katalonia, Hiszpania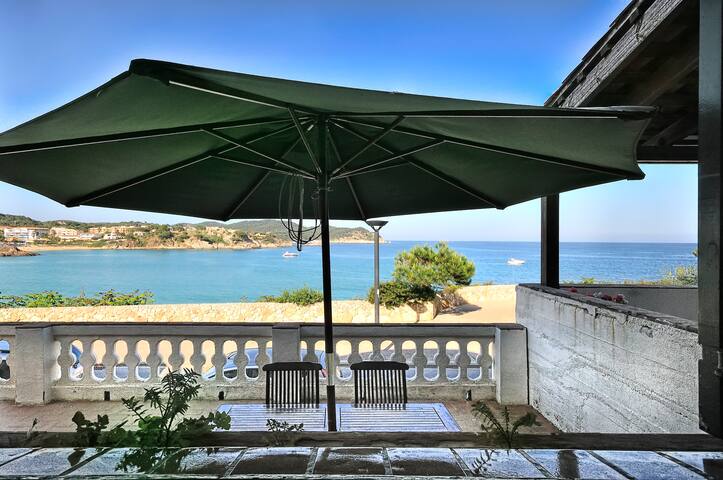 conditioned house to live there in different seasons You can enjoy the beach and walks a few meters from the town center of palamos
Tranquil Cala Margarida, cosy house, welcoming hosts. Definitly I can recommend this house for my friends.
Denys
2016-10-08T00:00:00Z
Si lo que busca es paz y tranquilidad en un marco preciosocon amaneceres muy bonitos y la banda sonora de las olas ese es el sitio que estan buscando.
Giaco
2017-01-10T00:00:00Z
Casa de ensueño en la costa brava, el mejor lugar para descansar y desconectar. Súper recomendado
Mauricio
2017-01-17T00:00:00Z
Fantastisk lejlighed, med et meget stærkt personligt præg. Beliggenhed helt unik. Kan stærkt anbefales...
Peder
2017-02-04T00:00:00Z
Accueil tres sympathique, maison absolument conforme au descriptif. Il ne manque rien dans la maison. La vue et l'environnement sont formidables. Nous reviendrons plus longtemps.
Sébastien
2016-12-26T00:00:00Z
Ha sido una estancia de desconexión total en un paraje espectacular! La tranquilidad de la casa y el constante del mar han hecho de estos días una auténtica experiencia! ¡Repetiré!
Victor
2017-01-12T00:00:00Z
Jaume se ha portado muy bien con nosotros y se ha adaptado a nuestras necesidades. La casa muy acogedora y con todo lo necesario y la ubicacion inmejorable!
Miriam
2015-09-21T00:00:00Z
Totalmente recomendable. La localizacion de la casa era inmejorable, el mar justo a los pies de la casa, zona muy tranquila y a la vez muy cerca de Palamos, muy bien equipada y limpia. Repetiríanos seguro. Ha sido una experiencia inolvidable.
maria
2016-09-26T00:00:00Z
Rodzaj pokoju
Całe miejsce
---
Rodzaj nieruchomości
Dom
---
Mieści
4
---
Sypialnie
Palamós, Catalunya, Hiszpania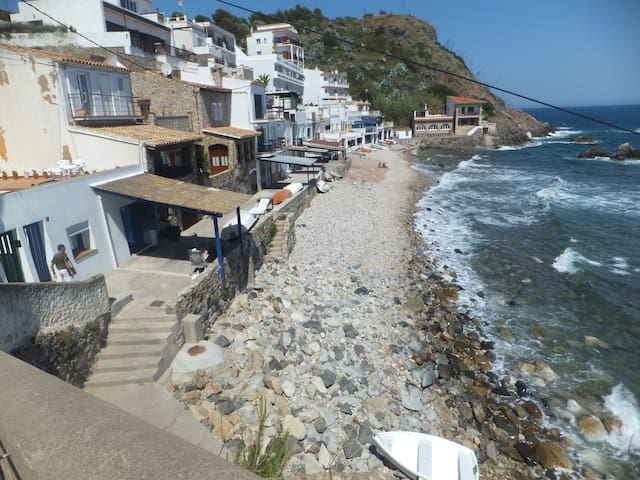 Nur 10 minunets von "La Fosca" Strand entfernt, verfügt das Haus über zwei separate Wohnungen. Das Haupthaus verfügt über eine große Küche, eine Suite Schlafzimmer mit eigenem Bad) und zwei große Doppelzimmer. Die Gartenwohnung verfügt über eine offene Küche und ein Wohnzimmer, zwei Schlafzimmer und ein Badezimmer. Der enorme Garten hat einen großen poool und großen Spielplatz. Perfekt für einen Urlaub in Familie.
Perfekt eine große Familie oder zwei getrennte Familien geeignet, die den Garten und Schwimmbad teilen. 10 Minuten zu Fuß zum "La Fosca" Strand und auch der Stadt Palamós.
Das Haus, es ist fünf Minuten zu Fuß von La Fosca Strand und 10 Minuten zu Fuß von Palamós Stadt. Das Hotel liegt im Herzen von La Costa Brava seine nur 10 Minuten Fahrt von Patja d'Aro.
Fantastic house that exceeded our expectations. Perfect for families and groups with small children. Hosts were easily contactable and answered all questions immediately. All amenities are close by and looking forward to returning.
Gabriel
2016-07-31T00:00:00Z
Nous avons passé un excellent séjour dans la maison de Ricard. La maison est très spacieuse et très bien équipée . L'appartement du rez-de-chaussée est indépendant et dispose d'une chambre double + une chambre avec 2 lits simples + salon/cuisine et salle de bain. La maison principale comprend une chambre double + 2 chambres avec chacune 2 lits simples, salon/salle à manger, grande cuisine, buanderie, 2 salles de bains. Le jardin est immense et la piscine privative est un vrai atout d'autant qu'elle est parfaitement propre et adaptée aux enfants de tous âges (accès protégé par un portail et petit bassin pour les plus petits). La maison offre plusieurs terrasses ombragées avec une belle vue sur mer ou sur le jardin, ce qui permet à chacun d'avoir son espace (très utile avec des ados). La plage de la Fosca est à une dizaine de minutes à pied et pour les plus courageux, en marchant encore 20 minutes sur le sentier côtier on peut accéder à la plage du Castell, qui est complètement sauvage et moins fréquentée en raison de l'accès plus difficile. Le port et le centre ville sont facilement accessibles à pied (20 minutes) ou en voiture (5 minutes) en empruntant la route principale qui passe juste en bas de la propriété. Nous sommes ravis de ce séjour en Catalogne dans la maison de Ricard.
anne-sophie
2016-08-21T00:00:00Z
Nous avons séjourné une semaine dans la maison de Ricard et confirmons tous les avis positifs laissés sur cette maison d'architecte ! Une vue imprenable sur la mer, un accueil chaleureux, des terrasses tout aussi agréables les unes que les autres, une superbe piscine et tout à disposition... Un grand merci Ricard, nous reviendrons sans hésiter..(URL HIDDEN)
Melanie
2016-08-30T00:00:00Z
Already at the introduction by the host I was enchanting by finding the house more perfect than I could imagine from the photos at Airbnb. The view was wonderful and there was always a outdoor area protected from wind and with shade for every meal. The pool that was cleaned and looked after every day was perfect for my family, children between 1 - 8 and grown-ups between 38-70 years old. We spent at lot of time at the pool. The garden that was separated from the pool was very good for the children to play football and swing. Also the house was spacious for 10 persons and 1-year old twins. The kitchen was well equipped with a big stove and close to the terrace was a barbecue. We prepared most of the meals at the house. One day we ordered a delicious paella from Mas del Arcs as recommended by the host. Excellent tapas was found at the bar Topi´s, 6 minutes walk from the house. The surronding was good for the joggers in my family. I found Palamos a very nice town with several good beaches and and a interesting fishing culture. I´m very grateful for the choice of house and the host.
Ann-Charlott
2016-08-07T00:00:00Z
Beautiful house with impressive seaview.The main house and small appartment have everything what is needed for great holiday.Ricard was very helpful and there was no problem to contact him with additional questions.I can only recommend Ricard and his house for a gorgeous stay in Palamos.The house is located in quite area only 10 min walk to Fosca Beach and about 15min walk to city center.
Mateusz
2016-05-26T00:00:00Z
This is truly a magnificent house. Ricard and his mother are very nice people. They did the best they can to make it pleasant for us. Palamos is a beautiful town. We will certainly come back there. 1 detail, the WiFi is bad quality - none WiFi. Greetz, Maarten
Maarten
2016-05-05T00:00:00Z
Belle et fonctionnelle villa pouvant accueillir deux familles. Accueil sympathique et reactif.
Dimitri
2014-08-17T00:00:00Z
Nous avons été accueilli chaleureusement par la mère de Ricard qui nous a tout expliqué pour la Maison. Nous étions un groupe de 10 amis avec 2 enfants et avons passé une semaine de rêve. Tout est fait dans cette maison pour passer des vacances parfaites: maison splendide avec un joli design, très fonctionnelle, grande piscine sécurisée avec pataugeoire à côté pour les enfant, grand jardin très bien entretenu avec même un coin potager (pour aller cueillir des tomates), 3 terrasses, 2 cuisines tout équipées, barbecues, vue magnifique sur les pinèdes qui s'étendent vers le nord avec la mer en toile de fond, le tout à 10-15 minutes de la charmante plage de la Fosca et du centre ville.
Maxime
2015-09-13T00:00:00Z
Rodzaj pokoju
Całe miejsce
---
Rodzaj nieruchomości
Dom
---
Mieści
10
---
Sypialnie
Palamós, Catalunya, Hiszpania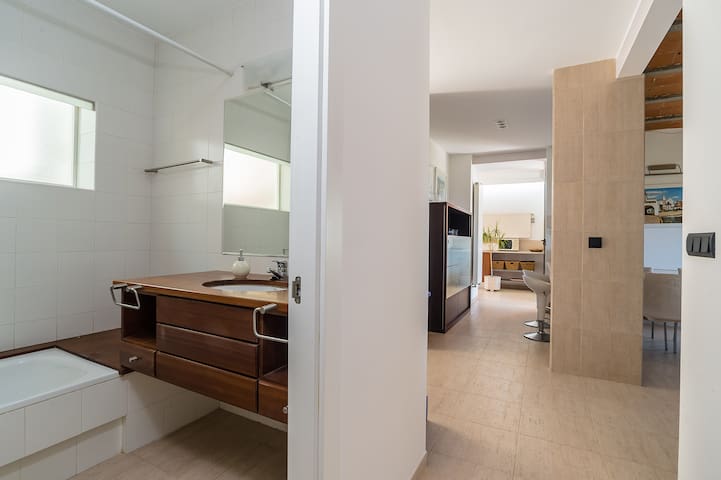 Fantastic house, perfect to relax and enjoy with family or friends. Located in a very quiet area, close to the beach and all the services, supermarkets, bars, shops ... available four double bedrooms, a large dining hall with fireplace. Three bathrooms and a fully equipped kitchen. The pool area has tables and chairs near the barbecue to eat outside. We have just painted it. The pool is excellent, very sunny and sun loungers for sunbathing.
Great House for groups of friends or family with children . A charming place in a very calm area. And just 1 km from the beach! With lovely mountain views . It has a large pool and playing area . Babaquoe, terrace with table and and also Balcony with Table and chairs to enjoy the pool and mountain views. The House has just being painted.
Fantastic neighborhood with big houses. Right next to the house there are 1000m of vegetable orchand and some trees, not any house so it it makes it very calm and silence place, perfect to enjoy parties with family and friends without problems or just perfect to be able to disconnect from noise and neighbours.
We've been very friendly welcomed, and the place is exactly as described online. Perfect for sunny holidays, with a great swimming pool and also the beach which is only a few minutes ride away. You can find all you need in nearby shops, and cook your meals either in the equiped kitchen or at the BBQ pit outside. We loved our stay there, thank you very much!
Lionel
2016-07-31T00:00:00Z
Séjour fin octobre,maison très fonctionnelle pour 8 personnes comme décrit sur airbnb.l'accueil de Joseph son père et excellente maison propre avec belle vue et proche de commodité.mary et très réactif a la moindre demande.a refaire sans problème.
Christophe
2016-10-30T00:00:00Z
It is a good place to stay. The house is fully equiped with enough room around the house and a very nice swimmingpool. From the house it will take you around 10 minutes to walk to the beach and boulevard with enough placets to eat and drink. Palamos is on a 10 minutes drive. We thank the owner for the fresh fruit from the garden and her immediate repons to question we had. We thank for a pleasant stay and the trust you've put in us.
Devota
2016-08-28T00:00:00Z
We were in the house with another couple and 4 children and the house was great. We enjoy the closed area of the swimming pool. We always went to the beach by walk. It's about 10/15 min. At our arrival, we had difficulty to find the house, so check that with Mary before your stay.
Elodie
2016-08-07T00:00:00Z
La maison est tres agreable et les hôtes tres sympas et dosponibles. Adresse a recommander.
Nicolas
2016-09-25T00:00:00Z
A great house with a fabulous pool in quiet surroundings!
Susanne
2015-08-01T00:00:00Z
We had an amazing stay at Calonge. We've stayed here for 5 days and we loved it! We had a very friendly welcoming and Mary's dad helped us with everything in the house. The house is very clean and it has all the space we needed with 4 adults and 3 kids! The pool was perfect, just as the bbq. We enjoyed it to the fullest, thanks to Mary!
Annelise
2016-04-28T00:00:00Z
La casa estaba exactamente como en las fotos. Muy acogedora, los dueños muy amables, nos han cuidado mucho. Nos lo pasamos muy bien y seguro que pensamos en volver. Muchas gracias Josep y Mary.
letizia
2015-04-06T00:00:00Z
Rodzaj pokoju
Całe miejsce
---
Rodzaj nieruchomości
Dom
---
Mieści
8
---
Sypialnie
Calonge, Catalunya, Hiszpania
• Family holidays on the beach villa just a few steps from La Fosca beach
Lovely cottage for 6 people. The house is located on the beach of La Fosca (Palamos, Costa Brava). This semi detached house is part of a small quiet villa park with its own beautiful garden and pool. The villa has an entrance hall, kitchen with utility room, three bedrooms, two bathrooms, living room with fireplace with access to the large terrace with sea views. The villa has central heating, air conditioning and a private garage. The rent includes cleaning, bed linen, tourist tax and normal use of air conditioning. Towels should themselves be included. In the months of June, July and August is Saturday arrival and departure. Get 10% discount on the total amount when two or more weeks rental. This special offer will be sent to you after the reservation request.
The beautiful sandy beach is within walking distance. The old fishing picture Palamos is close. Here you will find many restaurants, supermarkets, cafes, indoor sports facilities such as a sailing school. Additionally, you can diving, paddling, hiking and biking in the area.
Die Lage ist Top - 100 Meter zum Strand. Austattung ist mangelhaft - als ob der Besitzer dort nicht mehr selber wohnt. Pool ist zu Gemeinschaftsnutzung mit 6 bis 12 anderen Parteien.
Semjon
2016-09-24T00:00:00Z
Rodzaj pokoju
Całe miejsce
---
Rodzaj nieruchomości
Dom
---
Mieści
6
---
Sypialnie
Palamós, Catalunya, Hiszpania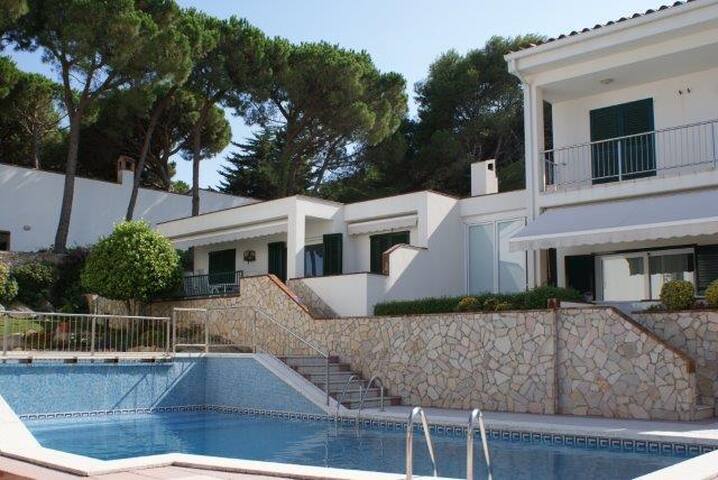 Private room and bathroom in a lovely country house at 5 minutes by car from the beach and downtown Palamos.
Romantic room with complete private bathroom King size bed (180X200cm) with sheets Access to living room, patio and terrace with an amazing view 40 km Pine forest at the back of the house, ideal for walking and biking.
Excellente alternative à l'hôtel, de plus Marie et son mari connaissent vraiment bien la région, les choses à voir et les restos. Mon amie et moi avons donc visité des endroits charmants et nous sommes allées que dans des resto et bar à tapas sympathiques. Un grand plus pour le grand lit confortable et la salle de bain privée toute neuve !
Caroline
2015-07-19T00:00:00Z
The host canceled this reservation 29 days before arrival. This is an automated posting.
Dara
2015-07-08T00:00:00Z
Esta era mi primera experiencia con Airbnb y no podria haber sido mejor. He pasado unos dias inolvidables en casa de Marie, y su marido Christian. Perfecta ubicación para descubrir la maravillosa costa brava. Marie y su marido son los perfectos anfitriones, y están pendientes de cualquier cosa que puedas necesitar pero dándote toda la independencia que necesitas. Sin duda volveré. Muchas gracias por todo! ------------------- Ce fut ma première expérience avec Airbnb et ne pouvait pas être mieux. J'ai passé quelques jours inoubliables avec Marie, et son mari Christian. L'emplacement est parfait pour découvrir la magnifique Costa Brava. Marie et son mari sont des hôtes parfaits, et sont en attente de quelque chose que vous pourriez avoir besoin, mais donnant toute l'indépendance aussi. Je vais certainement revenir chez Marie. Merci beaucoup pour tout!
Anais
2016-07-30T00:00:00Z
En nous accueillant chaleureusement.
Michel
2016-08-07T00:00:00Z
Marie and her husband, Christian, are among the most hospitable, interesting and friendly people I've ever met. My husband and I stayed at their home for 2 nights and we didn't want to leave. Their home is stunningly beautiful, peaceful and very very clean. The room is indeed very romantic with a separate bathroom which is very big and new. The bedroom and bathroom area provide privacy as they're separated from the rest of the house by a door. The house itself is just outside Palamos by the woods which, as you can imagine, gives lots of room for relaxation and peace. Marie and Christian share their home and so from the terrace you have some pretty amazing views over the ocean. When we arrived in Palamos we had no idea that this would be the best couple of days we've had. Christian came to meet us by the beach and showed us around pointing out a more secluded and beautiful beach. Once we got to their home they both welcomed us and offered a glass of white wine, showed us around the house and pretty garden and provided more information about restaurants and bars to visit. We were really lucky to have found such kind and friendly hosts who not only welcomed us in the warmest possible way in their home but also gave us priceless suggestions for the best paella and tapas restaurants in town, best mojitos and wine. Christian even took the time to join us at dinner for some tapas, introduce us to some of the restaurant owners/staff and really made us feel pampered. Such attention is hard to be left unnoticed and we are both very grateful. On day two of our stay we decided to dedicate the day time to the beach. There are so many beaches to discover, to be more specific, 25km of mesmerising sea waters and sandy beaches with fishermen villages along the way and water sport activities to take advantage of. For our evening time Marie and Christian suggested to visit a town nearby called Bagur. A small town with a lot of character and some of the best mojitos in Spain. When we arrived in the town we were happily surprised to quickly make ourselves part of a big fiesta taking place in the town square. There were tens and perhaps couple of hundreds people dancing - children, teenagers, adults, seniors- it was amazing! After the dances it was time to visit David, who is Cuban and famous for making some of the best mojitos in the region, and probably in the country. Words cannot explain how grateful and impressed we are from the warmth we were welcomed to, the gorgeous home, the valuable advice and enriching conversations we had. Marie and Christian aren't typical hosts, they open their home and heart to people and that is the biggest beauty in itself. We will definitely be back. Sooner than you may think:)
Christina
2016-07-23T00:00:00Z
Marie y Christian son una pareja encantadora, hemos pasado unos días preciosos en esta casa muy bonita y original. Hay una terraza grande donde desayunar o tomar una copa y la habitación es limpia y acogedora, con un baño privado. Desde que nos dieron el bienvenido nos sentimos como en nuestra casa y ademas con mucha paciencia nos enseñaron todas los mapas de la zona, aconsejando las mejores calas, cómo llegar, dónde aparcar, dónde comer bien etc... Muchas gracias por toda la hospitalidad y ayuda! Esperamos volver a veros pronto!
simone
2016-08-28T00:00:00Z
La estancia en casa de Marie ha sido como estar en casa, nos ha sorprendido gratamente la hospitalidad de la familia. Cuando podamos repetiremos sin dudarlo.
Vicenç
2016-09-04T00:00:00Z
Everything was perfect: the indeed romantic and cosy room, the own bathroom, breakfasts in the big terrase with sea and garden views and, specially, the warm welcome by Marie and Christian, who made us feel at home. Lovely place and lovely people which I hope will meet again.
Sonia
2016-06-22T00:00:00Z
Rodzaj pokoju
Pokój prywatny
---
Rodzaj nieruchomości
Dom
---
Mieści
2
---
Sypialnie
Calonge, Catalunya, Hiszpania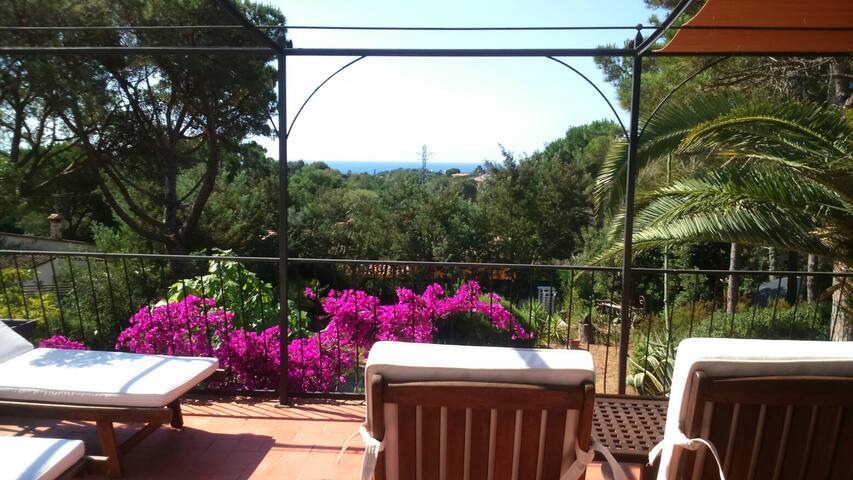 Mas Cabré je všechno o umístění, umístění, umístění! Máte pocit, že jste daleko od všeho, téměř uprostřed ničeho. Nachází se v přírodním parku Gavarres který je součástí sítě Natura 2000 Evropské unie chráněných oblastí, jejichž cílem je zajistit dlouhodobé přežití evropských druhů a stanovišť, udržitelným způsobem. Nejbližší dům je vzdáleno 1 km. Nicméně můžete vidět na moře od domu a města a pláže na pobřeží Costa Brava jsou jen pár minut pryč. Nachází se v krásně malebném kraji Baix Empordà, v Katalánsku, Mas Cabré patří mezi obcemi Vall-Llobrega a Forallac, což je oblast s bohatou historií, skvělým jídlem a sportovních aktivit. Odtud můžete navštívit staré středověkých měst, nebo jít na pláž; si můžete dopřát oběd či večeři u moře nebo které jsou obklopeny přírodou; nebo můžete navštívit místní vinařství a zkušenosti víno turné. A nezapomeňme na cyklistické výlety, plachtění, rybaření, potápění, jízda na kajaku ... Můžete se také vydat na jednodenní výlet do města Girona nebo Barcelona, pouhých 45 minut nebo 1 ½ hodiny pryč. Joan, můj manžel má tři klasické plachetnice a nabízí slevy pro naše hosty na Mas Cabré plout po mořích na pobřeží Costa Brava. Pro více informací prosím dotázat.
El Mas de Michele y Joan es perfecto para un retiro en el monte sin ruidos y en contacto con la naturaleza. Además se puede completar con el "Rafael" de Joan, un barco de 1900 con el que se puede descubrir las costas de Palamós.
Enrique
2016-08-22T00:00:00Z
Una masia en un entorno excepcional, con una tranquilidad inmejorable, a unos pocos km de los pueblos emblemáticos de la costa brava. Una casa bien reformada con excelente gusto. Michele nos atendió muy bien y nos dio mucha información sobre la zona.
Christophe
2015-08-16T00:00:00Z
We've had a wonderful time in Mas Cabré. Michele and her husband Joan are excellent hosts, responds very quickly to emails and does everything to make your stay comfortable. The house is beautiful, a good ambiente and ideal for large groups. Very well equipped. We've had an amazing weekend, everybody loved the place. Beds are also good, even for very tall Dutch guys! Hope to visit you again next year!
Vivian
2015-07-26T00:00:00Z
La casa es de ensueño, más bonita todavía que en las fotos. Muy acogedora y espaciosa, no nos faltó de nada y Michele y Joan estaban siempre pendientes de lo que nos podía hacer falta. Nos encantó estar casi aislados en esta preciosa casa pero a la vez a solo 10 minutos de las playas. Volveremos seguro!
Sylvie
2015-08-02T00:00:00Z
Michele's place is amazing! Such beautiful house and the surroundings (you are in the forest with no other houses in sight). The place was perfect for our large family vacation, (6 adults and 6 children) with large dining tables in the outside, beautiful pool with a view of the sea, and no one to bother (or bothering us). The house is 15 min away by car to a near town of Paloma where you can find supermarkets, restaurants, beaches, etc. From the house you can also easily access some of the greatest beaches and towns of Costa Brava. I would recommend having a car available while you are there, unless you plan to spend the whole day in the house (which is a good plan!). Michele was a great host, very accommodating and quick to connect with. I strongly recommend his place for families/large groups. We had an awesome time!
Marianne
2016-08-05T00:00:00Z
L'emplacement de la maison de Michele est somptueux sur un promontoire au milieu de la nature sauvage. A l'intérieur, une décoration d'un goût exquis, des couleurs audacieuses, un très grand espace, une magnifique terrasse. Du point de vue de l'équipement rien ne manque ; cette maison est habitée et cela se sent ( rien avoir avec les locations d'agences ou la vaisselle se résume à un couvert par personne). Tous les produits de bases sont à disposition à l'arrivée sans compter une délicieuse bouteille de cava local en cadeau de bienvenue. Une vraie generisité a tous les étages! Dans les salles de bain serviettes moelleuses, savons parfumés et anti moustiques (parce qu'il y en a pas mal). Attention aux adeptes des douches prolongées, on vous demande de rationner un peu l'eau ce qui est logique dans cette région. Pour les loisirs un billard ping pong jeu d'échec wifi il y en a pour tous les goûts. Michele est très arrangeante et donne beaucoup de bons conseils pour les visites locales. Si vous voulez découvrir la cote loin des touristes, surtout demandez à Juan le mari de Michele de vous louer un de ses magnifiques bateaux anciens avec skipper. C'est vraiment un moment extraordinaire. Seul bémol ne faites pas comme nous, lisez attentivement le paragraphe sur le chemin difficilement carrossable parce qu'avec une voiture un peu basse c'est vraiment très difficile de monter. De même comme la maison est un peu perdue, c'est ce qui fait son charme, le gps vous plante parfois tout seuls au milieu des garrigues faute de réseau mais bon on visite
PASCALE
2015-08-08T00:00:00Z
Rodzaj pokoju
Całe miejsce
---
Rodzaj nieruchomości
Dom
---
Mieści
12
---
Sypialnie
Vall-llobrega, Catalunya, Hiszpania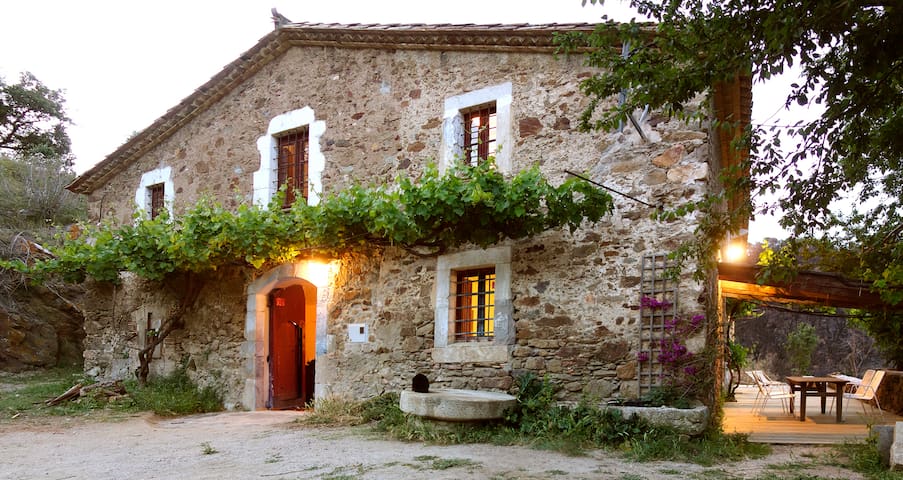 Estarem encantats d'acollir-vos en aquesta àmplia habitació privada amb bany complert d'ús exclusiu. També posem a la vostra disposició la cuina i el menjador per l'esmorzar i el sopar. Sigui quin sigui el motiu de la vostra visita a Palamós, us podem oferir consells per conèixer i gaudir de la nostra vila i del seu entorn acivament: visites i activitats culturals, senderisme, cicloturisme, pescaturisme, vela, submarinisme, kayaking, lleure, gastronomia, compres...
Casa unifamiliar de planta baixa i pis, situada en una zona molt tranquila a 5 minuts del centre de Palamós. L'habitació que posem a disposició pels visitants està al primer pis i té un bany complert, també d'ús exclusiu.
La zona de Palamós on estem és molt propera al centre, però al mateix temps molt tranquila. Essencialment residencial.
Superbe séjours auprès de Maria et raymond. Tout deux sont des hotes très acceuillants et agréables. Discrets, ils vous donneront de bonnes adresse sur palamos Chambre magnifique et sa salle de bain personnelle, c'est vraimen tune très belle prestation. Comme une belle chambre d'hotel avec de nombreux rangements. n'hésitez pas si vous souhaitez être tranquille, visiter palamos à pieds, vous détendre ...
Sophie
2016-10-27T00:00:00Z
Perfekt boende i Palamos. Jättefint rum och mycket trevlig och hjälpsam värd. Nära till allt, centrum, gamla stan med alla affärer och restauranger och stranden. Rekommenderar varmt detta boende och jag bor gärna här igen nästa gång jag kommer till Palamos.
Inger
2017-03-11T00:00:00Z
Lovely room, very nice hosts
Bruce
2017-02-25T00:00:00Z
Ganz klare Empfehlung. Schönes gemütliches Zimmer mit eigenem Bad. Super nette und hilfsbereite Gastgeber und ein sehr süßer kleiner Hund. Wer gerne wandert: nach Palamos beginnt eine atemberaubend schöne Küstenwanderstrecke.
Dorothea
2017-02-14T00:00:00Z
La estancia a sido inmejorable,gracia y su marido son unos anfitriones increíbles, además de unas personas super agradables, nada que decir la habitación muy acogedora, super limpio todo y la casa preciosa y muy bien situada cerca de todo y a la vez lejos de ruidos, así que volveremos a repetir, Un besito gracia y gracias por todo hasta pronto
Almudena
2017-04-02T00:00:00Z
Es un Airbnb perfecto, casa muy bonita en el centro de Palamo. Habitación grande con baño privado, muy limpio todo. M.Gràcia nos esperaba con una mapa y nos ayudó a encontrar un sitio a donde cenar y desayunar. La pasamos una maravilla. Merci M.Gràcia. Highly Recommended !
thibault
2017-03-05T00:00:00Z
Simply better then a hotel :)
Guillaume
2016-10-30T00:00:00Z
Rodzaj pokoju
Pokój prywatny
---
Rodzaj nieruchomości
Dom
---
Mieści
2
---
Sypialnie
Palamós, Catalunya, Hiszpania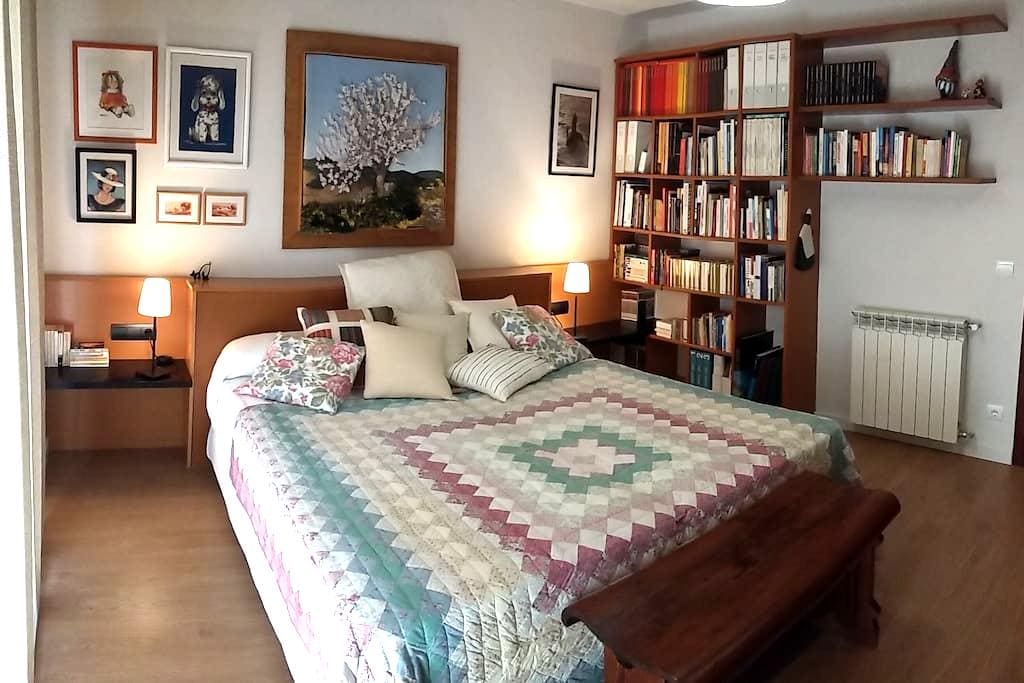 ,
Pareras urbanizacji Mas dom szeregowy nowo wybudowany. A 3 km od centrum miasta, strefa o małym natężeniu ruchu drogowego, 1.5 km od morza. Do wspólnego użytku: ogród, basen. Parkowanie na ulicy. Supermarket 300 m, restauracja 1.5 km, plaża piaszczysta "Playa de Palamos" 1,5 km. Port jachtowy 4 km, pole golfowe 8 km, tenis 3 km, jazda konna 4 km. Pobliskie atrakcje: Aquapark Aquadiver 8 km. Proszę zwrócić uwagę: Olejki samochodu.
Ulubione miejsca: Tapas DROGA, restauracje rybne, Muzeum Rybołówstwa
We had a great time in Palamos, over the Easter holiday, in this house. Sergi met us on arrival and kept in touch during our stay, checking everything was ok. The house is as described, easy to find and the pool, bbq and hot tub ensured all the family were happy and kept us busy! The supermarket is within walking distance at the end of the road. Flat walk to the beach and Palamos town centre. We highly recommend this house and would not hesitate to stay again. Many thanks Sergi.
Vanessa
2015-04-18T00:00:00Z
The start was perfect, when we arrived there was a cold bottle of Cava and some Spanish cheese and some soft-drinks. The tour in de house was fast. It's a complete beautiful "fully equipped" house close to the swimming-pool in a compound. We are positive on the total performance. There was only one major aspect that impacts a negative feeling. We rented the house based on the fact that it's a complete house with a Jacuzzi as the high-light of the property. Unfortunately it was NOT functioning after "one" day and this problem was not solved during our stay. There were some other defects, but they were solved during our stay in Palamos. The backdoor could not be closed and this problem was solved after 3 days. The air-conditioning on the third floor was not working and is replaced after 10 days. Knowing the above points I still would recommend the house to others!
Henny
2015-07-25T00:00:00Z
El alojamiento es tal y como se describe en la página del anuncio. Una zona muy tranquila que te permite descansar y relajarte después de estar todo el día conociendo la zona. Los anfitriones muy amables y acogedores, facilitándonos en todo momento todo tipo de información que pudiéramos necesitar. Muy recomendable.
Joan
2016-09-10T00:00:00Z
Todo perfecto! Cuando llegamos, nos anunciamos por telefono y a los 5 minutos habia alguien para recibirnos. Nos mostraron todo en la casa, se tomaron el tiempo para explicarnos todo y con mucha amabilidad. La casa era exactamente como el anuncio, muy amplia, comoda y ademas tenia todo lo necesario. Como extra nos recibieron con unas tapas de tortilla y fiambre, agua, jugo, vino en la heladera y hasta frutas para los niños! Muy amables, sera recomendado!
Maria Paz
2016-04-25T00:00:00Z
Wir durften einen schönen Urlaub verbringen, wir waren zu Beginn 5 Erwachsene danach 4 und drei Kinder. Wir hatten einen zuverlässigen Empfang trotz Verspätung mit feinen Köstlichkeiten. Sergi war bei Bedarf immer erreichbar und hat innert Kürze Antwort gegeben bzw. jemanden organisiert vor Ort, wir schätzten diese Hilfsbereitschaft sehr. Sehr gut ausgestattetes Haus mit allem Komfort den man benötigt. Diese Unterkunft ist sehr empfehlenswert.
Beatrice
2016-07-29T00:00:00Z
We werden hartelijk ontvangen en daarna gebeurde er meteen een flink ongeluk. De ouders van Sergi hebben ons toen op een onvergetelijk manier geholpen. Het huis is mooi, ruim en van alle gemakken voorzien, precies zoals op de foto's en de omschrijving. Ondanks het slechte begin hebben we er een fijne tijd gehad.
danielle
2016-08-08T00:00:00Z
accueil très chaleureux de Sergi et Felicia. maison superbe et très agréable a proximité des supermarchés. nous avons énormément apprécié le jacuzzi surtout après avoir fait de longues balades côtières (tossa,lloret..). la semaine est passée très vite ce qui veut dire que l'on se sentait très bien. merci
David
2016-11-01T00:00:00Z
Sergi was extremely accomodating and flexible with arrangements when we arrived. He organised a welcome pack of all the essentials including wine and water as his gift to us. He had prepared a hot Spanish omelet which was fabulous when we were all so hungry from a long journey. Sergi is a true gentlemen and nothing was a bother. As we were pushed for time when we met due to prior arrangements he offered to meet with us after our commitment to show us around his villa and how everything worked. His villa is beautifully appointed and very homely with every need catered for. Our family felt instantly relaxed and at home and enjoyed the under floor heating in March when it was a little chilly outside in the mornings and evenings. His heated spar pool was a great success and was a added bonus when relaxing and kicking back in the afternoons. We would certainly book Sergi's villa again when we visit as he and his villa are a hard act to beat! Thank you Sergi for everything you did and for allowing us to enjoy your fabulous villa Marc, Jane, the boys and Grandma XXX
Marc
2016-03-27T00:00:00Z
Rodzaj pokoju
Całe miejsce
---
Rodzaj nieruchomości
Dom
---
Mieści
11
---
Sypialnie
Palamós, Katalonia, Hiszpania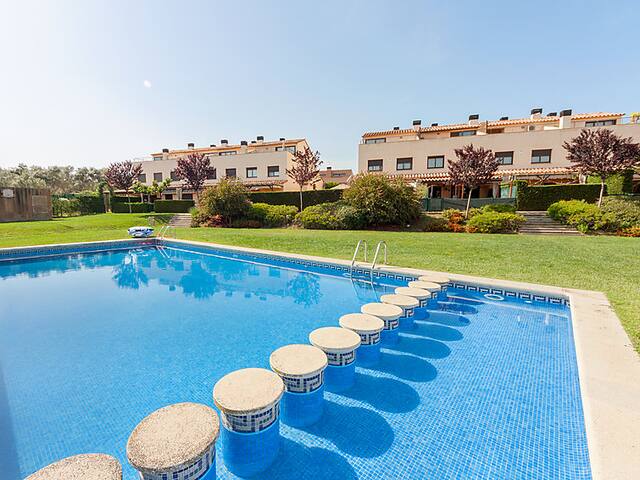 1

–

18

z

300+ Wynajmów domów
Wpisz daty, by zobaczyć pełną cenę. Obowiązują dodatkowe opłaty. Cena może uwzględniać podatek.