Victorian home with three spacious themed rooms (each with a private bath). House was part of the Underground Railroad and is the one of the oldest buildings in Marion. Within walking distance of downtown and the Harding Home. Hot breakfast served. Cable and WiFi included. Chapel services on the weekends.
The home was built by the son of the town's founder and served as a station on the Underground Railroad. Many of the hiding places and secret passages remain intact. It is rumored there were tunnels that connected this home with three other stations. Our three guest rooms are decorated to celebrate Marion's rich local history. The Presidential Room honors President Warren Harding and Ohio's other seven presidents. The School Room holds a classic book collection and reminds visitors of old local schoolhouses. The Coke Room is classic Americana with many examples of vintage licensing and advertising.
Located just outside downtown, you will find several examples of mid-to-late Victorian architecture. The Haven on Vine is centrally located at the intersection of state routes 309 and 95.
The home is beautiful. Dustin and his dad made us feel right at home. They greeted us at the door. Dustin showed us around the house and pointed out various points of interest involving the Underground Railroad.
Lauri
2016-09-29T00:00:00Z
Dustin and family were the most pleasant and hospitable during my 5 night stay. The house is enchanting, beautiful and peaceful. Being in such a historic landmark allowed me to access more creativity while I was in town on business writing in my spare time. I had a delicious breakfast made and ready for me at 4:30am each morning. The home is huge and it's also quiet, clean, and private. Be ready to relax and enjoy nice company who allows you the space to be alone, but also is there for your every need.
Valentina
2015-09-26T00:00:00Z
The haven was perfect for my trip, in fact, I rebooked another week for my next trip to Marion the day I checked out. The Presidential Suite was roomy and one of the most spacious AirBnB accommodations I have had.
Jeff
2016-05-09T00:00:00Z
My stay was prolonged a day and Dustin had no problem with me staying another night. This was my first stay in the presidential suite... They call it the presidential suite for a reason. It's a great room! I've reviewed before and no change in my feelings, great host, great location and a great listing in Marion. Highly recommended.
Joe
2016-03-08T00:00:00Z
This is my first time to rent a room through Airbnb. Thanks for Dustin. Nice house and even nice host. Hope to stay there next time, if I have chance to go Marion again.
Tianze
2015-11-07T00:00:00Z
This is my second time staying here and it has been an amazing experience. Dustin is incredibly friendly and accommodating for my late arrivals from Northeast PA. He offers insight to the areas history and suggestions about places to visit in the area. Dustin is kind and honest and makes mean pancakes! Will always stay here when visiting Marion.
Brett
2016-04-19T00:00:00Z
The Haven on Vine is one of the nicest places I've stayed at. Dustin was a GREAT host. The house is very historically interesting and in a great location. Highly recommend!!
Rich
2016-05-11T00:00:00Z
Great stay in the coke room. Dustin was there to greet me, show me around the place and give me a brief history of the home. I didn't give him much notice, but he accommodated. Highly recommend staying here if you're looking for a place in Marion.
Joe
2016-03-08T00:00:00Z
Rodzaj pokoju
Pokój prywatny
---
Rodzaj nieruchomości
---
Mieści
10
---
Sypialnie
Marion, Ohio 43302, Stany Zjednoczone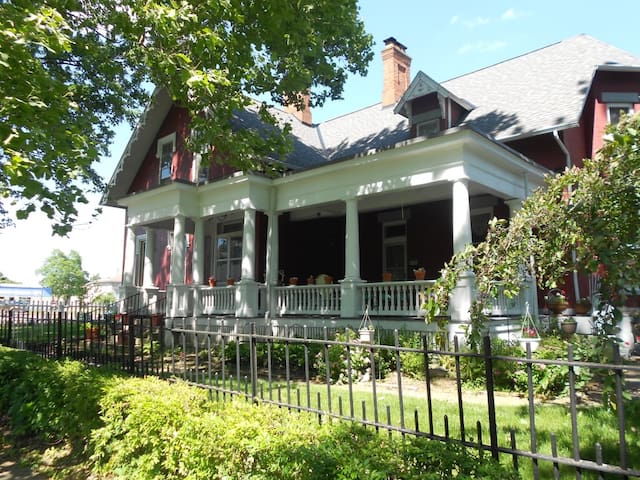 Open May-Nov. Simple country. Comfortable, cozy guest Cottage with partial kitchen, bedroom, half bath w/ shower. Breakfast. Main house next door has common area w/ TV, Fireplace. Alcohol-free and Smoke-free property.
Comfortable and cozy. Originally built as a writer's retreat, the guest cottage is 264 sq ft with partial kitchen, bath with shower, and bedroom. Next to 47 acre Forrest Nature Preserve: 2+miles walking trails. Abundant wildlife. Good fishin'; canoe and kayak access. Beautiful views.
We are surrounded by farmland and adjacent to a beautiful nature preserve. Wild life is abundant. We often see eagles flying the creek behind our home. Stars can be seen on cloudness nights. Fire flies sparkle the night and birds sing in the morning as if the very dawn depends on them. Peaceful country.
I stayed with Diane and Joe for four nights on a writing retreat to finish my dissertation. Diane and Joe were incredibly warm and welcoming, and also very supportive of my need to focus on work during my visit (i.e. that I couldn't socialize too much). The space was calm, clean, and well stocked - they have amenities available in the bathroom, fruit and water in the fridge, and they made sure that I had all the snacks I could ever need while writing. :) It was a great pleasure to share breakfast with Diane and Joe each morning, and to get to know them during my stay. We ate locally grown produce, fresh eggs right from their own chickens, homemade waffles and local syrup - and Joe will take requests for breakfast. I will definitely be recommending their place to friends! The property is right on the edge of a nature preserve and there are numerous chairs around the property for enjoying the view and the atmosphere. I sat outside in a rocking chair on the front porch and wrote and read in a calming peace. Hummingbirds keep you company. The stars at night were beautifully clear. This is a great place to clear your mind and recharge. (Tiffin is just 10 min away if you need anything more.) I wish I had stayed a whole week. Please note that cell service is limited out here, and that the internet can be slow, though Diane and Joe had the internet provider increase the speed during my visit. This worked great for me since I needed to focus on writing anyway, but just something to be aware of depending on your needs.
Logan
2016-07-29T00:00:00Z
Joe and Diane were fabulous. They have a great private quarters stocked with goodies and total privacy on a beautiful piece of property. The bed was super comfortable and the rain sounded great on the roof. I didn't spend a lot of time there during the days but breakfasts were custom-made and perfect. They even invited a friend to come join us for breakfast. They also provided some great ideas for things to do in the area that I had not found on the web. It was a great experience and I would definitely stay again!
Jeff
2015-06-30T00:00:00Z
We enjoyed a delightful stay at Forest View Bed & Breakfast! Diane and Joe are wonderful hosts and made a lovely and scrumptious breakfast each morning with blueberries freshly harvested from the garden and eggs from their little flock of backyard chickens. It was nice to just sit, watch the birds outside and chat for a bit. They had many good suggestions for what to do and where to eat in relation to our interests. The cottage was quite cute and comfortable, and very well stocked with snacks, fresh fruit and bottled water. I loved the simple cheery decor. They even made cupcakes and put out flowers and sparkling apple juice in honor of my birthday! We enjoyed the location out in the country. It was the perfect peaceful place to rest after a long day at Cedar Point and biking. The only issue we had was very low water pressure in the shower. We let them know of the issue and they were apologetic and said they were working to get it fixed as soon as possible. We would definitely stay here again if we happen out that way!
Katie
2015-07-12T00:00:00Z
The hosts were incredibly welcoming. It is a very lovely cottage in a great location. They gave me a snack upon arrival. Breakfast was incredible. Bacon, eggs, pancakes, pastries, fruit. I chatted with Diane for quite awhile. Very friendly !
Martin
2016-08-08T00:00:00Z
Such a great experience!! The cottage was perfect. I traveled solo and felt very safe. The place is super clean. They provided snacks, beverages and offered to make breakfast. I even went home with some garden veggies! Diane and Joe are such a sweet couple; extremely nice and very accommodating. I really enjoyed my stay. I highly recommend it!
Andrea
2015-08-24T00:00:00Z
Diane and Joe are awesome hosts. This is an actual bed and breakfast and the first one I've been to through airbnb. We had a wonderful experience. Communicating with them was a pleasure right from the start. Diane emailed me a lot of suggestions and tips about places to visit on the way and while we were there and they were very prompt in replying to my messages. Check-in was easy and flexible. It is a cute little guesthouse perfect for two and has all the amenities you might need, the bathroom and kitchen are well stocked. They have nice locally made snacks, fruit, cheese, chocolate, soda, water etc. If you forget your toiletries, the bathroom has almost everything that you may have at home. No smoking or drinking in the property due to insurance reasons, but that's sometimes a good thing. They serve really good breakfast in the morning, with some homegrown ingredients and really good bacon. They took all our preferences into account for the breakfast. You also have access the living room and kitchen area in the main house till 11pm. Like someone else mentioned, it is really like visiting friends or family. We had a lot of wonderful conversations with them when we checked in and over breakfast. The area is really beautiful. We took a walk along all the trails around the cottage and it was very pretty and quaint. Pictures don't do it justice. I could keep writing about how nice our stay was, but I'm going to leave some content for other reviewers. And some things, you just got to go there and experience. I would highly recommend this place and would love to go back there.
Adarsh
2015-10-26T00:00:00Z
Another awesome visit. It is like visiting friends or relatives.
Amy
2015-10-26T00:00:00Z
Diane and Joe were remarkable hosts - so warm and friendly and welcoming. I've stayed at number of B 'n Bs, and ForrestView stood out as #1 in its attention to detail. It sounds silly, but to me it's really important to have the basics like enough hooks to hang towels on, enough electrical outlets, etc. And this one did! Also, welcoming snacks, a fantastic breakfast with great conversation and a spectacular view. The bed was comfortable. I slept wonderfully. What a treat!
Pat
2016-10-17T00:00:00Z
Rodzaj pokoju
Całe miejsce
---
Rodzaj nieruchomości
---
Mieści
2
---
Sypialnie
Tiffin, Ohio 44883, Stany Zjednoczone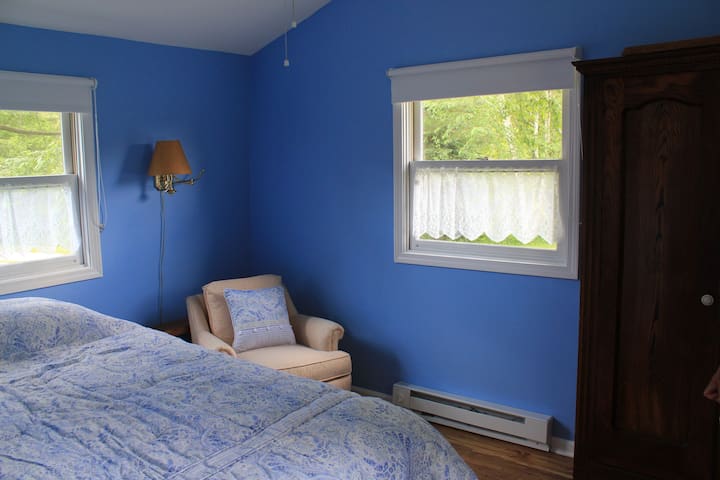 We are nearby Heidelberg University and Tiffin University and within walking distance of the Ritz Theater. This second floor walk up apartment offers a peaceful getaway with rooftop patio access. The industrial feel of this property offers a unique setting for business ventures. The exposed brick accents provide a warm vintage feel for a cozy couples retreat. We also offer a second bedroom with bunk beds to accommodate additional guests.
The loft is located in the downtown historic district in the city of Tiffin. We are nearby Heidelberg University and Tiffin University and within walking distance of the Ritz Theater. You'll enjoy views of the charming courthouse square where the new Seneca County courthouse is currently under construction. The loft has been recognized locally as a recipient of the Historic Preservation Award. We are proud of our local heritage and hope you enjoy your stay in this loft getaway.
An amazing modern cool loft! So spacious and gorgeous ! the bathroom is especially amazing, with a giant tub and 2 person shower. We will be back !
Ashlee
2016-10-10T00:00:00Z
The Loft was a GREAT place to stay! We were looking for a place that was more central for our family to have Thanksgiving dinner together. We could not have picked a better place to host a dinner! There is plenty of seating, a kitchen with lots of space, and games/dvds/pool table that provided entertainment and family time. And Ronele went above and beyond for us even during the holiday! We will definitely be staying here again.
Madeline
2016-11-28T00:00:00Z
Stayed at The Loft for a night when I had some friends coming in from Columbus. The space was perfect. Close to everything in downtown Tiffin. My friends couldn't believe this place was even in Tiffin. It feels like your staying in an upscale apartment in a big city!! Ronele was a wonderful host. She was easy to contact with any questions, and got back to me right away!!
Brianne
2016-10-04T00:00:00Z
Great experience, highly recommended!
Cody
2016-11-27T00:00:00Z
Awesome!!
Dave
2016-12-18T00:00:00Z
Amazing place! Highly recommend. Very accommodating and amazing value.
Cody
2016-11-27T00:00:00Z
Amazing experience! We didn't even want to leave the loft because it was so cozy and spacious. Ronele was a great host and the loft itself had everything we needed.
Rima
2016-10-16T00:00:00Z
Beautiful Place to stay in the heart of downtown Tiffin. The place is spacious and stylish, you won't be disappointed. It did not appear the place was throughly cleaned and prepped before we arrived, but Ronele was on top of communication and accommodating.
Derek
2017-02-06T00:00:00Z
Rodzaj pokoju
Całe miejsce
---
Rodzaj nieruchomości
---
Mieści
6
---
Sypialnie
Tiffin, Ohio 44883, Stany Zjednoczone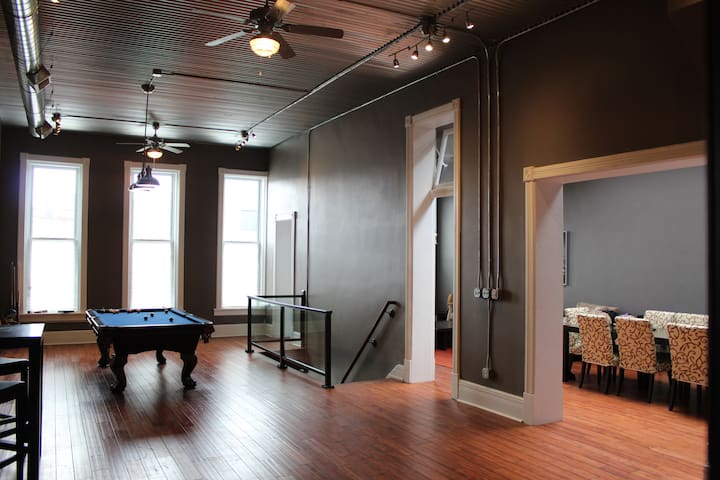 Upstairs fully furnished carriage house apartment offers privacy in an off street setting in Kenton, Ohio. Private backyard entrance, bathroom, kitchen, full sized bed and tv all available for a comfortable stay. Walking distance to Kenton Armory and centrally located amongst many colleges, including ONU.
Completely private with any and all needed amenities for an overnight or extended stay!
Within walking distance of the Kenton Armory - Kenton's most popular wedding reception sight. 15 miles from ONU. Also in close proximity of several other local colleges. Perfect for a short or extended stay!
This place is so nice. The owners have a lot of collectibles for the decor. It's a great, quiet, private little place. The carriage house was fully equipped with supplies and very clean. We would definitely stay there again when visiting the area.
Kelly
2016-12-04T00:00:00Z
Cute Colonial efficiency apartment! Very friendly hosts and a wonderful location!!
Donyelle
2017-02-27T00:00:00Z
We had an incredible stay! Jason and April were very welcoming, the space is warm and inviting. I highly recommend!
Maggie
2016-11-27T00:00:00Z
April and Jason were great hosts. Simple and easy to check-in, with clear recommendations and support from arrival through departure. Home is absolutely lovely and if my travels bring me back to Kenton again, it's the only place I'd stay.
Seth
2017-02-06T00:00:00Z
This space was so cozy and comfortable. It was like being at home. I will definitely use this space again when I visit the area!!!
Stan
2016-08-25T00:00:00Z
private, clean, and the hosts will do anything to make your stay perfect.
Kirk
2016-10-21T00:00:00Z
The place was great! Very cozy and well appointed. Immaculate and fun decorations. Would be happy to come back again someday.
Jim
2016-10-24T00:00:00Z
Stayed here on a work trip. Excellent hosts. Very accommodating. Will definitely stay again!
Dusty
2016-11-15T00:00:00Z
Rodzaj pokoju
Całe miejsce
---
Rodzaj nieruchomości
---
Mieści
2
---
Sypialnie
Kenton, Ohio 43326, Stany Zjednoczone
Conveniently located between Lexington and Bellville, you'll feel right at home the minute you walk into this awesome hunting themed, ranch style home that is situated on 2+ private acres
Rodzaj pokoju
Całe miejsce
---
Rodzaj nieruchomości
---
Mieści
8
---
Sypialnie
Bucyrus, Ohio 44820, Stany Zjednoczone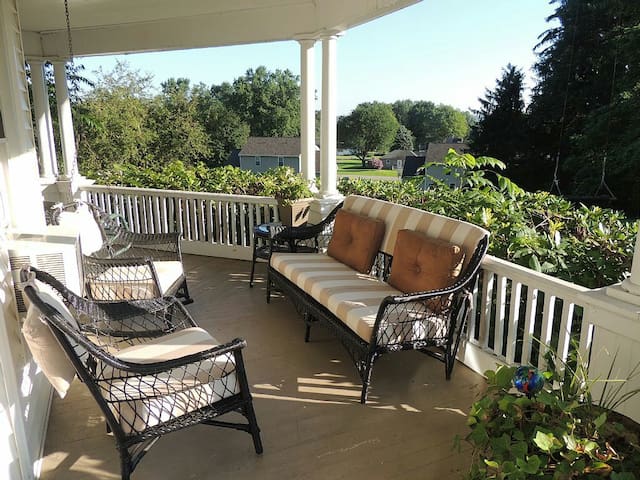 Private bedroom with queen bed in remodeled house. WIFI and breakfast provided. Keypad access.
We have remodeled our 1950's brick ranch house in the past year with tasteful current finishes to make it cozy and comfortable. The house features new wood laminate flooring, plenty of updated tile, and calming neutral paint and decorating. Your spacious bedroom has queen memory foam bed, closet for you to store things, and a lamp and storage space on each side of the bed.
Friendly and quiet neighborhood, little traffic. It is a great place to take a walk. Within a 5 minute walk from the house you can get to Riverside park with paved walking trails along the river, a public pool, tennis courts, and the fairgrounds. A short 10 minute drive gets you to Riverbend park with the best hiking in Findlay, a disc golf course, and a covered bridge. It is a favorite spot in Findlay for photographers. Next to Riverbend park is the reservoir that is a manmade raised lake next to corn fields with a 4 mile long gravel trail around it at the top. It is very pretty at sunrise and sunset and definitely worth seeing. Our favorite local restaurants in downtown Findlay are one mile away on Main St.
warm and welcome, extremely clean, quiet and comfortable. i couldnt have asked for a more accommodating host and place to stay. thanks again!
Pamu
2017-01-28T00:00:00Z
Mark and his wife were just lovely. Their place is immaculate and the bed was very comfy. All the amenities were taken care of. Wonderful stay!
Jackie
2017-02-20T00:00:00Z
Quiet neighbourhood. Quiet friendly couple. Nice breakfast. It was a perfect stop when heading south on the I75. Thank you!
Nigel
2017-02-07T00:00:00Z
We were the first guests to stay at their home. We were pleased that Mark accepted our last minute request. There was ample parking and house was convenient to the highway but not too close to hear it. The home was nicely remodeled and we had our own bedroom and bathroom. There was a train we could hear and the furnace was kind of loud. We always travel with earplugs so were prepared. Snacks and water were by the bedside as well as fresh towels and nice welcome note. Hosts were friendly and price was great! We recommend staying here for sure.
Marinda & Aaron
2017-01-27T00:00:00Z
A house of warmth, kindness and hospitality. Our hosts reflected these qualities and went out of their way to make my daughter and me feel welcomed. They provided excellent accommodations (including wifi), a great array of breakfast foods, and access to their kitchen for meal preparation. All of this was afforded to us at a great daily rate. I highly recommend this Airbnb residence. Highly!
Jack
2017-02-14T00:00:00Z
Rodzaj pokoju
Pokój prywatny
---
Rodzaj nieruchomości
---
Mieści
2
---
Sypialnie
Findlay, Ohio 45840, Stany Zjednoczone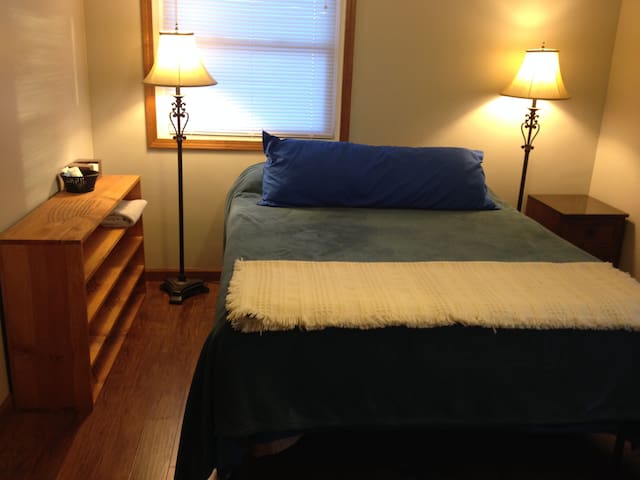 A house on a hill, by a river, in a woods is how Trella Romine described her home she dreamed of and built in 1953. Terradise is good for couples, solo adventurers, business travelers, and furry friends (pets). The quiet, wooded setting is a great venue for scrapbooking or other retreats. Marion offers the usual shopping and restaurants found in mid-size American cities.
In 1995, the Marion County Park District was formed with a donation of 12 acres of Terradise as a Nature Preserve. The B&B is surrounded on three sides by this woods, full of native and horticultural varieties of plants and flowers.
Although designed as a get-away, Terradise AirBnB is within 15 minutes of Marion with shopping, theaters (including the full restored 1927 Palace Theater), restaurants (check out Rosa and Rocco's - delicious! (URL HIDDEN) One mile away, there is pizza in Caledonia (Dugout Pizza - (PHONE NUMBER HIDDEN)) and a Dollar General store for any last minute needs.
This was an absolutely beautiful home and the scenery was amazing!!! Very relaxing and family friendly environment. So much to see you dont even want to leave!
Sasha
2017-02-05T00:00:00Z
Rodzaj pokoju
Całe miejsce
---
Rodzaj nieruchomości
---
Mieści
4
---
Sypialnie
Caledonia, Ohio 43314, Stany Zjednoczone
our cozy bedroom & 3 friendly dogs will keep you fun and safe during your stay.
cozy
very near University of Findlay
Khe's place is very cozy and friendly. We love her dogs as much as her hospitality! Highly recommended.
Duong
2017-01-09T00:00:00Z
Rodzaj pokoju
Pokój prywatny
---
Rodzaj nieruchomości
---
Mieści
2
---
Sypialnie
Findlay, Ohio 45840, Stany Zjednoczone
10 minutes walk to the subway station, convenient transportation, food and delicious.
Rodzaj pokoju
Całe miejsce
---
Rodzaj nieruchomości
---
Mieści
2
---
Sypialnie
Mount Victory, Ohio 43340, Stany Zjednoczone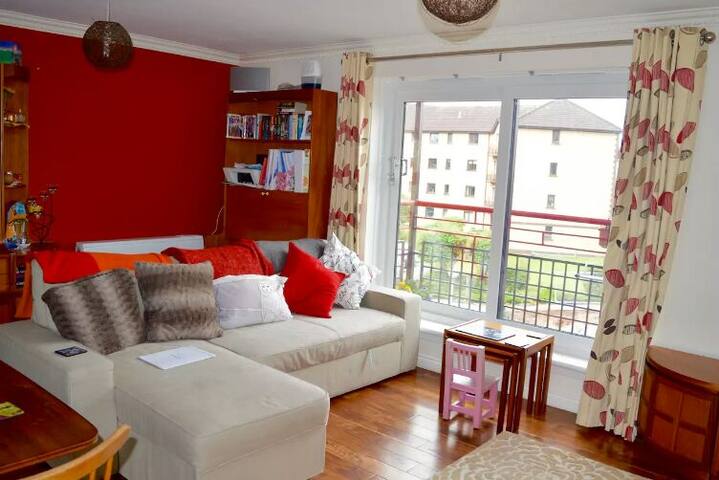 Wonderful former church space. Original pews and stage/altar area for any event that needs room for a presenter and an audience of up to 170 people. Arrangements can be made to use drums, piano, Hammond organ and PA system. Dance rehearsal, photo shoots, video production are all welcome. 4 private rooms available if needed.
It used to be a church. That's pretty cool. It also has a Hammond organ and Leslie speaker.
Rodzaj pokoju
Pokój prywatny
---
Rodzaj nieruchomości
---
Mieści
16
---
Sypialnie
Galion, Ohio 44833, Stany Zjednoczone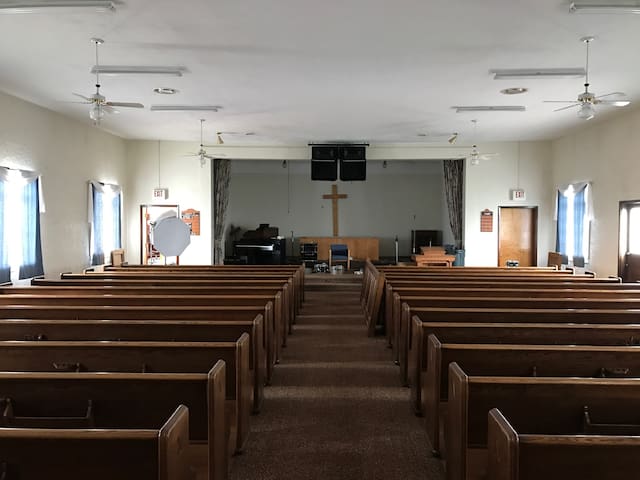 Full house located within 15 miles of Mid-Ohio. Large stone patio area.
Fast easy access to the track at 7721 Steam Corners Rd, Lexington Ohio via St. Rt 97.
Easy access to the major highways, north and south.
This was a great space to stay for the race. We had plenty of room and the TV was huge and a spectacle to be around. We didn't get a chance to use the Hot Tub but with it's multi colored light system, we regret not. Mike was very communicative and check in was a breeze.
Billy
2015-07-03T00:00:00Z
Rodzaj pokoju
Całe miejsce
---
Rodzaj nieruchomości
---
Mieści
8
---
Sypialnie
Galion, Ohio 44833, Stany Zjednoczone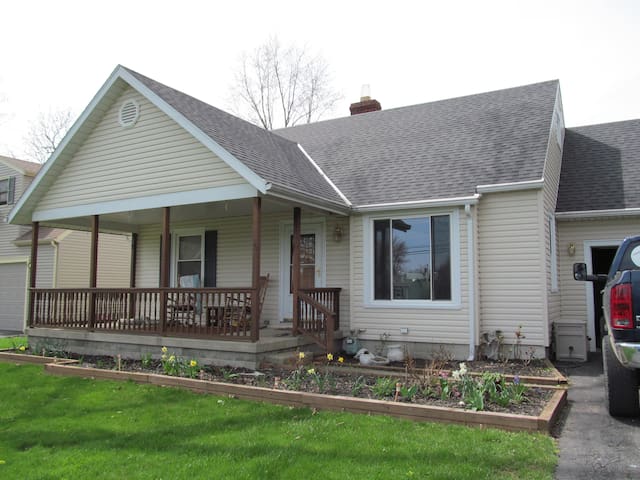 Wpisz daty, by zobaczyć pełną cenę. Obowiązują dodatkowe opłaty. Cena może uwzględniać podatek.