And if I told you sea, sun and sand, what would you say? One step follows another, one foot leads to another, one hand binded to another: The Bungal'eau offers simply delicious surprises. Imagine moments of exception, these thousand memories to come, color-your emotions and your senses.
Decorated in warm colors of spices, the villa consists of 3 bedrooms, 2 air conditioners, a living room, a kitchen and a bathroom. In its spacious veranda, at the end of each day you will be the privileged witness of a beautiful sunset.
Facing the vast blue lagoon where sometimes sail small canoes, 'The Bungal'eau' will be the accomplice of your lifestyle in an island with legendary hospitality, rich in customs and traditions ... an halt.
Nous avons passé un agréable séjour dans un vrai petit coin de paradis. Le logement est totalement conforme à sa description. Très bien situé, dans un quartier calme, proche de Port Louis et des commodités. Le Bungal'eau et surtout à l image de cette ile chaleureuse, généreuse et colorée... Nous avons été très bien accueillis par Jean Lou , qui a su nous donner des informations nécessaire au bon déroulement de notre séjour a (URL HIDDEN) plus disponible pour nous a tout moment grâce au téléphone qui été mis a notre disposition…a notre arrivée tout été la, pour parfaire nos vacances , panier de fruits , jus et eau (URL HIDDEN) ne manquait absolument rien… Un grand merci a Badou qui était également présent pour nous, pour sa générosité a lui et sa famille…. Nous rêvons encore de ce bel endroit , des balades en kanoé, du chant des oiseaux le matin, des couchers de soleil sur le lagon, de cette belle terrasse, des fleurs du jardin, du petit coin sous l 'arbre… vraiment merveilleux…. Nous n'avons qu'un seul regret y être resté que 7 jours, alors il est certain que nous y reviendrons…nos vacances on été encore plus belle , grâce a vous ,et au Bungal'eau…Merci
Céline
2015-05-29T00:00:00Z
LeBungal'eau was a great expierience. We got a warm welcome by Martine's brother Jean-Lou, who provided us with all information necessary. When we had a problem with the telephone line/WIFI, he didn't hesitate to get everything fixed quickly. The Bungalow is as described, 10 meters away from the lagoon, very spacious and equipped with virtually everything, including two Kayaks which can be used to explore the laggon and the reef. We got even a mobile phone, which made it very easy to stay in contact with Jean-Lou. Thank you Jean-Lou for a perfect time, and thank you also to Badou and family for his support and friendlyness! To come to an end: LeBungal'eau is not a 5 star holiday resort for all-inclusive tourists, but a 5 star place for everybody who's interested in individual holidays!
Jochen
2015-07-04T00:00:00Z
Bonjour. Ce logement est entièrement conforme à la description qui en est faite sur le site, voire plus. L'accueil a été excellent malgré notre exigeance d'horaire, un jus de fruit et une belle corbeille de fruit nous attendaient. Ce sont des intentions qui ne s'oublient pas et qui confirme la grande gentillesse et la disponibilité des Mauriciens. En un mot, un régal de séjour, une vue magnifique chaque jour et de bien belles rencontres qui nous même offert une amitié sincère. Ce logement est à conseiller sans retenue.
Franck
2015-04-06T00:00:00Z
It was a wonderful time spent in your house. The house is clean and safe. Garden and neighborhood maintained. We enjoyed two kayaks, you are ready for guests. In the vicinity are two food shops Simla - 5 minutes walk and JUMBO is better accessible by car. The beach in front is good for swimming. I recommend to rent a car. Thank you Martine and Jou-Lou for a great vacation.
Tomáš
2016-02-14T00:00:00Z
Excellent séjour dans une maison confortable avec un panorama exceptionnel !! Tout est bien pensé dans cette location et les kayaks sont un gros plus... Merci à Martine pour sa communication ainsi que son frère Jean Lou pour son hospitalité, sans oublier Badou pour sa bienveillance... Nous espérons vite revenir !
emmanuelle
2016-03-02T00:00:00Z
Das Wohnen direkt am Strand und am Wasser ist toll und auf Mauritius bei Privatunterkünften nicht leicht zu finden. Das Haus ist ideal für 2-4 Personen und hat einen einfachen Standard, mit dem wir aber leben konnten. WLAN funktioniert gut und lobenswert sind auch die 2 klimatisierten Schlafzimmer (Betten 140cm sind gut) und der große Kühlschrank. Der Rest der Wohnfläche hat Ventilatoren. Ein gut sortierter Supermarkt ist 20 Gehminuten entfernt, Post und Polizeistation sind in der Nähe. In dieser Gegend gibt es keine nennenswerte Gastronomie und kein Nightlife. Ein Mietwagen ist aus unserer Sicht unverzichtbar. Am Strand gibt es im Wasser keine begrenzenden Markierungen für Schwimmer, wie an anderen Stränden oft üblich, es fahren nur wenig Motorboote von Fischern vorbei, die aber ausreichend Abstand wahren. Feste Schwimmschuhe sind dagegen zwingend notwendig, wenn man sich an scharfen Korallenresten im tieferen Wasser nicht verletzen will.
Harald
2017-03-31T00:00:00Z
Notre séjour très agréable, accueil chaleureux. Merci à Badou qui est très serviable! L'accès mer permet de profiter des kayaks à disposition mais pas de sable pour le farniente. La maison, bien équipée, est très bien située pour accéder aux plages du nord et à Port Louis.
Alexandre
2016-05-13T00:00:00Z
The landlord is very enthusiastic, house facilities, bus station, the police station is also very close. If you want from the urban area near the point, this location is very good!
HUI JU
2016-10-23T00:00:00Z
Rodzaj pokoju
Całe miejsce
---
Rodzaj nieruchomości
Willa
---
Mieści
6
---
Sypialnie
Baie du Tombeau, Port Louis, Mauritius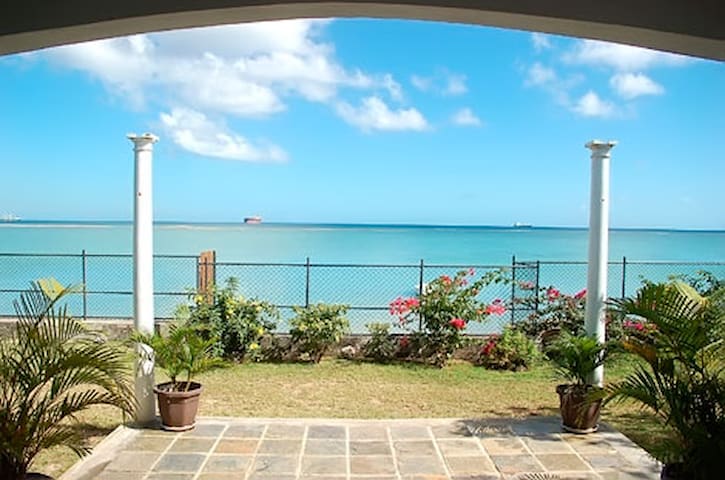 Beachfront 2 Bedroom villa is located within the property of Turtle Beach Villas. If is a 2 bedroom villa which can accomodate up to 4 persons as a queen size beds are provided. Additional "camp bed" can be provided on request at additional fee. Furnished with a kitchenette, fridge, microwave and cooking stove, it also has a living area and a big private terrace open on the landscaped garden and sea view.
Turtle Beach Villas is a private beachfront property within a landscaped garden and direct access to the sea. We are closed to Port Louis and Grand Bay, few minutes from Shopping Mall Jumbo Riche Terre where our guests can taste local cuisine as well as international food within the foodcourt as well as have access to Hypermarket Jumbo. Ideally located 45 minutes from the airport, the property is easily accessible from all parts of the island. For lovers of Snorkelling, the place is reputed for its seabed which is at its natural state. For those who like Kayack, they can just rent it out and go for a picnic to nearby public beach close to our property. Turtle Beach Villas is a relaxing place where you can have birds song in the morning and where you will surely well feel at home.
Accessibility and Good Location: 15 minutes from: - Port Louis, the Capital city - Pamplemousses garden - L'Aventure du Sucre Museum 20 minutes from - Grand Bay, Pereybere and other Northern public beaches 30 minutes from - All other towns as well as Flic en Flac 45 minutes from the airport
Idealer Ort zum Entspannen, schön und praktisch eingerichtet, toller Pool mit super Blick, der Garten ist generell sehr gemütlich und wunderschön. Vor der Tür fährt ein Bus, unsere Gastgeberin hat uns jedoch selbst zur nahegelegenen Mall gebracht und abgeholt - toller Service! Warmes, herzliches Willkommen und jederzeit stand man uns mit Tipps und Antworten zur Seite. Fürs Frühstück war ebenfalls alles vorhanden, einfach ein toller Gastgeber. Kleine Notiz: für den Strand sollte man geeignete Schuhe mitbringen, da es kein Sandstrand ist.
Rebecca
2017-01-19T00:00:00Z
The turtle beach villa is very nice and you can enjoy your day next to the beach. Also the housekeepers are very friendly and helpful. The breakfast was delicious and the rooms and kitchen are clean and comfortable. It was a wonderful stay there!!!
Vale
2017-01-10T00:00:00Z
Wir waren begeistert von der gepflegten Anlage (inkl. Pool) und ihrer sehr ruhigen Umgebung. Die unmittelbare Lage am Korallenstrand war für uns zum Schwimmen, Paddeln und Schnorcheln ideal. Das Korallenriff mit seinem Fischbestand hat uns viel Freude gemacht. Mit dem Bus, der in der Nähe eine Haltestelle hatte, konnten wir bequem in einer halben Stunde nach Port Louis fahren. Für weitere Touren ist ein Mietwagen sinnvoll. Die Gastgeber waren außerordentlich zuvorkommend und hilfsbereit und waren bei allen Fragen und Wünschen stets zur Stelle - über das Maß hinaus, das man von Gastgebern erwarten kann. Wir werden wieder kommen!
Dieter
2016-12-31T00:00:00Z
Mr et Mme Tsé ont toujours été disponibles, prêts à nous aider à la moindre demande (taxi, renseignements, informations,...). Tout a été fait pour nous faciliter le séjour. Le logement est en bord de mer à proximité de la maison de nos hôtes, la vue est magnifique, il est possible d'aller d'une plage à une autre en Kayack.... Bref une location que nous conseillons vivement.
richard
2017-01-06T00:00:00Z
Nous avons passé un séjour merveilleux à Turtle Beach. La villa est encore plus belle que sur les photos. Une villa très reposante avec un jardin magnifique (fleurs, noix de coco, mangue) une grande piscine, une vue exceptionnelle sur la mer! Très bon accueil de Therese qui nous a très bien conseillé (sorties, repas, boutiques) tout au long de notre séjour. Et un chauffeur (Pran) super ! Je vous conseille la villa Turtle beach.
(EMAIL HIDDEN)
2017-03-16T00:00:00Z
A lovely retreat on a quiet coral beach. The snorkelling was beautiful and the kids loved shining their torches on the sea at night to see the attracted squid. The good supply of DVD's kept the kids happy while hubby and I could enjoy a glass of wine on the private balcony. A peaceful pretty location. The pool was enjoyed by the kids together with the sand toys provided by our host. We hired kayaks for a trip out on the ocean which was fun.
Tamara
2017-03-05T00:00:00Z
Very good. Close to Port Louis and really quiet place
Murray
2017-01-17T00:00:00Z
Rodzaj pokoju
Całe miejsce
---
Rodzaj nieruchomości
Willa
---
Mieści
4
---
Sypialnie
Port Louis, Port Louis District, Mauritius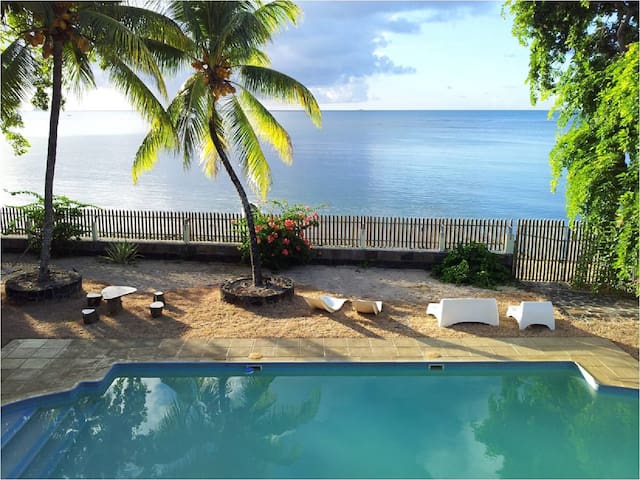 A 15 minutes de Port Louis, 30 minutes du nord touristique, appartement d'une chambre à coucher et un séjour avec 2 clic-clacs (4 personnes). Avec piscine, wifi, canal plus et un grand jardin paisible. Et la mer en face. Situated in Baie Du Tombeau, 15 minutes from Port Louis, the capital, and 30 minutes from the touristic north. You can enjoy a swim in the pool, relaxing in a beautiful garden, wifi, canal plus included. Across the road: the beach.
My husband and I had a pleasure of staying with Natalie and Simon for almost a week in the beginning of October. First of all, I have to mention how helpful Natalie was with organizing everything, including a car hire from the airport,in advance over this app. She was so quick to respond to messages and always had useful info and suggestions. Once we got to the actual place we were stunned by how beautiful both the house and the territory around it were. The house we stayed in was huge and provides everything you may need(all household items,shower amenities,even some welcome food and a phone to stay in touch with hosts). Both Nathalie and Simon are so friendly and helpful and just wonderful people to be around. They were constantly making sure that we were enjoying our time and asking if we needed anything. There were cleaners available every other day and we actually had to tell them that we didnt need that much cleaning,but what a wonderful touch! We had an absolutely amazing time and strongly advise anyone interested to stay in this lovely home.
Alexandra
2016-10-07T00:00:00Z
Nathalie's place is exactly what you see on Airbnb. A nice, peaceful and relaxing place with a spacious garden and pool. The accomodation is also nice and big, with a totally equipped kitchen + washing machine. If you're looking for peace and quiet this is your place.
Alejandro
2016-07-22T00:00:00Z
Unser Aufenthalt war SUPER!!! Nathalie und Simon waren großartige Gastgeber! Sie waren sehr hilfsbereit und man konnte mit jeder Frage an sie herantreten. Sie haben auf unsere Bitte hin, ein Kinderbett organisiert und überall Moskitonetze montiert. Da wir gerne grillen,haben sie für uns extra einen neuen Grill besorgt! Danke!!!:-) Einmal haben wir auch zusammen gegrillt und Tage später, kamen wir in den Genuss von Nathalies herrlichen curry!!! Wir wurden rundum verwöhnt!!! Kühlschrank war voll, Salz, Zucker... Wasser, Mich... und Bier... waren für die ersten Tage vorhanden und wir wurden mit frischem Obst versorgt! Putzfrau kam ca 3x die Woche und ebenso oft wurde die Bettwäsche gewechselt! Das Lazy Tilapia ist für Selbstversorger nicht nur wärmstens zu empfehlen, es ist ein MUSS!!!! Nicht zu vergessen, der wunderbare Pool! Wir haben die 18 Tage mit unseren Kindern bei ihnen sehr genossen!!! MERCI und THANK YOU!!!!!!!!!!!
Andreas
2017-03-16T00:00:00Z
The host canceled this reservation 158 days before arrival. This is an automated posting.
Denise
2017-02-26T00:00:00Z
Two friends and I stayed at Nathalie's BnB for two nights. Nathalie, her husband Simon and their niece Juliette are terrific hosts. They were very nice and helpful with everything. The house was big, clean and fully equipped (all household items, washing machine, a mobile phone for emergencies, welcome food and drink) located in a beautiful and quiet garden. There is a supermarket nearby, only a few minutes drive. We felt very comfortable during our stay and would definitely stay there again.
Daniel
2016-12-02T00:00:00Z
We had a great stay at Nathalie's and Simon's place, both were a perfect host. The apartment was clean and has a nice view into the garden. There is no problem to use the great pool. You need a car to get around which is no problem as you can get around easily. We can certainly recommend the place and would have loved to stay longer. We will be back one day.
Uli
2017-02-21T00:00:00Z
We spent almost 1 week here and had a great time. This ground floor appartment (almost like your own house) is spacious, clean, well-equipped, has good wifi connection, and you have access to a nice and big pool. The house/appartment is located in a quiet area, next to the owners' house, and has a huge shared private garden/park. The hosts are very welcoming and helpful and also assisted with car hire. There is also a bus stop just 1 minute away. There is a beach on the other side of the road, but for bathing, you should go a bit further North to the closest public beach. We highly recommend this accomodation!
Katrine
2016-12-23T00:00:00Z
Charming setting for this lovely pool side apartment which has everything you could need. It's clean, spacious and has great wi-fi. The well kept gardens and pond were great to relax in and enjoy the wonderful birds. Nathalie and Simon were extremely helpful with directions and anything I needed before and during my stay. They kindly left some provisions in the kitchen as well as organised car hire for me. Unfortunately my trip was too short to enjoy the place fully, hope to be able to return.
Aruna
2016-12-06T00:00:00Z
Rodzaj pokoju
Całe miejsce
---
Rodzaj nieruchomości
Dom
---
Mieści
4
---
Sypialnie
MU, Mauritius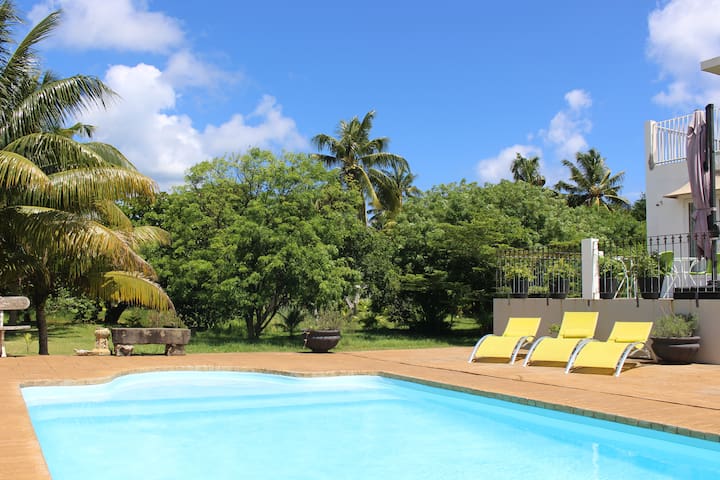 Mon logement est proche de la plage et la vue est exceptionnelle et les couchers de soleil somptueux. Vous apprécierez notre logement pour les lits confortable,la situation les pieds dans l'eau. Ce logement est parfait pour les couples et les familles avec ou sans enfants en vacances mais sa proximité de Port Louis et des centres d'affaire peut aussi contenter des hommes d'affaire de passage, qui recherche un peu détente et veulent se déstresser .
Les prestations sont de qualité, la tranquilité assurée et l'espace important de la maison entre autre sur les terrasses permet à chacun de trouver son coin, sans interférer sur les autres occupants . La maison est louée hors charges d'eau et d'électricité à cause des nombreux climatiseurs .En utilisation normale compter 50€ par semaine .
Le quartier est tranquille juste à côté de l'hotel des cocotiers, il est surtout composé de grandes villas sur la plage et de grandes propriétés sur l'intérieur des terres .
Great location right on the beach, beautiful spacious house with a lovely garden. Couldn't have asked for anything more. Particularly enjoyed the sea canoe, happy hour in hotel 5 mins walk away and general tranquillity. Hosts couldn't have been more helpful! Deserving of 5 stars.
Matthew
2016-12-01T00:00:00Z
The host canceled this reservation 5 days before arrival. This is an automated posting.
Satish
2017-01-03T00:00:00Z
Great place, the whole house was perfectly clean , close to the beach and had a great sea view . We are 8 girls from Malaysia & singapore , during our vacation at Mauritius ,we are blessed to know Jean Marc and his wife Jennifer at stay at his Villa Thank you Jean & Jennifer let us have a wonderful holiday in Mauritius .
jerica
2017-02-16T00:00:00Z
the house is wouderful,good signview,good safa,good bed,silent beach,and Jean and his wife are friendly,can offer breadfast for us in time and it tasted good.but we do not use the pool,because it had not ready yet,may be now can be used.i like the court which faced to the sea,soft breeze,you can sit on the short wall ,lisent to the sea,watch the star,wouderful place
顾
2016-11-12T00:00:00Z
Rodzaj pokoju
Całe miejsce
---
Rodzaj nieruchomości
Domek gościnny
---
Mieści
10
---
Sypialnie
Tombeau Bay, Pamplemousses District, Mauritius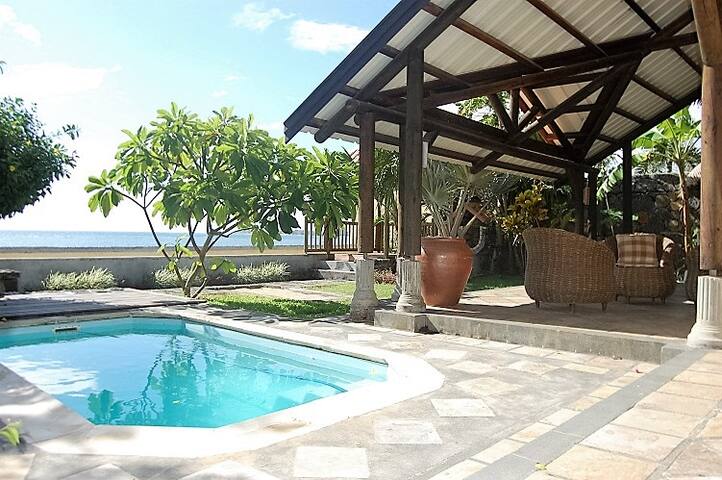 The villa is located in a quiet neighborhood next to the popular tourist places in the northwest of Mauritius by the sea It is ideally located next to a 3-star hotel called "coconuts" and within 3km a shopping center.
The villa is spacious, modern, sunny and tastefully decorated, with a capacity of seven people capacity and equipped with an alarm system and a safe. She invites you to live out daily in a mixture of well-being, comfort and discreet luxury. The villa of 160 m 2 bright rooms decorated with care and a covered terrace and a pergola dedicated to dining and relaxation. Haven away from the hustle and bustle, it is ideal for lovers of peace and serenity. Spectacular view from the terrace of the majestic Baie du Tombeau and Goulet. The villa has been designed for a lifestyle friendly. You have a private pool 7m x 3.5m (24h/24) that invites you to relax, 3 air-conditioned bedrooms (1 master with S / private bathroom), a separate bathroom, 1 separate toilet, 1 covered terrace, 1 spacious living room opening onto the veranda, garden and a fully equipped kitchen with access pergola "American" modern kitchen, fully fenced yard of 700m2 of + with the possibility of playing petanque (14 balls included) or balloon and parking for 2 cars with gate closed. Free of charge, the maid takes 2 x / week. It will also prepare you - on request and at 10 to € 15 - small dishes neat and varied. This villa with its environment, will ensure the comfort, well-being, relaxation and security for an unforgettable vacation.
Located at the exit of the village typically "Mauritius" Tombeau Bay, this beachfront villa is within 3 km of a shopping center (self-service, pharmacy, restaurants, shops and more than 20); Less than 10 km from Port Louis (Caudan Front, Casino, its typical market, etc..) Pamplemousses Botanical Park, the Sugar Museum and Clinic North in case of accident or emergency (an important element in this country) and within 5 to 10 kms from quiet beaches (such as Goulet Beach - Mont Choisy) make this an ideal starting point for excursions.
Rodzaj pokoju
Całe miejsce
---
Rodzaj nieruchomości
Willa
---
Mieści
7
---
Sypialnie
Baie du Tombeau, Pamplemousses, Mauritius
Entre Port-Louis (à 15 mn) et Grand Baie (à 30mn), Jardin: la plage et un lagon calme juste pour une baignade Il possède tout pour dormir confortablement, cuisiner des petits plats. Un jardin fermé permet aux enfants même petit d'y jouer en sureté.
Jardin sur la plage, cuisine équipée, salon, lit douillet, climatisation, salle de bain privative...Tous les ingrédients sont réunis pour passer de belles vacances ! Une femme de ménage peut passer de temps en temps (sauf si vous ne le souhaitez pas) lorsque vous êtes absents. Vous pouvez également lui laisser votre linge sale afin qu'il soit lavé.
Il y a un petit supermarché à 15 minutes à pied. Et une galerie marchande et fois court à 5 minutes en voiture. Il y a un petit hôtel à 5 minutes à pied. On peut dinner et voir un spectacles. À Pour Chambly Vendredi c'est le Happy Hour boisson moitiés prix et de la musique live.
是一个独立的小房子,房东太太和她的女儿都非常热情非常可爱,房子还有一个漂亮的临海小院子,可以看到非常美丽的日落。
向远
2016-07-03T00:00:00Z
Très belle prestation. Rapport qualité prix imbattable pour l'île Maurice. Très agréable d'avoir la plage derrière le jardin. L'accueil et les services fournis par Caroline et sa fille et Annaelle sont au top. Bon emplacement, 25 min de grand baie 5 min d'un centre commercial 15 min de port louis. D'après moi la voiture est indispensable surtout pour visiter l'île. Je recommande à 100% cette location et y reviendrai avec plaisir.
Yohann
2017-02-28T00:00:00Z
Such an amazing apartment and a very helpful host! The place is right on the beach and located close to Port Louis and Grand Baie. Caroline and her daughter Adele made us feel welcome and gave us tips about the island. We had daily maid service and laundry. She even set up wood for a bon fire! I highly recommend this place!
Daniel
2015-12-08T00:00:00Z
Great Appartement with a wonderful tree, private beach and a very helpful cleaning lady, who came every day. On the last day we met Caroline and her daughter Adele and had a very nice chat. Thank you for everything we strongly recommend this Airbnb.
Liz
2017-01-21T00:00:00Z
Super.Close to sea.
Marek
2017-03-29T00:00:00Z
We really love Caroline's house,everything is prepared.And this house is with air-condition!!I think it is the best thing when you are traveling a hot country hahaha Merci Caroline;)
Yinshijia
2016-02-19T00:00:00Z
Without telephone, kind Mauricians helped us to find the place. Carolines daughters, home on vacation, received us most kindly and extensively. Caroline warmly joint after her return. The narrow appartement is well barred on both ends and gains by the verranda as it enlarges the living space. In front some cars can be parked on the premices. The ocean - for swimming far out is deep enough though quite shallow - is right behind the fence on the photo.
Luuk
2016-01-01T00:00:00Z
Caroline and her Family were so nice. She and her daughter brought us dinner at the first evening. The House including the island is amazing. The view ...., every evening we sat outside and looked at the beautiful sun while going down. They prepared a small fire for us in the garden. No words for this. Such a beauty. We can recommend everyone to go there. Shops and restaurants are near by. Port Louis is also near by. Also they did often unexpected small things like bring fresh coconuts and baby bananas for us to try. With a Car you can go anywhere from the Home. Our favourite place is "Flick en Flack" there is an very good Diving Center "Ticabo" very nice people and perfect to do something else then just sunbathing. We will definitely come again and also definitely go to carolines apartment.
Ivona
2016-03-15T00:00:00Z
Rodzaj pokoju
Całe miejsce
---
Rodzaj nieruchomości
Apartament
---
Mieści
4
---
Sypialnie
Baie du Tombeau, Pamplemousses, Mauritius
En bord de mer avec piscine. 3 chambre pour 6/8 personnes. Grande terrasse Au rez-de-chaussée: cuisine,salon,coin à manger, sdb L'étage: 2 chambres lit double avec balcon vue sur la mer, 1 chambre enfant lit étage 3 place, sdb. Grand jardin, parking
Complètement équipée Il manque de rien.
Endroit très calme et peux touristique. Des coucher de soleil magnifique. Endroit très reposant mais près de tout. Pas loin de Port-Louis (la capitale), vu la proximité de celle ci, la villa est aussi très apprécié par les voyageurs d'affaires qui voudrais se relaxer après une dure journée de travail. Nous somme vraiment placer au centre, Grand baie 20 min. Trous au biche 15 min. Flic en flac 30 min. Port-Louis 5 min
Rodzaj pokoju
Całe miejsce
---
Rodzaj nieruchomości
Willa
---
Mieści
7
---
Sypialnie
Baie du Tombeau, Pamplemousses, Mauritius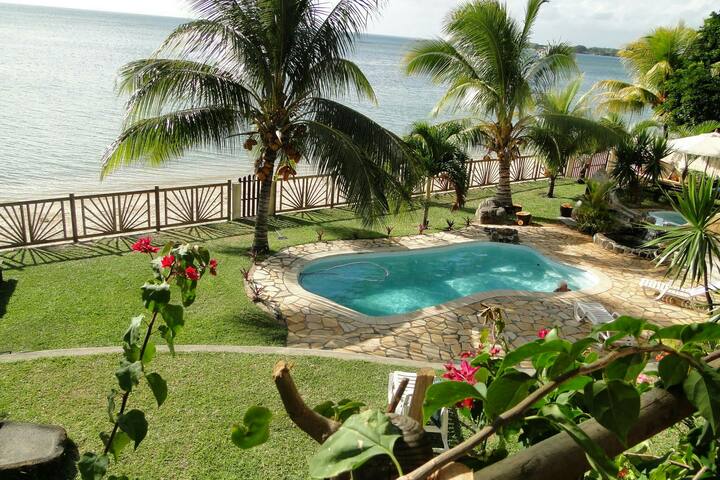 My accommodation is close to Port Louis, capital of Mauritius Island (10 mins) and 20 mins Northern Beaches (Grand Baie, Trou aux Biches), 10 mns of the Botanical Garden "Grapefruit". The sea 100m to enjoy the sunset. All conveniences: supermarket, greengrocer, fishmonger. hairdresser ... Public transport and taxis in housing.
Easy access by public transport or taxis to reach Port Louis (capital city bustling with renowned market) or the northern beaches
Neighborhood where you'll find everything nearby (pharmacy, hospital, supermarket, hairdresser, fishmonger, bakery ..) Just 100m from the sea where it is good to walk to the fall of the sun
Hardy was a great host, he told us many stories about Mauritius, its history, daily live, etc. He was very hearty for us, we spent many evenings with him, and when we need a help with anything he was always very helpful, in every situation. If you want to see real Mauritius, that's the place you have to go. The apartment was very clean, well equipped, had everything what you need on your holiday, very specious terrace with beautiful view on tropical trees was great at day and at the night time, as the weather was very hot, it was nice to sit outside in the evening. There's a supermarket, pharmacy and local fruit market very close to the apartment. We spent at Hardy's absolutely brilliant time and we can recommended it for 100%. Thank you very much, Hardy!
Joanna
2017-03-03T00:00:00Z
Hardy à été très attentionné à notre égard il nous a fourni tous les renseignements dont nous avions besoin, nous a consacré un excellent accueil et du temps pour nous expliquer avec beaucoup de culture ce don nous avions besoin de savoir sur l'île Maurice, son histoire, ses habitants ect.. Nous avons entretenu des relations très amicals dont nous garderons un excellent souvenir. Son appartement est situé dans un quartier purement créole ce qui nous a permis de bien nous immerger dans ce pays ; une location chez l'habitant est à notre avis une formule extrêmement plus épanouissante que Bain bouffe dodo en hôtel avec nos concitoyens.
Philippe
2016-11-30T00:00:00Z
Hardy est vraiment aux petits soins. Très disponible et généreux, il a rendu mon séjour très agréable. Le logement est situé à 15 minutes de Port Louis dans un quartier sympa. Tout est dispo à pied, Supermarchés, pharmacie etc et un centre commercial à 10 minutes en voiture. La grande terrasse est très agréable et l'intérieur très bien équipé, tout est neuf.
Xavier
2016-12-14T00:00:00Z
appartement très bien situé pour aller sur Port Louis excellente clim dans la chambre et très belle terrasse un supermarket et arrêt de bus juste à côté et un petit local pour fruits & légumes
SERGE
2017-01-29T00:00:00Z
Rodzaj pokoju
Całe miejsce
---
Rodzaj nieruchomości
Dom
---
Mieści
4
---
Sypialnie
MU, Mauritius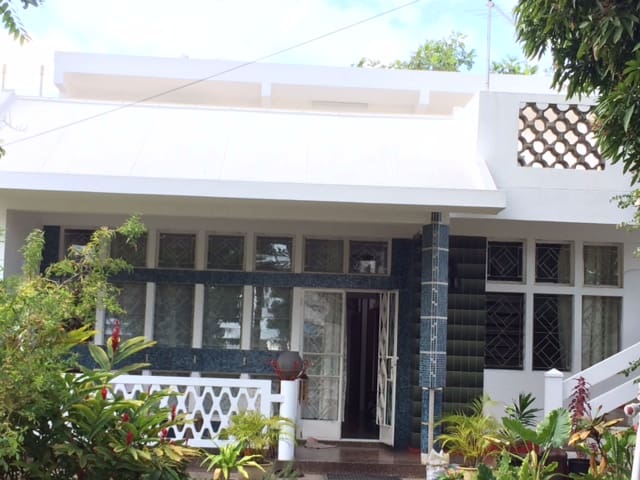 Beach side with Private access to beach, Budget Friendly, near Port-Louis and North Coast Public Beaches. 5 minutes from shopping mall. Bus stop and taxi stand at 2 minutes walk.
2 Bedroom apartment with private and direct access to the beach. The apartment is located in a quiet area on the north west coast of the island near hotel "Les Cocotiers ". A small terrace is available in front of the house to take breakfast, lunch or dinner. The apartment is located at 5 minutes by car from Riche Terre Shopping Mall with supermarkets, more than 30 shops and restaurant, banks and a play ground for children. The nearest public beach, le Goulet Beach, is 5 minutes by car or bus from the apartment. At 15 to 20 minutes are north coast beaches ( Trou au Biches, Montchoisy ) with water sports and diving activities. Bus stop and taxi stand are available ( 2 minutes walk )
A visiter : Blue Penny Museum, Jardin botanique de Pamplemousses, Port Louis
We didn t meet Deniso, but communication was perfect and fluent and his friend Wesley was very endearing and helpful. Nice place and nice apartment (including the little Doggie outside). Difficult without car, but we got to every place by bus, stations very near. We had a really good time.
Andrea
2017-02-15T00:00:00Z
Great location if you want to explore the island and the many beautiful beaches around Mauritius. The best way to transport yourself is by car and Deniso has the right contacts for that. The apartment is close to shopping, Port Louis and good food. Me and my wife are very happy with the stay!
Axel
2016-12-06T00:00:00Z
すばらしいゲストハウスでした。何かあったらいつでも電話してきても良いというメッセージを頂き、本当に温かいホストの方でした。実際に、必要な物を備えてくれて、長期滞在には最高の家でした。駐車場もあり、ビーチまで徒歩30秒で、ビーチでゆっくり出来る物まで、備えてくれました。時間も、きっちり守って下さり出発の時間にも十分余裕を持ってチェックアウトする事が出来ました。
yurie
2014-12-14T00:00:00Z
Místo je klidné. Nezbytná nutnost je skútr nebo auto, jelikož do obchodu je to poměrně daleko. Lze samozřejmě využít i bus, ale vlastní doprava je praktičtější i pro další výlety. Apartmán obsahuje vše, co potřebujete k existenci, lednici, sporák, pračku apod. Zařízení není luxusní, ale dostačující. Poměr kvalita - cena odpovídá. Komunikace na evropské poměry je pomalejší. Na odpověď přes chat si počkáte 24 h. Jinak ubytování lze doporučit.
Vít
2017-01-28T00:00:00Z
I have spent wonderful holidays in Mauritius staying in Deniso apartment. He and his cousin Wesley are very friendly and hospitable. They arranged my transfer to and from airport, renting of bicycle and car at low rates. They kindly advised me best places to visit on the island and how to get there. I would like to thank them for their support and perfect time on the island!
Inna
2015-06-10T00:00:00Z
All good. Great place if you want to just relax on the beach away from the hoards of tourists. If you do not have a car be prepared to work out how to best use the buses as even the supermarket is a long way away.
Cynthia
2016-10-02T00:00:00Z
The host canceled this reservation 91 days before arrival. This is an automated posting.
Jenelle
2016-09-20T00:00:00Z
Rodzaj pokoju
Całe miejsce
---
Rodzaj nieruchomości
Apartament
---
Mieści
4
---
Sypialnie
Tombeau Bay, Pamplemousses, Mauritius
Maison de charme avec petit jardin et piscine privée, derrière la demeure des propriétaires, et à 20 mètres de la plage de sable, avec accès direct et privatif à la grande plage de sable. 3 chambres avec chacune sa salle d'eau.
Quartier calme et résidentiel, avec quelques petits commerces à proximité Excellente table d'hôtes non loin de là
Bei unserer Ankunft wurden wir mit einem fertig gekochten Curry und einer Grundversogung im Kühlschrank begrüßt. Das Haus ist umfangreich ausgestattet, es fehlt an nichts. Wir haben uns sehr wohl gefühlt. Die Lage ist für Ausflüge in alle Regionen der Insel optimal. Max. 10 Minuten entfernt ist ein großer Supermarkt - ideal für Selbstversorger. Aber auch gute Restaurants findet man in der Nähe.
Marlies
2015-07-24T00:00:00Z
In general a very nice and beautiful location, as in description, and we liked the many birds in the garden. Alix (who is not the owner, but a friend of the owners) was very nice. We loved the dogs, and the beach so very close by. However, be aware that you must pay a bail ('caution') in euros (200). Also, there is a maid in the house every day for several hours, starting very early in the morning. Neither of these things was clear from the description. Probably we had bad luck, but airco was broken for the entire week, as was pool pump.
Ivo
2016-08-07T00:00:00Z
Séjour très agréable en famille, du 23 juillet au 5 août, dans cette belle villa, spacieuse, propre, bien équipée et au bord de l'océan, dans un quartier résidentiel. Cette villa est conforme à la description, et peut accueillir 6 personnes dans 3 belles chambres avec salle de bain individuelle, grand salon, cuisine, terrasse couverte et petite piscine. Nous tenons à remercier Pierre & Eugénie, Alix et Pamela qui nous à concocté chaque jour (sauf le dimanche, repos bien mérité) de bons petits plats mauriciens et nous à chouchouté Nous y retournerons avec beaucoup de plaisir Amicalement Richard, Sylvie, Camille, Charlotte et Matthieu Un petit coucou à Rambo et Samba, 2 petits chiens adorables...
Richard
2015-08-07T00:00:00Z
Rodzaj pokoju
Całe miejsce
---
Rodzaj nieruchomości
Dom
---
Mieści
7
---
Sypialnie
Port Louis, Port Louis, Mauritius
Villa Alizee is situated in the small village of Tombeau Bay, the close by location to all nice venues. The Villa comprises of 7 suites and rooms of different sizes and decor which will suit even the most demanding guest.
Jean Marc and Oliver are excellent hosts, and the room was spacious, clean, and comfortable. The food was also very nice. An excellent choice for my short work trip.
lee
2016-03-23T00:00:00Z
Rodzaj pokoju
Pokój prywatny
---
Rodzaj nieruchomości
Wikt i opierunek
---
Mieści
2
---
Sypialnie
Port Louis, Port Louis, Mauritius
My place is close to Port Louis, the city center. My place is good for couples, solo adventurers, business travelers, and families (with kids).
Rodzaj pokoju
Całe miejsce
---
Rodzaj nieruchomości
Apartament
---
Mieści
5
---
Sypialnie
Port Louis, Port Louis District, Mauritius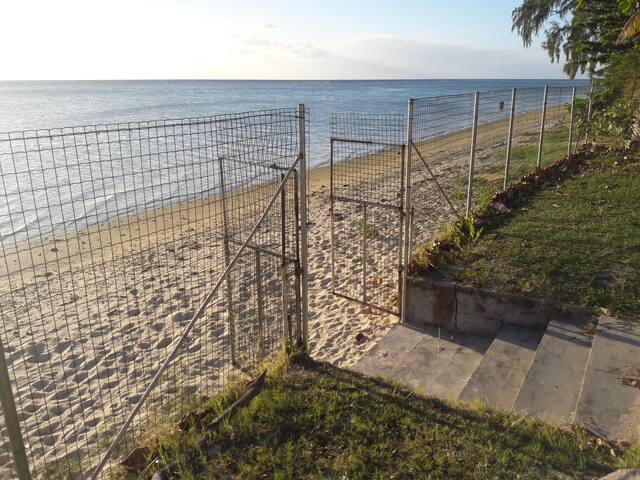 Villa dans magnifique cadre d'inspiration " italien" Une chambres equiper de deux lit simple (ou un lit double) avec salle de bain en suite. Cuisine ouverte et terrasse privée. Accès à la piscine, spa, salle de sport, bar et 2 restaurants disponible. A proximité de la capital Port Louis mais egalement de Grand baie la ville la plus dynamique de 'ile.
villa de 100m2 avec 2 chambre et salle de bain. Clim dispo dans toute les piece, cuisine ouvert, terrasse avec vue sur mer, salon équiper avec TV de 55'' Canal Sat, Play station 4 , bose ect...
Rodzaj pokoju
Pokój prywatny
---
Rodzaj nieruchomości
Kondominium
---
Mieści
2
---
Sypialnie
Port Louis, Mauritius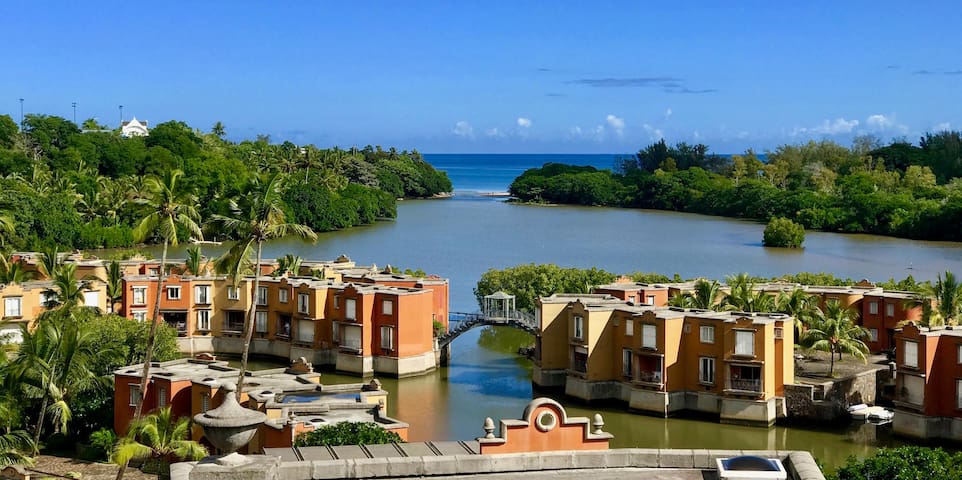 l'île Maurice. A travers un cadre intimiste et verdoyant avec piscine. topkapy chalet est climatisées, équipées d'internet(wifi), canalsat, écran LCD 42. transfert de l'aéroport au studio gratuit (26 nuits minimum). 5 minute de la plage (plage de pécheur) voir les photos Topkapy chalet. En espérant que cela vous permettra de créer la coupure de votre quotidien pendant votre séjour chez nous.Topkapy chalet est située a 5 minute de Port Louis (la capital)Les propriétaires Marie Hélène et Tony sont présent pendant votre séjour. t&h
Wir waren nur sehr kurz hier, aber wären gerne länger geblieben. Alles war super, von der Abholung bis zum Abschied, nettes kleines Häuschen mit sehr sympathischen Gastgebern. Immer wieder!
Reinhold
2014-11-04T00:00:00Z
We stayed in Marie's cozy chalet for five nights. The place has enough space for two people. The kitchen had everything what we needed to prepare food by ourselfs and if there is something else you need than Marie and Tony will help you out for sure with any items from their kitchen.when we arrived in the morning the chalet was super clean and Marie provide some water,milk, coffee, coke and juice for us. Also the chalet was cleaned every day, which included swiping the floor and changing our bedding and towels. The chalet is located in the garten and we enjoyed our breakfast everyday by the pool. even there were some other guests we had so much confidence and privacy that we felt like we were the only ones. Marie and tony are very nice hosts which would do anything to make your stay as comfortable as possible. I can recommend a car in general because it's for sure the best way to get around the island. We got every morning fresh bred and fruits like a coconut or some bananas for breakfast. It seems to be very safe on the property of Marie and Tony because they always keep an eye on the entrance door, that it's closed and locked. Also Marie and tony gave us the chance to park our car on the property. All in one we can recommend this place, because it gave us a beautiful start into our vacation and was a great point of start to visit different spots on the island
Adriana
2016-04-01T00:00:00Z
We enjoyed our stay here. No frills but fresh towels and bedsheets daily made it comfortable. Stay here if you have a car and want to roam around the island and come back to a rather central location. Recommended!
J
2016-12-28T00:00:00Z
We had a very nice stay. The poolhouse is a nice place to stay. We enjoyed our stay very much. They even brought us breakfast to our door. So sweet of them.
Martin Kraft
2017-01-09T00:00:00Z
J'ai passé un très bon séjour de 19 nuits au chalet de Marie-Hélène et Tony. Le pain frais livré le matin pour le petit-déjeuner est un vrai plaisir, tout comme le frigo rempli en arrivant. Le chalet est très bien équipé et fonctionnel. L'endroit est calme et agréable pour le repos et la détente. Pensez à visiter l'île est scooter ou en voiture.
Emmanuel
2015-08-12T00:00:00Z
Mon fiancé et moi avons passé 3 semaines dans le chalet de TOP KAPY et nous avons passé des vacances vraiment très agréables. Tony et Marie Hélène se sont montrés accueillants et disponibles pour de nombreux conseils. Nous avions surnommé cet endroit, un petit coin de paradis, parce que nous nous sommes sentis si bien ici ! Nous espérons pouvoir renouveler cette expérience à l'Ile Maurice. PS : pour profiter au mieux de l'île depuis Baie du Tombeau, il est nécessaire d'avoir un moyen de locomotion. Nous avions opté pour le scooter et nous nous sommes régalés ! Merci encore à vous pour ces vacances !
Stéphanie
2015-02-22T00:00:00Z
Marie-Hélène est très impliquée et répond à toutes vos questions et peut vous aider pour avoir de bons plans.Chaleureux accueil, superbe environnement, logement génial. C est un petit coin sympathique avec piscine. Je le recommande. Prévoir un moyen de transport pour bouger car pas tout près des plages mais idéal pour bien se reposer le soir, loin du bruit...
Dilek
2016-06-01T00:00:00Z
Quelle bonne surprise que la découverte de cette maison et des propriétaires. Nous avons été reçues avec beaucoup de gentillesse Hélène et son mari Tony sont magnifiques, généreux, très à l'écoute, serviables enfin en un mot parfaits, et très discrets. Nous gardons un très bon souvenir de ce séjour passé chez eux dans leur jolie (et très propre) propriété. Un grand merci à eux deux.
Geneviève
2013-12-03T00:00:00Z
Rodzaj pokoju
Całe miejsce
---
Rodzaj nieruchomości
Chatka w górach
---
Mieści
2
---
Sypialnie
Baie du tombeau, Île Maurice, Mauritius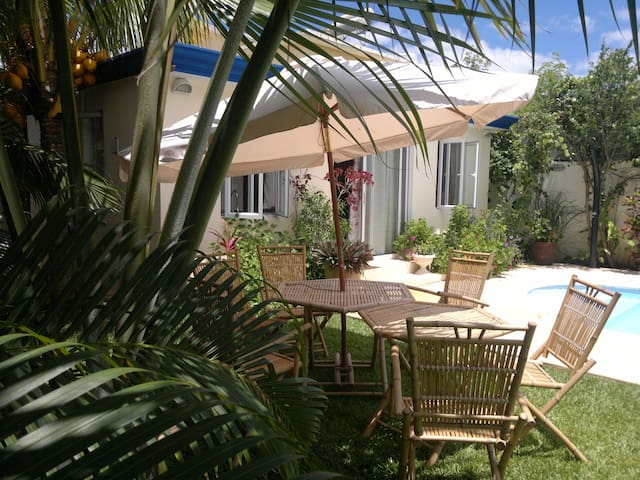 This nice and comfortable 2 bedrooms (1 double + 1 twin) villa of about 88 square meters with 2 en suite bathrooms, fully fitted kitchen, living / dining room and veranda situated near a river. This villa is part of the Port Chambly Village.
With colourful exteriors, Les Chamblynes Villas is located in the Mediterranean village of Port Chambly and features tropical gardens. The bright and modern apartments come fitted with a lounge and dining area. Each self-catering apartment has air conditioning, a fully equipped kitchen and washing machine. WiFi access and satellite TV are available at an extra charge.
Port Chambly is situated on the North-West coast of Mauritius, halfway between the resort villages in the north and just 8 kilometres to the centre of Port Louis. It is the ideal point of departure for your excursions in Mauritius Island. Only 60. Km away, these 4-star villas can be easily accessed from the airport. A haven of rest and relaxation, the hotel will offer total renewal just steps away from the city's numerous attractions such as As Salaam Mosque, Port Louis Market, Islamic Cultural Center.
We arrived late at night and Alec, Nadine and team were very helpful in leaving the key at the security gate and leaving the villa light on for us. They are also very considerate in assigning a villa that is very close to car park /road as we have tonnes of stuff. The villa is very beautiful and the facilities are superb. The area is secure, private and convenient (very near to M1 expressway that connects to Grand Baie (beaches) and Port Louis) Overall a very nice stay and we plan to stay here again if we are back. Hopefully soon.
Kayes
2014-11-22T00:00:00Z
A very well presented and comfortable Villa in a secure complex. A little on the expensive side in comparrison to other properties I rented elsewhere on the island, but it is a serviced villa in a beautiful location, allowing good access to many beaches and Port Louis (providing you have a car).
Mark
2016-03-24T00:00:00Z
Rodzaj pokoju
Całe miejsce
---
Rodzaj nieruchomości
Willa
---
Mieści
4
---
Sypialnie
Port Louis, Port Louis, Mauritius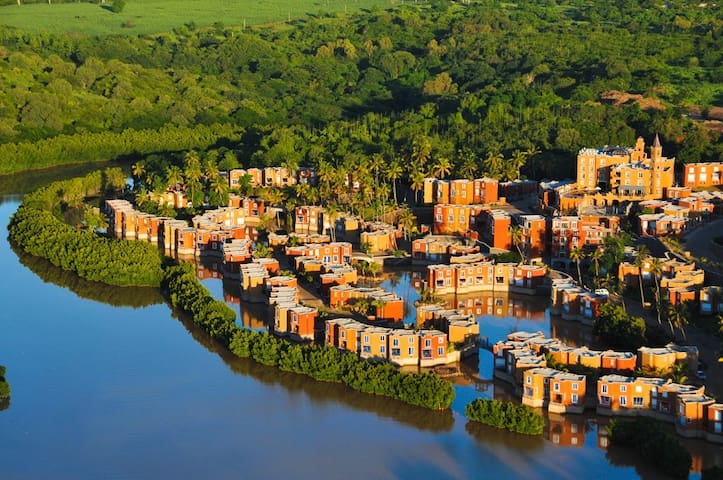 Beachfront Gardenview Cottage is within the Turtle Beach Villas property comprising of 2 villas and 1 cottage. All guests have direct access to the sea and they can enjoy sun bathing, swimming, snorkelling, kayacking, fishing and the main swimming pool and lansdcaping garden. It is the ideal place for couples, solo adventurers, business travelers, and families (with kids). Close to Port Louis the capital city, Jumbo Commercial Centre and Gbay shopping and beach are at your doorstep.
Rodzaj pokoju
Całe miejsce
---
Rodzaj nieruchomości
Dom
---
Mieści
4
---
Sypialnie
Port Louis, Port Louis District, Mauritius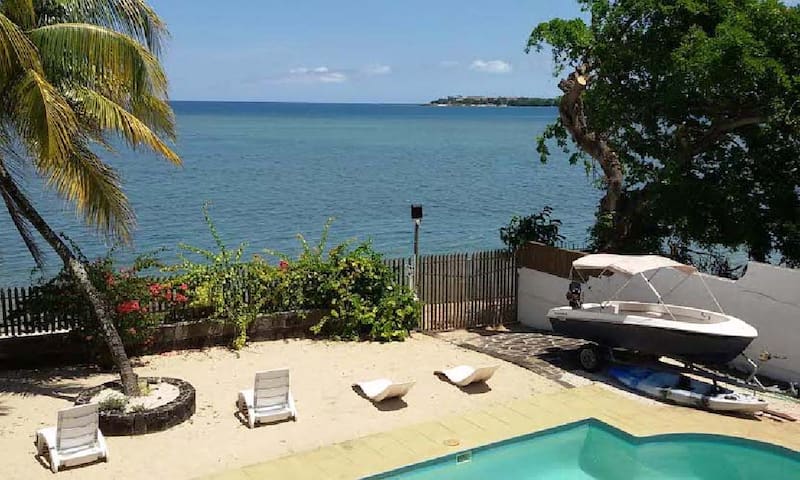 The room features air conditioning, LCD television, electric safe, mini bar, hair dryer and opens on a balcony or terrace. Breakfast is included in the rates.
Situated on the beach, along the north-west coast of Mauritius, Cocotiers hotel is a human size hotel with a friendly atmosphere. Close to Port-Louis, capital of Mauritius and to several popular sightseeing and excursions spots, this 2-star Sup hotel is an excellent starting point for a business trip or a holiday as a couple or a family. Set in 2-storey bungalows in the garden, the 48 hotel rooms are simply decorated, air-conditioned and well-fitted. All rooms count a balcony or a terrace. From the restaurant and bar overlooking the lagoon, guests can watch fishermen's pirogues gliding along, the beautiful sunsets as well as Port-Louis slowly lighting up at dusk. The warm, welcoming and thoughtful staff members give their utmost to offer a relaxing stay to the guests.
Wir haben 6 Tage hier verbracht, mit Mietwagen ist das ok, die direkte Umgebung ist nicht so schön. Die Zimmer an Pool und Meer sind sehr schön. Das Personal ist durchweg nett, Frühstück super.
Petra
2016-11-07T00:00:00Z
This hotel is really an amazing place. It looks absolutely as nice as on the photos. We stayed there for two days without leaving the hotel, it was great just to relax and have a good time between pool and the ocean. The beach is beautiful but not the nicest to go swimming because it's stony. We have no idea about the area around because we didn't leave the place :) nice stuff everywhere!
Katharina
2016-11-25T00:00:00Z
Rodzaj pokoju
Pokój prywatny
---
Rodzaj nieruchomości
Wikt i opierunek
---
Mieści
2
---
Sypialnie
Tombeau Bay, Pamplemousses, Mauritius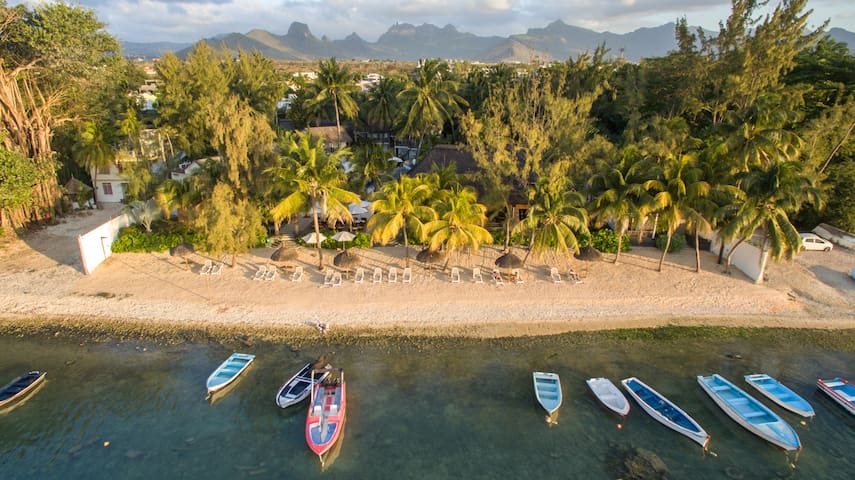 Moje miejsce jest na plaży. pokochasz swoje miejsce ze względu na widoki, lokalizacja, a atmosfera. Moje miejsce jest dobre dla rodzin z dziećmi () i dużych grup. Znajduje się on pomiędzy 2 hoteli, ravenala i hoteli Oberoi. Hotel plaże są dostępne dla gości nd goście mogą również korzystać z udogodnień w hotelach, takich jak spa, sporty wodne, centrum nurkowania, itp nurkowanie jest bardzo miłe w zatoce. Willa posiada wszelkie udogodnienia, w tym klimatyzację, internet, prywatny basen, ogród, grill
Goście mają do dyspozycji luksusowe prywatnej willi na plaży.
Okolica jest spokojna, w sąsiedztwie kilku hoteli, które goście mogą przystąpią bezpośrednio z plaży.
The host canceled this reservation 95 days before arrival. This is an automated posting.
yuan
2016-09-25T00:00:00Z
It was fantastic experience for my entire family. We were total 11 pax and all of us enjoyed great time in this villa. Villa has great sea view and we can not forget these mesmerising moments of our life. Prakash is a great host and helped us a lot. His staff is also nice and supportive. I am very happy to say that I chose best property and best host for my Mauritius trip.
Santosh
2016-10-27T00:00:00Z
The host canceled this reservation the day before arrival. This is an automated posting.
HUGO
2017-02-16T00:00:00Z
Great location
Theresa
2017-03-18T00:00:00Z
My family and I had an amazing time at the Villa at the beach. The view is incredible and I would highly recommend this large house to a family looking for a place for relaxation and bonding. The house itself is large, making it tricky to clean so you can expect to find some dust (which was not unreasonable) but the cleaning team were happy and fun. It is full self catering and shops are not to close by. I would recommend a family stop by the closest Jumbo and do a very comprehensive shopping. The kitchen has everything you need, including a water filter. In house towels supplied so just bring beach towels. The resorts and taxi stop are nearby which is really handy. Prakash had fast and reliable communication at all times and he himself is a very friendly gentlemen. One of the great things was his flexibility regarding checking in and out. What a help. Thank you Prakash!
Anthony
2016-12-03T00:00:00Z
房子靠近海滩,在房子里能看到很好的海景。房东非常友好,主动帮助我们,开车送我们到超市购物,开车送我们去路易港。房子里没有wifi,无法上网。房间洗澡设备的热水不是一直都有。
ZhanHong
2016-11-11T00:00:00Z
Rodzaj pokoju
Całe miejsce
---
Rodzaj nieruchomości
Willa
---
Mieści
10
---
Sypialnie
Pamplemousses District, Pamplemousses District, Mauritius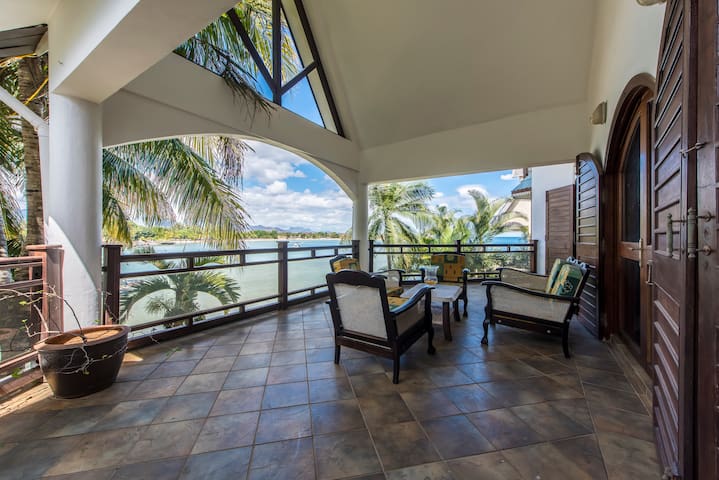 Wpisz daty, by zobaczyć pełną cenę. Obowiązują dodatkowe opłaty. Cena może uwzględniać podatek.