You'll love my place because it is very clean and quiet. My place is good for couples and solo adventurers.
Richie has a beautiful, quaint little spot 5 minutes from Rockland. I needed a spot for the night as I'm a touring musician, Richie took a last minute request and was a gracious and darling host. He called to make sure I had all the details before my arrival and had beautiful hot soup ready after my long drive, Richie is a talented artist and his home is decorated with his various paintings and art work. The room was warm and the bathroom spacious with hot water for the shower - it was terribly cold weather. In the morning Rich made breakfast - it was like staying with an old friend, I will definitely be back - thanks so much Richie, Lovely spot!
Tamara
2017-03-26T00:00:00Z
Richard (Richie), was extremely accomodating. Making sure we stayed warm and was well fed. Truly appreciate that! We (my mom and I) only stayed one night. It was perfectly warm for us with the space heater. Thank you for allowing us to be your first AirBnB Guests! Bed: For me it was comfy, for my mom it wasn't stiff enough. My mom likes her bed hard as wood. So, standards are different there. It's a good size bed if your'e two smaller or shorter people. Bathroom/Shower: There are no shampoo, soap, bathroom amenities, so we pretty much went to Walmart the next day. Which is conveniently right down the street a bit & around the corner. A 2-minute drive at most. Water was definitely no problem hot! Although the shower was a bit small for my liking, but it does it's job. It's a quaint little place, not much room, but it works if you were just passing through. Which we were. Richie was great company to chat with. He is very artistic and outdoorsy. He's not 100% tech savvy, but he tries. So don't freak out if he tries to get a hold of you or if you need to push some number to make a phone call instead of text. Sorry Millenials, if you don't know how to make a phone call, this might not be the place for you. I kid, I kid. :) Thank you for the warming stay Richie!
Jacqueline
2016-10-16T00:00:00Z
Interesting and eccentric place. Richard is a very welcoming and generous host!
Ricky
2017-03-23T00:00:00Z
Rodzaj pokoju
Pokój prywatny
---
Rodzaj nieruchomości
Dom
---
Mieści
2
---
Sypialnie
Thomaston, Maine, Stany Zjednoczone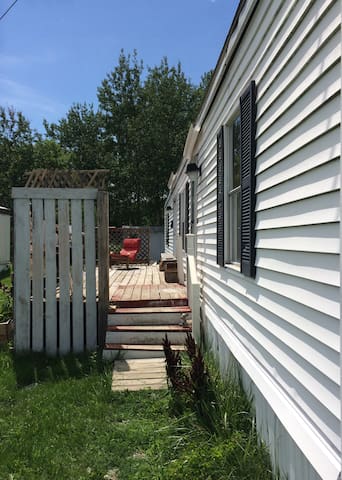 Enjoy casual elegance in our early 19th century Captain's House. Private bedroom with attached bathroom. The house is beautifully appointed with antiques and whimsical decor. A 2 minute walk to Thomaston village and an easy drive to Rockland, Camden and more gems in the Midcoast. Full continental breakfast offered with some yummy extras. We favor organic, non-GMO and locally made goodies. Freshly baked bread, organic fruit & more! Guests rave about our simple yet fulfilling breakfasts!
Steeped in history, Surrounded by natural beauty, good people and a smorgasbord of cultural offerings throughout the year, The Captain's House is ideally situated so that you may enjoy a sweet blend of fun activities 3 to 20 minutes away And unpretentious charm in your home away from home, whether for a day or a week!
Historic street with lovely homes. 1/3 mile to waterfront. Walking distance to at least 3 churches, shops, eateries, post office, gallery and library. Guests enjoy an abundant continental breakfast, including homemade or locally baked bread. We also do all that we can to offer non-GMO foods. Vegetarians and vegans welcomed!
Gina and Andrew have a wonderful very old house. They gave us a warm welcome and a good recommendation for dinner. The room was clean. The breakfast was delicious example with selfmade bread. We can recommend it.
Sibylle und Thomas
2016-10-09T00:00:00Z
A great hospitality, best organic and delicious food! The stay was overwhelming thanks to Andrew and Gina. If we are in town again, we know where to stay.
Lars
2016-09-25T00:00:00Z
We had a lovely stay at the historic Captain's House. Our room was very clean and quiet, the bed was comfortable and the adjacent bathroom was very nicely arranged. The bedding matched the wallpaper and the whole place had a historic charm one can only find in the Maine Midcoast. The hosts prepared us a lovely and very elaborate healthy breakfast that they served in their beautiful historic china. The formal dining and living room area was full of artifacts and the hosts provided interesting facts about the history of the house. We loved our stay and we'll definitely come back.
Tsveta
2016-09-17T00:00:00Z
There are few times that you stay somewhere the exceeds your expectations. The Captain's House is one of those places. What isn't capture through photos and descriptions when planning, is the warmth and hominess you feel from the moment you walk in. Andrew and Gina are gracious and passionate about making their guests feel well taken care of and they exceed in every sense. From the beautifully prepared breakfast of homemade breads and fresh yogurt parfaits to tea and cookies left for us each night when we returned--it was a wonderful experience. The bed was very comfortable, the room and private bath both very clean. We can't wait to go back!
Maureen
2016-10-03T00:00:00Z
Andrew and Gina were wonderful hosts, making sure we had everything we needed. The bedroom and guests' sitting area are very comfortable and lovely with antiques in a historic home in historic Thomaston Maine. Very good location for exploring the mid-coast, Camden and Port Clyde, etc. Breakfast was generous and delicious.
Suzanne
2016-10-04T00:00:00Z
Andrew and Gina are engaging and warm hosts, relatively new to Maine but steeped in knowledge of Thomaston and vicinity. Their historic home is on a grand street together with many other beautiful older buildings and is just steps away from an excellent little restaurant. The guest bedroom offers nice privacy but is located on the second level up a steep staircase, so it's not suitable for anyone with mobility issues. The breakfast provided by Andrew was excellent and perfect for those who are health conscious or vegetarian. The photos and description are all accurate.
Blair
2017-03-03T00:00:00Z
Rodzaj pokoju
Pokój prywatny
---
Rodzaj nieruchomości
Dom
---
Mieści
2
---
Sypialnie
Thomaston, Maine, Stany Zjednoczone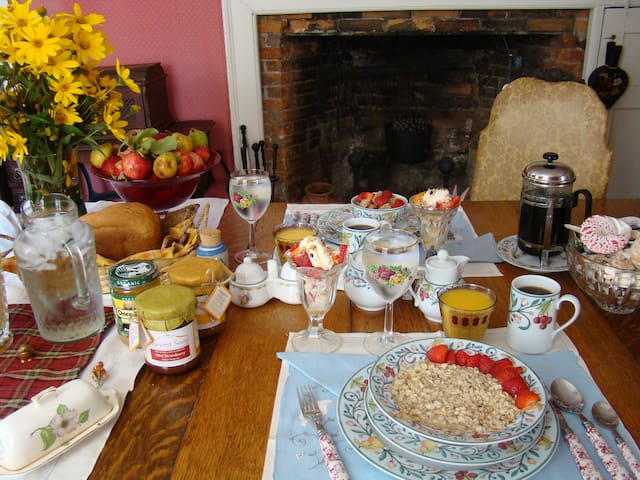 Comfortable bedroom in sunny, well-kept home in historic neighborhood. Lovely yard. Off-street parking. Walking distance to shops and the St. George River. Just a 10 minute drive to Rockland for great food, art & waterfront activities. Great location if you are on your way to any of the islands or exploring the mid-coast. Must love cats!
Comfortable & spacious 2nd floor bedroom with queen-sized bed in a lovingly restored farmhouse. Neat & clean. Directly across the hallway from shared bath with shower. Small bathroom on 1st floor with claw-foot tub, if you prefer a soak!
Our neighborhood has many beautiful historic shipbuilder and sea captain's homes on its safe, quiet, tree-lined streets. Just several blocks from the St. George River, it's an easy walk to The Slipway - open seasonally, a great restaurant right on the water, featuring a local seafood & farm-to-table menu. The Thomaston Cafe is just half a block away and is a great place for breakfast, lunch & dinner.
Lisa and Roger are why I love airbnb. They could not have been more friendly or accommodating. Only stayed one night, but it was perfect. Lovely room in a lovely house.
Barry
2016-07-24T00:00:00Z
We felt very welcome. Had a great discussion about the house and about Monhegan Island, which we were going to the next day. A little more choice for breakfast would have been appreciated. Location was delightful and the cats were very interesting. Hosts were very informative and cheerful.
Glen
2016-09-11T00:00:00Z
While this was only my second experience as an airbnb guest, I will predict that it will stand the test of time as one of the best I will ever experience! Lisa & Rodger are two of the nicest, most sincere people you will ever know. Interesting, intelligent, kind and gracious. The house is comfortable, charming and has a welcoming atmosphere. My room was spacious and had a very comfortable bed with lots of pillows. Everything was very clean and well appointed. Every night, Lisa will freshly grind coffee for the next morning... making for a great cup of jo, I might add that went perfectly with a light yet very fulfilling HEALTHY breakfast. I chose this location because of it's proximity to a house we are buying in the lovely village of Thomaston and as a bonus we now not only know our new neighbors but feel we have made truly good friends in Lisa and Rodger (and Lisa's great mom who was there for quick visit)... all before even moving there! And while the chats with Lisa and Rodger were very special, it was also easy to retire to my room to relax, read and plan for the coming day. I rarely sleep well when away from home but my stay at this place was a sweet exception! Highly recommended!
Andrew & Gina
2015-05-29T00:00:00Z
We had a great stay in Lisas house. The house itself was wonderful and Lisa is the best host one could imagine. Not only does she have great ideas about what to see and do, it also felt like coming to a friends house the moment we arrived. I wished we could have stayed longer. Many thanks Lisa, I hope to see you again soon! Sebastian
Sebastian
2016-10-17T00:00:00Z
Lisa and Rodger were fantastic hosts. I couldn't ask for better hosts, and I now consider them friends. The descriptions were accurate, and I highly recommend this location for travelling through or visiting Rockland, Monhegan, or surrounding coastal towns. This location is also close to Cushing.
Richard
2016-08-27T00:00:00Z
We needed a place to crash before launching our kayaks near Thomaston, ME and this was the perfect place! A warm welcome from Lisa and her family and then we walked off to dinner at The Slipway just down the street. Very comfortable bed in Lisa's beautiful home and the kitties were super sweet too! A good cup of coffee and eggs in the morning and off we went!
Meredith
2015-08-29T00:00:00Z
Host family was pleasant and helpful. Location of the house is on a residential street lined with 1840's homes. Farnsworth museum in nearby Rockland is the home to the works of three generations of Wyeths. Day trip by boat to Monhegan island is a must.
Erdogan
2016-07-28T00:00:00Z
Staying in Lisa's house was a very special experience! Her home is warm and welcoming, clean and neat. We were so well taken care of, guided with recommendations and made to feel at home!
Shirly
2015-08-19T00:00:00Z
Rodzaj pokoju
Pokój prywatny
---
Rodzaj nieruchomości
Dom
---
Mieści
2
---
Sypialnie
Thomaston, Maine, Stany Zjednoczone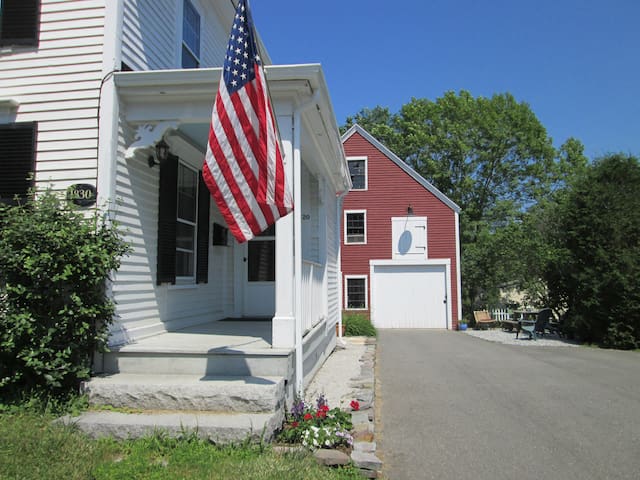 My place is good for couples, solo adventurers, business travelers, and furry friends (pets).
Noreen's house is clean, comfortable, and set up very nicely for Air BNB! The bedroom is a comfortable size, and the attached bathroom is large, private, and very clean. Though their family has a dog, you would never know it unless they told you -- that's how clean the house is! Noreen herself is very kind and warm. I had told her that my GPS doesn't work well in the area, so she gave me some extra tips for finding her home and also printed off some zoomed in maps for me for the trip I was making in the morning! She also left a few chocolates for me and some treats for my dog <3.
Meghan
2017-02-11T00:00:00Z
Rodzaj pokoju
Pokój prywatny
---
Rodzaj nieruchomości
Dom
---
Mieści
2
---
Sypialnie
Thomaston, Maine, Stany Zjednoczone
Imagine waking up in this spectacular setting, opening your eyes to see the original moldings, wavy glass windows, mantles and architecture. You can just picture what it would have been like to be a wealthy sea captain, home from his latest trip, spending the day with his family among these fine amenities.
This home is within walking distance of the village shops and restaurants, as well as the St. George River where you can still see custom power and sailing yachts being built. And, if you're here for 4th of July, you have a front-row seat to enjoy the best parade in Maine, which goes right by your front door! This home is only 10 minutes from downtown Rockland, where you can find many wonderful restaurants, shops, museums, and even the historic Strand Theatre, which was completely restored in 2001 and is on the National Register of Historic Places. There are golf courses, hiking trails, many beautiful ponds for kayaking, and several ferries for a day trip to the islands. There is something for everyone here in the Thomaston/Rockland area.
In 1803 a new straight highway (now Route 1 or Main Street) replaced the old curving County Road, now called Main Street Mall. In 1828 the unoccupied small portion of land between the two roads was leveled, fenced and bordered with elms, and subsequently presented to the Inhabitants of Thomaston for use as a Town Mall. At the time a mall referenced a sheltered walk or promenade from which vehicular traffic was excluded. The perimeter of the mall was soon lined by prestigious homes of successful Thomaston sea captains and influential businessmen. Captain Joseph Wilson built this Greek Revival house, situated on the original County Road, shortly after purchasing the lot in 1846. He and his wife, Emeline (married in 1838), moved in with their first three children, two more being born by 1850. The oldest son, William, was also a sea captain. Their second son George, enlisted at age 18 in Mar 1864 as a private in the Maine 1st Light Artillery Battery and mustered out on 15 Jul 1865. Captain Wilson died of a heart attack aboard his ship Mountaineer while on a passage in 1860. The house was sold to Captain William S. Colley, a noted shipmaster, and his wife Mary. Two of their four sons were born at sea. In 1987 the house was run as the Misty Rose Bed and Breakfast, advertising three charming and comfortable bedrooms situated on the coast in Thomaston, ME. Today, the Captain Joseph Wilson house is owned by a professional chef and art collector, and has recently been lovingly restored. The home has been professionally decorated and boasts 5 bedrooms, 4 baths, a chef's kitchen, a lovely dining room, several parlors and gathering spaces, as well as a private back yard complete with a patio and fire pit for enjoying those cool Maine summer evenings.
Rodzaj pokoju
Całe miejsce
---
Rodzaj nieruchomości
Dom
---
Mieści
12
---
Sypialnie
Thomaston, Maine, Stany Zjednoczone
Great location for those who want to be close to shops and restaurants and ocean versus out in the country. Enjoy a super clean, comfortable & spacious home in our quaint town.
This is a home with old charm that has been in the family for many generations. It accommodates 8 people maximum. The house is nicely cooled by the willow tree out front. This location is perfect for those who would like to be closer to everything (like shops, restaurants, grocery, etc) versus being farther out in the country. It is also reasonably priced for those with a budget. Master bedroom has a queen bed and a twin bed -great for families. Other bedrooms have one double bed, one queen and one twin. There are 2 flat screen TVs, one in living room and one in master bedroom, both with basic cable (20 channels) and DVD players for when you feel like watching a movie. Fresh linens and towels are provided.
This is a cape built in 1800s. It is cozy and sleeps 8 people. It offers 4 bedrooms. One full bath on main floor and one small bathroom upstairs (in one bedroom) with a stand up shower. Master has a Queen and twin and a flat screen TV with DVD player, one with a queen, one with a double, one with a Twin. Enjoy grilling outside on the patio or having dinners in our fully equipped kitchen. House offers a TV with DVD player, basic cable (20 channels) and high speed Wi-Fi. It is a quick few minutes walk to town where you can enjoy breakfast lunch or dinner at our local cafe, pizza place or restaurant down by the water - a short drive- called The Slipway. We also have a small local grocery store. There is also a school nearby where kids can play on the swings and slides, etc. It is a nice neighborhood to take walks or go for a bike ride. Rockland and Camden offer a variety of wonderful restaurants. Located in the heart of Midcoast Maine, Thomaston is a lovely small town. Rockland, just 5 minutes away and Camden 20 minutes from Thomaston, holds several events each summer including the Lobster Festival, the North Atlantic Blues Festival, and the Maine Boats, Homes & Harbors Show and Camden Windjammer Festival. FALL TIME: With our lively harvest festivals, sparkling clear weather, and brilliant display of foliage, fall is a wonderful time to visit Maine. Fall also brings food and wine celebrations like the Damariscotta Pumpkinfest & Regatta, the Acadia Oktoberfest and the Great Maine Apple Day in Unity. Colorful farmers' markets and produce stands brim with pumpkins and gourds. Apple orchards and pumpkin patches invite you to "pick your own." Birders can spy migrating hawks, warblers and shorebirds. Fall is also the peak season for Maine lobster. There is no better place to be for fall leaf peeping than in Maine. WINTER TIME: Spend a day downhill skiing or tubing before warming up with some local pub fare. You can even have fun skiing in Maine without ever riding a chairlift. Glide around Maine's well-groomed paths for Nordic skiing - a new 3.2-mile cross-country ski loop trail which explores the northeastern side of Ragged Mountain. Whether you're a trekker, classical or freestyle skier, take advantage of the miles of smooth backcountry trails that wind across the state of Maine. Come view the infamous Toboggan Nationals in Camden Maine each winter. The Midcoast area offers many outstanding museums, historical sites, restaurants and waterfront activities as well as an abundance of natural beauty. Nearby attractions include several museums (Owl's Head Transportation Museum, Farnsworth Art Museum and Maine Lighthouse Museum, to name a few) and all manner of outdoor activities (sailing cruises, kayak & paddleboat rentals, nature preserves, etc.). If you want to have fun in the water, we are close to rivers, lakes and the ocean. We are located approximately 1 &1/2 hours north of Portland Maine and approximately 2 hours and 20 minutes from the Maine/NH state line.
Holly was a wonderful host! We were a big group (with babies) and were very comfortable. The house was very clean and had a lot of charm. Holly was available before the trip to answer questions and really friendly.
Katy
2016-06-28T00:00:00Z
Holly was an exceptional host- always quick to respond to any questions and messages prior to our stay and very flexible in meeting us for an introduction to the house upon our arrival. The house is in a great location- a quiet street yet close to several towns. An easy drive for a visit to the Maine Lobster Festival as well as Rockport and Camden. We were a group of 4 adults and 2 children and appreciated the extreme cleanliness of the home and plenty of room to spread out that the house provided! Thanks again!
Amy
2016-08-09T00:00:00Z
My family and I had a wonderful time in Thomaston at Holly's beautiful home! We had everything we needed to ensure a relaxing, fun filled vacation in Maine. Top it off with near perfect weather and we were in heaven, thank you Holly and Pippen for being such gracious and accommodating hosts. We hope to be back!
Maggie
2015-07-27T00:00:00Z
Holly was very welcoming and an extremely gracious host. Her house is perfect for a nice relaxing and quiet vacation.
Steve
2016-07-31T00:00:00Z
Holly made us feel welcome from the time we booked right through our leaving. The house met all of our needs and her "tour" and suggestions were very helpful. The location was 'user-friendly' for the many beautiful, neat things to see and do in the area. Also, the kitchen and dining room met our needs for cooking and just sitting around the table sharing, as did the multiple bedrooms for sleep needs. Our group of five would pick it again.
Judith
2015-10-06T00:00:00Z
Holly's home is a hidden gem in Thomaston, Maine. We loved staying there for two weeks, and here's why. The home which we had to ourselves, was simple - not cluttered with extraneous stuff - and it was as clean as a whistle! Holly must have been in the hospitality industry, as she anticipated our every need. She even had a welcome bag for us including a toy and treats for our dog Yoshi ! We loved the location of thomaston. Just right for visiting with nearby family, and enjoying the natural wonders and amazing restaurants in Maine. A+ Holly !
Kathy
2014-08-30T00:00:00Z
Holly and her mom were very gracious and welcoming hosts. The house was very clean and well stacked with paper goods and soaps. While it provided ample sleeping space for our group of seven adults, the house seems better suited for a group of six or under due to its limited seating space and small bathrooms. The neighborhood, while not scenic, was quiet, safe and very conveniently located. We could walk to the grocery store in town and to a beautiful waterfront restaurant/bar. Many scenic towns and beaches were within a 20 minute drive. We would certainly go back to this darling little house if e were again in the area.
sabine
2016-08-16T00:00:00Z
Perfectly private.
Stephen
2016-09-12T00:00:00Z
Rodzaj pokoju
Całe miejsce
---
Rodzaj nieruchomości
Dom
---
Mieści
8
---
Sypialnie
Thomaston, Maine, Stany Zjednoczone
This brand new guest suite is located in the lower level of our new post & beam home which sits on a mountain overlooking the Penobscot Bay. The over 600 sq. ft. large open floor plan is spacious & clean with a large private patio.
This brand new guest suite is located in the lower level of our new post & beam home and sits on a mountain overlooking the Penobscot Bay. The floor plan is over 600 sq. ft. and offers very open spacious rooms including a bedroom, living room, large eat-in kitchen and a full bathroom. You will have plenty of room to spread out, relax, and even do some work (if you must) on the small desk. Hi-speed Wifi is provided!
This is no shortage of things to do in this area and we would be happy to help you plan some itineraries to keep your days full of fun. As hikers, kayakers, paddle board riders, bikers (pedal & motor) ourselves, we can suggest some of our favorite spots to play. Just let us know in advance what your interests are and we will be ready with some suggestions. And if it's golf or fishing that tickles your fancy, although we can't give you first-hand experience we can point you in the right direction for world-class golfing and fishing. To help you get started here are some ideas that might fill your days and nights . . . Daytime Jump a ferry out to the various islands Hiking or picnic in Camden Hills Day sails on one of the many schooners our of Rockland, Rockport or Camden Scenic bike rides throughout the midcoast Lighthouse Tours Rockland Foodie Tour Boutique shopping in Rockland, Camden & Belfast Museums and art galleries Take a photography tour Wine tasting at the various local vineyards Nighttime Dinner at one of the many great local restaurants Catch a movie at the historic Strand Theatre Watch live bands and dance the night away at the Speak Easy Lounge Stop in at one of the local coffee houses for live bands and open mics Catch a show at the Rockport or Camden Opera Houses
This is by far the best AirBnB experience we have had. Paula and Karlo were such gracious hosts. Their house, backyard, and view is absolutely beautiful. We also enjoyed how close the home was to Rockland, Rockport, and Camden- each locations with great places to eat, hike, swim, SUP, and enjoy the beautiful summer days. Overall, we cannot say enough good things about our stay with Paula and Karlo.
Jessi
2016-07-28T00:00:00Z
Paula's guest suite was perfect for our stay during Thanksgiving weekend, and Paula, her husband Karlo, and their dog Guinness were very friendly and accommodating. They were quick to respond anytime we needed anything, and our dogs loved playing with Guinness in their huge yard each morning. The view from the suite is spectacular. It was mostly cloudy and rainy the majority of our stay but the view was still gorgeous. I also must say Paula keeps the place spotless. It was so clean, and this comes from someone who has ridiculous cleaning standards - to a fault some of my friends and family would say - but I felt very comfortable and cozy, just like at home.
Jennali
2016-11-28T00:00:00Z
My wife, 4-month old daughter and I had a fantastic experience at the Salty Dog Hilltop Guesthouse. The room was very well decorated, all key amenities were there, and the hosts greeted us with some drinks and snacks. The view across the bay was phenomenal - especially in the morning when the sun was rising over the ocean. The location is conveniently located with a 10-15 min ride to some picturesque Maine towns (e.g. Camden, Rockland). Also the apartment provided great privacy, while Paula and Carlo were quickly available when we had some questions. Paula - a photographer - took us out one night for a walk to take some pictures of the Rockland Harbor and shared with us some tricks to get the best pictures of the Maine setting which made it an even better experience.
Ernst
2015-10-01T00:00:00Z
What a lucky find for me to find this lodging right near where I hope to find land and build a new home. The hosts have created this new house with such care to making it comfortable for guests. For me it was a plus that it is a timber-frame house with high energy efficiency; Paula and Karlo were very gracious sharing insights into their building experience and offering guidance on the area and land possibilities. Meeting them was a bonus, and they were terrific about making certain that I had everything I needed. It was the perfect first Airbnb experience for me and I would gladly return on my next visit to the area.
Lynda
2016-04-23T00:00:00Z
Paula and Carlo were wonderful hosts! The place was exactly as described and was impeccably clean. My personal favorite part of our stay was waking up to the sunrise right from bed facing east into the bay. Absolutely beautiful! If you're coming here for some R&R and outdoor time, Paula has lots of great recommendations for hiking. Oh, and who can forget to mention their awesome dog Guinness who entertained our dog!
Cora
2017-01-01T00:00:00Z
Absolutely beautiful location. The apartment was exactly as described- perfect for us and our pup! Paula and Karlo were fabulous hosts, ensuring we were comfortable, had everything we needed and had a great stay. They provided great tips about things to do in the area and were a pleasure to visit with one night on the back patio. Looking forward to visiting again some day!
Meaghan Duffy
2016-08-25T00:00:00Z
Great hosts, excellent accommodations, beautiful area, would love to revisit again!
Whitney
2016-07-02T00:00:00Z
The listing was accurate. The hostess was welcoming and accommodating. The suite was charming.
Susan
2016-07-17T00:00:00Z
Rodzaj pokoju
Całe miejsce
---
Rodzaj nieruchomości
Dom
---
Mieści
2
---
Sypialnie
Rockland, Maine, Stany Zjednoczone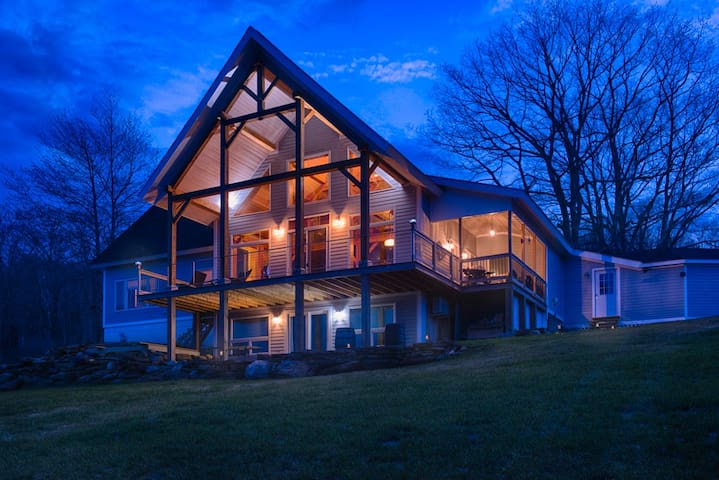 My house is near art and culture, restaurants and dining, great water views, family-friendly activities and shopping.
This beautifully restored two-story house is surrounded by art museums, art galleries and sculpture gardens. Step outside the door and the Farnsworth Museum is right there. The Center for Maine Contemporary Art is less than a five minute walk away. Stroll down Main Street to find some of the best shops and eateries in Maine's midcoast. Magnificent water views are just past Main Street. The Maine Ferry Terminal is within walking distance. Catch a ferry for a day trip to North Haven and/or Vinalhaven. Life doesn't get much better here on the midcoast of Maine. Explore Rockland by foot and come during one of its seasonal events; Blue Grass Music Festival, Windjammer and the Lobster Festival. It is my pleasure to share my home and my town. I am delighted to assist in your plans while vacationing here or just passing through the mid-coast of Maine.
Kimberly is a gracious host and she took lots of time to make me feel at home. The apartment was plenty spacious for 1 or 2, good kitchen and bathroom, comfortable bedroom. Easy entry to the upstairs unit from a nice backyard deck. But the most outstanding feature is the location, within easy walking distance of any and everything one could want to do in the heart of Rockland.
Eileen
2016-08-07T00:00:00Z
Absolutely wonderful. Great location in downtown Rockland. Easy walk to the main street with great restaurants and museums. Clean and quiet.
Janis and Ken
2016-09-17T00:00:00Z
Kimberly was a wonderful host. Although we checked in late, she met us and we had a lovely chat with suggestions of things to do the next day. The space was clean and cozy and just what we needed after a long day of traveling.
Karen
2016-08-10T00:00:00Z
Our stay at Kimberly's place was great. The location was perfect for us. We were greeted warmly and had everything we needed. The location of the apartment was right in the town center.
Michael
2016-09-18T00:00:00Z
The host canceled this reservation 62 days before arrival. This is an automated posting.
Brian
2016-10-27T00:00:00Z
Kimberly is a fabulous host! Made us very comfortable.The apartment is on the second floor with a private entrance in downtown Rockland - beside the Farnsworth Museum. So convenient! There is no off-street parking provided but we had no trouble on this quieter street even during the busy Blues Festival. highly recommend!
Donna
2016-07-18T00:00:00Z
Kimberly was the perfect hostess/innkeeper in every manner. The apartment was adorable, clean, and extremely comfortable. I hosted a lobster bake for eight (8) of my sailing friends from Maryland. Kimberly assisted me in the preparation every minute including unloading my car. Would definitely recommend Kimberly's apt if you are staying in Rockland, ME. Location is perfect, right across the street from the Farnsworth Art Museum, and accessible to downtown Rockland. Next time I am in the Rockand area, I am stopping in to visit Kimberly even if the apt is rented. Thank you Kimberly for making my stay in your apartment the best airbnb experience!
Jeanne
2016-07-25T00:00:00Z
Very home, great location. Thanks for the great times. Would recommend.
Elliot
2016-09-03T00:00:00Z
Rodzaj pokoju
Całe miejsce
---
Rodzaj nieruchomości
Dom
---
Mieści
3
---
Sypialnie
Rockland, Maine, Stany Zjednoczone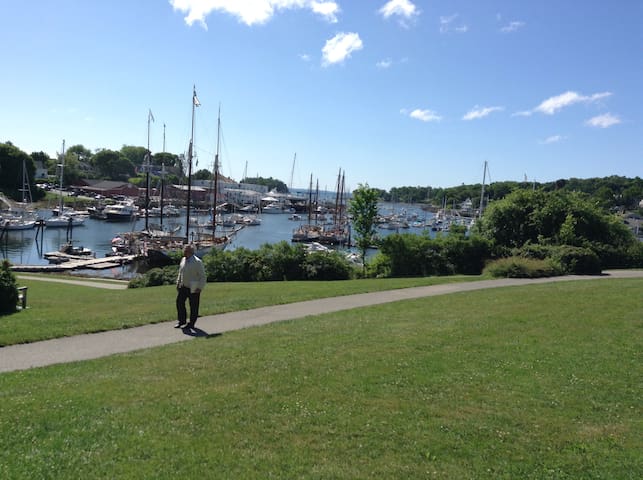 Quiet residential street, short walk to town center - restaurants, museum, shopping and water-front amenities, ferries to various island destinations. Perfect for sightseeing base. Wrap-around porch. sitting room.
Choice of Queen or Twin room. Each has its own full bath. Both rooms are on the second floor. Should you need the second bed room for a larger travel party let us know and we can create a 'special offer'. Guests will have access to a small refrigerator just outside their rooms. Morning coffee and danish will be provided upon request. There is a powder room and a cozy sitting room on the first floor.
Family friendly. Library is a two block walk, as is the world class Farnsworth Museum with the Wyeth Wing . All Main St. restaurants and shopping are a short walk. And the waterfront area parks are always interesting and are the site for the North Atlantic Blues Festival ((URL HIDDEN) in July and the Lobster Festival ((URL HIDDEN) and the Home and Boat Show in August.
Wonderful house and very clean bedroom/bathroom.
Henry
2016-09-06T00:00:00Z
A beatiful accommodation in a very nice and cozy house in a quiet street, full of atmosphere, just a short walk from the center of Rockland. Our room was spacious and very comfortable, with a wonderful bathroom, we had plenty of space and all the privacy we needed. Ken and John have been welcoming and caring hosts to us, we really enjoyed our conversations in the morning over breakfast! If you are planning to visit Rockland, this would be the place to go.
Fabrizia
2015-07-26T00:00:00Z
Our stay at Ken's home could not have been better. Ken and John greeted us warmly to a house meticulously maintained, and beyond impressively decorated. Throughout both floors are dozens of,mostly original, paintings, as well as eclectic antique furnishings and collectibles. Several of the impressive paintings are John's originals, including water colors, oils, landscapes, and portraits. Our room had a comfortable queen size mattress on a decorative wrought iron antique bed frame, easy chair and oversize walk in closet. Ken and John provide their guests a dedicated living room / study for basically private use. We spent several comfortable hours reading there with all the comforts of home. In the morning hot coffee, danish and muffins were waiting for us, after which we settled in for another hour of reading before leaving. Restaurants are within walking distance although due to rain we drove to The Landings, one of our hosts's favorites, where he had an excellent dinner. Ken or John were always available and we had some interesting discussions about the history of the house and paintings, but the feeling while being their guests is more like being in your own private space. The best of both worlds. Before leaving John showed us a selection of his recent works, truly a master artist whose website is (URL HIDDEN) Anyone traveling to Rockland would be wise to book at Ken's 5 star accommodations.
Tim
2015-10-10T00:00:00Z
Welcoming, elegant, delightful describe our stay with Ken and John. Greeting my friend and me when we arrived made us feel that their home was our home. They provided us with coffee and freshly made Danish from a local bakery every morning. Location-wise, we found ourselves with a short walk to various restaurants, shops, and the art museum on Rockland's Main Street. The accommodations were comfortable and suited our every need. When our stay ended, we did not want to leave. We thoroughly enjoyed our stay. I can't say enough about how relaxed and at home we felt. Their personal friendliness, the warmth of the decor, the morning coffee/Danish, accommodations, art, reading materials (enjoyed Donahue' s book), and more provided us with a memorable stay. We will be back!
Gerald
2016-08-01T00:00:00Z
This home is beautiful, comfortable, and convenient to downtown. We thoroughly enjoyed our stay with Ken and John – they could not have been more responsive and hospitable. They even generously lent us collapsible chairs to take with us to the North Atlantic Blues festival. Don't hesitate to book this listing!
Sue
2016-07-19T00:00:00Z
Great stay in Rockland with wonderful hosts. We felt very fortunate to be a guest in this lovely home and wish we would have stayed longer! Short walk to the Farnsworth Museum, a must see.
kathy
2016-07-26T00:00:00Z
Ken and John are the perfect hosts...helpful and friendly while giving us space and privacy. Their home is lovely with carefully chosen decor plus the obvious things a guest would need. Thanks, Ken and John.
Judith
2015-07-13T00:00:00Z
Perfect. We stayed for 4 days and I didn't want to go. Great hosts. Great location. So comfortable.
Jean
2015-08-10T00:00:00Z
Rodzaj pokoju
Pokój prywatny
---
Rodzaj nieruchomości
Dom
---
Mieści
2
---
Sypialnie
Rockland, Maine, Stany Zjednoczone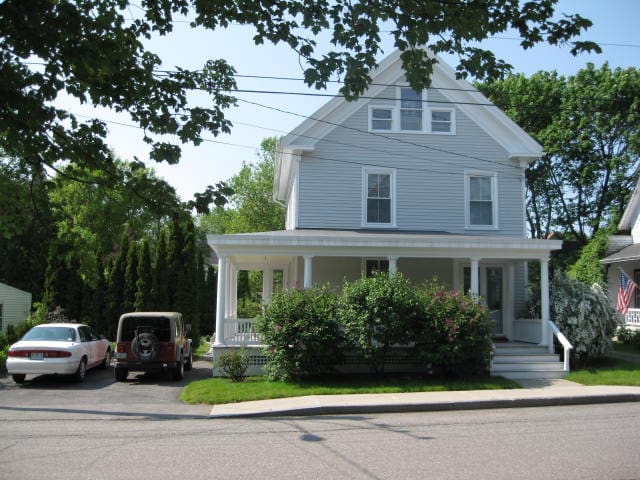 Historic arts district, second story 'guest quarters'. Two blocks from downtown, Farnsworth Museum, art galleries, shops, restaurants and harbor. Private entrance with deck. Living room and full kitchen with breakfast nook. Minutes from beaches, trails and ferry.
Close to downtown yet very private. Located directly behind Wyeth Center/Farnsworth Museum.
Have many recommendations for guests to enjoy downtown. There are excellent restaurants, shops and galleries. First Friday of every month is 'gallery opening night'. The Strand local theatre hosts nightly movies and live performances. A boardwalk stretches around the harbor for wonderful evening strolls after dinner. Numerous workshops and classes are held at the Farnsworth, The Apprenticeshop (boatbuilding), The Steel House, CMCA. This is a very active arts district and beautiful scenic area!
The Harbor Duet was perfect for my wife and I for a two night stay in Rockland. Rose was a fantastic host and everything was within walking distance from her place. She was even nice enough to provide coffee, milk and a few refreshments in the fridge along with some fresh cherries. Will definitely stay here again!
Scott
2016-06-21T00:00:00Z
Rose provided an extremely comfortable space that was equipped with everything we needed. It was spacious and charming and we truly enjoyed our stay. We'd highly recommend it if you're staying in the rockland, Camden, or rockport area.
Patti
2016-09-06T00:00:00Z
Rose sent directions and then greeted us soon after our arrival, offered to advise about excursions, food, etc. We knew she was there should we need her, and communicated thereafter via email. Enjoyed our stay very much!
Lynne
2016-10-21T00:00:00Z
Rose was a wonderful host and excellent communicator. She contacted us the week before the trip and asked if we had any questions or needed suggestions. The apartment was spacious and extremely clean and we found it to be even better than the photos. Rose even left us fresh picked grapes and tomatoes upon our arrival. The neighborhood and area are clean and within walking distance to many attractions, restaurants, and the water. Rose was excellent because she was not intrusive, but always available if we had a question or needed something. One day during our stay, my wife and I left for the day and forgot to lock the apartment with our belongings inside. We texted Rose and she responded immediately and went to lock up the unit within a couple of minutes. The apartment features a great updated shower, nice kitchen, front sitting room, and a deck with patio furniture that we really enjoyed using each evening. We had the option to stay at a hotel just outside Rockland, but we are extremely happy that we choose to stay at the Harbor Duet. For the price, location, cleanliness, and overall hospitality by Rose, I would recommend the Harbor Duet to anyone and hope to stay here again in the future.
Collin
2016-08-29T00:00:00Z
Rosemary is a lovely host and provides a cozy and tastefully decorated home with every amenity promised! She even offered tomatoes from her garden and terrific dining recommendations which we appreciated. The Harbor Duet is perfectly located and within walking to restaurants and shopping. We are already eager to return and highly recommend this location!
Ericka
2016-09-11T00:00:00Z
My wife and I stayed two consecutive nights on Rosemarys property. She was very responsive to any requests and even gave us two pieces of homemade apple pie. She is a sweet woman and it is an enjoyable and spacious place to stay.
Chris
2015-11-17T00:00:00Z
Rosemary was there to welcome us on our arrival, and even contacted us prior to arrival to make sure our travel was going well. Being on a couple of blocks from downtown, and literally with 15 minutes from our furthest destination in town, this was the ideal place to stay if you plan on exploring Rockland.
Jonathon
2016-09-17T00:00:00Z
Fantastic cozy apartment, it is like home away from home. All amenities you might need and more. Really happy with our stay in "Harbor Duet" apartment. The apartment is sagacious, immaculate, a great experience all-around. The property is surrounded by a garden of beautiful exotic-flowers that made our stay much more enjoyable. Rose, the host, was waiting for us at arrival and provided magnificent information about things to do and places to visit in Rockland. Rose provided a map with hiking/biking trails of Rockland and Camden. Our trip was very short, only two days, but we will definitely comeback and when we do we know where to stay...
Pedro
2016-08-11T00:00:00Z
Rodzaj pokoju
Całe miejsce
---
Rodzaj nieruchomości
Dom
---
Mieści
2
---
Sypialnie
Rockland, Maine, Stany Zjednoczone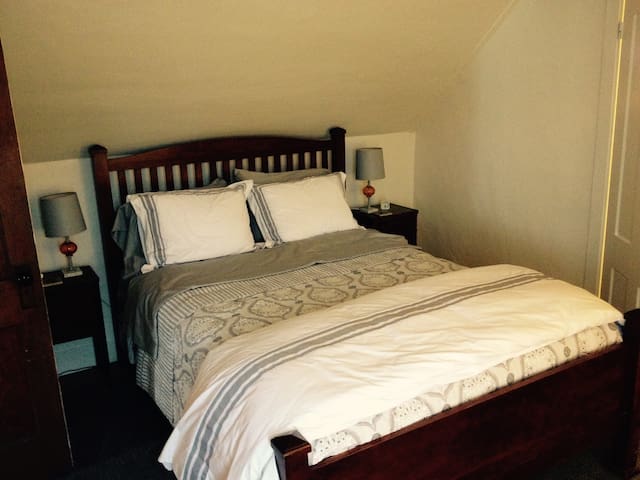 Charming in town cottage, walk to restaurants, museums, galleries
Garden Cottage is an antique lobsterman`s cottage moved from the shores of Rockland Harbor to its present location on Limerock Street. Over the years, the cottage has been lovingly and professionally restored first by a professional garden designer and then by a gifted interior designer. The result is magazine-worthy – a stunning partnership of classic luxury and modern design. Garden Cottage is set among lush gardens and lawns and granite patios for outside dining, morning coffee and get-togethers. The cottage is a short 10 minute walk to Main Street. The first floors is open and bright using elements like shiplap and barn door to create a comfortable indoor living space. The kitchen is the center of the house - a center island, ample counter space and a gas wood stove guarantee the kitchen is the inviting center of the house. The kitchen also has two small freezers with refrigerators under the distressed black granite counters; large drawer pull out dishwasher and a separate old pantry by the small flat screen tv. Off the kitchen is a charming living room area and dining area. The dining area has seating for 4 with views of the lawn and gardens. The living room area has a flat-screen television with cable connection. This room also has French doors that lead to the south patio. The other set of patio doors lead to an area with a large outdoor table for entertaining outdoors under the antique apricot tree. There is a master bedroom is on the first floor and accented with original rough-hewn beams and an attached bathroom. This is a full bathroom (stall shower) with an antique vanity and medicine cabinet for your things. This bath is accessible from the hall via a sliding barn door for daily household use. Upstairs find another bedroom, a full bathroom with a tub/shower combination and a small office where guests can write, read, paint or work (if need be). The cathedral ceiling `Writers Cottage" is a perfect place to sit and relax. This is a charming, rustic space with only natural light. A lovely 10 minutes walk takes you directly to Rockland village where you will find great restaurants shops and boutiques,cultural events, Farmer`s Markets, many galleries, the Farnsworth Museum Rockland Harbor and excursion Schooners and Lobster boats to enjoy. The Garden Cottage offers a washer and dryer for guest use and Wi-Fi connection.
This cottage is in an old neighborhood in Rockland, within easy access to shops and restaurants, galleries, and museums, the library, banking, and the ferry terminal servicing Vinalhaven and North Haven Islands.
Rodzaj pokoju
Całe miejsce
---
Rodzaj nieruchomości
Dom
---
Mieści
4
---
Sypialnie
Rockland, Maine, Stany Zjednoczone
Enjoy your stay in our guest room. The room has a comfortable double bed, shelf full of books along with a number of travel and hiking guides. Museum, restaurant and sailing brochures can be found in your room as well as other attractions. The room is located on the second floor accessed by a separate staircase adding to the sense of privacy. Please note, the stairs are the original old New England steep backstairs. Those with super heavy or large suitcases--be aware. The kitchen and bathroom are located on the first floor beneath the bedroom. You are welcome to use our kitchen while you are here. We simply ask that you clean up following each meal. Use of the washer and dryer is possible, but please ask first. We will provide coffee, juice, and breakfast (homemade waffles, granola and yogurt, fruit, toast, eggs, etc.) Breakfast will vary based on availability and preferences. We are located right in town--two blocks from the ferry and bus terminal and downtown's fabulous restaurants and vibrant arts community. Our home is close to everything, but located on a dead end street which offers us plenty of quiet in the city center. We offer off-street parking. The property is situated on nearly 1/2 acre lot boasting beautiful gardens, including the addition of a large cutting garden in spring of 2016. Relax with a book in one of our adirondack chairs or walk to town and immerse yourself in all that Rockland has to offer. Some places of interest: Farnsworth Museum--6 blocks Ferry Terminal--2 blocks Rheal Day Spa--4 blocks Rock City Cafe--9 blocks Atlantic Baking Company--8 blocks Windjammer Wharf--5 blocks (home to Schooners: J&E Riggin, Stephen Taber, and Nathaniel Bowditch) Harbor Park and Boardwalk--10 blocks (location of Blues Festival, Lobster Festival and Maine' Boats, Homes and Harbors Event) Children's Museum and Sail, Power and Steam Museum--approx. 1 mile (very walkable--flat route) Owl's Head Transportation Museum-- 3.8 miles Breakwater and Lighthouse--2 miles Primo's Restaurant--approximately 1 mile--James Beard Award winning chef and Farm to Table restaurant, a bit pricey but worth it! Our home is shared with our young daughter--who is quite used to guests from around the world--and our three very shy cats. We look forward to hosting you and will make every effort to share the best mid-coast Maine has to offer!
Our neighborhood is quiet but on the edge of downtown. We live on a dead end street which keeps traffic and noise at a minimum. It is an eclectic bunch of neighbors--retirees, professionals, a lobsterman and a few "jack of all trades." Some of us are "from away" and others are native to Maine.
A great stay with Rebecca and Joe. They were very welcoming and offered helpful advice on where to go for dinner etc. The room was clean and comfortable. Stairs were very steep which could pose a challenge to some but it didn't cause us any problems. Rebecca even prepared some homemade baking for our breakfast.
Jonathan
2016-06-17T00:00:00Z
Rebecca and Joe were wonderful hosts and very welcoming. Their listing is completely accurate. We were greeted with tea and served a delicious breakfast in the morning. Beautiful house, our room upstairs was comfortable and private. Would highly recommend.
Bryon
2014-05-12T00:00:00Z
Rebecca and Joe did make me feel welcome, and I had very nice conversations with Joe , Rebecca and their daughter, Gabriella. The location is very convenient to downtown, and Rebecca did help with information about activities and what to see in and around Rockland. She is a great cook and made some wonderful breakfasts.
Roberta
2015-09-04T00:00:00Z
Rebecca, Joe and Gabriela are very welcoming, kind and helpful. Our stay was short but wonderfully pleasant. Great recommandations for hikes and point of interest for our road trip. The bedroom is independant from the rest of the house, the place is very quiet, breakfast was great (fresh fruits and very tasty homemade muffins). Last but not least Rockland seems to be an interesting place even if we had not enough time to explore it more. Best stay of our trip so far. Thanks a lot for everything.
Elouan
2016-08-03T00:00:00Z
Beautiful, traditional New England home in a beautiful little "fishing village" - Rebecca and Joe greeted us very friendly despite our later than expected arrival. They recommended a couple of great places for dinner. Unfortunately we didn't get to chat too long with them but they are great people. Rebecca even made us a delicious vegetable quiche which we greatly enjoyed (sorry for finishing it all, it was absolutely delicious). The stairs are steep but add to the character of the house and room. And the room in general has a very private feel. There is even a little basket with "emergency" toiletry items which I thought was just so lovely. We greatly enjoyed our stay and would love to come back one day! Thank you for having us!
Susanne
2015-10-20T00:00:00Z
Excellent hosts. Very friendly and accomodating. Place was right next to the town center as advertized and an easy walk. Room was spacious, clean, and the bed was comfortable. They were even kind enough to offer me breakfast the next day. Exactly what I had hoped for.
Nuwan
2015-08-15T00:00:00Z
Rebecca and Joe are amazing hosts. They took us (Amy and my husband Jonno) in for one night after we missed our ferry out of Rockland, they let us leave our car there while we were gone for the weekend, and there was going to be pancakes or waffles (I just remember it was going to be delicious) for breakfast, but we had already agreed to brunch at our destination the next morning. Which I'm still sad about. They made us coffee and toast in the morning and sent us on our way! We loved chatting with them and their daughter, and meeting/seeing from a distance their feline friends. The accommodations were super clean, and the old house still has all its charms and personality. We truly enjoyed our stay, and if we ever get stuck in Rockland again, they'd be our first choice!
Nancy & Amy
2016-10-15T00:00:00Z
Central location, friendly host, pleasant room, comfortable bed. Ideal!
Tim
2012-08-10T00:00:00Z
Rodzaj pokoju
Pokój prywatny
---
Rodzaj nieruchomości
Dom
---
Mieści
2
---
Sypialnie
Rockland, Maine, Stany Zjednoczone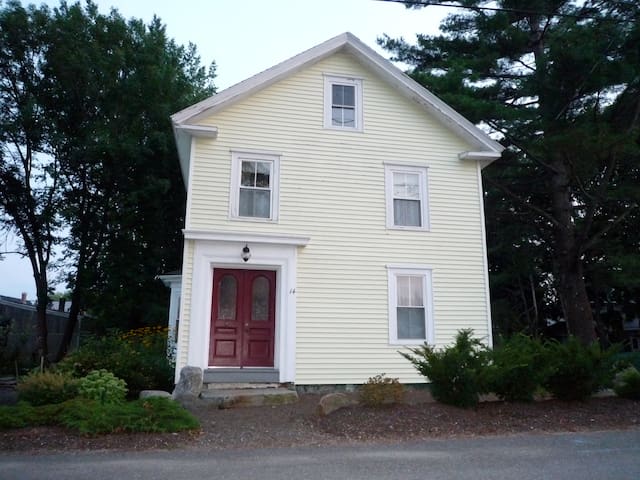 Enjoy your stay in the private, extremely clean bedroom with new queen mattress/box spring, closet, desk, chair, smartHDTV, Roku, DirecTV, DVR, and WIFI. House has new couch and love seat, entertainment center, remodeled kitchen, and much more you are welcome to use. You're right next to a spectacular array of great restaurants, art galleries, the theater, pubs, eateries, coffee shops, museums, ocean, windjammers, nature, and so much more.
The bedroom is very clean, comfortable, and newly renovated. Enjoy the new queen sized mattress, box spring, and closet. The bedroom also has a desk with chair, HDTV with Roku, DirecTV, DVR, and WIFI. Sailing, restaurant, eatery, nature tour, museums, and many other brochures and maps await your arrival and are located on the desk in the master bedroom. You have your own paved driveway for off-street parking and also your own entrance door that opens to the living room with the master bedroom just 10 feet from your entry door (I use the second driveway and entry door located on the back side of the house).
Mike made us feel welcome with his gracious communication skills and sincere warmth. He provided wonderful help and guidance that we could maximize our experience in his wonderful town. Not one amenity was missing, and we felt completely at home in his home. Happy behave a new friend in him when we make our move to Rockland.
Alice
2016-08-27T00:00:00Z
Mike was very proactive and friendly in his communication. He had some contractors working on the house and made sure to check with me before scheduling them. I accidently dropped the keys when removing them from the lockbox and was unable to retrieve them. He promptly got me a spare and later provided the originals once he retrieved them. Mike also checked in several times during the week to see if I needed anything. Overall I would say that my stay was comfortable and convenient and would recommend it anyone staying in the Rockland/Camden area.
Christopher
2016-09-17T00:00:00Z
Mike is an excellent host and a great guy. He is always available for questions and to offer a great deal of information about all that is available to do, see and eat in Rockland. Mike provides every possible amenity and a very comfortable environment to hang out and feel at home. I highly recommend staying with Mike when you have the chance.
Stephen
2016-10-06T00:00:00Z
This was my first time staying at Mike's home (I stayed for 5 nights), and I cannot say enough about my wonderful experience! His home is beautiful, clean and nicely decorated (a beach/ocean theme). You also cannot ask for a better location-- right in the downtown Rockland area. Once I arrived, I barely needed to use my rental car, as everything is within walking distance. Mike communicated perfectly with me, all the way down to leaving detailed instructions as to how to enter the house, etc. The house and the master bedroom were exactly as described and pictured. He really made me feel special-- from the Rockland map with places to see highlighted, to the basket of toiletries available in case I forgot something. He also was great as following up with me to make sure everything was perfect. I will definitely return to Mike's house again and highly recommend him to any Airbnb'ers!
Myriam
2016-09-04T00:00:00Z
This was one our best Airbnb stays because Mike went out of his way to make us feel welcome and give us recommendations on things to do in the Rockland and Camden area. The house was a short walk to some of the best restaurants in town. Everything was extremely neat and clean. The bed was really comfortable and the AC worked great sincere were there during the warm summer time. Although we didn't get a chance to meet Mike, he communicated quickly and thoroughly through messaging and texting. Overall, Mike's place was exactly what we needed and it was refreshing to feel so welcomed.
Lori
2016-08-23T00:00:00Z
Everything about my stay at Mike's was spot on with his listing. The place was very clean, had more than suitable amenities and was everything I could have asked for. Mike was more than willing to help in any way possible and made me feel right at home.
Andrew
2016-10-03T00:00:00Z
Mike was not around when we arrived, but left really clear instructions on how to access, even despite my phone playing up so my communication was not the best! We were greeted with a lovely bottle of red on our bed as well as any extras such as babywipes etc that we could have needed. The house was great with any amenity you could ever need, but really, Rockland is so beautiful, I'd be amazed if anyone ever turned the TV on! The location is great, just a couple of minutes walk from the centre, in a really nice and quiet neighbourhood. Our highlight of the trip was driving to Port Clyde on Mike's recommendation, and enjoying the bottle of red he had given us whilst watching the incredible sunset. Mike also even left us some drinks and snacks for our journey home! We will definitely be returning to Rockland, and to stay with Mike as we had a fantastic time but with only 2 nights there, far too short a time, and Mike was a perfect host and a great guy!
Tom
2016-08-06T00:00:00Z
Originally, I had reserved another place that became unavailable due to damage. Luckily, I found this place and Mike made arrangements to make it available to me. The place was awesome. The location was within walking distance of downtown Rockland on a nice street. Mike was an attentive host making sure I was comfortable and had all I needed. He made me feel at home and I would definitely stay there again on my next trip. This was my first experience using airbnb and was a definite 5 star!
Kevin
2016-08-03T00:00:00Z
Rodzaj pokoju
Pokój prywatny
---
Rodzaj nieruchomości
Dom
---
Mieści
2
---
Sypialnie
Rockland, Maine, Stany Zjednoczone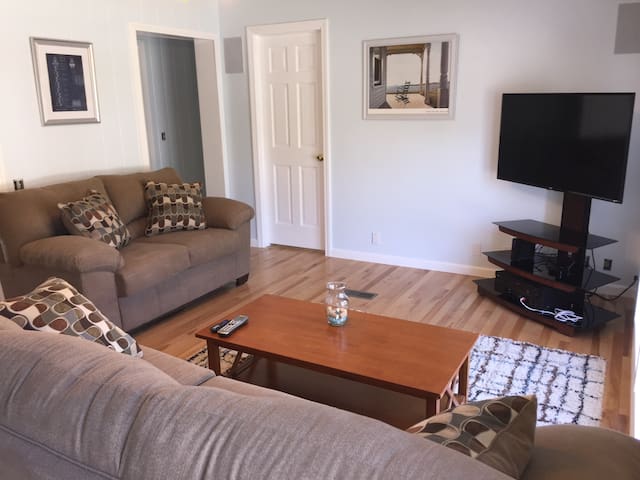 Leave your car in our driveway and enjoy all Rockland has to offer! Our 1863 two bedroom home is on a quiet residential street just 2 blocks from Rockland's Main Street. Our house is ideal for couples looking for a Maine getaway. Enjoy Rockland's chic Main Street, excellent restaurants, waterfront, unique shops, galleries, museums, and live performance venues. *9% Maine sales tax to be added to over all price* Short Term
You will love this comfortable downtown house where you can enjoy a quiet evening, but just be steps away from all the downtown activity. Downstairs you will find a separate side porch entrance with space for shoes and coats. The house has a fully equipped kitchen with center island, dishwasher, gas range, if you can resist the dining options two blocks away. The dining room has seating for 5. The living room has comfy chairs and a gas wood stove. Across from the dining room, you will find a desk area, set up for a lap top with internet connection. There is a full bath with a walk-in shower downstairs. Upstairs there are, 2 bedrooms and a private bath with large soaking tub, a guest favorite. The master bedroom has a comfortable 4-poster queen size bed, an air conditioner, chaise lounge for afternoon reading, dresser space, closet space, and a view over the backyard. The front bedroom has a double bed and a single bed, a large fan, comfortable seating, dresser space, and closet space. Guests will be provided with clean linens and towels. During the colder months, the upstairs guest space has a separate thermostat to regulate heat according to guest preferences. We have a large fenced in back yard, great for evening barbecues on our new gas grill. There is parking for 1 guest car and parking is available on the street.
Our home is on a quiet residential street within a 4 minute walk to Rockland's Main Street attractions, including The Farnsworth Museum, Contemporary Art Museum, The Strand Theater, Atlantic Bakery (!), numerous art galleries, our working harbor with its boardwalk and Harbor Trail, unique shops, and many excellent restaurants and cafes. Watch the schooners sail into the harbor or plan a schooner day trip. You will find that you can park your car in our driveway and easily walk to all Rockland downtown has to offer. Our house is a five minute drive to Owls Head with its light house, beaches (including the white sandy beach, Crescent Beach), and the general store (voted best burger in Maine!). We are just 15 minutes from Camden. Rockland is a perfect home base for a midcoast Maine adventure!
Rodzaj pokoju
Całe miejsce
---
Rodzaj nieruchomości
Dom
---
Mieści
5
---
Sypialnie
Rockland, Maine, Stany Zjednoczone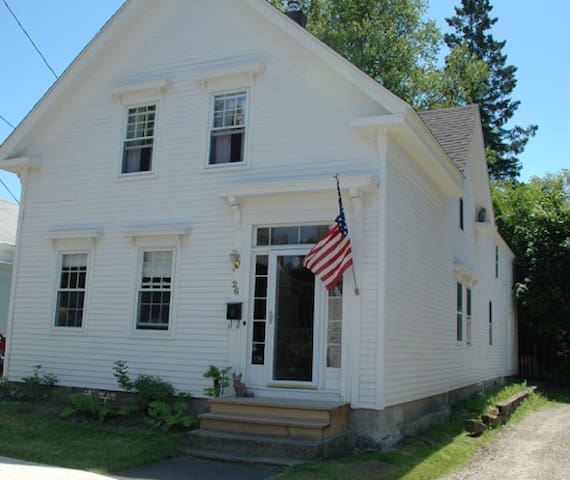 Located in a quiet residential neighborhood, a tastefully refurbished 1930's cottage-style home bordering Rockland's Historic District and just far enough away from the hustle and bustle. An easy walk to many fine restaurants, museums, theater, art galleries, shops, the harbor and the ferry terminal.
Come stay with us and enjoy one of our comfortable guest rooms. Each room has a sitting area and is large enough for an extended stay. Guests may choose between The South Room with double bed or The North Room with a double and a single bed. Both rooms are on the second floor (easily accessed by a wide staircase) with a private bathroom with tub and shower. You are welcome to enjoy our cheerful breakfast nook overlooking the backyard and gardens with access to our living room, front porch, back deck, garden area, and limited kitchen facilities. We have plenty of shelves filled with interesting books, if you have time to read. We offer coffee and pastry in the morning upon request. We are not a childproof home, so not suitable for children under 12. Our two indoor cats are friendly; George, an elderly Siamese and Rocky, an Abyssinian, who can be quite entertaining. We hope our guests enjoy their stay here and are respectful of our home.
Rodzaj pokoju
Pokój prywatny
---
Rodzaj nieruchomości
Dom
---
Mieści
2
---
Sypialnie
Rockland, Maine, Stany Zjednoczone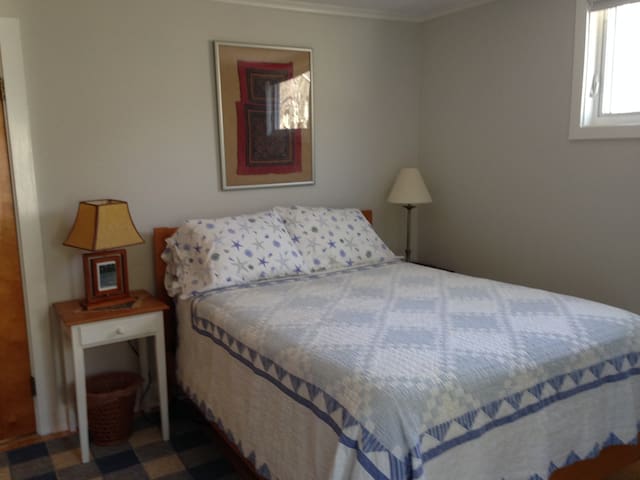 This 1922 house has rustic charm and has kept its original woodwork while being decorated with a modern feel. It is right in downtown Rockland for easy access (AND off-street PARKING) to festivals, restaurants, and music. It's a perfect home away from home for a couple, or a group looking to save money over a hotel. Discounted rates for longer stays. THIS LISTING IS FOR ONE ROOM. Please see other listings at this address for whole house rental.
Rodzaj pokoju
Pokój prywatny
---
Rodzaj nieruchomości
Dom
---
Mieści
1
---
Sypialnie
Rockland, Maine, Stany Zjednoczone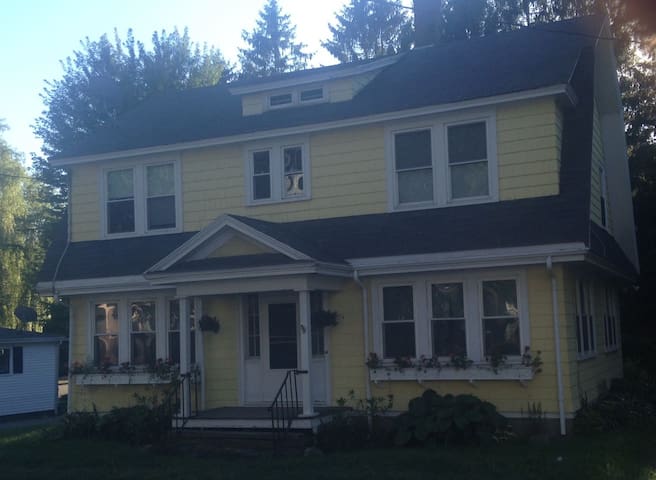 Three great friends renovated this 1870s house in a quiet neighborhood. Only six short blocks to Penobscot Bay and downtown. We wanted all the things we loved on vacation. Comfy beds and linens, 2 full bathrooms, an upstairs deck, a kitchen with everything you need, a spacious open floor plan and wireless everywhere. We are very ADA friendly with wide doorways and accessible shower and bathroom features downstairs (and ramp available). Everything is brand new.
Other events to consider: A mini-retreat for a small group. A slumber party at our house instead of yours. A party, a brunch, a baby shower.
The house is in a quiet residential area. Six blocks to Rockland Harbor (the Atlantic Ocean), 15 restaurants, the Farnsworth Art Museum, 27 galleries and the amazing Strand Theatre.
Rodzaj pokoju
Całe miejsce
---
Rodzaj nieruchomości
Dom
---
Mieści
10
---
Sypialnie
Rockland, Maine, Stany Zjednoczone
Rockland, Maine, Mid-coast cottage. Walk along the oceanfront boardwalk to downtown restaurants, movie theater, shopping, Farnsworth Museum, CMCA, galleries, bars & festivals. Sandy Beach at the end of the street. *Pet fee additional $100* *9% Maine sales tax to be added to overall price*
This is the best neighborhood in Rockland, Maine! You can't get a better location for the Lobster and Atlantic Blues Festival. Friendly neighborhood, great lighthouse views. Conveniently located in the Historic South End of Rockland, the Pacific House located 1/2 block from ocean (you can see the lighthouse) is steps from the Rockland beach and harbor, and a short walk to downtown and restaurants. There are hardwood floors throughout, the kitchen has a tile bar, bar stools and all amenities. The dining room seats 6 comfortably. Plush living room is ideal for reading or watching movies, with flat screen, internet and Netflix provided. Bedrooms sleep 6 - with brand new queen Eurotop beds in master and second bed, and two twin beds in the third room. Huge master bedroom with very large walk-in closet includes all linens. There is a tile bath with vanity, tub and shower, as well as a laundry facility with washer and dryer in large pantry off the kitchen. The mud room sliding glass doors open to a beautiful wooden deck and big, picket fenced back yard with grill and outdoor table. House includes Wifi, board games, ceiling fans, deck, grill - leave your car in the drive and walk to restaurants & bars, museums, beach, harbor and all festivals. Throw your favorite steak on the barbeque or boil up a pot of lobsters in this home away from home. It won't take you long to see why CBS This Morning calls Rockland one of the coolest small towns in America. Pets are welcome up to 50lbs. There is an additional required $100 pet fee for all pets.
Walk everywhere. Sandy Beach at the end of the street. Walk to bars, restaurants, shopping and museums. Launch your kayak at the end of the street. Ferry terminal to Islands nearby. Incredible location for wine lovers, foodies, hikers, kayakers, sailers, bikers (both kind), sun set lovers, and lazy bones.
Great spot. Close to town. We are at Archers twice as it was walking distance. Great response time from Kaylyn. The home was cozy and homey! We played cards a lot and went out to Primo.
Sarah
2016-10-25T00:00:00Z
We had a great time in this lovely, clean well-appointed home, which couldn't have been made more inviting by the hosts.
maureen
2016-08-22T00:00:00Z
All was great, just fine.
Jan
2016-09-13T00:00:00Z
Kaylyn's place is excellent! This cute house was perfect for our long weekend. The house is 5 minutes from downtown Rockland and the waterfront. The backyard has a wonderful seating area that is quiet and fragrant thank s to the beautiful flowers. This kitchen is big and the downstairs sitting area was both cozy and comfortable. Overall, this home was peaceful and relaxing. Thanks for a great weekend!
Marissa
2016-09-06T00:00:00Z
Location is great and easy to get to. No problem with host always available and had a house manager available for questions. Furnishing need some updating but overall satisfaction.
Eilleen
2015-09-02T00:00:00Z
We loved staying here and may start a tradition every year going back! Lots of nice amenities, plenty of room, nice hang out spot in the backyard, and walking distance to downtown. Kaylyn provides so many great recommendations too!
Tim
2016-09-18T00:00:00Z
Kaylyn was extremely communicative before my stay and Louise was wonderful as well! There was a beautiful gift of wine and a gift certificate that was delivered, thank you. The house provided a quiet and comfortable place to land after long training days at the studio. And such a beautiful walk to downtown. Thank you so much for the hospitality and sharing your home away from home! This is a gorgeous place for families, couples, and travelers who seek a little quiet following your days of adventure.
Melissa
2016-11-09T00:00:00Z
We had a very pleasant stay here with our 18 month old son. The house is spacious and the location was excellent. You can take a nice walk along the water all the way to town or walk just a few blocks to a sandy beach! Kaylyn was accommodating with an alternate check-in time as well. The house was clean and there was a great backyard where we could relax while our son played. The pack and plays were a big help. We'd definitely stay here again if we return to Rockland!
Joanna
2016-10-20T00:00:00Z
Rodzaj pokoju
Całe miejsce
---
Rodzaj nieruchomości
Dom
---
Mieści
6
---
Sypialnie
Rockland, Maine, Stany Zjednoczone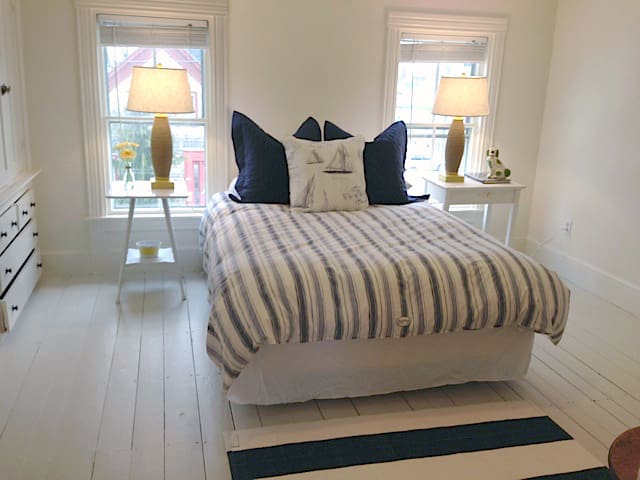 Wpisz daty, by zobaczyć pełną cenę. Obowiązują dodatkowe opłaty. Cena może uwzględniać podatek.