Min 2 nights Stay for July & August Burren Cottage, has 2 individual self catering Apts and presents a comfortable, self-catering option and the perfect base for walking in the Burren National Park, be it invigorating or relaxing! Apt 1 is a 2 bed sleeps 4.
Set in lovely surroundings nestled in the Burren mountains it is a place of peace and tranquility.
Their way of life which includes traditional farming and the production of organic produce
The Burren was unique. So close to local towns but surrounded by incredible landscape. The house was well appointed, quiet and comfortable. We enjoyed our visits to Corofin where everyone was so friendly.
Stephen
2016-09-12T00:00:00Z
The cottage was nice. It is the right half of what you see in the main photo and contains a large upstairs bedroom with two beds and a downstairs bedroom with another bed as well as a living area and kitchen. The location in the Burren National Park is incredible and there are great hiking spots just down the road. Marie offered some helpful hiking tips. Be aware that gas is not included in the price and comes out to around £5/day.
Kent
2015-09-01T00:00:00Z
Great place, very spacious and in beautiful setting. There were two large bedrooms and a big living/kitchen area. More than enough for the four of us. The kids loved the horses in the adjacent meadow.
Robert Jan
2015-08-15T00:00:00Z
Marie was a very gracious guest. The flat was really nice. We were on an off-beaten path type of holiday and this was perfect. Although secluded, you have easy access to towns, villages and historical sites near by. There was more than enough room for the both of us and enjoyed the local horses who greeted us each morning.
Karen
2016-07-29T00:00:00Z
This is a lovely little accommodation. Perfect size for a group of 4 people (we had the side section of the house). It has all the amenities that you need to enjoy your time and some lovely views of the Burren landscape. Would recommend
Kevin
2016-05-30T00:00:00Z
Perfecte plek midden in het nationaal park The Burren. We huurden met zijn tweetjes het rechtergedeelte op de foto en het andere huis was niet bezet. Totale rus en je wandelt zo het maanlandschap in...
Ingrid
2017-04-02T00:00:00Z
The host canceled this reservation 18 days before arrival. This is an automated posting.
cara
2017-01-31T00:00:00Z
Everything was great, The Burren is stunning and the house is clean, comfortable and well equipped.
Ruby
2016-12-26T00:00:00Z
Rodzaj pokoju
Całe miejsce
---
Rodzaj nieruchomości
Inny
---
Mieści
4
---
Sypialnie
Cooloorta, Boston, Clare, Irlandia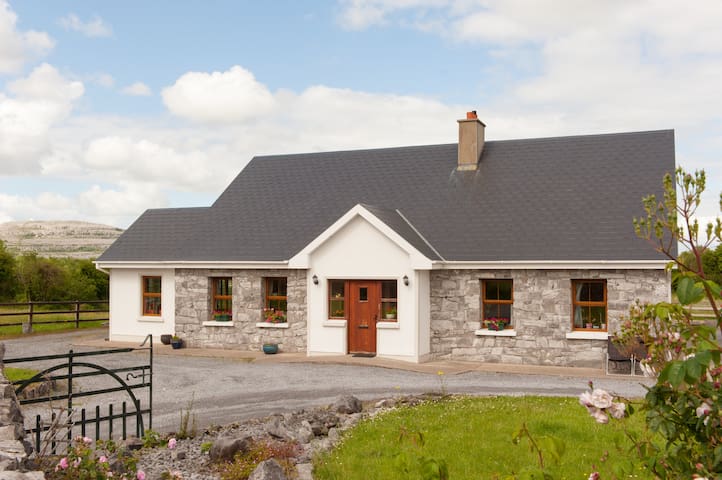 Min of 2 nights Stay Burren Cottage, has two individual self catering apartments and presents a comfortable, self-catering option perfect for walking in Burren National Park, free bus service to Corofin village from May to August Apt 2 has 3 bedrooms sleeps 6.
Set in lovely surroundings nestled in the Burren mountains it is a place of peace and tranquility. Sleeps 5/6
Their way of life which includes traditional farming and the production of organic produce
The house is very cosy, inviting, comfortable and located in a great place! Marie and here family are friendly and ready to help at any time. We warmly recommend staying at this house to anyone.
Janna
2015-10-13T00:00:00Z
The location is stunning! A real gem of a spot right in the middle of the burren. Trails steps away from the house secluded and lovely. The house is as pictured. and is really spacious and well built. PROS location, very private and very remote, so be aware if your are wanting town but if you want a very rural setting this is perfect. House was super clean Gorgeous location if you're looking for great outdoors and wilderness, we saw 2 baby foxes steps from the house, stars are bright at night! Cons The house is poorly outfitted in other areas. Kitchen is really lacking if you are wanting to cook. Pots and pans were severely scratched, Teflon in horrible condition, would not use it, clothes dryer wasn't working and the clothes washers door is broken. Water heating upstairs a bit mysterious. Mattresses were in poor condition. We were not given any directions prior to arrival, told we could check in early but we couldn't find it or get a hold of host, very difficult time getting there, difficult after just flying into Shannon. Would be better as a next day location.
Meghan
2016-05-27T00:00:00Z
We had a delightful experience in Marie's apartment. The surroundings are just beautiful and relaxing, and the listing is perfectly located to visit the Burren National Park. The apartment itself is very big and cosy, and our favourite spot was the conservatory. We are really looking forward to going again!
Lidia
2016-08-15T00:00:00Z
Marie brought us milk ans biscuits on our first night as we arrived after all markets were closed. She is a warm and welcoming hostess with great knowledge of the Irish Burren. In fact her family sold over 400 hectares to the Irish government, now part of the National Forest system. We recommend taking a guided tour of the Burren to get the most of your experience of this lovely are!
Joseph
2016-07-28T00:00:00Z
A group of five friends and myself were lucky enough to stumble upon this beautiful cottage while looking for lodging during our Ireland adventure. Marie was the most amazing host, she was so kind and excited to greet us upon our arrival. She's super knowledgable about the incredible landscape surrounding the area and was excited to share her knowledge with us. Staying with Marie was my very first Airbnb experience and I could not have asked for a better one!! My friends and I all agree we've got to come back and stay again.
Morgan
2016-05-29T00:00:00Z
We (two families - 5 people) are very happy with the stay in the apartment. The location is excellent - walking distance to Burren National Park. The apartment is clean and comfortable. It is excellent that each bedroom have separate bathroom. Marie is a very nice person, easy for communication. Thank you Marie for the comfortable and nice stay.
Alexander
2016-07-31T00:00:00Z
Excellente location. La maison est très bien située, au bout d'une route traversant des paysages sublimes, avec une magnifique vue sur le Burren. Logement très confortable et bien équipé. Très bon accueil.
Pierre-André
2015-08-23T00:00:00Z
Marie was a very welcoming host. We had a great time in the cottage. It is a very comfortable home. The surrounding area is great for hiking in the Burren. Very pretty . We enjoyed the peace and quiet.
Richard
2016-05-24T00:00:00Z
Rodzaj pokoju
Całe miejsce
---
Rodzaj nieruchomości
Chatka
---
Mieści
6
---
Sypialnie
Cooloorta, Boston, Co Clare, Irlandia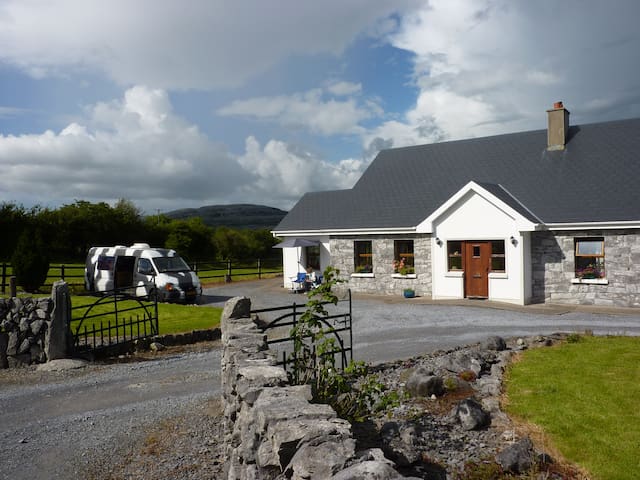 set in the heart of the burren national park a perfect place for a relaxing holiday only 20 mins from the sea. so much to see and do cliffs of moher doolin ballyvaughan kinvara lahinch all only a short drive also perfect for walkers a hillclimbing.
complete peace and quite
the views of the burren
Rodzaj pokoju
Całe miejsce
---
Rodzaj nieruchomości
Inny
---
Mieści
3
---
Sypialnie
Clare, Clare, Irlandia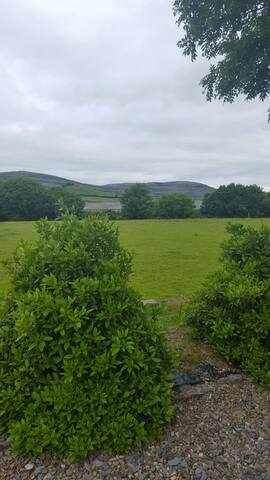 Wpisz daty, by zobaczyć pełną cenę. Obowiązują dodatkowe opłaty. Cena może uwzględniać podatek.