We live on the edge of Brighton and buses are frequent to the city centre. Our home is also close to Newhaven with its ferry service and rail station. Your ground floor bedroom is next to your private bathroom (bath & shower).
Our home is ideally situated on the edge of the South Downs National Park, between the towns of Brighton to the west, Newhaven to the east, the Downs to the north and the beautiful English Channel to the south. It will sleep 2 people in bunk beds & there is a travel cot for an infant which will fit alongside the bed (no extra charge) .
Our home is in a quiet road, backing onto a beautiful park, and minutes from the cliff top, with its magnificent chalk cliffs and beach access. Peacehaven is just outside the City of Brighton. It is home to the Meridian Monument, which stands at the point where the Greenwich Meridian crosses the south coast of England.
Lovely hosts, comfortable room.
Emma
2017-03-03T00:00:00Z
Anita and Pat were perfect hosts, doing everything to make our 2 night stay pleasant. Very warm and welcoming, as the description said. We are animal lovers and were delighted to find 2 cats, both rescued, and a dog, to welcome us (there is a gate to ensure the pets do not intrude if you are not as keen as us!). We relaxed in the sunroom overlooking the lovely garden and cups of tea were plentiful. They are truly "people people", perfect for doing airbnb. If you want to be within a short walk and bus ride into Brighton and enjoy comfortable bunk beds, this is the place to stay.
Margaret (k/a Maggie)
2017-03-20T00:00:00Z
Anita's place was exactly as describes. She and her husband are lovely people and made me feel quite at home. Very homely, the only downside was that wifi turned off at 10.30.
Michelle
2017-01-22T00:00:00Z
This was just an amazing stay. Anita and her husband were extremly friendly. They helped us with all that we need. Breakfast was just perfect. We had everything we asked for and even more. They gave us the maps, showed us what is there to do and see. The house is like from a fairytale and the animals are just as friendly as the hosts. I would warmly recommended staying here to anyone.
nusa
2017-01-15T00:00:00Z
We had a lovely time at Anita's place! The room was cozy and comfortable and Anita and her family were great company. A full breakfast spread was waiting for us in the morning as well, which was greatly appreciated!
Dimitri
2017-01-12T00:00:00Z
Anita's house is ideally located for the ferry from Newhaven and the direct bus to Brighton stops at the end of the road. There are several pubs and take always close by and the sea is just a few minutes walk. The bed was very comfortable and the house is very welcoming. I was held up and arrived late in the evening but Anita waited up for me and ensured that I was settled in. Highly recommended.
Danny
2017-01-29T00:00:00Z
Wonderful house for visitors. Nice hosts and their lovely cute granddaughter brought us an unforgettable day.
书馨
2017-03-05T00:00:00Z
Very homely, warn and friendly Accomodation. I felt free to move around and they were very accommodating when I missed my checkout time. I'll be back for sure.
Arlo
2017-03-12T00:00:00Z
Rodzaj pokoju
Pokój prywatny
---
Rodzaj nieruchomości
Dom
---
Mieści
2
---
Sypialnie
Telscombe Cliffs, Anglia, Wielka Brytania
Estamos situados en la parte superior acantilado en Peacehaven con impresionantes vistas al mar. Somos una casa amigable abierto con un ambiente relajado donde todo el mundo se hace muy bienvenido. La habitación es tranquila y apacible con un toque escandinavo. Es perfecto para todos los que quieran alejarse de todo o para los que desean a la cabeza en Brighton por trabajo o placer (Brighton está a sólo 15 minutos en bus). Tenemos hermosos paseos en nuestra puerta y fácil acceso a las áreas de belleza natural como refugio cuckmere.
En la habitación hay una cama doble, armario y una pequeña televisión. También hay un hervidor de agua para el té, café, etc ..
Estamos situados justo al lado de un parque y los acantilados, para que pueda disfrutar de un paseo por la cima del acantilado o bajo acantilado y playas. Hay muchas tiendas locales a poca distancia para su comodidad incluyendo una cafetería y quioscos de prensa al final de la carretera. cajeros automáticos y bancos también están disponibles dentro de una corta distancia a pie.
Beautiful home with stunning scenery. Really relaxed atmosphere. Great bus links to Brighton and Eastbourne. Would definitely recommend
Amy
2017-04-09T00:00:00Z
Rodzaj pokoju
Pokój prywatny
---
Rodzaj nieruchomości
Dom
---
Mieści
2
---
Sypialnie
Peacehaven, Anglia, Wielka Brytania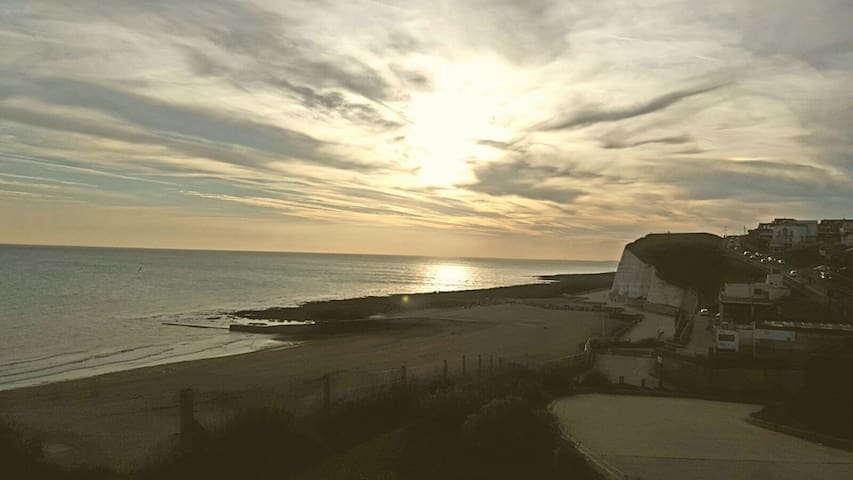 Das Hotel liegt in einer sicheren und ruhigen Wohngegend, nur wenige Gehminuten von den weißen Klippen, Parks und 25 Minuten vom Stadtzentrum von Brighton mit dem Bus. Das stilvolle und gemütliche Haus ist auch nur 5 Minuten mit dem Auto / 10 Minuten mit dem Bus vom Hafen von Newhaven.
Dieses fantastische Mitte des Jahrhunderts Haus in einer der ruhigsten Orte in Peacehaven gelegt wird, nur ein paar Minuten geht vom Meer entfernt, 25 Minuten mit dem Bus von Brighton und 10 Minuten mit dem Bus vom Hafen von Newhaven Für Menschen, zu Fuß von DIEPPE zu NEWHAVEN reisen kann ich während des Tages / Nacht für ein extra £ 5 einen Abholservice zu jeder Zeit zur Verfügung stellen. Bitte erkundigen Sie sich vorher die Verfügbarkeit zu überprüfen. Das Schlafzimmer hat Kleiderschrank ein gebaut, die ein paar meiner Mäntel in sich hat, aber fühlen Sie sich frei, es zu benutzen (es gibt genug Platz) Das Schlafzimmer verfügt über zwei Einzelbetten und bequemen Bettdecken, Bettwäsche und Kissen. Sie werden auch ein sauberes Handtuch und Pflegeprodukte zur Verfügung gestellt werden, einschließlich; Duschgel, Shampoo, Handwäsche und Toilettenpapier. Das Bad und die Toilette mit einer sehr guten Dusche ist immer sauber und ordentlich gehalten. Sie haben eine große Dusche und eine erholsame Nachtruhe in einem guten mittleren Schlafzimmer genießen.
Verschiedene Möglichkeiten der Einheimischen in der Gegend mit verschiedenen Sorten von Restaurants, Bars und Cafés innerhalb Meter voneinander entfernt. Die Lage ist erstaunlich. Kommen Sie und erleben Sie die Herzen des Nationalparks South Downs.
Rodzaj pokoju
Pokój prywatny
---
Rodzaj nieruchomości
Dom
---
Mieści
2
---
Sypialnie
Peacehaven, Anglia, Wielka Brytania
This is a private double room, with easy access and lock on the door for security. The key will be given upon arrival and given back on departure. The room is located close to a clean full size, communal bathroom, which is also used by other guests at the Lodge. Tv and wifi within the room. Includes private session in the jaccuzzi and sauna subject to availability. A BBQ is also available in the garden for guests to use as they please.
John Wayne's Lodge is located very near the sea, being just a 5-10 minute walk away. Brighton is also a 15 minute bus journey away - you will find the closest bus stop is just a 3 minute walk from the home. The house itself is relaxing, warm and has a social yet homely atmosphere. You come and go as you please as we are a lodge. This low price of £32 per night does not include hot tub or sauna.
Just as advertised, thank you
Christopher
2017-03-22T00:00:00Z
Rodzaj pokoju
Pokój prywatny
---
Rodzaj nieruchomości
Dom
---
Mieści
2
---
Sypialnie
peacehaven , East sussex, Wielka Brytania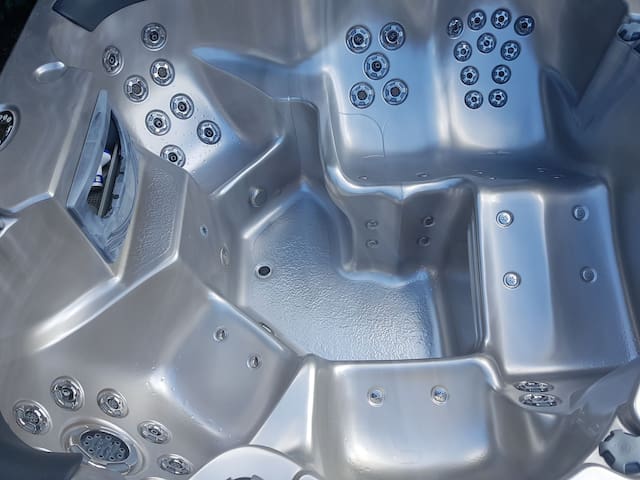 Erleben Sie eine Airbnb Superhost! Unser moderner Bungalow verfügt über ein großes Bad (gemeinsam), mit Dusche und Badewanne. Ihr Zimmer verfügt über ein sehr komfortables Bett, mit einem Flur zwischen Ihnen und unserem Zimmer. Brighton ist nur 15 Minuten mit dem Auto (kostenlose Parkplätze auf unserer Einfahrt), oder nehmen Sie den Bus von der Spitze unserer Straße. Wir leben am Rande des schönen South Downs-Nationalparks und das Gebiet bietet auch weiße Klippen und Strände, hübschen Dörfer und National Trust sowie tolle Wanderungen und Pub.
Ein helles, schönes Zimmer an der Vorderseite des Hauses mit einem kostenlosen Parkplatz direkt vor unserer Garage oder auf der Straße. Das Bett hat eine so bequeme störungsarme Matratze, die Menschen manchmal sagen, dass sie Schwierigkeiten haben, nach oben! Das Zimmer ist mit einem Haartrockner, Spiegel, Stauraum (Kleiderstange, Kleiderbügel und Regal in der Einbauschrank), ein TV, dass Sie auch DVDs auf (wir Lasten haben Sie ausleihen können) sehen können, einige Bücher über Brighton und Sussex, eine Duftkerze und sogar Lichterketten um die Spitze des Bettes, wenn Sie wie eine sanfte Beleuchtung fühlen. Es gibt auch eine Handy-Docking-Station / Radio / Wecker, so dass Sie Ihre eigene Musik spielen können, wenn Sie Musik auf Ihrem Smartphone haben. Es gibt eine Auswahl von touristischen Karten und Broschüren, können Sie ein "Was ist auf 'Magazin zu nehmen, wenn wir eine haben, aber bitte die anderen Materialien zurück. Wir bieten eine Hilfe-yourself einfaches Frühstück, mit einer Reihe von Getreide, Brot und Gewürze, Tee oder Kaffee. Sie können im Garten essen, am Esstisch in unserem Familienzimmer, oder sich im Bett mit unserem stabilen Lap-Tabletts zum Frühstück zu behandeln. Wir in der Regel Lager Sojamilch und Nicht-Milch sowieso verbreiten, aber bitte mit uns im Voraus sagen, wenn Sie Veganer sind, damit wir sicherstellen können, die wir Ihnen bieten können. Wir würden es vorziehen, nicht kleine Babys oder Kinder bleiben zu haben, oder Haustiere.
Ziemlich Chatsworth Park (mit entfernten Blick auf das Meer) ist nur 5 Minuten zu Fuß, und Sie können auch in 10 Minuten (nach oben vorbei Tesco entlang Kirby Drive Telscombe Weg zum berühmten schönen South Downs-Nationalpark zu Fuß, entweder zu Fuß entlang der linken Straße bis erreichen Sie Telscombe Tye, oder sie um nach rechts folgen und dann zu Fuß auf der linken Seite entlang Downs Way). Es gibt einen Mini-Supermarkt (Tesco) nur 5 Minuten Fußweg bis Ambleside Avenue.
We were made to feel at home as soon as we crossed the threshold. The facilities are ideal for anyone wishing to have a stress free relaxing time and yet be near to Brighton. We had a problem with a puncture on our vehicle and could not have wished for more advice and help. We shall definitely be returning it really was a 'home from home'. Highly recommended.
Doug
2016-02-29T00:00:00Z
Helen and Keith are amazing hosts. They went above and beyond to make us feel right at home during our stay in their charming and clean house. Brighton can be reached easily as there is a bus stop close to the house. This room is highly recommended.
Ásgeir
2015-08-25T00:00:00Z
Heel open en klantvriendelijk .Kamer was heel mooi en ook schoon.We kregen n sleutel van het huis en mochten zo laat komen als we wilde als we maar rustig deden. In de ochtend had ze ontbijt klaar staan in de keuken.We mochten zelf ook thee en koffie pakken als we dat wilde.Zeer aan te raden ligt maar 7 km van Brighton voor een super leuke dag .
Rie-Jeanne
2016-07-19T00:00:00Z
We were very glad to meet Helen and Keith and their cute dog. Peacehaven is really nice to stay. It is very peaceful, quiet and there are beautiful cliffs, good equipped promenade and a few local cafes. The room is very convenient with beautiful view to quiet lane. Everything is absolutely clean. If you haven't your own or rented car to get Peacehaven, it's fine. Because you can easily take a bus from Brighton, it will take just 30 minutes. And the same time to get Seven sisters park. Peacehaven is absolutely best place to stay near cliffs. Thanks a lot Helen and Keith for hosting us!
Maria
2015-09-16T00:00:00Z
Lovely comfortable bed
Mark
2017-02-26T00:00:00Z
Helen and Keith (and their sweet and quiet dog) were really nice and helpful. We had a great time in their house!
Catharina
2017-04-09T00:00:00Z
The stay at Helen's place was lovely and both my friend and I were very comfortable. The room was clean, bright, and well furnished. The kitchen, bathroom, garden, and living area were also well kept. Helen and her husband Keith were a great hosts who laid out breakfast for us and was available if we needed anything. I would def recommend a stay. :)
Habibah
2015-09-30T00:00:00Z
Helen & Keith [& Jade!] made us feel welcome from the moment we arrived, - we had had a long slow journey from Norfolk and were very tired. There were no problems and the house was spotless We would recommend them to others and would not be afraid going again Thanks Helen.
Liz
2015-09-11T00:00:00Z
Rodzaj pokoju
Pokój prywatny
---
Rodzaj nieruchomości
Dom
---
Mieści
2
---
Sypialnie
Peacehaven, Wielka Brytania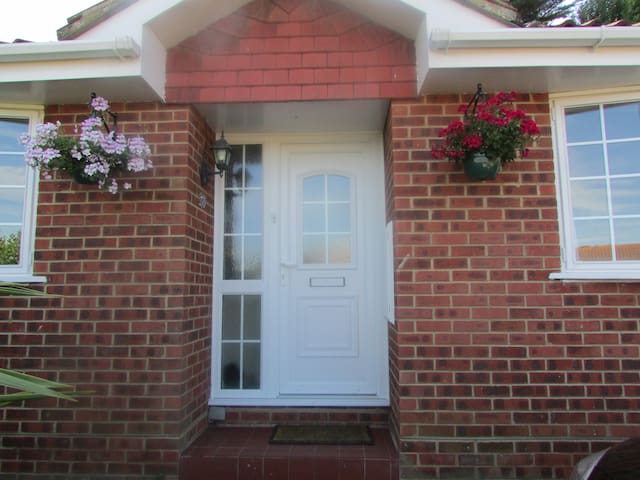 Rodzaj pokoju
Pokój prywatny
---
Rodzaj nieruchomości
Dom
---
Mieści
2
---
Sypialnie
Peacehaven, Anglia, Wielka Brytania
Eenpersoonskamer met gebruik van een eigen badkamer, gratis toiletartikelen en een continentaal ontbijt
A Single slaapkamer, die is licht en luchtig met exclusieve gebruik van de eigen badkamer. Gratis toiletartikelen en een fles water. Thee of koffie bij aankomst.
Ik hou van het leven in Peacehaven als binnen 5/10 minuten die ik kan wandelen langs de kliffen met een prachtig uitzicht op zee en naar beneden naar Brighton of anderszins Ik heb de velden en het park net achter mijn hond te lopen. Ik hou ook van om golf te spelen en een club die is slechts vijf minuten rijden.
Madeline made me feel very welcome and provided everything needed for an enjoyable stay. It was interesting to chat with her and I loved Harley whose manners were impeccable.
Nella
2016-10-06T00:00:00Z
The description is accurate, Madeline is a lovely host, my bedroom and bathroom were spotlessly clean, the house is in a quiet neighbourhood, easy to find and park. Very happy and restful week and would be happy to stay there again.
Scott
2015-11-14T00:00:00Z
I enjoyed a short, but very pleasant stay with Madeline. I was taking the ferry from Newhaven the morning after, and she is very conveniently located only 10 minutes drive away. Madeline was a lovely host, and provided a good breakfast. I would have no hesitation in reccomending staying here.
Oliver
2016-03-27T00:00:00Z
Madeline was a lovely host. Breakfast was lovely! Her home was a very coast place to relax for a few days.
Alyssa
2016-10-16T00:00:00Z
I had a wonderful time at Madelines place. She made me feel very welcome and it was nice to have a chat once in a while. The room was perfect, very clean and in a quiet neighbourhood. There was a lot of storagespace which was very useful. Breakfast was very good. I had a great time and I would definitely go back anytime.
Luana
2015-05-13T00:00:00Z
I enjoyed my stay with Madeline and she is a great hostess. It was a lovely house and I felt very much at home. It's a very peaceful area and I would definitely recommend it and stay there again.
Harry
2016-09-25T00:00:00Z
Madeline was an excellent host, her home is very comfortable and clean. I would recommend this property as a great venue and excellent value for money.
carole
2017-02-18T00:00:00Z
I booked on short notice for a short stay only and was very happy with all, wonderful to have met Madeline, Harley is a nice one. I would surely want to stay here again. Thanks for all. Sukru
sukru
2016-09-11T00:00:00Z
Rodzaj pokoju
Pokój prywatny
---
Rodzaj nieruchomości
Dom
---
Mieści
1
---
Sypialnie
Peacehaven, East Sussex, Wielka Brytania
Atemberaubende Klippe Eigenschaft, freistehendes Haus mit Parkplatz für 2 Autos. Entfernung zum Strand nur 6 Minuten zu Fuß entfernt. Anwesen ideal für Familien. Schlafen 11 in richtigen Betten und 1 Kinderbett und 1 z Bett zur Verfügung zusätzliche Gäste schlafen.
Freistehendes Haus mit Parkplatz für 2 Autos. Auf einer spektakulären Klippen mit dem nächstgelegenen Strand 6 Minuten zu Fuß entfernt. Ideales Haus für Familien. Schlafen 11 in richtigen Betten mit der Möglichkeit von 1 Kinderbett und 1 z Bett, die zusätzlichen Gäste schlafen zur Verfügung stehen. Perfekte Lage für den Strand und zu Fuß Wochenend bricht mit dem South Downs in der Umgebung. Verkehrsverbindungen in Brighton und Eastbourne, nur 5 Minuten zu Fuß entfernt. Garten mit Blick auf das Meer und einen! St Stock Balkon mit Sitzgelegenheiten und Sonnenliegen. Kinderbett und Hochstuhl zur Verfügung. WiFi und TV in allen Schlafzimmern wit eine Auswahl an DVDs. HiFi und TV im Wohnzimmer mit Sky-Paket. Voll ausgerüstetes, Küche und Hauswirtschaftsraum. Erdgeschoss Eingangshalle mit Treppe zum ersten Stock. Erdgeschoss Flur offene führt in offene Essbereich, Küche und Wohnzimmer. Erdgeschoss Dusche und WC-Raum Doppelzimmer im Erdgeschoss mit WLAN, TV / DVD, einen Schreibtisch sowie Tee- / Kaffeekocher. Voll ausgestattete Küche mit Spülmaschine, Doppel-Backofen und 5-Flammen-Gasherd / Extraktor. Großer, komfortable Lounge mit Kamin und Gasfeuerung. Wandmontage Fernseher und HiFi-Anlage und Himmel-Paket. Wirtschaftsraum mit Waschmaschine und Trockner. Große Fenster Terrasse zum kleinen Garten mit Terrasse für Liegestühle, Sonnenschirm, Tisch und Stühle und Bar-B-Que führen. Südlage mit Blick auf das Meer, die Sonne den ganzen Tag lang -nicht, die wir versprechen kann es da sein wird, wenn es bewölkt oder bedeckt ist. Erdgeschoss. Schlafzimmer 1 Luxurious König Master-Schlafzimmer mit Kingsize-Bett und freistehender Badewanne, Balkon mit Sitzgelegenheiten und Tisch, auch groß genug für 2 -3 Sonnenliegen. Mit Blick auf das Meer mit großen views.Plenty Platz für Z-Bett und oder Kinderbett bei Bedarf. Schlafzimmer 2 - Große, luftige Zimmer mit Doppelseitenfenster, 1 Doppelbett und 1 Einzelbett viel Platz für Kinderbett oder Z Bett zu verlassen, falls erforderlich. Schlafzimmer 3 - Großes, luftiges Zimmer mit 4 Einzelbetten, mit Blick auf der Vorderseite des Hauses mit Blick auf Peacehaven. Duschraum / Toilette - großes Duschbad mit Doppelstrahldusche und Rasierapparat. Drei Zimmer verfügen über Tee- / Kaffeekocher, mit Fernseher, die DVDs und eine Auswahl an DVDs haben für Sie zu beobachten. WLAN-Internetverbindung zur Verfügung. Zwei Zimmer verfügen über Haartrockner und Haarglätter. Auch wenn wir auf vielen Annehmlichkeiten in der Nähe sind, ist das Hotel in einer ruhigen, erholsamen Gegend von Peacehaven.
Lokale Geschäfte sind nur 10 Minuten zu Fuß entfernt und Supermärkte sind 10 minütige Fahrt oder Busfahrt entfernt. Der Dell mit einem Spielbereich für Kinder ist 2 Minuten entfernt, ohne viel befahrenen Straße zu überqueren. Saltdean Lido befindet sich in einem Re-Vamp und ist nur eine kurze Busfahrt entfernt und wir haben ein 18-Loch-Golfplatz eine kurze Auto- oder Busfahrt entfernt. Wir haben zahlreiche Cafés Restaurants und Bars in der Umgebung, die von der in-teuer für ein schnelles Snack, Frühstück oder Buffet zu dem teureren für den besonderen Anlass oder etwas Besonderes reicht. Brighton, Newhaven und Eastbourne sind entlang der Küstenstraße und wir haben eine gute Busverbindungen, die sie pendelt mit Bus hält nur 5 Minuten zu Fuß entfernt. Brighton Marina mit seinen zahlreichen Bars, Restaurants und Kinderspielbereich ist eine kurze Fahrt oder Busfahrt entfernt.
The view from the property is amazing, and the house is beautifully decorated. Carole gave such a warm welcome and lots of local knowledge. We were a hen party and the house completely made the hen weekend! Truly beautiful!
Portia
2016-05-03T00:00:00Z
We loved how welcoming the host was (they called us up the day before and met us personally when we arrived) and the flat was absolutely beautiful. We couldn't have hoped for a better place to stay for our weekend trip away. Thank you so much!
Helen
2016-08-22T00:00:00Z
We had a lovely stay at Carole's beautiful Peacehaven house for my friends hen do. After a warm, friendly welcome we were then left to our own devices. The house was so spacious, airy and clean, with a large open plan communal kitchen/dining room/lounge area. With 8 of us staying, there was plenty of room for us all and our belongings! The house has amazing sea views and we had a lovely stroll along the sea front. We got taxi's into Brighton both days of our stay which is only about 15 minutes away so not too expensive. The house has a key lock system which was great as we didn't need to worry about taking keys out with us and meant we could come back at different times. I would definitely recommend Carole's lovely home as a place to stay for large groups, it was perfect for us!
Amy
2016-04-18T00:00:00Z
Brilliant house, brilliant host and beautiful location - more impressive than the photos!
Alice
2017-02-19T00:00:00Z
A lovely place with stunning views.
Gary
2016-10-16T00:00:00Z
Sadly we did not meet Carole as timings of our events did not coincide, although we did correspond by phone and text. We loved our stay, the house was in a great location and would definitely recommend to anyone looking for a house to accommodate a large group. The house itself is beautifully presented with many luxurious touches, a family home with lots of interior design touches unique to the host. So thanks Carole for allowing us to stay in what is obviously a much loved and cared for home.
Juliette
2016-09-11T00:00:00Z
Such a lovely accommodation in and beautiful location. Carole was the perfect host and attentive throughout our perfect stay.
Abby
2017-04-10T00:00:00Z
A beautiful house to stay in for my husband's 30th birthday. Beautiful views and great transport links into Brighton. Would definitely stay here again!
Mercedes
2016-10-02T00:00:00Z
Rodzaj pokoju
Całe miejsce
---
Rodzaj nieruchomości
Dom
---
Mieści
11
---
Sypialnie
Peacehaven, Wielka Brytania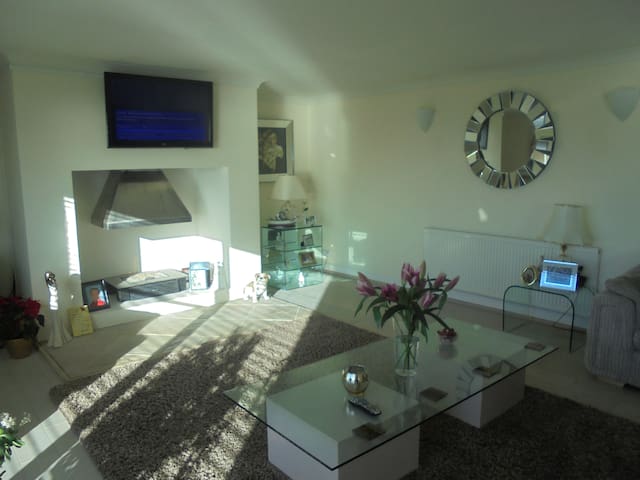 Fantástica ubicación, muy limpia y muy agradable. Excelente elección para unos días de vacaciones tranquilos!
Julia
2017-04-10T00:00:00Z
We had a wonderful time in this lovely house- absolutely beautiful views and everything you could need for a comfortable stay. Geraldine is a wonderful host- we were welcomed with hot cross buns and were given all the info and assistance we needed before arrival. Highly recommended- will definitely be returning!
Jessica
2016-03-31T00:00:00Z
Es war alles so, wie wir uns das vorgestellt hatten und wie es beschrieben war. Eine tolle Aussicht auf das Wasser und eine ruhige aber doch zentrale Lage. Gerne kommen wir wieder.
hannes
2016-10-09T00:00:00Z
Rodzaj pokoju
Całe miejsce
---
Rodzaj nieruchomości
Dom
---
Mieści
6
---
Sypialnie
Peacehaven, Wielka Brytania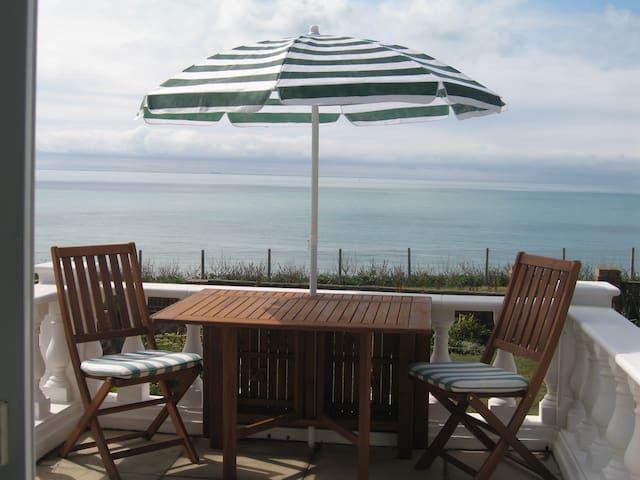 Mein Platz ist in der Nähe tolle Aussicht, Strand, familienfreundliche Aktivitäten, Shop. Sie werden meinen Platz wegen der Lage, die Menschen, das Ambiente, die im Freien Platz, und der Nachbarschaft lieben. Mein Platz ist gut für Paare, Solo-Abenteurer und Geschäftsreisende.
Dies ist eine neue Entwicklung zum Thema "Die großen Park 'liegt das hat ein Spielpark für Kinder und ein Café, das gutes Essen tut.
Nice trip, thank you for all !
Louis
2016-10-25T00:00:00Z
Thank you Claire, we had an extraordinary comfortable stay in your home that we can highly recommend to other airbnb members, everything peacful and perfect.
John
2016-11-03T00:00:00Z
Excellent experience.... Very accommodating household. Claire and Manny were brilliant. Lovely stay... Highly recommend
Karl
2016-10-19T00:00:00Z
Rodzaj pokoju
Pokój prywatny
---
Rodzaj nieruchomości
Dom
---
Mieści
2
---
Sypialnie
Peacehaven, Anglia, Wielka Brytania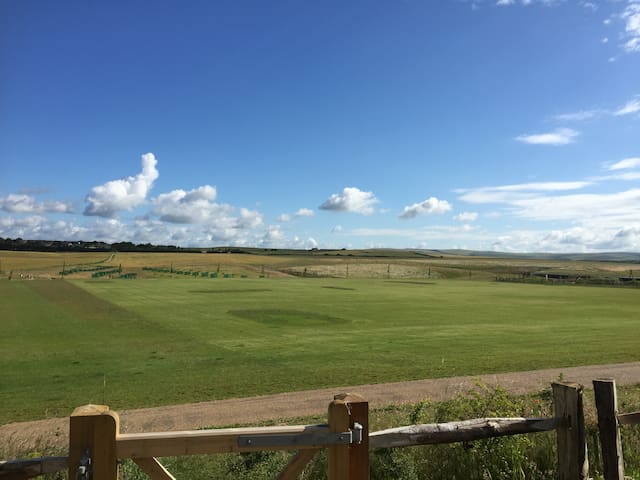 Peacehaven es sólo un viaje en taxi de 15 minutos o 30 minutos de autobús en el centro de Brighton, donde la vida nocturna es brillante. Tiene unas vistas preciosas y está cerca de restaurantes y de comedor. A sólo 10 minutos a pie de los acantilados, donde encontrarás unas vistas fantásticas. Te va a encantar mi lugar debido a la ubicación, el espacio al aire libre y el vecindario. Es tranquilo y cerca de algunos restaurantes con fantásticas vistas de los acantilados. Mi lugar es bueno para parejas, aventureros en solitario, y viajeros de negocios.
Super friendly hosts! Stay was exactly as expected due to description
Jess
2017-04-10T00:00:00Z
Rodzaj pokoju
Pokój prywatny
---
Rodzaj nieruchomości
Dom
---
Mieści
2
---
Sypialnie
Peacehaven, Anglia, Wielka Brytania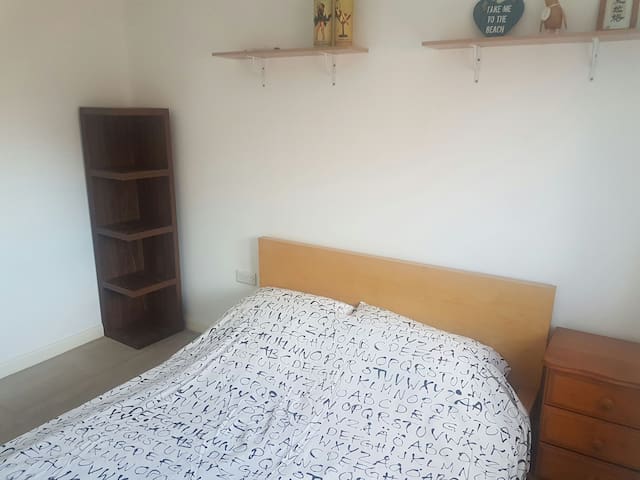 Great place to stay, would definitely stay here again
Stuart
2017-04-10T00:00:00Z
Rodzaj pokoju
Pokój prywatny
---
Rodzaj nieruchomości
Dom
---
Mieści
2
---
Sypialnie
Peacehaven, Anglia, Wielka Brytania
Il mio posto è vicino alla spiaggia, attività per famiglie, mezzi di trasporto pubblico, l'aeroporto, la vita notturna. A due isolati dalla spiaggia e anche due isolati dalla scenografica corsa in autobus Brighton. Amerete il mio posto a causa dello spazio all'aperto, il letto comodo, e la luce. Il mio posto è buono per le coppie, avventurieri solista, viaggiatori d'affari, famiglie (con bambini), e amici a quattro zampe (animali domestici). Ho una camera doppia con bagno privato w / doccia. Ho anche possibile affittare le due camere singole per le famiglie.
Vicino a Brighton e Eastbourne e un sacco di aziende agricole e di intrattenimento per le famiglie. Belle bassi per escursioni, le spiagge di nuotare, paracadute ascensionale, e altro ancora
zona meravigliosa. Incantevoli passeggiate attraverso i campi verdi colline con vista mozzafiato. Enormi mega parco due minuti a piedi. Dispone di bar, skate park, e le aree di divertimento di massa dei bambini
Rodzaj pokoju
Pokój prywatny
---
Rodzaj nieruchomości
Dom
---
Mieści
2
---
Sypialnie
Peacehaven, Anglia, Wielka Brytania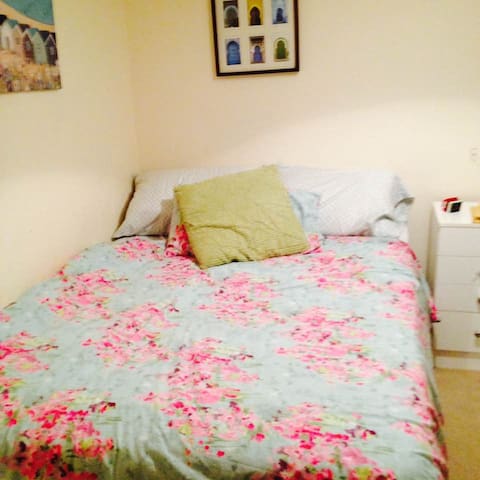 This self contained stylish mini apartment offers complete privacy in a great location, right on the edge of The South Downs National Park, close to the beaches at Saltdean and Telescombe and is a 10 minute bus ride from central Brighton. You have your own front door, hallway, lounge, free-sat TV, shower room and bedroom with french doors to a sunny patio overlooking our large garden. Fridge, kettle, toaster and microwave and breakfast area. Sleeps 2 with twin beds!
You will have your own key to your own front door, this leads into a small tiled entry hall. The whole annex has been newly refurbished. A door to the left leads to the lounge. The shower room is straight ahead and the bedroom is to the right. The private lounge, which is solely for the guest's own use, is tastefully and comfortably decorated. There are 2 sofas either side of the fireplace. In the bay window there is a free-sat TV and there are some vintage retro pieces dotted all over the room. We both collect and enjoy bringing vintage bits and bobs back to life. The bathroom has a large shower, sink and WC, with heated towel rail radiator - we provide quality toiletries. The bedroom has twin beds which back onto the french doors - these open up onto a lovely raised decking zone with views over and steps down to our large garden. At the other end of the bedroom you will find a breakfast zone, with microwave, fridge, toaster, kettle. There is an unusual round table and chairs and small wardrobe - decorated with local OS maps!
Fantastic COUNTRYSIDE, BEACHES and CITY..... Our house is right on the very eastern edge of Saltdean and fronts onto Telescombe Tye which is a wedge of open Downland stretching down to the sea. The Tye is part of the South Downs National Park and acts as a gateway to lots of fantastic Downland treks and walks, a short nearby walk takes you along the "Funeral Path" to the Telescombe village nestled in a downland valley - we can help with maps please ask! A leisurely 10 min. stroll to the south will take you to the coast - where you can access Saltdean and Telescombe Cliffs beaches as well as the soon to be completed Art Deco Satldean Lido. There are some lovely walks along the coast; to the east a clifftop walk through Peacehaven and onto Newhaven Fort and harbour. To the west there is a wonderful undercliff walk via Rottingdean, Ovingdean and onto Brighton Marina The A259 coast road runs along the top of the cliff and has very regular bus services to Brighton in the east and to Eastbourne, Newhaven (Ferry to Dieppe), Cuckmere Haven, and Beachy Head to the west. The local area is well served by Restaurants a short drive or bus ride away - please ask us and we will advise. Eating Out: Brighton has more restaurants, per head of population, than virtually anywhere else in the UK. Here are some of our favourites: Ros Thai – this is a small authentic Thai restaurant in Rottingdean – a coastal village between Saltdean and Brighton. Do not be put off by the very basic décor – the food is fantastic! Usually packed, very popular with locals so book, (PHONE NUMBER HIDDEN). VIP Pizza – another local gem. Again basic décor…but fabulous Italian food - best pizza in Brighton. There is a branch in central Brighton, 19 Old Steine - (PHONE NUMBER HIDDEN) – and a local one in Saltdean, Lustrells Vale – (PHONE NUMBER HIDDEN). Smuggler's Rest – this is a Vintage Inn in Telescombe Cliffs – the village to the east of Saltdean, on the A259 coast road. Very near to us, you could even walk it across the Telescombe Tye! Cosy pub atmosphere and reasonable pub chain food. Great in the summer with an outside seating area and views out to sea, (PHONE NUMBER HIDDEN). The Chilli Pickle – this is a modern Indian restaurant in central Brighton, 17 Jubilee Street, (PHONE NUMBER HIDDEN). Very "Brighton" but great food. La Capannina – traditional and very lovely Italian food, 15 Madeira Place, Brighton, (PHONE NUMBER HIDDEN). Solera Restaurant – great Spanish Tapas in the North Laine area of Brighton, 42 Sydney Street, Brighton, (PHONE NUMBER HIDDEN). Ephesus Brighton – a lovely Turkish restaurant on the main restaurant street in Brighton, 80-82 Preston Street, (PHONE NUMBER HIDDEN). Ye Olde Black Horse – traditional village pub which serves great food in Rottingdean village, 65 High Street, (PHONE NUMBER HIDDEN).
Steven's place is simply lovely; they have thought of everything for an easy, comfortable, self-contained stay and it's a treat to stay there. Bright, clean and beautifully designed.
Nicola
2017-03-15T00:00:00Z
This location was great for us very easy to get bus into Brighton also close for us to visit friends
Linda
2017-03-26T00:00:00Z
You can't go wrong in renting Steven's annex, it has everything you will ever need and is in easy reach of Brighton. The annex is made up of three rooms, a lounge, twin bedroom and shower/toilet all tastefully decorated and extremely clean. The beds are very comfortable and we would highly recommend the cooked breakfast, all in all we had a great time and would highly recommend this accommodation which is great value for money.
Paul
2017-02-19T00:00:00Z
Simply lovely. Steve and Mike have thought of everything for a comfortable self-contained stay. Thank you.
Nicola
2017-03-05T00:00:00Z
Exactly what we needed. Would definitely stay again and recommend. A real home from home. Fab attention to detail. Great hosts - you've thought of everything . Perfect. Thank you.
Paula
2017-02-26T00:00:00Z
Beautifully decorated, clean annex with everything we needed for a comfy stay. Located just a couple of minutes walk from the bus stop where you can get a bus straight into Brighton for really cheap! Tea, coffee, and amazing continental breakfast available include in price with sweet little touches. Hosts were really helpful and welcoming too. I would stay here again.
Chloe
2017-03-19T00:00:00Z
Our stay was great! Hosts were really helpful and friendly. The area was quiet and peaceful and just a minute walk from the house there is a field with a great view of the town and coast. The breakfast provided was another way to show that the hosts would go the extra mile to provide the best accommodation they can. Also, the place was very neat and clean. Overall, the experience was great and I would recommend the place to anyone.
Andrei
2017-04-09T00:00:00Z
Rodzaj pokoju
Pokój prywatny
---
Rodzaj nieruchomości
Dom
---
Mieści
2
---
Sypialnie
Saltdean, Anglia, Wielka Brytania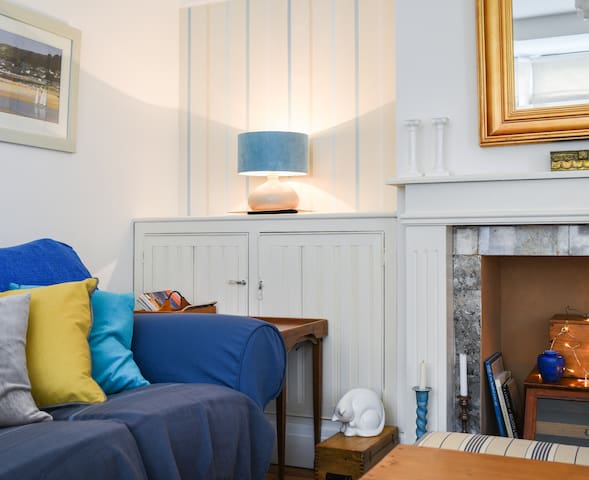 My place is close to public transport. You'll love my place because of the peaceful location and quiet room. . My place is good for solo adventurers.
Michaela welcomed me warmly and hospitably. I had everything I needed, most importantly a walk away from the water. A really lovely peaceful neighborhood. Thanks for everything Michaela!
Raphael
2017-01-07T00:00:00Z
Rodzaj pokoju
Pokój prywatny
---
Rodzaj nieruchomości
Dom
---
Mieści
1
---
Sypialnie
Saltdean, Anglia, Wielka Brytania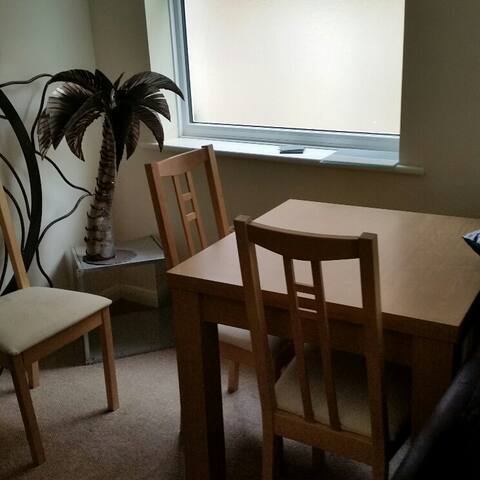 I have a lovely, first floor single room in my Edwardian house in the historic heart of Rottingdean. It is a quiet room with views of neighbouring cottages and gardens. There is a very comfortable bed, original Edwardian wardrobe and restored antique drawers & desk. The room is decorated in white with duck egg blue touches and there is an original sanded pine floor. There are tea & coffee making facilities in the room. Along the landing there is a bathroom with a bath & shower & separate toilet.
Within a few minutes walk of my house you can see the beautiful St Margarets Church, the duck pond, the old village green and the picturesque Kipling Gardens. Also very close is the Grange art gallery & museum & the Windmill. The house is only 350 metres from the beach & seafront so perfect for an evening stroll before dinner. As my house is right in the centre of the village I don't offer breakfast. There are so many coffee shops and cafes that do a wonderful English Breakfast, Eggs Benedict or freshly baked croissants you won't go hungry. You will be spoilt for choice for traditional village pubs which offer a fantastic selection of local beers and gins and some offer live music. Only a 10-minute drive or bus ride to Brighton Marina and the cosmopolitan city centre, with numerous bars, live music, eateries, theatres, art galleries and antique shops. Enjoy shopping along The Lanes, saunter along the pier, visit the Royal Pavilion or ride the new i360. The glorious South Downs National Park with its excellent walks and cycle routes can be easily accessed from Rottingdean.
In unmittelbarer Nähe von Brighton, gut mit dem Bus zu erreichen. Malerisches Örtchen abseits dem Trubel von Brighton, so dass man prima zwischendurch abschalten kann. Beeindruckende Natur. Tolle Gastgeberin! Jederzeit gern wieder ☺
Birgit
2017-04-09T00:00:00Z
Katherine is the perfect hostess, offering a beautiful room in the heart of Rottingdean. I thoroughly enjoyed my stay and warmly recommend Katherine's home as the perfect place to stay in Rottingdean.
Clive
2017-02-15T00:00:00Z
Katherine place is very warm, homely and welcoming. The surrounding area is rich in history and provides a good vibe. I will be back again...
Matthew
2017-02-19T00:00:00Z
Katherine is a great host with a comfy room in a lovely village, thanks for having me
marc
2017-02-27T00:00:00Z
This quiet, impeccably clean room provided a ideal place to stay, positioned at the back of a Victorian house in the heart of the beautiful coastal town of Rottingdean. The bathroom was clean and easily accessible, and there were coffee/tea facilities provided. Katherine proved to be a very warm and helpful host, and couldn't have been more accommodating. When I return to Rottingdean, this is where I'll stay for sure.
Joseph
2017-04-02T00:00:00Z
Loved staying with katherine! Katherine has a beautiful house, with many of her own artwork in. It is very pretty. It is very convenient for exploring rottingdean. Most of all she is extremely warm, welcoming, interesting and friendly. Rottingdean is great for walking with sea views and excellent pubs. Hope to come back and stay again!
Claudia
2017-01-08T00:00:00Z
Great location ! Katherine is a right down t'earth lass ... & Great company !!
Dave
2017-04-05T00:00:00Z
I was happy to spend a night at this beautiful house. I will definitely stay again when I am back in Rottingdean and highly recommend it for visitors.
Matti
2017-02-05T00:00:00Z
Rodzaj pokoju
Pokój prywatny
---
Rodzaj nieruchomości
Dom
---
Mieści
1
---
Sypialnie
Brighton, Anglia, Wielka Brytania
A large, sunny room with views over the downs and towards the sea. You have the whole of the top floor of the house
this spacious double room is a quiet haven from the city. The room, which has a floor to itself, has two single beds, tea and coffee making facilities and a private hallway.
This is a safe, and well tended neighbourhood.
Not only did Diana welcome us...she made us feel totally at home!!! Early pre-check-in communication re access etc...made it all easy and smooth... The property is in a lovely part of Brighton...shops round the corner..and the sea only a short walk away...even a health spa one can use (not included in your Airbnb payment!!!!) We were working there for 4days...and it was really nice to wake up to breakfast round the table..chatting with other guests...and Diana make us whatever beverage you desired..including a Marmite drink if u wanted one!!! Clean house, clean comfortable and cosy bedroom..great location...great hostess...who could ask for more?
Boon
2016-06-11T00:00:00Z
Lovely welcome - warm and friendly atmosphere made this a very nice stay
Anna
2016-11-01T00:00:00Z
Thank you so much for a lovely stay. The room was great, and everything as described. Diana made me feel very welcome and was very helpful wiht directions and local recommendations. The cnetre f Brightn is only a short bus ride away. Would definitely recommend her house to anyone wanting to stay in Brighton.
Hildegard
2015-09-28T00:00:00Z
Wir kamen deutlich später in Brighton an als geplant, weil uns ein Stau an der belgisch, französischen Grenze aufgehalten hatte und die Fähre wegen eines Sturmes verspätet war. Aber Diana hat uns schon telefonisch versichert, dass alles o.k. ist und hat uns sehr herzlich empfangen. Das Gästezimmer ist, wie versprochen, sauber und schön und hell, die Möwen quietschen und man kann ein winziges Stück vom Meer sehen. Diana hat uns geholfen, uns in Brighton zurechtzufinden und wir haben viel gelacht und gut gefrühstückt und uns rund um wohlgefühlt. It was great and wonderful and we want to come back.
Susanne
2015-11-23T00:00:00Z
Diana was a lovely host, very friendly, welcoming and helpful (especially in letting us leave out bags after check out as there was nowhere to store them in Brighton). The accommodation while a 20 min bus ride to the center of town was very conveniently located on the bus route so wasn't a problem. We were there during the Brighton Festival so there was a general good atmosphere in Brighton!
Elizabeth
2016-05-16T00:00:00Z
I was nervous about staying with a stranger but Diana was so warm and welcoming that soon it felt like staying with a friend. The room is lovely and airy, with a lovely view over the downs, the neighbourhood quiet, pretty and easy to get around from - I even walked into the centre of the city one day.
Aliki
2015-05-12T00:00:00Z
Diane couldn't be more welcoming... very friendly & accommodating.
Debbie
2016-11-13T00:00:00Z
I would defiantly recommend staying there. The host was very helpfull and friendly. She made sure we felt very welcome. Everything in our room and bathroom was fresh and clean when we arrived and during our stay.
Mads
2016-12-10T00:00:00Z
Rodzaj pokoju
Pokój prywatny
---
Rodzaj nieruchomości
Dom
---
Mieści
2
---
Sypialnie
Brighton, Wielka Brytania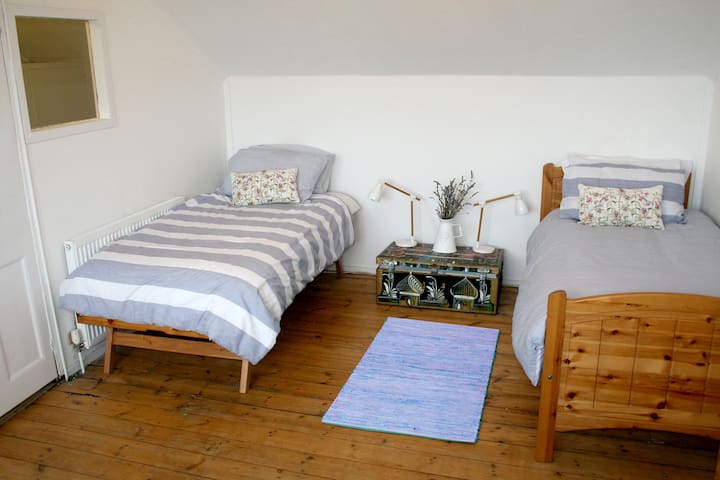 Klidné, lehké a vzdušné pokoje ve viktoriánském řadovém domě zahrnující king size postel a stohovací samostatnými lůžky. Mám k dispozici také pro dítě cestovní postýlku. Místnost je kobercem a nastavit v prvním patře v blízkosti malé koupelny s WC. Tam jsou kuřata v zahradě a máme dvě kočky a velmi přátelský pes. Fort silnice je deset minut chůze od Newhaven - Dieppe trajektů.
Místnost může být postelí nebo rodinný pokoj, protože se skládá z king size postel a dvě samostatné postele, které stack. Uvedená cena je za dvoulůžkový pokoj pro použití jednoho nebo dvou hostů na postel velikosti King. Chcete-li použít některý z samostatnými lůžky nebo zahrnout děti nebo jiné členy rodiny, přidejte £ 8 na osobu a noc na citátu a prosím, aby to jasně při rezervaci. Neexistuje žádný poplatek využít cestovní postýlku pro dítě, ale dělat, řekněte mi, jestli ji chcete používat, tak jsem ho dát nahoru. Jsou-li oba samostatnými lůžky jsou v použití je velmi málo walking prostor, takže bych vás požádat, abyste dávat pozor, ale místnost má dostatek úložného prostoru. Dům je zasazen uprostřed viktoriánské terasy postavené v roce 1910, s výhledem na řeku pomocí terminálu trajektu Newhaven Dieppe na druhé straně a Sussex Downs v dálce. To je můj rodinný dům. To je zaneprázdněn lidé přicházejí a odcházejí a pracuji zde jako nezávislý švadlena v mém ateliéru v přízemí. Zatímco pokoje jsou udržovány v čistotě pro návštěvníky zbytek domu je méně dokonalé. Stále mám hodně z mých dětských věcí poflakovat čekají na řazeny (o nich), a nemám priority čištění když existují i jiné další zajímavé věci dělat, tak tam možná pavučiny na volném rozích, nedokončené lak nebo skvrny prachu tu a tam. Mám také domácí zvířata a ani sebevětší čištění někdy zbavuje místo chloupky. Tohle je můj domov, kde žiji a pracuji a socializovat, to není hotel s týmem čisticích prostředků. Pokud je to pravděpodobné, že vás urazit, prosím, jít někam jinam protože nechci, abys byl zklamaný.
Fort droga jest kilka minut jazdy od terminalu promowego Newhaven Dieppe co czyni go idealnym miejscem na nocleg, jeśli łapania wcześnie prom lub przybywających na koniec jeden. Mogę podane kierunki, jeśli podróżują na piechotę lub rowerem, a czasem jestem do dyspozycji, aby przyjść i zbierać. Parking w pobliżu domu jest na ogół dobre, ale na accasion isnt. Jestem szczęśliwy, aby przenieść swój samochód, jeśli chcesz być bliżej Ciebie. Istnieje wiele miejsc, aby potrawy w godzinach wieczornych, ale pub Ark jest moim ulubionym i tylko dziesięć minut spacerem. Jest również supermarket w odległości krótkiego spaceru Coop, który jest otwarty do 11pm. Jest to idealne rozwiązanie, jeśli potrzebują jedzenia na piknik.
We are grateful. Fantastic Host. We felt comfortable and welcome.
Wendy
2016-08-11T00:00:00Z
The host June is absolutely lovely. She is welcoming and friendly. She is chatty and interested in her guests, suggesting local amenities and places of interest. We had a pre arranged party to attend and supplied us with taxi details. The house is tired looking but her guest room is clean and fresh with new decorations. The bathroom and downstairs shower room were adequate but could do with freshening up, particularly the bathroom. June loves animals but I was surprised to see cats as I'm allergic to some! June offered us a breakfast and hot drinks. She is great to chat too and we would re visit if we were needing to stay in Newhaven again!
Deborah
2016-11-27T00:00:00Z
Host was very nice and friendly and made us welcome. I think the bedroom and amenities were really best for students and backpackers. It was very easy going and friendly but I think that as more mature visitors it was just not our cup of tea.
Graham
2016-09-15T00:00:00Z
June, is wonderful, warm, listening, helpful and a kindness women.her apartment is within walking distance of the ferry, so ideal when you arrive in newhaven and then make a lovely visit to britghon.And if you want to go a day in London, the train takes you there from Newhaven town in 1h15min. What I remember from my stay, the tranquility and safe in my travels and a beautiful landscape of London suburb, and a pleasant host at every point.Hanane and Halimatou.
hanane
2016-11-13T00:00:00Z
L'enthousiasme de June pour accueillir des visiteurs est très attachant. Elle est dynamique et attentive aux besoins de ceux qu'elle reçoit. Elle nous a proposé du gâteau fait maison avec un boisson lors de notre arrivée, et un petit-déjeuner avec des fruits frais, du pain au levain et des confitures aussi fait maison: quoi demander de plus? Sa maison est l'endroit idéal pour passer la nuit avant de prendre un ferry tôt le matin - ou lors d'une arrivée tardive pour éviter de prendre la route. En cas de besoin nous n'hésiterions pas à y retourner.
Chris and Joe
2016-10-31T00:00:00Z
We loved staying with June very much. Although it was just for one night, she committed loads of time to make us feel comfortable. The room was lovely even for a family of 4! We tremendously enjoyed the shared breakfast with June and the nice talks.
Carina
2016-09-17T00:00:00Z
Markus, Mathilda, Moritz and I had a great time at Junes big beautiful and cosy house with June, her son and the friendly cats and dog. We felt very much at home. The communication was perfect and easy. We did not want to leave. Thanks June. We will come back.
Anne
2016-08-11T00:00:00Z
June went out of her way to make us feel welcome , a real home from home experience and we always felt at ease. A home with a really positive ambience and the whole experience was definitely an enhancement on what you would normally receive from guest accommodation. We would highly recommend June's place to anyone not least because of the kind of host she is and her caring and sharing nature.
Neville
2016-10-17T00:00:00Z
Rodzaj pokoju
Pokój prywatny
---
Rodzaj nieruchomości
Dom
---
Mieści
4
---
Sypialnie
Newhaven, Anglia, Wielka Brytania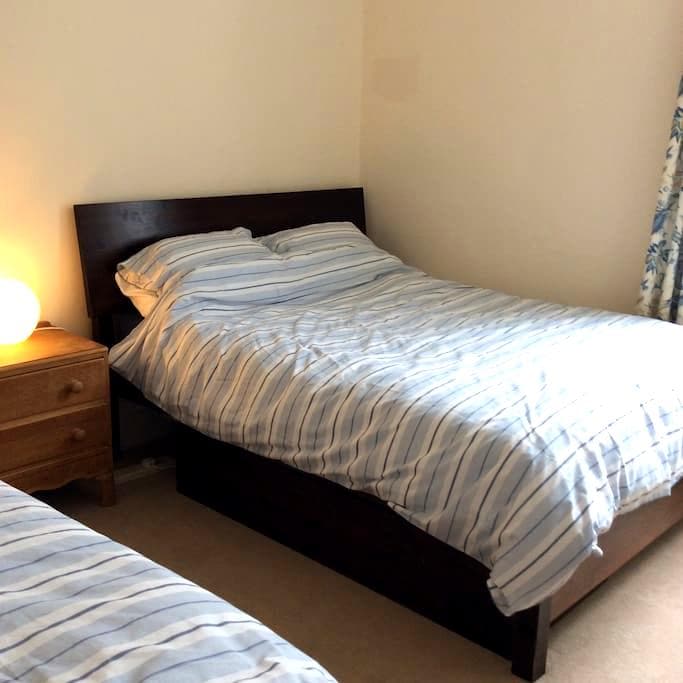 Wpisz daty, by zobaczyć pełną cenę. Obowiązują dodatkowe opłaty. Cena może uwzględniać podatek.