Centrální moře, město a univerzita, výborná lokalita. Ložnice s manželskou postelí a jednolůžkový pokoj s vlastním sociálním zařízením.
To je ideálním místem pro pobyt při návštěvě Galway, jak to je 10 minut do centra a 5 minut od pláže a 10 minut na univerzitě. Prostor je tak prostorný, svěží, čisté a nově zrekonstruovaná s nádherným dekorem. Lidé jsou nejpřátelštější místní lidé najdete. Vše, co potřebujete vědět, zeptejte se, byli bychom rádi, aby pomohl.
Mary is lovely and welcoming. Her home is centrally located and we had a relaxing and restful stay. Highly recommend.
Lauren
2017-04-03T00:00:00Z
They're lovely people, and their place has everything you'll need. It's super clean and really comfortable. Definitely recommend it!
Olivia
2017-03-21T00:00:00Z
We loved Mary's home! The rooms were clean and cozy, with just a 15 min walk to the city center.
Annie
2017-03-20T00:00:00Z
Great place for our trip to galway.
Jeffrey
2017-04-11T00:00:00Z
Comfortable rooms with a very helpful and hospitable host
Jane
2017-04-01T00:00:00Z
Highly recommended! The rooms are very nice and very clean. Location is great only 10 minutes walk to the city center. A great and lovely place to stay with a very friendly host.
Adrianta
2017-02-12T00:00:00Z
My parents and I had a very nice moment at Mary's place. Warm welcome, house very clean, well equipped, very comfortable beds, good advices for restaurants. I would definitely recommend Mary's place and will come back again !
Emilie
2017-04-09T00:00:00Z
It was a really good stay at Mary's - the B&B was very clean and comfortable and the location was fantastically close to the ocean and to Salthill - lovely walks to both the city centre and NUIG. Mary and members of her family helped us when needed and were very friendly.
Wayne
2017-03-08T00:00:00Z
Rodzaj pokoju
Pokój prywatny
---
Rodzaj nieruchomości
Dom
---
Mieści
3
---
Sypialnie
Galway, County Galway, Irlandia
Located just of the promenade and 1 min from Salthill beaches. 1 km / 10 min walk to Galway city & Salthill. Great pubs restaurants museums, parks and cultural events all summer long. We are in a super location and lovely, safe & quite neighborhood. Galway bay & Salthill promenade is on our doorstep.
Our location is second to none. We are 1km from Galway city's Quay st, with its city museum, restaurant and great bars.
Sea views, Salthill village. Quite neighborhood. Close proximity to Galway city center. 1 km from Galway city to our door.
Rodzaj pokoju
Pokój prywatny
---
Rodzaj nieruchomości
Dom
---
Mieści
4
---
Sypialnie
Salthill, County Galway, Irlandia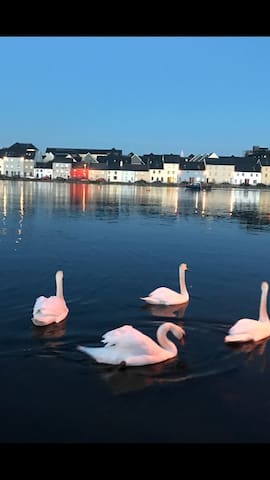 We are in the best place in Salthill. A short walk from Galway city and Salthil(URL HIDDEN)50 meters from the beach.
We are located as good as it gets, for walking to city center, Salthill and the prom and it's beaches. Our home is ready to welcome you and help in making your trip to Galway a memorable one.
We are by the sea yet only minutes from Galway city and Salthill. 1 km to Galway city and all it's attractions, great bars and restaurants. Ferry to the Aran islands is 40 minutes away in Ros a Mhil.
Rodzaj pokoju
Pokój prywatny
---
Rodzaj nieruchomości
Dom
---
Mieści
2
---
Sypialnie
Salthill, County Galway, Irlandia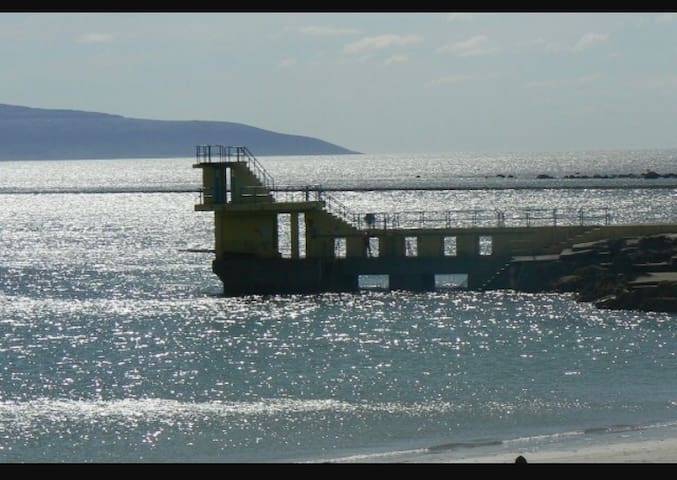 Questo 4 posti letto tutte con bagno privato si trova nel cuore di Salthill a due passi dalla spiaggia e pub di O'Connor e si trova a pochi minuti dal centro di Galway. La struttura dispone di tutti i nuovi bagni e cucina nuova con ampio salone. Ideale per la famiglia o amici in cerca di vacanze.
La verdad que hemos quedado muy contentos la casa estaba completamente equipada de todo y todo muy limpio y todo nuevo
Juanvi
2016-08-20T00:00:00Z
We had a great stay in Galway. The host was flexible with our arrival and departure times. The house was newly renovated and spotlessly clean. 4 large double rooms all with great ensuites. The location is right in the middle of salthill. 2 min walk to the coast, pubs and several restaurants and was walking distance for us to Galway city. We had no problem parking 2 cars free about 200m away but parking right in front is metered. However, there's plenty of room to pull in outside to load or unload a car before parking.
shane
2016-06-28T00:00:00Z
Absolutely LOVED our stay at this place! It's about a 20-30 minute walk from the Galway city centre, but we traveled into town mostly by bus--which had a convenient spot located right up the street. The location in Salthill was unbeatable. We spent time down by the ocean (a two minute walk away) and even jumped off the famous Black Rock diving tower down the street. So glad that we picked Salthill as our destination, as it was the perfect distance away from the city & offered new, exciting things to do, restaurants and cafes to visit, scenic views of the ocean, etc. We started each morning with a nice walk along the beach. Conveniently, there's a Centra located right down the street, along with a handful of other restaurants. The bedrooms and bathrooms were very nice (stocked with fresh towels and linens) and not pictured in the post is a nice family room with two couches and a fireplace. Overall no complaints! Ideal for a fun trip to the Galway area, and in my opinion, the location beat any spot we could've found in the city. Not sure we would've made it to Salthill and the ocean otherwise.
Caroline
2016-07-03T00:00:00Z
The host canceled this reservation 30 days before arrival. This is an automated posting.
Inhar
2016-07-11T00:00:00Z
Had a great stay in Matt's house for a family get together. Perfect location for exploring Galway/Clare, the amenities in Salthill are on your doorstep, beach is 2 mins walk away and you can easily dander in and out of Galway. The house was perfect, very clean, quiet and had all you could need.
Oliver
2016-08-29T00:00:00Z
My husband met the host's cousin on arrival as I was delayed but I met her and family on departure. My husband said they couldn't be more any more helpful. She was very flexible on when they could check in as long as bit of notice given. The house is in a perfect location in Salthill and even better Feeney's on the doorstep so no need to be using the lovely new pots and pans in the accommodation. Gid willing we will be back.
Anita
2016-08-01T00:00:00Z
Rodzaj pokoju
Całe miejsce
---
Rodzaj nieruchomości
Dom
---
Mieści
8
---
Sypialnie
Galway, Galway, Irlandia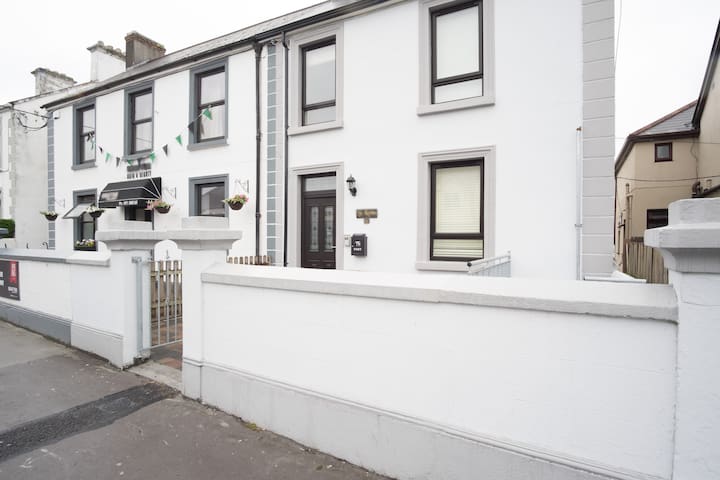 Wpisz daty, by zobaczyć pełną cenę. Obowiązują dodatkowe opłaty. Cena może uwzględniać podatek.