Unser Haus liegt in der Nähe des Hyde County besten Jagen, Fischen, und der Okracoke Ferry Terminal. Es ist ideal für Paare und Solo-Abenteurer. Wir haben viel Platz für Wohnwagen, Boote und andere Freizeitfahrzeuge. Wir haben auch eine private Anlegestelle mit Pamlico River Zugang weniger als 1/4 Meile vom Haus für Boote bis zu 35 '.Das öffentliche Bootsrampe ist direkt um die Ecke auch. Wir haben auch private Bootsrampe, die für unsere Entenjagd Gäste zu Wysocking Bucht führt.
Out Nachbarschaft ist sicher, sauber und zentral in Hyde County.
These are very friendly people who are just settling in. Tell them what you need and they will do everything they can to help you.
Penny
2017-03-03T00:00:00Z
Rodzaj pokoju
Pokój prywatny
---
Rodzaj nieruchomości
Wikt i opierunek
---
Mieści
2
---
Sypialnie
Swan Quarter, Karolina Północna, Stany Zjednoczone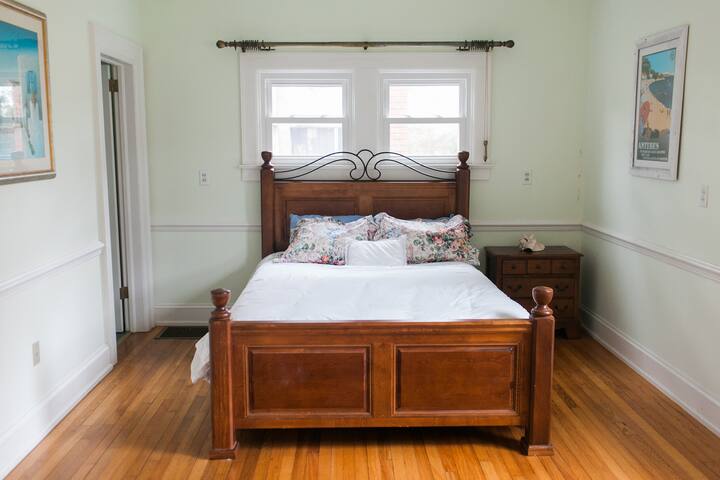 Setzen Sie sich auf dem Dock und entspannen. Kajak und Kanu-Routen Fisch, Kajak, Privat kleinen Pier, Bootsrampe Komfortable und gemütliche 3 BDR Mobilheim 20 ft abgeschirmten Veranda direkt am Wasser zu sitzen und zu entspannen. Haus Kajaks, Raddampfer kommen mit Miete auf Anfrage. Hinweis: Es ist 1/2 Weg zwischen den historischen Städten Belhaven und Bath, NC (Heimat von Blackbeard der Pirat). Schöne Lage auf Wrights Creek, in der Nähe von Wade Point aus dem Pungo Fluss. Vogel watching- kahle Adler, Reiher, Fischadler
* Ideal zum Entspannen oder eine Woche lang Urlaub für Kajaks, Boote, Fischen, Entspannen, Zeit mit der Familie auf dem Wasser verbracht. Ruhig und entspannend, eine Zeit, etwas Zeit um sich auszuruhen und zu haben. Nichts Besonderes, aber sehr komfortabel und Spaß. Wades Punkt der Pungo Fluss Bucht ab. Kajak in den kleinen Buchten, die durch den Fluss Haus. * siehe eine Vielzahl von Fischen, Vögeln, Meeresrochen und Tierwelt in den Wäldern, * Ski, lag auf dem Pier, oder Kajak und Fischen an der Küste. HAUS * Queen-Size-Bett im Schlafzimmer und ein Vollbad. Beachten Sie durch den Master-Bad von der Veranda gehen wird. * 2. Schlafzimmer Doppelbett, komplett mit Bettwäsche ausgestattet, Bücher / Zeitschriften * 3. Schlafzimmer zwei Einzelbetten. Die 2. und 3. Schlafzimmer sind am anderen Ende des Anhängers nach Hause und teilen sich ein Bad. * Wohnbereich verfügt über Sofa und ein Sofa nach einem ganzen Tag auf dem Wasser zu ruhen. * Küche verfügt über einen Tisch und drei Stühle, eine Theke mit zwei Hockern, alle Geräte, Geschirr. * Vollständig geschirmt Deck, Klappstühle Schaukelsitz für zwei schwingen. * Baum schwingen, zwei Schlauch Haken ups für die Reinigung von den Füßen, die Fische und anderer Gang (eines mit einem Schlauch zur Verfügung steht). * Eine große Picknick-Tisch und Liegestühle zum Entspannen zur Verfügung. HINWEISE ZU DEN Pungo River- Der Kanal aus der Pungo River hat einen schlammigen Boden. Bitte beachten Sie, dass es keinen Strand wie Bereich ist in unserer Bucht oder aus unserer Küste zu schwimmen. Wir laden und den Pier und das Dock Entladen aus, um in die Boote, Paddelboot und Kajaks. Bitte überprüfen Sie die Bilder, um die Rasenfläche zu sehen, wie das ist, wo die Wandergebiet endet. * Das Wohnmobil ist auf Meereshöhe und ist mit insgesamt fünf Häusern auf einer Sackgasse befindet. Ruhig und entspannend. * Unser Dock verfügt über 4 ft Tiefe. Größere Boote müssen den Zustand Bootsrampe, 1 Meile entfernt 1 Straße über, zuzugreifen. * Kabel inlcuded, Hotspot funktioniert gut, * Dieser auf Anfrage im Aufenthalt inbegriffen sein. Kein Streaming oder Video downloadiing ist erlaubt. Es ist sehr friedlich und ruhig in unserer Gegend. Wir haben viele Filme, die Sie begrüßt zu beobachten. Handy-Nutzung durch US Cellular vorhanden ist, wie die Handy-Turm ist in der Nähe, andere Träger variieren.
* Die Straße ist eine ruhige, Sackgasse, mit fünf Wohnungen. Es gibt einen kleinen Yachthafen (7 Boote) am Ende der Straße. Wir sehen zwei oder drei Autos das ganze Wochenende, wenn wir dort sind. die Ruhe der Gegend * Bitte beachten Sie und die Ruhe dieses Landes lebenden genießen. Nach 09 Uhr sind Sie wahrscheinlich mehr Frösche und Grillen, als die Leute zu hören. * 17 Minuten entfernt in der malerischen Stadt Belhaven finden Sie vier wunderbare Restaurants und ein paar touristische Orte zu besuchen finden. * Bad- 10 Meilen entfernt, 2 kleine Restaurants, versuchen Sie, die Country Kitchen für Down Home Kochen. Washington- die Straße Stück Down (eine südliche Ausdruck bedeutet etwa * 30 Minuten) Sie Little Washington, eine große kleine Stadt zu finden, die eine fabelhafte am Wasser bietet, wo Sie den ganzen Tag essen und einkaufen und in den frühen Abendstunden. Genießen östlichen Grill Stil Mahlzeiten, fabelhaft frische Meeresfrüchte, und holen Sie Ihre Garnelen auf dem Weg nach Hause. * 35 Minuten mit dem Boot (2 Stunden mit dem Auto) ist die Stadt Okracoke, wo viele Besucher den Tag bleiben die Geschäfte zu besichtigen, besuchen Sie die Sehenswürdigkeiten und Wasser lebenden genießen.
We loved our stay in Belhaven. We kayaked the creeks and met a fisherman who gave us wonderful fish and shrimp. The Country Store was a blast from the past with a working rotary phone. The trailer was clean, comfortable, and homey. We really loved the screened-in porch! We plan to go back.
Gayle
2016-08-06T00:00:00Z
This was my second stay, and it was just as good as the first. Very quiet, very scenic, very secluded. Julia is very easy to work with, and was a big help when we had an issue with the hotspot. My favorite place to stay in North Carolina. I love not having to stay "in town", but having all the amenities (except cell phone coverage, and I'm ok with not having that for a few days!). Paddling around in the little bays is great, and Julia will loan you the boat! Highly recommended if you enjoy privacy, the outdoors, etc.
Dale
2017-02-13T00:00:00Z
Julia was great to work with before we got there. We made arrangements to use kayaks and she made sure the right size life jackets were there. Unfortunately, there was no cell service (t-mobile) so we were not able to get in touch with her the entire time we were there. The house is OK. A bit overpriced in my opinion. We ended up paying $145 a night for the four of us. It's basically a single wide trailer. Well used. This would be a perfect place for guys fishing weekend. It was basically clean. There were mattress covers on all the beds however they were plastic and scrunchie and not very comfortable. I think if they were cloth mattress covers they would've been just fine. As for an accurate description I'm not sure. The listing said Bellhaven and the house is actually located in bath which is about 15 minutes away from where we wanted to be. There isn't much of a neighborhood to walk around. There is one nice house next door , vacant lots and what appears to be an abandoned trailer across the street. Not a neighborhood you just walk through. The location right on the water was awesome! There's a little dock and a tree swing in the yard. The screened in porch was nice as well. Very relaxing backyard!. If you're just looking for a place to stay then this is fine. Again a little overpriced but there really isn't any other option in the area. No cable, no internet. Hot spot wasn't available .
Kristen
2015-07-17T00:00:00Z
Julia was great. The description of the property was (URL HIDDEN) is better than described. The trailer is nicely furnished and very comfortable, We lacked for nothing. Hotspot worked well for internet, although cell phone reception is spotty. The dock is very sturdy and has about 3' depth, as far as I could tell, though the water was high. The screened porch is awesome and catches the breezes perfectly. Kayaks and a paddleboat were provided. Beautiful, quiet location. Others have commented on this and they are right. We had the unfortunate experience of having a serious wave of thunderstorms come through during our short stay, so were unable to get out on the water or make more than a couple of forays into Belhaven (20 min . drive - there are a couple of places that are pretty cool ..breakfast at Gingerbread and lunch/dinner at Fish Hook...never had better fried chicken...Julia can tell you all about them). We'll come back and hope for better weather. Highly recommended(URL HIDDEN)
Frank
2016-06-05T00:00:00Z
Julia and her husband were most kind. Their home was very comfortable and clean. It was very roomy. The neighbor hood was great. The neighbors stopped by with a friendly greeting and gave us fish and shrimp, what a peaceful and relaxing getaway. I hope to return soon. I would highly recommend their home.
Diane
2016-11-06T00:00:00Z
This was a great place to visit, I would definitely recommend it to others. Plenty of room and was a very clean place to stay. It sure beats staying in a hotel room!
Bob
2016-12-09T00:00:00Z
The place was so much fun! Julie was AMAZING! She was very responsive to messages as we were booking. The listing is very accurate, it is a little slice of H2O Heaven! My 2 boys, husband and myself spent the whole time kayaking through all the beautiful waterways. We saw a beaver dam and sunken boats. It is a BEAUTIFUL representation of that area. The whole time we were there, I think we saw a total of 3 cars on our road. The neighborhood was very nice and quiet. I felt very safe! The home was very nice and had everything my family needed to stay there comfortably. It was very clean and we all felt comfortable. It was very nice for my 6 & 12 yr. old to have a break from their devices and there was enough activities for them to do, that they did not even miss them. I love to cook! So I was very pleased with the kitchen. It had everything I needed. BTW...we loved the Maple Syrup on our pancakes Sunday morning! Overall, it was a GREAT experience! My family is a bunch of "pool swimmers" and I was afraid they would not have a good time, but I was WRONG! My boys are begging to go back soon and we definitely will! We enjoyed this way better than our usual trips to the outer banks. It was so nice to have access to so many activities and not have to pay for every little thing. WE LOVED IT and Julie and her husband were wonderful to rent from. Thank you so much for a wonderful experience for my family!
Lesley
2015-08-02T00:00:00Z
Location, location, location! Quiet and secluded, which was exactly what we were looking for. Julie happened to be out the afternoon we arrived, and showed us around on the water. We kayaked every day we were there, and had a wonderful time. There's plenty of charts and maps, if you don't get the guided tour. The trailer was just fine; not luxurious, but comfortable. We spent most of the daylight hours in the swing on the screened porch. Perfect place for reading, relaxing, and watching the kingfisher fly by. This is a unique vacation opportunity, for those who would rather be out enjoying nature than having a canned entertainment experience. We had a great time, and have already recommended the place to a couple of friends.
Dale
2015-10-16T00:00:00Z
Rodzaj pokoju
Całe miejsce
---
Rodzaj nieruchomości
Dom
---
Mieści
6
---
Sypialnie
Belhaven, Karolina Północna, Stany Zjednoczone
We had an amazing stay at Jim's lovely river house this weekend. Even with such super short notice, Jim welcomed us to his home which was fully stocked beyond our expectations!! Great location, outstanding views, very clean rooms, well equipped kitchen...I would highly recommend this Airbnb to anyone!! Jim was such a sweet and wonderful host, he is very responsive, and extremely accommodating. Thank you so much for such a fantastic Airbnb experience!!! We cannot wait to come back for a visit! :)
Eriko
2017-04-08T00:00:00Z
This has been by far the most unique and wonderful experience we've had yet with all of the traveling we do. Jim was absolutely the most gracious host we've ever met. The house was cozy and very comfortable. Being next to the water was incredibly enjoyable!! But that's only the beginning! The entire town and everyone in it were so welcoming. We will definitely be returning for another stay in the future!
Krista
2017-01-01T00:00:00Z
What a wonderful weekend at a fantastic house steps from the river! The sunset is every bit as beautiful as Jim describes, but is even more fabulous in person! The house was bright, clean, and comfortable - the perfect size for our family of 4 and dog. The 2 queen beds had brand new memory foam mattresses which provided us the luxury of a good night's sleep every night. During our short stay, we had weather in the mid-70s one day and high 40's the next, giving us ample opportunities to enjoy the pier, deck, and sunset outside and the gas fireplace inside. Jim was the consummate host: from stocking the kitchen to recommending restaurants and periodically checking on us to make sure we had everything we needed. We are already trying to plan our next trip! You won't be disappointed with this lovely river getaway. And make sure to visit Jim's restaurant down the street to have the most delicious pizza, sashimi tuna, and prime rib (and everything in between)!
Lindsay
2017-03-11T00:00:00Z
Absolute best location possible! Right on the water, walking distance to the best restaurant in town (Jacks Tavern), and fully stocked kitchen. Jim went out of his way to make sure we were comfortable. We will be back!
Kate and Matthew
2017-01-29T00:00:00Z
Rodzaj pokoju
Całe miejsce
---
Rodzaj nieruchomości
Dom
---
Mieści
6
---
Sypialnie
Belhaven, Karolina Północna, Stany Zjednoczone
Rodzaj pokoju
Całe miejsce
---
Rodzaj nieruchomości
Dom
---
Mieści
4
---
Sypialnie
Engelhard, Karolina Północna, Stany Zjednoczone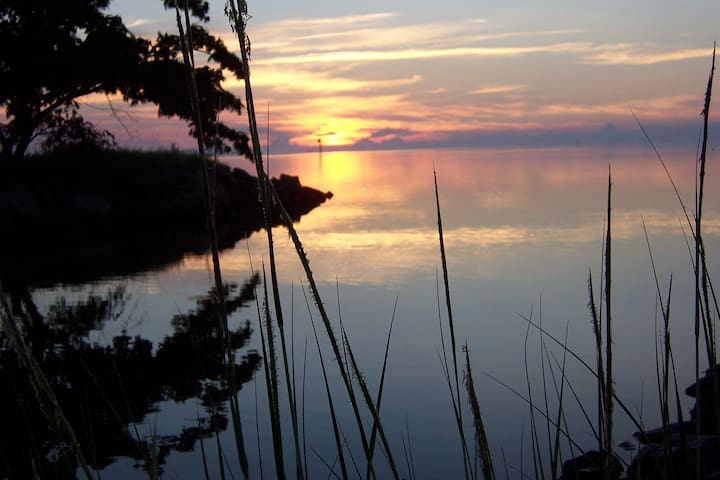 Rodzaj pokoju
Całe miejsce
---
Rodzaj nieruchomości
Dom
---
Mieści
4
---
Sypialnie
Belhaven, Karolina Północna, Stany Zjednoczone
Rodzaj pokoju
Całe miejsce
---
Rodzaj nieruchomości
Dom
---
Mieści
8
---
Sypialnie
Belhaven, Karolina Północna, Stany Zjednoczone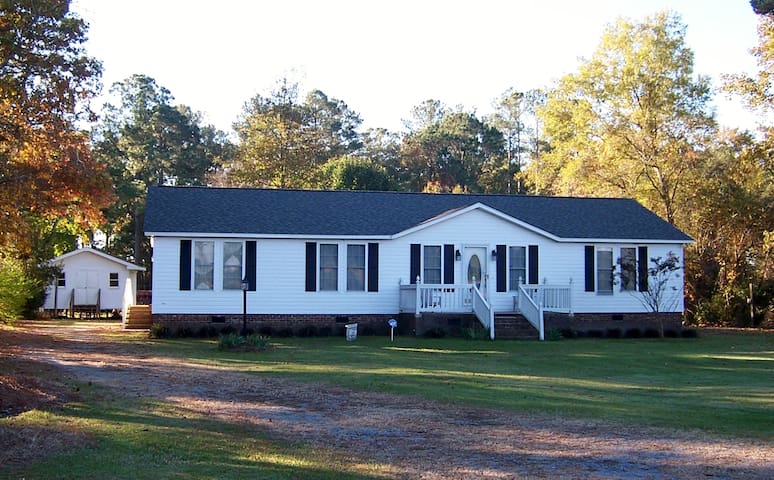 Wpisz daty, by zobaczyć pełną cenę. Obowiązują dodatkowe opłaty. Cena może uwzględniać podatek.