We welcome you in our new apartment inside a 200 year old typical 'longfarm-house'. You will find a bright room with a comfy bed, private kitchen & bathroom and a small outdoor pool to cool off after your hike or ride in the countryside on hot summer days. Wether you visit De Kempen area for outdoor activities, to be near Eindhoven or the airport (both <10 mins) for an early morning departure, or business trip in the area. Whatever your reason, a relaxing farm-stay is guaranteed!
Wir lieben das Leben in unserem renovierten Bauernhaus auf dem Land! Ruhig, aber doch so nah an Eindhoven und zentral in der populair Wandern & Radfahren Region De Kempen. Und wir möchten diese Erfahrung mit Ihnen zu teilen. Sie können Ihre Privatsphäre in der voll ausgestatteten Wohnung mit eigenem Eingang oder genießen Sie B & B-Dienste wie hausgemachtes Bio-Frühstück und frische Eier von unseren Hühnern mit allen Gemüse genieße ich in meinem kleinen veggiegarden finden. Obwohl die Wohnung ist privat, haben Sie mit uns den Garten und den Pool zu teilen;) Wir haben genügend Platz zum Speichern oder Ihr Fahrrad reparieren und Ihr Auto parken. Wenn Sie mit den öffentlichen Verkehrsmitteln und meine Zeit erlaubt es ankommen, kann ich Ihre Pick-up oder Drop-off sein. Haustiere, die andere Tiere zu respektieren (wir haben Katzen und Hühner) sind herzlich willkommen! Bitte schicken Sie mir eine Nachricht zuerst. Das Rauchen ist im Garten erlaubt, abgesehen davon, dass wir keine anderen Hausordnung haben, ist es nur zu respektieren, wie Sie Ihre eigenen zu tun und zu genießen.
Die Gegend ist ideal zum Wandern, Radfahren und Reiten. Es gibt Wanderwege in Hülle und Fülle. Auch Eindhoven ist ca. 10-15 Minuten entfernt, wenn man Einkaufen, Essen gehen wollen oder eine der musea oder viele Festivals besuchen. Wir sind 5 Minuten (oder Fahrrad zu erreichen) von zB ASML-Zentrale und der MMC.
De ruimte die je huurt bij Femke, is een afgezonderd deel van hun eigen prachtige boerderij, met ook een eigen ingang. Je hebt dus een compleet eigen huisje met alles er op aan, mooi ingericht en een heerlijk bed. En mocht er nog iets ontbreken dan staan Femke en Pierre direct voor je klaar, bleek bij ons omdat wij niet zo handig met apparaten zijn. Wij kregen een zeer gastvrij onthaal in hun eigen ruimte de eerste avond, zodat we ons direct "thuis" voelden. Wij hadden niet zoveel tijd om van de omgeving te genieten, maar die is landelijk en prachtig.
Claire
2017-03-07T00:00:00Z
The house was very clean and beautiful with a big garden with chickens,in a very quiet place. Is 30 minutes walking from the bars and the supermarket but with the bicycle is very close. The bus stop that connects the place with Eindhoven, is also 30 minutes walking from the house. Femke was very kind, she gave us all the information that we needed for the place. We had a very good time in her house, I recommend it, especially for having a relaxing time in the nature. Thank you very much Femke!
ELPIDA
2017-03-13T00:00:00Z
Rodzaj pokoju
Całe miejsce
---
Rodzaj nieruchomości
Apartament
---
Mieści
2
---
Sypialnie
Veldhoven, Noord-Brabant, Holandia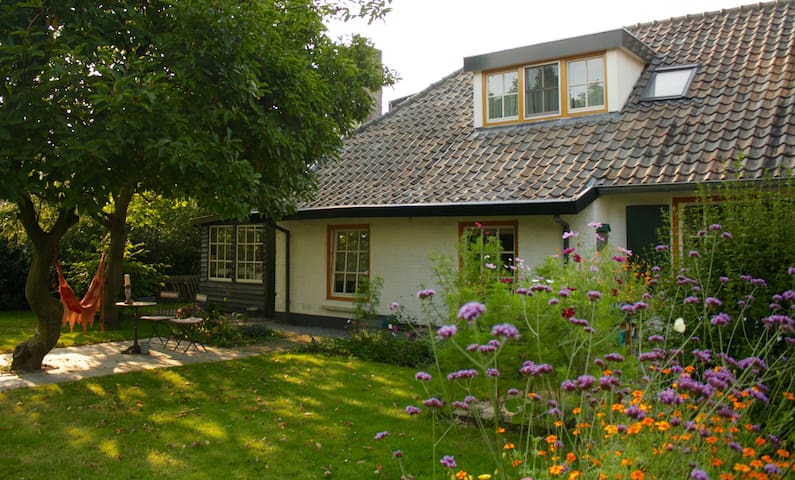 Lekker uitwaaien in een rustieke omgeving? Dichtbij het bos, dichtbij het dorp en dichtbij de snelweg. Ontbijt evt bij te boeken. We hebben meerdere appartmenten te huur, allen met eigen keuken/toilet/badkamer. Gratis parkeren. Zie ook: (URL HIDDEN)
Het appartement beschikt over een eigen keukentje, toilet, badkamer, koelkast.
We really enjoyed our stay, the apartment is above a riding school and the kids loved walking through the stables and seeing the horses. The apartment was clean and the host met us on arrival and was available if needed. We would definitely stay here again.
Shana
2017-02-26T00:00:00Z
Een prima plek om te overnachten! Wij hebben in de buurt een flinke (geocache) wandeling gemaakt en het was fijn om in het appartement bij te komen. In de keuken waar alles aanwezig is hebben we een lekkere maaltijd gemaakt. De accommodatie ligt op het terrein van een manege en dat geeft een fijne, landelijke sfeer. Fijn contact met de verhuurders.
Wieneke
2016-03-31T00:00:00Z
We zijn een maand lang verbleven bij de bed and breakfast boven PCK-Eersel. Na mijn uitleg over mijn beperkte dieet wekelijks een heerlijke voorraad aangepast ontbijtpakket (Fruit, crackers, beleg) gekregen. Verder is het een heerlijk ruim appartement met eigen keuken. Ideaal als je houdt van zelf koken. In de laatste week ook een priveles paardrijden genomen met mijn vriendin. Dat was ook fantastisch in de goed verzorgde manege. Als je in de buurt van Eersel wilt verblijven en van de natuur houdt een erg leuke plek om te overnachten. Wanneer ik nogmaals in de buurt moet zijn, ga ik zeker opnieuw boeken. ***
Monique
2016-02-25T00:00:00Z
Peter en Anja zijn behulpzame gastvrije mensen. Ik mocht zelfs 2 fietsen lenen om op het festival te komen dat daar vlakbij op het E3 strand was. Het appartement ligt boven een manege en op een mooie plek. Alles was schoon en compleet.
Eric
2016-06-20T00:00:00Z
It was a quiet stay in the apartment of Peter and easy to reach. I would like to recommend it!
Marianne
2016-09-18T00:00:00Z
Verhuurder heeft concrete afspraken gemaakt voor bij aankomst. Ik had een speciaal verzoek om ons weg te brengen en dit heeft zijn vrouw gedaan. Verhuurder is een ontzettend aardige man. Heeft bij aankomst keurig alles laten zien en gaf ons een welkom gevoel.
Bart
2016-07-18T00:00:00Z
Ook dit maal weer een fijn verblijf gehad bij Peter en Anja. We werden verwelkomt met een voorraadpakket met onder andere fruit en beschuit. Daarnaast was het fijn om weer terug te zijn in het appartement waar we al eerder verbleven zijn.
Jeffrey
2016-03-24T00:00:00Z
Great apartment, friendly hosts, conveniently located. We would go again!
Seth
2016-05-28T00:00:00Z
Rodzaj pokoju
Całe miejsce
---
Rodzaj nieruchomości
Apartament
---
Mieści
4
---
Sypialnie
Eersel, Noord-Brabant, Holandia
My place is close to Supermarkt, the city center. My place is good for solo adventurers, business travelers, and families (with kids).
Rodzaj pokoju
Całe miejsce
---
Rodzaj nieruchomości
Apartament
---
Mieści
4
---
Sypialnie
Eersel, North Brabant, Holandia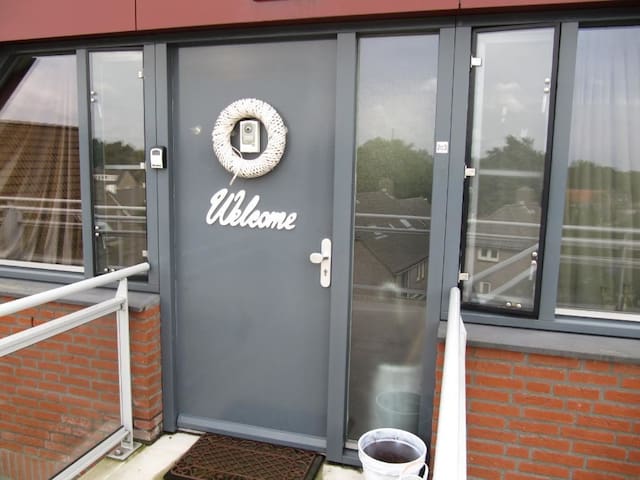 Całe to przytulne mieszkanie jest twoje podczas pobytu! Wiele darmowych parkingów! Nad dużym pięknym parku, centrum handlowe znajduje się obok parku. Bardzo blisko do lotniska (5-6 minut jazdy), 18 minut do centrum miasta Eindhoven (autobus linii 403).
To piękne mieszkanie znajduje się na drugim piętrze bardzo nowym budynku. Dobrze wyposażona kuchnia. Darmowe Wi-Fi i chromecast zainstalowane w telewizorze: D. Przed budynkiem znajduje się wiele bezpłatnych parkingów. W ciągu kilku minut pieszo znajduje się bardzo ładny duży park (patrz zdjęcia), gdzie można wybrać się na spacer lub kitesurfing itp :-) I czuć się swobodnie wypić filiżankę herbaty lub kawy. Zapraszamy do ugotować sobie pyszny posiłek w kuchni :-) Supermarket PLUS jest zaledwie 800 metrów. Jest mniejszy, ale jeszcze bliżej lokalny sklep sklep spożywczy (Sandry Groente pl owoce) w pobliżu (tylko około 3 minut spacerem). Mieszkanie znajduje się w pobliżu pięknego parku (w odległości kilku minut jazdy), a tam jest również centrum handlowe (centrum fitness, restauracja, AH, Blokker, Etos, Jumbo, Lidl, Poczta, Hema, etc.) obok Big piękny park.
Ciche i przyjemne otoczenie. W około 10 minut pieszo znajduje się bardzo duży i piękny park (patrz zdjęcia). Obok parku znajduje się centrum handlowe.
First experience with Airbnb! Jim was a very nice host and the appartment was exactly like the pictures: comfortable , well decorated and bright. Very good experience!
Margot
2016-05-07T00:00:00Z
Jim was excellent host, who offers a cosy apartment in quiet enviroment not so far from citycentre of Eindhoven. Perfect if you have to catch flight later at the Eindhoven Airport.
Laszlo
2016-11-08T00:00:00Z
Nuestra estancia en el apartamento fue maravillosa. El apartamento es precioso, limpio, con calefacción y muy cómodo. Los anfitriones son muy atentos. Si vuelvo a Eindhoven seguro que repetiré, es muy recomendable. ____________________ Our stay at the flat was wonderful. The place is beautiful, clean, tidy, with heating and very comfortable. Our guests were very thoughtful. If I came back to Eindhoven it's sure I'll stay here, very recommendable.
Elena
2017-01-23T00:00:00Z
Unfortunately Jim could not meet me because he has got a meeting. But he sent me a (SENSITIVE CONTENTS HIDDEN) message with a welcome message and a few instructions. Everything was alright.
Irene
2016-05-23T00:00:00Z
Great appartment and Jim is a very friendly host!
Arjan
2016-11-13T00:00:00Z
Jim was very kind and helped with all the small problems we had there very quickly. The place itself was very nicely decorated.
Christian
2016-10-16T00:00:00Z
Awesome flat near the airport with parking space. Jim was really helpful.
Dario
2016-09-04T00:00:00Z
Super appartment!
Judith
2016-09-09T00:00:00Z
Rodzaj pokoju
Całe miejsce
---
Rodzaj nieruchomości
Apartament
---
Mieści
2
---
Sypialnie
Veldhoven, Noord-Brabant, Holandia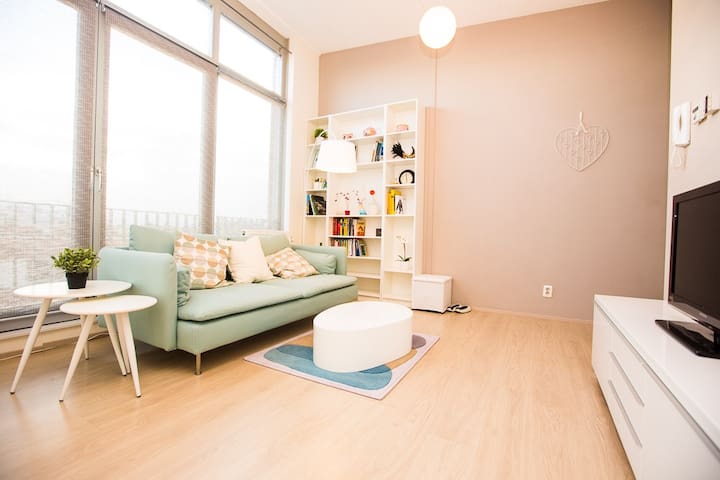 Przestronny prywatny pokój z bezprzewodowym dostępem do Internetu, w pełni wyposażone i znajduje się w pięknym miejscu. Eindhoven lotniczego 5 minut autobusem, sklepy dosłownie za rogiem i dużego parku obok. Brak oznak dala (na parkingu), więc spokojnie w dźwięku! Centrum Eindhoven jest 15min autobusem. W razie potrzeby, bym przygotował kolację lub śniadanie. Wspólna łazienka i toaleta. W pokoju kawy / herbaty obiektu. W konsultacjach mogą być również wykorzystywane moja kuchnia, pokój dzienny i balkon
Pokój idealny; Pary, Ojciec i dziecko, tylko podróżujący lub osób podróżujących służbowo. Na przykład, na spokojny sen w połączeniu z wczesnym czy raczej późny lot z / do Eindhoven, Eindhoven, na weekend lub podróż służbową. Nie zamyka się wyłącznie do lotniska i centrum miasta Eindhoven, ale także w pobliżu ASML, High Tech Campus i TU / e. W domu okręgowego do wielu emigrantów, tak anglojęzycznych goście mogą sami do sklepów okolicznych bardzo jasne. Ja również mówić płynnie po angielsku. W parku obok, można wybrać się na spacer. Ponieważ nie ma ruchu biegnie obok mojego domu (garaż pod domem) jest bardzo cichy, nawet lotnisko nie słyszę cię! Więc będziesz spać spokojnie! Zarówno budynek i moje mieszkanie jest na wózkach inwalidzkich.
Byt se nachází v blízkosti letiště (5 min busem, 25 min pěšky) v klidné a krásné lokalitě ve které můžete najít různé obchody. Okolí je taky super na geocaching a různé sportovní aktivity :) Byt byl perfektně připravený, moderní, všude čisto a uklizeno. S hostitelkou byla skvělá domluva a byla velmi příjemná. Až pojedeme do Eindhovenu znovu, určitě se ubytujeme zase tady.
Anna
2017-04-04T00:00:00Z
Ideaal om zo dicht bij het vliegveld een nacht te kunnen overnachten. Binnen vijf minuten sta je op Eindhoven AirPort. Het was ook erg prettig dat Martine voor een kleine bijdrage een ontbijt voor ons wilde maken. Martine is een gezellige gastvrouw.
christina
2017-03-02T00:00:00Z
Martine is een zeer warme en enthousiaste vrouw. Fantastisch om hier te overnachten. Wij bleven 1 nacht slapen om de volgende dag het vliegtuig te nemen van Airport Eindhoven. Het is maar 3 halte's op de bus. PERFECT !
Line
2017-02-07T00:00:00Z
Top verblijf gehad!
Lysbeth
2017-03-24T00:00:00Z
Martine is de perfecte gastvrouw: hartelijke welkomst, heeft antwoorden op alle vragen en heeft allerlei tips voor een goed verblijf. De locatie is perfect voor zakenmensen die dicht bij vliegveld wil zijn. Het is letterlijk 10 minuten weg. Daarnaast zijn er allerlei winkels op 2 minuten afstand. Het openbaarvervoer minder dan 5 minuten lopen. Het parkeren werkt goed: betaald (heel dicht bij) en onbetaald (op loopafstand). Ik kan dit warm aanbevelen en kom er zeker terug wanneer ik weer ga vliegen.
Marie-Louise
2017-01-04T00:00:00Z
Rustige locatie op een steenworp afstand gelegen van het vliegveld. Alles was prima verzorgd met een hartelijke ontvangst van Martine.
Renske
2017-01-15T00:00:00Z
The host canceled this reservation 17 days before arrival. This is an automated posting.
Mar
2017-01-30T00:00:00Z
Martine is a great host! She is very helpful and she is thinking about every detail which could be useful for her guests. And her apartment is amazing!
Barbora
2017-02-21T00:00:00Z
Rodzaj pokoju
Pokój prywatny
---
Rodzaj nieruchomości
Apartament
---
Mieści
2
---
Sypialnie
Eindhoven, NB, Holandia
The appartment is near a great view, a lovely park, Eindhoven Airport, direct bus transit to the city centre (15m), bakery, supermarket. You will especially enjoy the appartment because of the great view, the piece and quiet, the people, great neighbors. My apt is suitable for couples, (solo) travelers, business (wo)men. I'm very flexible, so if you have any wishes, please feel free to ask. See you soon! ~Hans
It was a wonderful stay in Hans appartement and felt like being at home. The appartement ist huge, clean, stylish, modern and warm- and the terrace is indecrible. So we enjoyed our time in this charming place evry minute. The area ist quiet but modern and has Albert Heijn, Lidl and Jumbo in closest near, you can go by Bus to Eindhoven or discover the other beautiful netherlands cities...Hans was so friendly and serving us like a friend. We will come again!!!
Katharina
2016-06-27T00:00:00Z
We had a great stay in Hans's flat. Great equipment, large space and good location (market, post services, close to nature and city, etc.). Hans was very flexible for the ckeck-in/out so it could match with our flight. Perfect for a relaxing week.
Théophile
2016-08-04T00:00:00Z
The flat is very nice! Hans is a good host, very helpful. The listing is very accurate, everything is exactly as written :) The flat is quite personal, I felt for a moment as if I was living there.
Lina
2016-07-03T00:00:00Z
Porque la casa es luminosa y tranquila. Es lo que buscaba. Hans recibe muy bien a los invitados, ayuda siempre en todo lo posible, incluso se comporta como un amigo
Vero
2016-07-21T00:00:00Z
Clean house, nice neighborhood. Hans did everything to help me out ;)
Sabi
2016-06-23T00:00:00Z
Rodzaj pokoju
Całe miejsce
---
Rodzaj nieruchomości
Apartament
---
Mieści
2
---
Sypialnie
Eindhoven, Noord-Brabant, Holandia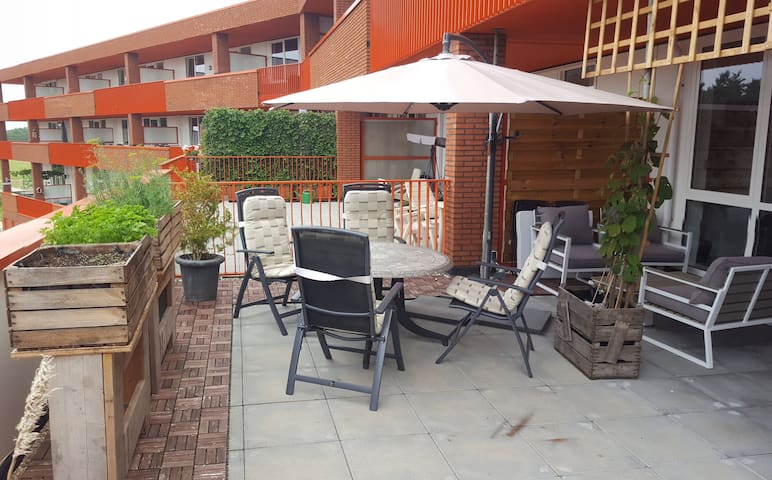 Couch (190 cm długości), w przestronnym apartamencie, który oferuje kilka bardzo przyjemnych widoków na obrzeżach Eindhoven. Dzięki bezpośredniej linii autobusowej na lotnisko (tylko 8 minut od drzwi wejściowych do terminala) jest to idealne przystankiem przed lub po locie.
Kanapa jest w salonie, a także podstawowe miejsce do spania, ale mieszkanie jest nowy, wystarczająco przestronne, a widoki z szerokiej ściany do sufitu okien i balkonów jest wielki rzeczywiście, szczególnie, gdy budzi się rano. Ze względu na doskonałe połączenia komunikacyjne z lotniskiem, a także dworca kolejowego, zwłaszcza podróżujący mogą skorzystać z tego miejsca na pobyt w czasie podróży. Z centrum handlowego tuż obok budynku, wszystkie udogodnienia, które mogą być potrzebne są łatwo dostępne.
Mieszkanie znajduje się patrząc na centrum handlowego Meerrijk, a także parków Meerland. Okolica oferuje relaksującą przerwę od miejskiego gwaru miasta Eindhoven, posiadające doskonałe udogodnienia i dużo miejsca do rekreacji.
Warunki, które zastałem były nawet lepsze niż te opisane w ogłoszeniu. Kay jest super interesującym i pomocnym hostem. Oby każdy nocleg był tak komfortowy jak ten. Polecam.
Przemysław
2015-04-08T00:00:00Z
Great host, very kind The apartment was so lovely cozy and sofa bed was just too good, Actually which is almost way better than most of the bed in hostel I stayed... Great experience
Peter
2016-09-14T00:00:00Z
It was a nice evening and a super couch :) Kay also was a friendly host.
Penelope
2017-03-24T00:00:00Z
It was easy to contact Kay and to find his place, convenient for my flight the next day. The couch was very comfortable an excellent mattress.
J L
2015-04-11T00:00:00Z
Exceptional host. Beautiful condo, in brand new development. I had to stay there overnight because I had to take a 7am flight at Eidhoven airport. I was able to walk from the condo to the airport in around 20 minutes. Taking the bus takes around 5 minutes. Very strongly recommend.
Alex
2016-10-11T00:00:00Z
Short stay at Kay's place but really modern apartment, easy to get to center and airport. Lovely neighborhood, and beautiful view!
George
2016-11-29T00:00:00Z
Great stay. Beautiful and clean flat in a great location. Comfortable sleep on the sofa, even for someone my height (189cm). Very welcoming host. Will definitely stay with Kay again before flying from Eindhoven.
Ross
2017-03-31T00:00:00Z
His place is at a perfect location if you have an early flight the next day. He was a real kind and friendly host.
Martin
2017-03-02T00:00:00Z
Rodzaj pokoju
Pokój współdzielony
---
Rodzaj nieruchomości
Apartament
---
Mieści
1
---
Sypialnie
Eindhoven, North Brabant, Holandia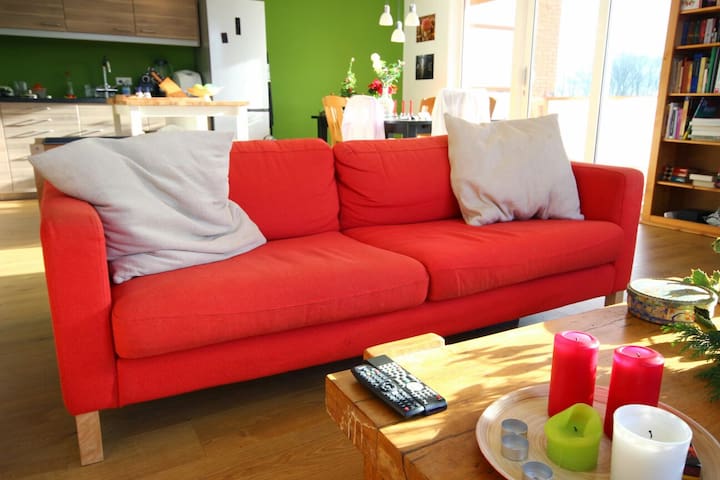 Beste reiziger, ik bied bij deze mijn studio aan om te verblijven in de weekenden. De studio ligt op de begane grond en is makkelijk via de toegangswegen in V'waard bereikbaar. Groet, Ad
Rodzaj pokoju
Całe miejsce
---
Rodzaj nieruchomości
Apartament
---
Mieści
1
---
Sypialnie
Valkenswaard, Noord-Brabant, Holandia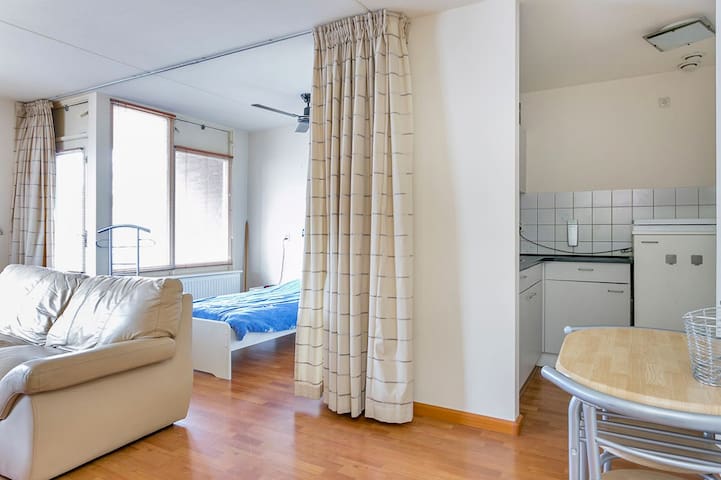 Logeer in een 2 verdieping tellend appartement in een oud sigarenfabriekje. (woonkamer ruim 75 m2). Zeer geschikt voor kleine yogagroepen die de beschikking kunnen hebben over bijna het totale pand.
Om de hoek is een kinderboerderij en klein speeltuintje en een bos. Valkenswaard heeft heel veel restaurants en cafés én een mooi natuurgebied: de Malpie. Er zijn diverse outdoorbedrijven in Valkenswaard waar je voor veel activiteiten terecht kunt.
Prettige communicatie met Geerten. Zeer soepel in het eerder komen en later weggaan. Enthousiaste host waar we graag nog een keer naar toe gaan
frank
2016-11-06T00:00:00Z
Zalige locatie! Geerten verwelkomde ons meteen en gaf een duidelijke rondleiding. Super lieve vrouw! Het oude sigarenfabriekje is heel mooi gemaakt. Een heerlijk weekend gehad samen met 4 kameraden.
Jim
2016-11-13T00:00:00Z
Wij zijn zeer hartelijk ontvangen door mevrouw Linsen en kregen goede tips voor horeca op loopafstand. The old sugar factory is immens groot. Wij waren maar met z'n tweeën en twee kinderen maar je kunt hier makkelijk met 6 volwassenen verblijven. Het is heel sfeervol ingericht, net of je bij iemand thuis komt. Er staat een piano, een zeer grote tafel, een gezellige zithoek en een sofabank voor 2. Een aanrader!
Martijn
2015-04-07T00:00:00Z
We hebben een fantastisch weekend gehad met 6 dames. Ruimte was precies zoals omschreven. Het appartement is heerlijk ruim en rustig gelegen. Geerten is een fijne gastvrouw en heeft er alles aan gedaan om ons een mooi weekend te laten hebben.
Silke
2015-06-16T00:00:00Z
Geerten heeft een bijzondere loft in een voormalig sigarenfabriekje. De bovenste twee verdiepingen (woonkamer en slaapzolder) zijn zeer ruim en geschikt voor 6 personen (3 x 2pers bed waarvan 1 bed in aparte slaapkamer) Supermooi is de enorme hoeveelheid licht in de gezellige woonkamer. Wij hebben hier een heerlijk weekend gehad met vier vrienden. Goed om tot rust te komen maar tegelijkertijd ook veel te zien en doen in de omgeving(loopafstand centrum Valkenswaard, dichtbij Eindhoven, Natuurgebieden met wandel en kano mogelijkheden vlakbij) . Geerten is een betrokken hartelijke gastvrouw, ze nam alle tijd voor ons om tips over de omgeving te geven en is continue bereikbaar voor vragen. S'ochtends was ze zo aardig om alvast een verse pot koffie voor ons klaar te zetten! Aanrader voor weekend ontspanning.
Gerbrand
2015-09-14T00:00:00Z
Rustige buurt waar je goed kunt parkeren. Heerlijk kunnen hardlopen door het bos en rond de golfbaan. Verhuurster zorgde dat alles super in orde was, zelfs nog even snel een blikopener geregeld.
Hanneke
2016-10-02T00:00:00Z
Op de schaal van 1 tot en met 10 een: 8 voor check-in / gastvrijheid verhuurder 7 voor privacy 7 voor algehele accommodatie 7 voor inboedel / uitrusting 7 voor bed 7 voor toilet 6 voor douche 7 voor keuken 7 voor internet / TV 7 voor properheid 7 voor buurt / omgeving
Hans
2015-07-22T00:00:00Z
We hebben genoten van de gastvrijheid van Geerten! Ze heeft ons mooie tips over de omgeving en restaurants gegeven. Het was daardoor een heerlijk ontspannen weekend!
Ans
2016-09-25T00:00:00Z
Rodzaj pokoju
Całe miejsce
---
Rodzaj nieruchomości
Apartament
---
Mieści
8
---
Sypialnie
Valkenswaard, North Brabant, Holandia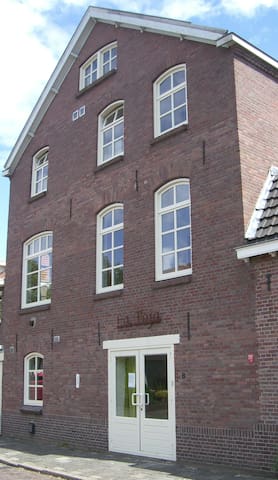 Simpele 2pers. kamer in ruim appartement met rustgevend uitzicht aan de rand van Eindhoven. Met een directe bus naar het vliegveld (8 min van de voordeur naar de terminal) is dit de ideale plek om te overnachten voor een vlucht in de vroege uren.
De kamer is een simpele slaapplek , maar het appartement is ruim en heeft mooie uitzichten vanuit veel muurhoge ramen en balkons. Wanneer nodig kan een derde persoon op de bank in de woonkamer slapen. Dankzij de perfecte busverbinding naar het vliegveld en het centraal station zullen reizigers deze overnachtingsplek zeker kunnen waarderen. Daarnaast ligt direct onder het appartement een winkelcentrum, waardoor alle mogelijke benodigdheden gemakkelijk verkrijgbaar zijn.
De gastheer is regelmatig thuis gedurende het verblijf van gasten. Er wordt vanuit gegaan dat je je eigen gang gaat, maar een goed gesprek en een gezellig drankje worden ook gewaardeerd. Gezien de gastheer een fervent kok is, kun je hem wellicht overtuigen om een maaltijd klaar te maken, maar geen beloftes!
Opis oferty był precyzyjny. Kay jest bardzo miłą osobą, która dostarczy Ci potrzebnych informacji na temat Eindhoven. Jego mieszkanie jest bardzo przyjemne. To jak do tej pory najlepsze miejsce z Airbnb, w którym miałem okazję nocować.
Jakub
2016-10-25T00:00:00Z
Ik kwam 's avonds aan om de volgende ochtend 5u weer de deur uit te gaan en een vlucht te halen. Alles was precies zoals beschreven en Kay was een hoffelijke gastheer. Het was stil in het appartement, wat bij zo'n korte nacht erg prettig is. Top!
Ole
2016-03-25T00:00:00Z
Kay was a great host
Dani
2015-06-20T00:00:00Z
Kay was a very kind host, he let us use the whole house freely, the place is in a very quiet neighbourhood and the view from there is spectacular. Highly recommended.
Lorenzo
2016-02-25T00:00:00Z
Kay is really welcoming. Actually our encounter was a short one nevertheless i had a great stay in a cosy room. I slept like a baby and woke up to a bright and peacefull view. It's just a couple of minutes to the bus stop and easy to get from there to the airport. A no-brainer for people who dont like to get up super early / in the middle of the night to catch a flight.
lena
2015-10-13T00:00:00Z
Uitstekend verblijf gehad bij Kay. Het was geen probleem om pas laat in de avond in te checken (ondanks dat Kay er vroeg uit moest). Heerlijk bed en de gordijnen voldoen prima! Prima te bereiken met de bus en de volgende ochtend binnen 10 minuten op het vliegveld van deur tot deur.. kortom, uitstekende accommodatie!
Ewout
2016-03-02T00:00:00Z
Kay was very friendly and helpful. I took a walk around the lake and got caught by a rain shower. Kay kindly assisted with his tumble dryer to get my clothes dry in time for my flight very early the next morning. The apartment is in a futuristic development. Very convenient with shops a cafe and a bar.
Klaus
2016-06-17T00:00:00Z
It was great staying at Kay's! We went there for the bosch's exhibition, Kay's been very helpful in arranging keys and everything. Room's very clean and with a view haha. The whole flat is airy and full of sunshine. We made curry the second day and enjoyed with Kay together, had lovely chat, he's even very good with our little baby hahaha. The photos don't do its justice, the place is so much better! On top of all, great location, 20 minutes walk from airport, several big supermarket just downstairs, can basically find everything you need in the community, and a lovely big park just next to it too with kid's playground. Definitely recommend to anyone who might need a stay over in Eindhoven!
Joe
2016-04-07T00:00:00Z
Rodzaj pokoju
Pokój prywatny
---
Rodzaj nieruchomości
Apartament
---
Mieści
3
---
Sypialnie
Eindhoven, North Brabant, Holandia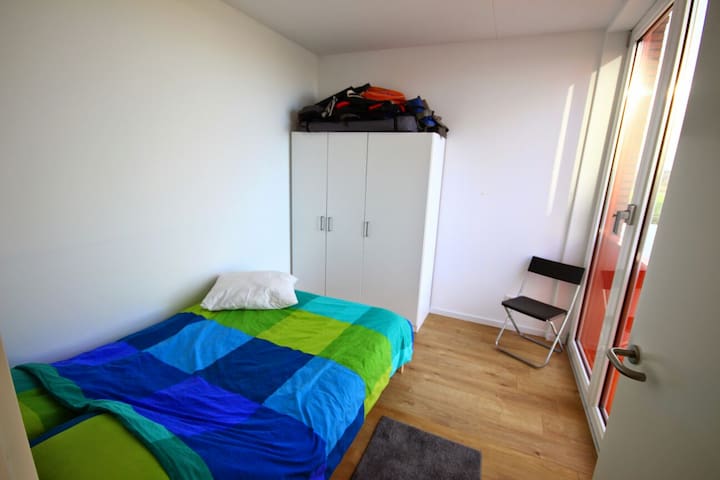 2 osoby pokój w przestronnym apartamencie w pobliżu centrum miasta, high-tech kampusu i ASML. 100 metrów od przystanku autobusowego do ASML lub centrum miasta. Zajmuje Ci około 5 minut, aby dotrzeć do tych miejsc.
W sypialni jest duże i wygodne. Salonie jest przestronny i posiada stół dla sześciu osób.
Bardzo cicho. Supermarkt promieniu 500 metrów, Jombo, AH AH XL.
Gospodarz bardzo sympatyczny i pomocny, mieszkanie w rzeczywistości jeszcze większe niż na zdjęciach, wszystkie udogodnienia dostępne, spokojna okolica bardzo blisko centrum. Rewelacja !
Monika
2016-10-06T00:00:00Z
Wszystko super, fajna okolica, przyjemne mieszkanie, bardzo wygodne łóżko i miły gospodarz, bardzo polecamy :)
Kinga
2016-09-21T00:00:00Z
Everything was fine and we enjoyed our stay very much :)
Tomek
2016-09-22T00:00:00Z
Very nice apartment in quietly district near of the city centre!!! Jeroen was a very helpful person!!! If we come back in eindhoven we know where we can stay!!
Andrea
2016-07-07T00:00:00Z
It was a great value for the price! Nice bedroom in a quiet neighborhood! Self check in was easy and times are flexible!
Yana
2016-09-18T00:00:00Z
Great apartment, easy to find, good host, would recommend!
Milos
2016-08-03T00:00:00Z
Jeroen was a very good host. It was a warm welcome, he was spontaneous & open for questions.
Lukas
2016-07-02T00:00:00Z
Jerome's apartment was very cosy, clean and neat. We had everything that we needed and it felt like home. Definitely an amazing deal. We will be looking forward to our next stay in Eindhoven!
Tatiana
2016-09-16T00:00:00Z
Rodzaj pokoju
Pokój prywatny
---
Rodzaj nieruchomości
Apartament
---
Mieści
2
---
Sypialnie
Eindhoven, Noord-Brabant, Holandia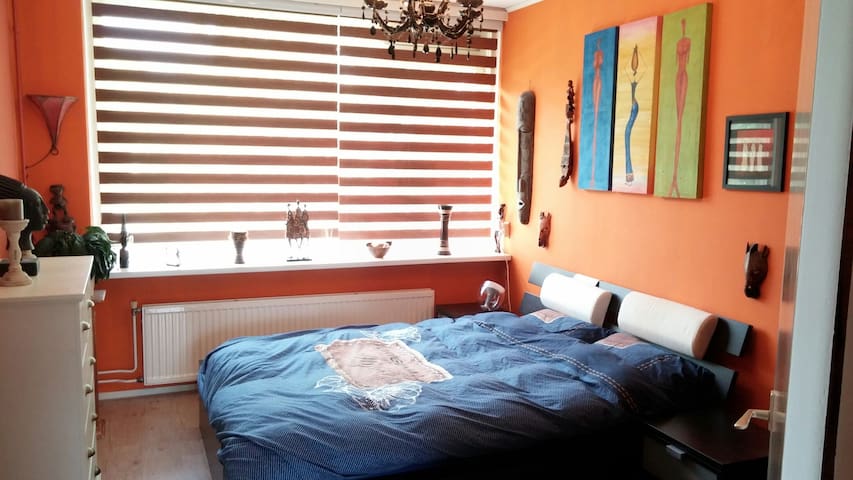 Moje mieszkanie 80m2 jest idealnym miejscem na wycieczkę do Eindhoven czy to dla przyjemności lub firmy. 10 minut taksówką na lotnisko lub do centrum miasta oraz do autostrady jest kilka minut. Ponadto zabytkowy park miejski Philips van Lennep znajduje się w odległości spaceru. Najlepszą ucztą jest wielkości mojego mieszkania choć. Ogromna sypialnia i oddzielny pokój dzienny i pokój biurowy dokonać na 3 pokoje plus łazienka. Parking jest bezpłatny i supermarket znajduje się w odległości spaceru. Zapraszam do kontaktu ze mną po więcej informacji.
The place is clean, cozy and warm place with everything one would need. 5 minutes from the bus stop and 8 minutes by bus to the city center. There's a supermarket 3 minutes walk from the apartment. Fernand was very helpful with logistics and other incidentals I needed around Eindhoven. He picked me up at the train station and made sure I was comfortable before he left. Thank you Fernand. You were a great host.
Rebecca Isabella
2017-03-05T00:00:00Z
Tutto alla perfezione, anzi meglio!! L'atmosfera appena arrivi e' quello di essere a casa , Fernand e' una persona fantastica, ha dato ottimi consigli su come muoversi a Eindoven con i mezzi pubblici e come arrivare ad Amsterdam spendendo poco. Da consigliare o da ritornarci se ci sarà in futuro un altro viaggio verso i Paesi Bassi Well done Fernand!!!
Gina
2017-03-12T00:00:00Z
Rodzaj pokoju
Całe miejsce
---
Rodzaj nieruchomości
Apartament
---
Mieści
4
---
Sypialnie
Eindhoven, Noord-Brabant, Holandia
An attractive apartment located 5 mins from town. Near the highway. Shops within walking distance. Bus stop within walking distance.
Alles was echt picobello in orde, zeker voor herhaling vatbaar !
marjon
2017-02-22T00:00:00Z
Thank you so much Lizette!!! We had an amazing time at yours!!! Everything is perfect and beautiful!! We slept like babies! The bed is so comfortable! Also thank you as you've made everything possible for us even that it was at the last minute!!!
Christelle
2016-02-20T00:00:00Z
Lizette is super. Huis is perfect zoals op fotos :) volgende keer zeker bij Liz.
Agnieszka
2017-03-25T00:00:00Z
Appartement à l' intérieur très chaleureux. On se sent vite chez soi. Une très grande confiance et discrétion de Lizette. Très proche du bus qui nous mène en centre ville en une dizaine de minutes. Quartier vraiment très tranquille. je recommande.
José
2016-03-16T00:00:00Z
Host was really easy going and easy to communicate with. Apt is GREAT. This is not an AIrBnB ikea apt. It is someones Home so it is vital that you respect it for it being someones home. It is slightly out of town but if you rent a bike it is a easy 5 to ten minute ride through a pretty area. There is a supermarket 5 minutes down the road and a domino pizza conveniently next to a coffee shop..lol
kevin
2016-11-13T00:00:00Z
My very first AirBnB experience. Definitely 10x better than staying in a hotel. Nice, clean, cozy apartment with everything you need. Lizette was just a text or call away, very attentive and helpful to my needs. Would definitely recommend!
Marga
2016-05-25T00:00:00Z
For me it seemed that beadsheets where not just cleaned but where used before. I may be wrong of course- but it was my feeling- like sleeping in someone others bed. Also- the towels where not fresh- they smelled a bit and we didn't like using them. When renting entire house/apartment it is good to feel like you are the owner of this place for these few days but we felt like we are guests and owner is somewhere around there. Yes, the apartment was clean and looked nice however we felt that we would not like to stay for another night.
Ieva
2017-04-04T00:00:00Z
Appartement is ruim en schoon en ligt in een rustige buurt. Contact met Lizette was uitstekend. Van harte aanbevolen.
Timon
2016-04-09T00:00:00Z
Rodzaj pokoju
Całe miejsce
---
Rodzaj nieruchomości
Apartament
---
Mieści
2
---
Sypialnie
Eindhoven, Noord-Brabant, Holandia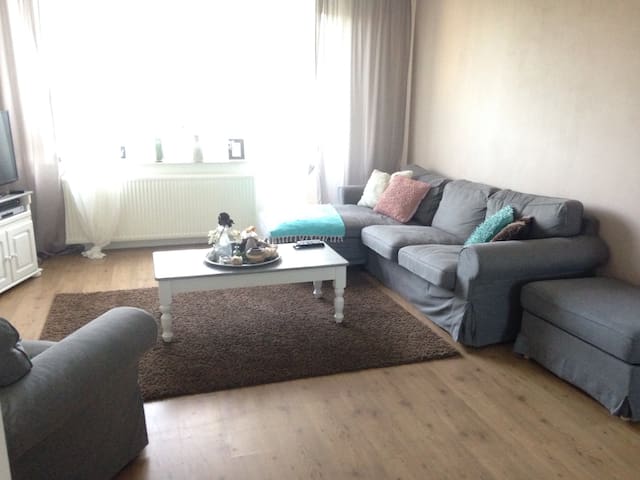 My place is close to public transport. It is in 10 min from the train station by bus. 20 min walk to the center and train station, but I can lend you my second bicycle. You'll love my place because of the lovely neighborhood. My place is good for couples and solo adventurers.
It is three room apartment - 2 bedrooms and living room. All rooms are fully furnished. You can choose the bedroom you like more.
Svetli was really helpful and the communication with him was easy, despite changing our arrival time plenty of times. The apartment is very nice and comfy, about 15-20min walking from the city centre. There's a bus stop right in front of the building and there are good connections to the train station. Also, the apartment is located close to any amenities needed.
Lorena
2016-10-28T00:00:00Z
Een vriendelijk onthaal, een open persoon en een propere verblijfsruimte.
Kimberly
2016-09-11T00:00:00Z
.
Gerard
2016-12-09T00:00:00Z
Svetlin was heel erg aardig, en ontving ons met een kop thee en daarna een rondleiding. We kregen een extra sleutel waardoor we zelf konden gaan en staan. Hij was erg vriendelijk, we voelden ons als snel thuis.
Raquel
2017-02-26T00:00:00Z
We had the best time at Svetlins house. Highly recommend! As a host Svetlin is very frendly and helped us discover the city. He even give us his bikes and we had a fun night at city center together! :)
Rrolis
2016-09-10T00:00:00Z
Svetlin has been very kind during our days in Eindhoven: he waited us gladly despite we were late for the checkin, he gave us his bike for all days long and we also went out together so he has become also a friend! The room was clean, comfortable and close to the center so absolutely recommended!
eleonora
2016-08-19T00:00:00Z
Aangezien we puur voor een slaapplek gingen i.v.m. twee daagse workshop in Eindhoven was het contact maar kort met Svetlin. Maar alles was tip top in orde en Svetlin is een heel aardige man en zeer behulpzaam. Zeker een aanrader!
Theo
2016-10-30T00:00:00Z
Svetlin's place was amazing and he made sure we feel welcome and comfortable. A very friendly host, he also showed us around and made our Eindhoven experience even better than planned. We'll be happy to enjoy a chat and a drink with him again :)
Denitsa
2016-09-17T00:00:00Z
Rodzaj pokoju
Pokój prywatny
---
Rodzaj nieruchomości
Apartament
---
Mieści
2
---
Sypialnie
Eindhoven, Noord-Brabant, Holandia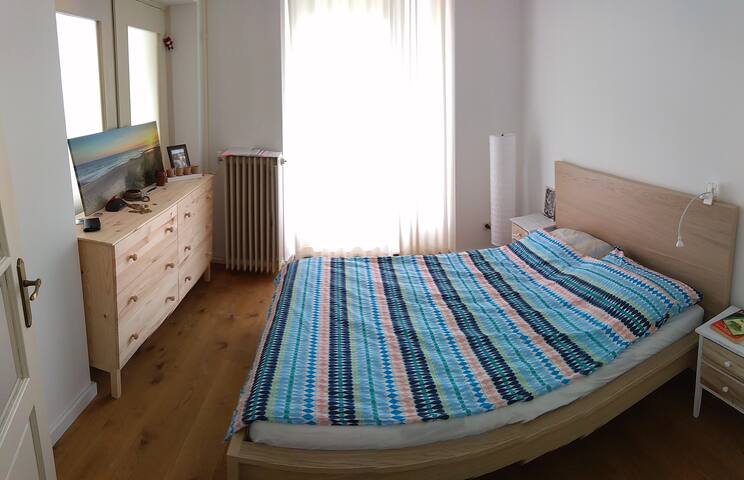 Perfect place for a short stay! Comfy when you have to go to the airport in the early morning or a conference at Evoluon. A single bed in a beautiful and neat apartment near Strijp-S. Busstop at 50m: 15 mins to the airport and 5 mins to the center.
Close to Strijp-S, Evoluon and city center and airport.
Bregje is super aardig en heel erg gastvrij. Tijdens mijn verblijf heb ik een paar keer met haar gesproken, dat was gezellig. Ik zou er zeker nog een keer overnachten als ik weer in Eindhoven ben.
Tim
2016-09-14T00:00:00Z
정말 만족합니다. 집이 굉장히 이쁘고 깔끔합니다. 위치도 매우 좋아요. 필립스 스타디움도 가깝고 시내도 가깝고 공항도 가까워서 다니기 편했습니다. 방도 따듯하고 침대도 푹신하고 두꺼운 이불이라 좋은 잠 잤습니다. 호스트도 매우 친절해서 나중에 아인트호벤에 온다면 다시 오고 싶네요 :)
hyeoni
2016-12-29T00:00:00Z
Bregje is vriendelijk en gastvrij. Ik heb me hier echt thuis gevoeld gedurende mijn verblijf.
Astrid
2017-03-17T00:00:00Z
Great Appartment, very clean and mellow. You can feel the woman touch. The view from appartment is amazing. You can see sunrise and sunset. The owner is great person, cery helpful and care about me ;) Thank you, definitely back if I will visit Eindhoven
Denis
2016-10-07T00:00:00Z
Highly recommended!
Sascha
2017-01-27T00:00:00Z
Rodzaj pokoju
Pokój prywatny
---
Rodzaj nieruchomości
Apartament
---
Mieści
1
---
Sypialnie
Eindhoven, Noord-Brabant, Holandia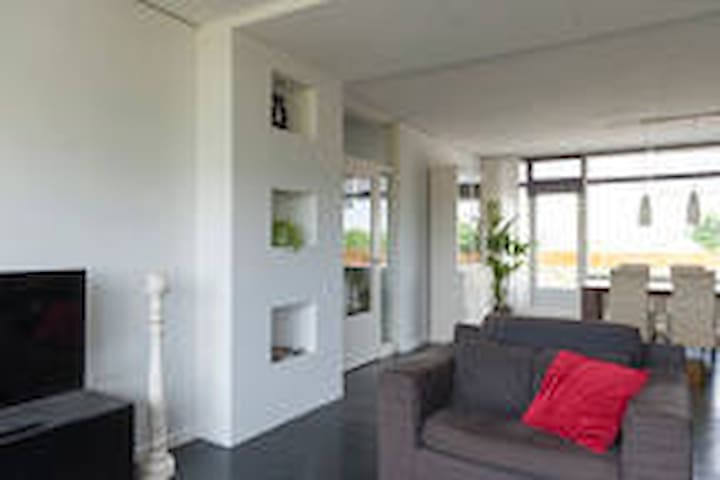 Geniet van een sfeervolle, lichte privé kamer gelegen in een rustige wijk. Het appartement ligt vlakbij Strijp-S en is makkelijk bereikbaar vanaf het treinstation of Eindhoven Airport. Het stadscentrum is ongeveer 10 minuten fietsen.
Het appartement is gelegen in een rustige woonwijk.
Rodzaj pokoju
Pokój prywatny
---
Rodzaj nieruchomości
Apartament
---
Mieści
2
---
Sypialnie
Eindhoven, Noord-Brabant, Holandia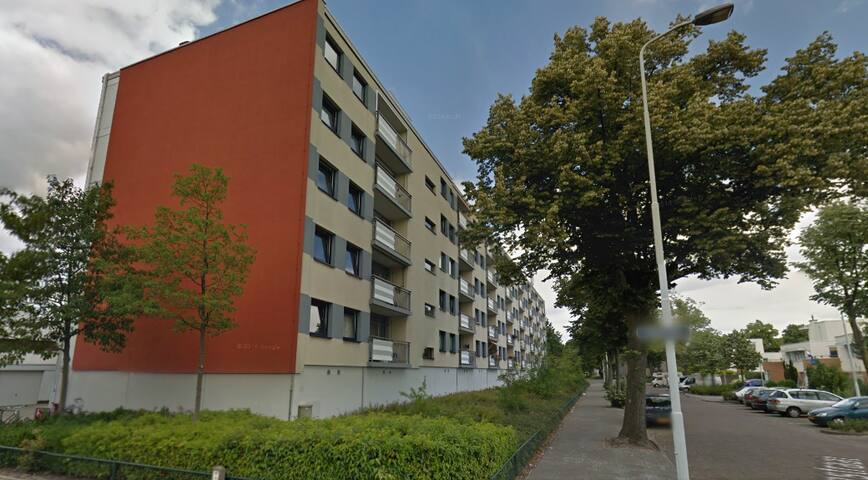 We offer a lovely double room with a high quality big bed. The spacious apartment has two sofas, a dinning space and a big kitchen to offer enough privacy and comfort for everyone. The flat has recently been renovated and is very clean. Direct bus line to the city centre. Eindhoven's largest park and a farm with fresh food are 10 minutes walk away.
Darja was super welcoming and helpful with anything we asked about, the neighbourhood felt really safe, great value for money!
Laura
2016-10-26T00:00:00Z
Being a guest at this house was awesome! I would go back to Eindhoven, only to stay there again!! The house is super cosy and comfortable with a big bed, kitchen, living room and garden. Darja is an artist, and it shows in the decoration! For once, the house looks surprisingly much better than in the pictures!! There's a supermarket in the same street, and a square with many restaurant and cafes. The house is very well located. We had lots of fun, cooking, eating, laughing, she also offered me several rides. She made me feel comfortable and at home from the very beginning, explaining and sharing everything in the house. Darja and her flatmate Arnaud are very interesting people, friendly, caring, fun to talk to, and they have GREAT tips about Eindhoven. I strongly recommend it to anyone passing by Eindhoven! Thanks for the wonderful times, and hope to see you soon :)
nastassia
2016-04-05T00:00:00Z
Darja is a wonderful host and a lovely person. She made me and Roisin feel very comfortable and offered us breakfast each morning. We are very grateful that we got the opportunity to stay with her and hope that our paths cross again. Thank you from Arron and Roisin
Arron
2016-06-13T00:00:00Z
Les commerces en bas de l'appartement, le centre ville à 15 minutes à pieds, le quartier est calme
christophe
2016-09-05T00:00:00Z
Rodzaj pokoju
Pokój prywatny
---
Rodzaj nieruchomości
Apartament
---
Mieści
2
---
Sypialnie
Eindhoven, Noord-Brabant, Holandia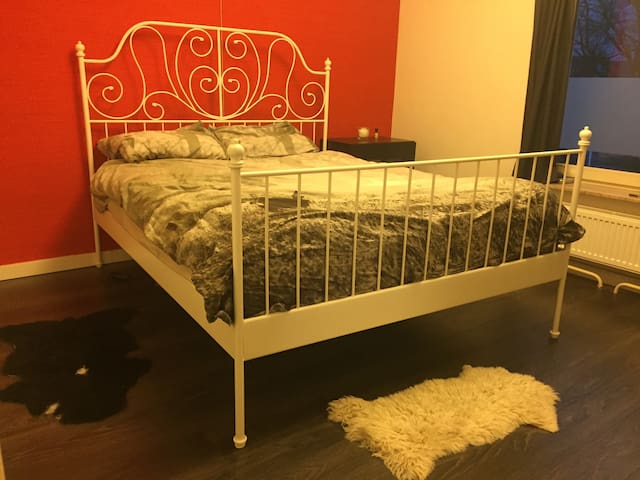 Strijp-S + EVOLUON rogiem. Ogromne łóżko! Darmowe wifi Wschód i zachód słońca @ balkon! Darmowa kawa / herbata / krakersy / Dżem Bezpłatne parkingspace / używanie rowerów Center (5min) i lotnisko (13min), łatwy dojazd autobusem + pick up service samochodem!
Najlepsze łóżko w mieście, z pięknym widokiem na wspaniały spacy EVOLUON! Tylko 5 minut spacerem do Strijp-S, nowe kulturalne serce miasta Eindhoven, ze słynną concertvenue Klokgebouw, teatru artfilm, fajnych sklepów, barów i restauracji! Użyj mojego Livingroom do nauki i czytania, odpocząć na wygodnej kanapie w ciągu dnia, doświadczyć bardzo wygodne łóżko kontynentalne Kingsize lub wypić kawę w słońcu na balkonie. Wschód i zachód słońca! Pomieszczenie składa się z małego tv i wifi. Będziesz dzielić czyste i nowoczesnej kuchni, łazienki i toalety z dwoma pracy, spokojnej, ale zabawa współlokatorami. Herbata, kawa i krakersy z dżemem za darmo. Pościel i ręczniki w cenie. To miejsce jest idealnie położony w odległości 10 minut spacerem od dworca kolejowego w Eindhoven Beukenlaan, centrum miasta, zaledwie 5 minut jazdy autobusem pl 15 minut prosto do lotniska w Eindhoven. Busstop 50 m. Supermarket w odległości spaceru. Parasol jest dostępna. ;) Żyć jak Księstwa użyć mój rower! Zabawa i szybko! Mało wolnego PARKINGSPACE tuż obok budynku. Autostrada jest łatwe do osiągnięcia, więc jesteś dobrze podłączony do innych miast. Dwa enthousiastic i przyjazne dla domowników powie ci wszystko o nakazów i zakazów w okolicach Eindhoven! Mam nadzieję, że zobaczymy się wkrótce! Wita, Bregje
Strijp-S 5 minut spacerem, Klokgebouw, Plaza Futura, restauracje, muzyka i kultura EVOLUON convention- i Eventcenter przed budynkiem supermarket w pobliżu
Ver van centrum, maar OV voor de deur. Voelt alsof je bij Breg logeert Zij slaapt in de kamer naast je. Netjes en zeer gastvrij. Lekkere douche. Verduisteringsgordijnen zijn wel een aanrader.
Sabine
2017-02-26T00:00:00Z
The flat is great in a quiet location with a direct access to the airport. Bregje and her housemates are very friendly. I recommend.
thierry
2014-04-12T00:00:00Z
Warme welkom en alles tiptop in orde. Héérlijk kingsize bed om in te slapen.
Jef
2015-11-08T00:00:00Z
Bregje was zeer vriendelijk voor ons. Een warm welkom en de nodige info om ons shopdagje in Eindhoven goed te laten verlopen.
Nathalie
2016-06-13T00:00:00Z
Bregje was a nice host. She is very nice and helpful, she provide us with tips for nice restaurants in Eindhoven. With the bus you are in less then 10 minutes in the city centre. The room is also good, with a comfortable king-size bed. We had a good night sleep. So I thoroughly can recommend her place!
Marieke
2013-05-12T00:00:00Z
Geen ontbijt beschikbaar.
Dirk
2013-11-05T00:00:00Z
Goede service van Bregje dat we de sleutel op konden halen op het tijdstip waarop dat ons uitkwam. De kamer en het huis zijn erg netjes en beiden zijn van alle gemakken voorzien. Prima verblijfplek!
Joke
2014-09-07T00:00:00Z
Hele fijne overnachting gehad. Sleutel konden we ophalen wanneer ons dat uit kwam, daar regelde Bregje wel iets voor. Fijn bed, mooi appartement. Ook een goede locatie! Bregje was ook erg aardig en je kon lekker je eigen gang gaan. Eén klein minpuntje: de kamer was erg warm als de zon erop had gestaan. Balkondeur kon gelukkig open om het een beetje door te luchten. Maar al met al een goede ervaring!
Lisa
2016-06-12T00:00:00Z
Rodzaj pokoju
Pokój prywatny
---
Rodzaj nieruchomości
Apartament
---
Mieści
2
---
Sypialnie
Eindhoven, North Brabant, Holandia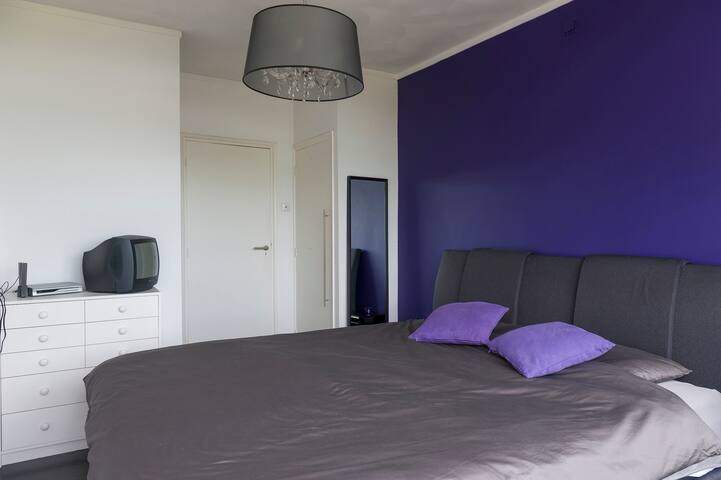 Steensel - Airbnb
:
Średnia ocena:

4.73

/

5

gwiazdek od

413

gości
Wpisz daty, by zobaczyć pełną cenę. Obowiązują dodatkowe opłaty. Cena może uwzględniać podatek.