Amandy and Randy are truly amazing hosts! The propery is stunning. It is a very quiet and peaceful place, the room is very comfy and well decorated. The hot tube is a really cool addition. Also you really feel at home with Amanda and Randy. We got a tornado warning while we were there and gathered in the kitchen with the other guests; in the end the tornado did not happen and we enjoyed the DELICIOUS Southern breakfast prepared by Amanda. Randy also provided us with great recommandations on the wineries around. All in all, wonderful stay, truly recommended! Watch out for the glamping tent that they will be adding soon:) Thank you again Amanda and Randy !
Anne-Celine
2017-04-02T00:00:00Z
Amanda takes pride in taking care of her guest and making them feel at home. The breakfast she prepared for us was excellent. The property itself is in a great location. My girlfriend and I came in from the city so it was nice to be able to watch the stars next to the fire pit. We will be definitely returning.
Marcus
2017-02-12T00:00:00Z
The Jr Suite at Rock Harbor Lodge was more than we expected! The grounds are beautiful, the scenery is so relaxing and serene. The home/room was so adorable and quaint! We had planned a weekend to attend the Fredericksburg Wine & Food Fest and after searching for a perfect B&B, we found this one! Its only a 25min-30min drive to Fredericksburg! Amanda recommended a great dinner place just minutes from her place. She makes a good continental breakfast to start your morning! Everything was just perfect! Thanks to Amanda for being a great host! We will be back!
Kimberly
2016-10-23T00:00:00Z
Amanda and Randy are amazing people, and their property is stunning! They go out of their way to make it a special experience, and they succeed on all points. If you're considering staying with them, DO IT. You won't regret it.
Tyler
2017-02-19T00:00:00Z
Staying at Rock Harbor Lodge was such a great and relaxing experience! Amanda made us feel very welcome. She even sent us home with her some of her delicious tomatoes! The suite is meticulous and the grounds of Rock Harbor Lodge are beautiful!
Bonnie
2016-06-21T00:00:00Z
Lovely country setting in a charming stone house. Great hosts wonderful hospitality.
Ann
2016-04-10T00:00:00Z
This was a beautiful private room with a porch. We had a fire pit outdoors and the room was very unique and well put together. Amanda met us right when we arrived and told us about the place and what events were happening that night in town! The property is secluded and beautiful. Buffalo live across the street. The land has a friendly cat and chickens that roam during the day. We enjoyed the hot tub the evening we stayed and Amanda made sure the temperature was right for us. She is an excellent host with an eye for design!
Mike
2016-07-04T00:00:00Z
I loved our stay here at Amanda's place! It was adorable, comfortable and so clean! Very quiet and relaxing. Beautiful countryside. Amanda and her husband are wonderful hosts - great food and hospitality. It was also super close to several wineries and fishing holes which we enjoyed. Great stay! Highly recommended.
Julie
2016-11-06T00:00:00Z
Rodzaj pokoju
Pokój prywatny
---
Rodzaj nieruchomości
Wikt i opierunek
---
Mieści
2
---
Sypialnie
Boerne, Teksas, Stany Zjednoczone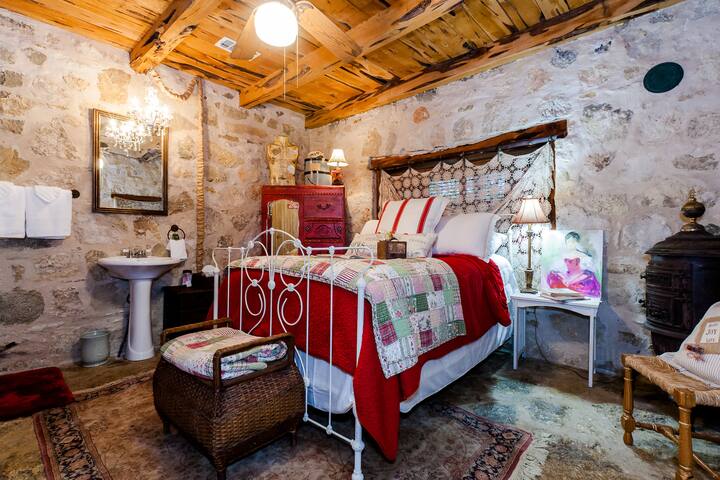 Our stay at Amanda's Rock Harbor Lodge well exceeded our expectations for a romantic Hill Country getaway. The property was gorgeous with amazing views and an assortment of flora and fauna. The room was especially cozy and comfortable as well. But above all were the little touches from the delicious breakfasts dropped off at our room in a picnic basket to the cute country-themed decor to watching the breathtaking starlit sky from the hot tub. And Amanda and Randy could not have been more gracious hosts, even inviting us into town at a really cool local beer garden for a pre-4th of July party. Our initial worry about not being in Fredericksburg proper turned out to be a blessing, since Boerne was actually closer to a number of points of interest, including San Antonio and New Braunfels, while being a great little town on its own. I cannot imagine other guests being at all disappointed with their stay here!
Kevin
2016-07-04T00:00:00Z
Amanda was warm, friendly, and gracious. We felt relaxed and at home immediately. The pictures don't do the room justice - it was even more charming in person! We thoroughly enjoyed stargazing from the hot tub. And both breakfasts were delicious! Amanda recommended Welfare Cafe for dinner, which was wonderful, and Cottonwood Wine Tours, which was fantastic! A great complement to a relaxing stay at Rock Harbor!
Ken
2016-06-20T00:00:00Z
Amanda was a great host and we really enjoyed the stay.
Aaron
2017-02-19T00:00:00Z
We really enjoyed our stay! Amanda and Randy were both friendly and helpful with suggestions. We brought an infant with us and they offered for us to use a pack-n-play and Amanda held our infant while we enjoyed breakfast one morning! I really enjoyed breakfast both mornings it was delicious. The decor is so trendy and still fit with the appearance of the house! We enjoyed our trip with our infant and we look forward to coming back without an infant in the future!
Kellyn
2017-04-09T00:00:00Z
Really great location if you are looking for some peace and quiet! Beautiful setting and we hope to be back soon.
Todd
2017-02-18T00:00:00Z
We loved our stay in the Master Suite! Comfy queen-size bed, unique decor, a selection of coffee & teas in the room (with biscotti--loved it), and even a white-noise machine in the room were all very nice touches. The homemade breakfasts were delicious and Amanda was a lovely host! The rural setting was just what we were looking for, being central to all the places we visited while there: the Don Strange Ranch, Waring, Welfare, Comfort, Lukenbach, and Boerne.
Shavaughn
2017-03-05T00:00:00Z
This place is amazing! We had our wedding there this weekend and it was beautiful! We enjoyed getting a weekend away that was quiet and peaceful. My now husband and I loved all of the wildlife and animals around! Definitely worth a stay!!! We will go back as often as we can!
Taylor
2017-03-26T00:00:00Z
The stay couldn't have gone better. Amanda provided the perfect amount of communication, and the room was nicer than expected.
Sean
2016-10-23T00:00:00Z
Rodzaj pokoju
Pokój prywatny
---
Rodzaj nieruchomości
Wikt i opierunek
---
Mieści
2
---
Sypialnie
Boerne, Teksas, Stany Zjednoczone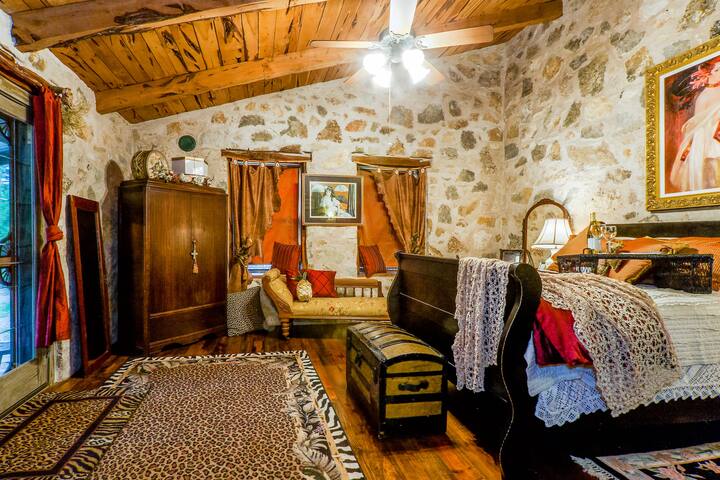 Bienvenido a "Petite Maison"! Nuestro alojamiento más privada que se encuentra tranquilamente en la parte posterior de nuestra propiedad. Disfrutar sentado en el porche viendo el ciervo sólo unos pocos pies de distancia y disfrutar de la vista. Hay una cocina al aire libre sólo para huéspedes de cabina con estufa parrilla / 2 quemadores, nevera, fregadero y comer en el bar. Y usted tiene su propio jacuzzi privado para relajarse y contemplar las estrellas!
Texas Hill Country es un destino y nuestra cabaña ofrece a nuestros huéspedes su propio espacio para relajarse y disfrutar de la belleza del campo, pero muy cerca (20 minutos) a la pequeña ciudad de Boerne y comodidad. Muy bien decoradas con piezas antiguas y desgastadas entorno rústico infundir este espacio de ensueño con un toque de encanto francés del país. Disfrutar de balanceo de sus preocupaciones en el porche mientras ve la vida silvestre, aves, venados, ardillas, y el búfalo. O sentado en su propio jacuzzi privado situado justo al lado de la cabina. Ideal para relajarse y contemplar las estrellas! Esta propiedad es elegancia relajada en su mejor! Vistas espectaculares, preciosas puestas de sol, y noches llenas de estrellas. Cerca de las bodegas, antigüedades y boutique de compras.
Si desea disfrutar de la tranquilidad de las colinas de Texas se encuentra en el lugar correcto. Un montón de fauna abundan. Esta es verdaderamente la vida del país en su mejor momento. Es tranquilo, rural y pintoresco. Va a ver todo tipo de aves, ciervos, ardillas, armadillos, cabras, ovejas, vacas, caballos, burros y hasta búfalos. Pero a pesar de estar en el país que está a poca distancia de restaurantes, parques, bodegas y tiendas. Recomendamos Bienestar Cafe ubicado a aproximadamente 8 millas de distancia (se recomienda reservar los fines de semana).
We had an Amazing Valentine's get away! We loved the cabin and Amanda went out of her way to make our stay extra special. We were wowed! It felt like our little romance bungalow with hot tub. I highly recommend this to any couple who needs to unplug and get away and bond this is just what you've been looking for. It was definitely a high end way of camping, the pictures don't do any justice to the attention to detail that was put into this new, but vintage shabby chic cottage. It is romantic with all the luxuries of home.
Dusty
2016-02-15T00:00:00Z
Such a wonderful experience, location is a hidden gem, scenery is magical, lodge is simply wonderful and the hosts are amazing. Amanda, thank you for your kindness during our stay. We will be back this fall..
Daniel
2016-07-25T00:00:00Z
Highly recommend this spot, great hosts and beautiful location.
Laura
2017-02-20T00:00:00Z
First of all, the scenery was absolutely beautiful, peaceful and calming. It's not too far away from Boerne (which was nice for quick grocery shopping trips), but it was still an extremely serene place to stay. Me and two other friends wanted to get away from Austin for a relaxing weekend, and man was this the perfect place to do it. There's a surprising amount of things to do - the Colorado River, a fire pit, an (awesome) outdoor grill, a hot tub, the nearby towns --including Fredericksburg eating! -- and more. We were never bored, and yet things just seemed so peaceful and relaxing. In my opinion, it seems that Amanda and Randy clearly thought about what their guests would want. The house itself was superb, tidy, and well-stocked. They even gave us breakfast! And then, of course, there were the hosts themselves. Amanda and Randy were incredibly friendly and open to our requests. We didn't have many requests, but when we did they were quick to oblige. It's also worth mentioning that their pets would occasionally wander over to keep us company :) including the chickens! All in all, we had a great time. And we definitely plan on returning! Thanks, Amanda and Randy!
Brandon
2016-10-11T00:00:00Z
We stayed in the cabin for two nights– it's a beautiful, tranquil place. We loved playing with Amanda's dogs and cats on the property, and enjoyed having a glass of wine in the arbor. The hosts also had excellent recommendations for the surrounding area. I almost feel guilty for reviewing the cabin because I'd rather keep the secret to myself. We definitely intend to return
Maura
2015-08-10T00:00:00Z
The cabin was just as pictured and even cuter in person! We received a special welcome both mornings from the property's pets (both the cat and dog we met were very sweet and friendly) and I wish we had been able to stay longer to relax on the front porch and even take a dip in the hot tub... we'll have to wait until next time!! Our favorite aspects of the lil cabin were the clawfoot tub, comfy bed and the working AC! We'd recommend this spot in a heartbeat!
Teresa
2017-03-26T00:00:00Z
What a treat! Staying at Rock Harbor Lodge was such a wonderful experience. Amanda went above and beyond to make us feel welcome and at home and the cabin is absolutely lovely! It was the perfect hill country getaway! We will absolutely be back!
Billy
2015-12-25T00:00:00Z
I had such a wonderful time at Amanda's cabin! My best friends took me there for my Bachelorette party! We made so many fun memories and I left less stressed and ready for this wedding!
Autumn
2016-10-02T00:00:00Z
Rodzaj pokoju
Całe miejsce
---
Rodzaj nieruchomości
Chatka
---
Mieści
4
---
Sypialnie
Boerne, Teksas, Stany Zjednoczone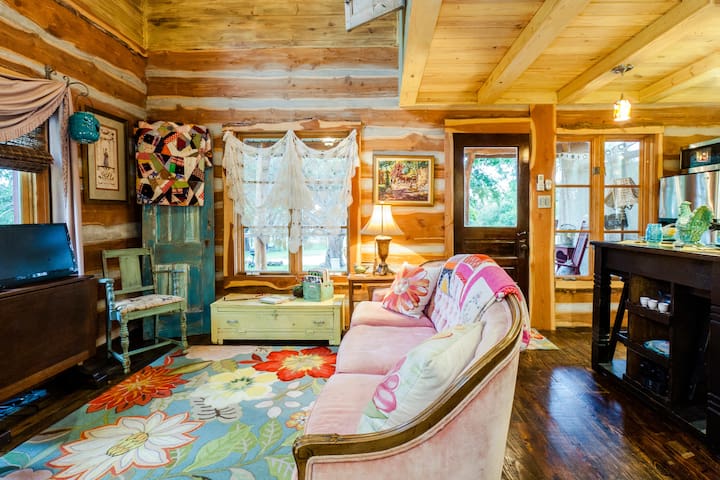 Wpisz daty, by zobaczyć pełną cenę. Obowiązują dodatkowe opłaty. Cena może uwzględniać podatek.