Nestled on the side of Signal Mountain,TN, we are located right in the middle of great hiking, family parks, and minutes to downtown Chattanooga, home to the Tennessee Aquarium (only 6 miles from the house). Take in the beautiful, yet secluded setting of our place that overlooks the City. Our place is good for couples and families (with kids).
Our mountain house is on a quiet street halfway up Signal Mountain. Just a few miles down the Mountain, you'll be in NorthShore for boutique shopping and dining or in Downtown for an endless assortment of fun activities and sights. Just a few miles up the Mountain, you'll find the quaint Town of Signal Mountain with boutique shopping and endless hiking. If you don't care to get out and about, enjoy some quiet time on the balcony overlooking Lookout Mountain, Raccoon Mountain, and the Tennessee River or take a stroll around the neighborhood to find some more spectacular vistas.
A beautiful, quiet view from Signal Mountain. We had small children with us who enjoyed playing with the toys that were made available to us. It was a great weekend getaway destination and we were just a few minutes from downtown where we took the kids to the aquarium. We grilled out and cooked a couple of meals at the house, which was great. Would definitely recommend this for a multi-family trip.
Christy
2017-03-19T00:00:00Z
It was a great experience! They were very helpful and responsive. Their house was beautiful and we loved our time there!
Carolyn
2017-03-26T00:00:00Z
A must place to stay.They were great with communication and helping us out with our kids bedding. A beautiful spot and definitely a place we will stay at again.
keke
2017-02-20T00:00:00Z
Rodzaj pokoju
Całe miejsce
---
Rodzaj nieruchomości
Dom
---
Mieści
9
---
Sypialnie
Signal Mountain, Tennessee, Stany Zjednoczone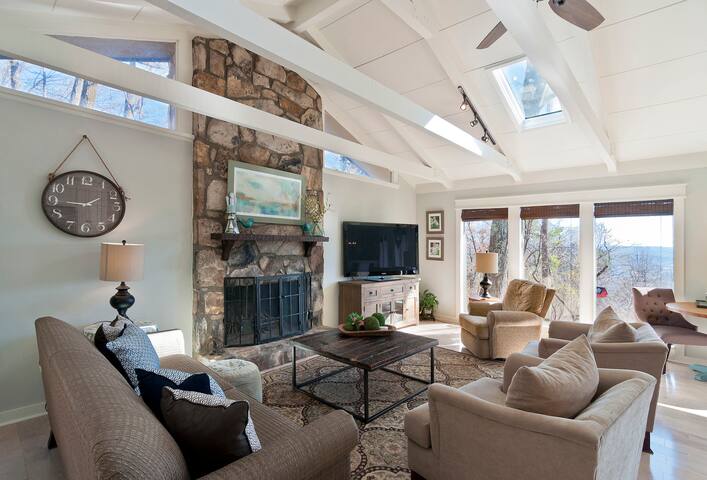 Our cozy 1BR/1BA Cottage is located in a quiet Signal Mountain neighborhood. Minutes from all that downtown Chattanooga has to offer! Take a stroll down on our road to enjoy breathtaking views of the Tennessee River Valley.
Our cute little cottage was recently renovated to provide a small kitchen and a better bedroom space. The kitchen is equipped with apartment size stove top and oven, dishwasher, fridge with freezer, and microwave. You should find everything you would need for cooking and preparing meals! If you don't then just ask! The bedding on the luxurious king bed includes 600 count thread sheets as well as down pillows. The bedroom is equipped with a closet and chest of drawers. The living area is equipped with a sofa bed, cable TV, and WiFi (EPB fiber optics!). It also includes a small eating table for meals or doing work on a laptop. It is a quaint space with a cozy feel!
The guest house is located across the street from the brow. It is easy to stroll down South Palisades to get beautiful views of Chattanooga as well as the Tennessee River Gorge. The neighborhood has frequent runners, walkers, and bike riders traveling by.
A beautiful mountaintop cottage, could not imagine it would be as nice as the pictures but it absolutely was. Katie was super helpful, very little hassle getting in or out, and her recommendations for places to eat/things to do were all excellent. Definitely one of the best Airbnb experiences we've had. Getting up Signal Mountain is very scenic, a beautifully wooded and secluded neighborhood just a short drive from the city center. We were surprised by how much we still wanted to do in Chattanooga by the end of the weekend, looking forward to coming back!
Alex
2016-06-06T00:00:00Z
Katie had everything ready for us when we arrived so checking in was very simple and smooth. The cottage was extremely clean and very cozy, with lots of little homey touches - Katie thought of everything! She offered to turn the lights on for us since we were arriving after dark and even had some fresh flowers in vases around the cottage waiting for us. Everything we needed for cooking (pots, pans, utensils, tupperware, dish soap etc) was all available and easy to find in the kitchen, the fire pit was stocked with wood, and the neighborhood was quiet and had a beautiful view overlooking the valley. There were many guide books and informational brochures in the cottage but Katie also made herself available to offer up suggestions. Everything she recommended that we tried (from hiking trails to swimming holes to restaurants) was just as great as she described it and we were very grateful for her tips and knowledge about the city! We could not have had a more enjoyable time visiting the city, and we'll definitely be back at the cottage next time we're in the area!
Matthew
2016-06-30T00:00:00Z
Katie was available upon arrival and made us feel welcome. She was very accommodating with our pet needs. The cottage was spectacular. Very modern but definitely made you feel at home. We enjoyed the very comfortable king bed and loved the kitchen. She made a great use of space and the décor was spectacular. The neighborhood was very scenic and made evening walks that much better. Definitely plan to return on future trips to this area.
Courtney
2016-07-07T00:00:00Z
Katie made us feel very comfortable and welcome. We loved the cottage. It was even better than in the pics! The linens were exquisite, the furnishings tastefully and usefully arranged, the location quiet and convenient. We will definitely try to stay here again on our next visit to Chattanooga!
Andrea & Deyaa
2016-06-16T00:00:00Z
Such a great cottage! Katie was a very helpful host, with a lot of local knowledge about the hiking trails on signal and the cool spots to see in Chattanooga. The house itself was very cozy and quaint. I didn't do any cooking because I was there just for the weekend, but I easily could have with their great little kitchen. The bedroom was nice and the decor was very cool-antiquey. Bonus points for the tv and cable. The thing I didn't get from the description was how close they were to the bluff, right across the street you can look off the mountain and see all of Chattanooga, very cool indeed. If I come back to Chattanooga, I'll definitely stay here again!
Lawson
2016-02-21T00:00:00Z
Staying here was an amazing experience! I can't wait to visit again. I felt so comfortable and so at home, it was absolutely perfect. Katie and Robert were so friendly and gave me amazing recommendations. Must stay!!
Chloe
2016-05-30T00:00:00Z
Katie was so sweet and accommodating for us! We loved our short stay in the beautiful signal mountain area! The bed was extremely comfortable and she has thought of everything you might need! So cozy and charming! You will love your stay here.
Lauren
2016-02-27T00:00:00Z
Katie and Robert provided an amazing experience for my extended stay in the Mountain Cottage! They are very welcoming, as they had me over to eat time to time and very helpful towards places to go visit. They did a great job making me feel at home during my stay there. This location is about a 12 minute, BEAUTIFUL, drive to downtown Chattanooga where there is plenty of places to enjoy good food and drinks. However, Signal Mountain has plenty of hiking and beautiful scenery itself to explore. I enjoyed my stay on the mountain so much that I have considered making it a full time location. Katie and Robert's hospitality was far beyond my expectations, as well as the cute cottage! I enjoyed every minute I was there and hated to leave!
Katie
2016-04-24T00:00:00Z
Rodzaj pokoju
Całe miejsce
---
Rodzaj nieruchomości
Dom
---
Mieści
3
---
Sypialnie
Signal Mountain, Tennessee, Stany Zjednoczone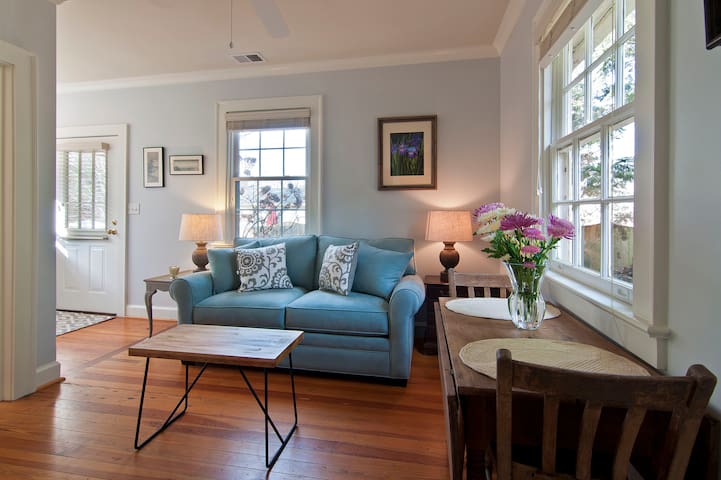 This beautiful 4 bedroom/2.5 bathroom home is located on Signal Mountain and is less than 15 minutes from all the downtown attractions! This mountain home has breathtaking panoramic views overlooking Chattanooga, TN!
This unique beautiful home is perched on the side of Signal Mountain, TN! It has breathtaking views from every room! It also backs up to a wooded mountain face.
Tara was great! Everything was communicated clearly and she was very organized.
Amy
2017-01-01T00:00:00Z
Traveling with an infant and a toddler, this was perfect for us. The space was lovely and kitchen well stocked. Despite being on the side of a moutain, the porches and landings provided plenty of outside play space. The views are breathtaking and the home set up so that guests can easily relax after the kids go to bed. A true gem!
Mary
2017-03-26T00:00:00Z
Our family enjoyed our stay. The home is beautiful. The views and the area are gorgeous. Loved the restaurant suggestions. Kids enjoyed the space and the PlayStation. Was a great and relaxing time. Communication from the hosts was great, timely, and helpful. Thanks for a great and rejuvenating stay.
matt
2016-12-26T00:00:00Z
Lovely modern home. Very clean. We spent a good amount of time on the back porch which has an excellent view of downtown Chattanooga and beyond. It had everything our family needed to enjoy our weekend vacation.
Corey
2017-04-02T00:00:00Z
The owners were friendly and helpful. The home has AMAZING views and is very private. Getting to downtown Chattanooga for meals and outings was simple. The home was immaculate, comfortable, and everything worked well.
Spencer
2016-12-11T00:00:00Z
The house was clean and had everything we needed for a nice little getaway. The wifi password didn't work but that was the only negative out of our entire stay. Overall it was a great experience! I would definitely recommend others to stay there.
Ella
2016-10-30T00:00:00Z
This is a great great house with incredible views of the mountains, and plenty of room for everyone. Super clean and sunny. The owner of the property was at the house ahead of us and gave us a full tour, including the different thermostats, bedding, dishes and how to work the TV. It's literally on the side of a mountain so there are plenty of stairs, but this is also what provides the amazing views. We had to "run to town" for a few provisions at different times, and there's a Wal-Mart about 10 minutes away. Downtown Chattanooga is only 18 minutes, with tons of things to do and great restaurants. I sent a few texts to the owner asking for food and play ideas and got replies back almost immediately. Definitely want to go back!
Rob
2016-10-23T00:00:00Z
This place was perfect !!!
Patta
2016-11-06T00:00:00Z
Rodzaj pokoju
Całe miejsce
---
Rodzaj nieruchomości
Dom
---
Mieści
5
---
Sypialnie
Signal Mountain, Tennessee, Stany Zjednoczone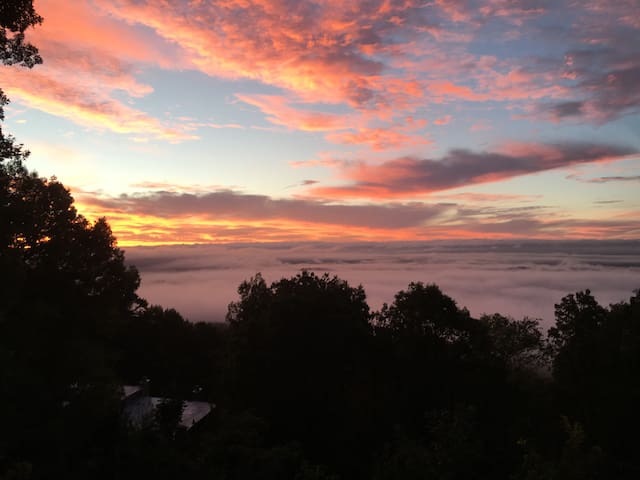 Located in the heart of historic Old Town, the Carriage House is a charming hideaway built in 1934 and fully restored in 2014. A scenic 11 minute drive away from downtown Chattanooga, the apartment is above a detached garage with a private entrance and has 2 bedrooms/1 bath. Waterfalls and overlooks are within easy walking distance. Owners are happy to provide local recommendations to ensure a one of a kind experience.
The Carriage House is a historic, approx. 600 sq. ft., furnished 2 bedroom, 1 full bath apartment built in 1934. This space is large for 2 people, but can sleep 4 with a cozy 2nd bedroom. The apt. is detached from the main house on the 2nd story above a detached garage on a quiet street in historic Old Town. The master bdrm has a unique archway entry open to living room and queen bed with en suite full bathroom. The cozy 2nd bdrm(8'x9') has an antique full size bed. It has 1 parking space and is approx. 12 minutes from vibrant downtown Chattanooga and within walking distance to hiking at Signal Point, Cumberland Trail and Rainbow Falls. It has a new wall AC/Heating unit in living room as well as updated electrical and plumbing. We preserved the original windows, stained pine ceilings, claw foot tub, and built in wall heater in the bathroom. The apartment also has a microwave, mini fridge, 50" HD TV with cable/WIFI(fiber optics), fruit and coffee bar. We include towels, toilet paper, shampoo, conditioner, soap, hair dryer and an iron.
If you like scenic mountain overlooks/waterfalls and historical architecture located close to downtown Chattanooga, you will love staying in Old Town on Signal Mountain.
Matt and Joni are wonderful hosts and made us feel at home in their lovely carriage house. The accommodations were immaculate and comfortable. Their home is located in a historic district just a short drive from downtown Chattanooga. We had a wonderful Italian dinner at The Hummingbird Cafe which is in close proximity to the unit. There is a CVS and upscale grocery store located nearby as well. Signal Mountain is a sweet little town with friendly people. I highly recommend a visit!
Alethea
2016-08-07T00:00:00Z
Matt and Joni's carriage house is adorable and located in a beautiful historic neighborhood. Hiking trails of varying lengths and difficulty are located within just a few minutes' walk; the view over the Tennessee River and valley was spectacular. Driving into downtown Chattanooga only takes about 15 minutes, and Matt has a whole host of restaurant suggestions to share. I'm a stickler for cleanliness, and the carriage house was immaculate. I'd highly recommend the space to couples or small families who are comfortable with sharing an intimate living space and single bathroom. We brought some coffee and a light breakfast, as well as some wine to wind down at night. The coffee pot, mini fridge and microwave make small meals an easy task. If you're looking for a quiet, relaxing spot with access to all the great amenities Chattanooga and its surroundings offer, I can't think of a better place to stay than the carriage house.
Amanda
2016-08-15T00:00:00Z
The apartment, inside and out, is even prettier than in the pictures & very clean. Matt was very attentive and helpful with suggestions for where to eat and what to do and see. We happened to be there for a weekend that one of the waterfalls is open to the public and wouldn't have known about it if Matt hadn't told us. Notice in the photos that the entrance is up a flight of stairs, so be careful with heavy luggage. Also the one bedroom with a door has no window coverings on the beautiful old windows. The parking spot is in the shade, which is very nice in the heat.
Keith
2016-06-08T00:00:00Z
Matt met us when we arrived and showed us around the carriage house. It was really nice and clean. It was exactly as described. It was nice because the host left a list of restaurants that they suggested and close trail information. We especially liked this because it was local places to go, which is what we prefer. We would definitely stay again. It was close to downtown and close to hiking. The area was really nice!
Jamie
2016-04-10T00:00:00Z
Lovely! The Carriage House was charming, very clean and just as described. Matt and Joni gave us some bottled water upon arrival and had a basket with snacks, coffee, etc in the Carriage House for us. The layout was comfortable and family friendly (we have a 5 and 1 year old). We had a wonderful time and hope to return again! Highly recommend!
Molly
2016-07-02T00:00:00Z
The Carriage House was just like on the pictures, comfortable and in mint condition. The house is very well located on Signal Mountain, next to one of the most beautiful hikes in Chattanooga
Martine
2016-05-11T00:00:00Z
We loved our stay here and it was the perfect spot to stay, traveling with a toddler. We will definitely stay here again!
mary allyn
2016-11-20T00:00:00Z
Matt and Joni were terrific hosts - they were there to welcome us and show us around, and made sure we knew that they were available should we need anything. They offered great suggestions about things to do in the area. And, after a long travel day, it was very nice that they had left coffee and snacks for us to find. The Carriage House is adorable - very comfortable and a great place to stay near Chattanooga. We will definitely stay again!
Rachel
2016-02-01T00:00:00Z
Rodzaj pokoju
Całe miejsce
---
Rodzaj nieruchomości
Apartament
---
Mieści
4
---
Sypialnie
Signal Mountain, Tennessee, Stany Zjednoczone
My place is close to the airport, the city center, parks, art and culture, and great views. You'll love my place because you can take it with you. My place is good for couples, solo adventurers, and business travelers.
Rodzaj pokoju
Całe miejsce
---
Rodzaj nieruchomości
Wóz Kempingowy/RV
---
Mieści
4
---
Sypialnie
Signal Mountain, Tennessee, Stany Zjednoczone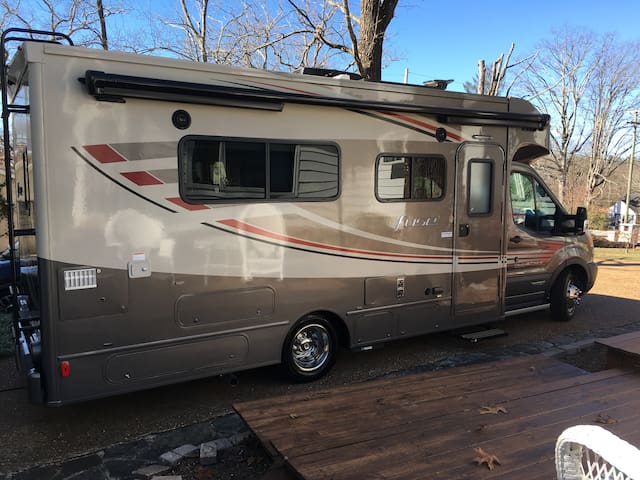 Rachel's Place is a cottage that I remodeled for my mother when she moved here. When her dementia accelerated she could no longer live on her own. She moved into our house with us. I took a lot of time and care to make it special for her. Now I invite you to enjoy Rachel's Place. Everything is brand new. It has everything you need to provide a wonderful and relaxing base for your trip. Signal Mountain is a beautiful little community, once voted the best place in Tennessee to raise a family
Rachel's Place is around 696 sq ft. It has a sun room with windows all around that views a private fenced in yard and woods beyond. The kitchen has custom made cabinets with an island whose top was made from heart pine found during demolition. A open format, living room and kitchen, combined with a cathedral ceiling makes the living area very comfortable. The bedroom is nice and cozy with lots of light and a large closet. The Bathroom is handicap accessible with grab bars around the shower and toilet. The toilet is also handicap in that it higher that a normal toilet. The shower is tile with a seat. The sidewalk, entry, and all floors are all one level, no steps. The heating and air conditioning is a through the wall heat pump. There are ceiling fans in all rooms except the bath. A large screen TV w/roku including Netflix, Amazon Prime, MLB for baseball lovers and several others for your entertainment. The fenced private yard has a gate that you can close and latch for your precious children or pets to have some freedom to roam without worry. The drive is private with two parking spaces that are free. If any problems arise we will be immediately available to make sure your stay is a pleasant experience.
We've stayed at several Airbnb's while visiting our daughter who lives in Signal Mountain. For us the location of this one is the best because it's only a few minutes from her house. Communication with Jerry was really easy. Although we didn't see him when we arrived he provided us the information to access the house before we got there. We prefer the privacy provided by having a whole house to ourselves so this met that requirement. The house was spotless which is another thing I look for in an Airbnb. The kitchen is very large and up-to-date and had all the appliances, dishes and cookware that you'd have at home. There was a welcome basket loaded with tasty treats which was a really nice touch after a long drive. The house is completely handicapped accessible, something that's fairly rare in most Airbnb's. He was genuinely interested in having suggestions about how he could improve his place since he just started renting it. This was the 6th Airbnb we've stayed in on and near Signal Mountain and I'd rate it as one of the best. It's private and not in the host's house so we didn't feel like we were intruding on someone else's space and it's a comfortable place to return to after a long day. We'll be staying here again.
Ronald
2016-06-28T00:00:00Z
This was our third stay so I think I can say that we really like this place. For us the privacy of a whole house is important, but besides that, this has what we want in an Airbnb. It's one of the cleanest places we've stayed in. Every time we go Jerry has added a little something new. This time it was a Keurig coffee maker which makes it really easy for us to get a fast cup of coffee in the morning. He always puts out a basket of snacks on the counter in the kitchen and a case of bottled water in the refrigerator. As I told him on this visit, it's the little things that make this stand out from all the others. We'll be back next month!
Ronald
2016-10-23T00:00:00Z
We've stayed here many times because it's close to our daughter's house, but it's also our favorite place. It has everything we need and is almost as comfortable as being home. Every time we go there's something new. This time Jerry had added a night stand to the other side of the bed because I had mentioned that we liked to have one on both sides! Another great stay. We'll be back.
Ronald
2016-11-20T00:00:00Z
Rachel's Place was perfect for my husband and I during our Thanksgiving week in Signal Mountain. So close to our daughter and family, and just the right amount of distance away to take a nap in the afternoon!
Tori
2016-11-28T00:00:00Z
Myself, my wife, our 6 month old baby, and my sister-in-law stayed here at Rachel's place for a week. We loved it! Jerry and Debi were very welcoming. Jerry was able to show us around the house a bit when we arrived and there was fresh fruit and a basket of treats waiting for us when we got there. The house was very clean. It worked great for the 4 of us. We only had 1 or 2 questions while we stayed there and Jerry was very timely in his response. We have family about 30 minutes away that we were visiting from out of state. We will definitely look to rent from here on our next visit.
lucas
2016-09-18T00:00:00Z
This was our second stay here. It's convenient for us because it's only a couple of minutes from our daughter's house. Since the house was recently renovated it's very clean with new paint everywhere. For this visit Jerry had just replaced the bed with a new one so now the bed is fresh and probably the most comfortable one we've had at any Airbnb. There are always snacks on the counter and fresh fruit and a case of bottled water in the refrigerator. We'll return.
Ronald
2016-08-05T00:00:00Z
Cute, clean and convenient to everything. Felt like home with the kitchen and yard. Very comfortable beds and nice tv.
Michele
2017-03-31T00:00:00Z
My husband and I loved our stay. Jerry and Debi are the nicest people we have every rented a vacation rental from. They welcomed us and our four legged children with flowers and treats. The cabin has everything you need and the back yard is so peaceful. We would recommend this cabin to anyone needing a place to stay in Signal Mountain or anywhere near Chatanooga.
Catherine
2016-08-04T00:00:00Z
Rodzaj pokoju
Całe miejsce
---
Rodzaj nieruchomości
Dom
---
Mieści
4
---
Sypialnie
Signal Mountain, Tennessee, Stany Zjednoczone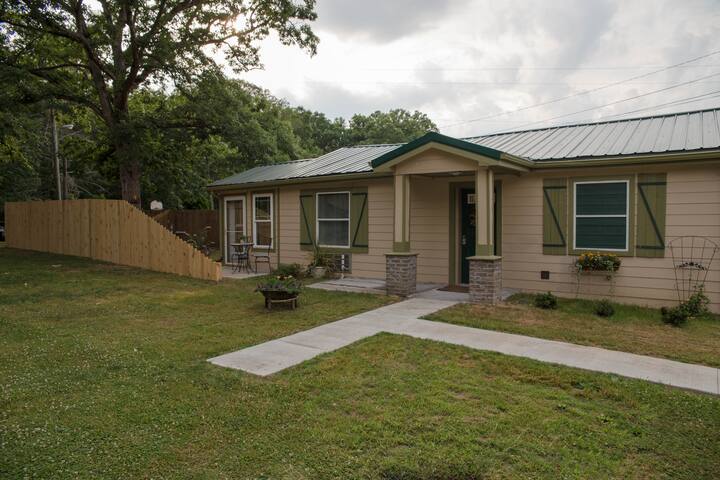 Amazing bluff view overlooking state forest. Spacious, clean bedroom and private full bath. Perfect space for Vacation, Staycation, or conducting business in Chattanooga. Delicious full breakfast with homemade jellies and homegrown honey.
With a spectacular view, the space is upstairs in our home; it has one queen bed, and love seat, sleeps 2. There is a very nice, large private full bath attached. HD cable TV in room with free Netflix, refrigerator and microwave.
Normally, when you step outside our home you hear birds singing and smell fresh clean air. We are on Signal Mountain and it is usually about 8 to 10 degrees cooler in our woods than it is in Chattanooga or surrounding areas.
The only reason I would not recommend this place is so they might be less likely to be booked when we want to go back! Everything was fantastic! Great, isolated, peaceful location that's still nearby to the city. Spectacular view, just as pictured. The room is clean with tasteful, elegant finishing throughout, as well as fast WiFi. Our hosts, Connie and Stewart, were extremely thoughtful and attentive. They made a full, delicious breakfast complete with homemade biscuits and honey right from the apiary out front! They also were ready with fun and useful recommendations for food and activities in the surrounding area. Everything was well thought out and all ready for us before we even arrived. Very friendly, helpful, and interesting people, they were there to talk or interact when we needed or wanted, and left us alone when we didn't. I'd be surprised if you can find a better deal or better experience than this anywhere around the Chattanooga area.
Komariah
2016-10-23T00:00:00Z
This is a great space and a wonderful getaway without being too far from downtown Chattanooga. The scenery is beautiful and Connie and her family are a joy to interact with. The space is very clean and private (as well as a private bath connect to the bedroom) Connie is very accommodating and breakfast every morning was great! I look forward to my trip back in the fall.
Rebecca
2015-07-22T00:00:00Z
This was my first AirBnB experience and, wow! Connie and Stewart have set the bar high. Their spacious and immaculate home sits on top of Signal Mountain, near Chattanooga and has wonderful views. Connie met me on the main road and led me the rest of the way to their mountain paradise. Upon entering the home, the huge picture window in the living room with gorgeous views of the mountain landscape is the first thing I was struck by. Then I was greeted by Bubbles, their sweet, calm dog. As an animal lover who is missing her pets on this long trip, their 2 cats and 2 dogs lifted my spirits. They're mostly outside and not in the way at all, for anyone who is not as enthusiastic about animals as I am. I actually went out back to the spacious deck by the pool to eat breakfast and spend time with the kitties. The WiFi is FAST and while the atmosphere was relaxed and friendly, the accommodations were luxurious. I had bottled water and fresh cut flowers waiting in my room and they considered every detail for their guests (like soap and shampoo). The walk-in closet in the bedroom is amazing and the mountain air was great for sleeping. While dinner doesn't come with the package, Connie took pity on me after a long day of driving and being hesitant to venture out in the dark, and offered me a delicious pasta dish. I was able to get a load of laundry done as well. Everything is set up with the guest in mind, and it was heaven to this weary traveler. I'm looking for a place to relocate and both Connie and Stewart were very helpful in their knowledge of the area. If you're in the Chattanooga area, I highly recommend that you stay with Connie and Stewart.
Merri
2016-03-19T00:00:00Z
Connie and her family really know how to treat their guests. From meeting you outside of their neighborhood so you don't get lost, to having lists and reviews of all the things they love in the area and neighboring areas (attractions, bars, hiking trails, nightlife, hot dinner spots, etc.), to waking up to a 5-star breakfast (cooked by the one and only Connie) they go above and beyond in every way they possibly can. The view from their home is amazing and they even have their own private waterfall you can hike to. The second you walk in the door you feel like family and I would stay here time and time again if I ever get the chance to go back to Chattanooga.
Lindsey
2017-01-16T00:00:00Z
Connie sent directions ahead of time, definitely follow those instead of the GPS or else you will end up on a steeper mountain road. She drove to the end of the road to meet us and let us in to the gate! We were greeted with homemade treats, and a tour of the house, what to do nearby, etc. The property was so beautiful we did not want to leave all night! Sunbathed on the deck by the pool, had food delivered to the front of the gate, and watched Netflix in bed all night! She was kind enough to give us disposable plates, napkins, etc. for our dinner. The mini fridge with a small freezer was definitely a plus, along with the abundance of hot water in the bath. We also woke up to an amazing breakfast!! We did not feel (EMAIL HIDDEN)munication was wonderful, as Connie was available/ responsive all day and night via message! This air B and B was amazing overall.
Lori
2017-04-09T00:00:00Z
Amazing! Connie and Stewart made us feel right at home from the moment we arrived until we left for home. They shared with us great things to do and see in Chattanooga and the surrounding area and their suggestions were right on! This was our first time using Airbnb and Connie made it AWESOME! After a day of hiking my husband loved coming back to jump into the pool! Connie was even gracious enough to make us breakfast, THANK YOU! Sophia and Lilly, thank you for sharing your bee keeping experiences with us and for the honey! We will definitely think of all of you every time we open our jar! Thanks again for sharing your home and experiences with us! We look forward to visiting again!
Jodi
2016-05-31T00:00:00Z
What a fabulous place to stay. It was way more than expected. Beautiful home with gorgeous views. Very clean and cozy. Fantastic breakfast with honey that Sophia and Lilly made. Will definitely stay there again! Family was so friendly and accommodating .
Gerry
2015-11-08T00:00:00Z
Connie was fabulous and the accommodations were wonderful! Please stay at this delightful, beautiful Air B&B!
Stephanie
2016-05-23T00:00:00Z
Rodzaj pokoju
Pokój prywatny
---
Rodzaj nieruchomości
Dom
---
Mieści
2
---
Sypialnie
Signal Mountain, Tennessee, Stany Zjednoczone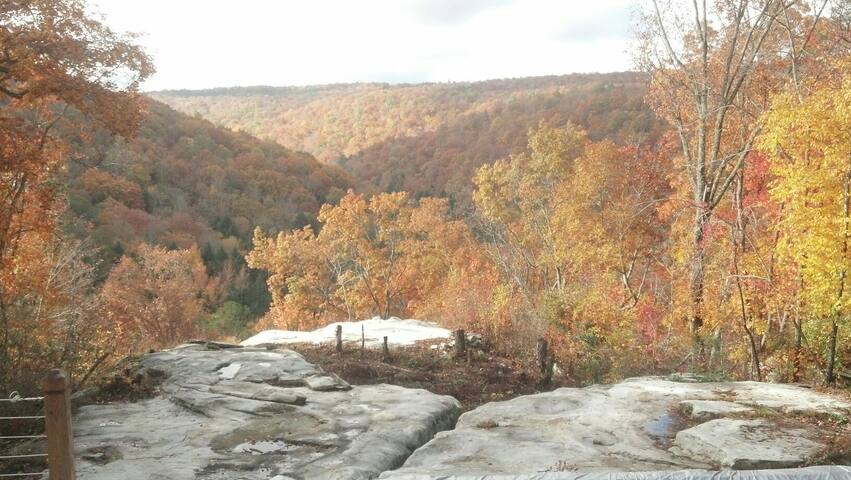 Dom jednorodzinny podzielony na dwie przestrzenie. Wynajmij je obie i mieć cały dom. Instrukcja przestrzeń jest na dole, gdy cały dom jest wynajmowane. Sprawdź kalendarze dla "3 pokojowy apartament" i "Signal Mountain Apt, kuchnia z pełnym wyposażeniem", aby mieć pewność, oba są dostępne. Następnie skorzystać z tej oferty zamówić obydwa pomieszczenia w tym samym czasie.
Tylna część domu jest prywatny klaster 3 pokoje: sypialnia, łazienka i aneks kuchenny / LR. Jest zamykane drzwi na tym obszarze. Jest tam telewizor, kanapa, krzesło, stół do śniadania, pełne lodówka / zamrażarka, kuchenka mikrofalowa, zlewozmywak, naczynia i sztućce. W sypialni znajduje się łóżko małżeńskie. Główną część domu posiada sypialnię z łóżkiem małżeńskim i łazienką po drugiej stronie korytarza z dużą, wanną oraz prysznicem. Jest jadalnia, pokój z inną TV, jak również w pełni wyposażona kuchnia z granitowymi blatami.
Signal Mountain jest piękny mały obszar miasta z wszystkimi wygodami w pobliżu, ale jesteś w stanie wycofać się z powrotem do natury. Istnieje wiele szlaków turystycznych w górach.
The home was as pictured with the exception of not knowing Susan lived below the floor being rented. Although we did not see her often, it still felt a bit like walking on eggshells. There was also lots of work being done on the house so mornings were pretty noisy, machinery and workers. (I did tell Susan we would be gone all day and that changed last minute to only half the day everyday so wanted to note that). She was very kind and allowed a late check out. Biggest thing to note- Warning to anyone who may use the door in the back living area with the small kitchen- the drop down is about two stories. There was not any type of warning on the door and there definitely should be. One of my coworkers almost used that door at night to keep from waking others up, thank god he didn't.
Brittany & Matt
2016-06-13T00:00:00Z
Rodzaj pokoju
Całe miejsce
---
Rodzaj nieruchomości
Dom
---
Mieści
4
---
Sypialnie
Signal Mountain, Tennessee, Stany Zjednoczone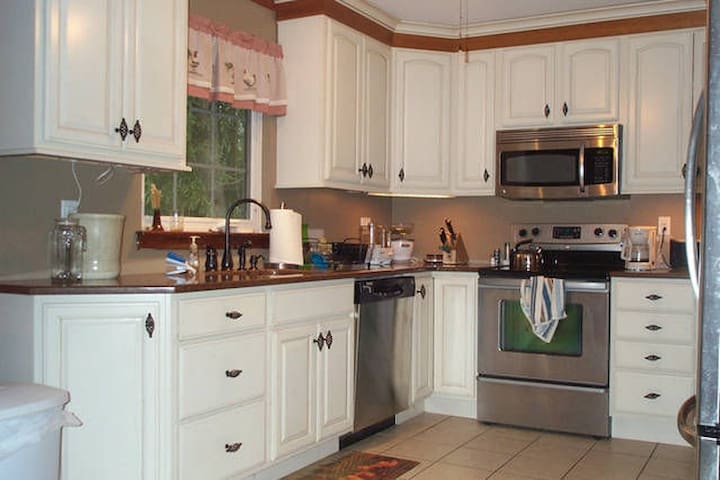 Three separate rooms joined by a commons area with a TV. Upstairs in lovely older home in Old Towne, Signal Mountain, just minutes from all in Chattanooga. Breakfast included, scheduled at your convenience. Friendly folks who will welcome you. Check out is 11:00am. If you are considering booking this space, the sooner the better. If one of our rooms is booked for a date, then the "Three Separate Bedrooms with a Common Area" is not available since one of the three rooms is rented. Thank you.
Mamy talię 1100 stóp kwadratowych na podstawie 100-letniego dębu, który masywnej questy swobodnie korzystać!
Stare Miasto Signal Mountain to najstarsza dzielnica pierwotnie używane jako letni wypoczynek w pobliżu Chattanooga. Dla turystów, mamy stykają Prentice Cooper Park z tras, które mają yo do parku.
Wow! What a beautiful house in the mountains! The rooms were neat and clean! Our hosts were wonderful and very helpful! We very much enjoyed our stay!
Lisa
2016-06-11T00:00:00Z
Doug and Sally were very friendly and helpful. They provided a delicious breakfast, and wine and cheese on the large deck out the back of the house when we arrived. The house was in a good location on Signal Mountain, and there was plenty of room. The only problem for us was that both bathrooms are en suite, so people in the third bedroom need to go through one of the other bedrooms to access a bathroom. This would not be a problem for a family, but was inconvenient for our group of adult couples.
Kathy
2016-09-27T00:00:00Z
Our family stayed for a stopover on a road trip. The setup was perfect for our family of 7. Doug greeted us upon our late arrival. We got a good night of sleep and awoke to a great breakfast, coffee, and good conversation with Sally and Doug. Would stay there again in a heart beat.
Susan
2017-03-31T00:00:00Z
Thank you so much for housing our group! Your home is beautiful!
Kelly
2016-08-29T00:00:00Z
Doug and Sally were lovely people and made my dad, friends and I feel very welcomed! Just a fair warning this location is high up on a mountain so please be careful and take your time heading up. The description of the home does not do it justice, the home is beautiful and the neighborhood is peaceful, with a small town feel. There is a restaurant around the corner of this home that is classy and has fairly good Italian food. The breakfast in the morning was made and kept warm..very good! The rooms were fairly clean and VERY spacious. Beds were comfortable and there is ample living space and beautiful outdoor areas including a large deck, firepit, small field area for outdoor games, hammock, garden area, and I believe I saw a grill. Overall we were there just for the night and we wished we had more time to spend in the house. Fantastic quiet and comfortable stay...highly recommended, but only if your car can make it up this large mountain!
Natalie
2016-06-12T00:00:00Z
Doug and Sally were gracious hosts who immediately had us feeling welcome and at home. The beds were comfortable and we slept wonderfully, all seven of us. There was plenty of space for us to relax in and the children enjoyed watching the history channel. We had a lovely breakfast and enjoyed sharing stories with Doug and Sally. We also enjoyed Fluffy the puppy immensely. The back deck and yard are beautiful and private. Overall we had an amazing first Air b&b experience. It far surpassed our expectations. Thank you Doug and Sally for your loving hospitality and for sharing your home with us!
Jessica
2016-09-03T00:00:00Z
The house was exactly as described. Doug and Sally welcomed us warmly and made sure we were comfortable. The flowers and the card to welcome us on the table added to their warm welcome! They asked us about what we wanted for breakfast a day before and were sure to have a vegetarian meal for us.
Shreya
2016-05-16T00:00:00Z
Sally and Doug are amazing hosts. They were flexible, caring and just darn nice people! We can't wait to have another reason to stay on Signal Mountain with them!!!
Sara
2016-10-09T00:00:00Z
Rodzaj pokoju
Pokój prywatny
---
Rodzaj nieruchomości
Wikt i opierunek
---
Mieści
8
---
Sypialnie
Signal Mountain, Tennessee, Stany Zjednoczone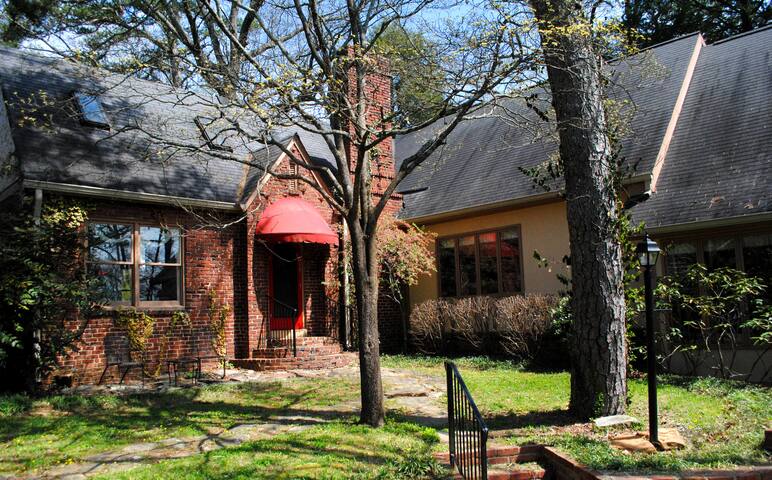 The Signal is a 1br 1 ba guest cottage that is eclectic and funky, private and quiet. It's a hip space on a traditional street atop Signal Mountain. Why stay anywhere else?! It's a perfect retreat yet only 15 minutes from downtown Chattanooga!
The Signal is a bohemian retreat with a cool vibe. It has quirks and character and so perfect for creative types. Sit on the newly built front deck and breathe in fresh mountain air. Be inspired. Rest. Explore The Signal stays cool in summer with old school window units and toasty in winter with floor heaters. The kitchen is decked out with an awesome high/low mix of dinnerware and cooking gadgets. More than likely you'll be instagramming the heck outta whatever you eat off of or cook in! Sit back and enjoy Apple TV or listen to records as you enjoy mountain living. It's a whimsical space with luxurious details plus down home mountain sensibilities that's perfect for a romantic getaway, a creative retreat or a launch pad to your Scenic City Adventures. The Signal comes stocked with an Honor Bar for your snacking+drinking pleasure Be at one with nature- in the mountains on the mountain. Go Glamping. Find your Signal.
Signal Mountain is quiet and charming with beautiful views and great outdoor recreation such as hiking and biking. It's the best spot in Chattanooga!
My wife and I loved our experience at the Signal! Ashley has created such a stylish space and thought of everything to make her guests feel both comfortable and taken care of. Complimentary cookies on arrival were delicious, other snacks and drinks were available on an honor system--she even left us 3 fresh eggs to enjoy for breakfast on our first morning! We took her advice on a restaurant and we were not disappointed. We talked about the chic furnishings of the Signal for almost our entire weekend. Our stay here made our time in Chattanooga memorable and we hope to book this Airbnb again in the future. Worth it!
Joshua
2016-04-11T00:00:00Z
Ashley made us feel at home during our stay! When we first arrived she gave us a little tour of the cottage and showed us places that we could visit for the best food and shopping in town. She even had welcoming gifts for us. She is truly a great host. As for the cottage it was beautiful and very unique. Ashley does her best at making you feel like your at home. Thanks For the wonderful experience Ashley , we'll definitely be returning some time soon!
charlisa
2015-10-24T00:00:00Z
Ashley was the consummate host, and everything about The Signal lived up to and beyond expectations. The place was immaculate and as charming as the pictures show. The record player with a nice collection of vinyl was the perfect touch our first night when we made dinner, and the kitchen was fully stocked. Ashley even saved me by providing a lemon and olive oil that I forgot to pick up with the asparagus, to give you an idea of what a thoughtful host she is. The location is on top of Signal Mountain which is ideal for a variety of hiking adventures all within the immediate area. Ashley also recommended the Hummingbird Pastaria, down the street from her house and it was fantastic (get the Carbonara, trust me). I can't say enough of how great a spot this is and how excellent a host Ashley was for us. Looking forward to a return trip soon!
Tim
2016-07-07T00:00:00Z
Excellent! Charming! Wonderful! I had a relaxing time staying at The Signal. Ashley was a wonderful hostess. The cottage was perfect. I will definitely be returning. The personal touch with the welcome notes and cookies were a welcome sight after a long drive. I will be recommending this place to my friends. I think I have found my favorite mountain getaway. Thanks for everything. You and your precious son made the visit unforgettable.
Kay
2015-07-09T00:00:00Z
We thoroughly enjoyed our stay at Ashley's unique little cottage. It was the perfect solution for our sleeping needs while we had a large family gathering at our daughter's home about a mile and a half away. This is a great place to stay in Signal Mountain, especially to enjoy all the outdoor hiking and scenery! I would recommend "The Signal" to all. Ashley was a very gracious hostess and even provided some yummy Brownies to enjoy during our stay
Karen
2016-08-22T00:00:00Z
Ashley is a great host. She did everything to make us feel comfortable in her beautiful guest cottage. She welcomed us with cold drinks and cookies and beautitul fresh flowers in the apartment. Following her hints we quickly found everything we needed in Signal Mountain. This is a wonderful place to relax, it's calm but full of (SENSITIVE CONTENTS HIDDEN)ing birds, sprightly squirrels and playful rabbits and only 20 minutes from Chattanooga. We really enjoyed our week in Ashley's apartment. It is clean, well equipped and nicely furnished. We hope to have another chance to come back again.
Christian
2015-04-25T00:00:00Z
My second trip to The Signal. Such a perfect little spot in the mountains. Ashley has such great taste. The cottage is cozy and stylish. Love the addition of the turntable with a great selection of music as well as the "mini bar". And who could argue with the giant Valentine's Day cookie she left for me? Another great stay.
Stefanie
2016-02-15T00:00:00Z
My husband and I absolutely loved Ashley's cottage. I would love to spend a week there! Ashley was such a welcoming host and made us feel at home. We loved all the furnishings and wonderful drinks and treats she had waiting for us.
Kimberly
2015-08-03T00:00:00Z
Rodzaj pokoju
Całe miejsce
---
Rodzaj nieruchomości
Dom
---
Mieści
2
---
Sypialnie
Signal Mountain, Tennessee, Stany Zjednoczone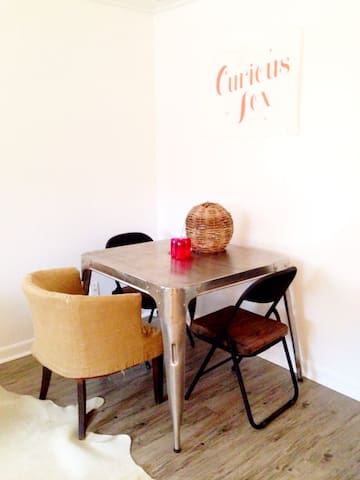 Located on top of beautiful Signal Mountain. Great restaurants,hiking,and history. Not far from downtown Chattanooga,or Lookout Mtn.
Private no pets
Love the mountain view,and the history of the mountain.
Rodzaj pokoju
Całe miejsce
---
Rodzaj nieruchomości
Wikt i opierunek
---
Mieści
4
---
Sypialnie
Signal Mountain, Tennessee, Stany Zjednoczone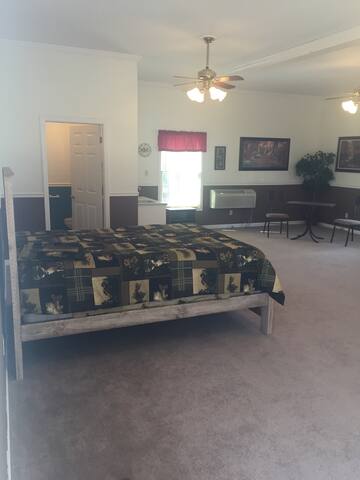 Pricing includes all local taxe(URL HIDDEN) Pet fees of $35 per pet, are extra. A payment request will be sent to you after you make a reservation. Maximum pets is 3. Sleeps up to 12 people Trail's End log cabin is a large, comfortable four (4) bedroom, three (3) bath on top of Signal Mountain, TN and is only 12 mile to downtown Chattanooga. It is out in the country, quiet, wooded and rural at the end of the trail. 2 night minimum Pet fees are extra
Pet fees of $35 per pet, are extra. A payment request will be sent to you after you make a reservation. Maximum pets is 3. Trails' End Log Cabin is a huge comfortable cabin on top of Signal Mountain, TN. Only 12 miles to downtown Chattanooga. It is at the end of a gravel trail where it is quiet and rural,wooded and rural. This large four (4) bedroom, three (3) bath, two story log cabin has a open floor plan with over 3000 sq ft. Easily accommodates twelve (12) guests. Covered porch includes eight (8) rocking chairs to relax in. Rain is never wanted on vacation but oh is it nice on the porch in a rocking chair… The main level features a open kitchen / dining room / living room / laundry room / full bath / sitting room and a large master bedroom with it's own private bath. Master includes a king size bed, armoire and a chaise lounge. 34′ TV with DVD player. Upstairs has three (3) bedrooms and a large family room. The Sunshine room includes a full size bed, desk and 24′ smart TV. The Bunk room has a bunk bed with full on the bottom and twin on the top. The Fishing Room features a queen bed, twin bed and a 24′ smart TV. Get your Ping Pong game ready! Large family room has a ping pong table, 50′ TV and a queen pull-out couch. Bug boxes, children's books, flashlights and playstation are stocked for your enjoyment. We just ask for you to use nicely and leave for all to enjoy! A huge covered porch with rocking chairs to overlook the level back yard that backs up to the woods of Prentice Cooper State Park. Take a short stroll from the back deck and sit around the fire pit in the woods. Bring your S'mores fixin's, lots of memories to be made! There is basic cable and Internet is provided. Bring your Netflix password and your HDHI cable if TV entertainment is important to you. Lots and Lots to enjoy in Chattanooga! And you will always be able to say you have met Boscue the Rooster, our Trail's End celebrity. The neighborhood is rural and typically southern and a cultural experience. Enroute you will see a mixture of mobile homes, RV's, abandoned cars, boats and maybe even some cars up on blocks. This is typical of the south and this is our most popular property for large families. You will probably also be able to say you have met Boscue the Rooster, our Trail's End celebrity. In addition to Air bnb's terms and agreement you also will be expected to sign a rental policy and agreement that covers our companies terms and conditions of rental. This agreement protects you as our guests, our property owners and our company. The Chattanooga, TN-GA Metropolitan Area, is an area consisting of six counties – three in southeast Tennessee (Hamilton, Marion, and Sequatchie) and three in northwest Georgia (Catoosa, Dade, and Walker) – anchored by the city of Chattanooga. Tn lic # 451 All (SENSITIVE CONTENTS HIDDEN) properties #s : (PHONE NUMBER HIDDEN). Features and amenities Full kitchen Four bedrooms and three full baths King master bedroom and bath Full bed second bedroom Third bedroom has a bunk with a full bed on the bottom and a twin on the top Fourth bedroom has a queen and a twin Patio or indoor dining Beautiful woods No Smoking
My family and I had a wonderful stay at the Signal Mountain cabin. Large enough for a big family. Plenty of out door and indoor play for the kids and clean home. We are hoping to make this an annual trip!
Lindsey
2017-01-02T00:00:00Z
Our crew of 8 really enjoyed our time at Trail's End. The property was so peaceful and we felt like we never wanted to leave. The home was very clean and stocked towels, soap, dishes, etc. The ping pong table was real a hit! We'll definitely come back!
Brad and Jen
2017-03-19T00:00:00Z
The host canceled this reservation 156 days before arrival. This is an automated posting.
Janice
2016-06-22T00:00:00Z
Rodzaj pokoju
Całe miejsce
---
Rodzaj nieruchomości
Chatka
---
Mieści
12
---
Sypialnie
Signal Mountain, Tennessee, Stany Zjednoczone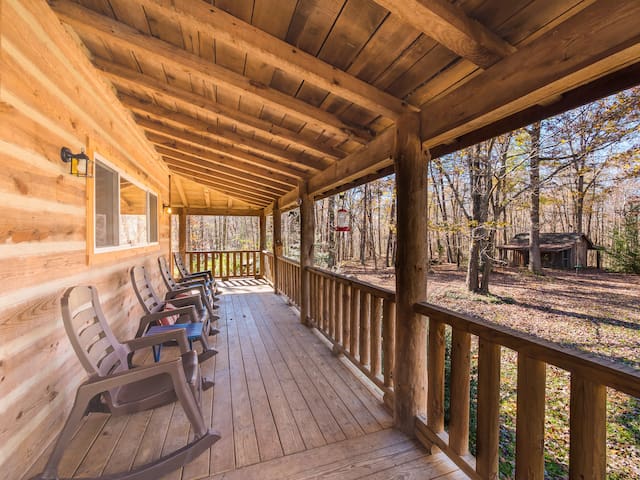 Cottage on signal mountain in the heart of "Old Town"
Rodzaj pokoju
Pokój prywatny
---
Rodzaj nieruchomości
Dom
---
Mieści
2
---
Sypialnie
Signal Mountain, Tennessee, Stany Zjednoczone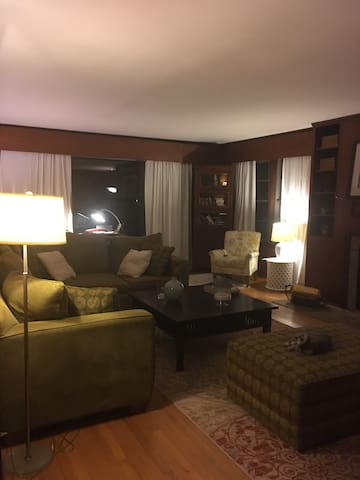 Private cluster of 3 rooms: bedroom, bath, and kitchenette/LR. Enter thru shared front door, straight to hall, to lockable door to your private space. TV, couch, recliner, breakfast table, full fridge/freezer, microwave, sink, dishes and silverware.
Bedroom with Queen Bed, TV, and attached bath with shower. Across the hall is your private sitting room with full-sized refrigerator, microwave, toaster, breakfast table and TV area that includes a loveseat, recliner, and 32" LCD TV with cable. Room to spread out! Rental includes free wifi Downtown is only 20 minutes away (down a curvy road) with great shopping and dining and its many attractions: the Aquarium, Tivoli Theater, water park, Chattanooga Choo Choo, Hunter Art Museum, Walking Bridge across the Tennessee River, a Railroad Museum, Children's Museum, Antique Carousel in Coolidge Park, Southern Belle Riverboat and River Gorge Explorer riverboat. Visit Lookout Mountain and its attractions, Rock City, the Incline Railway, Ruby Falls, and hang gliding over Lookout Valley, or visit Raccoon Mountain and the city reservoir nestled at the top. Fantastic outdoor rock climbing sites abound nearly everywhere. My house is on Signal Mountain, located across the street from the edge of the mountain. Along the main road, stop at scenic views of panoramic view of Chattanooga and the Tennessee River snaking its way through the mountains. Visit the many parks on the mountain and hike the trail from Signal Point to Edwards Point, if you can! I have two small dogs, one is a non-shedding type (a yorkie) and the other sheds very little (a long-haired dachshund). The dogs do not have access to your space.
Signal Mountain is a lovely small town area with all conveniences nearby, but you are able to retreat back into nature. There are also many hiking trails on Signal Mountain.
I'm a first time Air BNB user and will definitely say, it won't be my last because of how gracious and welcoming Susan made my Mom and I feel during our visit. The views from her place were spectacular and her lovely pet, "Nutmeg", made it perfect for my Mom, who's a lover of animals. What else can I say but "thanks" Air BNB and Susan for making our first use of your services, "fantastic"!!!
larry
2013-09-20T00:00:00Z
Susan (and Nutmeg!) were wonderful hosts. The rooms that were provided for us were very private, spacious, and tidy. Everything we could have wanted was right at our fingertips. Susan left us a well-stocked fridge/freezer with a great breakfast. She also provides access to a wonderful private park right across the street. It features modern sculptures, extensive beautiful landscaping, private nooks, and a beautiful series of terraces that wind down the slope offering great views of Chattanooga and the valley below. Our stay was excellent!
Beth
2013-10-06T00:00:00Z
The listing was as advertised and the room next to the suite really made for as private a feel as you could get with it being in the same house as Susan. The neighborhood was fantastic with high end properties and a safe atmosphere all around. Panoramic views of the river and Chattanooga...what more could you ask for?
Andrew
2014-07-08T00:00:00Z
My son and I had a wonderful stay at Susans. Accommodations were perfect!! We loved exploring the park across the street and our dog had fun playing with her sweet little puppy Magnolia! We would love to stay again next time we visit Chattanooga. Thank you!!
Jayme
2015-01-03T00:00:00Z
My wife Thyrsie and I enjoyed our stay with Susan on Signal Mountain. Susan was a great host. Susan's home is located in a quiet neighborhood across the street from a bluff-side private park with beautiful flowers, shrubbery, and a spectacular view of Chattanooga and the Tennessee River valley. We were blessed to catch the flowers in full bloom. The accommodations were exactly as described in her listing. The bed was very comfortable and the adjacent sitting room made for a nice place to relax. Susan provided a variety of breakfast foods including blueberry muffins. Her two dogs, Nutmeg and Magnolia, are very friendly and a joy to be around. A door separates the guest suite from the home, so the dogs were rarely seen or heard. Our stay with Susan passed much to fast. We look forward to other visits in the future.
Mark
2015-04-27T00:00:00Z
Arrived at Signal Mtn. Suite on Friday. Nice place and the most beautiful gardens across the street. Our host Susan was friendly and answered any and all questions. The neighborhood is very beautiful. She had stocked the fridge for us for breakfast and had made a wonderful fruit salad. We enjoyed our stay. We went to Signal Mtn. Park just down the road. The views were spectacular! She had the cutest dog named Nutmeg! Enjoyed our stay and enjoyed Chattanooga.
Gail
2014-04-28T00:00:00Z
I was traveling with my husband and 11 month old to visit the mountains. I found Susan's place to be perfectly safe, spacious and conviniently located. The place was quiet and the scenery in the garden in front is very nice. We didn't get to meet her but we did meet her friend who left us the keys and refill our breakfast supply for our second day. You are able to use the kitchen but we took advantage of the privacy of the room and make breakfast there, with the supplied bacon, eggs, milk, etc... The bed was really comfy and there is one of those memory foam pillows that left me wanting one for myself! If you have a sedan or low car, becareful going down into the garage becuase it can scrape the bottom of the car. This was our first airbnb booking and we were very happy with our experience at Susan.
Catherine
2014-07-19T00:00:00Z
Our short stay of one Sunday evening was a perfect way for Margie and I to "break up our drive" on a return travel through Chattanooga. Arriving at Susan Nelson's at dusk, we were a little exhausted and quite pleased to find such a comfortable sitting room in addition to the ample bedroom. Susan greeted us very nicely at the door and showed us to our suite of rooms, complete with plenty of goodies in the refrigerator. We snacked that evening and next morning also. Delicious nut bread! Next morning we explored the views on the walking path which is immediately across a quiet street. We want to come back and experience this path in the spring since all sorts of native plants have been landscaped throughout and are well tended on the expansive hillside. Susan has a beautiful place to live and it is so nice that she opens up her house and allows people to enjoy the full experience of this lovely mountain top setting. And not to forget her dog, Nutmeg (I believe is the name), he was so friendly and mild mannered and very smart. We could not have had a better overnight stop on that Sunday evening. And just for everyone's information, it was perfectly neat and clean as one might expect. Thank you for such a pleasant stay, Susan!
Larry
2013-10-29T00:00:00Z
Rodzaj pokoju
Pokój prywatny
---
Rodzaj nieruchomości
Dom
---
Mieści
2
---
Sypialnie
Signal Mountain, Tennessee, Stany Zjednoczone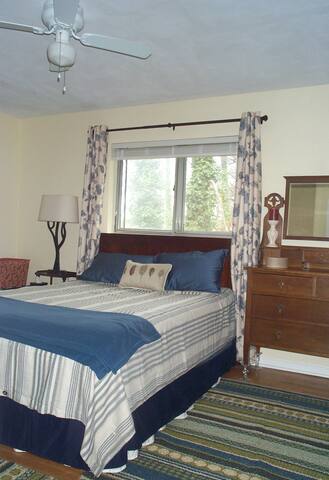 Morning sun bathes you in a warm orange glow as you wake to an indescribable eastern view over our beloved city below. Romantic for two, or practical for a family with kids, this is our family home. We love to travel the world as we open our home to share with responsible guests while we are away. Our home is located in a small, quiet family community overlooking Chattanooga, providing a beautiful and quiet place to stay.
We designed this house to make the most of the property with amazing views from the main living spaces. The kitchen was designed by and for a cook (my wife) with just about every cooking appliance and utensil imaginable. We created a centrally located living room with an inviting fireplace (gas started, real wood burning), and furniture you can relax on without feeling stuffy. A nice sound system with Apple Airplay lets you play music wirelessly throughout the house to create any mood you desire. The home is situated on the brow overlooking the city with 4 acres of grass and woodland in which to play. Enjoy a long walk along the amazing East Brow Road (just out front), possibly the most traveled path for bikers and runners on a daily basis. Bring your kids, This is a place to relax... And its also only 12 minutes from Downtown Chattanooga. Since this is our family home and we have young kids, two of the four bedrooms are unashamedly kids rooms with bunkbeds. One guestroom has a full size bed. The master has a king sleep number bed.
We absolutely adore Chattanooga and Signal Mountain for so many reasons. Chattanooga is praised by many for our tight community involvement, natural beauty, and flourishing tourism and restaurants, without the hassles associated with huge cities (traffic, parking, etc...) Checkout: (URL HIDDEN) (URL HIDDEN) (URL HIDDEN)
This home is amazing. The pictures provided are nothing compared to what you encounter in person. The view from the front living area is absolutley beautiful. Our group of four spent hours talking and relaxing in this room. The rooms and bathrooms are immaculate, the whole house is perfect. The kitchen is everything a cook could ask for. Paul is very easy to work with, checking in on his own vacation To make sure all was well. The location was wonderful, down the mountain was a Publix which was a sweet suprise, and Walmart. A short drive to Chattanooga where there is a variety of things to do, Our group enjoyed Ruby Falls. Lunch at Sticky Fingers on Broad street was delicious. You will not go wrong with this home!
Janna
2016-06-07T00:00:00Z
The house is gorgeous & the view is perfect! My family & I were sad to leave! We felt very comfortable & at home during our stay. Paul & Dana are great hosts! Every question we had was answered quickly & everything was pretty much a breeze. The area is quiet & peaceful, which is nice for recharging your batteries. The house is located nicely from Chattanooga. There are also some good restaurants within a short drive. We absolutely loved our time here & highly recommend staying here!
Christina
2016-05-31T00:00:00Z
Our experience with this Airbnb was fantastic! Paul provided all the information that was needed before our stay and was so willing to help make our stay comfortable and memorable. Not only were the surroundings beautiful, the home itself is so comfortable. It is clean, beautifully decorated, and the kitchen is a dream. We came with our two children and they loved the kids playroom. Our hosts were wonderful, the house is amazing, and the views were breathtaking! We would absolutely stay here again!
Travis
2016-03-27T00:00:00Z
Rodzaj pokoju
Całe miejsce
---
Rodzaj nieruchomości
Dom
---
Mieści
7
---
Sypialnie
Signal Mountain, Tennessee, Stany Zjednoczone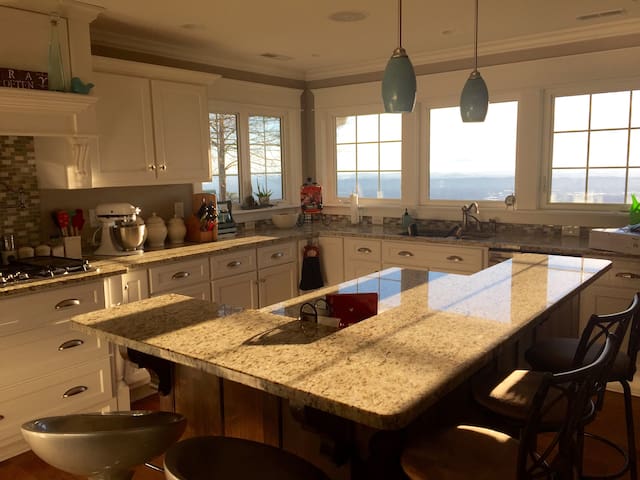 Lovely room with new queen size bed, private balcony and private bath. Older couple, loves to host guests. Delicious breakfast included. In the middle of Historic Old Town, Signal Mountain. Great climbing and hiking surround us.
Beautiful location. Very easy to come and go. Delicious breakfast included. Doug and Sally are absolutely warm and kind! The room was cozy and comfortable. We will definitely stay here again!
Amir
2016-11-24T00:00:00Z
We were delighted with our accommodations with Sally and Doug. Their quaint, cozy and attractive home is located in a beautiful historic area of town. We enjoyed our lovely breakfast and delightful conversations with Sally. We would highly recommend these accommodations to anyone. One thing to keep in mind is that you must be able to negotiate stairs.
Ilene
2015-12-21T00:00:00Z
Lovely area, especially this time of year with everything in bloom. Dally is extremely nice and very welcoming.
Michele
2016-04-09T00:00:00Z
Sally was extremely nice and welcoming and offered her help in helping us choose a restaurant for dinner the one night we stayed there. She told us "this was not the Ritz" at the very beginning, but we were not expecting that from the information given on Air BnB. The room and bathroom were adequate and clean. The bed was comfortable. I would not recommend this place for anyone needing handicapped accommodations, since our room was upstairs. The house is located in a beautiful, safe neighborhood, and we walked to a cute Italian restaurant down the street. Sally served us a delicious breakfast on her lovely deck. She gave us our space, but was very engaging when we wanted to converse with her. We didn't get a chance to meet Doug. The only complaint I have is that you have to wait 15 minutes between toilet flutings because of some plumbing issues. There is a bathroom downstairs that can be used if necessary.
Susan
2016-06-17T00:00:00Z
Doug & Sally were wonderful hosts! They truly have the gift of hospitality. We knew when we entered the front door and received a big hug from Sally that this would feel like a "home away from home". Sally had a graduation luncheon to host the following day but still served us a delicious breakfast. It's apparent that she enjoys people and wraps her acts of service in love. We heartily recommend Doug & Sally's place!
Bonnie
2016-05-28T00:00:00Z
My husband and I really enjoyed our stay at Doug and Sally's! They were very hospitable and friendly, including their dog Fluffy! Sally makes wonderful breakfast and the Hummingbird Pasteria about a block away was outstanding as well! Sally recommended it and I am glad we took her advice because it was unique and delicious! Our room was the queen sized bed with balcony. The room was spacious and clean. The bed was soft and comfortable but because it was so soft, it didn't fit 2 people very well. Just a minor complaint and maybe it's because we are used to a king size at home. Signal Mountain is a very short drive from downtown. Easy to get to the poplar attractions. Overall we had a great time staying at Sally's. She is such a sweet lady and I would recommend their home to anyone!
Amber
2016-07-18T00:00:00Z
Doug & Sally were extremely welcoming, friendly & accommodating. Their house is beautifully decorated. Its located up a mountain & within walking distance of a charming & delicious Italian restaurant. We really liked the skylights above the king size bed where we could look at the stars from our pillows. The bathroom is huge. It was a wonderful stop on the last leg of our vacation. I would highly recommend this place to anyone looking for a friendly place to rest your head & good conversation with friendly people. By the way, Sally also cooks a superb breakfast for you too.
Eileen
2016-02-29T00:00:00Z
Had a lovely night's stay at Doug and Sally's -- very comfy room with ensuite bathroom, tucked away in a wing of this gorgeous house on Signal Mountain. Hosts were very friendly and cooked us a great breakfast to eat out on the patio.
jane
2016-09-23T00:00:00Z
Rodzaj pokoju
Pokój prywatny
---
Rodzaj nieruchomości
Wikt i opierunek
---
Mieści
2
---
Sypialnie
Signal Mountain, Tennessee, Stany Zjednoczone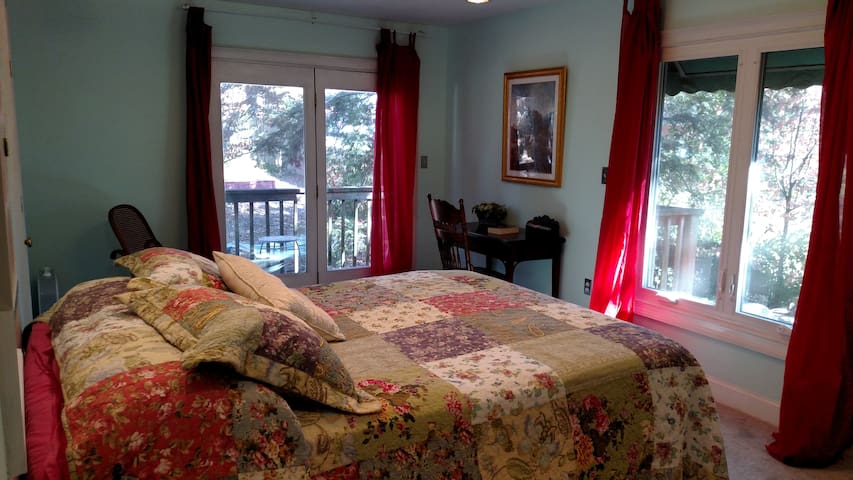 Get away from the hustle and bustle and enjoy our entire basement floor that is nestled in a quiet and peaceful forested area. You have loads of space to relax and unwind with private bathroom, large bedroom with king bed and super comfy sitting area with a 55" TV (Netflix included). A breakfast area with mini fridge and coffee bar await you too with homemade baked goods and fresh coffee! We hope you enjoy the pug decor too...we have our own very quiet and polite pug named Xavier :)
The bottom level is all yours! Comfortable and spacious and very quiet. In addition to your king size bed, we have a queen size floor mattress for additional guests/children. We can also provide a Pack n Play if need be for your little one :) *Additional guests are $25/person per night. Children under 5 are free. Our home backs on to a large forested lot giving you peace and quiet :) Signal Mountain is known as one of the safest places in the country! Since your retreat is on the bottom floor, do expect the occasional footsteps from above. Don't worry, we aren't having dance parties up here ;)
Super safe neighborhood with lots of trees! You can enjoy a peaceful nights rest here and see the stars clearly at night! With only a short drive down the mountain to Chattanooga you have the best of both worlds. Signal Mountain has some great hiking trails, restaurants and a grocery store for your convenience too.
This was a great place to stay if you want to be in Signal Mountain. It is very private and even backs up to a babbling brook. The hosts provide more than one would expect to make it pleasant stay.
Jeff
2017-03-09T00:00:00Z
Ideal place to stay for privacy, scenery, & convenience. The homemade muffins were yummy & all the breakfast food was much appreciated! The fresh water jug was such a welcome refreshment when we got back late at night. The bed was super comfy. FABULOUS place!
Joi
2017-04-01T00:00:00Z
Diana & Jeremy's place was extremely nice and well priced for all that was offered. Private area below the main house that included bedroom, bath, & living area. Place also offered a private deck area with patio seating. Great spot to sip coffee while listening to a tranquil little brook that ran beside the house. Would definitely choose to stay here again if visiting the area!!
Courtney
2017-04-08T00:00:00Z
Diana and Jeremy's place was convenient for us, as we visited family on Signal Mountain, and we so appreciated not having to stay downtown! The location was beautiful, and we looked out the front windows to see a beautiful wooded slope. We enjoyed the quiet, and privacy of the downstairs retreat. We felt just the right balance of good communication, and being free to come and go, and it was a comfortable and welcoming environment. Definitely a place to return on future trips!!
Libba
2017-03-26T00:00:00Z
I really enjoyed our stay here and the only bad thing was it was only one night! The accommodations were homey and comfy. Everything is as advertised and Diana and Jeremy were great hosts and very responsive to airbnb email. There was a deck with sitting area right outside the door (private entrance a plus) and we enjoyed our morning coffee and homemade blueberry lemon muffins (thanks Diana). There home is in a beautiful neighborhood of Signal Mountain and a mere 6 mile drive to Rainbow Lake Hiking trail and another 1/2 mile from there to Signal Point Overlook. Incredible view of the Tennessee River and historic to boot. We'd love to come back with our motorcycle and ride the scenic 127, perhaps in the fall when I imagine the views to be even more spectacular. Thanks Diana and Jeremy, great hosts.
Mary
2017-03-25T00:00:00Z
Diana and Jeremy are top-notch hosts, paying attention to all the little details that make staying away from home more comfortable and convenient.
Deanna
2017-04-03T00:00:00Z
Rodzaj pokoju
Pokój prywatny
---
Rodzaj nieruchomości
Dom
---
Mieści
4
---
Sypialnie
Signal Mountain, Tennessee, Stany Zjednoczone
This "mini-lodge" is located in a beautiful forest twenty-five minutes from Chattanooga on Signal Mountain. Enjoy the cool mountain air and listen to the birds sing after a long day of sightseeing in Chattanooga.
SPECIAL rates are available Monday through Thursday with a minimum two night stay. We also offer weekly and monthly rates. Please inquire for details. This mini-lodge is located in a forest approximately 25 minutes from Chattanooga, Tn. Enjoy the magnificent view of hundreds of acres protected by the Tennessee Land Trust. The home is approximately 4000 sq ft, and two bedrooms are in a private space upstairs. Each of these 14' X 14' bedrooms have a king- size bed, private bath, walk-in closet, and a million dollar view. The queen size bedroom and bath on the main level is ideal for those of you who prefer not to walk upstairs. It has a gorgeous view and accommodates two people. HDTV and 100 gig fiber optics is available. Chattanooga is called Gig City. Our fiber optics is the fastest in the nation. There is a sun room if you want to sip your coffee or tea and enjoy the beauty of the outside in a climate controlled space.
There are only five houses in this gated community. It is at the end of a two mile rural road surrounded by a 200 acre public land trust. If you enjoy quiet, peaceful surroundings, this is the place for you.
It was a great experience from beginning to my departure
Robert
2016-09-04T00:00:00Z
This is a Fabulous place to stay! Quiet and what a breath taking view. The host made us feel welcome and provided a delicious breakfast each morning. I would recommend anyone who wants to get away from the sounds of the city to come here.
Gerald
2016-10-16T00:00:00Z
Teresa was the best hostess! It was my first time staying at and Airbnb and it set very high expectations from here on out. The house was lovely and welcoming. The views were just breathtaking. Kind of scary driving there but that's only because I'm a city girl. Totally worth it and beautiful. Teresa even cooked us breakfast in the morning! She was just the best and her mom was so awesome too!
Bethany
2015-09-28T00:00:00Z
I was on a business trip to Nashville and in the spur of the moment decided that I did not want to stay in the city and would rather go somewhere more cozy and welcoming (as it was 15 degrees and snowing). Teresa quickly responded to my same day request and although she was out of town on business, her mother was able to welcome me. Speaking of, her mother (Betty) was so enjoyable to talk to. We spent several hours chatting by the fire and lost track of time. Also the pictures of the rock don't do it justice. You have to be out there to experience it. The fresh off the farm cider and honey were two great perks as well, and went perfect with breakfast in the morning. Overall, it was a perfect place to stay and get away from the busy-body world. I recommended it to my family as they usually stay in this area of the country on road trips. Definitely beats a hotel room! I certainly plan on stopping back.
Edward
2014-11-19T00:00:00Z
We stayed here while visiting our daughter and her family who live on Signal Mountain. The spacious room in which we stayed was on the second floor and had its own private bathroom. The room was very clean, which is one of the first things I notice. Teresa met us at the door when we arrived and we parked right at the front door. She had previously asked me what we liked to have for breakfast and her mother made a wonderful breakfast for us the next morning with everything we had asked for plus more. We ate in a private area in their first floor sunroom. Both Teresa and her mother are ready to have a conversation with you but are also willing to let you have as much privacy as you want. We don't very often stay in actual B&B's because we do like our privacy but this was one of the best experiences I've had at a B&B. We had even planned to return during Christmas but Teresa's place wasn't available. After we returned home she sent me am email suggesting another Airbnb for us to try. This house is in a remote location, but only 5 minutes from the major road in Signal Mountain and it was only about 10 minutes from our daughter's house. This is a place we would definitely visit again.
Ronald
2015-11-23T00:00:00Z
Although we didn't meet Teresa face-to-face she was very responsive to all our questions and provided helpful advice leading up to our trip. We were welcomed by Betty (Teresa's mother) who made us feel like special guests the whole weekend. She was very friendly and so considerate - fitting in with our schedule and cooking us a delicious breakfast each morning specifically tailored to our tastes and dietary needs. Betty was happy to engage in conversation when it suited us and she also respected our privacy. The accommodation itself was wonderful - luxurious, spacious, private and peaceful with beautiful views. The whole experience far exceeded our expectations! Highly recommended.
Phil
2015-10-12T00:00:00Z
Yes! Teresa and Betty are excellent at communicating and hosting. If you are looking for a relaxing stay in a lovely home in the middle of nature that is not far from the center of Chattanooga, this is your choice. Teresa's management of the reservation was spot on. Betty is elegant, lovely, well-spoken, mannerly, warm, and hospitable. She provided a delicious and healthy daily breakfast and worked around a new dietary restriction for us. Betty is a native of the area and can provide helpful info. She will interact as much as you desire. We bonded with her immediately and had interesting conversations that I will always cherish. I am still smiling when I think of Betty. Saying goodbye and leaving her welcoming home on to our next adventure in Atlanta was bittersweet. The bed was huge and we had some of the best night sleeps that we can remember. All was clean and orderly. The location is incredible. I cannot adequately describe its appeal except to say WOW. We want to return. Thank you!
Cheryl
2015-07-07T00:00:00Z
Teresa and her mother were both lovely people. They made us feel welcome as soon as we arrived. We were able to park right next to the entrance. We were immediately offered something to drink and made to feel welcome. They opened their home to us. The room was clean and had its own bathroom. We were provided with a great breakfast the next morning. Way too much food for us to eat! We were also offered drinks for the road and given snack bags. It was really a wonderful experience and we would stay again.
Jamie
2016-04-11T00:00:00Z
Rodzaj pokoju
Pokój prywatny
---
Rodzaj nieruchomości
Dom
---
Mieści
2
---
Sypialnie
Signal Mountain, Tennessee, Stany Zjednoczone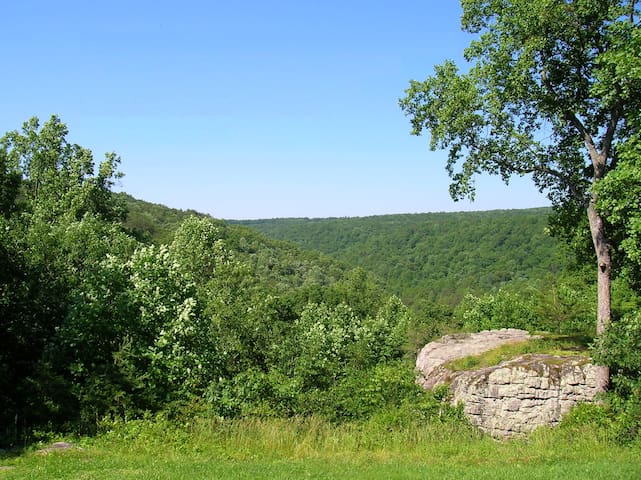 Wpisz daty, by zobaczyć pełną cenę. Obowiązują dodatkowe opłaty. Cena może uwzględniać podatek.