Wprowadź datę przyjazdu w formacie: dd-mm-rrrr
Wprowadź datę wyjazdu w formacie: dd-mm-rrrr
Rezerwacja Natychmiastowa
Oferty, które możesz rezerwować bez czekania na akceptację gospodarza.
Wpisz daty, by zobaczyć pełną cenę. Obowiązują dodatkowe opłaty. Cena może uwzględniać podatek.
Tego lipca i sierpnia możesz wypróbować jeden z tych 100 wysoko ocenianych domów (różne poziomy cenowe) i poczuć się jak mieszkaniec Sonomy. Opcja 24-godzinnego zameldowania, Rezerwacja Natychmiastowa, lokalne wino i przekąski sprawią, że rozsiądziesz się wygodnie i będziesz rozkoszować podróżą.
My place is perfect for single travelers on their way to/from Glacier Nat'l Park (80 mi east) or exploring north central Montana. Friendly, house-trained dog guests are welcome! There is a very large, fenced yard next to the house for your dog to play. My house is undergoing a bunch of remodeling, so guests will need to be okay with that, but all the basics are here. Remodeling is not noisy, just messy. This is a relaxed, non-smoking, drug-free, non-party place to stay! More pics soon....
Staying at my house is a great alternative for mature-minded travelers who want to avoid the clouds of smoke, thin walls/noise, and possible party atmosphere of local hotels. It's a small house and under total cosmetic remodel, so not in perfect condition, just fyi. Think HGTV at the very beginning of the remodel. The house has extremely limited furniture, so it's not that great for just hanging out during the day. The kitchen has coil burners, two mini fridges, and a microwave, but no other appliances. There are basic dishes, a few skillets and pans, and an espresso maker for your use. Your bed will be a twin in a small bedroom or a convertible sofa/full bed in the living room, depending on which room gets done first. But, the bed and sofa will be brand new, along with new sheets and towels. The house is too small to have much privacy, so you should decide if this works for you before requesting to book. I work from home in the dining room, so will typically be home when you're here. Sometimes I rock out to a variety of music during the day, but it's quiet in the house at night. I have two very friendly female dogs and they'll always be around. If your dog "sometimes" doesn't get along with other dogs, please be honest about this and only request to book if your dog is truly friendly to other dogs without conditions. I'm okay with several dogs in the house, but it's much easier on everyone if they get along. All areas except for my bedroom are accessible by guests. Washer/dryer are available to do 1-2 loads of laundry during guest's stay. If you're traveling with a dog, they are welcome to hang out or play with my dogs in the smaller, privacy-fenced back yard, or in the extremely large field-fenced yard next to the house. The field fencing is 4 ft high, so may not work well if your pup is a jumper. Otherwise, it's okay for your dog to be anywhere inside. I'm happy to make breakfast for guests with what I have on-hand. There is always good coffee available via a stove-top espresso maker and a small assortment of herbal teas. I work from home, so will help if able. I like to get to know my guests a little bit, but understand if staying here is just a quick rest stop on your way to somewhere else and you just need to sleep. I'm always happy to share a meal, beer or wine with guests, if our schedules align.
The neighborhood is generally quiet and very safe, but it is only 0.15 mile from three train tracks. Trains run throughout the night and some blow the whistle from one end of town to the other, while others use more of a honking technique. All windows in the house are double-pane, but it took me awhile to get used to the seemingly blistering loud train whistle at 2 AM. Now, I hardly hear it. If guests need them, I have a large supply of good ear plugs. My house is 2 blocks from Main Street where guests can find an assortment of shops and restaurants. It is also 0.4 mile from the Amtrak station and 0.5 mile from Albertson's grocery. A car is necessary for general travel around the area. Guests could arrive/leave by train if they use Amtrak. My house is 0.4 mile from the Amtrak station and 2 blocks from Main Street in Shelby. Glacier Nat'l Park is 80 miles to the east. It is possible to take the Amtrak train to/from Glacier Nat'l Park or even on to Seattle. The largest and closest city around is Great Falls and it's 88 miles to the south. If guests have a car, there's is plenty of open parking on the street or guests can park in the drive. If you're taking a day trip to Glacier or somewhere else where it's not convenient or possible to take your dog, I'm happy to watch them while you're out. I know how difficult it can be as a single traveler with dogs! The house is under cosmetic remodel, which is not noisy, but some things in the house are definitely a work-in-progress right now. The kitchen counters, cabinets, mini fridges, microwave, and dishes are all new. The hardwood floors are getting sanded and refinished sometime in the near future, but right now they don't visually look that great. The house is well-built, though, and draft-free and toasty in the winter.
Typ pokoju
Pokój prywatny
---
Rodzaj nieruchomości
---
Mieści
1
---
Sypialnie
1
Shelby
With views of Main Street, this rustic modern condo is walking distance to Amtrak Train Station, restaurants and dining, casinos, parks, shopping, and grocery, and driving distance to beautiful Glacier National Park, Browning, Duck Lake, Shelby, and many more popular tourist and hunting attractions. This comfortable and equipped condo is good for couples, solo adventurers, hunters, business travelers, families (with 1-2 kids), and furry friends (pets).
Whether you're stopping for a night en route to Canada, need a warm bed and hot shower after travel, enjoying a hunting or fishing excursion, or need a place to call home while touring the beauty of Glacier National Park, this equipped space is ready to meet your needs.
Typ pokoju
Całe miejsce
---
Rodzaj nieruchomości
---
Mieści
4
---
Sypialnie
1
Cut Bank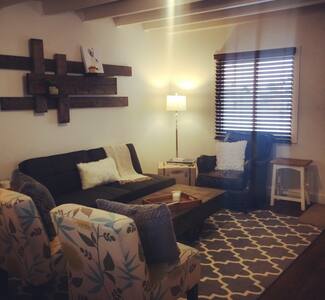 Charming and cozy home in the heart of Cut Bank MT. 20 minute drive to Shelby and 30 minute drive to East Glacier. The gateway to Glacier National Park. Great for the outdoors person. Cut Bank river, two medicines, and Maria's river are a fly fisherman's paradise. Mission lake, duck lake, and river reservoir close by. Great place to stay for going to Glacier National Park. Resort fees are pretty expensive and the park opens at 7am... 3 bedrooms 2 bathrooms. Home is fully furnished with everything you would need. There is a Traeger smoker for outdoor grilling..
My home is in Cut Bank MT. I lived in this home for 3 years and I love it for the great friendly people in Cut Bank. It is a great place for peace and quite. I sometimes sneak away from work to stay in this house for rest and relaxation... Entire home is yours, garage, private parking, and best of all privacy for yourselves... I am available via cell phone contact. (PHONE NUMBER HIDDEN). I will not be available to interact as I am out of state. There will be a host to meet you apon arrival to give keys to the house...
Quite! Friendly neighbors, who watch out for each other... Everything in Cut Bank is within walking distance. Grocery store, mini mart, post office, local pubs and restaurants..
Typ pokoju
Całe miejsce
---
Rodzaj nieruchomości
---
Mieści
6
---
Sypialnie
2
Cut Bank