Timber frame chalet set in rustic homestead on 23 acres of coastal forest in the Salmon River Valley, nearby Sayward Village and Mount Cain. A rare oasis enroute to northern Vancouver Island. Enjoy the panorama from the patio, library and woodstove. Venture out to sea-kayak,whale-watch,alpine hike,walk amongst the oldest trees on the planet. In season downhill ski & ski-tour at Mount Cain. Owner is a certified mountain guide,guided hut based alpine hiking and alpine ski-touring available.
Lyle moved onto this raw land 25 years ago. He designed and built all the structures using materials from the land. Building is on-going. The latest structure is influenced by his many years of guiding and consulting in the Himalayas.
Mountainside Farm is located in the Salmon River Valley. The valley is dominated by Mount H'Kusam, the location of the annual endurance event "The Kusam Klimb". The Salmon River runs to the ocean at Kelsey Bay in Sayward Village. Kelsey Bay,Johnstone Strait and Robson Bight are the locations for viewing the resident Orca whale pods.Whale-watching tours can be arranged at Kelsey Bay (Sayward) and Telegraph Cove There are many self-guided walks and hikes in the nearby vicinity, from an easy stroll to a multi -day hike. We are conveniently located to Mount Cain ,which offers ( in season), the Island's Best Powder for down-hill skiers and riders. Lyle offers a hut-based guided alpine ski-tour trip on Mount H'Kusam . We are a gate-way to Northern Vancouver Island which offers many opportunities for hiking,kayaking, exploring First Nations culture and more!
Thank you Amiti & Lyle for the magical stay at your Sayward hideaway! The house was charming and rustic, and had everything we needed for a relaxing 4-night stay. Thanks again!
kirsty
2017-01-03T00:00:00Z
What a great place to stay for our family. If you are in the area, plan for a few days at this special home.
Sage
2016-08-09T00:00:00Z
If you are looking for an urban experience in the country, this isn't for you. But if you want a rural get-away, this is a lovely soulful place. It would be great for a retreat. Amiti and Lyle were kind and generous hosts. The views are beautiful and there is a lot of space for several people.
Maggie
2016-08-02T00:00:00Z
such a wonderful experience! this home is very beautiful and comfortable. I and my boyfriend stayed only one night but we enjoyed the time, even if, first, we were a little bit scared by the estreme calm and silence all around us, just because we are used to live in confusion! great experience!
Gaia
2016-08-22T00:00:00Z
What a great weekend! Amiti and Lyle hosted myself and 4 fishing buddies for our annual Steelhead trip this February. Their mountainside home was perfect and exactly what we were looking for. The kitchen is great with nothing missing, beds were all comfortable, the wood stove is amazing, and the fire pit out back is a great place to relax. Will be returning for sure. 5 stars across the board!
Bryan
2017-02-21T00:00:00Z
Amiti and Lyle's home was the perfect respite from our over-stimulated city life. Nestled into the edge of the forest, every detail of their home has been carefully and lovingly built, pulling together the simultaneous feeling of spaciousness and coziness. Panoramic views from almost any location with an array of small gathering spaces, we felt connected to the land, rather than separated from it. We slept deeply, we snuggled around the fireplace, and we joyously cooked up a storm with their well stocked kitchen (note there is limited freezer/refrigeration space). We are already trying to figure out when we can go back.
Joshua
2016-07-31T00:00:00Z
Amiti and Lyle answered our inquiries promptly and with great detail. The home is magical. The main area has a very well equipped kitchen. lots of light and is very prettily equipped. The piano was even in tune! We appreciated the supplies and the thoughtfulness. The adjacent space was perfect for the young couple we had with us. The Japanese bath was wondeful after a day of hiking in the mountains. A 110% endorsement of this great place.
Patty
2016-07-12T00:00:00Z
We only stayed an evening here but wish we'd stayed longer. Amiti and Lyle's place is beautifully build and perfectly positioned in the mountains. Hope to visit again!
Rob
2016-08-25T00:00:00Z
Rodzaj pokoju
Całe miejsce
---
Rodzaj nieruchomości
Dom
---
Mieści
6
---
Sypialnie
Sayward, British Columbia, Kanada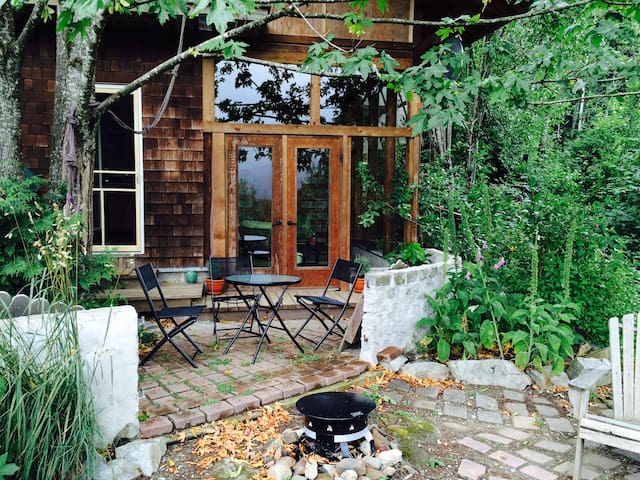 2 Bedroom Boutique Cabin style House with the dramatic back drop of Mainland Moutain and sea views. This property is on a remote island that can be reached by the following: Water Taxis available from Campbell River via Wayward Water Taxi. Float Planes available from Campbell River, Seattle, Victoria, and Vancouver via Kenmore, Coral, & Central Mountain Air.
Loft and main floor bedrooms with wood burning stove. Kitchen with undercounter fridge and 4 burner gas stove. Bathroom complete with shower stall. All overlooking Shoal Bay and the coastal mountains.
Shoal Bay is completely off the grid and produces all of it's own electricity. Fresh water comes from a fresh water stream and many of our vegetables come from our own beautiful garden. Of course we will be happy to share not only our lovely garden produce but fresh delicious crab, prawns, and fish directly from the bay itself.
This is a very special place. It's a hard-to-find combination of stunningly beautiful, remote, yet also connected through the stream of boaters coming to enjoy the dock, scenery, gorgeous garden and beer. We spent 10 lovely days on East Thurlow, and easily filled our days with fun activities and friendly conversations. We hiked, kayaked, swam (in cold, brief spurts), fished, cooked, ate, read, talked, napped, sipped wine as the sky turned pink, and drank Dark & Stormies as an impressive storm rolled through (which caused boaters at the pub to run to their boats to batten down the hatches!). We had our 1-year old daughter with us, and she thoroughly enjoyed practicing her walking skills down the long dock and learning how to ride in the kayak. We really loved the beauty, uniqueness and friendliness of the island. Local boater, fisherman and friend of Mark & Cynthia, Larry, generously caught us some amazing seafood during our time there. We also caught the most gorgeous Chinook salmon you've ever seen with a local guide from Denham Bay and enjoyed it for a couple days. Heads-up to future travelers: not many regularly scheduled water taxis go out to the island, so you will likely have to charter a boat, which is not cheap. Call around ahead of time for the best rate, or try to combine your trip if you can. We also brought all our food for our 10-day stay, which worked out perfectly. Cynthia and Mark were very kind to help us store food in a 2nd refrigerator, and they helped get us whatever we needed. You can definitely get food from Cynthia's beautiful garden but you should bring enough to get by on your own. We would love to return someday!
Meredith
2016-08-05T00:00:00Z
The cabin on Shoal Bay is the winter home for Cynthia and Mark. In the summer they live above the Pub which has been a landmark at Shoal Bay for eons. Being a real home, it has the feel and ambience of a real home: substantial, appropriate for the environment and in every way delightful. The couple is well known for miles around being the proprietors of the local pub and warfingers for the public dock – which, incidentally, also serves the cabin and pub. They are friendly, helpful and gracious hosts. Much of Cynthia's art decorates the place (her work is exhibited at museums and art galleries worldwide) and even the kitchen accoutrements are an eclectic mismatch of antiques and modern. I don't think two cups or mugs are the same. Some of Cynthia's work is for sale at the pub. Since the island has no roads, no store and no restaurant it is ideal for boaters who would like to stay on land a day or two without forgetting why they came here in the first (URL HIDDEN) experience the scenic drama that is BC's coastline. We thoroughly recommend the place.
Barrie
2015-07-19T00:00:00Z
Shoal Bay is simply stunning. We very much enjoyed our week long stay and plan on returning. The hosts made us feel very welcome. We had good luck with the fishing - Coho, Chinook and Halibut. A true off the grid experience!
Kelsey
2015-09-16T00:00:00Z
Best place I've been to in a long time. Great hosts and met some very friendly people. Ideal for someone who wants to get away from the touristy areas and experience the beauty nature has to offer. Asked the kids what they enjoyed the most (i) Disney resort in Hawaii or (ii) Shoal Bay and both said Shoal Bay was better. This is what makes AirBnB so great! Without AirBnB we would never have discovered this gem. Thanks Mark and Cynthia!
Riaan
2015-08-18T00:00:00Z
Rodzaj pokoju
Całe miejsce
---
Rodzaj nieruchomości
Dom
---
Mieści
4
---
Sypialnie
East Thurlow Island, British Columbia V0N 2M2, Kanada
Wpisz daty, by zobaczyć pełną cenę. Obowiązują dodatkowe opłaty. Cena może uwzględniać podatek.