Our large comfortable home on the edge of the vibrant city of Cork has all amenities within walking distance.Ample free parking available and the bus on our (URL HIDDEN) is conveniently located with easy acess to all the main road links.A great base.
The property is within easy access of all tourist attractions.There is a large private organic garden with patio and pond,perfect for relaxing on a summers evening.
The local area is a leafy pretty suburb of Cork city.It is largely residential but has all the services one needs.There are also several pubs with music,and restaurants. Lidl 5mins walk.
Comfortable and quiet! We were in the bunk bed room, which was on the smaller side, but it worked out fine for my friend and me. Dearbhla was away for the night, but her son was there to welcome us, set up breakfast in the morning, answer questions, etc. The neighborhood was quiet and away from the city bustle. We drove into Cork city center for live music, which was about a 15-minute ride. Overall, a very nice place!
Kathryn
2016-08-08T00:00:00Z
I had such a lovely stay in Cork! Dearbhla and her family were welcoming and hospitable. I would highly recommend her as a host. It was nice to be a bit away from the city in a quiet suburb.
Kathryn
2014-09-06T00:00:00Z
We enjoyed our stay in Glanville. It was a bit difficult to find a place to eat the first day because we arrived a bit late in the evening for going to cork. The busstation is just in front of the hous wich makes it very easy to get to the city centre.
Anna-Lara
2015-07-30T00:00:00Z
Dearbhla's house was great. Very comfortable. Had a lovely stay - thanks!
Claire
2016-06-05T00:00:00Z
The O'Leary family welcomed us with their impeccably clean home. They respect their guests privacy and expect the same in return. My friend and I had no issues with that. The neighborhood is quite a bit east from downtown Cork, what is exactly what we were looking for - somewhere outside of the city to rest.
Milos
2014-11-21T00:00:00Z
Dearbhla and her family were perfect hosts for me during my stay. Although we didn't see each other much (as I was out most of the time) whenever we met we had a nice chat, cup of tea, etc. and got on with life. This suited me perfectly.
Brian
2015-06-01T00:00:00Z
Got a great welcome from Dearbhla and her husband. Had a cuppa and a chat on arrival. The accommodation was just as described, spacious and homely. lovely location just about 3 to 4 miles outside Cork city centre.
Maurice
2015-05-03T00:00:00Z
This place is far ahead the picture you'll make in your mind before. It's a beautiful high standing house in a clean calm residential area (7km from Cork center) with a bus stop just out the house!! Hosts are beautifully welcoming and available, in the same time so discrete that you have the feeling being alone there in your home (though several people are there with you - as much discrete during my stay of 1 week). Simply perfect. so grateful having had such a fortune, and recommend it to anyone respectable (this is a very respectable place as you've understood, and owners are really nice people). So, go for it!!
Ivan
2016-09-18T00:00:00Z
Rodzaj pokoju
Pokój prywatny
---
Rodzaj nieruchomości
Dom
---
Mieści
2
---
Sypialnie
Glyntown, Cork, Irlandia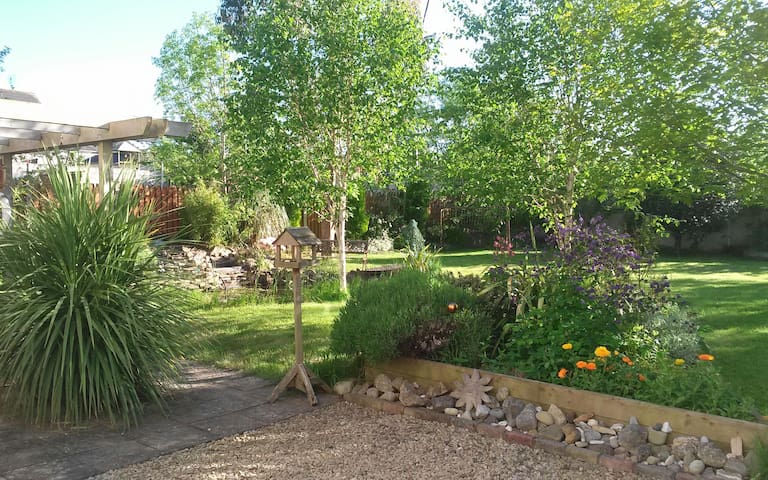 My place is close to parks, the airport., great views. You'll love my place because of the neighbourhood, the outdoors space, the light, and the comfy bed. My place is good for couples, solo adventurers, and business travellers.
Warm welcome, very helpful, very comfortable beds, and great conversations!
Solene
2017-03-19T00:00:00Z
Rodzaj pokoju
Pokój prywatny
---
Rodzaj nieruchomości
Dom
---
Mieści
1
---
Sypialnie
Cork , Ireland, Irlandia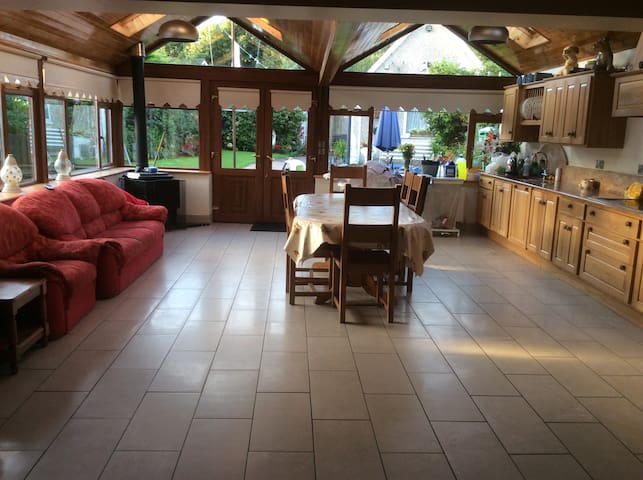 Newly refurbished two bedroom apartment. Two double beds, full linen provided. Fully equipped kitchen, dining space and living area. Located close to ring road allowing great access by car into the city and 5 mins drive from all major roadways. Large green area close by where kids can play and great local amenities. Aldi 5 mins walk. Large private back garden.
This apartment has just undergone a refurbishment so everything is new! Will add more photos soon :) Ground floor entrance leads into living space with couch and TV. Kitchen next door. Two bedrooms upstairs share WC with shower.
Located in Mayfield, north-side of Cork city. Mayfield is considered a mature neighborhood. Lots of amenities close by, shopping centers, several bus routes into the city. Public swimming pool 10 mins walk. Close to Silversprings hotel.
Rodzaj pokoju
Całe miejsce
---
Rodzaj nieruchomości
Dom
---
Mieści
4
---
Sypialnie
Cork, County Cork, Irlandia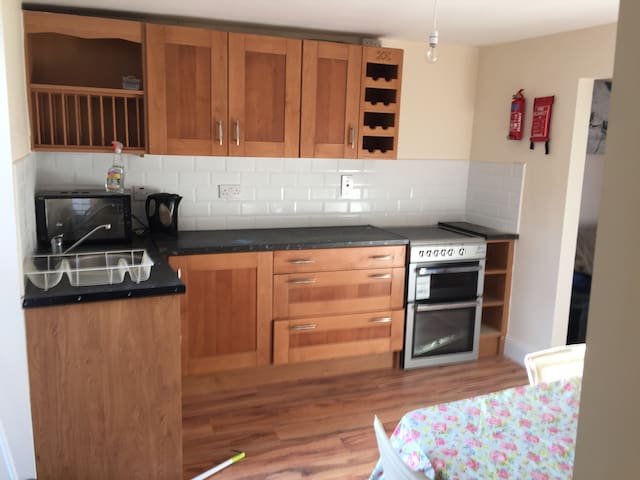 Set in a rural location but still only 10 minutes from Cork city centre, 20 minutes from Cork Airport, 30 minutes from Ringaskiddy and 10 minutes from the Jack Lynch Tunnel. Refurbished to a high standard, modern comfortable decor throughout.Detached from hosts home entrance hall to a bedroom with two single beds, large kitchen/dining room. Upstairs has a bathroom with electric shower and a bedroom with king size double bed. Just a short drive from a great selection of pubs and restaurants.
Self contained unit refurbished to a high standard. Kitchenette with microwave, hob, toaster, kettle, fridge and washing machine. Spacious bathroom with electric shower. Secure parking in gated property.
Glanmire (Irish: Gleann Maghair) is a town in the civil parish of Rathcooney in County Cork, Ireland. Glanmire is situated roughly nine kilometres outside Cork. The greater Glanmire area encompasses the communities of Riverstown (Baile Roisín), Brooklodge (Cill Ruadháin) and Sallybrook (Áth na Sailí). Upper Glanmire includes White's Cross, Sarsfields Court, Ballyphilip, Ballinaparson, Coolgreen, Templemichael and Buck Leary's Cross. Fota Wildlife Park - 30 minutes drive (URL HIDDEN) English Market - 20 minutes drive (URL HIDDEN) Jameson Irish Whiskey Distillert - 30 minutes drive (URL HIDDEN) Blarney Castle - 25 minutes drive (URL HIDDEN)
Sinead was AMAZING. helped us find the place (apple maps brought us to the road but not the actual home). She showed us around and gave us some tips on local pubs and good food. Even offered us a ride if we needed to be picked up. So sweet! We loved her place. Cozy, beautiful yard and surroundings, super spacious, full kitchen! Would stay here for 2-3 nights next time we come as Cork is amazing and Sinead was so great!
Rachael
2017-03-23T00:00:00Z
Sinead was an amazing host and her house is beautiful. We only stayed for one night which was a shame we would definetly enjoyed stay for longer period. Really recommend.
Leandro
2017-03-05T00:00:00Z
Très bon accueil, et logement vraiment impeccable et agréable. De quoi prendre un petit déjeuner correct était disponible, ce qui était très appréciable.
Flo
2017-03-16T00:00:00Z
What a lovely place to stay! Beautiful little cottage right outside the city of Cork about a 15 minute drive. Scenic drive to the cottage from the city as it is set in the country side. Very clean and well equipped. The most lovely host who did more for us than we could have even asked. She was a wealth of knowledge about fun things to do in the area as well. Because of this, we were able to see some of the most beautiful places in the world. She was a wonderful resource for places to go in the city and very available if help was ever needed. We could not have been happier.
Madeline
2017-02-05T00:00:00Z
Our stay in Cork was very beautiful! Everything was perfect. Sinead was a great host!
Christina
2017-04-05T00:00:00Z
Nice bungalow behind the owners home. Very clean and nice welcome package with breakfast foods.
Geralyn
2017-03-11T00:00:00Z
Very very elegant warm house with cute garden
Tommaso
2017-02-25T00:00:00Z
Rodzaj pokoju
Całe miejsce
---
Rodzaj nieruchomości
Obsługiwany apartament
---
Mieści
4
---
Sypialnie
Cork, County Cork, Irlandia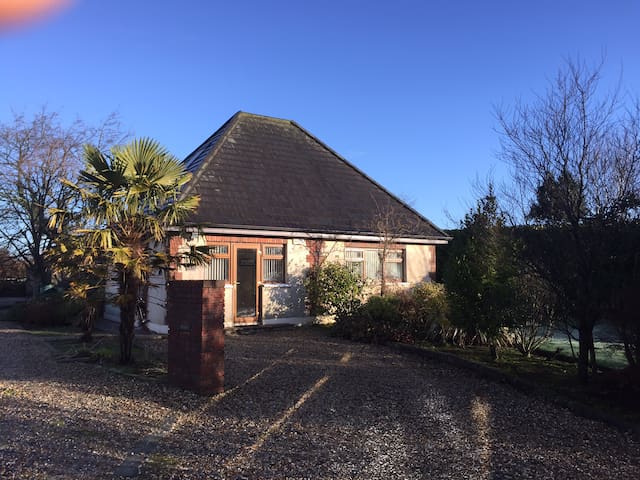 The Cottage is a beautiful refurbished tranquil countryside space 9 miles from Cork City... It is newly refurbished. It has high ceilings in the main room. Stunning kitchen. It is a gorgeous space to relax connect with nature light a big open fire. The cottage is not child or toddler friendly. I hope your stay here will be one of peace and relaxation.
The Cottage is set in the beautiful countryside, its has a little river close by where you can walk or cylce. Just wonderful countryside all around.
This is a fabulous area so quiet, and old neighbours super friendly.
Rachel is such a nice person. She welcome us warmly. We enjoy in our stay in Cork
Federico
2016-08-04T00:00:00Z
We loved our stay at Rachael's cottage! It was like a home away from home, complete with a coal burning fireplace (which was lit upon our arrival). Rachael was a wonderful, attentive host!
Margaret
2016-11-02T00:00:00Z
le logement était bien conforme à la description. Certaines petites finitions reste à terminer. Rachaël n'était pas présente durant notre séjour, mais nous avons été accueillis par sa fille très sympathique.
Joël
2016-06-08T00:00:00Z
Rachel was an outstanding host, she was prompt and informative. Very pleased with our accommodation.
Cody
2016-06-30T00:00:00Z
Rachael's cottage is so wonderful and Rachael provides such a lovely, personalised experience. It's the perfect place to get away from everything and relax :)
Triona
2016-11-11T00:00:00Z
It was a great stay at her cottage. Only about 20 mins from cork, its a perfect option if one prefers to have a more private space from the city. I recommend!
Azim
2016-10-31T00:00:00Z
Rachael was so friendly and responsive! After another location fell through last minute I reached out to Rachael to request her cottage. She responded immediately and was very helpful. The cottage was very clean and had a great kitchen with everything we needed to make breakfast! The location was perfect too. Not too far from cork but still in the quiet country. We enjoyed our stay very much!
Caite
2016-07-07T00:00:00Z
Stayed at Rachael´s cottage with my mom for a night and had such a wonderful time. Her place was cozy and we loved the yard in the back! I was able to stretch in the sunshine in the morning and we ate our breakfast on the patio. Was able to take a walk down a beautiful road that led to a river and old abandoned barns and homes. Such a beautiful get away and breath of fresh air.
Maureen
2016-06-02T00:00:00Z
Rodzaj pokoju
Całe miejsce
---
Rodzaj nieruchomości
Domek parterowy
---
Mieści
3
---
Sypialnie
Cork, Cork, Irlandia
w pełni autonomiczny własny catering apt. nad barem w Glanmire terenie miasta Cork bardzo wysokiej jakości accommodation.free wifi .over patrząc rzeki, w pobliżu Vienna Woods Springs i sliver i Cork City znajduje się w niewielkiej odległości away.bus zatrzymać w pobliżu
Stephen war ein sehr entgegenkommender und freundlicher Gastgeber. Sein Essen in seinem Lokal, dass er für uns nach seinen Öffnungszeiten zubereitet hat, war fantastisch. Jederzeit gerne wieder!
Brigitte
2016-07-22T00:00:00Z
We really enjoyed our stay! Great clean apartment over looking the river and only a short drive to downtown Cork! Stephen was a great host, very friendly and easy to get ahold of if we had any questions! Overall we LOVED it!! :)
Brittney
2015-07-15T00:00:00Z
Great stay, Stephen was very friendly and even had a baby cot brought up for us to use. The apartment was very spacious and we had plenty of room to relax.
Mark
2016-06-20T00:00:00Z
Stephen was wonderful as was his wife. He even showed us how to pour a perfect Guinness!! Well done
Dennis
2016-09-07T00:00:00Z
What a nice apartment, and on top of a bar that serves food. Stephen and his wife were extremely nice and inviting, and took good care of us on arrival and during our visit to their pub/restaurant downstairs. Highly recommend his signature burger with black pudding and spicy mayo. Great place, great hosts.
Duane
2016-08-28T00:00:00Z
My husband and I traveled w our siblings. 2 15 year olds and 2 17 years olds. Stephens home was a wonderful fit for us and Stephen was an even better host!!! His home was spacious, clean, and comfortable. He was very hospitable and accommodating. His pub below was so much fun & we we were all entirely pleased w our vacation. I def recommend Stephens home!!!
Alex
2017-03-17T00:00:00Z
Great spot. Perfect distance from the city and Stephen is a grade-A lad.
Dermot
2017-02-28T00:00:00Z
The apartment is very spacious , more than we expected and is located in a very nice area just few minutes from city centre. It is equipped with every comfort as described . Stephen is a wonderful person , made us feel instantly welcome and helped us a lot in everything. The bar is just below the apartment and you can taste many beers . Very recommended .
Mauro
2015-09-19T00:00:00Z
Rodzaj pokoju
Całe miejsce
---
Rodzaj nieruchomości
Apartament
---
Mieści
5
---
Sypialnie
Glanmire, Cork, Irlandia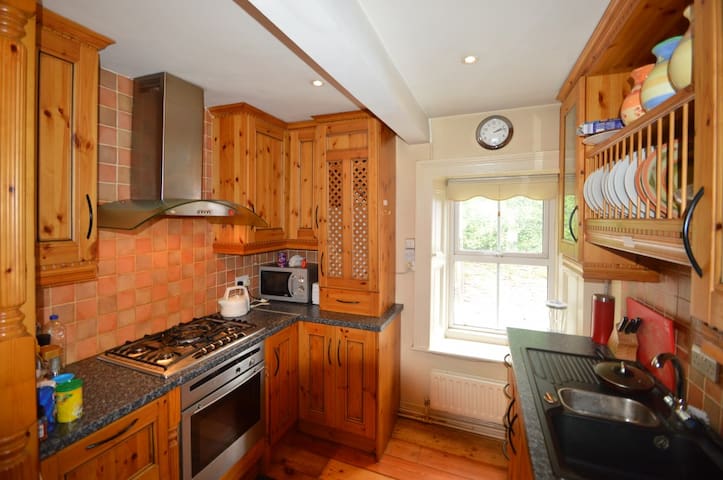 Nestled in the peaceful suburb of Glanmire,this room is cosy and has a wonderful view of our mature colourful garden.All services can be reached by foot(there is also ample free parking.)The bus stop for the city is just outside.
The room is suitable for single or double occupancy.Has its own bathroom,right next door.
We are surrounded by trees and rivers here in Glanmire,yet all services and aminities,or on our doorstep.
Dearbhla is a lovely and welcoming host. She gave me a tour of the home and provided me with a table to do some study on. I was offered tea and coffee and had a great chat with Dearbhla. I wouldn't hesitate to stay here again. Lovely scenic and quiet area thats not far from shops or a few local pubs
Caoimhín
2016-11-20T00:00:00Z
Dearbhla provided a great stay! Her place is perfect. Bus stop right outside the door, 15 minutes to the center of Cork, but far enough away that it's a quiet place to sleep. I felt very comfortable; I could have a chat if I wanted, or be to myself in my room. I would highly recommend this place for anyone, anywhere.
Kristen
2016-11-13T00:00:00Z
Dearbhla was a lovely host that made me feel very welcome! The location is great as it is right by the bus stop heading into Cork. The house and room were very clean and my room was very cozy. I recommend to any solo travelers passing through Cork!
Meghan
2016-10-30T00:00:00Z
Very good
Anthony
2017-01-17T00:00:00Z
Dearbhla is a friendly person, the location is quite and the house is very nice.
Salvatore
2017-02-13T00:00:00Z
My hosts made me feel very welcome and had nice cup of tea and chat on arrival.
Ellen
2016-10-04T00:00:00Z
I found it was homely, welcoming and easy going. Thanks Dearbhla
Sally
2017-03-12T00:00:00Z
Great host and house! I highly recommend! Everybody are friendly :)
Oana
2016-11-24T00:00:00Z
Rodzaj pokoju
Pokój prywatny
---
Rodzaj nieruchomości
Dom
---
Mieści
2
---
Sypialnie
Glanmire, County Cork, Irlandia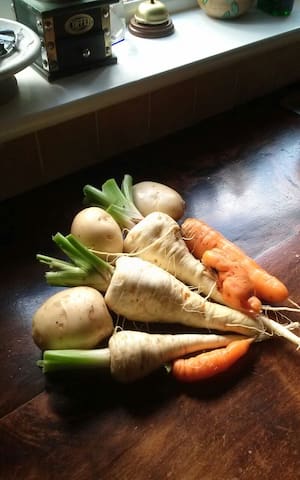 My place is good for couples, solo adventurers, business peopleWe a are 20 minutes from Cobh and fora wildlife park, 1 and a half hrs of Killarney co Kerry 20 minutes from blarney ,15 minutes from Cork city. We are 5 Minutes from Vieanna Woods hotel and 15 minutes from Silver Springs hotel We are 5 minutes from 3 schools Glanmire community collage Brooklodge NS Riverston NS , May Suit a Teacher , Our AiR bnb has a security cameras outside so no worries about your cars or Bikes........ECT
This is my home it is comfortable and I like my guests to feel at home enjoy the space and the garden.and if anyone wants to do light cooking or use the kitchen you are more than welcome I want your visit to be a good experience,
Phil was a fantastic host. She made me feel right at home as soon as I walked in the door. There was a little confusion getting there as my cab driver took me to an incorrect address but I just called Phil and she directed me to the proper street. She and her partner are so friendly and made me feel like family during my stay. The neighborhood is very quiet as it's out of the city; however, there's a bus stop 2 minutes walk from the house where you can catch a bus and be in Cork city in 25 minutes. Overall I enjoyed my stay. The house/rooms are clean and breakfast is provided each morning, not to mention pleasant company! I would definitely recommend this listing to those who are visiting Cork but prefer not to be in the commotion of the city.
Forrest
2016-07-04T00:00:00Z
You will need to read the directions to the house carefully. Parking good outside. You will find Phil a lovely generous spirited and warm person. If driving it is 20mins to the city--- off peak. There is a bus service.
Gerry
2016-11-24T00:00:00Z
We had a great stay at Phil's. The instant booking was very handy as we were desperately trying to find accommodation. Very close to Cork city by car, lovely house and a very friendly host! Would highly recommend.
Anaïs
2016-08-24T00:00:00Z
A nice place, very relaxed, away from the city but a bus is close
john
2017-01-20T00:00:00Z
A nice private accommodation not far from Cork. Phil and her little dog both invited me friendly into a marvelous bright eat-in kitchen with enjoyable breakfast and conversation. The room is small but has everything you need. I felt at home.
Klaus
2016-09-23T00:00:00Z
Nice stay. Good advice for excellent pub.
Philippe
2016-08-20T00:00:00Z
Phil is a very very kind and helpful host with a cute dog! The bedrooms are big and comfortable. You can use the whole house like a family member.
Maximiliane
2017-03-20T00:00:00Z
Phil is a nice host, helped me with all I needed. Also, the accommodation was good, clean and comfortable.
José
2016-10-12T00:00:00Z
Rodzaj pokoju
Pokój prywatny
---
Rodzaj nieruchomości
Dom
---
Mieści
2
---
Sypialnie
Glanmire, Cork, Irlandia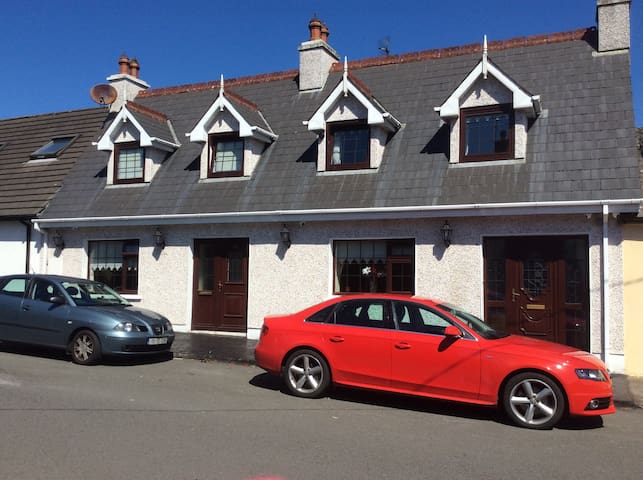 Situated only 10 minutes by car/bus/train from Cork city and Midleton and 15 minutes from historic Cobh, yet quiet and peaceful. It is surrounded by trees and mature garden and is a great space for kids to play and explore. A great base.
This home is great for family vacations and rest! Loved it!
Jess
2016-11-03T00:00:00Z
Hannah's place was clean well equipped and very comfortable. Whilst we didn't get to meet hannah she made us feel very welcome and had a fire burning for our arrival with some lovely chocolate biscuits for afternoon tea. She kindly did some pre christmas shopping for us as we were arriving late on Christmas eve. I highly recommend her place.
Carolyn
2016-12-27T00:00:00Z
Lovely house with lots of space and it has everything you might need during a stay here. Hannah provided instructions on how everything worked in the house and even had some food and drinks in the house for us. It would be perfect house for a holiday with children.
Dennis
2016-05-09T00:00:00Z
Such a beautiful house, so close to Cork city. The house itself has four gorgeous bedrooms, an immaculate kitchen and a lovely open living area. Hannah and David were really helpful and provided us with a great booklet of information that told us everything we needed to know. The house had everything we needed and we were really impressed. Thank you both again!
Liz
2016-11-07T00:00:00Z
We really enjoyed our stay in Hannahs spacious and cozy House. Espacially the kitchen is well equipped with two ovens and a lot of space to cook. The house is not far away from the trainstation- it is easy to visit Cork and Cobh. We really fell in love with Nelly, the little cat.
Jana
2017-01-03T00:00:00Z
Great house with plenty of space. Hannah provided great support before and during our visit. She even told us to pick some fresh strawberries and raspberries from her garden during our stay. I would highly recommend this house.
Brendan
2016-07-03T00:00:00Z
Wonderful hosts and perfect family home. Hannah and her family were the most courteous and helpful hosts, leaving us lots of homemade produce and fresh food. The house itself was fantastic. A great selection of rooms and comfy living areas. Great for the family with room and toys for the kids. Handy location for visiting Cork, Fota and Cobh plus surround areas. Would definitely stay again. Thanks!
Benjamin
2016-05-08T00:00:00Z
Hannah's house very comfortably accommodated our group which was 3 adults and 4 children aged 8, 6, 3 and 5 months. It was a very memorable stay and her home which is perfectly suited to family living was a lovely place for us to base ourselves and visit family and friends in the surrounding area. Cleanliness of the home was excellent and Hannah made us feel extremely welcome- right down to setting the fire in the stove! I can highly recommend this home to other guests. It's a really handy location for visiting the city and is right next to a train station for those who prefer public transport. All in all, a great spot to stay in when visiting Cork with a family.
Clara
2017-03-21T00:00:00Z
Rodzaj pokoju
Całe miejsce
---
Rodzaj nieruchomości
Dom
---
Mieści
8
---
Sypialnie
Cork, Cork, Irlandia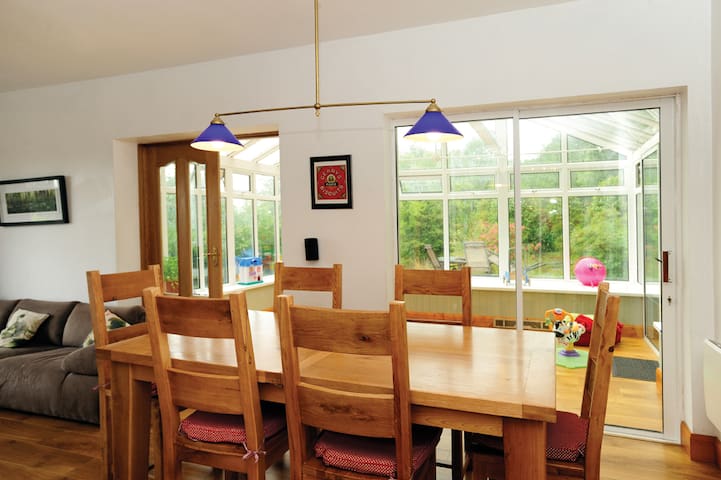 My place is close to the airport, the city center, parks, and great views. You'll love my place because of the outdoors space and the neighbourhood. My place is good for couples, solo adventurers, business (URL HIDDEN) are only 15 minutes from the marque if you are visiting any of the concerts we are An hour and a half from Killarney and 20 minutes from The great Cobh and fora wildlife park. Only 5 minutes from Vienna Woods Hotel. Only 15 minutes Silver Springs. Our Air bnb has 24 hour cc tv
There is lovely places to eat in glanmire and some great pubs
It was a very nice stay. Phil is a lovely woman, and so were her sisters. She gave us conversation and delicious food all the time. Would really recommend.
Carles
2017-02-12T00:00:00Z
I stayed with my friend at Phil's flat in Glanmire for one night. Phil was a wonderful host. She was very accommodating and sweet. She gave us a ride to the local pub called The Castle (0.6 mi walk from flat) and had breakfast waiting for us when we woke up the next morning. We felt very safe at Phil's. The room was nice and the view overlooking Phil's backyard was beautiful. Phil's dog, Max, is adorable and loves attention. We thoroughly enjoyed our stay at Phil's!
Elizabeth
2016-06-26T00:00:00Z
Phil was a great host, very welcoming and friendly. Her home is very cosy, warm and comfortable, located on the outskirts of Glanmire town. The house is on a quiet street so ideal for anyone looking for a quiet stay. It's about a 10 to 15 min walk to the town centre, which offers a number of takeaways and small restaurants for eating, and there's a good size shopping centre. Glanmire is located around 20 - 25 mins drive from Cork city. Phil gave me a key to allow me to come and go, and cooked a tasty Irish breakfast for me in the morning. There's good on street parking and the location is best reached by car. Would recommend for a business traveller or someone looking for a quiet getaway outside of Cork city. Enjoyable stay!
Bren & Fer
2016-11-16T00:00:00Z
Highly recommended Phil is such a beautiful person and a great host.
Kieran
2017-03-13T00:00:00Z
Basic small space but with necessary amenities. A very helpful and friendly hostess who cooks a lovely breakfast.
Michelle
2016-09-12T00:00:00Z
Very easy to find and Phil is very nice and fun to talk to! She has a sweet puppy named Max who is very friendly!
Katie
2016-09-27T00:00:00Z
From the moment I arrived, Phil went beyond what was required of her to ensure my comfort. The neighborhood was pleasant and full of friendly people. I even took her lovely little dog, Max, for a walk one morning. There are good options for food within a couple minutes' walk. The room is perfect--I slept like a baby on the bed and the wifi is fast. Transportation to the city is easy. It is about 20 minutes by bus. The airport is about an hour by bus. There is plenty of parking available if you have your own car. Phil graciously introduced me to her friends and family. They took me under their wing and made sure I had a good time. Her home is always full of life and laughter. Whether it was over tea or at the pub, it was a continual stream of good conversation and stories being shared.
Jessi
2016-07-25T00:00:00Z
I strongly recommend this place where you will have a magnificent friendly and warm welcome(reception). Thank you for this good moment.
Nicolas
2016-08-18T00:00:00Z
Rodzaj pokoju
Pokój prywatny
---
Rodzaj nieruchomości
Dom
---
Mieści
3
---
Sypialnie
Glanmire, Cork, Irlandia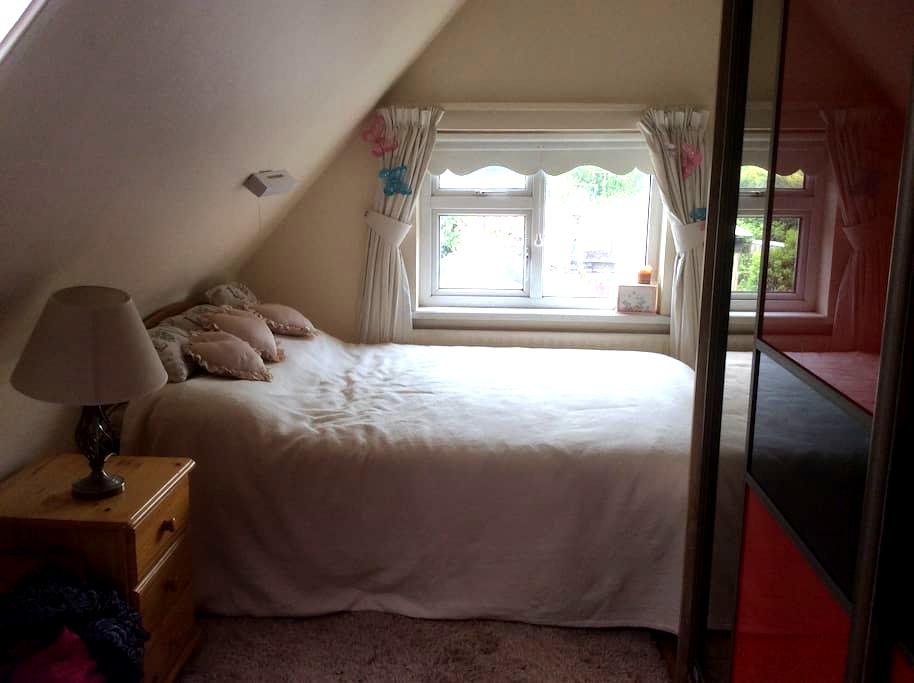 Beautifully renovated, modern and spacious home. Within 10 minutes of Cork city Centre by bus, or 25 minute walk. (Bus stop right outside the door). Within 4 minutes of all main roads into the City. Very Comfortable, Clean and homely.
Super Value Supermarket across the road. Chipship, Chinese takeaway, Pizza all across the road. Local Bar 5 minute walk.
Excellent accommodation and spotlessly clean. Very well looked after.
Stiofain
2017-03-25T00:00:00Z
Thanks you so much Aiofe for your hospitality, your appartement is beautiful and easy to find. The bus is just at 1minutes to walk. Thanks you for everything :-)
Aude
2017-03-19T00:00:00Z
Lovely house, lovely host, lovely shower! Would definitely recommend Aoifes if travelling to Cork boy!
Mick
2017-02-26T00:00:00Z
Such a great find! Fabulous room! A beautiful friendly welcoming host. Aoife was very helpful and flexible with my checking in/out. Great location with easy parking. The house is exactly as advertised. It's beautifully renovated, modern and spotlessly clean with a very warm atmosphere. The bedroom was spacious with the most comfortable cozy bed. The shower was just simply amazing. This was without a doubt a 5 star stay. I would highly recommend staying here. Thank you Aoife for an amazing stay. I'm looking forward to staying again soon.
LORRAINE
2017-02-19T00:00:00Z
Rodzaj pokoju
Pokój prywatny
---
Rodzaj nieruchomości
Dom
---
Mieści
2
---
Sypialnie
Cork, County Cork, Irlandia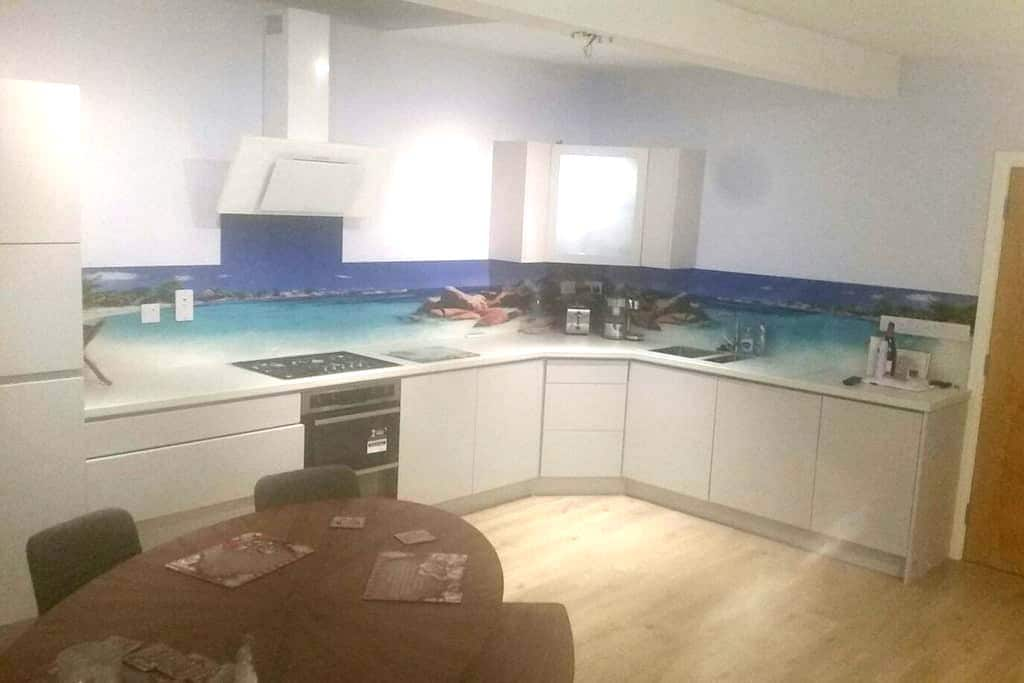 My place is close to the 202 bus stop, as well as local cafes and bars, Sunday market, Blackrock castle, the river, walks. 15 minutes commute to city centre. You'll love my place if you like quirky, old houses with character, also because of its location in Blackrock village, its proximity to the city centre, and to Mahon Point. Blackrock is a quiet neighbourhood, with river and walks. My home is good for solo adventurers, business travellers, and furry friends (pets).
Very enjoyable stay and also very recommandable. Susan is a very emphatic person and I felt straighaway at home.
Alexander Gerard
2016-11-14T00:00:00Z
Suzy was very welcoming and this was a great place to stay. Thanks, Julia
Julia
2016-11-10T00:00:00Z
Susan is a very helpful host and is very welcoming.
Anne
2017-01-18T00:00:00Z
You have to meet Susan! She is so nice and her home is a sweet home. I passed two days on and I love it. She mades all the things for your confort. For the emplacement, you are in 10min by bus to the centre of the city. If you want to visit Ireland and Cork, go to Susan's home.
Emmanuelle
2016-11-08T00:00:00Z
Susan's house was very characterful and bohemian and the room was comfortable and warm enough for sleeping. The downsides were that the house was quite cold during the day even with the heating on. I also found the place was not as clean as it could have been in some areas. Susan was a genuinely friendly person and a fantastic host who was very obliging in making my short stay as convenient as possible, being flexible with check in and check out times. With a few improvements here and there it will be a perfect place to stay.
Danny
2016-11-20T00:00:00Z
Susan and her gorgeous four legged friend, Lily, were truly welcoming to my four legged friend and I. Lovely period house in a beautiful part of Cork city. Lovely room and breakfast chats with Susan. Highly recommended.
Sarah
2016-11-27T00:00:00Z
Susan was a brilliant host. I had trouble finding a local restaurant(my problem) and Susan invited me to join her and her other guest, for an evening meal. We then all had a lovely evening in the local pub. Thanks Susan, much appreciated
Gordon
2016-12-10T00:00:00Z
It was OK. I had no problems.
Marek
2017-01-12T00:00:00Z
Rodzaj pokoju
Pokój prywatny
---
Rodzaj nieruchomości
Dom
---
Mieści
1
---
Sypialnie
Cork, County Cork, Irlandia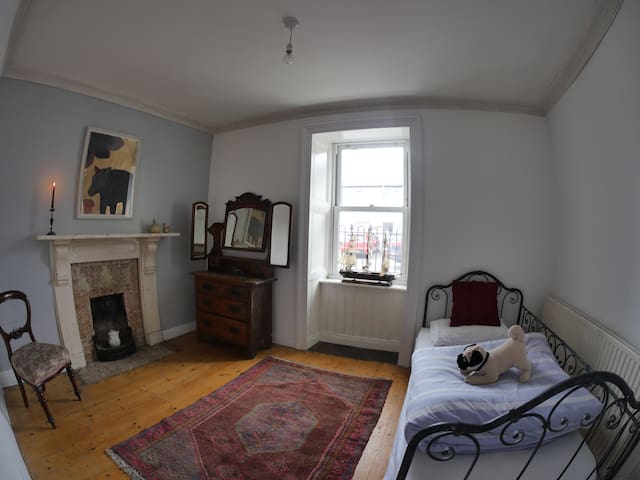 I am consistently awarded Superhost status. Double bed & complimentary continental breakfast provided. Separate bath/shower room for airbnb guests. Separate luxury sitting room for airbnb guests. Access to use secluded private patio garden. Parking available. Tea/coffee facilities in kitchen. Bedroom is upstairs. Bedroom has separate key to lock door. Toilet / wash hand basin downstairs also available to guests.
Relaxing spacious family home, close to all amenities & city centre. Warm Irish welcome. Most reasonably priced. €50 double bedroom. Just €10 extra if sharing. Bed & complimentary continental breakfast. Guests have use of separate luxury sitting room. Guests have access to patio in private secluded back garden. Bedroom has separate key to ensure privacy.
Springfort , Montenotte is a charming location of just 11 houses. It has magnificient city views. It is private and a desired, much sought after area of Cork City . It has Beech Hill Garden Centre at its entrance. Springfort locality has many beautiful scenic walks. It is serviced excellently by local taxis. Bus stop - 10 mins walk, bus 207/208 every 15 mins.
We stayed two wonderful days and were welcomed warmly and just felt at home. Nice bedroom and bathroom, breakfast was wonderful and Marie did everything to make us feel comfortable. Calm and nice location.
Lisa
2016-07-25T00:00:00Z
Marie is very nice, she will welcome you very well. Convivial atmosphere in the house with Marie and the other guest. The house is spacious and clean and the room too. Big breakfeast, lot of choice. Thank you Marie.
Claire
2016-06-19T00:00:00Z
Marie was a awesome host. After a long walk to her place, she arranged me something to eat and treat me like "family". It was an awesome place and i really enjoy it. I stayed just one night, and the day after she arranged me a taxi to city center. Everything was simply perfect and i strongly recommend this place for those who stay in Cork. Many Thanks!
Andrew
2016-07-17T00:00:00Z
Marie was such an amazing host! From the moment we arrived, we felt welcomed and at home. She gave us a lot of great tips for Cork and it was such a pleasure to talk with her, because she is such a warm, friendly and funny person. :) the house is lovely, clean, and there is everything you need. The bed is so comfortable, that its not possible to not sleeping well. :) we would definitely stay with Marie again, everything was Perfect!
Sarah
2016-07-30T00:00:00Z
We loved staying here! Marie is such a welcoming host and makes sure you have everything you need. The room was really comfortable and the big breakfast filled us up. You really feel at home at Marie's place. She had lots of suggestions for places to visit and even wrote out a list so we wouldn't miss any sights. When we left we had a lovely drive and saw some stunning scenery up through Schull, Mizen Head, and the ring of Kerry. Thanks, Marie!
Elizabeth
2016-07-27T00:00:00Z
Lovely Cork welcome from the delightful Marie. The house is fantastic and the host an absolute pleasure. Will surely be back. Thank you Marie :)
Niamh
2016-06-05T00:00:00Z
Marie is impeccable. A host more than perfect. She cares about every detail. A friend, careful, caring and providing the best service of all. Marie became more than a host, a friend. I want to return many times. I recommend. The place is spotless and near the center of Cork. Everything is beautiful and clean. Whenever I can come to Cork want to reconnect with you, Marie.
Thiago Bolivar
2016-06-25T00:00:00Z
Marie is a fantastic host! Very helpful in terms of recommendations and communication - she's an absolutely lovely woman. The accommodations were clean and exactly as expected. It's about a 20 minute walk to the city centre, which wasn't an issue at all. I would definitely recommend Marie's place when visiting Cork.
Renee
2016-07-17T00:00:00Z
Rodzaj pokoju
Pokój prywatny
---
Rodzaj nieruchomości
Dom
---
Mieści
2
---
Sypialnie
Cork City, Cork, Irlandia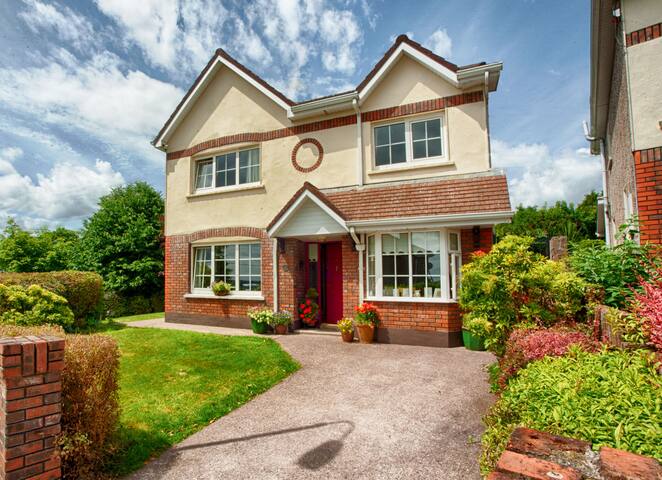 We welcome you to our friendly Cork home for short or long term stays. There is WiFi in the house . This is a double room with a double bed and light breakfast included We can pick up guests from buses coming in from Dublin or from Cork airport. This is if the hours are sociable otherwise you can get a taxi in. Within walking distance you can visit Black Rock Caste, a large shopping center with cinemas and local pubs and restaurants. It is 3 mins walk to the local bus stop, which takes you to the center in 15 minutes.
The reservation was canceled 38 days before arrival. This is an automated posting.
Meaghan
2014-05-07T00:00:00Z
The host canceled this reservation 25 days before arrival. This is an automated posting.
Gwen
2017-03-22T00:00:00Z
Our stay at Sandra's was a magnificent experience for us. The room was charming and clean and even though being far from home we felt just like being at home. The surrounding is nice, safe and quiet, ideal for long walks what we enjoy. Simply perfect for us. Our hosts were super friendly, gave us loads of tips and advices. We have enjoyed our stay here and would love to stay in contact as there are just a few people of such big heart as Sandra.
Tomislav
2014-07-02T00:00:00Z
Great place with great people !!!
Angelo-Victor
2017-03-19T00:00:00Z
Sandra's place is exactly as it is shown in the pictures. The bedroom is large and spacious. A new mattress and carpet was put in just prior to me arriving. The bed is very comfortable! Sandra is very welcoming to her lovely home. It's a twenty minute bus ride into Cork city centre and the bus stop is just a minutes walk away. I would definitely stay here again.
Becky
2017-03-11T00:00:00Z
Our son is an International Postgrad student at University College Cork. Due to the student housing crisis in Ireland, we turned to AirBnB to find temporary accommodation while he searched for a place to live. Not only did Sandra agree to welcome him into her home, she offered to assist him in finding long term housing. She picked him up from the train station and helped him sort his commute to and from school. The initial agreement was for two weeks, during which time my son was able to find long term student housing. When my son discovered he couldn't move into his housing until the following month, Sandra offered to extend his stay and provide meals so he wouldn't have to couch surf with friends during an intensive course of study. My son feels like he's staying with family and loves the relaxing environment, the food, and the camaraderie within the home. They have been a great source of advice about the area and the housing issues, and his transition to student life has been far less stressful than anticipated. Sandra has given my husband and I peace of mind, knowing our son has someone looking out for him.
Cynthia
2015-09-16T00:00:00Z
Great company, great food -> I would recommend this place to anyone.
Pawel
2014-06-11T00:00:00Z
Rodzaj pokoju
Pokój prywatny
---
Rodzaj nieruchomości
Dom
---
Mieści
2
---
Sypialnie
Cork, Cork, Irlandia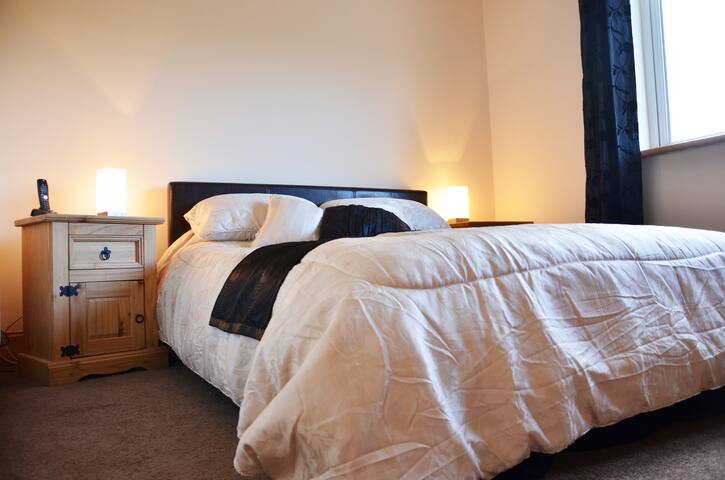 female guests only
I had a great stay at Veronica's place - the room and bathroom was impeccably clean and the little offering of fruit, water and chocolates made me feel welcome. She even waited up for me as I had a late flight in and was very happy to show me the place on the map that I needed to go to. Breakfast was great too - fruit scones, cereals, toast, peanut butter, jam and fruit. Highly recommended!
Edina
2016-10-16T00:00:00Z
My stay at this home was fantastic. Everything worked out just as it should and Veronica has a lovely family and they made me feel really welcomed. Everything was clean and in order. I would recommend to stay at Veronicas home if you are ever planning to visit Cork. The city center is very close, just 30minutes by walking and 15-20min by bus. Veronica was helpful and always ready to help or give advice if I had anything on my mind. I really had an pleasant stay. Thank you!
Oona
2016-11-01T00:00:00Z
Veronica and her family were wonderful hosts!! Everything was as stated, cozy and warm experience right down to making bracelets with her daughters. A loving environment in every way; even Minnie, Daisy and Buster had a paw in our fun!! Highly recommend this airbnb for travelers to Cork and outlying towns. The location is perfect. Away from the city noises and in a very safe neighborhood.
Carolyn
2016-11-29T00:00:00Z
Veronica is such an amazing host, I felt very well all the time. She welcomed me with a cup of tea and we had a really nice conversation. She's a friendly person and laughs a lot. The room is very quiet and clean, and so is the rest of the house. Whenever I had a question she helped me until she was sure that I'm alright. I really enjoyed staying with her and her nice family, and I would definitely stay again.
Nina
2016-09-22T00:00:00Z
Very warm welcome. Spotlessly clean and comfortable place. Will return again
Mary
2017-02-01T00:00:00Z
Nice room, very friendly people! The City Centre is a ca. 20 min bus ride away. I had a great time and can only recommend that lovely place to stay.
Sophie
2017-03-18T00:00:00Z
Everything was perfect, very clean and Veronica is very kind! There is a bus station just beside the house, very pratical to go in the city center.
Kim
2017-03-05T00:00:00Z
Great cozy place and very clean. Veronica is always ready to help, I had great at her place. Will come again.
Jean
2017-03-13T00:00:00Z
Rodzaj pokoju
Pokój prywatny
---
Rodzaj nieruchomości
Dom
---
Mieści
2
---
Sypialnie
Cork, County Cork, Irlandia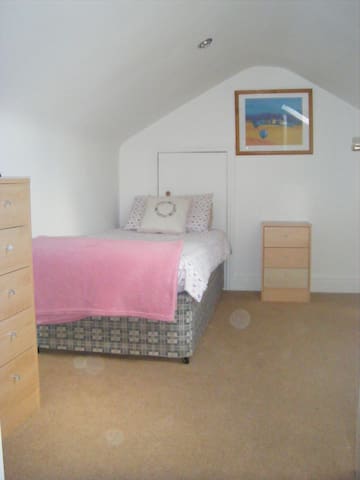 My place is close to public transport ( 1 min walk to bus stop). My place is good for adventurers. Double room with king size bed.
My house is located in a very quite area but still very central to public transport and main road links.
We were made very welcome by Geralda. the room was very clean and we both had a great nights sleep. The breakfast was ample and delicious and there was loads of information available for things to do in the area. Would definitely return and we highly recommend geralda's place.
eric
2016-11-03T00:00:00Z
This was my best Airbnb experience ever! Luxurious, comfortable and kind and generous host.
Jean
2016-06-30T00:00:00Z
Accommodation at Mrs. Gerald was absolutely amazing. The house is gorgeous. Everything was clean and friendly. Gerald is a very pleasant and friendly woman. Breakfast was brilliant. The whole house smelled nice and was most enjoyable. I can only recommend. :)
Filip
2017-03-06T00:00:00Z
I could not recommend staying at Ger's place more! She (and her sister Cathy who checked us in) is absolutely lovely and made us feel so at home. Plus, great location that's both walkable and close to buses. Already planning my next trip to Cork :)
Annalise
2016-12-12T00:00:00Z
Geralda was super welcoming and offered us coffee and tea upon our arrival. She was very accommodating for our check-in time. The room was clean and comfortable, and the house was a short drive to the center of the city. Geralda was very friendly and we would definitely stay with her again.
Sean
2016-08-27T00:00:00Z
Our stay at Geralda's place was very nice first of all..because of Geralda! She's a real woman of the world and knows very well her town. The city centre is only a 5 min drive away. The house was clean and the room was cozy! The breakfast was also good! recommended!
Giulia
2016-08-15T00:00:00Z
Geralda was a fantastic host. Friendly, knowledgeable, and very welcoming. She greeted our arrival with a pot of tea and a warm chat :) Her place was very clean, comfortable and spacious. The bathroom was also large and clean with fresh towels and hot water. Any guests needs were anticipated and met 100 times over. Geralda exceeded our expectations at every turn. I would highly recommend a stay here.
Adrienne
2016-06-21T00:00:00Z
Nice place. Nice host. Would recommend.
Josh
2016-10-18T00:00:00Z
Rodzaj pokoju
Pokój prywatny
---
Rodzaj nieruchomości
Dom
---
Mieści
2
---
Sypialnie
Cork, Cork, Irlandia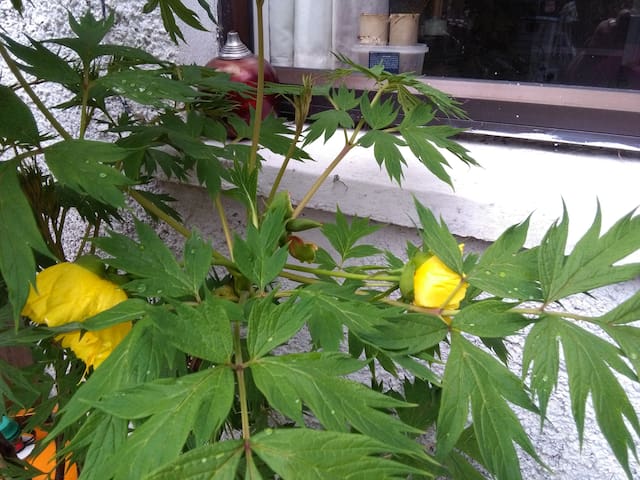 My place is close to public transport, the city centre, and parks. You'll love my place because of the ambiance, the location, and the people.
Bright and airy space in a quiet neighborhood. Close to local shops an amenities.
Shopping center five minutes away. Restaurants, pub, sports complex and an amenity park all in immediate vicinity. Quiet city suburb.
Cathy was a great host. She made breakfast everyday and even drove us to the city center on a rainy day. We had no buses due to a bus strike but she helped us organize our trip. She even offered to give us a lift on our last day, even though we were leaving very early. The place is a bit far from the city center, but it's easy to go if the buses are running. By taxi isn't very expensive, like 10€. Cathy owns a very friendly and obedient dog. Would recommend 100%!
Patricia
2017-04-04T00:00:00Z
Cathy was an amazing host from the outset. We stayed with her for one night as we had a night kayaking activity booked in West Cork. She was so welcoming and hospitable - she even made us a delicious soup and sandwiches to take with us and eat after our kayaking session. Cathy's house was in a covenient location, nearby lots of restaurants, bars and shops. The room was very clean and well presented, and her dog was friendly and lovable. We would definitely stay with Cathy again.
Nikkie
2016-08-26T00:00:00Z
We stayed with Cathy for 2 weeks while we where getting settled in Cork. (We planned to stay for two nights...) Cathy is a lovely host, very relaxed, friendly and helpful. We felt really at home at Cathy's place. She had a lovely dog, which is really well-behaved. I would really recommend to stay with Cathy. Thank you so much for everything!
Christina
2016-10-21T00:00:00Z
Cathy was a generous and welcoming host, offering tea and coffee when we arrived and with breakfast the next day. She has a lovely home and it is not hard to get to the city center from there. I would definitely stay there again.
Frederik
2016-07-16T00:00:00Z
Staying with Cathy was great! Every effort was made to accommodate our needs. Cathy had to work when we wanted to check in and drop off our bags, so she had her sister meet us to let us in, show us around, and give us our keys, which was extremely considerate of them both. Our room was comfortable, and she provided us with a great breakfast in the morning. Her house is very close to public transit which takes you directly into the city centre, just make sure you check the bus times before leaving the house, as they come approximately every half hour. Overall an excellent stay!
Ariana
2017-01-08T00:00:00Z
Lovely comfortable bed in a clean room. A residential neighbourhood on the outskirts of Cork City. Cathy was very welcoming and easy company - she even gave me a drive in to the city centre.
Claire
2016-12-31T00:00:00Z
Cathy is a wonderful host! This was our first stay in a private room (usually book entire homes/apts) and it was a great experience. Cathy made us feel comfortable right off and the room had everything we needed. I would highly recommend staying with Cathy if you want to be near Cork city center and if you are looking for great conversation over breakfast during your stay!
Jordan
2017-02-25T00:00:00Z
Cathy has been amazing during our stay. She welcomed us with a nice cup of tea and showed us around her house that is lovely and very comfy. The bedroom was great and we slept like logs! She also gave us a lot of informations about the city and showed us around, it was very helpful and so nice of her.
Simon
2016-08-29T00:00:00Z
Rodzaj pokoju
Pokój prywatny
---
Rodzaj nieruchomości
Dom
---
Mieści
2
---
Sypialnie
Cork, Cork, Irlandia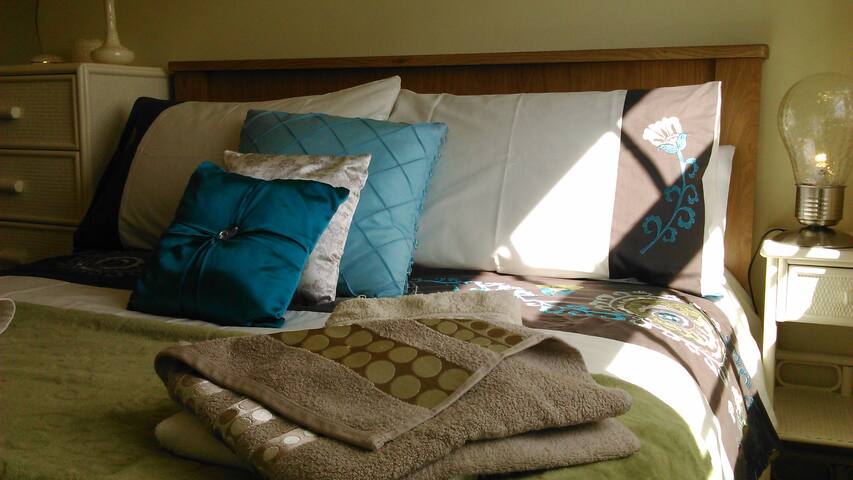 My place is close to great views, restaurants and dining, family-friendly activities, and nightlife. You'll love my place because of the location, the cosiness, the people, and the views. My place is good for couples, solo adventurers, and business travellers. I have one single room available. Fresh new sheets will be put on the bed before any guest arrives. House is located next to bus stop that travels straight to the City Centre in Cork.
Tive uma excelente estadia na casa do Mike. Ele foi sempre muito amigável e prestativo. A casa é muito confortável, limpa e fica num bairro excelente. Mas, não é possível chegar ao Centro de Cork andando... todavia tem ônibus (número 221) muito perto e pontualmente a cada 30 minutos. Foi uma estadia confortável e me surpreendeu.
Jota
2016-10-15T00:00:00Z
Th house is in a very nice area and Mike is a very friendly host.
Liam
2016-09-15T00:00:00Z
Mike welcomed us warmly and shared a beer with us ! He gave me a hurling stick which will probably be my best souvenir from Ireland ! the beds are comfortable and the surroundings nice and quiet. We recommend that place !
Cyril
2016-08-19T00:00:00Z
The host canceled this reservation 2 days before arrival. This is an automated posting.
Matteo
2017-03-16T00:00:00Z
Mike is a wonderful guy, his house, his linen, his hospitality is very accommodating he really puts the mat out for you.
Philip
2017-03-26T00:00:00Z
The host canceled this reservation 27 days before arrival. This is an automated posting.
Kelley
2016-08-22T00:00:00Z
Nice place to rest your head. Mike was not there but made sure that there was someone there to receive me and assist in his absence.
William
2017-03-18T00:00:00Z
Nice, quiet house outside of Cork but extremely easy and quick to get there by public bus.
Emma
2016-10-30T00:00:00Z
Rodzaj pokoju
Pokój prywatny
---
Rodzaj nieruchomości
Dom
---
Mieści
2
---
Sypialnie
Glanmire, Cork, Irlandia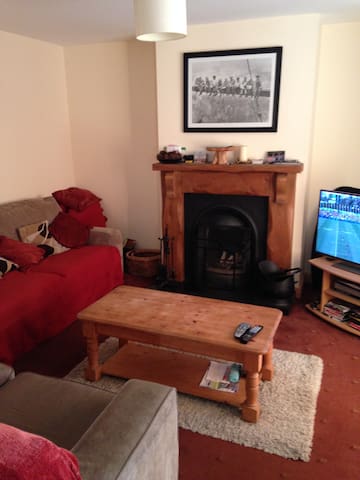 Wpisz daty, by zobaczyć pełną cenę. Obowiązują dodatkowe opłaty. Cena może uwzględniać podatek.