I rent my house in the heart of Sauveterre de Guyenne 50m from the main square (shops). 100m2 house consists of a double living room, a kitchen, a toilet, a 30m2 terrace on the ground floor. Upstairs: 2 rooms, 140 beds, a bathroom and a toilet. Possibility of 2 beds sup. on sofa in the living room. The lease is located 30 minutes from St Emilion, Sauternes, Loupiac and the Canal du Midi and the Garonne river. Small villages to visit.
Gentillesse, bon accueil, souplesse, ... autant dire que c'est une adresse à recommander. Merci Regine.
Olivier & Isabelle
2016-12-30T00:00:00Z
Logement très sympa, bien équipé, décoration personnalisée très agréable. Je le recommande sincèrement.
Jean-Luc
2016-12-29T00:00:00Z
"Petite" maison de centre ville très agréable
Olivier
2017-03-19T00:00:00Z
Merci beaucoup, Régine, pour votre accueil et votre gentillesse. Nous avons passé un excellent séjour dans votre maison, très confortable et chaleureuse à votre image. Tout est prévu pour que les hôtes se sentent comme à la maison ! Nous n'hésiterons pas à recommander votre adresse. Bien amicalement. Marie et Patrice
Marie
2016-11-01T00:00:00Z
The apartment/house was spacious and well suplex with everything one needs to have a relaxing stay and a good night's rest. Regina was responsive to our questions and very helpful.
Kathleen
2016-09-29T00:00:00Z
La maison de Régine est pleine de charme et très bien aménagée. Le rapport qualité-prix est très intéressant pour l'accueil proposé ( tout était prêt à notre arrivée : les lits étaient faits, ...). Nous recommandons chaleureusement votre maison. Carole
CAROLE
2017-02-19T00:00:00Z
Logement agréable et confortable, dans le cœur de Sauveterre, à proximité des commerces et des vignobles environnants.
Mikhail
2017-03-09T00:00:00Z
Regine has created a lovely apartment, very nicely decorated and well set up. Would have been happy to stay here much longer. The apartment is very close to the historic centre of Sauveterre and cycle paths. This is a nice small town with a good variety of shops (grocer, boulanger, charuterie, pharmacy, newsagent) and on the Tuesday when we left a lively market in the square. Regine was very welcoming and friendly.
Kate
2016-10-18T00:00:00Z
Rodzaj pokoju
Całe miejsce
---
Rodzaj nieruchomości
Dom
---
Mieści
4
---
Sypialnie
Sauveterre-de-Guyenne, Aquitaine-Limousin-Poitou-Charentes, Francja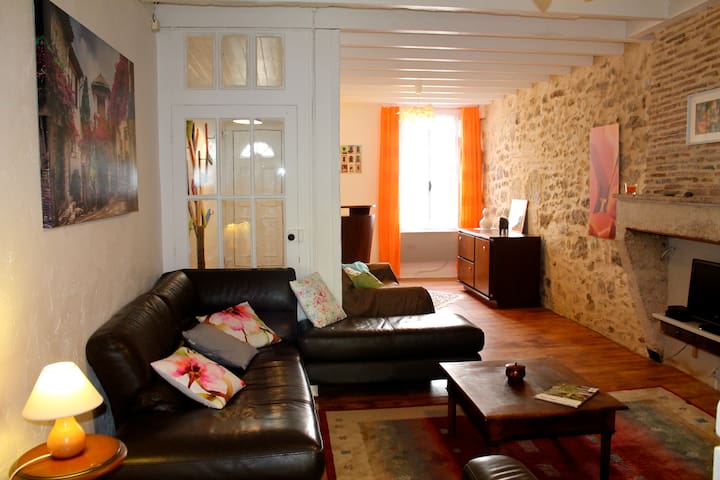 Nous sommes situés en Sud Gironde, dans l'entre deux mers entre St Emilion et Sauternes. Au calme , en campagne vigneronne si joliment surnommée la petite "Toscane" . La Métropole Bordelaise à 45mn et le bassin d'Arcachon à 1 H. Logement de 50 m² avec entrée indépendante : * 1 grande chambre * 1 salon avec 1 canapé convertible +1 coin repas * 1 kitchenette * 1 salle de douche à l'italienne * 1 WC séparé Calme absolu qui invite à la détente, au ressourcement.
Rodzaj pokoju
Całe miejsce
---
Rodzaj nieruchomości
Apartament
---
Mieści
3
---
Sypialnie
Castelviel, Aquitaine-Limousin-Poitou-Charentes, Francja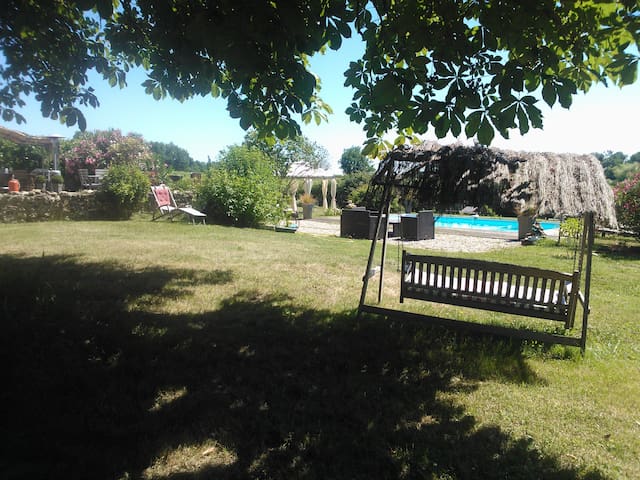 Nous sommes situés en Sud Gironde, dans l'entre deux mers entre St Emilion et Sauternes. Au calme , en campagne vigneronne si joliment surnommée la petite "Toscane" . La Métropole Bordelaise à 45mn et le bassin d'Arcachon à 1 H. Logement de 50 m² avec entrée indépendante : * 1 grande chambre * 1 salon avec 1 canapé convertible +1 coin repas * 1 kitchenette * 1 salle de douche à l'italienne * 1 WC séparé Calme absolu qui invite à la détente, au ressourcement.
Nous avons été très bien accueillis par Christine et Didier, qui nous ont hébergés dans une dépendance de leur très belle maison située au milieu des vignes. Le temps était au beau fixe, aussi nous avons beaucoup apprécié la piscine et le grand jardin ombragé. Christine et Didier étaient très disponibles pour nous donner tous les conseils nécessaires afin passer un très bon séjour. Merci !
Martin
2016-07-18T00:00:00Z
Christine et Didier nous ont réservé un excellent accueil. Ils sont extrêmement disponibles et de précieux conseils pour rendre le séjour fort agréable. Le logement est parfaitement conforme au descriptif et d'une grande propreté et l'environnement au milieu des vignes est magnifique. Il est très appréciable de pouvoir prendre les petits déjeuners et les repas dans le jardin ainsi que de profiter de la piscine. Je ne peux que conseiller ce logement.
Jean-marie
2016-09-06T00:00:00Z
Christine et Didier ont été des hôtes très accueillants et chaleureux et ont su nous conseiller sur la région et les activités proposées. Toujours disponibles pour répondre à nos questions et nos besoins, nous avons été heureux de les rencontrer ! Le logement, qui vient d'être refait à neuf, convient pour 4 personnes et est décoré avec goût. L'immense jardin offre de nombreuses possibilités très appréciables en été : repas en extérieur, jeux, baignades et farniente autour de la piscine. Situés en plein milieu des vignes, nous avons pu profiter du calme : important en vacances ! La région est riche en activités : à 2h d'Arcachon, à 1h de Bordeaux, à 30 min de Saint Emilion, nous avons aussi pu profiter des nombreux vignobles, des marchés nocturnes, du canoë kayak et de belles balades à pied ou à vélo. Nous recommandons ce logement !
Morgane
2016-08-06T00:00:00Z
Rodzaj pokoju
Całe miejsce
---
Rodzaj nieruchomości
Apartament
---
Mieści
2
---
Sypialnie
Castelviel, Aquitaine-Limousin-Poitou-Charentes, Francja
Surrounded by farmland and vineyards, La Girondine is an ideal location for an "away from it all" holiday just 45 minutes from Bordeaux.
A traditional farmhouse, La Girondine has been lovingly restored to offer the visitor every comfort while retaining most of the original features such as stone and marble fireplaces, timbered ceilings and exposed stone walls. The hall opens onto a delightful lounge a large stone fireplace into which a wood-burning stove has been fitted. A fully equipped kitchen is situated at the back of the house and opens onto a stone loggia (covered patio) which is equipped for outdoor dining. There are three spacious and light bedrooms, tastefully decorated and furnished in keeping with the style of the house. There is a full bathroom and a shower room - both with WC, and a utility room. The loggia opens onto a lovely 9 X 4 metre pool surrounded by timber decking and backed by vines. This charming self-catering holiday home is totally private and is set in 2000 sq metres of mature garden with fruit trees.
This traditional stone farmhouse, built in the girondine style, is situated in the hamlet of St Exupéry near the bastide town of Sauveterre de Guyenne in the heart of Entre deux Mers, a particularly pretty part of the Bordeaux wine growing area typified by small vineyards producing reasonably priced local wines. The house is surrounded by vineyards, fields and copses of deciduous trees and is less than an hour's drive from Bordeaux (35 miles). Sauveterre is large enough to be busy all year, with shops, services and a lively weekly market. The area is ideal for cycling and hiking The old railway line between Sauveterre and Bordeaux provides 55kms of idyllic, dedicated cycle track. Many historical buildings dot the area. St Exupéry's own Romanesque church is a listed building. Many famous painters and writers lived locally and you can visit the châteaux of Montesquieu, Mauriac and Toulouse-Lautrec. The tiny medieval village of Castelmoron D'Albret is a short drive away as are the larger medieval towns of St Macaire and La Réole and the bastide towns of Créon and Montségur. There is an abundance of colourful local markets and many small vineyards offering wine tasting. The St Emilion wine-growning area with it's UNESCO listed medieval village and prestigious wines is only a 30-minute drive from the house. The railway station at La Reole (7 kms) provides easy access to Bordeaux. If you prefer to drive, Bordeaux is reachable by motorway from Langon (50 mins) or along the beautiful D10 road which follows the Garonne valley. Atlantic beaches and the bay of Arcachon are just over an hour's drive away, with miles of sandy beaches. The sand dune at Le Pyla is the highest in Europe and is a great favourite with families.
This is a wonderful property - full of rustic charm, comfortable and set within beautiful countryside. The house was well, if simply, appointed having all the needed basics. There is no internet, but the 3G connection was quite good, so if you need to get online it is possible. Most of our time was spent outside enjoying the garden, bbq, pool and local wines. Before we arrived the owners were always prompt with replies to questions and gave us a helpful guidebook of things to do in the area.
Christopher
2015-07-18T00:00:00Z
We had an amazing 7 days at La Girondine at the end of August. It is a beautiful, old farmhouse with a lot of the original features still remaining. It is simply but comfortably furnished with plenty of kitchen items to cook meals. The swimming pool was fantastic as it meant we didn't have to venture out anywhere if we didn't want to. The house is definitely rural and there aren't any amenities in walking distance, but that is exactly what we needed. Great views and lovely walk down to a ruin of a watermill and the river. It's next to a working farm so be aware that there is noise coming from there. Emmanuel and Carmel were lovely hosts, as were the Boulin family who greeted us. We ventured out a couple of times for dinner in local towns and went to Château Malromé for a wonderful tour of the house and Toulouse-Letrec art museum and wine tasting. A fantastic and relaxing holiday in rural France. Thank you!!
Djerk
2015-08-31T00:00:00Z
The house at Saint Euxepry is a lovely old house with perfect location and beautiful views from bedroom and lounge.
Christelle
2016-07-15T00:00:00Z
We had an excellent stay at La Girondine. The house was very well equipped and the pool in excellent condition. Our hosts were extremely helpful with information about the surrounding area, wine tasting, chateaux, bikes etc.
Charlotte
2015-07-12T00:00:00Z
Very nice authentic French countryhouse. Beautifull, very quiet surroundings, vines and sunflowers everywhere (are we in France?!)… Big garden with nice pool, lovely patio next to the kitchen. We stayed in the house with two couples and our daughter of 11 months, we had a great time and wished we could stay longer...
Ruben
2014-07-19T00:00:00Z
We had a splendid week at La Girondine; Carmels and Emmanuel's house is truly amazing, with a very charming authentic French feel about it. Carmel and Emmanuel were very welcoming and helpful, just like Madame Boulin who showed us around when we arrived. The house is surrounded by a very charming and lush garden, and situated in a beautiful rural countryside with amazing views from all windows. The pool is very beautifully situated next to a vineyard and there's a nice path in from of the house that leads towards a little waterfall. It's very calm and peaceful, with some charming villages around, for those fantastic French boulangeries and restaurants; precisely what we hoped for. Lovely lovely lovely! We would certainly love to return to La Girondine!
Linda
2016-07-31T00:00:00Z
Rodzaj pokoju
Całe miejsce
---
Rodzaj nieruchomości
Dom
---
Mieści
7
---
Sypialnie
Saint-Exupéry, Akwitania, Francja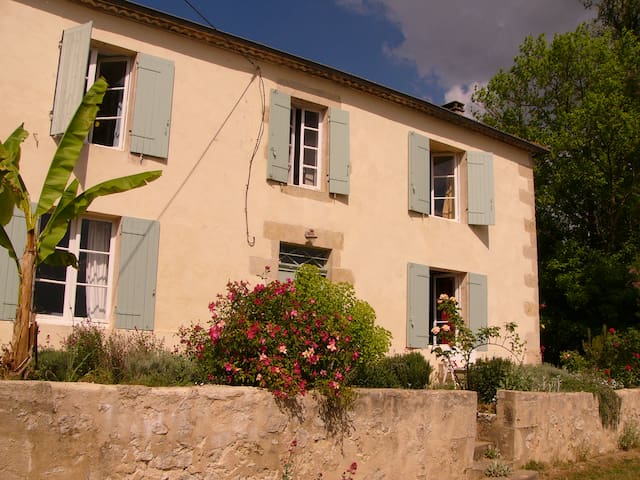 This is a lovely small house set in a small hamlet just 3 kms from Sauveterre-de-Guyenne. There is a large pool and in addition to a small private garden there is 1h of communal garden to explore.
This house has 3 bedrooms with a total of 4 single beds (90 x 200), 2 in each room upstairs and 1 double bed (140 x 200) downstairs. In addition there are 2 double bed-settees downstairs. It is ideal for a family or a group of people. The house is comfortable for either 1 or 2 families OR a large group of people could share the space. There are beds for up to 12 people although fewer would be more comfortable! PLEASE NOTE If your reservation is for less than 4 nights then please bring your own linen and towels. Alternatively we will supply linen at 8€ per person.
Sauveterre de Guyenne is set in the Entre-deux-Mers region of the Aquitaine. The area is famous for its white wine and historic buildings, dating back to the time of the 100 years war and the pilgrims of St Jaques de Compostelle. There is a dedicated bike route into Bordeaux from Sauveterre.
Nous avons passé une semaine dans la maison : Il s'agit d'une veille maison qui reste donc fraiche pendant l'été ce qui est agréable. Le jardin est vaste et dispose de nombreux jeux et le cohabitation avec l'autre maison se fait naturellement. Les environs de la maison sont ravissants et permettent de rayonner facilement vers différents villages pittoresques. La piscine est partagée avec la maison voisine et les amis des propriétaires, ce qui n'en facilite pas toujours l'accès. Il est à regretter l'état de vétusté de la maison et du mobilier : literie inconfortable, canapés et fauteuils élimés, porte qui ne ferme pas, nécessaire de cuisine plus que léger … Le bilan est donc mitigé : positif pour la localisation, plus décevant pour le confort de la maison. Rapport qualité prix à revoir.
Adrien
2015-08-22T00:00:00Z
Accueil très chaleureux. Merci pour le BBQ et la piscine
Louis-Philippe
2015-07-15T00:00:00Z
La maison est simple mais très calme Nous avons vraiment commencé nos vacances d'une façon agréable grâce à cette escale
EMMANUEL
2015-07-27T00:00:00Z
Maison Cabannes is a charming house with real character. We loved our stay here. Lots of space, ample for the four of us or even a couple more. I Ioved the creaky floor boards and the smell from the chimney. Great that there's a spot for parking out front, as a car is a must in this remote location. Very convenient in terms of its proximity to the 'Super U' great supermarket. The village itself is picturesque, but without a single shop, but within 10 minutes in either direction you'll find picture perfect little towns / villages for a wander, cafe, pain au chocolate...drive a little further to Gensac (our recommendation). Pessac, minutes further on, has a gorgeous river view. The gardens of Maison Cabannes are beautiful. Loved the fact that there's a hammock hanging ready for some chill time. There's table tennis and a pool too (if you're brave enough to dip into the cool water)...lovely for hot summer days! Don't expect anything other than peace and quiet here....for us, exactly what we were after. Thanks to our nice host Sarah, and to Jean Claude who was ready to help with anything we needed.
sarah
2015-08-15T00:00:00Z
Rodzaj pokoju
Całe miejsce
---
Rodzaj nieruchomości
Dom
---
Mieści
8
---
Sypialnie
Sauveterre-de-Guyenne, Akwitania, Francja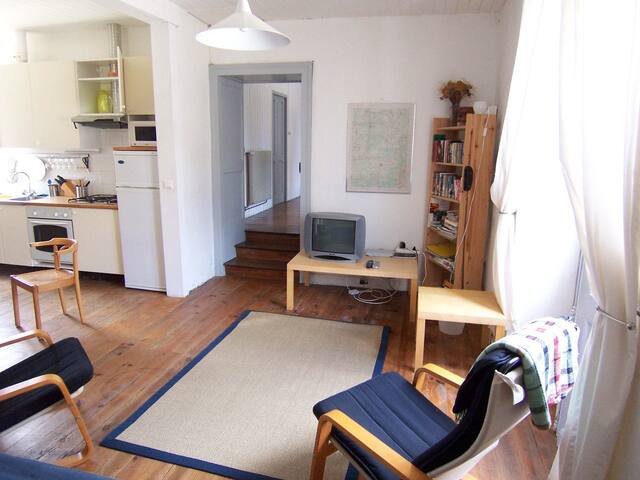 This is an old country house set in 1 hectare of garden with a swimming pool. The small hamlet where we are situated is only 3 kms from the nearest town with supermarket and all shops that are needed.
The house is comfortable for either 1 or 2 families OR a large group of people could share the space. There are beds for up to 12 people although fewer would be more comfortable! If you make a reservation for less than 4 nights then please bring your own linen and towels. There are 3 bedrooms in the house. Bedroom 1 – 1 double bed (190 x 160) and one single bed (90 x 190). Bedroom 2 – 3 single beds (90 x 190), a cot and a bed/chair Bedroom 3 – 1 double bed (180 x 200) and 1 single bed (90 x 190).
This is an area known as the "Entre-deux-Mers" - famous for white wine and as a major post on the route for the pilgrims of St Jaques de Compostelle. The area is steeped in history and you can see vines for as far as the eye can see. There is a dedicated bicycle route from Sauveterre de Guyenne to Bordeaux which has to be experienced! Bike hire in the town.
très love and peace j ai bp aimé. Sarah très sympa
Yann
2015-08-09T00:00:00Z
Nous etions 20, la maison était grande, les hotes très accueillants et très sympathique ! LE jardin est immense, avec des activités, telles que la piscine, le ping pong, le basket, le volley ! excellent ! Nous reviendrons c'est certain ! Petit point négatif : Une seule salle de bain et un seul WC!
Marc
2015-08-17T00:00:00Z
Superbe maison de campagne au cœur des terres et des vignobles, avec énormément d'espaces autant dans la maison et ses grandes chambres que dans le jardin, ou plutôt le bois avec jeux pour les grands et les petits. La piscine est un super bonus, bien que partagée avec les hôtes de Sarah. L'accueil de Sarah en anglais est très agréable, notamment pour les horaires d'arrivées et de départs. La maison est une vraie pépite que nous recommandons !
Mehdi
2015-08-03T00:00:00Z
Accueil très sympathique, cadre agréable, nous avons passé un très bon moment. Merci
Clemence
2015-06-29T00:00:00Z
Rodzaj pokoju
Całe miejsce
---
Rodzaj nieruchomości
Dom
---
Mieści
12
---
Sypialnie
Sauveterre-de-Guyenne, Akwitania, Francja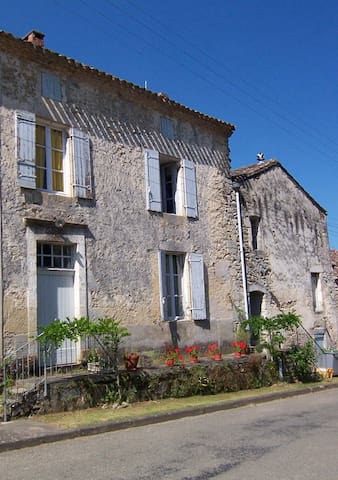 Former wine farm in 1890 while stone, quiet, in the Between Sea, restored with great care and comfort, pool, more than 50 varieties of roses, full kitchen and wood-burning fireplace.
That`s a winemakers house in stones, the place is very quiet, the garden is nice, there is a small hut with tea sets for children. The pool is high appreciated, we leave available buoys and water games for children.
There are plenty of gourmet and night markets in the region.
Des notre arrivé nous avons bien été accueilli , on nous a offert un rafraîchissement ainsi qu'un panier garni. La maison est dans un lieu très calme parfais pour les vacances , nous avons quasiment profité que de l'extérieur très beau cadre.
Isabelle
2016-08-21T00:00:00Z
Accueil très sympathique, sans chichi et très prévenant de Marie-Pierre et Bernard. Notre seul regret est de ne pas avoir pu passer plus de temps avec eux. La maison était telle que nous les aimons : authentique, de caractère et avec du charme, qui plus est avec tout le confort moderne même si ce dernier point n'est pas un priorité pour nous. Bref, nous recommandons chaudement. Thierry
Thierry
2016-08-01T00:00:00Z
Nos hôtes nous ont accueillis d'une façon très chaleureuse. Après avoir fait le tour de la propriété pour découvrir les lieux et les installations, ils nous ont proposés de nous désaltérer sous la tonnelle tout en nous répondant à nos dernières questions. Un petit anier "gourmand" nous attendais avec quelques douceurs maison...
Marc
2016-07-17T00:00:00Z
Accueil chaleureux, maison calme et agréable, idéal pour des vacances de repos. Encore Merci
Cyril
2016-08-14T00:00:00Z
Rodzaj pokoju
Całe miejsce
---
Rodzaj nieruchomości
Dom
---
Mieści
8
---
Sypialnie
Morizès, Akwitania, Francja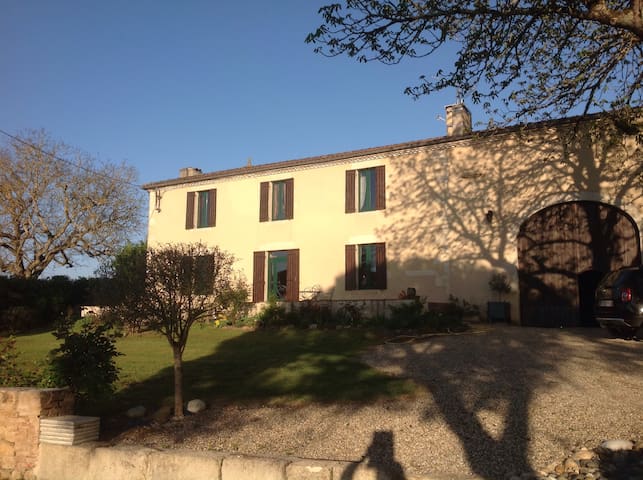 grand barbecue chaine hifi avec CD, USB, base d'accueil IPOD, Iphone
belle maison de pierre, 170m², sur 2.6 hectares, grande piscine, point de vue imprenable sur les paysages de l'entre deux mers girondin. ( entre Sauveterre de Guyenne et Monsegur).4 grandes chambres + 1 espace mezzanine avec 3 couchages possibles. 1 salle de bains, 2 wc .Grand salon salle à manger, terrasse de 150 m². Barbecue.Maison entièrement équipée et décorée. Logement parfait pour profiter du calme de la campagne en famille, au milieu des chemins de randonnée et au cœur des bastides de Guyenne.
It was the second time that we stayed at Elise's place, and we enjoyed our 3 weeks a lot. Elise is a great and welcoming host (leaving us a baby bed, some nice Bordeaux wine,...). Beautiful scenery, nice pool, and a lovely house.
Philippe
2016-08-07T00:00:00Z
We had a brilliant time at Elise's, 6 of us all had plenty of room to relax and we loved the views and pool! Plenty of outside furniture to make use of, and easy to find with a sat nav. The area is beautiful as is the wine!
Florence
2014-08-03T00:00:00Z
Great house with an incredible pool overlooking vineyards and green open space. Fully equipped house and an excellent way to escape the city for a relaxing weekend. Saint-Emilion is just a short drive away to sample many excellent wines. Thanks so much Elise - we had a wonderful weekend in your house!!
Samuel
2013-06-17T00:00:00Z
Excellent séjour ! La maison est très agréable avec une superbe vue. Elise est très accueillante et facilement joignable.
Mathilde
2015-07-15T00:00:00Z
Wow. Wow. Wow! What an amazing house & part of France. We travelled as 2 families with 5 kids & we all had an amazing time. House & pool was perfect. Elise was a fabulous host & welcomed us with her family & coffee on arrival. We highly recommend the house & will be passing the word on to others!
Kate
2014-08-24T00:00:00Z
La réception de notre mariage dans votre maison a été merveilleuse le cadre les chambres tout merci encore pour votre disponibilité et votre gentillesse un séjour à refaire A bientôt et merci
Zyed
2014-08-27T00:00:00Z
We had a fabulous week and I would definitely recommend this property for anyone looking for a relaxing time in the countryside. Elise even made us a rhubarb tart for us to have on our first night, a fantastic host. Overall the property was lovely. We were a group of eight, 2 couples and 4 singles which worked well...the bedroom layout meant with one person in the mezzanine bedroom it was a bit noisy for them if people were using the bathroom or got up early, but this is a very small detail and was only because of the way our group worked out. I would definitely recommend for a great holiday within easy distance to fantastic locations and vineyards.
Claire
2016-07-17T00:00:00Z
Elise is a great host and so so helpful throughout the whole booking and arrival process. The house is wonderful, just as good as it looks in the pictures maybe even better! We were 10 people and there is more than enough room and facilities for us to be comfortable for a long weekend. The interior of the house is beautifully decorated and the gardens and the pool are really idyllic. Its about a 15 minutes drive to La Reole and there are supermarkets about 10 mins away too - but you do need a car! If you are looking for a stunning house with pool with great views and lots of peace and tranquility with a wonderful host, then this is a great place for you! Merci encore Elise!
julie
2014-09-02T00:00:00Z
Rodzaj pokoju
Całe miejsce
---
Rodzaj nieruchomości
Dom
---
Mieści
10
---
Sypialnie
Saint-Martin-du-Puy, Akwitania, Francja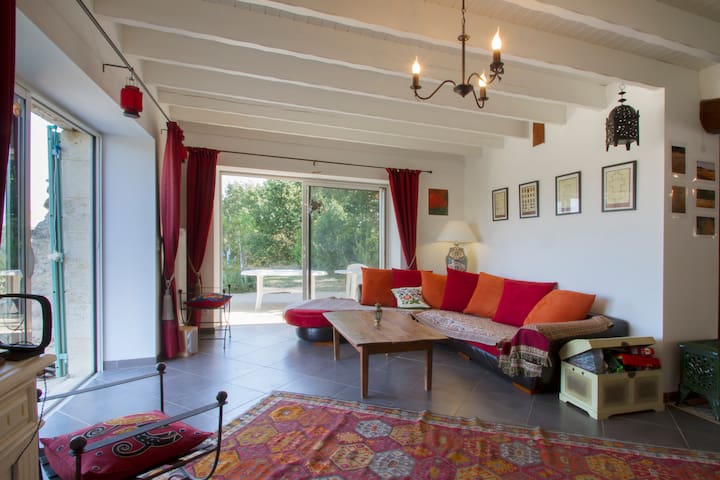 Stunning spacious 17th C Manor House set in its own 15 acres of gardens, woodland & fields. Set on a hilltop with private pool & incredible views. Poolside kitchen & BBQ area perfect for al fresco dining. Meander in your own private woods or cycle around the lanes and vinyards on the house bikes. A haven of tranquillity yet only 5 mins drive from lovely la Reole & 10 mins from Monsegur hosting lively weekly night markets with gourmet food & entertainment, and its famous Jazz Festival in July.
Bedroom 1 ('the Green Room) - this is the largest bedroom with 1 double bed and a single bed, with interconnecting door to: Bedroom 2 ('the Yellow Room') 1 double bed and 1 single bed Bedroom 3 ('the Orange Room') 1 double bed with own sink Bedroom 4 ('the Blue Room') 2 single beds Bedroom 5 (the End Room') 1 double bed and 1 child's single bed Note: Bedrooms 1-5 are located at the front of the manor and all have stunning views from their windows to the hills and fields below Bedroom 6 ('the Stone Room') has one double and ensuite toilet and sink. It is more rustic in style and located at the back of thee house, half way off the stone staircase. Upstairs are two large traditionally French bathrooms each with toilet, bath, shower and sinks. There is a third separate toilet with sink, and a separate small shower room with limited head height but perfect for kids! The large kitchen is newly refurbished but still rustic with oak worktops, long oak table and benches, and magnificent inglenook fireplace for cosy fires during the colder months. Fully equipped with new American style fridge freezer, range cooker and stainless steel cooker hood, dishwasher, microwave, highchair. Spacious but cosy lounge with sofas and armchairs, marble fireplace, satellite TV with freeview channels, DVD player Beautiful grand hall entrance leading to dining room with stunning views to the front.
Rayot is only 6 minutes drive from lovely medieval riverside town of La Reole (markets twice weekly) and 10 minutes from attractive Bastide town of Monsegur with its lively weekly night markets, stalls selling all kinds of delicious French cuisine, with tressle tables in the square for informal family and group dining and live music. Monsegur also hosts the famous international Jazz festival (24 heures du Swing') in early July which is a fantastic weekend event and great fun for all the family. Wine tasting opportunities are all around but for serious wine enthusiasts, towns such as St Emilion and Sauternes are within an easy drive.
Rodzaj pokoju
Całe miejsce
---
Rodzaj nieruchomości
Dom
---
Mieści
14
---
Sypialnie
Saint-Martin-de-Lerm, Nouvelle-Aquitaine, Francja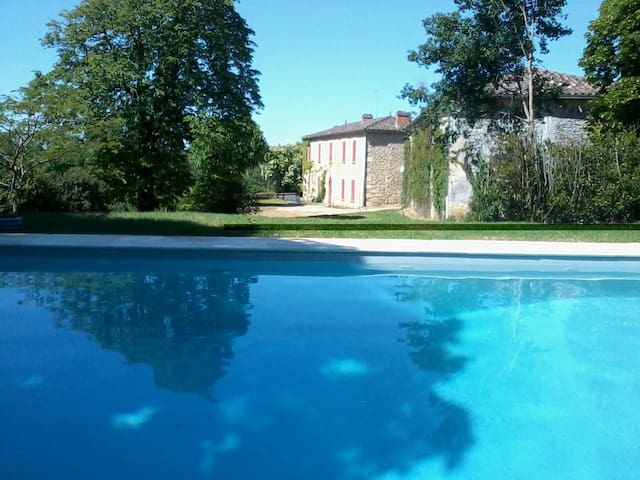 接近海洋跟大自然的懷抱 房間為雙人房型/一人600(可加至三人) Sitting in the quiet valley, avoid the traffice yet only 900m from the beach This is a two beds room, price per person NTD600
座落在舊東河老街旁,遠離大馬路的喧囂.可健行至東河橋及海邊 Sitting in the valley, 900m from the beach. Easy hike route to the Dong-He Bridge and valley.
Ocean, Mountain valley, enjoy the peaceful life here.
很棒的環境,房東媽媽很熱情
伯彬
2016-06-11T00:00:00Z
Rodzaj pokoju
Pokój prywatny
---
Rodzaj nieruchomości
Dom
---
Mieści
3
---
Sypialnie
taitung, taitung, Tajwan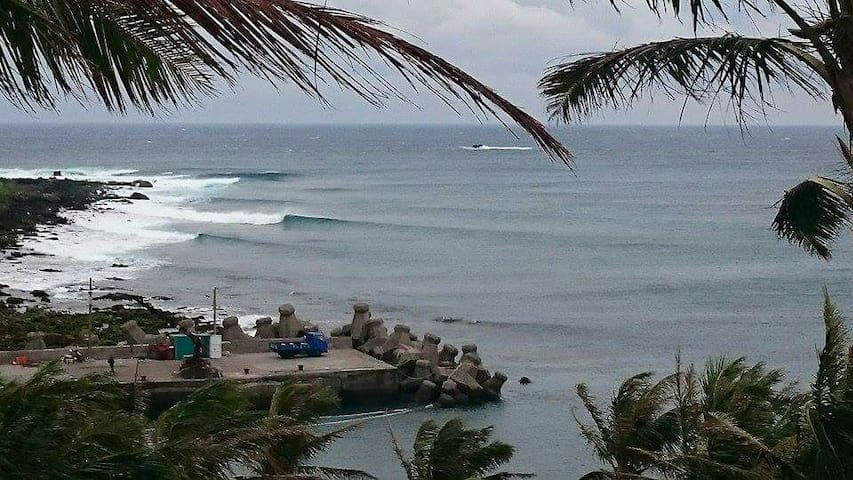 An ideal property for families and groups of friends wanting a peaceful retreat in the vineyards and stunning views. There's lots to do nearby, for wine and food enthusiasts and also fans of cycling and walking. Bordeaux and St Emilion are nearby, so are medieval castles and Bastides with their markets. The ruins of a 14thC Commanderie less than 10 mins walk. This 200 year old family home has been lovingly restored, maintaining many original features with sympathetic furnishings.
Our parents bought Le Cros in 1989 to be closer to our French family. As we still use the house as a family home, we've tried to make sure that we have kept the house comfortable but without giving in to Ikea or losing any of it's charm, so you will see the odd photo and original furniture.
Sallebruneau is a small hamlet of 5 or 6 houses. We are the last house going West and have the best views over the valley and vineyards, with amazing sunsets, which we always drink a toast to. We've listed some pretty comprehensive information about directions as well as things to see and do on our website: (URL HIDDEN)
Rodzaj pokoju
Całe miejsce
---
Rodzaj nieruchomości
Dom wakacyjny
---
Mieści
10
---
Sypialnie
Frontenac, Nouvelle-Aquitaine, Francja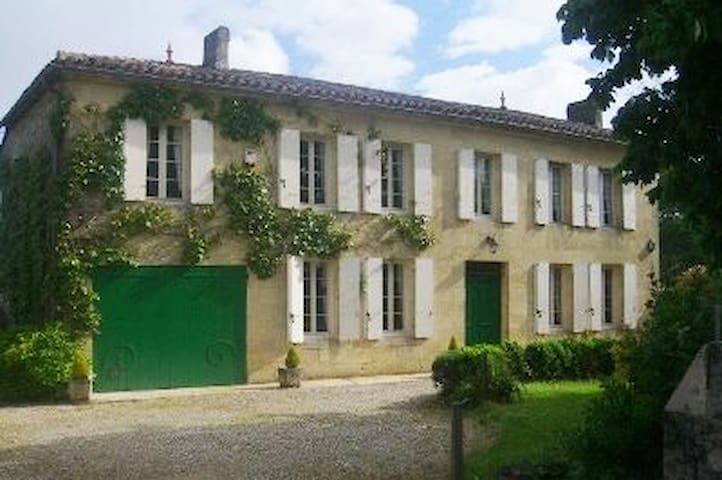 Cet ancien chai restauré est situé au cœur de l'Entre-deux-Mers à proximité de la Garonne et à une petite heure de Bordeaux classé au patrimoine mondial de l'Unesco. La maison est confortable, colorée et elle peut accueillir 8 personnes. Grand jardin de 2000 m2 arboré et fleuri avec une grande piscine et des espaces ombragés pour la détente, et jeux de plein air.. Un bel endroit pour vous aérer à la campagne et vous retrouver en famille ou entre amis.
La maison peut accueillir jusqu'à 8 personnes . Elle comprend au rez-de-chaussée : Un séjour spacieux vec cuisine ouverte et salle à manger donnant sur deux terrasses : l'une au sud et l'autre au nord permettant de prendre les repas à l'ombre . La cuisine entièrement équipée (lave-vaisselle, lave linge, four et four à micro-ondes, réfrigérateur congélateur, cafetière électrique, etc... A l'étage : 4 chambres : 2 chambres avec 1 lit de 140 chacune, 1 chambre avec 2 lits superposés de 90, et 1 chambre avec 1 lit de 90 et possibilité de couchage supplémentaire. 2 salles de bain : 1 au rez-de-chaussée avec douche et 1 à l'étage à l'étage avec baignoire 2 WC indépendants au RC et à l'étage Pour les jeunes enfants il y a à disposition 1 lit de bébé , et 1 chaise Haute Tous les lits sont pourvus d'oreillers, couvertures et alèses Me contacter concernant le prêt de draps et linge de toilette.
Venez découvrir le charme du patrimoine bordelais et son bel environnement fluvial ainsi que les châteaux, trésors du Sud-Gironde et les jolis villages médiévaux. Pour les jeunes et les sportifs : parc accro-branches, descente en canoë, équitation, piste cyclable et randonnées au bord du Canal latéral à la Garonne à proximité et à environ 15 mn Golf Club Graves et Sauternais (18 trous) Le Bassin d'Arcachon et l'océan à environ 1 h 30 en voiture Visites de prestigieux domaines Viticoles. (St Emilion et Sauternes à 30 mn) Nombreux restaurants spécialisés dans la cuisine du terroir !
Rodzaj pokoju
Całe miejsce
---
Rodzaj nieruchomości
Dom
---
Mieści
8
---
Sypialnie
Sainte-Foy-la-Longue, Nouvelle-Aquitaine, Francja
3 PROMOTIONAL PERIODS summer below Wine house in the heart of Bordeaux vineyards near ST Emilion Bordeaux Bergerac (UNESCO classified) fully renovated in 2012, perfect modern comfort on isolated plot 6000 m2 with swimming pool 12x4 petanque car parking ... Fully equipped kitchen TV wifi library, ideal mountain biking, wine , bicycle tourism...
PROMOTIONAL PERIOD 9 to 15 July 2017 and 23 to 29 July 2017 6 nights for the price of € 3,000 instead of € 3,525 is a benefit of € 525 19 to 08/24/17 5 nights for the price of € 2,500 instead of € 2,975 or € 475 a benefit
Rodzaj pokoju
Całe miejsce
---
Rodzaj nieruchomości
Dom
---
Mieści
15
---
Sypialnie
Frontenac, Nouvelle-Aquitaine, Francja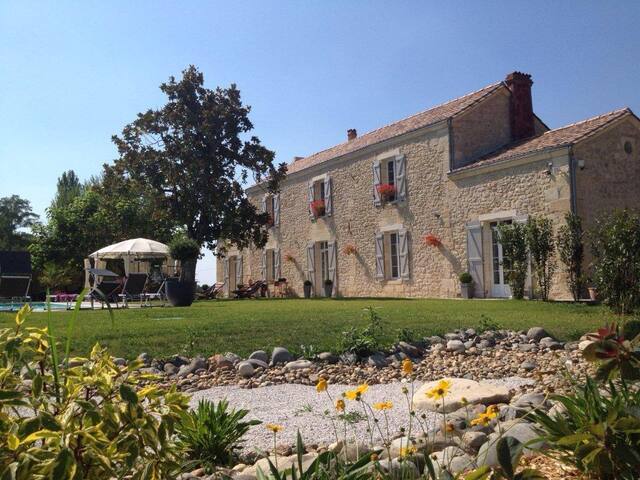 Notre logement se trouve à Morizes , en plein cœur du vignoble Bordelais, Régine et jean Luc vous accueille dans leurs grande maison sur leur domaine viticole très calme . Idéal pour se ressourcer ,et seulement 15 kilomètres de l'A62 et 45 minutes de Bordeaux
nous mettons à votre disposition des chambres très confortable avec salle de bain très spacieuse ,une cuisine privative ainsi qu'une mezzanine afin de répondre à vos attentes nous vous proposons une formule à la nuit (35 euros) à la semaine (170 euros ) et au mois 400 euros possibilité de location longue durée
nous sommes en pleine campagne propriété viticole , un endroit très calme sans être trop éloigne des villes 45 mn de Bordeaux
tout parfait, Regine est tres accueillante, nous avons passé un tres agréable séjour dans sa ravissante propriété viticole. Possibilité d achat sur place d´un vin de grande qualité. Very welcoming people, in a lovely area, between wine fields and wood fields, on a cut hill. If you want to discover the world of the wine it is definitely the place to be. Regine will be glad to show you her wine production. Very clean place. I will be back there! Lugar muy bonito, limpio, agradable, con mucha madera en los camarotes. El entono es idílico, entre bosques y uvas. Hay que probar el vino de la explotación de Regine! Volveremos!
Patricia et Noel
2016-09-29T00:00:00Z
The host canceled this reservation 2 days before arrival. This is an automated posting.
Sarah
2017-01-07T00:00:00Z
The host canceled this reservation 3 days before arrival. This is an automated posting.
Marie
2017-01-10T00:00:00Z
Acceuil très agréable. Magnifique grange rénovée toute en bois au milieu des vignes. Plusieur chambre avec toutes les commodités en commun Il y a 2 réseaux wifi pour un très bon debit Au personne de grande taille les poutres sont très costauds faite attention!
Julien
2016-10-05T00:00:00Z
Excellent accueil, maison superbe, chambre et salle de bain de qualité, personnalités attachantes, passion de leur terroir et aimant le partager.... Rencontrer Régine, Jean Luc et leurs proches : que du bonheur ! A recommander sans modération
christine
2016-10-11T00:00:00Z
Rodzaj pokoju
Pokój prywatny
---
Rodzaj nieruchomości
Dom
---
Mieści
2
---
Sypialnie
Morizès, Aquitaine-Limousin-Poitou-Charentes, Francja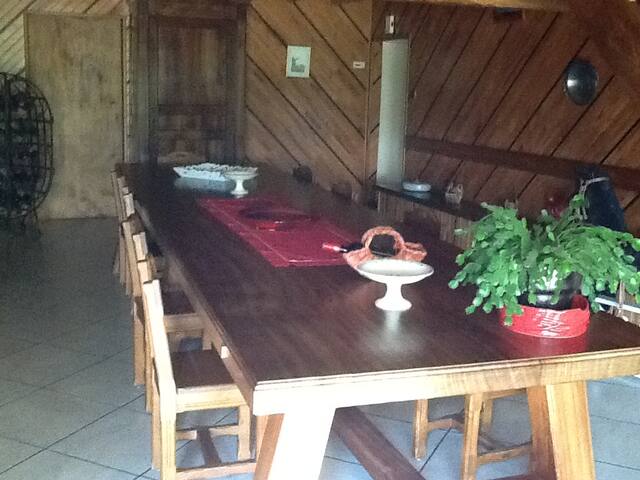 Au sein de la nature, dans une maison de pierres du 14ème siècle, vous bénéficiez d'un espace privatif de 30m2 entièrement rénové. Chambre avec lit à baldaquin et coin salon, salle de bain avec douche, dressing. Accès gratuit à la piscine privée.
Mes amis aiment tous ma maison et son environnement.
En bout d'un petit hameau et à la lisière des bois.
nous avons été accueilli par nicole une dame trés charmante ! nous recherchions le calme et la detente nous avons été servi! une magnifique demeure en pierres en lisiere de bois pres du village de frontenac avec piscine et magnifique jardin nous avons été agréablement surprises , le logement et l environnement correspondaient exactement a la description ainsi qu a nos attentes notre séjour fut malheureusement trop court mais nous reviendrons avec plaisir quelques jours faire "une pause" chez nicole afin de nous ressourcer un grand merci d avoir été aux petits soins pour nous
Vanessa
2016-07-11T00:00:00Z
Une très agréable chambre décorée avec soin , un lieu charmant, petit-déjeuner délicieux ... Une jolie découverte !
Elise
2016-05-30T00:00:00Z
Excellent accueil de Nicole, très belle demeure décorée avec soin. Chambre spacieuse, très confortable et très propre. Manque d'intimité dans la chambre : pas de porte séparant le reste de la maison. (mais Nicole a promis d'y remédier)
Vincent
2016-07-04T00:00:00Z
Accueil sympathique de Nicole avec des boissons fraîches maison. Sa maison est une vraie splendeur. End tôt plein de charme où règne une âme. Lit très confortable, piscine idéale par temps chaud grande salle de douche et beaucoup d'espaces de rangement dans la chambre
Julie-Anne
2016-07-19T00:00:00Z
Sehr sehr schönes Zimmer mit eigenem großen Bad. Der Garten ist riesig, wunderschön und lädt zum lesen und entspannen ein :) auch das Frühstück ist klasse. Gesamtbewertung: spitze und sehr empfehlenswert für ein paar ruhige Tage!
Lukas
2016-08-19T00:00:00Z
Un véritable petit paradis, un havre de paix. Magnifique maison en vieille pierre... Le chambre est reposante et le lit très confortable, un petit nid d'amour. L'accueil était parfait et notre hôte charmante. Nous conseillons vivement ce logement...
Boleke
2016-09-04T00:00:00Z
Nicole is a very sweet and gracious host. We had an amazing time at her place, which is decorated with great taste and very clean. A lovely and quiet house in the countryside with a good bed, a great pool and nice cats :) Very relaxing experience. Nicole gave us nice local tips of things to do. Her breakfast was also really good and a great way to start the day. We would visit again without a question.
Julien
2016-07-16T00:00:00Z
Rodzaj pokoju
Pokój prywatny
---
Rodzaj nieruchomości
Wikt i opierunek
---
Mieści
2
---
Sypialnie
Frontenac, Akwitania, Francja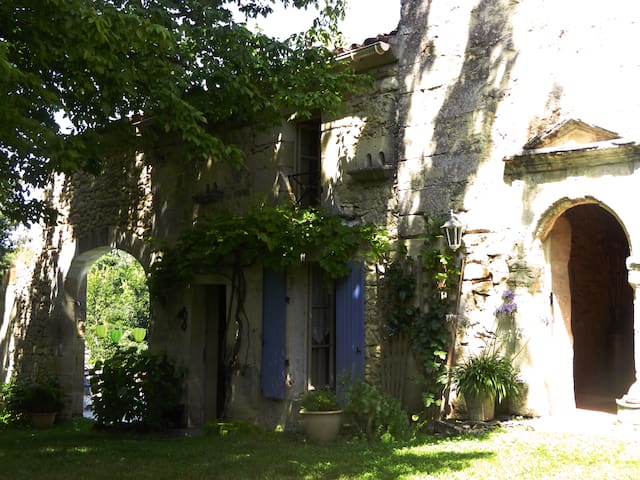 My property is located near Saint-Emilion. Enjoy my accommodation for the comfortable bed, food and comfort. My accommodation is perfect for couples and families (with children).
Rodzaj pokoju
Całe miejsce
---
Rodzaj nieruchomości
Dom
---
Mieści
6
---
Sypialnie
Frontenac, Nouvelle-Aquitaine, Francja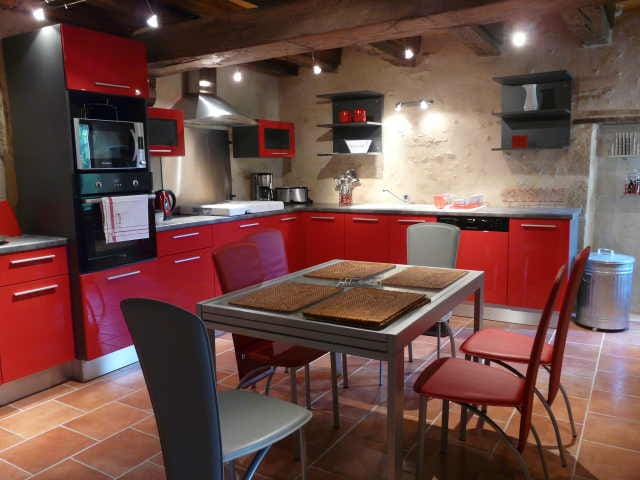 Large spacious classical solid stone house with extensive garden and large pool. House has 3 en-suite double bedrooms, plus 3 double sofa beds. Beautiful views, surrounded by vines and close to vibrant market towns and 50 mins from Bordeaux
Welcome to our large country family home, a 170 year old solid stone house with many original features. We are surrounded by grapevines and organic farming, walking distance from the river and medieval chateau. Enormous country kitchen, stone fireplaces await you and each bedroom has its own ensuite bathroom, large private pool in extensive grounds. Each room and bedroom are large, approx. 50m2. We are 10minute drive from 3 different weekly markets that take place in the local medieval towns. **Minimum 6 night stay. Discounts available please ask! **
Nestled amongst vineyards, woods, fields this is a calm setting but only 39minutes from Bordeaux by train. Situated equidistant from 3 medieval towns, 2 of which are bastide towns. The beach is only 1.5hrs drive away, Bordeaux and Bergerac airports 55 minutes away. St. Emilion only 30minutes away.
Rodzaj pokoju
Całe miejsce
---
Rodzaj nieruchomości
Dom
---
Mieści
14
---
Sypialnie
Mesterrieux, Aquitania, Francja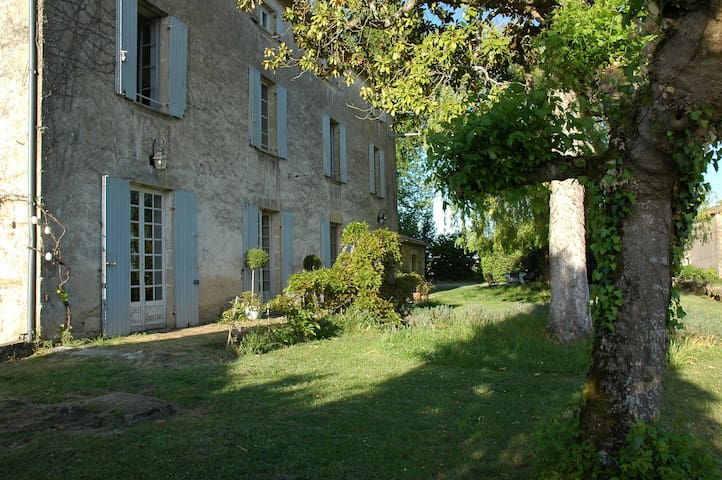 A modernized medieval house set in the walls of a tranquil country village in the southwest Bordeaux wine region of France. The village, Castelmoron-d'Albret, has been described as "A jewel of France". Great for family or 2 or 3 couples. A 1 hour drive to Bordeaux, hour and one half to Arcachon on the Atlantic, half an hour to St. Emilion and some of the best wines in the world.
Rodzaj pokoju
Całe miejsce
---
Rodzaj nieruchomości
Dom
---
Mieści
6
---
Sypialnie
Castelmoron-d'Albret, Nouvelle-Aquitaine, Francja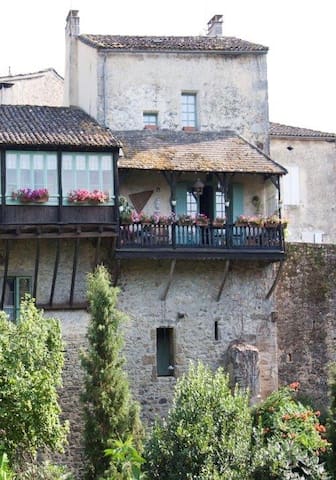 Wpisz daty, by zobaczyć pełną cenę. Obowiązują dodatkowe opłaty. Cena może uwzględniać podatek.