Exclusivo, casa espaçosa, com mobiliário de qualidade e acessórios, com uma mesa de bilhar, uma piscina aquecida e uma magnífica área ao ar livre com uma vista deslumbrante sobre o Atlântico, em um local tranquilo e rural.
Esta vivenda impressionante goza de uma localização tranquila e isolada na aldeia agrícola sonolento de Faja da Ovelha. Ele tem uma piscina aquecida, é espaçoso e tem um interior de bom gosto, atendendo todas as exigências de uma casa de férias exclusivo. Visto de fora, a casa de campo 250m² parece ter apenas um nível, mas no interior três pequenas escadas levam às diferentes áreas de estar, criando uma abundância de espaço e privacidade. Os pisos são polidos principalmente madeira, complementado por uma série de escuro, móveis estética, tapetes e cores quentes. Há três quartos e cinco casas de banho com duche e WC, proporcionando muito espaço para seis pessoas. Dois dos quartos têm camas de casal (147 x 219 centímetros) eo terceiro tem duas camas de solteiro (97 x 020 centímetros). A peça central da casa é a sala com um espaço de jantar para seis pessoas, uma confortável área de estar com um sofá e poltronas e uma mesa de bilhar na frente da lareira, para que possa jogar uma partida de piscina à noite. Grandes janelas panorâmicas fazer a luz da sala e convidativo. A grande cozinha está totalmente equipada e oferece tudo o que você precisa. A casa não tem ar condicionado. As portas do terraço na sala de estar abre-se para a área da piscina exterior com um gramado, muito bem definidos e com confortáveis espreguiçadeiras, guarda-sóis e uma gama de assentos. Aqui, pode relaxar e aproveitar o sol, enquanto aprecia a vista de tirar o fôlego em direção ao Atlântico. A piscina aquecida tem degraus convenientes para dentro dele. Há um teto baixo disponível para a piscina no inverno, por isso pode ser usado durante todo o ano. Existem dois lugares de estacionamento disponíveis em uma garagem. Você pode ir em incrivelmente belos passeios na área. Ele fica a 5 km da praia e um supermercado em Paul do Mar. Há uma pequena mercearia a 500 metros da casa.
Rodzaj pokoju
Całe miejsce
---
Rodzaj nieruchomości
Dom
---
Mieści
6
---
Sypialnie
Madeira, Madera, Portugalia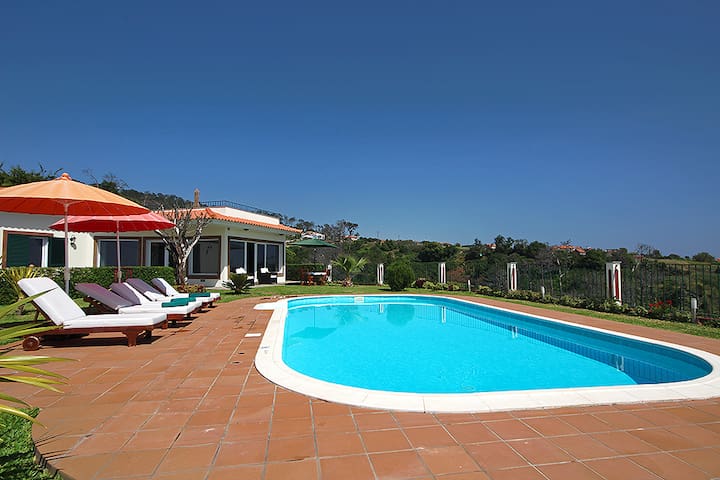 Casa da Muda is situated on the west side of Madeira Island. This unique House is the union of architectural value and authenticity in a sunny hillside, between the sea and the mountains. Early in the morning the smells and landscape invite you to sit on the porch and relax. In Casa da Muda you will be able to swim in the pool, eat some season fruits from our trees as well as eggs from the chicken coop.
By car you will be able to visit the golden sand beach in Calheta (20 minutes distance) and also drive until the North side of the Island and swim in the natural pools of Porto Moniz. In Ponta do Pargo there are some places of interest to visit such as Pico Vermelho and Ponta do Pargo Light House. Near the Light House there is an amazing Tea House you can not miss! The nearest services : Gas station 17 Km Groceries 2 km Pharmacy 4 km Restaurant 4 Casa da Muda is waiting for your visit!
Most of our guests say that the neighborhood looks like paradise.
A very nice house in a wonderful garden full of flowers and three in front of ocean. A quiet lovely place, you can just recommend you!
stephane
2016-09-11T00:00:00Z
Casa da Muda ist wirklich eine Traumunterkunft. In einem herrlichen Garten steht das kleine Häuschen, welches klein und fein jeden Tag auf's Neue bezaubert. Zum Haus gehört ein Pool mit einem wirklich umwerfenden Blick auf's Meer. Auf dem Gelände steht noch ein weiteres, größeres Haus, wahlweise kann man sich mit den anderen Gästen (2 Personen) austauschen oder aus dem Weg gehen - was einem da besser liegt. Die Hühner haben wir jeden Tag mit Küchenabfällen gefüttert und als Dank gab es jeden Tag frische Eier - Achtung, ein Huhn legt leckere, grüne Eier! ;) Unser Lieblingsort in der Nähe war Paul do Mar, da wir keine Wanderer sind und dieser Ort mit Fischern und kleinem Hafen eine herrliche Alternative bietet. Wirklich bedenken muss man, dass jeder Weg die zahlreichen Serpentinen entlangführt, daran muss ich der Magen gewöhnen - zumindest meiner. Sandra hat uns perfekt empfangen und alles im Garten - inklusive Früchte - erklärt. Eins noch: Da alle schreiben, dass das Grundstück schwer zu finden ist - zunächst bis Ponta do Pargo fahren und hinter diesem Ort sind es noch einige Kilometer, bis links (!) ein weißes Schild "Ribeira da Vaca" steht - dort direkt das steile Sträßlein links den Berg runter fahren - wenige Meter rechts ist die hohe, weinrote Mauer zu erkennen. Ich wünsche allen einen traumhaften Urlaub.
Thekla
2016-09-29T00:00:00Z
Danke für die herzliche Begrüßung. Wir hatten eine tolle Zeit :) ein wirklicher Geheimtipp
Svenja
2016-05-15T00:00:00Z
If you like isolation this is the place for you. Be prepared for some challenging driving though and hire a car with decent power. Class A does not work, practice hill starts the road outside the property is very steep. The weather was not good so did not get the opportunity to experience the delights of the extensive garden. Did drive over 800kms though.
Alan
2017-03-18T00:00:00Z
We had the most delicious time in the house. The Garden, the pool, the BBQ, everything was there for us to use on our own. The great location, the ocean view with sunset every night and the peacefulness fully compensated for a few drawbacks in the house: an extremely weak toilet flush (you couldn't even flush a tissue), a stained carpet and a not so well equipped kitchen. Anyway we were warmly welcomed with a basket full of Maderian goodies by our lovely host Sarah. We could even help ourselves getting "homelaid" breakfast eggs by the chicken on the premises. Many thanks to the helpful housekeeper Teresa. We very much recommend staying at Casa da Muda, not only to relax in the different corners of the premises, also to explore the rural countryside of Western Madeira. It's definitely worth it!
Mirco
2015-10-02T00:00:00Z
Wir hatten eine wunderschöne Zeit im Casa da Muda! Die Unterkunft wurde mit viel Liebe zum Detail eingerichtet und man fühlt sich sehr wohl. Der Garten lädt zum Entspannen ein und die Hühner freuen sich über einen Besuch. Sandra war eine sehr freundliche Gastgeberin und wir hatten auch das Glück die netten Eigentümer vom Casa da Muda kennenzulernen. Wir können die Unterkunft nur jedem empfehlen der naturverbunden entspannen möchte und kommen gerne wieder nach Madeira.
Jessica
2016-05-30T00:00:00Z
We stayed at Casa da Muda for one week and highly recommend this place. Location was superb. We especially liked the garden and the surrounding area which offer beautiful views and great hiking. Wifi only worked in the garden, not in the house.
Maria
2017-01-10T00:00:00Z
Excellent séjour dans ce lieu bucolique à la situation exceptionnelle au coeur d'une vallée descendant vers la mer. Le charme d'antan (meubles et installations ). Le jardin est un magnifique écrin pour la petite piscine. Nous avons eu un accueil très chaleureux avec des produits typiques.
Laure
2016-07-15T00:00:00Z
Rodzaj pokoju
Całe miejsce
---
Rodzaj nieruchomości
Dom
---
Mieści
2
---
Sypialnie
Ponta Do Pargo, Madera, Portugalia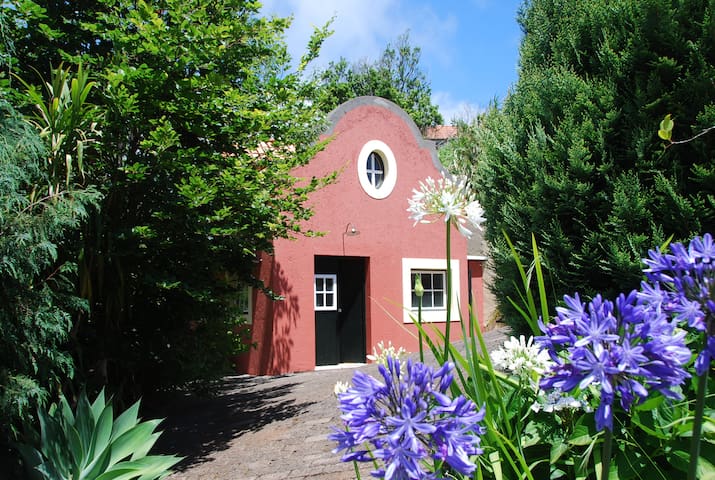 Paul do Mar jest osobliwy wioska rybacka położona na wyspie Madera, popularnie znany jako "Perła Atlantyku". Znane ze swojej codziennej połowu, Paul do Mar znajduje się w domu z pysznym Espada (pałasza czarnego). Miejscowi często znajdują się karty do gry, śpiew portugalskich pieśni ludowych, a obecnie zbieranie Lapáš (ślimaki) i Caramujos (ślimaki morskie). Obie plaże są prawie zawsze pełne i surf jest jednym z najlepszych na wyspie. Wędrówka jest również popularne czas płynął dla turystów.
Dom jest przestronny trzy historia, trzy sypialnie, 2,5 kąpieli na wakacje marzeń. Więcej informacji na temat Paul Do Mar: (URL HIDDEN)
Restauracje: (wszystkie restauracje mają WiFi, po prostu poprosić o kod) Kilka ulubionych, w celu pozostawienia domu: Bayside: Madelena (właściciel) zapewnia niesamowite usługi z pełnym menu. Jest to idealne miejsce na poranne espresso ( "Bica:" standardowy espresso "Garoto:" podwójne espresso, & "Chinesa:" cappuccino). Sereia: Zewnętrzna część wypoczynkową, gdzie często znajdziesz miejscowych karty do gry, popularne czas płynął. Idziesz przez ten obszar do siedzenia, aby dostać się na spacer drodze do reszty wsi (kościół, supermarket, itp). Xama: Położony bezpośrednio na zewnątrz tunelu po prawej ma światowej klasy kuchni portugalskiej i jest numerem jeden zalecenie na posiłek przez cały pobyt. Sol e Mar: Across z boiska do piłki nożnej. Wspaniałe miejsce z pięknym widokiem na przystanek i wypić piwo po dniu spędzonym na plaży. W sezonie letnim, gry piłkarskie (6 na 6) są często grał na małe boisko do piłki nożnej codziennie przez mieszkańców. Turniej odbywa się co roku w sierpniu. Maktub (bar): Ostatni bar na końcu wsi. To najlepsze miejsce, aby obejrzeć zachód słońca na wyspie. Tropikalnych napoje i atmosfera nie można przegapić. Popularne wśród turystów surfingowych. Istnieje w sumie 12 barów i restauracji w miejscowości. Kościół katolicki (Bliski miejscowości): Paul do Mar jest bardzo religijnym miastem, ich patrona, Santo Amaro, zostanie uhonorowany pomnikiem w Porto. Mass Times: sobota i niedziela na 4pm na 11am * Masa 11am często grał na głośnik dla osób starszych we wsi, którzy nie są mobilne i nie może uczestniczyć. Kapłan pochodzi z innej miejscowości do masy i jest zaliczana do późna. Supermarket: Środku wsi przed wejściem do kościoła. Apteka: Położony w Estreito, kilka miast dalej. Bank: Jest bankiem na najwyższym drogi wychodzi z tunelu na rogu. Plaże: 1) Znajdziecie dzieci skakania i pływania na Cais (molo), który znajduje się po lewej stronie domu. 2) Bezpośrednio przed domem za figurą człowieka jest popularnym miejscem dla rodzin z małymi dziećmi, jak skały zrobić małą lagunę do pływania. 3) Surfing odbywa się zwykle w przedniej części cmentarza i baru Sal Domu. Kroki Schodząc do skał będzie Ci do wody. W zależności od odpływu, Surfing jest również w Jardim do Mar, Paul do Mar w sąsiedniej miejscowości. Widać Jardim do Mar, jeśli wyjdziesz z domu i po prostu patrzeć w lewo przeszłości Cais. 4) Ribeira Beach (znajduje się na pełnej przeciwległym końcu miasta). Miłym mile + spacer przez Paul do Mar wyląduje cię w Ribeira Beach. Jest to także wtedy, gdy Paul do Mar, Maktub bar i Poleiro bar znajdują. Idealne miejsce, aby obejrzeć zachód słońca.
A three story townhouse with ample space for our family of six. There is a fantastic hike starting right behind the house along great waterfalls. Great view of the cliffs from the top balcony where we had breakfast every day between Christmas and New Year.
Jakob
2016-12-31T00:00:00Z
The house was just perfect for 4 travellers, equipped kitchen, nice and clean bathrooms, very close to the local bars and restaurants. We did not meet Crystal in person, but her communication and instructions were clear and Ana, who helped us with check-in was very nice and helpful. 100% satisfaction and big recommendation.
Kristyna
2017-03-05T00:00:00Z
Crystals house was amazing! Perfect location and extremely spacious. Would for sure recommend staying if you want to be in the Paul do mar area.
Austin
2016-09-26T00:00:00Z
Great location for exploring locally and the west end of Madeira. Super food at the two cafés next door and bread van in the morning. Park on the road - the pier parking area was covered in rocks after some big waves!
Matthew
2017-03-30T00:00:00Z
We had a great time in Paul Do Mar. Perfect location, great little town. Beautiful house. Would 100% go back.
Jarrod
2016-09-29T00:00:00Z
Rodzaj pokoju
Całe miejsce
---
Rodzaj nieruchomości
Dom
---
Mieści
8
---
Sypialnie
Paul Do Mar, Madera, Portugalia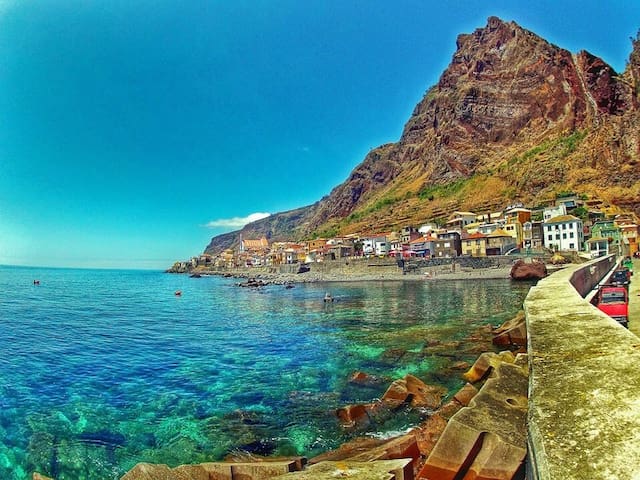 Brand new, is located on a property with swimming pool, parking, garden, BBQ. Lombada dos Marinheiros- Fajã da Ovelha (location) in which it is famous for its beautiful sunset and the fantastic view of the sea, sometimes hidden by clouds forming a wh
Brand new, is located on a property with swimming pool, parking, garden, BBQ. Lombada dos Marinheiros- Fajã da Ovelha (location) in which it is famous for its beautiful sunset and the fantastic view of the sea, sometimes hidden by clouds forming a white "blanket" that provides a landscape of breathtaking. It is an extremely peaceful and relaxing place. The property is located at 5 meters from the famous Levada Calheta/Ponta do Pargo. Accommodates 2 persons with possibility of extra bed. Common areas:BBQ, kitchen living room, WC, balcony. Wi-Fi internet available. The owners live on the property, so it can provide continuous support to customers. You can also obtain tourist services such as Surf, Levada walks, Canyoning, biking, boating, Stand Up Paddle, jeep safaris and tours to see the island. Nearby is a small grocery for basic groceries, a bakery and a coffee shop. A quiet and relaxing family atmosphere, always have response and support for what you need during your stay. It has also, if required, all the conditions to welcome young children, such as cots, special chair dining, baby bottle heater, inflatable change diapers. Family friendly. Children until 6 years old don't pay extra bed/Cot.
Brand new, is located on a property with swimming pool, parking, garden, BBQ. Lombada dos Marinheiros- Fajã da Ovelha (location) in which it is famous for its beautiful sunset and the fantastic view of the sea, sometimes hidden by clouds forming a white "blanket" that provides a landscape of breathtaking. It is an extremely peaceful and relaxing place. The property is located at 5 meters from the famous Levada Calheta/Ponta do Pargo. Accommodates 2 persons with possibility of extra bed. Common areas:BBQ, kitchen living room, WC, balcony. Wi-Fi internet available. The owners live on the property, so it can provide continuous support to customers. You can also obtain tourist services such as Surf, Levada walks, Canyoning, biking, boating, Stand Up Paddle, jeep safaris and tours to see the island. Nearby is a small grocery for basic groceries, a bakery and a coffee shop. A quiet and relaxing family atmosphere, always have response and support for what you need during your stay. It has also, if required, all the conditions to welcome young children, such as cots, special chair dining, baby bottle heater, inflatable change diapers. Family friendly. Children until 6 years old don't pay extra bed/Cot.
Les points positifs pour commencer: Sara est disponible, très sympathique et prend le temps de nous expliquer les différents points d'intérêt de la région. Le logement est confortable et bien équipé. La grande terrasse avec vue plongeante sur l'océan rend les repas encore plus agréables! Le quartier est calme et authentique. Les points négatifs à présent: 1) Ce logement est à l'extrême ouest de l'île et éloigné de tout (ou presque). Le relief de l'île peut vite rendre les temps de trajet importants (même pour des distances courtes, ce qui est surprenant au début!) et grignoter quelques heures sur la journée si vous souhaitez visiter beaucoup. Pas de problème par contre si vous adorez conduire et profiter des panoramas magnifiques que l'île a à offrir. 2) Je trouve qu'il y a un peu trop de monde et lorsque tout le monde est présent, il n'y a pas assez de place sur la terrasse et même parfois sur le parking. Beaucoup de familles avec des enfants et donc pas idéal pour une soirée au calme. L'ambiance est typique d'une auberge de jeunesse donc ce logement vous ravira si aimez ce genre de conditions. Par contre, si vous souhaitez de la tranquillité et de l'intimité, passez votre chemin.
Florian
2016-07-26T00:00:00Z
Sara is very friendly and kind. She helped us a lot. The Appartement is very nice - everything is there. We recommend this Apartment.
Thomas
2016-01-08T00:00:00Z
Sara is really lovely, helpful and caring person. You can arrange with her everything. She has a lovely guesthouse, with a great view. Everything is new in the house. We really enjoy spending time at her place. Sara, thank you again for a lovely accommodation. We enjoy every second in Madeira. Totally recommended!
Jure
2015-05-02T00:00:00Z
Thanks to Sara, our first three days of Madeira was fantastic! The house was very nice and had a great view over the ocean. The rooms were clean and nice, and the kitchen as well. Sara and Orlando helped us with planning and organizing a surfing-trip, a very nice hike and some transportation. We did not have a rental car, but thanks to Sara and Orlando, we still had a great time. I would definitely recommend everyone to stay here, but also to have a rental car because of the location. The bus from Funchal to the house takes over three hours, and the bus only goes three times a day. There is no nearby restaurants, so without a car, you are kinda stuck. Luckily, Sara and Orlando will help you and transport you if needed, so it's tull possible to have a great time without a car.
Johannes
2016-06-10T00:00:00Z
Sara and Orlando are making your stay easy and very pleasant. The site is very nice and the view from the swimming pool is as fantastic as on the picture. The room was perfect and the advices for the restaurants too. We enjoyed the espetada at the restaurant Foro. This is a good place to visit the western part of Madeira. We also had good time paddling with Orlando. Thank you to the whole family. Small hint: don't hesitate to go down with your car in the narrow street when you see the indication on the road. It looks really narrow, but there's no problem with driving a car there
NICOLAS
2015-08-26T00:00:00Z
We had a great stay at your house. We felt very welcome and you provided us with all the information we needed for a beautiful holiday. We enjoyed the quietness and peacefulness a lot. The rooms are very well equipped and clean. And just so you know, my shoes are still "walking" great, so thanks again for the hint. See you next time ;)
Benjamin
2016-07-16T00:00:00Z
Just wanna say that I'm very glad that, in the end, we choose Madeira Native Motion to be our "nest" for our Madeira vacation. The place was exact as we expected, there were no "bad surprises". The apartment was great, we had plenty of space, it was well equipped and clean and the view was amazing - best sunsets of my life. The house is in a quiet location, and what makes it special is the ocean view and his owners Sara and Orlando. They were really nice people, very helpful and welcoming. Sara gave us some tips and advises about the island that were useful. About the location, my opinion is that one should rent a car, if the budget allows it. The house it's in a small village, a little bit isolated (we knew that from the beginning) but buses goes too in that area. No big supermarkets near by, but you always can find some "mini supermercados" in the area and there is a pastry with lots of goodies about 500 to 700 m walking from the house. We recommend this place and we hope to get back here. Thank you Sara and Orlando and good luck.
Ioana
2015-09-20T00:00:00Z
Sara, Orlando and their two kids were so nice! The whole stay was perfect. We enjoyed the beautiful house and the pool and had also some surflessons with Orlando, who is by the way a pretty cool guy ;) The best thing about them was, that they made you feel like your at home. We would really like to come back for more PONCHA! take care at yo(URL HIDDEN)S
Tobias
2015-07-01T00:00:00Z
Rodzaj pokoju
Pokój prywatny
---
Rodzaj nieruchomości
Dom
---
Mieści
3
---
Sypialnie
Faja da Ovelha Calheta, Madera, Portugalia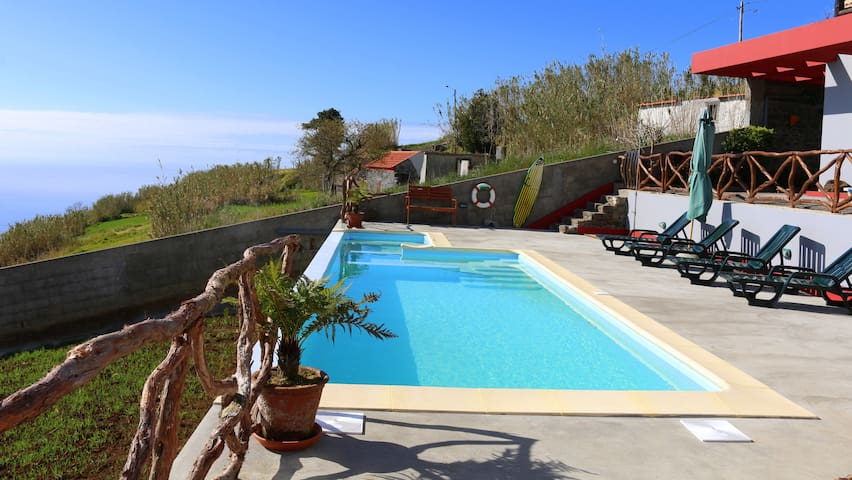 Casa Franco is located in the western part of Madeira Island, more precisely in Ponta do Pargo, is the ideal place for those who love nature it is a quiet and safe place, you can enjoy the magnificent View over the Sea and Mountins. The accommodations feature a dining area and a seating area with TV. A terrace and / or patio, a kitchen with an oven, microwave, toaster, fridge, hob and a coffee Machine. There is a private bathroom with a shower and a hairdryer. Towels are provided. Casa Franco also benefits from barbecue facilities. It offers accommodation that allows pets. Free private parking on site. Porto Moniz is at 17.1 km about 22 minutes by car of Casa Franco where you can take a swim in the magnificent natural swimming pools, if you like hiking take the oportunity an go to Rabaçal about 30 minutes of Casa Franco where you can enjoy Levada of 25 Fontes. The nearest airport is Madeira Airport, located 72.8 km about 1h15m away. Funchal is at 55.1 km The nearest services : Supermarket in Porto Moniz 17.1 Km Gas station 17 Km Groceries 2 km Pharmacy 4 km Restaurant 4 Km
We had a great time in Paulo's house. It is very spacious, has an amazing terrace with a lovely view on the sea, was equipped with everything you could possibly need, and was very clean. We especially enjoyed the outside kitchen ( there is also one inside) to have breakfast and wonderful sunset dinners. Although we never met Paulo in person, he was extremely caring and organised everything to make our stay as comfortable as possible. He provided us with detailed material in form of PDFs regarding the exact location of the house and interesting spots around it. He also had a neighbour come and show us everything. We strongly recommend to spend a few days in the less touristy west of the island generally and in Paulo's house specifically and would come back for another visit any time.
Jessica
2016-08-20T00:00:00Z
très bon accueil avec à l'avance envoi de la description détaillée de l'itinéraire, des idées d'excursions dans les environs ; La maison est très agréable, spacieuse avec confort dans toutes les pièces ; une terrasse immense et très bien aménagée pour passer de bonnes vacances ; chauffage sur place pour des jours plus frais La maison est entourée de quelques maisons, mais l'endroit est très calme avec vue sur la mer ; ensoleillement toute la journée Pas de commerçants ni de restaurant sur place, mais à proximité en voiture Départ de belles ballades et excursions dans les environs
Claire
2016-03-04T00:00:00Z
Tout était parfait, un endroit coupé du reste du monde avec une vue imprenable. Franco a été disponible et bienveillant durant notre séjour. Nous recommandons la casa Franco et la visite de l'île de Madère que nous quittons avec regret!! Merci beaucoup, au plaisir!! Ophélia & Florian
Ophelia
2016-05-16T00:00:00Z
We've spend a lot of time on the porch/terrace near the firepit. Very kind host, contact within a minute if we had anything. Lovely place and great hospitality. Would definately go back if we get back to Madeira.
Tedder
2016-11-19T00:00:00Z
Paulo hat uns bereits im Vorfeld der Reise mit viel hilfreichen Infos versorgt. Vor Ort haben wir ihn leider nicht kennengelernt. Die Schlüsselübergabe hat reibungslos funktioniert. Für eine größere Gruppe ist Casa Franco wirklich ein schöner Ort, da sie sehr ruhig gelegen ist (Nachbarhäuser wirkten alle unbewohnt) und über einen schön großen Terarssenbereich mit BBQ verfügt - zu 2. fühlten wir uns anfangs etwas verloren, zumal man etwa 10 Autominuten von dem nächsten Restaurant/Bar entfernt ist (beide Richtungen) und ein "Bäcker" sogar 15 min.. Zum Abschalten und Wanderungen in der Umgebung ein wundervoller Ort. Um die gesamte Insel zu erkunden nicht ganz ideal, da man erst knapp 30 min. Serpentinen überwinden muss. Wer aber abseits des Tourismus etwas sucht, ist hier git aufgehoben.
Julia
2016-10-27T00:00:00Z
La maison de Paulo est idéale pour rayonner dans le nord - ouest de Madère. Spacieuse, propre, bien équipée , avec une terrasse plus qu'agréable et une vue magnifique. Nous avons apprécié le fait d'avoir un garage fermé pour garer la voiture, ainsi que la machine à laver. De plus, Paulo s'est montré très accueillant et disponible.
Aline
2016-07-29T00:00:00Z
Bien que nous n' ayons pas rencontré Paulo , celui ci est un hôte disponible , sympathique à l'écoute soucieux de notre confort . Sa maison est très agréable , confortable, propre ,bien équipée située dans un environnement de Madère encore sauvage entre mer et montagne . La maison est agrémentée d'une belle terrasse face à la mer .Le mauvais temps ne nous à pas permis d'en profiter beaucoup .Dommage !!!!!!! Merci Paulo pour tout et pour votre confiance.
Nadine
2017-03-26T00:00:00Z
The house is in a very quiet area and the terrace with its view belongs to the absolut highligts! Thank you!
Nat
2015-11-25T00:00:00Z
Rodzaj pokoju
Całe miejsce
---
Rodzaj nieruchomości
Dom
---
Mieści
4
---
Sypialnie
Ponta do Pargo, Região Autónoma da Madeira, Portugalia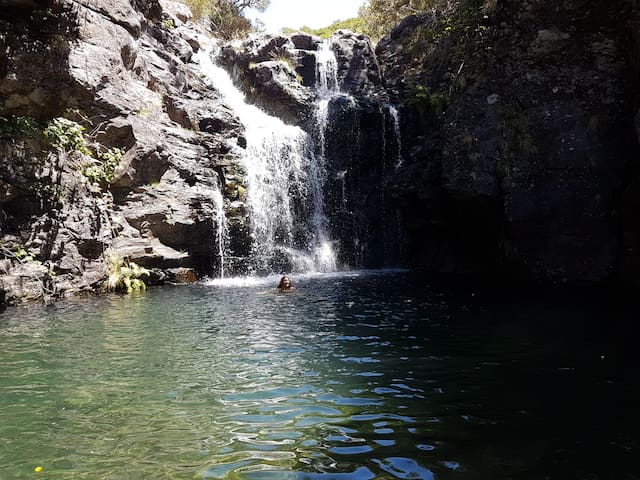 2 NEW Private houses in Rural paradise of Faja da Ovelha One of Madeira´s best kept secrets! on Madeira´s sunniest warmest south west Calheta coast Top Features include: Spectacular unbroken Sunset Ocean Rural views Private Garden Drive Parkng
Brand NEW house with private grounds, parking, gardens, BBQ relax zone. Spectacular ocean, sunset, rural views. Close to famous walks. Restaurant and Village Shop Centre within 2-3 kilometres. Built with best installation materials. Warm in Winter, cool in Summer! Fixtures and fittings to a high standard.
Faja da Ovelha is a rural (URL HIDDEN) of Madeira's best kept secrets. A great base for an Activity Holiday of activities such as walking, birdwatching, swimming or just perfect for sunbathing and relaxing!
Wir waren für 4 Tage im Grace House und wir haben es geliebt. Das Haus und die Ausstattung ist sehr neu und modern und es ist alles da was man braucht. Von den Schlafzimmern aus hat man einen fantastischen Blick auf den Ozean. Die Unterkunft liegt sehr ruhig. Nicht weit entfernt von dem Haus kann man direkt in einen Wanderweg einsteigen.
Susanne
2016-08-25T00:00:00Z
Paul and Iva gave us concise instrustions to the property and were very welcoming despite having to wait while we were diverted around a traffic accident on the way to the property. They gave us helpful information about the area on arrival and were in contact during our stay - especially to warn us of potential mud slides on a day of torrential rain! The area is quiet and "away from it all" which is what we wanted and Grace House is a great base from which to explore the west side of Madeira.
nicholas
2016-10-18T00:00:00Z
Das Haus hat eine traumhafte Aussicht und liegt äusserst ruhig. Ausser dem gelegentlichen Bellen von Hunden und dem Zwitschern der Vögel war absolut nichts zu hören da das Haus an einer kaum befahrenen Strasse liegt. Das Haus ist modern und zweckmässig möbliert, alles was man braucht ist da. Die Betten sind sehr bequem und die Aussicht auf den Atlantik beim Aufwachen grandios. Iva und Paul geben viele Informationen beim Check-In und sind auch während des Aufenthaltes jederzeit ansprechbar. Wir hatten etwas Wetterpech - kalt und sehr regnerisch. Zum Glück gab es einen Heizlüfter und einen portablen Radiator. Bei dieser Witterung wäre es angenehm gewesen auch in den Schlafzimmern einen kleinen Ofen zu haben.
Ursula
2017-02-14T00:00:00Z
Wir trafen uns mit Iva pünktlich am vereinbarten Treffpunkt. Iva ist sehr freundlich und gab uns 1001 Tipps die für ein ganzes Jahr ausreichen! Das Haus hat Heizlüfter, was abends im Dezember echt gut war. Auch die Waschmaschine konnten wir nutzen. Ein früher check-in war möglich. Um das Haus zu erreichen ist ein Auto erforderlich. Wanderungen: Nach wenigen Minuten Fussweg beginnt ein Weg an der Levada Nova. Auch ein Wanderweg zum Kiesstrand nach Paul do Mar (1Std) ist nah. Für eine Rundwanderung via Paul do Mar- Prazeres -Levada Nova waren wir dann doch ein wenig zu faul.
Martin
2016-12-27T00:00:00Z
Grace House was beautiful, better than what the photos show. The location is incredible; you have an uninterrupted view of the Atlantic. Paul was the perfect host, meeting us on time and even stocking the house with some food and wine! Plus he knows the island quite well and was able to give us tips on where to walk. Highly recommend, and will come back if we ever have the chance.
christy
2016-09-01T00:00:00Z
The house and the location are as described and you have everything you need. The area is very quite with a lot of nature around you. The terrace offers a nice place to enjoy the sun and fresh air. The communication with Paul was ok, sometimes a bit complicated because he only communicates via email (and we had no mobile internet on the island). They were late for the chick-in and did not answer the phone for 30 min. Besides that, everything was ok.
Lisa
2017-01-10T00:00:00Z
Very nice and modern house. Beatiful ocean view. Reception by Paul and Iva was very helpful and personal. Thnx! We will be back.
tom
2016-10-29T00:00:00Z
The house was great. Fantastic location as well as breathtaking ocean view. Warm and friendly welcome from the host including a bottle of wine:). We really appreciate detailed guidance about place to visit which helped us a lot. We spent fantastic week and definitely recommend it to everyone. Alex
Alex
2015-06-03T00:00:00Z
Rodzaj pokoju
Całe miejsce
---
Rodzaj nieruchomości
Dom
---
Mieści
4
---
Sypialnie
Faja Da Ovelha, Madera, Portugalia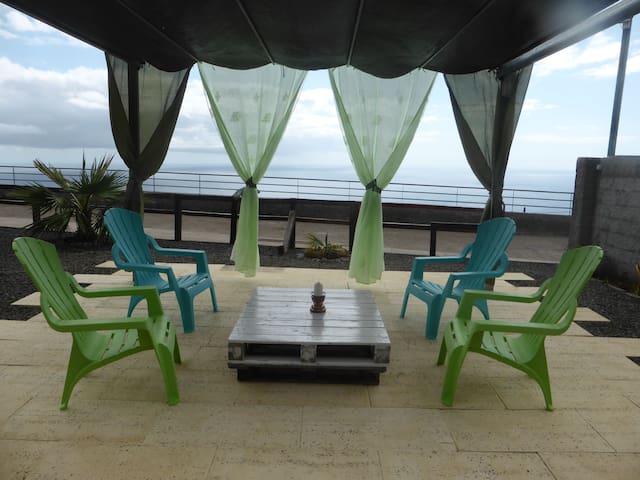 Entre o mar e a montanha uma casa centenária (1905) recuperada para o turismo em espaço rural no ano de 2013 A moradia é acolhedora e funcional, é o local ideal para passar umas férias em família ou com amigos e descobrir todos os encantos que a Ilha da Madeira pode oferecer. A cozinha e a sala de jantar são conjuntas, tem uma mesa que dá para entre 6 e 8 pessoas. A cozinha está totalmente equipada com: fogão elétrico, exaustor, forno elétrico, micro-ondas, frigorífico, torradeira, chaleira, ralador etc… Na sala de estar é composta por 2 sofá e 2 cadeirões, uma mesa de apoio e existe ainda ao nível do aquecimento 1 recuperador de calor. A instalação sanitária existente encontra-se no piso superior e é constituída por: lava mãos, sanita e duche. O quarto principal é composto por uma cama de casal, 2 mesas-de-cabeceira, um guarda-fato, uma mesa para leitura e tem também um berço para crianças até aos 5 anos. No outro quarto existem, duas camas individuais, 2 mesas-de-cabeceira, um guarda-fato, existe também a possibilidade da colocação de um berço. Existe ainda um sofá cama na sala de estar No exterior da moradia existe uma zona destinada a execução de churrascos, zona esta que está coberta. Na parte frontal da casa existe uma pérgula com buganvílias, e um banco tradicional madeirense, poderá colocar 1 mesa e 4 cadeiras e poderá desfrutar da paisagem O que podemos desfrutar? Desde os passeios a pé pelas veredas e levadas (cerca de 5 minutos da moradia), passeios de bicicleta pelos trilhos (cerca de 5 minutos da moradia), as praias estão sensivelmente 20 minutos de casa, seja a costa Sul (Praia da Calheta de areia amarela e Praia do Paul do Mar e Jardim do Mar em calhau), como a costa Norte (Piscinas Naturais do Porto Moniz e Praia de areia preta no Seixal) Aproveite e venha desfrutar a natureza
Location, location, location. At the rural western end of the island the house is beautifully, quietly situated at the end of a village road. Whether from its windows or from its terrace one's gaze just follows the grassy slopes as they drop down to the cliff-tops and the sea. One's gaze is always pulled by a sweeping view of ocean and sky. This is a home for those who want to explore the western, northern and central parts of the island by car and on walks (the coastal levada system nearby, for example, has entry points that are easy to access and can be dramatic in their views). Casa Morgado is a 'world' away from Funchal, yet is just hour or so by car from it. The house has been well-designed in its rebuild; a woodstove kept it warm on cool February nights. But for someone who has left temperatures of - 20/-30 in eastern Canada, Madeira's Spring-like weather delights! I can't say enough about the host Tomas. When we asked for a few items, he drove out the next day and delivered them. He stayed in touch and was wonderfully welcoming in so many ways. Thoughtful, engaging, generous in spirit, he has contributed so much to our appreciation of not only the island and Portugal but its people. Muito obrigado. Highly recommended
Scott
2015-02-21T00:00:00Z
The house is located on a marvelous place with from the garden a straight view on the ocean. Inside the hous is accomodated very efficiently and nice. Some potatoes, tomatoes and onion available in the kitchen the firts night made it comfortable for us to make a simple meal. Fresh flowers and an little bottle of Madeira wine made us feel completely welcome!
Annet
2015-01-18T00:00:00Z
The reservation was canceled 88 days before arrival. This is an automated posting.
Frederik
2014-09-26T00:00:00Z
Een mooi huis, op een riante plek, uitzicht op de oceaan. Rustige omgeving
Tineke
2014-08-17T00:00:00Z
Lieber Tomas, wir haben uns nach der ersten Nacht wohlgefühlt in deinem kleinen Ferienhäuschen. Einige Dinge waren sehr schön, bspw. der traumhafte Ausblick, das renovierte Häuschen, das Bad, die Küche und der Kamin. Die Anfahrt war für uns kein Problem-klar sehr steil und keine geschlossene Teerdecke, aber mit ein bisschen Übung haben wir es gut hinbekommen :) Jedoch waren ein paar Dinge nicht so wie wir sie erwartete hätten für 350 Euro die Woche in der Nebensaison und für die nicht zentrale Lage: Zunächst kamen wir an bei 12 Grad- das Haus war schon seit ein paar Tagen nicht mehr gelüftet worden, die Betten und das Sofa waren klamm und das Haus war sehr ausgekühlt. Wir konnten an diesem Abend nur Feuer machen, nachdem wir trockenes Holz von einem Restaurant bekommen haben, da die ca. 20 Holzscheite die noch da waren sehr nass waren. Wir haben es aber anbekommen und nach gutem Durchlüften und Anheitzen des Kamins, war es sehr gemütlich. kleine Ideen, die uns zu fünf Sternen und einer sehr guten Bewertung hätten verleiten lassen: - Liegestühle mit Polstern - mehr als ein Geschirrtuch (diese beiden Kritiken, die schon von vorherigen Besuchern genannt wurden, wurden von Tomas leider nicht umgesetzt) - die Größe des Bettes ist super, jedoch ist die Matratze eher unbequem da man jede einzelne Feder spürt- wir haben trotzdem gut geschlafen - das Haus ist sauber- jedoch würde das Haus an der ein oder anderen Stelle eine Grundreinigung benötigen - jedoch ist Sauberkeit ja sehr individuell :) Nochmal ein großes Danke an Tomas für die schnelle Kommunikation via (SENSITIVE CONTENTS HIDDEN) und dass du dafür gesorgt hast, dass wir nachdem die paar Scheite aufgebraucht waren, neues Holz bekommen haben.
Hannah
2017-01-29T00:00:00Z
We stayed at Casa Do Morgado from 17-02-14 till 03-03-14 with our two children. The house is located at the end of the street on a beautiful location, overlooking the ocean and countryside. The inside and the outside are nicely refurbished. Very cozy place to explore the isand of Madeira. Our whole family really enjoyed it all.
Peter
2014-03-04T00:00:00Z
La maison est confortable et se situe dans un quartier très calme, avec une superbe vue sur l'océan. Pas de mauvaise surprise par rapport au descriptif.
Fabien
2015-06-13T00:00:00Z
Rodzaj pokoju
Całe miejsce
---
Rodzaj nieruchomości
Dom
---
Mieści
4
---
Sypialnie
Ponta Do Pargo, Madera, Portugalia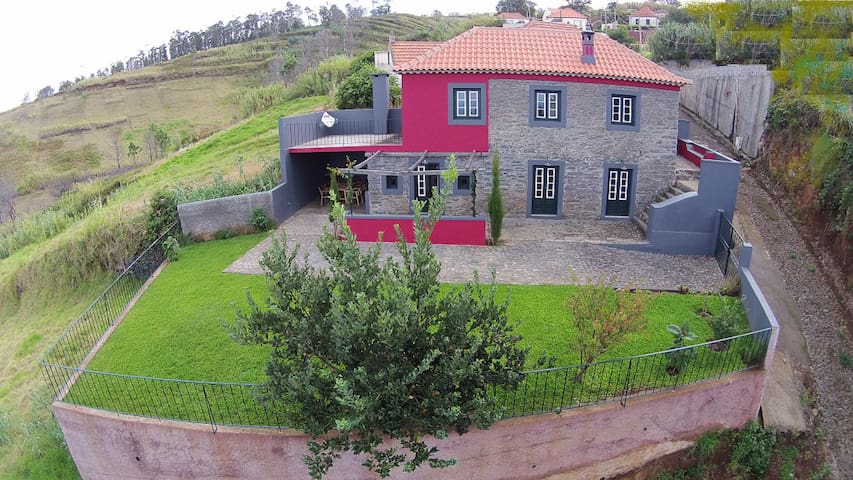 Situated between the Magic of Nature and Levada, lifted up the Houses of Levada, recovered from old houses, mostly in stone. Intended for all lovers of nature, offer tranquility with its unique view of the pool and the sea.
An old cellar where they kept apart from wine, farm tools, rebuilt to Fallingwater, keeping this its original trace in stone. Its decor is linked to one of the four elements, Water, characterized as simple and rustic. When facing the pool, it offers a unique view of the Atlantic Ocean and the unique sunset over the West of Madeira Ponta. The Fallingwater Levada belongs to the houses that have the privilege of being located in the area of Forest Natural Wood, Laurel. Around it, there is ample green spaces equipped with fruit trees and small organic gardens where they can be freely harvested agricultural products produced organically. Among the Levada that run throughout the space, there is a large swimming pool with solarium and a space with farm animals which guests can interact. A space that brings us back to our roots and traditions, embracing the Permaculture and consequent sustainability in order to establish balance and harmony necessary for coexistence of Being with the Earth. A source of unique experiences and moments of relaxation and tranquility, intended for all nature lovers.
Eine Oase der Natur
Madlen
2016-10-18T00:00:00Z
We had a very nice stay in Joaquim's place. I really loved the architectue and design of the place. It was very comfortable. On top of that, the location, the views, the breakfast were excellent. Joaquim is humble and caring, it was a pleasure meeting him. I would recommend his place to anyone!
Monika
2016-05-14T00:00:00Z
We had an absolut fantastic stay at Casa Levada. Joaquim and his mum are doing everything to make you feel like at home. The house is beautiful and modern equipped, we loved the organic eggs they offered for breakfast. The view is fantastic and in the town you have very nice restaurants. Absolutely recommended!
Nicole
2017-02-20T00:00:00Z
Lors de notre voyage à Madère cette étape avait tout d'un petit coin de paradis !!! La Casa da cascata est magnifique avec un soin apporté à chaque petits détails. La literie est très confortable. L'accueil est sympathique avec de bons conseils pour les restos. Et quelle bonheur de profiter de la piscine et des extérieurs très bien entretenus. Nous ne pouvons que conseiller cet (URL HIDDEN) rêve !!!
lucie
2016-08-03T00:00:00Z
The farm was so lovely I was hesitant to leave a review, perfect as it was. Couldn't be better.
Giles
2016-07-11T00:00:00Z
Wir hatten einen wundervollen Aufenthalt und würden jederzeit wiederkommen. Joaquim und Familie sind sehr freundlich, hilfsbereit und jederzeit ansprechbar. Das Casa da Cascata ist sehr schön eingerichtet und bietet jeden Komfort, den man im Urlaub so braucht. Von der Terrasse kann man in aller Ruhe dem Sonnenuntergang zuschauen, ein Traum! Vielen Dank für das wunderschöne Haus und unseren tollen Aufenthalt an Joaquim & Familie.
Julia
2016-10-03T00:00:00Z
We had a great time at Casas de Levada and highly recommend to stay here! We enjoyed our great house, the beautiful garden, the infinity pool and the breathtaking view loads!!! Our hosts were very friendly and welcoming. We loved the architecture and design of the interior and gardens. It all looked even better in reality than on the photos :) We will certainly come back!!!
Stefan
2016-10-13T00:00:00Z
Casas Da Lavada's is a really amazing place!! We had a truly wonderfully relaxing stay! The family went out of their way to accommodate and make us feel comfortable! The fresh bread and breakfast in the mornings was a lovely touch.. and a replenishment of logs for the fire each day ideal! The grounds surrounding the house are really special! There's an organic farm in the corner of the garden (from which we were supplied with fresh eggs each morning), an infinity pool overlooking the incredible views of the sea and mountains, and fresh fruit and herbs dotted around. Also, the location is perfect if you are looking to do some lavada walking!! Highly recommend, and we will be back for sure :)
Chris
2016-12-20T00:00:00Z
Rodzaj pokoju
Całe miejsce
---
Rodzaj nieruchomości
Dom
---
Mieści
3
---
Sypialnie
Madeira, Madera, Portugalia
Moje miejsce jest dobre dla par, przygodach solowych, osób podróżujących służbowo, rodzin (z dziećmi), dużych grup, eamigos futrzane (zwierzęta). Villa w Porto Moniz - Achadas da Cruz Położony 15 minut jazdy samochodem od centrum Porto Moniz. Z widokiem na morze i góry. Idealny dla tych, którzy chcą spędzić wakacje w kontakcie z naturą w dużych obiektach, z szybkim dostępem do morza, pięć minut jest kolejka linowa na plaży Achadas da Cruz.
Villa w Porto Moniz - Achadas da Cruz Położony 15 minut jazdy samochodem od centrum Porto Moniz. Z widokiem na morze i góry. Idealny dla tych, którzy chcą spędzić wakacje w kontakcie z naturą w dużych obiektach, z szybkim dostępem do morza, pięć minut jest kolejka linowa na plaży Achadas da Cruz i 15 minut od naturalnych basenów z Porto Moniz. Willa z 2 sypialniami dla 2 do 6 osób. Pokój z podwójnym łóżkiem, spanie dla 2 osób. Druga sypialnia z dwoma łóżkami pojedynczymi, spanie 2 lub 4 osób. Pojedyncze łóżka są rozciągliwe, można łatwo zamontować do 4 osób. Willa może pomieścić do 6 osób. pościel i ręczniki wliczone w cenę. Duża w pełni wyposażona kuchnia dla gości, aby przygotować swoje posiłki. Wyposażona w lodówkę, kuchenkę, czajnik kuchenka i naczynia do gotowania. Grill i meble ogrodowe, krzesła i stoliki na świeżym powietrzu. Dwie łazienki z prysznicem kompletne. duża jadalnia z telewizją kablową, balkon z widokiem na morze i góry. Poza można korzystać z tarasem ogrodowym i zrelaksować opalania oślepiać Morze Darmowe wifi dostępny jest prywatny parking.
Porto Moniz jest najczęściej fotografowanych miejsc na Maderze, więc widać z wielkiej wartości krajobrazowej terenu, w otoczeniu pól uprawnych w dobrej terenu Madery, z wioski położone jest u podnóża góry, stoi dumnie ogromną Atlantyk , Dziedzictwa przyrodniczego wyposażona w unikalne miejsca niepowtarzalnego piękna, które mogą być dostępne przez słynne już "wzięte" Madery wykorzystywanie uroczo Laurel lasu, wpisanego na Listę Światowego Dziedzictwa UNESCO, zbudowany w ciągu wieków do wykorzystania wody deszczowej do nawadniania w tym trudnym terenie. Dla regionu Porto Moniz może uzyskać dostęp do Levada Ribeira da Janela, Cedros lub 25 źródeł, które zapewniają wyjątkowe chwile spotkania z naturą. Poza Porto Moniz znajdują się trzy parafie, które tworzą to miasto: Achadas da Cruz, Ribeira da Janela i Seixal. Porto Moniz - Naturalne baseny Porto Moniz są ex-libris powiatu, który jest główną atrakcją turystyczną. Ten kompleks wypoczynkowy składa się z basenów utworzonych z skał wulkanicznych z bardzo osobliwych form, gdzie morze przychodzi naturalnie, zawsze zapewniając wód słodkich i jasne. W Porto Moniz mogą odwiedzić Science Center żywych i Akwarium Madery. Achadas da Cruz - odwiedzając to miasto może sprawić miłą wycieczkę na stacji kolejki linowej z Achadas da Cruz, wygodnego i bezpiecznego środka transportu, która łączy wieś do morza. Ta podróż zapewnia wspaniałe widoki na zielonym płaszczem Porto Moniz i górujący powrotem do Oceanu Atlantyckiego. W Ribeira da Janela znajduje się w punktu widzenia Tranquada, co pozwala na wspaniały widok na północy wyspy i gdzie znajdują się stoły i ławy, które umożliwiają przeprowadzenie pikniki. Seixal - Tutaj można cieszyć się przyjemne chwile w naturalnych basenach. To kąpielisko umożliwia kontakt z morzem Numas basenach utworzonych przez wulkanicznego czarnego kamienia, z widokiem na góry i charakteru otaczającej go. W starożytnej drodze łączącej parafię Seixal do miejscowości São Vicente jest punkt widzenia "Panny Młodej Welon", skąd można zobaczyć wodospad, który nalewa silne obciążenie wodą w dół zbocza, przypominający biały welon panny młodej. W tej parafii jest Chao da Ribeira, szeroką dolinę otoczoną bogactwa roślin i roślinności należących do Laurissilva Lasu, sklasyfikowany na Listę Światowego Dziedzictwa Przyrodniczego. Tutaj znajduje się przedszkole pstrąga na zarybianie kilka strumieni wyspy.
Rodzaj pokoju
Całe miejsce
---
Rodzaj nieruchomości
Dom
---
Mieści
6
---
Sypialnie
Achadas da Cruz, Madera, Portugalia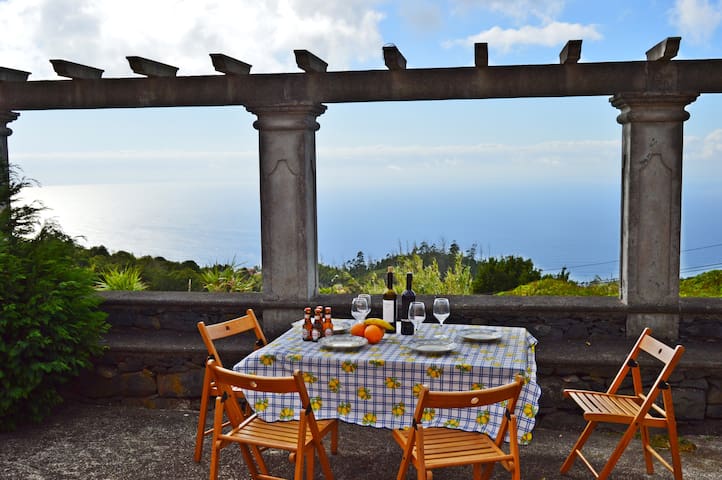 Casa de campo, ideal para férias, com churrasqueira e jardim. É uma escapatória à correria do dia a dia e imersão na calma da Natureza que a Ponta do Pargo tem para lhe oferecer. Desfrute do melhor pôr do sol de toda a ilha! Country house, ideal for a break surrounded by nature and fresh air. It has a lovely garden and a barbecue. Immerse in the wonders of nature that Ponta do Pargo has to offer you. Come and witness the most amazing sunset of the whole Island.
A casa tem TV, Internet, cozinha bem equipada, maquina lavar roupa e roupeiros em todos os quartos de dormir. The house has TV, Internet, well equipped kitchen, washing machine and all bedrooms have wardrobes.
A área envolvente é calma, com excelentes oportunidades para caminhadas, andar de bicicleta ou simplesmente desfrutar da natureza nas proximidades; A vila da Ponta do Pargo pertence ao município da Calheta. Esta área se distingue de toda a Ilha da Madeira pelo seu terreno plano. Silencioso e peculiar, esta freguesia mantém o seu charme para a maioria do ano, sendo mais vivo quando eles celebram festas religiosas. A levada Nova, uma das mais belas trilhas da ilha, fica em frente à casa. A vila da Ponta do Pargo é a 2/3 minutos de carro da casa ; Aqui uma gama de amenidades, incluindo correios, supermercados e restaurantes locais podem ser encontradas. The area ia quiet and surrounded by Nature. It has several walks that will allow you to explore the area. Levada Nova is a typical trail that will take you in a heavenly immersion into the Forests of Madeira. Ponta do Pargo is a flat and traditional villa that comes to live especially at the time of the religious festivities. It has traditional shops around that will enable you to buy basic and traditional products.
Lovely house in very calm area. Kitchen is well equipped and you have nice view over Ocean! This could be great place to stay when it is super hot and crowded in other parts of Madeira in summer while for March it was bit cold.
Marts
2017-03-27T00:00:00Z
Rodzaj pokoju
Całe miejsce
---
Rodzaj nieruchomości
Dom
---
Mieści
4
---
Sypialnie
Ponta Do Pargo, Madera, Portugalia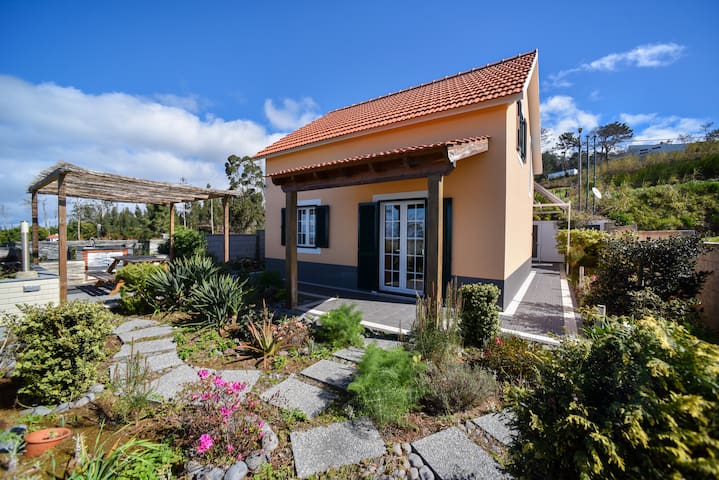 Casa do Bisbis is a very special and cosy place. Here you can feel Nature and enjoy silence and tranquility. Welcome to our lovely retreat.
You will spend your time in the Island in a cosy country house with three open spaces. • One with a kitchen, dinning room and a big balcony where you can have a very nice mountain view. • In the lower one, is located the bedroom with fireplace, a small balcony and the bathroom. • On the top floor, is the attic with to single beds. About the parking: • In the house there is no covered parking, but you can safely park on the road in front of the entrance door or in a park side a few steps from the house.
• Casa do Bisbis is located in the north cost of the Island, in the small village of Porto Moniz, at Lamaceiros. Ok, it is not a new house, but is full of soul, is peaceful, quiet and magical, where you can enjoy the silence and the tranquility of the days passing by. • You are 5 minutes by car from the sea, but unfortunately you don´t have a sea view. In the other hand, you can have a beautiful mountain view of the island's highest peaks from our balcony, and you are only at 15 minutes walking distance from the beginning of two levada walks, Ribeira da Janela and Levada Grande, so don´t lose the change to discover the beautiful Laurissilva National Park declared world heritage by UNESCO. • Porto Moniz is one of the most famous villages of the island, located by the sea, is very famous because of the amazing natural swimming pools which are a 5 minutes drive away from the house. • Here, you will be on the north and greener coast of the Island. You will find silence, privacy and time to discover places to breathe surrounded by nature.
We stayed at Casa do Bisbis - Nature Retreat for in January to enjoy the quietness and slow pace of life out in north west of Maderia, the House was wonderful with a fully equipped kitchen and some fresh bread and wine. the area is quiet and local, with a small shop 2 minutes walk from the house. we enjoyed the 2 close lavada walks just 10 minutes walk from the house and being just a few minutes drive away from Porto Moniz to a dip in the rock pools and restaurants with a view. The real fire was very welcome for a cosy night in when it started to get cool. Carla and João are excellent hosts, meeting us at the house, giving us excellent advice on the nearby levada walks and letting use their maps and guidebooks.
Craig
2017-01-06T00:00:00Z
The house is in a privaledged location overlooking Porto Moniz. Carla and João are excellent hosts and their beautiful home is equipped with all ammenities, very comfortable and close to several breath taking Levada trails within walking distance. This home is highly recommended.
Daniel
2016-10-15T00:00:00Z
Staying at Carla's place was fabulous! We had a fantastic experience living as a local in a very nice village, a few hundred meters from grandiose levada paths, and a few minutes by car from the natural pools. Carla is a lovely person and an absolutely perfect host taking care of everything and being so kind every time we communicated, as well as welcoming us at the house. She also gave us some very useful tips like restaurants, bars, local concerts, etc. The house itself is spacious, tidy, nicely decorated, luminous, warmly decorated, full of soul and with very good vibes. I recommend this place to anyone wanting to experience Madeira island at its best!
Patrice
2016-08-18T00:00:00Z
Carla is a lovely, welcoming and friendly host. She went the extra mile to help us with our first trip to Madeira. Her home is beautiful and very peaceful, in a location which is easily accessible to many natural attractions. I would highly recommend staying at her home and hope to return to stay with her again soon. #5stars
Fliss
2016-06-03T00:00:00Z
We can only recommend to stay with Carla, we really enjoyed our stay. She was very communicative and helpful. Her Casa do Bisbis is really as cute as it looks on her photos! Carla prepared everything we needed for us and provided us with loads of suggestions of what to do. The house is within 10 minutes walking distance of two excellent levada walks and there is lots to see around.
Jaroslava & Vladimir
2016-07-10T00:00:00Z
The house is beautiful ad tucked away in a small town above Porto Moniz. The views were incredible and there was easy access to multiple Levada's Walks. We can't wait to go back and stay here again.
Jared
2016-10-26T00:00:00Z
Wir wurden sehr herzlich von Carla und Joao empfangen, mit einem süßen Gastgeschenk... ;-)) Carla und Joao haben uns das Haus gründlich erklärt und waren stets erreichbar wenn wir Fragen hatten! Sie haben tolle Tips für Wanderungen, Ausflüge und Lokale bereitgestellt, sowie Wanderkarten und einiges an Infomaterial. Das Haus ist sehr liebevoll eingerichtet, mit wirklichen schönen Details. Die Küche ist prima ausgestattet und der Kühlschrank war für eine erstes Frühstück gefüllt, super! Wir haben die 14 Tage in Casa do Bibis sehr genossen. Es ist absolut ruhig und ursprünglich. Der kleine Laden um die Ecke bietet alles was man kurzfristig braucht und die Leute sind wirklich nett. Wir können das Haus von Carla absolut weiterempfehlen!
Ernst-Wilhelm
2016-10-07T00:00:00Z
Carla est gentille et bien attentionnée. La maison est magnifique, propre et meublée avec beaucoup de goût. L'endroit est tranquille, avec plein de coins à découvrir. À recommander.
Oumama
2016-11-05T00:00:00Z
Rodzaj pokoju
Całe miejsce
---
Rodzaj nieruchomości
Dom
---
Mieści
4
---
Sypialnie
Porto Moniz, Madera, Portugalia
** Temos duas unidades similares, este anúncio é para um deles, entrar em contato se você está olhando para alugar os dois ao mesmo tempo. ** Reconstruído em 2011, este estúdio jardim acomoda 4 (uma cama de casal no piso térreo e duas camas de solteiro no mezanino), tem uma cozinha moderna e casa de banho e é completamente duplo vidros e insonorizados para garantir a tranquilidade. O local é imaculado e os jardins são sempre mantidos a um nível muito elevado. Ideal para aqueles que querem levar sua família e apenas "ficar longe de tudo" ou grupos de amigos que querem ser deixados imperturbados. Existem dois tais estúdios e se você deseja reservar ambos, por favor entrar em contato para uma taxa de desconto (também disponível para estadias mais longas em uma única unidade). A casa fica a menos de 5 minutos de carro do Farol. A casa fica a poucos minutos de uma paragem de autocarro, no entanto, recomendamos que você alugar um carro. Há uma abundância de empresas de aluguer de automóveis decente preço no aeroporto, e obter um Citroen C1 para 7 dias por 130 € não é inédito. Temos estacionamento seguro fechado.
We hebben een fantastische tijd bij Ana Lúcia gehad. Via de telefoon heeft ze ons naar haar adres geloodst en dat ging prima. Het huisje was heel schoon en netjes. We hadden heel veel privacy ondanks dat er ook andere gasten op het terrein aanwezig waren. Een schitterende tuin met een wijds uitzicht, inclusief mooie zonsondergangen! Wij raden deze B en B echt van harte aan!
Arjen
2015-08-01T00:00:00Z
Ponta do Pargo is one of the most beautyful spot we saw in Madeira Island and the place where Ana Lucia hosted us was really cute with a great landscape view. Unfortunately we stayed there just one night i'll suggest everybody this accommodation for a road trip around the island.
Alessio
2015-09-18T00:00:00Z
Muito agradavel a casa, muito bom gosto, muito limpa e num sitio bastante sossegado e agradavel. Os anfitrioes muito simpaticos e disponiveis.
Catarina
2013-02-22T00:00:00Z
Après avoir traversé la brume, nous avons mangé au Casa da cha à côté du phare (super adresse, plats gourmets traditionnels), puis nous avons rejoint le studio confortable, propre avec vue sur la mer ! Accueil courtois. Parfait après une journée pluvieuse ! (et oui ça arrive à Madere)
Philippe
2015-10-25T00:00:00Z
I've just enjoyed a couple of weeks of holiday at Ana Lúcia's amazing property located in one of the most beautiful places I've come across during my travels. Before my arrival, I had anticipated to find a very beautiful place in Madeira's countryside because of the photos of the studio and its surroundings which feature the listing on Airbnb. Upon arrival however, I was even more impressed with how beautiful the area and renovated farm with adjoining studios really are! Ana Lúcia has really found a piece of paradise here for her and her family. She has been extremely hospitable and helpful to make my stay as pleasant & comfortable as one can desire when traveling. Every morning, I woke up, and first thing I did was open the front door of the studio to enjoy the magnificent view on the wide ocean which lies about 1km further and 150m lower down in front of the house. On the left had side you have a wide, breathtaking view on a green, tropical valley which is mainly used as farmland for bananas and other crops. If you're like me and love beautiful Madeiran cows, this valley is also the place to be where you can spend hours watching them graze & laze! ;) A highly recommended place for both hikers, couples looking for a romantic holiday and families alike!
Frederic
2013-11-04T00:00:00Z
Comfortable and pretty little house in a beautiful part if the island. Ana Lucia is a very helpful and welcoming host. We had privacy and all the facilities we needed to cook meals to eat out on the terrace overlooking a beautiful valley and the ocean beyond. Sunset at the lighthouse nearby was incredible. We will be back
Max
2014-03-01T00:00:00Z
although it's an hour drive from the airport, this is a great place to stay and relax. the host was very nice to us.
Chun-Ta
2015-12-02T00:00:00Z
Je recommande vivement aux voyageurs de venir passer un moment chez ana Lucia. C'est une hote accueillante et disponible.
cécile
2016-09-07T00:00:00Z
Rodzaj pokoju
Całe miejsce
---
Rodzaj nieruchomości
Dom
---
Mieści
4
---
Sypialnie
Ponta do Pargo, Madera, Portugalia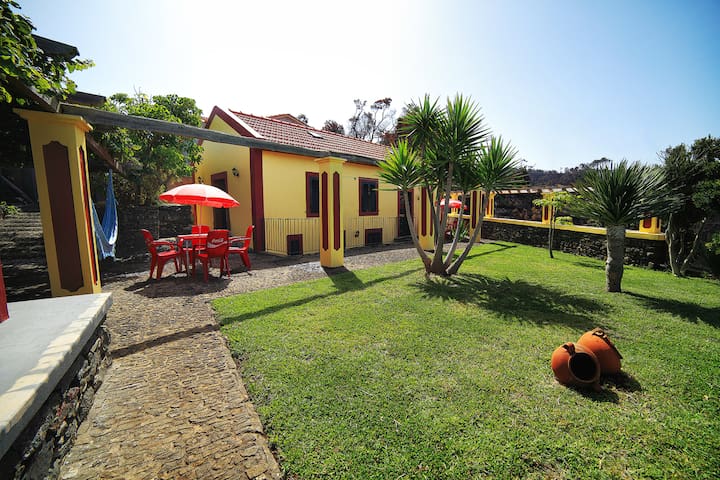 Casa das Escaleiras is close to the center of Porto Moniz Village, offers beautiful scenery, restaurants, parks and Natural Swimming pools. House fully recovered but retains the original trace and that gives it a unique touch. Very quiet place that offers great tranquility and privacy and all the conditions for an unforgettable family vacation, groups, romantic, or business. It offers Wi-Fi, fully equipped kitchen, Flatscreen TV with many channels.
House recovered and prepared to accommodate up to 6 peoples. Great views of the garden and terrace overlooking the sea and the Vilage of Porto Moniz. Fully equipped kitchen, living room with flat-screen TV and many channels available.
Quiet area, about 7 - 10 minutes from the enter of Porto Moniz, restaurants, supermarkets and natural pools. Ideal to relax and enjoy the beauty of the north coast of Madeira has to offer.
Perfect house!!! Fun to stay at the place!!
Till
2017-03-04T00:00:00Z
Brand new appartment. Very clean and everything works. Quiet and private. Great view from nice terrace. Nice people, Nuno and his daughter. Even carried our luggage. You won't regret a stay at Casa das Escaleiras. Paul & Laura
Paul
2016-12-12T00:00:00Z
Everything was perfect! The apartment is amazing, Nuno really thought of everything! The view is breathtaking! We absolutey loved it!
daniela
2016-10-04T00:00:00Z
Ana and Nuno were absolutely superb hosts! Thank you for a wonderful stay in Madeira. The home was just as the pictures depicted, with a stunning view. The kitchen is fully stocked with every pot, pan and appliance needed. A cosy lounge, and bedrooms are very comfortable. Ana and Nuno were incredible helpful and accommodating. Our flights changed last minute and we had a late arrival, yet they still welcomed us with warmth. I would HIGHLY recommend this lovely spot. Thanks again, Chantelle
Chantelle
2016-12-23T00:00:00Z
Breath taking view and great comfort in this fully equipped house!!
Céline
2017-03-08T00:00:00Z
I can highly recommend this lovely abode, it was perfect and in an ideal spot in Porto Moniz. The apartment is a newly converted cottage, completely modernised with all mod cons and a huge terrace too. It really is a special place and the seascapes are to die for. 11 out of 10 from us! Thank you Nuno & Ana.
lucy
2016-10-24T00:00:00Z
Rodzaj pokoju
Całe miejsce
---
Rodzaj nieruchomości
Dom
---
Mieści
6
---
Sypialnie
Porto Moniz, Madera, Portugalia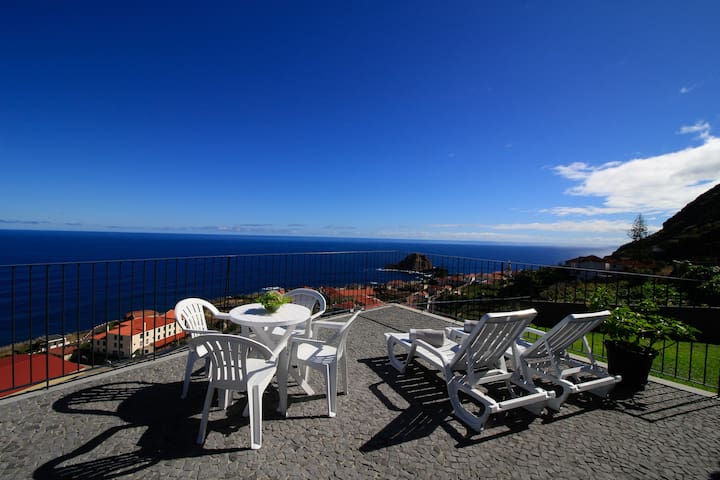 A Vila Sun tem uma boa posição pois recebe sol o dia inteiro. É espaçosa, grande e calma. Tem dois quartos (um deles suite) com casa-de-banho privada e camas de casal (todos os quartos têm vista mar e pode-se ver, também, a piscina) uma sala-de-estar
Unser Urlaub war super, wir würden jederzeit wieder kommen. Die Villa hat zwei Schlafzimmer und zwei Badezimmer. Sie liegt sehr, sehr ruhig fast am Ende einer Sackgasse. Es gibt also kaum Fahrzeugverkehr, Erholung ist garantiert. Zum nächsten großen Supermarkt sind es ca 15 Minuten, ohne Mietwagen wird es schwierig. Die Lage verleiht der Villa den Namen "Sun" zurecht, bei gutem Wetter ist ganztägig Sonne bis zum Sonnenuntergang vorhanden. Die Ausstattung der Villa, insbesondere der Küche ist ein Traum, inkl Außengrill, gute Sonnenliegen, Waschmaschine... Auch an Kleinigkeiten wie eine Lautsprecherbox für IPhone ist gedacht worden. Wir hatten zwei kleinere Anliegen (Stromausfall, etc) und binnen weniger Minuten war ein Ansprechpartner vor Ort. Wir können die Villa Ruhe Suchenden sehr ans Herz legen und auf jeden Fall weiter empfehlen.
Andrea
2016-11-22T00:00:00Z
Die Villa liegt super in dem kleinen Örtchen 'Faja de Ovelha' in einer super ruhigen und netten Nachbarschaft. Der nächste Supermarkt ist eine Fahrt von 20 Minuten mit dem Auto entfernt. Das Haus an sich hat einen traumhaften Ausblick (auch perfekt für Sonnenuntergänge) und ist modern eingerichtet. Es haben locker 4 Personen platz. Es bietet alles an Ausstattung: Staubsauger, Spülmaschine, Geschirrspüler, Grill usw. An sich war das Haus sauber, jedoch an einigen Stellen hätte vorher besser geputzt werden können (z.B. waren die Küchenschränke von außen noch etwas verschmutzt). Auch der Pool war leider nicht zu 100% sauber. Ansonsten hatten wir hier aber sehr entspannte Tage und haben die Zeit genossen. Ein Mietwagen ist aber fast unabdingbar, denn die Fahrt vom Flughafen dauert ca. 1 Std.
Robin
2016-11-10T00:00:00Z
We had a great stay in this beautiful villa with a fantastic view over the ocean. Everything was nice and clean and José was a great host. The house is placed a bit from shops, restaurants etc. so a car is a must.
David
2016-11-01T00:00:00Z
Rodzaj pokoju
Całe miejsce
---
Rodzaj nieruchomości
Dom
---
Mieści
4
---
Sypialnie
Estreito da Calheta, Madera, Portugalia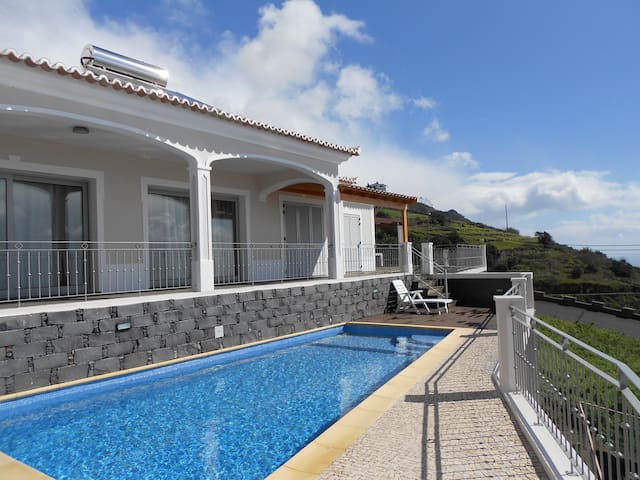 For nature lovers, with amazing sea views. Inside & outside renovations completed in 2014, lots of space for a peaceful retreat after a busy day walking, surfing, swimming or shopping! Feel at home in Madeira & enjoy the sunniest part of the island!
This property has breathtaking views over the ocean and enjoys a really nice sun exposure throughout the year. Madeira has a mild climate so it's never gonna be too hot or too cold. Even in winter. Which makes it an interesting destination all year round. From the house you can easily reach very popular spots like the surfing village Paul do Mar and the famous Maktub Pub with its amazing cocktails (5min), Calheta, the only fine white sandy beach of the island and the big supermarket as well as the marina and departure for whale and dolphin watching boat trips (15min), lots of levada walks, natural pools in Porto Moniz (25min)... Funchal, the vivid main city of the island is reached in 30min by car Quiet village with a nice situation between coast and mountain... Friendly and quiet people will greet you in the morning and offer you some home made wine in the evening! As soon as you book the house, it's yours and yours only... you have access to all the rooms, all the inside and outside areas. Nobody (except the cleaning Lady and/or the Gardner once a week) will disturb you in this property. If there is any problem, we have 2 people on site who can help you find a solution. We won't be at the house but always reachable by phone, mail, message, etc... The village of Faja da Ovelha is quiet and peaceful... perfect for families and adventure lovers! Not far from all the major activity spots of the island (swimming, snorkeling, surfing, levada walks, whale & dolphin watching, sailing, canyoning, etc) and ideally located on the sunniest and warmest spot of Madeira... The flowers grow all over the area and for those who like a nice coffee for breakfast, you can either have it in the house or in the small bar next to the church! It's local and it's good. There are busses but you should think about renting a car when coming to Madeira (lots of different companies at the airport or in the city centre of Funchal)
The village of Faja da Ovelha is quiet and peaceful... perfect for families and adventure lovers! Not far from all the major activity spots of the island (swimming, snorkeling, surfing, levada walks, whale & dolphin watching, sailing, canyoning, etc) and ideally located on the sunniest and warmest spot of Madeira... The flowers grow all over the area and for those who like a nice coffee for breakfast, you can either have it in the house or in the small bar next to the church! It's local and it's good.
We had a lovely stay at the house - the place lived up to expectations and it was great that there was a kids bed, high chair and bath :-) We loved it -- enjoyed looking at the ocean :-)
Eva
2015-04-04T00:00:00Z
Everything was very good in the house. Thank you for hosting us!
monika
2015-12-21T00:00:00Z
We stayed in the house for 10 days and it was great, it lived up to our expectations. The house is situated in a quiet village, great for relaxing, with a nice view over the ocean and a lot of terraces you can choose from. It's well equipped with a dishwasher, washing machine, dryer, BBQ, WIFI, parking space etc. Thanks Julien for hosting us! Kind regards, Brigitte
Brigitte
2016-06-14T00:00:00Z
Heel erg fijn huis. Met name de veranda is een heerlijke plek om te verblijven met heerlijke bank en het mooiste uitzicht. Goede bedden in de slaapkamers boven. Hou wel rekening met veel autoreistijd voor andere bezienswaardigheden. Aanrader voor mensen die van rust houden.
Nicole
2016-08-03T00:00:00Z
The house was situated in the most relaxing and beautiful area. Photos do not do it justice! We had everything we needed in the house and it was the perfect base to explore some of the beautiful walks on the island. I would love to visit again in the summer so I can enjoy the terrace a bit more! Highly recommend if you want to unwind and escape. Thanks for having us Julian!
Susan
2016-11-25T00:00:00Z
Lovely quiet house with great amenities and outstanding terrace. Located near the far west of Madeira in a very rural location. Great for walking and relaxing. Not great for frequent visits to Funchal (which we did not want to do - so that was fine with us). Thanks Julien for being an easy and efficient host!
Philip
2015-03-25T00:00:00Z
Das Haus war einfach nur zum Wohlfühlen! Mein Lieblingsplatz war das Sofa auf der überdachten Terrasse bei Regen. :-) Das war abends ab und zu der Fall.
claudia
2015-11-07T00:00:00Z
Dies war unser zweiter Urlaub bei Julien. Buchung und check-in waren super einfach und unkompliziert. Wir lieben die ruhige Lage des Hauses und die Sonnen- Terrasse. Wir haben uns dort fabelhaft entspannt. Gerne würden wir nächstes Jahr wieder kommen.
Melle
2016-11-15T00:00:00Z
Rodzaj pokoju
Całe miejsce
---
Rodzaj nieruchomości
Dom
---
Mieści
6
---
Sypialnie
Faja Da Ovelha, Madera, Portugalia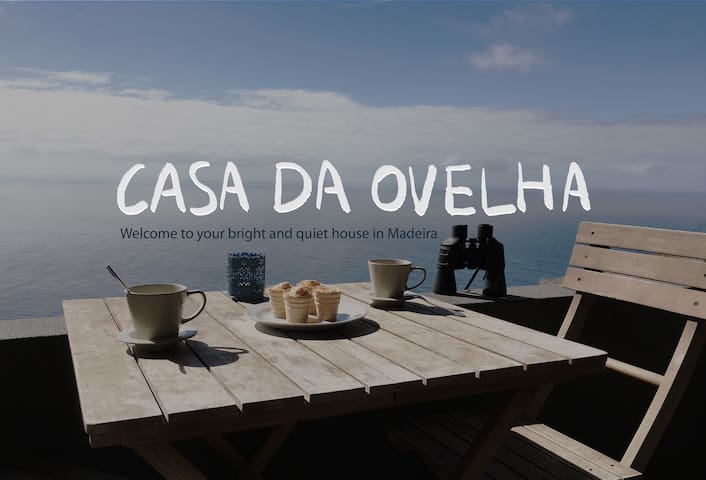 Absolutamente relaxante! Encontrar a paz interior que você precisa, ouvir a natureza em um lugar excepcional e genuíno, cercado por belas paisagens e um pôr do sol único!
Uma casa típica madeiran restaurado acordo com o detalhe de construção e materiais originais. A casa foi construída na década de 30 e totalmente restaurado em 1999.
O supermercado completa mais próximo fica a 25 minutos da casa, na aldeia de Calheta, mas no centro da vila da Ponta do Pargo, há 3 ou 4 pequenas mercearias onde você pode comprar produtos essenciais, há uma farmácia também. Ainda existem 4 pequenos restaurantes locais duas das quais eu recomendo. Na Madeira existem mais de 800 milhas de levadas. Apenas 20 minutos a pé da nossa casa começa uma das levadas mais longos, bem como acesso a outros passeios ou caminhos antigos. Há também uma rota fantástica, por um caminho antigo, da aldeia para o mar, uma gota de 300meters (Centro da cidade) para o mar. A casa está situada na extremidade ocidental da ilha; este ponto tem acesso ao Norte e do Sul em 25 minutos, a mais verde do Norte e natural com excelentes passeios e do Sul mais ensolarados e com uma paisagem mais humanizada, mas também com bons passeios e pequenas praias de pedra. Meia hora da casa, há a vila do Porto Moniz, onde há um piscinas naturais do mar, bem como outras enseadas naturais com acesso ao mar.
.....if your travel needs require an authentic taste of the local culture, history, food, landscape, archetecture Fiona and Roberto will provide the `real deal`......a wonderfully resurrected and historically correct Medeirian stone farmhouse set in the most idealic terrains of hillside vinyards and vast Atlantic views. If your needs are to create unique travel experience....come, here, just north of village Ponta de Pargo and Fionas and Robertos particular offering of Madeira. The hillsides are not for the faint of heart, nor the moment to moment climatic shifts; however, as is said in some circles....´if one wants to sing the Blues one must pay their Dues`.....come, here, and create a story with authentic Medeirian color. This is our story and we are sticking to it. Thank you Roberto for your personal attention and welcoming ease. Kaye and Bruce
Bruce
2016-03-11T00:00:00Z
Roberto and Fiona surpassed our expectations. It was lovely to spend time at their beautiful house and we recommend it to everyone. The place has its romantic atmosphere and nothing can overcome having dinner at the porch wile watching the sunset over the ocean.
Johana
2015-08-10T00:00:00Z
We had a very nice time in Fiona's and Roberts charming house in the far west of Madeira. They have restored it with expertise and love for every detail. They welcomed us warmly on our arrival (at the 25th of December!) and were very helpful with tips for our holidays on the island. The weather was erratic, but we enjoyed relaxing, hiking and watching the waves.
Jörg Thomas
2016-01-07T00:00:00Z
Roberto and Fiona provide a farm-house full of everything you would need for a great stay -- a fully-equipped kitchen, good electronics, and a very comfortable bedroom. The house is surrounded by pastoral active farms. You watch the sun set over the open sea and only hear the occasional bird and cow ;). It takes around 1h15 to Funchal. The last stretch of the road is an old winding road but this extreme west of the island is beautiful and untouched compared to other parts of Madeira. We would recommend it in a heartbeat!
Thomas
2014-05-03T00:00:00Z
We had an absolutely fantastic week at this farmhouse. The host, Roberto, met us in the nearby village and showed us the way to the house. It is nestled in the hillside overlooking the sea - wonderfully quiet (which was fantastic coming from London!). The house is beautiful inside and out, with a great outdoor barbecue and eating area where we watched the sunset each evening. Very well equipped kitchen, and easy access to lots of great local produce - which made for many very enjoyable evenings cooking after a day's walking! Definitely recommend this property to anyone looking to experience a bit of quiet Madeiran life.
James
2016-10-05T00:00:00Z
Nous avons très bien été reçus par Roberto que nous avons fait attendre un bon moment. La maison est vraiment charmante avec une vue pittoresque et dégagée sur l'océan. Le lieu se situe à l'autre bout de l'île mais l'"autoroute" permet de traverser rapidement et on est bien loin de l'affluence des touristes de Funchal. On peut faire de grandes balades aux pieds de la maison sans nécessairement aller sur les pistes de randonnées. La météo était fraîche en cette saison de février et nous avons pu profité de la cheminée. La maison est impeccable et très bien outillée pour préparer la cuisine et décorée avec amour. Il y a tous les produits de première nécessité, des fleurs et le délicieux vin de la vigne en bas de la maison. Parfait pour passer un bon moment en famille!
Alban
2016-03-01T00:00:00Z
Very flexible people, very good communication and a lovely house with an amazing view. Plus minus 1.5 hours driving to Funchal.
Maarten
2015-05-09T00:00:00Z
Casa Amarela was the last stop on our two week trip to Portugal. We were looking for a quiet, romantic get away and couldn't have hoped for anything better. Communication with Roberto and Fiona was excellent leading up to our arrival and Roberto greeted us with delicious breads, fruit and other food. Casa Amarela is a beautifully updated Madeiran farmhouse and we truly enjoyed every moment we were there. We already miss sitting on the patio and watching the sunset. It was a very special experience and we hope to return with the rest of our family some day.
Ken
2016-10-13T00:00:00Z
Rodzaj pokoju
Całe miejsce
---
Rodzaj nieruchomości
Dom
---
Mieści
4
---
Sypialnie
Ponta do Pargo, Calheta, Madera, Portugalia
Between the blue sky and sea, our house offers you a refreshing stay with nature as background. Feel at home and enjoy our facilities in an environment characteristic calm and quiet of the parish.
cozy and quiet space where you feel at home
"Ponta do Pargo is a parish in the municipality of Calheta (Madeira), with 22 square kilometers of area and 909 inhabitants (2011) Density:.. 52 / km² Ponta do Pargo has a road linking Porto Moniz and Santana and Funchal. the main activity is the construction. it has coastline on the Atlantic Ocean to the west. it has mountains to this. The name of Ponta do Pargo stemmed from its location on the far western tip and be rich in a kind of fish called Pargo. This area is distinguished from all the island of Madeira for its flat land. Quiet and quirky, this town retains its charm for most of the year, being more alive when they celebrate religious festivals. "
Lovely. Just Lovely. Definitely recommend to anyone who wants to feel at home in a foreign country.
spela
2017-01-18T00:00:00Z
Rodzaj pokoju
Całe miejsce
---
Rodzaj nieruchomości
Dom
---
Mieści
5
---
Sypialnie
Ponta Do Pargo, Madera, Portugalia
.
Located in the picturesque village of Ponta do Pargo the Heavens Villa provides a quiet and pleasant space to enjoy your vacation. Ponta do Pargo located on the edge of the west coast of Madeira is famous for the festival Pero (Apple) and the lighthouse perched on high cliffs overlooking the sea. The Casa da tia Catraia is located very close to the famous natural swimming pools of Porto Moniz. Registration number 23315/AL
Die Casa da tia Catraia ist ein großzügiges, ruhiges Haus mit tollen Aussichten. Besonders auf der Terrasse konnte ich viele schöne Sonnenuntergänge genießen. Die Lage ist optimal um den Westen von Madeira zu erkunden (Mietwagen vorausgesetzt). Auch gibt es in den Restaurants der nächsten Umgebung leckere Gerichte. Im Namen von Rui hat mich die Mitarbeiterin von Dream Rental & Services sehr freundlich empfangen und mir alles gezeigt. Insgesamt waren es sehr erholsame und schöne Tage!
Bernd
2016-09-14T00:00:00Z
Ein mit viel Liebe renoviertes, wunderschön und sehr persönlich eingerichtetes Haus mit allem, was man für einen entspannten Urlaub benötigt. Sehr großzügiges Platzangebot innen wie außen. Garten und Terrasse mit Liegestühlen und Sonnenschirm und ein gemauerter Außengrill machen auch die Tage zu einem echten Urlaub, an denen man sich nicht fortbewegen möchte. Insgesamt hat man sofort das Gefühl, dass es den Gastgebern darum geht, hier jedem Gast eine vertraute Atmosphäre zu schaffen. Rui und seine Frau haben uns sehr herzlich zu der vereinbarten Uhrzeit empfangen. (Ruis Frau ist Reiseleiterin, spricht fließend deutsch und hat uns sehr nett und in wohltuender Professionalität mit allen nötigen Informationen versorgt.) Die umliegende Nachbarschaft ist ruhig, die Menschen, denen man begegnet sind freundlich. Die Gegend ist für jeden, der Ruhe, Erholung und Bewegung in der Natur sucht, optimal. (Auto erforderlich wg. Einkäufen!) 4 Autominuten entfernt in Ponta do Pargo zwei Restaurants mit den einschlägigen Fisch- und Fleischgerichten. Lecker und verhältnismäßig preisgüstig. Insgesamt ist die Casa da tia Catraia trotz der inzwischen angehobenen Preise - für uns wars noch ein echtes Schnäppchen! - sehr empfehlenswert!
Markus
2016-08-24T00:00:00Z
Very nice house in quiet locality. Great views of the sea and surrounding landscape from almost all rooms. The grill in the yard comes in handy, too! The house was very clean when we arrived and clean linen and towels were provided as well as deck chairs. All in all a wonderful and relaxing two weeks. Recommended!
David
2016-08-14T00:00:00Z
Rodzaj pokoju
Całe miejsce
---
Rodzaj nieruchomości
Dom
---
Mieści
4
---
Sypialnie
Ponta do Pargo, Calheta , Madeira, Portugalia
Wpisz daty, by zobaczyć pełną cenę. Obowiązują dodatkowe opłaty. Cena może uwzględniać podatek.