Between Soiano and Polpenazze, just 3,5 km from Manerba beach and 1h 15 from Expo 2015, we rent an elegant villa with two bedrooms and a big dining room. The kitchen is fully equipped, the villa has wify and is in front of a shared big swimming pool
The villa is restructured in an elegant mode. Outdoor : on the front there is a patio in which is possible to have outdoor lunch/dinner, the privacy is ensured through the curtains. In the back a small garden. The shared swimming pool is really magnificent
The Garda lake is perfect for lake activities like swimming, beach, sailing. There are a lot of restaurants nearby and a nice night life with discos, bars and shops opened till late. For lovers of bikes and trail running there is plenty of nice paths
Nous avons passé un séjour très agréable dans l'appartement d'Antonio, idéalement situé entre Desenzano desservie par les trains où vous pourrez profiter de Vérone en 20 min et Salo desservie par les "bâteaux bus" qui vous permettront de rayonner tout autour du lac de garde. La prestation est excellente ! L'appartement est très confortable, décoré avec beaucoup de goût et parfaitement équipé, rien ne manque. La résidence est calme, belle (URL HIDDEN) d'une piscine spacieuse peu utilisée par les habitants de la résidence. En bref tout y est pour un séjour remarquable. Merci Antonio !
severine
2016-08-28T00:00:00Z
The booking process was good and fast. We had a warm welcome by Antonio himself in the house. Antonio realy accompanied us by arriving, being sure everything was OK etc. and supplied some basic food and drinks. The house and equipment were complete. The pool is realy good. And also parking facilities are good, we could park the car right under the appartment, so the car was always cool when driving away.
Maarten
2015-07-02T00:00:00Z
We realy enjoyed our holidays with our two kids at Antonio's place. Really comfortable with everything you need for cooking, laundry, wi-fi... We enjoyed meals on the front patio, enough privacy for us, also with the curtains open. The pool is twice the size of the picture. We had a lot of fun in it, also on the lawn next to the pool. It's nicely situated in a very well-kept and green compound. Although there are about 15 other appartments to share the pool, it was never crowded there. I guess most owners use their place only a few weeks or weekends per year, so it's nothing like a "holiday village" that would be crowded with other tourists. Antonio was very friendly and welcoming, he made sure we had and knew everything we needed for our stay. I would recommend this place to anyone looking for a relaxing vacation close to lake Garda.
Stijn
2015-08-09T00:00:00Z
Wij verbleven een weekje in het appartement van Antonio. We werden uitstekend door Antonio opgevangen en waren blij (URL HIDDEN) werkelijkheid was mooier dan de foto's doen geloven. Een prachtig appartement met alles er op en er aan in een heerlijke omgeving. Mooi groot (gedeeld) zwembad met bedjes en buitendouches. Door de weeks was er bijna niemand en hoewel het in het weekend wat drukker werd, was het nog steeds prima te doen. Wij komen hier absoluut nog eens terug.
Rene
2016-07-23T00:00:00Z
Antonio met us at the villa, and had arranged food after a long travel. He gave us a warm welcome and was very helpful. The house is very cozy, and my wife and 2 kids really enjoyed all days in the house, and the kids played in the nice swimming pool. Polpenazze del Garda is a really nice place, we will for sure travel back to this area. Thank you Antonio, maybe we will take contact with you again. All the best Morten and Family
Morten Robin
2015-07-17T00:00:00Z
Die Kommunikation mit Antonio war perfekt. Bei unserer Ankunft würden wir sehr freundlich empfangen. Er erklärte uns alle wichtigen Dinge und konnte uns auf jede unserer Fragen sehr hilfreich antworten. Antonio war der perfekte Gastgeber und war während unseres Aufenthalts jederzeit erreichbar und hat uns immer geholfen.
Karin
2016-05-15T00:00:00Z
We had a wonderful time at Antonio's apartment. It was very clean and tidy and had everything we needed. The lake is easy and quick to get to by car and the pool is also big and nice to relax. I would definitely like to come again.
Dennis
2015-09-03T00:00:00Z
Antonio hat und sehr nett empfangen und uns geholfen, als wir uns verfahren hatten (er fuhr sogar mit dem Roller zu unserem Auto, um uns den Weg zu zeigen!). Danach hatte er sich Zeit genommen, uns alles zu erklären (wo was ist, wie der Müll entsorgt werden muss etc.). Sehr nett und hilfsbereit! Die meisten anderen Wohnungen in der Anlage waren leer unter der Woche, weshalb wir den Pool grösstenteils für uns hatten und auch sonst nicht gestört wurden. Die Gartenanlagen sind schön und gepflegt.
Christin
2016-07-15T00:00:00Z
Rodzaj pokoju
Całe miejsce
---
Rodzaj nieruchomości
Willa
---
Mieści
4
---
Sypialnie
Polpenazze del Garda, Lombardia, Włochy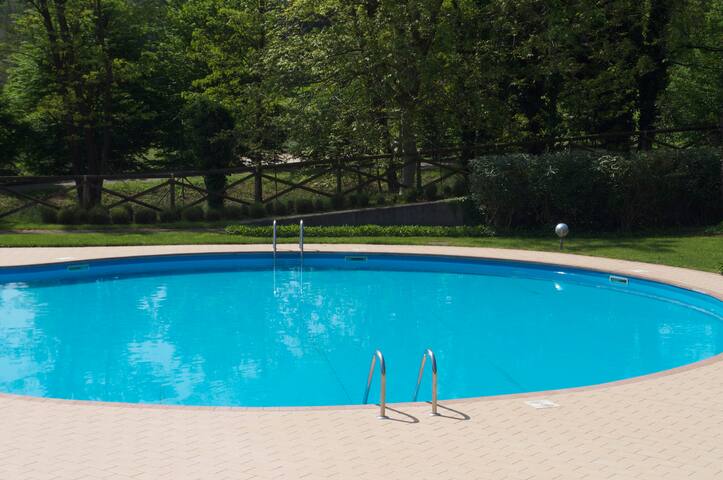 Położony na wzgórzach Polpenazze, w odległości 5 km od najbardziej urokliwych plaż jeziora Garda, w mieszkaniu znajduje się duży pokój z łóżkiem typu queen-size, łazienkę oraz w pełni wyposażoną kuchnią. Ma ładny taras pod Wisteria, w otoczeniu przyrody.
Apartament oprócz sypialni, ma dużą kanapę, gdzie dziecko może spać. Łazienka wyposażona jest dla osób z niepełnosprawnością. W apartamencie znajduje się mały taras, gdzie można odpocząć pod wspaniały wisteria. W pobliżu mieszkania znajduje się wiele bezpłatnych parkingów, gdzie można zostawić samochód.
Jest to idealne miejsce na wycieczki, spacery, ale także do odkrywania znanych miejsc jak atrakcyjne Gardaland, Sirmione i Vittoriale degli Italiani.
Fiorella e Dino sono stati molto accoglienti, disponibili e ci hanno dato tutte le informazioni utili per visitare il bellissimo lago e dintorni. Inoltre Fiorella ci fornito di nuovissimi teli da bagni, lenzuola e una bottiglia di vino al nostro arrivo. L'appartamento ha un ampio patio con tavolo, sedie e lettino da sole che si può utilizzare per cenette o per rilassarsi. Il paese Piceno e vicinissimo alle spiagge di Manerba del Garda, San Felice porto e a 15 minuti di macchina dalla bellissima Salo' e Sirmione. Se cercate un posto dove rilassarvi e dimenticare la vita frenetica della città vi consiglio vivamente di trascorrere qualche giorno da Fiorella e Dino a Piceno.
leonardo
2015-08-16T00:00:00Z
A very nice apartment located in quiet town Picedo. Apartment was very spacious for a pair. Everything we needed was on place - fully equipped kitchen, clean towels and air conditioning needed in hot days. Moreover, apartment has a nice terrace in a beautiful garden. Fiorella is extremely friendly and place is very mell maintained by her! Apartments is located about 10 minutes drive from Lake Garda (in Manerba del Garda is everything you will need), and 2 minutes from very nice little town of Polpenazze. Definitely a place we would consider to come back to. One thing I would suggest to host - while Fiorella and Dino don't speak English - for foreign guests it would be good to prepare a short standard note in English (not longer than one page) - that would include most important information, like for example methods of segregation of waste (different in various countries).
Marcin
2015-07-20T00:00:00Z
Ci siamo trovati molto bene e abbiamo goduto appieno di privacy pergolato x cene romantiche e ospitalità discreta ma efficace di Fiorella. Posizione Buona con auto. Lo consiglio !
Marco
2015-07-06T00:00:00Z
Un appartamentino delizioso per due persone ! La zona è tranquillissima ed il tutto circondato dal verde. Fiorella e suo marito sono stati molto ospitali e molto preparati sui consigli da darci in merito a cosa visitare, avevamo la sensazione di conoscerli da tempo. Sicuramente ci ritorneremo !!
Alina
2015-06-29T00:00:00Z
Grazie, grazie, grazie!! My boyfriend and I stayed at Fiorella's for 6 nights in May. We loved our stay in Picedo! If you want to experience 'real' Italy, away from the touristy places, then this place is perfect. Picedo is a small picturesque town, very near to a slightly larger town called 'polpanazze del garda' which has a beautiful church and views of the countryside and lake, butchers, bakery, grocery and an amazing gelatarie as well as a few restaurants. A very picturesque town. The apartment was very clean, well equipped and comfortable - everything you could possibly need with a very useful booklet about the surrounding area. It was easy to explore Lake Garda from Fiorella's apartment and they're very happy to recommend places to visit. We turned up without a car and Fiorella, her nephew Diego and his girlfriend Giulia helped us to sort out renting one. We would definitely recommend having a car or a scooter if staying here. Fiorella and her family went above and beyond to make our stay comfortable, advise us about the are and to help us with transfers etc. I would 100% recommend!!
Joanna
2016-05-23T00:00:00Z
Ruhig und erholsam
Heinrich
2017-04-09T00:00:00Z
Very nice Meditranien style house / apartmet, big green terasa is wonderful for breakfasts. We had very nice 3 days trip with wife and son around Lake Garda & Gardaland. Quiet village, I slept like at home. Near by is pub - pizzeria, but we had bad luck, beacuse on a day when we planed to drink some local craft beers, the pizzeria was closed. Fiorella and Edurado are very nice and firiendly hosts. Defenetly recomeded!
Janez
2015-07-03T00:00:00Z
Apartamento muy acogedor y tranquilo. Ideal para disfrutar en verano de su bonita terraza. Estuvimos muy a gusto. Se situa en un pueblo apartado del bullicio pero muy bien comunicado con los principales pueblos a orillas del lago. Perfecto para descansar y relajarse. Fiorella es una mujer muy amable, se preocupó en todo momento de que estuvieramos bien y a pesar de que vive al lado, tienes total intimidad. Repetiriamos sin duda. Muchas gracias por todo.
LAURA
2015-08-20T00:00:00Z
Rodzaj pokoju
Całe miejsce
---
Rodzaj nieruchomości
Apartament
---
Mieści
2
---
Sypialnie
Picedo, Lombardia, Włochy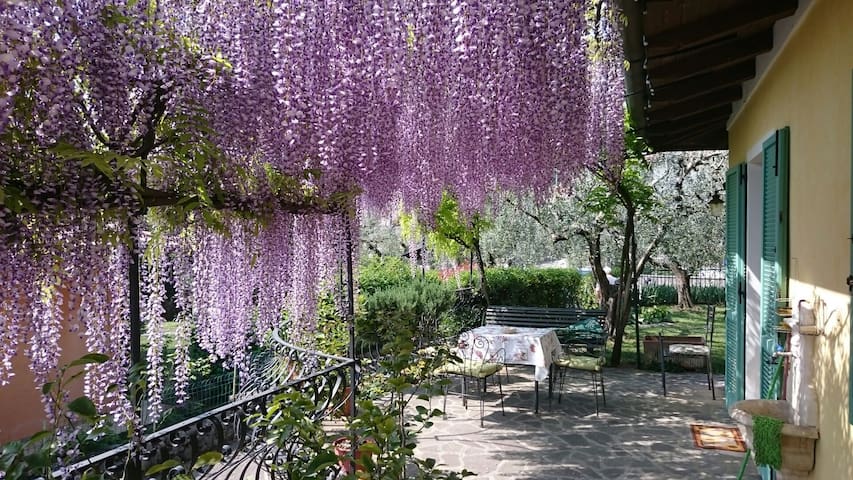 Dla tych, którzy lubią spokój i widok na jezioro jest we właściwym miejscu, B & B Ancient Walls, znajduje się 3 km. Od jeziora, w osadzie 600, spędzić chwile spokoju i cieszyć się wspaniały widok na jezioro, drzewa oliwne, wino i dobre jedzenie.
B & B Antiche Mura znajduje się w starej części miasta, zwanej Mura, 300 metrów od centrum Puegnago del Garda i oferuje włoskie śniadanie na tarasie z widokiem na jezioro 5,00 € za osobę za Dey od 8,30 do 10 B & B Antiche Mura znajduje się w historycznym centrum miasta, zwany Mura, 300 metrów od centrum Puegnago del Garda i oferuje włoskie śniadanie oraz bezpłatny bezprzewodowy dostęp do Internetu W klasycznym stylu pokoje w hotelu Antiche Mura wyłożone kafelkami podłogi, łazienkę z prysznicem, a niektóre dysponują drewnianymi belkami stropowymi. B & B znajduje się w odległości 10 minut od jeziora Garda i 15 km od dworca kolejowego w Desenzano del Garda. Wybrane osoby mogą zaparkować swój samochód. Do dyspozycji Gości jest wspólna kuchnia na lunche i kolacje, wspólny grunt, gdzie serwujemy śniadanie i wspólny ogród na relaks. Będziemy zawsze być dostępne w recepcji od 9 do 12 i od 17 do 19. Nasza nieruchomość jest dla tych, którzy lubią spokój małego miasteczka.
B & B znajduje się w odległości 10 minut od jeziora Garda i 15 km od dworca kolejowego w Desenzano del Garda. Wybrane osoby mogą zaparkować swój samochód.
Piękny widok z tarasu i smaczne śniadanie.
Błażej
2015-06-25T00:00:00Z
In een woord fantastisch, alles klopte heel leuk huis, prachtige locatie lekker weg van de drukte en een top gastheer die ook het fantastische ontbijt verzorgde vergezeld met een heerlijk glas prosecco Dank hier voor
Dirk
2015-07-28T00:00:00Z
The host canceled this reservation the day before arrival. This is an automated posting.
Terri
2015-08-23T00:00:00Z
Sehr netter Gastgeber! Frühstück inkusive! Die verschiedenen Kuchen waren echt super! Unterkunft war auch sehr sauber und es ist eigentlich alles da um zu kochen usw! Top!
Lindsey
2016-05-05T00:00:00Z
Wir hatten eine sehr schöne Zeit während der 1.5 Wochen in Mura! Unsere Erwartungen wurden übertroffen, das Apartment ist wirklich sehr süß gewesen, das Frühstück war auch super. Ein Auto ist jedoch sehr nützlich, den empfohlenen Strand kann ich nicht wirklich weiterempfehlen (Camping und Touri-Atmosphäre). Der Ort an sich war auch super, ebenso die Familie an sich. Immerwieder gerne!
Mara
2016-09-03T00:00:00Z
It was a beautiful an cosy room with a great view. Everything (room, own bathroom, Shared kitchen) was clean. We were welcomed in a very friendly and familiar atmosphere. Breakfast was delicous. Its a quiet village a few kilometers from the lake.
Katja
2015-10-03T00:00:00Z
Lugar muy agradable, amplio y limpio, muy bien comunicado. Los desayunos ricos y abundantes y nuestro anfitrión encantador, siempre dispuesto a ayudar.
María Pilar
2016-10-10T00:00:00Z
Nous avions un appartement complet pour nous deux, le confort a dépassé nos attentes ! Par contre l'appartement qui est typique italien à l'extérieur est assez moderne à l'intérieur. La famille Felter nous a très bien reçus, et le petit-déjeuner se passe dans un restaurant en face de l'appartement : un grand choix !
Alix
2016-10-31T00:00:00Z
Rodzaj pokoju
Pokój prywatny
---
Rodzaj nieruchomości
Wikt i opierunek
---
Mieści
2
---
Sypialnie
Puegnago del Garda, Lombardia, Włochy
The Bed and Breakfast "Wellness Retreat" of well being is invitingly quiet and is surrounded by greenery. It consists of three rooms with private bathroom, outdoor pool and heated Jacuzzi: the ideal place to spend a relaxing holiday on Lake Garda. The B&B is located in Puegnago, a few kilometers to Salò, in a strategic position to explore the surrounding territory.
At the entrance of the Bed and Breakfast large living room, perfectly furnished with taste and attention to detail. Breakfast is served in the morning, which consists of sweet and savory food and is mostly prepared from biological zero-kilometer products. Some of the homemade jams are made from the fruits of the fruit trees in the garden. On request, we can also prepare gluten-free and vegetarian products. The room "Zanzibar" is located on the ground floor and is equipped with two single beds, which can be converted into a double bed. It also has a wardrobe, two nightcases and a private bathroom. It is a disabled-friendly room, as there are no architectural barriers. The Bed and Breakfast has three rooms, where you can find many books that can be borrowed or exchanged. The "Wellness Retreat" provides the guests with a space for moments of relaxation through music using the original method ReAT (RelaxAudioTraining). Here relaxation techniques are combined with music by Mozart and guided visualizations. We also create a special "wellness program" for our guests on request, which we tailor to our individual needs through our experience with antistress methods.
Rodzaj pokoju
Pokój prywatny
---
Rodzaj nieruchomości
Wikt i opierunek
---
Mieści
2
---
Sypialnie
Puegnago sul Garda, Lombardia, Włochy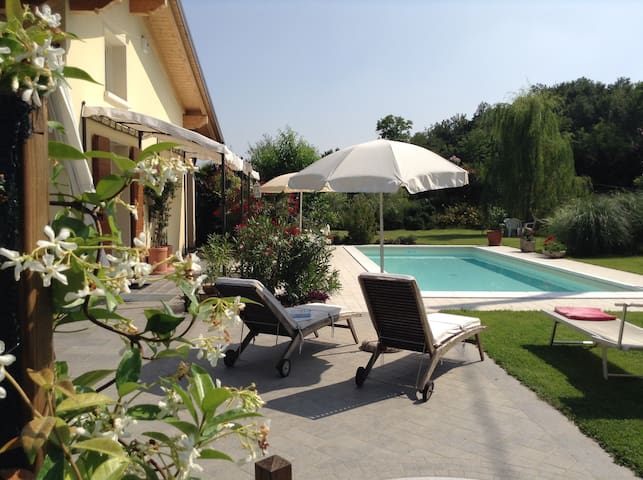 Proud of a top central lake location just few steps from the delights of Salò and close to the beaches of Lake Garda, this beautiful holiday home, with amazing view, provides the perfect retreat for your holiday! Located in an unique location with breathtaking lake view, guests can be sure of an unforgettable stay!
This awesome holiday home is located on the Ground Floor, the accommodation offers a large and inviting living room, furnished with a cozy dining area, Wifi, TV, double sofa bed for 2 persons and a fully equipped kitchen ideal for cooking delicious meals during your holiday. The first Bedroom is located on ground floor, furnished with spacious double bed makes this place ideal for romantic stays thanks to the wonderful window totally lake view. The bathroom is newly fitted with a shower, WC, bidet and washbasin. The second Bedroom is located on under ground floor, furnished with spacious double bed. The private bathroom is newly fitted with a shower, WC, bidet, washing machine and washbasin. A private parking space is fully available.
Salò is an elegant and famous holiday city in a marvelous position on the bay of the same name. The historic old town is perfect for shopping, there are many elegant boutiques. Along the lakeside there are bars, ice cream parlors, restaurants and boutiques, making the city a best place to stroll around.
Emma is great host and her apartment if really beautiful. You have access to the garden with amazing view of Lake and mountains. Also Villa district in Salo is perfect place for vacation (active - bikes, walks, or just relax). Small convenient shop is few minutes walking. Emma was very friendly and made our vacation really great. Definitely would recommend to other travelers and would love to come again! Pavel
Pavel
2017-04-08T00:00:00Z
Rodzaj pokoju
Całe miejsce
---
Rodzaj nieruchomości
Dom
---
Mieści
4
---
Sypialnie
Cunettone-villa, Lombardia, Włochy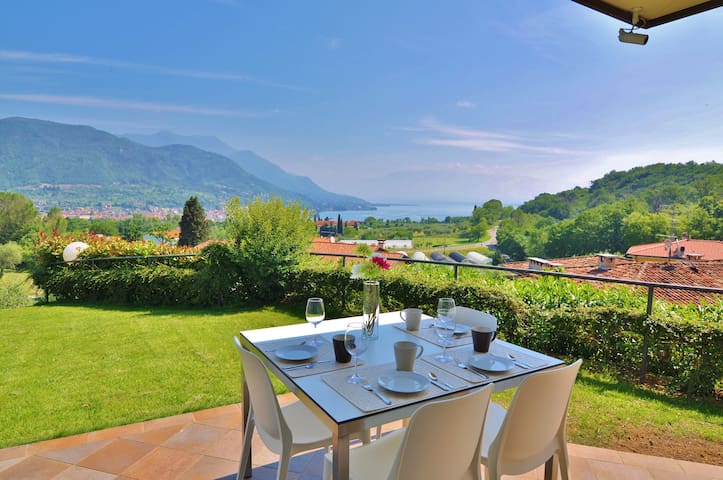 appartement 1 chambre équipée avec le nécessaire pour passer vos vacances au calme dans un petit village typique dans la campagne bénéficiant d'une vue magnifique sur le lac. vinegards et champs d'oliviers à proximité. Deux célèbres restaurants, une pizzeria à distance de (URL HIDDEN) est un endroit idéal pour des excursions, des promenades, mais aussi pour visiter célèbres endroits attrayants que Gardaland, Sirmione et le Vittoriale à Gardone Riviera. Situé à 15 minutes de Desenzano, où vous pouvez prendre un train et facilement rejoindre Milan
Jest to idealne miejsce na wycieczki, spacery, ale także do odkrywania znanych miejsc jak atrakcyjne Gardaland, Sirmione i Vittoriale degli Italiani. Położony 15 minut od dworca kolejowego Desenzano, gdzie pociągiem można łatwo dotrzeć Verona i Venezia lub Milan. Picedo to mała wioska, w otoczeniu przyrody, idealne miejsce na relaks i zapomnieć o naszym szalonym życiem. Skorzystaj z pozycji strategicznej lokalizacji mieszkania, aby odwiedzić wszystkie miejsca wzdłuż jeziora Garda, z jego działalności kulturalnej, życia nocnego i dobrej kuchni.
Najbliższe plaże znajdują się w 8 minut. samochodem, dwie restauracje i pizzerię są w odległości spaceru. Mnóstwo innych restauracji i supermarketów na 3 minuty jazdy samochodem.
Emilia's place is nice for a short stay. It os easy to access the commodities Be aware that you need a car and that there is no tv, hairdryer or internet. We had a great time there and the terasse with view on the lake is a really nice feature. I recommand this place to discover the region
Audrey
2016-09-05T00:00:00Z
Excellent séjour! L'appartement est grand, bien équipé, et au sein d'un petit village très calme avec une magnifique vue sur le lac. Je recommande!
Benjamin
2016-07-10T00:00:00Z
Posto molto bello fuori dal caos in silenzioso paesino in collina, bilocale in piccola palazzina, pratico semplice e carino senza pretese, con terrazza abitabile su una bella vista del Lago di Garda. Per il luogo è un prezzo contenuto. Padrona di casa eccellente.
Andrea
2016-06-27T00:00:00Z
The house was basic and all we needed was there. The house is in a nice village and behind the house there is a agriturismo where you can have a free wine tasting which we of course did. The terrace is relaxing with a view on lake Garde. Beaches were 10m drive away.
Bastiaan
2016-07-19T00:00:00Z
Emilia è stata disponibilissima. Ottimo appartamento vicino al lago e immerso nel verde. Consiglio!
Federico
2015-10-03T00:00:00Z
Grazie Emilia, due giorni fantastici. L'appartamento è confortevole, pulito e ordinato, e c'è tutto quello che serve. La vista è a dir poco estasiante. La mancanza della tv rende tutto più bello, finalmente due giorni di pace e tranquillità. Emilia sei gentilissima e disponibile al massimo. Da rifare. Grazie ancora e ciao
Sonia
2015-11-14T00:00:00Z
The place was very clean. Really cosy village. Emilia was very friendly and helpfull. 10 min away from beach. Got some nice attentions like fruit and cookies. I recommand this place. Best by car :)
Evelyne
2016-08-05T00:00:00Z
Emilia è una signora molto gentile e disponibile, l'alloggio è in posizione tranquilla
Deborah
2016-08-28T00:00:00Z
Rodzaj pokoju
Całe miejsce
---
Rodzaj nieruchomości
Apartament
---
Mieści
3
---
Sypialnie
Picedo, Lombardia, Włochy
The apartment is located in a small building, with pool, set on the hills just few minutes from Lake Garda and bordering the Garda Golf Club. It can comfortably accommodate 4 people in two comfortable double bedrooms. Living room is spaciuos and kitchen is detached. It has a large covered terrace with barbecue where you can overlook the hill and sollace your eyes till the Rocca of Manerba and the lake. Swimming pool is close to the house, on eye's sight, and your children will love it!
Spacious apartment on the first floor, with an amazing covered terrace of 40 square meters for beautiful outdoor meals. The apartment has a fully equipped kitchen (dishwasher, oven, microwave...), a large living room and two double bedrooms with comfortable beds, plus a bathroom with shower. Just right downstairs, you will enjoy a nice swimming pool, well sun exposed and never crowdy. There you can relax, live the outside space freely, have a nice overview of La rocca di Manerba. The village is only 10 minutes walk (1 min by car), and it's a nice way to do daily for buying bread and other stuffs in the nice little shops of the ancient village. The Polpenazze main square offers a 180 degree view on the lake, really suggestive. Polpenazze is perfect place to stay in high season, because its hill-set location provides everyday a pleasant little wind who will refresh your holidays much more than in the flat area of Moniga or Manerba.
The apartment is only 1 km from Manerba del Garda, and it's directly adjacent to the Garda Golf Country Club, a very nice place with its 110 Ha of pure greenery. It is located in a very quiet hillside location, absolutely away from traffic and noises and fresh during the summer. Lake is less than 5 minutes by car. In Manerba you will find magnificent walkings, beaches and restaurants.
Our stay in Polpenazze was great! The house is spacious and wellkept and nicely decorated. Above all, it was extremely well equipped including for instance a dishwasher and washing machine. Every household appliance you might need is there. The covered terrace is ideal if the weather isn't and includes a built-in barbecue. The lake is only a few minutes drive away, and many nice restaurants are nearby. In short, the perfect stay!
Gonnie
2016-08-27T00:00:00Z
Es war eine tolle Wohnung die für uns als kleine Familie perfekt war.
Kirsten
2016-09-04T00:00:00Z
Ottima esperienza. La casa è molto carina, ben attrezzata, in un bel complesso con piscina
Roberta
2015-07-11T00:00:00Z
We had a great time at this apartment!! Veronica was waiting for us when we arrived and showed us everything we need to know and during our stay she was always helpful answering any question we had. The apartment is perfectly equipped, we missed nothing! There is a garage for the car, a fully equipped kitchen, a great terrace and a huge pool. The pool is shared by all inhabitants of the complex but during the day we hardly see anyone. We would like to stay longer, but she was already fully booked. As soon as we come back to this area we will contact Veronica again!! Also we can recommend the gelateria "Vassalli" in the center of Polpenazze, soooo good!!!
Nikolai
2015-07-26T00:00:00Z
We had a good time at this apartment, Veronica welcomed us when we arrived and showed us everything we need to know during our stay. The apartment is well equipped and there is a garage for the car, which keeps the car very cool on those hot days. There is a nice terrace and a good size pool. The pool is shared but during the weekdays is very quiet, it is busier at weekends. It is a short drive down to Lake Garda which can be seen from the terrace. I would highly recommend this apartment.
David
2016-07-13T00:00:00Z
Rodzaj pokoju
Całe miejsce
---
Rodzaj nieruchomości
Apartament
---
Mieści
4
---
Sypialnie
Polpenazze de Garda, Brescia, Włochy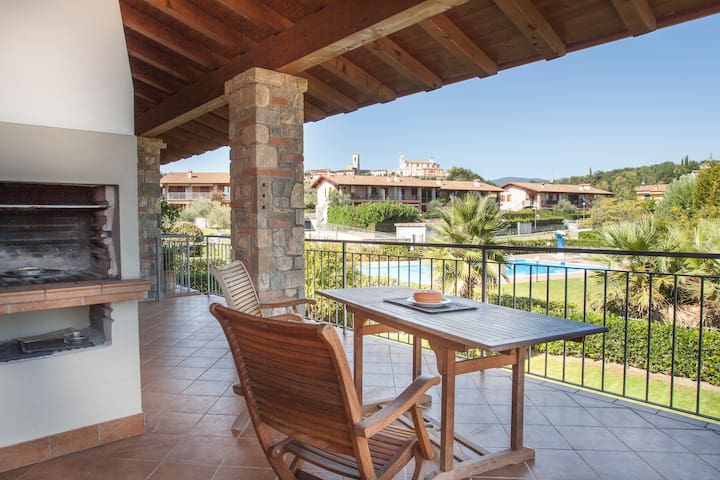 Appartamento al primo piano, in tranquillo contesto residenziale. Di fronte ampio parcheggio. Ampio terrazzo porticato, camera matrimoniale, soggiorno con cucina aperta, divano letto, aria condizionata. Bagno con doccia No internet. A 5 min dal lago Extra prezzo, viene applicata una piccola tassa comunale di soggiorno, saldabile al momento e quantificata prima della prenotazione.
Appartamento posto al piano primo di una casa di 2 appartamenti. Ingresso indipendente. Ampia camera matrimoniale con cabina armadio, soggiorno luminoso con cucina aperta, frigorifero, freezer, forno, aria condizionata nel solo soggiorno, un bagno con ampia doccia, travi sbiancate a vista. Ampio terrazzo porticato. A 5 min di macchina dal lago. Ampio parcheggio pubblico posto di fronte all'appartamento. No internet, TV canali nazionali.
Quartiere tranquillo, rilassante.
We spended 3 weeks in Sergios lovely apartment in Raffa. Area was nice and peacefull and from walking distance from the beach and apartment was really nice. We can recommend it to evebody.
Harri
2016-07-25T00:00:00Z
The house is very nice, made with love. The host is very nice. Many thanks for your sweet home!!!
Natasha
2016-08-06T00:00:00Z
Sergio was a really good host. We were welcomed with a glass of prosecco at his neighboor-friend Davide. Sergio was always available for questions before and during our stay. The apartment was modern decorated and very stylish and there is airco in the living-room. We love the big terrace where we could dine and have our evening drinks. The neighborhood was quite and peaceful. Plenty of parking places. Within 10 minutes walk you can find at big supermarket and many more stores. The nearest beach at Lake Garda is about 10 minutes drive. A nice beach is the beach where his neighbour-friend Davide works. Davide can also provide a very nice biological prosecco. We had a very nice stay and we will surely book it again. We really can recommend this apartment.
Jerry
2016-08-11T00:00:00Z
Très bon accueil, et disponibilité de Sergio, l'appartement est très agréable et fonctionnel. nous avons apprécié la terrasse spacieuse et ombragée. le quartier est calme mais le chien du voisin est souvent énervé.
sandrine
2016-08-14T00:00:00Z
Sergio was a very nice host, who gave us nice tips for our trip. The Apartment was big enough and the balcony was perfect for a good start in the day. Salo and Desenzano are Close to the Apartment, where you can find a lot of nice Restaurants and places to swim. Everything was fine.
Daniela
2016-09-06T00:00:00Z
Great Appartment for us (2 adults, 1 child 3Y old), we had a relaxing time there. Raffa is well located on the south west side of Lago di Garda and the perfect spot for a joyful holiday time. Many thanks to Sergio!!! will see you again!
Dirk
2016-08-01T00:00:00Z
Rodzaj pokoju
Całe miejsce
---
Rodzaj nieruchomości
Apartament
---
Mieści
4
---
Sypialnie
Raffa, Lombardia, Włochy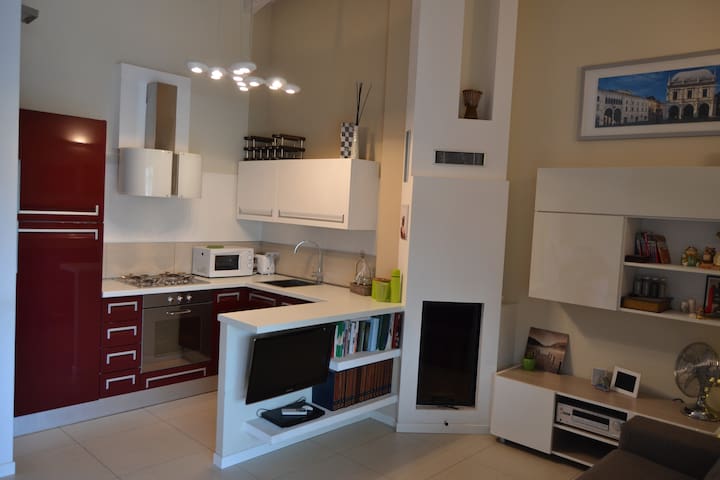 Zaledwie 2,2 km od jeziora (nie jesteśmy nad brzegiem jeziora), wynajmujemy trzy pokoje Serca - obrazy -Kwiaty (każdy posiada własne reklamy). Wspólne korzystanie z 2 łazienki, przedpokoju, kuchni i ogrodzie uczyni Państwa pobyt rilassante.Pista rowerze, plaże, przystanie czekają.
Są one bardzo jasne 3 pokoje dwuosobowe w sumie 6 osób, w tym: Małe, ale przytulne Kwiaty Przestronne i jasne obrazy. Kameralne Hearts, ale duże i z małym tarasem TRZY pokoje są dostępne na naszej stronie każdy z własnym AD
Wieś Villa jest przekraczana tylko przez ruch tak bardzo cichej mieszkalnej i jest doskonałą bazą wypadową do pieszych wędrówek. Jest podłączony do Salo poprzez szlaku pieszego i okolicy znajdziesz bardzo ładne bramki, aby dotrzeć na piechotę, rowerem lub samochodem (alpine schronienia, jezior, plaż, przystani itp).
very nice welcome; free WiFi; very quiet place - perfect to sleep; you must have a car to get to the beach or the city; all in all: pefect, thanks!
Martin
2016-08-19T00:00:00Z
Tutto perfetto! Host accogliente come la casa, che è spaziosa, comoda e vicina al centro di salò. Tutto pulitissimo e ordinato. Grazie Luigi, alla prossima!
Patrik
2016-08-20T00:00:00Z
Abbiamo soggiornato due notti da Luigi, piccola stanza ma ha tutto il necessario. Ottima "base" per esplorare la zona, facilmente raggiungibile ed economica. Gli spazi comuni sono in ordine con tutto l'occorrente. Luigi è molto gentile, preciso e disponibile per ogni chiarimento/info. Grazie mille! Ci ritorneremo con piacere. Alena&Sofia
Alena
2016-05-17T00:00:00Z
Host ideale, accogliente e premuroso. Casa pulita e camera rispondente alla descrizione. Purtroppo ci siamo fermati una sola notte...
Lorenzo
2015-05-31T00:00:00Z
Wie had a real good stay at Luigi's place. Though we arrived very late he opened up his house for us and gave us a hearty welcome. Luigi is easy to get along with and he speaks several languages. He always tried do comfort us the best way possible. The house was very clean and cozy. If you want to have an authentic stay at Garda lake and want to get in contact with local people Luigi's is the best place to go.
Nils
2015-05-10T00:00:00Z
Stanza ampia luminosa e (URL HIDDEN) casa è vicinissima alla clinica veterinaria San Antonio dove io dovevo recarmi per lavoro! Il centro di salò dista 5 min in macchina comodissimo!! Vicino alla casa sono presenti ristoranti e pizzerie dove mangiare, il quartiere è tranquillo e molto carino. L host è una persona cortese che riesce a essere di compagnia senza essere mai invadente!! Sono rimasta molto contenta!
Francesca
2017-04-07T00:00:00Z
Luigi was the perfect host. Really helpful and so kind. The area is beautiful and not touristy at all. 25 minute walk to the lake and bus stops nearby to travel around. Would definitely return to stay again!
Alexandra
2016-08-30T00:00:00Z
Great value for the room and location. We stayed for two days and it worked well. You have a full kitchen that you can use as well as the food/drink Luigi has left in the fridge.
David
2016-06-26T00:00:00Z
Rodzaj pokoju
Pokój prywatny
---
Rodzaj nieruchomości
Szeregowiec
---
Mieści
2
---
Sypialnie
Villa di Salò, Lombardia, Włochy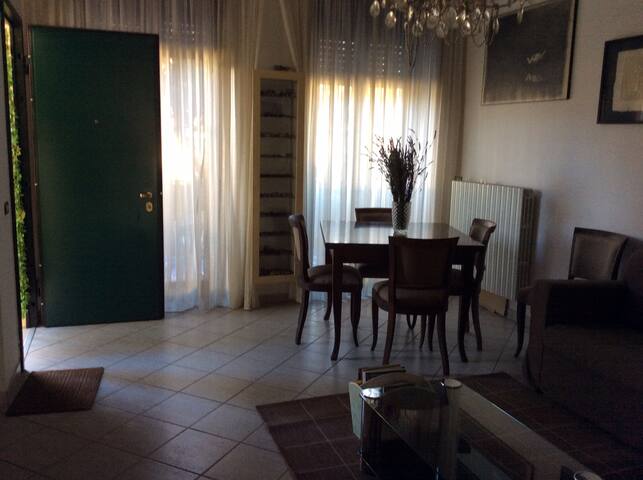 Appartamento con piscina,a soli 4 km dal lago, ampio soggiorno, camera matrimoniale, wi-fi, garage privato in una settecentesca villa padronale finemente ristrutturata immersa nel verde e nella tranquillita' con tutti i servizi a portata di mano. E' disponibile un appartamento adiacente con sei posti letto.
Nel centro del borgo medievale di Polpenazze del Garda, nella prestigiosa ristrutturazione di un palazzo storico, in un'oasi di pace, circondato da giardini e dotato di piscina, proponiamo questo luminoso appartamento finemente arredato e completamente accessoriato, che offre ai suoi ospiti relax e tranquillità. Al primo ed ultimo piano con scala indipendente dispone di : - ampio soggiorno con divano (divano letto alla francese per 2 persone), TV LCD satellitare, wi-fi gratuita - cucina completamente accessoriata con tavolo per 4 / 6 persone con vista giardino - ampia camera matrimoniale con letto king size e su richiesta lettino infant - bagno con wc, bidet, box doccia e lavatrice - garage privato con 1 posto auto - parcheggio esterno - 2 sdraio per la piscina Biancheria in dotazione: lenzuola, coperte e piumini, asciugamani, tovaglie e teli mare
L'appartamento si trova nel centro del borgo e si possono raggiungere senza utilizzare mezzi negozi di alimentari, banca, ufficio postale, bar, gelateria e la chiesa.
What an absolutely stunning place with an interesting history of being a previous silk farm and Mulberry orchard! The apartment appears completely new, has been furnished with attention to detail and is in a gated community in lovely and charming Polpenazze. Close to lake, yet unspoilt, rustic and romantic and with everything you need within walking distance. Beware, the ice cream parlour Vassalli is dangerously addictive (o: Corrado is a brilliant and very attentive host who immediately made us feel comfortable and at home. He also and gave great recommendations for what to do and where to eat in the area. He grew up in the area so I can only recommend that you pay attention. We tried two of his recommendations and both exceeded our expectations. Especially the Black Carbonara at Dalie e Fagioli is worthy of a revisit - as is Polpenazze, the apartment and Corrado. Thanks for a brilliant stay - we'll definitely be back and will make sure to stay longer next time.
Peter
2015-09-19T00:00:00Z
Die Schlüsselübergabe und "Einweisung" lief sehr gut und war informativ. Corrado war sehr flexibel was unsere Anreisezeit betraf und hat uns auch im Vorfeld schon mit Informationen (Freizeitaktivitäten) versorgt. Er stand uns jederzeit für Rückfragen zur Verfügung (Telefon, (SENSITIVE CONTENTS HIDDEN)).
Thomas
2016-08-20T00:00:00Z
We were welcomed very good. The host met us in front of the residens and showed us where to park, the pool, the garden and the apartment. He was very friendly and helpful on where to shop and where we could go to eat. In the apartment was also good desciption of where to eat. The apartment was newly renovated, and very comfortable and nice to be in. It is spacious and modern as well as functional. The pool is in the garden which is in a closed area - in the middle of the old town. We took good use of the pool and the town. The pool is both deep and there is a section of it for smaller kids as well. All in all... We had a great time in the apartment and the neighbourhood and we give our warmest recommandations for anyone who wishes a nice, comfortable and quiet and relaxing time. We will definitfly come back another time.
Lasse
2015-07-11T00:00:00Z
Nous avons passé une agréable semaine. L'accueil bienveillant de Corrado nous a permis de prendre connaissance de toutes les commodités dans le bourg. L'appartement dans une très belle résidence récemment rénovée est agréable et fonctionnel. Chiara and Corrado, may be see you later in Versailles.
Pierre
2015-08-01T00:00:00Z
We had a wonderful time in Polpenazze. Would return again and again. The apartment is a dream and the location is wonderful. Corrado was a wonderful host and always available to assist.
Antje
2015-07-01T00:00:00Z
It was a wonderful apartment with a great swimming pool in a wonderful place and our vacation was just perfect. Corrado and Chiara were very helpful in everything. The apartment was so beautiful and conformable, we enjoyed every day of our vacation!
Liubov
2015-06-04T00:00:00Z
Rodzaj pokoju
Całe miejsce
---
Rodzaj nieruchomości
Apartament
---
Mieści
4
---
Sypialnie
Polpenazze del Garda, Lombardia, Włochy
New studio apartment newly furnished , the ground floor of a private residence with swimming pool , near the lake. distances : - 2 minutes from Manerba - 15 minutes from Desenzano and Salò - 20 min from Sirmione and area parks as Gardaland - 40 min from Verona, Bardolino, Lazise Included: 1sofa bed , shower, washing macine, tv, equipped kitchen. Dog&cat small are welcome. Recall that the need for personal hygiene and for the night are NOT included . In out Saturday / Saturday Deposit 100 €
Accommodation New. Newly furnished, bright, quiet and residential area. Comfortable wardrobe, bathroom with shower and big window.
Located in a quiet and elegant area, 10 km from the center of Desenzano, is convenient to all services some even within walking distance (Bars, Restaurants, Super Market, Mac Donald, Gas, Laundry etc etc ..). Not far from the thermal baths of Sirmione and from the local beaches of the lake is a good ideal starting point to visit the famous town of Salo, Peschiera and the romantic Verona.
The appartment is clean. The kitchen is well-equiped. The agency is very helpful. The sofabed is hard to sleep in. There is a lot of noice in the evening and night of neighbours and vehicules in the garage.
Evy
2016-08-14T00:00:00Z
Ein wirklich sehr schönes Apartment, alles wie angegeben. Sehr gut ausgestattet Küche und hübsch eingerichtet. Außerdem sehr zentral gelegen, so das man alles gut und schnell erreichen kann. Sehr zufrieden
Paula
2016-08-27T00:00:00Z
Kleine aber sehr schöne und neu eingerichtete Einzimmerwohnung. Perfekt als Ausgangspunkt um Tagestouren am Gardasee zu starten und sich nachmittags nochmal an einen Pool zu legen. Alles wie beschrieben und alles notwendige vor Ort (außer Handtücher und Bettwäsche). Leider gibt es (noch) kein WLAN (was für die Planung von Tagestrips hilfreich wäre). Die Wohnung liegt direkt über der Garagenausfahrt, sodass man bei geöffnetem Fenster morgens aufgeweckt wird. Alles in allem ein sehr gutes Preisleistungsverhältnis. Small but really nice studio flat. Perfect for day trips and to relax at the pool. Everything as described and everything you need is there (except towels and bedding). Unfortunately there is no Wi-Fi so far. Sometimes it can be loud because of the garage which is below the studio. All in all good value for money.
Ruven
2016-08-06T00:00:00Z
Rodzaj pokoju
Całe miejsce
---
Rodzaj nieruchomości
Apartament
---
Mieści
2
---
Sypialnie
Raffa, Lombardia, Włochy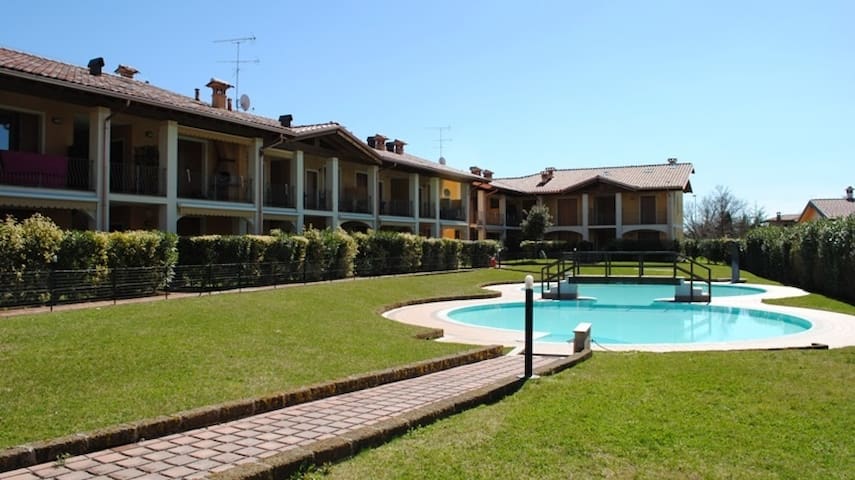 Soiano del Lago: dom w rezydencji z basenem. Małe mieszkanie w spokojnej okolicy na Valtenesi Hills, kilka kilometrów od jeziora. Odpowiedni dla par, dla osób podróżujących służbowo, jak i rodzin z dziećmi. Znajduje się na pierwszym piętrze i składa się z salonu z aneksem kuchennym z rozkładaną sofą, sypialnia dwuosobowa oraz łazienka z prysznicem. Na wspólnej puli i podwórze.
Soiano to mała wioska w sercu Valtenesi bogate w winnice i gaje oliwne otoczone zielonymi wzgórzami. I "jest położony na wzgórzu około 200 metrów, z której można podziwiać wspaniały widok na jezioro Garda. Na Soiano warto zwiedzić zamek, który w okresie letnim jest domem dla wielu wydarzeń. Dla miłośników golfa istnieje Garda Golf Country Club, jeden z najlepszych obiektów dla graczy na wszystkich poziomach.
Rodzaj pokoju
Całe miejsce
---
Rodzaj nieruchomości
Apartament
---
Mieści
4
---
Sypialnie
Soiano, Lombardia, Włochy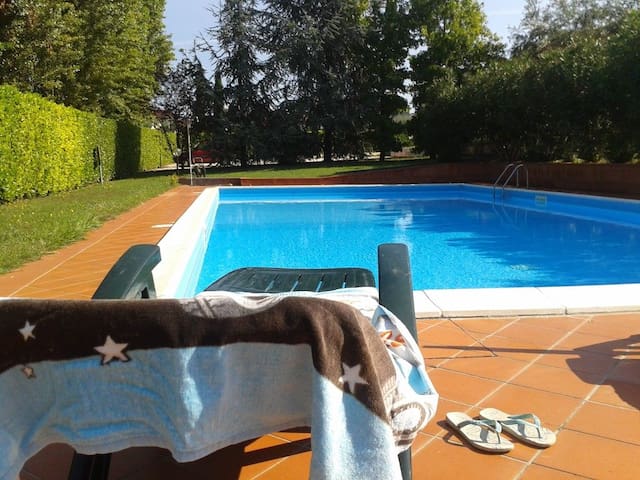 ll B&B Nonna Cecilia metta a disposizione 2 Camere Matrimoniali con BAGNO IN COMUNE. prenotando la camera si intende CAMERA PRIVATA MATRIMONIALE CON BAGNO IN COMUNE CON UN'ALTRA CAMERA , la colazione è inclusa
Located in Puegnago, in a quiet residential area, surrounded by green hills, the B & B Nonna Cecilia features a large garden with BBQ and rooms with balconies overlooking Lake Garda B & B Nonna Cecilia Rooms at Nonna Cecilia B & B offer closet, tiled or marble floors and a shared bathroom with hairdryer Guests can enjoy a sweet Italian aa Italian breakfast, hot drinks, and savory food on request. that we serve at our reception in via Garibaldi Palazzi, 12 Puegnago del Garda, Located near a free public car park, the hotel is 10 minutes' drive from Lake Garda and 30 meters from a co connections to Brescia bus stop and Salo.
Bardzo przyjemnie spędzony czas. Gospodarze przeuroczy pomimo średniej znajomości języka. Pełna gościnność, otrzymaliśmy apartament w bardzo dobrym standardzie z widokiem na jezioro Garda. Polecam
Jakub
2014-09-27T00:00:00Z
Our host was perfect.She made us feel as if the apartment was our own.We had all the help we could ask for in finding places of interest and of course excellent Italian food.The breakfast was lovely,a good Selection of different foods to choose from and a beautiful terrace with the lake in the foreground to start the day .
Glenn
2015-05-31T00:00:00Z
Me and my husband stayed in Simona Felter ordered one night but liked so well that we added one day. We were in a house right next to where the breakfast was served but not where the pictures were taken. The room was and the bathroom were nice, on the next floor below is the kitchen and lounge on the ground floor and the room and bathroom. The breakfast was very delicious and we did among other have freshly baked cookies that Simona mom baked. Her father and sister took care of the breakfast the first day. The view at breakfast is exceptionally beautiful and because we are pretty high up we had a good view to look at with our breakfast. We were very pleased with the reception. Simona Felter and her father and sister were all verry nice.
Drífa
2014-07-11T00:00:00Z
Un posto incantevole e un'accoglienza veramente calorosa.
Elisa
2016-04-12T00:00:00Z
It was the best place for staying in Italy in our experience. The studio was really nice and clean, the hosts were really friendly, breakfast was delicious and the view to lago di garda was perfect. We really enjoyed it!!!
Ruta
2014-06-04T00:00:00Z
endroit magique , les surprises ne furent que bonnes!!!... Nous n'avons qu'une envie ,c'est d'y revenir ;merci pour votre accueil et le petit déjeuner somptueux. Les lieux sont tels que décrits , propres , confortables , calmes et avec une décoration de bon goût.
HENRI
2016-02-19T00:00:00Z
Top. Sehr gemütliches, schönes und gepflegtes Zimmer. Sehr großes und gutes Frühstück.
Manuel
2015-03-23T00:00:00Z
The host canceled this reservation 8 days before arrival. This is an automated posting.
Stephanie
2015-12-24T00:00:00Z
Rodzaj pokoju
Pokój prywatny
---
Rodzaj nieruchomości
Wikt i opierunek
---
Mieści
2
---
Sypialnie
Castello, Lombardia, Włochy

Graziosa casetta indipendente, immersa nel verde, sulla collina che domina Salò. Un'oasi di pace facilmente raggiungibile dalle principali vie di comunicazione. Vicinissima alla pista ciclabile Salò-Lonato. Ampio giardino e comodo parcheggio.
Casetta indipendente recentemente ristrutturata con giardino composta da: cucina attrezzata, soggiorno con divano letto, ampia camera matrimoniale con vista sul bosco. Bagno privato con finestra.
Casa situata sulla collina che domina Salò, immersa nel verde. Zona particolarmente tranquilla all'interno del parco Alto Garda. A pochi minuti dal lago di Garda e dalla pista ciclabile Salò - Lonato.
Das kleine Haus ist sehr liebvoll eingerichtet, sauber, und war für unsere kleine Familie genau das Richtige. Carla ist eine sehr nette Gastgeberin. Grazie Carla for your hospitality
Annabelle
2016-06-18T00:00:00Z
Ein tolles Quartier und ein großartiger Urlaub! Carla ist eine sehr freundliche und fürsorgliche Gastgeberin, die uns sehr herzlich empfangen hat. Das Haus ist sehr charmant, haben uns absolut wohl gefühlt! Obst, Handtücher, Wechselstecker.. alles vorhanden! Die idyllische Lage ist perfekt für unseren Hund gewesen, da Wald und Wiesen gleich angrenzen. Salò ist mit dem Auto sehr nah. Definitiv empfehlenswert!!
Julia
2015-08-08T00:00:00Z
Alles bestens!
Benjamin
2015-05-25T00:00:00Z
Was für eine wunderbare Unterkunft! Wir wurden (da das Haus nicht leicht zu finden ist) von der Gastgeberin abgeholt und herzlich empfangen. Das Haus hat unsere Erwartungen übertroffen; ein ganzes Haus, das sehr großzügig Platz für zwei Personen bietet, sehr geschmackvoll und hochwertig eingerichtet und mit allem ausgestattet, was man braucht, auch Dingen, die nicht notwendigerweise zu einer Ferienwohnung gehören (Bettwäsche, Handtücher, Fön, Badehandtücher,...). Es liegt ziemlich abseits, im Grünen, mit einem Wald hinter dem Haus, einem kleinen Garten und absoluter Ruhe. Wir sind zu Fuß in die Altstadt nach Salò gegangen und haben ca. 25 min gebraucht. Die Vermieter wohnen gleich nebenan, wenn man etwas braucht, sind sie also gleich erreichbar, und sie waren sehr freundlich und hilfsbereit. Supermärkte und Restaurants sind in 5 min mit dem Auto erreichbar. Wir haben uns sehr wohl gefühlt und können diese Unterkunft wärmstens empfehlen!
Ulrich
2015-06-07T00:00:00Z
We really enjoyed our stay at Carla's place! The apartement was very clean, comfortable, and nice decorated. We had enough space for our stuff, cooking and hanging around. Although it was a little bit uproad, we made very nice trips to Sirmione (ca. 30 km) and Toscolano-Maderno (ca. 12 km). But Saló is worth a visit as well. It is possible to walk the way down to the beach of Saló. The route was about 2,5 km long and especially backwards due to the mountainside of the apartement a little bit exhausting. However we prefered the beach in Toscolano which is much nicer. In conclusion you definitely need a car, if you want to stay at this place. Carla and her daughter Elena were very helpful and friendly. In any case we can recommend "la casa nel bosco" if you want to have a lot of privacy and space for you.
Isabell
2015-07-31T00:00:00Z
Es hat uns sehr gut gefallen bei Carla. Sie ist überaus gastfreundlich, hilfsbereit und sehr zuvorkommend. Das kleine Häuschen ist sehr gepflegt und überaus hübsch eingerichtet. Der Garten ist wunderschön und man kann sich (mit Blick auf den See) sehr gut entspannen, da die Lage sehr ruhig und abgelegen ist. Dennoch ist man mit dem Auto sehr schnell im Supermarkt oder am See. Es war für uns als kleine Familie mit unserer Tochter (knapp 1 Jahr) ein wunderschöner Urlaub. Gerne wieder.
Timo
2016-07-29T00:00:00Z
Carla ist eine herausragende Gastgeberin und das Appartment ist wundervoll. Die Schlüsselübergabe war schnell und unkompliziert. Carla und ihre Tochter gaben uns stets das Gefühl willkommen zu sein. Die Wohnung ist geräumig, toll eingerichtet und sehr sauber. Sie liegt 10 Autominuten vom See und dem Zentrum von Salo entfernt, aber es gibt einen Bäcker, gute Restaurants und einen 24/7 Supermarkt in der Nähe. Es ist sehr ruhig dort mitten im Grünen. Ein toller Ort zum enstpannen.
Fabian
2016-05-05T00:00:00Z
Carla ist eine super Gastgeberin. Ein frischer Obstteller hat uns erwartet. super sauber, super gut erreichbar und gelegen, super Lage, einfach super
Wojtek
2015-09-03T00:00:00Z
Rodzaj pokoju
Całe miejsce
---
Rodzaj nieruchomości
Dom
---
Mieści
3
---
Sypialnie
Salò, Lombardia, Włochy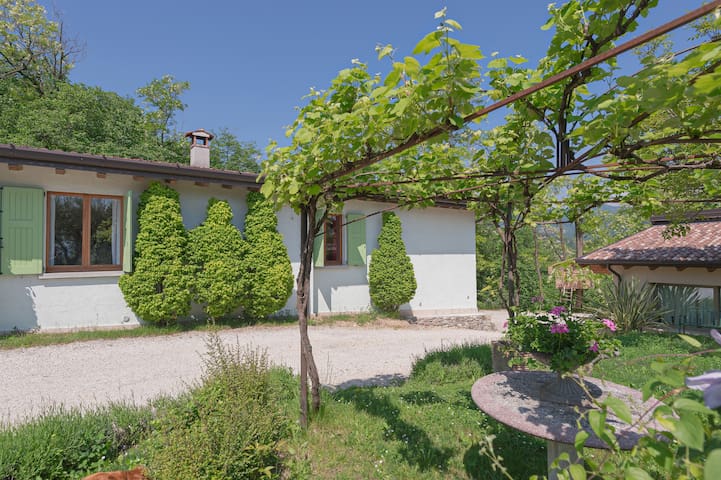 Il Nido è un grazioso monolocale finemente arredato all'interno di un piccolo residence con piscina e spazi verdi comuni. È composto da una zona giorno arredata con un comodo divano ad angolo ed impreziosita da mobili , accessori e tessuti in stile provenzale. Il letto matrimoniale a soppalco rende la soluzione ancora più unica
Nell'angolo cottura una cucina con tavolo a penisola e sedie è dotata di piastre elettriche, forno a microonde e frigorifero con celletta per il gelo . Completano la soluzione stoviglie, pentole e una macchina per caffè americano . Il bagno dotato di bidet e doccia è attrezzato con lavabiancheria carico 4 kg
Il nostro Appartamento, all'interno del residence Golf Resort si trova adiacente al Garda Golf Country Club uno dei più conosciuti campi da golf del lago di Garda . Dista 2 km dal centro storico di Manerba del Garda e a 3 dal lago . Situato nel cuore della Valtenesi è l'ideale punto di appoggio per un' indimenticabile vacanza all'insegna del relax nella natura del divertimento e della cultura Gli splendidi paesaggi della costa gardesana i parchi divertimento di Castelnuovo e la vicina città di Verona renderanno il soggiorno unico e degno di essere rivissuto
Rodzaj pokoju
Całe miejsce
---
Rodzaj nieruchomości
Apartament
---
Mieści
3
---
Sypialnie
Manerba del Garda, Lombardia, Włochy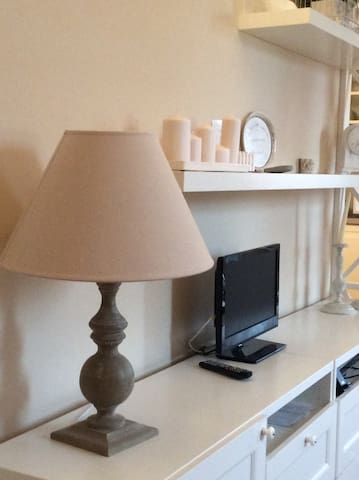 Our cozy three-room apartment in a renovated castle , has a real lake ethnic feeling! It can comfortably accommodate three people , in a quiet but with transport 500m . Enjoy the fully equipped kitchen and a view of the hills
The atmosphere of this house is very ethnic, I have traveled a bit 'that are found only or batik paintings or papyrus or objects taken abroad. The simplicity and feel at home moving freely are things that characterize this house, always respecting others' learning. The room has an orthopedic bed, large and comfortable. It 'fully furnished, spacious and bright with views of the moraine hills. The third bed is a convertible and comfortable cube. There is a large wardrobe and a large desk with a comfortable chair, to work on the pc., To educate people, series and for a short time. In the house there is a washing machine, dishwasher, microwave, TV, in short everything you need for a comfortable stay. The daily rent is 35 euro per month, or 420, for one person, for 2 is 600, including all costs of water, electricity, gas, condominium. Internet included. Sheets, blankets and towels are included in the price. Many bus stops with stop near the house. In the area there are grocery supermarkets, discount stores, post office, banks, pizzerias, restaurants, clubs and routes for excursions to very beautiful lake. Parking is not paid, it is rather wide and a few tens of meters away from the sky-earth. Tea and coffee available for guests every morning. Wi Fi in the house. ON REQUEST AND 'CAN USE THE KITCHEN for those who rent daily (price to be agreed), but for those who rent for more than a week or monthly use of the kitchen is included.
It ' a fraction in a small old town with a church , restaurant , pizzerias , new Mexican restaurant, all just a few meters or a few hundred. E ' quiet but at the same time there is little the bus stop on the main road that leads everywhere and walk around there , big pharmacy , bar , tobacco shop , delicatessen , supermarket , post office, banks . E ' at the top of the apartment compared to the state and airy . In addition to a hundred meters there is a large, new free parking, you have to go down by a characteristic scale after the church and has parking .
Babs e' stata un ottima padrona di casa la casa era pulita e profumata e con ogni confort il letto molto comodo mi sono sentita veramente a casa di una amica .... il lago è bellissimo e rilassante a due minuti da casa! Tutto perfetto e' stato un grande piacere soggiornare da Babs tornerò di sicuro.
La Cler & Anthony
2017-03-23T00:00:00Z
Rodzaj pokoju
Pokój prywatny
---
Rodzaj nieruchomości
Apartament
---
Mieści
3
---
Sypialnie
Raffa, Lombardia, Włochy
Elegante e spazioso appartamento in un contesto residenziale molto curato e riservato con ampi spazi verdi e grande piscina.
Appartamento con alti soffitti in legno sbiancato che danno grande luminosità agli ambienti esaltando gli ampi e confortevoli spazi. Grande zona living dotata di ogni confort, così come le tre camere di cui una padronale dotata con bagno con doccia esclusivo e due camerette, una con letto a castello e la seconda con divano letto, anch'esse con loro bagno completo di doccia. La terrazza di grande dimensione gode di vista lago, ed è ideale per momenti di relax così come la bella piscina inserita nel curato giardino. L'appartamento dispone di un posto auto coperto nel garage del residence dotato di cancello elettrico.
Il paese di Polpenazze, borgo storico del Garda, è raggiungibile a piedi con una brevissima passeggiata. Perfetto per una colazione e per le spese quotidiane, ha una chiesa con una terrazza con una vista mozzafiato. Il paese è famoso per la Festa del Vino, fiera locale con vino e prodotti tipici della zona.
Wir hatten einen tollen Aufenthalt bei Daniela, sie ist eine tolle Gastgeberin die uns in allen Fragen behilflich war. Die Wohnung ist komplett ausgestattet und wie die Anlage super gepflegt. Mit dem Auto ist alles in Kürze zu erreichen. Wir kommen gerne jederzeit wieder!!!!! Absolut empfehlenswert
Lisa
2016-09-10T00:00:00Z
Die Unterkunft entspricht zu 100% den Bildern. Alles ist sehr modern und sauber eingerichtet. Die Unterkunft liegt etwas außerhalb in einer ruhigen Gegend. Den Gardasee erreicht man in wenigen Minuten mit dem Auto genauso Lebensmittelgeschäfte. Daniela ist sehr nett und steht jeder Zeit für Fragen (Restauranttipps etc) zur Verfügung. Wir können Danielas Unterkunft zu 100% weiterempfehlen.
Simone
2016-09-17T00:00:00Z
Rodzaj pokoju
Całe miejsce
---
Rodzaj nieruchomości
Inny
---
Mieści
5
---
Sypialnie
Polpenazze del Garda, Lombardia, Włochy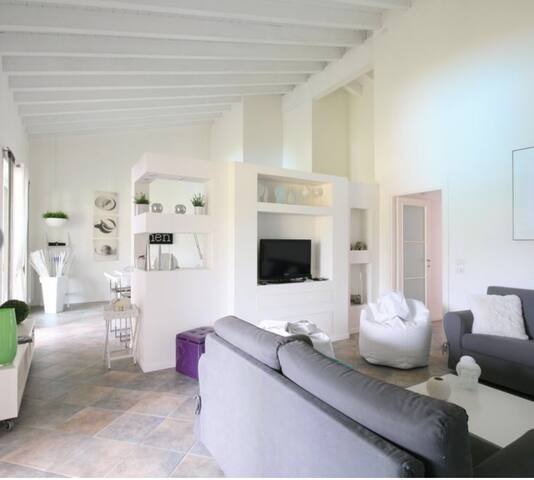 Wpisz daty, by zobaczyć pełną cenę. Obowiązują dodatkowe opłaty. Cena może uwzględniać podatek.