My place is close to the beach. You can even see a bit of the sea from the first floor balcony. The sea there is deep and not very sandy but there are several lovely beaches nearby. You'll love my place because of the views and the location. There are several fresh fish restaurants and cafes in 1.5km, around the Zygi marina. My place is good for couples, business travellers (easy access to Limassol, Nicosia and Larnaca), and families (with kids).
Spacious, comfortable and fully equipped it'll be as if you're at home!
The neighbourhood is part of a complex of holiday homes, so it is fairly quiet most of the time.
Rodzaj pokoju
Całe miejsce
---
Rodzaj nieruchomości
Dom
---
Mieści
4
---
Sypialnie
Psematismenos, Larnaca, Cypr
Lovingly restored traditional village home, Psematismenos, Larnaca, Cyprus. Up to 3 couples, plus 2 daybeds. Old house (1900s) near all major sights, sea is close, 10 mins drive. Perfect tranquil getaway for winter sun or year round. "Flora's House". We only let the house as a whole, so guests have the entire place to themselves.
Flora's House, built in the early 1900s, is in a beautiful, peaceful village with friendly locals and easy access to all the best that Cyprus has to offer. At night, you will probably hear the resident scops owl in the distance as you drift off to sleep - a lovely comforting sound. Flora's House has been a much-loved family holiday home for over 20 years, and is getting a gradual upgrade to reflect its forthcoming Listed Building status. Some of the rooms could do with some cosmetic redecoration, thanks to the power of the sun doing its work - although it has that comforting distressed look according to guests. Perfectly positioned half way between Larnaca and Limassol, with the sea ahead and the mountains behind, Flora's House is really special. The house is old and idiosyncratic, tons of character. Cyprus itself can be quirky - for example the water will occasionally stop for no apparent reason (there is a large storage bottle for this purpose) and then come back on again, but the beds are comfy, the fridge/freezer is new and the kitchen is equipped as for a family home. If you respond well to a super 'luxury' feel with everything working perfectly at all times, then Flora's House isn't the place for you. However, if you respond well to rustic, quirky and charming, with that special and immediate sense of peace and place that only certain houses have, then Flora's House is ideal to relax in. The stone arches, the balcony, the sense of timelessness under the high ceilings are all things that visitors and family have loved for years and cite as amongst the glories of the house. That said, there is now wifi in the house - so if you prefer to be in constant communication, you can be. If not, just pretend it isn't there! We've been told by previous guests that the kitchen "has all the equipment you could need". As for devices/appliances: an oven, hob, barbecue, a kettle, a toaster, a blender, scales, a fridge freezer, electric fruit squeezer (ideal for using on the the grapefruits or lemons you just picked from the garden), a Nutribullet (plus instructions), gas fires for the winter "cold", a new washing machine, iron and ironing board. There is a great selection of books on Cyprus in the house, including history books, guide books, guides to the painted churches, birds and flora, etc, plus a stack of novels in the garden room wardrobe. In the main sitting room, there is a drinks cabinet, games (cards, Smythson Bridge set, backgammon set, scrabble) and a top-of-the-range Yamaha Clavinova with pedals, perfect for musicians or any guest wanting to do a little daily piano practice. For the winter "chill" such as it is, there are gas fires (the kind with cylinders in the back) which, together with a cardigan and slippers for the evenings, would be all that's needed in the cooler months of January and February. Current bed configuration is: ground floor - x1 large double with kingsize duvet for extra comfort in the cooler months; garden room - x1 single, x1 double four-poster (the four poster is unusually high, requiring use of the footstool to get up, and is therefore not suitable for people with limited mobility); the converted donkey house in the garden - x1 double (this gets you to a total capacity of 7). Current loo & bathroom configuration is: ground floor - bathroom with bath, shower head & curtain, sink, and loo; garden room - shower, loo and sink leading off from a dressing room; "donkey house cottage" - shower, loo, sink.
There is a very simple, utterly authentic cafe in the village where the locals, including the mayor, sit and drink coffee or beer and catch up on all the news. There's a famous restaurant in the village, Lord Kitcheners' Tavern, but at the time of writing it's not occupied - that will no doubt soon change. The best place nearby for food (greengrocer, grocer, butcher, and a fabulous baker plus a bank with cashpoint) is less than 10 minutes drive at Zygi Crossroads (now a small roundabout). There are lovely walks in the immediate vicinity of the village, and the house is the ideal base to explore the rest of the island. There is a handy hypermarket, AlphaMega, at Skarinou (come off at Junction 13) which is good for a big shop, and then I would always recommend buying bread, fruit, yoghurt and honey from Zygi crossroads.
La maison de Flora est conforme à sa description, une maison typique ancienne dans le vieux quartier d'un village très facile d'accès par l'autoroute. Elle côtoie d'autres maisons rénovées, et une maison ruinée du côté de la terrasse. Les commerces sont proches (5-10 min en voiture). A la même distance on trouve une petite plage de sable, à Maroni (du galet sur certaines autres plages des environs). La maison est pleine du charme d'une vieille maison de vacances et nous l'avons beaucoup aimée. L'étage d'habitation principal est vaste et agréable, bien équipé (mais pas de micro-ondes ni de lave-vaisselle), la literie ferme mais confortable. La terrasse jouxtant cet étage est en plein soleil, avec seulement un parasol pour s'abriter. Pour aller dans la cour jardin il faut descendre un escalier assez raide correspondant à un étage. Les chambres sur jardin n'ont pas de lumière du jour excepté par les portes d'entrée, plus un puits de lumière pour la plus petite. Ce n'était pas gênant en cette saison puisqu'on pouvait laisser les portes ouvertes, mais les pièces restent très sombres. Un grand lit à baldaquin très haut sur pied et literie confortable pour la grande chambre, lit à une place pour la petite chambre. Donnant également sur la cour, la petite "Donkey House" est charmante : petite salle d'eau et kitchenette au RDC, escaliers (intérieur ou extérieur) pour accéder à la chambre au 1er niveau ; matelas très ferme ; climatisation. Le petit jardin comprend une cour et une allée pavée, avec des arbres ou arbustes de part et d'autre. Nous avons beaucoup profité des pamplemousses abondants et délicieux. Nous n'avons pas été accueillis à l'arrivée ni vu personne pendant notre séjour, mais Flora nous avait procuré une documentation abondante et très détaillée, en anglais, sur le fonctionnement de la maison et sur les environs (commerces, promenades, baignades...). Nous avions, tout prêt dans le frigo, de quoi nous préparer notre petit déjeuner (pain-biscotte, céréales, œufs, lait beurre...). Tous les produits de base étaient disponibles dans la cuisine. Nous avons beaucoup apprécié notre séjour dans cette maison, cet endroit a une âme, et nous remercions Flora de l'avoir partagé avec nous.
Jean-François et Anne
2016-04-15T00:00:00Z
Flora's House is a traditional Cypriot house, full of character and is exactly as described. I love the structure, with its period features, such as the internal arch and the terrace. Its decoration, including the comfortable period furniture adds to the character. It is situated in a peaceful village, within a few kilometres of the sea and is convenient for accesing Larnaca, Limassol and Nicosia. I was fortunate to have met Flora and Vasile prior to my arrival and they are both very hospitable and charming people. They invited me to join them for coffee on the terrace and that is how I made the acquaintance of this elegant house. Thank you Flora and Vasile!
Gabriel
2016-04-07T00:00:00Z
The host canceled this reservation 40 days before arrival. This is an automated posting.
Ashley
2016-11-13T00:00:00Z
Rodzaj pokoju
Całe miejsce
---
Rodzaj nieruchomości
Dom
---
Mieści
6
---
Sypialnie
Psematismenos, Larnaca, Cypr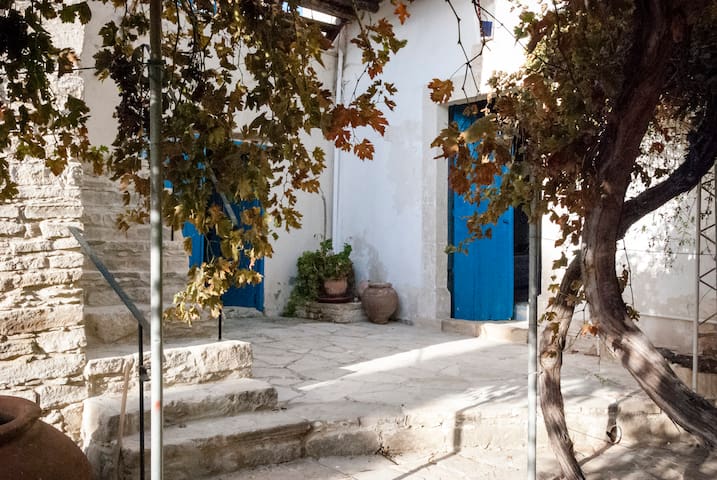 Das zweigeschößige Ferienhaus hat eine hochwertige Ausstattung. Im Untergeschoß befindet sich ein kombinierter Wohn-/Essbereich und eine Dusche/WC sowie ein kleiner Hof. Im Obergeschoß liegt das Schlafzimmer und ein Balkon mit schöner Aussicht.
Das Haus ist sehr geschmackvoll und hochwertig eingerichtet, u.a. mit Antiquitäten, Kunst- und hochwertigen Haushaltsgegenständen.
Das Haus befindet sich am Ortsrand, direkt an einem Hang. Es hat dadurch einen überwältigenden Blick auf Olivenhaine, Orangen- und Zitronenbäume im Flusstal sowie eine freie Aussicht auf das 4 km entfernte Mittelmeer. Die Ortsmitte ist nur 3min zu Fuß entfernt.
Das Häuschen von Ioannis liegt am Rande des Dorfes Psematismenos, sehr ruhig und trotzdem gut mit dem PKW erreichbar, da Psematismenos nur 3 bis 4 Kilometer von der Autobahn entfernt ist. Das Dorf selbst ist im Winter sehr ruhig und malerisch, es besteht im Areal rund um das Häuschen aus vielen alten Steinhäusern. Die Schlüsselübergabe funktionierte absolut reibungslos, wir haben alles genauso vorgefunden, wie Ioannis es uns beschrieben hatte. Zur Begrüßung stand eine große Schale mit Zitrusfrüchten auf dem Tisch und Ioannis hatte uns auch noch Getränke in den Kühlschrank gestellt. Das zweistöckige Häuschen liegt am Hang, vor dem unteren Geschoss liegt eine nette geschützte Terrasse. Im Untergeschoss liegt der Wohnraum mit einer sehr gut ausgestatteten Küche und einem kleinen Ofen! Im OBergeschoss liegt das Schlafzimmer. Das gesamte Haus ist mit wunderschönen, alten Möbeln ausgestattet. Unser Aufenthalt in Psematismenos war absolut perfekt und wir würden sofort wieder dorthin reisen!
Constanze
2016-12-31T00:00:00Z
Rodzaj pokoju
Całe miejsce
---
Rodzaj nieruchomości
Dom
---
Mieści
2
---
Sypialnie
Psematismenos, Larnaca, Cypr
Psematismenos Village is part of Larnaca District but just 20 minutes drive from the cosmopolitan city of Limassol, just 30 minutes from the capital of Cyprus, Nicosia and 30 km from Larnaca airport. Psematismenos is a delightful village set apart from the usual tourist tracks, offering the perfect base for touring this lovely Mediterranean Island. Located only a 3-minute drive from the sea, Psematismenos is a village that has a local church, a mini market, a bank and a local tavern.
Rodzaj pokoju
Całe miejsce
---
Rodzaj nieruchomości
Dom
---
Mieści
2
---
Sypialnie
Psematismenos, Larnaca, Cypr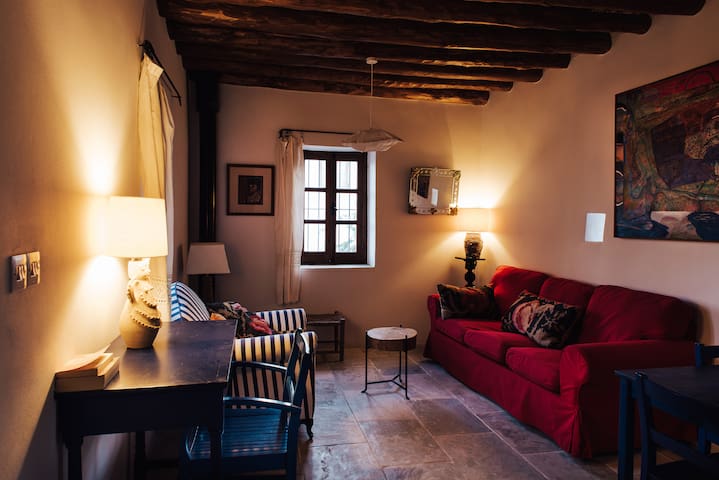 My place is good for couples, solo adventurers, families (with kids), and big (URL HIDDEN) is a traditional house in the village of Anafotia
If you like to live for a carefree time in a village. If you like to enjoy the sunrise and sunset at full view peacefully with the tranquility of the village. If you like cycling or walking in the nature and enjoy swimming and sunbathing. If you like people to greet you with a smile and pay your drink at the coffee shop. If you like to enjoy a large bottle of cold beer with nuts for only € 2.50. If you like to shop fresh organic fruits and vegetables locally produced. If you appreciate the hospitality and enjoy meeting new people then you will love your stay at Petros traditional mansion. Anafotida is a village located on a hill just 15 minutes' drive from the airport and five minutes from the beach. It is well known for its delicious grapes and its warm hospitality. It has small supermarkets, cafes, and traditional Tavern. It is 15 km away from Larnaca , 40 minutes' drive from Limassol and 40 minutes' drive from Nicosia. Your holidays here will be unforgettable
The Neighborhood is very safe and peaceful. The Neighbors are lovely people very welcoming easy to talk to and very happy to invite you to local events or to show you their farms.
Rodzaj pokoju
Całe miejsce
---
Rodzaj nieruchomości
Dom
---
Mieści
6
---
Sypialnie
Larnaca, Larnaca, Cypr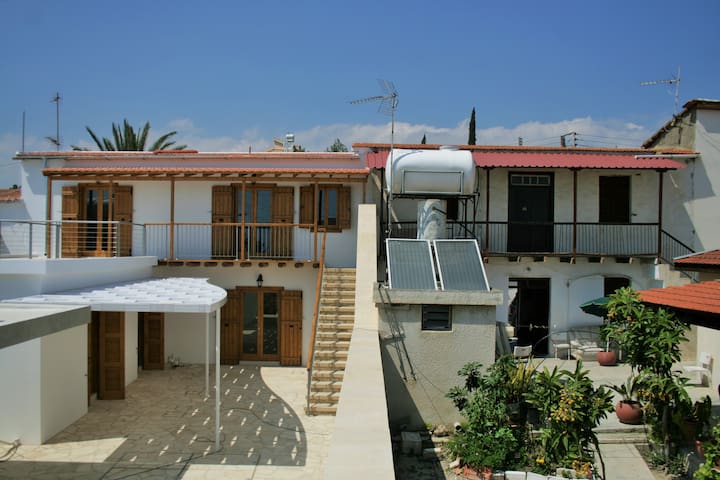 Escape from the rat race with a stay in this tranquil village hideaway!
The best bits… A beautifully restored period village home with large open plan living space, loft-style family room and an enchanting courtyard garden What our guests say: "We came to Cyprus for cycling and the house was perfect for us. We stayed for 5 days and liked the neighbourhood and the small villages" Christian & Ilka, Austria "Stylish, spacious, stunning garden and a really warm welcome- thank you so much, would definitely recommend" Bella, Toronto Outside space The spacious walled garden really is a little slice of heaven! The perfect spot to relax, eat, read or simply reflect! Inside space This is open plan living Cyprus style! The owner has transformed this period property into a comfortable and spacious modern home. The ground floor is completely open plan with a comfortable sitting area, dining space and fully fitted kitchen, the whole look combines modern living and period features. The space becomes even larger with easy access to the beautiful garden area. A feature staircase of wood, stone and terracotta tiles winds up from the ground floor to a traditional loft bedroom known as a "patari". The bedroom has one double and two twin beds making it a great choice for families travelling with young children. The bedroom is air-conditioned and has ample storage space. Also upstairs there is a modern bathroom with shower. In addition there is a separate guest toilet on the ground floor The Building The original stone house has been divided into two self-contained properties. They share the walled garden making this ideal for two families or larger groups. Each house has its own entrance and there are defined areas of the spacious garden to ensure privacy if the homes are rented separately. The Neighbourhood Secret Garden and The Hideaway are located in a quiet cobbled street close to the centre of picturesque Pano Lefkara village. It is possible to park on the street outside the house but drivers should bear in mind the old roads are narrow and somewhat twisting. There is also a free public car park in the village, around a 5-minute walk away. Lefkara is one of Cyprus' most famous villages, rich in history it has retained much of its period charm. The village today is popular with visitors and there are a number of small local food shops, banks, chemists, cafes and taverns. There is a large supermarket 10-minutes drive away and we recommend you stock up on essentials here when you arrive. Public transport in rural areas is very limited. To make the most of your stay in Lefkara we highly recommend you rent a car. Want a bit more detail? Read on… The Space The ground floor living space is bright and airy, large feature windows have been added to the staircase area giving views over the garden. There is also a wide landing at the top of the stairs. The ground floor space measures a total of 91m2, there are easy chairs for four guests, a flat-screen TV, CD player and free wifi. The dining area echoes the recurring theme of this house, a practical contemporary table with four chairs, offset by antique glass and kitchen ware. The kitchen has been created in the same style, providing all the essentials for your self catering break such as gas hob and oven, microwave, toaster, kettle, washing machine and utensils but still with a period feel. The house is accessed via the garden, there is a private entrance from the street and a small arched dining area directly in front of the house. The Hideaway can be booked together with neighbouring Secret Retreat for larger groups and the garden area is shared.
Lefkara is arguably the most famous village in Cyprus. This picturesque village is located on the Southern slopes of the Troodos Mountains in the Larnaca district. Made up of two separate districts Pano and Kato Lefkara, today there are around 1100 inhabitants. During the Venetian period, Lefkara was a popular holiday destination for the nobles and visitors to the village today will notice the Venetian-influenced architecture of the houses and narrow cobbled streets. Lefkara is best known for its silver filigree and lace making and in fact "Lefkaritika" lace work features on the UNESCO list of Intangible Cultural Heritage. As the story goes, Leonardo Da Vinci visited the village during the Venetian period and was so impressed by the lace work that he bought a large piece of it which he eventually donated as an altar cloth to Milan Cathedrall. Other famous visitors include the Apostles Paul and Barnabas who passed through the village en-route to Paphos where they converted the Roman Governor to Christianity. At the spot where they are believed to have stopped to rest a water spring appeared which can still be seen today. Modern-day visitors can visit the spring, as well as the impressive Church of the Holy Cross and a medieval chapel built into the walls of what is now a hotel! The ladies of Lefkara still sit outside their homes working on their lace-work and there is also a workshop making traditional silverware. The village is home as well to a family business that has produced award-winning "loukoumi" or Cyprus Delight for generations! Walkers and cyclist are spoiled for choice with some great trails in the area and everyone will enjoy exploring the winding cobbled alleys at the heart of the village. There are a number of traditional coffee shops and taverns in the village and in recent years some funky little cafes and bars that attract a younger crowd. There are small supermarkets, a pharmacy and ATM's in the village as well as doctors, dentists and hairdressers. A ten-minute drive down the hill just off the main Limassol-Larnaca highway there is a large Alfa-Mega supermarket and fast food outlet. Lefkara lies inland and is a 27-minute drive from Governor's Beach where you can also find some very good restaurants. The fishing village of Zigi is 23-minutes by car and a great choice for a fresh fish meze. The city of Larnaca lies 32 minutes' drive to the East and Limassol 39 minutes to the West.
Rodzaj pokoju
Całe miejsce
---
Rodzaj nieruchomości
Dom
---
Mieści
4
---
Sypialnie
Larnaca, Larnaca, Cypr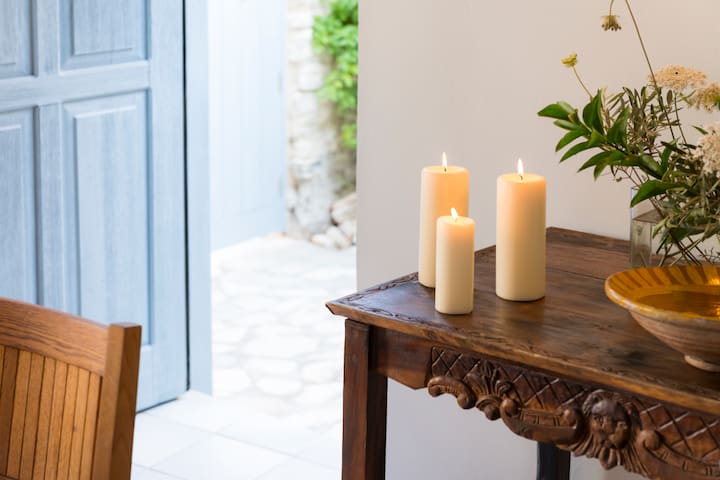 My place can become the base of your holidays in Cyprus. Located in the center of the island in the picturesque village of Kato Lefkara, it provides access to all the major cities and especially from Larnaca International Airport. It is advised to rent a car for your transportation. This traditional house is old and well maintained. It offers 3 bedrooms, a large living room with a fireplace, kitchen, bathroom and a central courtyard with outdoor barbecue facilities.
The house is situated in the picturesque village of Kato Lefkara. It is a house with stone decoration of its exterior. It is built with the traditional layout with a central courtyard and all the rooms around the courtyard. It offers 3 independent bedrooms, which are all interconnected. There is a large living room area with a fireplace, ideal for the cold winter nights. The central courtyard has an umbrella so you can enjoy sitting out during the day, a large table, and barbecue facilities. The kitchen offers all the necessary facilities such as, oven, refrigerator, dining table, utensils and equipment for preparing the family meals. The bathroom is spacious and the entrance is through the courtyard.
The house is situated in the central square of the village. This is a quiet village and lately it became a tourist rural destination. The traditional architecture and decoration is spread throughout the village. Guests can enjoy walks in the village and visit Pano Lefkara as well. Also there are a lot of nature paths where they can enjoy long walks.
Rodzaj pokoju
Całe miejsce
---
Rodzaj nieruchomości
Dom
---
Mieści
6
---
Sypialnie
Larnaca, Larnaca, Cypr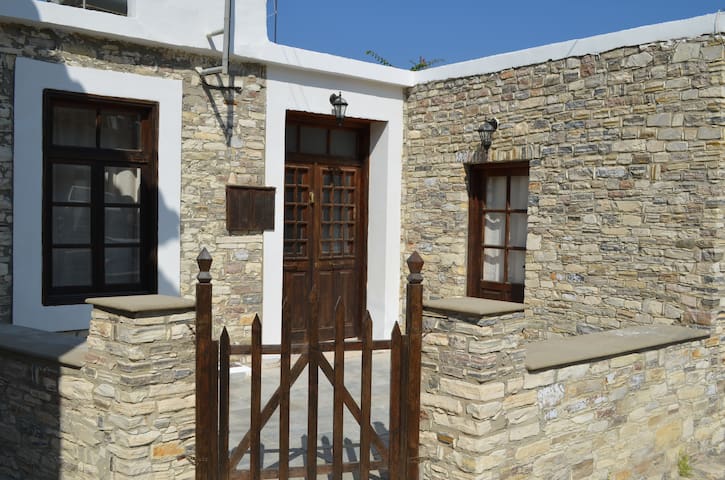 The villa is spacious and comfortable beautifully furnished with comfort in mind. Private pool set in mature garden large patio and BBQ are for alfresco dining and sunbathing. Situated on the coast road it is peaceful with fantastic sea views.
The villa has 4 spacious bedrooms 2 with ensuite. Games room with widescreen tv ,games console,pool table comfortable area to relax. Living area is open plan with a fully equipped kitchen. We provide all bedding ,linen and towels . A welcome pack of basic food and drinks awaits on your arrival.
Beautiful sea and mountain views close to a small beach with beach bar and sunbeds. An abundance of tavernas with in easy driving distance. Easy access to the local villages where you can soak up Cypriot life.
Nous avons été très bien accueillis par le mari de Janet, qui nous a conduit de l'aéroport à la villa, et est venu le lendemain nous chercher pour prendre la voiture de location. ils se sont montrés très serviables tout le long du séjour. La maison est jolie, bien équipée et spacieuse, mais malheureusement beaucoup trop isolée. A vol d'oiseau la plage (petite plage sans réel intérêt) est à 200 mètres, mais oblige à marcher sur une route nationale avec des voitures qui vont vite. c'est dangereux pour des adultes, impensable avec des enfants. Il faut systématiquement prendre la voiture, et le moindre centre d'intérêt est à 20-30 minutes de voiture. Même si la maison est bien, elle est trop mal située pour valoir le coup. Dernière précision : la maison d'à coté est en travaux, donc très bruyante quand les ouvriers sont là avec leur marteau piqueur.
Mehdi
2016-08-23T00:00:00Z
Rodzaj pokoju
Całe miejsce
---
Rodzaj nieruchomości
Dom
---
Mieści
8
---
Sypialnie
Larnaca, Larnaca, Cypr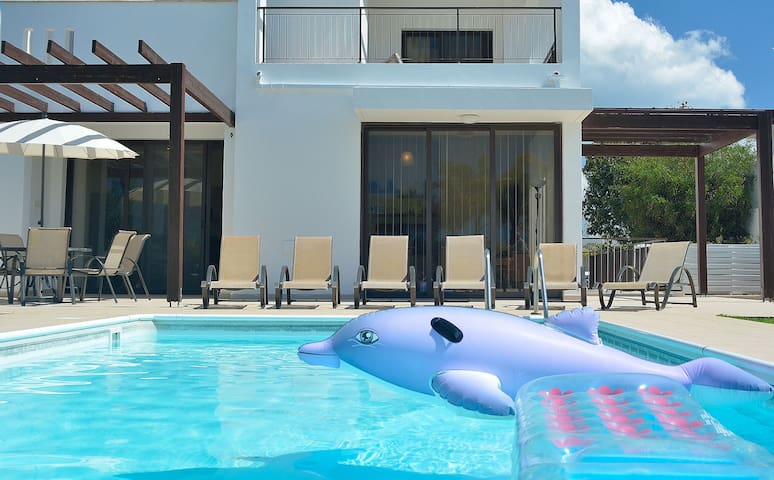 Spacious stone clad beach houses with front line sea view for up to 6 people. Perfect for the family and a self-catered holiday. Direct access to an exclusive clean sandy beach with clear, clean sea equipped with sunbeds.
Is right on the Beach
מקום מדהים בדיוק כמו בתמונות היינו עם 4 ילדים ונהננו מאוד!
Efrat
2016-08-11T00:00:00Z
It is really a magnificent place for family vacations. It even was not hot outside though the temperatures were between 32-36 C. Inside we used A/C that was real powerful. Quite. Relaxing. Extremely friendly. Calm. Very well organized space. While washing dishes you can see your child playing outside. The clean pool is not large but its size is sufficient. The sea is here, you do not need to go to it. The rooms are clean and spacious. Very well renovated and furnished. Nice color of wall paint. Very pleasant pictures on wall. High quality linen. Wi-fi works even on the beach. Take into consideration that you need to have a car to get to the place and to do shopping. No food in the walking distance area. The delivery from a nearby restaurant does not work on Sundays. Christos car hiring company also made a very good impression.
Irina
2016-08-02T00:00:00Z
It's very nice! Best place for live in Cyprus quite and relaxing But you need transport
Maria
2015-10-06T00:00:00Z
Rodzaj pokoju
Całe miejsce
---
Rodzaj nieruchomości
Dom
---
Mieści
6
---
Sypialnie
Larnaca, Larnaca, Cypr
The villa is located in the quiet area of Governos Beach, close to the vivid city of Limassol. Is only 10min drive to Limasol or Zigy by car. The house has a great garden and a private pool. The sandy beach of Governos is on a 2 minute walking distance from the house and also there are 7 restaurant with in walking distance.
Rodzaj pokoju
Całe miejsce
---
Rodzaj nieruchomości
Dom
---
Mieści
6
---
Sypialnie
Limassol, Limassol, Cypr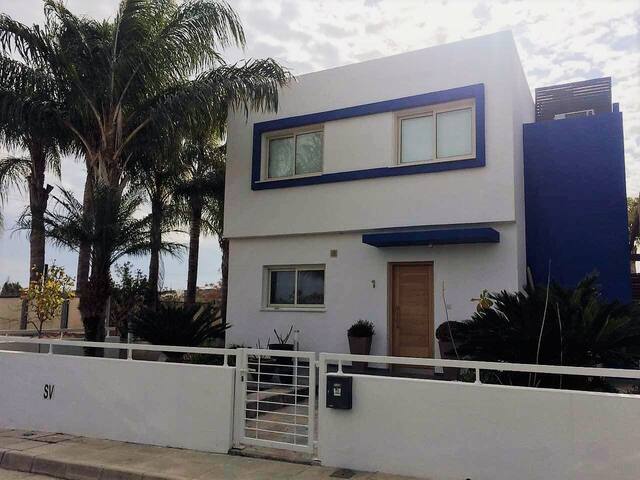 Вилла находится рядом с известным оборудованным пляжем Governos beach. Очень красивое и тихое место. Несколько отличных кафе и ресторанов находятся вблизи. Вам точно понравится здесь. В доме есть все необходимое 2 спальни, оборудованная кухня, стиральная машина, кондиционеры, большой и уютный сад, барбекю зона.
The house was filled with a lot of positive features which truly made Out stay very enjoyable. The most important was efficient air conditioners(3 AC's) which was a Real salvation for those warmy August days(and nights as well!) A tv set was a wonderful asset. It's located 2 minutes walk to the Governors Beach. The Neighbourhood was safe and Calm. Big plus for Simple Items as sponges, dishsoap, shampoos, ever conditioning I'm amazed at comfy terrace with Oranges, grapes, bananas and stunning plants. Our meals tasted better. Unfortunately, I must admit that coach wasnt so comfy to sleep. there are lack og normal/european power points (charge spots)
Paweł
2016-08-16T00:00:00Z
Rodzaj pokoju
Całe miejsce
---
Rodzaj nieruchomości
Dom
---
Mieści
6
---
Sypialnie
Limassol, Limassol, Cypr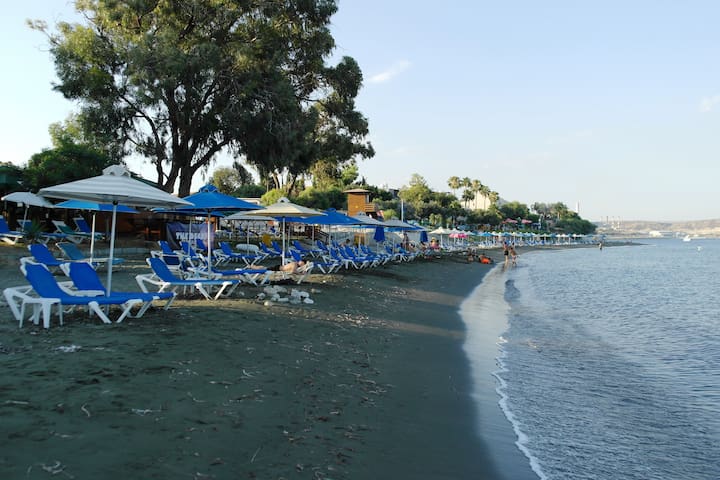 Psematismenos Village is part of Larnaca District but just 20 minutes drive from the cosmopolitan city of Lemesos, just 30 minutes from the capital of Cyprus, Lefkosia and 30 km from Larnaca airport. Psematismenos is a delightful village set apart from the usual tourist tracks, offering the perfect base for touring this lovely Mediterranean Island. Located only a 3-minute drive from the sea, Psematismenos is a village that has a local church, a mini market, a bank and a local tavern.
Rodzaj pokoju
Całe miejsce
---
Rodzaj nieruchomości
Dom
---
Mieści
3
---
Sypialnie
Psematismenos, Larnaca, Cypr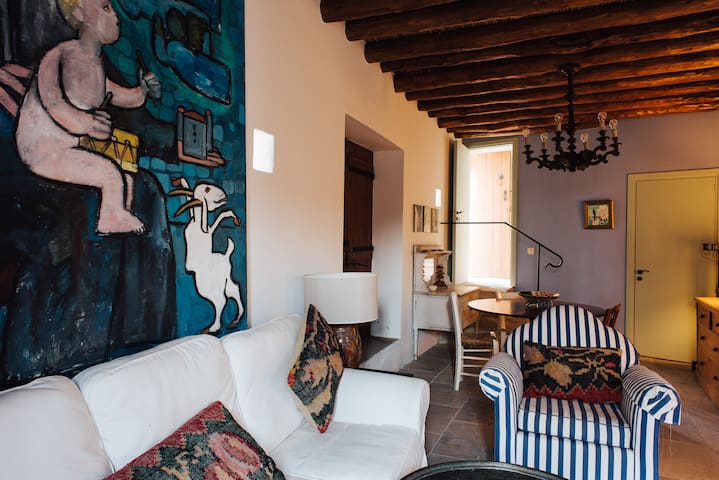 Venus Villa is a four bedroom with 3 bedrooms with double beds downstairs and one ensuite bedroom with double bed upstairs it is a stylish Bangalow surrounded by green area of 800 sq m , swimming pool ,gated gardens, covered parking , located in Moni village 15 minutes to Limassol centre and 5 to 10 minutes to sunny beaches and Marina All amenities within walking distance bakery, grocery small supermarket An easy access to motorway 35 minutes to Larnaca airport and one hour to Paphos airport fish taverns within 10 minutes drive in Governors beach Tourist area within 15 minutes drive
Country side within 10 minutes to the beach and Centre of Limassol Ideal for stag and hen nights or romantic getaways
Bakery with fresh bread sweets and milk plus small supermarket 3 km to St Raphael Marina
Rodzaj pokoju
Całe miejsce
---
Rodzaj nieruchomości
Dom
---
Mieści
8
---
Sypialnie
Limassol , Limassol, Cypr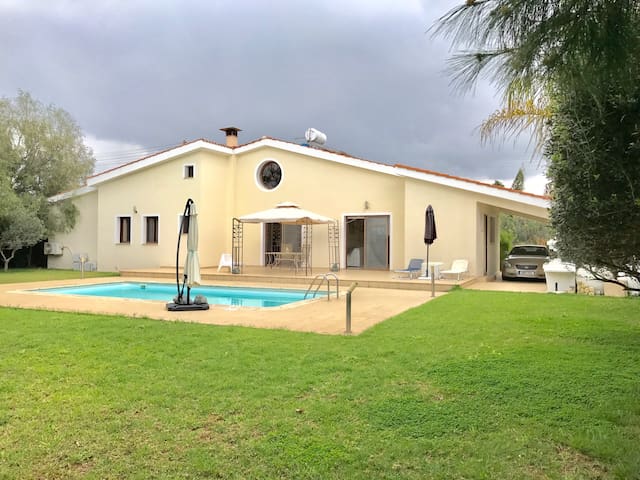 Dom jednorodzinny z dużym prywatnym dziedzińcu całkowicie odnowiony. Dwie duże sypialnie, dwie łazienki, w pełni wyposażona kuchnia, klimatyzacja, miejsce do grillowania, rowery ... w samym sercu urokliwej miejscowości tradycyjnych cypryjskich
Niezależny tradycyjny dom wyremontowany w tym roku, w wiosce Tochni. Dwa duże pokoje i duży dziedziniec. Na górze, duża klimatyzowana sypialnia i łazienka, a na parterze, pokój dzienny zw pełni wyposażoną nowoczesną kuchnię, część wypoczynkową z rozkładaną sofą, łazienki i pralni ... wszystkim otwarcie na prywatny dziedziniec 50m2 z odkrytym krzesła prysznic, grill, pokład ... Idealnie położony, wieś jest 8 km od morza, 20 minut od tętniącego życiem miasta Limassol, 30 minut od stolicy Nikozji i 25 minut od lotniska w Larnace. Wszystkie warunki zostały spełnione, na przemian relaks i zwiedzanie dziedzictwa kulturowego wyspy. Dwie tradycyjne tawerny znajdują się w centrum wsi, aby pomóc Ci odkryć cypryjskich specjałów i mały sklep spożywczy. 50m od domu, restauracja daje bezpłatny dostęp do basenu. Trzeba będzie w pełni niezależny dom, który może pomieścić od 2 do 5 osób w spokojnej i relaksującej atmosferze.
I'd like to strongly recommend Olivier and his house in Tochni. We have spend there wonderful few days. The place is very cozy, located in small and very nice village.
Bart
2015-06-08T00:00:00Z
Wir haben unseren Aufenthalt in Tochni sehr genossen! Oliviers Haus ist traumhaft schön, sehr stilvoll und praktisch eingerichtet, der Aussenhof ist gemütlich und das Dorf sehr sympathisch! Tochni ist ein kleines Dorf abseits der Touristenplätze und doch ideal für Ausflüge auf der ganzen Insel. Oliviers Infos zum Haus und zu Zypern allgemein sind hilfreich und ausführlich. Der Kontakt mit Olivier war stets schnell und sehr freundlich. Danke für alles! Wir können das Haus sehr weiterempfehlen!
Marika
2015-10-14T00:00:00Z
We had a lovely time in Tochni at Olivier's house. The house was not only lovely decorated but also really well equipped. From kitchen supplies to washing machine - everything you need for a great vacation was available. We loved the fact that the house was really independent from the world - the outside shower and lawn chairs made the stay really nice. The village is small and cute and also has a nice restaurant and a small supermarket. The Governor's beach is a 15 minutes ride and a great beach to relax and swim. We were able to get to most sights within an hour drive (Kourion, Aphrodite rock, mountains for hiking, Lefkosia). Olivier was a great host and was quick and communication and offered a lot of helpful information. We also had a go to person in the area in case we needed anything.
Theresa
2015-10-01T00:00:00Z
Angekommen - wohlgefühlt - genossen! Wir hatten 14 wunderschöne Urlaubstage in Kleoniki / Tochni. Olivier's Haus ist mit soviel Liebe, gutem Geschmack und Bedacht (Wasserkanister für Getränke, sämtliche Küchengeräte vorhanden, Aussendusche, schattiger Essplatz, etc.) eingerichtet, dass man wirklich die Seele baumeln lassen kann. Olivier hat uns vor unserer Ankunft via Mail eine detaillierte Wegbeschreibung vom Flughafen zum Haus, Tipps und Adressen zukommenlassen. Wir hatten vor Ort eine Ansprechparterin, die für uns da war... es hat uns an nichts gefehlt! Wir kommen gerne wieder und empfehlen diese traumhafte Atmosphäre gerne weiter! We had a splendid Holiday - the House is so charming and decorated with so much love that we trully felt at home and had a wonderful Time in Kleoniki! We are looking forward to come back One Day and feel at home once again
Laura
2015-06-04T00:00:00Z
Our stay at Oliviers beautiful house was fantastic, WE immediately felt at Home! As everyone else said, you find everything you need in the house. Its clean, comfy, lovely! Thank you for sharing, Olivier!
Anna-Lisa
2016-06-09T00:00:00Z
Olivier´s wonderful house - the pictures give a realistic impression - is located in the calm village of Tochni. If you are looking for a quiet homebase to discover the island you are absolutelly right there. In the best sense you can´t find more than a small supermarket in Tochni, however the highway (about 5 minutes), next beach (10 minutes) and bigger towns ar close enough to be "back in life" whenever you want. Olivier´s house is very well equipped and very clean - together with the detailed preinformation (way to the house, details about the stay there) we had a wonderful relaxing time there! Olivier, thank you very much for the opportunity to stay at thies very nice place - whenever we will be back in Cyprus we will try to stay there again!
Andreas
2014-05-21T00:00:00Z
Modern ingericht. Zeer aangename binnenkoer. Behoorlijk volledig uitgerust (geen TV maar die hebben we ook niet gemist). Ongelooflijk veel basiskookmateriaal (specerijen, ....) aanwezig
Laurent
2016-10-08T00:00:00Z
Olivier hat ein sehr süsses Häuschen gemütlich eingerichtet, es fehlt einem an nichts. Besonders die Küche ist sehr gut ausgestattet. Wir genossen das Internet-Radio und die guten Unterlagen zu Zypern. Einziges Manko - was allerdings nicht vom Gastgeber beeinflusst werden kann - waren ca. 5 Hähne, welche sich zwischen 2 und 5 Uhr morgens ein Frage- und Antwortspiel lieferten. Olivier betreut einem sehr gut im Voraus und auch Evora, schaut vor Ort, dass es einem an nichts fehlt.
Fiona
2015-06-17T00:00:00Z
Rodzaj pokoju
Całe miejsce
---
Rodzaj nieruchomości
Dom
---
Mieści
4
---
Sypialnie
Tochni, Larnaca, Cypr
It is a house build on a pine tree. It is a dream of a life to be able to spent time in a house that is the only one in Cyprus. Is is for people that like the country side or enjoy bird watching in a green valley with fresh climax .
It is a house build on a pine tree. It is a dream of a life to be able to spent time in a house that is the only one in Cyprus. Is is for people that like the country side or enjoy bird watching in a green valley with fresh climax . It is in the middle off pine tree and olives tree forest at the bottom of Stavrovouni Holy mountain . It has all the neccecities you need to have a very peaceful and relaxing holiday . It is near the village of Agglisides . There are big supermarkets ,Tavernas , cafe , and a Bucher
Rodzaj pokoju
Całe miejsce
---
Rodzaj nieruchomości
Dom
---
Mieści
3
---
Sypialnie
Larnaca, Larnaca, Cypr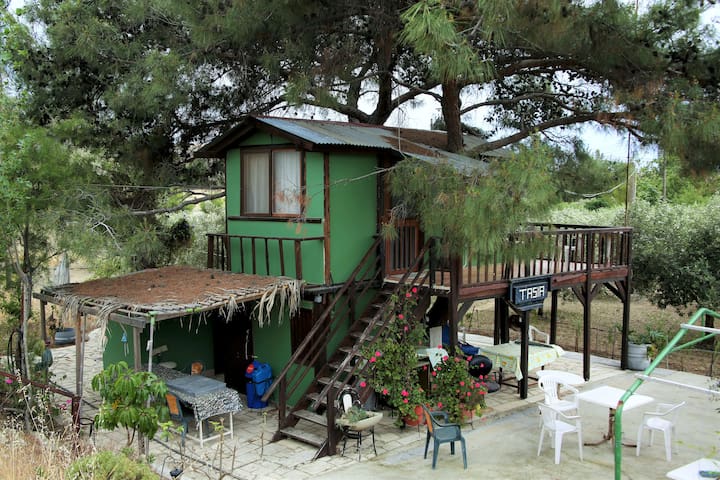 W naszym tradycyjnym domu - miejsce na relaks połączony z jadalnią, kuchnią i tarasem, które uosabiają prawdziwego ducha cypryjskiej miejscowości życia. Jest to idealne miejsce dla miłośników relaksu wypoczynek blisko natury!
To miejsce znajduje się w środku miejscowości Tochni, w cichej i spokojnej okolicy. Mieszkanie jest również zaopatrzony w różnego rodzaju kosmetyków, które mogą być potrzebne w trakcie pobytu (arkusze czysta pościel, ręczniki i mydło). Plaża Governos tylko w 10 min jazdy samochodem. Międzynarodowe lotnisko w Larnace jest położony w odległości 25 minut jazdy samochodem. Larnaca Centrum w ciągu 30 minut. Istnieje wiele tradycyjnych tawern, małych kawiarni zaledwie kilka minut od stóp. Supermarket jest również w bezpośredniej bliskości mieszkania, jak również. Internet / Wi-Fi telewizja Całkowicie klimatyzacja / ogrzewanie Otwarta kuchnia / jadalni Pełne wyposażenie do gotowania i lodówka Wspólna wspólny basen Parkowanie samochodu Jest to dość i spokojna okolica, gdzie można cieszyć się doskonałą i relaksujące wakacje. Tochni wioska jest idealnym miejscem na poszukiwania wokół wyspy, ponieważ jego 25 min Czas jazdy z lotniska. Poza tym, wszystko, co trzeba zobaczyć w trakcie pobytu w max 1 godziny dojazdu. To może być Twój idealny baza znajduje się na wakacje.
Starożytny Kościół znajduje się w środku wsi. W pobliżu znajduje się muzeum z unikalnych ikon. Istnieje wiele tradycyjnych tawern, małych kawiarni zaledwie kilka minut od stóp. Wspólny basen kąpielowy. Supermarket jest również w bezpośredniej bliskości mieszkania, jak również.
Elizaveta is perfect host and very friendly. All information, we needed she answered quickly and she wanted to help us as more as possible with everything. We spent a very good time in here apartment, which is furnished in rustic style and is perfectly clean. The apartment is situated in outer center of the village so we felt there like a part of the village not like in the hotel. It was very refreshing.
Petr
2014-10-09T00:00:00Z
Прекрасный дом и отличные хозяева! Нам всё понравилось: терраса, на которой можно поужинать под звёздами; дом, в котором можно скрыться от жары; кошки, которые иногда заглядывали к нам; петухи, которые на неделю отучили нас от будильника. Дом комфортный, есть всё необходимое. Нас встретила мама Елизаветы очень поздно, за это отдельное спасибо! Рекомендуем всем:)
Kris
2016-07-15T00:00:00Z
We are so thankful to Elizaveta and her family, to let us stay in her cozy house. When we arrived we found wine, fresh fruits and a bunch of daisies to welcome us. Everything was fine and the village is very quiet and people so kind. Its a good choice for relax and stay in a truly Cyprus experience. Nice kittens came everyday to our patio and they were so cute and sweet. The house is fully furnished with all that you can need, even plug adapters for your electric devices. We highly reccomend this house and we'll be back in the future. In the village there is a small grocery store with a nice owner and on the highway to Larnaka a bigger supermarket "alfaomega" very useful. Tochni is in the center of Cyprus, very good location to reach every spot you could fancy to visit. Many thanks for our great time in Tochni. Muchas gracias. Grazie mille. Efkaristo. Spassiba.
Gonzalo
2015-03-14T00:00:00Z
The apartment, the village and the courtyard is lovely. Was great to have towels etc provided too! The WiFi was extremely slow.
Hamish
2016-05-03T00:00:00Z
Beautiful house in a beautiful village! Thanks a lot for letting us stay...
Corinna
2015-01-19T00:00:00Z
Елизавета была очень отзывчивым и гостеприимным хозяином, оперативно отвечали на все вопросы до и во время путешествия. Домик превзошел все наши ожидания, очень уютный и красивый. Находится в спокойном, тихом месте. Деревня Тохки очень красивая, было приятно по вечерам гулять по деревне. Местоположение домика очень удачная, можно доехать до любой точки Кипра за приемлемое время.
Aleksandr
2015-07-01T00:00:00Z
Wir verbrachten 6 traumhafte Tage in diesem wunderschönen Domizil und fühlten uns fast wie Zyperer. Es war Entspannung pur, vom herzlichen Willkommen durch Elizaveta mit Wein, Wasser, Obst... über Frühstück im sonnigen Innenhof bis hin zur himmlischen Ruhe, nur unterbrochen durch Hahnengeschrei und hin und wieder Hundegebell. Da unser Flugzeug Verspätung hatte und wir uns verfahren hatten, suchte uns Elizaveta nach Mitternacht in der "Pampa", begrüßte uns herzlich und nahm sich Zeit, als hätte sie eine ausgeruhte Nacht hinter sich. So viel Gastfreundschaft haben wir noch nie erlebt. Tochni sehen wir auch als idealen Ausgangspunkt für die Erkundung von Zypern. Wir kommen auf jeden Fall wieder! Ganz herzlichen Dank!!!
rosi
2015-04-03T00:00:00Z
Everything was perfect and Elizaveta is a great host. The house is in a great location to explore the area and the house was comfortable, warm and had everything you need. She was waiting for us when we arrived and it was very easy to contact her. Tochni is a nice village with a small shop and a few tavernas as well. We would recommend to anyone.
Anna
2015-02-22T00:00:00Z
Rodzaj pokoju
Całe miejsce
---
Rodzaj nieruchomości
Dom
---
Mieści
3
---
Sypialnie
Tochni, Cypr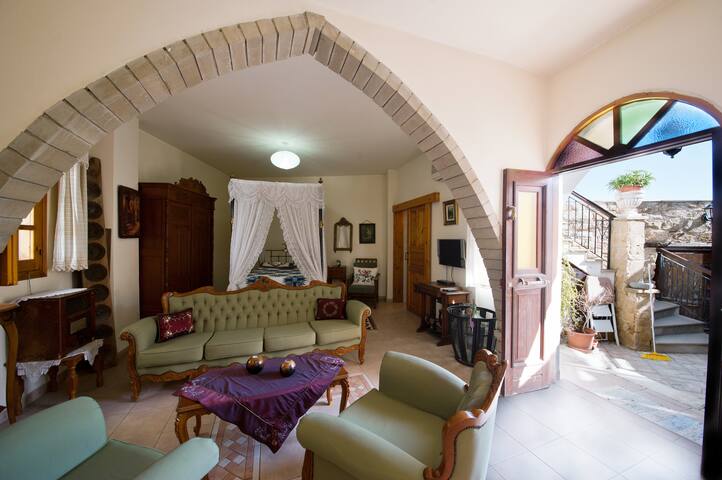 A traditional village house, which has been converted into three spacious apartments. The house is located on the top of eastern hill with a panoramic sea view. It has its own secluded courtyard offering peace and privacy to its occupants.
Rodzaj pokoju
Pokój prywatny
---
Rodzaj nieruchomości
Dom
---
Mieści
2
---
Sypialnie
Tochni, Larnaca, Cypr
My place is close to the airport. My place is good for couples, business travelers, and families (with kids).
The village is a quit preserved stone village 2kms from the sea with an old church , winery, narrow cobbled streets. It is 30minutes drive from Larnacas airport and 20 minutes from the busy town of Limassol. Fish restaurants are popular in the area as well as Cypriot traditional cuisine.
I can not put the highest mark, it will be dishonest. We are a family with a small child (the child is almost a year old, walks still badly, falls everywhere). For the child this house does not fit. There is everywhere a stone floor, the child does not let go, all the time had to be held in his arms, since everywhere it is opaque. Also very high beds, from which the child can fall directly on the stone floor. The next big and most important problem is cockroaches. Large, huge cockroaches. If I knew that they were there, I would never have moved to live in this house. Once a cockroach even fell on me from the ceiling at night, it was terrible. We had to sleep with the lights on and keep an eye on them so that they did not get into bed. Maybe it's common for Cyprus, but for me there is not. I would not want to live with cockroaches and not sleep at night. Sorry, but my vacation was spoiled. I wanted to go home as quickly as possible. I want to note that the Internet is slow, in some places it's not at all. From the pros in this house I want Note a good attitude Mistress. She really tried for us. The pool was very clean. A man always came to clean the pool, it was nice. The house has everything you need. Very cozy yard, in which we could even make barbecue. I still think that the price is slightly overstated.
Elena
2017-04-03T00:00:00Z
We do recommend both the Host Anna and the place. We always look for historic buildings belonging to local people that give us a possibility to feel at home. Anna's appartement is perfect herefor. We and our kids had separate bedrooms with bathrooms, comfortable, big beds, and a lovely salon with a sea view from the balcony. Despite a cold weather the appartment was cosy and sunny and a swimming pool with clear water. Anna was waiting for us as we came together with her lovely smile, a lot of tips and a big, tasty lunch. The appartment is fully equiped, you will find towels, first-aid box (which helped us with our flu) and even kitchen aprons appart from all necessary utensils there. It has a charm and style of a traditional stone house as well as modern solutions (air-conditioning, washing machine, tumble and hair drier, hoover, microvawe, heating etc). The Maroni village is small but has both a supermarket and post office. Good bakery you can find in neighbouring Zygi. It is possible to buy local food directly from the farmers (we had lovely oranges and fresh strawberries). Maroni has a good location between Larnaka and Limassol, with good acces both to highway and the beach. Last but not least - there is a recently renovated lovely Old Coffee Shop run by British family, where we spent some evenings tasting local brandys and delicious pies. Thanks Anna for such a great stay.
Tomek
2017-01-29T00:00:00Z
We really enjoyed the house very much. It was simply perfect for our stay of 4 weeks. Very well furnished and really everything you need is in the house. If there were any questions Anna had prompt solutions and we felt very welcome and taken care of. Thanks so much for this wonderful stay!!!
Ines
2017-03-11T00:00:00Z
This traditional place is perfect if you want peace, quiet and to stay as a local in a small village It has a mini mart close by A car is helpful to be able to explore Beaches are close by but possibly just a little far to walk The nicest thing is the view, the sunshine and how tranquil the area is Loved it
AMANDA
2016-10-25T00:00:00Z
Rodzaj pokoju
Całe miejsce
---
Rodzaj nieruchomości
Dom
---
Mieści
4
---
Sypialnie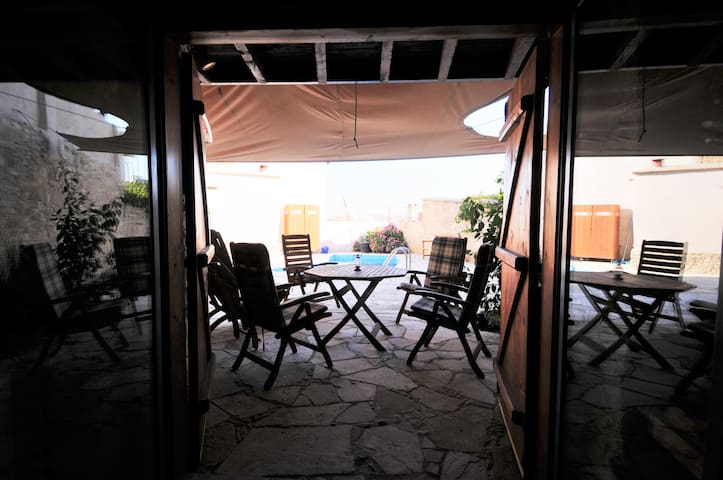 Wpisz daty, by zobaczyć pełną cenę. Obowiązują dodatkowe opłaty. Cena może uwzględniać podatek.