A vacation rental, Mesa Valley GuestHouse is located at the base of the Black Mesa on the Walker Ranch, near Kenton, OK. The area is secluded and private. You are 40 miles from the nearest town, gas station and grocery store. Peaceful, Quiet, and Amazing! Come See Us!
Mesa Valley Guesthouse is a privately owned HOME and secluded in the Valley of the Cimarron River. We have 4 bedrooms, and a den that has a trundle bed and the living room sofa makes out to a queen bed. The nearest neighbor is 3 miles. We are 40 miles from the nearest grocery store and gas station. The nearest Walmart is about 100 miles. Therefore, you must have plenty of gas and food for your stay!
Beautiful country....Peaceful, Quiet......God's Country!
Great Hosts, Eddie and Cerita! We met in person after our hike, and visited for a few minutes as we watched the sun set. Great place! Really quiet and peaceful. On our hike of about 45 mins, we saw a covey of quail, a roadrunner, and a herd of antelope. As we left the next morning, we marveled at the rock formations and how beautiful the area is. Then stumbled onto a flock of wild turkey who were real busy eating grasshoppers. Fun, Fun, Fun!!!
jim
2016-09-15T00:00:00Z
The house was very quaint and the remote location was beautiful. The night sky was lovely. Cerita was very responsive to my questions and was easy to reach. We loved it and would recommend it!
Heather
2015-09-14T00:00:00Z
I normally write a review the same day we return home, but I had to think about this one a while longer. I just couldn't find the right words to describe our very brief but enjoyable stay. I've had to settle on, "Amazing." We had an amazing experience! Cerita is an absolute pro at being an outstanding AirBnB host. The furnishings and the way Cerita communicated with us made us feel very warm and welcome. The house has great TV (dish) and fast, reliable internet. We just loved it and want to return when we can spend more time at the house. In her listing, Cerita points out that the house is 40 miles from a grocery store/gas station. This is 100% accurate, so be certain to get your goods and gas either in Bosie City, OK, or Clayton, NM. Also, if you're on Sprint or T-Mobile, you might have cell-signal issues in that 40-mile radius, so be certain to download offline (SENSITIVE CONTENTS HIDDEN) maps if you're unfamiliar with the area. Thanks, Cerita, for hosting us. We hope to return soon- Nathan and Corinna Hood
Nathan
2016-11-12T00:00:00Z
The stay was great! Really cool place to have discovered. Everything was nice, in order, and felt very homey. I do intend on going back.
Matt
2016-05-15T00:00:00Z
The listing doesn't do this place justice. The views from this area are amazing, and the best part of all is how quickly it changes! From here, you can spend the days exploring the area and the nights star gazing. I especially recommend taking the drive to Capulin Vocano. Lake Carl Etling is another must see, and just minutes away! Cerita is a gracious host and we really felt like we where at home in her guest house. It was clean, comfortable, and cozy! We will definitely be returning!
Jimmy
2016-07-04T00:00:00Z
I needed some peaceful downtime and knew I was at the right place when a flock of wild turkeys visited me at the front door. The hosts were very nice, beds comfy and the house had everything one needed. A beautiful hiking spot located in a beautiful secluded valley.
James
2016-07-09T00:00:00Z
Cerita & her husband were unable to be nearby due to a family celebration. Never the less, she emailed me about the trip and kept in touch by email and phone to make sure we had found the Guest House and that all was well. This was an isolated home, so Certia cautioned us to have enough food for the evening & following morning. The house had a very friendly outdoor cat that certainly made us feel welcome. All electronics [TV] use was clearly explained if we'd wanted to use them. We preferred sitting on the front porch & watching the cows in the field & listen to bird songs. We were so pleased to stay at this Guest House as it was close to our hike at Black Mesa Nature Preserve near Kenton, OK. We very much enjoyed the restful country evening. They had a brochure for Capulin Volcano, not far away. So we took off driving through a very beautiful country road alongside the Cimmeron River on NM 456 highway & about 17 miles of dirt road to the volcano.
Beverly
2015-05-03T00:00:00Z
Everything was available and just as described. The area is gorgeous and the house an interesting mixture of old and additions. Cerita was always available when we contacted her and was willing to go out of her way to provide whatever we would need. I highly recommend this place if you want to get away and relax in the middle of natures beauty.
Richard
2016-08-08T00:00:00Z
Rodzaj pokoju
Całe miejsce
---
Rodzaj nieruchomości
Dom
---
Mieści
12
---
Sypialnie
Kenton, Oklahoma, Stany Zjednoczone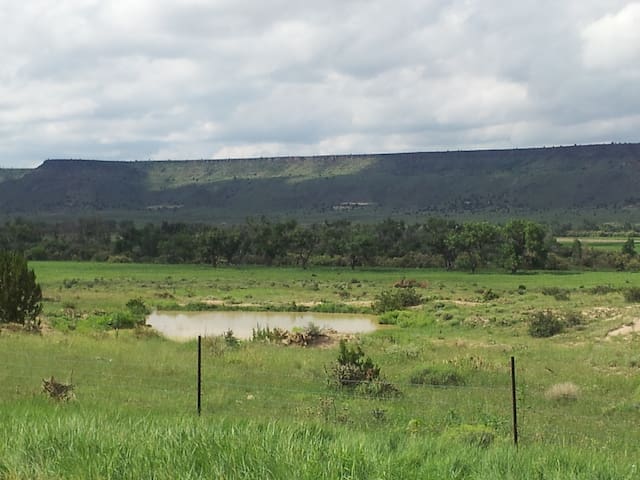 Wpisz daty, by zobaczyć pełną cenę. Obowiązują dodatkowe opłaty. Cena może uwzględniać podatek.