Canal Pointe apartment for rent: 2 bedrooms, 2 full baths, minutes to Princeton university, Princeton Junction, marketfair, Whole Foods, Walmart, Costco, etc; walking distance to natural park for hiking, canoeing , kayaking and golfing. 普林斯顿大学旁边双卧双卫,据普大不到10分钟车程, 周边5分钟内商场, 影院,超市选择多多;据通往纽约和费城的火车站也是不到10分钟车程
主卧双人床, 次卧上下床, 屋内厨具/餐具,冰箱,微波炉,烤箱,洗碗机, 洗衣机, 烘干机齐备 是3口之家或4口之家在普林斯顿游学或度假的完美选择
Great location, top school with school bus downstairs, swimming pool and tennis court, lots of kids. Perfect short stay home for people with family
We had a great experience in Sophia's unit. The unit is very spacious and clean. The communication with Sophia was fantastic and instant. We will stay here again if we come in town. Thank you Sophia.
Fang
2017-04-03T00:00:00Z
The area was amazing to stay in. There was plenty of stores and restaurants just minutes away. The layout out is perfect for a single, double, or a small family setup. Parking was always available right out front of the apt. I would recommend staying in this air bnb.
Rob
2017-01-11T00:00:00Z
Location and the size of this apartment is great. The price was quite fair and we enjoyed the privacy it provided compared to a one bedroom hotel of the same price. The hostess was quick to respond. However it lacks some basic living necessities what we ended up having to purchase ourselves and some of the furniture and plumbing needs some attention.
Cynthia
2017-03-06T00:00:00Z
Great value and location, cute little condo. Had some cleanliness issues (trash in kitchen not empty, floors and mirrors in bathroom needed cleaning). Had some trouble figuring out thermostat, some directions would be helpful. Overall a good stay...
Heidi
2017-02-27T00:00:00Z
Sophia been a good host, gave us clear direction to enter the house. We as family of 4 had comfortable bedding. The house located close to shopping centers and restaurants. We did have issues in the house for hot water but Sophia tried her best to correct the issue for us.
Narendranath
2016-12-29T00:00:00Z
Sophia is a fantastic airbnb host b/c she answered all our requests as they came up. The space is huge - large living room, big master bedroom with own bath, and 2 bunk beds in the second bedroom - uses the apartment's 2nd bedroom. The apartment is perfect for a family. Next year we will stay again when we come back to Princeton
Sam
2017-03-12T00:00:00Z
Convenient and spacious, next to beautiful woods.
Naomi
2017-02-15T00:00:00Z
quiet neighborhood. clean bedrooms. close to train station and grocery.
Eric
2017-01-16T00:00:00Z
Rodzaj pokoju
Całe miejsce
---
Rodzaj nieruchomości
Apartament
---
Mieści
4
---
Sypialnie
Princeton, New Jersey, Stany Zjednoczone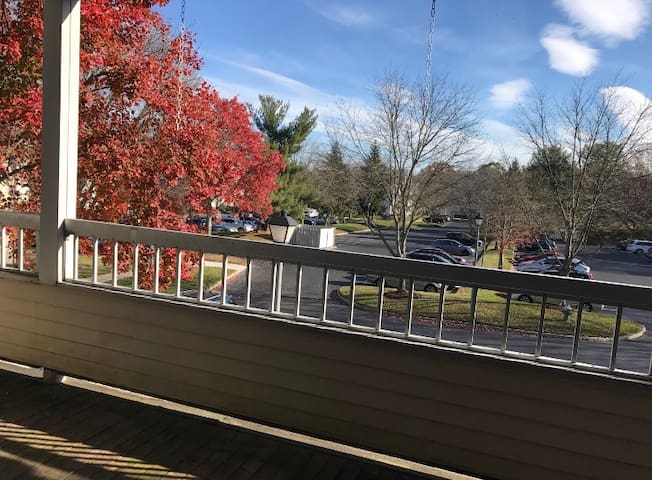 This on-campus apartment is perfect for visiting scholars/ students who will only stay at Princeton for a few days. I live in the living room (sofa) and have my own furnished bedroom for rent. Feel free to use the fully-equipped bathroom and kitchen, and anything in it. There is school bus station at this housing complex and the service is free to all. My place is also within walking-distance to Princeton Dinky station, Nassau street, golf court, McCarter Center, Metro North bar, etc.
Convenient and comfortable room for university visits, around a 20 minute walk, or there is a free shuttle bus. Not in a commercial area, but a few places to eat in the vicinity. Ling quickly responded to any messages.
Evan
2017-03-10T00:00:00Z
Ling is friendly and welcoming.
Leslie
2017-02-22T00:00:00Z
This is a really good place to stay in the Princeton University area. Ling was very responsive over email, and very accommodating when my travel was affected by storms.
Srikanth
2017-03-16T00:00:00Z
I went to Princeton for the campus visit, and Ling's home was really convenient and comfortable. Ling is a nice girl.
Han
2017-03-11T00:00:00Z
Chambre agréable située sur le campus
sylvie
2017-03-04T00:00:00Z
小玲的房间很干净,充满女生气息给人温馨浪漫情怀,小玲也很热情,温柔可爱,房子是在校园公寓里,窗外是高尔夫球场,花香鸟语,有校巴可往返校园和公寓,值得推荐给大家。
Wei
2017-04-02T00:00:00Z
A good host. Friendly, welcoming.
Leslie
2017-02-27T00:00:00Z
Ling was wonderful. I could not have asked for more from a hostess. Brilliant location and a very comfortable room, close to public transportation in a quiet environment. What more could you want?
Ian
2017-02-24T00:00:00Z
Rodzaj pokoju
Pokój prywatny
---
Rodzaj nieruchomości
Apartament
---
Mieści
2
---
Sypialnie
Princeton, New Jersey, Stany Zjednoczone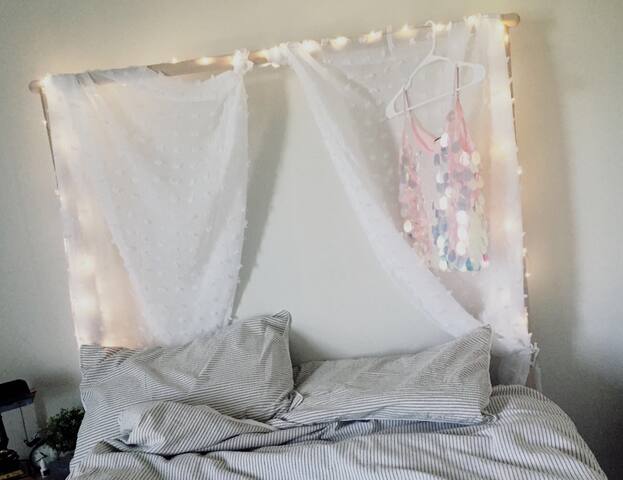 Located directly opposite the Fitzrandolph Gate at the heart of Princeton University. Prime location for Reunions-goers. Spacious 6 room apartment, with tasteful interior decor. Compare with a queen size room (2 people) in comparable local locations -Peacock Inn: $1000 -Nassau Inn: $700
Our apartment includes: - a modern living room with 65" TV and Large 400 Watt sound system - a fully equipped kitchen - washing machine & dryer - fully airconditioned
Witherspoon Street: an integral and historic part of Princeton life. As close to the University as you can be.
Rodzaj pokoju
Całe miejsce
---
Rodzaj nieruchomości
Apartament
---
Mieści
6
---
Sypialnie
Princeton, New Jersey, Stany Zjednoczone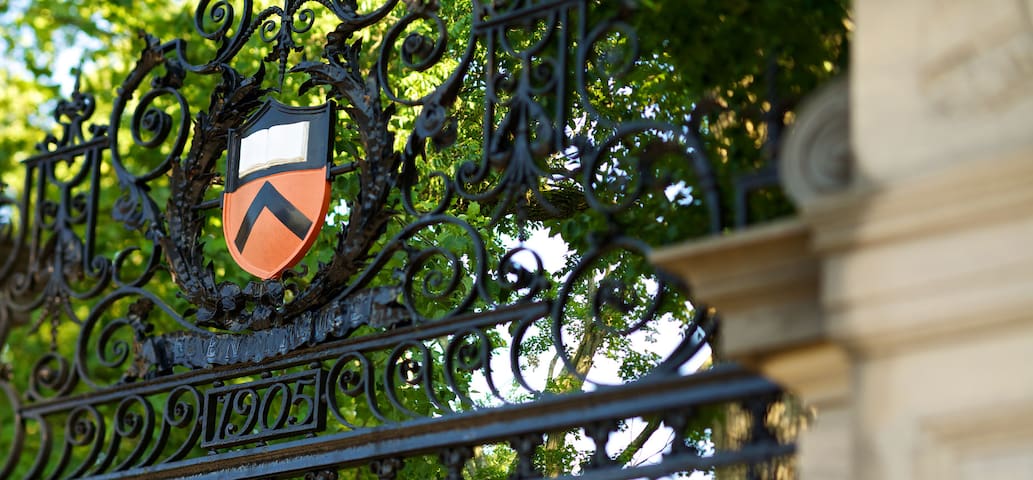 Cozy three-bedroom apartment, very close to the campus and all the restaurants and shops in Princeton. This apartment is on a quiet street, and is perfect for a family or group of friends visiting for reunions. Features a fully equipped kitchen, a living room, and off-street parking.
Rodzaj pokoju
Całe miejsce
---
Rodzaj nieruchomości
Apartament
---
Mieści
8
---
Sypialnie
Princeton, New Jersey, Stany Zjednoczone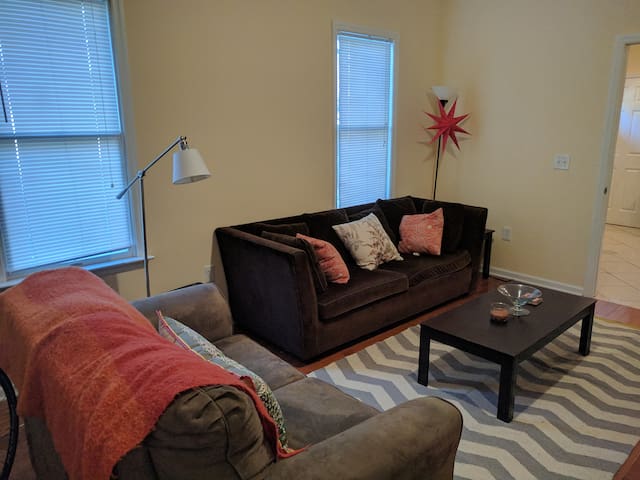 A beautiful condo located in the heart of Princeton right across from the University. The apartment is near everything Princeton has to offer: fine dining, shopping, entertainment, and campus events. Located on the same block as PJ's Pancake House, Panera Bread, Truimph Brewery and Garden State Movie Theatre, my place is good for couples, solo adventurers, business travelers, and families. Come, Enjoy and Explore Princeton =)
We had the pleasure of staying in Natalia's apartments for two days. It is a beautiful apartment in a beautiful town, and centrally-located. Great experience and great host!
Carlos
2017-04-01T00:00:00Z
Great location!
January
2017-02-17T00:00:00Z
Great location! The apartment is clean and has a beautiful view. The hosts were very helpful and kind and helped us a lot and made our stay as at home! I would highly recommend this place to stay in Princeton.
Elena
2017-01-18T00:00:00Z
Natalia and her husband are very nice and elegant couple. They are always willing to help, giving everything you need and answering every questions you have promptly. Their apartment is located on the beautiful and historical Nassau street, Princeton university is just across the street. It is the best location in town! We have had wonderful time here, will definitely come back! See you, beautiful Natalia!
Christina
2017-02-08T00:00:00Z
Natalia made everything super easy, and the apartment is lovely. It's quieter than I expected it to be, being right on Nassau - a really peaceful place right in the thick of things, and the bedroom on Nassau gets amazing, cozy light. Definitely a great place to stay if you need to be right in town. The sun room on the back of the apartment is a peaceful place to sit, and the couch there converts to sleep Guests #4 and 5. A spacious, easy, inviting place to stay.
Alda
2017-02-21T00:00:00Z
Rodzaj pokoju
Całe miejsce
---
Rodzaj nieruchomości
Apartament
---
Mieści
6
---
Sypialnie
Princeton, New Jersey, Stany Zjednoczone
1 bedroom apartment located walking distance from Princeton University. A perfect spot on the top floor of a 12 floor building, this place offers a relaxing and cozy place to stay during your time in Princeton. Walking distance from the university and township, yet situated in a quiet and peaceful area of Princeton, this apartment a nice balance of comfort and convenience.
The apartment offers a comfortable place to relax during your visit, featuring a fully kitchen with all the essentials for preparing food while here, a large television for watching movies including a Roku system with HBO, Hulu, and Netflix subscriptions, and comfortable bedroom with lots of natural light and a great view of Princeton.
Princeton is a small university town filled with charming boutiques, cafes, and delicious restaurants.
Rodzaj pokoju
Całe miejsce
---
Rodzaj nieruchomości
Apartament
---
Mieści
4
---
Sypialnie
Princeton, New Jersey, Stany Zjednoczone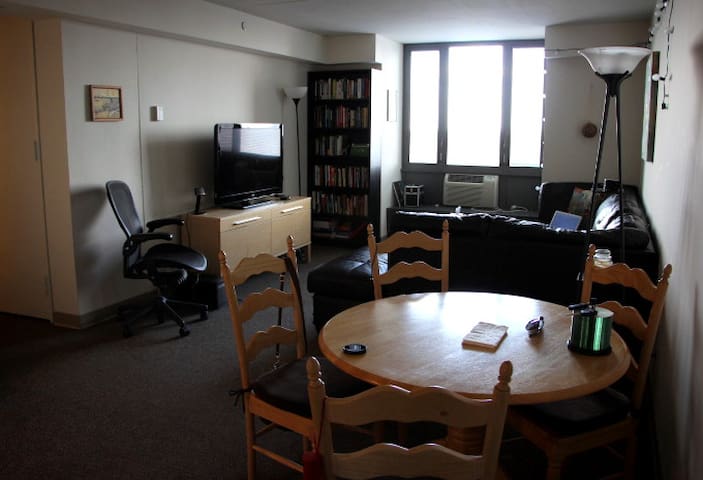 Charming studio apartment in the heart of Princeton, overlooking Palmer Square. Impeccably decorated and well-outfitted, this apt includes a front porch where you can sit with your morning coffee and watch the world go by.
Hardwood floors, front patio, original art deco bathroom fixtures. Top quality furnishings, sheets and towels. Pull out bed super simple to use and includes down pillows and featherbed and high-count cotton sheets, towel warmer, 2 storage closets, full kitchen with cappuccino machine and microwave, stocked wine rack (extra charge). Overnight parking is available in lot immediately behind apartment. With advanced notice, a parking pass can be arranged for stays of 7 days or more, at a rate of $15/day. Normal overnight rate is $23/night.
The only true in-town retail, restaurant and residential area, created by relocating 28 homes and building
Clean place, comfy and great location.
Akshay
2016-09-27T00:00:00Z
Max's place is absolutely lovely. Perfect location, great decoration, and a lovely welcome basket. Max was wonderful and I'd highly recommend his place.
Chloe
2015-09-21T00:00:00Z
Max's place is in a central convenient location. With a cafe, ice cream, and even a gourmet cheese shop (which makes delicious grilled cheese sandwiches, I highly recommend you try) just down the stairs. Other restaurants like Mistral (also very good) are only a 3 minute walk away. Princeton University is basically across the street. And, Princeton Station is only a 10 min walk, which Max graciously picked me up from when I first arrived. Everything you need is right there! I really enjoyed my stay and if I visit Princeton again in the future I will definitely contact Max!
Madison
2016-11-08T00:00:00Z
Max's apartment is perfection! I stayed there over a beautiful fall weekend and had a great experience. Max was a generous and thoughtful host, and went out of his was to make sure we were comfortable. The apartment is charming and well stocked with everything you need. The location is incredible - my favorite part was having coffee on the balcony overlooking Palmer Square. You do hear some noise from the Square, but we didn't mind it. I would love to stay there on my next trip to Princeton, and recommend it most highly.
Catherine
2016-09-26T00:00:00Z
A splendid base for a visit to Princeton - perfectly located, very comfortable (and an excellent shower) and handsomely decorated. Max was hugely helpful and welcoming.
david
2016-05-04T00:00:00Z
Great location. Thank you
Tommy
2017-01-16T00:00:00Z
I had a lovely stay at Max's place. The location was beyond perfect, it was decorated exquisitely, and the balcony was so wonderful to sit and read or people watch with a coffee. I will definitely try to stay here whenever I come to Princeton!
Ariana
2015-06-04T00:00:00Z
Max was grest
Chip
2016-10-04T00:00:00Z
Rodzaj pokoju
Całe miejsce
---
Rodzaj nieruchomości
Apartament
---
Mieści
2
---
Sypialnie
Princeton, New Jersey, Stany Zjednoczone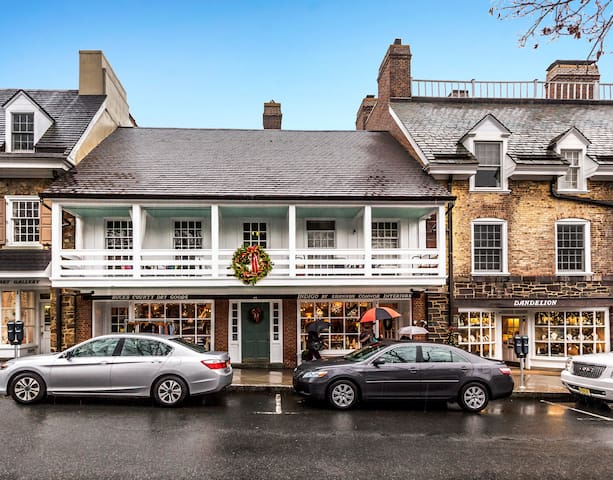 Enjoy our studio apt. conveniently located a block from Nassau St., in a quiet, residential neighborhood. Private access, comfortable for 2, sleeps up to 3. Please email/text or call first for availability as we use it as a home office as well.
Great in-town location- charming 600 sq ft apt studio with a queen-size bed, closet, small bureau, and a newly renovated bathroom. Eat out at one of the many restaurants a block away, or prepare your own meals in the fully equipped kitchen, with dishwasher, oven, microwave, and fridge. Linens, towels and toiletries are at your disposal. Please send me a note to inquire about availability as we use it as a home office as well. PLEASE NOTE: We prefer reservations from guests with completed profiles and reviews.
Our neighborhood is a lovely, residential area between Westminster Choir College and Princeton U., and a short walk to bus to NY, shops, and restaurants.
Wonderful, very clean place to stay within walking distance to the main street near Princeton. Vivian was very flexible on arrival time, showed us the place, left food for breakfast and recommended places to eat! We loved the place and will return for future Princeton visits!
Grace
2016-03-26T00:00:00Z
Vivian's charming studio apartment was ready when I arrived in Princeton, and is situated in a quiet neighborhood adjacent to Princeton University. The studio is tucked away behind the house and is a nicely converted and finished space with skylights, an open plan, and comfortable furnishings and appointments. The bathroom and kitchen are updated and the entire place was clean and ready to go. Great neighborhood with good restaurants, bars, and shopping within easy walking distance. Vivian was an attentive host who was easy to reach when needed. I look forward to my next visit to Princeton and staying in this studio again.
Kenneth
2016-03-17T00:00:00Z
I loved this place. Clean, pretty and very large!
Marina
2016-04-23T00:00:00Z
We were only in Princeton for about 28 hours, arriving very late on Saturday (ok, technically Sunday morning) and leaving early on Monday. Vivian was great about making sure that we had excellent directions and knew how to get into the studio when we arrived. We talked with her mom (her parents live in the main house) on Sunday morning as we were leaving for a regatta at Mercer County Lake. We walked to dinner on Nassau Street on Sunday evening and would have loved to have a few more days to explore. The studio would be wonderful for someone coming to visit their student at Princeton U. for an extended stay. We'd definitely stay here again!
Rob
2014-05-20T00:00:00Z
Overall we had a wonderful time in the studio. The place is exactly charming as portrayed. It is very well located, close to Princeton University, public library and lots of restaurants and cafes. My wife and I traveled with our son of 2.5 years old and he loved the place too. Vivian was a formidable host. She was always present and providing tips about the surroundings and checking if we were ok. We were supposed to leave the studio in the day of the "epic" storm that hit New York/Boston in January 2015. Vivian was very supportive warning us, providing information and offering alternatives. She extended our staying so we could leave a day later when the travel would be much more safe. In general we had a pleasant time and we will sure come back in the future while traveling to Princeton.
Ricardo
2015-01-28T00:00:00Z
Vivian was a wonderful host, very responsive over email & text, and friendly and helpful (she gave great recommendations for things to do in the neighborhood). The studio itself is beautiful - lovely high ceilings and skylights make for a bright and airy space. The neighborhood is in walking distance from the picturesque Princeton University campus, and great restaurants, coffee shops and the Public Library are all within easy walking distance as well. We have already made plans to come back and stay again!
Krista
2015-09-25T00:00:00Z
My Mom had an amazing stay in this beautiful and spacious studio. Vivian was incredibly nice. Warmest recommendations!
Christophe
2015-05-13T00:00:00Z
As always, Vivian was a lovely host. She left some breakfast foot in the fridge, and she made it easy to come and go. The location is perfect, and I love the modern amenities. Vivian's studio has become my home away from home in Princeton. I love this place!
Nick
2014-12-10T00:00:00Z
Rodzaj pokoju
Całe miejsce
---
Rodzaj nieruchomości
Apartament
---
Mieści
3
---
Sypialnie
Princeton, New Jersey, Stany Zjednoczone
Stay in our spacious apartment in the heart of Princeton, a (literally) 30 second walk from Princeton University's FitzRandolph Gate. Compare with a queen size room (accommodates 2) in comparable locations: - Peacock Inn: $1000 - Nassau Inn: $700
-spacious living room with 60-inch 1080p TV -dining room with table that can comfortably seat eight -spacious bedrooms with dressers and closets -fully equipped kitchen -washing machine and dryer -apartment-wide sound system Note: All personal possessions pictured in this listing (with the exception of ALL furniture, utilities and electronics) will be removed from the apartment to make space for your own belongings.
The host canceled this reservation 60 days before arrival. This is an automated posting.
Zinzi
2017-04-02T00:00:00Z
Rodzaj pokoju
Całe miejsce
---
Rodzaj nieruchomości
Apartament
---
Mieści
6
---
Sypialnie
Princeton, New Jersey, Stany Zjednoczone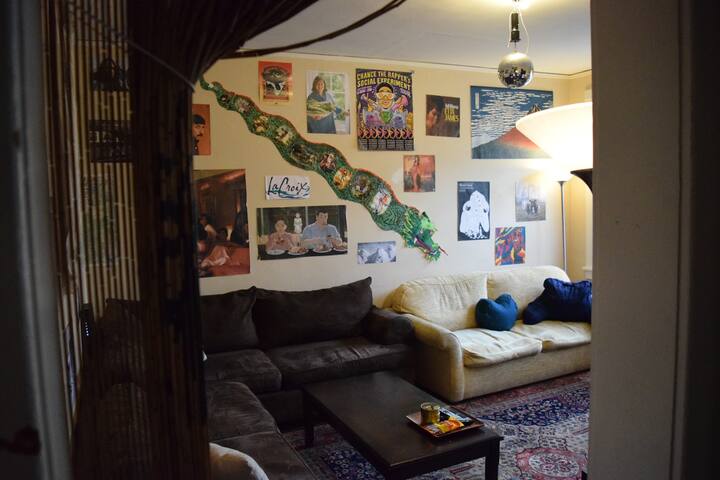 Lovely, historic, sunny and newly renovated 1 bedroom condo with all amenities including W/D, DW, TV/ DVD, stereo and free parking. Great location, walking distance to everything, i.e. the university and downtown. Perfect getaway for work or play.
Unique and historic house situated on Nassau St and was divided into condo (8 units) of which I own one. It's a charming, cozy and thoughtfully furnished 1 bedroom condo with hardwood floors, high ceilings, new queen bed, newly renovated kitchen with amenities including linens, towels, toiletries, iron, washer/dryer, dishwasher, microwave and full kitchen, CD player, DVD, cable TV, wireless high speed internet and free parking. The space can comfortably fit 2 people. There is ample work space areas around the apartment if you need or just ditch the electronic devices and get-away from it all. The house is located on the corner of Nassau St. and Princeton Ave. The neighborhood is quite and safe; filled with beautiful older homes and restaurants and a Small World coffee house are two blocks away. Walking distance (10-15min) to all major points in town i.e. The University, downtown restaurants and shops, Princeton shopping center (more shops and a supermarket), bus line and train. If you do have a car there is ample free parking behind the house.
Located right on Nassau St minutes to walking to the main gate of the University. The area is a lovely with a mix of old, historic homes. An excellent health food store (Whole Earth) is one block away as well as Princeton's popular 'Small World Coffee' café . You cannot beat the location and the space for seeing the town and getting around.
Carolyn greeted us personally and gave us a brief tour of her charming condo. She even set us up with the basic food we would need due to our late arrival. Very much above and beyond. The condo itself is very clean and comfortable, with lots of windows. The bed was comfortable. The kitchen is well equipped and the entire place is well appointed. A quiet, pleasant location.
Eve
2015-06-01T00:00:00Z
Carolyn is so thoughtful and kind, her attentiveness to our family truly makes her apartment a "home away from home" during our 3 weeks' stay over there, what a fantastic host. Everything posted about her apartment matches the descriptions and beyond, the location is probably one of the best in Princeton, within walking distance to full range restaurants, the University, shops, etc. The neighbourhood is serene and peaceful, can't ask for more. Future house guests should book well in advance to reserve this wonderful apartment for their visit ! Ronnie and family (Asia)
Ronnie
2015-07-19T00:00:00Z
Carolyn made us welcome right away even though we arrived an hour earlier than we had originally planned. She picked us up at the train station which we greatly appreciated. The apartment is so pretty. It's in a lovely old victorian house. The apartment has been beautifully remodeled. Very modern kitchen and appliances. Great bed. Amazing, fast wifi. The TV had HBO on demand which was fun for us. Carolyn left all kind of goodies such as chips, tea, freshly ground coffee, wine, candy, condiments (even butter), just to name a few! One thing we especially loved was the place had nine or ten large windows. It was so bright and cheerful. Even though the place is on Nassau Street, the main street in Princeton, it is on the quieter end of town and also the house is set back from the street and the apartment is in the back so we weren't bothered at all by traffic noise. It's a 5 minute walk to a well stocked natural food store and, in the other direction on Nassau Street, 5 minutes to a fantastic seafood deli with a little take-out restaurant. (Try the crab cake sandwich.) Lots of other restaurants nearby. From the B&B we walked down to the lake and canal and all around the Princeton campus and town. We were lucky to be here in spring when so many flowers and trees were blooming. Carolyn was friendly and helpful. We highly recommend her apartment and would be thrilled to stay again.
Charles and Wynette
2015-05-02T00:00:00Z
This was the perfect weekend getaway. My boyfriend and I love to find Airbnbs in nearby towns and it worked out that Princeton was right in the middle of our drive home from visiting family over the holidays. This was by far the best place we have stayed. What a wonderful treat! Carolyn was there to welcome us to her home and orient us to the area. She even had treats for us and our pup, Jackson! We felt right at home. The condo is located within walking distance from the university, bars and restaurants. We parked our car when we got there and didn't touch it until we left because we walked everywhere. Jackson loved it. The home itself is gorgeous. You can tell that everything that is in the home has a story or meaning which really helped us feel cozy and welcome. It's clear that a lot of love has been put into caring for this home. The kitchen is equipped with anything you might need to make your own meals and there is a gourmet grocery store within walking distance. We really could not have asked for a better space or location. We can't wait to come back and visit again!
Andrea
2017-01-02T00:00:00Z
Carolyn's house is beautiful and cozy. I like the way she decorate her room and the furnitures are good taste. My favourite piece is the secretary desk. I hope I can have one in my bedroom, when I go back to Beijing. Thanks a lot. Carolyn!
Man
2017-01-29T00:00:00Z
Great one bedroom apartment in Princeton! Very clean, easy walk into main part of town. Great experience overall!
Julie
2016-12-25T00:00:00Z
Mycket trivsamt, vackert och funktionellt boende med gångavstånd till centrum och universitetsområdet.
Bengt
2017-02-13T00:00:00Z
We loved Carolyn's beautiful apt in Princeton. She was a wonderful host and provided us with snacks and other amenities. The apartment was in a prefect location and a walk to everything. I would definitely go back. It was a wonderful sanctuary. Leora
Leora
2014-09-15T00:00:00Z
Rodzaj pokoju
Całe miejsce
---
Rodzaj nieruchomości
Apartament
---
Mieści
2
---
Sypialnie
Princeton, New Jersey, Stany Zjednoczone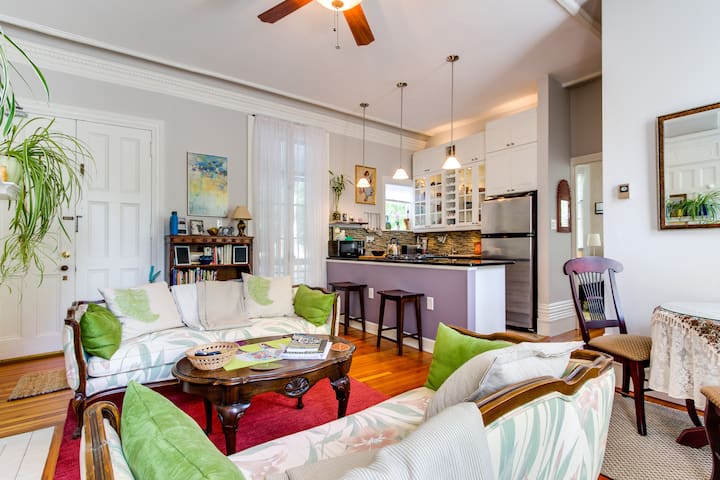 Enjoy the luxuries of location! Walking distance to Princeton University, shopping, restaurants, fashion, boutiques, movie theatre, and parks. Amenities include TV (HBO, Netflix, Cable), internet Wifi, and a washer/dryer. Building is historical including fixtures, antique cast iron double sinks, and aged tile. This place is a real cultural experience!
• Master Bedroom w/ Closet & Air Conditioning Unit. • 50" Flatscreen TV • HBO/Starz/Showtime/Netflix • High-Speed WiFi • Fully Equipped Kitchen
It's lively during the day and peaceful at night. Located right on Nassau St. A super walking town, you can stroll to all the museums, restaurants, bars, shops and movie theatre.
Farzard was great and waited for me when my arrival was delayed. The apartment was very clean and well decorated, exactly what is shown in the photos. Highly recommended!
Zhi Rui
2015-06-20T00:00:00Z
Great host, very accommodating. House was as promised and we couldn't be happier with our stay. Great location, would definitely stay here again!!
Mike
2015-07-13T00:00:00Z
Very good location and Bijian is a super host! I will be here again is possible.
Jiang
2017-01-01T00:00:00Z
Loved staying here!!! Lorraine was so friendly and helpful before and during the weekend, and made all of us feel right at home. She definitely went above and beyond as a host! The apartment was beautiful, and there was plenty of room for our group. Amazing location on Nassau, and super helpful to have a code to enter the building and apartment, so we didn't have to worry about carrying a key. Air conditioning was a nice plus for the hot summer months. We would definitely stay here again, and absolutely recommend it for anyone staying in the Princeton area!!!
Remy
2016-05-30T00:00:00Z
Bijan made sure everything went smoothly. Everything was as described. The location is excellent. The kitchen was a bit bare, but I didn't use it during my stay.
Samuel
2016-11-13T00:00:00Z
位置就在普林斯顿大学边上,热闹区域,楼下有很多吃的东西。餐馆,咖啡厅都有。房东为我们准备了很多吃的东西,很感谢。
IRENE
2015-07-03T00:00:00Z
My family of 4 and I very much enjoyed our stay in this apartment. It is extremely convenient to the University as well as the shops and eateries of Nassau street and Palmer Square. The apartment was clean and well maintained. We parked about 3 blocks away in a lot for the weekend without trouble...and walked for the rest of our stay. The next time we come to Princeton I'm sure we will try and stay here again.
Kevin
2016-02-08T00:00:00Z
Very clean and tidy and central to Princeton. We got used to the traffic. Great for three people. Thanks. Robin
Robin
2016-11-21T00:00:00Z
Rodzaj pokoju
Całe miejsce
---
Rodzaj nieruchomości
Apartament
---
Mieści
4
---
Sypialnie
Princeton, New Jersey, Stany Zjednoczone
Recently renovated 1 bedroom loft apartment comes fully furnished with a midcentury modern flair - full kitchen with stainless appliances, full bath with a stall shower, a sleeping loft with a queen bed and a single sofa sleeper for flexibility.
A wonderful play to stay. It's in the center of Princeton but it's also very quiet.
Naomi
2017-03-10T00:00:00Z
Yes, this place is just as great as the reviews! Perfect location, great host, all could not be improved. There is no reason to consider staying anywhere else if you are coming to Princeton.
Mary
2017-04-03T00:00:00Z
The stay was amazing! The apartment is just as promised and described and Matt is a great host. Although the price is a bit high the total value is even higher, so I would highly recommend it. PS great location, seven minutes walk to Princeton.
Ziv
2016-12-04T00:00:00Z
Matt was a perfect host! My sister and I stayed here for a few nights while visiting our little sister who is a student at Princeton University. The loft is perfectly located just a minute away from the main gates to the university campus and it's perfectly central to several restaurants, shops, and coffee shops! As our host, Matt went above and beyond by leaving us some snacks, water, and fresh fruit! We loved staying at this listing and would gladly stay there again! It was also nice having a washer/dryer there as well! Thank you Matt!
Eveline
2016-04-05T00:00:00Z
Matt's loft could not have been more perfect. It's exactly as advertised, but even better. I appreciated the snacks, drinks, and sundries. Matt is a pro host.
Nais
2016-04-24T00:00:00Z
Great apartment. All you could ever ask for
William
2017-02-27T00:00:00Z
Great place. Central location. Nice apartment, warm, comfortable and well appointed. Matt was a great host and I'd have no hesitation in recommending Matt and his place to others. We had a great time in Princeton and the location and this nice apartment really helped. Thank you.
John
2017-03-20T00:00:00Z
Charming apartment in amazing location for visiting Princeton. Matt greeted us warmly and then gave us privacy for the rest of our stay.
Carolyn
2016-09-11T00:00:00Z
Rodzaj pokoju
Całe miejsce
---
Rodzaj nieruchomości
Apartament
---
Mieści
2
---
Sypialnie
Princeton, New Jersey, Stany Zjednoczone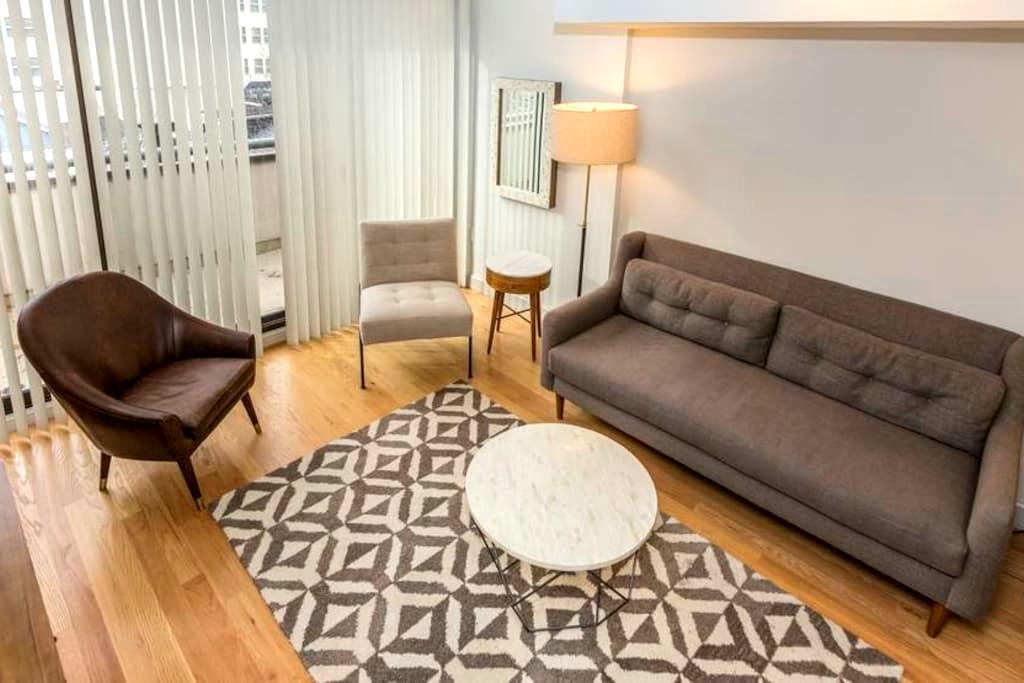 Enter this spacious (~600sq') unit through a separate entrance. This apt. is attached to our home above the garage. Suite has kitchen with under counter fridges, microwave. Construction completed in 2013. Tree top views. Central A/C and heating.
A brand new 1 bedroom apt. with fine finishes in lovely residential neighborhood. Separate entrance.
Tree lined, country feeling but only 1 1/2 miles from downtown Princeton. Bus to NYC is 3 blocks away.
An excellent place to stay, for either a short or longer visit, in Princeton. Helpful hosts, great location, and extremely pleasant and useful apartment space.
Herschel
2016-06-01T00:00:00Z
The host's house has a private entrance but it is located in the back of the garage so the guest should walk around the garage to get to the entrance. The apartment can be accessed by the host at any time since there is no lock on the door to the host house. That is, there is no privacy in an entire apartment. We had to keep our belongings in our bags all the time. Anybody who lives in a single home in the U.S. knows what the street parking implies, which is street parking in front of the house, but the host meant that a parking on a street 100 yards away from the house and parking on the driveway is not allowed due to the host's frequent in and out. The apartment is located on the top of the garage so garage door makes loud noise whenever it opens and closes. The worst part of my experience in this apartment is that the shower faucet knob was broken and it was almost impossible to adjust the water temperature as I wanted. The hot water came out in the middle of shower and I felt burned but could not fix it. I reported this problem right away but the host said it is ok if I use it gently. I don't think anybody wants to hear that kind of response from the host. I think the host should be more clear about the apartment so that the guest is not frustrated after arrival.
Han
2016-05-19T00:00:00Z
Betsy was gracious host and provided whatever information we asked of her: restaurants, grocery store, etc The suite was private, comfortable, shiny clean and in a beautiful neighborhood close to Princeton center (approx two miles). We enjoyed walking around the area very much and are looking forward to returning.
T
2015-09-01T00:00:00Z
I had an absolutely wonderful stay with Betsy. She is a tremendous hostess, and made my stay such a positive experience. Betsy has an in-law suite off her living room. It's more of an apartment with a kitchen, living room, bedroom and bathroom. There was plenty of space. I wish I had been there more than one night. The house is about 2 miles from the campus and downtown. It's best to have a car. There's also a bus stop nearby.
Crystal
2014-10-17T00:00:00Z
My husband and I had a wonderful weekend at Betsy's and Dan's. The apartment was beautiful and they were the most gracious of hosts. I highly recommend anyone spending time in Princeton to stay here.
Annie
2016-03-28T00:00:00Z
Betsy was very accommodating with my travel plans and made my arrival process very convenient. The space was very clean and cozy. I felt right at home as soon as I arrived, and Betsy made sure I had everything I needed. I had a great stay and will definitely be back.
Ryan
2015-08-25T00:00:00Z
This was a great place. Convenient to town and campus, clean, nice hosts--highly rated. Betsy went out of her way to help, giving me a ride once and picking up a few small grocery items for breakfasts. Much nicer than staying at a hotel.
Brian
2015-05-22T00:00:00Z
This is a beautiful apartment in a lovely neighborhood of Princeton. Betsy and Dan took care of everything that we needed. We were greeted with fresh baked bread and fruit, with everything in its place in the kitchen, bedroom and bathroom to make our stay comfortable. There are lovely views from every window and the place is beautifully decorated. We would highly recommend this apartment for a couple staying in Princeton.
Paul
2015-11-28T00:00:00Z
Rodzaj pokoju
Całe miejsce
---
Rodzaj nieruchomości
Apartament
---
Mieści
2
---
Sypialnie
Princeton, New Jersey, Stany Zjednoczone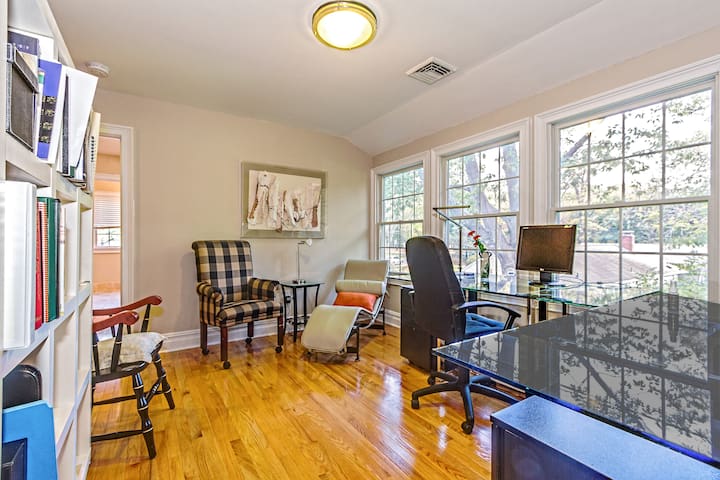 Beautiful, sunlit apartment steps from Nassau street, Princeton University and downtown Princeton. Whether your visiting someone at the university, exploring New Jersey, or just looking to experience Princeton, this apartment covers all three!
We are walking distance to everything Princeton has to offer! The second bedroom has a queen sized air mattress.
Mark and Tawana made our booking and arrival simple and smooth. They left a bowl of chocolates that instantly relieved our jet-lag from a cross-country flight. My wife and I have traveled to Princeton often over the last few years to see our daughter play college soccer. By far, these were the most enjoyable accommodations we've had. The cozy apartment — on a charming block off Nassau Street — felt like home, and we felt like real Princetonians. With one more season of soccer to go, we can't wait to stay here again.
Steve
2016-11-06T00:00:00Z
Great hosts! The communication was perfect and they made us feel welcome. The house is perfect and in a great setting for a visit to Princeton.
Kevin
2016-10-10T00:00:00Z
We had a great stay at Mark's. The location is hard to beat, the neighborhood is quiet, and the accommodations were cozy. We would definitely stay there again!
James
2016-11-27T00:00:00Z
We had a wonderful time at Mark's apartment and in Princeton in general. The apartment was bigger than expected and it has direct access to the (shared) backyard. Everything was as described and Mark even gave additional useful information (like where to go eat out). We didn't miss anything and would definitely come back again!
David
2016-09-16T00:00:00Z
Rodzaj pokoju
Całe miejsce
---
Rodzaj nieruchomości
Apartament
---
Mieści
4
---
Sypialnie
Princeton, New Jersey, Stany Zjednoczone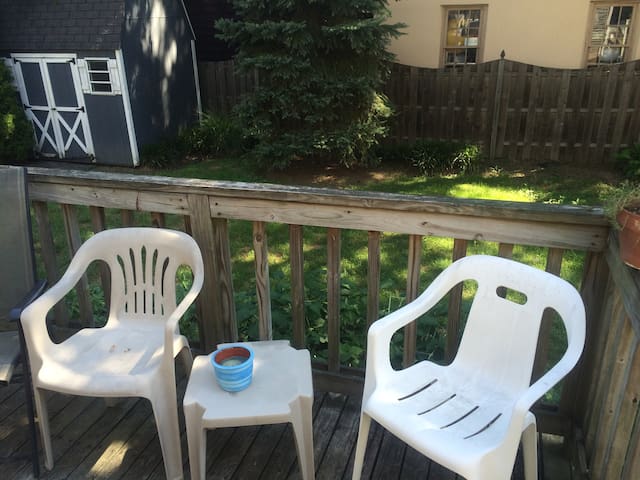 プリンストンの中心部にある魅力的なコンドミニアム。パーマースクエアグリーンを見渡します。プリンストン大学へ徒歩2分。シャワー&バスタブ付きの独立したベッドルーム、リビング/ダイニングルームとバスルーム。
A self contained condo with living/dining room, fireplace and Pullman kitchen. Fully furnished and equipped. One bedroom, one bathroom. Condo on 2nd floor, comfortable for 2 , can accommodate 1 or 2 additional guests/children on 2 air mattresses. Wireless internet is installed in the condo.
町の中心部にある美しいパーマースクエアを見渡します。休日の祭り、その他の祭りと年間を通して中に壮観。あなたが必要になることがあり、すべてに簡単にアクセスできます。プリンストン大学は、マンションからのブロックです。ウェストミンスター合唱団カレッジ、神学校や文化研究所が徒歩圏内にあります。コンドミニアムで利用できるワイヤレスインターネット。マンション複合体の後ろに公共駐車場があります。
I have lived in Princeton for 6 years before. This apt is the best location possible in Princeton. Think of it as a Central Park apt. I actually met Pri Perera's husband who is punctual, communicative, professional, and a solid host. The apt is well appointed with most things you expect at home including Lindt chocolate and really really soft towels. Highly recommended.
Shih-Fu
2015-03-18T00:00:00Z
This was the second time we've stayed with Priyantha and Shiranie. Once again, their hospitality was very warm and their apartment is right in the center of town and beautifully furnished. If you're looking for a nice place to stay in Princeton you can't do better than this.
Alexander
2015-05-25T00:00:00Z
Very much a home from home. A very beautiful place in a very beautiful place. Right in the heart of the town. Stroll the cafes, chose from endless eats and pubs or take a stroll through Princeton University grounds and nearby woodlands. This place was a fantastic apartment to unwind in. I had worked in Princeton for a month and it could not have suited me better. I had a rented car and organised the garage (120 second) next door for 185 dollars for a months stay. The apartment does not come with a TV but little point with so much on offer and internet was available and good - Netflix as good as a friend you'll need.
Declan
2017-02-03T00:00:00Z
We loved staying at Pri's! Great location, great space - comfortable and lovely. I was surprised at how quiet it was considering that it was on Palmer Square! We'll definitely stay again!
Elizabeth
2017-02-05T00:00:00Z
Amazing location in the heart of Palmer Square - truly unbeatable. Nice amenities with pretty much everything you would need. Pri was very flexible and accommodating with our arrival and check-out times. If you are looking to stay in downtown Princeton, look no further!
Josh
2017-01-01T00:00:00Z
Location is great--center of town & great access to campus. Pri is a great host. Condo could use a redecoration.
Norman
2016-05-30T00:00:00Z
Excellent apartment, great location and very attentive, helpful hosts. We were visiting the town to meet family. We found the location central and ideal. The apartment was exactly as publicised and was comfortable. Pri was a great host and looked after us very well. We would definitely repeat our visit.
John
2016-04-10T00:00:00Z
Great place to stay. Pri was attentive and on-time. A little view of Palmer square was nice. We would definitely stay there again.
Joshua
2017-03-24T00:00:00Z
Rodzaj pokoju
Całe miejsce
---
Rodzaj nieruchomości
Apartament
---
Mieści
2
---
Sypialnie
Princeton, New Jersey, Stany Zjednoczone
This bright, spacious apartment in the heart of Palmer Square is your ideal base for reunions, graduation, or a weekend visit to Princeton. You'll feel right at home in this pre-war beauty, with its master bedroom, large living room, private bathroom, and separate kitchen with breakfast nook. Enjoy all of the comforts of home, while exploring everything Princeton has to offer: fine dining, shopping, entertainment, and all campus events.
Is this the best apartment in Princeton? We think so! Enjoy a peaceful, relaxed atmosphere with all the amenities of home: wireless internet, working fireplace, bathtub, dishwasher, and hardwood floors. Top quality, design-minded furnishings, original art work, and ample greenery lend this apartment an elegant, personalized vibe—perfect for your upcoming visit.
Palmer Square is the heart of downtown Princeton. The apartment is (literally) on top of everything Princeton has to offer: fine dining, shopping, entertainment, and all campus events.
Bridget was extremely friendly and welcoming. Her comfortable and tastefully decorated apartment looked just like the pictures and perfectly matched the description she provided in the listing. Palmer square is a great neighborhood with lots of nearby attractions for visitors. A very short walk from Princeton University, the location was perfect for my friends and I attending Princeton reunions.
Sarah
2016-05-31T00:00:00Z
Rodzaj pokoju
Całe miejsce
---
Rodzaj nieruchomości
Apartament
---
Mieści
4
---
Sypialnie
Princeton, New Jersey, Stany Zjednoczone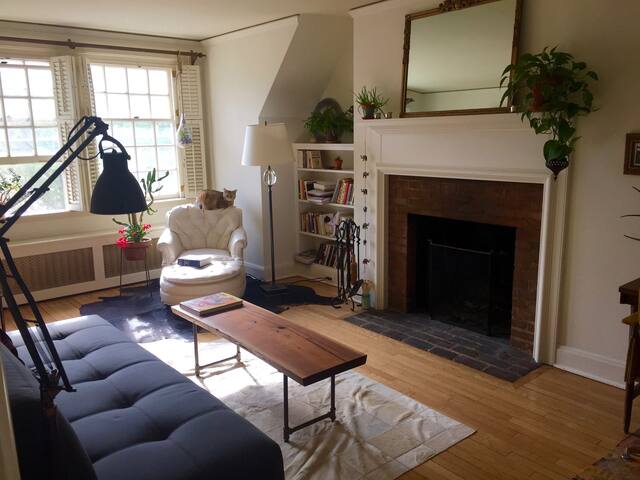 一室一厅650平方英尺的三楼公寓在一个安静的豪宅社区10分钟,从普林斯顿枢纽火车站,距离宾州车站,纽约50分钟,从费城1小时走内!
该公寓只能从2016年9月27日至2016年10月28日。 该公寓可与显著折扣每周或每月租用。 一间卧室配650平方英尺10分钟,从普林斯顿枢纽火车站,距离宾州车站,纽约50分钟,从费城1小时走在公寓三楼在一个安静的豪宅社区!免费巴士从普林斯顿枢纽站去普林斯顿城。 该公寓设有一间起居室,一间卧室,一个完整的厨房,全套浴室,走在衣柜和洗衣机/干衣机组合隐藏在工具closet.The公寓配有两张双人床,一个在每个房间,额外的床可以要求,一个壁橱,一个大餐桌,椅子,电脑桌,抽屉,书架和摇椅的胸部。厨房设备齐全,为您的烹饪需求,并具有基本的食物必需品的供应。高速互联网。
Rodzaj pokoju
Całe miejsce
---
Rodzaj nieruchomości
Apartament
---
Mieści
2
---
Sypialnie
Princeton, New Jersey, Stany Zjednoczone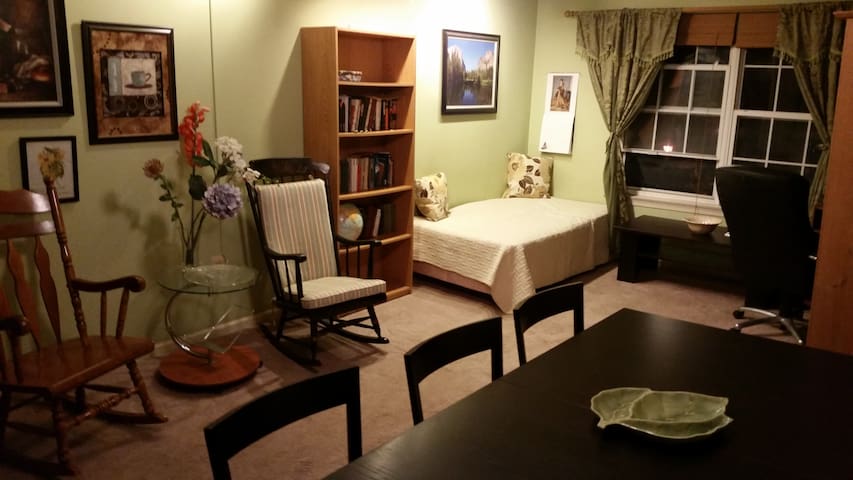 Modern, clean and comfortable apartment just 3 miles from Princeton University and Princeton Junction. Can comfortably fit 4 adults (one queen bed and queen-sized inflatable bed). Spacious living room + outdoor patio. Great for PU reunion weekend!
Clean, comfortable and spacious apartment located just minutes away from PU. The apartment is equipped with all the amenities needed for a comfortable stay, including AC and an outdoor patio. The living room is large and can easily fit additional guests if required. There is free on-site parking and laundry facilities in the apartment.
This apartment is located in a quiet residential community. Very safe and conveniently located close to Princeton University and neighboring shops (e.g. Market Fair, Nassau Park Blvd, Whole Foods, Trader Joe's, etc)
Rodzaj pokoju
Całe miejsce
---
Rodzaj nieruchomości
Apartament
---
Mieści
4
---
Sypialnie
Princeton, New Jersey, Stany Zjednoczone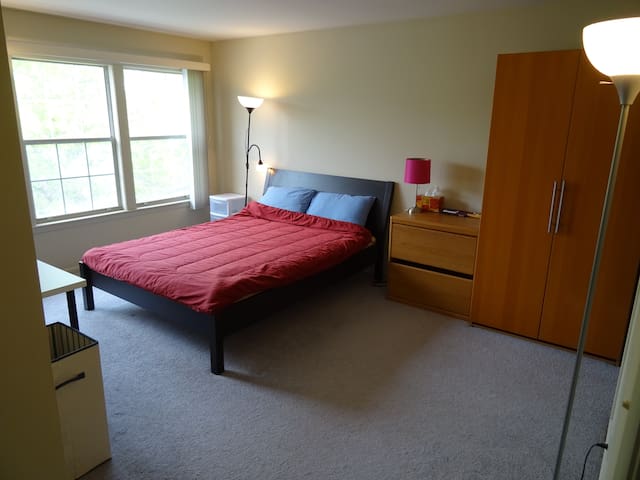 Princeton - Airbnb
:
Średnia ocena:

4.91

/

5

gwiazdek od

387

gości
Wpisz daty, by zobaczyć pełną cenę. Obowiązują dodatkowe opłaty. Cena może uwzględniać podatek.