Przytulne, śródziemnomorskie kolory, gustownie zaprojektowane, aby dać naszym gościom ciepłe powitanie w typowym domu Śródziemnego. 2 sypialnie, kuchnia, salon / sofa, BGAN, panoramiczny taras na relaks
Dom posiada duże, przestronne pokoje, pełny marmurową łazienkę z wanną lub prysznicem, pralka dostępne. W pełni wyposażona kuchnia garnki, naczynia i wszystko co jest potrzebne dla dobrego pobytu i wreszcie taras, z jego 70 metrów kwadratowych, z przepięknym widokiem na Zatokę Neapolitańską, morze, Wezuwiusz, ruin Pompei oraz sąsiednich miast. Leżaki, stoły i krzesła, taras jest prawdziwa chwila radości dla gości, zarówno na śniadanie / lunch lub kolację, ale także do wypoczynku, jak i solarium, ze względu na bardzo korzystne ekspozycji na słońce.
Bardzo cicha i spokojna okolica, panoramiczny, idealny do wypoczynku
What an amazing view! We loved sitting out on the terrace overlooking the Bay of Naples and Vesuvius. The house is spacious with plenty of beds, clean, and well equipped. Pietro is a great guy, met us in the Pimonte town square and showed us to the house. He picked up pizza for us on the first night as well, was the ultimate host.
Phil
2016-08-20T00:00:00Z
Pietro was very accommodating! He provided a great stay for all of my friends and I. We had a meal prepared for us by his wife as soon as we arrived. He also gave us directions on how to get from Amalfi to his home via bus, and sent a car for us when we were dropped off at the bus. He was very welcoming and sat down with us after dinner to help us plan out the rest of our travels in Italy. On our last day we had a mini wine tasting on the balcony overlooking the coast and it was amazing! Many thanks to Pietro!
Julie
2016-09-28T00:00:00Z
Good place to start a trip to southern Italy. Not far from Pompeii and the Vesuvio. Amazing bella vista of the volcano. Extremely nice and caring hosts that really care about you having a great vacation (e.g. pizza delivery on the first evening). Apartment could be a bit cleaner, though. Especially when traveling with little kids that play on the floor a lot. But would still recommend it. The bella vista of the Vesuvio while having breakfast on the terrace is already worth it :)
Jakob
2017-04-01T00:00:00Z
Pietro is a very nice owner. We didnt get to meet him (he sent his cousin to pick us up on the village main square), but I had the chance to talk to him a couple of time and he was very nice and tried to do his best. The villa is very nice. Very large (important if you are many guests), clean and with a stunning private terrace, large and with spectacular views of the vesuvio and the bay of napoli. Bad things were: - internet didn´t work (we called Paulo and he called the company but this didn´t solve anything). - there were leftovers and open bottles from previous guests on the fridge. - there was no hot water (which we didnt complain to him because we discovered that when we took the shower just before leaving the apartment and we only stayed for one night, but we saw a note from the previous guests complaining about it). Overall, for the potential guest I would reccomend to book this villa for its location (close to all the amalfi coast and sorrento vesuvio etc.) because of its stunning views, because I am sure Pietro is a good owner and simply wasn´t aware of the water and internet issue.
dan
2016-05-23T00:00:00Z
Rodzaj pokoju
Całe miejsce
---
Rodzaj nieruchomości
Dom
---
Mieści
13
---
Sypialnie
Piazza-Tralia-Pendolo, Kampania, Włochy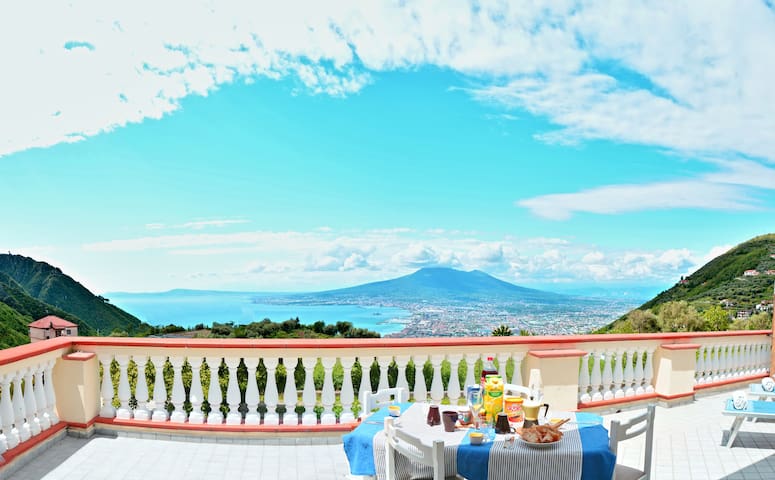 The we are on a main road but very quiet ... well connected with the natural beauty that is the most visited Naples Pompeii Salerno Amalfi Coast Positano, Sorrento, with railways and port our beautiful two-room apartment is located in Pimonte (NA) to reach the 'island of love Capri, Procida Ischia..Qui room Positano you can enjoy a beautiful wide and very bright room with double bed at your disposal there is a bathroom and cucina..c'è to enjoy a splendid view ! We wait
Rodzaj pokoju
Całe miejsce
---
Rodzaj nieruchomości
Apartament
---
Mieści
8
---
Sypialnie
Piazza-Tralia-Pendolo, Kampania, Włochy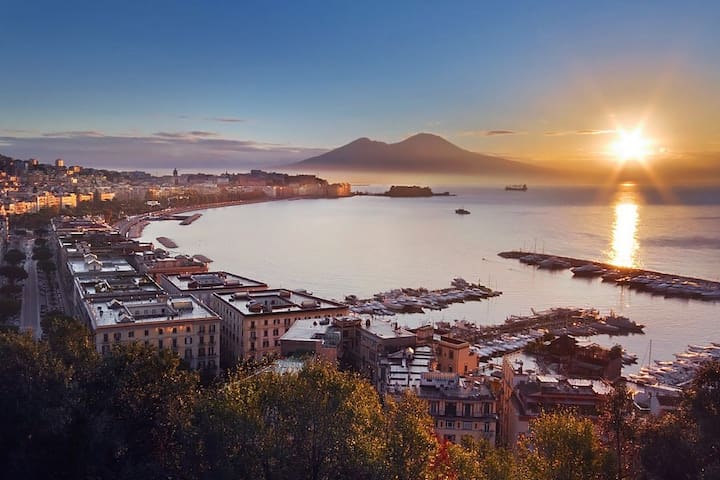 Gehäuselösungen von Palazzo Lattari auch ein Appartement mit zwei Badezimmer und Wohnzimmer mit Kamin, ideal für junge Reisende und viele Familien, die sparen wollen; in der Tat kann diese Lösung auf max beherbergen. von 8 Personen.
Diese Wohnung befindet sich twnty Minuten vom Zentrum von Pompei und mehr Platz in der Amalfiküste und Halbinsel von Sorrent ... in Pimonte befindet, malerischen und ruhigen Dorf von Lattari überwunden, genießt ein hervorragendes Gebiet unberührt und echte dank der envoironment weg vom Chaos Aus der Stadt
Ausgezeichnete Lage zu entdecken, Sorrento und die Amalfi-Küste
Rodzaj pokoju
Całe miejsce
---
Rodzaj nieruchomości
Apartament
---
Mieści
8
---
Sypialnie
Piazza-Tralia-Pendolo, Kampania, Włochy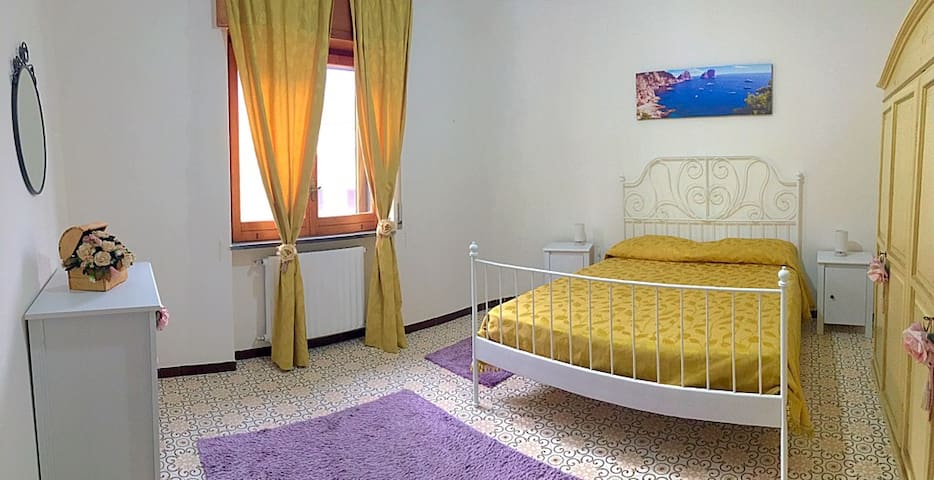 В квартире есть спальня с ванной комнатой, кухня с ванной комнатой и балконом. (В квартире есть телевизор, холодильник, мини-кухня, микроволновая печь).
Квартира расположена в древнем городе Tralia Пимонте, в идеальном положении, чтобы добраться до основных достопримечательностей вокруг области. Недавно отремонтированный дом имеет хорошо оборудованная кухня (посуда, микроволновая печь, холодильник) с обеденной зоной, спальня с ванной комнатой, гостиной с диваном-кроватью и ванной комнатой. В нескольких минутах езды от отеля, в нескольких километрах вы можете посетить популярные места по всему миру за их красоту и историю как Помпеи, Геркуланум, Пестум, Сорренто, Амальфи, Равелло, Позитано и Капри. В районе, в нескольких шагах от дома, есть рестораны и минимаркет. Рядом с домом есть большое пространство для парковки автомобилей, бесплатно. Отель также является идеальным местом остановки для любителей треккинга, на самом деле вы можете легко добраться до отправной точки «Путь Богов» и «Vallone делле Феррьере". Важная информация Цены указаны в евро. Заезд в 14:00, ознакомьтесь с 10:00. Цена включает в себя налоги, плата за уборку по прибытии, отопление, постельное белье и полотенца.
В этом районе, в нескольких шагах от дома, есть в ресторане-пиццерии Da Silvia с террасой с видом на Неаполитанский залив, с большой стоянке, где вы можете оставить свой автомобиль и два супермаркета. Рядом с домом есть две большие площади для парковки, бесплатно.
Appartamento completo e pulito. Ottima posizione per chi vuole visitare sia Napoli Pompei ed Ercolano sia la costiera Amalfitana e Capri. Il paese è piccolo però è ben servito. Sotto casa c'è un minimarket con tutto a ottimi prezzi. Consigliamo il ristorante "Da Silvia" dove si mangia bene ed è possibile lasciare l'auto. Buona anche la pasticceria Palummmo. Milena è davvero gentile!
Samuele
2015-08-10T00:00:00Z
все было хорошо и приятно
eduard
2015-07-07T00:00:00Z
Appartement propre, spacieux et agréable! Il est bien situé pour visiter Naples, Pompei, et la côté. Milena a été très arrangeante et disponible pour notre arrivée/départ et de très bon conseil pour notre séjour. Je recommande fortement!
Capucine
2016-08-18T00:00:00Z
Rodzaj pokoju
Całe miejsce
---
Rodzaj nieruchomości
Apartament
---
Mieści
4
---
Sypialnie
Piazza-Tralia-Pendolo, Kampania, Włochy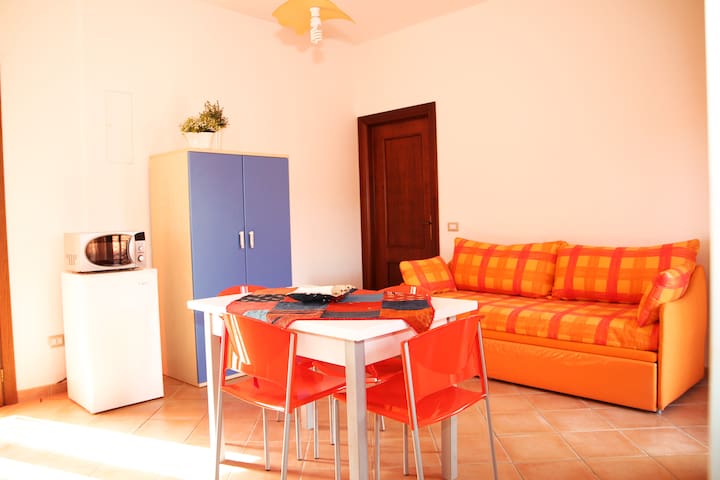 Casa Graziosa is 100 square meters (645 square feet). It features a nice private and equipped terrace at the entrance with a view of the sea, a sitting–dining room .
Casa Graziosa is in Conca dei Marini, another village of the Amalfi Coast, at 4 kms from the centre of Amalfi, an enchanting place that has become famous in the sixties and seventies for having hosted many celebrities, among which Gianni Agnelli, Princess Margaret of England and Jacqueline Kennedy Onassis. It's a pleasant and happy apartment facing the sea. It sleeps four – five people. From Casa Graziosa you will enjoy a wonderful view of the sea and of the coast of Amalfi. Casa Graziosa is 100 square meters (645 square feet). It features a nice private and equipped terrace at the entrance with a view of the sea, a sitting–dining room with kitchen corner, two bedrooms, the first one with king size bed and ensuite bathroom with shower, the second one bedroom is located on the first floor reachable trough an external series of steps (not more than 10). This bedroom is an indipendent room also with double bed. In the living room you will also find a sitting area separated by an archway,In the sitting room there is also a kitchen-corner equipped with a four-burner gas cooker, an electric oven, a refrigerator with freezer, a dish washing and an Italian-style coffee-maker. The dining table can accommodate four- five guests. Both rooms are equipped with air conditioning/heating. Casa Graziosa is located on the first level. You will reach it directly from the road level along a short walkway. This one of the few properties on the Amalfi Coast with easy access from the main road where your car can be easy parked for free. To stay at Casa Graziosa you will need a car. The villa is easily accessible by the road level (there aren't steps). It has wifi.
Appartamento molto carino e dotato di ogni comfort (persino lavastoviglie e lavatrice); terrazzo con vista mare ideale X colazione e cena al fresco. Tina e la hostess Anna sono state molto disponibili per indicazioni per un soggiorno ottimale. Quartiere un po' lontano dalle attrattive; essendo stati ad agosto lo spostarsi in macchina era impossibile, quindi ci siamo sempre dovuti avvalere degli autobus (e per fare 5 km ci abbiamo messo anche 30 minuti). A parte questa cosa, consiglio vivamente un soggiorno in questo bellissimo appartamento!
Andrea
2016-08-21T00:00:00Z
Rodzaj pokoju
Całe miejsce
---
Rodzaj nieruchomości
Willa
---
Mieści
4
---
Sypialnie
Conca dei Marini, Kampania, Włochy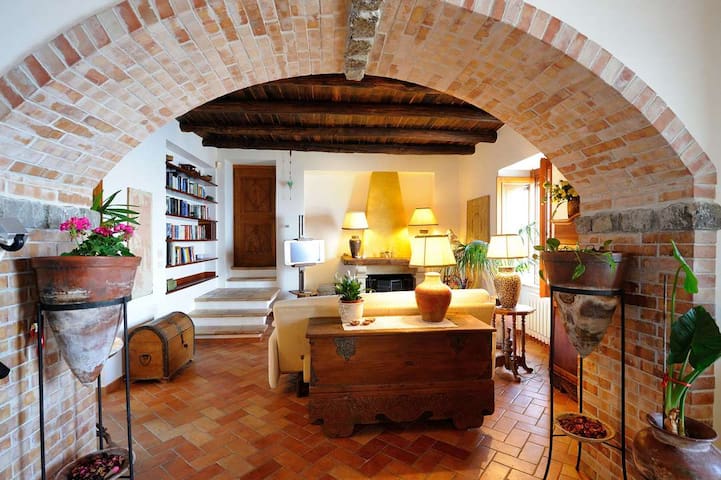 Moje mieszkanie jest w pobliżu parków, restauracji, piękne widoki oraz kultury i sztuki. Moje mieszkanie jest odpowiednie dla par, samotnych przygód, osób podróżujących służbowo i rodzin (z dziećmi).
Jest to mieszkanie na drugim piętrze budynku znajduje się 50 metrów od centrum miasta, odnowiony w 2014 roku.
Rodzaj pokoju
Całe miejsce
---
Rodzaj nieruchomości
Apartament
---
Mieści
6
---
Sypialnie
Piazza-Tralia-Pendolo, Kampania, Włochy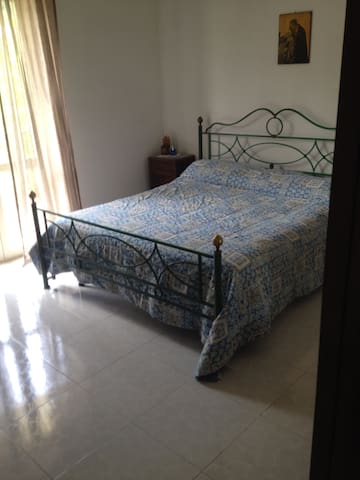 Casa Chiara jest wdzięku dom, który stoi przed słońcem i morzem. Casa Chiara znajduje się 75 metrów kwadratowych może pomieścić 4 osoby. Apartament wyposażony jest w 2 podwójne sypialnie, komfortową łazienkę, 1 taras, 3 TV, internet Wi-Fi i klimatyzację.
Romantyczny pokój znajduje się wewnątrz Casa Chiara. Z łazienką, tarasem i prywatnym salonie Pokój jest bardzo przestronny. Jest łóżko małżeńskie (160 cm / 62 cale, szerszy niż łóżko małżeńskie) W tym pokoju znajduje się telewizor, szafę, stolik, aby umieścić bagaż i stolik z żelaza W pokoju nie ma klimatyzacji, ponieważ jest bardzo chłodne w lecie. Jest to wentylator, ale nie trzeba. Z sypialni będzie można wejść na taras z wyjątkowym i wspaniałym widokiem na morze, przez francuski drzwi. Taras jest 20 metrów kwadratowych (215 stóp kwadratowych) jest wyposażony w stół, krzesła i dwa leżaków. Z tarasu można podziwiać wspaniały widok na morze, Positano i Amalfi Coast. Będziesz mógł wejść do sypialni od salonu. W salonie jest jasne i gustownie urządzone. Meble wyposażone są w sofę i stół z krzesłami dla czterech osób. W tym pokoju znajduje się telewizor, Jest wyposażony w klimatyzację, Wi-Fi, czajnik i kuchenka mikrofalowa (jeśli włączyć klimatyzację w salonie, należy zamknąć wszystkie drzwi) Uwaga apartament ma kuchnię ale nie jest on wyposażony w lodówkę, widelce, talerze, szklanki i serwetki można użyć: kawa, czekolada, jęczmień, "jogurt, soki owocowe, zapakowane rogaliki, dżem i cukier W łazience znajduje się prysznic, umywalka oraz WC. Będziesz mógł wejść do łazienki z salonu. można użyć: szampony i łaźni foam.In łazience znajduje się suszarka do włosów 10 metrów od domu w krzywej znajduje się przystanek autobusowy do centrum Positano (kwadrat Mulini) zobaczysz małą kaplicę z świętego. rozstaw osi 1,8 km Centrum morze 2 km Od Casa Chiara schodząc 300 kroków można dotrzeć do plaży Fornillo i głównej plaży Positano (jeśli nie chcesz chodzić można "jechać autobusem) Na mniej niż 100 metrów w pobliżu Bar Internazionale znajduje się przystanek autobusowy, skąd można dojechać autobusem SITA do Amalfi, Ravello i Sorrento lub lokalnym autobusem dotrzeć do głównej plaży Marina Grande. Positano jest podzielony na 10 dzielnic: 1 Chiesa Nuova (Jest to najbardziej "duży obszar Positano.) W tym obszarze znajduje się poczta, ratusz, policja, finanse mężczyzna, sklep spożywczy ,, sklepy owocowe, sklep rybny i restauracji. Mój dom znajduje się w tej dziedzinie Całkowity zakaz palenia w domu.
Ich würde empfehlen, eine Vespa mieten um Positano und den benachbarten Städten während Ihres Aufenthaltes zu erhalten. Es ist definitiv der beste Weg, um die Küste zu bekommen! (URL HIDDEN) beantworten 'Pepe' ihm sagen, du bist bei mir zu Hause mein Name michele de lucia
Nice apartment, large roof terrace with a stunning view of Positano. Michele was very helpful.
Robert
2016-05-11T00:00:00Z
Michele is the perfect host, we would like to come back in the future. The bedroom, breakfast room and bathroom were really big, clean and fully equipped. Michele assisted us at all stages, great communication and some helpful tricks for transport. We loved Positano and the view from the terrace is stunning. We recommend this accommodation as a 10 of 10.
David
2015-09-03T00:00:00Z
Michele es un fenomeno, el trato con él fue excelente!!! Cuando nos encontramos se ofrecio a llevarnos las valijas (nos salvo de subir hasta el departamento con el peso de las valijas y lo mismo para bajarlas hasta la parada del bus!!).. nos indico todo lo relativo a la ciudad y los medios de transporte.. el departamento es limpio y ordenado, cuenta con dos habitaciones y un living, baño y terraza en comun.. es ideal para 4 personas asi disponen de todo departamento.. es muy limpio y ordenado y la vista es maravillosa..
Matías
2017-04-12T00:00:00Z
Michele was so nice to help me out under any situations. It was fun to go up and down stairs from Michele's. You will find it worthy to walk around to enjoy beautiful alleyway in Positano. In case you have a luggage, contact him. Right next to his place, there is a grocery store (슈퍼). Michele's place was so neat and there were a lot of welcome snacks and yogurt. One thing is that you might feel a bit chilly in a room. I would like to come back to Michele's place but the heater was not working well.
Gyumin
2016-12-23T00:00:00Z
This is a beautiful pace with a fantastic view...feels like home. Michele was a fabulous host, very concerned with my comfort and happiness. Even provided a tour down from his wonderful home to the town of Positano...I would highly recommend this amazing place!!!!
denise
2015-10-24T00:00:00Z
버스정류장까지 직접 픽업하여 왔으며, 오기 전까지 교통편을 매우 친절히 알려주었음. 시간이 지체되어 조금 늦었지만 매우 반갑게 맞이해주었음
혜진
2015-02-21T00:00:00Z
미켈레는 정말 배려깊고 친절한 호스트입니다. 도착전부터 도착방법 필요한 것 등등을 상세하게 안내해주고, 도착하면 차로 짐을 픽업해줍니다. 그리고 숙소로 들어가기전 버스 정류장, 근처 편의 시설, 올라가는 길 등을 상세하게 알려줍니다. 숙소의 경우 거실, 침실, 욕실, 테라스로 이뤄신 숙소 전체를 빌려주기 때문에 편하게 쓸 수 있고 정말 아늑하게 잘 꾸며져 있습니다. 테라스에서 보는 포지타노의 뷰는 끝내줍니다. 또한 조식으로도 먹을 수 있게 빵, 간식, 음료수 등도 부족함이 없게 비치해놓았습니다. 추천해준 음식점에서는 생선요리, 파스타 등의 메뉴가 매우 맛있었습니다. 다음 날엔 센트럴 포지타노 해안까지 차로 데려다주었습니다. 또한 해안에서 놀고와서 바로 짐을 찾아 sita버스를 타고 나갈수 있게 가까운 곳에 짐도 보관해주었습니다. 메신져를 통해서 연락도 잘 되고, 불편하거나 필요한건 없는지 물어봐 주었습니다. 숙소나 호스트 모두 완벽한 선택이었다고 생각합니다. 숙소의 가격도 비슷한 조건의 다른 숙소들보다 저렴합니다.
CHAN EOL
2016-01-27T00:00:00Z
Nice place, at the top of the hill, great view. Michele was a great host, very good communication. We did not have a phone or wifi when we arrived, but just talked with a neighbor and he called Michele for us, who arrived in minutes. Very easy to use the buses and a great restaurant 100 ft up the road.
Bob
2015-10-28T00:00:00Z
Rodzaj pokoju
Pokój prywatny
---
Rodzaj nieruchomości
Apartament
---
Mieści
3
---
Sypialnie
Positano, Kampania, Włochy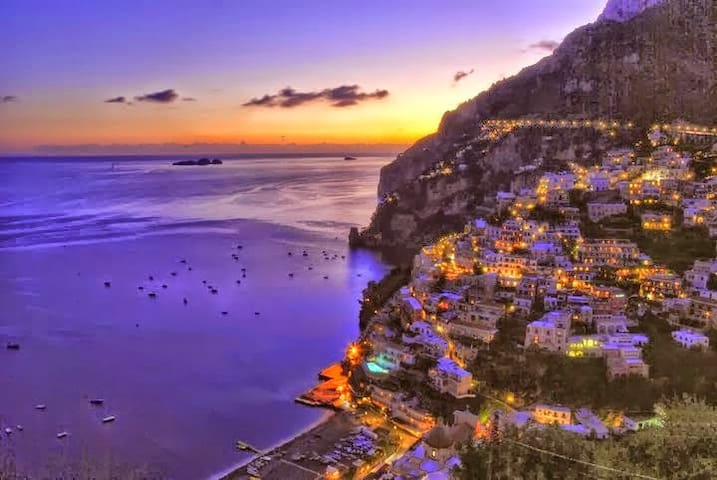 Mały przytulny dom w samym sercu morzem, w miejscowości Pimonte, kilka kroków od najlepszych miast turystycznych w Kampanii. Kuchnia, sypialnia, łazienka, taras i miejsce parkingowe: doskonałym miejscem do wypoczynku w kontakcie z przyrodą w prywatnym otoczeniu.
Rodzaj pokoju
Całe miejsce
---
Rodzaj nieruchomości
Dom
---
Mieści
4
---
Sypialnie
Piazza-Tralia-Pendolo, Kampania, Włochy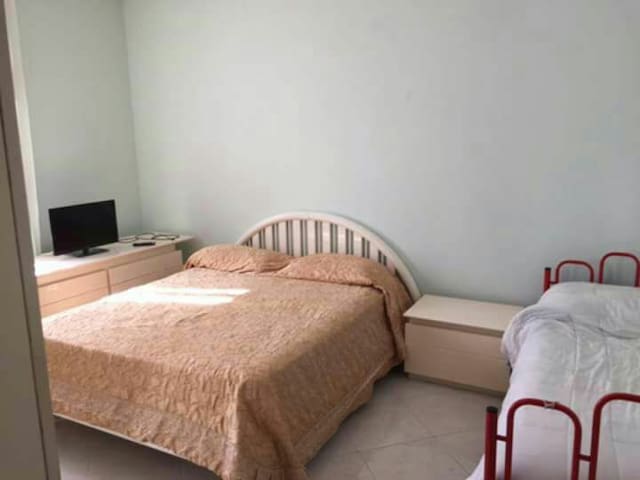 bedroom with bathroom and private terrace with amazing sea view , basic service frigo , included breakfast, situated in a green park . place for trekking ,for relax, for visit positano , capri , amalfi coast , close to good restaurants
Positano is a popular tourist destination known to everyone, and everyone knows the "postcard" ... but not everyone knows that there is a small piece of paradise .... The "Villa Sofia", a Bed and Breakfast of recent feature, completely immersed in nature and surrounded by breathtaking views of Positano is in the upper fraction, "Nuts" to 450 meters above sea level, the new small cozy resort located on the "Vallone Port ", a natural oasis protected by the WWF, in the middle of the legendary" Walk of the Gods "... let imagine the bliss of the place, ideal for guests seeking tranquility, air and pure nature and yet not above the worldliness of (URL HIDDEN) villa perched on the sea and surrounded by olive groves, lemon trees and flowers of all kinds which, together with the color of sky and sea, in the sol summer days are magic for the eyes and for the guests from the heart all over the world! you will find the ingredients that are typical of the Italian warmth, courtesy, friendliness, sympathy and professionalism will be at your disposal. Sofia and her family will be pleased to welcome you, advise you and give away a dream holiday. the rooms are all sea view, (some even from the bed) equipped with shower, and accessories. the kitchen, the living room, and solarium, (furnished with taste and harmony). the services are different: rich breakfast, parking assistance, luggage transportation daily cleaning, biancheria.WLAN, gratuito.villa Sofia is the right place for nature lovers, romantics, special anniversaries, sporting families and artists they love to be inspired by mother nature. from the parking to the villa it can walk 6 minutes walk from avenues and stairs between nature and all sea view (the evening is lit) .for access to Positano center there are buses every hour throughout the day, or various public and private transport to visit resorts such as Amalfi, Ravello, Sorrento, Pompeii, Capri.per those who love the trails, the area offers many routes of Lattari mountains: Saint Mary of the castle, on the trail of nocelle cross the path of the Gods, peri the sportier of the two thousand steps Arienzo.Oltre routes of the walks, there are culinary tours several small restaurants nearby, with enchanting scenery unique and genuine specialties .raggiungibili walk or free shuttle service .Villa Sofia is special place for special people!
our neighborhood is welcoming, famous for walks as the path of the gods. in the countryside. ristornati with the good tradition and familiarity.
Staying at Villa Sofia was one of the highlights of our trip! Far from the maddening tourist crowds of Positano but close enough to reach it by a 10 bus drive or a breathtaking hike down the "Path of Gods", Villa Sofia is the choice when thinking of visiting Costiera Amaflitana. And the view from the room deserves more than 5 stars. Luciana, the host, gave us a heartfelt welcome and was very accommodating and helpful whenever needed. Definitely recommended.
Janis
2012-07-12T00:00:00Z
We had a really nice beginning of our tour from here. I still remember the next morning it was really nice and comfortable.Even though the location of this B&B is not close with bus stop, but they took a car and pick us to the place, I also got useful information from them about my trip, made our trip easier. Also nice restaurant with nice service. And nice Raffael and Lucia.
sara
2013-04-02T00:00:00Z
Villa Sofia was an amazing experience! If you are the type of person who gets excited about "the little things in life" this B&B is perfect for you. The villa is beautiful to begin with, the kind of place you wish you were able to grow up in and play as a kid. There are flowers, wine bottles, plants, and other decorations that are just the right touch and not tacky. If you choose the scenic route and decide to get to Positano via ferry, you should know that once getting to the port the journey to Villa Sofia is not exactly easy. It is definitely a lot of work to get up the first few sets of stairs in the town to get to the square where the bus stop is. My friend and I unfortunately had big suitcases as we were on a two week trip and are girls who like options. I would suggest trying as hard as you can to pack light, because the view is well worth the hauling of luggage! Luciana sent her father, Salvatore, out to find us at the bus stop in Nocelle because we were unable to use our phones to call her when we arrived. He carried our suitcases down to the cable car where he loaded them which sent them down to the Villa. He then got us situated and welcomed us with some sangria. We were also excited to find a complimentary bottle of wine waiting for us in our room. Luciana's mother and brother were also very friendly. We had a problem with our AC one night and her brother fixed it for us. Luciana gave us some great recommendations for restaurants and sightseeing tours. She helped us scheduled things as our cell-phones did not work. We tried all but one of the restaurants she had recommended and they were all excellent. We especially loved Il Ritrovo, we had a great experience. A delicious breakfast was served each morning between 8-10 on the rooftop terrace that had the most amazing view. Villa Sofia is a great place to relax and enjoy the scenic view the Almafi coast has to offer. We hope to one day return!
Sara
2015-07-21T00:00:00Z
What an amazing location! Getting there is no easy feat, but you are rewarded by an incredible view and environment. We had the unfortunate luck of arriving in the middle of the night in a dense fog and were afraid we would never make it. Luciana was gracious enough to not only open here doors at an ungodly hour but offer us tea and bisquits and tell us all about the property before leaving us to a very peaceful rest. It was such a delight to wake up to such an amazing vista and stroll around on top of a hill overlooking the waters. Thanks Luciana. We hope to visit again sometime.
Gary
2013-03-11T00:00:00Z
Mr.Salvatore built and dedicated the villa and the beautiful garden for his lovely wife Sofia. Well, if Mrs.Sofia is the queen, Luciana is definitely the princess of villa Sofia. The property is her castle, and she is managing it with such a grace and dedication. What an amazing host she is. She waited for us at the bus station, helped us with the luggage (they use a cable car to transport the luggage to the house, how cute!), served us some delicious drinks at welcome and gave us a detailed description of the place, the town, the area, things to see and do...The apartment itself was pretty with stunning views, and had more than what we needed. I definitely recommend this place!
Marija
2014-08-18T00:00:00Z
Fabulous and just what we were looking for.. Luciana was quick and easy to deal with, making us feel right at home, the Villa is set in a simply magical location, set apart from the hustle and bustle, completely relaxing, with breathtaking views..you really do feel as though you are up in the clouds. We brought only a small overnight bag with us, which was a good thing, as there is a little walk to get there...but this makes it all the more enjoyable and remote...we loved the small pathways and almost secret location of Villa Sofia. We'll certainly be recommending this to friends and hopefully be back again ourselves. Grazie Mille!
Sophia
2012-08-03T00:00:00Z
Staying with Luciana was a great experience. She's friendly, welcoming and will do everything to make your stay comfortable (given that it's reasonable :P) Despite the location was a little far from the centre of Positano, however the view is spectacular and we enjoyed the peaceful environment there! We highly recommend you to this listing.
Anson
2015-09-09T00:00:00Z
What a wonderful experience and location Luciana provided! It was a very romantic and unforgettable view! Luciana and her family made us feel like we were at home and we were provided with one of the best breakfast we have ever had! I would really recommend the villa as it was clean and comfortable. The views were absolutely breathtaking!
Krystal
2016-05-19T00:00:00Z
Rodzaj pokoju
Pokój prywatny
---
Rodzaj nieruchomości
Apartament
---
Mieści
2
---
Sypialnie
Nocelle, Kampania, Włochy
We had a fantastic stay at Villa Elio. The gardens and house were perfect for our daughter to run around in and the views from the balcony are gorgeous. Britta was fantastic, helped arrange things, and was very responsive.
Brett
2016-06-23T00:00:00Z
Rodzaj pokoju
Całe miejsce
---
Rodzaj nieruchomości
Apartament
---
Mieści
4
---
Sypialnie
Praiano, Kampania, Włochy
Casa Degli Angeli znajduje się nad Positano w spokojnej miejscu z widokiem na morze w miejscowości Montepertuso. Jeśli szukasz na relaks i wynosić zaledwie 15-20 minut jazdy autobusem lub samochodem od busing i gorączkowym Positano jest to miejsce dla ciebie.
Casa Degli Angeli znajduje się w odległości 4 km od centrum Positano we wsi Montepertuso. Jeśli szukasz na relaks w spokojnej okolicy mojego mieszkania jest idealnym miejscem dla Ciebie. Dzięki łatwemu dostępowi do Positano, Amalfi, Ravello, Sorrento i Capri statkiem lub autobusach.
Aby dotrzeć do nieruchomości istnieje około 120 schodów. Przystanek autobusowy znajduje się zaledwie 5 minut spacerem od mieszkania, które łączą Montepertuso z centrum Positano i głównych plaż w 15-20 minut. W zaledwie 10 minut spacerem masz wielką restaurację o nazwie il Ritrovo i sklep spożywczy i bar o nazwie il Pertuso. 15-20 minut spacerem masz 2 więcej wspaniałych restauracji ze wspaniałymi widokami z widokiem na zatokę Positano o nazwie La Terra i La Tagliata.
Antonio was a fantastic host. Easy to communicate with and very responsive. The apartment is beautiful and so quiet. It was lovely to be able to get away from the hustle and bustle of Positano at the end of each day. I highly recommend this apartment if you want something quiet in a beautiful location.
Sharon
2016-06-24T00:00:00Z
Antonio was very responsive to any questions we had in advance, and gave great directions on how to get to the apartment. It was very clean and cute, and we really enjoyed our stay. Just a tip for those of you who have never been to the area, Montepertuso is on the mountain up above Positano. In order to get there you either have to take a taxi or ride the bus (1.7€ per trip and stop is near the apartment) and the trip is 15-20 minutes depending on traffic. That being said, all of our favorite restaurants were up (Don't miss Il Ritrovo, you're welcome!) there and we didn't mind taking the bus. Just wanted to clarify that this isn't truly IN Positano, but quite lovely if you want something a little bit more private and out of the hustle and bustle.
Courtney
2015-10-04T00:00:00Z
This place is perfect! Set apart from the craziness of Positano, Antonio's apartment in Montepertuso is an excellent place to be situated, so long as you are able to do a lot of stairs. Great terrace overlooking the sea, everything we needed to prepare meals, and a couple of truly excellent restaurants within walking distance. We especially appreciated Angelo's help making reservations for us. Thanks for the great stay!
Amy
2016-08-03T00:00:00Z
We had a great time in Montepertuso. The house is beautifully situated next to the long stairs to Positano. The view is worth the climbing. In the rooms we found everything we needed including all necessary equipment for a dinner on the terrace. A supermarket and restaurants (in March only two since the others were still about to open for the high season) are acessible within walking distance.
Christoph
2017-04-01T00:00:00Z
The place is perfect for people who want to enjoy the beauty of positano but also like to live in a quite area. Monte Pertuso is a little village above positano. You have a stunning view from the balcony. The house has everything you need for living. I can highly recommend it!
Adrienne
2017-04-06T00:00:00Z
Antonio's place was great! We really enjoyed the view and it was a great space. The location isn't ideal because the bus only comes once per hour, but luckily the village has everything you could need - groceries, restaurants etc. It is close to the trail of the Gods however and offers GREAT views of the ocean far below.
Lana
2016-08-13T00:00:00Z
Angelo was incredibly helpful, we stayed in touch via text and he was able to book dinner and beach reservations for us. The apartment is affiliated with mamma Rosa B&B and you have the convenience of having someone local to suggest restaurants and activities and to call and book them! The apartment itself is newly renovated and spotless, I thought it was actually better in person than in the pictures! It is two stores with the bedroom upstairs and a vey cute Juliette balcony with ocean views. This apartment is not for older people or people with knee problems as there are quite a few steps to reach it. We stayed for a week and tended to walk down the stairs into Positano and take the bus back up, it comes every hour until 11:20pm and was very convenient. Overall this was an excellent air bnb experience and I would highly reccomend it if you are looking to visit Positano on a budget!
Corey
2016-09-04T00:00:00Z
Amazing accommodations, lovely host who goes out of his way to make sure you have a great vacation, as well as fresh fruit and goodies on arrival! The flat itself is a perfect little Italian Dream for two
Ashley
2016-07-30T00:00:00Z
Rodzaj pokoju
Całe miejsce
---
Rodzaj nieruchomości
Apartament
---
Mieści
2
---
Sypialnie
Positano, Kampania, Włochy
Casa Marisa è una piacevole appartamento situato a 300 metri dal centro di Positano, con una splendida vista del mare e della Costiera Amalfitana. È dotato di una terrazza privata con vista mare, aria condizionata, TV satellitare e connessione internet WI-FI gratuito. C'è una camera matrimoniale, un soggiorno con divano-letto, una cucina e un comodo bagno. Casa Marisa è di 50 metri quadrati (540 piedi quadrati) e può ospitare 3 persone.
L'appartamento ha una camera da letto con letto matrimoniale, un soggiorno arredato con un divano letto per un posto letto aggiuntivo, un tavolo con sedie e un televisore. Entrambe le camere sono dotate di aria condizionata e accesso diretto alla terrazza soleggiata, con una vista mozzafiato sul mare. La connessione Wi-Fi a Internet è disponibile. La cucina è ben attrezzata con una cucina a gas, un frigorifero, un congelatore, forno, forno a microonde, e in stile italiano caffettiera. Il bagno è dotato di una doccia, un lavabo, bidet, wc e lavatrice. All'interno dell'appartamento si trovano tre passi che dividono il livello in cui si trovano il bagno e la cucina e il livello in cui il soggiorno e la camera da letto si trovano. Si raggiunge la casa dalla strada salendo su un caratteristico '' Scalinatella '' (scalinata tipica di Positano) di 70 gradini.
Positano è divisa in 10 distretti, l'appartamento è situato nella zona: '' La Sponda ''. In questa zona ci sono mini market, negozi di souvenir, ristoranti e bar.
Rodzaj pokoju
Całe miejsce
---
Rodzaj nieruchomości
Apartament
---
Mieści
3
---
Sypialnie
Positano, Kampania, Włochy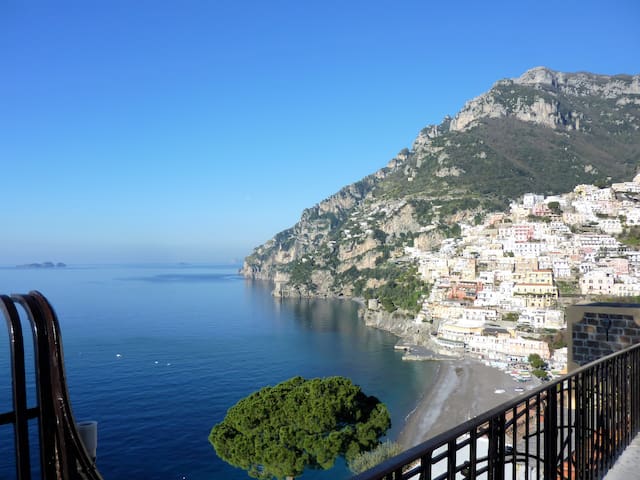 The we are on a main road but very quiet ... well connected with the natural beauty that is the most visited Naples Pompeii Salerno Amalfi Coast Positano, Sorrento, with railways and port our beautiful two-room apartment is located in Pimonte (NA) to reach the 'island of love Capri, Procida Ischia..Qui room Positano you can enjoy a beautiful wide and very bright room with double bed at your disposal there is a bathroom and cucina..c'è to enjoy a splendid view ! We wait
Rodzaj pokoju
Pokój współdzielony
---
Rodzaj nieruchomości
Wikt i opierunek
---
Mieści
2
---
Sypialnie
Piazza-Tralia-Pendolo, Kampania, Włochy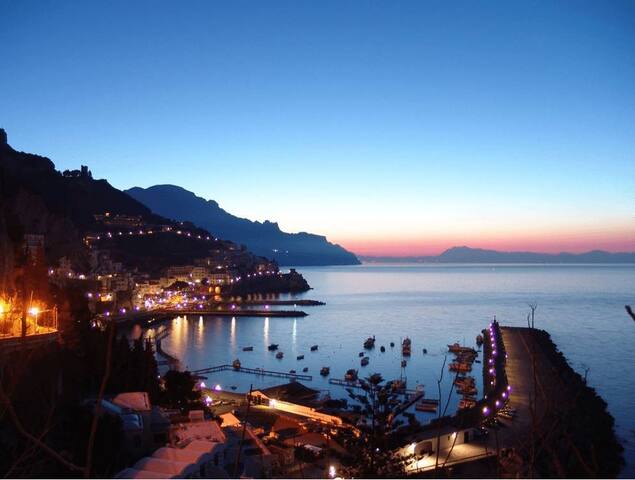 Apartment in ancient villa ecol. restored, immersed in the green , located at the beginning of Sorrento coast, offering a unique view of the gulf of Naples-Vesuvius, strategic for excursions to Amalfi coast-Sorrento-Pompei-Capri, Naples-etc
The apartment has 2 sea -view rooms, one with queen bed and the other one with 1 or 2 single beds , dining corner and kitchenette ; bathroom, large panoramic wonderful terrace-patio, wifi, AC, ecological central heating,TV ; Free open parking right next to the apartment
As public transportations in the Region are not so in time and efficient, it's better to have or hire a car , otherwise it's not so easy to move
Fantastic location for a week long trip! This place surpassed all expectations. Incredible views and Catello is a kind and generous host. It was very comfortable for my family of 4. My boys are 6 and 8. Kitchen was small but well equipped for breakfast and light meals. Do be aware the property is up a steep hill. Great base for Capri, Pompeii, versuvius and amalfi cost. Highly recommended.
Rachael
2017-04-06T00:00:00Z
Catello's appartment is small but very beatifull, tasty, clean and has an amazing view. Castello is the perfect host and brought us even fresh oranges, lemons and marmelade from his own garden. The appartment is ideal for two persons, although we had a wonderful time with four (incl 2 children). For this appartment it is better to have a car, as you need one to explore the beatifull area. Highly recommended!
Jeroen
2017-02-26T00:00:00Z
Great host and a great central location for visiting Amalfi and Pompeii.
Chris
2017-03-10T00:00:00Z
Court séjour fort sympathique dans ce petit appartement avec une vue splendide! Catello nous a indiqué toutes les informations nécessaires à notre séjour notamment sur les moyens de transport même si nous avons préféré marcher (il faut de bonnes jambes pour accéder au site). Notre hôte a vraiment été aux petits soins pour nous et nous l'en remercions!
Cécile
2015-08-02T00:00:00Z
Acceuil super , le logement est paradisiaque avec une vue unique et fabuleuse ! Tout était parfait :) Catello a été très gentil avec nous
Arno
2016-10-31T00:00:00Z
The location was fantastic, 2 local restaurants within. A 5 minute walk, sorrrento and pompeii in 20 minutes by car, and positano and versuvius about 40 minutes. The flat was amazing, modern kitchen, incredible views and 2 friendly cats that would come sit with us. Catello was a great host. Very friendly and made sure we had everything we needed, recommended some great restaurants. Will definitely return.
Ethan
2016-09-21T00:00:00Z
Владимир Семенович Высоцкий в своей песне сказал «лучше гор могут быть только горы», но путешественники считают, что не бывает летнего отпуска без отдыха на море. Кастелломаре ди Стабия – это и горы и море. А вид с террасы на Везувий гостеприимного дома хозяина Кателло описать словами невозможно: красота невообразимая. Кастелломаре ди Стабия расположен между Неаполем и Амальфи. Поэтому Вы сможете съездить и в Неаполь, и в Помпеи, и в Позитано, и на Капри…., т.е. если наскучил отдых на пляже – поезжайте на экскурсии. Отдельное спасибо хочу сказать хозяину: очень гостеприимный и радушный хозяин. Если Вам понадобится какая-нибудь помощь, Кателло всегда рад будет помочь(нас он встретил на ЖД вокзале и отвез на вокзал в день отъезда, помог распечатать посадочный талон на самолет и ….). Нам очень понравилось отдыхать у Кателло! Рекомендуем!
Ирина
2015-09-30T00:00:00Z
Very cozy place with beautiful view! We would like to come back in the near future!
Oana
2016-09-11T00:00:00Z
Rodzaj pokoju
Całe miejsce
---
Rodzaj nieruchomości
Apartament
---
Mieści
4
---
Sypialnie
Castellammare di Stabia, Kampania, Włochy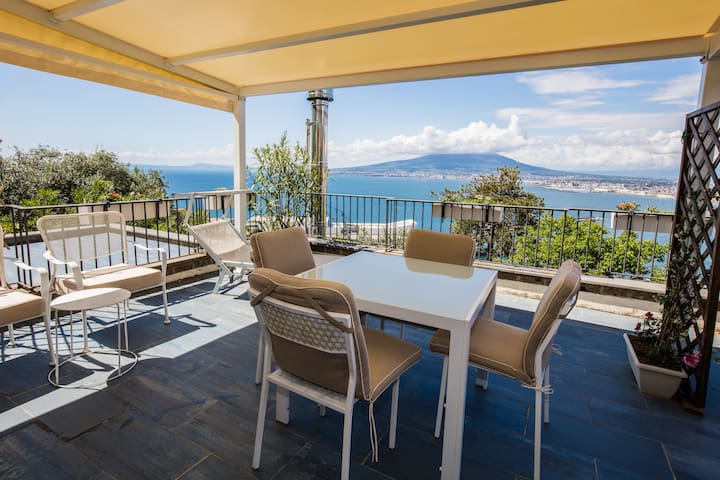 Casa Montechiaro in Positano ist ein charakteristisches Haus, das die Sonne und das Meer steht.
Casa Lichten sitzen oben und auch wieder von der Amalfiküste Fahrt und bieten größer als das Leben Meerblick von einer Sonne möblierten Terrasse durchnässt, die sowohl aus dem Wohnzimmer und Schlafzimmer von dieser noblen modernen Wohnung zugegriffen werden kann. Nur wenige Minuten vom Zentrum von Positano entfernt, ist Casa Lichten eine von vier unabhängigen Wohnungen, die einen gepflegten weißen, maurischen Struktur besetzen. Eine sechs Meter hohe Mauer trennt die Terrasse von dem des Nachbarn und üppigen Gärten trennen ähnliche Häuser eine Oase Atmosphäre aufruft. Im Inneren finden Sie Ihre Küsten Rückzug über eine gut ausgestattete, moderne Klimaanlage nach Hause finden, die sowohl eine komfortable und geräumige Refugium für zwei Personen und verfügt über eine schöne Bögen, Gewölbedecken und glänzenden Fliesenböden, die perfekt auf das klare blaue Mittelmeer außerhalb schmücken. Ihr Zuhause fern von zu Hause verfügt über ein Wohn- / Esszimmer, die mit einem dekorativen Kamin, TV und CD-Player abgeschlossen ist, eine Pantry-Küche komplett mit einem großen Kühlschrank und neuen Geräten, die einen US-Stil Backofen und Kaffeemaschine und ein schönes Schlafzimmer umfassen, die mit Blick auf Meer und bietet ein Queen-size-Bett, ein eigenes Bad mit Dusche und Türen, die auf der Terrasse öffnen. Casa Montechiaro ist voll klimatisiert mit individuell regulierbarer Klimaanlage konditioniert. Ihr TV-Gerät wird ein grundlegendes Satelliten-Paket mit einigen englischen Kanälen und Ihr Aufenthalt auch eine kostenlosen Internetzugang und die Verwendung eines Pre-Paid-Mobiltelefons. Die Gäste werden für die Kosten der Anrufe und der Schlüsselinhaber verantwortlich sein kann je nach Bedarf in das Aufladen der Telefonkarte unterstützen. Der Schlüsselhalter spricht Basic English. Eine Waschmaschine ist auch auf dem Grundstück zur Verfügung. Strom ist nicht im Preis inbegriffen und die Kosten sind Euro 0,30 Cent pro kWh. Um Casa Montechiaro zu erreichen, wird es notwendig sein, 130 Stufen und Interessenten zu klettern, werden gebeten, das zu berücksichtigen. Diese Eigenschaft ist nicht für Personen mit Mobilitätsfragen zu empfehlen, da ein harter Spaziergang von der Küstenstraße erforderlich ist. Gepäck und Portier können im Voraus zu einem Aufpreis angeordnet werden. Darüber hinaus Zofe und Mahlzeiten ist auch erhältlich als Aufpreis zu entrichten ist auf dem Grundstück. Bitte fordern Sie bei der Buchung. Für diejenigen mit einem Auto, ist die beste Option Parkplatz ein in der Stadt Garage, die vorab vereinbarte kostenlosen Shuttle-Service zum und vom Anwesen bietet. Jedoch ist Casa Montechario befindet sich in der Stadt und ein Auto ist nicht notwendig.
Nur wenig Minuten vom Zentrum von Positano entfernt, ist Casa Lichten ein von vier unabhängigen Wohnungen, die eine weiße, maurische Struktur besetzen. Eine sechs Meter hohe Mauer trennt die Terrasse von dem des Nachbarn, und üppigen Gärten trennen ähnliche Häuser eine Oase Atmosphäre aufruft. Ein außergewöhnlicher Blick auf das Meer und die Küste ist von der möblierten Terrasse, das Wohnzimmer und der Königin Schlafzimmer gesehen.
Raffaele was extremely responsive throughout the process of enquiry, through to booking and also received regular check in emails from Raffaele to make sure that all was ok and give us some tips on places to go. The apartment was fabulous... Plenty of space, well equipped and the view was to die for. Every morning waking up to the serenity of Casa Montechiarro was a delight. We thoroughly enjoyed our stay. Angela, Raffaele's local contact met us with a huge smile and very warm welcome. We had a complimentary bottle of wine and a starter pack which included spaghetti, tomatoes, garlic, local cold meats and a lovely fresh fruit bowl. Made such a difference to arrive to such a warm welcome. The airport transfer organised by Raffaele was very efficient and cost effective and the porter service to take our luggage up the 120 steps to the apartment was very much appreciated after a long flight and tired legs! Will definitely come back and highly recommend Casa Montechiarro. Definitely deserves Super Host status on Airbnb. Our favourite experience was walking down to Positano beach and then jumping on boats to beach clubs (our favourites were Treville Beach Club (next to Da Adolfo's restaurant, which was awesome), and Arienzo's beach (can be walked to from the apartment as long as you're prepared to walk 350 steps to get to it and back up!)
julie
2015-08-08T00:00:00Z
Amazing apartment in the heart of positano large and spacious with gorgeous views. Raffaele was a wonderful host with regular contact and assistance at at all times! Excellent stay!!
Lima
2015-08-22T00:00:00Z
Rafaelle was an absolutely wonderful host, he was always available to answer questions and left us some amazing fresh and local produce that we fell in love with! The figs from the garden were incredible! Casa Montechiaro was everything it claimed to be and so much more! The views are incredible and the place is very comfortable, we could have stayed for a month quite happily! Very sad to leave but look forward to coming back :)
joanne
2015-08-15T00:00:00Z
We had a wonderful stay in Raffaele's apartment. He was very helpful and gave us suggestions on activities and recommendations on where to eat. He was very prompt in responding to emails and was a great host. The apartment is lovely with lots of space. It has a wonderful view of the sea with a great terrace. It had everything we needed and was a joy to return to after a busy day of sightseeing or walking. Arienzo beach is a ten minute walk away, down a lot of steps, and its lovely and not as busy as the main beach. If you're looking for a place to stay in Positano, I highly recommend Raffaele's apartment.
Denise
2015-10-10T00:00:00Z
From my initial booking enquiry Raffaele was very responsive and considerate. As a host, he helped arrange transport connections to and from Naples airport, helped us carry luggage up the steps, and ensured that fresh groceries were in the apartment upon arrival (including Campania mozzarella and local wine). Raffaele also made good restaurant recommendations and was available if we had any questions during our stay. The property is close to Arienzo Beach, which turned out to be our favourite in Positano, and is a short walk from the town itself. The view south over the Amalfi Coast from the balcony is stunning: perfect for watching the day break, dusk, and, during the heat of the day, drinking an Aperol Spritz! It also catches the breeze. The apartment is roomy and easy to maintain, with ample space in the kitchen for preparing food and a big dining table. These comforts contributed to our wonderful time in Positano.
Simon
2015-06-13T00:00:00Z
Raphaele and Angela are so kind and gracious. The place is beautiful, the view beyond description! The apartment is spotless and the kitchen is a great size for nights when you want to stay in and cook your own dinner and then sit on the veranda and just enjoy the amazing views! The communication is great. We were treated with flowers, fruit and special touches upon arrival. After hours of travel, we were greeted ingredients that enabled us prepare a simple but delicious dinner, of course it was topped off with great wine and limoncello! Raffaele and Angela are great hosts, but we consider them great friends as well! We will be back!
Karen
2016-09-11T00:00:00Z
What a total gem of a place that our super host Raffaele Cinque has in beautiful Positano! Photos do not do justice to the apartment. Has everything and more in this lovely home. From a stress free taxi ride from Naples organised by Raffaele, to a very warm welcome by Angela, Raffaele's sister made the start of our holiday truly wonderful. If you needed anything at all then Raffaele was only pleased to help. If you can then we recommend you also go on the path of the gods walk with the lovely Zia Lucy who is very knowledgeable about flora, fauna and history of this region. Regrettably we only had 7 days to enjoy some of the special places in and around Positano. We will definitely be back.
Melanie
2015-08-29T00:00:00Z
Raffaele and Angela went out of their way to ensure that our time spent at Casa Montechiaro was effortless and comfortable. The weekly treats from the bakery, fresh flowers and a sparkling home to enjoy have all been noticed and appreciated! The apartment boasts a view that is mesmerizing in its beauty! We can't thank Raffaele enough for all of his assistance in helping us with our travel arrangements and for his endless thoughtfulness! We spent two months in Positano that went by quickly. We travelled up and down the Amalfi coast with repeated trips to Sorrento and Amalfi to shop. Definitely a magical journey! Travelling regularly on the Sita bus has all been part of the adventure.
june
2016-06-19T00:00:00Z
Rodzaj pokoju
Całe miejsce
---
Rodzaj nieruchomości
Apartament
---
Mieści
2
---
Sypialnie
Positano, Kampania, Włochy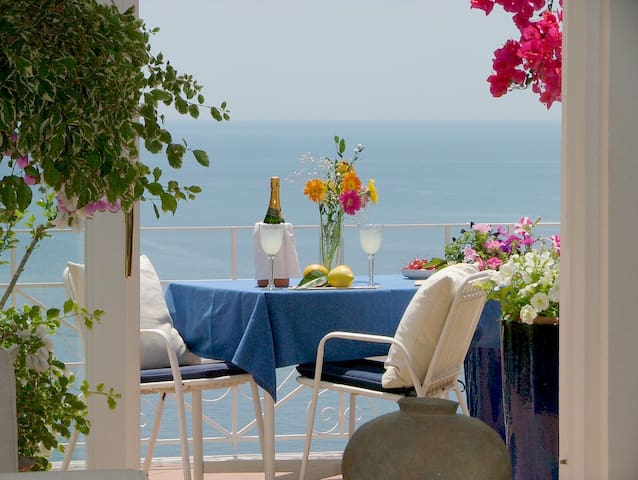 Casa Azzurra 2.0 se trouve dans le centre de Praiano ( «cœur» de la Côte d'Amalfi). Il est un appartement lumineux et confortable, qui peut accueillir quatre personnes. Il est entièrement équipé avec une belle vue d'ensemble de la terrasse de la côte environnante et la mer. *** FRAIS SUPPLÉMENTAIRES (à payer en espèces à l'arrivée): taxe de séjour 1,00 € pp par nuit; électricité € 4,00 par nuit. ** SERVICES EXTRA Porter € 7,00 par sac; transfert en voiture privée de / vers l'aéroport ou la gare
rolige og afslappende. Fantastisk havudsigt.
Praiano est au coeur de la côte amalfitaine et de sa position sur un promontoire, il divise le golfe de Salerne en deux. Il est tranquille, vieux village caractérisé par ses ruelles typiques, des rampes et des escaliers.
Bellissimo We both had a wonderful 4 day stay in Praiano at this outstanding B&B. From the minute of first induction to the apartment both hosts, Giovanna and Luca made us feel welcomed in a relaxed atmosphere. Hosting is a vital part of the welcoming process and within the apartment there was nothing to fault within this practical apartment. I can say we were extremely of there support in making our holiday very special. From the clinical cleanliness, excellent bathroom and general layout, to above all every window and of course the balcony giving constant views so clear of the coastline of beautiful Amalfi Coastline that forever changed. 1. Transportation was good with bus stop 11 taking you either to Positano or Amalfi within 20 minutes in either direction. 2. Restaurant were excellent well worth trying near by either above the apartment or below 3. Our hosts recommend a trip via boat too Capri (probably the highlight) from Praiano 4 Communication regarding questions and answers was always their either by SMS or email on advice on the above was outstanding In closing we would recommend and go back to this apartment, albeit a lengthy stair climb it's is part of the deal when you want unrestricted views of the area from and exceptional place. From Tina and Neil we thank Giovanna and Luca
Tina
2016-06-02T00:00:00Z
We arrived by car and Giovanna had organised parking close by for €20 per day. Her father met us (who is very nice) at a nearby hotel and organised a porter to take our suitcases to the room (there was a fee for this service). The room was very clean, spacious, air conditioning was great and a fantastic balcony. It was also very convenient to have a washing machine in the apartment! Giovanna is a fantastic host (although we never got to meet her). She was extremely responsive to any questions we had about the Amalfi Coast. From beaches to visit, to tours, to places to eat. The only negative (which cannot be helped) were the amount of stairs to get to the apartment. Unfortunately it's not on a street to get to by bus. All in all I would recommend staying in this apartment and more importantly having Giovanna as a host!
Alexi
2016-07-13T00:00:00Z
Our stay at Giovanna,'s was just magnificent! Everything about Casa Azzura is amazing. It is perfectly equipped for your every need, & the views from every aspect ...... breathtaking!!! The terrace is spectacular & the perfect spot to lie in the sun & watch the Praiano world go by! CASA Azzura is superbly located, close to the local beach, bars & restaurants. Giovanna is available to help with any queries at anytime. We will highly recommend to all, it was a week to remember, we loved it & had the best time, thank you!!
Ricki
2016-08-15T00:00:00Z
Amazing airBnB on the beautiful Amalfi Coast. Very well located (5-10 minute walk from the beach) in the small and quiet city of Praiano. Ideal for us that really wanted to relax after busy stays in Rome, Florence and Venice. Even Positano and Amalfi get really busy and crowded. You can catch the bus to these two towns easily (bus stop juste down the road). Giovanna was also very helpful organizing transport for us to catch our returning flight back home.
Eric
2016-08-23T00:00:00Z
Tout était parfait. C'était conforme à la description. Nous avons passé deux semaines dans un décor de rêve. Quelle belle vue sur la mer. Giovanna s'est occupée de nous du début à la fin et nous a fourni toutes les informations pour que Nous ayons un agréable séjour. On s'est senti comme chez-nous. Oui il y a des marches à monter mais la qualité et la beauté des lieus nous fait oublier ces petits efforts. On recommande sans hésitation Casa Azzurra.
normand
2016-10-23T00:00:00Z
This place is amazing. In a quiet location on the amalfi coast. Our host was amazing and answered any questions we needed. I would highly recommend this place to everyone. 10/10.
Pieter
2016-10-06T00:00:00Z
Giovana was very responsive to our inquiries. She sent her father, Luca, to meet us when the bus arrived. He was most charming and helped us carry our luggage up the 100 steps to the apartment (he is 79, so this was an impressive feat!). He brought us pasties and explained everything about the apt. It is a lovely place, everything appears brand new, freshly painted white walls with lots of light when you pull back the shutters. The kitchen is especially well-equipped and we were able to cook some wonderful meals (after hiking up 200 steps to the small grocery store that stocks everything we needed. The bus stops right at the foot of the stairs to Giovanna's, so this is most convenient. The terrace give you a stupendous view of the serene bay. We welcomed each morning with a cup of coffee on the terrace and breathed in the wonderful fresh air and soaked up the lovely Praiano sunshine. I definitely recommend this place for anyone seeking an incredibly clean and peaceful place to get away from the mad rush of tourists in the neighboring towns.
Erlinda
2016-05-29T00:00:00Z
Giovanna was an excellent host. Our train was very late in getting to Salerno and Giovanna was quite accommodating of our schedule change. She also provided us with a tour of Praiano -- which I recommend you do! The views from the apartment are awe inspiring and but still private. The apartment is fairly large, too. We really loved our trip along the cost -- specifically Praiano -- largely in part of the advice we got from Giovanna.
Luke
2016-10-26T00:00:00Z
Rodzaj pokoju
Całe miejsce
---
Rodzaj nieruchomości
Dom
---
Mieści
4
---
Sypialnie
Praiano, Kampania, Włochy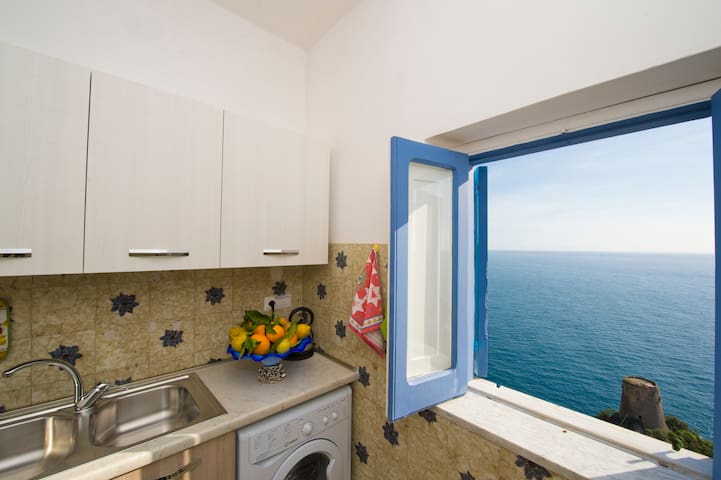 Apartament znajduje się w willi (Villa Punta del Sole), Positano wejściem, całkowicie zanurzone w przyrodzie, dla tych, którzy lubią ciszę i spokój lub tych, którzy chcą szybko przejść wzdłuż wybrzeża Amalfi do odwiedzenia Ravello, Amalfi, Sorrento, Pompeje
Mieszkanie jest z dala od centrum Positano w miejscu, które pozwoli Ci się zrelaksować i korzystać z gościnności mojej rodziny
Dom jest przy wjeździe do Positano, które jest wciąż bardzo mały kraj. I "można dotrzeć do centrum pieszo przez schody, które trwa 10 minut, aby dotrzeć do obszaru centralnego. Istnieją lokalne autobusy lub taksówki i dla tych, którzy przyjeżdżają samochodem mamy umowę z parkingu w centrum miasta.
We had the most amazing time at Villa Punta del Sole. Vito and his family were the best hosts - a very kind and genuine family. You will have spectacular views from your balcony as well. There's lots of steps but it is worth it. We rented a scooter for the week we stayed as we found the walk to town a little treacherous. It takes about 20-30 minutes to do the walk at a decent pace include a LOT of stairs. The location of this villa is actually perfect though - and well worth the walk if you're able - there are busses available too. You get to experience a beautiful home outside of the hustle and bustle of the city Centre but you still have access to town as often as you like! No matter where you stay in Positano - you have to climb the stairs! Enjoy your stay here!
Melissa
2016-09-22T00:00:00Z
Un'esperienza unica in una location eccezionale. Vito e la sua dolce mamma ci hanno accolto nella loro casa con grande ospitalità e gentilezza. La villa è un gioiellino, poco prima di Positano centro, molto riservata e esclusiva. Consiste in una stanza unica con soffitti alti e spazi ampi, bagno nuovo e cucina super fornita. La parte esterna è spaziosa, attrezzata, con possibilità di organizzare cene e grigliate vista mare. Davvero consigliata. Il nostro viaggio si è svolto in tutti i luoghi che ci sono stati consigliati da Vito, il quale al nostro arrivo ci ha fatto trovare una guida con una mappa della costiera amalfitana..indicandoci ristoranti, spiagge, alimentari e mezzi di trasporto. Insomma con lui potete stare tranquilli! grazie mille ancora di tutto, speriamo di poterci tornare al più presto
Valentina
2016-08-19T00:00:00Z
Franco, Vito and the family made our stay fantastic, they are lovely and the villa is beautiful. I would recommend for anyone looking to stay in Positano. Ava the dog is gorgeous too! The location is great and it is relaxing to be up the hill with the beautiful sea view. Franco and Vito are both very helpful and kind. They have great advice about where to go.
Penny
2016-09-25T00:00:00Z
Vito and his brother were the perfect hosts. They went out of their way to make our stay amazing. The little extras provided were very thoughtful and so was the home made wine! Vitos brother greeted us and provided us with information on positano and lots of maps, brochures and recommendations. The apartment itself is absolutely sensational! The views are one of a kind and it is very very cute and cosy plus modern! I highly recommend this place and will definitely be coming back as soon as i can! Perfect location perfect hosts and perfect apartment. Honestly...best place to stay in Positano! Thankyou so much for having us and making our stay super special!!!
Nicole
2016-10-23T00:00:00Z
Ein wunderbares Haus in traumhafter Lage über dem Meer von Positano. Sehr freundliche und fürsorgliche Vermieter. Wir haben unseren Aufenthalt sehr genossen.
Alexander
2017-02-12T00:00:00Z
Five stars. We're impressed! Vito and the whole family were extremely welcoming and Positano is absolutely beautiful. Our experience was even better than we expected. Vito kindly picked us up from Sorrento and made us a delicious pasta dinner on our first night. The room was perfect for us and just as described with a fantastic view. Our room was also pleasantly stocked with little extras like coffee, milk, sugar, eggs, butter, jam and cookies which is just an example of how thoughtful they are. The Fusco family is warm and charming. Staying at their home was a true Italian experience for us. We hung around a lot and so we were indulged in wine and pizza making and a few delicious home cooked meals. For us, staying on the lot and hanging out with Franco, Maria (Mama), Eva and the whole family was more fun than being tourists in town (although we did both). We loved our stay and we were sad to leave but are look forward to returning! Thanks for making our visit to Positano so memorable.
Anat
2016-10-01T00:00:00Z
Vito was such a great host, helping us choose what to do with the amount of days we had in positano. The place is one in a million and we already can't wait to go back and stay there again. It's a short walk from the centre or a short taxi ride. The views when you wake up to the moment you to go to sleep are surreal. It's a true Italian home. Couldn't thank you enough! See you again soon Jamie & Kelsy
Jamie
2016-08-24T00:00:00Z
I spent a great time in Positano and was wonderfully greeted by Vito and his family when I arrived, as well as during my entire stay. They are all really happy to help you with your visiting (places to see, routes to take, etc.). The villa is simply fantastic with a great view over the Galli islands. It is located at the entrance of Positano, which makes it great to stay in a calm environment with space (and a pool!), and is only 10-20mn away by foot from the centre and beaches. Bus stops are also close. I would highly recommend stopping by Vito's place if visiting Positano and would myself definitely reach to him if I ever have the opportunity to go back.
Quentin
2016-09-07T00:00:00Z
Rodzaj pokoju
Całe miejsce
---
Rodzaj nieruchomości
Apartament
---
Mieści
3
---
Sypialnie
Positano, Kampania, Włochy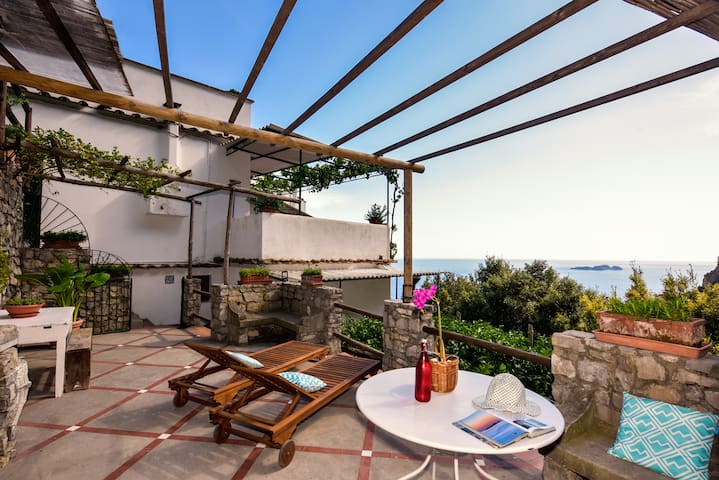 Acogedor apartamento de 2 dormitorios en el corazón de la costa de Amalfi, Positano. Ideal para familias y grupos pequeños, Casetta Albertina es el lugar para experimentar una buena puerta de entrada en el pueblo más bonito de Italia.
King size hálószoba saját hozzáférést a terasz és fürdőszoba (törölköző, hajszárító, fűtés, sampon és szappan), hálószoba 2 egyszemélyes ággyal, további fürdőszoba, élettér felszerelt konyhával (négy gáztűzhellyel, elektromos sütő, hűtőszekrény , fagyasztó, mikrohullámú sütő), TV, kanapéval, asztal és szék 4 fő részére. Szép terasz területen márvány asztal és szék 4 fő részére. 80 lépésre utcaszinten Casetta Albertina szívében található a jól ismert piramis Positano. Nincs menekülés lépcső Positano, egyébként!
Amamos a nuestros vecinos y por lo tanto le rogamos que respetar también, sobre todo, mientras que en la terraza. La música y las partes antes de las 11 hs.
Rodzaj pokoju
Całe miejsce
---
Rodzaj nieruchomości
Dom wakacyjny
---
Mieści
4
---
Sypialnie
Positano, Kampania, Włochy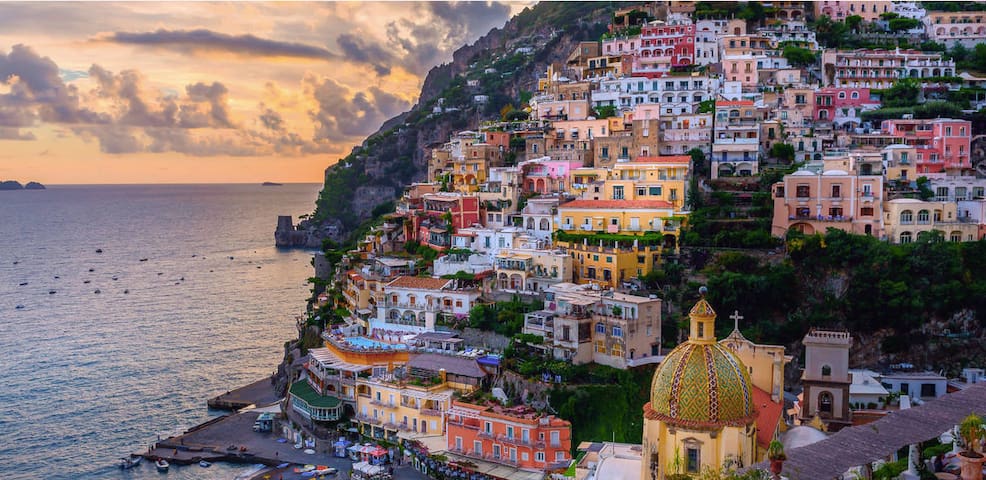 Wpisz daty, by zobaczyć pełną cenę. Obowiązują dodatkowe opłaty. Cena może uwzględniać podatek.