Great place to escape to! Gail and Phil are wonderful hosts--they made sure we had everything we needed and provided excellent recommendations of what to do while in town. Their space is really comfortable and peaceful, and it is walkable to the town's restaurant and bar. Mattole beach is a close drive, and they are located right on the road that takes you to Ferndale. Overall, we enjoyed our stay and can't wait to return!
Elizabeth
2016-01-19T00:00:00Z
Petrolia Guest House is a real retreat from fuss of everyday city life. It's surrounded by picturesque mountains and breathtaking Coast. Phil and Gail are friendly and helpful. My daughter, wife and I spent a wonderful week there and will definitely get back someday. P.S. Phil and Gale did a great job representing the place on the Airbnb webpage. Just be an attentive reader and you would either choose another place or would not be disappointed.
Philipp
2015-07-19T00:00:00Z
I really enjoyed my stay at the Petrolia Guest House. Phil and Gail and wonderful and welcoming people, with a lot of knowledge of the area, as they've lived there for many years. They were very understanding about my shifting travel plans, and made sure I had everything I needed, including electricity when there was an unexpected power outage! The bed was incredibly comfortable, the decorations awesome and the suite cozy. The wifi works great. I would definitely stay with them again.
Shoshana
2016-05-23T00:00:00Z
The guest house and Gail and Phil were all fantastic! Do yourself a favor and go to Petrolia and relax in the sunroom and porch! Even if you do not hike the lost coast this is worth a stay!
Emma
2015-05-13T00:00:00Z
This is such a beautiful paradise in Petrolia. My friend and I were looking at camping on the coast but had to find a plan b because of the weather. I never expected to find such a wonderful place as Phil and Gail's house! It is beautiful decorated, has a little garden, a private kitchen and bathroom, the bed was so confortable and we were really in the middle of nowhere! Everything we could hoped for! Phil was really nice on welcoming us and giving us tips to explore the area when it's raining outside. I hope I'll be bale to come back once the weather is nice! Thank you again!
Zoe
2017-04-08T00:00:00Z
We had the best time in Petrolia and having Phil and Gail's place as base camp made it all the better. The garden right outside the kitchen/sunroom is private, beautiful and a great place to start one's day (we made it a point to each day, eat our breakfast out there and have wine and plums from the garden in the evening). The house is cozy and really well located; there's an amazing swimming hole right down the road and in the other direction, really easy access to the magnificent lost coast. Phil and Gail were really helpful in preparing for our arrival and once there gave us lots of tips on what to do and were super jovial and generous. If coming along with a dog, be aware that they have the cutest mousers in the whole world (kittens!) which might prove a might distracting for your canine friend (that said, our dog got used to them by the 2nd night--this shouldnt be a huge detractor but something to keep in mind!). If you dont have a dog be prepared to have the most adorable visitors ever in the evening. Seriously, these cats are crazy cute. We're seriously obsessed with Petrolia now and want to come back to Phil and Gail's soon!
Sofía
2013-08-25T00:00:00Z
Every bit as idyllic as it looks: a private, beautiful space with its own garden, kitchen and sun room looking out on pastures and gorgeous hills. The décor is eclectic and fun, with cool little surprises in every corner, and Phil and Gail were wonderful hosts (we only met Phil in person, but talked to Gail by phone/email). A bit about the location: this is the heart of the Lost Coast -- truly remote, about 1.5 hours over steep, narrow (and incredibly scenic) mountain roads. It's a great place from which to access the Lost Coast trails, which are easily worth several days' exploration; it's a little tougher for the redwoods (unless you visit on the way in or out, but don't go back and forth). Also, while there's one local restaurant and the general store is pretty well-stocked, shopping in advance will make life easier. The kitchen is small but has everything you need to prepare simple meals, and it's worth it.
Marion
2014-03-27T00:00:00Z
Great, lovely space. Phil and Gail were so friendly and helpful. A bit off the beaten path, but a fun small town excursion. Would definitely stay here again.
Liz
2014-06-11T00:00:00Z
Rodzaj pokoju
Całe miejsce
---
Rodzaj nieruchomości
Apartament
---
Mieści
4
---
Sypialnie
Petrolia, Kalifornia, Stany Zjednoczone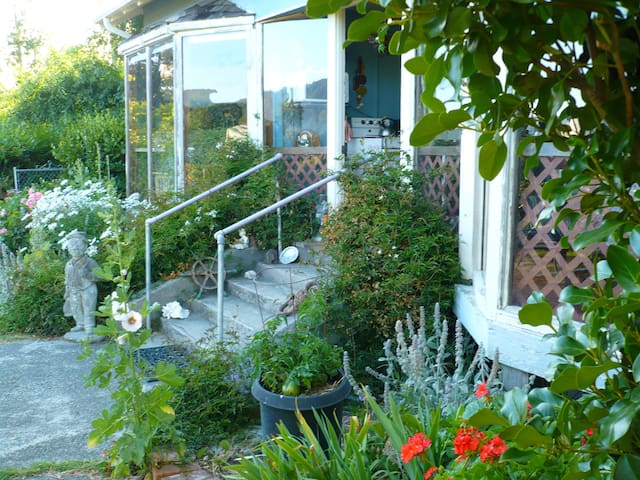 Cute, cozy and fresh. Rohner Suite is a brand new one bedroom apartment in Sunny Fortuna! Situated just minutes from shopping, the hospital, and Rohner Park. This one bedroom features all new appliances, furniture, floors and carpet and relaxing Aesthetic.
The location is a little awkward, but the inside was very comfortable and the little personalized touches were a nice surprise. I loved that they used local companies for many of the products in the unit.
Erin
2017-03-23T00:00:00Z
My husband and I were in town for short trip and needed a place to stay that wasn't a hotel. Staying at Mike's apartment rental was a fine alternative. It was located between two grocery stores, had a clean updated bathroom, and a cute little kitchen. They may check in and super easy which was great because we had a baby with us and having the key in the box that much easier.
Melanie
2016-08-21T00:00:00Z
Rohner Suite is set up really well, with all comforts and conveniences. The location is central, and although there is some noise from the main road, it's really not bad at all. Overall a great stay.
Mori and Greg
2016-12-28T00:00:00Z
We stayed here because it is close to our niece's farm. It was walking distance to the one grocery store. There isn't a lot in Fortuna, but if you need this location, this is a convenient rental.
Lori
2017-02-20T00:00:00Z
Rodzaj pokoju
Całe miejsce
---
Rodzaj nieruchomości
Apartament
---
Mieści
2
---
Sypialnie
Fortuna, Kalifornia, Stany Zjednoczone
This is a simple and very clean private in-law studio with private full bathroom and private kitchen. I'd like to accommodate mindful people looking for economical, basic, "down-to-earth" and peaceful place to call it home away from home. If you compare to stylish, "tasteful" hotels/resort, you'll be dissatisfied. I try keeping the place inexpensive by not adding extra furnishings. My place is for people who enjoy hiking in redwood forests, wandering on farmlands or pondering at Lost Coast.
部屋はLDK に 浴槽、シャワー と トイレの部屋の 2つです。 キッチンには 大きな 冷蔵庫もあり ご自分で 料理ができるよう 整っています。 ベッドはクイーンサイズで 1つですが お子様用のマットレスも貸し出し可能です。
Humboldt has many farm lands and small towns. Old-growth forest in Headwaters Redwood Forest is accessible from our town guided by a ranger. (need to call ahead/no fee) Horseback riding is offered in our town. Also, antique shows, rodeos, classic car and beer festivals are held during summer. Spectacular Beaches and Lost Coast Trails are 10 miles west. Avenue of the Giants is 20 miles south. Elk Meadows, Tide Pools, and Fern Canyon are 40~60 miles north. Historical Town of Ferndale is 6 miles west, and cannabis friendly Arcata is 30 miles north. (for many activities, see 101 Things to do Humboldt/North Coast Journal)
We loved the apartment. A lot of privacy, very comfortable bed. And the deers are awesome to see when they are in the garden.
Kellie
2016-07-06T00:00:00Z
Finding a place like this is true "Airbnb experience." We had a wonderful trip to Northern California without breaking our budget. The studio was conveniently located off of Hwy 101, clean and quiet. Highly recommended.
Michino
2016-08-13T00:00:00Z
The host canceled this reservation 3 days before arrival. This is an automated posting.
Allison
2016-07-17T00:00:00Z
Akino is fantastic! She has really put a lot of thought and effort into the details of the studio to ensure a pleasant and convenient stay! The apples, bananas, and granola bars were so helpful on our first day of hiking, as we hadn't gone to the grocery store yet. She also offered us homemade cole slaw that was PHENOMENAL. It was probably the healthiest meal I ate all week! Overall, we felt very at home and the studio was super quiet despite being attached to the house. It was also fairly close to the Redwood National and State Parks and right next to Humboldt County Redwood Parks. The town of Fortuna itself is cute and has tons of hiking trails, something I would have never known if I hadn't perused the variety of hiking trail maps and books Akino has in the studio! Overall, we were very happy with our stay and would definitely stay with Akino again!
Jessica
2016-07-17T00:00:00Z
Akino is the sweetest lady! She was there to greet my boyfriend and I when we arrived around 9:30pm, graciously insisted we park in the carport, showed us the suite and let us get settled in. We took a short walk up the street and felt completely safe. It is described perfectly and the shower was so clean! We really just needed a place to sleep for the last night of our road trip and this had a nice firm bed, I knocked right out! Make sure you read the newspaper clippings she has up, might make you think a little more :) Thank you Akino!
Kaitlen
2016-05-29T00:00:00Z
Akino was wonderful! Very welcoming! Very nice apartment, quiet, clean, nice neighborhood! Nice selection of coffee and tea, snack bars and fruit also provided. This is one of the best Airbnb rentals we've stayed at yet, definitely recommend it, and would stay again!
R.j.
2016-02-22T00:00:00Z
This was perfect for what we were looking for. It was small, but just right for two. The unit was impeccably clean. To our great pleasure p, we were greeted by a deer at our back door as we arrived. The bed is very comfortable.
Therese
2016-07-20T00:00:00Z
Akino's place is a great place to relax and have some peace, the backyard is an awesome spot to hangout. Also there is walking distance a supermarket in case you need to buy food, and the kitchen was very functional. Thank you Nona for all your help and hospitality, it was very nice talking and meeting you.
Ryan
2016-04-11T00:00:00Z
Rodzaj pokoju
Całe miejsce
---
Rodzaj nieruchomości
Apartament
---
Mieści
2
---
Sypialnie
Fortuna, Kalifornia, Stany Zjednoczone
This was our very first Airbnb stay and it was wonderful, very relaxed and the reservation and logistics very easy to do...Stuart was the best host, (loved little Harry too) and I am encouraged to continue to use Airbnb in the future!!
Janet
2015-05-25T00:00:00Z
Five-star host. The apartment exceeded our expectations! Very nice and cosy. In a quiet location, yet just two blocks away from beautiful Ferndale Main Street. Also enjoyed relaxing in the hot tub after touring the lost coast. Even provided guest bathrobes. We'd love to stay there again.
Ronald
2016-09-14T00:00:00Z
Stuart was an excellent host. He greeted us when we arrived and offered us suggestions on what to see in Ferndale. Communication was easy, and I appreciated his flexibility with the check-in & check out times. The rental is charming and comfortable with a lot of privacy. The hot tub is in a secluded nook in the yard, and was hot and ready to use. The location is right off the main drag in town, and the neighbors have sheep and horses that you can see from the deck. I loved staying here and would definitely recommend to anyone looking to explore around Humbolt.
Alia
2015-12-27T00:00:00Z
Stuart was the most gracious host we've ever had. He gave us a tour of the home and allowed us to pick some apples and berries from his yard. The studio is clean and the bed is as comfortable as can be, Great WiFi for those who can't afford to log out.
Mercy
2016-09-12T00:00:00Z
Stuart was an excellent host, maintains a very well-kept and pleasant place. Would definitely recommend this place for a getaway or simply a weekend trip to this wonderful part of Northern California.
Krishan
2015-09-07T00:00:00Z
Stuart was fantastic. He was great at communication both before and during our stay. He went out of his way to explain how the hot tub operates and to make sure we were comfortable and had everything we needed. He also described local restaurants to us so we had a local's take on what was the best place to have dinner. The apartment was spotless and looked like it had just been remodeled, but I believe it had been done years previous to our visit.
kurt
2016-11-26T00:00:00Z
Stuart was extremely welcoming and accommodating! He was full of suggestions for the cute town of Ferndale. The studio apartment was perfect for the weekend. The kitchen was extremely well equipped, even down to a spice rack! If you want to go into town, this house is only a 1/4 mile from the cute town and less an hour drive to the Avenue of the Giants. I would definitely come back for another weekend get-away.
Christine
2014-09-01T00:00:00Z
it was AMAZING !! so cute and comfortable . Stuart had EVERYTHING we needed. Very clean, warm and inviting
charles
2015-12-11T00:00:00Z
Rodzaj pokoju
Całe miejsce
---
Rodzaj nieruchomości
Apartament
---
Mieści
2
---
Sypialnie
Ferndale, Kalifornia, Stany Zjednoczone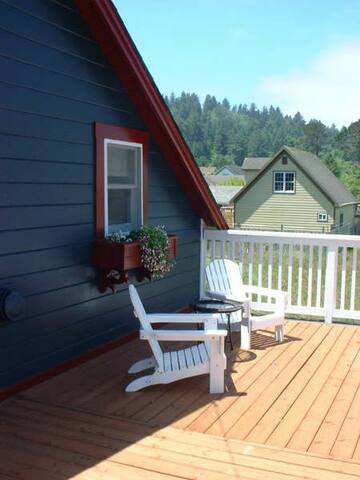 The host canceled this reservation 4 days before arrival. This is an automated posting.
Michael
2016-06-28T00:00:00Z
Lowell made us feel welcome and special. The town of Ferndale is absolutely charming and beautiful. The Victorian Inn is gorgeous.
Lottie
2015-10-15T00:00:00Z
Lowell was the perfect host and made us feel so welcomed and at home at his Inn. Anna Suite was luxurious and every little detail had been thought of and accommodated for. We felt like a king and queen staying there and the bed was extremely comfortable, the room was quiet, away from the other rooms, and curbside. The food was excellent both for dinner and breakfast and we were pleased in every way. Overall it was a great experience and we will definitely be back and recommend this place to our friends.
Camy
2015-06-01T00:00:00Z
Lowells place was awesome. We stayed in Anna's room and it was very large and comfortable.
Dave
2016-08-06T00:00:00Z
We stayed for one night, but wish we could have been there longer! The suite was spacious and beautiful. I highly recommend it, and do plan to stay long enough to explore Ferndale.
Bob
2015-08-09T00:00:00Z
Ferndale is a unique find up in the north-west corner of California and the Victorian Inn is a great find. My husband is on a very restricted diet so, we needed a place with a kitchen. Anna's suite was as good as it gets. nice, pretty well equipped kitchen, lovely decor and a GREAT bed. The staff is friendly and helpful and the chef at the restaurant was able to accommodate our needs so were able to enjoy one one great meal, without having to cook it. Walks around town were super and the trail in Ross Park just perfect. Thanks for a great stay.
Corwin
2016-12-28T00:00:00Z
We stayed in the Anna Suite. The suite was three rooms with a full kitchen and large and gorgeous bathroom, complete with a claw foot tub. Super private. The entire place was stunning and beautifully appointed but it didn't quite have the victorian feel that the rest of the hotel has. It's right next to the hotel with its own private entrance on Main Street. The hotel itself is stunning, a jewel of Main Street. If you wander upstairs you can find photos of the hotel from the late 1800s. The restaurant and tavern are beautiful and period appropriate. We had dinner at the restaurant, VI, and the food was pretty good and the service excellent. Breakfast the next morning was just as good. We had excellent service from Zachery who checked us in and out and who brought stuff that we needed to our room. He made great suggestions as to things to check out around town. Lowell, the owner, was very welcoming and amiable and knowledgeable about events in the area. We will gladly come back but next time will take a room in the hotel proper. It was a wonderful suite and we'd highly recommend it.
David
2015-05-25T00:00:00Z
Lowell was an excellent host, and made sure to follow through with everything a guest could hope for. He checked in on our comfort level but was never obtrusive and truly made us feel welcome in this very charming old world Victorian village along California's famous 'Lost Coast'. We were lucky enough to catch the beginning of a hundreds year old tradition: the Portuguese festival's parade; a rendition of the legend of Queen Isabella's gift of food to her starving peoples. Lowell recounted how as a boy he carried the train of Fernwood's Queen in the parade, and how watching the parade affects him still...this is real California history... Be sure to experience it.
Christine
2015-05-24T00:00:00Z
Rodzaj pokoju
Całe miejsce
---
Rodzaj nieruchomości
Apartament
---
Mieści
2
---
Sypialnie
Ferndale, Kalifornia, Stany Zjednoczone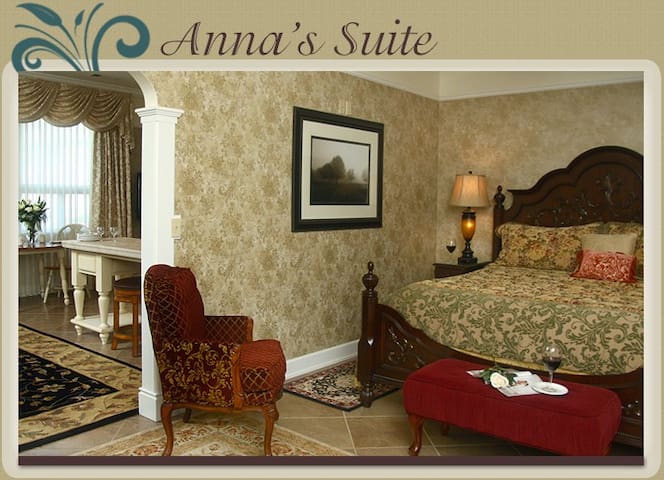 Petrolia - Airbnb
:
Średnia ocena:

4.76

/

5

gwiazdek od

126

gości
Wpisz daty, by zobaczyć pełną cenę. Obowiązują dodatkowe opłaty. Cena może uwzględniać podatek.