Pleasantly nested in the hills, surrounded by woodland near the city of Bergamo you can find a well-equipped two-roomed flat with a balcony with a panoramic view: the ideal accommodation for singles, couple or couple with a child, the base to visit nearby towns or simply have good time in total relax.
The flat is situated at the first floor of a farmhouse renovated in the late '80s by some members of the nearby Golf Club. The condo includes 10 flats designed to be use as second home located in a scenic, peaceful, relaxing area. We welcome you in a very nice 38 square meters flat with a living room, a kitchen area provided with washing machine, dishwasher and TV, a bedroom with loft bed and a bathroom. On demand it is also available an air mattress (not recommended for long time in a such little place) and cots. The condo is surrounded by common garden, green fields and woodland. We provide you the need for breakfast including Granma Rosa's jam (according to season) and fresh cow milk. You can find also several novels and other books: if you like one, you can hold it leaving one of your own (book crossing).
The house is isolated but close to the city and its several activities at the same time. It can happens that a wild rabbit, a rate or a hare runs in front of you especially in spring and summer. Certainly birdsong will be your background music and probably you'll have close encounter with cows that the building caretaker grazes in the nearby fields. You can buy their row milk from the distributor at the bottom of the street.
Rodzaj pokoju
Całe miejsce
---
Rodzaj nieruchomości
Apartament
---
Mieści
2
---
Sypialnie
Palazzago, Lombardia, Włochy
Na pierwszym góry Alp widokiem Bergamo & Padańskiej: Niezależne studio w 14thC 3-piętrowy kamienia byłym gospodarstwie. Małe średniowieczne borgo zamieszkane przez rodziny. Piękne widoki. Turystyka, sport, wildfruits, narty. 4k do miasta. Samochód niezbędny.
Niezależny samoobsługowe 25m2 studio 3-piętrowym średniowieczny kamienny ex-wiejskiej, z fantastycznymi widokami. Szlaki w drzwiach. Idealny dla pary, pary, pary lub pary z dzieckiem. Trzy dorośli ok (zalecane dla krótszych okresów). W komplecie: podwójne łóżko, kuchnia, łazienka, ogród, fantastyczne widoki. Drugie łóżko szczęśliwie dostarczone na życzenie. Może pomieścić do 3. Uwaga: Nie pralki / suszarki, ale znajduje się sklep coin-op w mieście (4kms). Nie telewizor (ale nie ma wifi).
Historyczne średniowieczne górskie borghi (osad) z typową architekturą i kilka szczegółów fabularnych, takich jak łuki, kamienne ściany, freski, cystern (prywatny), a na wzgórzu tarasów. Widoki na całej dolinie Padu do Alp Ligurii i Apeniny. Nasz Borgo (Hamlet) jest otoczona lasem, ale tylko kilka kilometrów do naszego miasta (z wszystkich obiektów), lotniska Bergamo i Orio. Nasz lokalny miasto (z celtyckich, rzymskich i średniowiecznych śladów) słynie romańskiej sztuki i architektury. Koło Mediolanu (55kms), Jezioro Como (25kms) i wyciągów narciarskich (od 35kms, Foppolo Międzynarodowy Ośrodek narciarski 50 km). Jesteśmy na otoczony sennych drogach rowerzystów '& motocyklistów. Lokalna pieszą, paralotniarstwo / Lotniarstwo / Gliding, stargazing, obserwacja zwierząt, zbierania nakrętek i grzyby, narty / snowboard / sankach, znajduje się również centrum drzewa ziplining w kolejnym mieście. Narciarstwo jest tanie: dzień przechodzi od € 19 (tańsza godzinę lub pół dnia) / dobę skihire € 10. Oczywiście, jeśli chcesz się zrelaksować, cieszyć się krajobrazem, zjeść lokalne potrawy i napoje lokalne wino, to jest właściwy obszar. Istnieje wiele restauracji w pobliżu (500m) rozpoczynające się z typowej kuchni Lombard (w tym set-menu codzienne obiady od € 10), jak również lokalnych producentów wina. Każda pora roku ma tu swoje wdzięki.
Un angolo di paradiso a portata di mano, vicino a Milano e Bergamo per una fuga dallo stress! Da tornarci presto! Il proprietario Gabriel ci ha deliziato con esperienze e racconti, grazie a lui il nostro soggiorno e' stato perfetto! Seguite bene le indicazioni che è' facile perdersi! La casa e' molto pulita, calda ed accogliente.
Alice
2015-10-12T00:00:00Z
Bel endroit, tranquille, avec une vue magnifique. Un peu de mal pour trouver... L'appartement a du charme, simple, pratique, avec une déco sympa. Gabriel est à l'écoute , très attentionné avec ses hôtes,. Sms, mail , appel téléphonique avant notre arrivée... Tout s'est bien passé.
CHANTAL
2015-08-17T00:00:00Z
Gabriel and Valentina were wonderful with us. Thanks to them, we could visit places which otherwise would have missed. The house is small but cosy, clean and well equipped, there was coffee and fruit. The views and emplacement were extraordinary. Indeed, a place to repeat and don't miss.
Ines
2016-01-19T00:00:00Z
We had a great stay in this beautiful apartment. The apartment is extremely clean and has everything you need and is in a good location to explore Bergamo and the surroundings. Gabriel and Valentina were also great hosts and gave us a lot of advice on places to visit and went out of their way to help with whatever they could!
Milenko
2016-07-14T00:00:00Z
This was one of the more beautiful and comfortable places we have stayed this trip. The room and amenities were just lovely and Gabriel is a terrific host, helping us organize and plan our trip to Bergamo. The bed was very comfortable and the linens lovely, the kitchen an added bonus. The place is spotlessly clean, and the decor fresh--new comforts next to the old stone walls. We loved it, and highly recommend it.
Martha
2015-09-07T00:00:00Z
We had a great stay at this cozy borgo with a breathtaking view over the landscape of Bergamo. Gabriel &Valentina were really perfect hosts and gave us a lot of nice and helpful advices for our trips to lake Como, Bergamo etc. We would definetly stay here again !
Christopher
2016-05-09T00:00:00Z
What a fantastic introduction to Airbnb-ing! The apartment lived up to the photos, beautiful views, beautifully finished and cosy. Gabriel and Valentine were wonderful hosts; so knowledgable about the area and giving great recommendations and very helpful with any requests we had. Thank you so much.
Emily
2015-08-22T00:00:00Z
This is a great place! Amazing view over all Bergamo. Friendly hosts, clean, kitchen has everything you need. At night you will see countless stars and sleep like a baby. Totally quite.
Joost
2016-12-06T00:00:00Z
Rodzaj pokoju
Całe miejsce
---
Rodzaj nieruchomości
Apartament
---
Mieści
3
---
Sypialnie
Albenza, Lombardia, Włochy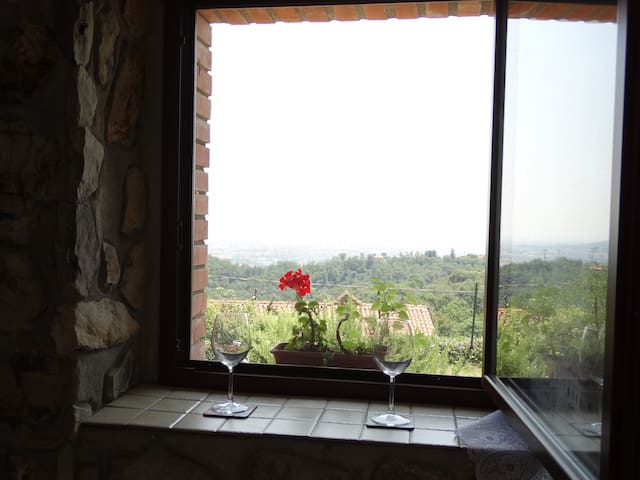 Comfortable detached house, recently renovated, immersed in a fairy hill farm where silence and relaxation reign supreme, 15 minutes far from Orio al Serio Airport, Bergamo and Città Alta. Close to a very good local cuisine restaurant and SPA.
Comfortable apartment rustic independent, fully restored in 2014, immersed in a fairy hill farm with enchanting view of the city and the surrounding mountains, where silence and relaxation reign supreme while walking in the woods, reading a good book in front of the warmth of the stove or on the deck chairs in the garden in the sun. TaiObe is located in a highly strategic position to visit Bergamo or Lake Lecco: not too far from the areas of interest, not too close to the inevitable stresses of city life. 20 minutes far from Orio al Serio Airport and the busy traffic of the main station of Bergamo, from where you can easily reach the nearby Milan, Lecco, Brescia and unmissable and the medieval upper town Città Alta, TaiOBe is the ideal base for those who want to alternate a deserved peace and intimate with busy days of visiting, shopping or work. With free WiFi, satellite TV, kitchen with fridge, freezer, microwave, oven and gas, barbecue, crockery, pots and every comfort as described below, TaiObe is ideal even for those who only want to relax. At few meters from the house you can find a restaurant with typical local cuisine (Bruder restaurant), at less than one kilometer a renowned spa with pool, sauna and massage center (Tata-O) and two kilometers more to reach a large shopping center (Il Continente Mapello).
Peace , tranquility , and nature fresco within hill farm , lawns , paths and woods , with private road closed-end fund. The house and garden are optimal also as base for birthday parties, group gatherings, barbecues and parties with music, Neighbors Houses are hundreds of meters far away. Even our house is sheltered by a natural hill, that prevents music and the noise to reach us.
Красивый домик, очень чисто. Сервис не хуже трехзвездочного отеля, было все, от одноразовых тапочек до зубной пасты и щетки. Нам немного не повезло с погодой, три дня шел дождь, но скучно не было, смотрели фильмы (есть sky), играли в настольные игры, а когда дождь останавливался делали барбекю, пили вино и наслаждались видами. Хотели покататься на велосипедах, которые любезно предоставили хозяева, но опять же помешел дождь. Однозначно рекомендую! Хозяевам Ивану и Урсуле огромное спасибо за гостеприимство!!!
Denys
2016-06-06T00:00:00Z
Ivan and his wife were very cheerful and welcoming. They were so nice they left us their new barbecue to use. Our friends and us enjoyed very much this break out from the city. Just relax, good company, good food and in the middle of nature, you can actually hear birds and the wind singing. We warmly recommend their little peace of heaven to everyone. Taiobe é una casetta meravigliosa in un oasi di verde a due passi da Milano. assolutamente da provare!
Oana & Roberto
2016-04-26T00:00:00Z
Immobile grazioso e autonomo. Gestore cordiale e attento alle esigenze.
Lorenzo
2016-12-16T00:00:00Z
Tres bon accueil d'Ivan qui a pris le temps de nous expliquer le fonctionnement des appareils et de nous donner des conseils sur la region. A l'arrivée il ne faut pas se laisser impressionner par l'etat et la largeur du chemin, il est tout a fait carrossable et il est facile de faire demi tour!
Jean-Marie
2016-05-07T00:00:00Z
Besser hätten wir es nicht haben können - fürsorgliche Gastgeber aber auf keinen Fall aufdringlich und ein romantisches Häuschen mitten in der Natur. Bravo an diese Gastgeber!! Es hat alles gestimmt, alles!.
Christina
2016-06-26T00:00:00Z
Nos hemos hospedado 4 personas, el sitio es muy lindo, ubicado en la parte alta con una vista a la ciudad y el amanecer muy lindos . La cabaña cuenta con todo lo necesario, todo es totalmente funcional. Ivan es una persona muy simpática , nos acogió muy bien , es flexible con los horarios de ckeck in . Lo recomiendo .
Sebastián
2016-12-07T00:00:00Z
A wonderfully secluded cottage with many facilities, in a beautiful natural environment. Very friendly host who speaks good English. In good condition, a few km from next town.
Michael
2016-04-20T00:00:00Z
Accoglienza calorosa, casetta pulita calda e ben curata, circondata da verde e immersa nel silenzio, sicuramente da tenere in considerazione per vacanze future!
Dario
2016-04-30T00:00:00Z
Rodzaj pokoju
Całe miejsce
---
Rodzaj nieruchomości
Dom
---
Mieści
4
---
Sypialnie
Palazzago, Lombardia, Włochy
The house and the room have about 1000 years, inside of a medieval abbey.Walls and stone floors. Wood-burning stove in the fireplace. Fully equipped kitchen and attic. On Mount Canto, among vineyards, steeped in history and just 45 minutes from Milan
Coming to sleep in Fontanella Abbey is not just finding a comfortable place near to Milan and Bergamo. It means even take a rest without time in a magic atmosphere.
We are in "Sotto il Monte Giovanni XXIII" municipality (the native village of pope Giovanni XXIII), just 25 minutes by car from Orio al Serio airport, 15 minutes from Bergamo, 45 minutes from Milan, 25 minutes from Como lake and 30 minutes from ski resorts (Val Brembana).
James and Anna were most gracious hosts, accommodating our very late arrival. Everything was prepared for us in advance including breakfast preparations in the kitchen and the refrigerator. They returned communication to us almost immediately whether by text or email. Pictures do not show how majestic this old world abbey really is - so warm and spacious and secure. Makes you feel as if you have gone back in time to the 1500's. Very comfortable and accommodating and quiet, very very quiet.
robert
2016-07-04T00:00:00Z
This is a lovely place to stay if you want to explore the Italian lakes, Milan and Bergamo. It was warm and cosy with quality bedding and immaculately clean everywhere. You need a car to be able to visit places but the walks from the apartment through the vineyards and forests were delightful. Good weather too!
Jill
2016-10-12T00:00:00Z
We are a family of 5. and we absulotly loved the stay in James lovely abbey. The place is absulotly amaizing !!! very special and impressing, like living in a ferrytail. We have spent there one night only, but love to come back for more. The appartment is in a very high standart. pleasant towels, perfect beds, well equipet kitchen. clean and butifull. James and his mom, were very nice and welcoming, helped us with anything we needed. just amaizing.
אירית
2016-10-25T00:00:00Z
This beautiful apartment was by far our best experience with Air BnB! We loved the entire experience and were impressed with everything. The apartment is very cozy, very clean, very private and extremely relaxing! Thank you James for a great stay, we will be sure to come back!
Michelle
2017-01-04T00:00:00Z
The abbey was great- James was great! This is is a unique and comfortable property. We arrived early and James mom came promptly and checked us in. From here we went to Como, Lecco, and Bellagio. Well worth the stay.
Shelley
2016-05-20T00:00:00Z
Tout a été parfait : James a été très arrangeant pour nos horaires d'arrivée, nous avons été accueillis très gentiment pas sa maman, et tout était prévu pour notre séjour : petit déjeuner, jus de fruits, bouteilles d'eau... L'appartement est conforme aux photos, très propre, très agréable et spacieux, mais c'est surtout le lieu qui est merveilleux : complètement hors du temps, entre vignes, forêt et vieilles pierres, et en un week-end (un peu chargé !) nous avons pu visiter Bergame, l'exposition universelle, et le lac de Côme Il nous faudra revenir pour profiter cette fois davantage de la magie du site.
Béatrice
2015-06-07T00:00:00Z
Endroit magnifique et dépaysant James , notre hôte, a régulièrement pris de nos nouvelles pendant notre séjour et a toujours été à notre écoute Tout est fait pour passer de superbes vacances Merci également à la maman de James pour son accueil chaleureux
Isabelle
2016-07-17T00:00:00Z
We stayed in the abbey at Fontanella for 3 night and our only regret is that we did't stay longer. The abbey has been beautifully renovated and well equipped for your stay. Milano is a 50min train trip from Terno station (5 min drive). Trains leave every hour. I highly recommend this place, except maybe if you have young children. You could be worried if they went upstairs. The photos on airbnb don't do justice to the beauty of this place. The linen was all clean and fresh and the apartment was very clean. We loved the bell tower, it rings every 1/2 hour 7am - 10pm and adds to the experience of staying in the abbey. Thank you James for the most memorable and moving stay on our trip. Regards Richard
Richard
2016-05-07T00:00:00Z
Rodzaj pokoju
Całe miejsce
---
Rodzaj nieruchomości
Apartament
---
Mieści
6
---
Sypialnie
Pratolongo, Lombardia, Włochy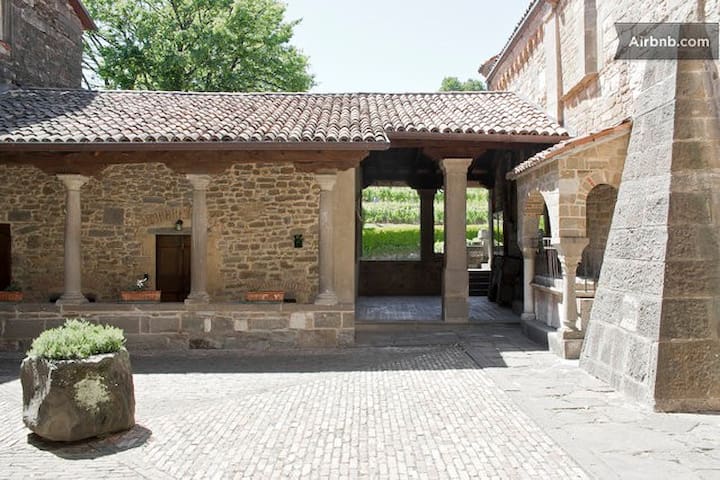 Il mio alloggio è vicino a splendide viste panoramiche, attività per la famiglia e ristoranti. Ti piacerà il mio alloggio per questi motivi: la luce, la comodità del letto e l'intimità. Il mio alloggio è adatto a coppie, avventurieri solitari e chi viaggia per lavoro.
B&B Armonia non è semplicemente una stanza dove passare la notte, è un monolocale con salottino e cucina attrezzata per trascorrere un piacevole soggiorno. A poche centinaia di metri dal Golf Club Bergamo l'Albenza culla di tanti campioni di golf tra cui Costantino Rocca, B&B Armonia è luogo di partenza per passeggiate, per visitare luoghi d'arte e cultura, per gustare prodotti tipici della zona, per raggiungere le vicine montagne delle valli bergamasche e i vicini laghi di Como, Iseo e Garda. Gli amanti del golf possono cogliere l'opportunità di prendere lezioni di golf.
B&B Armonia è situato in casa a due piani, affacciata sulle colline a sud e le prealpi orobiche a nord. Il centro del paese di Palazzago è a circa 1 chilometro dal B&B. Dalla finestra l'armonia riempie lo sguardo degli ospiti che si trovano immersi in una cornice di verde e tranquillità.
Rodzaj pokoju
Pokój prywatny
---
Rodzaj nieruchomości
Apartament
---
Mieści
2
---
Sypialnie
Palazzago, Lombardia, Włochy
Appartamento in residence dotato di due piscine , un ristorante, due campi da tennis, campo di calcio; immerso nel verde in zona tranquilla, a pochi chilometri dalle bellezze di Bergamo e Milano, adiacente all' Albenza Golf Club Bergamo. Dispone di un soggiorno con divano e poltrone, una cucina attrezzata, una camera matrimoniale e una camera con due letti singoli, un bagno con un box doccia e uno con vasca, un ampio patio con vista sul bosco.  Parcheggio per auto all'interno del residence.
Appartamento in residence con piscina, bar, tennis e parco giochi riservato al residence; immerso nel verde in zona tranquilla, a pochi chilometri dalle bellezze di Bergamo e Milano, adiacente all' Albenza Golf Club Bergamo. Dispone di un soggiorno con divano e poltrone, una cucina attrezzata, una camera matrimoniale e una camera con due letti singoli, un bagno con un box doccia e uno con vasca, un ampio patio con vista sul bosco.  Parcheggio per auto all'interno del residence.
Il "Querceto del Golf" resta in una posizione strategica: a mezz'ora si possono raggiungere le mete di: la frenetica Milano, le Terme di San Pellegrino per rilassarsi e farsi coccolare, Bergamo e il lago di Lecco.
Rodzaj pokoju
Całe miejsce
---
Rodzaj nieruchomości
Dom
---
Mieści
4
---
Sypialnie
Bergamo, Lombardia, Włochy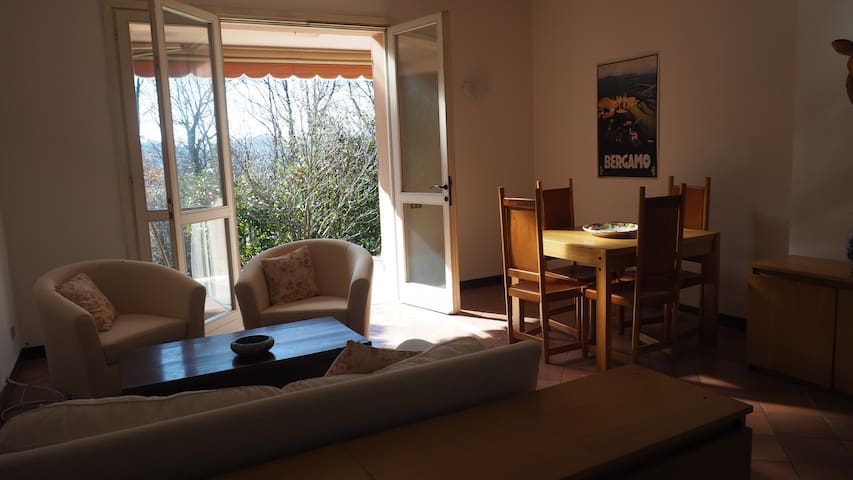 In una "Location" incantevole, mettiamo a disposizione camere singole, bilocali ed un appartamento da 80mq, tutto in una bellissima cascina classica bergamasca ristrutturata. Pachetti per visite guidate e percorsi naturalistici for Arts and Food
Nel centro della Regione Lombardia, in una posizione strategica per il crocevia del Business internazionale, posizionata su un altura a dominare la piccola frazione di Montebello, altitudine SLM 365, vicino ad una chiesetta del tardo 600 dedicata a S. Lorenzo si trova la vecchia "Cascina Montebello" datata 1786 e restaurata con materiali originali, di recupero, immersa nei boschi su una collina circondata da vigneti e dal grande giardino, con zona solarium.
Territorio di Zona ben servito: a pochi minuti si trovano vari ristoranti, Trattorie ed Osterie tipiche Bergamasche con piatti tipici di grande qualità a dieci minuti siamo a Pontida, parse Storico (Giuramento di Pontida, nel 1167 D.C.) a quindici minuti siamo in centro città di Bergamo (Città Alta ) "chiamata" la mirabilissima a venti minuti siamo a Sotto il Monte, paese natale di Papa Giovanni XXIII a venti minuti siamo a San Pellegrino Terme, e le famose Fonti e nuovo C. Benessere a venti minuti siamo a Capriate San Gervasio, al Villaggio Crespi," villaggio ideale del lavoro" patrimonio Unesco a Trenta minuti siamo a san Giovanni Bianco, nella casa di Arlecchino a Trenta minuti siamo nel borgo storico di Camerata Cornello, paese natale dei Cornello del Tasso (nel 1504, nacque il sistema postale) a cinquanta minuti siamo a Foppolo, (PHONE NUMBER HIDDEN)mt, nota località sciistica.
Excellent accueil avec une préoccupation très attentionnée pour échanger et faire découvrir le lieu de séjour. Maria Angela nous a accompagnée pour faire découvrir lors d'un randonnée. Plein de consuil et de renseignement, Excellent déjeuner. Nous reviendrons !
Alain
2016-08-25T00:00:00Z
Hele vriendelijke verhuurders. Vriendelijke en persoonlijke ontvangst van ons gezin, heerlijk ontbijt in de ochtend en mooie locatie. Aanrader!
Edwin
2016-08-21T00:00:00Z
Appartamento carino e confortevole in una cascina meravigliosa. Abbiamo passato qui il Capodanno e ci siamo trovati molto bene. Maria Angela e la sua famiglia sono ospitali e disponibili. Il camino è solo estetico, non si può accendere. La cucina è abbastanza attrezzata, c'è il forno a microonde. Abbiamo dormito comodi in 4 adulti e 3 bambini. La stanza al primo piano dove hanno alloggiato i nostri amici è altrettanto carina, però a detta loro faceva molto freddo. Abbiamo apprezzato molto la ricca colazione con muffin e torta di mele. Gli host sono stati così gentili da permetterci di fermarci anche per il pranzo.
Elena
2017-01-01T00:00:00Z
We stayed at this lovely bed and breakfast for two weeks. Angela made us a fantastic breakfast every day. The family and their good friend Stefano made our stay in Italy an unforgettable experience. Lovely house and garden for the children to play. Bergamo is 15-20 minutes drive from the house and has a lot to offer. We also recommend the swimming pool in the private golf Club not far from the house. The family accompanied us for many trips in the local area, the mountains and even the very best winyard; Franciacorta. We would love to visit you again.
Bernt
2016-07-31T00:00:00Z
Ontzettend hartelijke en lieve mensen. Mooi appartement smaakvol ingericht. Goede matrassen, uitgebreid ontbijt en elke dag zelf gebakken cake/taart etc. Mooi uitzicht en goede uitvalsbasis voor Milaan, Bergamo, Lago d'Iseo. Aanrader!
liesbeth
2016-08-14T00:00:00Z
Estuvimos dos famílias en casa de Maria Àngela. Disfrutamos de una casa en un entorno bellísimo, en una casa antigua con unas vistas magníficas. La família de Maria Àngela nos recibió muy bien y fueron muy hospitalarios y generosos. Lástima no haber pasado unos días más.
Marina
2016-08-18T00:00:00Z
Rodzaj pokoju
Pokój prywatny
---
Rodzaj nieruchomości
Wikt i opierunek
---
Mieści
4
---
Sypialnie
Palazzago, Lombardia, Włochy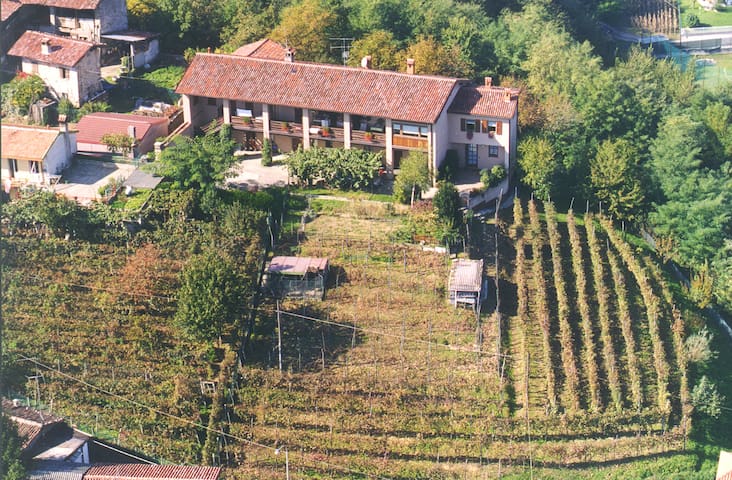 Piccola casetta indipendente di recente ristrutturazione, inserita in un terreno di 700 mq piantumato con alberi da frutto, dove l'unico "rumore" sono i grilli d'estate...un piccolo Paradiso dove rilassarsi a due passi da Bergamo e Milano.
Nella giardino all'ombra di due alberi c'è un comodissima amaca dove godersi la natura in totale relax...oltre ad una doccia solare termica esterna per farsi un doccia calda anche all'esterno.
Paola hat uns pünktlich am Parkplatz erwartet, uns sehr herzlich begrüßt und zur Unterkunft begleitet. Dort hat sie uns die Räumlichkeiten gezeigt und alles Notwendige erklärt. Sie hat uns Prospekte zu Bergamo und der näheren Umgebung gegeben, uns auf besondere Sehenswürdigkeiten hingewiesen und uns Tipps zu Einkaufsmöglichkeiten und empfehlenswerten Restaurants gegeben. Die Unterkunft ist sehr gepflegt und ansprechend ausgestattet. Der Garten mit Hängematte lädt zum Entspannen ein und ist wirklich eine Oase der Stille. Die Lage ist außerdem ideal, um von da aus Natur und Kultur der Region zu erkunden. Bei kleineren Anfangsschwierigkeiten mit Laptop und Wifi war Paolas Sohn sofort mit sachkundigem Rat zur Stelle und löste unser Problem vor Ort. Freundliche Nachbarn vermittelten ein Gefühl der unkomplizierten Gastlichkeit. Es war ein sehr erholsamer Aufenthalt.
Elisabeth
2016-08-31T00:00:00Z
This little house is a treasure in the middle of a green garden. Everything is like on the photos. The apartment is fully equiped. Paola and her son are very friendly and ready to help you where they can. I can highly recommand this place
Chris
2016-04-03T00:00:00Z
Abbiamo soggiornato al Piccolo Paradiso per alcuni giorni con grande soddisfazione. L'accoglienza è stata molto calorosa, come del resto tutto l'ambiente attorno. La quiete nella casa regna sovrana, ma non ti senti mai solo perchè la natura intorno e il giardino curatissimo ti comunicano un piacevole senso di relax.
ALESSANDRO
2016-07-04T00:00:00Z
Situated in a nice and quiet environment, it is perfect that Bergamo and other places like Lago di Como are so closeby. Also, there was good internet and the possibility to use a stereo for music. The house looked nice and everything we needed was there. Luca, Paola's son, is very friendly and helpful.
Emma
2016-07-27T00:00:00Z
Nous avons été accueillis par Luca, le fils de Paola. Luca est très prévenant et nous a donné de nombreuses informations qui plus est en français qu'il parle parfaitement. La maison est charmante, pratique et calme. Nous avons pu profiter du jardin relaxant et sans vis à vis. À proximité de Bergame et San Pellegrino entre autres Nous recommandons vivement.
julie
2016-08-21T00:00:00Z
Très bon accueil. Maison confortable bien reposante (hormis quelques moustiques en cette période de réservation). Tout est bien prévu et propre. Notre hôte s'est montrée généreuse et souriante.
PHILIPPE
2015-08-17T00:00:00Z
I came back for another night and the flexibility of Paola and her son was fantastic. Great stay close to Bergamo
Chris
2016-04-02T00:00:00Z
We stayed at Paolas House for two Nights and her son welcomed us very warmly. The House and the beautiful garden Are really looking like on the Fotos and it seems as you are in a place in heaven. In the evening you can join the beautiful terasse and listen to the crickets and watch the small houseowl. We really recommend this special Place. Thank you
Anne
2016-07-11T00:00:00Z
Rodzaj pokoju
Całe miejsce
---
Rodzaj nieruchomości
Dom
---
Mieści
2
---
Sypialnie
Barzana, Lombardia, Włochy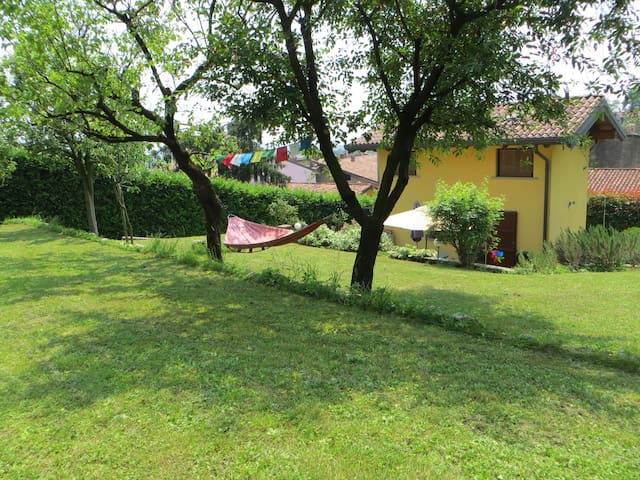 Casa vacanze immersa nel verde in una zona collinare lontana dal centro abitato. Fa parte di un grosso complesso storico edificato a partire dal XV secolo. Il contesto è prestigioso con ampi spazi, arredamento d'antiquariato e piscina
l'alloggio è disposto su due piani con accesso diretto al giardino. Due delle tre camere da letto sono molto spaziose ( 25/35mq) e ospitano letti matrimoniali e letti singoli o a castello .
La casa è situata in una piccola valle a circa 800 metri dalla strada principale che collega da un lato a Bergamo e dall'altro a Lecco. La strada che la raggiunge è a fondo chiuso quindi con un limitatissimo afflusso di traffico. Nelle vicinanze negozi ristoranti e centri commerciali
The house is just amazing. It is very well located if you want to visit Como, Lecco, Bergamo or Milan. It was a pity that we did not have time to enjoy the beautiful garden and e swimming pool. We loved every single corner of it. We will definetely stay at Federico's again next time. I would recommend it to everybody.
Enrique
2016-09-27T00:00:00Z
Wonderful house, very charming and nice surrounding. Everything really great and Frederico did a great job welcoming us and being available whenever needed. Would always come again.
Madjid
2016-04-24T00:00:00Z
Davvero un esperienza unica, abbiamo festeggiato un compleanno in compagnia di amici, la casa e' accogliente, ben arredata e in mezzo alla natura. Davvero un esperienza positiva, consiglio di soggiornare da Federico, anche a meta' ottobre senza l'accesso alla piscina e' davvero un bel posto!
Mara
2016-10-18T00:00:00Z
Rodzaj pokoju
Całe miejsce
---
Rodzaj nieruchomości
Dom
---
Mieści
12
---
Sypialnie
Pontida, Lombardia, Włochy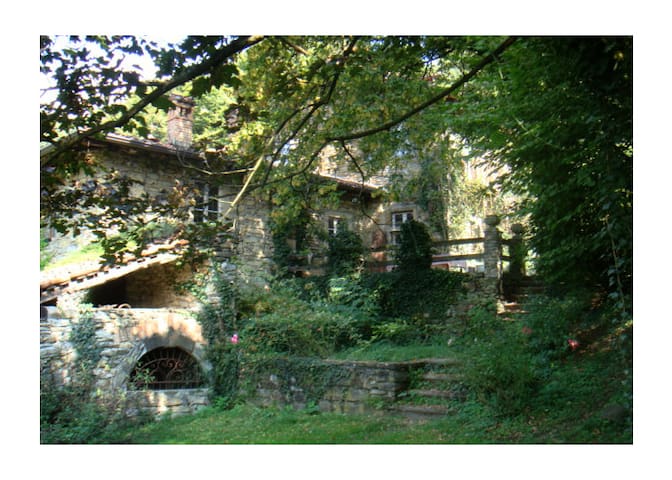 Alongside the Albenza Golf course (Bergamo), a stone's throw from the 9th hole, a beautiful house on two floors for 6 people:1 double bed, 2 single beds (they can be pushed together) and 1 double sofa-bed,2 bathrooms,a sauna,kitchen,television,garden
Alongside the Albenza Golf course (Bergamo), a stone's throw from the 9th hole, a beautiful house on two floors for 6 people (1 double bed, 2 single beds (they can be pushed together) and 1 double sofa-bed, 2 bathrooms, a sauna, kitchen and television, garden.
The Albenza golf course is one of the oldest golf courses in Italy. It is wonderful and rather challenging. There are very few hotels in the area and my apartment is an excellent opportunity to experience this beautiful golf course. You are only a 5-minute drive and a 15-20 minute walk from the Club House. Enjoy your surroundings!
Casa in condizioni perfette, calda ed accogliente. Gentilezza e disponibilità sia della proprietaria Valentina che del custode che ci ha accolto. Prezzo più che onesto per un alloggio di questa qualità. Insomma, non c'è motivo per cui non debba consigliare questa casa!
Simone
2015-12-07T00:00:00Z
Host disponibile e paziente, sempre raggiungibile e presente. La casa è davvero deliziosa ed il contesto in cui è incastonata è da favola da fate nei boschi. Ambiente davvero rilassante e confortevole immerso nella natura.
Barbara
2017-03-26T00:00:00Z
We went to Valentina's place for New Year's Eve to spend it in peace far from the city with my girlfriend and our dog. Since it's just aside of a golf court, and it was off-season, we found it very silent and relaxing. The house is very comfortable with good beds and good quality equipment in general. Not to mention that it is very stylish, just as shown on the photos. Thanks to its location, you can have many excursions around. Valentina communicated very well, responded quickly and with all details and information requested. This place is highly recommended for families, or 1 or 2 couples who are looking for a calm place to spend their holiday. We would like to return here in the future.
Zoltan
2017-01-01T00:00:00Z
Casetta accogliente, ben arredata e con tutto l'occorrente. Ideale per rilassarsi e godersi la natura e la tranquillità del posto. La cucina e la lavastoviglie sono nuove. Bellissimo il giardino per passeggiare con l'amico a quattro zampe. Il punto forte è Valentina, sempre gentile e disponibile, premurosa affinché tutto vada bene. Ci ritorneremo sicuramente e anche presto. Consigliatissimo.
Daniela
2016-11-20T00:00:00Z
Rodzaj pokoju
Całe miejsce
---
Rodzaj nieruchomości
Dom
---
Mieści
5
---
Sypialnie
Palazzago, Lombardia, Włochy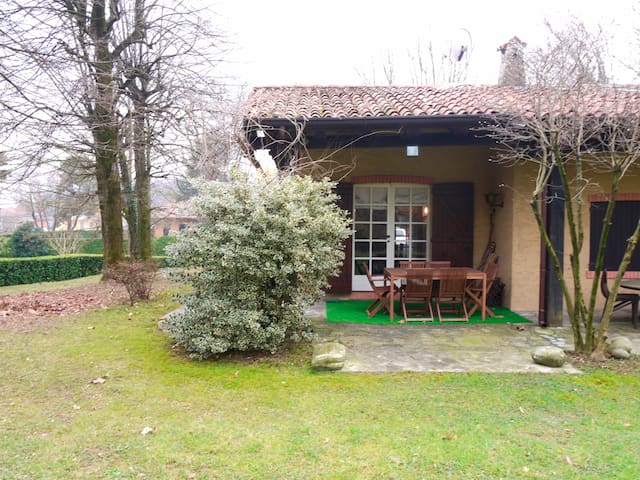 In villa con piscina, è l'alloggio ideale coppie e famiglie. Il bagno esterno, adiacente alla camera e riservato, è dotato di un doppio lavabo e di un'ampia vasca idromassaggio. Sono ammessi animali di piccola taglia
Villa Mirtilla B&B è una location esclusiva e immersa nel verde, con una vista spettacolare sulle colline. Con piscina esterna, solariume ampia terrazza mette a disposizione anche una cucina attrezzata, barbecue e aree gioco per bambini.
Rodzaj pokoju
Pokój prywatny
---
Rodzaj nieruchomości
Willa
---
Mieści
2
---
Sypialnie
Gromlongo, Lombardia, Włochy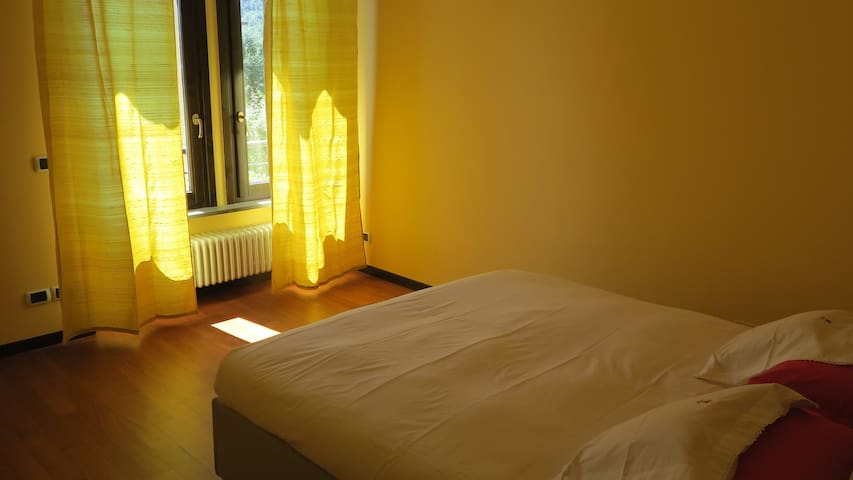 Moja przytulny, uroczy kamienia naturalnego Mieszkanie znajduje się w spokojnej starej dzielnicy Imagna Valley, otoczony kasztanowcami lasów, strumieni i szlaków. Składa się z pięknym i romantycznym pokoju z podwójnym łóżkiem, przestronny i elegancki pokój dzienny z kominkiem i tradycyjnej wygodną łazienką.
Będziesz mile witany w tym rogu Imagna Valley, mieszkanie znajduje się w bardzo cichym miejscu, położony w lesie, niedaleko od centrum Roncola, ze wspaniałymi widokami na dolinę. Idealny dla tych, którzy kochają przyrodę i chcą odpocząć. Możesz cieszyć Codziennie rano wschód słońca z sypialni i śpiew ptaków. Jeśli chcesz, mogę pokazać ci najbardziej urokliwych miejsc do odwiedzenia między artystycznym i naturalnym pięknem otoczenia. Będziesz mile witany w tym rogu Imagna Valley, w bardzo cichym miejscu, otoczony lasem, ale nie daleko od centrum miasta, z pięknym widokiem na ideałem (URL HIDDEN) za każdego, kto kocha naturę i odpocząć. Będziesz incendio zegarek, codziennie rano, słońce rośnie i usłyszeć śpiew ptaków z sypialni. Jeśli chcesz wybrać się na spacer po okolicy, będę tam, aby zaproponować Państwu najpiękniejsze artystyczne lub naturalnych miejsc do odwiedzenia.
Apartament znajduje się w odległości około 1 km od centrum miasta w ciągu zaledwie piętnastu minut na piechotę, przez kilka minut w samochodzie, na wsi, w otoczeniu lasów kasztanowych, łąk i strumieni. Nie daleko od innych dzielnic, charakteryzujących się typowym dla architektury, roztacza się piękny widok na dolinę. Apartament znajduje się jeżyny lub mniej jednego kilometra od centrum miasta, osiągalny w 15 minut pieszo lub kilka minut jazdy samochodem. Jest otoczony przez lasy, strumyki i łąkach. Niedaleko od niego, można zobaczyć inne piękne małe wioski, które przyczyniają się niesamowity widok na dolinę.
Simona è davvero simpaticissima e disponibile a dare indicazioni molto utili. Roncola è un paese a meno di un'ora da Milano che ha molto da offrire assieme alla sua bellissima Valle (ad esempio l'apertura notturna del parco avventura). La location dell' appartamento è affascinante e caratteristica. É silenziosissima e poco distante dalla zona centrale, immersa nella natura. L'appartamento è bellissimo, nuovo e ricavato da un antico fienile oltre che molto confortevole. Raccomandatissimo per un weekend bucolico accompagnato da qualche ora di svago al parco avventura o a passeggio per i boschi o i borghi dellaValle
Paolo
2015-08-23T00:00:00Z
Rodzaj pokoju
Pokój prywatny
---
Rodzaj nieruchomości
Apartament
---
Mieści
2
---
Sypialnie
Roncola, Lombardia, Włochy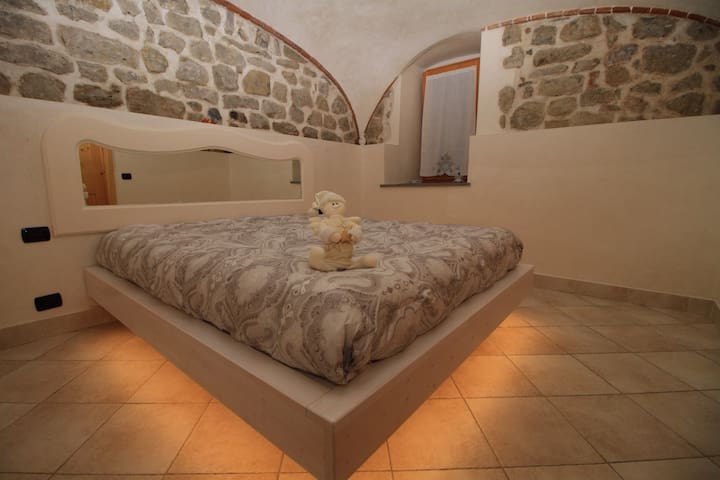 B&B Cascina Valgrande is the best place for relax, into green woods, on the hill looking the plain and the mountain, at 400 m. height, with many walking chances, close to Bergamo city, to airport, to Golf Club, 30 km far from Como Lake or from Valle Brembana mountains. Tre Archi is an indipendent room, Superpensatoio and Willoso are upstairs rooms. The indicate price is for the room with 2 peoples, rich breakfast included. The extra beds cost is 20 eu/each, with max. n. 2 in Tre Archi Room.
Cascina Valgrande is an indipendent cottage situated in Palazzago, 10 Kms far from Bergamo city center and its old Venetian walls. The house is a rustic restructurated between 1997 and 2000 with the maximum attention to preserve its charme: its walls in old stone, its vault and stone ceilings, the cellars that still preserves the barrels of the '800. The roof has been rebuilt completely, but using the original tiles to preserve the original aspect and atmosphere. 5 minutes far from the "Golf Club dell'Albenza" ((URL HIDDEN)
Accueil très souriant ; paola et pier Franco portent bien leur très joli nom : dolci. Ils sont tous les 2 très agréables et ouverts. Nous sommes venues ma sœur et moi avec nos 4 enfants et ils ont tout fait pour qu'ils se sentent chez eux. L'endroit est magnifique , très calme. "Trop bien" comme dirait martin 13 ans. Une très belle halte pour découvrir la région de bergame et des lacs. Puer franco nous a conseillé de prendre le bateau sur la lac d'idéologie et de monter jusqu'au sanctuaire de monte isola : nous avons adoré! Nous espérons revenir dans la région avec un peu plus de soleil :)!
Nathalie
2014-08-12T00:00:00Z
Paola and Pierfranco received us very friendly when we arrived late at night. Although we were rather tired we could feel immediately that the place is special: a characteristic old farmhouse refurbished with very good taste, situated in the middle of vineyard-and-forest-campagna. We felt very comfortable in our room with the separate entrance and the ample, spacious terrace under walnut trees. We had breakfast outside or, depending on the weather, in a dining room with really beautiful old furniture; breakfast was always delicious. In the afternoon, we loved to return to Cascina Valgrande and appreciated the possibility to make ourselves a cup of tea or to have a glass of wine on the terrace. Both Paola and Pierfranco seem really to enjoy having guests. When we met in the morning we were attended kindly and later in the day it was simply nice to know they were somewhere in the background. We'd like to come again.
Anja-Rosa
2014-09-17T00:00:00Z
Amazing and beautiful old house with wonderful view, great care team, excellent facilities! We felt warmly expected guests. In the morning delicious breakfast on the terrace. Unfortunately, we could spend there only one night. Hope, not the last:) We will recommend this place to our friends. Paola, regards for You and Your husband from Szczecin in Poland, and thanks for all. Cudowne miejsce, wspaniali gospodarze, ludzie w wielka klasą dbający o swoich gości w najdrobniejszych szczegółach. Mimo późnej pory przyjazdu czuliśmy się serdecznie wyczekiwanymi gośćmi. Dojazd jest przez właścicieli doskonale opisany, co nie jest bez znaczenia, bo dom położony jest wysoko nad Bergamo. To sprawia, że widok jest stamtąd wspaniały na całe miasto o otaczające je góry. Sam dom to zjawiskowe miejsce, bardzo stary, pięknie wyremontowany, z dbałością o detale i z zachowaniem jego charakteru. Wyjątkowe miejsce. Parking przed domem, dostępny internet, pyszne śniadanie rano, podane przez gospodynię na pięknym tarasie z widokiem.
Agnieszka
2015-08-02T00:00:00Z
Wir haben uns sehr wohl gefühlt. Die Gastgeber Paola und Franco sind herzlich und sehr hilfsbereit.
Isabel
2015-09-18T00:00:00Z
Une maison chaleureuse, à l'image de ses hôtes. Excellent séjour dans un havre de paix. Très grande chambre, très grande terrasse privée. Superbe vue. A recommander.
Erwin
2014-07-08T00:00:00Z
Un posto di incantesimi dove stare in piscina nell ampio patio con alberi da frutto more e fragole silenzio fresco - ultima villa prima del bosco - colazione sotto un pergolato ( marriot ? Hilton ?) Paola e pier : i vicini di casa che desirerei - per cultura gentilezza disponibilità - cena ? Lasciati consigliare !!!! Tre figli ingegneri nonché skipper di transoceanica - potrei aggiungere ancora mille pensieri - noi torniamo in questo posto magico asap cioè ad soon as possibile - cinquanta stelle - cinque milioni nel cielo che vedrai dalla loro villa - Simona e Luca
Luca Maria
2016-07-18T00:00:00Z
Paola and Pierfranco were super great host. The house is superb, the bedroom very cosy and very well located on the top of Bergame's hill. We have nice time discussing with them during the breakfast and they were perfect to indicate us place to see around: San Pellegrino Terms, Restaurant, etc. Thanks again!
Olivier
2015-08-07T00:00:00Z
Great country house & welcoming hosts. We had a wonderful time, breakfast was superb! Very helpful with information on local sites.
Kristine & Daniel
2015-09-26T00:00:00Z
Rodzaj pokoju
Pokój prywatny
---
Rodzaj nieruchomości
Wikt i opierunek
---
Mieści
5
---
Sypialnie
Palazzago, Lombardia, Włochy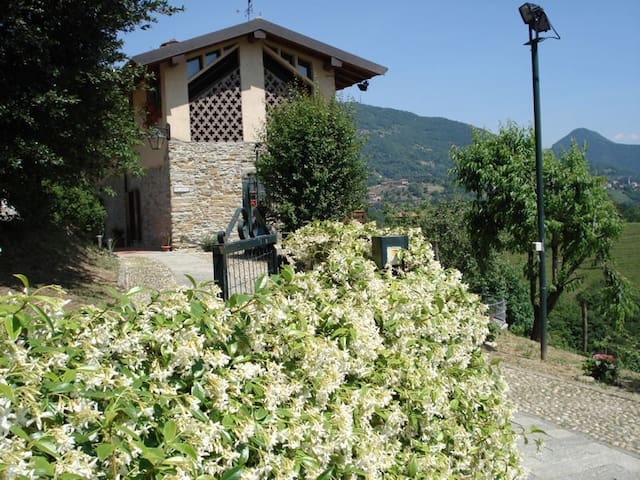 Deliziosa appartamento in esclusivo residence adiacente al Golf Club Albenza di Bergamo. La base ideale per gli amanti del golf e per visitare la Lombardia: Milano (Expo 2015) 55', Bergamo 25', Lago di Como e Lecco 45', Verona 1h 30', Venezia 2h.
A poca distanza dalle principali arterie di comunicazione fra Milano e Bergamo, il residence trasmette una sensazione di piacevole tranquillità. Durante la stagione primaverile si rimane affascinati dal parco di alberi e fiori ai piedi della collina che ospita gli appartamenti. L'abitazione, graziosamente arredata e fornita di ogni attrezzatura, puo' accogliere 4 persone ed è composta da due camere da letto, un bagno, una cucina, un salotto con divano letto e veranda sul parco con tavolo e sedie. Located at short distance from major urban centers such as Milan and Bergamo, the 'Querceto del Golf' residence offers guests an incredible sense of quietness. As they enter the complex, visitors remain fascinated by the multitude of flowers and trees populating the hill on the top of which the cottage is sited. The property comes fully furnished and can accommodate up to 4 people. It includes two bedrooms, one bathroom, one kitchen, one living room with sofa bed as well as a terrace with table and chairs.
Il residence si trova all'interno di una vasta area verde con prati e boschi, accessibile tramite una strada privata. E' dotato di una portineria e barra d'accesso telecomandata. Le macchine si parcheggiano nei posti auto riservati ai condomini mentre gli ospiti hanno a disposizione un parcheggio esterno. The residence, located within a vast green area with lawns and woods, is accessible from a private road. The entrance is marked by a metal gate sited by the concierge's house, which can be opened using a remote control. Parking is available within the residence. Guests are requested to park their cars in a parking area outside the residence.
Vi er en familie på 2 voksne og 2 børn, som har haft 10 fantastiske dage i Almenno. Boligen ligger dejligt fredfuldt i meget grønne omgivelser, og der er gode faciliteter som pool, fodbold, legeplads, tennis og bordtennis. Hertil en lille cafe ved poolen hvor man kan købe diverse fornødenheder til dagen. Lejligheden ligger dejligt med egen terrasse, 2 værelser, alrum med stue og spiseplads samt køkken og et badeværelse. Alt var pænt og rent da vi ankom, og Pola tog godt imod os og informerede om nødvendige ting til opholdet. Huset ligger så lokalt, at det er godt at kunne lidt italiensk - for engelsk er ikke særligt udpræget i området. Vi kunne ikke italiensk men havde alligevel en dejlig ferie - det var til gengæld charmerende at finde ud af, at man kan klare sig alligevel uden sproget! Alle i området var meget hjælpsomme og gæstfrie.
Jesper
2016-07-21T00:00:00Z
Ho contattato Pola perché avevo necessità di ospitare alcuni parenti. Devo dire che si è dimostrata subito disponibile nel cercare di offrire quello che volevamo. La casa che si trova all'interno di un residence è immersa nel verde di un parco di querce e prati verdi dove fare passeggiate. Per chi ha bambini c'è anche un piccolo parco giochi riservato al residence,oltre a una bella piscina che purtroppo a causa del periodo autunnale non era funzionante. L'appartamento è dotato del necessario per cucinare e mangiare. Ci sono una stanza matrimoniale e una più piccola dove sono disposti 2 letti singoli uno dei quali è dotato di un ulteriore letto singolo estraibile. Nel salotto c'è un divano letto e tv con lettore DVD. Il bagno è dotato di doccia e l'acqua calda è fornita da un boiler che va acceso per tempo. Nel complesso ci siamo trovati bene. Da migliorare secondo noi è una connessione wifi che è assente.
Silvia
2016-10-16T00:00:00Z
Rodzaj pokoju
Całe miejsce
---
Rodzaj nieruchomości
Willa
---
Mieści
4
---
Sypialnie
Almenno San Bartolomeo, Lombardia, Włochy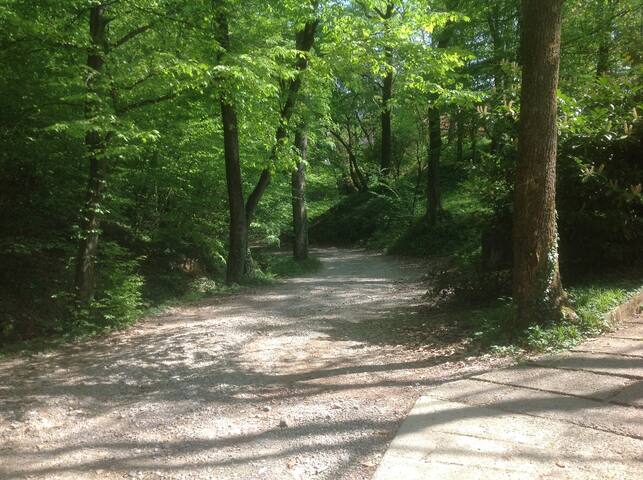 The Belvedere Farm, located on the hills of Gromlogo Pallazago, along the road from Lecco, Bergamo, a few kilometers from the airport of Orio al Serio, an oasis of green surrounded by vineyards. In fact, its name "Belvedere", comes with impressive views over the surrounding valley. The house is a classic example of rural architecture typical of the area, now equipped to receive people who want to stay, with two cozy rooms and one bathroom furnished with simplicity, in a reinterpretation of the country style. The morning breakfast is served in the courtyard of the farmhouse, or stay home. A diversified family farm in the production of wine, berries and honey, the weekend is possible to book a tasting of their products and the area.
Rodzaj pokoju
Pokój prywatny
---
Rodzaj nieruchomości
Wikt i opierunek
---
Mieści
4
---
Sypialnie
Palazzago, Lombardia, Włochy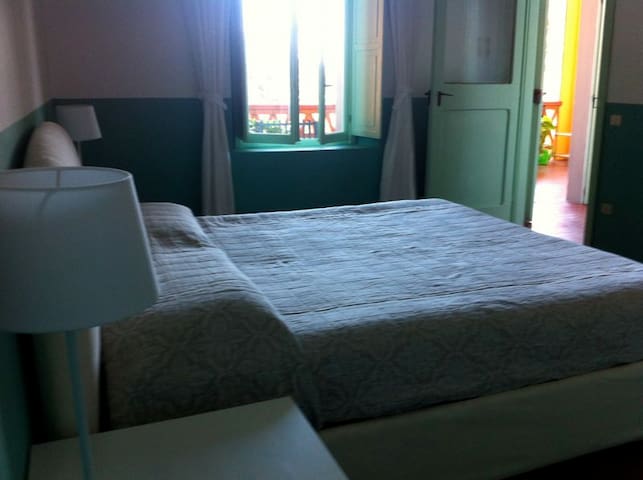 La camera Oro è matrimoniale ed è grande 15mq. Ha pareti con sfumature d'oro, pavimento in marmo ed è arredata con semplicità e gusto. Ha finestra con vista giardino/vallata ed è dotata di Tv Lcd, riscaldamento, lenzuola e set bagno di qualità. Bagno condiviso con altra stanza (possibilità di riservarlo al costo di 15 € per una notte, 10 € a notte per più notti)
Rodzaj pokoju
Pokój prywatny
---
Rodzaj nieruchomości
Wikt i opierunek
---
Mieści
2
---
Sypialnie
Roncola, Lombardia, Włochy
Strategiczne położenie 9 km od miasta Bergamo, 13 km od lotniska Orio al Serio i 45 km od Mediolanu. Pogórze, w pobliżu jezior i gór, 500metri z golfa (L'Albenza, 27buche). Spokojna wioska z dużym parkingiem.
możliwe dodanie trzeciego i czwartego złoża
Giovanna è stata davvero un'ottima "host"! Disponibile con i ragazzi. Appartamento pulito e accogliente. alla prossima Giovanna.
Be Direct S.a.s.
2015-04-20T00:00:00Z
l'appartement est très fonctionnel et décoré avec goût nos hôtes étaient très serviables et très agréables merci à Giovanna et Raffaella pour ce séjour
valérie
2015-08-24T00:00:00Z
The apartment was very clean and comfortable, halfway between hotel and home. The kitchen contained everything for cooking and was very nice. Working wifi and parking outside was really useful. But the real reason why I would recommend this place to anyone, is Giovanna's helpfulness. Although we arrived literally in the middle of the night and didn't have a rental car, she helped get our things in order. Super!
Hans
2015-10-07T00:00:00Z
Ottimo ! Ci siamo trovati veramente bene con il loft con tutti i confort e in ottime condizioni visto la recente ristrutturazione! L'accoglienza è stata buona da parte dell'host e francamente ha cercato di rendere piu facile la nostra permanenza con consigli e grande disponibilità! La cittadina di Barzana è incantevole con il massimo della tranquillità e con tutti i servizi richiesti nel raggio di poche centinaia di metri! Ideale per chi vuole rilassarsi! Abbiamo usufruito dell'alloggio per motivi non felicissimi ma ci siamo ripromessi di tornare per un periodo di vacanza vero e proprio! Un grazie a Giovanna e complimenti!
Edmondo
2015-04-05T00:00:00Z
Rodzaj pokoju
Całe miejsce
---
Rodzaj nieruchomości
Loft
---
Mieści
4
---
Sypialnie
Barzana, bergamo, Włochy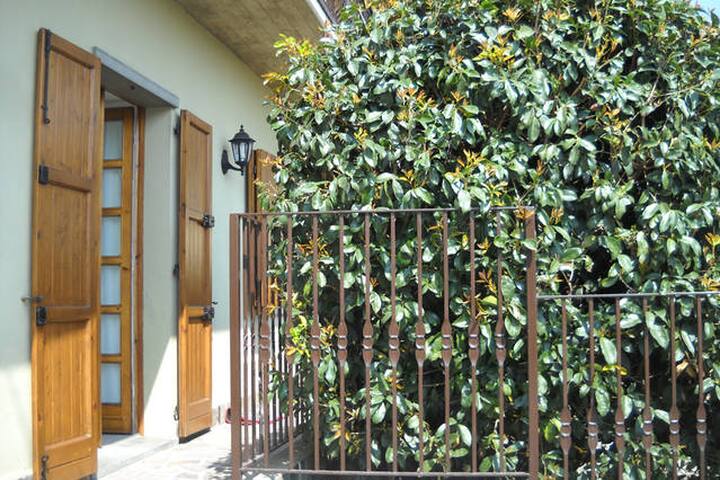 It is spread over two floors, and is characterized by a large porch with tables and an extensive garden with a barbecue. There is a kitchen, dining room and living room with fireplace and TV . Upstairs there are 3 bedrooms and a dorm and 2 bathrooms.
CASA BRUDER is spread over two floors, and is characterized by a large porch with tables and an extensive garden with a barbecue. Downstairs there is an ample kitchen, dining room and living room with fireplace and TV. Upstairs there are three bedrooms (each with 2 single beds) and a dorm (3 bunk beds and a single bed), and two bathrooms.
The Bruder holiday farmhouse is located in Lombardy, 15 minutes from Bergamo (Orio al Serio Airport, Milan), 25km from Lake Lecco-Como and 45km from Milan. The farmhouse Agriturismo Bruder is situated on a hill 300-500 metres above sea level, and is surrounded by forests and green pastures. At the Bruder holiday farmhouse, guests are accommodated in independent lodges, so breakfast and other meals are not provided as each lodge is equipped with a kitchen or kitchenette.
Precisa, gentile e molto disponibile. Casa molto accogliente con una vista fantastica.
Giuseppe
2016-09-19T00:00:00Z
Un posto molto tranquillo ,immerso nella natura perfetto per chi vuole staccare dalla realtà . Circondato dal verde , dai gli alberi dalle colline .. Un panorama magnifico dove si può osservare tutto dall'alto . La casa molto spaziosa perfetto per i gruppi numerosi . La Signora Ezilda e sua figlia molto accoglienti e disponibili.
Jolise Valeria
2017-03-25T00:00:00Z
Casa perfetta per gruppi di persone, soprattutto ragazzi. Giardino con vista sulla vallata perfetto per le grigliate. Proprietari gentilissimi.
Andrea
2016-07-18T00:00:00Z
Tolle, ruhige Lage mit Blick ins Tal.
Michael
2016-08-10T00:00:00Z
Lucia, husband and Ezilda are just great hosts. Wonderful house. Wonderful surroundings
Peter
2016-06-27T00:00:00Z
Bellissimo e accogliente casale immerso nel verde. Isolato per chi cerca tranquillità ma con supermercati e altri servizi a pochissimi km. La proprietaria è molto gentile e a disposizione per qualsiasi necessità.
Fabiana
2016-02-14T00:00:00Z
Rodzaj pokoju
Całe miejsce
---
Rodzaj nieruchomości
Dom
---
Mieści
12
---
Sypialnie
Palazzago, Lombardia, Włochy