Tullywest B&B is a modern home with spacious guest bedroom which is located on a mezzanine floor with: sitting area, WiFi, TV & hospitality tray and private shower room. It is 5mins drive from Belfast International airport in a central countryside location, suitable for touring & business visits. Pick up from the airport can be arranged. There is a regular airport bus service to Belfast City (30 mins). Super breakfast included. A car is beneficial for touring outside Belfast.
The bedroom space provides a very comfortable and stylish room for guests to relax in. BT Infinity broadband is available through the home as well as Free view channels in the guest room. Guests are invited to enjoy the use of the sunroom and living room. We take pride in our home and are keen to share our interests in good food, art and the garden. We hope that guests will feel relaxed and at home, choosing to chill out on their own or join us for a cuppa or a meal.
While Tullywest B&B is set in scenic countryside with beautiful views it is only 5 minutes drive from the local small town of Crumlin and 10 mins drive from Antrim town and 25 minutes into the centre of Belfast. There are a choice of restaurants only a few minutes drive away.
I stayed with Vine and Davy again for 2 nights this time and it was just as good as before. Beautiful countryside setting, very comfortable bedroom and bathroom and only 5 minutes from the airport. Breakfast was absolutely wonderful 10 out of 10!!! Very welcoming and friendly hosts and very knowledgeable about where to go, what to see and great places to eat out, I look forward to exploring Belfast. Big thank you to Vine and Davy for two lovely and memorable stays :)
Chloe
2016-09-30T00:00:00Z
Fantastic Guests with a beautiful house, went above and beyond by giving me a lift to the airport.
Jack
2016-10-10T00:00:00Z
I 've had a truly lovely stay,everything was perfect.
Θοδωρης
2016-12-12T00:00:00Z
We stayed one night with Vine & Davy, who made us feel very relaxed & at home. The house is in a very quiet & private countryside location. The house, the room & garden are very easy on the eye ! The highlight was the perfectly cooked breakfast, enjoyed overlooking the garden & countryside views. Most refreshing stop over I can recall. They are excellent hosts & have a beautiful home to share. The only fault I would find is I cannot give more than the maximum 5 stars !
Veronica & Martin
2016-08-22T00:00:00Z
Rooms clean with all amenities. Breakfast perfect and hosts extremely helpful and very pleasant
Lloyd
2017-03-17T00:00:00Z
Oh my goodness. I cannot say enough good things about Vine & Davy, their incredible hospitality and their beautiful home. The accommodations are far better than most I have had - clean, comfortable and impressively stylish. The food was absolutely delicious, and the company was top notch. Vine has not missed a single detail. These are great people and I so enjoyed getting to know them. My only regret is that I didn't have more time to spend. If you love art, kindness and complete comfort, this is your place.
Tonia
2017-01-06T00:00:00Z
Superb hosts and room!
Nick
2017-03-10T00:00:00Z
I spent an overnight stay at Vine and Davey's beautiful home all I can say is fantastic. I was picked up at the airport by Vine and taken to their home. If there's a vacancy book it without delay you won't be disappointed. On arrival I was made tea with wheaten bread and jam delicious also enjoyed a nice chat with Vine. I was shown where everything was. I also had a 2 course dinner which was delicious vine is an excellent cook also enjoyed the company of Davey. My room was well decorated and furnished and extremely comfortable. TV in room with tea and coffee making facilities. The bed is extremely comfortable where I slept well with fresh bedding and I felt refreshed and relaxed in the morning it's also very peaceful here. The bathroom next door is clean with soft towels and toiletries supplied. Nice warm powerful shower. Breakfast was fantastic everything that I needed to start the day. This is a rare find I cannot rate it highly enough in terms of comfort accommodation and more importantly the friendliness of the hosts. Vine and Davey thanks for everything much appreciated.
Paul
2017-03-23T00:00:00Z
Rodzaj pokoju
Pokój prywatny
---
Rodzaj nieruchomości
Wikt i opierunek
---
Mieści
2
---
Sypialnie
Antrim, Northern Ireland, Wielka Brytania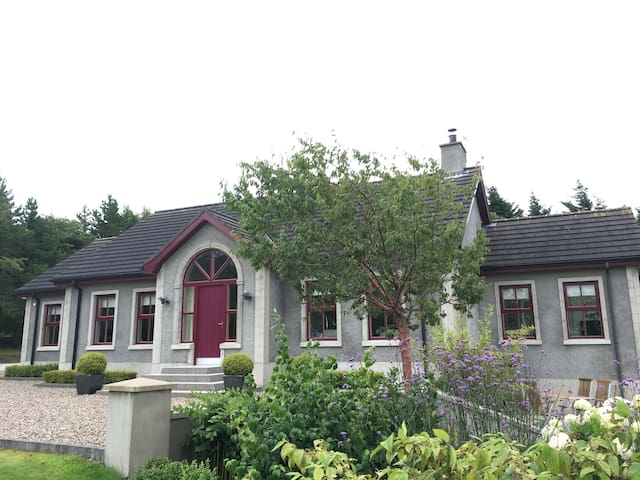 Este es un nuevo apartamento en el primer piso con todos los electrodomésticos modernos y comodidades. se proporcionan una lavadora con las instalaciones de secado durante la noche. El apartamento está unido a nuestra sala de estar, pero con entrada independiente y separado de la vivienda principal. También tenemos una apartamento de un dormitorio POR SEPARADO LA LISTA.
Nuestro apartamento de dos dormitorios se encuentra a 15 minutos del aeropuerto y Belfast y se encuentra en una zona rural tranquila, sin la congestión del tráfico para que pueda obtener en su camino sin demora
Muchos de nuestros clientes aprecian la tranquilidad de nuestra ubicación, ya que han venido de muy ocupadas entorno familiar ruidosos.
My family and me stayed here for one night and we were all flabbergasted. The apartment is easy to get to with a car and is on the way from Belfast towards the coastal route which was perfect for us. Everything in the apartment is in pristine condition and all appliances work perfectly. The beds are very comfortable and helped us recuperate from a lousy rainy afternoon in Belfast as did the shower. The interior is magnificent and there's only more to say about the owners. Both Rosemary and Raymond did everything in their power to make the place feel like a home for a night. Sheets and towels are clean, there's all you need for breakfast (variety of muesli, butter, marmalade, milk, coffee, tea, bread), even four eggs that come from happy-plucking hens you see while driving in. Honestly, better than a hotel. They even went out of their way and booked a dinner for us in a restaurant they recommended. I would definitely recommend everyone to stay here as it is clean, comfortable for four adults, close to Belfast and the hosts know how to welcome you in the best way.
Tamara
2016-04-11T00:00:00Z
Raymond and Rosemary were wonderful hosts! They were very accommodating from the beginning and the happiest people we have met so far in Ireland! They live right next door so they are there to help you with anything you need, and of course their place is lovely. We didn't realize it was so far into the countryside so we got a little lost as we arrived in the dark. Try to get there in the daylight and enjoy the garden and relaxing atmosphere. Would definitely recommend this apartment to get away from the busy city of Belfast.
Julia
2016-09-18T00:00:00Z
Raymond and Rosemary are very kind and helpful. They showed us their hospitality and we felt ourselves like at home. I really thank them for all. I hope I could visit them again in future.
Emrah
2016-07-03T00:00:00Z
Raymond and his wife are friendly and lovelyyyy!!! There were also so helpful, they helped us to find a restaurant around Belfast. Also the apartment was really clean and spacious. They were a full breakfast : cereals, bread, jam... Everything was perfect, again thank you so much ! We will definitely go back to your home when we will go around Belfast :-)
Audrey
2016-07-18T00:00:00Z
We were made to feel very welcome and looked after, the area was stunning and very quiet which was good for a good nights sleep
Craig
2016-09-01T00:00:00Z
Great service provided by Raymond. Their apartment was perfect for our requirements. Communication was excellent and description was exactly as listed.
Duncan
2016-07-31T00:00:00Z
Perfect!
Nick
2017-03-03T00:00:00Z
Rodzaj pokoju
Całe miejsce
---
Rodzaj nieruchomości
Apartament
---
Mieści
4
---
Sypialnie
Nutt's Corner, Wielka Brytania
Ruhige, ländliche Lage in unserem Haus angebracht, aber dennoch völlig unabhängig. Es ist ausgestattet mit Wohnzimmer und Küche, Bad zugegriffen aus Halle und Schlafzimmer, die Schränke gebaut haben. Eine separate Waschmaschine / Gefrierraum ist im Erdgeschoss. Wir haben auch eine listed separately Apartment mit zwei Schlafzimmern.
Sie haben Zugang zur Terrasse haben, Haupt Garten Wäscheleine Garage und zu speichern (eine Überarbeitung bekommen), vielleicht bist du ein Angler, Biker benötigen Lagerung, warme Kesselhaus für Ihre Sachen zu trocknen. Wir haben ein Gemüse Garten so gibt es einige gute Sachen sein kann.
Raymond and Rosemary were wonderful hosts and they made us feel very welcome. They gave us very useful information about the region and places to visit, and we had a great time! The apartment is beautiful and very comfortable, we loved the garden as well!
Claire
2016-08-18T00:00:00Z
This was a lovely stay with very nice hosts and good wifi. I would certainly return
Patrick
2016-05-14T00:00:00Z
Oh my goodness, I don't have enough nice things to say about Ray and his wife. These two are fantastic hosts. They invited us into their home and we talked about life and Ireland over cookies and tea. They go above and beyond to make you feel welcome. Ray has worked hard to create great living spaces that are very private. I wish these two were my neighbors!
Mary
2015-07-21T00:00:00Z
The previous comments from guests should give you an idea about this place. Their feedback is totally accurate. The hosts, Raymond and Rosemary are fantastic, kind and helpful. The house if well stocked, well maintained and well designed. The area is picturesque and tranquil. The garden and grounds of the property are lush with plants and flowers; beautiful. I am running out of positive adjectives to use about this place. I think if they would have me I would move in and never leave. if you are looking at this place then look no further. Come here. You will not regret it.
John
2016-06-22T00:00:00Z
Raymond and Rosemary were very welcoming and hospitable. They went far and beyond their call of duty and helped us out immensely. Would highly recommend this place as it's modern and close to the airport (yet still feeling like you're in the countryside). Would love to come back again thanks so much :)
Conor and Izzi
2015-07-23T00:00:00Z
Again a superb stay
Patrick
2016-05-17T00:00:00Z
They were soooo lovely with us! We were their first guests and they treated us like family. Everything was brand new! Even the TV, the bathroom... It is a totally independent apartment fully furnished and renovated. Very comfortable! Just one indication, (SENSITIVE CONTENTS HIDDEN) maps takes you to the number 22 of the same street! Be aware that the address is number 16 and stop a little bit earlier, we had to turn back to get to the house.
Raul
2015-05-03T00:00:00Z
We had a really great time staying at Raymond and Rosemary 's place, the flat was just perfect and has everything we needed. It's a really quiet place in a beautiful landscape. Raymond and Rosemary where very kind with us, if we needed something, we just had to ask and they helped us with enthusiasm. Thank you again for everything! We really enjoyed our time in your place.
Aurelia
2015-08-30T00:00:00Z
Rodzaj pokoju
Całe miejsce
---
Rodzaj nieruchomości
Apartament
---
Mieści
2
---
Sypialnie
Nutt's Corner, Wielka Brytania
Wpisz daty, by zobaczyć pełną cenę. Obowiązują dodatkowe opłaty. Cena może uwzględniać podatek.