Wir haben ein tolles Gästezimmer zur Verfügung, in welchem wir gerne Gäste aus der ganzen Welt begrüßen! Kinder sind bei uns herzlich Willkommen. Hier in Calw auf dem Wimberg ist es sehr ruhig, der Wald ist in unmittelbarer Nähe, die Wildschweine, viele Spazier- und Wanderwege starten direkt vor der Haustüre. Der Zug ist in Calw, von dort gibt es eine direkte Verbindung nach Stuttgart, Pforzheim, Karlsruhe, Tübingen,... Eine Bushaltestelle befindet sich 100m von unserem Haus.
Bei uns wohnt ihr in einem 3stöckigen Reihen-Eckhaus mit rundherum Garten. Das Gästezimmer ist auf der 2. Etage. Direkt gegenüber befindet sich das Bad, welches ihr während eures Aufenthaltes privat nutzen könnt. Auf dem gleichen Stockwerk befindet sich unser Ess- und Wohnzimmer, die Küche und der sonnige Balkon. Diese Räume nutzen wir gemeinsam. Unsere Familie schläft ein Stockwerk weiter oben. Parkplätze befinden sich direkt vor dem Haus.
Wir leben sehr ruhig und familiär. In Calw selbst verzaubert euch die Schwarzwald-Stadt mit ihrem eigenen Flair. Hier finden sich auch einige gut bürgerlichen Restaurants. Einkaufsmöglichkeiten, Bäcker, .... erreicht ihr zu Fuß in wenigen Minuten.
Christine and David are very friendly and kind. I'm not good at English, but they also ask me 'everything is okay?' and talking that we can understand. The house is so beautiful and the village is nice.Staying in your house, It was happiest time during traveling in Europe. Recomnend this house! :) PS : I want to write better than this, but I don't know how to describe you and your house!
Yun Gi
2015-08-24T00:00:00Z
We visited the house for one night traveling far.. We felt sorry that we arrived much later than we planned because of too much traffic in Germany. We felt very welcome. We slept very well. Ans It was great to have a good breakfast with the family.
Moniek
2015-07-28T00:00:00Z
房子很好,房东人很不错。
jun
2016-08-12T00:00:00Z
Very friendly home. We had a great time staying here. I was even offered a cappuccino by their 7 year old in the morning! The family was a delight to stay with and we had some good conversations. Nice bright room and use of all the house amenities. Also nice town with great local shops.
Rainer
2016-10-03T00:00:00Z
Christine et David nous ont réservé un accueil chaleureux. Nous avons partagé la vie de la famille tout en gardant notre intimité (chambre et sanitaires privatifs). L'appartement est bien configuré pour se sentir à l'aise en tant qu'invité. Il est possible d'utiliser une cuisine très fonctionnelle. La maison est située dans les hauteurs de Calw, à 20 minutes à pied de la gare de Calw: cela permet de se promener dans la Forêt Noire et de visiter le centre-ville sans avoir besoin d'un véhicule. Un séjour très agréable! Nous recommandons cet hôte. Christine and David were friendly . We felt at ease, sharing family's life while having our privacy. (private bedroom, bathroom and toilets). It's possible to use a nice kitchen. The house is located up town: it's possible to reach the city centre and the train station without having a car, and it's a good place for walks in the Black Forest. We recommand this guest! Christine und Davids Empfang war sehr freundlich. Man kann der Alltag des Familie mitnehmen, während unsere Privatleben haben. Man kann eine bequem Küche benutzen. Das Haus ist der nähe von Calw, 20 minuten zu fuss. Man kann ohne Auto die Stadt besichtigen und in die Schwarzwald spazieren. Ein schön Aufendhalt. Wir empfehlen diese Gastgeber!
Vanessa
2015-12-25T00:00:00Z
Warm welcome, goed communication, clean en simpel. Christine made us feel a part of her life for a day! Thank you!
Avram
2016-02-21T00:00:00Z
We had a very warm welcome from Christine after a long wet day of cycling. Their house in Wimberg is lovely and in a great spot for exploring the Black Forest. We ate dinner with Christine, her husband David and son Aaron which was great fun. All in all it was a fantastic first experience of Airbnb.
Christopher
2015-09-20T00:00:00Z
Great host, clean room and very comfy beds. Quiet location well situated for explorations in the Black Forest. I stayed with my husband and 2year old and we really enjoyed the friendliness of the host and cleanliness of her beautiful home!
Annie
2017-03-24T00:00:00Z
Rodzaj pokoju
Pokój prywatny
---
Rodzaj nieruchomości
Dom
---
Mieści
5
---
Sypialnie
Calw, Baden-Württemberg, Niemcy
Unsere Unterkunft ist besonders wegen der Gemütlichkeit, der Lage und dem Blick auf den Schwarzwald. Unsere Gästezimmer befinden sich in einen separaten Bereich des Hauses mit eigenem Eingang. Dort stehen unseren Gästen ein Bad mit Dusche sowie ein separates WC mit Waschbecken und Außenfenster zur Verfügung. Hinweis: wir haben ein zweites Inserat mit Doppelzimmer und Balkon!
Wir bieten hier eine meist ruhige Übernachtungsmöglichkeit für bis zu 2 Personen (In Verbindung mit einer Buchung des Doppelzimmers bis zu 4 Personen). Am Tor zum Schwarzwald hast Du einen tollen Ausblick auf Teile des Schwarzwaldes. Unser Haus steht in einem größeren Grundstück an Ortsrandlage zum angrenzenden Wald der unterhalb liegt. Einfach ein genialer Ausblick! Wir bieten hier eine meist ruhige Übernachtungsmöglichkeit für 1-2 Personen. Hinweis: wir haben ein zweites Inserat mit Doppelzimmer! wir empfehlen die An- und Abreise möglichst mit Auto!
Es herrscht eine tolle Atmosphäre und wurde an alles gedacht, optimale Voraussetzungen für einen schönen Aufenthalt!
Leon
2016-11-23T00:00:00Z
Würde jederzeit nochmals buchen. Besonders positiv aufgefallen ist mir die schnelle und einfache Kommunikationen mit den Gastgebern sowie die angenehme Atmosphäre, welche durch die schöne Ausstattung entsteht.
Yannick
2017-01-11T00:00:00Z
War wieder alles perfekt. Nur zu empfehlen!
Yannick
2017-03-10T00:00:00Z
Ralf was very nice. The house was very clean and had everything I needed. It was a fantastic experience.
Scott
2016-10-16T00:00:00Z
Gerne wieder
Yannick
2017-03-03T00:00:00Z
Persönlicher Empfang durch den Gastgeber. Sehr hilfsbereit und freundlich.
Marion
2016-10-29T00:00:00Z
Ralf was a cool guy and the place was clean with magnificient view
Azmier
2016-07-31T00:00:00Z
Perfect location to explore the black forest and the nice villages nearby. The accommodation is basic and very fuctional. Ralf and his wife very precise in communication,
Sara
2016-08-31T00:00:00Z
Rodzaj pokoju
Pokój prywatny
---
Rodzaj nieruchomości
Dom
---
Mieści
2
---
Sypialnie
Nagold, Baden-Württemberg, Niemcy
You sleep in a 20 sqm gr. Rooms with a 2mx1m bed, is furnished with a table, chairs, wardrobe, Shelves, TV, DVD player, music system, extra bed available, or another single bed in the hall. Kitchen, 2 toilets
Klaus war sehr nett und hat geduldig gewartet, bis ich am späten Abend endlich ankam. Es gab einen Platz zum Parken. Das Zimmer ist sehr gemütlich, ich habe gut geschlafen. Morgens hat Klaus sogar ein Frühstuck auf der Terrasse serviert!
Arthur
2015-07-25T00:00:00Z
Un superbe séjour. Klaus est très ouvert et impliqué, de plus le petit déjeuner ( copieux ! ) nous a été offert. C'est un hôte très serviable et agréable, sa maison est très propre et calme. Nous avons adoré y vivre et nous reviendrons volontiers chez Klaus. On ne savait pas trop quoi visiter, Klaus nous a bien expliqué les villages alentours à voir, c'est une très jolie région !
sarah
2015-08-19T00:00:00Z
Klaus has rolled out the welcome mat for me. He has made me feel welcome and has given me tips on getting around, showed me German traditions, taught me some German words. He speaks good English as well. This has been one of my best AirBNB experiences I have had so far. Also I want to say that Klaus is a good natured fellow and is pleasant to be around.
Devin
2015-12-01T00:00:00Z
Rodzaj pokoju
Pokój prywatny
---
Rodzaj nieruchomości
Dom
---
Mieści
2
---
Sypialnie
Altensteig, Baden-Württemberg, Niemcy
Mój dom znajduje się niedaleko Nagoldtalsperre, przyrody i spokoju. Moje mieszkanie jest dobre dla dużych grup do max. 33 osób.
Dostępna parter, pokój dzienny i Pflegebad. W sumie 13 pokoi z 8 łazienek i 2 kuchnie
pokój
Rodzaj pokoju
Całe miejsce
---
Rodzaj nieruchomości
Dom
---
Mieści
16
---
Sypialnie
Seewald, Baden-Württemberg, Niemcy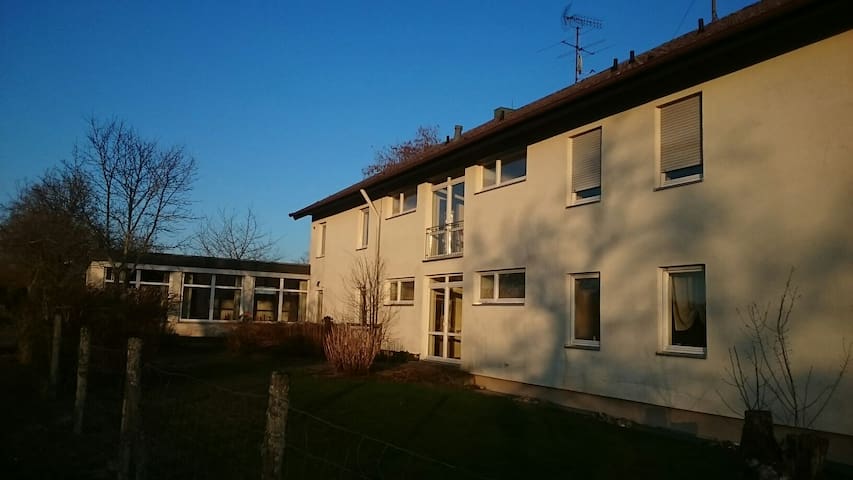 Spodoba ci się mój zakwaterowanie dla komfortu, lokalizacji i poglądów Schwarzwaldzie .. Nasze pokoje znajdują się w oddzielnej części domu z osobnym wejściem. Tam nasi goście łazienka z prysznicem i oddzielna toaleta z umywalką i zewnętrznej okna. Uwaga: mamy drugą reklamę z podwójnym pokoju!
Wir bieten hier eine meist ruhige Übernachtungsmöglichkeit für bis zu 2 Personen (In Verbindung mit einer Buchung des Einzelzimmers bis zu 4 Personen). Am Tor zum Schwarzwald hast Du einen tollen Ausblick auf Teile des Schwarzwaldes. Unser Haus steht in einem größeren Grundstück an Ortsrandlage zum angrenzenden Wald der unterhalb liegt. Einfach ein genialer Ausblick! Wir empfehlen die An- und Abreise möglichst mit Auto!
Es hat mir wieder sehr gefallen. Würde immer wieder gerne bei Ralf übernachten.
Peter
2017-01-13T00:00:00Z
The room is very cosy and clean. It has everything we need. The place is in a small town or village with beautiful mountain view. I am not sure about the public transportation there but for driving there is no problem. We followed the (SENSITIVE CONTENTS HIDDEN) map and to find the location, which is correct. I would definitely stay here again if I visit here.
Qixia
2016-12-27T00:00:00Z
Immer wieder gerne und danke für die Gastfreundschaft.
Fatih
2016-11-30T00:00:00Z
Quiet comfortable area. Nice room, marvelous views from the window and from balcony, beautiful nature around. Highly recommend!
Antanas
2016-07-31T00:00:00Z
The room and space was very comfortable. I wasn't expecting there to be a little kitchen area so that was a nice surprise. They even supply coffee for the machine. Very quiet and the views from the balcony are great! Overall, a very nice stay and would recommend anyone to stay!
Sandy
2016-10-17T00:00:00Z
Séjour très agréable. Ralf a répondu à nos question avant notre arrivée, la chambre convenait parfaitement à nos attentes et le balcon est très agréable avec une vue reposante sur le jardin et la foret.
Joel
2016-08-13T00:00:00Z
只适合自驾游,但是房子性价比很高,阳台外就是山和森林,很漂亮。
Zhengzuo
2016-12-23T00:00:00Z
Alles wie beschrieben- angenehmer Aufenthalt - gerne wieder.
Ahmet Can
2017-03-22T00:00:00Z
Rodzaj pokoju
Pokój prywatny
---
Rodzaj nieruchomości
Dom
---
Mieści
2
---
Sypialnie
Nagold, Baden-Württemberg, Niemcy
My place is close to Spa and termal baths,, family-friendly activities, mountainbike track, Sommerberg hill with panorama view,ski. You'll love my place because of the views, nature, mineral water. And we love our guests.. My place is good for couples, solo adventurers, business travelers, families (with kids), and big groups.
Set in the heart of the Black Forest, this accommodation is peacefully located in the spa town of Bad Wildbad. Spacious room with a scenic mountain view and free WiFi is offered here. Nikol-Bad Wildbad features homelike furniture and wooden flooring throughout. The room also comes with infrared heating. Guests will find restaurants and supermarkets within a 10-minute walk of the property. Leisure activities in the area include hiking and cycling in the scenic Enz valley. Visitors can even enjoy splendid views from the Sommerbergbahn mountain railway.
Rodzaj pokoju
Całe miejsce
---
Rodzaj nieruchomości
Dom
---
Mieści
3
---
Sypialnie
Bad Wildbad, Baden-Württemberg, Niemcy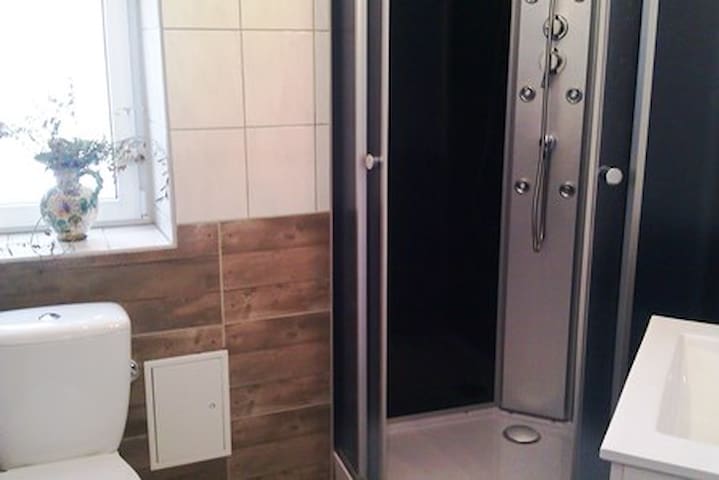 Das Gästezimmer ist modern und hochwertig möbliert, Naturholzmöbel, ein handgefertigtes Doppelbett, Schränke , großzügiges Duschbad mit Granitwänden ,Glasabtrennung , WC ,Waschbecken mit Unterschrank , zweiflügelige Terrassentür und kleine Terrasse mit Blick in den parkähnlichen Garten. Das Zimmer liegt im Erdgeschoss meiner Villa und hat einen separaten Eingang . Von hier aus sind es nur fünf Gehminuten zum Supermarkt . Am Ort ist ebenfalls ein Modegeschäft, Optiker , Buchladen etc.
Das Gästezimmer ist in einer wunderschönen einzigartigen Villa mit Blick in meinem parkähnlichen großen Garten mit Teich . Das Zimmer ist etwas Einmaliges mit abgehängter Decke , Sternenhimmel , extravaganter Dusche ebenerdig , mit Granitwänden , WC, Waschbecken .....uvm. , ruhig und total zum Entspannen
Mein Haus liegt in einem ruhigen Wohngebiet . Die Einkaufsmöglichkeiten sind vielseitig und zu Fuß erreichbar. Wir haben hier am Ort : Apotheke , ein Hallenbad, Buchladen, Edeka/Penny- Supermarkt , viele Bäcker , drei Restaurants, 1 Bioladen mit Frühstücks- und Mittagsmenü Angeboten, 3 Cafe´s ,Metzgerei, Optiker , Dessous-Laden, Friseure etc. Die Kreisstadt ist nur 5 km entfernt, Stuttgart ca 35 km , Sindelfingen ca. 18 km Wir liegen also im Zentrum !!!
We had a very nice stay. The room was very cozy with the starlights and Elvira is a great host she send us to a great restaurant in the area where we had the best German cuisine. We would stay with her again.
Claire
2016-09-26T00:00:00Z
alles gut
Sandra
2016-08-22T00:00:00Z
Elvira made us feel right at home. She was quite flexible with regards to our unpredictable arrival time. The room is much more luxurious than the pictures can tell. Everything is easily reachable by car from Althengestett. For a little bit extra, Elvira serves quite a lovely and healthy breakfast. We had a lovely chat with the family, which was in for the weekend. All-in-all, an enthusiastic two thumbs up!
Pieter and Yvette
2015-07-19T00:00:00Z
Elvira und ihre Unterkunft waren toll, zum sofortigen Wohlfühlen gemacht. Ein Hotelzimmer wie im Kempinski Atlantik mit wunderschönen Sternenhimmel. Elvira ist ne super Gastgeberin. Wir haben wunderbar geschlafen in unserer sehr ruhigen Sternenhimmelunerkunft. Wir sagen vielen Dank und bis bald
Juliane
2016-08-01T00:00:00Z
sehr nette Gastgeberin, sehr schönes Zimmer, ruhige Lage, sehr sauber
Claudia
2016-11-27T00:00:00Z
Elvira war sehr höflich und gastfreundlich. Sie zeigte uns all die Details des Schlaf- u. Badezimmers - beide traumhaft! Sie gab uns gute Tips über das Abendessen in einem nahen Restaurant und bereitete uns am Tag danach ein tolles Frühstück mit vielen Leckereien! Die Wohnung und der Garten sind prunkvoll, und die Gastgeberin ganz nett und verfügbar. Kein Problem mit Ab- u. Anreisezeiten. Uns gefiel ihr Lächeln sehr.
Giantonio
2016-08-16T00:00:00Z
Chaleureuse, souriante et attentionnée, notre hôte a su nous mettre à l'aise dès notre arrivée. La chambre est "luxueuse" et très confortable. Elle est agencée et décorée avec goût. La salle de bains offre une merveilleuse douche italienne dont on apprécie les jets relaxant en fin de journée. Le jardin est très agréable et le quartier calme et reposant. L'accès indépendant vous offre toute liberté de mouvement.
Eric
2015-07-06T00:00:00Z
Elvira was a great host. She has a beautiful home and made us very welcome. The room was perfect with private bathroom and french doors on to the garden - just as described. We stayed for breakfast and met 1 of her friends - we really felt very welcome.
Mark
2015-05-25T00:00:00Z
Rodzaj pokoju
Pokój prywatny
---
Rodzaj nieruchomości
Dom
---
Mieści
2
---
Sypialnie
Althengstett, Baden-Wurttemberg, Niemcy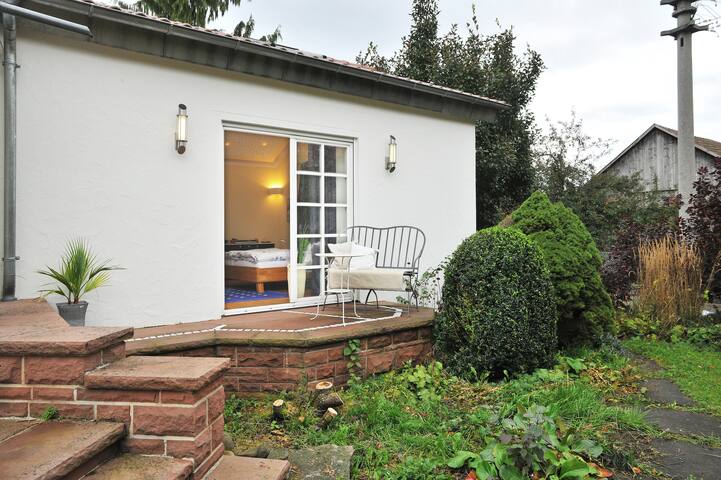 Our Black Forest house is situated near meadows and forest trails are directly at the house, thermal baths and swimming pool 2 km away, as is the lovely town of Bad Herrenalb. Aktraktive cities such as Baden-Baden, Karlsruhe and Strasbourg can be reached quickly, and the Black Forest National Park is not far. You're going in the large garden with views of the Black Forest mountains (deck chairs are available) and in the cozy atmosphere of the house very comfortable.
Our house is not totally perpekt, but it is very gemülich because almost everything is made of wood. It is located between forests and meadows, the view goes up to the Black Forest mountains. You can hear the stream bubbling away and the birds singing - a paradise for nature lovers. Simultaneously can great trips to Baden-Baden, France, take in the pretty town of Ettlingen, insTheater or cinema to Karlsruhe or in the National Park for hiking. Relaxation can be found on walks, hiking, cycling in the immediate vicinity or many spa treatments and good gastronomy in the nearby town of Bad Herrenalb.
Much forest and meadows, quiet location. A café with wonderful Black Forest gateau is 3 doors down. Hiking trails lead directly past the house, cross-country skiing is 2 kilometers (also access to the trail Dobel-Freudenstadt).
Un sitio precioso, la casa confortable y una anfitriona muy amable que nos facilitó la llegada y quedò a nuestra disposición durante nuestra estancia. Zona tranquila y de hermososo paisajes y con buen acceso.
agustin
2016-07-30T00:00:00Z
A very spacious old house with a nice garden. We had a wonderful time here, very quiet and relaxing. It was very nice to sit in the garden and listen to the birds. We had plenty of room, the cable internet was working really well. We missed the microwave from the kitchen but otherwise everything was fine, we had a good time here.
Judit
2016-08-19T00:00:00Z
Very cozy stay. The view from the garden is perfect and all the facilities are in good condition. Also there's a bus stop within two minutes' walk. We have spent a really good nice weekend.
Qiaoshuang
2017-03-19T00:00:00Z
Rodzaj pokoju
Całe miejsce
---
Rodzaj nieruchomości
Dom
---
Mieści
6
---
Sypialnie
Bad Herrenalb, Baden-Württemberg, Niemcy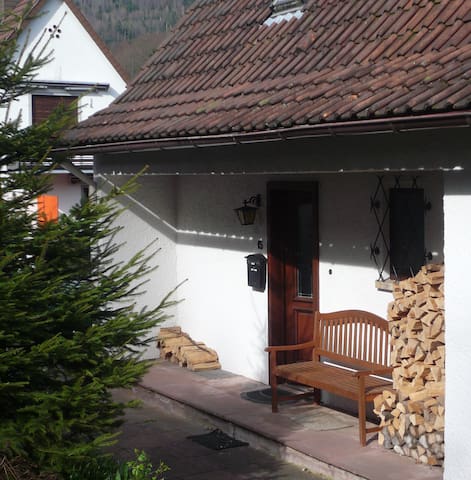 Das Scharzwald Häusle liegt im Herzen eines der größten Naturparks Deutschlands, dem Scharzwald. Es ist vollständig renoviert und umfasst 2 Wohnungen mit je 4 Schlafgelegenheiten, eine grosse Terrasse und Balkon mit Blick über die Wiesen und Wälder.
Das Schwarwald Häusle hat Zentralheizung und einen Schwedenofen im unteren Geschoss. Beide Wohnungen sind mit einem grossen Wohnraum, einer geräumigen Wohnküche und einem modernen Bad ausgestattet. Der Wohnraum besitzt einen direkten Zugang zur geräumigen Terasse bzw Balkon mit Ausblick über den Garten, die Wiesen und Wälder. Der Wohnraum besteht aus Schlafbereich mit einem Doppelbett 180x200 cm, Essbereich und Wohnbereich mit Fernseher und einer gemütlichen Sitzecke. Die Wohnküche hat eine Küchenzeile mit Waschmaschine, Geschirrspülmaschine und Herd und einen Schlafbereich mit einem Doppelbett 140x200 cm.
Very clean and well maintained, spacious house and really cute neighborhood, the backyard is beautiful!
Camilla
2016-10-02T00:00:00Z
We stayed one night in Barbara's house during our car-trip from Tuscany to The Netherlands. A very clean and nice house with a fine backyard. Perfect for 2 families, very recommended.
Jos
2016-09-19T00:00:00Z
Very clean and well kept. We onlu slept 3 hours but good from our experience
Demetris
2016-03-19T00:00:00Z
The cottage was a perfect place to stay for one night, but we would've been comfortable there for many days!. It was immaculate and had everything we needed for our family of 6. The rooms were cozy, with plenty of space and the decor was lovely. We will never forget watching the sunset on the balcony.
Lecel
2016-08-01T00:00:00Z
Great location, clean warm great facilities! lovely streets around it to explore! Would highly recommend staying here!! Thanks Dr Barbara,,
maz
2016-04-29T00:00:00Z
Wir haben uns mit 4 Erwachsenen und 4 Kindern sehr wohl gefühlt. Die Küchen sind vollständig eingerichtet. Frische Blumen waren im Garten gepflanzt. Leider war es etwas kalt und wir konnten nicht grillen. Der nahegelegene Wildpark ist super toll.
Mark
2016-03-24T00:00:00Z
Wonderful house, good location and plenty of space + parking. Everything very clean and new and all necessary kitchen equipment available. Easy to communicate and all extra info given by Barbara. Ideal location for nature and city trips to Heidelberg, Baden-Baden , ... We were 2 families ( in total 7 persons) and plenty of space ... good internet and great bathrooms and beds .... PERFECTO !! Sonia Gonzalez
Sonia
2015-12-28T00:00:00Z
The home is beautiful, comfortable and Well equipped too. We had a wonderful time and a memorable too. The instructions given were precise and the host is very attentive. All in our party gives the thumbs up for this place. If I'm there again, I'll certainly book this again. Meng Chai and Wai Yin
Meng Chai
2016-05-05T00:00:00Z
Rodzaj pokoju
Całe miejsce
---
Rodzaj nieruchomości
Dom
---
Mieści
8
---
Sypialnie
Engelsbrand, Baden-Württemberg, Niemcy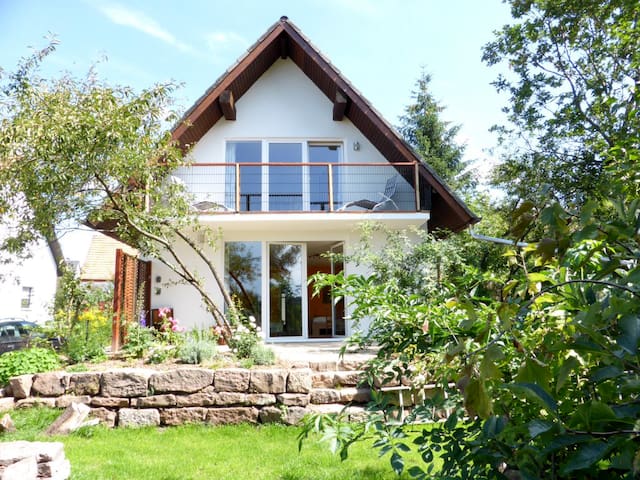 Ferienhaus auf dem Schellenberghof. 1 Schlafzimmer mit 2 Betten. Schlafcouch im Wohnzimmer für zwei Personen. Eingerichtete Küche mit Backofen. Badezimmer mit Dusche. Waschmaschine. Separate Toilette. Möblierte Terasse. WLAN (1Mbit/s) SAT-TV. Familien mit Kindern sind herzlich willkommen.
Rodzaj pokoju
Całe miejsce
---
Rodzaj nieruchomości
Dom
---
Mieści
4
---
Sypialnie
Waldachtal, Baden-Württemberg, Niemcy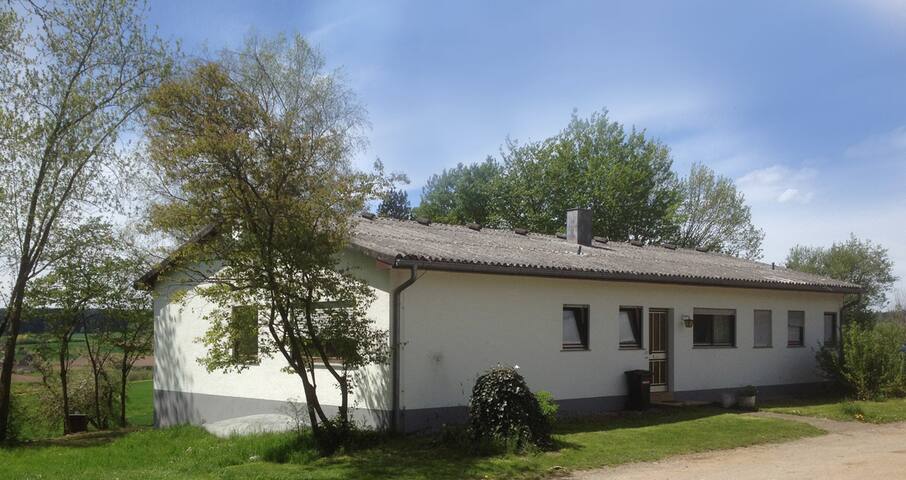 Large barn turned home with large years
Incredible experience while staying at this beautiful barn home. The host was incredibly helpful, attentive, and accommodating to my needs. I fully intend to stay again during my next visit. A definite must!
Tiffany
2016-07-08T00:00:00Z
Rodzaj pokoju
Całe miejsce
---
Rodzaj nieruchomości
Dom
---
Mieści
1
---
Sypialnie
Haiterbach, Baden-Württemberg, Niemcy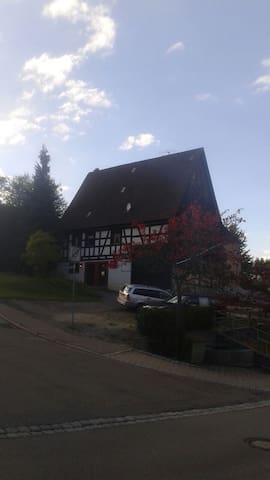 Einem Bienenstock gleicht die zentrale Freiform dieses außergewöhnlichen Gebäudes. Das Haus ist ein Ort für Urlaub und Arbeit sowie für Workshops und Seminare in absolut ruhiger Lage, in der Nähe von Freudenstadt. Garage direkt am Haus vorhanden.
Das Haus liegt absolut ruhig in einem kleinen idyllischen Dorf. Es ist ein wunderbarer Ort, um sich zurückzuziehen.
Anette was always quick to respond to my various emails before we travelled and left clear instructions to find & enter the beehive. Stunning property that lives up to the pictures and is in a quiet residential area. We really enjoyed our 3 day stay and have already recommended to friends and family.
Simon
2015-08-31T00:00:00Z
Faszinierendes Haus mit unglaublichem Wohlfühlfaktor. Tolles Design und super Ausgangslage für einen Erholungsurlaub im Schwarzwald. Alles verlief unkompliziert und reibungslos. Pluspunkt außerdem war die hauseigene Sauna. Danke für alles!
Sarah
2014-10-04T00:00:00Z
Casa fantastica, design esclusivo ma molto confortevole! Tutto esattamente come descritto! Grazie Anette!
Andrea
2016-08-16T00:00:00Z
Wir haben dieser Jahr Silvester in diesem wunderschönen, außergewöhnlichen Bienenstock gefeiert und sind begeistert. Das Haus sieht in Wirklichkeit noch viel schöner als auf den Bildern und bittet alles was man für einen kurzen Aufenthalt benötigt. Wir haben 3 Tage zu viert mit einem Kind verbracht und der Platz war vollkommen ausreichend. Ich kann den Bienenstock nur empfehlen und auch die Gastgeberin Anettte ist super freundlich und hat uns immer direkt weitergeholfen. Wir kommen aufjedenfall gerne wieder :)
Irina
2016-01-03T00:00:00Z
This place was a perfect spot for a quiet Christmas getaway. Very interesting architecture, modern and bright but still cosy. We enjoyed the fully equipped kitchen and the sauna after long winter walks. Anette has been super friendly, responded extremely fast, even during the holidays and it seems she was thinking for us. Thank you and we can definitely recommend this place if you are looking for something special in the Black Forest.
Stephanie
2014-12-28T00:00:00Z
It is a beautiful house! It has got spectacular architecture. All equipment (kitchen supplies, hifi etc.) is available to enjoy a niche holiday. The shower could, however, be improved. The surroundings of the house are nice, it is a cosy village.
Else & Pieter
2015-07-28T00:00:00Z
Eine wunderbare Unterkunft, die eine angenehme Ruhe ausstrahlt; wunderbar, um aus dem Alltag heraus zu streten. Stilvoll, schlicht und dennoch komfortabel. Ich hatte dort eine wunderbare Auszeit. Der Kontakt mit Anette war angenehm und unkompliziert, es lief alles reibungslos.
Moritz
2014-11-08T00:00:00Z
Der Bienenstock ist die perfekte Location für einen gemütlichen und geselligen Silvesterabend. Die Ausstattung ist sehr hochwertig und in Wirklichkeit sieht es noch besser aus als auf den Bildern. Wir haben hier zu viert Silvester gefeiert und hatten eine wunderbare Zeit.
Nicole
2017-01-02T00:00:00Z
Rodzaj pokoju
Całe miejsce
---
Rodzaj nieruchomości
Dom
---
Mieści
4
---
Sypialnie
Waldachtal, Baden-Wurttemberg, Niemcy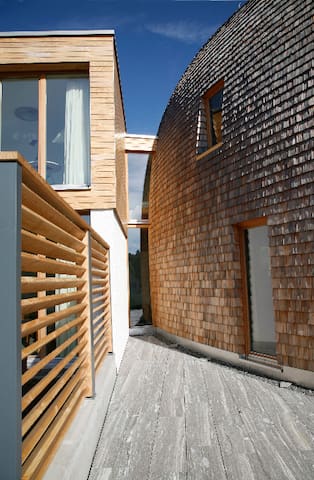 Rooms with bathroom, toilet, internet, extra room outside kitchen to cook yourself for everyone. 8 minutes by car or bus into town for the State Garden Show 2017 in Bad Herrenalb, shopping, swimming pools, etc. Bike rental can be arranged
Direct access to public transport. Accessible by car downtown in 8 minutes. Extra kitchen at your disposal for longer stays to cater even with children or alone.
Very quiet and nice neighbors. All just houses.
Rodzaj pokoju
Pokój prywatny
---
Rodzaj nieruchomości
Dom
---
Mieści
1
---
Sypialnie
Bad Herrenalb, Baden-Württemberg, Niemcy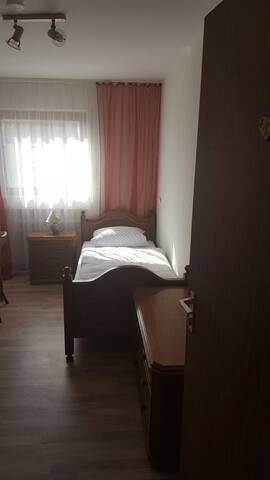 Fully furnished house on the Schellenberghof. 2 separate bedrooms with 2 resp. 3 beds. Open living-dining room with fully equipped kitchen with oven. Bathroom with bathtub. Separate toilet. Terrace with chairs, table. WIFI (1Mbit/s). TV. Families with children are gladly welcome.
Farm outside the village upon the hill with a remarkable view.
No neighbours, unless we in the house next door.
It was a nice experience staying at Ruth's place, can feel the beauty of the nature .
Cherlin
2015-10-24T00:00:00Z
Wir hatten eine sehr gute Erfahrung bei Bauernhof Kaufmann. Man kann den Bauernhof jeder Zeit besuchen, die Tiere anschauen und berühren. Die Familie sind sehr nett! Sie haben uns viele gute Typs gegeben und haben uns großzügigeweise Tomaten und Eier gegeben. Die Wohnung ist groß und hat alles was man braucht. Und was nicht da steht, frag es einfach: jemand wird doch helfen! Es gibt auch viel Platz draußen, wo die Kinder gern spielen und laufen können. Ganz empfehlenswert!
Judit & Joan
2016-08-02T00:00:00Z
Lovely clean base to explore the wonderful local countryside. Hosts were fantastic. They couldn't have been more friendly, welcoming and helpful. The house is well equipped and very warm. The property is on a working farm (right next to the cow barn) with the usual sounds and smells that this entails.
John
2015-09-11T00:00:00Z
Uns hat der Familienurlaub auf dem Schellenbergerhof sehr gut gefallen. Die Gastfamilie von Ruth und Werner war sehr hilfsbereit und freundlich. Neben einer frisch gebackenen Neujahrsbrezel wurden wir mit viel Informationen zu den Tieren auf dem Hof verwöhnt. Vor allem für Kinder aber auch für Erwachsene sind die Ausflüge in den Stall - besonders zu den Melkzeiten - sehr lehrreich und interessant. Die Wohnung ist sehr geräumig und gemütlich eingerichtet. Auch für passionierte Köche/Innen bietet die moderne Küche genügend Platz und Zubehör. Wir kommen sehr gerne wieder und bedanken uns für eine besinnliche und eindrucksvolle Woche auf dem Hof von Ruth und Werner.
Ryan
2016-01-05T00:00:00Z
Die Wohnung, die Umgebung, die Gastfamilie - alles war sehr gut. Die Wohnung liegt schön, die Aussicht ist genial und es war so ruhig. Unsere Kids haben den Bsuernhof sehr genossen. Danke für die tollen Tage.
Cornelia
2016-07-29T00:00:00Z
Beautiful Cottage with unparalleled views and full nature at your disposal ! Never stayed so close to nature before ! Everything was brand new, great comfortable beds (Huge ones!) and full equipped kitchen and fridge! The separate shower (big one!) and toilet was really a bonus for our group of 5 friends! Check in and Check out were very smooth and communication was excellent, right from the start. GPS might not take you exactly there but do not worry, have faith on directions of Ruth and if trust me, even if takes more effort, it is completely worth it once you see the place and the VIEW! We had an amazing time, sad we stayed only for a night, would love to come back. The Internet can be faster, but we were happy to be left cut off and we enjoyed nature all the more! Thanks Ruth for everything!
Soumallya
2015-05-24T00:00:00Z
Malerische Ruhe und kuschelige Einrichtung.
Jan
2017-01-26T00:00:00Z
Très belle vue, campagne ouverte et agréable pour de superbes promenades! Hôtes sympathiques et accueillants !
BernarBd
2017-01-04T00:00:00Z
Rodzaj pokoju
Całe miejsce
---
Rodzaj nieruchomości
Dom
---
Mieści
5
---
Sypialnie
Waldachtal, Baden-Württemberg, Niemcy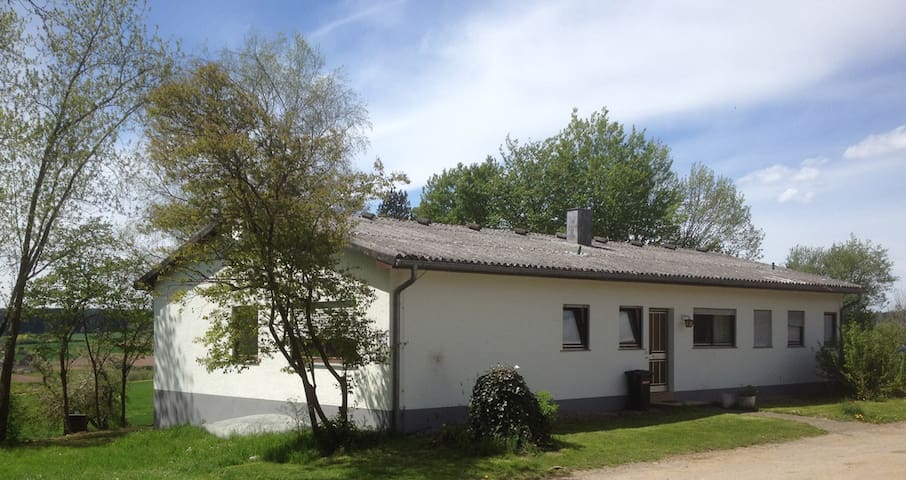 Hallo Zusammen, ich biete euch hier ein gemütliches Zimmer, in einen neuerbauten Einfamilienhaus. Ihr habt im Erdgeschoss ein Zimmer mit Terassentür und einem seperatem Badezimmer mit Dusche und WC.
In einem neuerbauten Einfamilienhaus biete ich euch ein gemütliches Zimmer mit einem seperaten Bad, indem ich Handtücher zur Verfügung stellen kann. Es sind ausschliesslich Nichtraucher gewünscht. Alle Möbel sind neu, ein Fernseher steht auch zur Verfügung. Eine große Terassentür ermöglicht euch viel Licht. Das Zimmer ist im Erdgeschoss und überall ist Fußbodenheizung. Das Bett ist 120 cm breit und 200 cm lang. Ein grosser Kleiderschrank bringt viel Staumöglichkeiten. Auf Wunsch gibt es ein leckeres Frühstück gegen einen kleinen Aufpreis. Ebenfalls kann auch ein warmes Abendessen bei uns eingenommen werden ebenfalls gegen einen kleinen Aufpreis.
Wir wohnen in einem Stadtteil von Herrenberg. Herrenberg ist ein optimaler Ausgangspunkt für Ausflüge nach Tübingen oder Stuttgart oder in den Schwarzwald... Herrenberg ist berühmt für seine Stiftskirche und den tollen Marktplatz mit den vielen kleinen Gassen und Cafe`s. Die optimale Anbindung durch die Bahn nach Stuttgart oder Tübingen ist perfekt ffür alle die mit den öffentlichen Verkehrsmittel anreisen. Wir freuen uns auf euch.
The hosts were very kind and flexible by check-in/out. Everything was great: location, cleanness, apartment equipment...
Martin
2016-06-20T00:00:00Z
Kontaktherstellung, Schlüsselübergabe und Einweisung einwandfrei. Immer nett und hilfsbereit, an sich zurückhaltend
Henrik
2016-06-14T00:00:00Z
Schönes, großes Zimmer und extra Bad. Alles neu und super sauber. Nadine und Ihre Familie waren vorbildliche Gastgeber. Sehr netter Kontakt und jederzeit zu empfehlen.
Daniela
2015-03-27T00:00:00Z
Wie immer alles perfekt :)
Steven
2016-01-16T00:00:00Z
goede ontvangst, kamer was schoon en goed verzorgd
Enrique Van
2016-06-18T00:00:00Z
Ruhig gelegen, prima zum übernachten und gut schlafen. Ins Bad muss man durch die Diele, was mich nicht gestört hat, alles sehr sauber.
Rolf
2016-12-08T00:00:00Z
super schön hergerichteter Raum, ordentlich&sauber, tolles Bad hab mich sehr wohl gefühlt :)
Rahel
2015-06-19T00:00:00Z
Nadine und Uwe sind super freundliche Gastgeber. Bei meiner Ankunft am Abend wurde ich sehr herzlich empfangen und habe gleich noch etwas zu Essen bekommen. Das Zimmer und das eigene Bad sind sehr gemütlich und liebevoll eingerichtet. Alles in allem kann ich die Unterkunft gut weiterempfehlen.
Lara
2016-10-07T00:00:00Z
Rodzaj pokoju
Pokój prywatny
---
Rodzaj nieruchomości
Dom
---
Mieści
2
---
Sypialnie
Herrenberg, Baden-Württemberg, Niemcy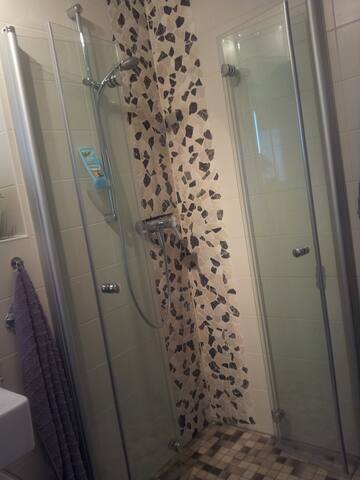 7 miejsc do spania (3 QueenSize, 1 łóżko pojedyncze) rozmieszczone w 3 pokojach zapewnić wystarczającą ilość miejsca dla średniej wielkości grup, ale także dla podróżujących w pojedynkę. Pokoje mają nowoczesną łazienkę. W pełni wyposażona kuchnia oferuje wszystkie możliwości. Dzień wolno zakończyć w kinie domowym lub pysznego grilla.
Mieszkam w domu i mają dużo przestrzeni życiowej w lewo. Dlatego oferujemy go na wakacje do dobrej cenie. Pokoje mieszczą się na 2. piętrze i ma nowoczesną wspólną łazienką.
Jest to "nowy" obszar. W uruchomiony w pobliżu znajdują się piekarnie, apteka, banki, rzeźnik, poczta, fryzjer, salon kosmetyczny. Znajdziesz lokalizacje Itlaian, indyjskie, grecki, turecki FOD
Philipp ist ein sehr freundlicher Gastgeber und es lässt sich hier wirklich top wohnen, man hat hier alles was man braucht.
Gizem
2017-04-02T00:00:00Z
Einfach wunderbar. Komplett eingerichtetes Haus. Sehr Sehr freundliche Gastgeber. Eutingen im Gäu einfach super, alles da was man braucht. Optimale Entfernung zur Autobahn und sehr ruhig.
Andreas
2017-03-05T00:00:00Z
Rodzaj pokoju
Pokój prywatny
---
Rodzaj nieruchomości
Dom
---
Mieści
7
---
Sypialnie
Eutingen im Gäu, Baden-Württemberg, Niemcy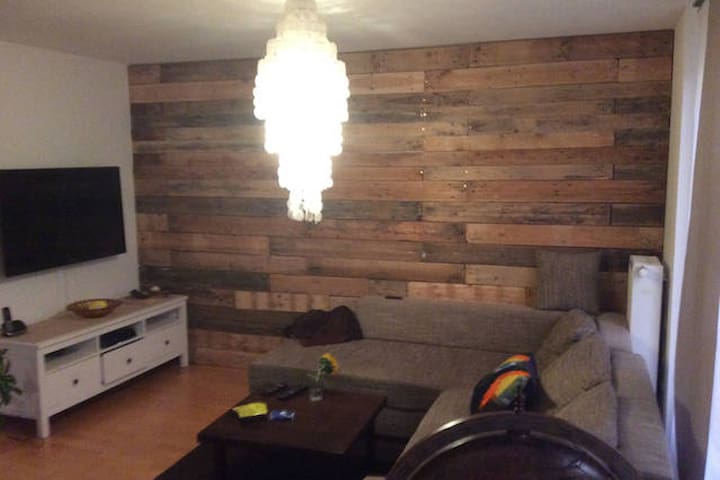 W naszym pięknym ROM Czarny Forst z osobnym czystym Granit stylu masz to samo uczucie jak babka być. Podwójne Rz są dla Peobles i znajduje się w cichej okolicy na wsi.
Einzel / Doppelzimmer. Preise verstehen sich auf die einzelne Person. Zimmer alle mit Internet und TV Anschlüssen an der Wand. Jeweils eigenes Privates angeschlossenes Bad und WC Übernachtungen/ Selbstversorger!!
Sehr ruhig und angenehme Nachbarschaft.
Rodzaj pokoju
Pokój prywatny
---
Rodzaj nieruchomości
Dom
---
Mieści
16
---
Sypialnie
Bad Herrenalb, Baden-Württemberg, Niemcy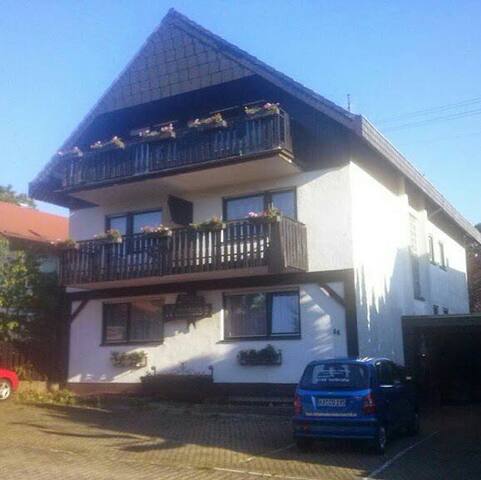 Willkommen in Ihrem privaten Raum in der Nähe von Stuttgart. Dieses private Zimmer ist bequem für eine Einzelperson, Paar oder Freunden unterwegs, mit einfachem Zugang zu öffentlichen Verkehrsmitteln. Sehr praktisch für Geschäftsleute. Genießen Sie in der Küche kochen und entspannt auf der Couch und schöne Abendessen im Garten. Bahnhof 10min zu Fuß entfernt. Mercedes 15km Porsche 25km Bosch 5km Wir hoffen, Sie bald sehen =) Bleiben Sie und fühlen sich wie zu Hause! Alle anderen Informationen werden durch den Host zur Verfügung gestellt werden.
Kevin und seine Mutter und Grossmutter, die wir begegneten, sind sehr liebe und feine Leute, bei denen wir uns sofort heimfúhlten. Es war alsob wir sie schon Jahre kannten. Wir fuehrten viele interessante Gespraeche. Ihre Gastfreundschaft war aufmerksam gross. Das Haus hat tatsaechlich eine hervorragende Aussicht und ist sehr geschmackvoll eingerichtet.
Harry & Lidy
2016-09-18T00:00:00Z
We've had a lovely stay at Kevin's house. The peaceful area and neat and clean house were a great place to find some rest. The communication was easy, facilities were proper, breakfast included.
Daan
2016-08-11T00:00:00Z
Alles in allem wunderbar!
Doris
2017-01-25T00:00:00Z
Kevin and his family are awesome people! We were so warmly invited that we felt as knew this family many years :D The room and conditions are overbetter then described: clean and light bedroom, huge and clean washroom and we were able use terras and kitchen :) Many thanks also to Kevin's parents as during our visiting their Castle we had long interesting talks about travels and travellers, were shared with our experiences where to go and what to see :) Top highly recommended if you like openminded conversations. Also for pizza/flammkuchen fans , as only they know where to get the best ever:)
Julia
2016-08-15T00:00:00Z
La visite à Weil des Stadt nous a enthousiasmé. Pour un prix défiant toute concurrence nous avons pu nous installer dans une jolie chambre très claire donnant sur une terrasse où nous pouvions petit déjeuner. Mais surtout l'accueil par les parents de Kevin a été formidable. Souvenir ému de la liqueur de la lande de Hambourg. Conseils généreux pour dîner, pour traverser la forêt noire, pour Tübingen et la Weine Straße. Besten Dank für alles.
Patrick
2016-09-01T00:00:00Z
He actually came to pick me up at the airport... that was a great help and a great gesture. Its a fabulous house with a great view. I really enjoyed my morning cup of tea looking out from the balcony. Beautiful and clean room with all amenities. His mom is a great cook and I really enjoyed some of our dinner time talks her and his grandma The peace and calm, actually helped me in the creative work that I do. Kevin took me out to a local popular pub one evening. Again a great and unexpected time. (And he is a great drummer !) As, I was telling him, the photos on airbnb do not do justice to the beauty and size of the place. Overall a great experience and great set of people. Would definitely recommend to others and would come back every time I am in Stuttgart
Narendra
2016-09-15T00:00:00Z
They are a warm and welcoming family! The room and the house is nice and clean. The family gave us really good information about places to go see in our holiday. The place is located at a good spot in the middle of the journey for dutch travellers to Austria. our 1 year old was really welcome, so they showed great hospitality!
Willemijn
2016-08-15T00:00:00Z
Everything is awesome and the house is fantastic! Kevin and his family are great hosts! We had a great stay and would definitely come back!
krasimir
2016-09-24T00:00:00Z
Rodzaj pokoju
Pokój prywatny
---
Rodzaj nieruchomości
Dom
---
Mieści
2
---
Sypialnie
Weil der Stadt, Baden-Württemberg, Niemcy
Wpisz daty, by zobaczyć pełną cenę. Obowiązują dodatkowe opłaty. Cena może uwzględniać podatek.