300+ Wynajmów apartamentów
Samowystarczalny piwnicy apt IN Carytown 90 ft / 30 m Cary St. pobliżu wentylatora, VCU, MCV, VMFA, centrum, Walne Zgromadzenie. Osobne wejście, kuchnię z pełnym wyposażeniem, łazienkę. Musisz potwierdzić, że przeczytałeś i udostępniane, w miarę potrzeby, szczegóły aukcji.
O pominąć czytając szczegóły aukcji, zasady dom lub potwierdzonej rezerwacji (zawiera nasz adres, dane kontaktowe i kierunkach)? Włożyłam wiele godzin i znacznego wysiłku myśli i do pisania, edytowania ponownego pisania, re-edycji, ponowne, przeróbka, aktualizację i przegląd szczegóły. To zajmuje tylko kilka minut, aby je odczytać. Upewnij się dzielić szczegóły ich lista wraz z swoim towarzyszem podróży (ów), więc każdy wie, czego się spodziewać. [Lekturą obowiązkową: Guest dostępu.] Wielkie dzięki dla tych podróżnych, którzy trochę czasu, aby zapoznać się ze szczegółami oferty i który wraz z innymi łaskawych gości i gospodarzy, aby doświadczenie Airbnb niesamowite, niedrogie i zabawy: DZIĘKUJĘ !! Zrobiliśmy niektóre z najbardziej niesamowitych połączeń choć nasze doświadczenia Airbnb (zarówno jako gospodarze i goście), a teraz mają przez całe życie przyjaciół z całego USA i na całym świecie! Proszę zwrócić uwagę: Mamy w naszym 90-letnim domu tuż poniżej 4 lat: Jest to w toku prac-of-art z miłością lub odtwarzanych poprawiane i ulepszane dla Twojej wygody i przyjemności (nowa łazienka z podgrzewaną podłogą i ręcznik cieplejsze, na przykład). Proszę wybaczyć kurzu / oznaki projektów upgrade (narzędzi, farb, materiałów krajobrazu). Dzięki za poświęcenie czasu na przeczytanie informacji o firmie: Ten PIWNICA Kawalerka jest w ciągu 90 ft / 30 m od Carytown. To ma swoje własne oddzielne wejście, w pełni wyposażoną kuchnię oraz łazienkę. Usłyszysz nas na górze (mamy zbadane pod izolację dźwiękową i rozpoczęły wdrażanie rozwiązań). Jeśli masz lekki sen lub wymagają absolutnej ciszy, ta lista nie jest dobrym rozwiązaniem dla Ciebie. Jeśli chcesz wiedzieć, gospodarze są w pobliżu, doceniają naszą listę i lokalizację, a jak nasze opinie, bylibyśmy szczęśliwi gościć Państwa; będziemy mieć rację na górę, aby pomóc Państwu na wszelkie pytania, wątpliwości lub jeśli zapomniałeś czegoś (zwykle mamy zapasowych wszystkiego). Dla ciekawych, historycznych lub zabawne rzeczy do zobaczenia i do zrobienia w RVA, koniecznie sprawdź naszą przewodnika w linku poniżej. Raz na stronie, przewiń w dół do mapy na dole aukcji. https://www.airbnb.com/rooms/856885 (przewijać całą drogę do mapy na dole)
Wolny, nieograniczony, parking na ulicy w naszym bloku, często od razu po wyjęciu z przodu. Podczas ruchliwych wieczory / weekendy, tam zazwyczaj spot w bloku lub dwa najwyżej chociaż czasami może być koło bloku kilka razy - coś, zwykle przychodzi dostępny, ponieważ obroty są wysokie. Kochamy naszą lokalizację w Carytown z eklektyczną mieszankę lokalnie posiadanych sklepów, restauracji, historycznego i wspaniałej Byrd Teatr (kinowej z epoki niemego kina), kawiarniach, księgarniach i artystów ulicznych. Głównie w odległości spaceru lub kilka minut jazdy samochodem lub autobusem znajdziesz muzea, parki, rzeki James i jego system / jazda rowerem górskim szlaku, zabytków, Hollywood Cemetery, VCU, wentylator, Richmond Convention Center, centrum Richmond, MCV, Brown island, Belle Isle, dzielnica Manchester, Church Hill ... zbyt wiele, aby wymienić. Jesteśmy zimnica w sercu najbardziej ruchliwej części miasta! Dla ciekawych, historycznych lub zabawne rzeczy do zobaczenia i do zrobienia w Carytown i RVA, koniecznie sprawdź naszą przewodnika w linku poniżej. Raz na stronie, przewiń w dół do mapy na dole aukcji. https://www.airbnb.com/rooms/856885 (w dół na mapę, aby zobaczyć nasze szpilki i komentarze)
Nice and clean apt. Fiona is a great host, she prepared fresh orange juice and milk in the fridge. We had a great time.
Delong
2015-07-21T00:00:00Z
We had a short, but very pleasant stay. Fiona and Keith were very accommodating. They responded very quickly to our inquiry and had the studio ready at short notice. Definitely recommended.
Elsmarieke
2014-11-24T00:00:00Z
Fiona's place was great! Fiona and her family were friendly, helpful (and she has a Richmond guide with great recommendations), and hospitable, but also gave us our space. We had access to a private bathroom (the shower and the heated floors were awesome!) and a full kitchen-- Fiona had breakfast stuffs (bagels, oatmeal, OJ) available, which was a really nice touch. Great location, too!
Rafayna
2014-01-27T00:00:00Z
The apartment was charming, impeccably clean, and in such a wonderful location. We enjoyed walking around the Fan, eating/shopping in Carytown, and it was a short drive over to the South of the James farmers market. We couldn't have been more pleased with the apartment. It was very nicely laid out, and it was so nice to have some breakfast foods in the kitchen and the ability to cook some simple meals. Fiona was so incredibly thoughtful in how she organized and designed the apartment, and she had all the "extras" you could think of available as well. We look forward to staying here again!
Kiley
2015-06-28T00:00:00Z
Lovely!
Cee
2014-06-25T00:00:00Z
I have to say that I have stayed in many private places in the country for over 10 years and this is by far the best place I have stayed. Despite the little and I mean little noise in the morning from shoes, which the family is working on to fix, Fiona and family have a clean and safe place to stay near the hub of Carytown. Please honor her request to bring your own towels and cloths for the awesome heated bathroom if you are planning on dying your hair, like I did, or getting grime on things. On a scale of 1 to 10, I give this place a 9.9. Thank you so much for the quiet place and the great bed too...stay here and you will not be disappointed!
Tarnee'
2015-04-06T00:00:00Z
Best lodging in Richmond! 3rd stay and we will be back.
Elaine
2016-05-14T00:00:00Z
After staying with Fiona, I wrote down 1) a wishlist for my own place and 2) a checklist of ideas to replicate for when I host guests. On that wishlist I've included: heated towel warmer, heated bathroom floor, everything in her shower, bed sheets, and pillows. On my checklist you'll find: 2 types of toiletry baskets, robes & slippers, more towel sizes than offered by your average hotel, and cinnamon french toast sticks. All this is to say, the hospitality industry has a lot to learn from Fiona. Thank you for a relaxing experience in Richmond -- and for the extra OJ!
Dorothy
2016-01-04T00:00:00Z
Rodzaj pokoju
Całe miejsce
---
Rodzaj nieruchomości
Apartament
---
Mieści
3
---
Sypialnie
Richmond, Virginia, Stany Zjednoczone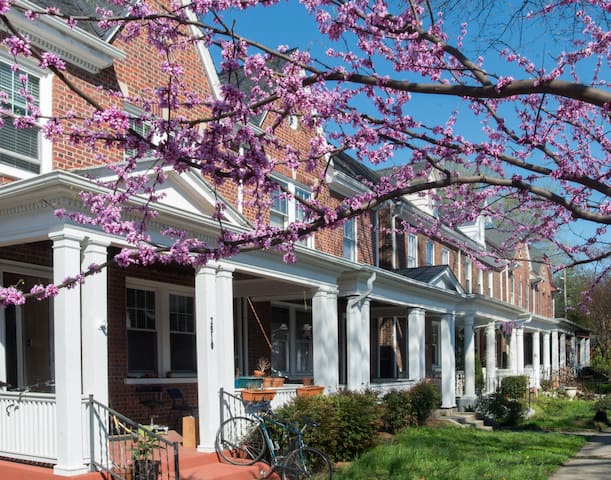 Come stay at my place.A stones throw from vcu, the camel, & Skins training camp.Less than a mile to the national and carytown.Cute & comfortable with ample parking for the fan.Monument ave is outside my door and so conveinent to all RIC has to offer!
Old renovated Cadillac dealership. It has history but everything is new!
I love it! It's urban but has the convenience and zest of life I thrive on!
Jill was fantastic. Excellent communication, very accommodating, helpful, responsive, everything we could have wanted. This was our first time getting to know Richmond, and her place was the perfect place to do it. We had a lot of fun just looking around at how her apartment was converted from a auto shop into a fun place to live. We really enjoyed the short drive down Monument Ave past all the beautiful homes to Carytown where we walked around and then caught a movie at the Byrd Theatre. We thought it was fun to hear the sounds of the city, and it was raining the night we stayed, but the rooftop access looks like it could be a lot of fun. I will note that Richmond appears to have a problem with homelessness. We saw a lot of it on Broad St. Would definitely stay at Jill's place again.
Danny
2015-12-29T00:00:00Z
Very nice apartment on the west end of Richmond. An easy walk to the Virginia Museum of Fine Arts, Carytown, and brew and cider houses. Comfortable place to stay.
Emil
2016-10-24T00:00:00Z
This was our first Airbnb experience and Jill made it super easy and provided us with a beautiful and charming loft in the perfect location to see all of the sights in Richmond. Her place is just as pictured and well maintained. We can't wait to go back. She was also super accommodating when our arrival time did not go as planned. Thanks again for everything!
Jaclyn
2016-03-17T00:00:00Z
This is such a lovely place that looks exactly like the pictures. The host was very responsive to messages and the apt has all the amenities you need. The bed was unbelievably comfortable, better than anything you'll get at a hotel. My boyfriend kept saying how he would love to own a place like this one, and he is usually the first to mention if something is wrong with where we're staying so it was a huge compliment coming from him. This definitely set the bar high for our first Airbnb stay. I hope they're all as lovely as Jill and her place!
Sarah
2017-04-05T00:00:00Z
Jill's apartment was a perfect base for our 2 day stay in Richmond. She was available to acclimate us upon arrival providing great information about the neighborhood and local dinning spots. Our 8 year old was most impressed with her welcome box of gourmet donuts:) The bed was amazing and we loved being able to walk through the charming neighborhoods around the Fan. We caught an incredible sunset on the rooftop deck. Highly recommend the pour-over coffee at Lamplighter Cafe and the Cuban sandwich at Kuba Kuba (both within a 5-10 minute walk) however, the apartment is abundantly stocked for cooking and eating in. Our only regret was not having more time to explore the museums and neighborhoods...Thanks Jill for a wonderful stay!
Mary
2015-08-15T00:00:00Z
We absolutely adored Jill's place! It felt spacious and was very comfortable (especially the bed!), was a great place to start our RVA adventures from, and just was a great place in general. She was quick in responding and had a great setup for check-in/check-out. One of my favorite AirBnB experiences!
Willie
2016-10-09T00:00:00Z
Jill was so great and quick to respond. The home is so comfortable and close to everything. Thanks so much Jill for making our last minute plans work out.
Norma
2015-12-31T00:00:00Z
We really enjoyed our stay at Jill's property! The bed is amazing! She left us donuts which was a very sweet touch! The location is fantastic, and we walked to the fan, Cary town, and down Monument Ave. Couldn't ask for a more centrally located spot!
Morgan
2015-12-30T00:00:00Z
Rodzaj pokoju
Całe miejsce
---
Rodzaj nieruchomości
Apartament
---
Mieści
2
---
Sypialnie
Richmond, Virginia, Stany Zjednoczone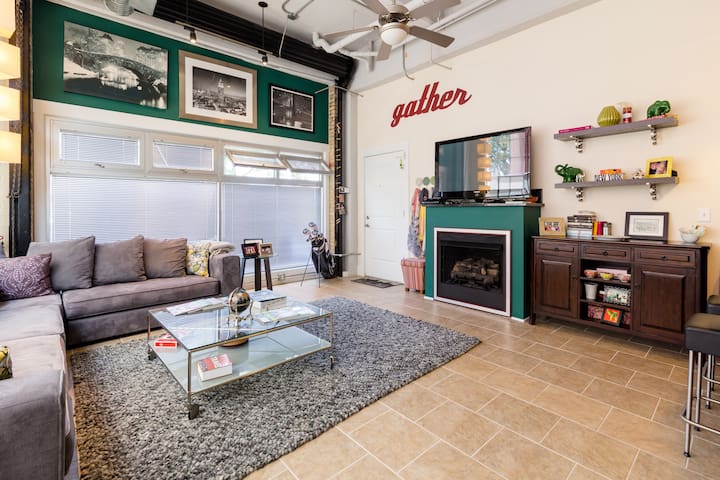 Take a mountain vacation in our comfortable detached one bedroom guest house with pool. Enjoy the beautiful pool just outside your door. Within 10 miles of LU, LC, Randolph College and the Blue Ridge Parkway. Your well behaved dog is welcome. Please be aware we would love to provide wifi but it is not available in our locations. Good cellular service is available.
Beautiful mountain setting close to all Lynchburg colleges, shopping and dining. Relax in a private forest setting. This is our guest house so consider it like a nice hotel suite. Many of our guest say that the king size bed is the most comfortable bed they have ever slept on. Direct TV with HBO. No wifi available. Airbed and pack and play baby bed available by request.
Beautiful forest setting in the mountains. Walk in the woods. Only five miles to dining and shopping. 11 miles to Blue Ridge Parkway. WWII memorial in nearby Bedford. Thomas Jefferson's Poplar Forest Home in Forest VA. Shopping center with restaurants, grocery store, Starbucks and ABC store just 4.5 miles away.
We had a wonderful week, pool was great and nice/clean unit. Location real nice as well, far enough out for some privacy but close enough to reach anywhere in ten minutes. Hosts very nice and friendly, but also left us alone to just chill and re-charge. Highly recommend for others!
Steven
2016-07-23T00:00:00Z
My husband and I had a wonderful stay! Both Meralyn and George met us as we pulled into the driveway. They gave us a tour of the cottage and made themselves available if we needed them. The cottage was cozy and inviting...and the mattress was incredibly comfortable! It's the perfect place to stay for a weekend getaway and to see Lynchburg.
Chelsey
2016-01-02T00:00:00Z
Loved the space, it had everything I needed and was extremely comfortable. The surrounding area was beautiful (especially in the fall). Meralyn communicated well and was very accommodating.
Adam
2016-10-23T00:00:00Z
Meralyn made us feel very comfortable at their cottage. She was flexible when our arrival time changed. She went out of her way to give us some help when we needed it. The cottage is in a country setting, although close to a road, so we could get in and out easily. The cottage was large, and the pool was a big plus after being in the car for several hours on a hot day.
Trudy
2015-07-30T00:00:00Z
Host was very welcoming, especially since we arrived rather late & our message hadn't reached her. It's a great cozy rental for a couple, and has a beautiful pool. It is set in the woods, right outside a small town.
Cheryl
2016-08-11T00:00:00Z
Meralyn met me as I drove up and welcomed me into her home. The cottage was beautiful, and as peaceful a place as you could ask for. I would recommend it to anyone, everyone, and I hope to visit again soon!
Carl
2015-11-24T00:00:00Z
Meralyn and her husband were waiting for us and greeted us warmly when we arrived. They showed us around, asked if we needed anything, and then left us to enjoy our stay. She is a thoughtful and incredible hostess, even bringing us a small container of cream for our coffee the next morning. The accommodations were even better than the pictures: quiet, private, spacious and with the beautiful pool to enjoy. I highly recommend these accommodations!
Bronna
2015-08-22T00:00:00Z
This location is the perfect jumping off point to explore either the Blue Ridge Parkway or Lynchburg. Very nice and quiet. Great views and great hosts.
Jeff
2016-03-16T00:00:00Z
Rodzaj pokoju
Całe miejsce
---
Rodzaj nieruchomości
Apartament
---
Mieści
2
---
Sypialnie
Lynchburg, Virginia, Stany Zjednoczone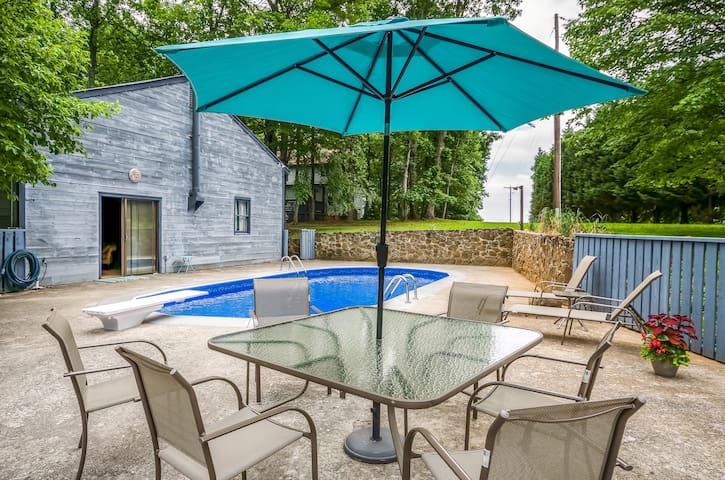 Located on one of Lynchburg's most exquisite streets. Private entrance, queen bed and sofa bed, full kitchen and amenities to match, green laundry room on premises free for use, less than 10 min. to LU & LC, walk to Randolf, & close to VES.
This flat is located in a beautifully restored 1907 Georgian mansion. The master bedroom was once the ladies sitting parlor, the bathroom was the servants' staircase, and the kitchen and living room were part of the original kitchen. You'll enjoy the vintage charm as many of the original features have been maintained, while enjoying modern amenities. The mansion is located within walking distance to local dining, Riverside park, Randolph College, and just a few miles from downtown Lynchburg. You are welcome to lounge on the large front porch. We provide a green-laundry room that is free to use from 9 am till 9 pm. The kitchen is a full kitchen with all the amenities.
Location, location, location. Rivermont is the magical area of Lynchburg. It houses Lynchburg's most elegant vintage homes. A beautiful place to take a run or a quiet walk in the park just a block away. You'll be close to Blackwater Creek trail.
We had a wonderful stay. The home was nicely decorated and comfortable. Good location. Red communicated well and checking in was smooth and easy. We would recommend.
Katy
2016-06-22T00:00:00Z
Our stay was perfect! The flat was so well designed from the layout to the vintage/ modern decor, which made it feel so cozy and welcoming. The space was very clean and we felt right at home. It was raining the first morning of our stay, so we laid in bed and watched netflix, which is included! The neighborhood was very quite and easy parking and is just a little over a mile out of downtown. Our host was so accommodating, friendly and easy to get in touch with. We will definitely be staying hear on our next stay in Lynchburg and highly recommend it to everyone!
Paula
2016-05-23T00:00:00Z
Comfortable...Elegant....Affordable... I was elated when I discovered that the flat was available during the Liberty Graduation weekend. Shortly after my discovery, I contact Red and she approved my request within hours. We arrived slightly later than the agreed upon time and Red was very accommodating. Upon entry into the home my mouth dropped. It's even more charming that the photos! The bed was comfortable, she gave us access to hot tea, cofee, and water. She really hit the bullseye... Red you are a talented decorator/designer!
Linda
2016-05-16T00:00:00Z
Thank you so much for hosting my friends! They were so effusively complimentary of their experience, and should any other friends or family visit me in Lynchburg in the future, you will be the first choice for their lodgings!
Claire
2016-06-12T00:00:00Z
Red was an excellent host! The flat was wonderfully furnished and exactly what we were expecting! Also, Red was very accommodating and willing to let us have an early check-in. Would love to stay here again!
Nick
2016-06-11T00:00:00Z
Beautifully decorated. Vintage charm
Susan
2016-11-25T00:00:00Z
Arriving at the house, I was already impressed with its looks. Once I entered the flat, it got even better. It was wonderfully decorated and had all the amenities you could want (and more). The location was convenient to all areas in Lynchburg. Red was a wonderful host and responded to my messages quickly. I would highly recommend staying here!
Michael
2016-10-07T00:00:00Z
Red's apartment is absolutely perfect for LU intensive students. Easy to get to. Like being at home!
Victoria
2016-11-18T00:00:00Z
Rodzaj pokoju
Całe miejsce
---
Rodzaj nieruchomości
Apartament
---
Mieści
4
---
Sypialnie
Lynchburg, Virginia, Stany Zjednoczone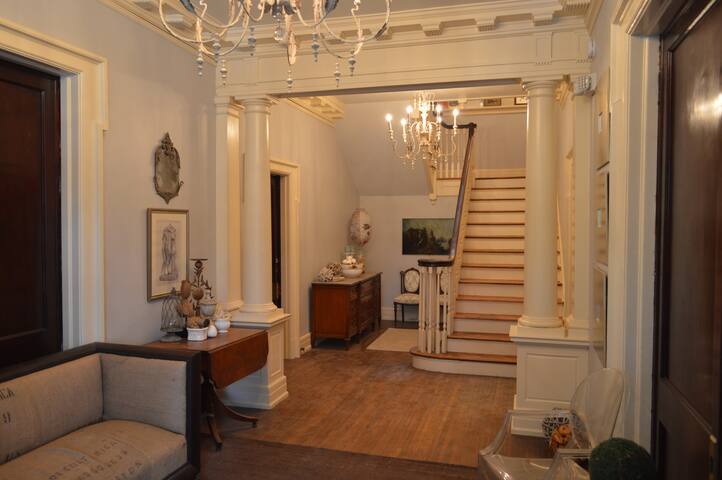 WELCOME to The Writer's Cottage on the waterfront. Guests will have the entire, spacious lower level of the cottage to themselves. (One booking at a time.) It has two private entrances that open onto lawns, a quiet cove, and private dock with complimentary kayaks for guests. A private road adds to the tranquility and peaceful atmosphere you'll love! A private veranda, & private parking beside the unit complete your relaxing stay. Guests are welcome to walk around the grounds anytime they wish.
Our guests wake up to to the sounds of birds, and a view of the lake outside their bedroom French doors that open onto a private veranda. The completely private rental is better described as a suite of rooms on one entire level of the Cottage, consisting of two bedrooms, 1 and 1/2 baths, a living room and a furnished veranda. The space has its own two private entrances and free parking. There is also a private dock for guests exclusive use, and a fire pit for socializing. Inside, guests will find a full size refrigerator with fresh and filtered ice water daily, microwave oven, coffee pot and coffee fixings, and a gas grill on the porch. All linens are provided, as are utensils, cups and dishes. It is hoped that you will enjoy your stay, relax, and visit the lake restaurants and places of interest while you're here. Please don't hesitate to ask for recommendations, or specifics. *Be aware that we list that 4 guests can stay, but we have 3 beds. The sleeping arrangements for 4 works well, only if two share. Reminder: There is a $20 charge per guest, per night over the first two guests.
It's a quiet neighborhood, with walking trails, quiet boats and elderly neighbors. Shops and amenities are within three miles and include a variety of restaurants, a Kroger grocery store, library, doctors/dentists offices and an Urgent Care facility. The Bridgewater Marina (at the bridge, naturally) is a fun place with gift shops, bars and restaurants, a climbing wall for kids, bungee jumping and an ice cream shop. You can also feed giant,carp off their lower deck.
Very pleasant stay at the quiet, comfortable home. We got good cell service at the house (both Verizon and ATT). Very peaceful to sit on the dock and relax. Very quick trip to get breakfast and other things you may need. We would definitely return. Thank you for a lovely stay.
Heather
2016-06-12T00:00:00Z
Welcoming and inviting, the Writer's Cottage was a nice quiet place to spend the night. Virginia was lovely to work with and professional and prompt in all our communications. I would recommend this to anyone looking for a quiet night's rest.
Megan
2015-09-27T00:00:00Z
Directions provided by host were excellent, allowing us to find the house even in the dark. Virginia was welcoming and showed us down to the lower level of the house where we were staying. Cottage itself was beautiful and its location stunning. We enjoyed a walk down to the lake and decking in the morning and wish we could have spent more time in the area. The bedroom and living area were very pleasant, relaxing and comfortable – extremely homely! We felt very peaceful here. We arrived very late (much later than we had intended) in the evening but had a nice chat with Virginia in the morning before our walk. An interesting and friendly person!
Colin
2015-11-07T00:00:00Z
Ginny Brock our host was amazing, warm, friendly and I couldn't have asked for a better experience. Her house is idyllic and sits on a cove of the Smith Mountain Lake. The photos on her site are a perfect example of the beauty of her home and the magical location. The rooms were gorgeous, clean, well-decorated and spacious. Picture perfect to be precise! Ginny made herself available without interfering and I hope we did the same. She is an extraordinarily interesting person and the stay with her was memorable. We spent the evenings talking about our experiences. No better host could exist. She made us feel as if we were old dear friends.
Greta
2015-08-12T00:00:00Z
Ginny was there to welcome us to her lovely home, and show us the apartment, which was just as described and pictured, and perfect for a quiet getaway. The location is great--beautiful, natural setting, but close to restaurants, groceries and Smith Mountain Lake parks if desired. We chose to stay in for our overnight, and just enjoy the home and location. Ginny also kindly provided ice water, bedside water, plenty of towels, etc., and the best surprise of all, some yummy baked treats--thank you so much! We enjoyed sitting outdoors on the patio, reading from the listing library, sitting by the dock, and chatting with Ginny during our stay. We would definitely recommend this lovely place to stay, and hope to return sometime soon. Thank you for everything Ginny.
Kim
2016-06-13T00:00:00Z
The Writer's Cottage is a very special place to stay and so is your host: Virginia. The first word that comes to your mind when you arrive there is "serenity." There are other houses nearby and, yet, it still feels like being totally surrounded by the nature. The cottage is right on the water: facing a narrow cove that goes (slightly over one mile) into the main lake. Plenty of various birds: you both see them and hear them all the time. Four kayaks await you at the cottage, if you are up to some adventure. Inside the cottage you will have the entire ground floor which is divided into three rooms. It is a very comfortable, clean and elegantly appointed place. When I and my friend arrived, two pieces of the pineapple cake from the local bakery awaited us in the living room. When we opened refrigerator, there were to more culinary "welcomes:" apple-peach pie from the same bakery...Long story short, the only what we regretted greatly was that we stayed only one night. I mentioned at the beginning the host - Virginia. She takes care of her guests as good as she takes care of her immaculate home. And - on a personal level - she is a well traveled person with a very interesting life-story. But this you have to find for yourself....
Alexei
2016-04-06T00:00:00Z
Virgina's home is very comfortable and roomy and just as advertised, or better! She was welcoming and helpful. We were there during rain (unfortunately) but the yard and dock on the lake were still lovely and we enjoyed sitting on the covered dock for a peaceful evening. We'd love to go back and explore more in nicer weather.
Erika
2015-09-29T00:00:00Z
My boyfriend and I stayed at Virginia's cottage on Smith Mountain Lake. The cottage itself is beautiful with a beautiful yard and dock. We enjoyed using her two kayaks to explore the Lake and swim. Virginia was very welcoming and super sweet. She showed us around the downstairs (3 rooms with beds-- we just stayed in one because it was two of us and had a private bathroom) and drew us a map of local restaurants for dinner/breakfast recommendation. We had a great time! There are a few things to be aware of (none of them bothered us at all, but just in case!)-- she has an old water pump so she suggested keeping showers shorter (4 min-- we showered back to back and were fine)! We seriously recommend booking here-- it was an amazing deal!
Sarah
2015-08-09T00:00:00Z
Rodzaj pokoju
Całe miejsce
---
Rodzaj nieruchomości
Apartament
---
Mieści
4
---
Sypialnie
Moneta, Virginia, Stany Zjednoczone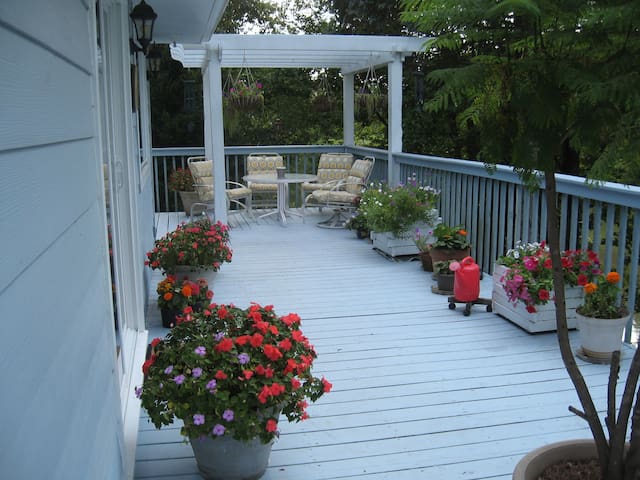 Come stay 8 minutes from DC (no traffic estimate)! Adorable private entrance basement apartment 10 mins from DC: White House, monuments, museums! Safe & quiet for families in a great walkable neighborhood. 1.3 miles to metro station with direct trains to Smithsonian museum Central Air Conditioning AC & Heat Full kitchen - stove, microwave-no dishwasher Full bed + comfy full sofa bed Rent bikes 3 blocks away Cable+HBO+Netflix +Amazon tv Free parking half block away Free metro train cards
Safe. Quiet. FREE street parking. FREE metro cards for use (you can load amount to use durinh stay) The apartment is newly renovated. The cozy apartment is a 600 sq ft private basement apartment with full kitchen and full private refrigerator with freezer. Private backyard to enjoy after a long day in the city. While apartment fits 4 individuals (and we have had plenty of families of 4 stay here), it is a tight fit with 4 adults. The home is professionally cleaned each and every time by a cleaning company and we do not live there so there is extra no clutter. Breakfast cereal and snacks are available and included, and there's a full kitchen (stove, microwave) and fridge available for your convenience. Highly functioning central air conditioning and central heat. This can be controlled using tablet that is in the apartment and the Nest app. Free Wi-Fi internet in all rooms. Comfortable full-sized bed w/freshly laundered sheets and towels Great full sized sleeper sofa in living room. Pulls out to become sofa bed. 37 inch TV with Roku, HBO, Netflix and cable Cleanliness: The apartment is extremely clean. We pay more than we charge for the cleaning fee to a professional cleaning company that cleans after every single guest (so we lose money with each cleaning but value a ridiculously clean place). As with most things, you get what you pay for :-) Location: In a quiet neighborhood 5 minutes walk from the hip & happening Columbia Pike area. This is not in the hustle-and-bustle of city life and provides a quieter, safer, and family-friendly environment. If you have any questions about the location prior to booking, please ask me. This is still closer to most DC attractions, monuments, museum, white house than most places in DC (and also much safer than many places in NE, SE, or SW DC). While you are not directly in the middle of it all, you are only 5 minutes to DC and you see the Washington monument (pencil-like structure that is quintessential DC landmark) when you turn onto our street! You are a 0.10 mi walk to metro bus stop and minutes from the metro station by bus. Capital Bikeshare bikes for rent located a couple blocks away. Free ride credits for first-time Lyft users (great cab company with excellent reputation) https:// (URL HIDDEN) Metro transit costs: Average Metro transit daytime fare to DC Smithsonian: $1.75 (bus only) or $4.25 (bus then train). There is additional charge to buy metro cards but you can use the house metro card (please add value) when you are here, saving you $$$. KITCHEN: Full kitchen w/stove, refrigerator, microwave, dishware, utensils, pots and pans for cooking. Please eat any and all food you see! We have stocked the kitchen with some items to make your stay more enjoyable. FREE LAUNDRY: Washer and dryer use available at no extra charge. This is a SHARED W&D. If there are clothes in the washer, please come back later. If there are clothes in dryer but done, please remove and put on top of dryer or next to it. No need to fold or do anything further. TOILETRIES: Apt is stocked with soap, shampoo, laundry detergent, and other toiletries for your use. I know how frustrating it can be to discover you're forgotten something essential, so I've done my best to ensure there's a wide selection of toiletries for your use. EXTRAS: coffee maker, blender / smoothie maker, iron and ironing board, hair dryer TRANSPORTATION: Recommended app: "Transit" for DC trains and buses. Also works well in NYC! Distance / Cost from Local Airports: Easiest way to get to house is Uberx. Free ride for new users (up to $20 in value) with code: fc71v. From Dulles International Airport: 30 mins. uberX: $35 - 46 From Ronald Reagan Airport: 9 mins uberX: $11 - 15 Other airport transportation options: 1. Super Shuttle: $29 for first passenger, $10 for additional passengers 2. Metro: Metrobus Route 5A operates between Washington, D.C. and Washington Dulles International Airport, with a stop at the Rosslyn Metro station in Arlington. You can take a bus from Rosslyn directly to our home (10 min bus ride) From Union Station, please take the Red Line to Metro Center. Then you can take Orange Line or Silver line (Wiehle Reston East) from Metro Center to Ballston station. Take Bus 10B to Hunting Point. This is a 10 minute bus trip to our address!! Note: The ceiling near entrance to bedroom and bathroom is a little lower due to air ducts. Not noticeable if you are under 5'11".
Arlington was just named the third "hippest city" by Expedia. Please see below for additional details from the article :-) There's a personalized guidebook I have put together for our location on the desk in the living area. I highly recommend looking through here as it has some of our favorite places to eat and a great map. What's Nearby: Arlington, VA area is a lovely community and our home is located in a nice, quiet location near neighborhood parks and walking & bicycle trails.There are bikes available from Capital Bikeshare a block and a half from the house. Home within a half mile of many restaurants, a grocery store, wine bar, 711, Rite Aid, CVS and a movie theater. There is free street parking available a half block north or south of our house, and you can walk to most amenities. The Arlington Cinema & Drafthouse provides an awesome combination of movies, food, and drinks. Mon and Tue are $2 movie nights. Note: cash only! There's lots of great food within easy walking distance. The Lost Dog Cafe is a local favorite, with great pizzas and beer (and free delivery in the area if you can't wait for a table). Bangkok 54 has great Thai food, and new Irish bar P. Brennan's has it all: "The food is amazing, the staff is great, and they have an impressive drink selection." There's also a Frozen Yogurt Shop, Starbucks, and a couple of manicure spots. Columbia Pike is north of Shirlington, northwest of Crystal City, and south of Court House and Clarendon. Fun Things to Do Nearby Off the Beaten Path: 1. National Zoo: Kid-friendly 2. Portrait Gallery (less crowded than Smithsonian with more modern art) 3. Kayaking or Standup Paddleboarding: 4. Roosevelt Island: good hike plus memorial. Kid-friendly 5. W Hotel: rooftop bar with view of roof of white house (yes, brilliant.) Good any time of day or night. For the adventurous among us, taking a Lyft to an American bistro, going shopping for produce outdoors, and seeing a play at a local theater is a mild way to spend a weekend. But these things set the bar in a new Expedia list, which ranks Arlington County, Va. as the country's third super cool U.S. city for having such "hip" offerings. The list includes small and mid-size places that are "stepping up, giving the big metropolises a run for their trend-setting money," according to Expedia. The travel site touts the "killer charcuterie" at Lyon Hall, cornbread at Green Pig Bistro, fresh food at the Arlington Farmers Market, and shows at Signature Theatre, which offer "the right equation of neighborhood chill and city energy" in Arlington.
We enjoyed our stay at Fiza's house very much during our sightseeing trip to DC. The house is very conveniently located, ~10min to both the National Mall area and the Arlington-Reagan Airport. Although we didn't meet Fiza in person during our stay, I can feel her hospitality everywhere - she left snacks and foods in the fridge for us to enjoy, and tourguide books, rechargeable metro cards, and even laundry detergent to use. We really appreciate these details. The house is clean, the neighborhood is safe, highly recommended!
Ziqing
2016-06-28T00:00:00Z
Fiza was a great host! She was very accommodating and helpful if we had any questions. The place was extremely clean and provided everything we needed! The location was perfect as well. Just a short 10 minute car ride into the city. It was within walking distance from great restaurants and convenience stores. I would definitely recommend staying at her listing! :)
Toniann
2015-11-02T00:00:00Z
Fiza's place is located in a quiet suburb of Arlington but no more than a 15 min ride to Capital Hill. She's about 10 min away from the nearest metro station by car so in all honestly it's not convenient to walk there. The group I was with ended up just doing uber pool to DC and it was relatively inexpensive. Fiza's place it very charming and comfortable. Her couch coverts easily into a bed and it's comfortable to sleep on. We were able to control the heat in the basement with amazon nest so that was convenient. Fiza gave us space and full autonomy during our stay but was there at a moments notice if we had a question. I would definitely recommend Fiza's place if you're thinking about staying in Arlington, VA.
Chanelle
2017-04-02T00:00:00Z
Fiza&Toni were extremely considerate and nice hosts. Communication was easy, they answered questions immediately and were always willing to help. The apartment looks as described. Very clean, new, lovely interior! They provided many snacks, basic food and many toiletries. We really enjoyed our stay and definitely recommend this apartment. Thank you, fiza&toni for the perfect time.
Anna-Lena
2015-09-22T00:00:00Z
This experience exceeded my expectations! I can't wait to go back. I will stay here every time I'm in the DC area.
Jill
2015-07-29T00:00:00Z
The host was excellent - almost instant answers to questions and super helpful with transit, restaurants, etc. The apartment was very nice - clean and plenty of room, and great location to metro and DC. My only other comment is that the description of the apartment should include that there are low ducts and if you are taller than about 5'8", you have to remember to duck your head in many places in the apartment. My 6'3" son hit his head several times! Other than that, a nice stay.
Kim
2016-04-17T00:00:00Z
location!this room is near from the capital hill. FIZA had prepare a metro card for us. It is very convenience for tourist. And FIZA is a very nice host~she had prepare many food and drinks for us and give us many advice about our trip.
文钜
2015-09-26T00:00:00Z
Fiza's home is really welcoming and comfortable as shown in the pictures. She was very helpful and answered all of our questions! It is a nice and safe neighborhood. It was a pity we didn't have the opportunity to meet each other,but I really recommend staying there and enjoy Washington DC!
Pricila
2015-12-22T00:00:00Z
Rodzaj pokoju
Całe miejsce
---
Rodzaj nieruchomości
Apartament
---
Mieści
4
---
Sypialnie
Arlington, Virginia, Stany Zjednoczone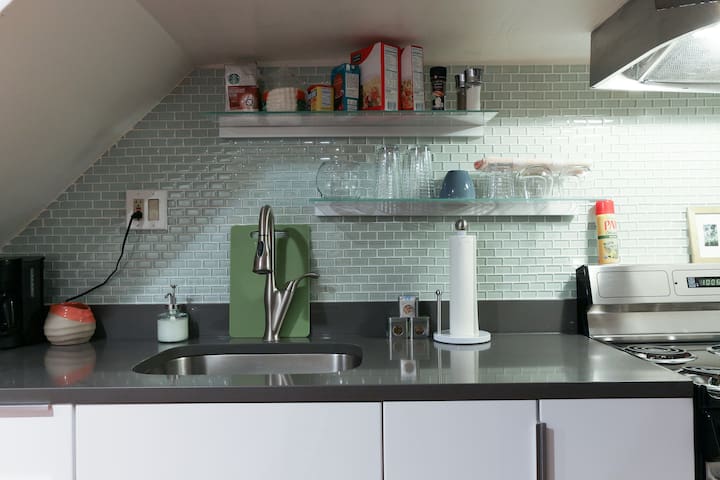 This 900 sq. ft. apartment newly renovated, 2015, is very close to the shopping and restaurants of Short Pump and very close to downtown Richmond . Very easy highway access. We travel with Airbnb and we know what you need.
900 sq. ft. studio that sleeps 6 comfortably.
Amazing shopping and restaurants. Country setting in the city
While our time with Marc and Betsy was short it was definitely amazing! The space was perfect for the two of us, a friend and a dog. Easy to find and great amenities! Betsy and Marc are great hosts and you will not be disappointed!
Larisa
2016-10-23T00:00:00Z
My boyfriend and I were in town for a golf tournament. We stayed at Marc and Betsy's Oasis Apartment and LOVED our experience!! Before arriving, the communication was great and they were very flexible as I changed my arrival dates a few times. I was greeted by Betsy when I first arrived and she showed me around the apartment. The place was well lay out, spacious and clean!! We loved the little "work out" area. We definitely will stay here again next time we're in town! Thank you!!
Kaylin
2016-05-25T00:00:00Z
We stayed in Marc and Betsy's place while visiting family in Richmond. Everything about our stay was easy and comfortable. Marc and Betsy communicated quickly and kindly, the bed was very comfortable, the coffee delicious, and the Ms. Pac Man table a blast from the past. The place looks exactly as pictured. Thank you Marc and Betsy for our lovely stay.
Ilene
2016-11-21T00:00:00Z
Marc & Betsy are fabulous hosts! So friendly and welcoming. I really enjoyed hanging out & chatting with them. They are very warm, generous & interesting people. I absolutely love their place. It has great vibes & it's so unique. It has it's own men's room, which is adorable. I really love the bed! So comfortable. The kitchen was great, the bathroom and shower were lovely and I also enjoyed sitting out on the little back porch. Overall a very relaxing stay. I hope to have a chance to return and stay here again.
Beth
2016-07-17T00:00:00Z
Beautiful place to stay. So well put together. Very comfortable bed, thick and soft towels, relaxing and comfortable atmosphere. Everything is well labeled and you can tell these hosts went the extra mile to make your stay comfortable. Highly recommend!
Stephanie
2017-01-26T00:00:00Z
The Oasis was perfect... Betsy and Marc made me and my three pups feel right at home. Place was exactly as described and a great value.
Theresa
2017-03-03T00:00:00Z
Marc and Betsy were excellent hosts. They made sure to check in to make sure we arrived ok and had everything we needed. The Oasis is beautiful and very clean. It had everything we needed and more. I personally loved the pacman machine they had in the kitchen. So fun!
Lisa
2016-09-18T00:00:00Z
We read the excellent reviews for this place and knew it would be great, but it still exceeded our expectations. The place is an oasis and every little detail was perfect in the place. It has everything you need, great space, bed, TV and sound, kitchen, and bathroom. It felt like a great man cave in some regards. The location was great and easy to find. Marc and Betsy are very communicative and excellent hosts. Highly recommend this place.
Philip
2016-10-09T00:00:00Z
Rodzaj pokoju
Całe miejsce
---
Rodzaj nieruchomości
Apartament
---
Mieści
6
---
Sypialnie
Richmond, Virginia, Stany Zjednoczone
NO CLEANING FEE! NEWLY DECORATED! I have lived with roommates for over 10 years (3 years where I was the Landlord). I enjoy meeting new people and feel I have an amazing deal for my place. My place is extremely cozy with quality furniture, across from a Whole Foods grocery store and metro and steps from the Pentagon & DC.
It is within two stops to DC, The airport, Arlington Cemetery, and the Pentagon. Four stops away from Old Town Alexandria. Friendly staff and neighbors. The room is my living room with lots of space and it is entirely yours. I never go into the living room after 9 pm at night (I have a door to access the bathroom) and so you have access to the kitchen and washer and dryer at all times. I always knock before I enter as well. Towels and quality bedding are provided. Free coffee everyday from 6 am to 12 pm in the lobby. Access to the business center, personal movie theater, building spa, and gym. Living like a DC local is fun!
Close to everything! Restaurants and shopping across the street.
Jen's house was lovely and cosy. It was clean and comfortable, and the building was in a safe and accessible neighborhood (we Ubered into the downtown DC area for around $7-9), and had some great amenities, like a gym, business center, pool, etc. She was very helpful, and told us about places we could visit while we were there - she even had maps and brochures handy that we were able to refer to. She has an adorable cat named Princess, who is shy and quiet. We enjoyed our stay at her place!
Radha
2016-07-05T00:00:00Z
Very nice, clean, and convenient location in Chrystal City, VA that is 2-3 blocks from the metro (yellow & blue lines). Host is very accommodating. There is a comfortable sleeper couch located in the living room and a cat in the home.
Lorena
2016-11-19T00:00:00Z
The room is very clean and Jennifer was so enthusiasm, she showed me how to use the apartment's computer and private movie theatre! This is so nice place.
luo
2016-02-25T00:00:00Z
Jennifer was a wonderful and considerate host! She was very nice and gave great suggestions during our trip. Her place was amazing and located in a great area. We loved our experience and would definitely stay again.
Francella
2016-04-11T00:00:00Z
There are many reasons that Jennifer has so many 5 star reviews. She is a kind and knowledgeable hostess. Her apartment is very nice and the location is conveniently located to everything in DC. I would definitely stay with her again.
Merri
2016-04-02T00:00:00Z
Very nice, clean and accommodating apartment. Jennifer is very outgoing and extremely considerate of in and outs of the apartment- regardless the time. The place is very close to metro and other public transportation and within walking distance of anything one would need.
Jeannette
2016-07-20T00:00:00Z
Outstanding stay and a warm welcome from Jen. I recommend, quiet, nice bed, beautiful place.
Nicolas
2016-01-23T00:00:00Z
Jen's place is brand new, very clean and comfortable, and filled with nice amenities. Jen herself couldn't be nicer, is super easy to coordinate with and easygoing. The location is in easy walking distance to the Pentagon City Metro, shopping and lots of restaurant choices.
Gary
2014-12-04T00:00:00Z
Rodzaj pokoju
Pokój prywatny
---
Rodzaj nieruchomości
Apartament
---
Mieści
2
---
Sypialnie
Arlington, Virginia, Stany Zjednoczone
Nowoczesne, mieszkanie w piwnicy, prywatne grads drive.Both LU w dziedzinie medycyny i edukacji. Mamy darmowe wifi, duży telewizor z płaskim ekranem, sen o 6, ładne miejsca na biurku / biura, pralkę i suszarkę, klimatyzację i ciepła, ekspres do kawy, a wszystko, czego potrzebujesz do comfort.1073 balustrady miejsce lasu, VA 24551 jest nasz adres.
Zupełnie nowa konstrukcja bardzo nowoczesny
Piękne drzewa i widok na góry
Erin was gracious in helping me book the room when it didn't show up in my query (I had a filter inadvertently activated, which eliminated her listing from my view). She was helpful and tolerant of my lack of technical prowess....
Steven
2016-12-01T00:00:00Z
This place was outstanding. The private drive and entrance made it very convenient to unload the car. Everything was immaculate and very modern with lots of space. The beds were very comfortable. This is certainly a home away from home experience.
Chad
2016-06-19T00:00:00Z
We enjoyed our stay in this basement apartment. We felt at home. It was spacious and nicely decorated in a nice area. It was private with a separate driveway just for guests. I would definitely recommend it! Erin was very accommodating and helpful!
Lisa
2016-05-05T00:00:00Z
The house was great. Very inexpensive and comfortable. The family does live upstairs and are not a bother but you can hear them. We really enjoyed our stay and would definitely use the place again.
Nancy
2016-11-26T00:00:00Z
Thanks for the use of your basement apartment. It was just right for our quick stay in Lynchburg.
Kent
2016-09-04T00:00:00Z
It was such a wonderful experience with Erin. The place is huge and wonderful, we loved their decoration so much.
Annier Jingyi
2016-05-11T00:00:00Z
...
Colleen
2016-10-04T00:00:00Z
Erin and Bill were great. The location was great and very clean. They had a lot of great things to do which made our stay good. I would stay here again because of the quality of the location. It was a nice amount of space and they provided everything we needed.
Ricardo
2016-07-29T00:00:00Z
Rodzaj pokoju
Całe miejsce
---
Rodzaj nieruchomości
Apartament
---
Mieści
7
---
Sypialnie
Forest, Virginia, Stany Zjednoczone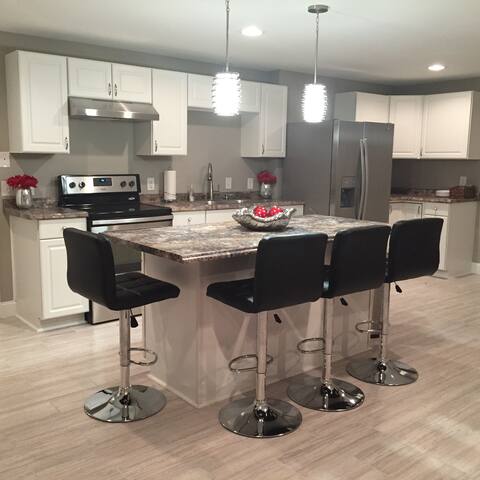 Located in northern Virginia Beach near the mouth of the Chesapeake Bay. This location has been sought after for years by those who know the beauty that the Chesapeake Bay has to offer. Come enjoy sunsets over the bay at a price that is reasonable. If this place is booked please ask about our Beach Bay Getaway II.
The space is a beach duplex and you will have the key to your own private residence. The hosts reside on site. Perfect for the individual, couple or small family looking to take advantage of the Beach, Bike Path and local food and entertainment. We have a sofa bed in the living room and a queen sized bed in the bedroom. This space would also be great for those traveling in the healthcare field or business that want to be close to the beach.
Cape Story by the Sea is a residential bayfront community. We are located near the mouth of the Chesapeake Bay and walking distance to First Landing State Park (Formally Seashore State Park). Our location is 5 miles to the A.R.E.; 10 minute drive to the oceanfront boardwalk; a 15 minute drive to Town Centre; and approximately 20 minutes to the Norfolk International Airport.
This was a great getaway spot! Clean, cozy, and comfortable! We enjoyed our stay very much!
Jacob
2016-03-25T00:00:00Z
Home away from home. Beach looks like it came straight out of a movie. The neighborhood really cares about the environment and keeping the area clean.
Alyssa
2016-06-16T00:00:00Z
This place is great! It's on the Chesapeake Bay side of Virginia Beach, and I am so happy we stayed here instead of in the middle of VB. It's quieter, and the public access point to the beach is about 200 feet from the door. Amazing! And VB is only about a 20 minute drive away, mainly through a state park, which was also beautiful. For a romantic New Year's celebration, it was a great spot. It was small, cozy, clean, and bright. It's clear that he and Kim have put a lot of work into this place. I would recommend Steven's place to any couple or small family I know who are going to visit the area.
Aaron
2017-01-01T00:00:00Z
We had a great time at Stevan's! You can't beat the location as it is just a short walk to the beach and Steven was a great host and very helpful!
Katie
2016-07-21T00:00:00Z
What a perfect location, adorable & cozy apartment, and easy host! Steven and his family went above and beyond -- even leaving us a homemade birthday card and bottle of champagne to celebrate the occasion. I'd absolutely recommend staying here.
Lavinia
2016-10-16T00:00:00Z
Everything was as expected! This is an excellent location. Within steps from the beach and Steven is an excellent host! Would definitely stay at this property again!
Frank
2016-08-01T00:00:00Z
Absolutely beautiful and healing space. Beach is walking distance, hosts are available and helpful, and the space is comfortable. Highly recommend!
Brittney
2017-03-21T00:00:00Z
We had a wonderful visit to Virginia Beach and absolutely loved the apartment. It is very comfortable and clean, and was conveniently right down the street from the beach. Steven and Jen were very accommodating and friendly, always checking in to make sure we had what we needed. We would absolutely love to come back someday and highly recommend this to anyone who is looking to get away and relax for a bit. Thanks so much for hosting us!
Meaghan
2016-05-31T00:00:00Z
Rodzaj pokoju
Całe miejsce
---
Rodzaj nieruchomości
Apartament
---
Mieści
3
---
Sypialnie
Virginia Beach, Virginia, Stany Zjednoczone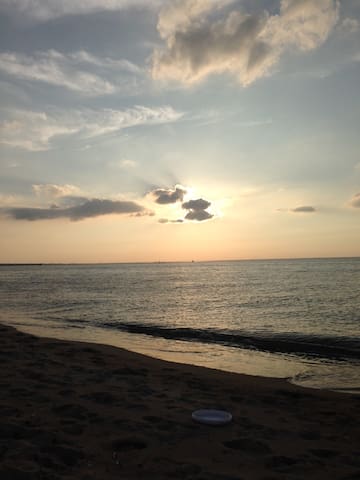 Resort area without the prices and crowds. This large studio apartment with queen bed, twin bed, couch, 70" tv, bbq, private outdoor entertaining area, entrance, private bath and kitchenette provide you with the ultimate beach getaway! 2 Bikes and chairs provided. 6 short blocks from Neptune, 3 blocks to the beach. 2 miles to state park. Bike to groceries, movies, iFly, all restaurants and the whole boardwalk. Free parking and wifi!
This large studio has a queen bed, full size L shaped leather couch and a window seat that makes into a twin. You must let me know in advance if you will need the twin made as well as the queen. High quality new memory foam mattress on queen, no squeaks, bars, lumps or otherwise! There is a full closet and separate room for laundry, coffee & tea provided, microwave, fridge, oven and outdoor bbq. The room has it's own entrance, heat, A/C and restroom as well as private outdoor courtyard and parking for two cars. If you just want to relax, the room has black out curtains, cable, WiFi DVD surround sound all on a 75" tv. I live in the main home which is attached by one solid wall. The studio sits on 1 acre, just 400 yards from the famous 'Oceanfront' resort area of Virginia Beach. It also sits on the Princess Anne golf course and the very tip of the Chesapeake Bay. Private sandy beach on the back yard on the bay to launch the kayak and paddle boards from. Nightly music on the Boardwalk can be heard from outside the house. Only 3 blocks from the famous Neptune Statue where all summer festivals are. Concerts and shows are a part of daily summer life here. Surf boards, paddle boards, 1 kayak and most importantly bicycles all available for your use. You can bike to all local entertainment, groceries, food, theaters. Less than a 5 minute walk to the beach, umbrella, chairs and beach towels are also provided. Bike to the State Park with miles of trails and a Cypress swamp. There is a book of the best food, locals spots, activities and help you have a great stay in VB!
You won't need to get in the car once you arrive. Bike everywhere and a 4 minute walk to the beach. Experience VB like a local. Avoid the traffic, the overpriced restaurants and such! Safe and sound here! Walk to the beach 5 times a day, I do! There is jet noise here at the oceanfront, all the hotels have it as well. Just a warning. If you forgot something, I do have a box of supplies. Please take only what you need.
This place was even better than the pictures! Christine was very welcoming and accommodating. There were some great details that made her place feel welcoming and also practical. She had a beach tote and towels available which was definitely a plus. Only a few minutes walk to the boardwalk/beach and restaurants but still on a quiet street. The kitchenette was adorable and had everything you would need plus a washer/dryer. Her place was also very clean! Definitely a great Airbnb experience!
Ruby
2016-06-28T00:00:00Z
The numerous positive reviews really say it all. The apartment has great touches and amenities, and Christine made us feel very welcome in her lovely home. I would definitely recommend staying here.
David
2016-09-11T00:00:00Z
I loved staying at Christine's suite. It was the perfect beach getaway we were looking for. Romantic and homey with beautiful landscaping. I cant wait to come back.
Renee
2016-07-28T00:00:00Z
Christine was a gracious hostess who informed me of all the great restaurants nearby. The accommodations were top-notch; the spacious room and welcoming details were absolutely luxurious. I would love to stay here again!
Jennifer
2016-05-14T00:00:00Z
The owner is a stellar host and tour guide. She made me and my friends feel right at home. The property is incredible -- it's a modern dream house with beautiful grounds. The location is superb -- it is waterfront (adjacent to the Chesapeake Bay) and three blocks from the Virginia Beach Boardwalk and the Atlantic Ocean. I really enjoyed being able to walk to the beach and use the house beach cruisers to visit restaurants along the boardwalk that were beyond walking distance. 70" TV was a treat -- great for watching football. WiFi is fast and reliable. Laundry room is conveniently accessible just down the hall.
Jake
2016-03-11T00:00:00Z
I enjoyed my weekend at Christine's place. The suite was large and comfortable. For my stay, I did not have access to the whole house but I was Ok with that. The suite is secure and locked off from the larger home and that worked well. The host has put in a kitchenette where the washer and dryer are. It was more than adequate for my needs. There is no sink but the bathroom sink is right next to that room. I have been doing AirBnb for years and this was my first stay in a private home. It was great and Christine was an awesome host and a really cool person. I would definitely go back. You could walk the 3 blocks to the beach, but I rode one of the bikes provided. It was a nice workout.
Tina
2016-05-02T00:00:00Z
My daughter and I had a wonderful time in Va. Beach! Christine's suite was perfect for us. We had questions regarding the TV and air conditioner and Christine came or texted right away. The restaurants she suggested were very good and we enjoyed riding her bikes. In addition, I left two articles of clothing and Christine was more than happy to put them in the mail to me. If you have two or three folks and want to be near the beach, this is the place to stay.
Lynn
2016-08-11T00:00:00Z
5 stars. The room was better than pictured and very homy! Our host was wonderful in making sure that we had a fun time and providing many resources! She provided more than expected and was very welcoming and easy to talk too. She has a very helpful book she made to reference for local places to go and things to do that weren't pricy. We had a great stay!
Mariana
2016-05-28T00:00:00Z
Rodzaj pokoju
Całe miejsce
---
Rodzaj nieruchomości
Apartament
---
Mieści
3
---
Sypialnie
Virginia Beach, Virginia, Stany Zjednoczone
Welcome to Washington, D.C.! Our apartment is a beautiful, spacious two-bedroom/two-bathroom place two blocks from the Pentagon City metro stop and the Pentagon City mall, with a balcony overlooking the Pentagon.
Fitness center, pool (open Memorial Day to Labor Day), washing machine and dryer in unit, as well as laundry facilities in building. Our apartment is on the second floor, making it easily accessible. We love to meet new people and get to know them! We are both working professionals, however we are usually home in the evenings. We love how close this place is to the Pentagon City mall, the metro, as well as numerous stores and restaurants. There is a bus stop right out front of the apartment building, as well as Capital Bike Share, in addition to being just two blocks from the Pentagon City metro stop. The room has one queen sized bed, brand new mattress, however we do have an additional full sized mattress that would sleep two more people at $20 each per night.
We love how close this place is to the Pentagon City mall, the metro, as well as numerous stores and restaurants.
Pobyt u Andrew i Jenell w pełni odpowiadał opisowi mieszkania. Gospodarze byli nam pomocni na każdym kroku, zaczynając od podania nam wskazówek dojazdu z dworca,pomoc przy praniu, przez polecenie nam godnych zobaczenia miejsc w Waszyngtonie i znalezienia dogodnego dojazdu do nich aż do nakarmienia nas po podróży,zanim zrobiliśmy zakupy. Spędziliśmy ten czas w super atmosferze, dzięki zaangażowaniu naszych gospodarzy, za co im bardzo dziekujemy!
Beata
2015-05-19T00:00:00Z
Andrew & Jenell were amazing hosts. The room & the bathroom were more than perfect.
Kangwook
2016-05-24T00:00:00Z
Very spacious, clean, and quiet. Friendly host. Just as advertised. Would visit again.
Sara
2016-02-18T00:00:00Z
Everything was great and just as advertised. Great location. We had business at the Pentagon and surrounding areas. Couldn't ask for better location. Andrew and Jenell were great. Would recommend and definitely stay again. Thanks!
Penny
2016-03-06T00:00:00Z
The room was just as advertised -- very comfortable and super clean. I enjoyed the en suite bathroom and the welcome basket with water, treats, and local information was a beautiful gesture from thoughtful hosts.
Val
2015-04-01T00:00:00Z
Great location only 5min walk to the subway and a just short ride to the city. Shopping center just around the corner, many food options available. Very nice hosts, clean appartment with own bathroom.
Manuel
2015-09-26T00:00:00Z
My husband and I had a great stay here with Andrew & Jennell! This was our first time using Airbnb and they made it fun & flawless. Everything in the bedroom and bathroom felt brand new and very clean. Definitely stay with them if you are visiting DC! :)
Lexi
2015-03-14T00:00:00Z
We loved staying here! Super close to the freeway with quick access to DC proper. Private space with our own bathroom was very spacious and nice.
Amber
2015-11-16T00:00:00Z
Rodzaj pokoju
Pokój prywatny
---
Rodzaj nieruchomości
Apartament
---
Mieści
4
---
Sypialnie
Arlington, Virginia, Stany Zjednoczone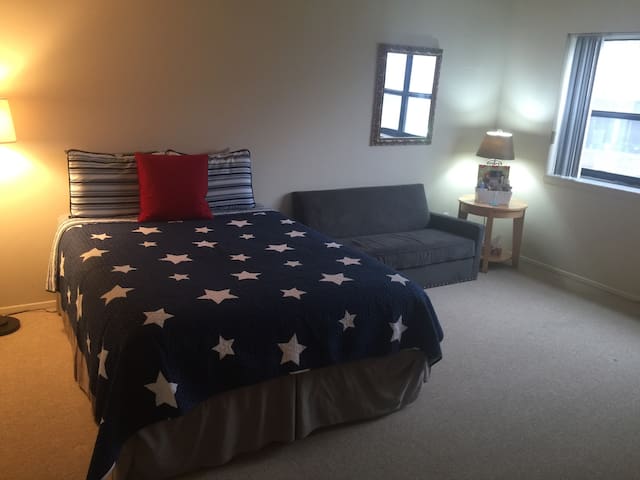 Suited for 1, very small 100 sq. ft. space with an open bathroom and curtain divider. Your private studio has everything a minimalist needs to be successful. This studio space has an open bathroom, non working fireplace, TV, iron, sheets, towels, essentials, microwave, futon and small private balcony.
Best deal you'll find in the area. For being so central, Jason's place is a bargain. It is very small, but that shouldn't matter if you won't be in the room a lot. Only thing I noticed was that the ceiling is very thin, so be prepared to hear everything going on upstairs. The place was cute though, and had everything you could need! Jason was nice about letting us check-in early, and even providing some great recommendations.
Rae
2017-01-16T00:00:00Z
A perfect spot if you're doing a quick weekend trip by yourself or with one other person. 10 minute walk to the National and even less for great restaurants in the area. The amount of amenities stocked in the room is impressive for its cozy size.
Nicole
2017-01-22T00:00:00Z
Jason's place was great. It was clean and it had everything we needed for a short trip. Mike was also super helpful with check in and check out and he also made himself available is we needed anything else.
Matt
2016-08-05T00:00:00Z
Great price, Jason was really friendly and accommodating. Good location surrounded by places to eat and drink and within walking distance to the river and capital, and an easy bus ride to the museums. Unit was perfect for one person.
Kevin
2016-08-18T00:00:00Z
Perfect for a quick trip! Exactly as pictured and in a great location.
Kalesha
2016-06-01T00:00:00Z
Great little spot for a solo traveler (or maybe a couple). Just what you need for the evening, nothing more, nothing less. Comfortable bed and a nice shower. Location is ideal for seeing lots of what Richmond has to offer. Save some $$ for the breweries and restaurants around town and stay here.
Jean-Scott
2017-03-22T00:00:00Z
Many thanks to Jason for answering all our questions prior to our stay! The apartment was cozy as described but was everything we needed for our stay in Richmond and will be back if we visit Richmond again! Many thanks!!
Thomas
2016-12-10T00:00:00Z
The Micro Studio was exactly as described, and the central location made it very convenient for a short trip in Richmond. Enjoyed our stay!
Terrell
2017-03-09T00:00:00Z
Rodzaj pokoju
Całe miejsce
---
Rodzaj nieruchomości
Apartament
---
Mieści
2
---
Sypialnie
Richmond, Virginia, Stany Zjednoczone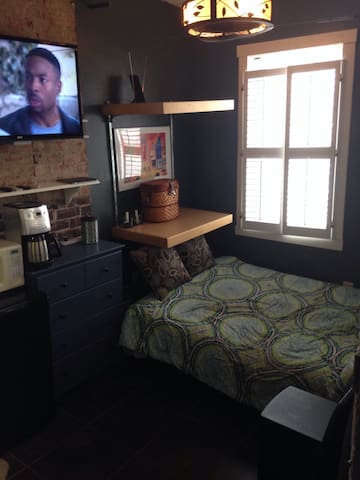 Comfortable one bedroom full bath with beach access. King size bed is the center piece of this beach room. Decorated with a bay touch. Take in a beautiful beach sunset. Go enjoy hiking or biking on nearby trails. Bring an appetite and enjoy our local bay dining.. Live the Dream!!
Experience our outdoor shower whether you are coming off the beach, finishing a bike ride on the bike path, a run through the state park or just for enjoyment sake. It just feels good and a lasting memory.
Quiet safe and clean..
We loved our stay with Walter and Kelly. They were so nice and welcoming! The room was just as described and very clean. Quiet neighborhood and right next to the beach! Perfect getaway spot yet restaurants are within walking distance or a 2 minute drive.
chris
2016-06-27T00:00:00Z
Kelly and Walter were wonderful hosts! They are very kind and gracious. I really felt like they treated me as a guest of the family not a renter. When I arrived they showed me around and how to access the beach, asked what interests I had, and gave me places to go. They were a very active couple who have a joy for life and like sharing it with others. I would definitely stay there again. They provided beach chairs and towels which was nice. Kelly also knew I liked coffee so bought a coffee maker for the room so I did not have to drive for coffee as soon as I got up. Thank you!!
Diane
2015-09-06T00:00:00Z
We had a terrific beach getaway at Kelly & Walter's! After visiting the bustling boardwalk, the quiet beach just steps from our room was exactly what we were hoping for. We had dinner at a nearby seafood restaurant they recommended and it was delicious. After a morning beach walk in the rain we came back and enjoyed their warm outdoor shower and the extra towels they had for us. They were great hosts and overall very pleasant to be around!
Ariel
2015-09-07T00:00:00Z
The listing was very accurate. As described, there were many moments in which we felt we were truly living the dream. Kelly greeted us warmly at the door and gave us great insight into local treasures. I had been to Virginia Beach many times before but never felt like such an insider. This time around we were able to avoid all the tourist traps and enjoy some of the pleasures usually reserved for residents of this area. I believe that was largely due to where we stayed.
Christopher
2016-03-13T00:00:00Z
As other reviews stated the bed was soooo comfy! So much so that I slept soundly through hurricane Matthew! Also, the basically private beach just steps away was amazing.
Ashley
2016-10-10T00:00:00Z
For sure one of the nicest airbnbs we have been to thus far. A very cute and private apartment. With very nice furniture and amenities!
Alexander
2016-04-11T00:00:00Z
They were very friendly.
Patrick
2016-08-24T00:00:00Z
Living the dream is nothing short from the title. The location is in a quieter part of the city with private access to the beach, yet only a short drive from the boardwalk. Kelly and Walter were both very welcoming into their home. We were lucky enough to get the chance to speak with them for a while upon initial arrival. They were both very congenial and even pointed us to a few neat spots around town. Their three sweet dogs also gave us an extremely genuine welcome as they loved the attention just as much as we loved giving it to them. As for the room, it was more than we could have ever asked for. Living the dream is in a great location and is perfect for a stay in Virginia beach. I would highly recommend anyone visiting in town to stay at Kelly and Walters home. Looking forward to our return trip in the future!
Ravi
2016-03-16T00:00:00Z
Rodzaj pokoju
Pokój prywatny
---
Rodzaj nieruchomości
Apartament
---
Mieści
2
---
Sypialnie
Virginia Beach, Virginia, Stany Zjednoczone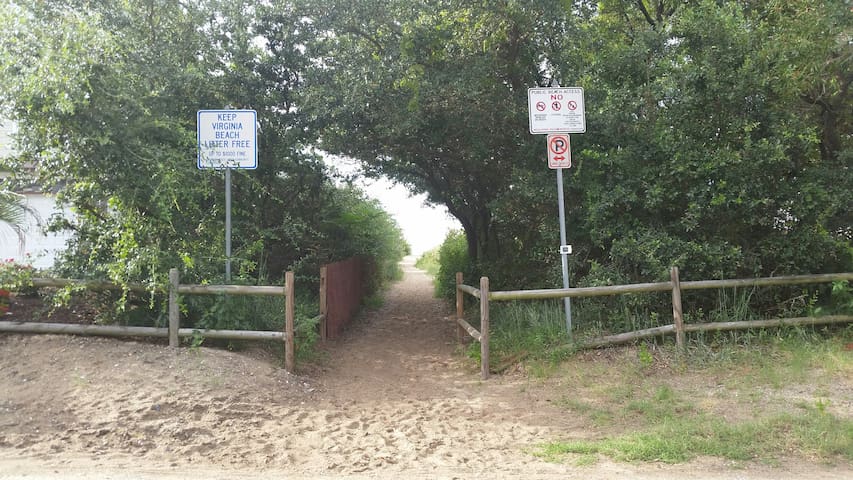 Ask us about a discount if you are going to stay for at least 4 days. The apartment is only 10 minutes from Liberty U and 5 minutes from Lynchburg College. There is a private entrance, living room, kitchenette, bathroom, and bedroom with full-size bed. We provide a roll away cot if there are 3 registered guests.
If you are staying for at least 4 nights, ask us about a discount. The apartment offers designated off-street parking, a private entrance and a newly renovated kitchenette and bathroom. There is also a very comfortable bedroom and a living room. We provide a roll away cot for a registered 3rd person (supports up to 240 pounds). Next to the bed, there is an alarm clock that has a USB drive to charge a mobile phone and 2 plug-in outlets. In the kitchen, there is a coffee pot, microwave and a toaster oven. We provide some snacks and bottled water.
We live on a quiet cul-de-sac in a neighborhood that is convenient to restaurants and shopping. Liberty University is 10 minutes away and Lynchburg College is 5 minutes away.
10 minutes from LC convenient to restaurants and shops. I would definitely stay again.
Rachel
2016-11-05T00:00:00Z
Ted and Jana were the perfect hosts. We arrived late because of traffic, but Ted still met us to show us the entrance. The place is spotless, new, and matches the pictures. We really enjoyed staying here and would recommend to anyone!
Bonnie
2015-06-14T00:00:00Z
Everything was perfect! Perfect place for intensives!
Holli
2017-02-04T00:00:00Z
Perfect place for intensives!
Holli
2017-03-04T00:00:00Z
This was my first stay through Airbnb and I can honestly say Ted and Jana's basement was so warm and welcoming. I felt taken care of from the moment I walked through the door between the convenient check in, lights to light up the entire pathway, step by step instructions for wi-fi access, and free snacks and bottles of water. I would recommend them to anyone traveling through the Lynchburg area!
Casey
2017-02-10T00:00:00Z
Before I got to the residence, Ted and Jana cleaned up the residence to get it ready for me and when I got there, Ted, showed me the location of the lockbox and how it worked. He was very cordial and accommodative. I really appreciated the overall cleanliness of the place and the things were just as advertised. The neighborhood was very quiet. I would definitely use this service and again.
Joe
2017-01-01T00:00:00Z
Perfect place for a great stay.
Tami
2017-04-07T00:00:00Z
This was our first time staying here and we loved it and hope to come back again. It was cozy and very clean. Great hospitality. We would definitely recommend it to others.
April
2017-02-05T00:00:00Z
Rodzaj pokoju
Całe miejsce
---
Rodzaj nieruchomości
Apartament
---
Mieści
3
---
Sypialnie
Lynchburg, Virginia, Stany Zjednoczone
This listing is retiring. Look at the listing for "The Nicest Beach in Virginia Beach 2Br/2Bath Apt" (note caps) for current pricing and availability for 2 bedroom apartment. For one bedroom shared house, check out "Cozy Room with Private Bath One Block off the Beach." No hotels on beach. Come watch dolphins frolic, bike, hike, kayak in First Landing State Park. Surf & fish on beach.
This listing is retiring. Currently listed under "The Nicest Beach in Virginia Beach 2BR/2Bath Apt" Private two bedroom apartment with two baths. Relaxing and spacious private bedroom suite with king size bed. Second bedroom has a queen bed. Additional sleeping on futons and sleep sofas. Just 1 block from the beach. Off street parking. Non-smoking. Room for 6-8.
Quiet residential area at the "Gold Coast" of VB North End of the beach just one block from the ocean. No hotels. Tourists are rare. Dolphins abundant. Trees and flowers line the streets. 5 minutes from beautiful First Landing Park where you can bike, hike, paddle board, kayak and relax on the Chesapeake Bay. You can surf & fish here.
We had a great time! The beach was one of the best we have been to in vb. Stephen was a great host. He was very friendly and accommodating. He checked up on us often and was very generous letting us use beach chairs, umbrellas, etc. His list of restaurants/ attractions was also really helpful. He was really great with our children. This place is definitely family and budget friendly. The room makes it possible to pack a lot of your own food to save some money with a mini fridge and freezer, microwave, dishes, silverware, etc. It was better than staying in a hotel in my opinion. We definitely recommend and hope to return in the future!
Alicia
2016-08-08T00:00:00Z
Booked this property on a whistle stop road trip around Virginia, communications from Stephen where excellent from start to finish, unfortunately on my way to the property I became very tired and dizzy, didn't know whether it was jet lag or just driving too much, but had to stop an hour from him and get a room, stayed there two days with some sort of virus??? I did contact Stephen and let him know not to wait up on us, he was understanding and gracious.
Gary
2016-05-13T00:00:00Z
This was perfect for our small family. Clean, spacious room and bathroom with extras like coffee and creamer and a great DVD collection. We enjoyed it very much!
Robin
2016-08-03T00:00:00Z
My first experience with Airbnb was great!! Stephen was welcoming and extremely helpful. He was able to give great ideas for restaurants and things to do. I was there to visit with my son in the Navy, and had a great time. He made us feel right at home. I have to admit, I was concerned about privacy but Stephen gave me lots of it. Great host!
Julie
2016-05-04T00:00:00Z
Stephen was very prompt in responding to us when we decided to 'get away' at the last minute. It was so fortunate that he had room available given that his place HAS to be the best on the beach. He was there to greet us as we pulled into his driveway and was thorough in providing for anything we needed - like beach chairs and an umbrella so we could relax on the beach pretty much from the moment we arrived. The picture doesn't lie - quiet, secluded, and away from the hustle part of Virginia Beach. Later he provided a typed list of restaurants and a 'low down' on each of them. Great host - great place to stay!
Jim
2015-08-08T00:00:00Z
Stephen was a wonderful host. He checked in with us various times before and during our stay to make sure we had everything we need. This was our first experience with AirBNB and he has certainly set the bar high! The room was well stocked with everything you'd need for a comfortable stay. Highly recommend!
Stephanie
2016-07-17T00:00:00Z
Stephen is a great host. I had booked with him for my step daughter as a gift for her honeymoon. Stephen made sure it was a special stay for them. They have had a pleasant honeymoon, thanks to him. He was in constant communication with them, making sure they had the right directions. He has helped them get acquainted with places to go there and things to do. I hope to make a trip down there myself and experience the serene section of Virginia Beach. Thanks Stephen.
Ajay
2015-07-02T00:00:00Z
Stephen was a great host, from being flexible with my checkin time to recommending places to eat. He had everything needed for a great day at the beach: umbrella, chair, towels, and even a book to read. The room was as advertised, and it was the perfect location for my vacation. I will definitely stay there again the next time I venture out to the beach.
Michelle
2016-07-01T00:00:00Z
Rodzaj pokoju
Pokój prywatny
---
Rodzaj nieruchomości
Apartament
---
Mieści
4
---
Sypialnie
Virginia Beach, Virginia, Stany Zjednoczone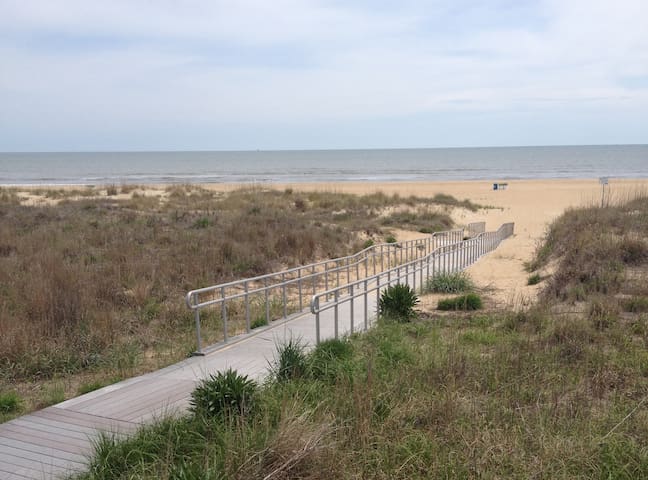 This unit has 2 pull out beds in addition This is a corporate furnished unit 2 full baths washer and dryer. In the heart of downtown. *Graduation weekend had different rate* please inquire.
Hart was very helpful when checking in. Downtown Lynchburg is slowly seeing investments in newly rehabbed buildings and some great local restaurants. It's not like staying out by the airport in a chain hotel and going to a chain restaurant for dinner. Check out Waterstone Pizza, El Jefe (tacos n tequila bar n my favorite), Dish and Kegney's Pub. The apartment is nice and spacious with a full kitchen too.
Robert
2016-01-15T00:00:00Z
The space is exactly as you see it online. The decor is unique and the loft is very spacious and welcoming. The Master bedroom is roomy and has a separate bathroom. The issue I was most concerned about was parking but really didn't have an issue with it. It was clean and neat and I enjoyed staying in the space.
Tracy
2016-02-29T00:00:00Z
Very nice apartment and located in convenient area for dining and shopping. Clean and comfortable.
LaVerne
2017-02-25T00:00:00Z
Fantastic! Pictures do not do the space justice. The location is perfect, within walking distance of restaurants and shopping. I felt safe and welcome for my entire stay. I highly recommend this loft and will return when travels call me back to Lynchburg.
Sarah
2016-06-25T00:00:00Z
The neighborhood is in the center of Historic Downtown Lynchburg. There is so much to see and do all within walking distance. So many places to eat you can't possibly try all of them. Tons of walking trails including one that goes out on the island in the James River. Lots of history all around. I felt very safe walking everywhere by myself while my husband was working. Be advised that the area is rather hilly. The apartment is beautifully decorated and so comfortable and cozy. The fully equipped kitchen made it easy to prepare meals when we didn't want to dine out. Hart is a very accommodating and easy to work with host. He made our arrival very easy. This is a place that we would like to return to again if ever we are in Downtown Lynchburg.
Karla
2016-07-03T00:00:00Z
Great spot downtown, this location is in walking distance of great trails and good food!
Justin
2016-04-29T00:00:00Z
Rodzaj pokoju
Całe miejsce
---
Rodzaj nieruchomości
Apartament
---
Mieści
2
---
Sypialnie
Lynchburg, Virginia, Stany Zjednoczone
PLEASE NOTE - There is currently road construction on Church St. There is one lane open to local traffic but no on street parking. Off street parking will be provided in the parking deck across the street. Please see diagram in the pictures. This is a great top floor apartment with good views. Close to several restaurants and other downtown attractions. Mid-week parking is 2 hour parking from 10-3 on the street out front. Parking is available at parking deck across the street however
Located on Church Street close to restaurants and night life. This is a top floor unit with a coin washer and dryer on the premises. Cable and internet included. *graduation weekend has a different rate* Reservations only accepted within 30 days of arrival
Hart was very helpful and personable. there was construction on the street where I stayed but I was able to work around it. It was lovely. I'd stay there again for sure.
Laura
2016-09-19T00:00:00Z
I loved staying in this loft! I honestly was very sad to leave. The location is wonderful, with many great places within walking distance. Lovely place and hart was very accommodating. I would highly recommend staying here if you like the feel of living in an urban setting!
Emily
2015-12-06T00:00:00Z
Hart was a great host! He responded to all our messages and requests in a timely manner and really made us feel appreciated and valued as guests. He went the extra mile for us
John
2016-06-14T00:00:00Z
Me. Green was great responding to any questions and issues. I loved the apartment.
Gregory
2016-05-13T00:00:00Z
The apartment was just as described and perfect for our short stay in Lynchburg. It was centrally located with very good air conditioning, which was essential for my 81 year old grandmother who came with us. Hart was attentive and nice and let me know he was available if needed. The apartment was comfortable for the three of us, and the kitchen was well stocked. We enjoyed the farmers market on Saturday which is in walking distance about half a mile away and we dined at Water Stone Pizza by the river. Most of our visit was to see my sister, but we hope to come back to not only visit her but to explore more of Lynchburg. Overall, a great visit and a wonderful space. Would 100% stay here again!
Katrina
2015-06-21T00:00:00Z
I definitely recommend this place if you think staying in a renovated historic rowhouse interesting! You can't beat the price for having an entire apartment to yourself! I had a wonderful stay. My host, Hart and his family were terrific! They provided all you would need in a furnished place including a folder containing a local map and where the nearest grocer was since I would be staying 12 days. Hart was made sure to check in with me to ensure I found everything all right with the apt and also when the town had a bad thunderstorm, he made sure I was okay and the apt didn't lose electricity. He had helpful suggestions of places to go and thanks to his great ideas, I found the city of Lynchburg quite charming and nearby towns were fun to visit too (Charlottesville, Roanoke, and just driving the Blue Ridge Parkway).
Nora
2011-09-03T00:00:00Z
This was my first time using AirBNB and it was a great experience! The apartment was quite comfortable and felt like home for the 10 days I stayed in Lynchburg. The kitchen was well stocked with everything I needed for cooking on the nights I stayed in. The location was fantastic! I was within walking distance to great restaurants and the historic downtown shopping area. I truly enjoyed exploring, there are great, unique shops and antique (URL HIDDEN) personal favorite. I also took advantage of the walking/bike path that was just a few blocks away. I would definitely stay here again. Thank you Hart!
Justine
2016-04-26T00:00:00Z
It was an overall good experience. Hart was very accommodating and easy to get a hold of. The apartment was pretty clean and had pretty much everything we need to feel like we were at home.
Chris
2016-08-28T00:00:00Z
Rodzaj pokoju
Całe miejsce
---
Rodzaj nieruchomości
Apartament
---
Mieści
4
---
Sypialnie
Lynchburg, Virginia, Stany Zjednoczone
Virginia - Airbnb
:
Średnia ocena:

4.95

/

5

gwiazdek od

1994

gości
1

–

18

z

300+ Wynajmów apartamentów
Wpisz daty, by zobaczyć pełną cenę. Obowiązują dodatkowe opłaty. Cena może uwzględniać podatek.