If you are looking for a quiet place, far from everyday life where to "unplug" and enjoy nature between mountains and meadows, this is the perfect place for you.
The apartment consists of a large kitchen, a double bedroom, a room with two single beds and a bathroom with shower.
Il Lago di Cei si trova nell'omonima valle vicino a Rovereto ad una altitudine di m 918. Ad occidente è delimitato dalle pendici boscose e dalle pareti del Monte Stivo. A sud si trova il monte Somator. E' raggiungibili da Trento per SP 90 sino a Ravina, poi SP 20 e poi SP 25 (in totale Km 21,9). Si può arrivare anche al Lago di Cei partendo da Rovereto - Villa Lagarina. Tutta l'area circostante il lago è sotto tutela ambientale. Sono state introdotte diverse tipologie restrittive: dalla riserva integrale, generalmente per le zone umide attorno al lago, e zone di rispetto dove sono consentite con le opportune restrizioni, anche attività umane. L'origine del Lago è dovuta ad una frana staccatasi probabilmente dal Monte Bondone che ha nel corso dei secoli favorito la formazione del lago (circa 8 secoli or sono, secondo degli studi eseguiti con il radio carbonio su dei tronchi di faggio che erano radicati nel fondo del lago). Il Biotopo è caratterizzato da una eccezionale varietà di essenze vegetali .Nei dintorni crescono estesi boschi per lo più di faggio, gli elementi però, più caratteristici sono le zone umide, nelle quali crescono specie botaniche assai rare. Il Lago di Cei è bellissimo anche per la sua diversificata conformazione ecologica, con significativa ed ampia presenza di ninfee (Nymphaea alba) e nannufaro (Nuphar luteum), e di zone di canneto con una conformazione assai frastagliata delle rive.
Abbiamo prenotato la casa per le vacanze di Pasqua, cercavamo un posto lontano dal trambusto della città e siamo rimasti pienamente soddisfatti. Nonostante il nostro ritardo, Andrea ci ha accolti calorosamente offrendoci una bottiglia di vino e un ottimo strudel fatto in casa. La casa è molto accogliente e con un grande giardino, situata nel verde e nella pace più assoluta. E' stato un bellissimo weekend lungo, sicuramente da rifare. Consigliato agli amanti della natura!
Stefano
2016-03-30T00:00:00Z
Se volete svegliarvi col canto degli uccelli e il profumo di prati e boschi, nella quiete più assoluta, questo è il posto che fa per voi. Il paesaggio è suggestivo e rilassante; in pochi minuti si arriva al lago, ma anche la città di Trento è vicina. La casa è accogliente, la cucina ben attrezzata, il giardino di pertinenza ideale per prendere il sole, leggere in pace o mangiare all'ombra di una tettoia. Andrea e la sua famiglia sono persone squisite, rispettose della privacy e nello stesso tempo accoglienti e generose: ci hanno coccolati anche con le primizie dell'orto del sig. Gino. E' stata la vacanza più rilassante e siamo stati molto bene: ci torneremo!
marina
2016-07-31T00:00:00Z
Nice appartment and for the kids perfect we could use the garden. Beautiful nature and Andrea was a friendly host. From the appartment it's not so easy to find restaurants, but finally we found a nice one! We got a lot of vegetables from Andrea's father, from their own garden, so friendly!
Evelien
2015-07-25T00:00:00Z
Ho soggiornato in questo appartamento con un gruppo di amici per trascorrere il capodanno.. L'appartamento è molto accogliente, nella giusta posizione e fornito di tutto ciò che serve! ..Grazie anche ad Andrea, un Host molto disponibile!
Simone
2015-01-01T00:00:00Z
Nous avons été très bien reçus, Andrea est très accueillant.
Cécile
2015-02-20T00:00:00Z
Ringrazio Andrea per l´ottima accoglienza, con un buonissimo strudel fatto in casa, subito ci ha spiegato come raggiungere le mete che desideravamo visitare. L´appartamento é ampio,pulito, ben fornito per cucinare, con un bel giardino esterno, uno dei migliori in cui ho soggiornato. La zona é molto tranquilla e rilassante, abbiamo visitato Trento,Rovereto, il lago di Cei e anche il lago di Garda. A 5 minuti c´é un supermercato ben fornito. Permanenza molto positiva.Ritorneremo sicuramente!
Matteo
2014-07-07T00:00:00Z
Andrea is a very kind and considerate host, the house was in a very peaceful location with great views and is well equipped. Andrea was always available if we needed anything.
Sarah
2014-10-10T00:00:00Z
Siamo arrivati e siamo stati accolti in modo molto cordiale, come benvenuto ci aveva preparato uno strudel con una bottiglia di vino, massima disponibilità da parte di Andrea, e qualora fosse mancato qualcosa ci aveva esortato a chiamarlo. Il giorno seguente ci ha inviato un messaggio chiedendo se tutto andava bene. L'appartamento era proprio come descritto, il posto molto bello , ottima location per chi ama la natura
Pier Paolo
2016-04-26T00:00:00Z
Rodzaj pokoju
Całe miejsce
---
Rodzaj nieruchomości
Apartament
---
Mieści
4
---
Sypialnie
Villa Lagarina, Trentino-Alto Adige, Włochy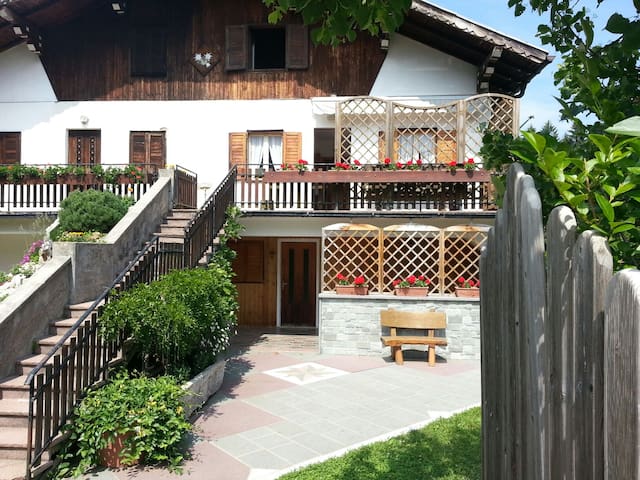 Within the B&B The Truffula Tree contest, this cozy room is ideal for peace seekers. Guests will share the rest of this 2 bedrooms apartment, which includes living room with views over the Brenta Dolomites, kitchen, restroom and the garden
The bedroom has a doublebed (160 cm large) and a thanks to the shutters on the window it is possible to totally darken the room and happily sleep in the morning. The room is located in the first floor apartment (2 rooms available for rent) of a single villa sourronded by ¾ by the wood, and with an amazing view over the Brenta dolomites and the valley toward west (wonderful sunsets!) The rest of the apartment will be shared with the guests from the other room, whether present. There is the option also to rent the whole apartment for an extra fee. The apartment has a big kitchen with a dish washer, and please feel free to use it to cook your meal. The big living room also is very luminous, ideal of relaxing moments, with an amazing view over the Brenta Dolomites.. Available to the guests there are numerous books and booklets regarding the geography, culture and things to do nearby. The garden has many fruit trees and berries, everything is organic, and please feel free to help yourself to anything! I have a little swimming pool that can be put up if you are coming with kids, on request. Dogs are very welcome and are allowed inside as long they're house trained, but in this case I will ask you to rent the whole apartment not to disturb other possible guests. In the garden there is a gazebo which is right in front of a BBQ pit, ideal for shade and sleeping out in nature. For those that care about the environment and their CO2 footprint, the house has an "Olle" (a traditional wooden fireplace) that warms up the entire apartment during winter. It also has a 14cm insulating coat, a new well insulated roof to keep it cool in summer and warm in winter. of course there's also a solar heating system for water, ! :-)
The town is also strategically located: in 25 minutes driving you can reach Trento, or lake Garda, or lake Lagolo. The neighbours are not too close, but in case of emergency, they are very giving and caring. Downtown there is a grocery store (COOP), a bank, a bar and even a hair dresser (although I never saw this last one open). There is a kindergarten too and a couple of areas for kids to play. As soon as you exit the house you can easily walk to the forest, and there are many hikes for all tastes! In winter I literally wear my skis on the front door and go ski touring from here! The town is also strategically located: in 25 minutes driving you can reach Trento, or lake Garda, or lake Lagolo.During summer the valley also organizes special free buses to reach the lake of Lagolo.
Rodzaj pokoju
Całe miejsce
---
Rodzaj nieruchomości
Apartament
---
Mieści
5
---
Sypialnie
Vigo, Trentino-Alto Adige, Włochy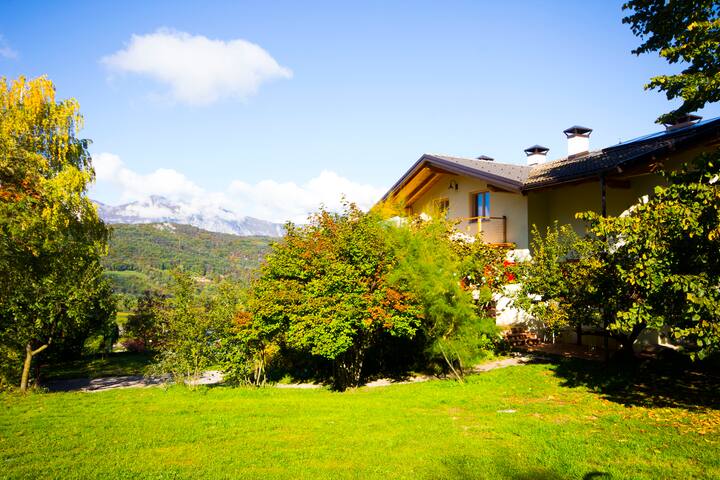 Wpisz daty, by zobaczyć pełną cenę. Obowiązują dodatkowe opłaty. Cena może uwzględniać podatek.