Wpisz daty, by zobaczyć pełną cenę. Obowiązują dodatkowe opłaty. Cena może uwzględniać podatek.
My place is close to family-friendly activities, the city center, Central Methodist University. You'll love my place because of the neighborhood, the comfy bed, the unique setting. My place is good for couples, business travelers and families (with kids). Please contact host if you would like to bring your furry friends along as this does require a higher cleaning fee.
Fayette is a welcoming, gorgeous small town. Howard County Jail is absolutely beautiful! Big windows, lots of natural light, comfy beds, an amazing kitchen and a luxurious bathroom. Communication was great- checking in and out was easy. Thanks so much, we had an awesome time!
Anna
September 2016
Communication is pleasant and the house is beautiful! It's such a bargain for what you pay. Take some time to read the history of the jail. It's fascinating and sobering. The bedrooms have only sheer curtains, so you will probably want to do any dressing in the exquisite bathroom with full height shutters. Be sure to explore the area. Rocheport was delightful and Columbia and Jefferson City offer charm, history and city living within an hour's drive. Highly recommended!
Jordan
October 2016
This house is an EXCELLENT value! Plus, you really can't get much more unique than a beautifully restored sheriff's home connected to the actual former jail. We had friends over for pizza and everyone loved the house. The next time we are in the area we will definitely try to stay here.
Allison
November 2016
Go to Jail! Go directly to Jail!! We feel so blessed to have been Greg's first Airbnb guests for our first Airbnb experience. His historic home is stunning. Built in the 1890's the original architecture has been carefully restored...striking windows that stream natural light into every room, beautiful trim, incredible fireplaces, soaring ceilings, a grand bathroom, and a lovely modern kitchen....even more delightful in person than in the photos. We went for a relaxing three generations girls weekend. It was the perfect place for leisurely no stress time together. The main bathroom is a spa experience. You just might have the best shower you have ever had in your life here! The kitchen is well equipped. The beds are wonderfully comfortable. The third floor is a large open space with light from windows on three sides, complete with window seats. It would be a perfect spot to roll out yoga mats or a great space for a cousin camp sleepover. Enjoyed the whole house stereo. There is a small yard, quaint front porch, and two back patios. All very comfortable for our family. Take advantage of a unique photo op in the old jail. The history brief Greg provides is an interesting read. Without giving away too much I'll just say I had no idea back in the day sheriffs lived in homes adjoining the jails, and the Sheriff's wife cooked the meals for the inmates! She likely managed her task in a kitchen vastly different than what we enjoyed! Friendly Fayette is a delight. Julie from Fayette Main Street welcomed us and was readily available if needed. There were delicious cake pops from the local bakery waiting for us. (Would be great to go along with this incredible venue for a shower or graduation celebration). The kind folks at Emmetts made us a delicious lunch that satisfied the carnivores and the vegetarians in our group. The town square is a peaceful stroll, complete with gazebo and picturesque architecture every where you look. This little town does a fine impression of Star's Hollow for all you Gilmore Girl's fans. There is a Sinclair full service gas station on one corner (the youth in your family NEED that experience while it still exists!) A very sweet young man works as the attendant and offered a landline, then helped us find our way to the local Dairy Queen (over by the high school) for some free Wifi (Greg was still working on Internet service when we visited. You might have better luck with other providers, but our T-Mobile wasn't active anywhere in Fayette.) Once the guys back home knew we'd arrived safely, even my millennials relished in being off the grid for a weekend. Liberating! There is a Casey's, Subway, Bordeaux Pizza, and CR's grocery store. We easily escaped our busy life and yet had everything we needed. Thank you Greg, Julie, Brenda, and Ashley for the warm hospitality. We're already looking at our calendars to plan a another visit!
Brenda
August 2016
Wow! This is such a spectacular place! We arrived to town much later than planned and Ashley was very accommodating and met us promptly upon our arrival. It was almost too good to be true that my husband and I got the entire house and jail to ourselves! It is definitely worth going out of your way if you need a place to stay while traveling along I-70. The renovations to the house are marvelous. We especially appreciated the awesome AC and sound systems since this is such an old building. The best part is that by staying here you not only get to write it off on your taxes, but you're also supporting a very important non-profit that preserves historical little towns like Fayette! The bathroom is worth the cost per night just by itself! AMAZING!
Porsche
August 2016
This is the most unique experience you will ever have!!! We were checking out local colleges (In this quaint town and also in nearby columbia--only about 15 mins down the road!!!). The house portion is STUNNING and the old jail is just an AMAZING piece of history!!! Our hosts we're very available and left a lot of "personal touches" to make us comfortable!
Cathy
October 2016
The photos of this place do not do it justice! The house is beautiful and the hosts were very nice and accommodating. I would recommend this place to anyone. I never thought staying at jail would be so fun!
Sarah
October 2016
This home is absolutely wonderful, a treasure nestled within a small town! It is both unique and comfortable, I highly recommend it to all Fayette travelers!
Rebbecca
December 2016
Typ pokoju
Całe miejsce
---
Rodzaj nieruchomości
Dom
---
Mieści
4
---
Sypialnie
3
Fayette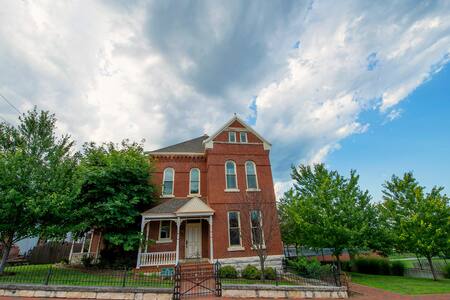 We remodeled the lower level of our home situated on 5 acres only 5 minutes from the Mall and 12-15 to downtown and campus. Use your private entrance into a large open room common area for total enjoyment on your trip or travels . Lots of extras. 1500+ sq ft.
Whether you are traveling on business, attending a game or festival in Columbia, or just like the feel of home when you travel, we have a wonderful piece of heaven very close to town. So whatever your situation, be it a party trip, a business trip, or a family trip, we are here to please. You have full private access to the lower level of our house with a private entrance and a locked door to the first floor. In addition, enjoy plenty of parking and full access to the grounds. Expect us to be on site, but sometimes we will be traveling and will make arrangements for keys and local help if you need anything. How much you interact with us is up to you. As long time Columbia residents, we can answer all your questions.
Expect us to be on site, but sometimes we will be traveling and will make arrangements for keys and local help if you need anything. How much you interact with us is up to you. As long time Columbia residents, we can answer all your questions. Plenty of parking if you have friends over or driving multiple cars. Cabs are easy to get if you don't have a designated driver after MU game parties, T/F Film Festival, Roots n Blues, or just a night on the town. Simple route from Interstate 70 and Stadium to the property. Moving with a U haul? We have room for that too. Many little extras like games and toys for kids. A printer is available if needed. Washer and dryer are located in your space if needed. A piano is located in the space for you. If you have a baby or toddler, we have a crib. The food and drink bar has a microwave, 12 cup coffee pot with great coffee and teas. Its not a full kitchen, but does have a sink, dishes, microwave, mini-fridge, ice, electric skillet and plenty of counter and sitting space. We can make arrangements if you would like to eat in and share Melynda's great cooking and baking. There are two queen beds along with the crib, and also extra sleeping bags if you need them. We have a dog and two cats that live upstairs and outside. They are friendly, but we want you to know in case of allergies that this may not suit you as the whole house is on a single HVAC system so there may be some hidden exposure through the ductwork. If you wish to have a relaxing massage or reiki session, we will arrange that for you on site or suggest a local spa. We give you plenty of towels, a hairdryer, bathroom amenities, and extra blankets. This is a magical place and you will feel the magic of your special visit.
We had a quick but great stay at Tony and Malinda's. The house was as represented in the photos and our hosts were very accommodating and professional. I would stay here again and recommend to others in the Columbia area. We came up to watch the UGA Mizzou game and it is only about a ten minute drive to the stadium and parking. This home is in a nice quiet rural area and close to dining and shopping as well.
Frederick
September 2016
Great place! Very clean. Love the pond and house setting. One problem. Dog. If you dont want to listen to crying dog for couple hours at night, this place is not for you. Owner left and the dog was feeling lonely. I suppose. Also, next morning, the dog keeps us company the moment when we open the patio door. We have a baby and she was scared of the big dog so I was not thrilled. Not a big problem. Everything else was great.
Krystyna
June 2015
Tony was there to greet us and go over all the information needed for our stay. They had bottled water, blow dryer and other toiletries ready for the two couples staying. Their place was tidy and clean, and easy to find with Tony's directions even though it is out of the main town area. Highlight was the delicious homemade, out of the oven cinnamon rolls on Sunday morning before we departed. We would definitely stay again!
Michelle
October 2015
Tony was very attentive upon arrival and very accommodating to our schedule. The listing description was very accurate as well as the pictures provided in the listing. The location is amazing. It's not too far from the city or Missouri State University, but yet it gives you the feeling that you are out of the city entirely. The neighborhood is very peaceful and quiet. Melynda went over and beyond and woke up quite early to make us homemade cinnamon rolls for breakfast, and boy were they yummy. The location of their property is also extremely near the LA Nichols Golf Course which was also very convenient for our visit as we golfed there the following morning. Everyone needs to meet Miles also. He is their pet dog and he is quite friendly and a joy.
Ana
May 2015
They couldn't have been nicer. Very welcoming and enjoyable. Thanks Tony.
Todd
November 2015
Tony and Melynda were very accommodating with our fluctuating travel schedule. Tony was very helpful in showing us around the place. I wish my family had more time to just enjoy the property, which is lovely. One of the most impressive things about this place was the hosts' attention to detail. There were emergency tooth brushes and mouth wash (among other things) that are commonly forgotten in travel. Having some good coffee available in the kitchen was also great. Tony was also very good about responding to text messages quickly and we would stay with him and his wife again if we are traveling in that area.
John
May 2016
Tony and Melynda have a wonderful home. They both welcomed my family and made our stay very enjoyable. The property is also beautiful for a walk, to stop by to see the chickens or to sit by the pond.
Veronica
February 2015
I can't put into words the wonderful stay my husband and I experienced. The house was clean and spacious. There was chilled bottled water and Starbucks coffee in the kitchen for us. We were provided use of their laundry room and detergent. The bed was so comfortable. Lots of hot water for a much needed shower; complete with toiletries. Melynda is a very gifted artist, and I purchased a gorgeous piece of her work. When we awoke the following morning; Melynda made us sweet rolls and spinach/mushroom quiche. It was divine. The energy and vibrations of their home was on a truly powerful level that calmed and nurtured you after a long drive. Thank you, thank you, thank you!
Christy
November 2014
Typ pokoju
Całe miejsce
---
Rodzaj nieruchomości
Dom
---
Mieści
7
---
Sypialnie
2
Columbia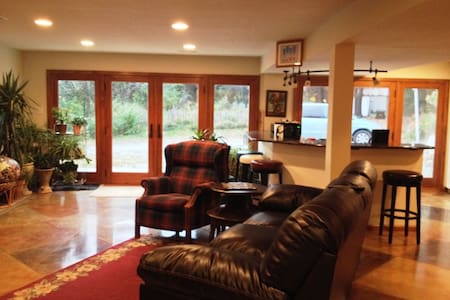 You'll love my place because it offers more space and affordability for small or large groups compared to hotel and motel prices. Perfect for summer vacation travel with the family, holiday visits or just a fishing or hunting trip with the guys.
Typ pokoju
Całe miejsce
---
Rodzaj nieruchomości
Apartament
---
Mieści
4
---
Sypialnie
3
Shelbina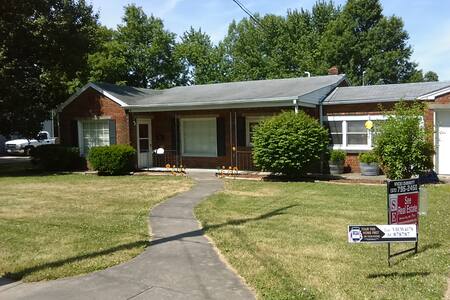 Blue Bell Farm is located approximately 20 miles west of Columbia, Missouri making it the perfect place to relax and unwind after a Mizzou football game or graduation. Please google Blue Bell Farm to learn more about our farm.
One bedroom enclosed and fully furnished with full size bed. All linens and towels provided. Additional sleeping options include a reading nook /day bed and also an air mattress (available upon request). Living room has custom built table with chairs, wood burning stove (with firewood) and cozy chairs with ottoman. Bathroom with vintage farmhouse sink, toilet and shower. Kitchen has sink, oven, stove top and fridge stocked with eggs from the farm daily (excluding winter). No dishwasher. Pots and pans, utensils and silverware provided. Iron and Ironing Board provided. Guests may enjoy the cottage, ponds (for fishing only), and ornamental gardens. The Organic Vegetable Garden, chicken yard, and Event Barn are off limits but may be available for tours given by Blue Bell Farm staff. Please let us know if you are interested in touring with the farm during your stay so we can plan accordingly. Interaction will be limited due to the busy nature of our farm. However we will always be available by phone.
We live on 300 acres - very rural - beautiful sunrises and sunsets. It's a 20 minute drive to Columbia or 15 minute drive into Fayette. Columbia has lots of great restaurants and things to do. Fayette is a very scenic small town with lots of history. Taxis come out to our farm regularly for the weddings and events. We may have weddings or events on the weekends in our Event barn during your stay. Cottage guests will not be allowed to attend these events unless they have been invited or have purchased tickets in advance.
Typ pokoju
Całe miejsce
---
Rodzaj nieruchomości
Chatka
---
Mieści
4
---
Sypialnie
1
Fayette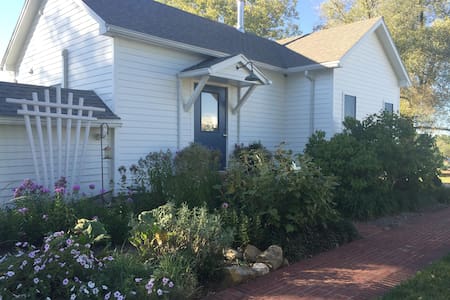 This newly remodeled cabin hosts an open floor plan with huge windows overlooking the pasture, gardens, and pecan grove. A perfect place for a quiet country getaway with friends, family or a solo retreat.
This newly remodeled cabin hosts an open floor plan with huge windows overlooking the pasture, gardens, and pecan grove. A new modern eclectic kitchen with vintage sink and butcher block counters opens to the main living area capable of supporting festive getaways with friends and family. During the growing season fresh produce will be ready for harvest from the 1/4 acre garden right outside the door. Both bedrooms feature new queen beds with high quality linens for a comfortable rest. Newly remodeled bathroom features a bath/shower combo to accommodate guests needs plus luxurious towels for added comfort. Open loft upstairs off second bedroom allows for extra sleeping arrangements, a place to do yoga, play music or just relax with a book. Outside there is a wrap around deck perfect for grilling, watching the sunrise and stars, wildlife viewing, and all the happenings going on in the gardens. There are hiking trails through the woods, a creek to explore, a fishing pond and during the late winter months maple sugaring adventures to enjoy. We have many projects (and dreams) in the works at Sweet Hills Farm but currently the focus is on an extensive garden project and glade restoration. hiking trails and starry skies Our home shares a long private drive with the property. We will be there to check you in but we respect your privacy. We have been hosting through VRBO for two years. Please feel free to read our reviews for Rural Retreat Minutes from Town
Quiet, nice, big, comfortable house.
Claudia
August 2016
Fantastic host and home! Ideal get away only 15 minutes from campus. Adorable bungalow on pecan farm. Will be back again and again!!
Jen
October 2016
Typ pokoju
Całe miejsce
---
Rodzaj nieruchomości
Dom
---
Mieści
6
---
Sypialnie
2
Columbia