300+ Wynajmów apartamentów
Nachbarort Sa Rapita mit Cafes (Bäckerei), Kneipen, Restaurants, SPAR Laden, Tabak & Bank; Bis z. 7 km langen Naturstrand ES TRENC nur 2 ,5 Km mit Auto 20 Min z. Airport / 30 Min. z. Zentrum Palma bis z. zum Meer nur ca. 150 Meter unsere private Terrassse ist ganztaegig zum chillen nutzbar; Ihr koennt natürlich hier auch gerne frühstücken (Kaffee, Tee, Baguette, Schinken, Käse, Marmelade) WIFI FREE 24 Std. Gut für Paare, Alleinreisende Abenteurer und Geschäftsreisende.
Dieter und Veronika sind sehr nette Gastgeber. Die Ankunft und Abreise haben sehr gut geklappt. Die beiden Hunde sind auch sehr lieb und verspielt. Die Gegend ist sehr ruhig und die Busverbindungen nicht allzu oft aber zuverlässig. Es empfiehlt sich trotzdem ein Auto zu mieten. Man kann auch direkt vor dem Haus parken. Das Zimmer ist gemütlich eingerichtet und hat auch einen Fernseher.
Clement
2016-09-13T00:00:00Z
Dieter and his wife Veronika where super friendly and tried there best to make your stay as comfortable as possible. The fact that they even offer a proper breakfast with there offer was great. The house is located in Sa Rapita which is a quiet and relaxed summer residence area. I would recommend to have a car if you stay at this place since you can park directly in front of the house and you just need 30 min to Palma but its also good to experience the beautiful beaches in the north.
Maximilian
2016-07-27T00:00:00Z
Nous sommes restés 3 jours chez Dieter et sa femme Veronika ! Ils ont été très accueillant et aux petits soins! Ca a été vraiment un plaisir de parler avec eux et même de partager un repas en leur compagnie! Des hôtes vraiment parfait! Nous n'avions pas de voiture et sommes venus en bus, la plage, est à 45 min à pied mais le paysage est magnifique! Ce n'est pas un coin touristique et ca en vaut le coup ! Merci pour tout! Élise&joris
Elise
2016-08-30T00:00:00Z
Rodzaj pokoju
Pokój prywatny
---
Rodzaj nieruchomości
Apartament
---
Mieści
2
---
Sypialnie
Llucmajor, Illes Balears, Hiszpania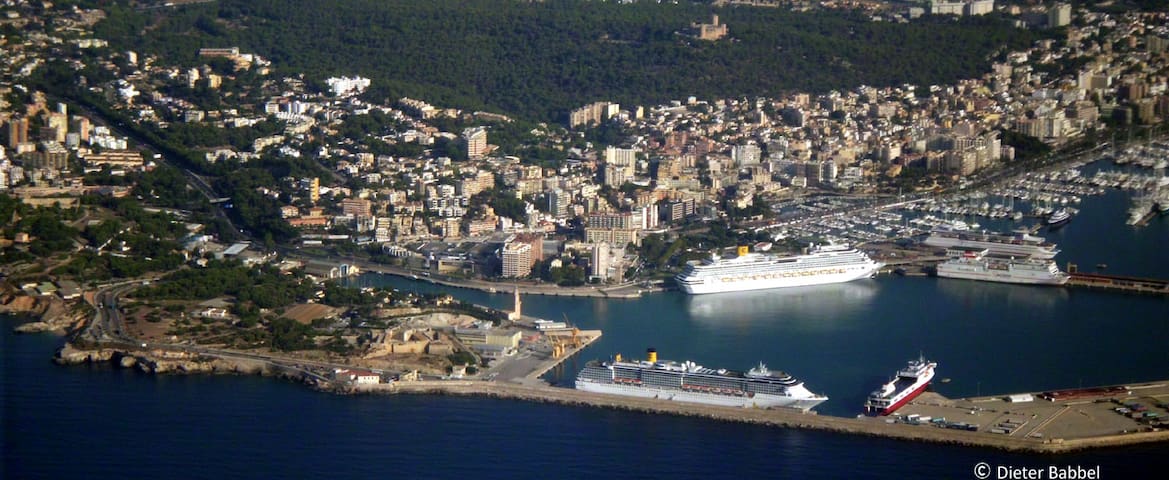 Spacious room available in nice apartment, only a short walk from the beach promenade and many restaurants. The apartment has 2 bathrooms, so you will have one bathroom just for you. You´ll have access to the kitchen for making breakfast and simple meals, and free use of the balcony. Free parking in the streets is usually not a problem.
I only decided to go to Mallorca 2 days in advance and was really lucky to find Cecilie's place. Cecilie responded very quickly to my request. Upon arrival Cecilie gave me some useful information and we had some nice chats during my short stay. The flat totally matches the description. The bedroom and bathroom were clean and I could store some groceries in the fridge. Lots of storage space also in the bedroom. As it was quite hot, Cecilie lent me a fan. I spent 3 nights in Colonia de Sant Jordi and particularly enjoyed the fantastic location (just 3 minutes walking to the nearest beach - another (more picturesque) beach is also within walking distance (10 minutes) or you can hire a bike and ride to Platja Estanys or Es Trenc, which are apparently among Mallorca's best. Even though I visited in high season, Colonia did not seem too crowded - it was always possible to find a nice spot on the beach and a table at one of the many eateries. Cecilie's place is also conveniently located close to a supermarket and some bars and restaurants. As a solo traveller without a hired car, I appreciated the easy reachability by public transport. The bus stop is less than a 5 minutes walk away. One thing to be aware of is that the shower is smaller than the standard size, which was no problem at all for me but a bigger person might find it a bit impractical. All in all, a clear recommendation for Cecilie's listing!
Michaela
2016-08-01T00:00:00Z
Cecilie was a great host and we had a nice holiday at her apartement. Everything was as per description. Location was perfect near the harbour and some beautiful beaches. A supermarket, pharmarcy, restaurantes and some shops were nearby. We could use the garage space for our rental car. All in all we are glad that we spent our holiday at Cecilies apartement.
Hanna
2016-07-25T00:00:00Z
Very nice and clean apartment! We could only meet her boyfriend - a very very friendly and likeable guy :-) We were aloud to use the kitchen and the garage space. Muchos saludos :-) Jeannette & Stefano
Jeannette
2016-08-12T00:00:00Z
Cecile was very responsive and friendly at the arrival. She was so nice and let us use her garage.She gave us few instructions where to eat in the town.We had our private bathroom. The only thing that bothered us was that the hosts were very noisy and loud.We were very tired and wanted to go to bed a bit earlier but the noises wouldn't let us sleep. Additionally I want to add that this was the most expensive room out of 5 other we booked and I was expecting a bit more. Overall this was good accommodation.
Ania
2016-10-12T00:00:00Z
Ceciles apartment is directly in the centre of the town, 2 min walk from the port and beach. Same for bus stops and grocery stores which are nearby. The communication was awesome, we booked really short in advance - wasn't a problem at all. We had our breakfast on the terrace, highly recommend that when you're staying with Cecile.
Peter
2017-03-30T00:00:00Z
Cecilie was the perfect host :) She was there when I had questions and it was really easy to get along with her and her boyfriend in the apartment. Her apartment is perfectly located and just a 1 min walk away from the beach. The room and the whole apartment is just like in the pictures. Perfect for me as a single traveler. Colonia Sant Jordi is the perfect place for running and cycling - there are two bike rentals within Sant Jordi. There are beautiful beaches in walking distance and if you have a car you should explore all the hidden beaches nearby. I even had the possibility to park my car in their garage!! I would really recommend staying there and hope to be back one day :)
Kristina
2016-07-01T00:00:00Z
Cecilie und ihr Partner waren sehr nett und unkompliziert. Das Apartment war sehr zentral und gemütlich eingerichtet. Alles war super :) Danke dafür.
Rebecca
2016-09-18T00:00:00Z
Séjour parfait très bon accueil
Marie-Christine
2017-04-01T00:00:00Z
Rodzaj pokoju
Pokój prywatny
---
Rodzaj nieruchomości
Apartament
---
Mieści
2
---
Sypialnie
Colònia de Sant Jordi, Illes Balears, Hiszpania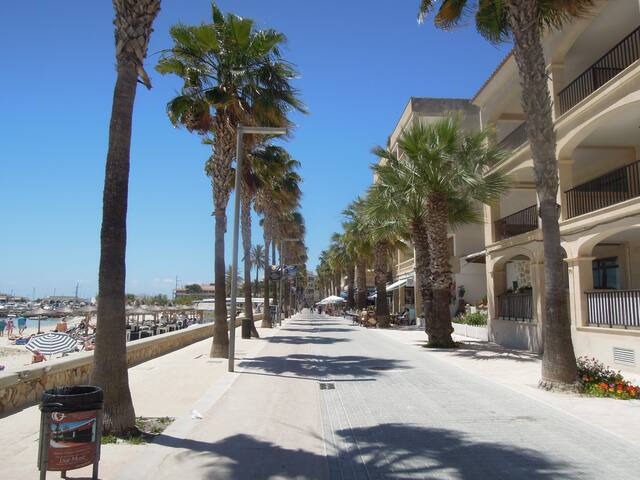 Nice apartment in the town centre. It has a large living room with kitchen and space for eating. There is one bedroom with a double bed, and a second bedroom with two single beds convertible in doubles. It has a complete bathroom with shower.
The apartment is redecorated for living long periods. There you can find all that you can need (washing-machine, dish-washer, TV, air conditioning, tableware...). The house is perfect for four persons but there are beds for six.
The town in very quiet, is specially good for families and people that like going to virgin beaches.
L'appartement est conforme aux photos, très bien situé. Nous avons apprécié la boulangerie située au rez-de-chaussée. Seul petit bémol sur le bruit du camion de livraison.
Myriam
2016-08-27T00:00:00Z
Wir hatten eine sehr schöne Woche in der Unterkunft von Neuss. Obwohl wir zu früh angereist sind, war das Beziehen der Wohnung unkompliziert möglich. Neus empfing uns freundlich und gab uns Tipps und Infos zu Veranstaltungen, Restaurants etc. Die Wohnung entsprach voll und ganz den Erwartungen und Bildern. Wir empfehlen die Wohnung uneingeschränkt und kommen gern bei Gelegenheit wieder.
Ulrike
2017-03-01T00:00:00Z
Super tolle Ferienwohnung mit allem was man im Urlaub braucht und eine ganz nette Gastgeberin hat uns empfangen. Die Küche ist voll ausgestattet und hat sogar eine Nespressomaschine und eine richtig gute Saftpresse dabei. Die großzügigen Zimmer und das Bad waren sehr sauber und es gibt ausreichend Bettwäsche und Handtücher. Das große Wohnzimmer war ebenfalls ein Traum. Die Lage war ideal für einen perfekten Urlaub. Wir kommen sobald wie möglich wieder hin. Hasta próxima en Colonia Sant Jordi!
Marcus
2015-05-09T00:00:00Z
The host canceled this reservation 21 days before arrival. This is an automated posting.
Hanns-Peter
2015-09-09T00:00:00Z
Sehr schöne, geschmackvolle Wohnung, alles wie auf den Bildern zu sehen. Sehr zentrale Lage, von dort aus ist alles sehr gut zu Fuß zu erreichen. Der Bäcker im Haus, Einkaufsladen gegenüber. , was will man mehr. Lg Sven
Sven
2015-10-26T00:00:00Z
Sehr schönes appartment, alles tipptopp eingerichtet, von Handtücher bis Geschirrtuch ist alles da! Der Bäcker ist direkt darunter und ein kleiner Supermarkt ist direkt auf der anderen Straßenseite! Neus ist eine sehr freundliche Gastgeberin und hat uns bei der Ankunft sehr freundlich empfangen! Lg
Melanie
2016-07-28T00:00:00Z
Nice and spacious apartment with a well equipped kitchen. Neus wa very and nice and super helpful! St Jordi, though, is a bit empty and boring during this time of the year.
Andrea
2016-11-21T00:00:00Z
Die Wohnung ist sehr gemütlich eingerichtet, sauber, eine voll funktionsfähige Küche ist vorhanden, vor der Haustür gibts einen Bäcker und einen Sparmarkt...besser gehts nicht. Strand, Hafen , Restaurants-alles gut zu Fuß zu erreichen. Die Übergabe und Betreuung bei Fragen...alles bestens, auch übrigens das Preis-Leistungsverhältnis. Sehr gut heizbar ist die Wohnung auch! Also: Jederzeit sehr gerne wieder!
Peter
2015-03-14T00:00:00Z
Rodzaj pokoju
Całe miejsce
---
Rodzaj nieruchomości
Apartament
---
Mieści
6
---
Sypialnie
Colònia de Sant Jordi, Baleary, Hiszpania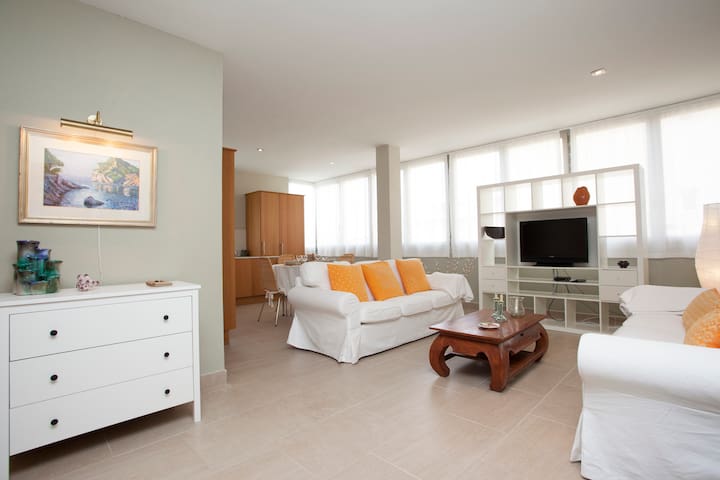 Quinto piso con ascensor . 18 m2 con aire acondicionado y vistas al mar. Acceso a la terraza comunitaria. Sala con armarios, cama , pequeña cocina y baño completo.
Playa del puerto. Resataurante S arrosseria, boutique Melimelo, cafeterias y Acuario.
Rodzaj pokoju
Całe miejsce
---
Rodzaj nieruchomości
Apartament
---
Mieści
2
---
Sypialnie
Colònia de Sant Jordi, Illes Balears, Hiszpania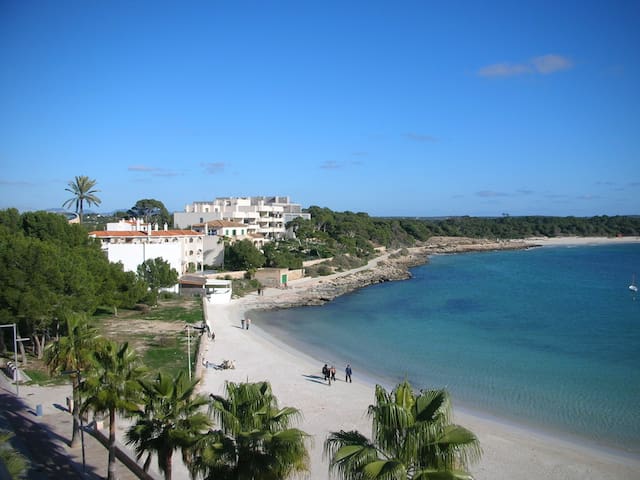 Our house is a two storey newly refurbished Art Nouveau building with a listed façade in the center of Campos, a village in the south of Majorca, close to the Es Trenc. It can either the 1st or the 2nd floor are rented, or both together.
The 2nd floor apartment has an area of 95 m² in a loft-like layout. Through a spacious hall you come into an open, wide living-dining room with studio kitchen and a south-facing terrace, which overlooks the rooftops of the village. A separate bedroom with double bed, a single bed and a bunk bed in a large room provide sleeping accommodations for two or three people. Although the bathroom is a shower room.
Campos is still one of the little tourist villages in Mallorca and has some undeveloped beaches very close.
La estancia ha sido muy agradable. La vivienda es auténtica y muy cómoda, y recoge la esencia y tranquilidad de los pueblos de Mallorca. Ursula es muy amable y ha estado pendiente de que nos sintiéramos como en casa. Un placer. Gracias.
Elena
2016-08-27T00:00:00Z
We had a wonderful stay in Campos and Uschi couldn't be a more accommodating host with a healthy knowledge of the island and good advice on local places to go. The house itself is beautiful, clean, well maintained and in the heart of the quiet town centre. We will certainly come back and can recommend this to anyone looking for a relaxed, private space close to great beaches and towns in the south-east.
Andreas
2015-08-05T00:00:00Z
Il y avait une bouteille de vin, des fruits, petits gâteaux mis à mon intention.
Claire
2016-11-10T00:00:00Z
Rodzaj pokoju
Całe miejsce
---
Rodzaj nieruchomości
Apartament
---
Mieści
2
---
Sypialnie
Campos, Illes Balears, Hiszpania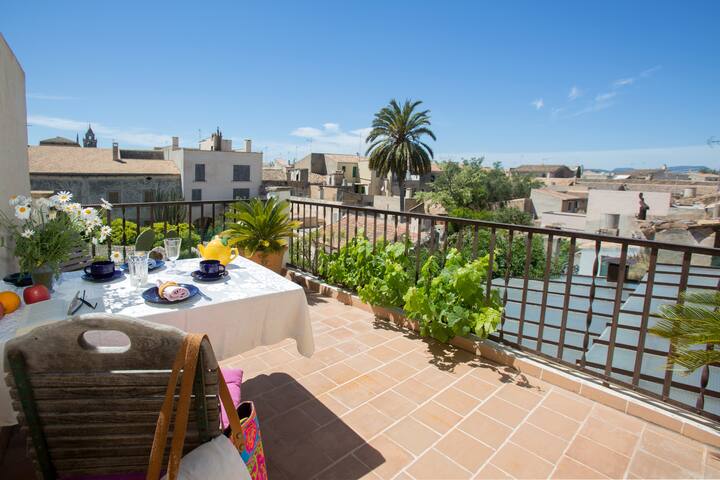 The house is very well oriented, in the mornings it has sun on one terrace and in the afternoons in the other. It is a cool and summer house with very good ventilation. It is only a few minutes walk from the beaches of the dols i els estanys. Also of the area of Restaurants and bars, where is typical to eat fresh fish of the zone and paellas. There are also supermarkets nearby. It is a quiet area, and at the same time near where there is more atmosphere.
It is a holiday home, always comfortable and informal. Relax and invigorate. Helps to charge energy.
It is very quiet, some neighbors pensioners and some families with children not very young. There is not much traffic of vehicles, nor noises. You can rest very well, read, etc.etc.
Rodzaj pokoju
Całe miejsce
---
Rodzaj nieruchomości
Apartament
---
Mieści
6
---
Sypialnie
Colònia de Sant Jordi, Illes Balears, Hiszpania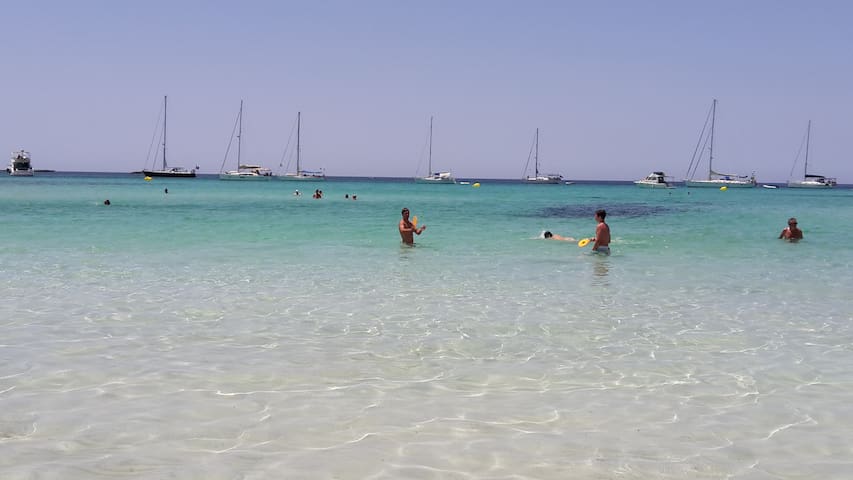 Coqueto apartamento en primera linea del mar con dos habitaciones dobles, salón comedor, baño y cocina completamente reformados. Se encuentra en zona muy tranquila y con vistas despejadas al mar. Climatizado. A 5 minutos de las playas d'es Trenc.
En el apartamento se puede disfrutar de una gran calma y tranquilidad. Se pueden contemplar maravillosas puestas de sol con vistas al cabo blanco.
Se trata de un barrio muy tranquilo con calles anchas, cerca de pistas de tenis para practicar deporte y al paseo marítimo que bordea toda la zona costera de la Colonia de Sant (URL HIDDEN) encuentra a 5 minutos de la avenida principal y del puerto.
Really nice, clean and spacious apartment with sea view. Very friendly and helpful owners, who gave us a very warm welcome. Location is great since you can walk along the coast to the nearby Es Trenc beach. Bars and restaurants also in walking distance. Definitely recommend this apartment and would always come back.
Michaela
2015-06-28T00:00:00Z
Die Wohnung ist direkt am Meer gelegen und in einem zu dieser Jahreszeit sehr ruhigen Viertel. Das gegenüberliegenden Hotel war geschlossen. An der Promenade gelangt man in circa 20 Gehminuten zum schönen Hafen mit Cafes und Restaurants. Zum Flughafen sind es mit dem Mietwagen circa 40 Minuten. Die Kommunikation und der Empfang waren herzlich und sehr unkompliziert. Die Wohnung war sehr sauber und ordentlich hergerichtet. Sogar ein kleines Abendessen und Frühstück für den nächsten Morgen hatte man uns bereitgestellt! In der Wohnung ist soweit alles vorhanden was es braucht. Von Handtüchern über WLAN bis zu Kochgeschirr. Vor allem die Küche ist sehr gut ausgestattet. Lediglich die beworbene Heizung (deshalb hatten wir die Wohnung ausgesucht) entsprach nicht ganz unseren Erwartungen. Im Wohnzimmer war es eine alte elektrische Radiatorheizung, die nicht genug Leistung hatte um das Zimmer zu erwärmen. Im Bad gab es lediglich einen kleinen Infrarotstrahler, der ebenfalls unterdimensioniert war. So war es in der Wohnung für uns immer etwas zu kalt für diese Jahreszeit. Ansonsten können wir die Wohnung jederzeit weiterempfehlen! Gerade im Sommer macht sie bestimmt viel Spaß.
Markus
2017-01-02T00:00:00Z
Fantastic place to stay when you are in Mallorca! Appartment is big and very comfortable. We didn't get the chance to talk more and thank you in person for your hospitality, but we are very satisfied with our stay at your place! We won't hesitate to come back
Stepanka
2016-07-04T00:00:00Z
Un accueil impeccable ! Dès l'aéroport on s'est laissé guider et on a pu profiter de nos vacances dès le premier pas posé sur l'île. Inès et sa maman se sont montrées très disponibles et chaleureuses. L'appartement était frais, propre et avec une vue sur mer comme sur la photo du site. La spécialité de l'île nous attendait dans la cuisine et de l'eau fraîche et des fruits. C'est plus spacieux qu'attendu, une bonne surprise. Le logement est dans quartier plutôt calme, mais stratégiquement localisé entre les belles plages d'"es trenc "d'un côté, et le port à 10 minutes de l'autre côté. La rue commerçante est a 5 minutes seulement! le petit bar en bas de l'appartement est agréable pour le soir avec le coucher de soleil et le wifi. On vous recommande cet appartement !
Paolo
2015-08-22T00:00:00Z
Inès est une hôte de choix, avec un enfant de 16 mois nous préférions notre indépendance Inès à parfaitement rempli cette demande ajoutant en bonus des affaires utiles pour bébé. Séjour au calme dans un appartement magnifique et idéalement placé.
Geoffroy
2016-04-23T00:00:00Z
We had a wonderful stay with Ines, her mother welcomed us with tasty oranges from their tree and pastries from the area. It was right on the sea, and convenient walking to everything. It's a very quiet town in November, but we enjoyed having a car and driving all over the island, including hiking in the north. Thank you for being a great host!
Lisa
2016-11-21T00:00:00Z
Unfortunately, we did not met Ines. But we met her lovely parents (especially the very friendly mother) and her sister Marga. Due to unforseen works in the apartment, we stayed in the beautiful house and garden of Marga. As welcome we recieved a bottle of wine and the local cake. It was a very quiet location.
Anne-Marie
2015-12-05T00:00:00Z
Die Kommunikation mit Ines lief von Anfang reibungslos. Von der Buchung bis zum Check-in. Ines war bei Ankunft persönlich und pünktlich vor Ort um mir alles zu zeigen. Die Wohnung liegt toll gelegen am Straßenende direkt vor der Küste. Vom Balkon aus hat man einen seitlichen Meeresblick. Als ich dort war, war es sehr ruhig, lag nicht zuletzt daran, dass das gegenüberliegende Hotel bereits seine Pforten geschlossen hatte. Das tut der Attraktivität der Wohnung aber keinen Abbruch. Ines hatte zur Ankunft süße Stückchen eingekauft und sogar ein frisches Brot für die ersten Tage. Im Kühlschrank gab es Butter und Marmelade. Selbst für Kaffee war bereits gesorgt. Öl, Essig, Gewürze zum Kochen, alles bereits vorhanden. In der Wohnung fehlt es an nichts um sich rund um wohl zu fühlen. Vielen Dank Ines, für einen tollen und reibungslosen Aufenthalt in einer wirklich schönen Wohnung. Komme gerne wieder :-)
Joachim
2016-11-05T00:00:00Z
Rodzaj pokoju
Całe miejsce
---
Rodzaj nieruchomości
Apartament
---
Mieści
4
---
Sypialnie
Colònia de Sant Jordi, Illes Balears, Hiszpania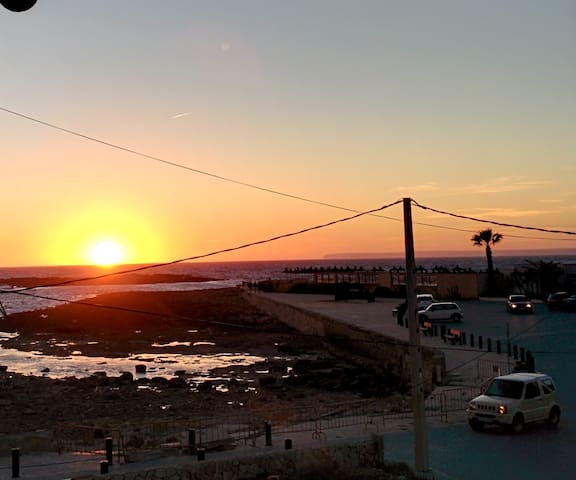 Beautiful 35m2 apartment, is the guest house of a family house in a 800m2 plot where we live. It is in a quiet residential area perfect to relax and enjoy your holidays . With a beautiful garden, pool, fireplace, barbecue, WIFI, bicycles...
The apartment is the guest house of a main house where we live. Both houses are on a landscaped parcel of 800m2 . The rustic-style apartment has 35m2 and has everything you need for living, kitchen, bathroom, TV, air conditioning, fireplace ... It has a 135cmx190cm bed with latex mattress. It also has a sofa that converts into a bed of 135cm wide. The apartment is perfect for couples who want to relax during their stay in Mallorca. There is possibility to put a crib for a child or an additional bed for adults. Welcome home!
The neighborhood is a very quiet area called Badia Blava (Blue Bay) where you can rest. It has a shopping area with bars, pharmacy, supermarket, restaurants, bakery, banks, medical center ... With good location and very close to beautiful beaches and cliffs that make it a wonderful site. It is a residential area with single-family houses without residential buildings. We are far from hotels!, we assure you will not hear the adjacent room at 3 am, and the shouting of the people returning from party at 6am ... Approximate time to points of interest: Golf course: 5 minutes Airport: 17 minutes Palma: 25 minutes El Arenal: 10 minutes Cala Pi: 20 minutes Es Trenc: 35 minutes Valldemossa: 38 minutes
Spędziłam na Majorce kilka wspaniałych dni i pobyt ten mogę uznać za udany również za sprawą Jesusa. Jesus to przemiły i sympatyczny człowiek, który służy pomocą w każdej sprawie. Przed wyjazdem otrzymaliśmy od niego garść bardzo pomocnych informacji, jako że chcieliśmy spędzić nasz wyjazd bardziej aktywnie również na miejscu dostaliśmy kilka rad na temat pieszych wycieczek w okolicy. Miejsce było czyste i zgodne z opisem. W domku jest wszystko co potrzeba - mamy parasol na plaże, materac, maski do nurkowania, żelazko, a także dwa rowery:) Wieczory można spędzać również na podwórku, gdzie mamy udostępniony stół z krzesłami i grill. Byliśmy również mile zaskoczeni podstawowymi artykułami spożywczymi - mleko, jajka, sok, herbata itp. Od gospodarza dostaliśmy bardzo miły prezent powitalny w postaci wina. Kuchnia jest dobrze wyposażona, więc nie będzie problemu jeśli ktoś ma ochotę przyrządzać posiłki w domu. Klimatyzacja i wifi działały bez zarzutu. GPS, który pożyczył nam Jesus był bardzo przydatny. Były na nim zaznaczone ważniejsze miejsca w okolicy i na wyspie, co znacznie ułatwiało sprawę. Okolica jest idealna dla ludzi, którzy nie lubią tłumów i nie chcą mieć hałaśliwych turystów pod oknami. Jednocześnie polecam wypożyczenie auta, bo jest to najłatwiejszy sposób by dostać się na pobliskie plaże i zwiedzanie wyspy. Jesus jest przykładem gospodarza jakim powinien być każdy i mogę w 100% polecić jego ofertę każdemu, kto ma ochotę miło spędzić czas na Majorce.
Dominika
2016-08-29T00:00:00Z
Wir waren für 3 Nächte im La caseta und es war einfach toll. Wir wurden durch Jesus schon vor unserer Anreise ausreichend mit Informationen versorgt. Der Wegbeschrieb zum Haus bekommt man auch vor der Reise via Mail, das ist super und ein Stresspotential weniger. Wir waren rundum zufrieden, die Unterkunft war sehr sauber und es ist alles top organisiert. Falls man Fragen hat, kann man sich jederzeit bei Jesus oder Esperanza melden, ansonsten ist man ganz für sich. Das Apartment hat eine tolle Lage, ist sehr ruhig gelegen, ca. 15 min zum Flughafen, Ballermann ect. zu den schönsten menschenleeren Stränden fährt man ca. 25-30min, deshalb ist ein Auto empfehlenswert. Diverse Restaurants und ein Shop sind auch ganz in der Nähe.... Wir können diese Unterkunft nur weiterempfehlen! Daumen hoch. Danke vielmals
Alexandra
2015-06-14T00:00:00Z
Nous avons passé un excellent séjour chez Jesus et Esperenza. L'accueil y a été très bon. Tout était conforme à l'annonce et un rafraichissement nous attendait au frais, ce qui était appréciable après l'arrivée en retard de notre avion. Nous avons apprécié le GPS mis à notre disposition tout au long du séjour pour nous déplacer sur l'île et c'est clair que c'était un réel plus. Nous avons juste regretté que nous ayons eu des horaires décalés très rapidement avec nos hôtes et que nous n'ayons pas eu plus la possibilité de nous rencontrer mais nous en sommes les seuls responsables. Sinon le logement est confortable et pratique. Nous n'étions que 2 à l'occuper. Palma se situe à 15-20 minutes. Les axes routiers sont agréables. Nous recommandons ce logement et nos hôtes qui comme je l'avais lu dans des commentaires lors de mon choix pourraient servir d'exemple à beaucoup d'autres hôtes. Documentations, conseils, petites intentions.. tout était là. Pour avoir parcouru une grande partie de l'Ile nous avons apprécié surtout la partie Sud , Est et Nord, l'Ouest est plus bétonné.
Laurent
2016-04-16T00:00:00Z
Ciao a tutti! Siamo onorati di essere stati i primi italiani ad avere alloggiato in questo splendido appartamento. Siamo una coppia e abbiamo trascorso a maiorca le prime due settimane di agosto. Il posto è davvero bello ed in posizione tranquilla, ideale per chi vuole passare una vacanza all'insegna del relax. Occorre avere un mezzo per spostarsi anche se vi è una fermata di bus vicino alla casa. Jesus ed Esperanza sono disponibilissimi e nella casetta c'è tutto quello di cui si ha bisogno. Hanno dato a disposizione anche un navigatore che noi abbiamo usato moltissimo per raggiungere le varie spiagge/calette Dell'isola. Inoltre ci hanno consigliato le calette più belle di Maiorca e i ristoranti in cui andare a mangiare un'ottima paella(URL HIDDEN) Dunque esperienza molto positiva, 5 stelle super meritate; se dovessimo tornare a Maiorca, verremo nuovamente ad alloggiare da Jesus ed Esperanza, per noi persone speciali. Un saluto a Jesus, Esperanza e i loro due bimbi e ancora grazie per tutto :)
Roberta
2016-08-17T00:00:00Z
Had a great stay in La Casetta. Jesus and Esperanca are great hosts and we enjoyed eggs and vegetables from their garden. They where both very helpful and made us feel welcome. You definitely need a car, but if you don't mind driving to get where you want to spend your day, I'm sure you'll like it here. Jon
Estelle & Jon
2015-07-21T00:00:00Z
Der Aufenthalt war perfekt. Ein sehr netter Gastgeber der die eh schon perfekte Unterkunft mit vielen Aufmerksamkeiten noch perfekter macht. Getränke im Kühlschrank, frische Eier von den eigene Hühner, Gemüse aus drm eigene Gemüsegarten, Handtücher, Navigationssystem, ... Ich würde jederzeit wieder kommen!
Sarah
2016-07-01T00:00:00Z
Nous avons séjourné à la Caseta de Jesus pendant une semaine à 3 adultes. Les hôtes sont super accueillants et aux petits soins. A l'arrivée nous avions des petites attentions (bouteille de vin, collation) et tout au long du séjour également (GPS avec toutes les destinations prérentrées, 3 vélos, serviettes de plage, parasol, glacière, masque et tubas...). Nous n'avions pas les mêmes horaires que nos hôtes donc nous avions l'impression d'être seules dans leur maison. La piscine, le barbecue, les œufs des poules et les superbes tomates ont été un régal!! L'île est magnifique et nous avons vraiment profité de notre séjour en totale liberté. Nous recommandons de louer une voiture pour faire le tour de l'île. Cette destination est vraiment un bon point de départ au niveau des routes pour aller dans tous les coins à visiter. Encore merci à Esperanza et Jesus pour leur accueil !!
Gwen
2016-07-10T00:00:00Z
Wir wurden sehr herzlich aufgenommen und auch die ganzen Wochen hatten wir immer ein offenes Ohr bei Fragen. Wir bekamen ein Navi zur Verfügung gestellt in welchem schon jegliche Highlights, Strände, Restraurants gespeichert waren, so dass wir immer super geleitet wurden. Jeden Morgen hatten wir frische Eier, direkt von den Hühnern und die besten Tomaten die wir jemals gegessen haben. Die Wohnung liegt in einem ruhigen Wohngebiet, ist jedoch super gelegen für Fahrten nach Palma (20 Min) oder an jegliche Strände (Sand und Felsbuchten) oder um auch die Insel zu erkunden. Vielen lieben Dank nochmals für zwei wunderschöne Wochen Urlaub. Iris und Peter
Iris
2015-07-05T00:00:00Z
Rodzaj pokoju
Całe miejsce
---
Rodzaj nieruchomości
Apartament
---
Mieści
2
---
Sypialnie
Badia Blava, Illes Balears, Hiszpania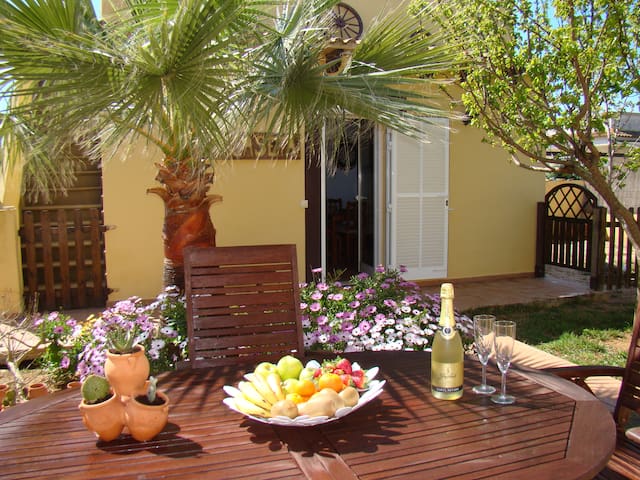 Se alquila espectacular apartamento con vistas a Cabrera y situado muy cerca de Cala Galiota. Es un primer piso con escalera independiente y consta de 2 habitaciones, 2 baños, salón con cocina y una espectacular terraza de 70 m2.
Wir haben einen wundervollen Urlaub in einer schön eingerichteten Wohnung gehabt. Die Dachterrasse ist der Wahnsinn , der Blick über die Küste das Meer , einfach toll. Die Wohnung ist sehr gut ausgestattet. Carlos ist ein so herzlicher Mensch. Der viele gute Tipps für Strände und Restaurants hatte und immer ansprechbar war. Wir haben uns zuhause gefühlt . Wir kommen bestimmt wieder. Bis dahin liebe Grüße von Rita und Michael
Michael
2016-10-10T00:00:00Z
Somos una familia de 4, viajamos dos semanas a Colonia que nos encanta ! El apartamento tiene una ubicación excelente, es funcional, practico, acogedor, estuvo todo de diez puntos, Carlos un magnífico anfitrión ! Espero volver pronto!
marietta
2016-07-31T00:00:00Z
Wir hatten einen sehr schönen Urlaub im St.Jordi.Die Wohnung ist sehr schön und liegt sehr zentral.Carlos ist ein sehr netter Gastgeber.
Cordula
2016-10-29T00:00:00Z
Traumhafte Wohnung mit unschlagbarem Ausblick auf Cabrera. Sehr ruhige Lage und dennoch mitten im Ort. Sehr netter Kontakt zu Carlos. Wir kommen auf jeden Fall wieder
mathias
2016-09-26T00:00:00Z
I highly recommend this apartment! Water facing, modern and clean, loved it! Carlos was waiting for us when we arrived with a big smile and lots of great suggestions. This apartment is perfect for a couple looking for a peaceful and beach-filled getaway. There are plenty of spare clean sheets and towels in case of need. The terrace was our favourite part with a lookout onto the sea and the Isla Cabrera - it was the perfect place to chill out after the beach or have a more low key dinner in the evening. It is close to one of the island's best beaches 'Es Trenc'. All of the beaches we visited in the south were fantastic. The area is very safe, you can leave your valuables here without a worry when you're out and there is plenty of parking nearby. My only negative comment would be that is not very easy to cook a 'proper' meal here as there are just two stove hobs and a toaster oven with limited cooking utensils. Make sure you shop at Eroski, much better and cheaper than Spar. Thanks you Carlos and Ana!
Alessia
2016-09-11T00:00:00Z
Tolles Appartement,großartige Aussicht auf Meer und Cabrera,gute Lage (ruhig) mit naher städtischer Infrastruktur. Sehr sehr netter, hilfsbereiter und zuvorkommender Gastgeber (muy simpatico). Sehr schöner Urlaub.Gerne wieder. Muchas gracias Carlos, Ana y Hugo !!!!! Con un cordial saludo !!!!
Gerhard
2016-07-04T00:00:00Z
Rodzaj pokoju
Całe miejsce
---
Rodzaj nieruchomości
Apartament
---
Mieści
5
---
Sypialnie
Colònia de Sant Jordi, Illes Balears, Hiszpania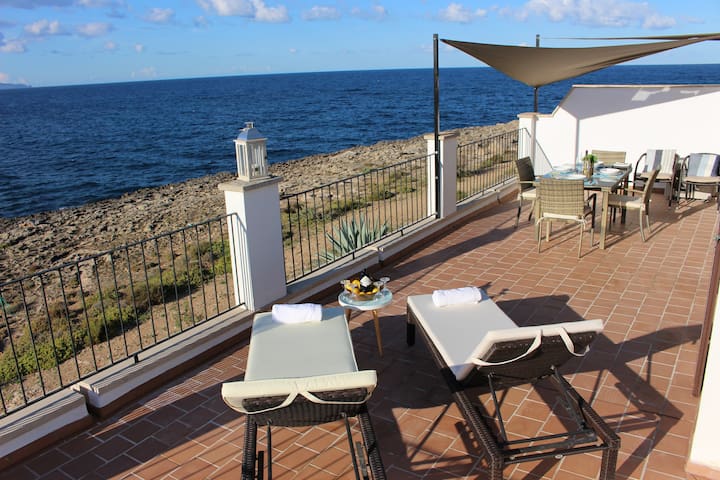 Zostaniesz zakwaterowany w przytulnym i czystym pomieszczeniu w naszym mieszkaniu znajduje się w Av Son Rigo, 5 minut spacerem od plaży, gdzie można znaleźć restauracje, bary na plaży, okolica jest bardzo spokojna i bezpieczna, można wykorzystać wszystkie przestrzenie klub dom, tenis pod domem, 10 min od centrum miasta samochodem, 5 min od lotniska.
Będziesz pobyt w przestronnym ideału pokojowej na wczasach, To jest przytulne, czyste i ciche mieszkanie, pokój ma łóżko 150x190, klimatyzację i szafa, okna Climalit z rolet na lepszy odpoczynek, Wi-Fi w całości dom, śniadanie samoobsługowe, mieszkanie jest bardzo wentylowane na przedniej tarasie można opalać się przez cały dzień aż do 3 po południu i na tylnej balkonu można podziwiać zachód słońca.
Mamy tuż pod dom różne klub tenisowy i Palm Beach 5 minut spaceru, gdzie można uprawiać sporty jak jazda na rowerze, bieganie, sporty wodne lub spaceru promenadą.
Ari y Miguel han sido los mejores anfitriones que he tenido, son encantadores su apartamento tiene una ubicación inmejorable a 5 minutos de la playa y del aeropuerto, aún así no se escucha ningún ruido la habitación y el baño están impecables con una buena ducha, otro punto positivo es que la cama es muy cómoda, recomendable 100% ,volveré.
edu
2017-03-30T00:00:00Z
Rodzaj pokoju
Pokój prywatny
---
Rodzaj nieruchomości
Apartament
---
Mieści
2
---
Sypialnie
Palma, Illes Balears, Hiszpania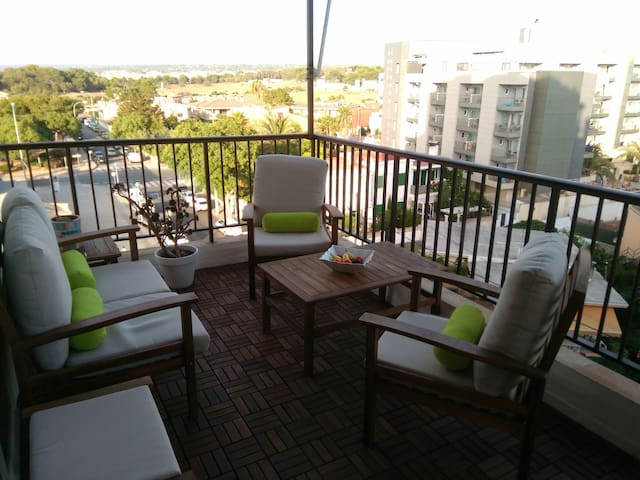 Całkowicie odnowiony i odnowione mieszkanie z niesamowitym widokiem i bezpośrednim dostępem do plaży Cala Pi. Dwie sypialnie, dwie łazienki, otwarta koncepcja kuchnia i pokój dzienny, duży taras i parking. Spokojnej okolicy dla ludzi, którzy patrzą na relaks przy doskonałej lokalizacji !!!
Uważamy, że nasza przestrzeń wyjątkowa ze względu na spokój terenu, przestrzeni, aby rozłączyć i relaks z malowniczymi widokami. Można usłyszeć na ocean i podziwiać piękny obiad na tarasie.
tereny mieszkaniowe, kochamy, że nie robi się szalony i zatłoczone jak w innych dziedzinach Majorce latem.
It's been really great to stay at Maggy and Francesc' flat. Lovely hosts, amazing location, very nice flat entirely refurbished. Such a luxury to fall asleep with the sea sounds. So quiet and peaceful. I loved any minute of it.
Vincent
2015-06-15T00:00:00Z
All you can wish for your summer holiday is right here! Breaking breath view from the terrace and very comfortable flat in general. It is a nice anf quiet location, but you can definitely find also great restaurants for lunch or dinner ( fish or pizza are the best :) ) At last, but not the list: Francesc was the perfect hoster: always available in case of need. We reccomend it, of course!
Stefania
2016-09-07T00:00:00Z
Brand new, full optional, stylish and panoramic apartment. We really enjoyed the location. Easy communication with Maggy. Reccomended!
MARTINA
2015-07-24T00:00:00Z
We had a fantastic stay at Francesc's apartment in Cala Pi. Francesc was very helpful with info and advice for the area before we even arrived and met us at the airport to give us keys and instructions on how to get there and info on the house. The apartment itself is even nicer than the photos and the back deck that looks over Cala Pi beach and sunsets is breathtaking. The apartment is modern, clean and very well equipped with plenty of extra towels for the beach too. This place is great for a little family (like us) but I would also imagine would work well for a slightly younger group of travelers with the pull out double bed in the living room too! All around a great stay and if we come back to Mallorca we will be asking to stay again. Thank you Francesc!
Miles
2016-05-28T00:00:00Z
Apartamento recién renovado situado sobre cala pi. Muy tranquilo tanto de día como de noche. Terraza fantastica.
Vicente
2015-08-24T00:00:00Z
we had a wonderful stay at francesc appartment. it is clean and nicely designed, the large terrace with the great view is really relaxing. the only negative thing is the bad smell from the shower in the guest bathroom, already mentioned in earlier reviews. we got mostly rid of it by putting a wet towel over the sink. francesc is a very kind and caring host and kept in touch with us during the stay.
Anke
2016-10-24T00:00:00Z
We had some fantastic days in Cala Pi. apartment fully lived up to expectations.
Birgitte
2016-07-15T00:00:00Z
Waren mit der Wohnung sehr zufrieden. Neuwertige , moderne , sehr schöne Ausstattung. Großzügige Terrasse mit wunderbarem Blick auf die idyllische Bucht von Cala Pi.
Waltraud
2015-10-06T00:00:00Z
Rodzaj pokoju
Całe miejsce
---
Rodzaj nieruchomości
Apartament
---
Mieści
5
---
Sypialnie
Cala Pi, Illes Balears, Hiszpania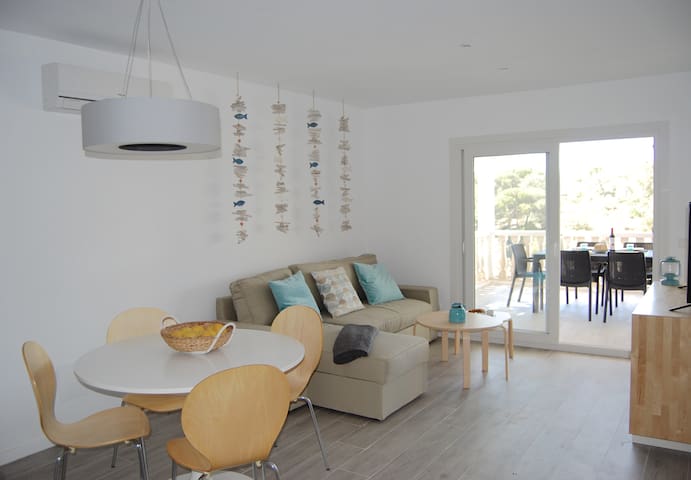 Inviting sunny apartment ideal for a family, ready to enjoy the perfect holidays. Located 50 m away from Cala Galiota. 100 m away from the port, it is just close to everything, in the heart of Colonia Sant Jordi.
Rodzaj pokoju
Całe miejsce
---
Rodzaj nieruchomości
Apartament
---
Mieści
4
---
Sypialnie
Colònia de Sant Jordi, Illes Balears, Hiszpania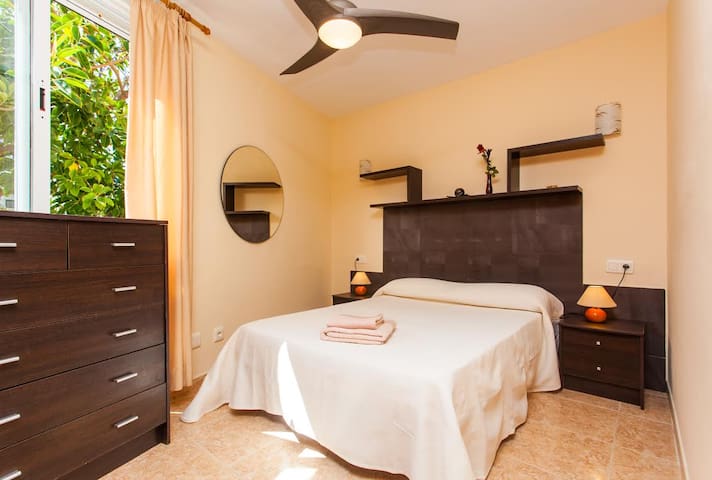 Przytulne mieszkanie znajduje się w małej i spokojnej budynku, tuż obok romantyczne zatoki i plaży Cala Pi. Popularna plaża Es Trenc jest tylko 18 km, a najbliższe pól golfowych są łatwe do osiągnięcia.
Mieszkanie jest podzielone na mieszkalna jadalni z wyjściem na duży zadaszony taras, w pełni wyposażoną kuchnię, dwie sypialnie i łazienka. W oddzielnym pomieszczeniu znajduje się pralka i kolejny prysznic. Dzięki doskonałej lokalizacji w pierwszej Sealine, tarasu rozciąga się wspaniały widok na plażę i zatokę, która jest dosłownie na nogi.
Mała malownicza nadmorska wieś Cala Pi znajduje się w pięknym południowym wybrzeżu Majorki, zaledwie 30 minut od Palma de Mallorca i około 20 minut od lotniska. W miejscowości Cala Pi jest nazwany po zatoce o tej samej nazwie. Jest to bardzo głęboka zatoka, przypominająca fiord, kończąc w piaszczystej plaży. Na plaży można dotrzeć przez długie schody, które znajduje się na lewo od Cala Pi Club. Czysty, zielono-niebieskie lśniące wody, malownicze klify do prawej i lewej zatoki, zielone sosny nad wąwozem, stare chaty rybaków i piaszczystej plaży na koniec dokonać romantycznej Cala Pi śnie plaża par excellence , Plaży łagodnie opada do morza i dzięki bezpiecznym miejscu, nie ma prawie żadnych fal, więc doskonale nadaje się dla dzieci. Urbanizacja z pięknych letnich rezydencji biegnie w kierunku wschodnim, wzdłuż do 30 metrów wysokimi klifami, aż staje osiedla willi Vallgornera Nou Es PAN. Opracowanie składa się głównie z domów jednorodzinnych i willi. Dzięki łagodnie opadający topografii terenu, wiele domów w 3. i 4. wierszu częściowo oferują piękne widoki na morze, aż chronionej wyspie Cabrera. W miejscowości Cala Pi jest spokojna nawet w sezonie i nie jest przepełnione turystami. Oprócz możliwości handlowych na codzienne potrzeby i oferuje również kilka barów i restauracji. Większy wybór sklepów jest w ciągu 15 minut odległe Llucmajor.
Lovely apartment in a quiet resort. There is a nice little beach on your doorstep but also the location makes It a great base to discover the southern part of Mallorca. We enjoyed Sa Rapita, Santanyi & Ses Salines. Palma is also only around 35 minutes away. Oliver & Katrina were both really helpful through the entire booking process and also while we were in the resort.
Ian
2016-10-02T00:00:00Z
The apartment was in an excellent location around 50 yards to a lovely inlet beach which was never overcrowded. The property overlooked the beach just as in the photographs. Oliver was very helpful throughout. Restaurants were close and there were four that served excellent food at a reasonable price. The apartment itself was immaculate and spotlessly clean. It also had everything you would expect. Cala Pi itself is very quite and laid back and no more than 30 minutes drive to the airport. All in all a great apartment and location.
Robert
2016-09-12T00:00:00Z
Wir hatten einen sehr schönen Aufenthalt. Die Unterkunft ist mit kleinem Kind ideal, da die kinderfreundliche Bucht nur wenige Minuten zu Fuss entfernt ist und einige gemütliche Restaurants in der Nachbarschaft sind. Das Mietauto haben wir kaum gebraucht da Chillen auf der Terrasse mit wunderschönem Blick oder plantschen im Meer die Tag ausfüllten.... Touristenrummel ist weit weg auch wenn die Insel sonst ja eher überlaufen ist (wurde uns einmal mehr - aber nur am Flughafen - bewusst). Einziger Wermutstropfen - das Doppelbett ist nur 140cm breit und da unser Kleine ab und zu bei uns schlief war's zu dritte etwas eng. Aber sonst alles top und Oli ist super freundlich & hilfsbereit. Besten Dank!!
Roman
2016-09-25T00:00:00Z
I highly recommend Oliver' s apartment. The description is really accurate and the apartment was very clean and modern. The view from the balcony is priceless! Oliver is very welcoming and friendly and willing to assist if needed.
Elena
2016-06-27T00:00:00Z
Le logement de Oliver et de son équipe répond parfaitement à la description faite. Tout est très propre et fonctionnel, Oliver est très accueillant et fournit de précieux conseils sur l'environement. Bien entendu, la vue est magnifique, avec un grand balcon qui donne directement sur la crique et la plage. Plage à 2 minutes à pied, voire 30 secondes si vous courez. Des restaurants dans la rue à 20 mètres et 50 mètres de très bonne qualité avec des poissons très frais et bien cuits ( chez miguel ). Il y a même une superette ( produits évidemment très onéreux ) qui peut dépanner. Une randonnée démarre derrière la sixième cabanne de pêcheur et vous mène dans une toute petite crique paradisiaque. En bref, vous posez votre voiture et n'avez plus besoin de la prendre des vacances, ou presque.
Michaël
2016-10-31T00:00:00Z
Tout d'abord je dois louer le très grand professionnalisme d'Oliver et de l'équipe de son agence. Ils répondent aux mails et sms très rapidement et pour notre arrivée Oliver était parfaitement ponctuel. Oliver fut très accueillant et vraiment sympa, nous avons apprécié particulièrement avoir une bouteille de Cava et une bonbonne d'eau qui nous attendait au frais dans le frigo. Le logement était absolument parfait , la vue est à couper le souffle depuis la terrasse sur laquelle vous passerez d'agréables moments. Entièrement rénové, les prestations du logement sont parfaites et il ne manque absolument rien . Vous disposez même d'une pièce lingerie/buanderie au rdc de l'immeuble avec une autre douche pour se rincer en revenant de la cala. Je recommande totalement ce bel appartement et remercie à nouveau Oliver et son agence.
Gildas
2016-08-23T00:00:00Z
Oliver hat uns direkt vor der Türe empfangen und war ausgesprochen aufgeschlossen und sehr nett und zuvorkommend. Die Wohnung ist superschön gelegen (und ein sehr schöner kleiner Strand ist in 5min zu Fuß zu erreichen). Im Apartment hatte er uns einen 5l Kanister Wasser und eine Flasche Cava bereitgestellt (was sehr aufmerksam war, da man in Spanien das Leitungswasser nicht trinken kann). Einziges Manko an dem Ort (und eigentlich schade), dass es leider kein einziges gutes Restaurant in der Nähe gibt und auch für "größere" Einkäufe muss man erst weit außerhalb fahren, was jetzt aber nicht sehr schlimm ist wenn man sich auch mit den wenigen (und sehr teuren) Produkten aus dem kleinen HotelSupermarkt nebenan zufrieden gibt. Jedoch war alles in allem ein wundervoller Urlaub an einem wunderschönen Platz mit einem superlustigen und sehr freundlichem Gastgeber. Wirklich sehr weiterzuempfehlen, haben uns sehr wohl und heimisch gefühlt.
Marina
2016-08-29T00:00:00Z
Eine sehr schöne Unterkunft mit einem erstklassigen Service!
Christine
2016-09-18T00:00:00Z
Rodzaj pokoju
Całe miejsce
---
Rodzaj nieruchomości
Apartament
---
Mieści
4
---
Sypialnie
Cala Pi, Illes Balears, Hiszpania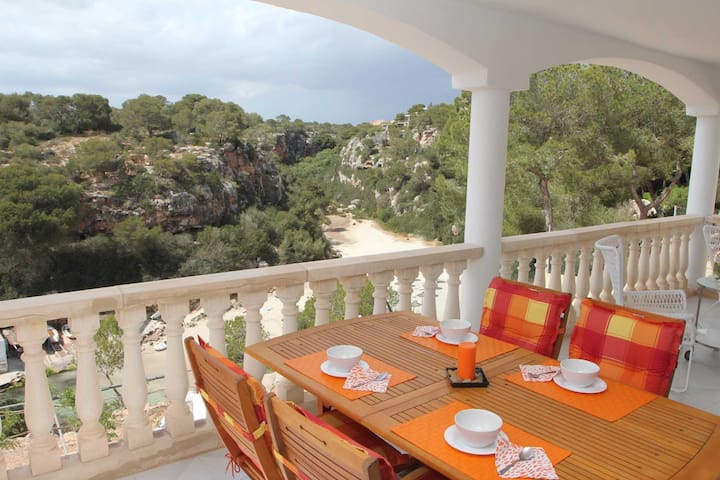 Sights: The wide range of leisure and entertainment Playa de Palma. Located in the renovated spa-style 8 of the best beach resorts, the airport, amazing views, the city center, parks. You'll love my place because the area in which it is located, less than 1 minute from the beach, a few meters from the great offers entertainment, the neighborhood, the light. My accommodation is good for couples and adventurers.
Rodzaj pokoju
Całe miejsce
---
Rodzaj nieruchomości
Apartament
---
Mieści
4
---
Sypialnie
Palma, Illes Balears, Hiszpania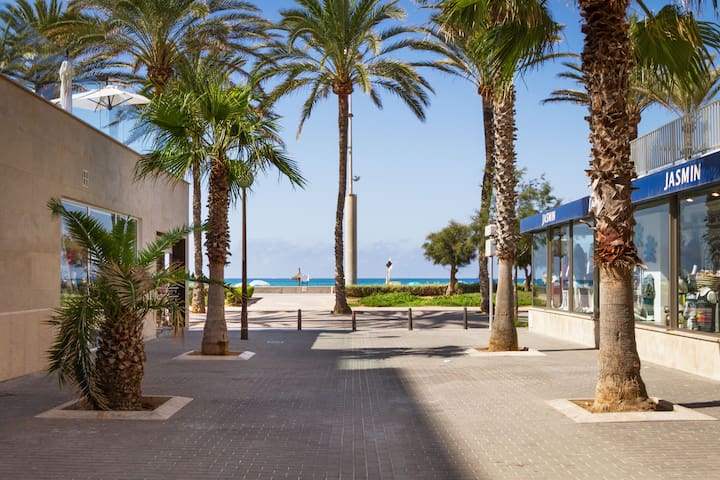 Maravilloso apartamento con vistas al idílico puerto de Cala Figuera, situado a tan sólo 8 min. de la playa, ofrece una cuidada decoración y poder disfrutar de uno de los mayores placeres de la vida: dormirse escuchando el sonido del mar.
We stayed at Maria's apartment for a whole month. Maria's place is located in a beautiful picturesque spot with beautiful views over the harbour from the balcony. It's a short drive to the local beaches of Satanyi and the Mondrago National park. There are some fantastic walks nearby. The house is well equipped with everything you see in the pictures, it is comfortable and we felt at home here. The wifi in the house is reliable and we were able to stream youtube and work online during our stay. There are some good supermarkets nearby and the town of Satanyi has a nice market on Saturdays. We hope to be back.
Keith
2016-12-15T00:00:00Z
Très bon séjour chez Maria. L'appartement est vraiment très bien situé dans le joli village de Cala Figuera, la vue est tout simplement magnifique et le petit déjeuner sur la terrasse au soleil est très agréable. L'appartement est fonctionnel et les indications de Maria pour trouver l'appartement vraiment très bien fait !
Maritza
2016-04-24T00:00:00Z
Great place, directly on the sea, very friendly host!
Fabian
2017-01-13T00:00:00Z
Eine schöne Unterkunft direkt an einer kleinen ruhigen Bucht in Cala Fiuguera. Tolle Betten und eine Sonnenterrasse von welcher man beim Frühstück unmittelbar auf das Wasser schaut. Sehr idyllisch.
kirsten
2017-04-02T00:00:00Z
Lovely simple apartment, that has a beautiful outlook over a little cove. Maria was very helpful in answering our questions that we had and provided us with excellent direction to the apartment. The apartment was the perfect size and has a spacious balcony that is great for meal times and reading in the sun. There were restaurants, cafes and shops all in walking distance from the apartment which was an added bonus and multiple beaches a short drive away. A really nice location to have a chilled and quiet time away.
Annie
2016-07-04T00:00:00Z
Tak for en skøn ferie hos Maria. Hun har den smukkest beliggende lejlighed - lige ud til kanalen i Cala Figuera. At sidde på terrassen og nyde stilheden og den smukke udsigt, er balsam for sjælen. At sove med åben dør og lyden af stille vand, giver en fantastisk søvn. At man kan gå langs bredden af kanalerne til selv byen med gode restauranter, er en oplevelse i sig selv. Lejligheden er god og praktisk indrettet. Vi manglede intet. Vi mødte desværre ikke Maria selv - men hun var tilgængelig på (SENSITIVE CONTENTS HIDDEN) hele tiden med gode råd til strande og spisesteder. Et sted vi helt klart kan anbefale, og som jeg tror, vi vil vende tilbage til.
Steen
2016-06-22T00:00:00Z
It was a pleasure to stay at Marias place. It is really enjoyable as it is silient, has a stunning view and it is just a short and beautiful walk to the habor (where lovely restaurants are). The rooms were clean and lovely furnished. Everything you need was provided.
Christopher
2016-09-28T00:00:00Z
It was a really nice stay at the appartment :) it looks like on the picture and from the balcony you have a nice view:) The appartment is good located to go to different beaches and there are nice restaurants in the village We can recommend it.
Jasmin
2016-09-05T00:00:00Z
Rodzaj pokoju
Całe miejsce
---
Rodzaj nieruchomości
Apartament
---
Mieści
5
---
Sypialnie
Santanyí, Illes Balears, Hiszpania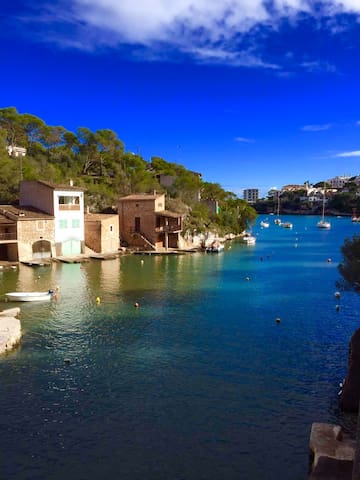 Apartment with large terrace where you can relax and enjoy the panoramic views. Located at the harbour, close to shops, supermarkets, restaurants, entertainment... Sleeps up to 4 people.
The area is excellent. The harbour of Colonia de Sant Jordi has a exclusive area for a ride relaxed and has several restaurants to enjoy Mediterranean food. Just in front of the building there is the harbour's beach.
Lovely clean apartment with excellent views on the bay. Catalina couldn't be more helpful and her sister was very quick to come over to help us with setting up the gas for the cooker. As previous comments say it is loud until around midnight but thoroughly enjoyed our stay! Thank you very much!!
James
2016-09-26T00:00:00Z
Catalina war bei der Ankunft zwar nicht vor Ort, sie hat uns jedoch im Vorfeld alle nötigen Informationen übergeben und genau beschrieben wie wir zur Wohnung gelangen. Für uns war das Sicherheit genug und haben uns sehr wohl gefühlt und sind sehr zufrieden. Wir haben alle notwendigen Kontakte und Telefonnummern erhalten, die auch für Fragen während des Aufenthaltes galten. Die Unterkunft entspricht genau den Abbildungen im Inserat. Wir haben es geschätzt, dass die Wohnung zentral gelegen ist und rundum Bars, Restaurants, Einkaufsmöglichkeiten etc. vorhanden sind und der Strand nur einige Schritte entfernt.
Anita
2016-04-29T00:00:00Z
Отличные апартаменты: - Реальный хозяин доступный контакту - Отличное расположение - Одно из самых удачных расположений в данном городке т.к. жара (т.е. солнечная сторона) и наличие автомобилей на улицах при неудачном выборе апартаментов может испортить отдых!!! внимательно изучайте расположение апартаментов, - 4 этаж - 3 комнаты - кухня оборудована: 4-х конфорочная газовая плита с электрической духовкой, микроволновка, холодильник средний, посуда, кофеварка, стиральная машина, телевизор led небольшой, 2 вентилятора, интернета нет (критично) и кондиционера нет (не критично), - горячая вода постоянно (бойлер) напор воды отличный - огромный балкон (стол стулья, 2 шезлонга) с видом и освежающим ветром, открытый виду соседних апартаментов но можно отгородится огромными створками ставен на окна, за счет верхней крыши солнце попадает на 50 см. балкона - балкон не нагревается в июле жара солнце припекает очень сильно - близость к морю и открытое пространство дает доступ ветру что очень спасает в отличие от других апартаментов расположенных дальше от моря итог - очень хорошие апартаменты
Andrey
2015-07-22T00:00:00Z
We had a nice trip! The Appartement was great, Location fantastic und it was really relaxed. We loved to stay there. No Problems any was! Thanks! Not Really quiet... But no problem for uns. Any Time again!
Fanny
2016-10-01T00:00:00Z
Great apartment right on the beach with an assortment of local bars and restaurants. Perfect relaxing break! Will be back.
Carl
2015-06-06T00:00:00Z
Very nice Apartment with a beautiful view. Close to the beach. We will come back.
Axel
2015-10-25T00:00:00Z
great appartement, nice view and setting, our arrival worked smoothly, we had a fantastic stay!
Anja
2016-09-15T00:00:00Z
We had a great stay in the appartment. We hade our two children 5+3 yeas with us wich was ok with the 4 stairs. The balcony and the wiev is nice. Only it can be little noice from the restaurant on the street and from the roof fans in the evening. It was super clean and nice styling in the appartment and location to one of Mallorcas best beaches are super! Andreas
Andreas
2015-09-30T00:00:00Z
Rodzaj pokoju
Całe miejsce
---
Rodzaj nieruchomości
Apartament
---
Mieści
4
---
Sypialnie
Colònia de Sant Jordi, Illes Balears, Hiszpania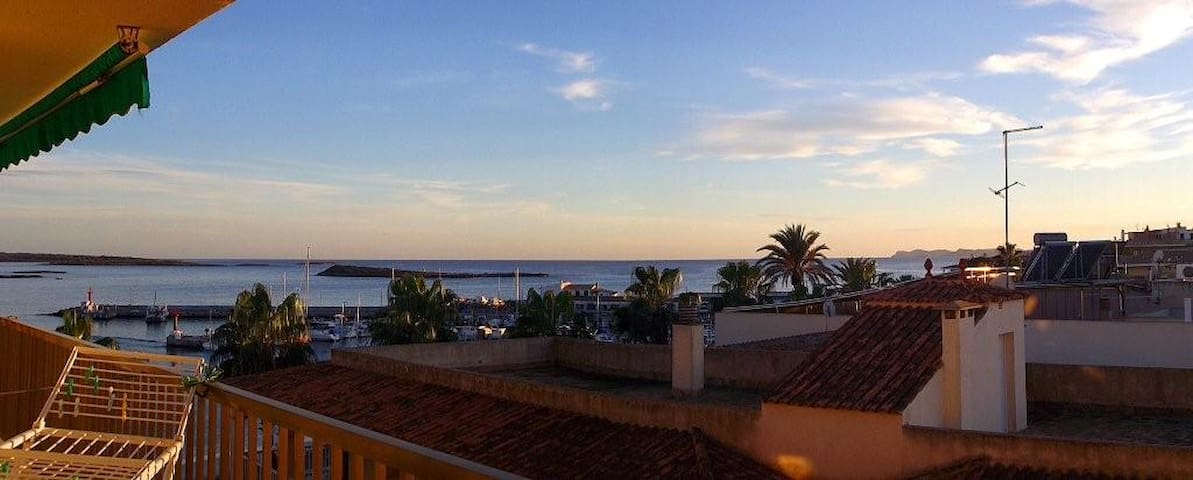 This lovely house is distributed in a first floor consisiting in a kitchen with american bar, a beautiful dining room with a warm fireplace and an amazing sea views terrace. Upwards, in the second floor 2 bedrooms,and a bathroom are available.
Located in one of the most ancient natural harbours of Spain, Cala Figuera. An extremely peaceful area, ideal for relaxing, chilling out or just swimming outside, in front of the apartment.
Quiet surroundings
It's hard to describe how much we enjoyed staying at Macia's place. His family home has so much character and charm, it's heavenly! My husband and I really enjoy quiet locations with privacy and views/areas to sit and be peaceful. This place was perfect for us. Unexpectedly, we also really loved the town of Santanyi, enjoying the food, shops, and architecture. We drove all around the island and really saw a lot, but for us, this spot was ideal and Macia was a fantastic host. He was very helpful with directions and advice, and he was genuinely concerned that we enjoyed ourselves- which we did immensely! Can't wait to return!
Lorelei
2016-09-11T00:00:00Z
Wir waren für eine Woche in diesem schönen Fischerhaus und haben alles sehr genossen. Der Kontakt mit Macià verlief problemlos und auch die Schlüsselübergabe hat super geklappt. Das Haus ist sehr gut ausgestattet und sehr sauber. Die Lage direkt am Wasser ist wirklich traumhaft. In den ersten beiden Nächten war es noch etwas frisch, aber die Schlafzimmer verfügen über eine Klimaanlage, die es dann schnell angenehm erwärmt hat. Am Tag sind ziemlich viele Touristen in der Bucht unterwegs, aber abends ist es wunderbar ruhig und beschaulich. Nur einen kleinen Spaziergang entfernt liegt das Zentrum von Cala Figuera mit Restaurants und einem leckeren Eisladen. In jedem Fall bietet sich bei dieser Unterkunft aber ein Mietwagen an.
Patricia
2016-04-17T00:00:00Z
Macia and family were lovely. There was excellent communication pre-travel and they guided us to the house (which is tricky to find) on the day of our arrival. We loved the house! It was everything we'd hoped plus it was in a magical spot, we loved staying here and would love to return.
lucie
2016-04-10T00:00:00Z
Ein sehr schönes Haus in einer sehr schönen Lage. Was will man mehr? Wir kommen gerne wieder!
Markus
2016-05-15T00:00:00Z
Wir haben eine wunderbare Woche in dem Haus verbracht. Marcia ist ein super Gastgeber, hilfsbereit und freundlich. Die Lage ist traumhaft und ich kann das Haus nur weiter empfehlen.
Sven
2017-03-18T00:00:00Z
Wir haben eine wunderschöne Woche in Macià s Cottage verbracht. Wir möchten uns noch nachträglich für die nette Gastfreundschaft bedanken. Wir hatten wirklich alles was wir brauchten vorgefunden und konnten unseren Urlaub einfach nur geniessen. Der Terrassenausblick war Urlausbsfeeling pur. Ich kann zu 100 % diese Unterkunft weiterempfehlen.
Birgit
2014-07-08T00:00:00Z
This magnificent fisherman´s cottage is just as the name suggests! It is absolutely lovely. Situated in the very charming small town of Cala Figuera, yet privately and calmly placed as the last house on the path from town. It is nicely equipped with a combined kitchen and diningroom, a really wonderfull balcony where you will probably spend most of your time, and an upstairs with two small bedrooms and a bathroom. Everything is tasteful, authentic and welcoming. The surroundings are beautiful - especially the very nearby Mondrago nature-reservation, but also the many Calas with great little beaches. The host Macià was really helpful and polite, both in communicating before our stay, and also as we arrived! Everything went smoothly, and we couldn´t have wished for at better holiday in Mallorca. We wouldn´t hesitate to go back :) Our very best recommendation. Kristian and Trine, Denmark
Trine
2014-05-31T00:00:00Z
Wir hatten zwei wunderbare Wochen in dem Fischerhäuschen und können uns den positiven Bewertungen nur anschließen: Es war alles da, was wir brauchten und der Balkon ist zu jeder Tageszeit ein Traum! Die Lage ist einfach unschlagbar, wer gern direkt vor der Haustür mal reinspringt, ist hier richtig und nachts hört man nur das leise Plätschern der Bucht :-) Marcia ist ein ganz lieber Gastgeber und sehr zuvorkommend, die Kommunikation 1 A, Schlüsselübergabe und -abnahme haben sehr gut geklappt. Zwischendurch wurden wir mit frischen Orangen verwöhnt und haben zum Abschied sogar noch ein liebes Souvenir bekommen. Alles in Allem waren wir sehr happy und möchten auf jeden Fall wiederkommen. 100 % empfohlen!
Anja
2015-05-10T00:00:00Z
Rodzaj pokoju
Całe miejsce
---
Rodzaj nieruchomości
Apartament
---
Mieści
4
---
Sypialnie
Santanyí, Hiszpania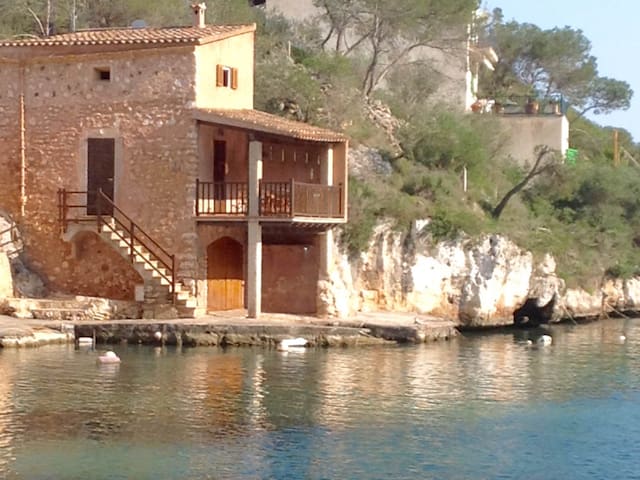 Lugares de interés: increíbles vistas, playa a 10 metros, zona de ocio nocturno . Te va a encantar mi espacio por la ubicación y las zonas exteriores. Mi alojamiento es bueno para parejas y aventureros.
Es una habitación con cama de matrimonio y un pequeño armario, el baño se comparte con el resto de personas que vivimos en el apartamento. La ubicación está a escasos metros de la playa. Zona de ocio nocturno.
Zona con todos los servicios, restaurantes, parada de autobús, farmacia, peluquerías, discotecas
Das Privatzimmer ist mit einem großen Bett , einem Schrank mit Blick auf den Balkon ausgestattet. Die Vermieterin hat und alles gezeigt und angeboten mit zu nutzen (Küche , Bad ). Handtücher haben wir zu Verfügung gestellt bekommen und auch ein Schloss für das Zimmer sowie einen Haustürschlüssel. Die Familie ist wirklich sehr sehr freundlich, offen und freut sich über deinen Besuch. Man fühlt sich wirklich direkt wie zuhause. Dieses Privatzimmer ist absolut zu empfehlen.
Madeline
2017-03-27T00:00:00Z
La experiencia ha sido mucho mejor de lo esperado. La anfitriona estuvo atenta en todo momento a nuestras necesidades y compartió su tiempo para darnos a conocer la isla. La casa es mucho más bonita de lo que imaginamos. Muy grande y espaciosa. El ambiente fue realmente bueno, muy tranquilo y acogedor. La habitación es estupenda, con una cama grande y cómoda y sitio para dejar las cosas. También dispuso el baño y la cocina para que nosotros pudiésemos utilizarlos cuando quisiéramos y si algo nos ha faltado ella nos lo ha dejado con mucha amabilidad.
Julia
2017-03-19T00:00:00Z
Rodzaj pokoju
Pokój prywatny
---
Rodzaj nieruchomości
Apartament
---
Mieści
2
---
Sypialnie
Llucmajor, Illes Balears, Hiszpania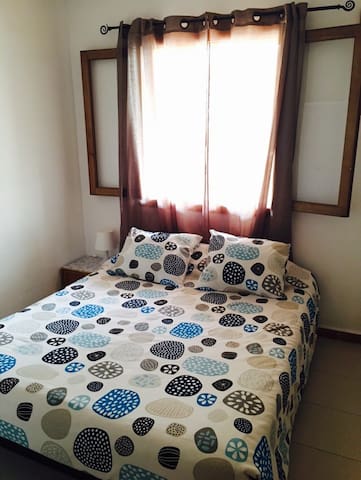 Migjorn - Airbnb
:
Średnia ocena:

4.82

/

5

gwiazdek od

211

gości