Willkommen in meiner Wohnung in Agia Marina Golf von Aegina Insel in der Nähe von Athen! Die Wohnung ist 47 qm Es verfügt über 2 Zimmer (das ist einer von ihnen ein Schlafzimmer und das andere ist ein Wohnzimmer), eine voll ausgestattete Küche und ein Badezimmer mit Dusche und WC. Die Wohnung verfügt über 4 Betten in insgesamt (2 Einzel richtige Betten und ein Doppelbettcouch und 1 Einzel tragbaren Bett), können 4 Personen in insgesamt schlafen - ideal für eine Familie mit einem Kind. Es gibt Klimaanlage, tragbare Heizung, Wi-Fi Internet für die von Mai bis Oktober Zeit und kostenlose Parkplätze in Prämisse für unsere Gäste kostenlos zur Verfügung gestellt. Sie können Märkte, Geschäfte, Bäckereien und Apotheken rund um den Ort zu finden. Die Wohnung befindet sich in einem ruhigen Ort nahe dem Meer, wo Sie schwimmen genießen können, Ihren Kaffee und geht mit Freunden! Ägina ist eine wunderschöne Insel, wo man viele archäologische Sehenswürdigkeiten und haben einen angenehmen Aufenthalt zu besuchen!
We are a family of four with two children aged 8 and 13. We stayed here for two nights. The flat is very basic. The kitchen works and has what is needed, besides that the TV did not work (despite the families efforts to help), wifi and ac were unstable to say the least, the flat is situated in the ground floor with a view to a "garden" and not with a terrace with sea view as the pictures seems to indicate. It all seemed a bit run down with cords hanging out of wall and part of shower head falling of when showering. We doubt that the tap water was drinkable. Bring your own towels as none were provided. We very much appreciated nastazia being super forthcoming towards us and provided the flat with one day's notice and her father collected us by the boat.
Alexandra
2014-07-17T00:00:00Z
Super welcoming house! Less than 5min away from the shops and restaurants in Agia Marina. Everything was really really nice! Internet could be a bit better but its just one router for a whole house, so bad reception in some areas should be expected.
Themis
2014-08-04T00:00:00Z
Nastazia was een aardige en behulpzame vrouw. Nam ons mee naar de tempel bij volle maan. Het appartement was eenvoudig maar alles was aanwezig. Misschien qua slaapplekken een beetje klein voor 4 personen maar met 2 of drie prima te doen.
jeanet
2016-08-22T00:00:00Z
Me and my friend travelled in motorcycle through Greece. Egina has been one of our stops. We stayed very well in the Nastazia apartment. There is everything needed to spent a quiet holiday. The apartment belong to Nastazia family with which we had a good feeling. I raccomend this host.
Michele
2015-08-28T00:00:00Z
The host canceled this reservation 18 days before arrival. This is an automated posting.
Amber
2016-07-14T00:00:00Z
Rodzaj pokoju
Całe miejsce
---
Rodzaj nieruchomości
Apartament
---
Mieści
4
---
Sypialnie
Mesargos, Attyka, Grecja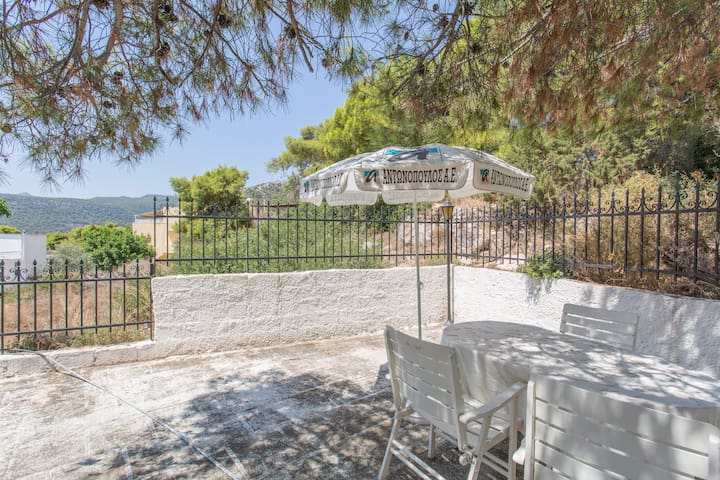 We are a complex of 8 beautifully designed self catering apartments. Our property is located on a stunning, quiet beach and offers safe swimming for all. Kaiya and myself will be available throughout your stay to attend to any of your requirements. We can arrange bicycle, scooter and car hire, as well as boat excursions and horse riding trips. Why not come and enjoy the sunset with a BBQ on the beach.
Each apartment is just steps away from the beach, with some apartments having uninterrupted views over The Saronic Gulf.
Tom was a fantastic host, handling absolutely everything we needed and even driving us to get groceries. I would absolutely recommend staying here for anyone interested in Aegina.
Christopher
2015-09-22T00:00:00Z
Tom and Kaiya were very welcoming. Very friendly couple who have an unbelievable spot on Aegina Island. They went above and beyond to arrange things for us even though it was off season and a lot of things weren't open.
Abby
2015-11-14T00:00:00Z
The one night stay at the place of Tom was perfect as we had to wait for our plane from Athens. It is within 2 hours of Pireos by ferry and the location has a striking view on the sea and Athens in the distance. It offers an ideal place to relax in a large and clean appartement with private terrace and view, and a fine opportunity to explore Agina island, the pistachio festival, the temple, the fishing village Perdika and the beautiful port. In front of Tom's B&B there is a small beach with snorkeling possibility, I even saw a calamari swimming. Tom did everything to make us feel at home, and offers access to diverse services such as drinks, transport to port and possibility of car hire. He and his wife are very welcoming, and very friendly and helping people and provide a perfect service.
Luc
2015-09-27T00:00:00Z
A beautiful place to stay. Tom and Kaiya were lovely - very helpful and welcoming. Tom gave us a lift to the grocery store on the day we arrived as well as to the ferry when we left, which were both much appreciated. Listing was very accurate. Great spot for swimming!
Pierre
2016-10-10T00:00:00Z
Staying at Kaiya's & Tom's was wonderful! They helped a lot to make our vacation as amazing as it could be. Because of the off-season the island was quieter as usual. Kaiya and Tom went over and beyond in organising, so that we could still do all the activities we wanted to do. The beachhouse is right at the beach and the view is really amazing.
Sophie
2017-03-22T00:00:00Z
What a wonderful place The beach House is and Tom & Kaiya are just the best hosts. So helpful, friendly and accommodating, just the right amount. The apartment was perfect, the view stunning, comfy beds clean and everything you need, simple uncluttered tranquil. The location of the beach house couldn't be better you are literally on your own private beach, I love the bar too. I cannot praise them enough for what they have done and are doing. I would highly recommend this place to anyone who wants a peaceful restful holiday in the sun. The only down side was having to leave, but in the words of Arnie 'I'll be back!" Thanks Tom & Kaiya and congratulations on the wonderful place you have created. Eva & Jane :)
Eva
2016-06-02T00:00:00Z
The Beach House is a peaceful place to be. Tom and Kaia are a lovely couple and have created a beautiful environment. We have enjoyed our stay very much. The Apartment was clean and tidy, the kitchen a little bit old fashioned but you'll find everything you need. We have rented a car to discover the island, which Tom arranged. We can highly recommend to stay at the Beach House! Thanks for everything!
Marisa
2016-10-28T00:00:00Z
Le logement est idéalement situé : les pieds dans l'eau, une eau turquoise ! et en face d'Athènes... A la tombée de la nuit, c'est magique ! De plus l'appartement est vraiment vaste, bien équipé et la décoration simple mais très soignée, faite avec un goût très sûr. En plus, Tom nous a proposé son aide (nous étions à pied au départ) et son véhicule pour aller faire les courses ; il nous a aussi prodigué de bons conseils pour nos ballades à vélo ! C'est quelqu'un qui connaît bien et aime cette (bien belle !) île ! On n'est restés que 24 heures, mais elles furent très très agréables ! Merci !
Valérie
2015-10-26T00:00:00Z
Rodzaj pokoju
Całe miejsce
---
Rodzaj nieruchomości
Apartament
---
Mieści
2
---
Sypialnie
Aegina, Attyka, Grecja
Nowy, blisko morza, w pełni wyposażona, parking dostępny, cały ogród z cytryny i pistacji drzew, wysokich sosen i bardzo cicho. Nawet to jest pół na parterze to jest wspaniałe do wypoczynku. Port Souvala jest zaledwie 10 minut spacerem. Na plaży Loutra jest również w odległości krótkiego spaceru i jest tam supermarket, piekarnia i wiele tawern, bar i wiele fajnych rzeczy do odkrycia!
Będąc blisko do morza i świeże powietrze od morza i sosen. W pobliżu portu Souvala, supermarket, piekarnia i Taverna jest.
Πολυ ομορφος χωρος και απιστευτη φιλοξενια. Το σπιτι ειναι ακριβως οπως στις φωτογραφιες και προσφερονται και αρκετα ειδη υγιεινης. Επισης ο εξωτερικος χωρος με τον κηπο ειναι πολυ προσεγμενος και ενδεικνυται για στιγμες χαλαρωσης. Ευχαριστουμε πολυ Βικυ για την φιλοξενια και τις πληροφοριες για το νησι!
Mixalis
2017-04-09T00:00:00Z
Ευγενεστατοι οικοδεσπότες, εξαιρετικό σπίτι και πεντακάθαρο! Very polite hosts, beautiful house and very clean!
Magkas
2017-03-26T00:00:00Z
Rodzaj pokoju
Całe miejsce
---
Rodzaj nieruchomości
Apartament
---
Mieści
2
---
Sypialnie
Vathi, Aegina, Grecja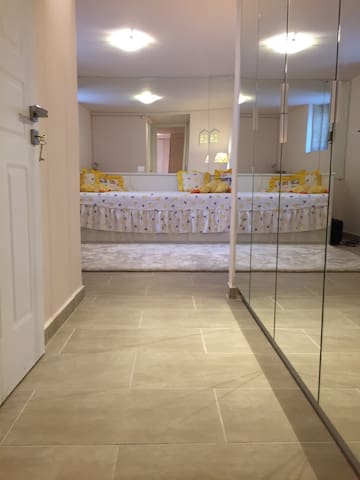 Basement with garden and elevated terrace for sea view. Simple appartement of 2 rooms and a kitchen, decorated with love. Everything accessible on foot: backeries, beaches, taverns etc. Suitable for guests with disabilities (except terrace).
A neoclassical house with garden in the historic town of Aegina - the first capital of Greece.
The sea breeze brings sounds and smells ( e.g. grilled octopus) from the promenade.
This was a great stay. Perfect location close to the port and within walking distance of many shops and restaurants. An amazing view from the rooftop. Clean and spacious in a charming part of town. I would highly recommend.
Michael
2016-09-29T00:00:00Z
Excellent stay in Aegina. Apartment is just as described. Did not meet Eftichia but was met upon arrival by her mother who spoke good English and was most welcoming and provided us with as much information as we needed. Would definitely recommend and hope to return again in the future! Renee
Renee
2016-09-09T00:00:00Z
The place is like in pictures. Nice and confortable. Close to the port and the centre. We enjoyed staying in this place for a Week and we felt like at at home.
mathilde
2016-09-24T00:00:00Z
Eftichia house is a perfect place to stay, nicely situated and with a stunning view from the roof terrace. The bedroom has an air-condition which was a nice surprise for me, as it's hot like hell in Egina, but like Eftichia mum said: This is Greece, this is sun.
Monika
2016-08-05T00:00:00Z
Staying at Eftichia's was a fabulous way to enjoy the loveliness that is Aegina town. The apartment itself is very clean and comfortable and to be honest the pictures don't do it justice. It's in a quiet area just a few minutes from the port and you really get a sense of the mellow Aegina lifestyle. From sunny breakfast's everyday under the pistachio tree to the best views of the sunset from the terrace this flat was a real find. My favourite thing however was the friendliness and hospitality of Eftichia's mum. Everyday she greeted you with a big smile and even though her English may be limited the lovely lady even had me up to her terrace for an unforgettable ouzo and mezze evening. Greek hospitality at its very best. Efcaristó!!
Gloria
2016-07-07T00:00:00Z
Ιδιαίτερα ευγενικοί και εξυπηρετικοί οι ιδιοκτήτες σε ¨ότι ζητήσαμε. Η αυλή είναι πολύ όμορφη με την τεράστια φιστικιά να ρίχνει τον ίσκιο της και η θέα από την ταράτσα, ιδιαίτερα το βράδυ ,που βλέπεις το λιμάνι πάρα πολύ ωραία. Η βόλτα τα απογεύματα προς το λιμάνι θα μας λείψει. Γενικά σε σχέση με το κόστος διαμονής ήταν εξαιρετική επιλογή
Ιωάννα
2016-08-02T00:00:00Z
This is the second time we have stayed at this apartment. Everything is just as described in the online description. The hosts, Eftichia and Ka. Kaiti were, as always, very hospitable and did everything to make our stay very enjoyable. Weather too was perfect for November! Thank you once again for a memorable stay and we hope to return again soon! Best regards. Renee and Family
Renee
2016-11-12T00:00:00Z
I was made very welcome at Eftichia's place. Her mother Kiria Katie is a very interesting lady who speaks English well. The apartment is perfect - a double bedroom with sliding doors opening onto a lounge with 2 sofa beds. The kitchen & bathroom have everything you need. There is no TV but a radio can provide background music. There is a lovely shaded courtyard. Up 16 steps is a wonderful rooftop with table & chairs - amazing views! The whole place is safe, peaceful and private. Angina is a bustling town with many tavernas & shops - full of character! I'll be back!
Fiona
2016-09-18T00:00:00Z
Rodzaj pokoju
Całe miejsce
---
Rodzaj nieruchomości
Apartament
---
Mieści
3
---
Sypialnie
Αίγινα, Αττική, Grecja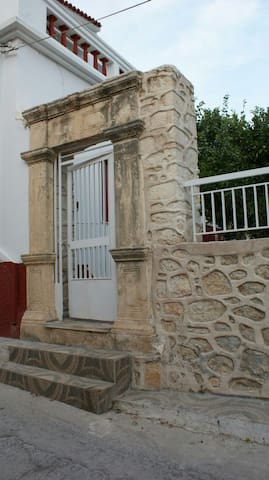 80 meters from the sea, small independent apartment on ground floor of a villa, flower garden, kiosk, BBQ, small cove below the house. Vagia Beach 3 minutes by car, 10 minutes Aegina town, temple of Aphaia 5mn. Ferries to Athens in Souvala (5mn)
Nice apartment as described few minutes walk from the sea. Marc, his wife and their children were lovely too and kind to pick us up and drop of at the port. We had a great, relaxing stay.
Julia
2016-09-07T00:00:00Z
Excellent accueil et endroit charmant, calme et proche de la mer... Il vaut mieux se munir d'un véhicule dès l'arrivée sur l'île (chez Giakas par exemple) pour partir à la découverte des petits spots de baignade, de traverser l'île...
Jacques
2016-07-13T00:00:00Z
Marc a tout fait pour rendre optimal notre séjour à Egine. Dès notre arrivée, il est venu nous chercher en voiture au port, et nous y a raccompagnés au moment de notre départ. L'appartement est très agréable, il comporte une ample terrasse et tout ce qu'il faut, en termes d'équipement, pour deux personnes. L'accès à la mer est simple à pied, on peut rejoindre en quelques minutes une jolie crique, ou bien un petit port tout aussi charmant. La chambre est équipée d'un grand ventilateur, plus que suffisant pour survivre aux températures estivales. C'est pourquoi nous recommandons sans aucune réserve ce logement.
Mathilde
2016-07-09T00:00:00Z
Marc war so nett uns von der Fähre abzuholen und uns nochmals in dir Stadt zu fahren als wir kurzer Zeit später einen Roller für 15€/Tag ausleihen wollten. Die Wohnung ist sehr sauber und schön. Wärmstens zu empfehlen.
Franz
2017-03-24T00:00:00Z
Marc und seine Frau sind wundervolle Gastgeber. Sie haben uns vom Hafen abgeholt, wieder zurück gebracht und uns zwischendurch angeboten, mit im Auto zu fahren, um in die Stadt zu kommen. Empfehlenswert ist da Ausleihen eines Fahrrads/Motorrollers, da bspw. Supermärkte zu Fuß 20-30 min Fußweg entfernt sind. Wir haben alles fußläufig erkundet, was sehr schön war, waren jedoch dementsprechend k.o. am Abend. Souvala, der nächstgrößere Ort direkt am Meer, ist circa 5km entfernt. Unser Urlaub auf der Insel Aegina war wunderschön, das Meer ist glasklar und die Unterkunft von Marc hatte alles, was wir benötigt haben. Vielen Dank dafür!
Janine
2016-08-04T00:00:00Z
Marc and his wife gave us a beautiful trip this past week. We loved staying in their apartment, it was clean and comfortable. Marc was kind enough to pick us up from the port to take to the rental car and allow us to follow them back to their place. When we arrived we were greeted by a beautiful garden, an outside fire place and enjoyable smelling lavender. Marc and his wife have been present for us during all our trip, his help and advice was priceless. Thanks to him we had a wonderful trip because we knew all the great spots to visit. They have a beautiful family and we loved getting to know them. We went together to a traditional Greek celebration and got a true experience of Greek culture. They were even as kind to take us at their favorite coffee spot. Definitely a place to go to recharge and relax. My husband & I, truly hope to come back at their place and get to see them again at the end of the summer!
Julia
2016-05-03T00:00:00Z
Мы провели на острове Эгина 3 дня своего отпуска. Мы не хотели останавливаться в шумных отелях, поэтому выбрали жилье Марка в спокойном поселке Вагиа. Началось все с того, что Марк встретил нас на своем автомобиле в порту. Уже через 15 минут мы были у него дома. Жилье оказалось чистым и аккуратным, в нем было все необходимое для проживания. Пляж находится в 200 метрах от дома, вода чистая и посетителей не так много, как на других пляжах. Марк познакомил нас со своей семьей и предложил на следующий день поездку в Агия-Марину, где мы полдня провели на море и прошлись по местным магазинчикам. На следующий день Марк со своей женой повезли нас уже в Эгину, где также было очень весело. Желающие могут быстро без проблем взять автомобиль напрокат для самостоятельных поездок по острову. Нам очень хотелось еще увидеть на острове фисташковые деревья и Марк показал нам целые фисташковые рощи. В последний день нашего пребывания на острове Марк со своей женой отвезли нас прямо к парому. Спасибо вашей семье за гостеприимный прием.
Валя
2016-06-22T00:00:00Z
Rodzaj pokoju
Całe miejsce
---
Rodzaj nieruchomości
Apartament
---
Mieści
2
---
Sypialnie
Vagia, Grecja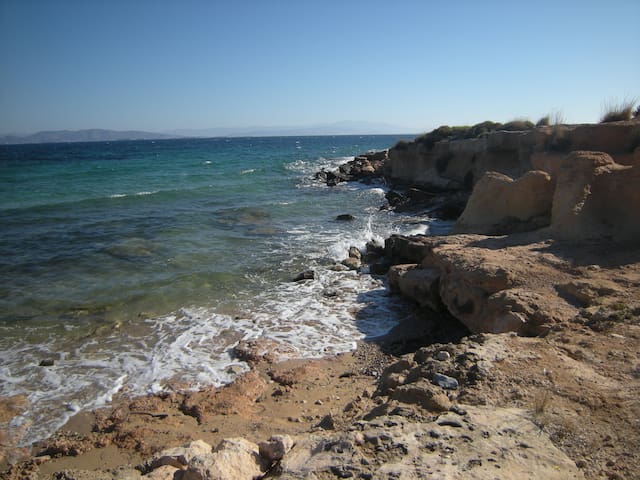 Le studio se situe a Agia Marina, a Egine. Vous aurez les pieds dans l'eau. La terrasse et la piscine vous permettront également de vous relaxer en profitant d un cadre enchanteur. Vous n'êtes cependant pas loin d'Athènes et du Péloponnèse. Enjoy !
Le studio se situe a Agia Marina, a Egine. Vous aurez les pieds dans l'eau. La terrasse et la piscine vous permettront également de vous relaxer en profitant d un cadre enchanteur. Vous n'êtes cependant pas loin d'Athènes et du Péloponnèse. Enjoy ! Le studio est situé dans une propriété en bord de mer, avec un accès direct a la plage et au petit port d'Agia Marina. La propriété propose plusieurs studios mais chacun a son entrée indépendante. Vous aurez accès a la piscine placée au cœur de la propriété. Le studio a une cuisine équipée, mais si vous souhaitez profiter de la gastronomie locale, vous trouverez en bordure de plage des tavernes offrant des mets délicieux. Vous aurez vue sur le golfe Saronique ainsi que sur le temple d'Aphaia. D'autre part, nous proposons des activités sportives telles que le FLYBOARD, l'HOVERBOARD. Nous habitons dans un studio situé sur la même propriété, nous serons donc la pour répondre à vos questions et pour vous accueillir. Nous sommes à l extrémité de la baie d agia marina, nous surplombons la mer turquoise et le petit port de pêche. Ici, règnent le calme et une atmosphère paisible. Mais en 10 mn a pied vous trouverez petites boutiques et magasins de nécessité. L'avantage d'Agia Marina est que vous pouvez venir directement en bateau depuis le Piree si vous êtes piétons. Pour ceux qui viennent en voiture, vous arriverez en bateau a Egine (la Capitale de l'ile) et 15 mn plus tard, vous serez au bord de la piscine ou sur votre terrasse. Depuis Egine, vous pouvez vous rendre sur Athènes très facilement, en heure environ de bateau ; vous pourrez également visiter le Péloponnèse.
Nous sommes à l extrémité de la baie d agia marina, nous surplombons la mer turquoise et le petit port de pêche. Ici, règnent le calme et une atmosphère paisible. Mais en 10 mn a pied vous trouverez petites boutiques et magasins de nécessité.
Hôtes disponibles et très sympathiques. Très belle vue sur la mer et piscine très agréable! Une adresse à recommander sur Egine !
Janis
2016-07-17T00:00:00Z
My boyfriend and I stayed 2 nights in September. David gave us all the necessary information to find his beautiful house. When we arrived, he was waiting for us and was very welcoming :) The studio is great, very well organized, the view from the terrace is amazing (the sea and the other side of the bay : no buildings, tourists,...). The pool is... wow. Big enough to swim, view on the sea, lights at night, everything you need ! Thank you David :) See you soon !
Mathilde
2016-09-08T00:00:00Z
We had a great experience in Agia Marina, in the neighborhood and at the flat. It is well organized, modern, very comfortable. David and Muriel are very warm and friendly people, everything was set as expected. From the building you have an spectacular view of the sea and the town, and a fast access to the abandoned resort, if you like this kind of stuff. Many thanks to them, we'll repeat soon!
Jose
2016-08-21T00:00:00Z
everything was perfect
Levan
2015-08-16T00:00:00Z
Bonne communication et parfait accueil pour ce joli petit studio qui ouvre sur le maquis des collines et la mer alentour. On peut voir de loin le temple d'Aphéa, qui n'est qu'à une heure de marche. La piscine est superbe et plus tentante que la plage, qui fin mai, n'était pas encore parfaitement nettoyée. Muriel et David ont accompli un travail énorme pour restaurer ce coin de paradis d'Aegina. Bravo! Anne et Thierry
Anne
2016-05-23T00:00:00Z
Notre séjour a été très agréable dans le studio de Muriel et David. La vue sur la mer est splendide et leur maison à Le charme typique des îles grecques! Nos hôtes ont été très accueillants et ont rendus notre séjour très agréable et facile! Ils ont su nous conseiller de bonnes adresses sur l'île, aussi bien pour manger que pour découvrir certaines plages d'Egine.
Bruno
2015-08-11T00:00:00Z
Spent a fantastic few days exploring the island of Egina from this beautiful little villa. Agia Marina was a wonderful base for a short relaxing stay, and the location of the property was ideal for our needs. The sub-five minute walk from the beach, well-maintained pool on the site and shaded patio overlooking the sea made it a little piece of paradise. Though we never met David or Muriel, they provided us with thorough instructions to find the place, and we were very well looked after by their friend Tasy. A very reasonable price for a lovely place - would definitely recommend! :)
Lucy
2016-09-24T00:00:00Z
David nous a gentiment récupéré au port à la sortie du bateau, Arrivés a la villa un cadre idyllique nous attendait, La villa en bord de plage est a 10 min a pieds des commerces et resto et a 20 minutes d'un temple avec une vue superbe sur agia marina, David était accueillant et très sympa, nous avons apprécié les échanges avec notre hôte, Comme beaucoup difficile de quitter les lieux nous avons finalement prolongé notre séjour,
audrenn
2016-04-01T00:00:00Z
Rodzaj pokoju
Całe miejsce
---
Rodzaj nieruchomości
Apartament
---
Mieści
4
---
Sypialnie
Agia Marina, Attyka, Grecja
A stunning newly renovated studio apartment with a fully equipped kitchen, bathroom, double bed (sleeps 2) and a twin bed (for the kids, or extra company). In a secluded area, this studio apartment overlooks a beautiful view of the ocean.
This studio apartment is adjacent to a home and has stunning flower beds and 2 outdoor areas to eat. As well as 2 outdoor showers to wash off from the sea. The property has 3 houses in the surrounding area which makes this the perfect private and relaxing get away. Also comes with free Wi-Fi.
Quiet, quaint, and comfortable
The apartment is located in a really beautiful place but it's a bit isolated so it was confused to find it even with the help of the taxi driver. I had to follow the instructions of Lysi who wasn't at the apartment when we arrived that's why we spent a little time to find the good one. Except this small confusion we had a really good time there, the pictures really give a good idea about this peaceful area. Lysi's grandmother was really nice and took care about us, in particular during the breakfast time !!!
Amaël
2016-04-14T00:00:00Z
Lysi was very responsive in our advance communications and her delightful grandmother, Vana, met our ferry and drove us to the apartment with a stop at a supermarket. The apartment is simple, but very comfortable and the location is absolutely magical. It is about a 15 minute walk to town, but who needs the town when you have the beautiful secluded cove and the sound of gently lapping waves at your doorstep? Vana made us feel very welcome and treated us to her delicious homemade cakes in addition to giving us a ride to and from the ferry. Everything worked well in the apartment (plumbing, kitchen, wifi) and the beds were comfortable. As previously noted, it is simple and you are there for the location (and great hospitality) rather than a luxurious interior space. One word of caution for those traveling off season: when we were there (late March), most of the restaurants and shops in Agia Mariana were closed. We found a good place to eat (and forgot to note the name) and we didn't care because we came for the Temple of Aphaia (most beautiful temple we've seen) and the peace and quiet. If you want a lively town, off-season here is not right for you. It looked like it would be hopping in the summer, so with the 15-20 minute walk, you could have the best of both worlds. (Note that the walk to and from town has some steep hills in either direction). I really hope to come back someday and stay for more than 2 nights. The location, for me, is absolute perfection.
Susan
2016-03-31T00:00:00Z
What a magic setting! It was the perfect break from my hectic schedule and Vana picked us up on time and took us shopping. Lots of spots to explore on the Island as well. When we had to say goodbye it was like saying goodbye to family. Hope to visit again. In the meantime the lovely pictures we took will keep the memories alive.
Leon
2014-11-17T00:00:00Z
The apartment was as described. Best part was the location. 15 minutes from most tourist bars and restaurants but right on a quiet little bay where there were hardly any people. Great clear water but of course a rocky pebble beach. We had a huge patio all for ourselves to hang out, eat and sunbathe. Vana, the grandmother was super nice and picked us up from the ferry and drove us to it on the way back. One day she made us a super yummy Greek spinach feta pastry. Overall great quiet location if you enjoy quietness and super nice hosts that speak English. Thanks again!
Steven
2015-08-16T00:00:00Z
We got another apartment in the same house with one more bedroom as the booked apartment was not available. It was perfect, with the sea directly below our terrace. The ideal place to spend some days to relax. Grandmother Vana was very nice, she gave us tips, drove us to town and brought us homemade cheese pie. We had a wonderful week there, thank you!
Sonja
2015-09-07T00:00:00Z
Thanks for the wonderful stay! Great location and beatiful rocky beach. We had the beach almost to ourselves. Very clear water, great snorkelling.
Titia
2015-07-15T00:00:00Z
Met at port by Lysi's fabulous grandma, Vana who acted as our taxi service, arranged car hire for us and even cooked us some wonderful Greek food. An all round great experience with the most idyllic surroundings. We had a problem when we arrived (not Lysi's fault) and Airbnb were really on the ball and helpful, so thank you Vana, Lysi and Airbnb!
Gill
2016-09-11T00:00:00Z
The place is perfect, very quiet and isolated from the rest of the town. You can only hear the sound of the waves hitting rocks, it was a blissful experience ;) The room was big, everything was clean, only the wifi's not so good in the room but you just have to go outside to receive it better. Anyway, internet is not really what you're looking for when you're in this beautiful place ;) Lysi s grandma picked me up at the port and was extremely nice and helpful during my stay. She helped me with finding a supermarket and gave useful advice and recommendations in the area. Only 3 days but I seriously wish it had lasted longer... Thanks lysi, vana and theodoros you are amazing people!
Quentin
2014-09-04T00:00:00Z
Rodzaj pokoju
Całe miejsce
---
Rodzaj nieruchomości
Apartament
---
Mieści
3
---
Sypialnie
Egina, Egina, Grecja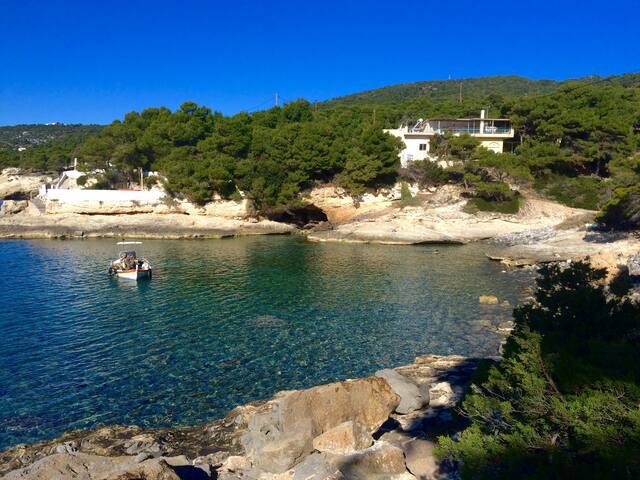 Min plads er velegnet til par, aktiviteter for én person, familier (med børn) og kæledyr. I et roligt kvarter, på landet, kun 3 minutter fra havnen og byen Aegina, med smuk udsigt, kun fem minutter fra den nærmeste lille strand, 10 minutter fra klostret Sankt Nektarios og Panagia Chrysoleontissa, 15 minutter fra tempel Aphaea og Agia Marina.
Vores hus ligger i midten af en 500 m2 have. Den øverste etage er uafhængig med en separat indgang og en veranda, der strækker sig omkring det, der tilbyder udsigt til havet og fastlandet. På to forskellige sider af verandaen, der er indbygget i bænke, så du kan vælge den fedeste side, hvis du ønsker at tilbringe tid udendørs. Du kan endda spise eller spise morgenmad der. Interiøret er i virkeligheden køkken-stue-studie af huset. Et fuldt udstyret køkken, en sovesofa (125 cm bredde), en mindre sofa egnet til et barn og en tredje sofa, som bliver til enten en stor dobbeltseng eller to enkeltsenge. Dette bed (s) kan få privatliv med en tre gange lærred.
I midten af en stille blind privat vej, kan du nyde varmen i græske gæstfrihed og venlige naboer. Syngende fugle i morgen, fårekyllinger og ugler natten. (Og, selvfølgelig, vores kæledyr, katte og hunde i haven).
Malerische Umgebung mit Blick aufs Meer, großartiger Terasse und einer tollen Fensterfront. Innenstadt ist zu Fuß gut erreichbar. Avtwia was unglaublich hilfsbereit und hat alles genat, um uns tolle Tage auf der wunderschönen Insel zu ermöglichen. Vielen Dank!
Katja
2017-02-20T00:00:00Z
Antonia picked us up from the port and made us feel welcome right away. She was always friendly and helpul providing us with information about the island, shopping opportunities and acitivties. We could use her bikes and the perfectly equipped apartment and even found some food when we arrived. She gave us a lift to town whenever needed and supported us with everything necessary. We can absolutely recommend staying in her nice apartment on Aegina island.
Thea
2016-10-31T00:00:00Z
Warm and welcoming home in Aegina. That was the filling when staying at Antonia's place. A spacious, open plan floor bathing in light. Antonia is super attentive and was concerned for our every need. Hot water was plentiful when ever we got back and when the evenings got cool Antonia made sure the house was pleasantly heated. We lucked nothing and felt wanted. Thank you, Antonia. The location It is quite and peaceful, surrounded by greenery yet a stone through from the town and beaches - must have a car or at least a scooter.
Adi
2016-11-16T00:00:00Z
Staying at Antonia's was the best experience I had in Airbnb as a guest so far! The house is beautiful and in a very convenient location and Antonia made sure we had everything we needed and more. Definitely going back with my friends!
Maria
2016-09-18T00:00:00Z
Η Αντωνία υπήρξε άψογη οικοδέσποινα κυρίως στην επικοινωνία και τη διακριτικικοτητα διαθέτοντας ένα χώρο πραγματικά θετικής ενέργειας.
john
2016-10-06T00:00:00Z
Antonia was very helpful with all practicalities and especially with transportation. Her house is beautiful and spacious and very nicely located. She gave very good ideas about what to see on Egina. Our stay at her place was perfect.
Mika
2016-11-03T00:00:00Z
It is probalby the best Airbnb offer I have ever taken advantage of. Antonia is a lovely person. She is very welcoming and helpful. She drove us to and from the port and gave tips about visiting the island. The flat in turn is simply beatiful - clean, spacious, nicely decorated, with a beatiful view. This offer is even more than you need. Thank you!
Adam
2016-11-18T00:00:00Z
Antonia's appartment is cozy, modern and fully equipped. It has a lot of light through big windows. There is a big balcony all around with views of the sea. The location is out of town, you need some sort of transport. A bike, motorbike or car, which you can rent in Aegina town. Antonia is very friendly, she came to pick us from the ferry boat. We were welcomed with tasty snacks in the kitchen. Antonia can give any practical information for your visit. She has cats and dogs living in the garden. We really recommend this quiet place to stay!
Michaela
2017-03-04T00:00:00Z
Rodzaj pokoju
Całe miejsce
---
Rodzaj nieruchomości
Apartament
---
Mieści
3
---
Sypialnie
Αιγινα Κυψέλη, Αττικής, Grecja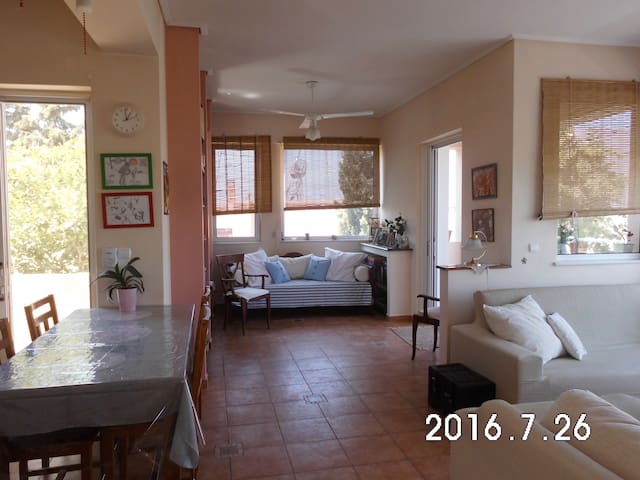 The house is situated in a quiet neighborhood, close to the port. You can relax far from all kinds of noises and enjoy peacefully the lovely view since the house is on a quiet street with a surrounding garden. You can walk only ten minutes to the center of town, past traditional wooden fishing boats and small beautiful houses. The town is of a good size, and there are plenty of nice restaurants, cafe, fast food, a nice fish market, shops, museums and three very lovely cinemas.
A very lovely house, it will accommodate a couple or 4 people. The property is accessed from the street through a pretty courtyard, which has three additional sitting rooms in the summer. The apartment has one bedroom, a living room (with one extra large double sofa), the kitchen and a bathroom with shower. The courtyard acts as a natural hub for this house, and is a good place to gather for meals, barbeque and to plan the day's activities. Inside the house has retained lots of original features, such as the floor tiles and traditional wooden shutters. There is one air condition in the bedroom and one in the living room. There is wifi, a washing machine and one television. The kitchen is well equipped. This is a traditional village house will lots of art pieces and sculptures inside and outside. There is a terrace with a breathtaking view to sunrise and sunset
The house is situated in a quiet neighborhood, close to the port. You can relax far from all kinds of noises and enjoy peacefully the lovely view since the house is on a quiet street with a surrounding garden. Around the property are quiet streets with small low level 'spitakia' with jasmine and bougainvillea, and gardens planted with citrus trees. This is a 'real' neighbourhood, not a tourist trap! You can walk only ten minutes to the centre of town, past traditional wooden fishing boats and small beautiful houses. The town is of a good size, and there are plenty of nice restaurants to eat, cafes, fast food, a nice fish market, shops museums and three very lovely cinemas.
Liana est une hôte parfaite (et parle très bien français :) ), elle nous a fait visiter l'île avec sa voiture en nous conseillant des lieux. La maison est correcte, c'est un bon rapport qualité-prix, (elle parait plus grande en photo car c'est une grande maison séparée en deux). Seul bémol le Wi-fi qui ne fonctionnait pas :/ L'emplacement est très proche du port et des commodités, l'île est petite on est donc proche de tout.
Ines
2016-10-31T00:00:00Z
Liana was so nice greeting us and gave us and really nice introduction to the island. The house is just out the city port in a very beautiful area. Everything within walking distance. Beautiful home with lots of art and a lovely garden. Kitchen not optimal for cooking but very manageable All in all a very nice stay.
Marlene
2016-12-29T00:00:00Z
My friend and I stayed 3 days in Lianas apt. Its very calm (horses being the closest neighbors) and a little bit on the outskirt of town, but only 10 min walk from the center. There is a beautiful view from the terrace and we enjoyed exploring Aegina (both the town and the island). Liana was very easy to communicate with and made us feel at home right away. The only downside was that the bed was pretty hard and the wi-fi a bit unreliable. Otherwise everything was great and I would definitely recommend staying here!
Tina
2016-11-05T00:00:00Z
Liana was a perfect host! Before arriving she provided information the ferry schedule. Just after arriving she took us by car on a trip on island. To show us where we had to go the next days. Also she provided snacks and drinks on arrival. The appartment itselfs was perfect, very big and very clean with a lovely terrace. For sure we would book again with Liana if we are on Egina!
Corneel
2016-10-07T00:00:00Z
Очень интересная, красивая хозяйка. С ней очень интересно беседовать, причём на различные темы. Очень артистичная, что видно в стиле самой хозяйки и в стиле оформления дома. Всё очень стильно, уютно. чисто. Прекрасные виды природы.
Станислав
2017-01-20T00:00:00Z
Liana is a nice person, showed us everything a gave recommendations for trips. The rooms are one part of her whole summer house. The street passing the house is more noisy than expected. Cooking conditions are not perfect for greater meals, as there is only one cooking plate. Our stay was off season and in my opinion, the summer house was not fully awaken from its winter sleep; everything was a bit dusty (especially for allergic persons). It is quite cool inside - perfect for the hot greek summers. Thanks for everything!
Frank
2017-04-06T00:00:00Z
Liana waited for us at the port and show us the house. Everything was like in the pictures. Inside the house was clean and nice. The view from the house is amazing. It's not far from the city center of Egina - 10 min walking, there is a beach very close too. We loved our stay in Egina.
Ivan
2016-10-16T00:00:00Z
Liana was very communicative, very kind and helpful with me before and during my trip. She made my stay unforgettable and I felt home from the first hour. I also really appreciated the attention to detail, such as coffee/tea for me in the mornings. She was quite and lovely host and the space was fantastic. The room is wonderful and the apartment is located in a quiet neighborhood, close to the port. There is a terrace with a breathtaking view to sunrise and sunset and a beautiful gardens with nice flowers. It is a really great house even better than the pictures and everything worked perfectly. I walked only ten minutes to the center of town, pasted traditional wooden fishing boats and small beautiful houses!!!! The apartment was clean and if you want to stay for a week there is a cleaning woman to change the sheets and clean the apartment every three days!!! Last but not least, the apartment has fast wifi, a washing machine, one television, a/c and the kitchen is well equipped and very interesting I highly recommend it.
Maria
2016-10-12T00:00:00Z
Rodzaj pokoju
Całe miejsce
---
Rodzaj nieruchomości
Apartament
---
Mieści
2
---
Sypialnie
Egina, Grecja
We have 8 newly designed apartments located on our own beachfront. Only steps away from the sea. There are lots of very nice, traditional Tavernas within walking distance. Come and join us on the beach for our weekly BBQ evening and watch the beautiful sunset.
We had such a great time! Tom is very welcoming and friendly! (he drove us to the supermarket) The beach house is just by the sea, the view is amazing! We highly recommand this Air b&b!
Lucille
2017-04-03T00:00:00Z
Tom and Kaiya were great people and extremely personable and friendly. They were able to help us out with everything that we needed. The place was very nice. Overall a good stay!
Ryan
2016-09-25T00:00:00Z
Although it was a short stay, we had some quick friendly conversations with Tom and Kaia. They were very welcoming, and the place was very cute and cozy! Highly recommended!
Christy
2016-10-14T00:00:00Z
Nice stay in Tom and Kaiya place ! Great view, sleep with the sound of the sea is perfect ! Warm welcome ! You will find there a litlle bar and seats to enjoy an interesting view on Athens ! I highly recommend for people who want to stay few days on the island !
Maxence
2017-03-26T00:00:00Z
La situación es excelente, y las vistas también Tom es un gran anfitrión todo fueron facilidades y se portó de maravilla Muy recomendable
Bosco
2016-11-13T00:00:00Z
Rodzaj pokoju
Całe miejsce
---
Rodzaj nieruchomości
Apartament
---
Mieści
4
---
Sypialnie
Vagia, Thessalia Sterea Ellada, Grecja
A studio/apartment, one bedroom, kitchen, bathroom with shower, backony with view to our nice garden with flowers and pistachio trees and in front of the sandy beach and the sea of Marathonas village.
At the village of Marathonas there are same restaurants ( we have one of them), café, super market, parasols and umbrellas on the beach.
The apartment was in a beautiful location right on the shoreline, it was very clean with all new amenities. Kostas was very friendly and welcoming!
florence
2017-03-28T00:00:00Z
Kostas house is in a perfect location. 7 minutes from the center of Aegina. Lovely beaches nearby. Kostas welcomed us immediately and always answers quickly. And to rent a scoooter or a car is very cheap so you can see the whole island easily. I will definitely come back.
Anamaria
2017-04-01T00:00:00Z
Rodzaj pokoju
Całe miejsce
---
Rodzaj nieruchomości
Apartament
---
Mieści
3
---
Sypialnie
Egina, Attyka, Grecja
Aegina Island Aegina is a beautiful island close to Athens. The Town, with the elegant Neoclassical buildings, is a lovely place to stroll along the port promenade and the narrow streets. Aegina in Greece is an island only an hour ferry ride from Athens. It has nice family beaches, seaside villages and interesting archaeological sites to visit.
Bj Luxury Apartment in center of Aegina Town with 2-3 minutes walking distance to all amenities: Supermarket, butchers (home fed meat), bakeries with fresh pastries, savouries and delicacies. At least 50 restaurants/Tavernas and Ouzeries surrounding within 2- 3 minute walk. Nearest beaches 3 min walk (Panajitsa Beach) and Avra Beach 5 min
We had great time in this place! Apartment is spacious and has very cosy patio. There are a lot of small shops near this location. Linette was very friendly and show all the main places in Aegina!
Modestas
2017-04-07T00:00:00Z
Rodzaj pokoju
Całe miejsce
---
Rodzaj nieruchomości
Apartament
---
Mieści
4
---
Sypialnie
Egina, Grecja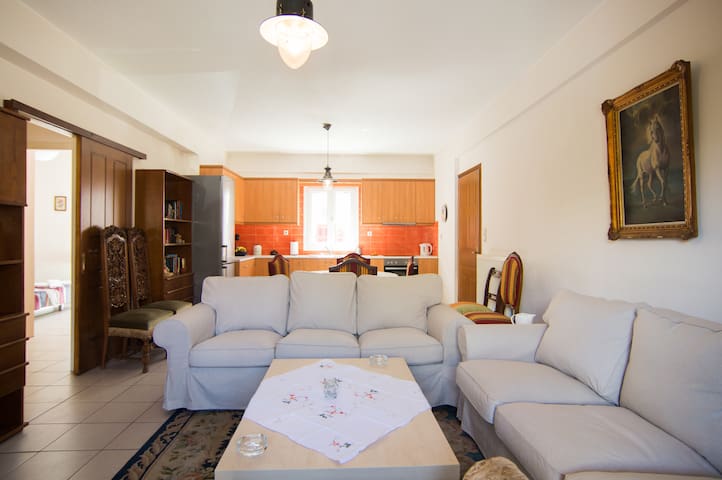 Die Wohnung befindet sich im Erdgeschoss befinden, in einer ruhigen Gegend direkt am Saronischen Meer entfernten Wohnung verfügt über 3 Zimmer (Wohnzimmer, Schlafzimmer und ein kleines din) ein Doppelbett, ein Einzelbett und ein Sofa-Bett, voll ausgestattete Küche und ein Badezimmer mit shower.The Insel nur eine Stunde von Pireas Port ist, für Paare, Geschäftsreisende gut ist, und Familien mit Kindern, Entfernung vom Strand zu Fuß, Supermarkt, Kirche Agia Sotira, 5 Fahrminuten zum Hafen von Souvala und 15 Minuten mit dem Auto Ägina Hafen / Stadt.
Rodzaj pokoju
Całe miejsce
---
Rodzaj nieruchomości
Apartament
---
Mieści
4
---
Sypialnie
Vathi, Attica region, Grecja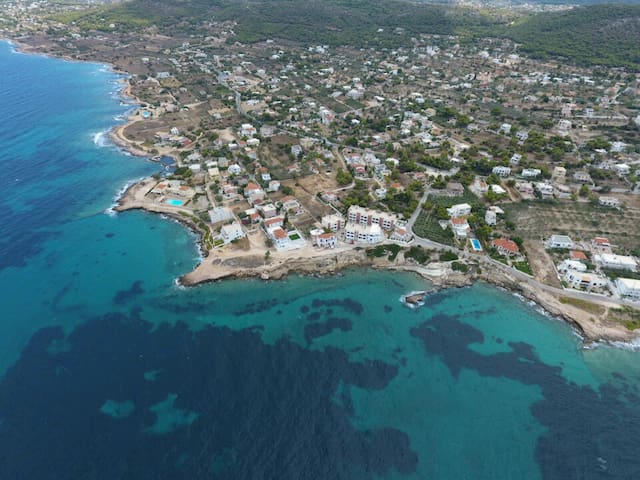 En separat ny 2 sals lejlighed (150 kvadratmeter) i området ved Souvala med stor have og fantastisk udsigt. Lejligheden er skjult i skoven, hvor man kan nyde at gå eller jogging og kun 600 m fra den maleriske havn i Souvala og organiseret strand. I havnen i Souvala der apotek, supermarked, bageri og restauranter, hvor du kan nyde traditionel mad
Komfortabel to sals lejlighed med tre soveværelser og store balconi.Big have med træer, hvor du kan slappe af og børnene kan play.The tre soveværelser har aircondition. Wr kan give paraplyer for stranden og havet legetøj til børn.
Rodzaj pokoju
Całe miejsce
---
Rodzaj nieruchomości
Apartament
---
Mieści
8
---
Sypialnie
Vathi, Grecja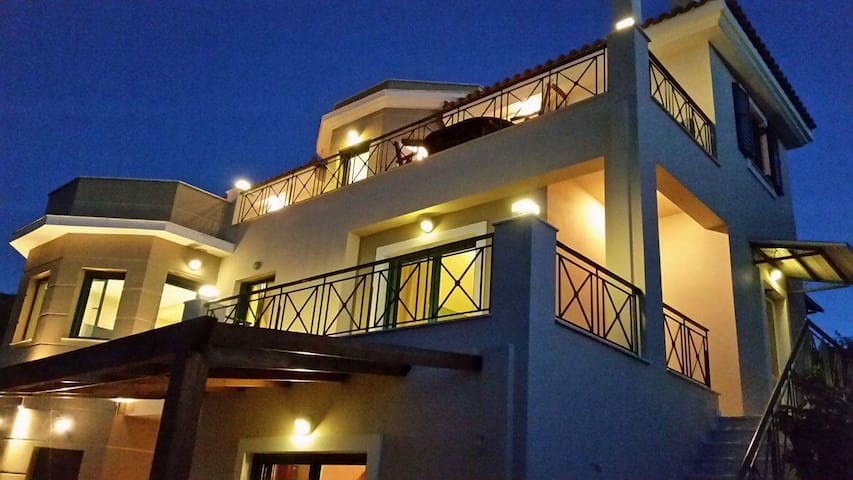 The most important features of this apartment, are the amazing sea view, where you can see the open wide sea, and its quiet location. It is fully airconditioned, has fireplace, fully equipped kitchen and living room. TV/DVD available, hot water 24h/day. Besides those, it is easily accessible, since it is 40min travel with 'flying dolphin' and 1 hour with the ferry. Near the apartment there is a bus stop that goes to the town of Aigina. Within 5 minutes by feet you have access to supermarkets, restaurants, small shops and in 1km is the village Souvala where there are other restaurants and touristic areas. Bedrooms: 1 bedroom with a double bed. 1 bedroom with two single beds. 2 sofa beds. Fully airconditioned. Bathrooms: 1 bathrooms with shower, wc. Kitchen: Fully equipped kitchen (includes fridge, freezer, toaster, coffee maker, kettle, cooker etc) Living Rooms: Kitchen and living roomare together. Dining table with chairs. TV/DVD included, fireplace, 2 single sofa beds. Fully air conditioned. Cleaning/Towels/Linen/Maid service: Towels and linen are included. Change twice per week. Cleaning 2 times per week. Amenities/Facilities: Barbecue, Parking, Garden. Dishwasher, Fridge, Fridge/Freezer, Hob/Stove, Iron, Oven, Washing Machine. Air Conditioning, Central Heating, Internet Access, Room Fans, TV. Location Type: Beach, Near ocean. Outside Large veranda, with sunbeds, outdoor shower, large BBQ.
Wir hatten eine tolle Zeit. Die Unterkunft war schön, besonders der Blick aufs Meer war fantastisch. Die Umgebung ist sehr, sehr ruhig, also das richtige zum Entspannen. Es gibt eine Taverne, einen Supermarkt und eine nette Badestelle mit schattigen Plätzchen. Im Supermarkt erhält man auch Badesachen, Sonnenschirme und was man sonst noch für einen Badeurlaub braucht. In der Unterkunft gab es reichlich Handtücher und Badetücher. :-) Wir haben uns nach ein paar Tagen einen Jeep gemietet, (den braucht man dort auch) um den Rest der Insel zu erkunden und etwas unter Menschen zu kommen, die sind auf der Insel alle sehr nett... Auch die Gastgeber haben sich sehr gut gekümmert. Wir hatten eine tolle Zeit. Und noch ein kleiner Tipp: Achtung vor Seeigeln. Nicht im Dunkeln an felsigen Stellen ins Wasser gehen oder Badeschuhe tragen.
Alexandra
2016-07-15T00:00:00Z
Le mari de Adamantia est venu nous chercher au port de Egine et nous a aidé à louer un véhicule, ce qui était très gentil de sa part. Il nous rapidement montré les environs : restaurant et supermarché à proximité. L'appartement est très agréable, au calme. L'ambiance du quartier est familiale et reposante. On peut facilement se baigner devant l'appartement (avec des chaussures, à cause des oursins). Les deux terrasses de l'appartement sont très agréables. C'est une très bonne adresse.
Valérie
2016-08-15T00:00:00Z
Amazing beach side apartment!!! Literally right on the beach and the apartment is even nicer in reality than the pictures posted! Fully stocked BBQ set up, great working WiFi and a very child friendly environment are just some of the great features. Also great that het apartment get's cleaned mid week as well. Great hosts - very friendly and kind. We were picked up at the ferry to export us all the way to the apartment and even helping with doing the first groceries and finding the Taverna's and shops. Many thanks for everything Lazaros!! We had a wonderful week! Warm regards, Fam. Garcia
JB Garcia
2014-09-14T00:00:00Z
We were met at the port of Aegina by our host who helped us organise a taxi and also accompanied us to the apartment. When we arrived he showed us where we could find everything and even waited for us to get changed so that he could show us how to get to the local supermarket. I hadn't expected this, in the past i've just been given a key and been left to get on with it myself. The apartment is beautiful and well cared for. Everthing works well and the internet connection is very good. Our visit was at the end of April and in the evening it was still a little chilly. The back garden is perfect as you are completely out of the wind and have a fantastic BBQ to cook your evening meal. It is also a great place for the children. We travelled with our 7 year old and 18 month baby. Before we started our journey I had a few questions, these were answered very promtly and correctly by our hosts. I have no hesitation in recommending this apartment. I would recommend that you hire a car. The local supermarket and closest village are walkable (7 mins and 20 mins) but the whole island is definately worth seeing and for that you need a car. A great apartment, great hosts and a great island. Definately worth a visit!!!
Victoria
2016-05-02T00:00:00Z
Das Appartement ist ein idealer Ort um auszuspannen und kleinere Ausflüge zu unternehmen. Für Letzteres ist ein Auto unerlässlich, kann aber problemlos in Aegina Stadt gemietet werden. Dorthin kommt man aber auch (3x am Tag; letzte Verbindung um ca. 15.00 Uhr) mit dem Bus. Bademöglichkeiten (z.T. felsig mit Seeigeln), eine einfache Taverne und ein kleiner Supermarkt sind in 5-Min-Gehdistanz vorhanden; die etwas grössere Ortschaft Souvala ist in ca. 30 Min zu Fuss erreichbar. Die Gastgeber sind sehr hilfsbereit und freundlich: Hilfe beim Transfer vom Hafen zur Unterkunft, Auskünfte zur Umgebung, Reinigung der Unterkunft und Wäschewechsel während des Aufenthaltes waren selbstverständlich. Die von uns belegte Parterre-Wohnung lädt mit der Terrasse, Garten und Grillstelle mit gedecktem Sitzplatz im Hinterhof zum Verweilen ein. Da die obere Wohnung nicht belegt war, konnten wir den Aufenthalt in Ruhe geniessen. Insgesamt können wir die Unterkunft bedenkenlos weiterempfehlen.
Stefanie
2016-07-29T00:00:00Z
La casa di Adamantia è molto confortevole, completamente accessoriata, pulita e sul mare. Proprio quello che desideravo! Ospiti disponibilissimi e gentili. Spero di poter tornare!
alessandra
2016-08-26T00:00:00Z
Rodzaj pokoju
Całe miejsce
---
Rodzaj nieruchomości
Apartament
---
Mieści
4
---
Sypialnie
Egina, Attyka, Grecja
My place is close to restaurants and dining, art and culture, great views, family-friendly activities, and the beach. My place is good for couples, families (with kids), and big groups.
Great stay! Very clean and helpful hosts!
Grace
2016-10-22T00:00:00Z
Uusi ja kauniisti sisustettu asunto, hienot näköalat terassilta, erinomainen sijainti. Artemis oli kiltti ja avulias. Parempaa paikkaa vaikea toivoa lomalle!
Aleksi
2016-09-30T00:00:00Z
Thank you for everything ! we had a wonderful stay in Aegina thanks to our lovely host !!! everything was perfect ! Reccommended!
Michèle
2017-02-23T00:00:00Z
Rodzaj pokoju
Całe miejsce
---
Rodzaj nieruchomości
Apartament
---
Mieści
6
---
Sypialnie
Egina, Grecja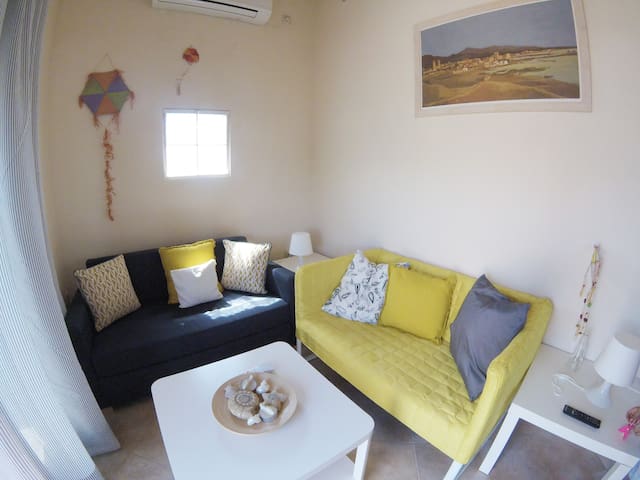 Hotel am Strand, die über die schöne Ägäis blickt. Einfacher Zugang von der Agia Marina-Port. Die Liegenschaft befindet sich zu Füßen in einem abgelegenen Gebiet, mit dem Meer. Der Platz im Freien, und das Ambiente die Stimmung für Paare und Familien gleichermaßen.
Gorgeous location right on the sea. Vanna was really kind and helpful whenever we needed anything. The hobs in the kitchen did not get that hot but overall we had a very nice time!
Mairead
2017-03-22T00:00:00Z
Rodzaj pokoju
Całe miejsce
---
Rodzaj nieruchomości
Apartament
---
Mieści
2
---
Sypialnie
Kavos, Peloponnisos Dytiki Ellada ke Ionio, Grecja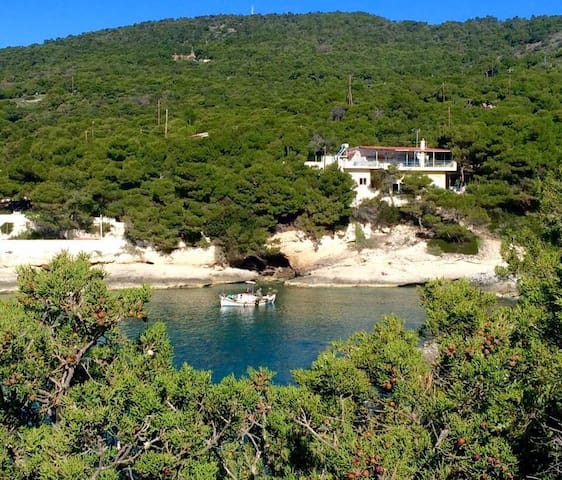 The apartment is located right on the seafront on the first and last floor of a small building of 4 apartments. Large garden and a large balcony with exceptional sea view. Just 700 meters from Aegina. (8 minutes walk)
Από το σπίτι στην πόλη και πίσω είναι ένας ρομαντικός περίπατος επί της παραλίας
Very close to shops super markets cafes bars and restaurants (700 meters) and in mean time, very quiet for relaxing.
Sejour tres agréable chez mr Evangelios. La maison est plongée dans un beau jardin, elle est très silencieuse et garanti une vrai privacy. Il y a une grande terrasse couverte, face à la mer et au merveilleux panorama des ilots qui entourent Aegina, ou il a l'espace pour manger en 4 autour d'une vrai table. Douée de tous les outils pour cuisiner, d'un grand frigo, il y a même le climat été/hiver (pas utilisé vu la saison), la tv et une boite d'Internet wi-fi (à la quelle on est pas arrivés à s'attacher... mot de passe indiqué pas reconnu). Salle de bain à la auteur mais à améliorer. Bien apprécié cadeau de bienvenu s'agissant d'une bouteille de vin de la région... merci!
Luca
2015-10-30T00:00:00Z
It was very nice to stay there very help full and kind person
Farukh
2016-01-22T00:00:00Z
Evangelos was the perfect host! he sent somebody to take me in a scooter from the port, even if the house is walking distance from there. The house is just in front of the sea, very comfortable and was ideal for 4 people. Also Evangelos left ouzo, wine, beers and other things for us. he had coffee, honey and he received us in the best way! I would totally go back the if I go to Aegina again!! Thank you so much!! 100 recomend!
Chinita
2016-06-21T00:00:00Z
Ήταν όλα παρά πολύ καλά. Η τοποθεσια είναι παρά πολύ καλή με πολύ ωραία θέα και πολύ κοντά στην Αιγινα. Θα ξαναπηγαίναμε σίγουρα !!!!!
Olga
2016-09-01T00:00:00Z
Evangelos' appartment is a 7 minute walk into town and across the street from a decent rocky beach. The kitchen was fully stocked with cooking and dining equipment which made meal preperation easy. The balcony is a nice place to enjoy breakfast or dinner with a view of the sunset. The balcony also has a clothes line to dry clothes after using the very nice washing machine. The beds in the bedroom were comfortable. The couch turnes into a simple trundle bed that would be satisfying to a tired traveler. The other neighbors on the property are all quiet and very kind. Over all, this listing is a nice place to stay.
Torrent
2016-06-28T00:00:00Z
Apartment in lovely location - sunrise at the back every morning, sunset over the sea at the fron every evening. Walking distance of Aegina town and beaches.
gay
2016-10-14T00:00:00Z
Was met at the dock and driven to the house. It's a quiet little flat just outside of town - about a ten minute walk to the bars and restaurants. It's cozy and quaint and great for a relaxing getaway. Many an afternoon wiled away on the large verandah looking at the ocean. The wifi was a little temperamental, but worked most of the time.
Nicholas
2016-07-12T00:00:00Z
Evangelos is really a nice and kind person and even if he wasnt there he called us few times to know if everything was ok. we really appreciated this that is why i'm not writing anything negative but just a couple of suggestion for him to present the house better. the location is perfect
Erik
2016-07-18T00:00:00Z
Rodzaj pokoju
Całe miejsce
---
Rodzaj nieruchomości
Apartament
---
Mieści
3
---
Sypialnie
Egina, Grecja
Mesargos - Airbnb
:
Średnia ocena:

4.66

/

5

gwiazdek od

140

gości