Set in the middle of the beautiful county of Yorkshire, the perfect spot for walking, cycling (close to the Tour de Yorkshire route) or visiting coffee shops. Its a large apartment for two people, the local village has some great pubs, coffee shops and a train station 5-10 mins walk away. Dogs are always welcome but be reassured that the place is cleaned to a high standard in between each guest stay.
Rodzaj pokoju
Całe miejsce
---
Rodzaj nieruchomości
Apartament
---
Mieści
2
---
Sypialnie
Burley in Wharfedale, Anglia, Wielka Brytania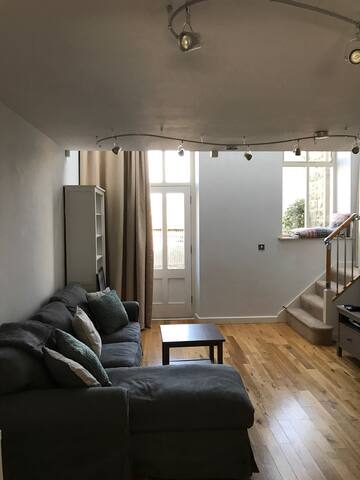 Set in a unique Victorian building, my luxurious, light and comfortable, 2-bedroom/2-bathroom, apartment is located conveniently for Leeds City Centre. It is also a stone's throw from the beautiful Yorkshire moors and the villages of Ilkley & Otley!
Set in a Victorian building, the apartment benefits from extremely high ceilings, large sash windows and thick stone walls, which make it a truly unique property. Enjoy a trip around the world as you will be surrounded by my eclectic collection of souvenirs and artwork. This first floor apartment is large, light and spacious and comfortably sleeps 4 adults in a kingsize and double bed. However, a fifth person could easily fit on the sofa if you provide your own duvet and pillows. There is also room for a travel cot if you have young children.
The apartment is in the perfect location as it is only a 14 minute train ride from Leeds City Centre but it also around the corner from the beautiful Ilkley Moor. The towns of Otley and Ilkley are only a few minutes away and Harrogate and York are also very easily reachable. Leeds Bradford airport is also only 10 minutes away.
Michelle is an excellent hostess and greeted us warmly. The apartment is on the first floor without elevator. The spaces are well organized, very clean and bright. The apartment is in a great location in 15 minutes you can reach the center of Leeds or Bradford and the airport. We hope to return soon. Thank you Michelle
emanuele
2015-07-20T00:00:00Z
Really enjoyed the stay in Yorkshire. Apartment was comfortable, clean and host was very contactable
Carrie
2016-11-21T00:00:00Z
I was staying in menston for 6 weeks while working in Leeds so needed somewhere quiet and comfortable to return to after long days at work. Michelle's flat was absolutely beautiful with everything you could possibly need. Lovely fixtures and fittings, 2 bedrooms and 2 lovely bathrooms, and a lovely living room with high ceilings and lovely view of the area. Michelle was really easy to contact and communicate with during our stay and she met us upon our arrival to show us around etc. She provided great info of the local area which was really helpful, and also left us a nice bottle of wine to drink! Local amenities are great with a good choice of supermarkets etc. Menston station is 10mins walk or a 25 min drive into Leeds. Overall a perfect place to stay if you're heading to this area and hope to have to work again in Leeds just to stay here again. Thanks Michelle!
Matt
2015-12-13T00:00:00Z
Fantastic apartment in a great location - host Michelle made us feel very welcome - on arrival we were greeted with a complimentary welcome pack and a personal hello note from Michelle. The apartment was ideal for my husband, daughter and I - very comfortable with everything we could need. Would definitely stay here again!
Debbie
2016-05-05T00:00:00Z
We had a lovely long weekend at Michelle's apartment in Menston. She made us feel very welcome from the beginning (despite our being a little late) and we had everything we needed. The accommodation was spacious, clean and comfortable and had everything we needed. Menston is a great base for exploring the Yorkshire dales.
Mimi
2015-08-11T00:00:00Z
The flat is lovely and very comfortable with everything you need. It is easy to find especially with Michelle's detailed instructions and in a great location. Michelle always answered emails quickly, was friendly and accommodating. Rachel who let me in was really helpful and friendly. I would definitely recommend the flat and would stay there again myself if working or visiting the area.
Sarah
2015-08-02T00:00:00Z
We had a wonderful few days staying in the apartment - it is just as funky as the photographs suggest. Comfortable and well equipped, with everything you could need! Set in a wonderfully renovated Victorian complex, ideally situated for Leeds, Saltaire, Bolton Abbey, the Dales and more. We had a great time and would stay again and heartily recommend others to stay!
Neil
2016-02-17T00:00:00Z
Had a fantastic stay in Menston, was able to visit my wonderful friend and her family and the opportunity to visit local area - Ilkley, Otley, Harrogate and Bolton Abbey. Michelle's apartment was fabulous.
Philip
2016-07-10T00:00:00Z
Rodzaj pokoju
Całe miejsce
---
Rodzaj nieruchomości
Apartament
---
Mieści
4
---
Sypialnie
Menston, Wielka Brytania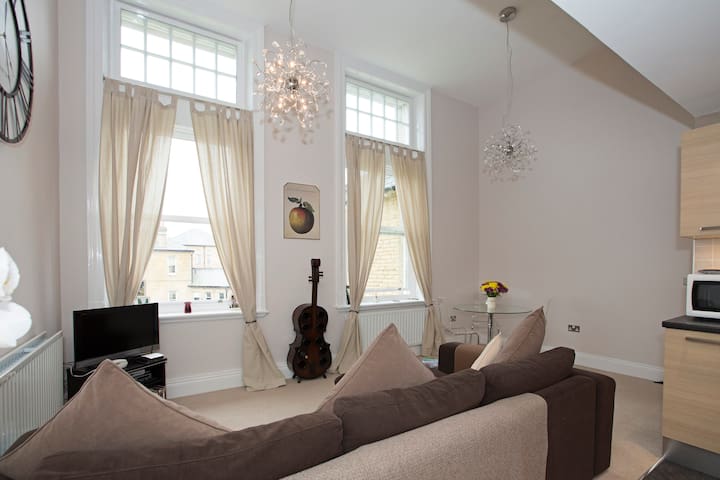 Comfortable room in a shared house, good facilities and a friendly welcome! This is for the spare room in my house, we'll be like housemates! All comers welcome but i can recommend the place to keen cyclists/walkers and general lovers of the outdoors.. Situated in the historic market town of Otley, the gateway to the Yorkshire Dales, great walks and rides are on the doorstep. Muddy boots and bikes welcome, wash facilities available via the side entrance!
We were so happy to stay with Tom! He's a really friendly and kind host. He spent a lot of time helping us work out the best nearby walking routes, and offered us a lot of his food. The bed was super comfy. It's a fantastic bargain and comes highly recommended!
Cate
2016-07-30T00:00:00Z
Another good stay at Toms place. As described and good value for money. Thanks again.
Ben
2017-02-16T00:00:00Z
Clean, comfy house in a relaxed suburban setting. Nice garden, friendly neighbours. Tom was v helpful!
Freckles
2016-09-18T00:00:00Z
Great weekend in otley. House is clean and full amenities. No problems getting in and out and location was grand
Niall
2016-06-13T00:00:00Z
Tom is a very friendly and welcoming host. His home is in a quiet residential area and the guest bedroom faces the back garden so there was absolutely no noise and it was very easy to have a good nights sleep. Tom's home is very clean and tidy. It was a pleasure to stay there.
Miles
2017-02-05T00:00:00Z
Tom did everything he could to make sure we arrived easily and had access to the key if he wasn't in. He was friendly, welcoming and a great host. If more hosts were as welcoming as him air bnb would be super places to stay. We would book him again.
Nellie
2016-08-15T00:00:00Z
Tom is a really friendly and welcoming host. Getting to the house was really easy, and the room is warm and the bed super comfy. Good access to town, with a lovely route for a run down to the river - Tom gave us advice for a short walk with beautiful views. Thanks Tom!
Louisa
2017-01-15T00:00:00Z
Tom is a very hospitable host and made us feel very welcome in his home. It quickly felt like we were staying with an old friend rather than a new acquaintance. The house is lovely - spacious, comfy, very clean and accessible. The location is very convenient for everything that we wanted (hiking and rock climbing) and we thoroughly enjoyed our stay. Tom has a wealth of knowledge about the local area and pointed us in the right direction with regards to pubs and restaurants as well as climbing and hiking areas. Nice one Tom!
David
2016-08-03T00:00:00Z
Rodzaj pokoju
Pokój prywatny
---
Rodzaj nieruchomości
Dom
---
Mieści
2
---
Sypialnie
Otley, Wielka Brytania
My place is close to the airport, parks, public transport, nightlife, and the city centre. You'll love my place because of the views and the location. My place is good for couples and business travellers.
Self contained one bedroom accommodation.
Private countryside setting.
Red Kite Lodge was set just beside the moors of Yorkshire, with the garden opening up to the rolling hills. The hosts were welcoming without being intrusive, leaving little notes throughout the house to make our stay enjoyable. There was a strong WiFi connection, and a functioning smart TV with a working Sky box. All these little things were appreciated during our stay. Paula and her husband also allowed us to make use of their beautiful, large garden which is breathtaking at sunrise. Overall, I could not fault our stay at Red Kite Lodge. Our hosts were genuine and kind people, and we hope to go back soon!
Humza
2016-08-30T00:00:00Z
The host canceled this reservation the day before arrival. This is an automated posting.
Christopher
2016-10-26T00:00:00Z
Rodzaj pokoju
Całe miejsce
---
Rodzaj nieruchomości
Apartament
---
Mieści
2
---
Sypialnie
Menston, Anglia, Wielka Brytania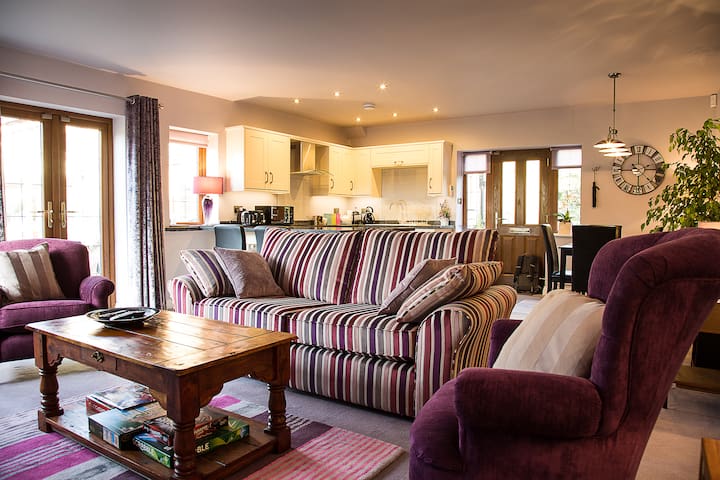 The apartment is nestled amongst 200 acres of park and woodland interwoven with bridleways - perfect for leisurely walks or family adventures. Excellent sports amenities, including tennis courts and football pitches and only 11 minutes to Leeds city centre by train.
The 19th century, grade 2 listed buildings have been converted in to beautiful apartments and houses. The property will very comfortably sleep 2 people, a smaller, single mattress is available underneath the bed, suitable for a child or even another adult.
The Apartment is ideally placed between Leeds and Bradford, both of which offer a fantastic selection of bars, restaurants, shops, theatres and attractions. The apartment is set in attractive landscaped gardens with woodlands and the idyllic rural beauty of Ilkey Moors is just a short drive away. The apartment achieves an enviable balance between a relaxing, secluded location, exclusive village feel and easy access to all the excitement of city life. The Yorkshire villages of Menston, Guiseley, Otley and Ilkley provide excellent local amenities, while good road and rail links ease the commute further afield. Leeds and Bradford airport is just a few minutes drive away.
Great host. Very friendly and helpful. Really nice flat and very clean. The area is incredibly quiet too!
Rebecca
2017-04-13T00:00:00Z
Stayed for another night - nice place, thanks.
Ben
2017-01-20T00:00:00Z
Fantastic host, welcoming, generous and lovely place to stay....cracking shower!
jason
2015-11-01T00:00:00Z
I enjoyed my stay with Alistair. He is a very nice young man. He helped me with directions ahead of time both with texts and a phone call. I found his apartment just as stated on his web page. I would stay again
CHRIS
2016-08-15T00:00:00Z
Stayed for nearby business. Perfect AirBnB stay, communication throughout, no problems whatsoever. Ali couldn't have been more welcoming and helpful.
Chris
2016-10-23T00:00:00Z
Lovely flat and clean. I enjoyed my staying, will be back if I am in the area. Thanks Ali!
Alessandra
2017-03-30T00:00:00Z
We had a very pleasant stay here. It's in beautiful surroundings and a really nice apartment. Ali was very helpful and friendly. A noce stay!
Joe
2016-10-09T00:00:00Z
Thanks for letting us stay. Great house and quiet location.
Jason
2015-11-08T00:00:00Z
Rodzaj pokoju
Pokój prywatny
---
Rodzaj nieruchomości
Apartament
---
Mieści
2
---
Sypialnie
Menston, Anglia, Wielka Brytania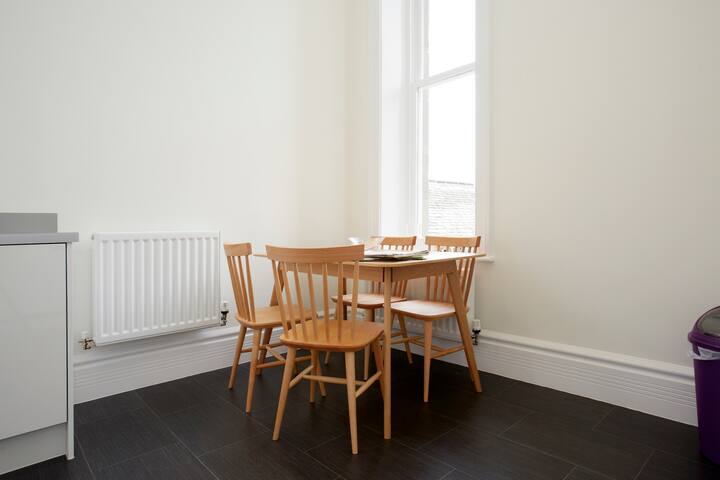 A lovely cosy house with a log burning stove and a comfortable double room with views over the Wharfedale hills and the garden. A pleasant ten minute walk from Otley town centre, it's an excellent base from which to explore the Yorkshire Dales. Muddy boots and dirty wheels are always welcome! Full drying facilities for those wet soggy days....
Our house would be your house, we are regular travellers so know what is expected when away from home. Slippers can even be provided for that extra homely feel. In your room is a double bed, large wardrobe with drawers, bedside cabinets, lamp and desk if you need a quiet place to work. Use the TV / DVD & free Wi-Fi. The bathroom offers a bath and overhead shower that is shared with the owners.
We love the peace and quiet and the views of the Chevin from our garden. We are on the Dales Way, the end of the Six Dales Trail and too many walks to mention from the house.
We started with mugs of tea outside, overlooking the lovely garden and found Rachel and Tony extremely kind hosts. The house is spotless, and it is a lovely house, full of sunshine, with a big garden. Breakfast was a real treat - fresh juice, the best muesli and summer fruits, croissants. A super stay with hosts who really interested in people.
Harriet
2016-08-15T00:00:00Z
We had a nice stay with Tony and Rachel. They made us feel welcome and made sure we had everything we needed. Everey morning we had a breakfast with freash fruits, the room was clean and the house is just a short walk from the scentre. We would love to stay here again.
Tonje
2016-06-28T00:00:00Z
We stayed with Rachel and Tony in November 2015. The room was very comfortable and we felt very welcome in their home. Only Rachel was at home and she was very helpful with local recommendations and very accommodating. We would definitely stay again.
Sara
2015-11-09T00:00:00Z
very welcoming and accommodating hosts, with endless local knowledge, making a real effort to ensure I found everything I was looking for in the area, with the result that my visit was remarkably easy and enjoyable.
martin
2015-05-31T00:00:00Z
Tony and Rachel where great hosts. Their house was emaculate, very nice room with tea/coffee facility's, comfortable bed, towels and nice breakfast laid out every morning. They gave me lots of info about the local area, and picked me up from the station when I arrived which was really helpful.
Helen
2016-08-22T00:00:00Z
Tony and Rachel could not have been more helpful for our visit, even going so far as dropping us off at the wedding we were attending! They welcomed us warmly into their lovely home and breakfast was a wonderful bonus! Thank you
Caroline
2016-08-08T00:00:00Z
Couldn't have been better. We were made to feel comfortable and welcome from the moment we arrived. Such a friendly host, a lovely home, and a comfy bed. We will hope to return again.
Catherine
2015-10-28T00:00:00Z
Tony & Rachel were very welcoming when we arrived, I loved the fact they were so laid back and their "Our house is your house" attitude so refreshing. We were shown to a very clean and tidy room equipped with kettle, fresh milk and biscuits - it is the little touches which are really appreciated the bed was really comfortable. The chocolates on the pillows were a lovely touch. The breakfast of cereal, fresh fruit and croissants was gorgeous. We were made to feel really welcome despite only staying 1 night and disappearing off to visit nearby relatives.
Kirsty
2016-06-13T00:00:00Z
Rodzaj pokoju
Pokój prywatny
---
Rodzaj nieruchomości
Dom
---
Mieści
2
---
Sypialnie
Otley, Wielka Brytania
Come and stay in our first floor apartment situated in the picturesque village of Burley-in-Wharfedale. Superb rail and road links can whisk you away to visit Leeds, Bradford, or the nearby towns of Otley, Harrogate and Ilkley. The accommodation offers two bedrooms - one double, and one twin. You'll feel right at home with our fully equipped kitchen and bathroom, while the spacious lounge is perfect for a relaxing evening. For sunny days, there's even a balcony with outdoor seating.
Originally the Old Village School House this building is steeped in history and provides delightful accommodation. A converted first floor apartment approached via a stairway boasts a wonderful mezzanine balcony overlooking a private walled garden opposite the village green. The accommodation offers two bedrooms: 1 double and 1 twin. The bathroom features a shower over bath and WC. Lounge: with TV/DVD and sofa bed. Kitchen/diner: with electric oven and gas hob, microwave, fridge/freezer, washing machine and dishwasher. Outside: balcony with seating, accessed via the lounge. Amenities: roadside parking. Bed linen, towels, central heating and Wi-Fi included.
There are superb road and rail links that can whisk you away to visit Leeds and Bradford, whilst nearby Otley offers a good range of pubs, restaurants and markets. The popular town of Ilkley is a short drive away while Skipton is a great day out for a visit to Skipton Castle or you can hire a boat on the canal. Take a trip to the spa town of Harrogate where you'll find the original Betty's tea rooms or spend a day at Harewood House with 100 acres of exquisite gardens, art collections and special events. The whole area abounds with lovely golf courses, including Otley, Ilkley and Alwoodley to name but a few.
Beautiful, cosy & immaculately clean property in a lovely village close to Ilkley and local shops. Avril & John couldn't have been more helpful and considerate and we would definitely stay again.
Jonathan
2017-04-03T00:00:00Z
Beautiful place to stay and Avril & John are excellent hosts. The balcony gets the morning sunshine so is fabulous for breakfast coffee. The apartment has everything you need for a great stay and Avril had thoughtfully left a few things for breakfast. Very pleased with our stay and would definitely stay again!
Paul
2017-04-10T00:00:00Z
Great location for travelling in every direction. Good space to relax in, has absolutely everything you need if you wish to stay in. John and April are lovely people and very helpful in all matters. Highly recommend.
Neil
2017-03-19T00:00:00Z
Stunning period accommodation in an excellent location. Absolutely spotless and very cosy. Plenty of room and everything you'd expect in your own flat (including decent WiFi). Our host Avril was delightful and helpful. Can't recommend enough for exploring West Yorkshire!
Drew
2017-04-12T00:00:00Z
Rodzaj pokoju
Całe miejsce
---
Rodzaj nieruchomości
Apartament
---
Mieści
4
---
Sypialnie
Burley in Wharfedale, Anglia, Wielka Brytania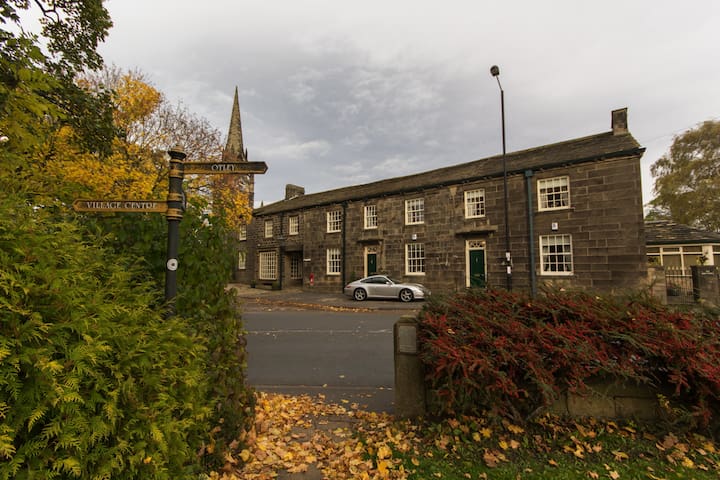 Ideal for short/long/overnight stays. Suburban area, within 12 minute train journey to Leeds City Centre; close to M1 and M62 commutes. Car parking. Huge range of restaurants to suit all diets & tastes 2 min. walk; leisure centre; live music venues within half mile; more activities less than an hour away. Peaceful neighbourhood, own quiet room provides relaxing space to recharge. Wi-fi. Brilliant base to explore Yorkshire Dales/coast for a day trips. Leeds International Airport 10min.
Room only. You have your own shower, bed, desk and hanging wardrobe space with drawers; hair dryer; GCH with individual radiator controls to suit you and WC., iron available. Meals may be provided by prior agreement at additional charge.
You don't need to go into Leeds City for entertainment - Guiseley provides many activities and entertainment at much cheaper prices!
I don't think I could have met a more welcoming and friendly family. Both Jim and Karam were excellent hosts, and made my first visit to Leeds memorable. They went out of their way to cater for my needs and couldn't do enough to help. I would most definitely recommend them to anyone looking for a place to stay in the future.
Carl
2016-11-30T00:00:00Z
Jim and Karam are a lovely couple, very considerate and helpful. They are new to Airbnb so need a little guidance on what the needs are of the guests but they are very warm and courteous. We enjoyed our time there and would recommend them.
David
2016-08-27T00:00:00Z
Karam and Jim were very gracious hosts. They received my booking at short notice and provided everything I needed and more. I hope to visit them again in the future.
Elizabeth (Libby)
2016-09-18T00:00:00Z
Karem and him were very welcoming, friendly and respectful. It was a pleasure to Sta in their home and felt very comfortable there
Harry
2016-09-01T00:00:00Z
Karem and her husband are friendly well educated hosts and made every attempt to make us welcome. we would gladly stay there again.
Alexander
2016-10-01T00:00:00Z
Very comfortable room , a great night's sleep, house is very homely in a nice surrounding environment, close to beautiful and scenic countryside and excellent transport links. Very helpful, considerate and friendly hosts who will go out of their way to help.
Daniel
2016-07-28T00:00:00Z
Rodzaj pokoju
Pokój prywatny
---
Rodzaj nieruchomości
Dom
---
Mieści
2
---
Sypialnie
Guiseley, Wielka Brytania
Quaint pub on the top of Burley Woodhead, self contained flat above, ideal for walkers exploring the Dales
You will never get another place like us, The Hermit is a quirky building over 400years old in parts. Deceptively spacious living area above, great for family's, walkers cyclists.
The area is in a beautiful area of the country, great for exploring the Dales, close to Ilkley, Skipton, Keighley & Otley. Only a short train journey from Leeds if you find the need for retail therapy.
Such a beautiful spot and a charming little inn. Gill and her staff are exceptionally friendly and welcoming. Easy access to Yorkshire Dales and the Lake District.
Luke
2016-08-12T00:00:00Z
The accommodation was perfect! Louisa and I did very well was received
Nicolas
2016-06-18T00:00:00Z
Great place to stay with helpful staff and everything you need including sky tv
Michelle
2016-08-05T00:00:00Z
Really fun stay for our family of 4. The flat is very spacious. It was convenient to just walk right down the stairs for dinner or a beer at the pub. Staff is all incredibly friendly. Would definitely recommend to anyone looking for a fun, relaxed place to stay.
Marc
2016-08-22T00:00:00Z
Mi familia y yo hemos estado casi tres semanas en The Hermit. La ubicación del lugar es genial para pasear por los páramos y muy cerca dela ciudad de Ilkley. La bienvenida de Gill y Richard fue muy cálida y la ayuda y amabilidad de todos los empleados del pub con nosotros es de destacar. ¡ Gracias por hacernos tan agradables nuestras vacaciones en Yorkshire!
ESTHER
2016-07-30T00:00:00Z
We had a lovely time at the Hermit and Gill and her husband, and the staff, could not have been more welcoming or helpful. It's a fantastic location for exploring Yorkshire if you want to be in the countryside and only a short drive to surrounding villages. We had a wonderful hike over the moors to Leeds and enjoyed the real ales and the hospitality in the Hermit! Thank you Gill, it was great to meet you and stay there.
Lois
2016-08-18T00:00:00Z
Gill was very welcoming and helpful. The flat was clean, spacious, well-equipped, and much quieter, even on Friday and Saturday nights, than I expected.
John
2016-06-27T00:00:00Z
This is our second stay here as it is so greatly set up for us to visit with our (many) children. Friendly staff, pretty location and its good to be able to have tesco shop delivered in advance of our arrival. Thanks, we will be back (if you will have us!)
Sarah
2016-08-28T00:00:00Z
Rodzaj pokoju
Całe miejsce
---
Rodzaj nieruchomości
Apartament
---
Mieści
5
---
Sypialnie
Ilkley, West Yorkshire, Wielka Brytania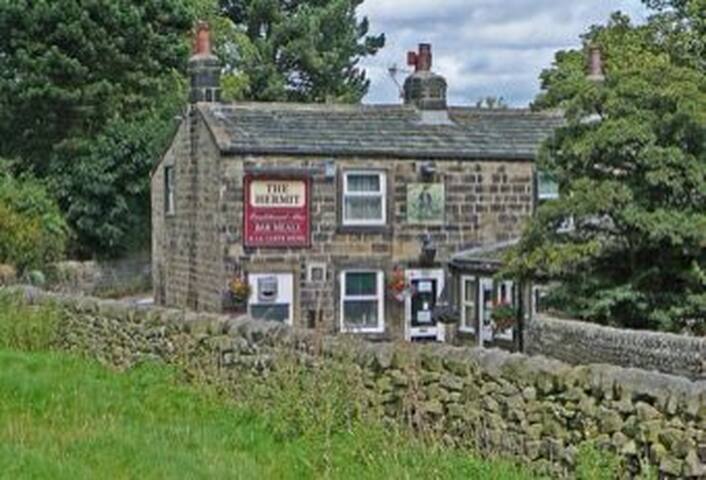 Bex and Rob were really quick to respond to any correspondence and gave helpful advice. The cottage is beautifully decorated and very homely. There is everything you need....a cosy home from home.. The village has a great selection of pubs, restaurants and takeaways so no need to cook....or it's a short walk to the station with frequent trains to Leeds, Ilkley etc. We had a very enjoyable, relaxing stay and would return at the drop of a hat! Thank you Bex and Rob x
Claire
2016-11-05T00:00:00Z
My family felt at home while we were on holiday. The property was perfectly clean with lots of space and accommodations. Menston is a beautiful and quiet village and this provided us the feeling of experiencing our own cottage in Yorkshire.
Ron
2016-12-31T00:00:00Z
We 3 couples had a delightful stay in Rob and Bex's cosy cottage, enjoying the log fire, comfortable furniture and the goodies left for us in the fridge, including a bottle of wine! It was easy to find when we arrived in the dark with enough parking space on the drive, we kept warm despite the snow, phone reception and wifi were very good. We walked on Ilkley moor and enjoyed a meal at The Fox, recommended by our hosts, it was a great place to stay to spend time together.
John
2017-02-12T00:00:00Z
Go stay at Croft Cottage, it is beautiful and Bex and Rob are the best! It was a perfect location, clean, plenty of space, and as cozy as could be.
Donna
2017-01-23T00:00:00Z
Rodzaj pokoju
Całe miejsce
---
Rodzaj nieruchomości
Dom
---
Mieści
6
---
Sypialnie
Menston, Ilkley, West Yorkshire, Wielka Brytania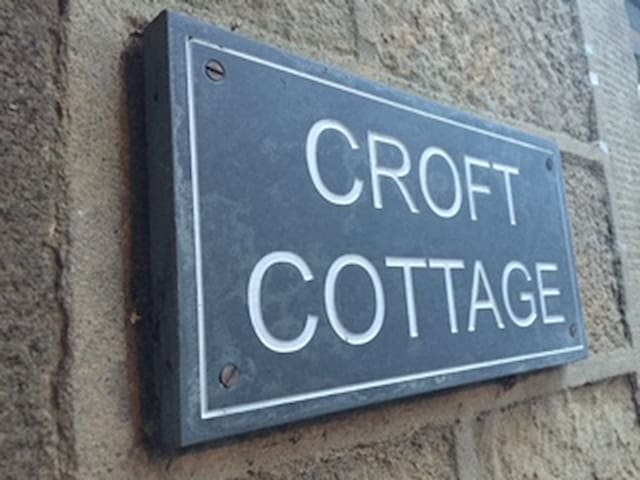 Redlands Cottage is ideal for visitors to Otley and the surrounding area.
Redlands Cottage has a dining kitchen, large living room with a wood burner, three bedrooms and 1.5 bathrooms. There is a private patio that is light and bright.
Otley is a small historic market town dating back before 1066. It is located in mid Wharfedale with easy access to the Yorkshire Dales and to the urban centres of West Yorkshire. Otley has three supermarkets (Waitrose, Sainsbury's and Asda) many independent shops, cafes, restaurants and a market three times a week (Tuesday, Friday and Saturday). There is a farmers' market on the last Sunday of the month. Cottage Stores, a convenience store, is on Newall Carr Road (about 200 metres away) and open until 22.00. Sainsbury's and Waitrose are open until 20.00. Asda remains open until 23.00.
Had a wonderful stay, lovely area, lovely host and the house was beautiful! Will definitely be returning!
Lindsey
2017-04-10T00:00:00Z
Rodzaj pokoju
Całe miejsce
---
Rodzaj nieruchomości
Dom
---
Mieści
5
---
Sypialnie
Otley, Anglia, Wielka Brytania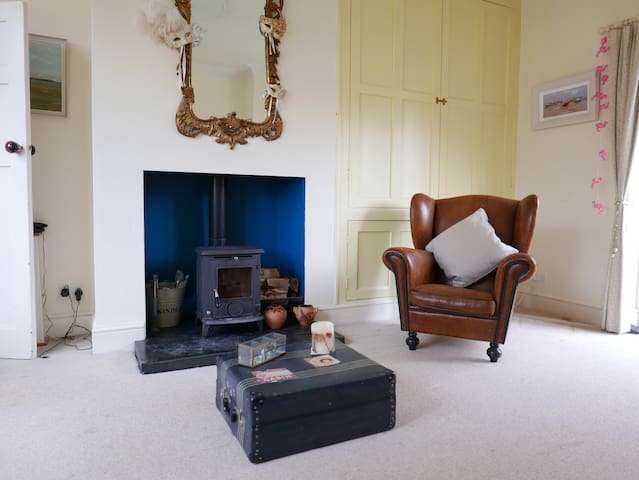 Chevin View has a fantastic glass wall looking over fields in Otley and Pool towards Almscliffe Cragg and Guy Fawkes ancestral home. All on one level, there is 1 (King Size bed) bedroom and a sofa bed in the front room. Small holding expect animals!
Chevin View is a small 1 bedroom modern self catering apartment with views over the small market town of Otley, Guy Fawkes ancestral home, Armscliffe Crag and the fields of Pool-in-Wharfedale and Otley. The apartment was built in 2014 and as such is fresh, modern, luxurious and comfortable. There is one bedroom and a sofa bed is available in the front room. Chevin View isn't the largest apartment by any means but the large glass wall in the living area won't make you feel enclosed. The accommodation is all on one level. The property has a good sized Kitchen with a Bosch fan assisted oven, NEFF fridge with freezer space, induction hob, dishwasher, toaster and kettle. There is a table with 4 bar stools positioned to take advantage of the fantastic views. One or Two well behaved dogs are very welcome at the property and a crate can be borrowed should you feel the need. Dog walkers will love the Chevin with its many streams, beautiful flora and fauna Otley's very own paradise on your doorstop. The owners keep chickens and a cockerel which can be seen from the property and as such fresh eggs are available, in brown, green, blue and white! The owners have a dog, horses and the owners run a holiday animal boarding business so feel free to ask if you need accommodation for small animals.
Otley is a market town having a friendly vibe and many events organised throughout the year. The apartment is an ideal base for walkers, cyclists (Mountain and Road) and people just wanting a change of scenery. Visit Otley is a brilliant website to find out what is happening throughout the year.
We had a great stay at Chevin View. The modern apartment was very clean and well presented. The well equipped kitchen was appreciated, as was the internet connected TV! Perfect base for anyone visiting the area and needing self-catering accommadation. Bev was a really friendly and helpfull host. Would highly recommend this apartment and the view just amazing.
Michelle
2016-09-11T00:00:00Z
Bev made us feel very welcome. She sent an email before our visit explaining everything and with details on how to find them. She was very accommodating as we arrived late and I was able to contact her on the way up to let her know how far away we were. The apartment was lovely. It had everything we needed in it and Bev had put together a pack once again explaining how to use everything and with some handy local guides and takeaway menus inside. The view was beautiful and it was close to shops and lovely country walks. I would definitely recommend this place and recommend Bev as a host. I hope to stay here again in the future.
Ciara
2016-11-13T00:00:00Z
As pleasant an Airbnb stay as anyone could hope for. The apartment was exemplary with an unbeatable view. The apartment annex gives you full freedom to explore the Yorkshire dales. With the added bonus of a wonderful park on your doorstep. Myself, my girlfriend and my dog (whom enjoyed it especially) would recommend this location to anyone. Cheers, Andy, Marie and Ness
Andy
2016-10-06T00:00:00Z
Absolutely beautiful place . We enjoyed every minute we were there. Bev is a delightful host and has a excellent knowledge of the area. We didn't need anything extra as it was a in the apartment. Ideal location for Otley And the Yorkshire dales ... Book early as this place will be fully booked for months to come . We will defiantly be back.
Sally
2016-07-18T00:00:00Z
This is a really wonderful place to stay, with fantastic views over wharfedale. Bev couldn't be more welcoming and the apartment itself is beautifully kept and well-equipped. We will definitely be back!
Sally
2016-09-20T00:00:00Z
Fantastic apartment with great views.
Catherine
2016-08-14T00:00:00Z
We would like to thank Bev and Family for a wonderful stay. We enjoyed the convenience of being so close to the Airport when we arrived. We loved the local town of Otley with its 3 supermarkets and more chip shops and pubs that you could shake a sick at! Also the ease of getting into the big city of Leeds about 30 mins away. We would advise that you will need a car to access this property as it is at the top of a very steep hill. This is rewarded with a fantastic view that this property shows. The accommodation suited our needs perfectly with easy parking,well equipped kitchen,comfortable bedroom and brilliant (URL HIDDEN) also loved the resident chickens and horses that kept us company! If you looking for a genuine Yorkshire rural short/long time stay then this is the place to come!
Niall
2016-07-24T00:00:00Z
Bev's description of the holiday let was very accurate,the view from the glass window is amazing,the bedding & towels were fluffy & comfy.The house was homely & modern.Bev & family were friendly & gave good tips on places to visit & eat.It was nice to see the hen's & horses, & the rabbite in the field were nice to watch too.
claire
2016-08-20T00:00:00Z
Rodzaj pokoju
Całe miejsce
---
Rodzaj nieruchomości
Apartament
---
Mieści
4
---
Sypialnie
Otley, Wielka Brytania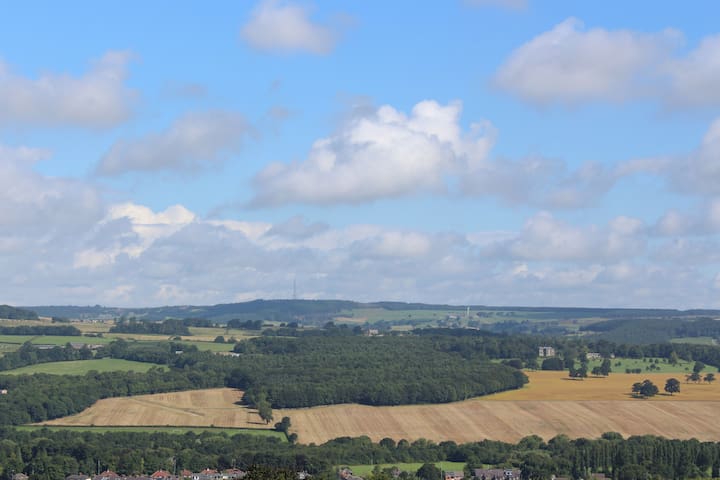 Basic Single Bedroom on top floor of stone end terraced propertyin market town of Otley. Very close to Otley town centre and Leeds and Bradford Airport. Free Wi Fi and shared use of kitchen and bathroom. Bathroom has bath with overhead shower.
Hi - I have two basic single bedrooms available on the top floor for anyone wishing to stay. I provide free wifi. Bathroom has a bath with overhead shower.
Lovely place to live and has very close access to Leeds and Bradford Airport so ideal for people who are travelling or who like walking and the countryside. Lovely places to visit include Leeds, Harrogate, Skipton, Harewood House, Bolton Abbey.
A fantastic family in a fantastic home in a fantastic location. Kath and family were very welcoming and made time to entertain you if required or simply left you to get on with things also. The house is very close to the centre of Otley with the bus station only 4-5 minutes walk. There are also lots of shops locally and even an Asda store about 1 minute from the house. For pub lovers there are too many to choose from, all serving real ales and many of them food. Don't misunderstand me, the town is very quiet but has a wonderful sense of community. You will always find live music in the pubs which seem to be central to the life of the village. I would highly recommend booking a stay with Kath and family. She is such a warm and genuine person with an equally lovely family.
Stuart
2015-10-04T00:00:00Z
For the price the room Is just what I needed. I was out all day and I didn't need a lot. It's a single room but was only me so was totally fine Kath and her daughter Alex are very friendly and welcoming and I would recommend her home. The road was very busy so could be limited space to park but all in all a nice stay Thank you Kath
kayleigh
2017-04-11T00:00:00Z
Another comfortable stay at Kath's place. It's close to the town centre, and handy for the airport, and you can be sure of a warm and friendly welcome. I thoroughly recommend Kath and her place to you.
Sara
2017-03-30T00:00:00Z
Kath and her daughters did everything they could to make my stay in Otley memorable. They were kind, generous and showed me their favorite spots to explore. Kath told me about the sunday bus into the Dales, and that walk in the Dales just encoured me to walk in the Dales.
Svend-Erik
2016-04-16T00:00:00Z
Kath met me with a warm and friendly welcome to her family home. The stay was comfortable and everything was as advertised on the site. I had an enjoyable evening with Kath and her family, and I look forward to my next visit. Otley seems to be a lovely town and well placed for all sorts of other attractions.
Sara
2016-08-18T00:00:00Z
Had a short stay with Kath- I was out most of the time but the room was as described. Kath was very welcoming & the house was very close to shops and pubs. Parking on the street- always managed to find a space.
Catherine
2016-02-26T00:00:00Z
Another warm and friendly stay in Kath's place. Feels like a home away from home now! Would thoroughly recommend.
Sara
2016-11-04T00:00:00Z
I enjoyed my stay with Kath. She is a very nice person. We had a walk around Otley with Kath showing me the highlights of the town. I would stay again.
CHRIS
2016-08-13T00:00:00Z
Rodzaj pokoju
Pokój prywatny
---
Rodzaj nieruchomości
Dom
---
Mieści
1
---
Sypialnie
Otley, Wielka Brytania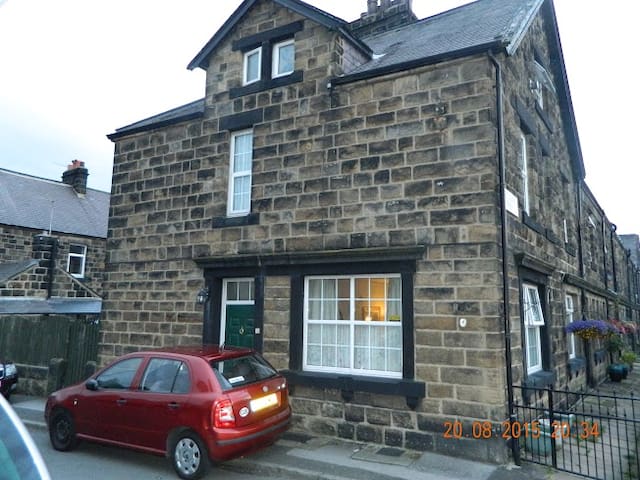 In a Victorian building, my 3 bed, 1 bathroom apartment is very light, and comfortable, and convenient for Leeds City Centre. Plenty of shared outside space, and only 10 minutes drive to Ilkley, and the gateway to the Yorkshire Dales, and convenient for trips to Otley, Harrogate and Ripon. Set in a large Victorian building with 2 main bedrooms, and a small room off the main bedroom. Sleeps 6 people, 4 adults and 2 children would be the maximum.
Set in a Victorian building, the ground floor apartment has high ceilings, large original windows and thick stone walls. This makes it extremely spacious and light. This first apartment comfortably sleeps 4 adults in a king size and double bed. It also has full use of bunk-beds which sleep a further 2 children. There is also plenty of room for a travel cot if necessary. Outside is acres of shared lawned areas, safe for children to play.
Beautiful part of Yorkshire. 10 minute walk to the train station with access to trains to Leeds (15 minutes), Bradford (15 minutes), Ilkley (10 minutes), Saltaire (15 minutes), as well as being 10 minutes drive from Ilkley, and close enough to the Yorkshire Dales for day trips. I can advise on good restaurants, bars, shops during your stay.
The host canceled this reservation 3 days before arrival. This is an automated posting.
Nikki
2016-09-06T00:00:00Z
Very cozy apartment for our family's holiday in yorkshire. Even though we didnt see Nick in person, instructions were clear and questions were answered promptly. It was a lovely stay, both the host and the apartment
Afif
2016-08-29T00:00:00Z
Rodzaj pokoju
Całe miejsce
---
Rodzaj nieruchomości
Apartament
---
Mieści
6
---
Sypialnie
Menston, Anglia, Wielka Brytania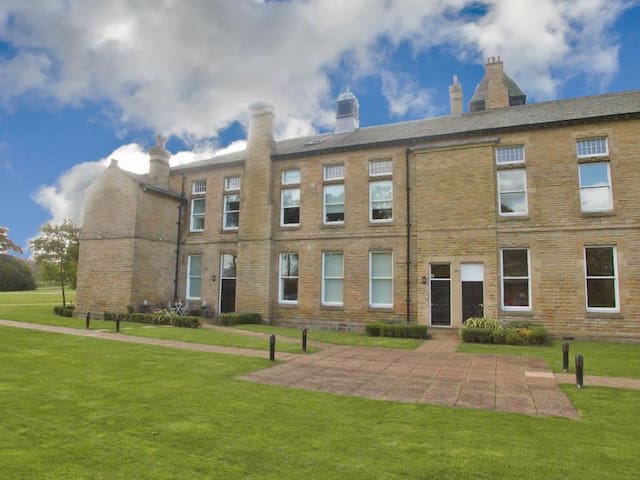 Tranquility is guaranteed! This stunning large double room overlooks the River Wharfe and the Wharfemeadows Park. Replace traffic noise with the sound of the water tumbling over the weir. Our home will host you in a large double bedroom with this gorgeous view. Use of bathroom with bath and shower overhead on the same floor. Continental Breakfast Provided. This is cycling country - read Tour De Yorkshire and we can host your bikes with security. On the edge of the Yorkshire Dales - perfect.
We live on the banks of the River Wharfe in a stunning location. Otley is halfway between Edinburgh and London 200 miles each way and was the staging post between the North and South. That's why we host some 20 something pubs in a small town of 15,000 people some still with stables. Otley is one of the first Market towns in the UK and we still host our town market three times a week and with a farmer's market the last Sunday of each month. Its a short trip into Leeds with the bustling city and shops. However the beauty is the surrounding countryside and walking spectacular views. Well worth a visit for a long weekend or a night or two.
Otley and our row of houses are renowned for being a place to stay in Otley - very friendly and quiet. Fabulous new restaurants opened up in town in the last few years showing a growing diverse community interest in eating and feasting. Tips can be provided.
Rodzaj pokoju
Pokój prywatny
---
Rodzaj nieruchomości
Wikt i opierunek
---
Mieści
2
---
Sypialnie
Otley, Wielka Brytania
Housing decoration low-key introverted, law-abiding, solid wood flooring, electrical appliances, kitchen, freezer, washing machine and other unified standard hotel linen, Goods are available in all varieties.; disposable cleaning products.
Rodzaj pokoju
Pokój prywatny
---
Rodzaj nieruchomości
Dom
---
Mieści
2
---
Sypialnie
利兹, 英格兰, Wielka Brytania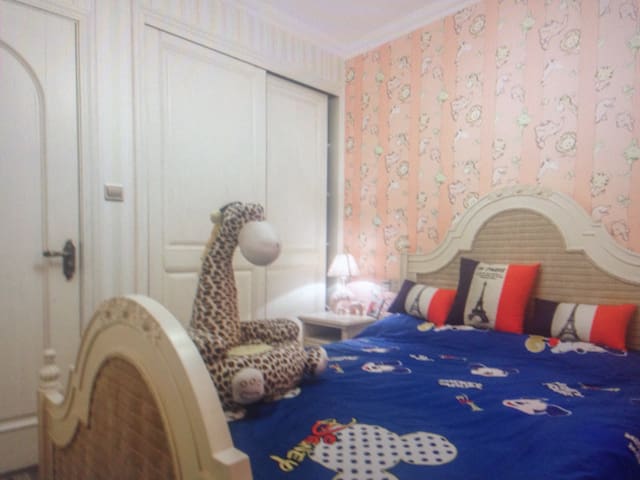 Two double rooms available in family home. We are a short walk from Otley town centre with its fantastic coffee shops, pubs and restaurants. It's a great base from which to explore, or a convenient overnight before a flight. There is no extra charge for children and travel cots/ toddler beds are available. Cyclists are welcome to store bikes inside the house. Lifts to an from the airport can be arranged.
It's a high ceilinged, spacious Victorian house with a garden.
Lovely, safe area, surrounded by beautiful countryside.
Really warm and welcoming, and accommodating with arrival time. Happily recommended
Mel
2017-03-05T00:00:00Z
Made to feel very welcome. Perfect location for what we needed.
Ellie
2017-02-19T00:00:00Z
I booked this airbnb for two people, and even if I wasn't there both of them came back to me saying that they had a wonderful stay. Also, Victoria was really helpful with this uncommon booking. The k you a lot !
Laury
2017-04-05T00:00:00Z
Clean, comfortable and spacious. The rooms were absolutely ideal for our needs. We had a fantastic stay thanks to an accommodating and helpful host.
Vipesh
2017-03-12T00:00:00Z
Comfortable clean room very much part of a family house with cats, dogs, children etc. Victoria ws very accomodating and relaxed about check in times and responsive to requests.
IntegraMassage
2017-03-02T00:00:00Z
Rodzaj pokoju
Pokój prywatny
---
Rodzaj nieruchomości
Dom
---
Mieści
4
---
Sypialnie
Otley, Anglia, Wielka Brytania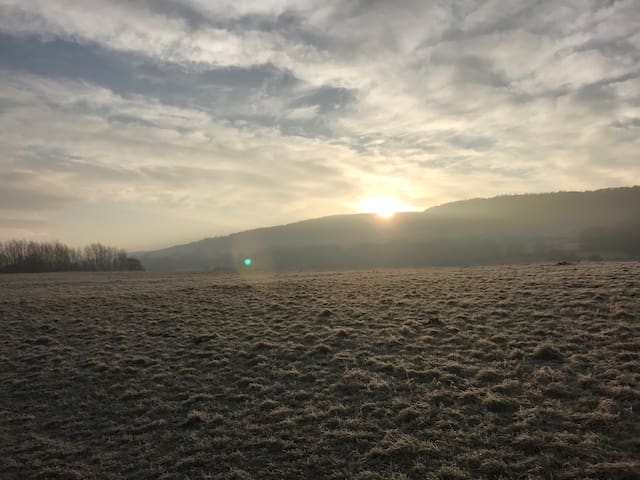 Clean, Tidy & Comfortable. NYC themed double bedroom, Newly decorated with new Silent Night double bed and new carpets throughout. Chest of drawers and bedside tables. The property is close to Shops, Supermarkets, Train Stations, Airport, Bus Routes to Leeds, Guiseley, Yeadon, Ilkley, Otley & Bradford). The Yorkshire Dales are only a 40 minute drive away too.
Newly decorated 2 bedroom flat. Large bathroom with toilet, sink and power shower. Good sized kitchen with hob, oven, grill, sink, microwave, kettle, toaster, food preparation space and washing machine. Tumble dryer available also. Large living room area with dining table for 6. 3 seater sofa and arm chair for comfort. Access to tv with virgin media, dvd player, amazon fire stick, xbox and sonos music system. Spare double bedroom NYC themed with chest of drawers and bedside tables.
It is a safe and quiet neighbourhood. People are friendly & helpful. We are lucky to have so many varied shops within walking distance. Morrisons supermarket x 2, Sainsburys Local x 2, Westside retail park (10min walk): T.K.Maxx, Next, McDonalds, Asda George, Argos, Poundland, Sport Direct, Currys. Esholts Woods (Ex Emmerdale 'Woolpack Pub'. The Tarn, Gyms, Yeadon and Guiseley shopping. (7-8 miles to - Huge New Broadway Shopping Plaza in Bradford, Trinity Shopping in Leeds. (10 miles to -White Rose Shopping Centre. Local pubs, restaurants and bars in both Yeadon and Guiseley.
Steph's place was wonderful! We decided to spend an extra night because we enjoyed it so much. Close to the airport, clean, comfortable. We would stay with Steph again if we ever came back to the UK. She was very kind and helpful, we would recommend her!
Paige
2017-02-04T00:00:00Z
My friend and I thoroughly enjoyed staying with Steph. Her flat was modern, clean, comfortable, and had everything we needed. It was close to the Leeds Bradford airport, approx 5-10 minutes, which made it very easy for us to catch our early am flight. We liked staying with Steph so much we decided to book another night with her upon our return from Dublin.
Paige
2017-02-02T00:00:00Z
Great host! Spotless room and house too - recommend!
Jack
2017-03-21T00:00:00Z
Great, hassle-free stay. Helpful, friendly host.
Robyn
2017-03-23T00:00:00Z
Steph welcomed us into her home and we had a thoroughly comfortable stay. Her home is newly decorated, very tidy and has all the amenities anyone would need (use of the living room with TV/bathroom/towels/kitchen). Steph was helpful with local information. Her home is quiet and we slept really well. We stayed as a family of four - accommodated by airbeds and one of us slept in the living room - which some people might not like - but it was really just like staying with a friend. The room is perfect for a couple.
Molly
2017-02-15T00:00:00Z
Rodzaj pokoju
Pokój prywatny
---
Rodzaj nieruchomości
Apartament
---
Mieści
4
---
Sypialnie
Guiseley, Anglia, Wielka Brytania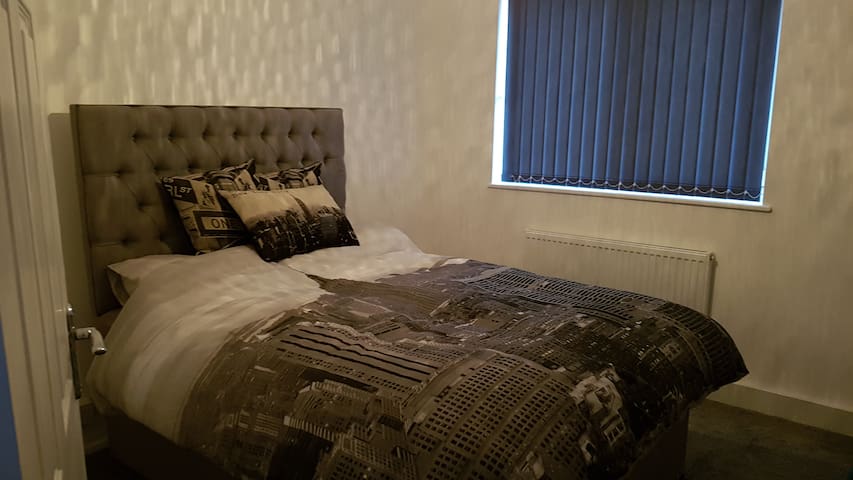 Wpisz daty, by zobaczyć pełną cenę. Obowiązują dodatkowe opłaty. Cena może uwzględniać podatek.