Ranch Style Home on 160 acres, 3 BR, 1 bath, full unfinished basement, home needs work, several outbuildings, pens and corral. Land is all in grass for pasture and hay, some has been farmed in past, fully fenced.
Rodzaj pokoju
Całe miejsce
---
Rodzaj nieruchomości
Dom
---
Mieści
2
---
Sypialnie
Pomona, Kansas, Stany Zjednoczone
Lovely home with relaxing decor, located near the small town of Vassar KS and within steps of Lake Pamona. State Park is within 2 miles and offers many recreational opportunities. 3 bedroom home has open floor plan and large screened in back porch.
This home is two story with open staircase leading to two bedrooms and bath on the upper level. The master bedroom and bath are on the main level has a new upgrade queen mattress and feather pillows. Bedroom 2 is also queen with upgrade mattress. It is decorated in fun bling colors. Bedroom 3 has a futon as a bed option with a comfortable double size mattress. It is decorated in an American style. All are roomy and comfortable. The living area is an open floor plan with large living room, dining room that seats six and kitchen bar seating for three. Kitchen is fully equipped and stocked with staples for your convenience. A large screened back porch provides a inviting place for morning coffee or relaxing with evening beverage. Wild turkeys frequently cross the back yard. The area is teaming with wildlife and is exceptional for bird watching. The State Park entrance is 2 miles from the home and offers many hiking trails, picnic areas, swimming beaches, paved streets for bicycling, great fishing and more. We enjoy kayaking on the beautiful, quiet lake. My husband loves to fish the many areas and we are often out at sunrise. I take my camera and capture the unbelievable beauty of the early morning. Sunsets are equally impressive. This is our home for about a third of the year and is furnished with personal belongings that are important to us. We open our home to those that will respect and care for it as we do.
The neighborhood is a relaxed atmosphere. Most residence are full time, year round home owners. Some have home as week end or vacation homes.
This was our first time to book on Airbnb ! Our host responded within hours .. The home was a perfect place for weekend in from Texas visting our 3 daughters that attend Ottawa University .. The home was very spacious in a charming neighbor hood that was near by the lake .. It was very clean and had everything we needed .. We hope to rent again .. Thank you Jimmy
Glenda
2016-09-11T00:00:00Z
Rodzaj pokoju
Całe miejsce
---
Rodzaj nieruchomości
Dom
---
Mieści
6
---
Sypialnie
Vassar, Kansas, Stany Zjednoczone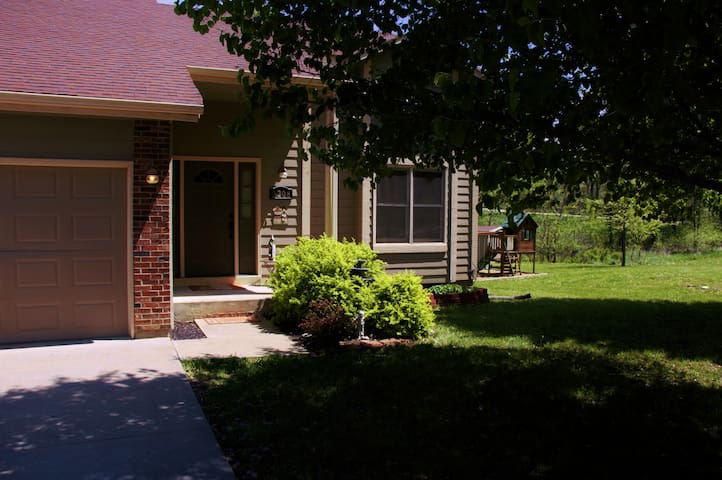 The space for rent includes a large family room, dining area, entertainment area, kitchenette, bathroom, and 3 bedrooms. This space has a separate entrance and private deck. Can be rented per person/group. The home is 3 miles outside of Emporia.
Our family lives in the basement below the space for rent. We can provide a Traeger grill if guest are interested. We are close to gravel and have a huge yard and lots of space for all types of outdoor entertainment.
This accommodation just outside Emporia was perfect for our (URL HIDDEN) the end there were 5 of us...all happily accepted and treated like royalty by Erica and Eric and family.The kitchen area was a wee bit small for our needs but in the larger picture wasn't at all an issue and it would be nitpicking to complain at all.Many thanks to them as fine people and Airbnb hosts.Cold beer , bottles of wine were all waiting for us when we arrived and we all super enjoyed the whole experience in a very pleasant, quiet rural...3 miles from town...setting. Recommended without hesitation!!!!
Peter
2016-08-15T00:00:00Z
Great place to stay in a quiet area. Only a few miles from town.
Cody
2016-06-06T00:00:00Z
The location of the unit is convenient and just a few minutes from the college. Very nice and responsive hosts. The unit itself is clean and comfortable and was a great place to enjoy time with friends and family. There is a wet bar and a pool table as well as a deck on the front and back. I would definitely stay here again and recommend it to others.
Parrish
2016-06-13T00:00:00Z
Rodzaj pokoju
Całe miejsce
---
Rodzaj nieruchomości
Dom
---
Mieści
6
---
Sypialnie
Emporia, Kansas, Stany Zjednoczone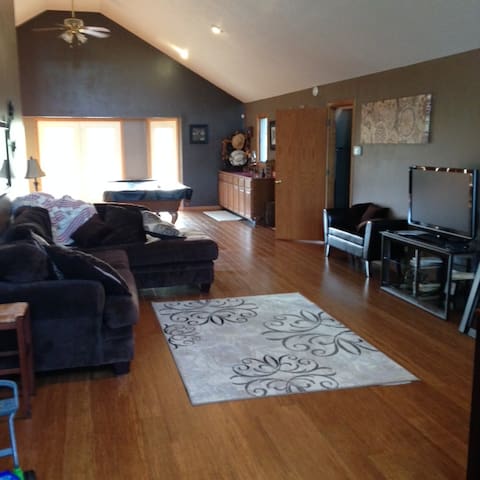 This room has a single bed and shelves for storing clothes or other accessories. The design aesthetic is based on my idea of a 1900s British aristocrat's "adventures" room.
Rodzaj pokoju
Pokój prywatny
---
Rodzaj nieruchomości
Dom
---
Mieści
1
---
Sypialnie
Emporia, Kansas, Stany Zjednoczone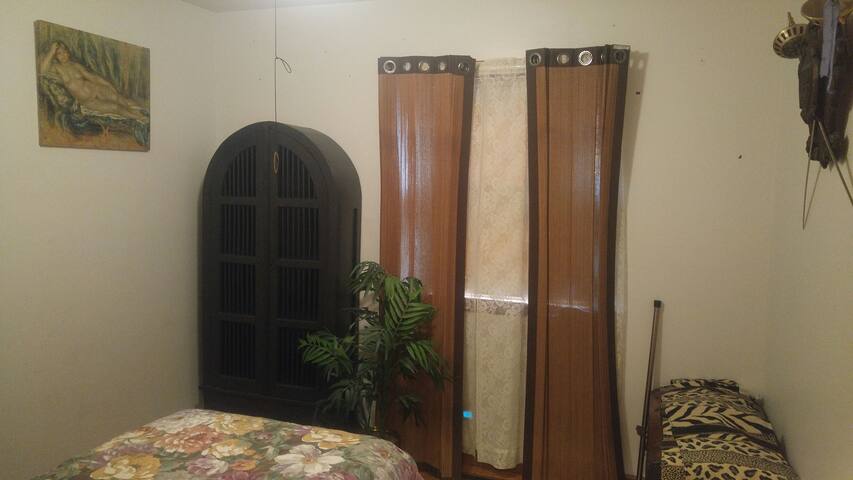 Each room in the Gufler Mansion is uniquely furnished, and provides comfortable elegance. We hope that you will enjoy our home as much as we do. My sweetheart and I feel very fortunate to be the caregivers of such a magnificent house.
Our home is very unique. Construction began on the mansion in 1915, at the behest of Albert Henry Gufler. The original woodwork highlights the updated amenities of the home. Throughout the home you will find glimpses of history intertwined with modern enhancements.
Our home is conveniently located within walking distance of the Emporia State University campus, the hospital, and Emporia's historic downtown. Enjoy a stroll down Commercial Street - recently named by USA Today as the best Main Street in the USA!
Susan was very kind and welcoming! The home is large and beautiful! The town is very cozy with everything you need nearby.
Joanna
2016-12-11T00:00:00Z
Susan was great! The home was gorgeous and historic and she gave us a wonderful tour when we arrived. She was very good about pointing out everything that was available and made things easy to find--which was important in this great big place. There were 3 long-term residents already in place, but we barely noticed them and when we did, they were very friendly and helpful. My sisters and our families really enjoyed being able to have so much space in which to gather together and hang out.
Nancy
2016-10-16T00:00:00Z
So much fun, beautiful home, hostess was charming and inviting!
Rebekah
2016-11-11T00:00:00Z
Rodzaj pokoju
Pokój prywatny
---
Rodzaj nieruchomości
Dom
---
Mieści
16
---
Sypialnie
Emporia, Kansas, Stany Zjednoczone
Escape city life and unplug in this gorgeous 3 story home overlooking the rural Wakarusa Valley. 3 Bedrooms & LOTS of space to relax. 360 degree Wraparound deck features views over the 10 acres of property which has a pond, and a small vineyard.
Amazing location about 12 miles outside of Lawrence. Fairly close to Clinton Lake. The drive is worth it for the quiet farm location. The house was custom built overlooking the Wakarusa valley. Surrounded by corn & hayfields & friendly neighbors. The roads are all great for walking & many are paved. The majority of the drive is fully paved. There is no garage access, but there is room for about 4 cars in the driveway. There are 3 official bedrooms. The master bedroom has a full bath with a double vanity, jacuzzi tub & a shower & a king size bed. The upstairs bedrooms share a full bath & 1 has a queen bed, the other a full size. Several patio tables for lounging outside. We highly suggest a the porch swing for a sunrise and sunset watching. There is a smoker style charcoal grill ready (charcoal is provided, but we require you refresh what you use!). The coyotes can often be heard calling throughout the valley at night. Great spot for stargazing & watching sunsets. We are dog friendly with house trained dogs. We do not have cable, or internet. The TV can tune into a few local channels and there is a DVD player!
Quiet country area with a lot of farmland. The neighbors often have sheep that will bay. Coyotes often howl on the hills around the house. Great roads for casual walks. We're just a few miles from Clinton Lake, which has a dog park, hiking trails, a swimming beach & boat access.
Rachael's Country Vineyard retreat proved to be a real treat for our family. The country is absolutely beautiful, we enjoyed hiking around the Vineyard, and we slept like babies since it's so quiet and dark with no city lights or noise around. This location was ideal for our wedding celebration in Baldwin City and we made our way to Lawrence a couple of times to eat and enjoy the setting of Kansas University. We highly recommend this AirBnB if you find yourself in the neighborhood!
Allan
2016-11-13T00:00:00Z
Nice place. Beautiful property and home. Very restful and relaxing.
Chris
2017-01-08T00:00:00Z
Rachael is a great hostess! She is very communicative and warmed up the house for our arrival and left the lights on for us to find it. The bed warmer was a nice touch!
Jessica
2017-02-06T00:00:00Z
This is a beautiful, rustic house in the country, exactly as described! It was SO nice to get away from the business of the big college weekend and retire to this home every night. My family and I were in town for my cousin's wedding, and we couldn't have asked for a better experience - 100X better than staying in a hotel!
Jennifer
2015-09-14T00:00:00Z
We had a lovely stay at the Country Vineyard Retreat, and greatly enjoyed the many views from the deck. A very restful spot, and enjoyable all around.
Bill
2014-06-28T00:00:00Z
Everything was perfect. The directions provided by Rachel were spot on and the house is exactly what you see in the pictures. A large area of land brings the secluded feeling and the calm that was needed. Great place to hide for a few days.
Suresh
2015-12-28T00:00:00Z
We stayed here for graduation weekend. Although it was a short drive from Lawrence it was well worth it. The house is welcoming and great for a larger number of guests.
Caroline
2016-05-17T00:00:00Z
Another wonderful visit. This is the second time the six of us stayed at Rachel's home in the country for our annual reunion of high school friends and we still love it. It is warm and inviting, quiet and secluded. Yet, it is a very short drive into Lawrence. It's a great get away. But I'd also recommend it for people visiting Lawrence. In fact, it's perfect for a family with children. We just love coming back every year.
Peter
2017-01-16T00:00:00Z
Rodzaj pokoju
Całe miejsce
---
Rodzaj nieruchomości
Dom
---
Mieści
6
---
Sypialnie
Lawrence, Kansas, Stany Zjednoczone
Walk to ESU, downtown, grocery & restaurants. Quiet neighborhood. Shared off-street parking. Full bed w/optional mattress heater, low footboard. Desk for laptop. Private compact full bathroom w/shower. Shared living room, kitchen, comfortable outdoor smoking spaces. Complimentary coffee & teas. Both levels are independent and guests only share on upper level. For private apartment at same location see: Marvin Gardens Great Basement Apartment https://www.airbnb.com/rooms/11320938
This is a mid-century Master Bedroom and private small bathroom. It's on the front southeast corner of the house and the east window welcomes the morning sunrise. It has two H/A vents. The full bed has a good mattress with optional heated mattress pad in winter. The footboard is low to accommodate tall people. In summer the indoor temp ranges 74-78°. There is a fan in the room. Special requests for cooler A/C settings are considered depending on other guests. If you need cooler temperatures see link below for the Private Apartment available in the walk-in basement, with separate entrance, kitchen, living room, bathroom and laundry. Marvin Gardens Great Basement Apartment: https://www.airbnb.com/rooms/11320938
We are in a quiet, mid-century neighborhood near ESU campus and Historic Downtown Emporia. There are river walking trails nearby and easy access to the country and gravel roads for bicyclists. Do-B's Burger Barn has something for everyone and is in walking distance at 12th Ave & East St. Downtown you will enjoy Ru Yi (Asian), Amanda's (sandwiches), Casa Ramos (Mexican) and Bobby D's Barbeque. Radius Brewery has award winning signature craft beer and Mulready's Pub is a great place to relax. Be sure to stop in at the Sweet Granada for delicious chocolates. Java Cat has great house-roasted coffee and right next door is Studio 11 for great eclectic bargains. Ad Astra Food & Drink is only a 20-minute drive to Strong City when you head out to the Tallgrass National Prairie Preserve or Pioneer Bluffs, all in the wonderful Flint Hills.
Grace was awesome and very accommodating. The house was clean and quite.
Kelsie
2017-03-19T00:00:00Z
Grace is a natural hostess. She went above and beyond to make us comfortable. She is great fun to talk to and gave us lots of tips for things to see and do and where to eat. Our stay and the accommodations were perfect.
Lois
2016-06-28T00:00:00Z
Had a wonderful time at Marvin Gardens! The house was beautiful and the rooms were amazing. Our host was very generous with offering us lots of different restaurants to try and local places to shop. Thanks again for all your hospitality!
Mary
2016-07-15T00:00:00Z
Spotless house, comfortable atmosphere with a host that is serious about your physical comfort. Can't beat that combination.
Jim
2017-02-12T00:00:00Z
Grace is a fantastic hostess. She keeps her place immaculate and makes sure that you are happy.
Stanley
2016-08-15T00:00:00Z
My first AirBnb experience and it was excellent! Grace has great home within walking distance to ESU and a great downtown. Plenty of parking and a garage to store your bikes & gear. She had everything you would need for breakfast. Quiet and secure on a tree-lined residential area. Try Casa Ramos for Mexican, Bobby Dee's for BBQ and Bluestem Hardware for everything else.
Thomas
2016-06-06T00:00:00Z
Amazing,amazing amazing experience! This is what an Airbnb experience is supposed to be like! Bed was comfy, Grace was very accommodating to my travel schedule and the amenities were spot on! Do yourself a treat and stay here:)
Patrick
2017-03-29T00:00:00Z
Rodzaj pokoju
Pokój prywatny
---
Rodzaj nieruchomości
Dom
---
Mieści
2
---
Sypialnie
Emporia, Kansas, Stany Zjednoczone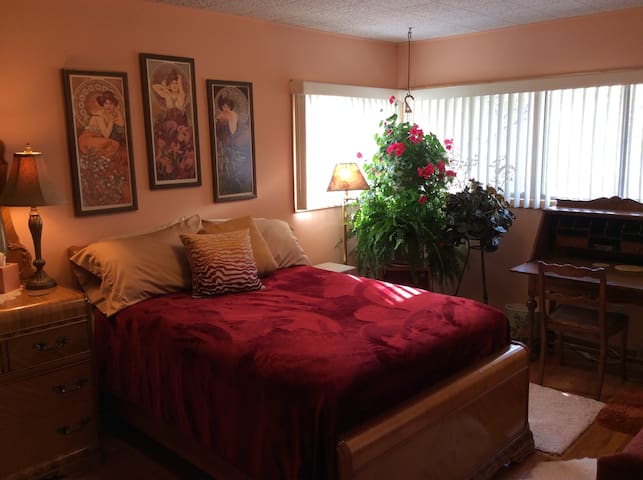 Lovely room available in a charming Victorian within walking distance of university and downtown.
Nancy and Phil were incredibly welcoming and approachable. I almost felt as if I was a part of their family. They are easy to talk to, have an absolutely gorgeous home, and are willing to go out of their way to make guests feel comfortable. I don't think they could have done any more to make my stay better. It was great and I highly recommend them!
Alex
2015-04-09T00:00:00Z
From the moment I met Nancy and Phil, I felt that I'd found long lost family/friends. They are so personable and welcoming. Their home is beautiful and comfortable. Being there was even nicer than I had imagined. I was so sorry that I had not booked longer with them, but am so happy to have met them. I plan on going back. Nancy and Phil are active in their community and are wonderful conversationalists. They excel at providing a haven for visitors. I looked forward to spending time with them. And I loved Emporia!
Richard
2016-04-23T00:00:00Z
Nancy and her husband were wonderful. They know all the best spots in Emporia. I tried out an awesome sushi restaurant based on their recommendation.
Emily
2016-06-25T00:00:00Z
Nancy and Phil are ideal hosts. They were extremely attentive to our needs, made us feel welcome, and engaged us in friendly conversations. The room was great, with a comfortable bed and nice bathroom facilities. We also enjoyed the sweet pets in this lovingly restored Victorian house in a leafy neighborhood within easy walking distance to the Univ. and downtown.
Bruce
2016-03-18T00:00:00Z
My home away from home in Emporia!
Polly
2016-11-05T00:00:00Z
Nancy and Phil were so welcoming. In fact the door was opened for us when we arrived at 10 pm. Then we were offered a beverage and snacks and conversation before calling it a day. The bed was very comfortable and everything was cozy, clean and neat. I also liked the company of their pets. We enjoyed talking to our hosts while enjoying our breakfast. I would recommend this as a quick stop or a hang out destination. Thanks!! Carol and Dave
Carol
2016-07-14T00:00:00Z
Trip number three to Emporia for the DK200 experience. Second time staying with Phil and Nancy. Cannot say enough about what great hosts they are!!! See you next year for No. 4!
James
2016-06-06T00:00:00Z
Nancy and Phil were wonderful hosts for our night in Emporia....very personable, welcoming and open with their home. The accommodations were exactly as listed and their place was charming. The pets were well behaved and friendly.
Debi
2015-03-08T00:00:00Z
Rodzaj pokoju
Pokój prywatny
---
Rodzaj nieruchomości
Dom
---
Mieści
2
---
Sypialnie
Emporia, Kansas, Stany Zjednoczone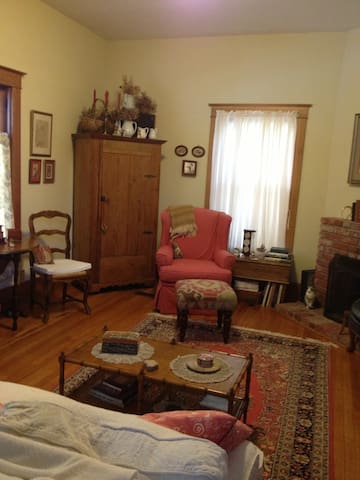 Queen bedroom in a 4 bedroom house. There are 2 bathrooms in the house, one on each floor. The residents in the house include myself, 2 dogs (Ava and Losi), and one cat (Tala).
Rodzaj pokoju
Pokój prywatny
---
Rodzaj nieruchomości
Dom
---
Mieści
2
---
Sypialnie
Emporia, Kansas, Stany Zjednoczone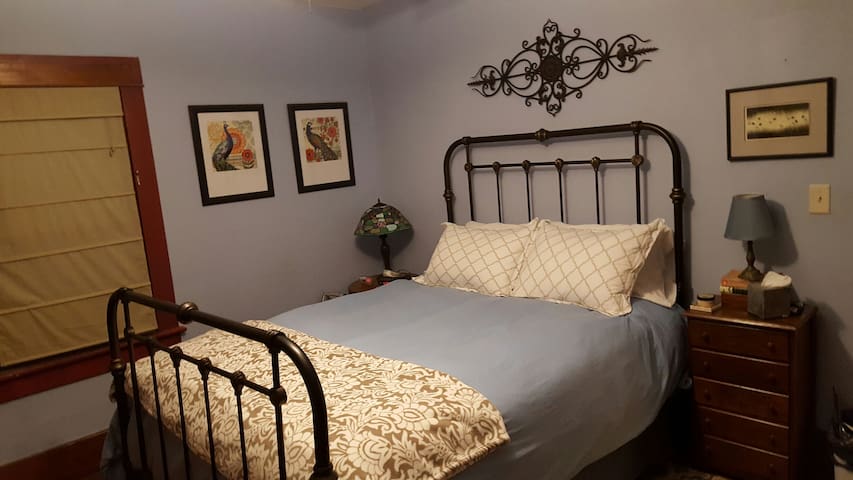 This well-lit room is located on the second floor and overlooks the back yard. It is approximately 12' X 11' and has a small dresser for guests' use. There is a comfy queen bed with a brass headboard.
The room is comfortable and accommodates two people in the soft, queen-size bed.
We are conveniently located to the university and downtown (Commercial Street). Ours is a tree-lined, cobble-stoned street that's filled with charm. Disc golfers will find it very convenient to the Country Club as well as Jones Park.
Great neighborhood and location. House was very nice, clean, and cool. Had a great sleep in the back bedroom. Gaelyn was out of town but her husband James made me feel welcome.
Anne
2015-10-11T00:00:00Z
Absolutely amazing place to stay! The room was clean and the bed was great, but what made my visit so wonderful were the hosts. They are the friendliest people I've ever met and really make you feel like home. I highly recommend Gaelynn if you want to stay in Emporia!
Pekka
2016-08-17T00:00:00Z
What a great stay, awesome house and great bed. I would 100% stay here again. Great people!!
Brax
2016-07-18T00:00:00Z
Gaelynn and James made me feel very welcome in their home. Their house is a short walk from the Emporia State campus, and close to the downtown area. The room provided is cozy and clean.
Kelly
2015-10-24T00:00:00Z
Another fine stay. I came in and pretty much went straight to bed and then woke up early and had to leave, but everything was just great, and I got to meet another dog, which is always awesome.
Zachary
2016-04-03T00:00:00Z
Gaelyn and James were very gracious hosts. They went out of there way to make me feel at home. The room is in an old Victorian home on a quiet street that is walking distance to downtown. I will stay with them again if I happen to be passing through.
Mike
2016-01-07T00:00:00Z
Gaelynns's room was just what we were looking for...comfortable & quiet. The home & neighborhood were great.
Ali
2015-09-13T00:00:00Z
We were only there for one night, but James & Gaelynn were very warm and welcoming! Their house and neighborhood were beautiful and made for a lovely early morning walk to campus and downtown Emporia.
Valerie
2016-08-20T00:00:00Z
Rodzaj pokoju
Pokój prywatny
---
Rodzaj nieruchomości
Dom
---
Mieści
2
---
Sypialnie
Emporia, Kansas, Stany Zjednoczone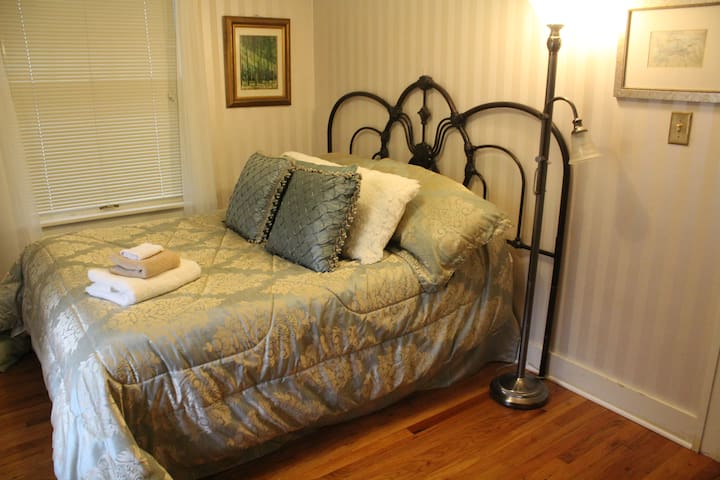 A spacious cottage close to the disc golf park, downtown and the university.
This room is one of two in our guest house. We are close to the disc golf park, downtown and the university. The bed is comfy cozy with a feather mattress topper and hotel comfort pillows.
Rodzaj pokoju
Pokój prywatny
---
Rodzaj nieruchomości
Dom
---
Mieści
2
---
Sypialnie
Emporia, Kansas, Stany Zjednoczone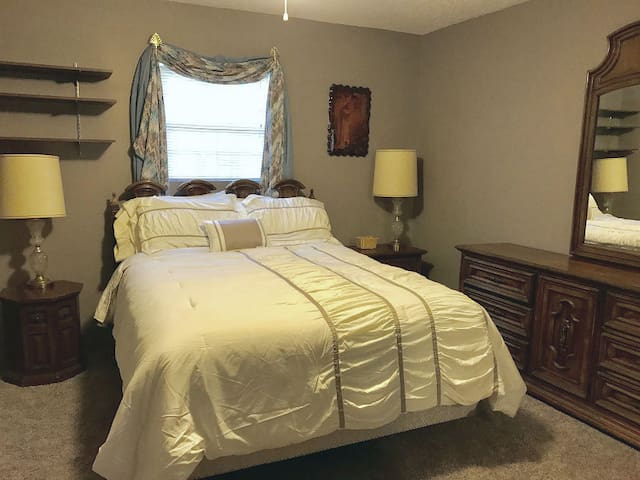 Our home resides in a quiet neighborhood shadowed by large charming trees. 5 min walk to Jones Park and 15 min to the Country Club makes it a great spot to cool off between rounds. Enjoy your privacy in the guest suite or chill in the shaded backyard
• Queen size bed will sleep 2. Contact me if there will be more than 2 guests. Max I will accommodate is 4 guests total. • Let me know in advance if you want to use the grill. That way I will be sure to have charcoal on hand. • I have a few backyard games you can play with (washers, disc golf basket, frisbee)
A lot of character in this neighborhood. Huge trees and curvy streets. Very quiet once it gets dark out.
Great people! Awesome hosts, and awesome dog. Would definitely recommend this place
Clarisol
2017-03-12T00:00:00Z
great. it was their first hosting. they did well but something's could be improved on. detached bathroom. but very friendly and polite. comfortable enough bed. would stay again.
Tom
2016-09-18T00:00:00Z
Rodzaj pokoju
Pokój prywatny
---
Rodzaj nieruchomości
Dom
---
Mieści
2
---
Sypialnie
Emporia, Kansas, Stany Zjednoczone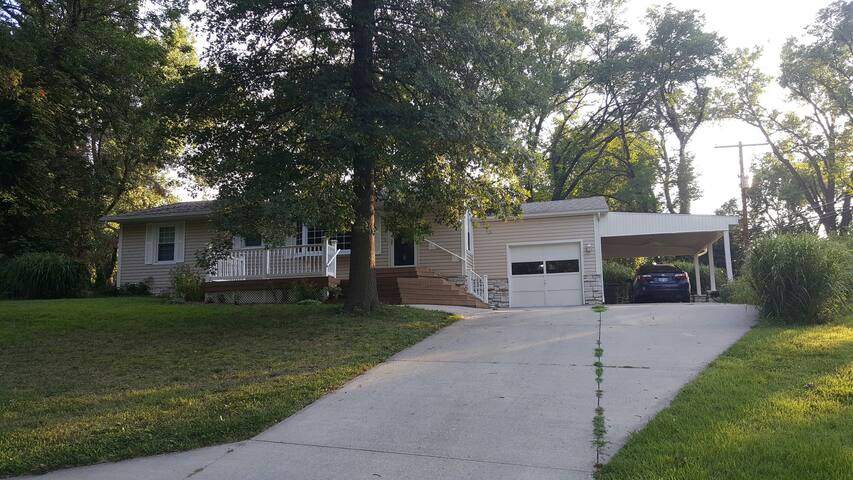 This fully furnished room has a queen sized bed and is decorated with 50s style Star Trek TOS posters.
Rodzaj pokoju
Pokój prywatny
---
Rodzaj nieruchomości
Dom
---
Mieści
2
---
Sypialnie
Emporia, Kansas, Stany Zjednoczone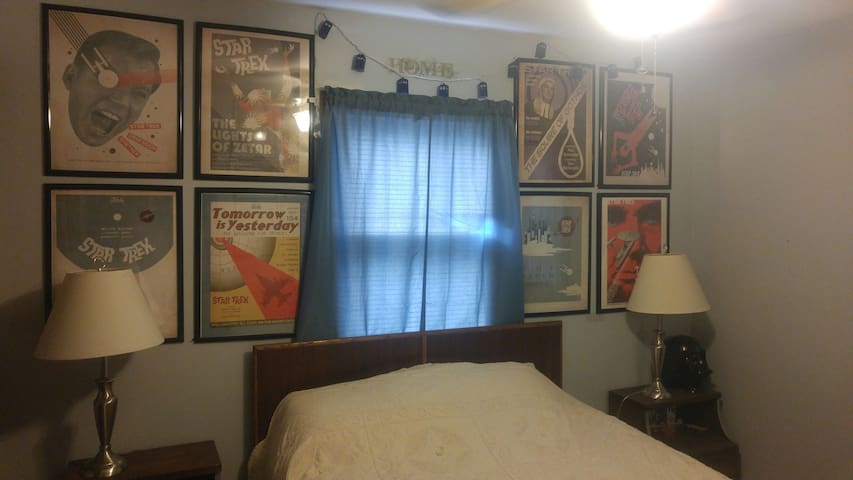 Nuestra casa está a sólo 4 millas al sur de la I-70 en el lado oeste de Topeka, en la zona de Lago Sherwood. La cama de matrimonio tiene una cubierta de espuma de memoria cómoda y un montón de almohadas. El armario y tocador están disponibles para el desempaquetado. El cuarto de baño está al lado de la habitación, que es la suya exclusivamente durante su estancia. Hay una cafetera en la habitación. Este espacio está adaptado para arriba y no es accesible. Sherwood Lago Suite es nuestro espacio de nivel inferior y está adaptada para minusválidos si necesita esa opción.
Nuestra casa es un estilo "Rancho elevado", por lo que esta habitación está en la planta principal, pero que requiere subir escaleras. No está adaptada para minusválidos. La habitación pueden dormir cómodamente 2 adultos, pero si necesita espacio para un niño pequeño, que puede adaptarse a ellos con un pack n 'play o un colchón de aire de tamaño individual. Los niños menores de 5 y no se cuentan como huéspedes adicionales en nuestra casa, así que cuando reserve, no los incluyen en el recuento de cabeza. Sólo déjame saber que vamos contigo. También tenemos otra lista (Sherwood Lago Suite) con una cama doble y una habitación familiar que ofrece un montón de espacio para pasar el rato o viendo la TV de 42 "con Direct TV o DVD. Hay un montón de espacio para los colchones de aire o un paquete n 'jugar allí también.
Somos alrededor de 2,5 millas de la tienda de comestibles más cercana y 4.5 de la mayoría de otras zonas comerciales. Estamos en una zona muy segura de la ciudad justo al lado de un lago privado (Lago Sherwood), por lo que tomar un paseo o una carrera en el barrio es muy agradable. He asignado un 2 millas y 2,5 millas a pie / ruta correr, puerta a puerta, si desea utilizarlo.
This is the most beautiful home I've stayed in. Linnea is an accomplished arrtist who has created amazing murals on her walls and ceilings. Linnea and her husband were very welcoming and thoughtful. Linnea is a wonderful conversationalist and taught me about cell phone applications.
Ray
2016-10-13T00:00:00Z
Linnea and Ralph are wonderful hosts, they made us feel very comfortable and welcomed in their beautiful home. Our room and bathroom were very nice and clean. We had a little coffee bar in the room with homemade banana bread, which was absolutely delicious. Linnea really raised the bar. We would love to stay at their home again.
Anthony
2016-09-03T00:00:00Z
Linnea gives even the nicest hotel a run for their money. She was very warm and welcoming. The room was fantastic and if I could give ten stars out of five for "amenities" I would because Linnea thought of everything, from accessible outlets to a variety of teas and coffees. The location is a bit far from where I work in Topeka but the accommodations are totally worth the extra few minutes.
Jennifer
2016-09-07T00:00:00Z
We were passing through Kansas on our way to Indiana and really enjoyed our stay with Linnea. We arrived at her beautiful home rather tired after a long day of driving. She was very welcoming and gave us an evening snack of delicious home-made apple bread. We chatted for a while before we turned in for the night. We had to leave earlier than we would have liked, a whole loaf of apple-bread in hand. Needless to say, we would not hesitate to stay here again.
Emily
2015-08-13T00:00:00Z
Wow! What can I say but Linnea and her husband were so welcoming and helpful! The room was beautiful and the bathroom clean and very lovely. Linnea is great at being a hostess and it was a privilege for my granddaughter and I to stay in her home. Love her little welcoming dogs! And the Apple bread? all I can say is I think I gained 5 extra pounds from staying there! Linnea also recommended the Blue Moose to eat at which was a superb choice, such great food! Thanks Linnea (and hubby) I consider you my friend in Topeka Kansas! Blessings! MaryAnn (and Avery)
MaryAnn
2016-08-15T00:00:00Z
Super comfy bed. Nice house. Delicious banana bread. A warm and hospitable experience!
Mark
2016-09-01T00:00:00Z
Linnea and Ralph are not only excellent and accommodating hosts, but also kind and helpful people. We made last minute reservations and then arrived early. Ralph even helped us bring our bags in! They have a beautiful and well kept home. Linnea bakes banana bread for her guests and gave one to us for the road. I highly recommend staying here when in Topeka! Also, the king bed is glorious!
nissa
2016-06-27T00:00:00Z
Linnea and Ralph were very welcoming. The room was cozy, the bed was lovely, and the apple bread was delicious! And the coffee and tea bar was such a great thing to offer. We really appreciate their hospitality and this is a great place to stay!
Chelsey
2016-09-16T00:00:00Z
Rodzaj pokoju
Pokój prywatny
---
Rodzaj nieruchomości
Dom
---
Mieści
2
---
Sypialnie
Topeka, Kansas, Stany Zjednoczone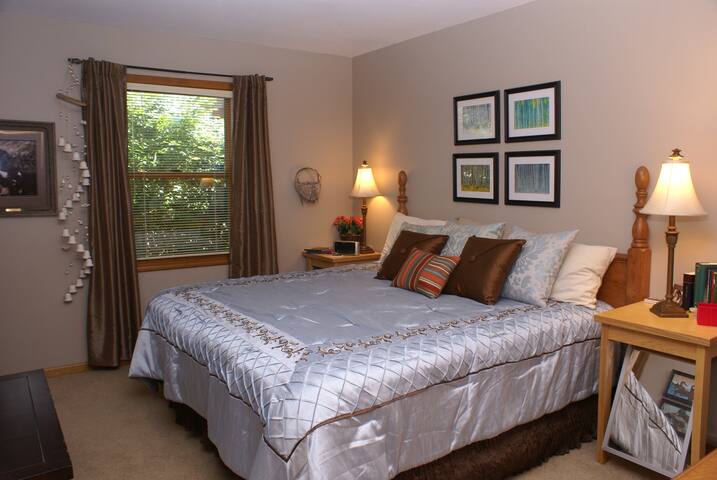 Walk to ESU, downtown, restaurants & grocery. Quiet neighborhood, upstairs room. California King Pillow-top, writing table, morning sunlight. Shared off-street parking & common areas: full bath across hall, living room, kitchen, porch & patio. Complimentary coffee & teas. CONTACT HOST IF DATES SHOW UNAVAILABLE. (Long-term guest travels frequently, may be available with short notice.) OR SEE THIS LISTING same location: Marvin Gardens Guest Suite—Private Bath: https://www.airbnb.com/rooms/11420175
Grace is very good hostess. she give me a lot of help. I have good time with her.
wenbo
2017-01-16T00:00:00Z
I appreciate Grace for opening her home to us. She always takes care to make sure we have everything we need. I would recommend Marvin Gardens to anyone.
Parker
2017-02-11T00:00:00Z
Grace has thought of everything. My room was very comfortable. I would recommend Marvin Gardens to anyone.
Parker
2017-02-04T00:00:00Z
As always, Marvin Gardens was lovely. I highly recommend it.
Parker
2017-03-18T00:00:00Z
I always love staying here! Grace goes out of her way to ensure her guests are comfortable.
Deana
2017-04-08T00:00:00Z
Rodzaj pokoju
Pokój prywatny
---
Rodzaj nieruchomości
Dom
---
Mieści
2
---
Sypialnie
Emporia, Kansas, Stany Zjednoczone
Our home is close to Emporia State University, 2-3 min from downtown and disc golf. We like to get down with breakfast while you're here and we love to play Settlers of Catan. Also, we sometimes have soap that smells like wine...we also just have wine. The spare bedroom is nothing fancy but I will say my wife did a great job decorating it. We have fast wifi and above average water pressure. We'd be happy to host solo, couples and if ya got more than 2 we can blow up the air mattress!
Rodzaj pokoju
Pokój prywatny
---
Rodzaj nieruchomości
Dom
---
Mieści
2
---
Sypialnie
Emporia, Kansas, Stany Zjednoczone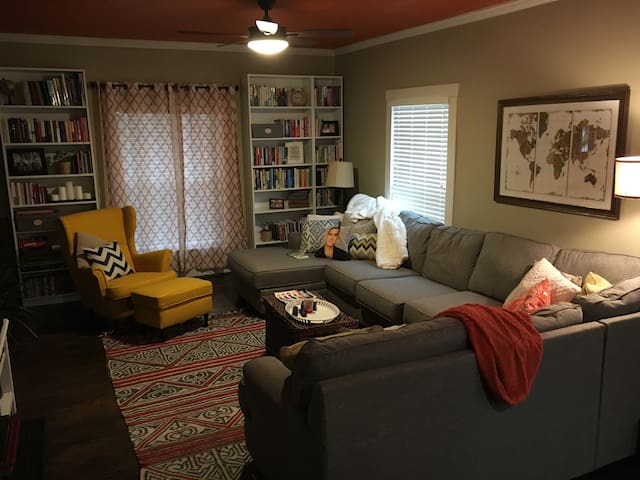 Nuestro 1934 Cape Cod casa está cerca de todo: hospitales, Capitol, centro de exposiciones, la universidad y restaurantes. Estamos en un precioso y antiguo barrio en una importante ruta de autobús. Si usted necesita para pasar una noche o varias estaremos encantados de contar contigo.
Bien mantenido barrio de casas con encanto de la década de los 20, 30 y 40 con los parques. Perfecto para pasear por la noche o correr por la mañana.
Sarah's place was a perfect little stop for anyone looking for a quick overnight place to stay off the highway. Only problem I had was that the internet wasn't working- was ok for me since I got there late and left early but might be a problem for anyone needing to work.
Kaitlin
2017-02-27T00:00:00Z
Sarah greeted me warmly and provided excellent directions to easily find her home. Room and bath very clean and comfortable. Location in quiet neighborhood that has easy access to Topeka.
Beverly
2015-10-24T00:00:00Z
The listing was as described in a peaceful neighborhood of Topeka. There aren't many sidewalks, but it's still walkable and less than a mile from Wabash University. I very much enjoyed the charming room, and all amenities were as advertised. Essentials were all there along with excellent A/C and WiFi. I would definitely stay here again!
Jill
2016-06-20T00:00:00Z
What a joy it is to stay at Sarah's Place. Sarah and her several generational human and cat family are kind, pleasant and respectful. Quiet, cozy, clean and with the coolest bathroom around - that fabulous green ceramic tile of the time. Best of all, the never seen before, original, matching green linoleum flooring that curves three inches up the wall..... All Immaculate.
Beverly
2016-11-09T00:00:00Z
It is just as it said, "Quiet, Simple, Convenient." I really appreciated having such an economical place to stay close to work.
Norma
2017-01-20T00:00:00Z
This was exactly what I wanted. A simple quiet room in a convenient location. The bed was comfortable, and the bath was clean and all the bath fixtures worked well. I would definitely stay here again.
Steve
2016-06-06T00:00:00Z
The host is angry and mean. She will leave door shut, and throw key on the table. I don't know she expects me to bring key,. She never want to answer the phone. When I call her to get the door for me, she is shooting her car light on my eyes to show her anger!!!
娜
2016-09-30T00:00:00Z
Quiet safe location, communication was easy. Room is as described, clean with everything you need for your stay
bobby
2015-08-26T00:00:00Z
Rodzaj pokoju
Pokój prywatny
---
Rodzaj nieruchomości
Dom
---
Mieści
1
---
Sypialnie
Topeka, Kansas, Stany Zjednoczone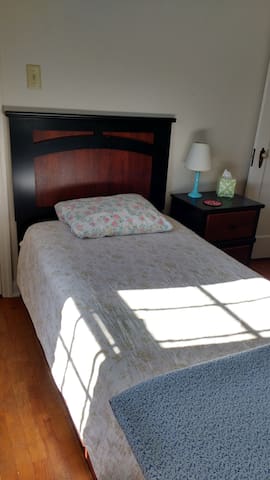 Jennifer was so warm and inviting the moment I walked in the door! Immediately she told me about the house and her family, then she took me downstairs and the place is awesome! She outlined what she expected of me and had plenty of extras waiting for me. I would definitely recommend you stay with her and her family if you find yourself in the Topeka area!
Ryan
2017-01-08T00:00:00Z
Jennifer's place is the best airbnb we have ever stayed at, hands down. Plenty of room in the basement for us six college guys and so much to do! We fished in the pond, played football, hit baseballs (in there indoor baseball facility), had a campfire with their family and kids, and road gocarts around a little dirt track in their yard. Overall GREAT experience and amazingly kind family.
Cory
2017-03-18T00:00:00Z
We had an awesome time in this beautiful house. Basement area is very neat and perfectly comfortable. Very clean and cozy. Jennifer and Scott are wonderful hosts and comunication with them was easy. we want to be back!
Fernando
2017-02-26T00:00:00Z
Nice and quiet area. Host and family are kind just didn't expect to hear everybody's footsteps upstairs and thought we would have a little more privacy. Didnt realize it was their basement till we got there but was comfortable & overall decent stay. Kids had plenty of toys to play with to keep them entertained and even other kids.
Faith
2016-11-14T00:00:00Z
What a wonderful place to stay! Spacious, clean, perfect for families with children (or without). Jennifer was a great hostess and we wished we could have spent more time there (without rain!).
TimandAmy
2017-03-25T00:00:00Z
Rodzaj pokoju
Pokój prywatny
---
Rodzaj nieruchomości
Dom
---
Mieści
8
---
Sypialnie
Berryton, Kansas, Stany Zjednoczone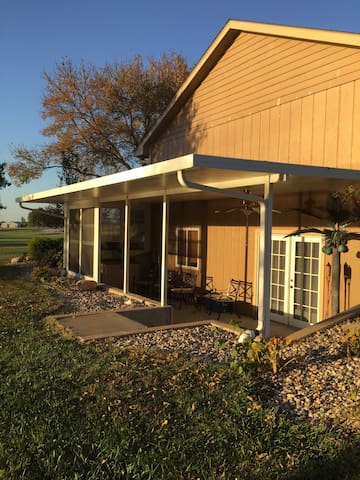 Melvern - Airbnb
:
Średnia ocena:

4.87

/

5

gwiazdek od

403

gości
Wpisz daty, by zobaczyć pełną cenę. Obowiązują dodatkowe opłaty. Cena może uwzględniać podatek.