Bright room, space, countryside. Our room is situated in central Switzerland, between Zug and Lucerne, on a small farm in the beautiful countryside of Meierskappel. Easy to reach by bus (ca. 7 mins walking distance) or car. Suitable for Singles, adventurers, Businesstravelers
In your room you will find a single bed, a desk, a wardrobe (incl. clothes hangers), a kettle. We change your bedclothes and towels during your stay upon request. In your wet room you will find a fridge, a shower/toilet , towels, toilet paper and hairdryer at your disposal during your stay. Terrace with gardentable and chair. Private parking space in front of the house.
Rodzaj pokoju
Pokój prywatny
---
Rodzaj nieruchomości
Dom
---
Mieści
1
---
Sypialnie
Meierskappel, Luzern, Szwajcaria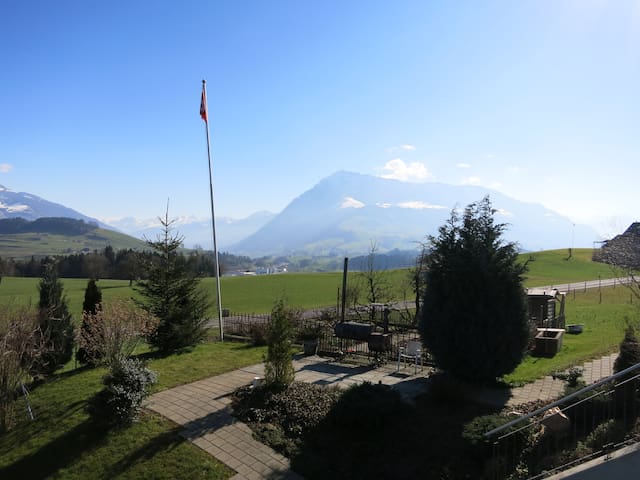 Our accommodation is situated in central Switzerland, between Zug and Lucerne, on a small farm in the beautiful countryside of Meierskappel. From your private covered terrace and from your rooms, you have a nice mountain and even a little lake view. Suitable for couples, singles, adventurers, business travelers, Family with kids. Playground and a lot of space to run around and play. During summer time watersport activities on the lake of lucerne and BBQ Smoker upon request.
relax on the extralarge Sofa, which also can be pulled out to make 2 - 3 sleeping places. The bedroom has 2 single beds and 1 wooden cot suitable for a baby or a young child (upon request) 2 foldaway beds (upon request). Desk, wardrobe (incl. clothes hangers) iron & ironboard. We change your bedclothes and towels during your stay upon request. fully fitted kitchen incl. coffe machine, fridge (small freezer compartement) kettle, baking oven, cooking stove... wet room fitted with shower and built-in cabinet, towels, toilet paper and hairdryer at your disposal. Covered terrace with gardentable and chairs. Private parking space in front of the house.
Well 500 words not enough to describe this beautiful couple. When we arrived at Rotkreuz, Philippe was right there at the station to receive us. Then he took us in car for a small tour through the hills & we all had a welcome drink at the top of the hill & some photo shoots. When we reached their home, Sabina was there to welcome us & she showed us all the amenities of the house. House was as shown in the pics, neat n tidy. Everything we needed was right there. Later when it was raining, Philippe again took out his car to drop us to the Lucerne main station. Last day while leaving we had some crazy photo shoot with Philippe & again he dropped us back to the station. Both were flexible with our check-in & check-out timing. Overall an awesome stay. Sabina, very warm lady & Philippe, super cool guy - right mix for a perfect couple. Very friendly natured people. I recommend anyone & everyone to stay here & meet the lovely couple.
Rahul
2016-09-19T00:00:00Z
It's definitely a wonderful place and a 5-star stay. The host are very considerate. The rooms have everything you need. Kitchen has everything and well equipped. The water in the bath room is warm and it has large flow rate. There is a welcome fruit basket with fruits and Swiss chocolates on the table. The view outside is amazing and impressive. The host even invited us to visit their farm, cows and chickens. They are very generous to offer us home-made tea, 'Cha', and fresh eggs. I wish everything goes well with them in 2017!
zhenkan
2016-12-26T00:00:00Z
Sabine and Phillippe are such wonderful hosts, they made us feel home away from home. They took care of all the necessities beyond need. We checked in late in the evening after sunset and Phillippe helped us get to the place with ease. It was very comforting to be welcomed by Sabine with fruits and Chocolates on the table. Some milk and eggs from her own chicken was thoughtful among the many other good gestures. Our baby thoroughly enjoyed the toys provided. We were even provided additional blankets and portable heater to keep us comfortable. The location has beautiful views with Mt Rigi and many other natural landscapes. Wish we could stay here for some more time. This place is highly recommended for anyone visiting Lucerne.
Amith
2016-09-24T00:00:00Z
Una location meravigliosa in mezzo al verde. Sabine e Philipe sono due persone gentili e rispettose della tua privacy. Il luogo è magico con vista sul lago di Zugo. Ideale per fare belle passeggiate nella natura e vicinissimo ai mezzi pubblici per visitare Lucerna, Zugo e Zurigo. lo consiglio a chiunque ami la natura e la tranquillità. Da ritornare. Sonia
Sonia
2017-03-31T00:00:00Z
Unkompliziert, hat alles super geklappt. Vielen Dank!
Ladina
2017-01-01T00:00:00Z
This apartment is a good choice for 3-5people. The host is very nice. The surrounding environment is very beautiful. The apartment is a little bit far from city, so better to have a car when I want live here.
Donglei
2016-12-29T00:00:00Z
It was the best experience I had in all the air b&b places I've lived in. The house is so lovely with everything we need especially for my daughter. It's clean, spacey, so well decorated, the furnitures, bathroom and kitchen fittings are well prepared! Even better than it looks on the photo. Sabina welcomed us when we arrived at night and show us all the places and things we need. The yard is great for children to play as well. I love it!
Chen
2016-12-31T00:00:00Z
- Grossartiges Apartment - perfekte Lage - die wunderbare Aussicht - sehr gastfreundliche Familie Absolut empfehlenswert!
Andreja
2016-12-22T00:00:00Z
Rodzaj pokoju
Całe miejsce
---
Rodzaj nieruchomości
Apartament
---
Mieści
6
---
Sypialnie
Meierskappel, Luzern, Szwajcaria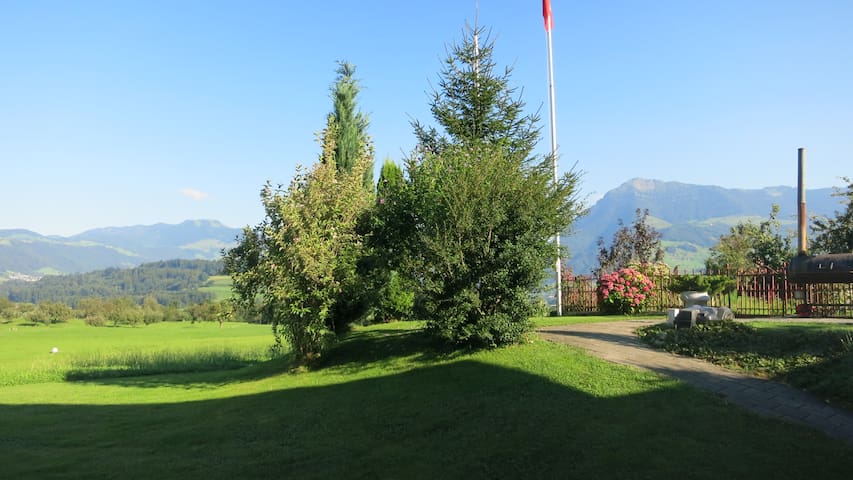 In freistehendem 2-Fam.-Haus, idyllisch gelegen in grüner Umgebung, grosse Fensterfront (franz. Balkon) mit Sicht in baumreichen Garten, separater Eingang, 16qm2 Zimmer mit Bettsofa.
Wir legen sehr grossen Wert darauf, dass ihr alles sauber vorfindet. Das Zimmer u. der Bereich mit Dusche liegen durch eine Türe getrennt von unserm Wohnbereich, auf der gleichen Etage.
Schöne Sicht ins Grüne und auf die Rigi! Schönes Quartier.
Alles perfekt. Sogar ein kühles Begrüssungsbier stand bereit. Toll!
Stefan
2016-08-30T00:00:00Z
Ramona fut une hôte exemplaire. Elle s'est adapté a notre horaire changeante. Nous l'a recommandons fortement. Merci
Mario
2016-09-15T00:00:00Z
Ramona was awesome! She was very kind-hearted and helped us in any way she could. Getting there was easy with her directions. I stayed here with my cousin and unfortunately only had time to stay for 1 day/night. The room was large and spacious and very clean! The bathroom was also very nice and clean, and we were given 3 towels each, which was nice. She welcomed us with a bottle of fresh water, a small bottle of wine, and some small snacks (pretzels + nuts). The location is a little far (30 minutes bus ride) from Luzern city centre, but still very beautiful. Would definitely recommend!
Alexandra
2016-08-08T00:00:00Z
We waren een uur eerder aangekomen dan was afgesproken en werden toch direct welkom geheten en kregen de sleutel. Het appartement voldoet geheel aan de foto's, het is netjes, zeer schoon, ligt op een rustige locatie in een mooie omgeving. Badkamer is gedeeld maar hebben hier geen moment last van gehad of dit ook maar gemerkt. Ramona is een zeer vriendelijke gastvrouw, bereid alle vragen te beantwoorden en stond voor ons klaar. Het is ons zo bevallen dat we het iedereen aanraden en graag nog eens terugkomen.
Danny
2016-08-30T00:00:00Z
Ramona is a super host - very kind and informative. The only thing to improve is giving access to a fridge and wifi :) Apart from that, it was an amazing experience!
Igor
2016-09-11T00:00:00Z
Ramona is very accomodating and hospitable! She told us where to find Chinese restaurant and how to go to sightseeings. Feel grateful to her! Her house is near bust stop, and it takes about 30min to go to Lucerne, just remember to check bus timetable. We would like to recommend her room if you don't mind there is no wifi and kitchen offered.
阿缤
2016-08-24T00:00:00Z
It was excelent to stay here, very clean and hygenic and Ramona arranged every day that the room was cooled and had a bottle cold water. I forgot with the arrival there was also a picollo proseco.
Lorenzo
2016-07-23T00:00:00Z
Alles war super, haben es gut gefunden, sehr herzlicher Empfang. Alles da was man braucht, und noch mehr. Sogar Schokolade und Quellwasser. Nur zu Empfehlen.
Ulli
2016-10-16T00:00:00Z
Rodzaj pokoju
Pokój prywatny
---
Rodzaj nieruchomości
Apartament
---
Mieści
2
---
Sypialnie
Meierskappel, LU, Szwajcaria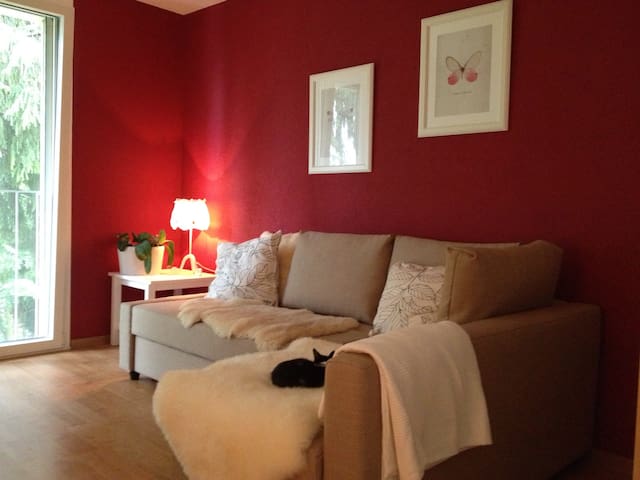 For rent: Lovely & newly renovated apartment (2-4 persons) in the heart of Lucerne - ground floor apartment of a 3 storey townhouse - 50 m2 with double bed and fold-out sofa - modern amenities - fully equipped kitchen - large wood table - bathroom with shower, wash basin, toilet and washing machine - central heating and wood burning fireplace There is a stereo, iMac with WLAN. Parking lot A beautiful oasis to relax. Non smoking apartment
This flat is full of charm and in a great location. Maybe a 10 minute walk from the old town where all the shopping is and the famous Lucerne bridge. There is a bus stop right outside but we never used it because the walk was so close to where we wanted to go. The flat was bigger than we anticipated and feels like a true chalet. My wife walked in and instantly fell in love with the place. There is a beautiful old wooden beam in the center of the flat that is original from the construction of the building. The fireplace has a great supply of dried wood and easy starter chips. The hot water and water pressure is great. The kitchen and large fridge is perfect. A free parking space 5 steps from the front door. Wash machine in the bathroom. Grocery stores close by. Great communication and a ton of tourist welcome information upon arrival. Carmen & Rene were a pleasure to work with and I cannot recommend this flat enough. Great base to explore the city.
Michael
2017-02-21T00:00:00Z
From start to finish, Carmen & Rene have been the perfect hosts providing me with all the information I need about the rental. Contacting them was very easy and all my emails and phone calls were returned very quickly. On the day of my arrival. Rene was there to greet us and provide us with all the information we need about the apartment. The place was clean, homey, comfortable, and very close to tourist attractions and pretty much everything we needed. The central train station was a 5 minute bus ride from the apartment, but we opted to walk which took us about 20-25 minutes. The area is very safe and it is very quiet at night. I would totally recommend this apartment and would stay in it again if ever I go back to Luzern. And I give 5 stars to my hosts, Carmen and Rene who provided us with a home away from home.
Vicki
2015-10-06T00:00:00Z
Lovely place and lovely hosts. Thank you very much! We will be back one day
Karla
2015-09-04T00:00:00Z
Great place Fit our family nicely. Easy access to bus stops. Highly recommend!
Richard and Carol
2017-02-15T00:00:00Z
This apartment was the perfect place to explore Lucerne from. It's a step away from the 1 bus route and 10 minutes walk from the river. The house itself is absolutely adorable and exactly as pictured! One of the most beautiful little places we have stayed. There was plenty nearby (bakery, yummy restaurants, grocery store), making it so convenient. The check in and out process was a breeze and carmen and Rene were lovely to work with throughout the stay. We would definitely stay here again on another trip to Lucerne!!
Rachel
2017-03-02T00:00:00Z
We had a fantastic stay at this wonderful apartment. It has so much character and it was a cosy and comfortable haven after a day out in the cold. It is very well equipped with everything you need. The bus stops right at this address and the supermarket is conveniently across the street. The kids loved the sleeper couch - it was big compared to others they'd slept on before. Carmen and Rene were great hosts - easy to communicate with. The checkin was also very easy and everyone had an extra big smile when they saw the Swiss chocolates that were left for us. We had clear instructions and info on everything we wanted to know - it is clear that Carmen and Rene are very attentive and caring hosts. The apartment is a gem in Lucerne - we walked everywhere as it is so close to the Old Town. If you get to book this apartment, you're a very lucky person! We enjoyed every moment of our stay and there isn't a single thing that could be improved. Thank you so much Carmen and Rene!
Vanessa
2016-12-15T00:00:00Z
Great home away from home! Fully equipped kitchen, lovely furniture, clearly written instructions, clean sheets and towels, spacious bathroom, free Wifi, hangers, hair dryer and umbrella....Carmen & Rene's thoughtfulness in every detail was greatly appreciated. The washer/dryer in the bathroom was definitely a big plus! Bus stop, grocery and bakery were only steps away. We highly recommend it if you ever visit Lucerne.
Daryl
2017-01-31T00:00:00Z
Had the best time in Lucerne and it was made more enjoyable with our stay at this cosy place. Very unique yet modern finishings inside. Rene and Carmen were great throughout the booking process and responded quickly. Carmen met us on time and provided us with good information. Brilliant stay!!
Tom
2015-10-24T00:00:00Z
Rodzaj pokoju
Całe miejsce
---
Rodzaj nieruchomości
Apartament
---
Mieści
4
---
Sypialnie
Lucerna, Lucerna, Szwajcaria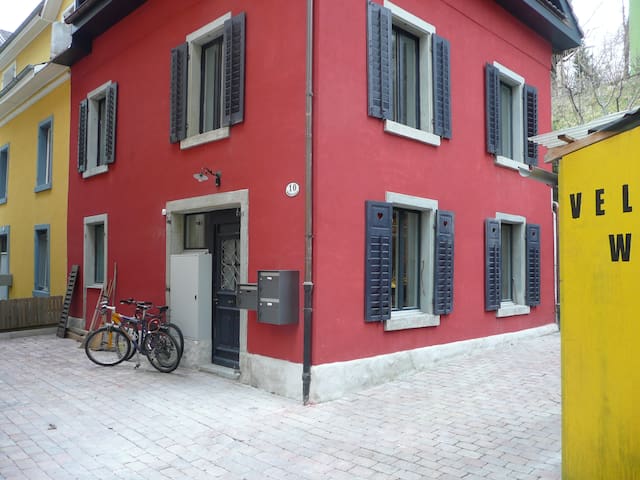 Lovely, completely new renovated room in loft appartment above Rotsee lake. Nice kitchen with fridge and coffee machine. Balcony with view to the lake and sunset. While being in a quiet area, this place allows you reach Lucerne city center within 10 minutes from the bus station which is only 50 m away from the house. Bathroom and kitchen are shared with 1 other Airbnb guest room.
You have a wonderful view from the balcony, the Location is next to public transport as well as a car rental (Hertz).
House is next to natural place of Rotsee lake, famous for its rowing world cup race each June. Hundreds of runners & walkers round the lake each day!
很好的民宿体验 在瑞士算性价比比较高了 在厨房自己做了早餐 餐具齐全 就是没有油 要是有的话就完美啦 整体评价 很不错 值得入住
Alice
2016-11-19T00:00:00Z
Erich and his family were very nice and helpful. Well communication before we arrived and provided very useful tips for travelling. They even lent us three chargers. High privacy there as only us on the whole floor with lockers on the door and Erich even rang the doorbell when he came up. Kitchen was well equipped. The room was spacious. Location was good with frequent bus schedule to luzern station. We could see Pilatus in our room. We did enjoy a lot. It was sad that we couldn't stay longer to go to the lake nearby as well. Would definitely recommend it for everyone. Thanks Erich again for hosting us and hope to come back again soon.
Wing Chi
2016-11-07T00:00:00Z
루체른 중앙역에서 22/23번 버스를 타고 7정거장(7~8분)째에 하차하여 길건너 골목길로 들어가기만 하면 되는 위치라 굉장히 편합니다. 비록 게스트용 숙소는 나선형 계단을 오르는 3층에 자리하지만 개별 화장실과 부엌, 발코니 등이 숙소 이용의 약간의 불편마저 제거해 줍니다. 그리고 캡슐 커피 머신도 있어서 마음껏 즐길 수 있는 것도 좋습니다. 다만 3층에 숙박용 방이 2개인데 그 중에 한 팀만 머문다면 괜찮겠지만 두 팀이 머물면 다소의 불편함은 생길 겁니다. 다행히 제가 머물렀을 땐 저희 일행 뿐이어서 쾌적했어요. 방 자체는 캐리어를 두 개 풀면 딱 맞는 수준으로 넓다는 느낌은 아닙니다. 화장실은 매우 훌륭합니다. 샤워부스가 커튼이 아닌 유리 미닫이라 커튼처럼 몸에 들러 붙지 않아서 (공간 자체는 좁음) 샤워하기 한결 수월합니다. 시내에서 외곽에 있지만 버스도 많고 접근 시간도 짧고 조용하고 공기 좋은 곳에 자리한 숙소. 스위스에서 머무른 숙소중 단연 최고라고 하고 싶네요. 호스트의 차분하고 친절한 설명에도 감사드립니다.
JAEYOUNG
2016-11-21T00:00:00Z
Strongly recommended! Erich's family is very helpful and warm. The house is comfortable and quiet, also close to nature. There is a bus station just in front of house. Many thanks to Erich and his family.
Merten
2017-03-17T00:00:00Z
Erich's place was clean and convenient to our day excursion into the city. The bus downtown was very easy to walk to, and made exploration super easy. Wifi worked great, and for the price, I would definitely stay here again. Thank you so much Erich!
Nikki
2016-12-31T00:00:00Z
The house is clean and has well-equiped kitchen and a clean bathroom. The host is very enthusiastic and helpful.
祎迪
2016-12-24T00:00:00Z
Places like this are the reason Airbnb is better than any other means of accommodation. Clean, well equipped house overlooking a lake for a super reasonable price. Add in lovely hosts and you can imagine what staying at Erich's place is like. Amazing.
Joel
2017-01-04T00:00:00Z
The host is really kind and cheerful. The room also very cozy. The traffic is very convenient. Luzern is really beautiful city!!! If I come back to Luzern,I want to stay here again. :-)
Boram
2017-02-11T00:00:00Z
Rodzaj pokoju
Pokój prywatny
---
Rodzaj nieruchomości
Apartament
---
Mieści
2
---
Sypialnie
Ebikon, Luzern, Szwajcaria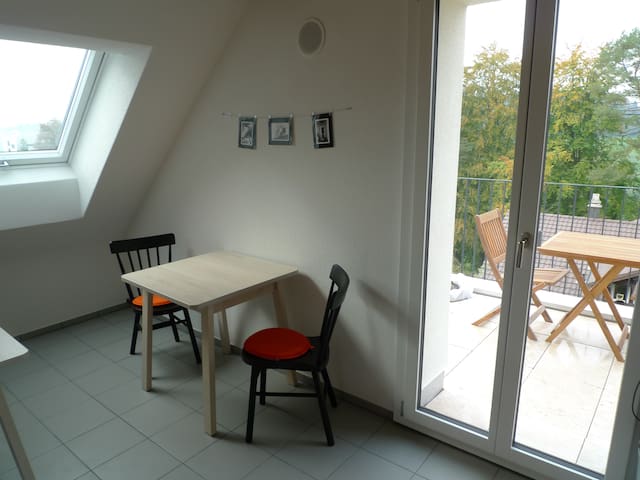 An der Stadtgrenze von Luzern erwartet Sie unser separates Häuschen mit eigener Dusche/WC. Wir freuen uns auf Ihren Besuch. Ein Kinderbett kann aus Platzgründen leider nicht aufgestellt werden!
Coffee and tea are included. Unfortunately there is no place fit a child bed. Separate entrance. See the pictures. Our guests are independent, but they can also reach us every time they want. We are happy to help you with information or stuff that you need. You have from the city center/ main train station a direct bus to us every 10 min. It takes 15 min. Separater Eingang Die Gäste sind unabhängig Das Stadtzentrum ist in 15 Minuten mit einem direkten Bus erreichbar Separater Eingang Die Gäste sind unabhängig Das Stadtzentrum ist in 15 Minuten mit einem direkten Bus erreichbar
Great little cottage, very private. Enjoyed the little deck for a glass of wine and relaxing after a day of site-seeing. Hospitality even included a little bottle of champagne! Close to bus stop and short ride to the city. Would highly recommend.
David
2016-04-22T00:00:00Z
Nice little guest house. Set up like a wee hotel with welcome chocs and bubbly, tea and coffee maker. Very friendly hosts, helped me dry my wet shoes when I arrived and provided me with a phone charger when my adapter wouldn't fit in their sockets. Corina also arranged a travel pass for me which was really handy. Getting bus to and from city centre was very easy and quick, so don't let the location hold you back from booking. Room was lovely and comfortable. Everything I needed. Recommend highly to any single travellers or couples who don't need much space.
Yvette
2015-08-01T00:00:00Z
This is a wonderful place to stay when you visit the area. It is very clean and a fun place to stay. It is very close to a short bus ride into Lucerne. Corina gave us great instructions and a bus schedule. We had a wonderful time sitting on the patio looking at all the beautiful flowers and seeing some cows on the hill in the distance. We picked up some food in the village nearby and ate breakfast on the patio. There were some special touches from Corina that made it even more special. I highly would recommend this little guest house!
Susan
2016-07-07T00:00:00Z
Corina's place is outstanding. She was very welcoming when we arrived and there was even a bottle of champagne and chocolate on entry! The room is modern and clean, with enough space for 2 people. Bedding is comfortable, the fridge holds a few items, and the bathroom looks brand new. There are a few places to eat within the residence/outside, which is also nice if you want to eat at home. Transport via bus to the main part of Luzern is exceptional – very frequent even on a Sunday, or public holiday and the bus stop is a 2 minute walk. Corina responds frequently via Air BnB message if you need anything – she printed out a couple of tickets for us and also offered to post to us a folder that we had accidentally left behind after checking out, which was very nice of her. The coffee machine and capsules are also a great touch, as is the cute little guest book, which you should definitely read and write in if you stay here. We highly recommend this place if you want experience a great place to stay 10 minutes from the Luzern centre.
Tammy
2015-08-05T00:00:00Z
Ueli and Corina are fantastic hosts! They were so helpful in helping us get our bearings in Lucerne and the surrounding villages and suggesting places to visit during our perfect stay with them. Their guest house is cozy, quaint, SO clean and comfortable. No detail was left out- local travel brochures left for us (no need to stop by local tourist office), a bit of sparkling wine, a few pieces of Swiss chocolate, and an espresso machine which we enjoyed every morning :) . One of our favorite parts was falling asleep with the faint sound of cowbells in the distance and waking up to sounds of singing birds (you can also see sheep and cows from your window, so cool) plus- the location is the perfect distance from the center of Lucerne and the downtown area, while also being able to enjoy the idyllic countryside and local villages. You will feel very much like a 'local' visiting in their neighborhood. There is a wonderful shaded area with a table and two chairs just outside the guest house where we enjoyed our daily morning espresso and snack (and my wife enjoyed daily visits from their friendly cats), and a bus stop within 100 yards if you are not traveling by car. We had such a wonderful time and look forward to coming back and next time hopefully it will be warm enough to enjoy the pool!
Michael & Jaime
2014-05-10T00:00:00Z
Lieber Ueli, vielen Dank für Deine tolle Gastfreundschaft und die schöne gemütliche Unterkunft in Deinem Garten. Uns hat es an nichts gefehlt, es war perfekt. Sei es das Gartenhaus mit seiner kompletten und hochwertigen Einrichtung, oder die gemütlichen Sitzplätze davor, der kleine Badewannenpool, die bequeme Busverbindung in die Stadt, der wunderbar zum erfrischen bei hochsommerlichen Temperaturen taugt oder auch Dein zuvorkommender und freundlicher aber nie aufdringlicher Service war, einfach gut. Wir haben die fünf Tage bei Dir genossen und können Deine Unterkunft wärmstens weiterempfehlen. Falls es uns wieder einmal nach Luzern treibt, kann es gut sein, dass wir uns an Dich erinnern :-)
Klaus
2015-08-15T00:00:00Z
We absolutely LOVED our stay here!! The little cottage was away from all the craziness in the city, clean smoke-free air, beautiful gardens, birds singing in the morning, and such sweet caring hosts! We were treated to hot milk before bed, even though we arrived very late at night. Delicious coffee in the morning. Thank you so much, Uel and Corina. You are the best! Hoping to come back soon.
Diana
2015-04-25T00:00:00Z
Corina and Ueli are wonderful host, they are very considerate and helpful during my stay. The room is cozy and clean. You get everything a hotel room can provide and other things hotel doesn't provide, such as an Espresso machine, a welcome gift, a beautiful garden and patio chairs. Corina even helped me with my laundry. I really highly recommend their little house to everybody. Thanks, Corina and Ueli.
Rebecca
2015-06-21T00:00:00Z
Rodzaj pokoju
Całe miejsce
---
Rodzaj nieruchomości
Chatka
---
Mieści
2
---
Sypialnie
Lucerna, Adligenswil, Szwajcaria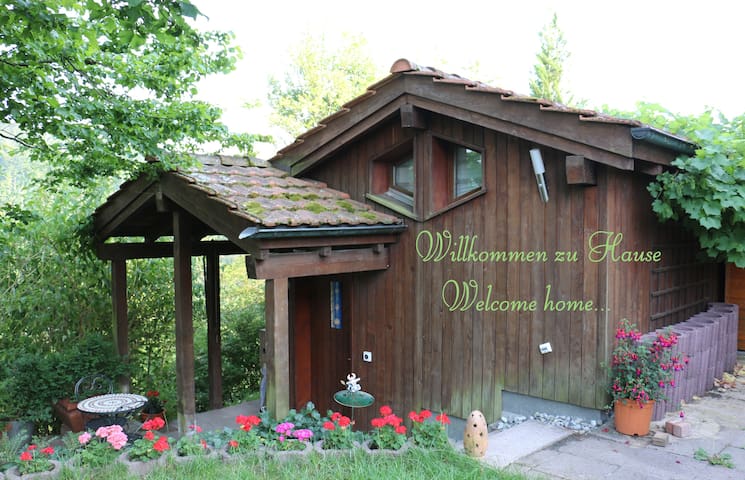 7 minutes from the main station !!Quiet and green surroundings. For 1 or 2 guests. we are a family with 4 children 18 , 21 ,23 and 26 year old. 2 children still at home. These two at the (URL HIDDEN) husband and I are looking forward to your visit from anywhere. Wir sind am Stadtrand von Luzern in einem Einfamilienhaus in ruhiger Umgebung. Uns erreicht man vom Hauptbahnhof Luzern in 7 Minuten per Bus (Nr.7). Gästezimmer für 1 oder 2 Personen. wir haben 4 Kinder. 2 leben noch zu Hause.
Quiet in and outside the house. The house is close to the sights.
beautiful garden and forests
we really like u house,and thank u for wanderfull breakfast,the house have a good location,go to the leon just 20min by walk,on the way u can see all the city ,blue sky ,wind , mountain
howard
2017-03-28T00:00:00Z
It's a lovely place! It's not far away from the city center. You can walk there and enjoy the amazing scenery on the way! Klara is very kind and she loves to chat with you. And I really miss Klara's breakfast. The photos and pictures in the house are cute and you will love them. Don't be hesitate to choose this house!!!
chelsea
2017-03-31T00:00:00Z
The house was very nice and clean. And the host Klara was very kind. The breakfirst was good taste. Everythig was good forr me, If I have chance to stay in Luzern, I will stay in Klara's house again. And I was first guest in that house, It is my great honor.
상철
2017-03-25T00:00:00Z
Rodzaj pokoju
Pokój prywatny
---
Rodzaj nieruchomości
Wikt i opierunek
---
Mieści
2
---
Sypialnie
Lucerna, Luzern, Szwajcaria
Unser Bienenhaus lässt keine Wünsche offen: Neuer Badbereich mit Dusche/WC und frei stehender Badewanne, Wohnzimmer mit Schwedenofen, Minibar und Nespressomaschine, Schlafgalerie. Besonders geeignet für jüngere Menschen, die Ruhe und Natur schätzen. Falls der Aufstieg zur Schlafgalerie zu schwierig ist, steht ein komfortables Bettsofa im unteren Stock zur Verfügung.
Das ehemalige Bienenhaus liegt an schönster Lage auf einem Bauernhof. Es wurde kürzlich komplett renoviert und ist sehr komfortabel. Zu jeder Jahreszeit einzigartig: - Frühling: Blühende Obstbäume und farbenprächtige Wiesen - Sommer: Baden im Vierwaldstättersee und die Terrasse geniessen - Herbst: Beste Fernsicht um die Berge zu entdecken - Winter: Schwedenofen einheizen und ein Entspannungsbad in der Wanne geniessen
Die Umgebung ist ländlich mit kleineren Ortschaften, viel Grün, Wäldern, Bergen und Seen. Direkt vor der Haustüre liegen die verschiedensten Ausflugsziele: Wandern auf die Seebodenalp, Schifffahrt auf dem Vierwaldstättersee, Einkaufsbummel durch Luzerns Altstadt mit Kappelbrücke und Löwendenkmal, Velotour rund um den Zugersee, Picknicken im Wald gleich in der Nähe, Besuch des Natur- und Tierparks Goldau...
Silvia was an amazing host and provided us a wonderful farm like feel in Merlischachen! Upon arrival after a short 15 minute train ride from Lucerne, Silvia greeted us with her vehicle and drove us to her home. The home was meticulously maintained, property and gardens kept up beautifully and the view of the water and mountains was one of the most stunning we've ever enjoyed! This place was exactly as we imagined it and we couldn't recommend Silvia and her accommodations any higher!
Justin
2016-07-10T00:00:00Z
Unser Aufenthalt im Bienenhaus war traumhaft! Die Natur und das Häuschen bieten optimale Bedingungen für entspannende Tage. Das Beste war aber die tolle und sehr flexible Gastfreundschaft von Silvia. Man wird richtig verwöhnt (z.B. mit Frühstück) Wir durften die grosse Küche zu jederzeit mitbenutzen und Silvia war in allen Situationen sehr hilfsbereit. Weil wir aufgrund einer Grippe nicht ins Restaurant ausgehen konnten, haben wir das Geburtstagsessen kurzerhand ins Bienenhaus verlegt, und es war noch viel gemütlicher als im Restaurant ; ) Herzlichen Dank Silvia, für die schönen Ferientage.
Corina
2016-02-23T00:00:00Z
Vielen Dank für den Aufenthalt. Super Unterkunft mit einem wunderschönen Ausblick und einer tollen Gastgeberin. Das Bienenhaus ist modern eingerichtet und bietet einen tollen, verträumten Ort zum Genießen. Sehr zu empfehlen. Gruß Lena&Denis
Denis
2016-11-13T00:00:00Z
Danke liebe Silvia dass du so einen wundervollen Ort der Ruhe und Entspannung erschaffen hast und ihn sogar teilst. Wir haben uns sehr spontan für das Bienenhäuschen entschieden und es war die richtige Entscheidung. Das Häuschen ist mit allem ausgestattet was man für einen gemütlichen Aufenthalt braucht und noch mehr, ein plus war noch das Wandbild mit integrierter Infrarotheitzung, einfach davorstellen und man kriegt wohlig warm, das gleiche im Badspiegel. Ein absolutes Highlight war natürlich die Badewanne mit Aussicht ins grüne und richtung Berge, auch bei Nacht sehr schön wenn man bei gedämpftem Licht zu zweit den Abend ausklingen lassen will. Wir werden auf jeden Fall wieder kommen und das eher früher als später. Für alle Pärchen die einfach mal ausspannen und Zeit für sich haben wollen oder auch Leute die die Ruhe suchen absolut empfehlenswert. Dankedanke nochmals und bis zum nächsten mal Marc und Dede
Marc
2016-11-09T00:00:00Z
It was a wonderful weekend. A great place to escape :)
Barbara
2017-03-05T00:00:00Z
Silvia's please is so magical! If you don't mind staying outside of Luzerne and you want to experience the true Switzerland nature, go for this one! It was an absolutely beautiful experience and we didn't regret staying here at all. Silvia was also very kind and helpful to us, adding another pleasant experience staying at her place. You can thank me later!! :))
Samuel
2017-03-29T00:00:00Z
Host was out of town. Neighbor greeted us. Assistant host told us that we could make our own breakfast in her. home if we liked. She was very cordial.
Theresa
2016-05-13T00:00:00Z
Had an amazing 48 hours in. Switzerland and stayed the two nights with Sylvia and her family. We highly recommend her chalet and the opportunity to be so well positioned to Lucerne. A short train trip or car drive. We hired a car for one day and covered a lot of ground and enjoyed tasting cheese, wine and chocolate. Thank you Sylvia for your hospitality and we hope to visit you again one day in the winter. Kind regards David and Sally
Sally
2015-07-14T00:00:00Z
Rodzaj pokoju
Całe miejsce
---
Rodzaj nieruchomości
Chata
---
Mieści
3
---
Sypialnie
Merlischachen, Kanton Schwyz, Szwajcaria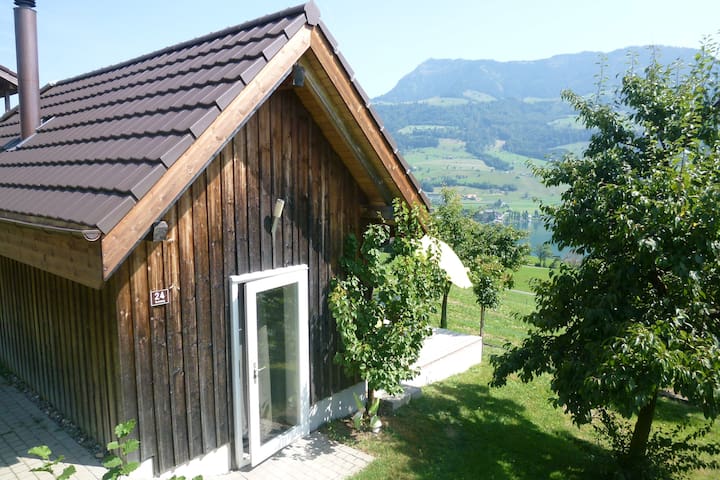 This beautiful and stylishly furnished villa in Lucerne city is a wonderful choice for families and groups alike. Spread out over two levels, everyone in your party will have plenty of space to relax.
There's a fully equipped kitchen, washer-dryer, free wireless Internet access etc. On the ground floor of Villa Celeste you will find a big entrance hall, a bathroom, the spacious kitchen and a capacious living room that invites you to relax, watch TV or dine. A queen size bedroom is also located on the ground floor. The first floor has three bedrooms (a queen-size bedroom, a queen-size bedroom with a single bed and the third bedroom with to single beds). Also on this floor there are two bathrooms with shower.
Villa Celeste is located in a uptown area of Lucerne city. Just footsteps away from the lakeside and all the touristic sights in Lucerne. You can reach the house arriving at the main train station of Lucerne either by taking a taxi (5-10 minutes) or by public transport (bus number 6, 8, to "Würzenbach/Verkehrshaus" in 8 minutes.
Et fantastisk sted for familier, barnevennlig, sentralt og meget gunstig prismessig.
Heidi
2017-03-26T00:00:00Z
We stayed at Villa Celeste in Lucerne this March for four days and I can say without a doubt that it was our best holiday experience thus far!!! We were a group of 10 and were warmly greeted at the train station by Mr.Giuseppe and he kindly transported us in batches to the villa. The villa was just perfect! The location, the garden and impeccable interiors all added to what translated as One swell vacation!!! The lake is just 5 mins walk and bus stations in close proximity as well which makes it very accessible. We thank Mr. Guiseppe for this very memorable holiday for us and our family. Hopefully we will be back :)
priya
2014-03-30T00:00:00Z
Das Haus ist toll, war sehr sauber und alles nötige war vorhanden. Der Gastgeber antwortet sehr schnell auf Anfragen. Super Erlebnis!
Niklaus
2016-03-19T00:00:00Z
We loved staying at Villa Celeste! It's just a minute's walk from the lake and a playground, and an easy stroll along the promenade into the main part of town. The house is beautiful and well equipped, and we really enjoyed the lovely garden and view of Mt Pilatus. The house would easily sleep 8 people, and the sunroom is an especially lovely place to eat breakfast or dinner. A great place to stay in Luzern!
Amber
2015-05-12T00:00:00Z
Wonderful, host. Wonderful house. We lucked into this house when booking in luzerne. Little did we know that giuseppe was going to be not only a host but also a virtual concierge. The house was too big for us but we loved it. Everyone had their own room. The kitchen was great to cut down on meal costs and the location was actually quite good just a 4-5 minute walk to nearest train/boat stop. If we return we'll only stay here. Giuseppe provides a local phone for guests and we used it as our secondary phone and our lifeline to him. Any questions we had, we sent a text and he often responded immediately. When the weather didn't cooperate he offered suggestions to keep us occipied. No hesitation on renting from him. The house is great, big and great location and the owner is a wonderful host.
Shawn
2014-07-14T00:00:00Z
Wie beim ersten mal, auch diesmal alles perfekt!!! Großes Lob an Guiseppe
Viktoria&Simon
2015-02-10T00:00:00Z
就是一栋别墅,距离火车站走路20分钟,公交三站,距离湖5分钟,虽然价格高点,但绝对超值,我能偷偷的说我们还在院子里BBQ了吗。人多的话就住这吧,我们四个人,其实这里能住十个人。
Tang
2015-06-27T00:00:00Z
We loved the whole experience of staying Villa Celeste. Photos don't do the justice to the actual place. Host was very helpful.
Prashanth
2015-05-21T00:00:00Z
Rodzaj pokoju
Całe miejsce
---
Rodzaj nieruchomości
Dom
---
Mieści
8
---
Sypialnie
Lucerna, Lucerna, Szwajcaria
NO YOUNG CHILDREN PLEASE. Quiet, easy going, shared (with owner) apartment! 30 seconds from Lion Monument, 10-15 min walk or 5 min on the nr.1 Bus from Train Station. For 4 or more people you MUST take a second room at CHF50 extra per night, please enquire BEFORE booking for more information! PLEASE READ BELOW FOR DETAILS!!!
NO YOUNG CHILDREN OR INFANTS. There is NO elevator… stairs up to the 3rd floor I'm afraid! If there are 4 or more people you must take a second room at €45 extra per night. For other dates please enquire for more information! Located in Luzern City Center this is a fantastic residency for any kind of traveller. Within minutes you can be lakeside with views of the Swiss Alps. An hour journey from Zurich or Basel Airports. In Summer or Winter Luzern is the perfect base camp for skiing, snowboarding or sledging in winter or Rock Climbing, Bungy Jumping or Sky Diving in the Summer! You will reach Interlaken (Jungfrau), Bern, Engelberg (Mount Titlis), Zurich, Ticino and Mount Pilatus, Melchsee Frutt, Älggi (geographical Center of Switzerland) within 3 hours. The apartment will be shared with me (Viki) and as there are two rooms available on Airbnb maybe other travellers. My apartment is clean and homely and I hope that no matter how long you stay it will feel like home. Around Luzern you will find lots of restaurants and take-aways for every pocket and every taste, or you could visit the supermarket just down the road and cook in my well-equipped kitchen. If you plan on staying around the town you still have numerous activities and sights to see, from the must see (must photograph) Kapellbrücke to the Lion Monument, 1 minute from my door! There are also a variety of museums and art galleries. The transport museum is a big and fantastic day out which also houses an Imax cinema. As well as all these all year round attractions we also have our amazing festivals; Fasnacht – Carnival to say goodbye to winter Honky Tonk Festival – Live music around the city Fumetto – Bringing comedy to Luzern Rose d'Or – Entertainment Festival Rowing World cup – Interntional sports in beautiful surroundings Blue Balls Music Festival – with big names, in 2011 they had Lenka, Ben Harper, Macy Gray and Erykah Badu. Luzern Marathon – Attracting athletes young and old Luzern Blues Festival – Bringing the blues to Luzern City Tax is payable in Cash on arrival, CHF3 per person per night. According to Local Law I need to collect Passport information for the Swiss police, for this I take a Photo of each travellers Passport.
I live in the city but I live just 20 steps away from the busyness!! You can get to the Lion Monument within a minute and all the shops are all within 15 minutes walk!
We had a wonderful stay at Viki's apartment. Everything is neat and organised and Viki was do generous with shopping trips, places to see, even let us borrow plug adapters! The cereal for breakfast and thoughtful tea and coffee made mornings so much easier. We really felt like her place was our place--very comfortable and welcoming thanks to Viki's thoughtfulness. The location is fantastic, truly 1minute from the lion statue, close by parking garage (69 CHF for 3 days, which is actually reasonable in Lucerne), grocery across the street, fantastic coffee around the corner, and great restaurant a block away. If you want to experience Lucerne like a local, stay with Viki! We would definitely stay with her again, and recommend her place to all our friends.
kathleen
2014-08-15T00:00:00Z
Viki was very friendly and welcoming upon our arrival in Luzern, which enabled us to get settled as soon as practical. Viki was generous in allowing us to share her apartment during our stay and we'd certainly recommend others stay here as well. The apartment is very close to the Luzern city center (an easy 10 min walk) and is close to a very handy COOP (groceries) shopping center (2-3 min walk) and other shopping facilities.
Martin
2016-09-10T00:00:00Z
루체른 역에서 멀지 않고 시내를 걸어서 여행하기에 최고의 장소입니다. 아파트도 깨끗하고 쾌적하였습니다. 추천합니다.
Kyung Min
2014-12-12T00:00:00Z
Viki was so nice and accommodating - she wasn't there while we were there, but she greeted us when we arrived and made sure we had everything we needed. The location is perfect - walkable from the train station (just a small uphill) and close to the lake, Lion Monument, shops, etc. We had three girls total travelling together and were very comfortable. Another couple stayed in the room across the hall and there was plenty of space for all of us. Thanks Viki!
Jessica
2011-07-31T00:00:00Z
방과 욕실, 숙소 전체가 깔끔했고 Viki가 적어놓은 가이드도 좋았어요. 기차역이랑 구시가지도 가까워서 도보로 이동하기 편해요
Jihye
2015-05-20T00:00:00Z
I spent a couple of days at Viki's during my visit in Lucerne. While she made sure to respect my space throughout my stay, I enjoyed the chats Viki and I had when we crossed paths. The room was spacious, the apartment was clean, and the location was perfect. I would recommend Viki's place in a heartbeat!
Mélanie
2014-08-21T00:00:00Z
Viki is a friendly host and the apartment is really spacious. The 4 of us stayed in 2 rooms but they'll fit 6-7 comfortably. The location is great, just 1 min away from the Lion Monument and 3 mins away from the Coop. Viki is very environmentally friendly-- we were slightly pressured by the water meter. But other than that, it was a pleasant stay.
Adeline
2016-03-08T00:00:00Z
Viki is friendly and she has provided us some good information on where to go and where to eat. The room is spacious and it is really clean. The place is quiet and is very near to the lion monument. I would recommend this place if you do not mind a short walk from the train station.
Delin
2015-10-11T00:00:00Z
Rodzaj pokoju
Pokój prywatny
---
Rodzaj nieruchomości
Apartament
---
Mieści
5
---
Sypialnie
Lucerna, Luzern, Szwajcaria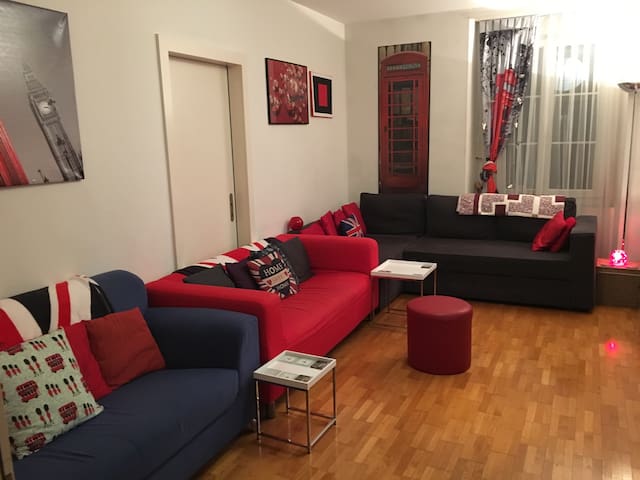 1 1/2 private room-apartment located in near the transporter museum and just a few minutes walk to the lake. Bus stations are 2-7 minutes walk and it take about 10 minutes to lucerne downtown with the bus. Furnitures (one standard bed 120x 200/closet/tables/chairs), items to cook and all you need are available(hair dryer, iron, gym machine, printer and so on), just bring your own towels and shower gel. The apartment has Free WiFi and Swisscom TV.
The apartment is for 1-2 person but there is just a standard double bed. The whole apartment is privacy with a washroom, bathtub, big balcony, kitchen with ofen, fridge, and freezer.
The host is near the "Vierwaldstättersee" lake of Lucerne, park "Lido", adventure golf park, and also the transporter museum "Verkehrshaus". In a few minutes walk and about 10 minutes bus drive you get to downtown lucerne.
Rodzaj pokoju
Pokój prywatny
---
Rodzaj nieruchomości
Własność wakacyjna
---
Mieści
2
---
Sypialnie
Lucerna, Lucerna, Szwajcaria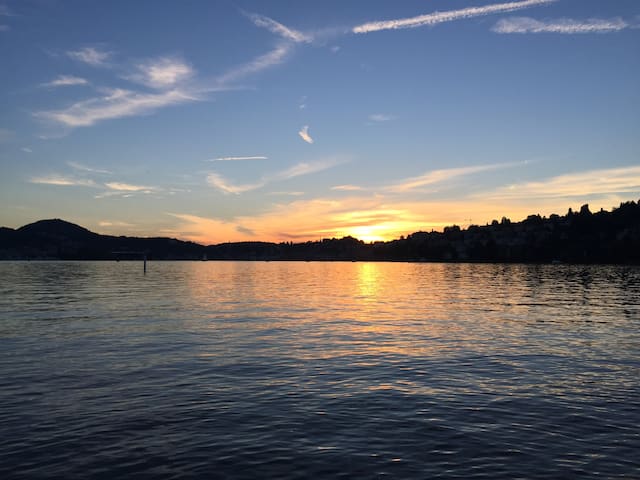 Very nice and calm centrally located private room with Bedsofa and balcony. 1 minute walking distance to bus stop and 3 minutes to supermarkets . 10 minutes walk to the lake and beach (Lido). The central station(SBB) and old town is 10 minutes by bus.
Rodzaj pokoju
Pokój prywatny
---
Rodzaj nieruchomości
Apartament
---
Mieści
1
---
Sypialnie
Lucerna, Luzern, Szwajcaria
ferienwohnung in einem über 200 jährigen authentischen bauernhaus, in welchem ich und mein freund leben. prächtige aussicht auf berg und see, badestelle 300m vom haus. garten. gute anbindung an öffentlichen verkehr.
An apartment in a 200 year old farmhouse with wonderful Lake view and with view on the mount RIGI, the queen of the mountains. Authentic country style ,2 bedrooms , one living room with dvd-player, bathroom, good equiped kitchen. In this tradional houses the rooms are not high (only 1,9m), so watch your head. .
Food store in the village, excellent bakery, some restaurants near the lake, a theater during winter season, the Tierpark in Goldau and many many possibilities for hiking (Mount Rigi - queen of the mountains!) biking, swimming, enjoy the nature.
Ein über 200 Jahre altes sehenswertes Haus in ruhiger Lage mit traumhaftem Ausblick auf den See von einem Schlafzimmer und den beiden Wohnzimmern. Der Vermieter ist sehr freundlich und unkompliziert. Die Einrichtung ist funktioniell, ein moderner Pellet-Kaminofen im Wohnzimmer sorgt für gemütliche Wärme - für alle, die keinen Luxus suchen, können wir das Haus sehr empfehlen. Wir waren nur zwei Nächte dort wegen einer Familienfeier in der Nähe, wären aber gerne auch länger geblieben; wenn wir wieder mal in die Gegend fahren, kommen wir bestimmt noch mal wieder. Mit meinen 179 cm habe ich mir nur an ein paar Querbalken den Kopf gestoßen in unachtsamen Momenten - wer deutlich größer ist, wird aber mehr Probleme mit der niedrigen Deckenhöhe bekommen.
Volker
2015-04-20T00:00:00Z
We had a wonderful experience in this 200 year old farmhouse. Jurg is very friendly and helpful. We will definitely recommend it to others.
Basab
2013-09-08T00:00:00Z
what a great place, friendly host, spotlessly clean, easy access , easy parking. good WIFI this is apartment style accommodation with PLENTY of space. breakfast was available at extra cost. Stunning views across the lake. You need to stay more than one day to appreciate and explore the area. you will not be disappointed
Trevor
2013-09-23T00:00:00Z
Notre séjour chez Jürg fut très agréable et dépaysant. Exactement ce que nous cherchions pour 4 jours! Sa maison, la vue sur le lac, sa gentillesse et son hospitalité,.. tout était parfait. Nous reviendrons avec plaisir !
Noémie
2014-04-18T00:00:00Z
We felt very welcome and enjoyed our stay. The height of the beams are definitely a challenge for anyone over six feet but the view is worth it. It's is perfectly located for travelling the country side and cities.
Janet
2015-06-29T00:00:00Z
It was a pleasant farmhouse that reminded my grandma's contryhouse from my childhood. I liked the smell of wood and fresh air. My children had anough space to play and crawl. Juerg has got different interesting books to read and wonderfull fim collection to watch on DVD. My family liked the spirit of that home and we would reccomend it to other families with kids.
Anastasia
2013-11-07T00:00:00Z
The day we were supposed to arrive, that day was my wife's Birthday. I just asked Jürg, for Bakery in Arth. He replied- That day is Public holiday in Switzerland. So, he bought nice cake for me and placed in the Kitchen. That was a wonderful surprise for my Wife. Rooms are big, furnished, nice kitchen, nice location, wonderfull lake view. Living there was just like to live in our Home. Full freedom. I am very satisfied with this Great Farmhouse. Definitely, We will go there once again. :-)
Atul
2013-08-19T00:00:00Z
We enjoyed our stay at Jurg's farm house. The house is very spacious, clean, situated on a hill, and the neighborhood is quiet. We had everything we needed for our stay. Jurg was very kind and helpful. Thank you Jurg!
Marina
2013-07-13T00:00:00Z
Rodzaj pokoju
Całe miejsce
---
Rodzaj nieruchomości
Apartament
---
Mieści
4
---
Sypialnie
Arth, Kanton Schwyz, Szwajcaria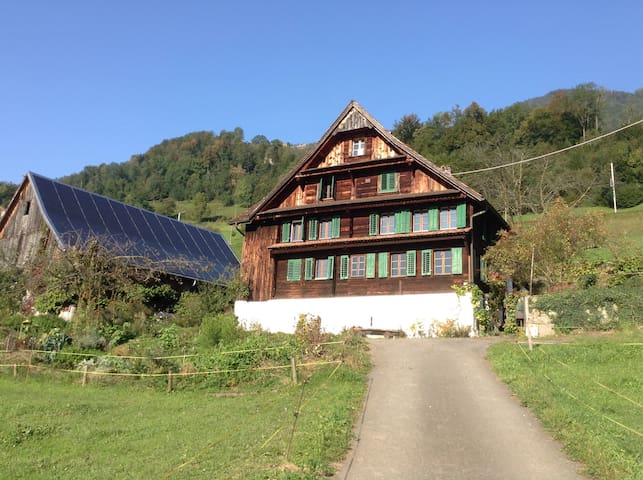 Non-Smoking room, modern, lovely furnished, TV, fridge, WiFi, telephone and sink with mirror in the room In the centre, a few steps away from the Lion Monument and Bourbaki Panorama, old town and railway station reachable in short walking-distance, public transport in zone 1 is free
Zentral gelegen, sehr netter Kontakt!
Nicole
2017-04-02T00:00:00Z
The location is good!
殷
2017-03-29T00:00:00Z
This place is in a great location!
Andrew
2017-04-04T00:00:00Z
Rodzaj pokoju
Pokój prywatny
---
Rodzaj nieruchomości
Dom
---
Mieści
1
---
Sypialnie
Lucerna, Lucerna, Szwajcaria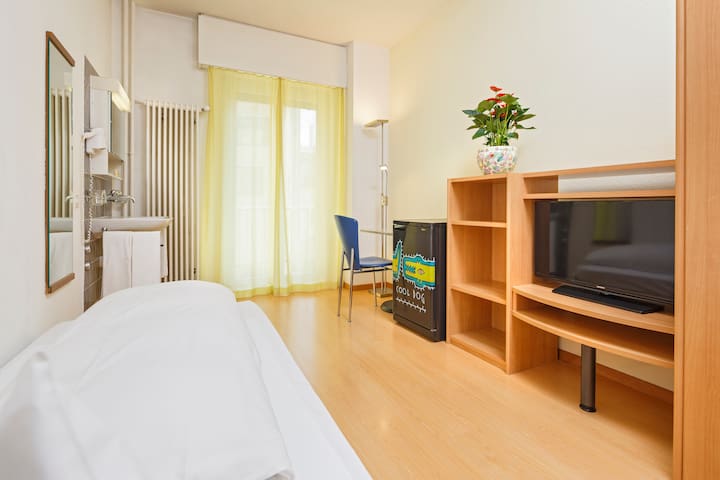 Lovely, completely new renovated room in loft appartment above Rotsee lake. Nice kitchen with fridge and coffee machine. Balcony with view to the lake and sunset. While being in a quiet area, this place allows you reach Lucerne city center within 10 minutes from the bus station which is only 50 m away from the house. Bathroom and kitchen are share with 1 other Airbnb guest room.
You have a wonderful view from the balcony, the location is next to public transport as well as a car rental (Hertz).
House is next to natural place of Rotsee lake, famous for the rowing world cup each June. Hundreds of runners & walkers round the lake each day!
Great time! Would recommend!
David
2017-03-25T00:00:00Z
Wunderschöne Erfahrung in diesem Haus!Erich ist sehr nett und wir haben einen angenehmen Nacht verbracht!
玮玥
2016-12-30T00:00:00Z
Nice Erich and his lovely family. It's a great experience!
Jason
2017-01-31T00:00:00Z
Rotsee was nice.
Dongwoo
2017-02-11T00:00:00Z
Good
Wai Yin
2017-03-23T00:00:00Z
중앙역에서 도보로는 이동이 어렵다는 점이 단점. 버스로는 10분 정도 걸리지만 버스비 요금이 만만찮다는... 그 외에는 전부 좋았다. 창밖 뷰도 예뻤고, 한적해서 여유를 즐기기도 좋음! 침실과 화장실은 매우 깔끔했고 부엌도 기본적인 조리도구나 식기가 갖추어져 있어 편리했다. Erich와 katja가 매우 친절하고 상냥해서 더 좋은 기억으로 남을 듯.
Jeesu
2017-01-16T00:00:00Z
The house is really warm, sweet and clean, got everthing we need. Just 10 mins by bus from the train station. Erich and Katja are wonderful hosts. We only stayed for one night, but thanks to Erich's advice, we made to Mt.Rigi, which was mind-blowing! We can't thank you enough for the wonderful experience.
WENTAO
2017-01-23T00:00:00Z
The place was perfect, right by the lake and away from the traffic and noise. We went during the peak winter time and it was picturesque . The room was nice and clean and kitchen was right opposite. The hosts gave us perfect directions and made us feel welcome. Erich , Katie and Jacob were all wonderful and we had a great time at ebikion.
Anudeep
2017-01-11T00:00:00Z
Rodzaj pokoju
Pokój prywatny
---
Rodzaj nieruchomości
Loft
---
Mieści
2
---
Sypialnie
Ebikon, Luzern, Szwajcaria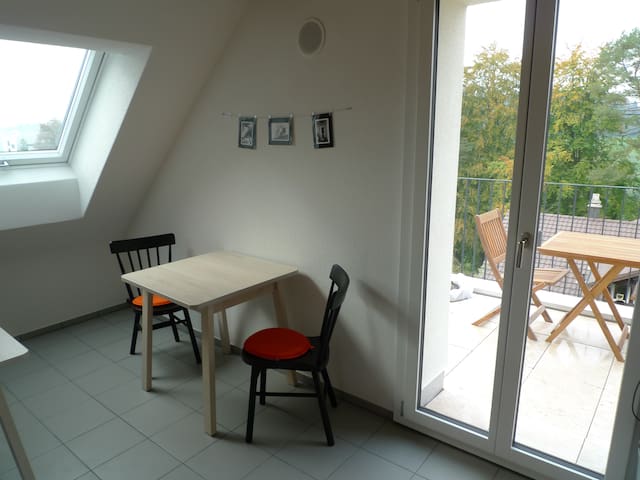 The top floor of my house, comprising 2 bedrooms with twin beds + an additional queen size bed, suitable for max 4 adults and 2 children up to 12y. the floor is featuring 1 private bathroom with jacuzzi. Kitchen, living, etc. are shared amenities. Please check my other listings for smaller or bigger parties.
Ze House is situated in a quiet, residential area in the Lucerne suburb of Adligenwil, a 10 minutes' car- or a 14 minutes' bus ride from the city center. Since on a slightly elevated sited, Ze House is suitable for guests traveling by car, coach or taxi. People traveling by public transportation will find more convenient accommodation at one of my other listings next to the bus stop in the center of the village.
Guests will appreciate the location of Ze House for its peace and tranquility, being set in a natural, green environment with great views of Mt. Pilatus and Mt. Rigi, yet having the city center nearby. Lots of amenities, such as a big supermarket, several restaurants, children's playgrounds, public transportation etc. are found within minutes walking only.
We had a wonderful time at Ralph's place . He was an excellent host and was very helpful in guiding us and giving us suggestions about our trip there. The house has stunning views and the surroundings are breathtaking .Public transport is easily accessible as well .
Sarvesh
2014-09-27T00:00:00Z
Our family LOVED staying at Ze House! Ralph is a wonderful host - full of local information and fun ideas for the kids. We received a warm welcome when he picked us up from the bus stop (only a short walk to Ze House, but the ride was much appreciated because we had all our luggage). Our rooms were large, clean, and comfortable. The view from the dining/family room balcony is beautiful. The kitchen was clean and well-stocked. The best part of our stay (aside from Ralph's great hosting skills) was being able to interact with other families who were also staying at Ze House. Our children looked forward to the end of each day of sightseeing when we could return and relax in the common areas with Ralph and the other families. Our trip to Lucerne would not have been as fun or memorable had we not stayed at Ze House. Thank you Ralph for everything!!!
Catherine
2014-08-24T00:00:00Z
Great experience. Ralph was very friendly and helpful with everything we needed. Kids friendly. Great location and view. Would definitely go back.
Jenny
2015-12-20T00:00:00Z
The host was nice , he pick us up and send us to bus stop. His place was as described.
Min
2015-12-16T00:00:00Z
We had a very nice stay with Ralph and his cute puppy Jiwa. His house is ideally located for exploring Luzern and its surrounds, in a nice quiet neighbourhood. Ralph was friendly, helpful, and my kids loved hanging out with him. They felt right at home and were relaxed and comfortable, which speaks volumes. We also enjoyed chatting with the other travellers staying in the house. Overall, a lovely stay!
Eve
2014-09-14T00:00:00Z
Thanks to Ralph for his kindness and his warm hospitality ! The 2 rooms and bathroom were great, big enough for 4 adults and the sharing parts (living room and kitchen) were perfect. Ze house is well located, very close from Lucerne, by car and by bus. It's also good because it's in a small village, perfect for a jogging in the morning !
Julien
2014-06-02T00:00:00Z
Bonjour Nous avons été accueilli les bras ouverts par Ralph, qui a su garder notre privacité, Ayant trois enfants, à 22h00, nous avons dû lui demander d éteindre la musique qui empêchait nos enfants de dormir, il L a tout de suite fait, Nous recommandons ce logement à toute famille.
Anne-Marie
2016-07-11T00:00:00Z
This was my first booking via airbnb and I consider myself lucky to have the pleasure to stay with Ralph, who is a generous host. Thank you Ralph to make us feel so welcome in your wonderful house. I recommend if you ever want to stay in Luzern to stay with Ralph and his charming pup Jiwa. The view from Ralphs terrace is simply stunning and makes you want to simply relax. thank you!
Ania
2014-10-10T00:00:00Z
Rodzaj pokoju
Pokój prywatny
---
Rodzaj nieruchomości
Dom
---
Mieści
6
---
Sypialnie
Lucerna, Szwajcaria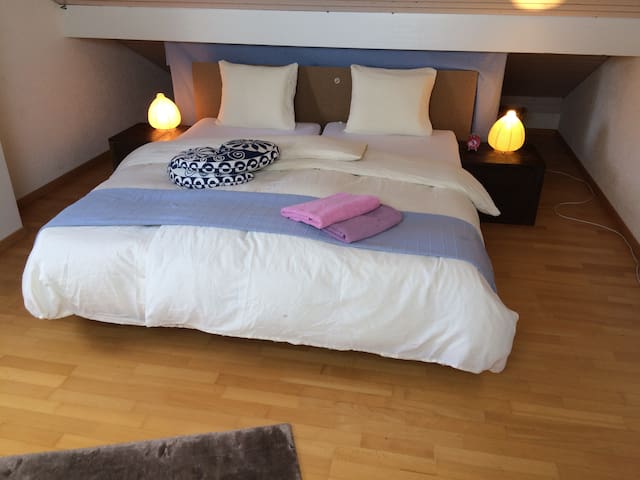 The Villa Griswolden is surrounded by a generous garden from where one can enjoy a breathtaking view of the mountains, the lake Lucerne and the city of Lucerne. One enjoys absolute privacy and rest and is, nevertheless, quite near the city centre.
Die Villa Griswolden liegt an Luzerns bester Aussichtslage und erstreckt sich auf einem knapp 6'000m2 grossen Grundstück. Über eine repräsentative Auffahrt erreichen Sie die herrschaftliche Villa eingebettet in eine mit viel Liebe gepflegte Gartenanlage. Das traumhafte Anwesen verfügt über einen atemberaubenden Panoramablick auf den Vierwaldstättersee, die Stadt Luzern und die Bergwelt. Hier geniessen Sie absolute Ruhe und Privatsphäre. Diese exklusive Villa verfügt über 7 separate Schlafzimmer mit 5 Doppelbetten, 2 Einzelbetten sowie 3 Nasszellen. Die hellen und grosszügigen Zimmer wurden von den beiden Gastgebern Marlen und Edris mit viel Liebe zum Detail neu ausgestattet und eingerichtet. Inmitten der grossen Gartenoase befindet sich ein Bassin – ideal für eine Abkühlung an heissen Sommertagen (nicht zum Schwimmen geeignet); ein Paradies für Kinder! Genauso faszinierend wie die vornehme Villa Griswolden sind die Stadt und seine Umgebung. Über einen kurzen Spazierweg erreichen Sie die Bushaltestelle und gelangen so in wenigen Minuten an den See, in die Altstadt, zum Bahnhof oder KKL. Oder entdecken Sie die Altstadt Luzern über einen ca. 15minütigen Spaziergang durch Luzerns Villenquartier. Der Autobahnanschluss liegt 8, der Flughafen Zürich 45 Fahrminuten entfernt. Die Stadt Luzern liegt Ihnen also zu Füssen und was immer Sie von einer einzigartigen Stadt erwarten, Luzern bietet es, und noch vieles mehr! Das berühmte KKL (Kultur- und Kongresszentrum Luzern), eine Vielzahl an Sehenswürdigkeiten, Museen, Theater und Festivals machen Luzern zu einer Kulturstadt, die sich elegant zwischen Tradition und Trend behauptet. Tauchen Sie ein, flanieren Sie den Quais entlang, geniessen Sie eine vielfältige und ausgezeichnete Kulinarik und den Blick auf eine grandiose Berg- und Seelandschaft in unmittelbarer Nähe. Luzern ist auch eine Shopping-Boutique. In der charmanten Altstadt mit den kurzen Wegen finden Sie Shops und Boutiquen mit einem exquisiten Angebot. Die Region Vierwaldstättersee bietet alles, was Sie sich für Ihre aktive oder passive Erholung wünschen. Wandern, Radfahren, Skifahren und Windsurfen sind nur einige der zahlreichen Sportarten, welche Sie hier in der Region und in unmittelbarer Nähe ausüben können, Der Golfplatz beispielsweise befindet sich in nur 2km Entfernung. Oder geniessen Sie eine der unzähligen Möglichkeiten für unvergessliche Ausflüge. Eine Dampfschifffahrt auf dem Vierwaldstättersee ist ein absoluter Höhepunkt aber auch eine Entdeckungsreise auf Luzerns bekannte Ausflugsberge ist ein "MUST". Die Nähe zum See und die Berge garantieren ein unvergessliches Rahmenprogramm und machen Ihren Aufenthalt zu einem unvergesslichen Erlebnis! Wundern Sie sich dehalb nicht, wenn Sie dieses Flecken Erde nie mehr verlassen wollen.
The Villa Griswolden is situated on a hill, in a quiet and safe neighborhood. Next to the Villa there is the conservatory, surrounded by a beautiful, small park.
This experience exceeded our expectations in every way. We took a bus from the train station but unfortunately took the wrong bus (#7) instead of #14 . Marlen kindly rescued us with her own car. We were a group of 8. Our group included couples with extensive to little foreign travel experience and everyone agreed that this was one of their best stays if not the best stay ever. Marlen was very responsive to any question or situation but things ran very smoothly. Highly recommend and would hope to return some day. If you plan to stay in Lucerne for 2 days the Swiss Travel Pass may be a wash . We stayed 4 days and probably got double its cost. We did go to Rigi, Pilatus and the Stilthorn. It covers the bus to town. Do it!
Lance
2016-08-24T00:00:00Z
Marlen and Edris were extremely easy to deal with. Responsive and helpful and they met us to give us key and instructions for the house. The home is just as the pictures show it, very spacious! 5 bedrooms facing the lake and another two bedrooms facing the front of the property. 3 bathrooms a bit dated, however, in working order. Spacious kitchen, fully equipped and there is a washer and dryer in the upstairs laundry room. Beautiful grounds with breathtaking views of Lake Lucerne and Mt. Pilatus. Centrally located but very private. Truly a wonderful experience!!
Ivette
2015-09-29T00:00:00Z
Absolutely one of the best experiences I've ever had. Marlen & Edris were fantastic hosts and couldn't have made us more comfortable in this beautiful estate over looking Luzern with breathtaking views. I highly recommend staying here if you ever get the chance. Thank you! We all hope to see you again.
Sam
2015-11-11T00:00:00Z
This house is incredible with the most beautiful outside view I have ever seen. It is also spacious with 7 bedrooms and a big living room. I stayed here during the winter season so the heaters all over the place is a plus. I believe there will be even better view during the spring and summer with all the flowers in the front yard. The location is also great and it takes only 10 min from the main station. Marlen and Edris are great hosts. They solved every problem efficiently during our stay. Overall I would recommend this place to my friends when they visit Lucern next time!
Haoxiang
2016-03-26T00:00:00Z
Marlen and Edris were great hosts. The place is beautiful and the perfect location for a great vacation. The views are like none other. We will always remember staying there and the great time we had. Thank you again.
Samuel
2014-05-30T00:00:00Z
Marlen And Edris (Eddie) were very accommodating hosts throughout our stay. My family (9 people) thoroughly enjoyed our time at the Villa. The Villa is located in a nice neighborhood on very top of a hill which provides outstanding panoramic views of Lucerne, the lake, and Mount Pilatus and all the other mountains. It is a very special property dating back to the 1800s. There is an old panoramic stone in the backyard dated 1899 which I find to be quite interesting as it provides details regions landscape. Marlen and Edris were very welcoming, provided us with a generous supply of fruit and chocolate. We cooked our own meals while we were there. There is a nice COOP at the train station to get groceries at, and there are two refridgerators in the Villa's kitchen which came in handy for all the food we bought, plus we grilled on their barbeque grill outside. We had some delicious meals outside in a very relaxing atmosphere. We all had Swiss Travel Passes so we used the #14 bus which has a stop right at the bottom of the stairs leading up to Villa. It's only about 4-5 min ride into town or to the train station and runs every 15 mins. Very convenient. Our initial trip with luggage up to the Villa upon our arrival was little taxing, especially for the older people in my family. But there is a curved road for about 2 and 1/2 blocks you can walk up with luggage if you don't want to take the stairs. Overall, I'd say the Villa is a perfect destination for large families or groups. Our group of 9 had PLENTY of space. The history, and views, and the scenery are what make this property so special. There is also an old musical conservatory with park on one side of the Villa and I guess Marlen's father is the neighbor on the other side ready to assist with any issues. So it's pretty nice to have those kinds of neighbors on each side of you. Many of my family members considered this Villa their favorite part of our trip to Switzerland, which says a lot because Switzerland is such a beautiful country and we saw a lot of cool things. Thanks for a great stay!
Phil
2015-06-06T00:00:00Z
My wife and I decided to get this place for the weekend to host a 10 people brunch for some overseas guests and it was truly a great experience. Marlen was very kind and helpful with any request or question we had and the home in general was very clean and comfortable. The home is as described in the ad and I would say much more, the views of the lake and city of lucerne are breathtaking. Connections to public transport is easy, 10 minute bus ride and 10 minute walk or by car just 10 minute from city centre. I would definitely recommend this place to anyone. Cheers!
Daniel
2016-01-31T00:00:00Z
Usually I am wary about superlatives, but the Bijou Villa Griswolden is without a doubt the top location to stay in Lucerne. It has the best view in the city, plenty of space even for a large group, the ultimate private location, easy access to public transportation (about 5 mins to old town city center by bus, 15 mins walking), and wonderfully gracious hosts Marlen and Edris with their professional property manager. The bottom line is that if you are looking for a truly magical experience in Lucerne, look no further and stay here. The Villa is perfect for events too, like weddings or gatherings, and has a large private outdoor area with views of the city and surrounding mountains (Pilatus, Titlis, etc). The 14 Bus goes directly from the train station to the Konservatorium stop very close to the Villa, making it easily accessible even without a car. There is, however, plenty of parking space for guests within the villa compound. The inside is well appointed, clean, and has all the amenities including a large marble bathtub, professional espresso machine, large kitchen, and bedrooms with a lake and mountain view. The music conservatory, with beautiful gardens and walking paths, is right next door for an easy morning stroll to the sound of the students practicing their music. Outside of the villa is a picturesque wading pool, Barbecue grill, lawn chairs, table, private areas, and beautiful old trees, all looking out over the city and mountains. Skip the 5-star, CHF 1000+/night hotels downtown and stay here instead. You will not be disappointed. We will never be able to return to Lucerne and stay anywhere but this Villa - nothing else even comes close to its beauty and grandeur. -Jeff and Jenny
Jeff
2013-09-27T00:00:00Z
Rodzaj pokoju
Całe miejsce
---
Rodzaj nieruchomości
Willa
---
Mieści
10
---
Sypialnie
Lucerna, Lucerna, Szwajcaria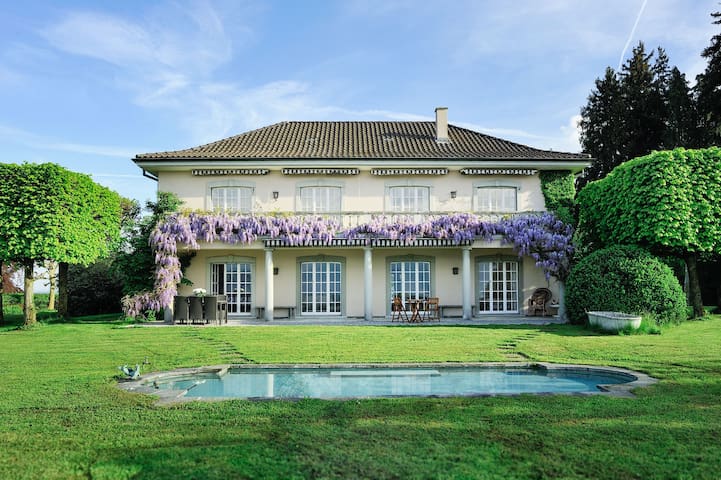 I am more than only a 1***** b&b: specially for independant, open minded and easy going travellers
Only for someone, who seeks an adventure and truly loves nature and animals. If you dislike any smell (cats, dogs, pigs/horse shit from outside) - skip to next offer. This is a farm, not a hotel. I clean. But cleaning is not my hobby. What you can expect.... 73 year old farm house fully wooden made authentic silence peace positive energy exchange of thoughts and beliefs surrounded by fields near lake with public swiming areas near forest with lots of hiking trecks breath taking views What you should accept.... never restored no luxury no comfort simple infrastructure What you can enjoy.... huge wild garden with hang matts lots of beautiful hiking trails around The house is alive..... 'talks' 'smells' 'breaths' What maybe is happening.... an owl calling at night a fox and milan call by the storchs saying hello birds singing you a night song What you should love..... animals and pure nature we have many cats and a young dog horses are nearby in the stable cows and bigs not far
Mountains Lake Forest Fields
The house is definitely located in a paradise, with all the spectacular views of the lake, the mountains and the forests. Nevertheless, it takes less than half an hour to get to the city center by a direct bus. And the house it self, made of wood and dwelled in by the warm family of cats, is just like what is told in fairy tales. The landlady is kind, friendly and humorous. We enjoyed our trip very well, and we really wished we could stay for more days in this place.
Haining
2016-08-22T00:00:00Z
Susanna is very kind and humorous,and the house is really wonderful with a natural garden…
可可
2016-07-30T00:00:00Z
전반적으로 스위스 시골 풍경과 집을 느낄수있어서 좋았습니다 호스트는 친절하구요 ㅎㅎ 스위스 시골 느낌의 집에서 머물고 싶다면 추천합니다
Jun Young
2016-08-05T00:00:00Z
房东非常热情!如果你对住宿、厨房、洗漱环境的卫生条件要求不高,可以选择!如果你对猫腥味不是那么不可忍受,可以选择!如果你想体验瑞士的贫民生活,可以选择!
RUILIANG
2016-08-27T00:00:00Z
Susanna is a very loving and caring person. We were met with great hospitality although we arrived late, and she made us feel welcome right away. What the place lacks in luxury it makes up double in charm. Susanna showed us a great hiking trail and gave us helpful advice on where to travel. She even took us bathing in the lake! We would definitely stay here at a later time should our paths cross!
Sondre
2016-08-19T00:00:00Z
By far the best AirBnB experience I've had so far, we booked and arrived late at night by motorcycle under a heavy rain, and Susanna waited for us under a pouring storm to make sure we'll found our way to her house in the dark, then offered the best to make us feel at home. Absolutely beautiful little house, colorful, full of live (including the cats), a perfect and comforting stop in our adventure. Susanna is really a great host, many many thanks and hopefully see you again some day !
Charles
2016-07-26T00:00:00Z
Das Ort Meggen ist unglaublich schön....von Susannas Haus ist eine wunderschöne Panorama....Susanna ist sehr offen und freundlich und hilfsbereit ...
Cristina Maria
2016-08-12T00:00:00Z
Susanna ist einer aussergewöhnliche, humorvolle und herzliche Gastgeberin und wir haben mit ihr und ihrem Sohn einen sehr schönen Abend verbracht. Das Haus liegt in einer wunderschönen Gegend und ist auf seine Weise einzigartig. Es ist schon "in die Jahre" gekommen und es knarzt hier und da Mal. Was jedoch nicht weiter schlimm ist. Um das Haus herum schwirren die 8 Katzen von Susanna, die zwischendurch auch Mal ins Haus kommen.
Katharina
2016-08-21T00:00:00Z
Rodzaj pokoju
Pokój prywatny
---
Rodzaj nieruchomości
Wikt i opierunek
---
Mieści
2
---
Sypialnie
Meggen, Luzern, Szwajcaria
Wpisz daty, by zobaczyć pełną cenę. Obowiązują dodatkowe opłaty. Cena może uwzględniać podatek.