Beautiful mini house fully equipped for your business trip or a romantic getaway you will not be disappointed in this wonderful town centre location
It's in Brights Path in a historic lane in Maldon high street .
Rodzaj pokoju
Całe miejsce
---
Rodzaj nieruchomości
Dom
---
Mieści
4
---
Sypialnie
Maldon, Anglia, Wielka Brytania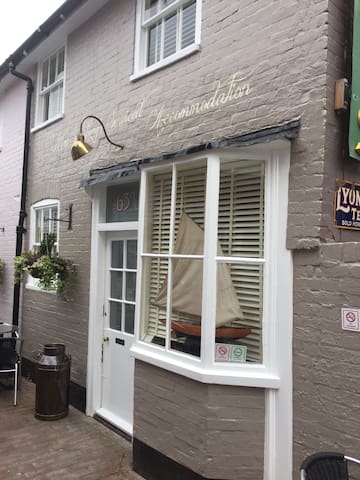 Converted World War 2 Landing Craft, giving modern en-suite 2 double/twin bedroom self-catering accommodation, on shore but in pleasant riverside location. Comfortably-heated throughout with fully equipped open-plan kitchen, living area and patio.
Truly unique! Accommodation is in a spacious modern converted WW2 landing craft, conveniently dry-docked in a riverside garden with two cosy en-suite double/twin bedrooms. An open-plan kitchen and living room offers ample space, opening to a sunny morning patio.
In a quiet lane within easy walking distance: up the hill to Maldon's top-20 market town high street (10 mins), over the stile to Beeleigh Abbey, canal and weirs (20 mins), along the river past the Maldon Sea Salt works to Hythe Quay, home of working historic Thames sailing barges (15 mins) and on to the Promenade Park.
Once again we stayed in Carole's unique accommodation but this time with the added bonus of sunshine ! Enjoyed our meals out on the deck area surrounded by Cares amazing garden . Great location for Maldon town , shops and lovely river walks !!
Mike & Tina
2016-08-27T00:00:00Z
We stayed here as we working in Maldon but it definitely felt more like a holiday! The houseboat itself is lovely, spacious and light, well equipped and in a gorgeous setting; lovely to lie on the bank between the houseboat and the river watching the wildlife and the ebb and flow of the tide - all with Thames Sailing Barge rigging visible in the distance. From the super welcome on arrival to just after leaving, when Carole phoned us to say we'd left something behind, Carole and Patrick were perfect hosts, really friendly with great local knowledge and close at hand to answer any questions. I definitely recommend staying here, I certainly want to go back for a proper holiday!
Lara
2016-05-19T00:00:00Z
Wonderful stay in riverside location. And not too many folk can say they spent a night in a converted WW2 landing craft! Highly recommended.
Marc
2015-10-25T00:00:00Z
j ai passer un bon sejour merci merci beaucoup
Hayrettin
2016-07-11T00:00:00Z
Myself and 2 friends stayed here as we were looking for somewhere to stay as we were going to V Festival for the Saturday. We stayed the Friday and Saturday night and we had a lovely stay. Carole's attention to detail was great and we had everything we needed. We had a lovely gift on our arrival and also some local beer and wine! There were games, books, dvds and all the cooking equipment you could need readily available. The boat was a lot more spacious than we expected and it was more than big enough for 3 adults. We had a lovely stay and was to thank Carole and family for making us feel so welcome!
Rosie
2016-08-22T00:00:00Z
A hugely comfortable and quirky property in a delightful setting. As a weekend retreat it was just perfect with all the amenities of Maldon on the doorstep, particularly The Old Smokehouse next door. It's also a great spot for wildlife with all sorts of water loving birds on the river and even an adventurous seal.
Ian
2016-08-31T00:00:00Z
Interesting and fantastic place to visit and stay. Carole and Patrick were very kind and thoughtful with extra's such as some toiletries, a gift of Maldon salt and some basic provisions. Accommodation was exactly as described in a beautiful back yard. Was warm and cosy with books, DVDs and plenty of bedding and towels. Would not hesitate to recommend this listing was perfect for our family of 4 (2 adults and 2 children). Thank you for a wonderful stay.
Gail
2016-10-22T00:00:00Z
A lovely place exactly as advertised. Very friendly host who was very helpful but also a private site next to the river. Really enjoyed our stay and look forward to making an excuse to come back.
Gavin
2015-10-27T00:00:00Z
Rodzaj pokoju
Całe miejsce
---
Rodzaj nieruchomości
Inny
---
Mieści
4
---
Sypialnie
Maldon, Wielka Brytania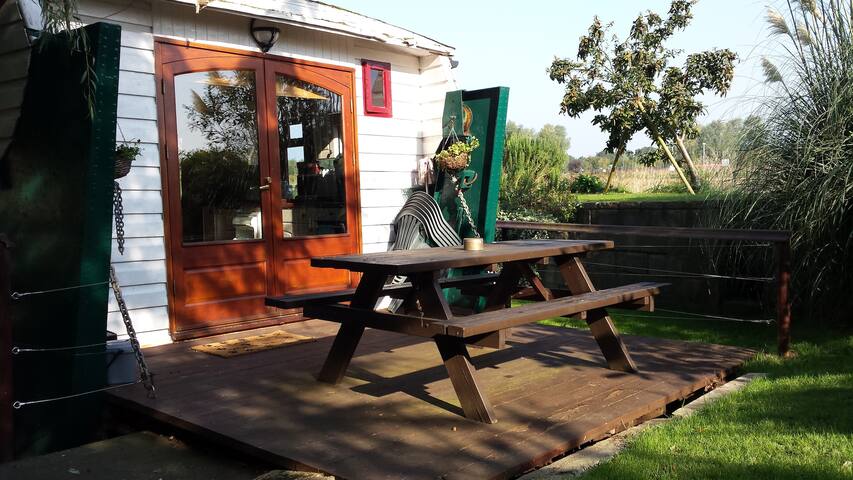 My home is close to the high street, The Historic Hythe, the beautiful Maldon Promenade Park, local country side with scenic local walks. The location is accessible to Chelmsford and Colchester. There are also good road links into London. You'll love my home because of the charm of this property and its host, its ambiance, location, neighbourhood, and outdoors space. My home is good for business travellers, solo adventurers and for couples.
Large sunny light and airy double room with a double bed. The room is also furnished with an armchair, hanging space and TV.
Maldon is a lovely quaint small market town with many independent shops. Maldon is close to the rivers Blackwater and Crouch. You will find old london barges on the historic Hythe where day trips are offered. The promenade park is a lovely area to walk and enjoy local seafood, an ice cream or hot chips. There is a pleasure centre complete with indoor swimming pool. There are many lovely resturants to choose from. There is lots of lovely countryside with easy reach.
Great host
Dave
2017-03-03T00:00:00Z
Jacky is the sweetest host you could find. She is extremely helpful and considerate about her guests needs. Her place is really nice and it makes you feel home and welcomed the moment you step in. I am glad I found her and her cosy place for my long term stay in Maldon.
Paula
2017-03-19T00:00:00Z
Great host , home away from home
Dave
2017-02-24T00:00:00Z
Great host , house is immaculate , perfect home away from home . recommended .
Dave
2017-02-17T00:00:00Z
Rodzaj pokoju
Pokój prywatny
---
Rodzaj nieruchomości
Dom
---
Mieści
2
---
Sypialnie
Maldon, Anglia, Wielka Brytania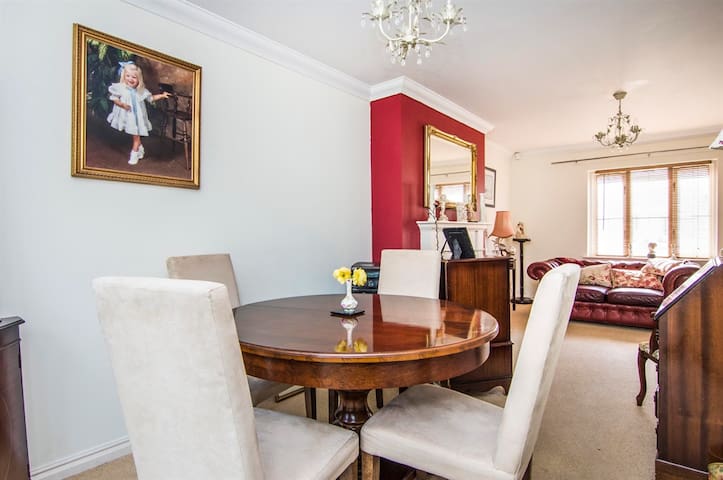 Our large guest room is equipped with a private shower and toilet. Access is available without going through the main house. Large garden which you are welcome to share. Off road parking with a 10 minute walk to the Maldon town centre.
A roomy, detached room. We feel that the room has a modern, homely look. Well insulated and double glazed. West facing windows and door, so no direct sunlight in the mornings. Room has its own boiler with wireless thermostat- you set the temperature.
Located in the Essex, the town of Maldon has a rich and varied history just waiting to be explored with its oldest part sitting high on a hill overlooking the Blackwater estuary. Maldon is famous for the Hythe Quay which is a 15 minute walk away. It is home to many of the remaining Thames barges. It is also well known for its Promenade Park, originally created on the sloping bank of the River Blackwater over one hundred years ago. Popular with visitors and residents alike, this park is the centre of summer fun with playgrounds and various childrens activity areas including the very popular splash park.
David & Lydia were the perfect hosts , you couldn't wish to meet a more welcoming and friendly couple , The Accommodation was perfect , very roomy , exceptionally clean throughout , kingsize bed ( very important when your really tall ) , great shower , lovely quiet area ,breakfast was fantastic , and again nothing was too much trouble for them . It was the perfect location as well for getting to colchester and southminster I will be booking them again when im down that way Thank you very much for a great stay
SCOTT
2015-09-07T00:00:00Z
Hosts were welcoming and explained everything to us. Lovely room and bathroom - all as described. Parking conveniently at the front of the property. Situated close to Maldon town centre, so very handy.
Clare
2015-10-29T00:00:00Z
This is very nice place to stay and David and Lydia were great hosts, the room was very comfy and clean. We were there for a wedding so having its own seperate access was very useful. We also loved sitting out in the sun the next morning in the lovely garden with some bonus cat-stroking fun.
Tom
2015-09-21T00:00:00Z
A great self contained space, with Friendly hosts. If you need a place in the Maldon area I would definitely recommend it.
David
2016-05-16T00:00:00Z
Very comfy bed. A good night sleep in a quite area in the village. It has been a very nice place to stay.
Ilaria
2017-03-30T00:00:00Z
A wonderful self-contained annexe with excellent facilities nestled in a charming garden. David and Lydia gave us a warm welcome and provided everything we needed. It's just a short walk to the centre of Maldon, which is really gorgeous and has great play equipment for kids on the promenade. Plenty of great pubs and food to be found along the waterside.
Andy
2016-07-10T00:00:00Z
This was our first experience of airbnb and David and Lydia were excellent hosts. Right from the word go we were made to feel welcome and they were both really friendly. We were staying for V festival and they took us to a park and ride so we didn't have to get a taxi into town, which was unexpected and really appreciated. They also let us use their garden before we went, which as it was a boiling hot day, was again very much appreciated. The room itself is detached from the main house and absolutely immaculate. It's a huge space with plenty of storage space, and a newly fitted bathroom . It also has tea and coffee making facilities, a microwave and a toaster. We couldn't have asked for more. All in all we had a great experience with a lovelycouple, in a great room and would highly recommend this to anyone looking to stay in the area.
Charlotte
2015-08-24T00:00:00Z
David and Lydia were great hosts and the accommodation - a converted garage - was of an exceptional standard with its own self contained heating and we'll appointed fittings. A perfect couple and venue. Very highly recommended.
Chris
2015-09-28T00:00:00Z
Rodzaj pokoju
Całe miejsce
---
Rodzaj nieruchomości
Pokój gościnny
---
Mieści
2
---
Sypialnie
Maldon, Essex, Wielka Brytania
Lovely double room with en-suite bathroom in family home. Shops and High Street within easy walk as is the Promenade Park for river views. Easy bus routes to stations to London and beyond.
Rodzaj pokoju
Pokój prywatny
---
Rodzaj nieruchomości
Dom
---
Mieści
2
---
Sypialnie
Maldon, Anglia, Wielka Brytania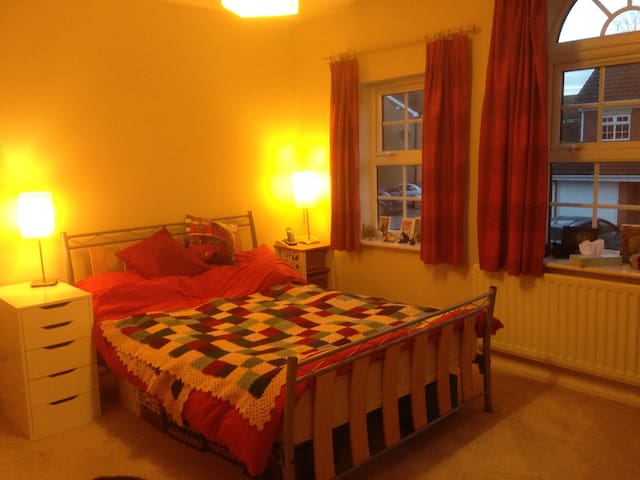 A great one Bedroom apartment situated in the beautiful Brights path in the heart of Maldon high street. Brights path is headed by a blue plaque listed property said once to be the residence of the famous Edward Bright, (the fat man of Maldon) The apartment itself has many beautiful original features. The accommodation has the benefit of a bedroom, separate kitchen diner, beautiful shower room and a huge lounge with a wonderful bay window looking over the pathway. There areTVs in both the lounge and bedroom with full sky, Netflix and amazon packages. Lots of restaurants close by.
In Brights Path an Award Winning development of an old listed building restored outbuildings with mrs Salisbury s famous tea rooms close by currently voted #1 in Essex .
This is in a great location - you are in the centre of Maldon yet in a secluded courtyard, so have privacy and relative quiet. The flat is well equipped with a good kitchen, a living area and a very comfortable bedroom. There is even a rain shower - perfect relaxation.
Ellen
2017-03-11T00:00:00Z
Superbe apartement. Bien place et confortable. Lit tres confortable. Endroit agreeable. Rue devant pittoresque. Mark tres accueillant et convivial. Allez-y. Vous n'allez pas le regreter.
sanna
2017-03-21T00:00:00Z
Highly recommended, in the centre of town but very quiet. Modern decor but in keeping with the age and character of the building.
John
2017-02-15T00:00:00Z
Amazing place! We have stayed at about 10 Airbnb places now for business and this is officially the nicest! Clean, stylish, great host, wifi, sky, smart TVs! Fab shower! We will be back!
Kate
2017-03-03T00:00:00Z
This brand newly decorated conversion oozes character and sophistication. Mark has worked hard to deliver a plush apartment with high end furniture, fluffy towels and comfortable surroundings. I highly recommend for anyone staying within the area. The location itself is great, with nice shops and Mark gave us tips on where to eat etc. Parking is a couple of minutes away and not a problem, although I'm not sure how it would work for longer visits. Would add up a bit using the pay and display car park. Really enjoyed the apartment. Thank you.
Catherine
2017-02-12T00:00:00Z
Great place
Simon
2017-03-15T00:00:00Z
This is a beautifully presented apartment, smack bang in the middle of the High Street, though in a private area. A lot of thought, attention and skill has gone into the accommodation and the bed was beautiful. Given the price I think a couple of things could be sharpened up (eg a welcome tray, a guest information pack) but Mark is a nice guy and these are early days. Given the location, if you are visiting Maldon you should seriously consider this option.
Andy
2017-02-25T00:00:00Z
Rodzaj pokoju
Całe miejsce
---
Rodzaj nieruchomości
Apartament
---
Mieści
4
---
Sypialnie
Maldon, Anglia, Wielka Brytania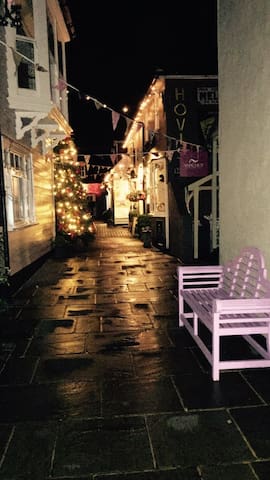 My home is close to the high street, The Historic Hythe, the beautiful Maldon Promenade Park, local country side with scenic local walks. The location is accessible to Chelmsford and Colchester. There are also good road links into London. You'll love my home because of the charm of this property and its host, its ambiance, location, neighbourhood, and outdoors space. My home is good for business travellers, solo adventurers and for couples.
Rodzaj pokoju
Pokój prywatny
---
Rodzaj nieruchomości
Dom
---
Mieści
2
---
Sypialnie
Maldon, Anglia, Wielka Brytania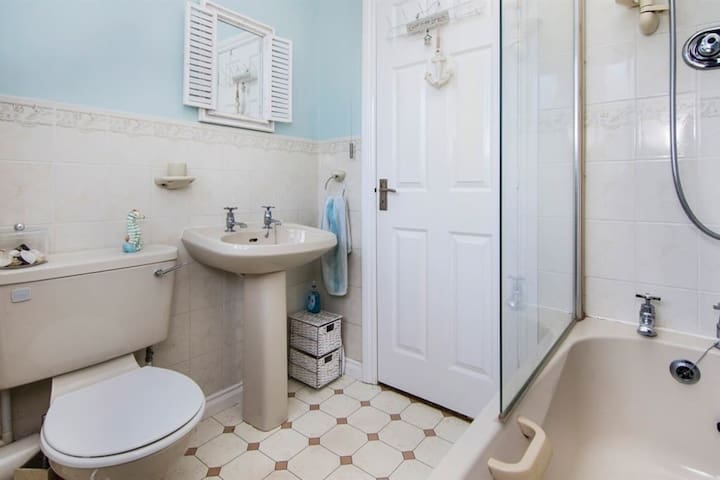 Located a short walk of the town and quay the annexe was recently added to our home . The bright and airy space comprises of kitchen opening on to a living area with a sofa bed , bedroom with king size bed,shower room ,off road parking
The property is all on one level with easy access .
Maldon is a lovely riverside town , with an interesting historic high street with lots of independent shops and places to eat. The quay is full of historic sailing barges . There is great walking in the area and fantastic bird watching .
From start to finish we can't fault our experience. The annex is stunning - exactly as it appears on the site - and is just a short five minute stroll from the pretty town of Maldon. Heather gave us a very friendly welcome and continued to be helpful for the duration of our stay. The annex/flat is practically brand new with fixtures and fittings of a very high standard. It has everything you could possibly want and more - from tea, coffee, sugar, delicious biscuits, utensils galore, sheets, towels, magazines, wine glasses, matching dinner service - the lot. Heck, it even has automatic sky lights that close when it starts raining and a beautiful garden to look out on to. Our party comprised of myself, my mother and an unruly 16 month old who managed to smash a glass and cried - a LOT. But nothing seemed to phase Heather or Chris and nothing was too much trouble. We can't recommend this little oasis enough - such amazing value for money and ideally located for exploring Essex - why on earth would you ever stay in a Premier Inn again?
Aimi
2016-06-20T00:00:00Z
Delightful and warm welcome from Heather and Chris. The annexe is really comfortable and well designed for its purpose. Thoroughly enjoyed our stay and the kindness of our hosts. Thank you both!
Andrew
2016-06-05T00:00:00Z
Good prompt responses to emails sent. Accommodation was as expected, good easy walk to the main town and the Promenade Park. Very good stay from beginning to the end. Thank you Heather & Chris for opening your home.
Judith
2016-06-26T00:00:00Z
We stayed for one night (couple and baby) and would happily return if we are in the area again. We booked at short notice so Chris and Heather's son kindly welcomed us and then Chris and Heather were very helpful and friendly when we met them the next morning. The apartment was bright, clean, and comfortable, and there was enough room in the bedroom to squeeze a travel cot in. Many thanks!
Nicola
2016-04-06T00:00:00Z
Chris was very helpful in his communication with us and Heather gave us a warm welcome. They are clearly expert hosts and were so helpful and friendly. The flat is clean and comfortable with everything you could possibly need. Their lovely cat and adorable dog Coal were the icing on the cake. The shower is possibly the best we have ever used. Thank you so much Heather and Chris.
Kathryn
2016-05-18T00:00:00Z
Lovely little annex attached to the main house but separate entrance. Nice and clean. Shower and bath room were spotless. Chris and Heather were lovely, very friendly and unintrusive. We were able to come and go as we pleased. Parking spot right outside so convenient. Towels also provided which was a bonus. Lovely stay.
Chan
2016-03-30T00:00:00Z
This annexe is a lovely little place to stay. My husband and I stayed here for 16 days while we were looking for a new place to rent. Very comfortable! Chris and Heather are very friendly and helpful hosts. Would definitely recommend. And Faith's homemade biscuits and chocolate upon arrival were UNBELIEVABLE!!
Jen
2016-02-29T00:00:00Z
Nice clean accommodation, good value for money. Would recommend
Naomi
2016-01-05T00:00:00Z
Rodzaj pokoju
Całe miejsce
---
Rodzaj nieruchomości
Apartament
---
Mieści
4
---
Sypialnie
Maldon, Wielka Brytania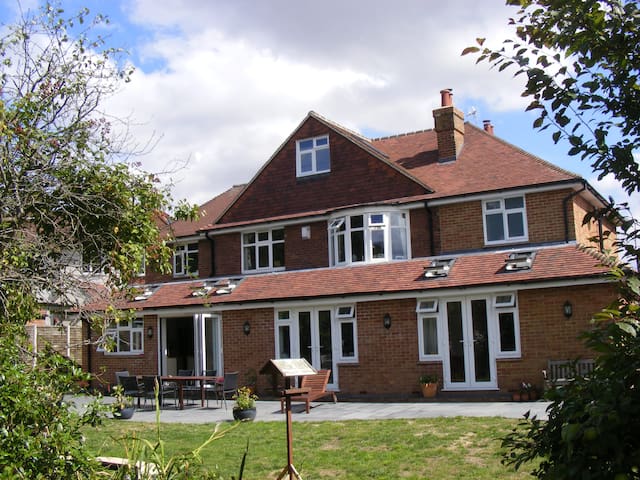 The house is very clean and tidy, and Jas is the perfect host , I had a nice cup of tea as soon as I arrived we had a friendly and interesting chat, that continued the next morning. The house looks straight out on the river and is a quiet location at night. It is perfect position for a walk along the river to Heybridge basin, and just as convenient for eating out, loved it and would definitely love to stay again. Thanks so much Jas
Debbie
2017-04-02T00:00:00Z
Rodzaj pokoju
Pokój prywatny
---
Rodzaj nieruchomości
Dom
---
Mieści
1
---
Sypialnie
Heybridge, Anglia, Wielka Brytania
Rodzaj pokoju
Pokój prywatny
---
Rodzaj nieruchomości
Dom
---
Mieści
2
---
Sypialnie
Heybridge, Anglia, Wielka Brytania
A very nice and clean place with a great standard. We really enjoyed the room and our bathroom. It was very comfortably. We got a very friendly receiving from Sally and her husband. We arrived late in the evening and left the next morning, so it was just a short stay We can recommend this host to other guests.
Anne Helene
2016-10-06T00:00:00Z
We had a really good time at Sally's place. Nice house, very friendly host and useful advices on how to make the best of our stay. Definitely a good place to stay !
Viv
2016-08-30T00:00:00Z
Rodzaj pokoju
Pokój prywatny
---
Rodzaj nieruchomości
Dom
---
Mieści
2
---
Sypialnie
Heybridge, Anglia, Wielka Brytania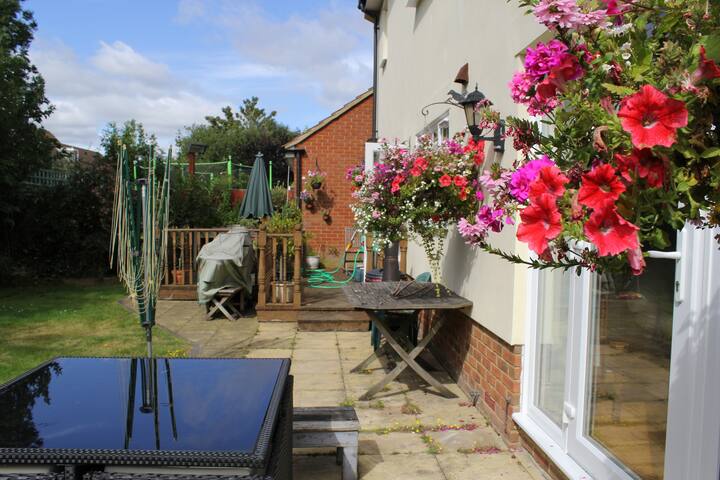 Our riverside annexe is self contained in beautiful rural setting next to the river Blackwater nr Maldon Essex. Log fire in Winter, use of Canoe in Summer & glorious local walks. Luxurious king size bed, huge shower room, fully equipped kitchen
Sue and the Riverside Apartment are wonderful. The apartment has everything you need, from a coffee machine to an open fire. The countryside setting is beautiful and so quiet - even better than the photographs. Sue is welcoming, interesting and accommodating. A perfect stay - thank you!
Lorna
2016-01-26T00:00:00Z
Sue and Ron were very welcoming and went far beyond their hosting duty to make my family and I comfortable. The grounds are beautiful and we even had our own private garden. We will certainly be revisiting.
Charlotte
2016-07-05T00:00:00Z
The host canceled this reservation 85 days before arrival. This is an automated posting.
Rachel
2016-03-02T00:00:00Z
Ron and Sue are wonderful hosts - everything you need for a perfect stay is provided - magical setting by the river and plenty of walks and wildlife - the Mill next to the house provides historical perspective - would love to come back for a longer stay !! Heidi and Paul
Heidi
2016-08-13T00:00:00Z
Rodzaj pokoju
Całe miejsce
---
Rodzaj nieruchomości
Apartament
---
Mieści
2
---
Sypialnie
Essex, Wielka Brytania
My place is close to the airport, the city centre, and great views. You'll love my place because of the people, the ambiance, the outdoors space, the light, and the neighbourhood. My place is good for couples, solo adventurers, business travellers, families (with kids), and furry friends (pets).
Rodzaj pokoju
Pokój prywatny
---
Rodzaj nieruchomości
Dom
---
Mieści
2
---
Sypialnie
Essex, Anglia, Wielka Brytania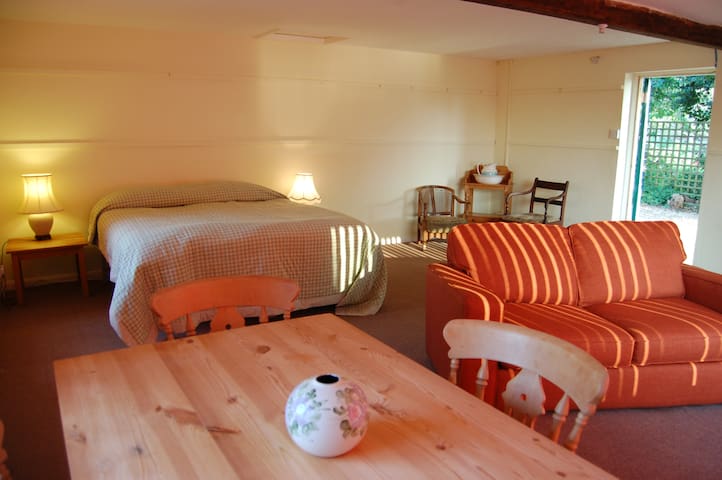 Lovely room with double bed and widescreen TV. Private bathroom. Fridge and microwave available if required. Quiet location with stunning views and off street parking. Separate entrance. Use of an indoor swimming pool.
Large room with a double bed and wide screen television. Views over fields. Own entrance.
Quiet village location
Alison is a very welcoming host. She leaves you to your own devices where required and the barnhouse feels very private and safe. It is surrounded by beautiful countryside with a little horse visible from your window. Alison lets you use her pool which is great for people like me away from my local pool. The bed is so comfy and the space is warm and cosy with a kettle and tea and coffee facilities and a microwave. The area is quiet and is 3 miles from maldon and around a mile from Danbury with buses available. I would recommend a car though for regular commuters. Parking is easy. The tv Is good with a fairy private shower and bathroom. I would 100% recommend Alison's place and will miss such a beautiful area. If I ever have any more training I would love to return to woodham Mortimer. Over 10/10. Thank you Alison
Louise
2016-11-14T00:00:00Z
Once again Alisons place never disappoints. I have stayed there 3 times now and would highly recommend it. Well worth the money and great value. Very romantic location.
Louise
2016-12-30T00:00:00Z
Alison is a warm, kind and caring host, she communicates very quickly and welcomed me into her home. The barn house feels very private like your own little flat, and is very charming and has all the charm of the countryside. There are lots of country pubs nearby with tasty food including one opposite and Alison let me use the pool when I asked which was pleasant. The only issue is the wifi and signal are not the best, but it is in the countryside so is understandable and if anything makes the experience more relaxing. The bed is comfortable and I slept very well each night. I will visit again.
Louise
2016-10-30T00:00:00Z
Amazing place, location and host. Definatly recommended!!!
John
2017-03-03T00:00:00Z
Lovely room and location, clean, good size TV and wifi, only a 5 minute drive into maldon for shops and restaurants. Stayed here for 10 nights for work and would definitely stay again.
Scott
2017-01-12T00:00:00Z
Another pleasant no hassle stay , recommended
Dave
2017-03-24T00:00:00Z
Great location , very private , perfect stay away from home ,recommended
Dave
2017-02-03T00:00:00Z
Rodzaj pokoju
Pokój prywatny
---
Rodzaj nieruchomości
Dom
---
Mieści
2
---
Sypialnie
Woodham Mortimer, Essex, Wielka Brytania
BEAUTIFUL YURT WITH PRIVATE GARDEN AND PRIVATE HOT TUB Enjoy our brand new yurt, with totally private hot tub that has glorious views over Lily Lake with free fishing on all 3 lakes own private peg outside yurt. Why not have a mini moon or a celebration in our authentic luxury Mongolian Yurt. We also have a log burner, chiminea, BBQ, robes and slippers. All included. You have to see how beautiful it looks all lit up at night. A little slice of heaven, just waiting for you.
Brand new for 2017 LILY LAKE YURT. We now have a second yurt BLUEBELL YURT (see our other listing sleeps up to 5 people). Lily Lake Yurt is a 19ft truely authentic mongolian luxury yurt has moved next to Lily Lake with absolutey fantastic views overlooking Lily lake and sleeps up to 3 people, the private hot tub is right by the lake it is truely amazing. You are surrounded by 15 acres of beautiful Essex countryside. The yurt sleeps 2 people with kingsize luxury bed with quality bedding and feather down quilt and a fold up 3ft bed if you wish to bring a guest. You have a wonderful view of the lake from your bed. Towelling robes are provided along with slippers. Inside there is a woodburner stove ideal to keep you warm or maybe cook a meal. The gas BBQ is perfect for cooking al fresco, along with a fridge. A short walk to the hot shower and full toilet facilities which include a hairdryer and washing up facilities. Towels can be provided for a small fee. The luxury private HOT TUB is situated next to the yurt with a wonderful views of Lily Lake literally a few steps from the lake. There is now electricity in the yurt and beautiful twinkly lights and lots of candles, it is perfect for a relaxing retreat from the stresses of daily life. You can sit literally over the lake on the pontoon enjoying a glass of bubbly and watch the sun set sitting on the decking. There are 3 fishing lakes if you wish to spend any time fishing during your stay is now included in the price. You have your very own fishing peg right outside the yurt. You can sit together maybe have a picnic. We are in the heart of the Essex countryside but only a short train journey from London, Colchester and close to fanastic South East coastline. We are lucky enough to have many top class restaurants and bars on our doorstep. We recommend The Wheatsheaf for fantastic home cooked food just round the corner or for that special meal or why not try the Blue Strawberry or Lians Chinese Restaurant. We also have several takeaways that deliver to the yurt. This is our 5th year and we are filling up fast thanks to the wonderful reviews we have had from our customers, you can keep up to date by checking out our webpage calender, or our (SENSITIVE CONTENTS HIDDEN) page Why not enjoy sitting in front of the log burner curled up looking up at the stars enjoying the sound of the local wildlife, it's amazing. Come and enjoy a new experience it's ideal for a romantic get away or a girlie night in enjoying sitting in front of the chiminea, or for families with older children over 12 years of age playing board games which are provided. Or best of all having a glass of something bubbly in the hot tub under the stars with someone special. Music via a digital radio with USB to charge your phone. You are only one step away from heaven. It is truely luxurious experience.
Close to the train station, Liverpool Street line stopping either at Hatfield Peverel or Witham (taxi rank here). Fantastic country pub's and restaurants in Village. Fishing, cycling, country walks all on your doorstep. there is an ice skating rink in Chelmsford and an indoor pool with flues and bowling and walks along the promenade in Maldon.
Absolutely amazing! We stayed for 3 nights and it was perfect, lovely relaxing cosy yurt. Beautiful and peaceful just want I wanted for my birthday with amazing pubs and restaurants near by for tasty food. the hot tub was amazing, so lovely to chill out and look at the stars. Would recommend to anyone!
Sophie
2016-11-18T00:00:00Z
We had an amazing stay at the Luxury Yurt. Such a beautiful location, West facing view to see the beautiful sunset from the yurt or ideally from the hot tub which was glorious. The bed was exceptionally comfortable, possibly the most comfortable bed we've ever stayed in! Couldn't recommend this place highly enough, you will have a wonderful time! Thank you Sue!
susannah
2016-08-14T00:00:00Z
Fantastic place and a rare,unique experience like no other!!Clean, Excellent staff,helpful and can not fault. Words can't describe!!! Thanks for a great stay and will no doubt see you again
Christian
2016-06-14T00:00:00Z
From the time we arrived, until we left, the experience was great. The yurt had been throughout so well and have every last detail included. The location and environment was extremely relaxing. The facilities were clean and again thoughtful, ie fridge, which allowed us to bring food to BBQ. Overall, we had an extremely relaxing weekend - we felt a little sad to be leaving!
Amanda
2016-06-20T00:00:00Z
Just returned from a fantastic and relaxing few days away. The lake is just stunning and everything you could possibly need is provided. Would highly recommend.
Sharla
2016-10-25T00:00:00Z
The whole experience certainly from start to finish was perfect, I booked this as a birthday gift for my fiance and she was over the moon, definitely go fishing if you stay as it's so much fun!!
Oliver
2016-11-06T00:00:00Z
We had the best time staying in Bluebelle, I had mentioned prior to arrival that it was a birthday gift for my partner and on arrival the Yurt was decorated with birthday banners and a bottle of wine was on the table! Dave the goose is worth the trip alone and his followers, Very peaceful and romantic place even in winter the Yurt was super warm and cosy and the new yurt being built looks even better... 5* Charles and Alice
Chaz
2017-01-29T00:00:00Z
Sue's Yurt is a place to escape to. Extremely beautiful and beyond relaxing! Just a short car journey to Chelmsford which is packed full of things to do. We went to see an ice hockey game which was a lot of fun. But secluded enough that it feels like your own haven away from all the stresses of everyday life. Will definitely be back!
Colleen
2017-02-12T00:00:00Z
Rodzaj pokoju
Całe miejsce
---
Rodzaj nieruchomości
Jurta
---
Mieści
3
---
Sypialnie
Hatfield Peverel, Essex, Wielka Brytania
1 single in bright, modern family home, semi rural lots of open countryside yet only 5 mins to station with direct access to London.The beautiful Essex coast is also a few minutes away. Perfect location for visiting RHS Hyde Hall or Essex delights Also double room under separate listing
Brilliant little place in a pleasant quite area. Exactly what you would want or expect. Ann was very accommodating and welcoming. The room was very clean and comfortable and there was even some cereals and tea for breakfast. Great value too. Thanks Ann
Alistair
2016-12-11T00:00:00Z
Lovely relaxed stay. Made to feel at home and also had my own space. Comfi bed in lovely clean well decorated bed room. Great shower very clean bathroom. Lovely breakie. Nice to have wifi so I could watch TV in my bedroom
Michael
2016-10-13T00:00:00Z
Great Hosts , very clean and comfortable
Dave
2017-02-10T00:00:00Z
Ann and Terry were wonderful hosts , lovely house and garden made it a perfect sta(URL HIDDEN)
kevin
2016-05-23T00:00:00Z
Ann was very accommodating, the place was lovely, very clean and tidy and had everything needed for a comfortable nights stay. highly recommended.
Claudia & George
2016-11-09T00:00:00Z
Nice, friendly and welcoming family home - I really enjoyed staying there.
sebastian und Alex
2016-09-02T00:00:00Z
Very hospitable and welcoming, pleasure to stay with would definitely use them again
Chris
2016-09-18T00:00:00Z
Lovely welcome, room as described and a lovely offer of breakfast. Lovely pub 3mins walk away.
Matt
2016-06-04T00:00:00Z
Rodzaj pokoju
Pokój prywatny
---
Rodzaj nieruchomości
Wikt i opierunek
---
Mieści
1
---
Sypialnie
Bicknacre, Wielka Brytania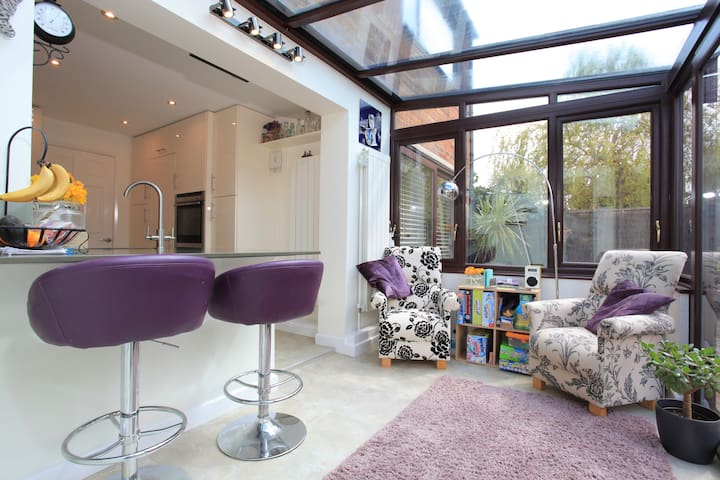 Enjoy England 4 star gold awarded self serviced apartments within the beautiful Chelmer valley. Four apartments finished to the highest standard offer everything as standard for a luxurious and relaxing stay. Short or longer term stays, Meadows Barn is the perfect bolt hole for business, temporary home if moving or having building work carried out, or for a relaxing holiday. Secure parking, garden terrace and meadow land to the rear. Feel connected with great transport links and speedy Wi-Fi.
Meadows Barn was built specifically to offer the best possible experience for guests during their stay. Each apartment is light, airy, warm and finished to the highest standard - Boasting flat screen televisions, modern appliances, quality linen as well as a general overall quality finish of the build. The apartment is a calm and peaceful place to stay, ideal for business and holidays alike. Off a quite back road, there is little passing traffic and the large double electric gates mean your car is secure in the car park to the front. The upstairs apartments benefit from each having a large balcony, perfect for having a glass of wine on during a summers evening, whilst the apartments downstairs have access to the rear courtyard.
Set back off a quiet back road in seven acres of meadow land. It's very picturesque and peaceful. There is a great deal to do in the neighbourhood including walking, fishing, cycling, golf courses, museums, gardens and lakes.
Lovely apartment in a beautiful quiet location. Host was very organised and friendly. Would stay there again.
Mark
2017-04-06T00:00:00Z
Rodzaj pokoju
Całe miejsce
---
Rodzaj nieruchomości
Apartament
---
Mieści
4
---
Sypialnie
Little Baddow, Anglia, Wielka Brytania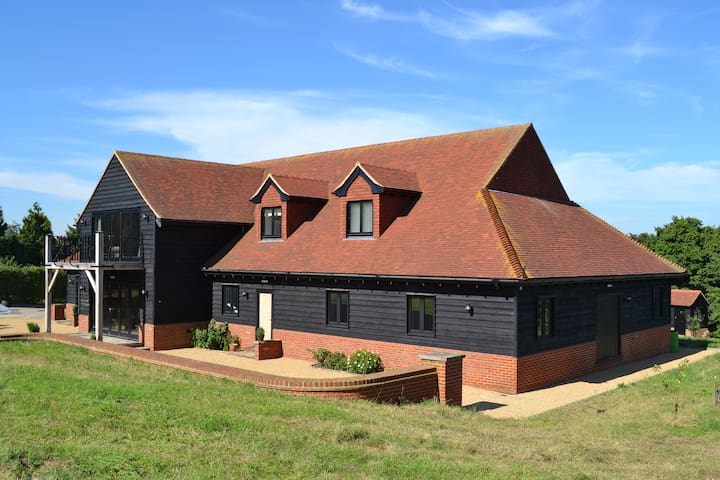 My home has amazing views from nearly every room, fabulous walks, cycling, sailing and bird watching. You'll love it here because of the peace and tranquility and rustic rural life yet Maldon is only ten minutes away offering great restaurants and barge trips from the harbour. Two pubs within walking distance as is a local shop, fish and chip shop and Indian restaurant. My place is good for couples and solo adventurers who want to find a hidden gem.
A spacious clean modern home right on the sea. The room is large with side table and lamp, large wardrobe with full length mirror and desk. Wifi is available.
The Dengie peninsula is unique for its beautiful walks, Maldon to St Peters Church, Bradwell and especially the varied birdlife and ever changing landscape. Popular with cyclists with some racing during the summer months. There are two sailing clubs on the doorstep as can be seen from the photos. Also excellent for painting or drawing.
Rodzaj pokoju
Pokój prywatny
---
Rodzaj nieruchomości
Dom
---
Mieści
2
---
Sypialnie
Maylandsea, Anglia, Wielka Brytania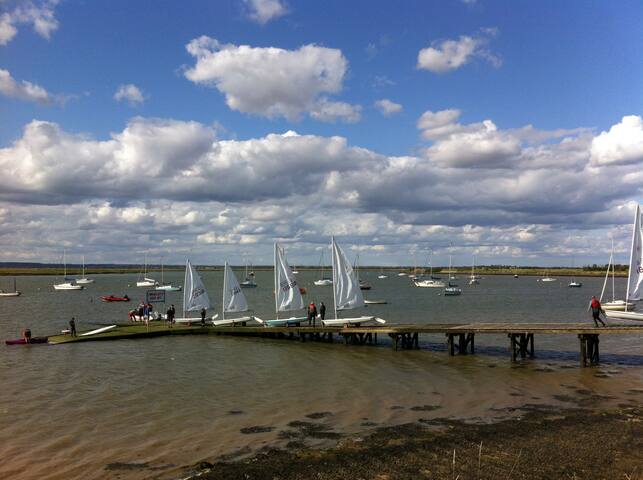 Wpisz daty, by zobaczyć pełną cenę. Obowiązują dodatkowe opłaty. Cena może uwzględniać podatek.