Our newly converted flat is situated in the heart of historic Bradford on Avon, between a quaint tearoom and a lovely restaurant. The light, airy upstairs bedroom has a comfy double bed, and there is a sofa bed in the open plan living room / kitchen.
Welcome to our one bedroom flat in the newly renovated Georgian Lodge. We take it in turns to work here during the week, so tend to let the flat out for long weekends - Thursday to Monday, for example. However, we can be flexible about this, so do ask if you would like to stay for longer, or mid-week. Our flat is through the archway you can see in the photo of The Georgian Lodge; our main window overlooks the communal courtyard. This means that while the flat does not have the immediate view of BoA, it is much quieter than it would be if it were facing the road. Once through the archway we are accessed via some stone steps, so we do not feel the flat will be suitable for the elderly or infirm. There is also a pane of glass in the bedroom which could be hazardous for young children, so we will happily accommodate babies who are not yet mobile, but not inquisitive toddlers - our own son is now five and we're nervous of letting him near it! The bed upstairs is a double, the sofa bed is a bit smaller than a double, so is really most comfortable for one smallish adult or a child.
We moved to Bradford on Avon last August, having visited several times over the last few years. The town itself has an amazing amount to offer for such a small place: cafes, canal side walks, an abundance of listed buildings, and a sprinkling of interesting shops. We love the proximity to Bath. Frome is a short drive away, and is worth a visit for its great collection of independent shops. There are several National Trust properties within easy reach, including Stourhead. Further into Somerset at Bruton is the new Hauser & Wirth gallery, and England's smallest city - Wells - is about a 50 minute drive away.
Thank you for a wonderful stay in your tastfully arranged apartment. Even better than we had expected. Historic surroundings and modern interior - lovely atrium that led to the apartment, fully eqiuped with everything you need for a couple of days. Contact to Liz was exceptional and warmhearted - she replied to every question within hours, sent extra information and guidance and arrange everything perfectly. Countryside was impressive, as well as your trips to Bath. Bradford-on-Avon, was worth a visit itself. If we stay in this beautiful area again, it will surely be in the Georgian Lodge.
Roger
2016-08-17T00:00:00Z
Very helpful welcoming instructions - and thank you for letting us know we could get in a little early. Perfect bolt-hole for a lovely part of the world.
Ben
2016-09-13T00:00:00Z
First of all: Bradford on Avon is an amazing and breathtaking town. We loved it from the first minute and if you want to visit Bath I would recommend to stay in Bradford on Avon. Also plan to spend some of your time here! There is train to Bath and it takes only ten minutes! Amazing spot!! Second: If you stay here, do it at Liz's place. It is in the centre, it is cosy, clean and has enough space for even 3 people. Liz was wonderful. She answered all our questions and made sure we have everything, even for breakfast. It was a very lovely stay. And we would book it again.
Maggie
2015-07-27T00:00:00Z
I felt I knew Liz from emails prior to our visit. She could not greet us personally on arrival but we felt welcome nevertheless. She had left us items for breakfast and even choccy biscuits to have with our cuppa on arrival.
Anne
2016-05-02T00:00:00Z
Fantastic experience. Apartment is in a great central location, clean and well maintained as showed by the photos. Liz was a great host, gave us detailed instructions pre visit, came to visit us on check in, provided some essentials such as bread and milk, lent our young daughter some toys from her son! Would highly recommend.
James
2016-07-12T00:00:00Z
Liz was out of town when we arrived (it was a last-minute booking), but we were made to feel most welcome. Everything was lovely- the apartment was clean and spacious and comfortable, and situated in a perfect part of town- close to everything. Thanks!
David
2015-08-12T00:00:00Z
The flat was lovely. Very pretty and we'll set up. Fantastic location. Liz did a great job at communicating beforehand, and checking in and out was very easy.
Chris
2016-03-20T00:00:00Z
Such a beautiful apartment. Simple but effective decoration & really contemporary. Apartment was lovely & clean when we arrived. A visit from the host was a nice touch & made it feel more personal.
Charlie
2015-08-02T00:00:00Z
Rodzaj pokoju
Całe miejsce
---
Rodzaj nieruchomości
Apartament
---
Mieści
3
---
Sypialnie
Bradford-on-Avon, Wiltshire, Wielka Brytania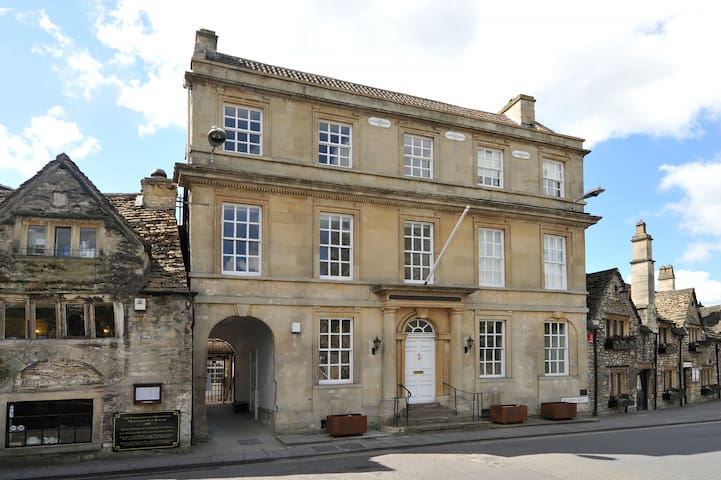 Stylish, open plan character barn conversion in rural Wiltshire. Just 9 miles from the beautiful city of Bath. Space can sleep 4 adults. One Queen Bed, one double sofa bed and one single sofa bed.
Stylish, detached character barn conversion surrounded by beautiful farmland.
Quiet space next to farm and away from any main roads. Ample off road parking for 2 cars in private courtyard.
Close enough for a day out in bath, nice peaceful secluded place to escape business! Everything you need and a helpful host with greetings inside home! Lovely stay. X
Emma
2016-12-18T00:00:00Z
My husband and I stayed at Val's place for 5 nights and it was perfect. The photos don't do it justice, it's very spacious and comfortable and tell location is great, very private but close to Trowbridge and the beautiful Bradford- On- Avon. Val was a fantastic host, the communication was perfect and she is a very kind lady. We were pleasantly surprised to find treats like milk, teas and coffee and a selection of cereals. Very highly recommended!
Kaja
2017-01-02T00:00:00Z
Great find for a short country get away. Val was very kind to leave the property well stacked with a selection of serials, bread and milk. Spent our first night down the local pub where we enjoyed a pub quiz with the locals. Very friendly place with nice food. Thank you Val!
Grant
2017-02-07T00:00:00Z
The accommodation of Val is really very good, easy to access and you can easily park a car. The entrance to the premises is simple, the accommodation is large, clean is spacious. Really good I recommend it
Arnaud
2017-01-08T00:00:00Z
The Cow Shed is lovely, well located and quite easy to find. The property is well stocked and was warm despite it being quite chilly the last few days. The bed is soft and comfortable, quite low, which might not suit everyone. There are plenty of local amenities and the local pub, The Poplars, serves lovely meals.
Sara
2017-03-09T00:00:00Z
fixture and location
Guillermo
2017-04-03T00:00:00Z
Had a lovely stay at Val's, only bumped into her at the last day, but was very friendly and gave me her number in case I wanted anything. The place was clean and tidy.
Hannah
2016-09-19T00:00:00Z
Good value, peaceful, secluded spot. Nice touches such as the breakfast items. Some updates needed notably the mattress and the shower.
Jo
2017-04-14T00:00:00Z
Rodzaj pokoju
Całe miejsce
---
Rodzaj nieruchomości
Apartament
---
Mieści
4
---
Sypialnie
Wingfield, Wielka Brytania
'Downtown' at Terracotta Court in a unique apartment right at the heart of this beautiful town. You will love the views, the atmosphere and the position of our apartment, and the Sky TV and high speed WIFI are there for your enjoyment. The apartment is very spacious, and plenty big enough for two couples, or a family (we have a travel cot).
This beautiful 17th Century apartment in a grade two listed building is located right in the centre of town. You really couldn't be more central to all of the amenities that this lovely town has to offer. The spacious and airy apartment has one bedroom with separate dressing room and a stunning living room with views over the town to the front, and to the cafes on the square at the rear. The open plan kitchen is newly refurbished and has everything you need for your stay. We believe a good night's sleep is the most important thing during your holiday so the bedroom has been equipped with Laura Ashley Egyptian cotton sheets, the finest quality pillows and towels to create that little bit of luxury. There is also a day bed in the living room which converts into a large double bed if there are four people staying. The apartment just oozes charm and with its old beams, sash windows and original features you won't be disappointed. Bradford-on-Avon is a real gem and will easily provide all that you need for your stay but at just 15 minutes on the train from Bath you will be spoilt for choice of places to visit. The welcome pack and information box in the flat will provide plenty of inspiration for your stay but should you need more, I'll always be happy to help.
There are so many things to do in Bradford-on-Avon and within such close proximity to historic Bath, you won't be short of things to do. Both towns are awash with restaurants, cafes, museums, beautiful countryside and historic buildings.
A beautiful property, which was more spacious than the pictures do justice, in a fabulous central location. A bunch of grapes is a restaurant not to be missed. Timbrell's Yard is a lovely bar also.
Katherine
2017-02-19T00:00:00Z
My mother in law had a lovely time staying in Alice's flat, it was warm and welcoming. The Christmas decorations were a lovely touch! We'll certainly be making more bookings in the future. The flat is central, a level walk to all town amenities, really easy to get about. It's decorated to a high standard and has everything you need, plus it's spacious and comfortable. We live in Bradford on Avon so my mother in law stayed here whilst visiting over Christmas. We would highly recommend booking this accomodation.
Jacob
2014-12-28T00:00:00Z
We loved our stay. The location is great for the station, water, walks, shops and all amenities. The apartment is well kitted out with everything you need and instructions are clear. We will be going back so that says it all.
claire
2016-11-20T00:00:00Z
The flat is nice, well furnished everything you need, clean, tea coffee milk biscuits all there. Bradford upon Avon is fantastic really pretty, location is totally central very convenient, downside is it can be a little noisy.
Danny
2016-09-18T00:00:00Z
Alice was very easy to exchange information with. She replied promptly to emails about the property. We liked the fact that the flat is so convenient in the centre of Bradford on Avon. We were there for a wedding which took place in Bath, so we easily caught the train in. The reception was at Timbrells Yard, which we can recommend for eating along with The Bunch of Grapes just along Silver St. Once unloaded our luggage from the car we street parked up Silver St & didn't need the car again until we left. We found the flat no problem but it might be helpful to some to say it is above the little tea shop called The Teapot. The flat is comfortable especially the mattress in the main bedroom and is quirky in its uneven floors. We found it a little too hot at times but there were strict instructions not to adjust the wall heaters. A microwave would be a welcome addition in the kitchen. We loved Bradford on Avon & cn recommend the Town Trail (leaflet available from Tourist Information) We would happily recommend staying here. It is so much nicer than being stuck in a hotel bedroom, having more space & of course WiFi, which is a necessity due to poor mobile phone reception. Many thanks Alice, I'm sure we will be back.
Mandy
2016-03-29T00:00:00Z
Good flat, very central and helpful host
Pol
2015-02-20T00:00:00Z
Loved staying in Alice's apartment! The location is perfect, the town is gorgeous, and there's heaps to do in the area, including walks along the river and canal, good pubs, and easy access to Bath. The apartment itself is comfortable and well- equipped, and Alice was easy to deal with, providing all the information for an easy and excellent experience. Thanks!
Sue
2015-06-16T00:00:00Z
Alice's thoughtfulness and attention to detail made the visit as easy as it possibly could be. Thoroughly enjoyed the flat, and the town of Bradford on Avon. Highly recommended!
Garry
2016-08-23T00:00:00Z
Rodzaj pokoju
Całe miejsce
---
Rodzaj nieruchomości
Apartament
---
Mieści
4
---
Sypialnie
Bradford-on-Avon, Wielka Brytania
Las impresionantes vistas de Limpley Stoke Valle; 5 millas de baño; 3 millas Bradford on Avon; ideal para caminar; excelente pub de 10 minutos; tienda de la granja y café 15 minutos; autónomo; estacionamiento adyacente; TV / DVD; Wifi; placa de inducción, nevera, cafetera, tostadora, microondas
Murhill es una pedanía de la localidad de Winsley, que consiste en un carril que atraviesa el bosque de la B3108 (Winsley Hill) en un extremo y Dorothy Casa en Winsley en el otro. Nos encontramos al final Dorothy Casa del carril. Hermosas vistas, paseos, zona tranquila, fácil acceso a Bath y Bradford on Avon.
We had a lovely stay at the cottage. It was perfect for what we needed, comfortable and cosy. Freshly baked bread, fruit, milk, butter, jog hurt, jam and juice was all in the fridge ready for our breakfast. We found Julie very welcoming and helpful, we enjoyed our stay. Thanks Julie!
Karen
2016-05-23T00:00:00Z
We cannot begin to say how much we loved staying at Julie's cottage! It felt like home after traveling around Bath and Wiltshire. We could come back, cook dinner, and watch a little TV. Everything worked, and we were snug and comfortable. Julie gave us excellent directions, and was so welcoming when we arrived and during our entire stay. Thank you, Julie!
Lori
2016-09-18T00:00:00Z
Julie was a lovely host and very welcoming (she also left us some lovely home made jam and bread with milk, fruit and yoghurts too). She made us feel at home and was very helpful about the local area, which is in a stunning valley with great views from her garden (we went on a wonderful walk into Bradford on Avon along the canal). The cottage was as described and a perfect size for 2 people. Julie even let us have a flexible check out time the next day as it was not booked (which meant we could have a MUCH needed lie in the next morning, which we appreciated). I would highly recommend this property and host and we look forward to returning one day when the weather is nicer.
Rob
2016-02-15T00:00:00Z
Fabulous
Carlton
2016-08-26T00:00:00Z
The cottage was all we could have hoped for and more. Julie was welcoming, provided a comfortable space, access to her lovely garden overlooking the valley, and even gave us a loaf of fresh baked bread. The cottage was easily accessible by bus from Bath and Bradford-on-Avon, and also easily walkable via the canal.
Moshe
2015-10-16T00:00:00Z
Julie made us feel very welcome, we didn't meet because we arrived so late but we felt the cost, warm and friendly vibe from our room with the lights left on for our arrival and the fresh bread left on the table for our breakfast. we had a very relaxing, peaceful sleep and breakfast and explored the quaint area in the morning. Wish we could of had longer....
Aimee
2016-07-13T00:00:00Z
It is undoubtedly one of the most beautiful areas I've visited and Julie was a wonderful host, but do be aware the cottage is very basic. I think it's mentioned in the description but there is only a microwave, kettle and toaster. There is no oven/stove-top (which is fine) but there's also no sink to wash up in. You can work around this quite easily but it makes having a meal in a little trickier than immediately expected. Having said that, the simplicity is reflected in the price which is reasonable for the area, but still more expensive than many other areas of the country. The cottage was clean and cosy and exactly what my wife and I needed for a relaxing break, and as I said, Julie was a lovely host. She was so welcoming and she and her husband Ben encouraged us to use their garden (STUNNING VIEWS!) and gave us great advice on where to visit, eat and enjoy. The village is incredibly tiny and very cute and you're within cycling distance of all the other local villages and train stations to get to bath and Bristol. If you do take your bike make sure you take the 45min cycle to Bath along the two tunnel's Greenaway! Absolutely spectacular! TL:DR Great area and hosts, but expect the accommodation to be quite basic. Would recommend to younger couples on a budget or people willing to always eat out.
Edwin
2015-04-23T00:00:00Z
We had a great stay at Julie's cottage. The area is lovely and peaceful with a great farm shop serving the best breakfast I've had! Julie was a great host and greeted us with freshly baked bread and mince pies. The cottage was comfortable and just as described with everything we needed. It was in a great location to access Bath but away from the hustle and bustle. We would definitely stay again and would recommend others to stay here! Rebekah & Jamie
Rebekah
2014-12-08T00:00:00Z
Rodzaj pokoju
Całe miejsce
---
Rodzaj nieruchomości
Apartament
---
Mieści
2
---
Sypialnie
Limpley Stoke, Wielka Brytania
Welcome to the heart of Bradford on Avon explore the charming streets or take a coffee. Visit Bath, Bristol, Stonehenge .... then come back to your comfortable flat before enjoying a meal at one of the many eateries or taking a stroll along the canal. The flat is in the centre of town so you can easily walk to all the amenities including the train station. Inevitably there is some traffic however being a small market town this is not excessive. Free WiFi is available at adjacent bars and cafes
Your Georgian town house flat is so central you can sit and watch the hustle and bustle from the window seat or just open the front door into Westbury House Gardens and join the cafe scene or weekly market. Your newly refurbished first floor flat is light, airy and well equipped but retains a wealth of period features and style. The flat is best suited for a couple offering one double bed in the bedroom, however there is a comfortable fold up mattress for one in the lounge and a travel cot if required. Only the finest Eygptian bed linen is used with luxurious towels and toiletries.
Bradford on Avon has been voted 'the best town in England' (Sunday Times April 2015) and is a fabulous place to live and visit. The historic market town was developed around the woollen industry and there are several large town houses that belonged to the mill owners whilst the mill worker cottages nestle in the hillsides. The ancient town bridge and lockup spans the River Avon and a pretty short walk along the riverside leads to Barton Farmyard and the famous medieval Tithe Barn where part of Wolf Hall was filmed and the forthcoming The White Princess sequel to The White Queen. As well as its historic buildings the town has plenty to offer including scenic walks, hiring bikes and canoes, canal trips, a weekly market, independent shops, a vibrant cafe scene, half a dozen independent restaurants and shops all within two minutes of your flat. Bath City, the famous tourist destination and fabulous Christmas Market is only 6 miles away or better still only 10 minutes through the valley on the train. Bristol is 30 minutes by train and offers a newly developed harbour side, SS Great Britain, Clifton Suspension Bridge and the annual international hot air balloon festival. Within an hours drive there is Stonehenge, Avebury, Salisbury, Glastonbury, Wells, Longleat Safari Park and Cheddar Gorge. Further afield are the Cotswolds, the Forest of Dean and the New Forest. In addition, there are a number of National Trust properties including Stourhead, Tyntesfield, Dyrham Park and Lacock Abbey where part of the Henry Potter films where filmed.
Couldn't have asked for more. Apartment was lovely, clean and had everything we needed. What a lovely, beautiful village.
Conor
2016-10-23T00:00:00Z
Kates place is a beautiful historic building in the heart of the town with great walks along the river. Kate was very welcoming and helpful on arrival and gave lots of local knowledge with good restaurant recommendations. The flat is beautiful and immaculate and has everything ..with great views toward the river.
annie
2016-12-19T00:00:00Z
Kate was wonderful - even made us reservations for a wonderful New Year Eve dinner. Very prompt in answering all my questions. The partner is quaint and comfortable. Love the easy access to the train. We visited Cardiff Castle and Bath during our stay. Highly recommend!
June
2017-01-02T00:00:00Z
Lovely cosy flat, great central location. 5 mins from train station and a good choice of tea rooms, cafés & restaurants. Would defo return for a longer stay. Thanks Kate.
Doris
2016-10-16T00:00:00Z
A perfect place to stay for one person or a couple. Right in the centre of town and I felt very safe staying on my own. The flat is very warm and cosy with a double aspect to the bridge and main road. I am just sorry I did not see the sun on this occasion. Nice kitchen, very clean with table and settee for comfort. Would thoroughly recommend for a short break. Pam
Pam
2017-01-09T00:00:00Z
Kate was on hand when we arrived and gave some really useful advice on Parking (next door) which was really easy and free on a Sunday! She gave us local guides and restaurant suggestions that were perfect. The flat is lovely, ideal for a couple or even a small family as we are ( we have a two year old). BoA is a beautiful little town with lovely walks, architecture, the canals, a railway very close by and a number of excellent little restaurants and cafes. Bath is 10 minutes on the train so this is an ideal place to stay and explore the local area without having to worry about driving. A great stay all round! Thanks Kate.
Jamie
2016-08-29T00:00:00Z
House was perfect, spacious, clean, toffees, brioche and milk left in flat which was lovely! Host was always available if anything was needed and the home and town itself was fabulous. A really relaxing stay and would thoroughly reccommend to anyone!
Nick
2016-08-27T00:00:00Z
We had a lovely weekend stay at Kate's apartment. Great location, amazingly presented and a comfortable and homely feel all round. We were kindly greeted by her friend who showed us around and explained everything, and were presented with a whole shelf of pamphlets and personal tips of where to visit in the town, which was very helpful. The location proved to be a great 'base camp' for our little exploratory travels around the local area, and very conveniently located close the the train station, which will get you to places like the nearby city of Bath with no problem at all. Having originally planned to travel around quite a bit, we found so many lovely local restaurant and food places in the area we didn't need to venture far at all for our evening meals and were amazed at the quality and price of the produce available within walking distance to the apartment. Great food and lovely experience all round. If you're looking for a peaceful and top quality getaway - you've found it :) !
Ifan
2016-08-21T00:00:00Z
Rodzaj pokoju
Całe miejsce
---
Rodzaj nieruchomości
Apartament
---
Mieści
3
---
Sypialnie
Bradford-on-Avon, Wielka Brytania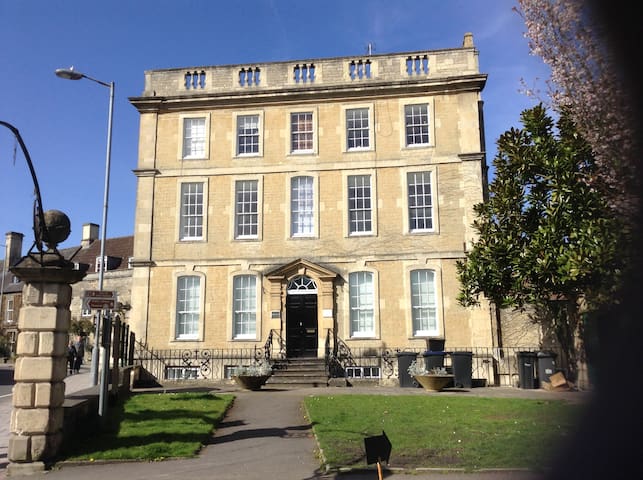 Relaxed, private apartment - Large double bedroom, fully equipped kitchen and luxury shower room situated on the ground floor of a Grade 2 listed Georgian building. In a quiet street just a short, pretty walk into the centre of Bradford on Avon.
The space provided is totally self-contained and private but there is a shared front entrance.
Bradford on Avon is an interesting and charming historic town with much to offer. Beautiful architecture some dating back to Saxon times. There are pretty walks along the river, canal and unexpected alleyways to meander. There is a great choice of restaurants, cafes, bars and interesting shops to browse. We are on the North side of town close to lovely hillside views overlooking the whole of Bradford on Avon.
Awesome stay here. Sun came out, felt like the coast of Italy! Beautifully done apartment. Couldn't recommend more. Cheers!
Oli
2016-05-05T00:00:00Z
Melissa was exceptionally helpful and really made us feel comfortable for the duration of our stay. The apartment was in great condition and would happily recommend. I would certainly stay here again.
Neil
2016-04-17T00:00:00Z
Absolutely fantastic Airbnb-experience!!! Melissa was very kind and very helpful - a perfect host, that made us feel at home. The apartment is even more beautiful than shown on the photos with lots of lovely details and furnished with everything you need. Bradford-on-Avon is also a quiet lovely town: highly recommended!
Dario & Jill
2016-08-21T00:00:00Z
We had a fantastic time staying at Melissa's wonderful flat. Melissa was kind enough to pick us up and drop us off at the train station and she is very kind and friendly. She had provided everything we needed in the flat and the kitchen was full of lovely food. The bathroom is also very spacious and clean just like the entire flat. It is located close to the town centre and the bus stop is conveniently located at the end of the street which takes you into town or Bath. We'll definitely be coming back, thanks Melissa!
Natalie and Brian
2016-10-07T00:00:00Z
Great communication. Lovely central cosy space perfect for using as a base and exploring the village. Also near the station so easy to get to bath and surrounding area. Thoughtful host who provided us with a few thoroughly appreciated amenities for breakfast. Would definitely stay again.
nathan
2016-09-04T00:00:00Z
Melissa welcomed us on our arrival, showed us around the apartment and very kindly provided us with breakfast items for the next morning. The apartment was conveniently located in a quiet area, about a 10 - 15 min walk from the town centre, very clean and equipped to a very high standard. Wifi worked well and there was ample parking on the road outside. A very enjoyable stay.
Elizabeth
2016-05-25T00:00:00Z
Excelente apartamento, decoración nuevísima, super limpio, con todo lo que necesitábamos para la estancia. Está a un paso del centro de Bradford y aunque nosotros conocemos bien la zona, hay un montón de información en el apartamento sobre actividades en el pueblo de Bradford, en Bath y en los alrededores. Super fácil contactar con Melissa, muy amigable, flexible para el check-in. Deja comida para desayunar, todo muy recomendable. Es un verdadero "home from home".
Philippa
2016-09-12T00:00:00Z
Melissa was a great attentive host and very helpful. Thoroughly enjoyed our stay here, it's such a pretty town and the apartment was fantastic. Great attention to detail and very well looked after. Would definitely come back again and would recommend it!!!
Storm
2017-02-05T00:00:00Z
Rodzaj pokoju
Całe miejsce
---
Rodzaj nieruchomości
Apartament
---
Mieści
2
---
Sypialnie
Bradford-on-Avon, Wielka Brytania
Bradford on Avon is an absolute treasure chest full of West Country charm! Ideal for Bath visitors wanting to unwind & relax in complete peace & comfort a short train ride away from the hustle & bustle of the city. Wifi is free and super fast. We provide towels and a super comfortable bed for a perfect nights rest. TV is provided and is internet-app based, for live TV you must use your laptop or tablet.
Our gorgeous loft apartment is comfortable and has a lovely atmosphere. The kitchen is well equipped, with a solid granite worktop, full oven and hob. It's quiet even though its centrally situated. Quick to warm if there's a cold snap. Quick to cool on those hazy hot summer days
There is very little crime in Bradford On Avon. You'll love hanging out in the local coffee shops and cafes'.. The locals are super friendly and always open to a little natter. We highly recommend walks along the canal towards Bath - you could even hire bikes and cycle along it, beautiful all year round. Or explore all the little paths through the town, check out some of the beautiful homes and huge houses.
We had a really lovely and cozy stay in Mark and Daisy's flat. It was very comfortable, right in the centre of town and close to trains which made exploring convenient. The flat is perfect for a couples getaway, and was immaculately clean and well presented.
Don
2016-01-25T00:00:00Z
A lovely, comfortable two night stay had here. Very central location; hosts were very flexible when we were stuck in traffic and had to delay check-in. Thank you Mark and Daisy!
Katherine
2016-02-29T00:00:00Z
Mark was a great host and we really enjoyed our stay. Beautiful location. We were traveling with an infant and this place was not ideal for that because there is not a great area to set up a travel crib but that was certainly no fault of the host. With that small exception, I would enthusiastically recommend this place to others!
Stephen Alexander
2017-02-08T00:00:00Z
Central location yet peaceful and quiet. Everything you could want really. A lovely cosy apartment. Mark was a great host. Met me promptly for checkin. Perfect location for all that Bradford on Avon has to offer. 5 mins from train station. Really comfy bed and luxurious bed linen. Really enjoyed my stay here.
Helen
2017-03-03T00:00:00Z
Great place
adam
2017-02-12T00:00:00Z
Great little place. Nicely in the centre of town, clean and tidy.
Jim
2017-01-25T00:00:00Z
A fantastic little apartment in the beautiful Bradford on-Avon. The town is stunning, and the apartment itself is clean, modern and the perfect size for a couple. Mark was a great host, and met us when we arrived to give us the keys and show us around. The train station being only a stones throw away from the door made it perfect for our commute to Bath. Great bars and pubs in the town. Perfect getaway
Benjamin
2017-03-19T00:00:00Z
The flat is small but beautiful, and very cosy. It is very central and shops are just around the corner, with the train station being 5 minutes walk away. The hosts are very pleasant and gave us some good information about where to go to enjoy the views of Bradford-on-Avon. In general, we really enjoyed our stay and would definitely stay here again when visiting Bradford-on-Avon.
Rafaella
2017-02-03T00:00:00Z
Rodzaj pokoju
Całe miejsce
---
Rodzaj nieruchomości
Apartament
---
Mieści
2
---
Sypialnie
Bradford-on-Avon, Wielka Brytania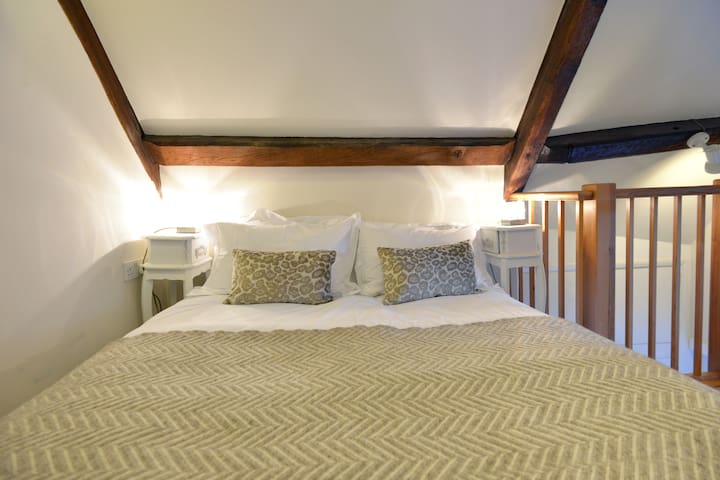 Entire middle floor, complete with flagpole! Overlooks town's ancient stone bridge crossing the River Avon. Watch a busy English market town from the best vantage point in the village. Independent eateries, beautiful canal walks, cycle-paths. Owners are on hand to advise about the best restaurants and places to visit.
•The Georgian Lodge is a Grade II listed building right in the heart of 'the best town in England' (poll in Sunday Times). •Windows overlook the River Avon and the town's medieval stone bridge with its own Blindhouse •Arched windows in the rear bedroom with window seat overlook the communal courtyard •Farmer's Market held directly outside property every Thursday. •Master bedroom has original wooden shutters with iron closer bar plus fireplace •Within two minute walk of six different restaurants •Cycle route less than one minute away
Go for great walks along the beautiful Kennet & Avon canal and enjoy breakfast or lunch at one of the many wonderful waterside pubs. Watch the swans, ducks and kingfishers from the apartment windows. Visit the town's medieval Tithe Barn, where part of Wolf Hall was filmed; also close by there is Lacock Abbey where part of Harry Potter was filmed. Other local places of interest include Longleat, Stonehenge and England's most exquisite formal gardens in Stourhead. 15 minutes away from the elegant Georgian city of Bath on the train.
We were very happy to have found Hans's place. It was clean and comfortable and it looked just like in the pictures. The kitchen was well equipped and all the little extra amenities such as some lovely breakfast items that were stocked in fridge upon our arrival, additionally to coffee and tea, made us feel very welcome. We were surprised to find a couple of bags with duck food that was kindly left by our hosts outside our door one morning. My children loved taking a walk along the river and feeding the ducks! The location is perfect and close to everything we wanted to do and see in Bradford-on-Avon. I would highly recommend this place to anyone looking to stay in that part of the U.K.
Hellen
2016-07-01T00:00:00Z
Hans and Jackie were excellent hosts. The apartment is beautiful and well equipped - complete with prosecco, what more could you ask for?! The recommendations Hans gave were all spot on. Would definitely recommend The Weaving Shed and if in Bath, the Bath Gin Bar is a must!!! Would recommend staying here; we undoubtedly will again!
Rob
2016-05-23T00:00:00Z
Two girlfriends and I spent a lovely weekend at Hans and Jackie's place. The apartment is very well equipped and in the perfect spot for exploring the quaint village of Bradford Upon Avon. Before our arrival, Hans provided us with some excellent recommendations and upon our arrival was very welcoming and friendly. Would definitely recommend staying here.
Jennifer
2016-01-18T00:00:00Z
Loved every minute of staying at Hans and Jackie's wonderful flat in BOA. They both were gracious hosts and I can't wait until we can come back.
Kathy
2015-12-01T00:00:00Z
Hans and Jackie are the real thing!! We had a marvellous welcome with a special bottle of local red wine waiting for us along with pantry staples and things to take us through breakfast. Both Jackie and Hans are hugely enthusiastic about Bradford-on-Avon and all that the surrounding area offers. They had lots of suggestions about what to do and where to go to eat. We even received a tip on our second day to alert us of a special yellow rubber duck race to take place. Jackie had popped some (real) duck food outside our door for the real ducks. We really enjoyed the spontaneous little outing in the sprinkling rain and would never have known without the tip from Jackie. The flat has everything you need from umbrella to playing cards to hair dryer to cookbooks. The space is absolutely beautiful and we left wishing we owned it ourselves. A faultless five days!! Thanks Hans and Jackie!
Nancy
2016-06-15T00:00:00Z
Our stay at the Georgian Lodge was wonderful! The apartment has been recently renovated and the furnishings and décor are lovely. The apartment was clean, and the bedding was very comfortable. The view from the living room and Master bedroom looks onto the beautiful river and the picturesque bridge and town. The view from the 2nd bedroom looks onto a nice little courtyard. Bradford-on-Avon was a delight and gave us easy access to visit Bath, Salisbury, and Stonehenge. Hans and Jackie were very personable and did a great job in orienting us to the apartment and to places to eat and shop. We found the listing description to be accurate. The only disappointment we had was in not being able to stay longer!
Robert and Cori
2015-07-06T00:00:00Z
Wow! This place is perfect and Hans and Jackie are the nicest, warmest and loveliest people. We arrived after a drive up from London and they helped us get settled and made us feel so welcome with big smiles and essentials in the fridge! The place was so comfortable, clean and cosy and we all felt like it was such a relaxing and special place to stay. Do not hesitate to book this place - worth every penny. We would definitely return. Thank you.
Emily
2015-11-23T00:00:00Z
We hadden een fijne vakantie in het appartement in de Georgian Lodge in Bradford on Avon. Bij ontvangst stond er al wat in de koelkast om te eten en te drinken. Dit was top. Het appartement was heel schoon en van alle gemakken voorzien. In de keuken waren ook alle materiële zaken aanwezig om goed te kunnen koken. Het welkom van de verhuurders was heel fijn en ze gave goede informatie over de omgeving met betrekking tot uit eten en boodschappen doen en dergelijke. Tijdens ons verblijf van 7 dagen hebben we leuke uitstapjes kunnen maken zowel in het stadje als daarbuiten. 's Avonds was het dan weer goed relaxen in het appartement. De boerenmarkt op donderdagochtend is bijzonder en er waren goede biologische producten te koop. Een geweldige vakantie in een prima appartement en een gezellig stadje! Zeker een aanrader.
Ingrid
2015-08-11T00:00:00Z
Rodzaj pokoju
Całe miejsce
---
Rodzaj nieruchomości
Apartament
---
Mieści
4
---
Sypialnie
Bradford-on-Avon, Wiltshire, Wielka Brytania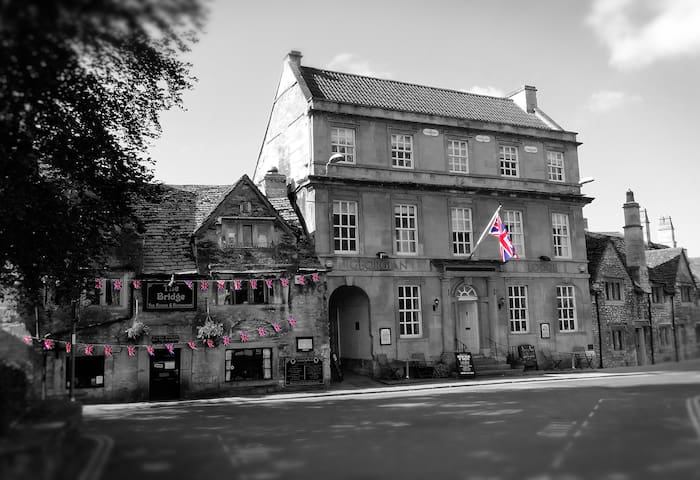 Delightful little flat (with parking) set in a Grade II Listed building in the historic market town of Bradford on Avon. Please be aware the flat is on the first floor and there is no lift, but a nice view ! A short stroll takes you to fabulous countryside. Less than ten minutes walk to the railway station with direct links to Bath, London and beyond. Bradford on Avon is a quaint old town with an interesting selection of independent eateries, pubs and shops for you to visit and enjoy.
The perfect space for one or two people to enjoy a relaxing visit to Bradford on Avon. Guests have use of the whole flat - entrance hall leading to separate bedroom, bathroom and living room with kitchen/dining area. The flat is within a Grade II Listed Building. This was the former Wilkins Brothers' malthouse, built against the main quarry face in the 19th century and later converted into flats. Parking is available.
Nice place as described. Small and basic but good value and friendly welcome.
Josie
2016-10-22T00:00:00Z
David and Andrea are truly the salt of the earth, they invited me into there home for a meal and it made my trip to Bradford on Avon a great experience. Brilliant.
Richard
2017-03-24T00:00:00Z
Very nice flat, comfy bed, good location and all the amenities. Would return.
Clare
2017-01-22T00:00:00Z
This flat is very nice
qianyu
2016-12-03T00:00:00Z
David and Andrea were fantastic and very welcoming. The accommodation was exactly as described, very clean and well-kept. It's a lovely spot in a beautiful town and we had a wonderful stay in Bradford. Highly recommended.
William
2016-08-23T00:00:00Z
This cosy, quiet apartment is in a great location for visiting Bradford.
Lizzie
2016-11-27T00:00:00Z
Our stay was great! The flat is in a fab location which is very close to the town and had everything that we might need for our long weekend. David and Andrea were really friendly and gave us some great tips for the local area. Bradford-on-Avon is also a great place to stay!
Lauren
2016-09-21T00:00:00Z
Great place and good communication
Harrison
2016-12-13T00:00:00Z
Rodzaj pokoju
Całe miejsce
---
Rodzaj nieruchomości
Apartament
---
Mieści
2
---
Sypialnie
Bradford-on-Avon, Anglia, Wielka Brytania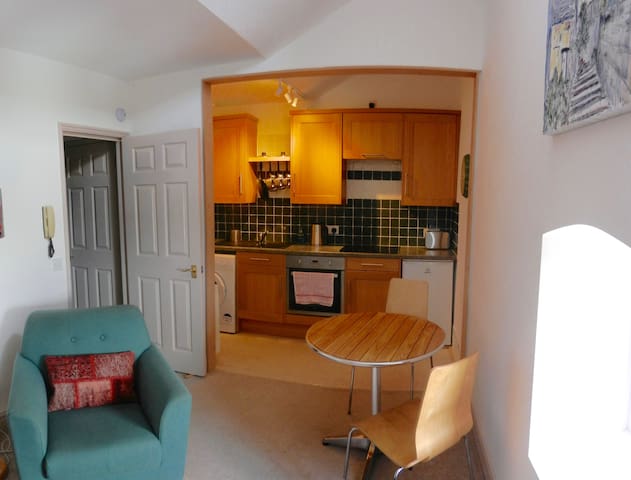 Tithe Cottage Studio is a beautifully presented, well equipped, self contained, ground floor studio apartment, with a pretty garden for guests' use, in the historic town of Bradford on Avon. An ideal base for exploring Bath and surrounding areas. There is off street parking next to the Studio and it is five minutes easy walk to the station and town centre.
Tithe Cottage Studio offers high class, self catering accommodation in the historic town of Bradford-on-Avon, 15 mins from Bath by train and the perfect base for exploring Wiltshire and the Cotswolds. The Studio has a king sized bed, with Egyptian Cotton bedlinen, comfortable armchairs, TV and Wifi . There is a well equipped kitchen area and bathroom. available throughout the year . . The Studio is designed for two, but we can happily accommodate babies or small children by request.
Perfect apartment. Very clean , well equipped. Lovely little garden to sit out in. Well stocked fridge with fresh crossiants for breakfast. Well worth the money and was even accessible for a wheelchair. We will definitely stay again
Jennie
2017-03-12T00:00:00Z
Jonathan and Gay's hospitality was next to none - a lovely self contained annex with all essentials and extras you'd want! Would definitely love to come back and stay again.
Josh
2016-10-16T00:00:00Z
I received a very enthusiastic warm welcome on arrival. The cottage is as described quite compact but everything you need. Is within easy walking distance of the town centre but very peaceful for being on a main road. Definitely recommend.
Fiona
2016-11-27T00:00:00Z
Gay and Jonathan were great hosts and Tithe Cottage was spotless and well equipped. Thank you very much!
Harrison
2016-10-20T00:00:00Z
When we arrived we felt very welcome and were shown everything we might have needed. The Cottage Studio is lovely, we would highly recommend it and great location for visiting Bath either by car, bus or train.
Cassandra
2016-11-21T00:00:00Z
We had a truly fantastic stay.. our host were friendly and helpful. Loved receiving our fresh crossiants each morning. Great location close to public amenities with Bath being a 12 minute train ride away. Highly recommend!!
Lee-Ann
2016-12-12T00:00:00Z
This was our first break away using Air BnB - it will be hard to beat! Gay and Jonathon welcomed us so warmly, the studio itself is beautiful and so well equipped. In a very peaceful setting and a lovely garden, but within a 5 minute walking distance of the train station which takes you into Bath in 10 mins. Bradford on Avon centre is also only 5 mins away which is definitely worth at least a day of exploring. We thoroughly enjoyed our stay, just what we needed to get away from it all. The fully stocked fridge and croissants every morning were much appreciated and not at all expected. We had an amazing time here and would 100% recommend this studio.
Paul
2017-03-28T00:00:00Z
We had such a wonderful stay with Gay and Jonathan. Communication was always fast and informative. They were available for any of our needs. The cottage was perfect! Everything was as listed. The bed was very comfortable! The place was immaculate. Anything and everything we needed was available. They even left some staples for us in the fridge and provided fresh croissants every morning. They made us feel like family without even being there. The cottage is located right in the middle of this quaint historic town. Everything was walkable. (You must try Pizzeria Amici amazing Italian food. I've been to Italy and this was just as good) 2 mins walk to the train station that can take you anywhere. We would absolutely stay here again and recommend Gay and Jonathan to anyone!!!
Megan
2017-01-27T00:00:00Z
Rodzaj pokoju
Całe miejsce
---
Rodzaj nieruchomości
Apartament
---
Mieści
2
---
Sypialnie
Bradford-on-Avon, Wiltshire, Wielka Brytania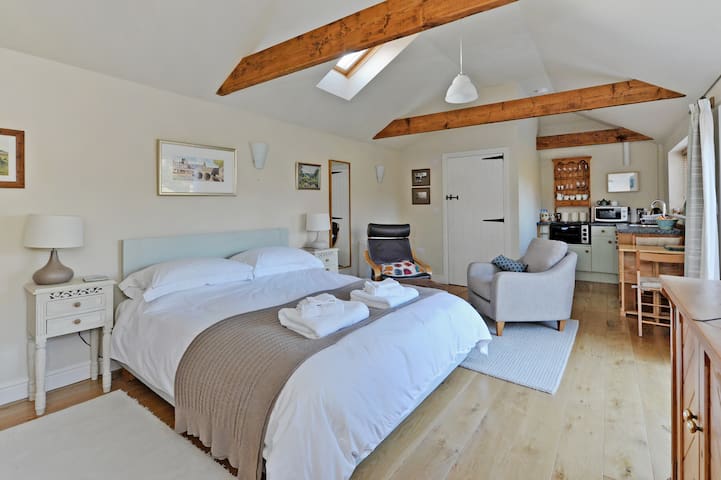 This lovely garden studio is in an idyllic Georgian village 10 mins from Bath and near to great places to eat and visit but in the middle of the countryside. It is seperate from the house and quiet with stunning views. The studio is characterful and sits in a delightful garden. The small Bathroom and Kitchen are both accessed by an outside glass covered patio which gives you the feeling of being close to the beauty of nature . It is also a lovely place to sit and watch nature rain or shine!
We are happy to welcome people to our garden studio. It is south facing, characterful and full of light and has a glass covered patio which is the access to the bathroom and kitchen. They are both compact but functional and have all the basics. The kitchen has a double hob and fridge but no oven or microwave. The bathroom has a shower, toilet and small handbasin. The studio has a double bed fitted with white egyptian cotton sheets, a wardrobe, table and two chairs. There is a TV and CD player available but they can be hidden behind sliding doors of the wardrobe for those who want to escape the world! We supply a basic breakfast of cereal options to get you started! We also supply milk and coffee and a variety of teas.
Freshford is a special village steeped in history. It is surrounded by beautiful countryside and lovely walks. Wandering through its narrow and sometimes steep lanes is a delight full of different views and quaint houses, beautiful gardens and friendly people. We have a thriving community shop and cafe which does great breakfasts and lunches and stocks most of your basic needs. The Inn at Freshford is a short walk and is a friendly welcoming pub with a good range of pub food. There is also a woodfired pizza oven outside the shop on some evenings. There are great pubs and restaurants in the area just a few minutes drive away. If you fancy a bit of city life Bath is 10 mins on the train with all its historical attractions. There are many interesting places to explore nearby - estates, gardens, canal and rivers!
I had the most wonderful time in Lynda and Bryan's space. I knew it would be unique, beautiful accommodation in a tranquil setting that's a quick drive to Bath (so I could attend a friend's hen party weekend), but their hospitality and warmth went miles beyond expectation or hope. I feel grateful to have stumbled upon such special people and such a lovely experience. From opening a bottle of bubbly on my arrival (to celebrate being their first guest), to drawing me a map of directions to places I needed to drive to, sourcing my favorite breakfast as a surprise and treating me like a long-lost friend; Lynda and Bryan are fantastic people offering a peaceful, fully kitted space in an idyllic and very convenient location. The space looks exactly like the photographs and is very much as described. The bed is extremely comfortable (I'd melt to sleep in it), the shower's refreshing and the kitchen's impressively packed with more things than you can imagine. I recommend sampling the herbal teas. I wish I'd had more time to enjoy the garden; practicing yoga in it would have been amazing. I'm looking forward to finding an excuse to visit the garden studio retreat again!
Natasha Rachel
2016-05-31T00:00:00Z
My friend and I had the most amazing stay at Bryan and Lynda's!! They were so kind from the moment we arrived, helping with travel, providing extras we didn't expect, and just being incredibly friendly and helpful. The space and garden are beautiful, and the bed was one the comfiest I've ever slept in! I have already recommended this property to loads of my friends, and we are definitely planning our next trip- it's the perfect getaway from busy life.
Pippa
2016-09-18T00:00:00Z
The reason we came there was my birthday. We wanted to relax in the country side and at the same time to explore my favorite town Bath. My husband and I were so delighted with everything at Lynda's and Bryan's place. The Garden studio retreat was even better than on the pictures - so cozy and clean, every interior detail was chosen with a good taste and love, garden is beautiful with a lot of different flowers, the aroma was pleasant, the air so clean! Lynda and Bryan's hospitality was higher our expectations. Everything what and how we like - berries in the fridge for us, herbal teas and no-sugar cereals. The bed was very comfy, the blanket was very warm, well working shower, kicthen with nice plates and dishes, cozy chairs inside and outside, perfect place for yoga, very nice view from the windows. They are both very interesting personalities on the same wavelength with us. We talked a lot with them and it was a very interesting conversation. Bryan took us for a walk with their friendly and well-mannered dog Dylan through the village to the fields and it was very refreshing walk. The village is very old and full of history. I couldn't stop taking pictures - each house is unique. We arrived by car, but next day we decided to try to go to Bath by train. The train station was only 12-15 mins walking distance from the house and Bath only 10 mins by train. Very convenient! We were so happy that found this Garden studio retreat in the very green area away from the city, but with a very convenient connection to Bath. Bryan and Lynda recommended us the paid and free parking places in Bath in advance - it was very useful. We would like to come back again one day and I already recommended this place to all mour friends. Lynda and Bryan, thanks you very much! We hope to see you again.
Irina
2016-07-10T00:00:00Z
Our stay at Brian and Lynda's was absolutely fantastic and they were incredible hosts. The garden retreat was stunning - even better than it looked on the photos and nothing was too much trouble for them. The little touches such as brownies and fresh fruit in the fridge, alongside all of the guidance on the local area is what makes Air bnb a much better experience than a hotel stay! Thankyou very much Bryan and Lynda for sharing your beautiful home with us - we will definitely be back soon! Xxx
Laura
2016-07-25T00:00:00Z
Such a beautiful place, brilliant hosts. Freshford is stunning. The local pub is brilliant. We didn't want to leave. Thank you.
Siobhàn
2016-11-06T00:00:00Z
I can't praise Bryan and Lynda enough for their hospitality and friendliness. I felt like I was staying with friends rather than people I'd not met before! Bryan and Lynda really thought of everything, from collecting me at the train station, to home baked brownies on arrival, to fresh berries for breakfast and plenty of guide books for walks in the area. Freshford is a BEAUTIFUL town and the surrounds are incredibly peaceful, with the scenery ranging from open fields, to rivers, canals and forests. I will absolutely be back for some more fresh country air at their lovely garden retreat!
Hannah
2016-07-18T00:00:00Z
Exactly as described if not better! Bryan & Lynda were both so accommodating, from check-in/pick up to check out and even a transportation snafu on my part in between. Honestly great people, I'd stay here again in a heartbeat. Location is tucked away and quiet which is a nice respite from the city but still close enough to Bath for any exploring you might want to do. Beautiful place, beautiful location, just idyllic!
Anastasia
2016-10-27T00:00:00Z
What an amazing little slice of Heaven. Lynda and Bryan were fantastic hosts that have such a great knowledge of where to go and what to do in the area. We have fresh fruit, milk, Cereal and brownies waiting for us upon our arrival. The space was just like the pictures. Your surrounded by your own garden with birds, bees and beautiful nature plants. We hope to make it back soon to visit with Lynda and Bryan. It was truly a pleasure !
Colby
2016-07-20T00:00:00Z
Rodzaj pokoju
Całe miejsce
---
Rodzaj nieruchomości
Apartament
---
Mieści
2
---
Sypialnie
Freshford, Wielka Brytania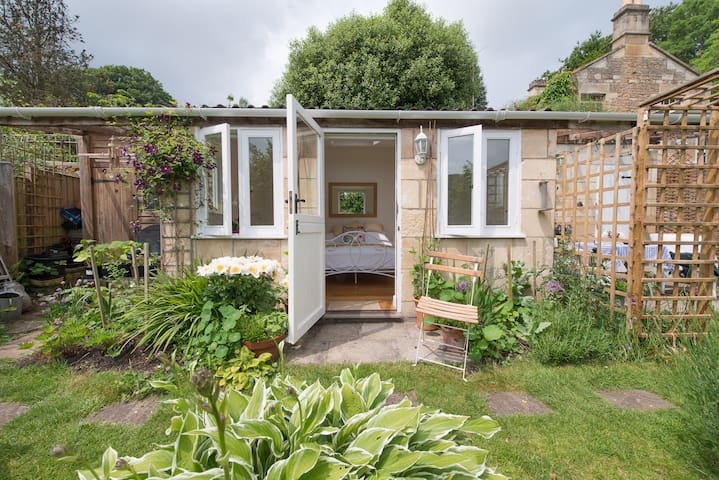 Abbotsleigh Cottage is a stylish contemporary apartment within a Regency country house. Bright & airy with it's own private entrance, equipped with everything needed for a comfortable stay, enjoys stunning views. Just 10 mins from the glorious City of Bath.
With it's own private entrance and equipped with everything needed for a comfortable stay, the apartment enjoys stunning views over wooded valleys and countryside beyond. Outside there are seating areas overlooking the sunny south facing gardens. The stately panelled bedroom has a super king size corbeille bed, with Egyptian cotton sheets and en-suite shower room. A second bedroom leads off the main bedroom with full sized comfortable bunk beds suitable for adults and kids alike. In the living room, a large sofa converts quickly and very easily into a comfortable full size double bed. We list the apartment sleeps four as we feel that is appropriate for the space, however there are beds for six if required for a larger family. Additional charges apply please ask for details.
The village of Freshford, designated an 'Area of Outstanding Beauty' a place were every one walks and everything is in walking distance. Our beautiful 16th Century village Pub is a short walk through the village down by the River. A traditional country pub with contemporary craft flavour, original timber beams, open fires, a beautiful garden, serving great food, real ales and fine wines. We also have a well stocked friendly shop and cafe offering delicious breakfasts and lunches. Loads of wonderful walks most with pubs and cafes along the way. The wonderful City of Bath is just 10min drive or 9min train ride away. Longleat Safari Park is just 25mins away and Stone Henge only 28miles away.
Phil and Naomi have really set the bar high in terms of quality airbnb hosting. This beautiful location has been fully equipped with stylish and comfortable interiors that made our stay just fantiastic. Before we even arrived Phil was very flexible date changes and allowed us to have extra guests stay. After we arrived Phil explained how there was limited mobile reception in the area but provided a previously set up mobile that worked a treat for the duration of the trip. Freshford is a great community where everyone gets greeted with a 'hello'. Beware the narrow lanes... Phil and Naomi have expert knowledge of the local area so will have an abundance of suggesttion and tips for you. Phil and Naomi are excellent hosts, Freshford and Abbotsleigh Cottage comes highly recommended by me and my husband.
Navi
2015-08-11T00:00:00Z
Everything was better than expected. A beautiful lane to the house and a very warm welcome from Philip made us feel at home immediately. The setting was heaven, so quiet so pretty made us relax and glad we choose Abbotsleigh Cottage. A really beautiful village with friendly people lots of interesting walks we didn't need the car, walking/Bus/ train full filled all our needs. Bath is very interesting but lots of people, so glad to return to Freshford. Philip & Naomi were excellent host always ready to give advice and to listen about your day. All in all the perfect location for the perfect stay.
Bruce
2015-06-27T00:00:00Z
I can't add much other than to say that there's a good reason why Philip and Naomi's Abbotsleigh Cottage receives so many good reviews. It's because the cottage really is as good as everyone says. The cottage is furnished with thought ,taste and flair. It's warm and very comfortable. The sun pours in the windows from the southerly aspect and the views down the garden and into the valley are beautiful. Our only regret is that we could only stay two nights.
Imogen
2016-02-19T00:00:00Z
This was a truly wonderful place to stay and we are very glad to have chosen it. The area itself is lovely and gives good access to a number of local attractions and activities. The flat was very tastefully and beautifully decorated. It was also well appointed and we wanted for nothing. The brownies that were waiting for us on arrival were a very welcome treat! The hosts were friendly, kind and accommodating- everything you could ask for. We enjoyed our stay so much that we will probably go back.
Marie
2014-11-25T00:00:00Z
We had a lovely time at Phil and Naomi's who were both welcoming and friendly. The accommodation is spotlessly clean and homely and was big enough for us and our four and two-year-olds who also enjoyed playing in the garden. We really loved being in Freshford, a beautiful, peaceful village with easy walks for the kids and a great local cafe.
Nick
2015-11-24T00:00:00Z
Phil and Naomi are considered Super Hosts by AirBnB. Once you've stayed at Abbotsleigh Cottage, you'll see why. The property is beautifully decorated and the surrounding village is a treasure. Communication with Phil was very good and they were kind enough to collect us both from the station. The 'brownie' on arrival was a very nice touch and was the perfect pick me up after the train journey. I would recommend Phil and Naomi and hope to explore the Avon area more in the future. Thanks for making the stay so special. A 5* AirBnB experience.
Adrian
2016-11-20T00:00:00Z
Philip's independent apartment within a beautiful country home was everything we wanted for our group of four - my wife and I, a family friend and our 12-year-old daughter. Philip met us and repeatedly looked after our comforts with grace and warmth. The apartment itself is both beautifully and usefully equipped with a sense of style and practical application. It overlooks a stunning walled garden and sits in a cute village with the requisite pub and shop. After touring Stonehenge and Bath, coming back to the cottage was like adding the whipped cream on cake.
Marcus
2016-07-22T00:00:00Z
A wonderful, relaxing stay at Abbotsfield Cottage in a beautiful area in fantastic accommodation which was beautifully presented with everything we needed . We very much enjoyed our stay exploring the local area.
Mandy
2016-08-20T00:00:00Z
Rodzaj pokoju
Całe miejsce
---
Rodzaj nieruchomości
Apartament
---
Mieści
4
---
Sypialnie
Freshford, Anglia, Wielka Brytania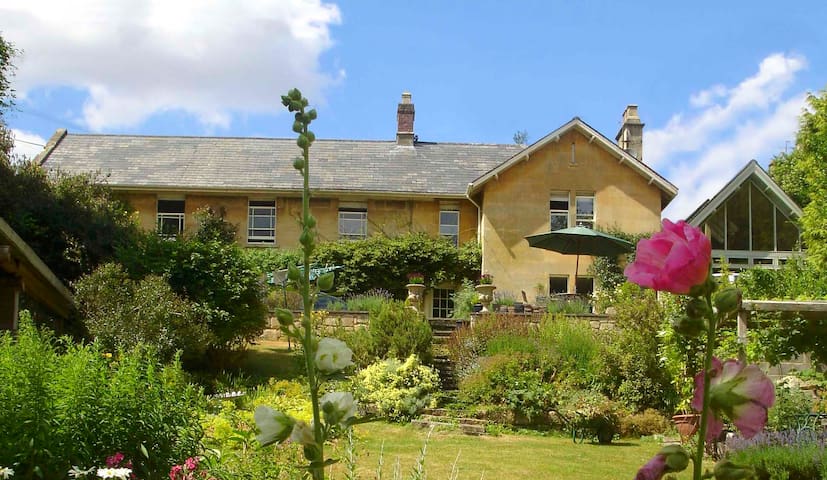 Country home in one of Bath's most popular villages. The property is a ground floor flat forming part of the old village hospital and has some of the original features as well as having been recently refurbished to a high standard. Freshford is a picturesque village situated 5 miles south of Bath and benefits from a train station with a local train to Bath and Bradford on Avon taking less than 10 minutes and running late into the evening.
The property consists of the ground floor flat of this historic building. It has private access to gardens directly in front with decking and a BBQ to enjoy on summer evenings or a cosy living room with wood burning stove to enjoy on winter evenings.
Freshford is a friendly village with a local inn and popular restaurant at Homeward Park just a short walk from the property. The village benefits from many public footpaths allowing walking networks throughout the local villages.
We stayed at Claire's lovely home for an evening whilst at a wedding, so unfortunately we didn't get as much time as we'd have like to enjoy the home and the lovely views, but in our short time there we were really impressed with the house, it was cosy and comfortable in a lovely quiet spot. Claire was very accommodating and really helpful with instructions, directions and local info too. Recommended for a nice chilled break in lovely surroundings.
Paul
2016-07-25T00:00:00Z
Claire's place was absolute perfection. I couldn't fault it for anything. Beautiful place, cosy with modern amenities. Kitchen was great, clean and easy to use. Bathroom was stunning. Living room was super cosy. The beds were very comfortable. I would highly recommend Claire's for a cosy and cute getaway. It was so nice we didn't want to be out for too long in the day!!
Kinjal
2016-10-25T00:00:00Z
Claire's place was immaculate with all the charms of a cozy cottage coupled with über modcons. She was very easy to communicate with and we had a really lovely time. My 4 year old loved playing the board games that was in the game room. Great family escape :)
Dushy
2016-10-28T00:00:00Z
Had a really enjoyable stay here and the nearby Bradford upon Avon is well worth a visit. Claire provided very detailed information prior to our stay and was also very responsive when contacted during our stay. I would definitely recommend staying here.
Ellie
2016-08-08T00:00:00Z
Lovely flat, garden and location. The hosts were helpful & quickly solved a problem we had. The flat was immaculate and had everything we needed.
Gemma
2017-04-02T00:00:00Z
We had a wonderful time at Claire's place. Enough room for 5 adults but also cosy and restful. Bath is very easy to get to and there are lots of footpaths for a lovely walk. Thanks Claire!
Alice
2017-01-02T00:00:00Z
The host messaged me multiple times before the trip to make sure everything was okay and couldn't of been more helpful. The location was so relaxing and serene and the house was spotless! Would 100% recommend, couldn't fault a thing!
Ellen
2016-08-15T00:00:00Z
Beautifully presented home, with modern furnishings throughout, in a relaxed and tranquil location. 5 of us had a good 2 nights reading, playing board games, going to for runs in the local hills, having a good braai. Claire was excellent on the comms, answering all questions promptly. Just be aware you may not have cellular access, but that's not entirely a bad thing. :)
Adam
2016-08-27T00:00:00Z
Rodzaj pokoju
Całe miejsce
---
Rodzaj nieruchomości
Apartament
---
Mieści
5
---
Sypialnie
Freshford, Bath, Wielka Brytania
The Studio at Lynchetts is a self contained apartment for two in the heart of the historic town of Bradford on Avon. Its quirky styling combines luxury and comfort with a mid-century, Scandinavian feel. It's the perfect base for exploring Bath and beyond.
The Studio at Lynchetts offers boutique self catering accommodation for two in the heart of Bradford-on-Avon, an ancient, pretty town only 15 minutes from Bath. We offer all the luxury you'd expect (including a king size bed dressed with Egyptian cotton, rainfall shower and a fully equipped kitchen), styled with a mid-century, Scandinavian inspired twist. The Studio provides the perfect base for exploring Wiltshire, Bath and the Cotswolds, and is available throughout the year for weekly rentals and short breaks. The Studio room was probably the old kitchen for the main Lynchetts house, and dates back to the 1700s. With exposed beams, a large fireplace with woodburning stove, and parquet flooring in the shower-room, it retains a sense of history whilst offering an airy and comfortable space for you to enjoy. The Studio is designed for two, but we can happily accommodate babies or small children by request. The Studio has a living area with vintage style leather sofa, woodburning stove and TV/DVD player; a kitchenette with fridge, hob and cooker/microwave; sleeping area with kingsize bed, dressing table and wardrobe; sitting area with Sixties chair and vintage record player; shower room with rainfall shower and vanity unit; and a separate loo. Outside there is a private courtyard with table and chairs and a barbeque. You are also welcome to use the Lynchetts garden which has lawns, flowers, fruit and vegetables, an orchard, Georgian summerhouse, wildlife pond and amazing views of the town.
The Studio at Lynchetts is in the heart of Bradford-on-Avon, a stunning town with Roman origins, a beautiful Saxon church, and many buildings dating from the 17th Century when it was a thriving centre for the woollen industry. Today, the centre's ancient buildings contain an array of shops including a deli, an excellent butcher and numerous boutiques, along with a wide choice of places to eat and drink.
A beautiful place to stay in a fantastic location. A perfect weekend away!
Eleanor
2016-10-30T00:00:00Z
We had the most wonderful stay at the studio. The location was absolutely perfect for us, easy parking, 10 minute stroll to the train station, 15 minutes into Bath, everything could not of been smoother. Bradford On Avon is absolutely beautiful, I wish we had stayed longer just to explore more! We ate at the Bunch of Grapes and the Pizzeria that are both a stones throw from the Studio and both delicious! The Studio is very unique and the record player in the 70s corner teamed with a lovely fire really makes it extra special. The Gardens that are part of the B&B next door are also magnificant with incredible views, well worth a venture up the hill! We can't wait to visit again!
Natalie
2016-10-17T00:00:00Z
Booked elderly parents to stay and they thoroughly enjoyed it. Easy walk to town centre and accessible.
Martin
2016-07-26T00:00:00Z
We had a lovely stay, and enjoyed being so close to the centre of Bradford on Avon. The bed was comfy, the record player great! and lovely gardens. Thanks
oliver
2014-04-17T00:00:00Z
We had the most perfect time at Amy's studio - it is every bit as beautiful as in the pictures. The garden was a real surprise though - it's enormous, and secluded and has amazing views of the town and the river. The only downside to the entire trip was that it caused me to spend a lot of money on vintage furniture when I got home...
Andrew
2014-03-31T00:00:00Z
We had a lovely stay at the studio. The studio is comfortable and has been furnished with great love for detail. Everything is just a short walk around, and we enjoyed our time in Bradford on Avon. Bath is easy reachable by train, only 10 min to walk to the station. Highly recommended, many thanks.
Thomas
2014-07-04T00:00:00Z
The reservation was canceled 6 days before arrival. This is an automated posting.
Kashmira
2015-01-24T00:00:00Z
I had a wonderful three nights of cosy rest in this beautiful studio. Fabulous location,so easy to catch one of the frequent trains into bath. Great treatments at the Therma Spa,lovely shops,restaurants,sights etc... Mags,marmalade,butter and cookies etc.. very thoughtful touches. Thank you Amy,I came home to my family happily refreshed! I will book again. Best wishes Jacqueline
Jacqueline
2015-11-27T00:00:00Z
Rodzaj pokoju
Całe miejsce
---
Rodzaj nieruchomości
Apartament
---
Mieści
2
---
Sypialnie
Bradford-on-Avon, Wielka Brytania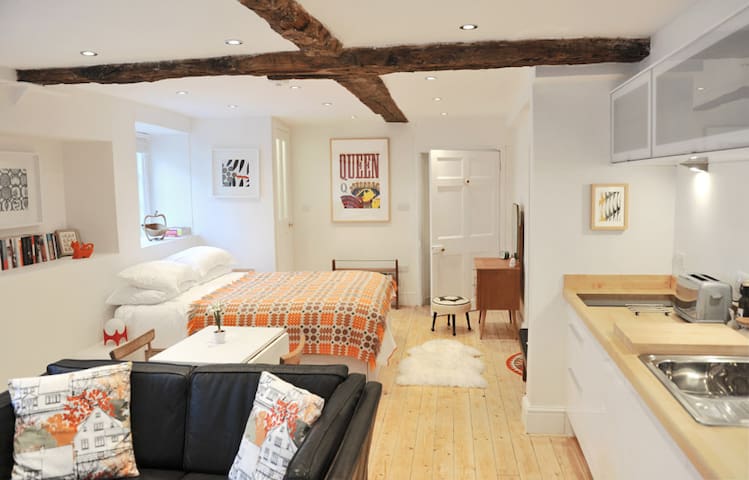 Self contained, cosy garden studio sleeping 2 people. Double bed, en suite shower room & basic kitchen (including microwave oven) on quiet residential street 10mins -15 min walk from historic town of Bradford on Avon. Towels provided. Free Wifi. Ideal for Bath visitors wanting accommodation away from hustle and bustle.
A thoughtfully converted outbuilding in the garden to the rear of our house, the studio is comfortable and peaceful. Just a 10 minute walk to the train station and centre of town, we are ideally located for a visit to this beautiful area. The open plan bedroom and living area has a double bed, dressed with Egyptian cotton linen, table and chairs for dining (or working), basic kitchen area and storage for your clothes and belongings. The bathroom has a shower, hand basin and toilet. The studio is modern and well equipped, and is located in our garden which changes with the English seasons!
15 minutes by train from Bath - Bradford on Avon is a rare combination of river, canal and architecture of true character. A perfect weekend break for those looking for the relaxed pace of and English country town. Bradford-on-Avon is a a great spot and will easily provide all that you need for your stay - cafes, pubs, restaurants local shops and supermarkets. Bath is just 15 minutes on the train, and the local countryside is glorious in all seasons - so you will be spoilt for choice of places to visit. There is a guide to the local area and information about local facilities in the studio, but should you need more, we're always happy to help.
Very nice, affordable room with modern fittings throughout. Would definitely recommend.
Gemma
2017-02-05T00:00:00Z
The Studio was spotlessly clean, had a comfortable bed and was in a good location within short walking distance to Bradford-on-Avon (and the station). We enjoyed our stay and Marsha kept in good contact with us throughout. We did not meet Marsha and Dave personally, but check-in/check-out were easy and we had a lovely stay. Delicious jam and marmalade were provided as well as cereal and bread for toast. Great find, within in a short train ride to Bath and a lovely town to explore - would recommend to others.
Alice
2017-03-12T00:00:00Z
You will love this place, spotlessly clean and we were made very welcome. Easy private access and comfortable bed. Just the place for a stopover, and the local bus runs down the same road.
Michael
2016-11-25T00:00:00Z
The place was beautifully decorated, clean and spacious. A loaf of bread was on the side with tea and coffee which was really thoughtful.
Natasha
2017-02-26T00:00:00Z
Everything was as described. Marsha was friendly and a good communicator. The studio was clean and everything was new. The shower was hot with good pressure. The studio was warm and cosy. The town is lovely itself and is a quick train ride to Bath.
Julie
2017-03-13T00:00:00Z
It was fantastic.
Tomo
2017-01-22T00:00:00Z
The studio is clean, comfortable and quiet and has everything you need. The town is lovely and Bath is only 20 minutes away.
Alexis
2017-04-14T00:00:00Z
It was absolutely lovely, clean, kind, everything. We could not have asked for anything more! Dave checked us into the adorable room and Marsha checked in daily, they had bread, milk, yummy jam, and tea. We caught the train into Bath, easy to navigate and cheap, but BOA was a hidden gem to spend plenty of time!
Molly
2017-01-08T00:00:00Z
Rodzaj pokoju
Całe miejsce
---
Rodzaj nieruchomości
Apartament
---
Mieści
2
---
Sypialnie
Bradford-on-Avon, Anglia, Wielka Brytania
Lovely modern and comfortable flat in a beautiful setting - the basket of homemade food was such a nice welcome, and really helpful to provide milk etc.! Our hosts were so lovely and accommodating - we even got to see the old workings of the mill wheel, which was great. Also loved the Neal's yard toiletries. Freshford is a very pretty village, but still close to Bath. Would happily return!
Rebecca
2016-04-25T00:00:00Z
We thoroughly enjoyed our stay in Freshford over the Easter weekend. The Mill has bags of character and the apartment itself is modern and very comfortably furnished. It's also perfectly located in the middle of the countryside, but only a 10 minute train away from Bath (the short walk to the station is also very pleasant!). Fiona and her husband were fantastic hosts. We received a very warm welcome on arrival, including a basket with fresh bread, eggs and biscuits! Highly recommended... and we hope to return in the future!
Jack
2016-03-30T00:00:00Z
We had an amazing time in Fiona s flat. The place was so clean and tidy. We used the fully equipped kitchen as well. We loved the basket with the goodies Fiona prepared for us. Whenever we needed her she helped us in the same moment.
savvas
2016-05-23T00:00:00Z
Rodzaj pokoju
Całe miejsce
---
Rodzaj nieruchomości
Apartament
---
Mieści
2
---
Sypialnie
Bath and North East Somerset, Wielka Brytania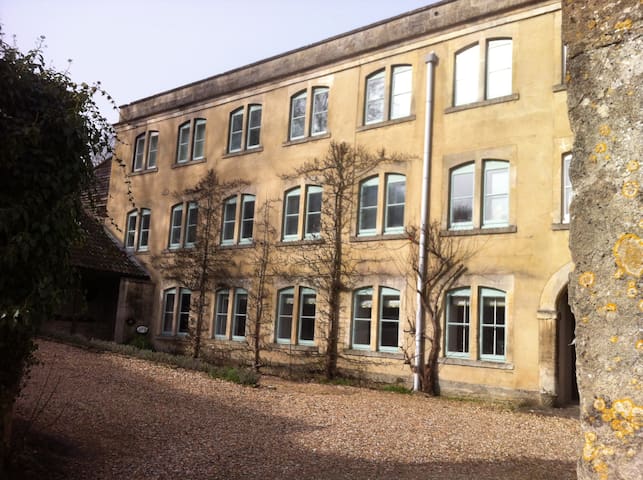 This beautiful flat is perfectly situated for a quiet retreat with stunning views over the town. You can see over the rooftops to the Westbury white horse in the hills opposite. 10 Tory offers you a unique holiday spot. You will find everything you need and more, (WIFI, TV, beautiful towels and linen) and the walled garden is a real bonus on warm evenings!
The property, which is a grade II listed building, has one bedroom and an adjacent shower room, both with beautiful views over the village below. There is a brand new Laura Ashley sofa bed if there are four people staying but please be aware that to access the shower room you have to go through the bedroom so it is recommended for families or good friends! Enjoy slipping into the beautifully comfy bed after a hard day's exploring and all towels are provided for your comfort. Luxury hand soap and hand wash are available for your use in the shower room. The newly renovated apartment which nestles into the hillside in one of the most historic parts of the town, used to be part of a row of weavers cottages. It is now an utterly charming and romantic 1 bedroom self-catering holiday cottage with a sofa bed in the living room for families. Take a stroll along the row of cottages to the church of st mary tory or down the warren of quaint steps and across the bridge into town. Further afield lies bath, stonehenge, longleat, wells, the cotswolds, cheddar and numerous national trust properties as well as canal and river walks nearby. On a sunday morning listen to the chorus of church bells or the steam train blowing its horn on the way through the valley. The kitchen is well equipped and you'll never tire of looking out of the window across the charming bath-stone rooftops to the westbury white horse painted into the hillside. The walled garden makes for a restful retreat after a busy day of exploring the many local charms and feel free to raid the herb garden if you are keen on cooking. Staying on tory is a memorable experience and one that you'll want to return to again and again.
The newly renovated apartment which nestles into the hillside in one of the most historic parts of the town, used to be part of a row of weavers cottages. It is now an utterly charming and romantic 1 bedroom self-catering holiday cottage with a sofa bed in the living room for families. Take a stroll along the row of cottages to the church of st mary tory or down the warren of quaint steps and across the bridge into town. Further afield lies bath, stonehenge, longleat, wells, the cotswolds, cheddar and numerous national trust properties as well as canal and river walks nearby. On a sunday morning listen to the chorus of church bells or the steam train blowing its horn on the way through the valley. The kitchen is well equipped and you'll never tire of looking out of the window across the charming bath-stone rooftops to the westbury white horse painted into the hillside.
Had the most amazing stay at Alice and Pete's flat in BoA. Alice was extremely helpful leading up to our visit and offered great recommendations. The gorgeous views can't be put into words and the evening strolls gave us quite a workout. Flat was clean and the bed was very comfortable. Can't recommend this place enough!
Justin
2015-05-04T00:00:00Z
A wonderful little apartment in a great location. Bradford-On-Avon is a wonderful little town and this characterful apartment provides the perfect base to enjoy it from.
Josh
2017-02-20T00:00:00Z
Having just spent a Week at Tory in Bradford-on-Avon I can recommend both the flat and the area. The flat was spacious for a one bedroom flat, very clean and tidy with all the amenities that you would need for a holiday here. Hostess Alice was very, very good with dealing with both the booking and information about the area. Only one small private problem occurred which after I phoned her she dealt with immediately and to our satisfaction within 2 mins. Would recommend this flat, location and owner for a very pleasant stay. Ron Wells
Ronald
2014-09-08T00:00:00Z
I have used Airbnb all over the world and Alice's place in Bradford-upon-Avon is one of my absolute favorites! The views were even better than she suggests and her place looks exactly like the pictures provided. Her communication is spectacular. The town at the bottom of the hill has everything you need, and there is a train station nearby. There are beautiful running trails and the people are all very kind. Thank you for having us Alice! We will definitely be recommending your place to others!!
Lindsey
2015-03-15T00:00:00Z
We immediately fell in love with this adorable cottage and the town as well! The cottage was a perfect size for our family of four and came stocked with everything we needed. We loved eating meals and playing games in the garden overlooking this quaint little town and visiting with neighbors passing by.
Tamara
2016-08-05T00:00:00Z
We really enjoyed our stay at 10 Tory. It is a delightful property in a most beautiful setting. We were made very welcome by the host and neighbours . The apartment /cottage was clean, with tasteful decor and equipped with all mod cons. Possibly the outside garden is a little dangerous for a two-year-old and it would be a challenge to push a loaded pushchair uphill to the car park but we had anticipated that and really enjoyed our stay. Be sure to visit St Mary's chapel at the far end of Tory. It was most peaceful .Thank you.
sheila
2016-08-22T00:00:00Z
Our second stay here at Alice's place was as glorious as the first. Bradford-on-Avon is a slice of heaven, and this place is the perfect spot to revel in it. Highly recommended!
Zoe
2015-10-04T00:00:00Z
We had an amazing stay in alice's place in Bradford on Avon. We were greeted her neighbours when we arrived and invited to a garden party! They were so welcoming. The views of the town are amazing from the house. It was a beautiful place to stay.
Eibhilin
2016-08-15T00:00:00Z
Rodzaj pokoju
Całe miejsce
---
Rodzaj nieruchomości
Apartament
---
Mieści
4
---
Sypialnie
Bradford-on-Avon, Wielka Brytania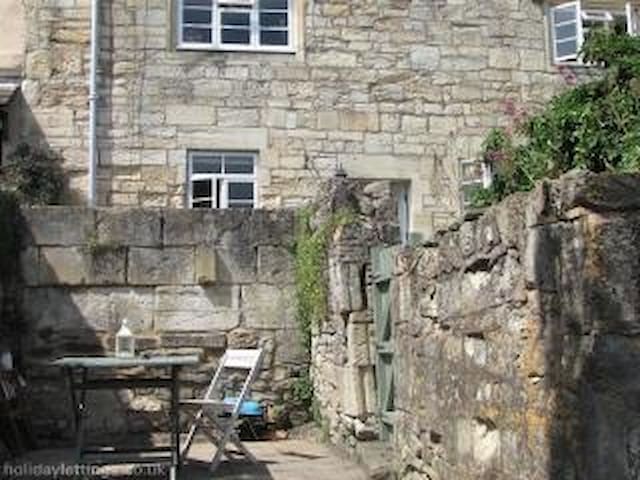 'Waterside' is a beautiful refurbished property which sits on the Kennet and Avon canal and its popular waterside cycle route. Upstairs is a well equipped kitchen, modern bathroom and one double bedroom. Also, the lounge/dinner with balcony which offers views over the water and canal bridge. Downstairs in the inner hall, cloakroom and garage, housing a pool table and table football. Also there is the second bedroom and garden room, both with direct access to the garden. Private parking.
Everything was lovely. Great location by the river. We really enjoyed staying there. The house had everything we needed and more and the hosts were great.
James
2016-08-02T00:00:00Z
We did not meet the host but everything was in place for our arrival as promised. Apartment was spotlessly clean and modern. We only stayed 2 nights and were mostly out so feel we didn't get a chance to make the most of the amenities. Lovely view over the canal- must be fantastic sitting out in summer with a glass of wine looking the the barges passing by...
Malena
2016-11-27T00:00:00Z
We loved this property, which was located on the edge of the River Avon near the Canal Club. It was great watching the narrow boats go by and feeding the ducks with the bread that Jan kindly left for this purpose. The flat is very spacious and would suit either a family or two couples. To keep boredom at bay, there was a small games room with a foosball table and a pool table, which my husband and father-in-law loved! The neighbourhood is very quiet and is only a 10-15 minute drive to Bath. If you want to grab dinner locally, The Old Bear Inn in Staverton is a 5-minute drive down the road and has a roaring fire and a nice selection of traditional pub fare. Overall, this is a great place to stay if you're looking for somewhere low-key for exploring Bath and the surrounding areas.
Ashley
2016-10-23T00:00:00Z
Brilliant Host and immaculate apartment. Would be lovely to stay in summer. Thank you!
Emma-Jane
2017-01-01T00:00:00Z
Lovely house, location and host. The place is light, airy and spacious with a really well equipped kitchen. Home from home really and definitely recommended.
Lynda
2017-03-16T00:00:00Z
Emma and I stayed for three nights at Jan's house while visiting family nearby. The setting of the house backing on to the marina was just gorgeous, and the practicality of everything else was top notch. The beds were comfortable, the kitchen extremely well equipped, the bathroom was great and it contained the best power shower I've ever used. Jan was very quick with all communication related to the stay and I'll take this chance to say thanks for having us one more time: thanks Jan!
Patrick
2017-03-27T00:00:00Z
Logement tres propre et tres confortable, l'emplacement permet des visites sur Bath; Bristol Stonehenge...
olivier
2016-08-16T00:00:00Z
Wonderful and very helpful hosts, immaculate house with everything you could need. Perfect location for Bath and Longleat. We really enjoyed a canal side bike ride along to Bradford on Avon too. Wouldn't hesitate to recommend staying at the Waterside property.
James
2017-02-14T00:00:00Z
Rodzaj pokoju
Całe miejsce
---
Rodzaj nieruchomości
Apartament
---
Mieści
4
---
Sypialnie
Staverton, Anglia, Wielka Brytania
Lower Westwood - Airbnb
:
Średnia ocena:

4.81

/

5

gwiazdek od

894

gości
Wpisz daty, by zobaczyć pełną cenę. Obowiązują dodatkowe opłaty. Cena może uwzględniać podatek.