This is a ground floor apartment in the Old Post Office in St Arnaud. Its self contained space includes a lounge/dining/kitchen/bedroom with a toilet/laundry and shower/basin in their own rooms off the Queen bedroom. Direct access to rear garden.
Cosy apartment with open plan petite full kitchen, dining and lounge. Queen bedroom off the lounge and one step into the laundry/wc and shower/basin rooms. There is direct access to the pretty rear garden. Private outdoor area. Gas BBQ. Tea, pod coffee, fresh milk, rice & soy milk, fresh fruit. Breakfast not included.
St Arnaud is a friendly town with many heritage buildings. There are the Queen Mary Botanic Gardens, Historical and Bible Museums, restaurants, hotels, and good day to day facilities including a swimming pool and hospital. Annual events include the St Arnaud Cup, The Festival of St Arnaud, and annual St Arnaud Show.
Rodzaj pokoju
Całe miejsce
---
Rodzaj nieruchomości
Apartament
---
Mieści
2
---
Sypialnie
Saint Arnaud, Victoria, Australia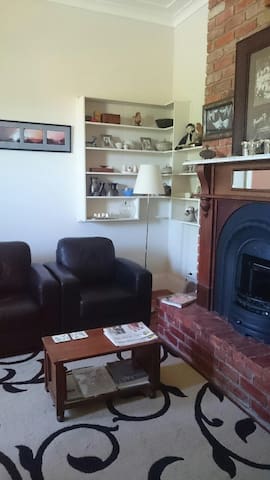 The Blue Diamond Studio is very close to the town centre, shops, restaurants, parks and the beautiful historic railway station. Just a 2 minute drive to everything beautiful Maryborough has to offer. You'll love the studio with it's feeling of old world luxury and cosiness. The studio is great for couples, solo adventurers, and business travellers. It provides a beautiful, luxury alternative to a motel room, and it's the perfect place to get away from it all.
The studio has a beautiful vintage bed with a comfy mattress and quality linen, so you will enjoy a wonderful nights sleep. We are sure you will love the gorgeous bathroom with it's spacious shower. A fridge, microwave, toaster and kettle are provided for your convenience. Though we do not offer cooking facilities as such, we do offer crockery and cutlery etc, so you can enjoy a meal here, or a glass of wine. We also have a trundle bed available, if you would like to bring a small child. We can also provide a porta cot if required.
Maryborough offers some beautiful historic buildings and lovely parks. We highly recommend you visit the old railway station and enjoy a coffee or a bite to eat. You won't be disappointed!
Lively little studio highly recommended. Deborah the host very helpful.
Isabel
2017-03-25T00:00:00Z
Rodzaj pokoju
Całe miejsce
---
Rodzaj nieruchomości
Apartament
---
Mieści
2
---
Sypialnie
Maryborough, Victoria, Australia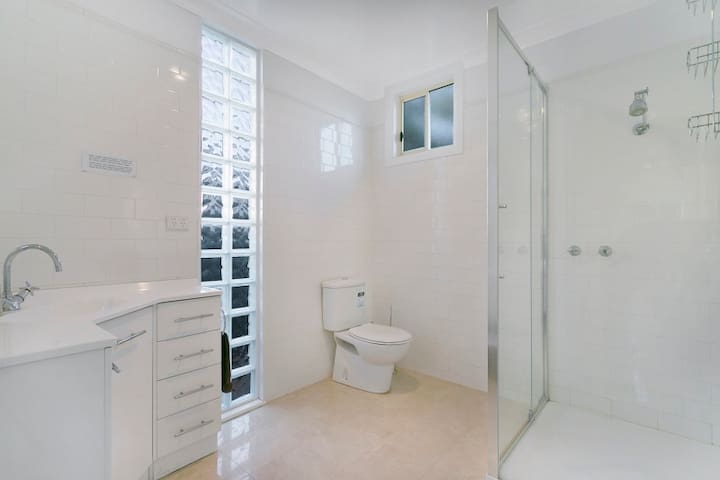 Voulez-vous un changement d'arbre? la paix et la tranquillité de la campagne sur un vrai australien auto travail farm.Totally contenait 2 chambre cabine Nous avons des bovins, des moutons, des porcs, des chevaux, des poules et parfois notre sheepdogs.Great promenades, à proximité de certains des meilleurs vignobles de Victoria.Price est par couple.
Notre cabine est totalement autonome, idéal pour les familles ou une escapade romantique! Le prix est par chambres de taille couple..Two queen avec canapé-lit double et une kitchenette entièrement équipée.
Vues magnifiques et promenades. Grouillant avifaune. (Vous pouvez même apercevoir notre résident paire Wedgetailed Aigle. !!)
Deb and Vincent are the lovely people who made us feel at home on their family farm. They made sure we had everything that we needed. The accommodation was clean and cosy and they also provided a lovely breakfast. We really enjoyed meeting them - hearing their stories about their family and life on the farm was a real pleasure. Despite being fully grown adults, we felt like a bunch of kids when we got to 'meet' the farm animals. It was such a wonderful experience! Last but not least, the location is magnificent, the photos really don't capture the amazing scenery that you wake up to. The Pyrenees Farm Stay is more than just a place to rest your head, it offers a lovely experience - I highly recommend it!
Nicola
2016-08-08T00:00:00Z
This place is fabulous. Deb welcomed us warmly on arrival, and showed us around the farm. The farms animals were super cute, and would be a real hit with kids. The cabin was warm and thoughtfully prepared for a relaxed getaway. We also appreciated having the local knowledge of where to dine etc. Thanks Deb and family!
Ross
2016-05-23T00:00:00Z
Rodzaj pokoju
Całe miejsce
---
Rodzaj nieruchomości
Apartament
---
Mieści
7
---
Sypialnie
Amphitheatre, Victoria, Australia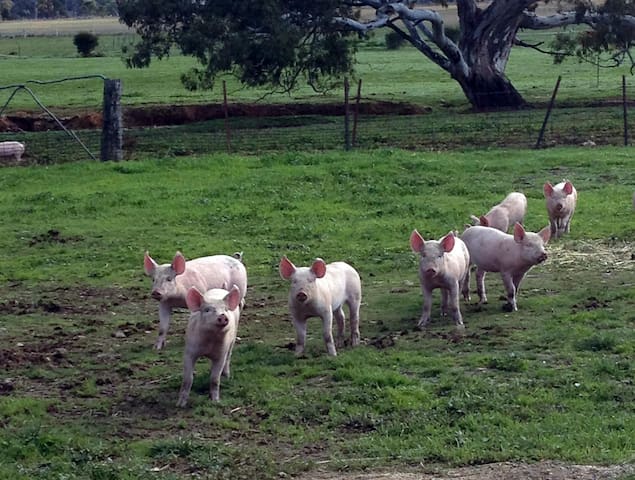 Exactly as described but even better, we had a wonderful couple of days in this character filled cottage and Gavin was a great host.
Denise
2016-05-26T00:00:00Z
Suzanne and Gavin's correspondence, prior to my arrival, was nothing short of outstanding and inspiring. Brilliantly prompt and welcoming I felt as eager to meet them both as to find my gaze inspired by the confines of their gorgeous lair nestled within the ever so quaint hamlet of Maldon. The hosts were warm, engaging and pleasant. Both of whom made me feel instantly at ease after my boisterous blast to their homestead from Melbourne aboard my two wheeled devil steed. Advice was offered of local and nearby delights and attractions. As for the (URL HIDDEN) was sumptuous. Intriguingly decked out with the feel of travel to strange and wondrous foreign climes ever present in the decor, ambience and gorgeous touches throughout. The location was so easy to find that when I dismounted the beast, gathered my bearings in order to consult my phone for directions, I found Gavin within five yards. Perfectly situated a child's stone throw from the delightful bakeries and trinket shops, the lair was sublime in too many ways to delve into with the deserved gusto without beginning a novella. Claw bath, a bed so comfortably accompanied by plush pillows and cushions. A kitchen equipped with enough space and plentiful utensils to make self catering a simple, cost effective option. Hot water on demand. High speed wifi. Garden brimming with seasonal petals. Castlemaine is not far and well worth a visit if you can steel yourselves from the impressively cozy hideaway. I would strongly advise any lovers of classic literature to hunt out Book Heaven where I was bedazzled by the first editions of Dumas and even found a magically adorned with Dore sketches late 19th century offering of Balzac's Droll Stories! Essentially, the homestead is beautifully rendered, superbly positioned and the hosts are wonderful folk. Highly recommended.
Daniel
2016-04-26T00:00:00Z
The bakehouse is a beautiful place to stay. It has been refurbished thoughtfully and lovingly with attention to detail. It is very well situated, a stones throw from shops and cafes. Maldon is steeped in Australian local history and is a very interesting place to visit. Gavin is very easy to communicate with. I would recommend him as a host unreservedly.
Lynne
2017-01-27T00:00:00Z
This was a fantastic place to stay! It was a lovely place, clean and tidy and very comfortable, being well appointed. If you are looking for something with a difference, this is it. The wood fire was fantastic to warm up the room. The bed was comfortable with a warm doona! The shower was hot with good pressure. Conveniently close to town, we walked down to dinner. Wifi had great speed as well. We wouldn't hesitate to stay again or recommend to others!
DaveTash
2016-07-05T00:00:00Z
Cosy retreat, walking distance to everything, pleasant stay.
Craig
2017-03-12T00:00:00Z
Absolutely wonderful. Fantastic apartment and Gavin was a great host. Would stay again.
Mark
2016-05-16T00:00:00Z
Gavin made the process of booking and gaining access to the property easy, and provided some good tips on eating out. I found the property neat and clean and as listed, and in a great spot in town.
Simon
2016-04-16T00:00:00Z
We arrived at the accommodation to a pre lit fire place and generous furnishings. The old bake house has been beautifully decorated with an eclectic mix of new and antique. The furniture was all very comfortable and the bathroom new. The cottage is located at the top of the main at making it a short stroll to all the stores and cafes. Our hosts made the stay very comfortable, I would definitely return.
Sylvia
2016-05-03T00:00:00Z
Rodzaj pokoju
Całe miejsce
---
Rodzaj nieruchomości
Apartament
---
Mieści
2
---
Sypialnie
Maldon, Victoria, Australia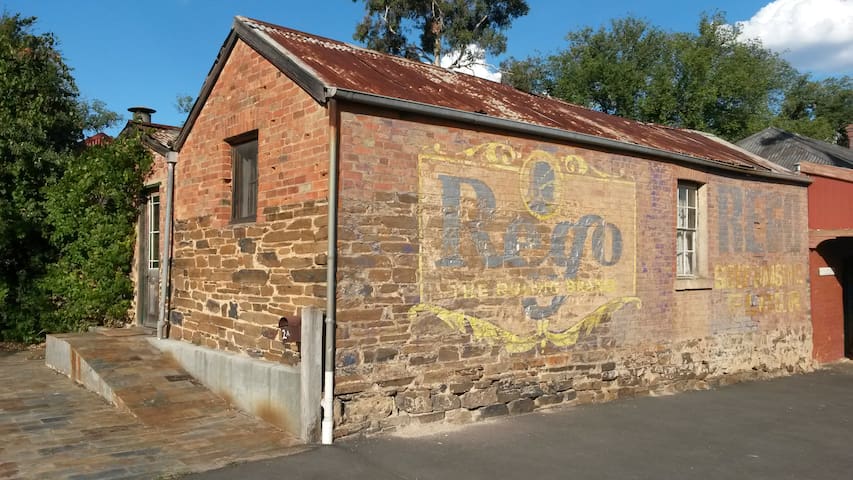 Pam and Digby were very friendly and welcoming. We had a great time staying at their beautiful hilltop home! The place was tastefully decorated and cosy with a fireplace! There were also a large collection of books, CDs and DVDs for your enjoyment.Digby also recommended some fantastic places to eat out during our stay and we really enjoyed the local food. Almost forget to mention the beautiful views (which are spectacular!) from the large windows throughout the home! It is a great place to stay if you are looking to get away for a little indulgence and relaxation.We look forward to visiting again soon.
Lee
2016-10-01T00:00:00Z
We had a delightful time staying at this glorious location. It is truly luxurious in every way. The house is stunning and the view is something to behold, especially watching the rising sun. Pamela and Digby are warm, welcoming and respectful of one's privacy. We highly recommend this accommodation.....you will not be disappointed! *****FIVE BIG STARS*****
Justin
2016-10-29T00:00:00Z
Rodzaj pokoju
Pokój prywatny
---
Rodzaj nieruchomości
Apartament
---
Mieści
2
---
Sypialnie
Maldon, Victoria, Australia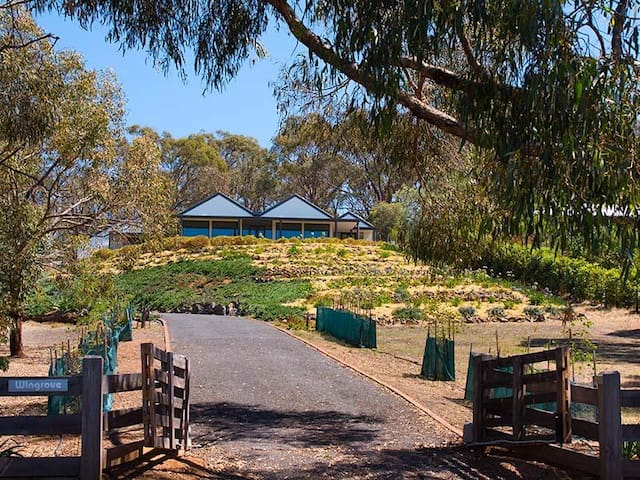 Maldon was a beautiful little country village with a heap of character.
Robert
2016-12-03T00:00:00Z
Great location
Eddy
2017-03-26T00:00:00Z
Place was awesome. Beautiful, clean and comfortable. Location is amazing in such a cool little town! So happy we stopped in. Highly recommended!
Elliot
2015-10-26T00:00:00Z
Could not get a more perfect location right on High St. We didn't get to meet Ann & John but access to the appartement went smoothly. So beautifully and stylishly decorated just wished we had stayed longer to fully enjoy all it had to offer and the beautiful town of Maldon.We will be back ! Thank you Ann & John
chris
2015-10-03T00:00:00Z
A wonderful and comfortable experience. Being in the centre of town allowed us to explore whilst being so close to the cosy loft apartment.
Anna
2016-07-06T00:00:00Z
This adorable little apartment was better than described, we loved everything about our stay, we especially loved the beautiful outdoor courtyard, comfy bed and couches. Being on the main street of town was also great as its literally only 30 steps to the pub and so close to shops & cafes and was not at all noisy when trying to sleep.
Natalie
2015-12-29T00:00:00Z
Ann's is right in the middle of town, so you're really close to everything you could want. It's also still very quiet with the space out the back, and well set up with a spacious lower level and wood stove :)
tim
2017-04-05T00:00:00Z
We had a wonderful weekend in Maldon staying at 73 High street. The place was very comfortable and had everything we needed! Our hosts had thought of everything. The bed is very comfy and the air con much appreciated. There is no better location to be in Maldon! Highly recommend. Thanks Ann :)
Kate
2016-03-06T00:00:00Z
Rodzaj pokoju
Całe miejsce
---
Rodzaj nieruchomości
Apartament
---
Mieści
2
---
Sypialnie
Maldon, Victoria, Australia