Very nice design! Excellent shower! Good breakfast! Nice explanation! I love this house very much! :) :)
Ann
2016-11-04T00:00:00Z
I organised this stay for my partner and his friend. They really enjoyed their one night at such an historic and unique place. They felt welcomed and very well looked after. Highly recommended!
Marguerite
2016-09-06T00:00:00Z
Absolutely loved staying here. Spacious, clean and very much a country B&B feel. Glen was very accommodating & friendly. There was plenty of breakfast food in the fridge for us as well. We went for a wonder around the farm and the Platform 1 - model railway, a lot of history and things to look at. Its sad that we dont go pass this place often as we live in Melb, but we were ever to go through SA again we 100% staying here
Heshan
2016-12-31T00:00:00Z
Staying here was the best possible choice we could have made. The place was full of character, with so many things left as they were in 1855. The fireplace was perfect to snuggle up next to and watch a movie. The service was one of the best I've had- this family went above and beyond from letting us roam around the farm, helping when we were technologically challenged and could work the DVD player, not to mention the amazing spread they had left in our kitchen for breakfast!! Thank you and we will be back again.
JESS
2016-09-12T00:00:00Z
Karen and Glenn were excellent hosts. This was our first family holiday and they made every effort to make us feel welcome, including setting up a cot for our little one. The farm is very picturesque, and we really enjoyed meeting Alice the pig, Captain the horse and all the other friendly farm animals. The train ride and rail museum were also impressive. Highly recommended accommodation.
James
2016-07-16T00:00:00Z
Glenn and Karen gave us a good introduction to the property. The breakfast provisions were very generous, and all the extras with fruit, tea and coffee and condiments were very welcome. We are glad they were able to save the property from ruin.
Bridget
2016-10-21T00:00:00Z
A wonderful base for a wonderful holiday. We felt very welcome and breakfasts were amazing. The best holiday possible according to our youngest child.
Anthony
2016-07-04T00:00:00Z
Rodzaj pokoju
Całe miejsce
---
Rodzaj nieruchomości
Dom
---
Mieści
6
---
Sypialnie
Littlehampton, Australia Południowa, Australia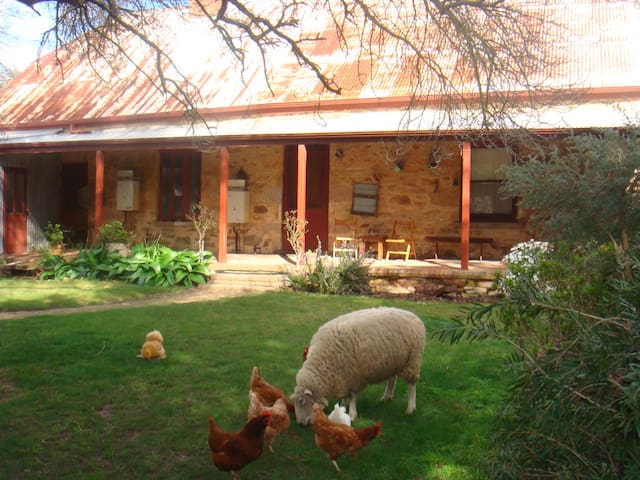 Modern Home, (Homosexuell freundlich) Gastgeber ... mit schönen Adelaide Hills Land leben Lebensstil ... Im Mittelpunkt der südlichen Bergland ... 1 minütige Fahrt von der Autobahn ... Geben Sie bequemen Zugang zu Clealand Wildpark, The Historic Township von Hahndorf, Monarto Safari Park und dem südlichen Weinregion.
Komfortable Wohnräume mit viel Tageslicht ..
Wir leben in einer sehr schönen, ruhigen Sackgasse auf einem Hügel mit Blick auf das Buschland .... die Gegend ist wirklich schön unter den Landgütern, Hobby-Farmen und Buschland zu gehen, zu Fuß in.
Rodzaj pokoju
Pokój prywatny
---
Rodzaj nieruchomości
Dom
---
Mieści
2
---
Sypialnie
Littlehampton, Australia Południowa, Australia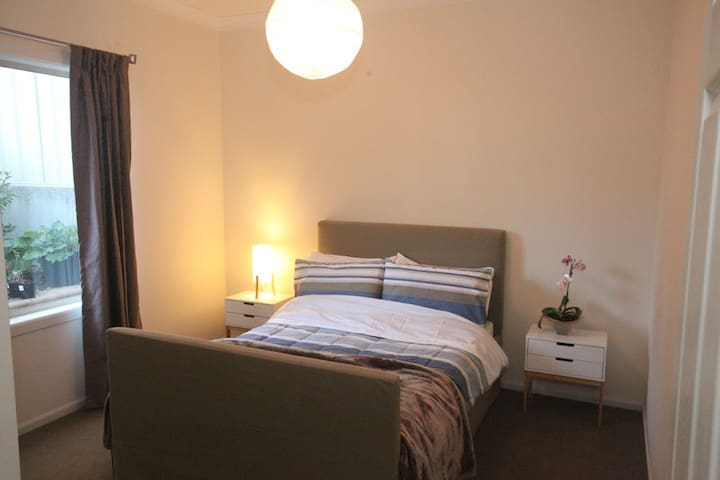 Briony has put personal touch throughout the accommodation - We arrived to her coming out with Umbrellas due to a bit of rain.. fresh roses around, abundance of fresh breakfast foods and fruit, and the loft set up was beautifully ambient with fairy lights etc. It was comfortable and warm sleeps & a newly installed air con kept it toasty. My daughter described it as 'A modern fairytale'. Fantastic shower too. We were able to see her husband Work with the race horses and roam the property - so lovely & peaceful. Grant, the dog was lovely and my daughter loved hanging out with him. I would love to come back on my next trip and stay here again. Very accommodating & friendly hosts who catered so well for us. .
Lisa
2017-04-01T00:00:00Z
Beautiful rooms and lovely hosts. I would stay here again.
Samantha
2017-02-14T00:00:00Z
What a gorgeous place! We had such a wonderful stay! The space and surrounds are absolutely beautiful - we loved waking up to views of horses and lovely gardens. Briony is super friendly, warm and helpful. Only wish we could have stayed longer!
Malvina & Berish
2017-03-14T00:00:00Z
The accommodation is spacious and very modern, tastefully decorated and set in beautiful surroundings. Briony had put in a lot of thought into making it look and feel luxurious. It would easily suit a small family but was ideal for a couple like us looking for a special stay away. It is well worth visiting and I just wish I had had more time to explore the beautiful grounds. Briony and her family are very welcoming and cooperative. It was a lovely stay. Highly recommended!
Sandra
2017-02-12T00:00:00Z
What a delight! Delicious morsels to greet you, wonderful hosts in a beautiful and serene environment. So close to everything Adelaide has to offer if you have a car. Highly recommend.
adele
2017-02-28T00:00:00Z
Beautiful property and home. Briony and her family were extremely welcoming and we had everything we needed. The surroundings are very peaceful and the accommodation is beautifully decorated. We loved staying here and hope to be back!
Hannah & Scott
2017-04-09T00:00:00Z
Briony and Bill were so kind and welcoming and their farm is so peaceful and gorgeous we loved it for our romantic getaway but will also be back with our kids as they would have loved it too with all the animals and scenery. Briony was so helpful and went out of her way to suggest good places to visit nearby which we appreciated and enjoyed! The accommodation was beautifully decorated and clean and we would highly recommend it for all!
Rosy
2017-03-16T00:00:00Z
Our host Briony and Bill were very welcoming. We found a home away from home here and such an easy and quick drive to the Adelaide CBD. Handorf and a variety of wineries literally at your door step. Breakfast was generous, and fresh. An absolute hidden gem and we'll be back for sure. Thank you.
Judy
2017-01-22T00:00:00Z
Rodzaj pokoju
Całe miejsce
---
Rodzaj nieruchomości
Chatka
---
Mieści
6
---
Sypialnie
Oakbank, Australia Południowa, Australia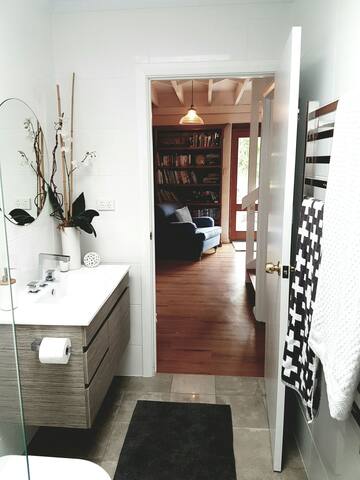 Modern home that's quiet & relaxing. Can supply breakfast for an extra fee. I'm a chef. We have a sauna. The property is being set up to be self sufficient. We have solar, filtered rain water. The area is great for walking with amazing views plus a wetland. Mount Barker town centre is 10 mins The German inspired town of Handorf is around 15mins away. Monarto Zoo is 25mins away. Adelaide city is 35mins away. Adelaide airport is 52mins away. Airport pick up & drop offs for a fee.
I have a queen size high air mattress that is inflated in the large home theatre room. King single high density foam mattress brand new from a swag that can be put on the floor also in home theatre room. If you want to bring the kids there's also a cot mattress (no frame) available upon request. This is a huge 5 bedroom 2 bathroom house with 2 living areas so plenty of room to relax with a movie etc. Others also live in home so please be respectful.
The views in the area are fantastic. Lots of parkland & wetlands nearby to explore.
I had a lovely stay at Karen's it was wonderful. She is very accommodating and friendly and I would recommend her. I loved her mango kombucha it was grouse! The house is nice and I felt very welcome. She was friendly enough to offer and make me breakfast and it was really filling. Thanks
Dani
2017-02-08T00:00:00Z
Good & clean accommodation with friendly host. Great location and peaceful neighbourhood. Close to attractions and Mt Barker town area. Recommended bnb
Jan
2017-01-28T00:00:00Z
Nice and Friendly stay for a young families..I will recommend to any one..
Ajith
2017-02-18T00:00:00Z
This was Karen's second airbnb guest. Be very clear, this is a share house and privacy is at a premium. Karen handed the booking over to one of her house guests as she was not at home. Air conditioning was turned off without notice. The house can be noisy. There is very little room in the fridge for anything. Also there is not much room to be private as the the share guests tend to get first go at everything. Nice location being central to the Adelaide hills. The house is modern and clean.
Fred
2017-01-29T00:00:00Z
Thanks for the stay. Last minute booking. Clean house.
Lauren
2017-03-24T00:00:00Z
Very warm and friendly hosts. Clean and very comfortable accommodation. Perfect for a good relaxing couple of days.
Leon
2017-02-02T00:00:00Z
Rodzaj pokoju
Pokój prywatny
---
Rodzaj nieruchomości
Dom
---
Mieści
6
---
Sypialnie
Mount Barker, Australia Południowa, Australia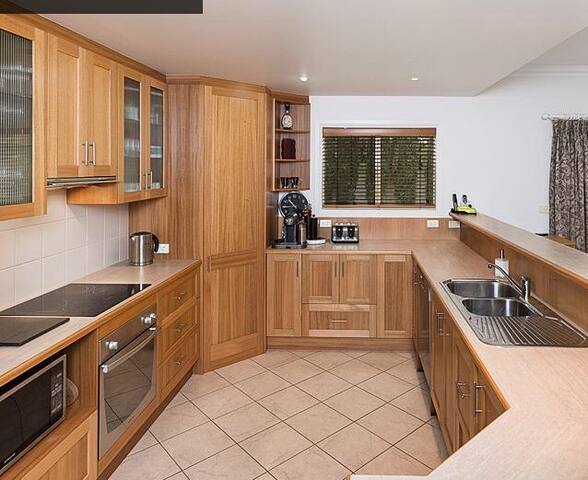 Welcome to Koalaville, in Bridgewater: beautiful in all seasons Wake peacefully to birdsong amongst the trees overlooking the little valley. Open the triangle windows of your small but modern, private, bright, clean studio room and smell the fresh breeze, or sit outside in the hammock chair & relax with a book. Talk to our chooks or catch sight of a friendly possum or koala. Borrow our bikes& picnic set & explore the hills, nearby wineries & German Town, Hahndorf.
Need a sweet little tree change amongst nature and wineries? |•The Area•| The Forest Apartment at Bridgewater- nestled between leafy Aldgate and the famous sparkly German town, Hahndorf, is a delight in all seasons: Cooler in summer with an afternoon cool gully breeze that entices you to throw open the windows... Misty, green and fresh in winter, and bursting with sweetly scented flowers in spring; but the area truly shines in Autumn, with an incredible array of colours and floating leaves. A private, peaceful retreat, for those who need time away from it all, a rest and recharge, tranquility and a connection to nature, or a reconnection with a loved one. For those exhausted by life needing time away, a long, deep sleep, or day spent among the soft pillows and cushions with a good book, vanilla-scented candles, cups of tea (or wine, or port from the intricate port sippers provided)...or just simply being. For the explorers, so much awaits to be discovered, whether it be a pop out for meal, or a day-trip adventure- scroll down to the bottom for ideas, and a whole folder more await you upon arrival to help plan your adventures. |•Your Accommodation•| •Dates booked out? •If the apartment is booked for your dates, ask us about our TREEHOUSE- it's not far from being finished and is designed especially for couples looking for something special and different. If you are looking for budget accommodation, we also have Maisie, or little caravan. Neither of these are currently listed but we can look at listing them if you had your heart set on Koalaville but your dates weren't available xxx Your apartment- airy, modern and sparkly-clean, consists of of a small bedroom with double bed with high thread count Elysian linen and soft cushions and pillows; Tv with DVD player (and a selection of DVDS) for a quiet night in; and ensuite bathroom. We also found a DVD vending machine for $2 in Aldgate just nearby for a greater selection- not to mention the novelty! What a cute idea. The large picture windows let in plenty of natural light and the space is welcoming and relaxing. At night, the sparkling touch lamps, tea light candles and fairylights provide a warm, soft atmosphere. Cold night? Plenty of soft, snuggly blankets provided, and of course, tea. The apartment is on a different level to the main house, separate and not joined by any internal stairs or doors. Every effort is made to ensure your privacy and peace throughout your stay (we do pop down on some days to quickly open and close the chicken's door morning and night to free range as it makes them happy chookies). We leave it to our guests to initiate meeting us if desired, but are on hand if you were to wish for anything further. Private and secure with key lock and independent check in, you will have your own separate entry down a set of garden stairs, with your own designated off street car park included. Although there isnt a 'kitchen' or kitchenette, you will find a toaster, kettle-electric teapot and selection of tea, (instant at this stage..) coffee and hot chocolate. There is also a microwave and small fridge. We have also provided a bbq with cooktop/stovetop gas burner for your exclusive use under shelter outside your room, with crockery, cutlery and cooking utensils provided. You are most welcome to eat in your apartment or take the little dining setting or picnic blanket outside for a garden picnic. As you will be on holidays, there is no need to take out your rubbish, make your bed or do your dishes on the day of checkout - more time to relax and enjoy your stay. A small selection of books, DVDS and games are also there for you to borrow. We can organize self-cook BBQ breakfast ingredients or a wine and cheese platter for you with a little notice- price on request, please mention when booking. A little minibar is in your room in case of lazy days where you would prefer to relax and have a bottle of wine or snack handy. -An extra special treat if you are staying at the apartment in spring- a small heart shaped meadow for picnics, with 50 daffodils and 600 freesias to sit amongst- you would be welcome to borrow our extra large picnic blanket and picnic set upon request -Although unsuitable for children, we have had pairs of friends, singles and mother-daughter pairs stay. |•The Property•| Set on a quarter of an acre in a safe, hillsy and friendly neighborhood, most of the way down a quiet no-through road, Koalaville is perfect if a peaceful and relaxing getaway is what you are after- or a fun filled adventure of food, wine and cheese, as the best wineries are so close by, as is Hahndorf. Great for those who love to get in touch with nature and want to reconnect with each other. The best thing of all are our cute-as-a-button koalas, masquerading as fluffy toys, but making grunting sounds like bears, they sit adorably eating leaves- we recently had a mother, father and baby family living in the gum tree right outside your apartment window- at the moment there is one big one. There are possums-a plenty- Pete, Percy, Pixie and baby Pinkie use the trees as a possum playground, a delight to watch, and ever present. If you hear a little furry thump, it's just them having their night time adventures. Feel free to feed them, they love bread and fruit and are friendly. Fall asleep to frog chorus from the winter creek and pond, and wake peacefully to warbling magpies and singing galahs and sulphur crested cockatoos, the laughing kookaburra sounds echoing across the valley, and the satisfied soft clucking of our hens once they have laid an egg. Watch the pretty parrots and rosellas in the trees while enjoying a cup of tea- we ensure the bird feeder outside your window is topped up to entice the stunning array of birds- stay very still and enjoy a spectacular show. |• Pets? •| As you can tell, we LOVE animals. One of us significantly more than the other, so I'm hoping my husband won't wade as deeply into my slabs of text as you have, and discover this update *grin*. Although we never allow pets into the apartment to keep the space clean and fresh, we do in our own home: Our cocker spaniel sleeps with her head on my pillow and snores in my ear. So if you have a pet and you can't find anywhere and you want to travel with her instead of putting her in a boarding kennel and she is a cocker spaniel, cavalier, springer, ferret, rabbit, sausage dog, kitten or similar, please let me know and I'll attempt some arm twisting for you and she might be able to sleep up in our bed in the main house too while you holiday. |•The Location•| An easy drive to the city (under half an hour), or take the 'pretty way' as we choose to go; up Greenhill Road or Magill Road, and meander down through the lush Adelaide hills for a gorgeous scenic drive- perhaps stopping along the way to pick up some fresh raspberries, 'lemonade', flowers or produce from children's stalls along the side of the roads. Ensure you drive down our favourite road, Aldgate Valley Road- we loved this road so much, that we approached several property owners to see if they would allow us to hold our wedding ceremony in their garden- we were incredibly lucky to be able to be married at a private property at 10 Aldgate Valley Road- our idea of heaven. Adelaide has gorgeous beaches- Glenelg is less than 40 minutes away, or drive down through the hills to the coast to Goolwa and along the coast through to Victor Harbor and jump on the horse drawn tram (and feed the friendly Clydesdales- they love carrots). For an incredible daytrip, head to Carrickalinga/ Normanville via Meadows- stunning, quiet beaches with dolphins around sunset. |•Special Occasion?•| Is your stay for a special occasion? Talk to us about making it extra special for you and surprising your loved one :) Lazy relaxing sleep-in? We can arrange a self-cook brekky basket with local items, or if it's a weekend and we're home, deliver a cooked brekky- just mention it on booking and we can work out the perfect brekky for you. |•News•| 18th April: We have now had a couple with a baby as well as a mother with a 9 year old boy stay successfully and enjoy their time here. Whilst there is only the one double bed, if you needed to bring your little one with you, let us know in your message and we can see whether Koalaville might be able to work for you too :) 8th March: Three baby magpies and two big magpies, just outside the apartment- the babies still have fluffy little bellies, aw. The warbling is amazing. Last night on our drive home, we went down Sturt Valley Road- so beautiful, and deserves a mention for a little drive. 7th March: we have Netflix now, and are looking at ways to get it onto the Tv in your apartment vi(URL HIDDEN)chrome- hopefully arriving soon :) 17th February: we have super fast NBN connected! No more slow internet- bring your own Netflix password and enjoy on your device. 30th January: Mollie the Koala has had a tiny gorgeous baby- for a short video of she and her baby taken from the garden, the baby tugging at her furry ears, please send your number with spaces between each letter or in words, oh four oh etc, so it doesn't get blocked, and I'll send it to you- it's the cutest thing! Bird photos and descriptions can also be seen by clicking on the photos and scrolling through- the myriad of birds that come to feed at the bird feeder outside the room is delightful- including a few pink-and-grey galahs who, if you sit very still, will cheekily watch you with tilted head. 17th January 2017: Pixie the Possum had a gorgeous little baby, who clings onto her mother via four pawfuls of fur- so beautiful! A hair raising piggy back ride through the trees, and a joy to watch through the windows- we captured a photo of them and included it in the property photos for you to see. 1st January 2017: A special note: a big thankyou to our guests, whose beautiful and generous feedback have just elevated us to Superhosts- we're thrilled and very grateful :) |•To do~Activities in the area•| A folder of ideas for exploring the area awaits you in your apartment- fun activities for the area include: -Pick your own strawberries at Beerenberg Farm and taste the incredible chutneys, jams and spreads on offer- they are just past Hahndorf and entry is only $4 including eating as many strawberries as you can manage! - Walk and explore- there are plenty of walking trails in Bridgewater and in and around the nearby tourist town of Hahndorf. Even walking through the roads of Aldgate is the most relaxing and beautiful experience. - Stirling, Aldgate and Crafers villages nearby have great cafes, shops and pubs. We highly recommend and love the Stirling Hotel- great atmosphere including live acoustic music often. - Bike riding- Adelaide hills is great for this, as it is part of the Tour Downunder circuit- we also have the beautiful Amy Gillett Bikeway, running along Woodside and Oakbank, past some lovely wineries and the Melba's Chocolate factory- bikes available on request- notice needed for this to ensure they are in perfect working order for you. -Visit the monthly Stirling Laneways markets Sundays in Stirling- "The award-winning Stirling Laneways is more than a market. From September to April, each event celebrates life with a different fun theme that creates an engaging atmosphere and makes the fourth Sunday in Stirling a unique experience for both locals and those new to exploring our wonderful Adelaide Hills world. Stirling Laneways brings a fresh burst of colour to monthly market Sundays. Follow your feet through the lanes and side-streets to discover artists and entertainers mingled between our local traders and pop-up stalls. Winner: MainstreetSA Awards 'Best Market' 2016 Finalist: BrandSA Awards 2015 'Festivals & Events' in the Hills and Coast Region" The next markets are: March 26th and April 23rd. -Sample cheeses from local producers at Udder delights in Hahndorf - Take the amazing scenic drive Drive to barossa (1 hour) or McLaren vale (~45 minutes) -Visit the incredible Mt Lofty Botanic Gardens- truly spectacular in autumn and spring, misty and magical in winter, and cool and refreshing in summer. - Cuddle a Koala at Cleland Wildlife park and feed the friendly kangaroos- a true delight for animal lovers, or - Visit the Hahndorf farm barn and cuddle friendly farm animals -Visit Barrister's Block winery and sit amongst the deer and forest in the garden setting, sampling some of the nicest wine available, next to an open fire in winter. -Wine tasting at Somerled- on the Main Street, our absolute favorite place- lit up with sparkly fairy lights at night, you can get a little half glass of wine to taste for $5- which makes you want to taste them all! The sparkling and Shiraz are both to die for, and such a gorgeous outdoor area with pretty heritage hens roaming through the gate, and the sweetest staff :) -Dine under the twinkling lights at Jimmie's Restaurant, Crafers, or the newly renovated Crafers Inn. -Go for a horse trail ride at Mylor -Pop in to Melba's Chocolate Factory in Woodside and see all sorts of incredible chocolates being made and have free samples- like being inside Willy Wonka land! -Enjoy a hit of golf at one of the many hills golf courses, or try to hit the ball across the lake at Maximillions for the $10000 prize- or sip homemade cider there in the sun enjoying the view if golf isn't your thing. -Borrow our giant picnic rug and picnic set, and have a picnic on the lawn next to the bubbling little winter creek, or take in the green, relaxing views out of the huge picture windows with a cup of tea. -Enjoy when the wineries in the Adelaide Hills throw open their doors for Crush Festival in summer, or Winter Reds in winter. -Many other winery recommendations available on request- we would be happy to help. |•Single Night Bookings•| Regretfully at this time of year, we are unable to accommodate one night stays, however if you only need one night, you would be welcome to book for two nights, and your checkout would then be as late as you like the second day, or as early as you like the day before (depending on which day is booked)- alternatively, if you had other family or friends in Adelaide, they would be welcome to use the room for that second night.
I had a really lovely few nights here with my mum. We weren't quite prepared for how cold South Australia still is. Luckily Kylie and Daniel were; a heater, thick duvets, an electric blanket and a kettle with ample tea provided. We were welcomed with tea lights lighting our path and chocolates on the bed. The room was neat and tidy with a stunning view into the trees. The bathroom was modern with great hot water and clean towels. The place was just 40 minutes from the airport and easy to reach. And in a good spot for looking around the Adelaide Hills, Barossa Valley and the City. Kylie always kept in contact and is full of good ideas on were to eat and taste good wine.
Faye
2016-11-25T00:00:00Z
We had a great stay at Kylie and Daniel's place when we went to the Adelaide Hills for a wedding. The room is small but well set up, with lots of thoughtful touches and a pretty outlook. The only thing missing was the koala, which we kept an eye out for but sadly didn't see! We'd happily stay again.
Jancis
2017-02-18T00:00:00Z
It is obvious that Kylie & Daniel put in a lot of effort to the studio. The pictures are accurate but I was still wowed the moment I walk into the room! The space is just nice for two and the room have everything we needed. Our hosts are experts of the area, providing tons of local information and I appreciate that they check in with us to make sure we are well taken care of. It was an amazing stay and I hope I can come back again someday!
Rinna
2017-03-10T00:00:00Z
What an amazing hosting we got (EMAIL HIDDEN)ing from Adelaide or further doesn't matter, entering this space is like entering a bubble outside of the world where your host treats you like kings and queens. It is like every detail is designed to put you in a good mood… And it works! We don't want to spoil the surprise for future guests but there is quite a number of little attentions waiting for you when you arrive! The room is not big but well arranged so you don't feel the need for more space. And the big window is all opened on a very green point of view that we couldn't get tired of watching (really no need for a tv). If your lucky (like us), you got to spot the koalas right out of the window! There is a welcome book in the room full of informations, with very useful and funny advices from your host. It has been a great help for us to discover the Adelaide Hills and most certainly participate to make us enjoy very much our two days there.
Andy
2017-02-21T00:00:00Z
xx
Louise
2017-02-26T00:00:00Z
The property is exactly as described, and is one of the loveliest, most peaceful places I have stayed at. The cleanliness, attention to detail, fresh and cosy furnishings and personalised little gifts and messages made this a true haven, for anyone really desiring peace and solitude. The view from the window make you feel like you are in the trees, and it makes for an extremely restful environment. If you need to get away from modern world for a while, this is the perfect place.
Suzanne
2017-02-02T00:00:00Z
I agree totally with previous reviews regarding attention to detail. The hosts, especially Kylie who looks after the studio, are totally committed to making your stay the best possible. The studio is lovely and completely private and the hosts go out of their way to make your stay private. At the same time, Kylie was readily available to share travel advice. I loved the proximity to nature and the visits by beautiful birds to the bird feeder, just outside the main window.
Steve
2017-02-10T00:00:00Z
Thank you Kyle and Daniel. Your apartment is warm, welcoming, clean and romantic! We appreciated the quality bedding and all the little extra touches. We really enjoyed our stay especially hearing and seeing mama koala. The location is very convenient and we loved the local towns
Mariea
2017-01-14T00:00:00Z
Rodzaj pokoju
Całe miejsce
---
Rodzaj nieruchomości
Apartament
---
Mieści
2
---
Sypialnie
Bridgewater, Australia Południowa, Australia
Het is een slim Loods en het is Red ... ligt op 14 acres in Hahndorf, genesteld in de Adelaide Hills. Het is heel prive met een prachtig uitzicht. Het slaapt 6 met 2 queen bedden in aparte kamers en 2 singles in de speeltuin. Quaint, comfortabel en gezellig binnen.
Hoewel we de marketing van onze ruimte als The Red Shed, het is zeer comfortabel en aangenaam binnen en niet "te werpen als" at all. Het heeft een prachtig uitzicht over het landgoed, met paarden roaming in de paddocks in de buurt. Er zijn ook kippen, geiten en honden - het is echt een boerderij ervaring. Binnen onze Red Shed, is een grote badkamer, woonkamer, twee slaapkamers, een main (queen bed) en een kleinere kamer (queen bed). Er is een kleine kamer die gebruikt kan worden als een tweede lounge ruimte of voor de kinderen. Deze ruimte heeft de eenpersoonsbed in het en als je boekt voor 6 personen, is er nog een enkele matras zetten we op de grond. Dit kan dan overdag worden bewogen of in situ gelaten. In de regel, ruimte verstandig we eigenlijk alleen maar zeggen dat we ruimte maken voor 5, maar ik heb zo veel vraag naar de 6e plaats dat dit onze compromis hadden. (Ik wil hier op te merken dat we een kleine omheinde dam, ongeveer 200m buiten het zicht van de accommodatie, maar als je kinderen brengen u moet zich bewust zijn van dit. Het is slechts dij hoge en leeg in de zomer).
Historische Hahndorf is de oudste Germaanse nederzetting in Australië en de prachtige township van Hahndorf vandaag is een bewijs van de oorspronkelijke hardwerkende pioniers. Als u houdt van wijn, dan ontdek de Adelaide Hills wijnstreek van onze verblijfplaats. Er zijn meer dan 40 wijnkelders, verscholen tussen de wijngaarden en fruitboomgaarden. Het koele klimaat en goede regenval maakt het perfect voor het produceren van Chardonnay, Pinot Noir, Riesling en Sauvignon Blanc. Voor degenen die genieten van een stevige wandeling (of zeer gemakkelijke rit!) Binnen 2 kilometer zijn The Lane Vineyard, Nepenthe, Hahndorf Hill en Shaw en Smith. Alle verbluffende bekroonde wijnen en serveert fantastische lokale gerechten, terwijl met een spectaculair uitzicht op de Adelaide Hills. Er zijn ook veel speciaalzaken, restaurants en hotels in de township - het kan een dag duren of zo naar Hahndorf alleen te verkennen! Er is veel van de geschiedenis in Hahndorf - en op slechts een wandeling langs de hoofdstraat tot leven brengt het. Een zeer snel overzicht: Op 28 december 1838 het schip "Zebra" uitvoering 187 Duitse lutherse immigranten (38 families) aangekomen in Port Adelaide. Deze gezinnen waren van Pruisen (moderne Duitsland) en ze waren ontsnapt religieuze vervolging in hun thuisland. Het schip kapitein Dirk Hahn, een Deen, was uitgegroeid tot de passagiers te eerbiedigen en beloofde om hen te helpen hun doel van de afwikkeling en samen de landbouw te bereiken. Hij was in staat om te onderhandelen over een perceel grond in de Adelaide Hills. Zij noemden de stad in zijn eer. Hahn - dorf zijn 'dorp' in het Duits. Veel van de prachtige oude gebouwen en originele stenen overleven tot op de dag, en Hahndorf is een kunstzinnige samensmelting van oude ontmoet nieuwe architectuur.
My family of 4 adults and one toddler were in Hahndorf for a wedding. The Red Shed provided us the opportunity to stay together at a good price while having the use of a full kitchen. Sarah welcomed us with some fresh home laid eggs, milk, juice and a bottle of wine. The accommodation was everything we hoped for and having the horses and goats to visit was lovely. Sarah also had a fantastic assortment of toys for the toddler and OMG, the beds were so comfortable! We would recommend The Red Shed to anyone who was staying in Hahndorf.
joanne
2014-10-21T00:00:00Z
Sarah is a fantastic host, very warm and welcoming. The Red Shed is nicely decorated and enjoyable. Highly recommended
Jeremy
2015-03-10T00:00:00Z
The Red Shed was lovely. Sarah was very welcoming and helpful. The house is only about a 10min stroll to the main street. The property had lovely veiws. Beds were comfortable and kitchen well equipped. We would stay again.
Jemimah
2015-12-15T00:00:00Z
Sarah was a great host and we had a fantastic time at her property! Beautiful property with very clean and comfortable accommodation. LOVED the electric blanket. The property was very close to Hahndorf (2 minute drive) for convenience, but far away enough to feel like you were in the countryside! Would definitely recommend a stay at this property!
Stuart
2015-07-09T00:00:00Z
Sarah was a wonderful host and my family and I will be coming back for many more stays. My children can't wait to go back. Such a beautiful location and so close to Hahndorf. Thank you very much.
Michelle
2016-10-31T00:00:00Z
I stayed at the red shed for two nights with my mother and we both had an absolutely amazing time! Sarah was so welcoming and such a lovely host! We seriously could not have chosen a better place to stay! The house was impeccably clean and the whole property was just amazing! We loved Sarah's hospitality and her willingness to allow me to play with her horses! It was an amazing trip and I would recommend the red shed to anyone! thank you so much Sarah! We will deffinetly be coming back and seeing you again! x
Ashlea
2015-09-17T00:00:00Z
This location perfectly suited the family holiday we were seeking away from Melbourne. There was space for the kids to around away from traffic, walking adventures, fun meeting miniature twin goats, pregnant Clydesdale's, chickens, happy dogs and space for our local family to drop in and see us as well. Sarah was warm and welcoming and made us feel like we were friends visiting - not strangers. The beds were more comfortable than my own, the space was clean, very comfortable and the water was hot! We were close to other attractions in the area and when taking day trips away it always felt great for the 4 of us to come back 'home'.
Kristie
2014-10-05T00:00:00Z
The Red Shed was a comfortable base from which we could catch up with family in the Adelaide Hills. The online description was accurate. Our grand-daughter was excited to see the chickens, horses, and goats. The location combined proximity to the village of Hahndorf with enough distance from the main road to be peaceful. We are very grateful to Sarah for arranging baby bath, cot, and high chair. All three generations enjoyed our stay.
Chris
2016-04-13T00:00:00Z
Rodzaj pokoju
Całe miejsce
---
Rodzaj nieruchomości
Chatka
---
Mieści
6
---
Sypialnie
Hahndorf, Australia Południowa, Australia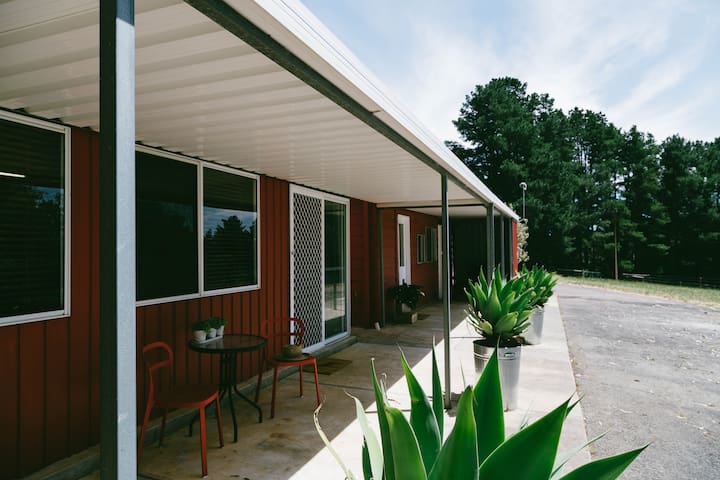 むき出しの梁、薪ストーブ、快適なクイーンサイズベッド、プラス二階に2つのシングルソファーベッド、ソファダウン階段を搭載。これは、すべてのレストランやカフェの豊富さがありますメインストリートの徒歩5分以内、独自のキッチンとダイニングエリアがあります。 アデレード・ヒルズのワイナリーは、角を曲がったところであり、マクラーレン・ヴェイルとバロッサバレーの両方が簡単にドライブです。それは個人旅行、カップルから、小さなお子様連れのご家族に皆に適しています。我々はあまりにもポータコットを持っています。
今日の現代産業シックで設計往年の魅力とその2つのレベルの納屋。母屋への別の建物あなたは絶対的なプライバシーを持っています。
納屋は数分ハーンドルフメインストリートに歩いて、運がよけれ場合は、コーナーに私たちの地元の牛を見るかもしれないです。
The Barn is a luxurious self-contained BnB apartment in a quiet neighbourhood just off the main hub. Would recommend.
Wan
2017-03-26T00:00:00Z
Thanks John and Sherri - What a wonderful place! Beautifully styled, we wished we had stayed longer. It is nice and spacious, lovely warm comfortable bed, fire was perfect as it did get cold and an amazing shower head! The barn is walking distance to the main st so perfect for breakfast and lunch- recommend Kitchen 2 u and Gippetto to eat.
Arabella
2016-10-23T00:00:00Z
An amazing old barn with a modern feel, extremely welcoming hosts and fantastic to entertain guests and have a generally relaxing time. Lovely little town. Highly recommended.
Elizabeta
2016-07-12T00:00:00Z
This was a great place to stay and explore the Adelaide Hills. It was a nice peaceful location within easy walking distance of the main street. The Barn was cosy and full of charm. Sherri was great, ensuring our stay was comfortable. Look forward to our return visit soon..
Steven
2016-09-12T00:00:00Z
Beautifully decorated barn conversion. Unique l, comfortable we walked to main St for dinner which was lovely. Very pleasant owner who greeted us. Loved the museli, chocolates and milk provided!!
Michelle
2016-08-07T00:00:00Z
We felt at home at John & Sherri's barn. It's a shame we only had a couple of days in the area as we attended a wedding which took up most of our time. Thanks for making us feel welcome, hopefully we will be back to lovely Hahndorf one day soon.
Kim
2017-03-13T00:00:00Z
The place has lots of great design elements. It's perfect for a romantic holiday.
Ivy
2016-12-30T00:00:00Z
Great place and location for a quite getaway very comfortable bed and would definitely come back again. John and Sherri great hosts trouble free check in and check out!
Greg
2017-03-04T00:00:00Z
Rodzaj pokoju
Całe miejsce
---
Rodzaj nieruchomości
Dom
---
Mieści
4
---
Sypialnie
Hahndorf, Australia Południowa, Australia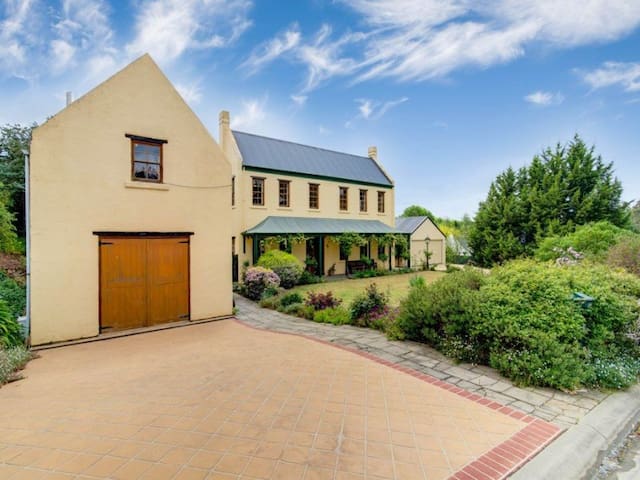 please be aware that this is the rear of a duplex, it is possible that there may be another family or group in the front apartment during your stay, the front and back yards are separate but not fenced from each other, please park in the carport , a delightful 2 Bedroom apartment in Mount Barker Town Centre, with secure parking, free WiFi, TV and Video, Central Heating , Full Kitchen, Washing Machine and a delightful sunny deck.
An amazing little duplex! Pete made every effort to ensure everything was perfect for our stay, despite the sad circumstances of our travel. Would definitely recommend and hope to stay here again!
Jye
2016-07-23T00:00:00Z
房子坐落在一个宁静但便利的小镇,离阿德莱德市区车程30多分钟,非常便利。房子有小院子和露台,重要的是极其干净整洁。房东Peter爷爷人超好,还给我们留了早餐。本来是只定了一晚,觉得体验好,性价比高,就又续订了一晚。是旅途中休整放松的好住处!
yiran
2016-02-21T00:00:00Z
Peter made us feel very welcome and he house had everything we needed.
Jo
2016-09-06T00:00:00Z
The unit is private and in a great location. Handy for visiting the Adelaide hills and the city. I only met Pete briefly, but communication was great, and got easy access to the key. I had plenty of space to keep my car and trailer in a safe locked yard.
Jennifer
2016-08-11T00:00:00Z
I spent a lovely few days exploring the Adelaide Hills and Peter's place was a perfectly positioned base.Peter was warm, welcoming and (URL HIDDEN) was a beautiful,bright unit with a large balcony opening out from the living area.Perfect for a a relaxed breakfast! On site parking,free wi-fi and a comfy bed completed the package for me. In all a great unit,a great host and a great airbnb stay!
Judith
2015-02-05T00:00:00Z
Pete allowed us to get early access to accommodate our nighttime flight with small children and it was great to arrive to all the breakfast goodies we needed :) the flexibility with check in and check out was great .. we will be back :)
Kirrily
2015-07-29T00:00:00Z
Peter was really a thoughtful host, Provided lots of information about the house.He was fabulous to deal with and friendly too. House was in a great location, clean and had everything we needed!It is a spotless. We had a great stay.Thanks again for being a great host. I would highly recommend to those wanting to get away.
Jagadeesh
2015-02-17T00:00:00Z
The Pineoaks Omega is a half house that is in a central position and easy to walk into town from. An electric gate makes it feel very secure and the back patio was a wonderful space to soak up some sun. Peter was easy to contact and swiftly responded to us when we had a problem.
Penny
2016-11-26T00:00:00Z
Rodzaj pokoju
Całe miejsce
---
Rodzaj nieruchomości
Apartament
---
Mieści
4
---
Sypialnie
Mount Barker, Australia Południowa, Australia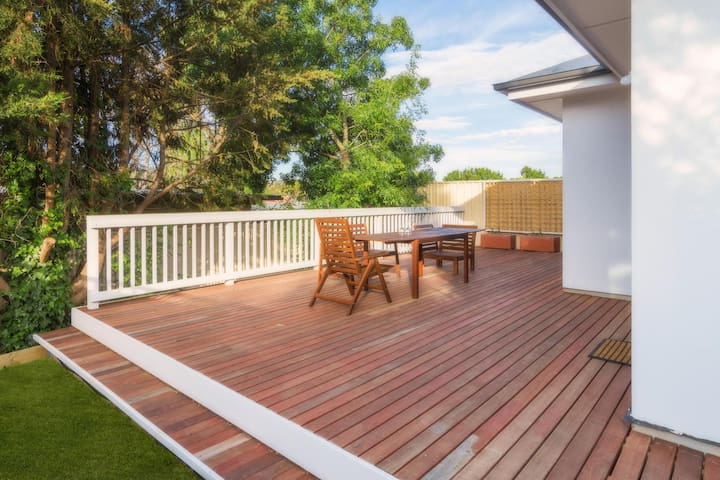 Heritage listed c1854 country residence in a garden setting within minutes of Mt Barker township. Close to Mt Barker golf course, Laratinga wetlands, Adelaide Hills Wineries and and short drive to historic Hahndorf.
Three bedroom self contained semi-detached house. There is a kitchenette supplying tea, coffee and continental breakfast . There are no cooking facilities. Laundry facilities are in the main house by arrangement with the host. Although the accommodation is attached to the main residence, it has its own front door and is private.
A beautiful location and a gorgeous home to stay in close to Mt Barker for convenience but far enough to feel well away from the busy town. Thank you for allowing us to stay in your delightful home.
Vickie
2016-11-01T00:00:00Z
Perfect stay. Host accomodated us and my horse for a competition. Beautiful place and everything was made for us to enjoy our stay. Five star experience!
Eloise
2016-09-24T00:00:00Z
Helena went out of her way to make us feel welcome
Christine
2016-06-28T00:00:00Z
Great place, friendly host! Made for an enjoyable weekend all round
Peter
2016-08-21T00:00:00Z
From the minute we drove through the Greengables gates we felt we were in Paradise. The grounds are absolutely breathtakingly beautiful and the house is just perfect. So romantic. The perfect place for my birthday!! Helena was absolutely gorgeous, made us feel very welcome and was a lovely host. Even though she was on the property you still felt completely private and secluded. The interior is immaculate and the attention to detail faultless. It was the perfect overnight stay.
Sandra
2016-10-18T00:00:00Z
We had a fabulous stay at Helena's place at Greengables. Helena made us feel very welcome and went above and beyond to ensure we had a great stay. Lots of attention to detail in her lovely cottage. Highly recommend anybody to stay at this Bnb. Can't see any areas for improvement it was just fantastic.
Debbie
2016-12-10T00:00:00Z
Perfect
Deanne
2016-11-11T00:00:00Z
Lovely place !
Supei
2016-07-11T00:00:00Z
Rodzaj pokoju
Całe miejsce
---
Rodzaj nieruchomości
Dom
---
Mieści
4
---
Sypialnie
Mount Barker, Australia Południowa, Australia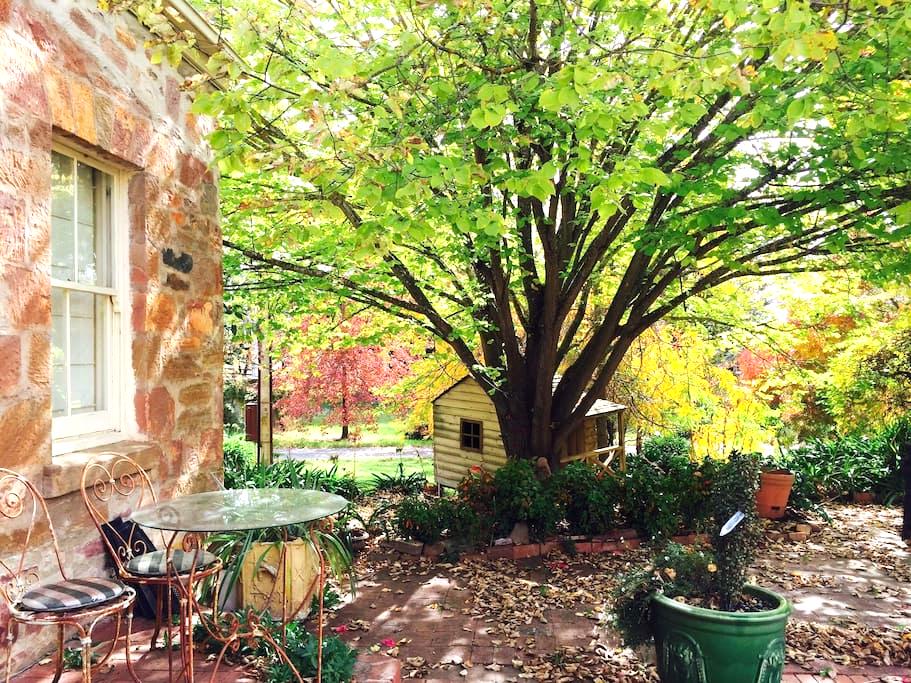 Beautifully appointed Studio type accommodation with over length queen size electric bed with massage cycle. All normal B&B facilities inc TV, Fridge, Air con, close to town centre and 30 mins from Adelaide CBD. Own bathroom, shared laundry... enjoy.
Studio apartment is in a quiet hills location, a self contained part of a 50s' stone and brick residence, faithfully being renovated to retain that 50s' feel and surrounded by beautiful garden. A four year old Aussie Shepherd female dog (Betts) is always on hand to greet guests
Mt Barker is a town of about 20,000 people located in the Adelaide hills, accessed by a free-way about half an hour from the centre of Adelaide. This location is ideal for guests coming from the eastern states who don't wish to tackle the traffic of Adelaide at the end of a days drive. Being a smaller community the atmosphere is much friendlier than the larger population centres. All facilities are here including all main banks and supermarket chains, Harvey Norman, Spotlight, K Mart, BCF, Government departments inc 'Centrelink' and numerous speciality shops, cafes and restaurants plus the heritage listed Auchendarroch function centre and Wallis multi screen cinema complex. Mt Barker is also home to 'Steamranger'....the steam railway preservation society with currently 4 steam locomotives, carriages and a dozen diesel locomotives and railcars. Regular full day steam rail trips are offered from Mt Barker to the Fluerieu Peninsular (climate permitting). Being a cool climate wine producing area many vineyards are within a few Kms of Mt Barker all offering tastings and some with restaurant facilities. The famous German hills tourist town of Hahndorf is 5 Kms from Mt Barker
Clean, cosy and comfortable. Robin goes above and beyond for his guests. Would use again.
Christian
2017-01-14T00:00:00Z
Robin's studio was very comfortable and private. We had our own entrance. It was very good to stay in a place like that. It's enough to big for two people. It's quiet and we had everything we've need for two days and one night. The place is a good location for holidays. It's close to the touristic town Hahndorf with all attractions around. We really appreciate the hospitality of Robin. He prepared notes and flyers about things to do around. We was warm welcomed with a plate of cheese and pâté! Robin's left us a bread and jam etc... for the breakfast in the fridge, perfect. We recommend Robin's place to anyone wants to have a nice private place for holidays :) Souad and Matt
souad
2017-02-11T00:00:00Z
We chose this place as it seemed quiet and good value. We were not disappointed. Breakfast and additional nibbles was very generous. Rob a friendly and helpful host. A great spot for reaching McLaren Vale and Adelaide Hills wineries.
Angela
2017-02-25T00:00:00Z
Nearby park with path to city business center - Wireless internet very fast - quiet neighborhood near high school grounds - used mosquito net when asleep - wonderful dog always alert and friendly
Lee
2017-03-29T00:00:00Z
I miss the place, Robin and Betty already! And the BED! It was the best bed I've ever slept!! My husband, daughter and I enjoyed our stay very much. I feel so lucky to get to know this place as it is like a another home to come back.
Asako
2017-01-04T00:00:00Z
Robin&Adrienne accepted our booking at short notice and made us so very welcome in their pretty part of the Adelaide hills. We enjoyed a great chat over a wine, then had a super sleep on the lovely bed in the guests cottage. The cottage has been artfully decorated. In the morning we relaxed with the breakfast provided&coffee in their backyard full of flowers and bird song. We highly recommend staying over as part of your time in Adelaide. We'll be back! Thanks Robin & Adrienne
Helen & Peter
2015-11-16T00:00:00Z
Great place to stay, easy to find, private room with all amenities. Lots of free nibbles and drinks. Good break face provided. Robyn was a great host that showed us around and no hesitation to go back there to stay.
Callum
2016-11-05T00:00:00Z
What more can we add that others haven't already said... the previous reviews are completely accurate. If there was an award for Best Host it would surely have to go to Rob and his wife!! Warm, welcoming, and friendly hosts with excellent accommodation. Rob accommodated us on short notice and welcomed our two burmese cats who were travelling with us. The studio is well kept, very comfortable, and self contained allowing privacy. The air con is welcome, it can get very hot in the Adelaide Hills. Very comfy bed, quiet location... a perfect stay. Thank you Rob!
Fay
2015-12-30T00:00:00Z
Rodzaj pokoju
Pokój prywatny
---
Rodzaj nieruchomości
Domek gościnny
---
Mieści
3
---
Sypialnie
Mt Barker, Australia Południowa, Australia
3 bedroom, 2 bathroom cottage in the Adelaide Hills. A perfect place to hideaway and relax far from the city bustle but only 30 minutes by car into the Adelaide CBD. The cottage has all conveniences, but you will need a car as it is a 5 minute drive to village shops and bus stop. A perfect place to relax and enjoy the fresh country air and views. This house is child friendly and I can provide a portacot, change mat, bath insert, potty and highchair and toys. Let me know your requirements!
This is a family friendly house with large country garden and deck. Please treat this home as you would your own and be respectful of the house rules. The house is not large but it is cosy and quite comfortable for 2 -5 adults or 2 adults and 2-4 children. The children's bedroom has a single bed and trundle but if you wish to put children in the double bedroom, that's your choice. There is a small study also where I can put a cot for babies. Sorry no pets. There is unlimited internet but you may experience intermittent drop out in Adelaide Hills as until we are on the NBN, the internet is not reliable.
The beautiful location of Bridgewater is known for its autumn and spring colours, fresh air and charming walks. There are plenty of good walks you can get to from the house and a play ground for children is nearby in Oak Avenue. The local supermarket and shops are 6 minutes drive away or you can drive to the lovely village of Stirling where there are boutique shops and a shopping mall. The cottage is in a fantastic location for visiting local Adelaide Hills wineries. There are several within a 15 minute drive from the cottage. Nepenthe, Balhannah - 10 mins, Deviation Road, Longwood - 13 mins, Bird in the Hand, Woodside - 15 mins, Sidewood, Verdun - 6 mins, Hahndorf Hill - 8 mins, Tapanappa, Piccadilly - 11 mins, Shaw and Smith, Balhannah - 10 mins, The Lane, Hahndorf - 10 mins, Barristers Block, 15 mins. For walks, the Heyson Trail is only minutes away by car. The tourist town of Hahndorf is only 10 minutes drive away and the Wine region of McLaren Vale is about 35 minutes away. The local Bridgewater hotel provides reasonably priced good size meals every night of week and a children's menu. The outdoor areas are particularly lovely in good weather (the Heysen Trail runs behind the garden). Next door, The Bridgewater Mill has expensive but very fine dining - its cellar door offers free tastings and is open daily.
Lisa was very responsive and helpful prior to arriving via messages and emails. She also was willing to tailor some amenities and games based in the age of our children. Lisa was very attentive to us during the worst storms in 50 years resulting in power outages wth candles and torches etc. I would not have any qualms highly recommending this cottage and Lisa to anyone.
Dominic
2016-10-02T00:00:00Z
Like being at home only better! The place was perfect. Clean, fully stocked, great outdoor area. The entire house had been baby proofed for our kids (2 yo and 6 months) and Lisa left an abundance of toys for them to play with. All basic amenities were provided along with a lovely welcome gift from the host. We experienced a blackout during our stay but Lisa couldn't have been more accommodating and helpful during this time. Can't recommend highly enough and will definitely be back!!
Cathy
2017-01-05T00:00:00Z
A beautiful cottage in a quiet area with all the comforts of home right there. Lisa provided directions from the airport which are clear and concise even arriving in the dark! We had a wonderful stay and will definitely stay again.
Trish
2017-03-05T00:00:00Z
We were delighted with the cottage. It is fully renovated inside. Everything is new and has all the comforts of home. Lisa has a great eye for decorating and her attention to detail is amazing. She went out of her way to work in with our arrangements and to make sure we had everything we needed. The garden is spacious and interesting and there are lots of little spots to enjoy the outdoors. It was perfect for us.
Robyn
2016-08-27T00:00:00Z
This is great value if you are staying in the Adelaide Hills. It was very clean, comfortable and modern. Lisa went to a lot of effort and it shows. I felt really privileged to stay here with our young family.
Michael
2017-03-21T00:00:00Z
Fantastic place and Lisa is so organised and helpful. We loved the Adelaide Hills so close to everything.
Frederik
2017-01-14T00:00:00Z
thank you, Lisa - What a wonderful cottage! Beautifully styled, we wished we had stayed longer. The cottage is cozy yet modern and has everything you could possibly need, especially if you travel with young children. The cottage has toys, games, books, DVDs, even a sand box. My kids enjoyed just running around in the yard. My husband and I enjoyed our breakfast on the deck. As we arrived late at night, she kindly arranged some breakfast items and chocolates etc in the fridge and wine to enjoy the night of our arrival! The cottage is located within 10 to 15 mins drive from local wineries (Lisa has a long list of winery recommendation), lovely Hahndorf, cleland wildlife park, BEAUTIFUL botanic garden etc - there are so many interesting sites to visit in Adelaide Hills. It is an easy drive to the downtown Adelaide. Lisa is very friendly, responsive and resourceful. She is very flexible too. Everything worked out smoothly. We would most definitely come back should the opportunity arise for another visit to Adelaide Hills!
Ryoko
2016-12-27T00:00:00Z
We spent 3 weeks in Lisa's cottage - although it isn't a "cottage". It is a lovely house! We let ourselves in and Lisa came around later to meet with us. She welcomed us with a lovely bottle of wine and other goodies, which we really appreciated. The house is far more spacious than the pictures depict. The kitchen is well equipped and the lounge area, with the large picture window, with views over the valley, is very comfortable. The bed is comfortable and we enjoyed the spaciousness. We went on lots of walks around the neighborhood and down in the gully, too. Bridgewater is a quiet little village with a good-sized Coles supermarket. We had several enjoyable meals at the Bridgewater Inn, too. Hahndorf is right next door and the wine areas, ocean and Adelaide are all so easily accessible. We came to love the Hills and we thoroughly recommend Lisa's place for a comfortable and enjoyable stay. I do feel that I need to add here that the only issue was the Wifi; and it may not be an issue for everyone. We were tired from traveling and I had a project I needed to work on but the Wifi was SO slow. Long story short, Lisa did EVERYTHING in her power to find a solution. She made so many phone calls, had several companies come around to look into what the issue was. Turns out that in the Adelaide Hills certain internet providers do have an issue and hopefully they will have something worked out soon. We would love to return one day!
Hilary
2017-02-18T00:00:00Z
Rodzaj pokoju
Całe miejsce
---
Rodzaj nieruchomości
Dom
---
Mieści
6
---
Sypialnie
Bridgewater, Australia Południowa, Australia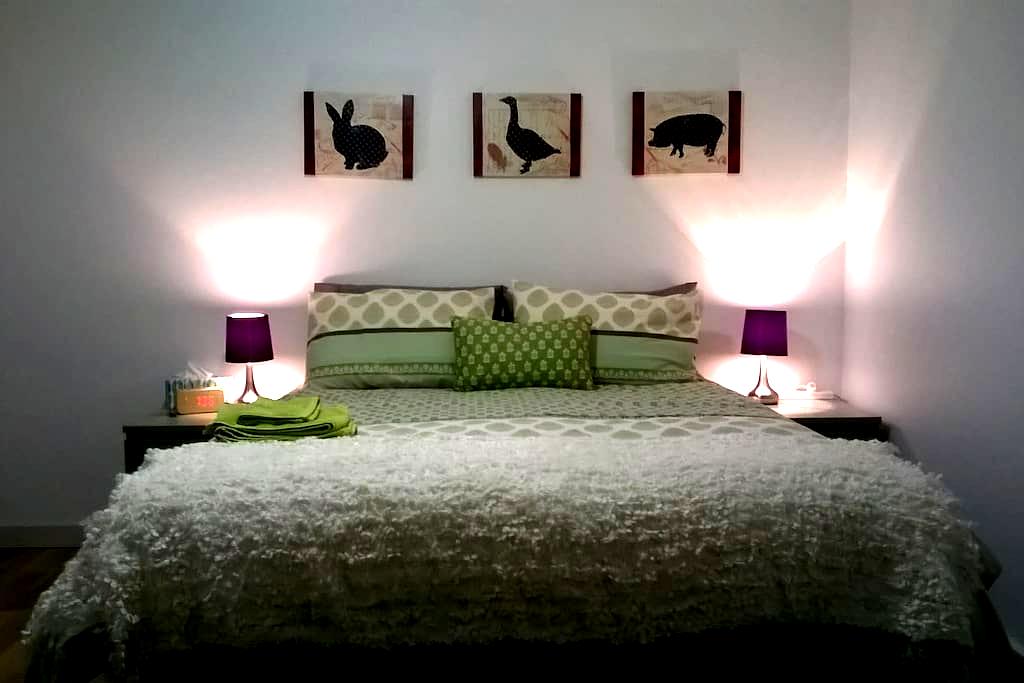 Rodzaj pokoju
Całe miejsce
---
Rodzaj nieruchomości
Dom
---
Mieści
6
---
Sypialnie
Hahndorf, Australia Południowa, Australia
The House with the Orange door is close to restaurants and family-friendly activities. Our facility is close to wineries in the Barossa Valley and McLaren Vale areas. Our house is ideal for couples, individuals, business travellers, families, and groups. The outside fire-pit with a moss rock seating area is one of a kind. While you stay, take advantage of our complimentary retro bikes and cruise the area of Mount Barker, in the picturesque Adelaide Hills.
The House with the Orange Door is in a quite cul-de-sac.
Very efficient staff and wonderful place to stay for long.
Xi
2017-02-15T00:00:00Z
I recommend this house to other people. it is clean and good location. Unfortunately, we just stay one night. We did not try bike trip.
Ya xin
2016-12-19T00:00:00Z
Rodzaj pokoju
Całe miejsce
---
Rodzaj nieruchomości
Dom
---
Mieści
6
---
Sypialnie
Mount Barker, Australia Południowa, Australia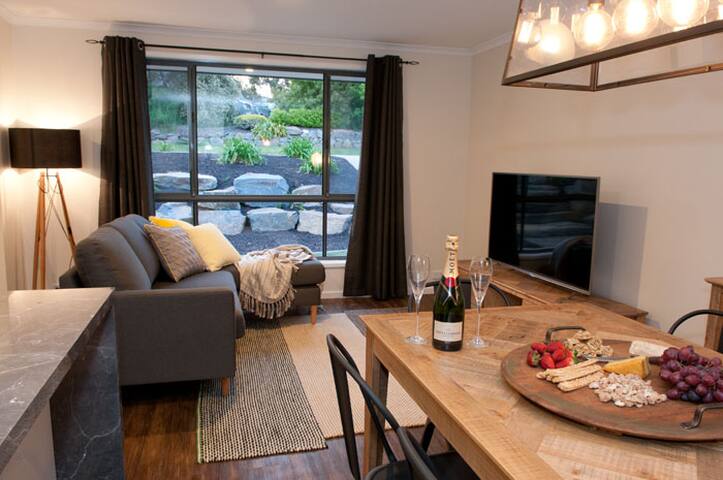 そしてメインの家とは別のアクセス - この素敵な家庭では軽食、バスルーム、独立したベッドルーム2室のための設備を備えたプライベートな独立したリビングルームを提供します。これは、大規模な国を望む隔離されています。レストラン、カフェ、ワイナリー、家族向けの活動や野生生物に近接しています。あなたは理由風景、農場の動物とその美しいアデレード・ヒルズの場所でそれを好きになります。私の場所は、カップル、ソロ冒険家、ビジネス旅行者、小家族のための素敵なスポットです。
Very good value for money for the private area that you get
Zofia
2017-04-01T00:00:00Z
Very nice accommodation and great hospitality from Sandra. A beautiful garden and excellent location close to Oakbank. Would recommend highly.
Lloyd
2017-03-31T00:00:00Z
This is very nice place and you will get wonderful experience to stay at farm like us, moreover, this place is not too far from Hanhdorf and also not far from CBD.
Orawan
2017-03-12T00:00:00Z
Perfect spot to explore Adelaide and surrounds. Very spacious and private area for guests. Our son loved feeding the chickens and cows. Would definitely stay again.
Heather
2017-04-05T00:00:00Z
Rodzaj pokoju
Pokój prywatny
---
Rodzaj nieruchomości
Dom
---
Mieści
3
---
Sypialnie
Oakbank, Australia Południowa, Australia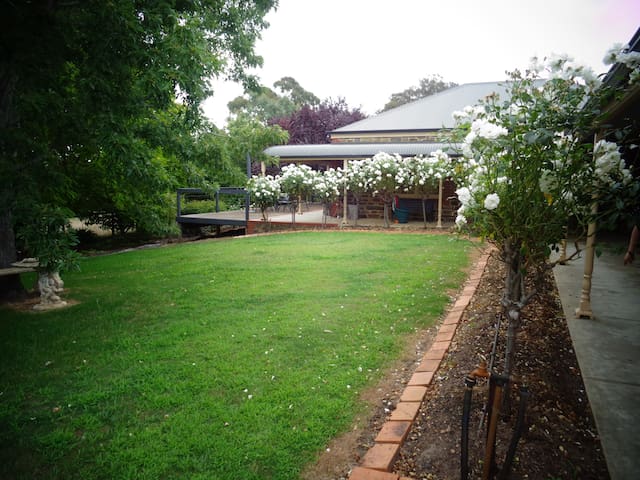 Nuestra preciosa, nueva propiedad elevada, Hahndorf Haven, se encuentra en el centro, Hahndorf histórico a poca distancia de muchos cafés, pubs, galerías, boutiques de Hahndorf y bodegas de clase mundial. Copa de champán desde la cubierta frontal impresionante mientras disfruta de magníficas vistas de las colinas de Adelaida y magníficos amaneceres.
Moderno y elegante, con una cocina gourmet, 2 TV, 2 baños en suite, uno de ellos una de dos vías que contiene un baño de tamaño completo, Hahndorf Haven está situado en una posición elevada justo detrás de la calle principal del histórico de Hahndorf. Hay una gran barbacoa de gas situada en la cubierta delantera con vistas a las hermosas colinas de Adelaida! Por la parte trasera es un patio con jardín muy privado y acogedor con capacidad para 8.
La histórica ciudad de Hahndorf es una de las atracciones más visitadas de SA y es el más antiguo que sobrevive asentamiento alemán en Australia. Ubicado a unos 30 minutos en coche de la ciudad de Adelaida, las regiones del vino Valles del Sur y del valle de Barossa y la costa sur preciosa, con sus muchas playas fabulosas incluyendo Middleton y Port Elliot, hay mucho por explorar, tanto si elige una escapada de fin de semana o una semana de largo para hacerse de una manera! Por supuesto, puede elegir para pasar sus días explorando todo lo que Hahndorf tiene que ofrecer!
This is what we wrote to Carol after we left: "Hi Carol, we just left. Thanks for having us stay in your beautiful house. We all had a lovely time. I loved how you put everything together, how you provided breakfast for us and especially the beautifully and lovingly designed rooms. […] Have a Happy New Year! Victoria, Bernd, Poppy & Milo
Bernd
2016-12-31T00:00:00Z
A beautiful house in a beautiful spot. Extremely clean, modern and well-appointed. Plenty of room for a party of six. Easy walking distance to the main street in Hahndorf. A very minor point to be aware of is that the driveway is very steep and tight and not possible to navigate in a larger car. However, there is plenty of parking in the street and in a public car park across the road. A great stay. Would definitely recommend.
Robert
2017-01-17T00:00:00Z
This is an awesome little find in Hahndorf in SA, we travelled down for a friends wedding but had some time to explore the main street and it was super cute, great holiday destination. The home was very well decorated and a great size (we didn't use all of it being only a party of three but the two bathrooms were still appreciated). Beds were super comfortable (always important) and Carol even left us stuff for breakfast which was a great touch as I haven't had that in an airbnb before. The whole booking/stay process was easy, Carol let us know the important stuff and we didn't need to contact her about anything else.
Kate
2016-09-19T00:00:00Z
Great place to stay! I would recommend this place to families or large groups. Hosts were very easy to deal with.
Will
2016-11-12T00:00:00Z
Hahndorf Haven is situated in a great location, just a block behind the main street - very easy to walk to the shops. The home was new, comfortable and tastefully decorated, with some lovely views across to the hills. It was just the right size for six adults, lots of seating in the living/dining area. The whole booking process was very easy - we especially appreciated the generous breakfast supplies that Carol left us! Rooms/beds were comfortable and we had everything we needed during our two night stay.
Stella
2016-10-31T00:00:00Z
This is a very comfortable home, with a great layout. It is tastefully furnished and the beds are very comfortable. The location is terrific, a very easy 50-100m walk to the shops. It is a recently built house so it is faultless. Everything works as it should and the views are quite good. The driveway is very steep, but there is ample parking directly across the road. Landscaping is still to be completed in the back yard. If you want somewhere comfortable in Hahndorf, within easy walking distance to everything then this is a great place.
Michael
2016-09-16T00:00:00Z
Great location and great house and very welcoming
Derek
2017-02-13T00:00:00Z
We loved Carols home. Check in was super easy and the home exceeded our expectations. Quality linens and everything you could want is provided including generous breakfast provisions. This home is in a great spot, an easy not even 5 minute walk to the main street. We would definitely stay here again and highly recommend Carol as a host!! Thanks again :)
Nadia
2017-02-11T00:00:00Z
Rodzaj pokoju
Całe miejsce
---
Rodzaj nieruchomości
Dom
---
Mieści
8
---
Sypialnie
Hahndorf, Australia Południowa, Australia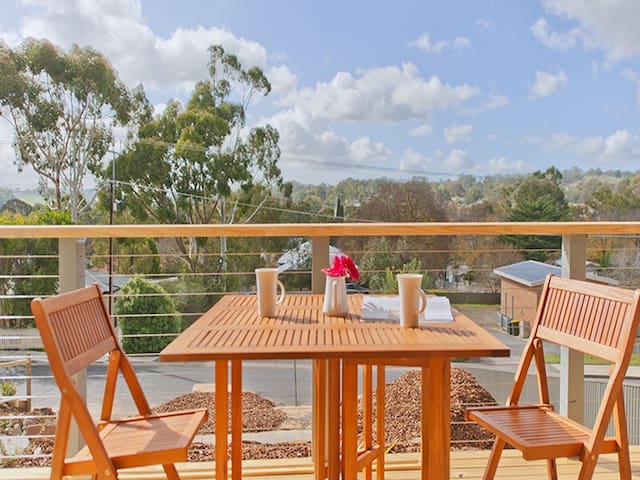 Situado en Oakbank sur de Australia con un toque rural - caballos, vacas, perros, gatos, ovejas, pollos, aves de guinnea y gansos. Hemos encontrado que muchas personas disfrutan de su estancia en Springwood Park cuando asistir a bodas en las colinas de Adelaida o, alternativamente, degustación de vinos o conferencias en las colinas de Adelaida.
Un salón-dormitorio una habitación o estudio estilo alojamiento, situado en una propiedad de 30 acres. Los caballos son activos en las mañanas junto con los pollos, patos, aves de guinnea y gansos que van libres (incluyendo los gallos) para los que se sienten granja. También es más que bienvenido a recoger sus propios huevos y cocinar en la barbacoa al aire libre o en la sartén eléctrica suministrada interior. disposiciones básicas para el desayuno de arranque suministrado: tocino, huevos, leche y pan. Las instalaciones de cocina son una nevera, microondas, fregadero, tostadora, hervidor de agua, máquina de pastillas de café, tostadora eléctrica y toastie Sartén (también hay una barbacoa cubierta al aire libre). La propiedad está en el agua de lluvia / Diámetro dependiendo de la temporada. Sin embargo supermercado agua de manantial suministra para uso potable. Sofá cama plegable disponible para los huéspedes adicionales - es decir, los niños, si es necesario Situado cerca de nuestra casa, pero creemos que es lo suficientemente lejos de la vida privada. Por Amy Gillett carril bici, que es excelente para caminar, montar en bicicleta, etc - (alquiler de bicicletas disponibles en Woodside.) Equitación disponible en la propiedad, sin embargo, posiblemente, se pueden organizar en las inmediaciones. Si usted desea traer sus propios caballos y luego los establos están disponibles a un costo adicional. Situado en el centro entre el valle de Barossa y McLaren Vale en su propia región vinícola conocida como la región vinícola de las colinas de Adelaida. Estamos cerca de Woodside y mucha winerys locales de las colinas de Adelaida como Bird in Hand Bodega, Shaw y Smith, Barristers Block, Golding y Nepente Otros lugares de interés son la fábrica de chocolate Melbas, Lobethal y la Amy Gillett Ciclovía *** 10 minutos de Hahndorf histórico! *** Local - Hotel Charleston - Podemos recomendar las enormes snitzels y vale la pena la espera. Sin embargo, los hoteles locales Oakbank y Woodside también son excelentes para las comidas. En verano, la piscina pública local en Woodside es un refugio agradable en los días calurosos - hay barbacoa en la piscina si desea cocinar su cena y darse un baño también! No hay mucho transporte público disponible - transporte propio sugirió. Somos una familia activa de 4 con 2 niños de edades de 17 y 18 años de edad. Es ideal para los amantes de los animales debido a las actividades de la mañana los caballos, pollos de corral, aves de guinnea y gansos. (Canto de los gallos) Situado en una carretera hermoso país con un puente colgante histórica al final de nuestro camino de entrada que se extiende sobre el río Onkaparinga
Las colinas de Adelaida está llena de bodegas maravillosos y por supuesto que están a sólo 10 minutos en coche de la histórica Hahndorf. La forma Amy Gillett bicicletas está cruzando la calle y hay una tienda local de bicicletas "Acerca de las motos" en Woodside que contratan a cabo unas bicicletas a un costo razonable para disfrutar de la pista de la bici en el. (Incluso entregar y recoger bicicletas en Springwood Parque en caso de necesitar)
I had a great stay at Jo and Craig's place. Everything I needed was provided. Very comfy bed, well appointed bathroom and kitchen and comfortable furniture. Springwood Park was easy to find, being quite close to the main road - though the traffic noise was minimal. Craig and Jo were very warm and welcoming people and I felt very much at home. I would happily stay there again and recommend it.
Phillip
2012-09-10T00:00:00Z
We had a lovely stay with Jo and Craig. They are such a great family and made us very welcome, as did the ducks! A nice surprise for us was the breakfast provisions (Jo called them basic) but they were plentiful and we were told to help ourselves to the fresh eggs daily. We were allowed to wander around the property and we were able to share the panoramic view from the top of the hill at the back of the property. On the way back, there were plenty of friendly horses to pat and feed grass to. The bed was an absolute delight to sleep in, so comfortable. We would not hesitate to stay with them again. Thanks
Gloria
2012-10-26T00:00:00Z
We stayed at Craig and Jo's for an extended weekend, and had the most wonderful time! Everything was as described, room was lovely and spacious, and generous breakfast provisions including free-range eggs were waiting for us. The animals were definitely a highlight, and I'm only sorry we couldn't stay longer. Met both Craig and Jo and they were lovely, genuine people who were happy to have a chat. Would definitely return!
Emily
2015-09-14T00:00:00Z
This is a lovely rural property. I loved the horses, Guinea fowls, geese, chickens, dogs and cats. Craig and Jo are pleasant and down to earth people and lovely hosts. Generous servings of treats in the pantry.
Li
2016-03-20T00:00:00Z
Great value lots of extras hosts fantastc
Sharryn
2017-04-12T00:00:00Z
A delightful place and Craig and Jo were great hosts. They supplied everything we needed and the location is beautiful. Very handy to beautiful Hahndorf with it's lovely little shops and great food and only 30 mins drive to the centre of Adelaide. The place was even better than it looked in the photos, and the bed was very comfy. It's country and can be muddy outside so bring walking boots. We'd highly recommend the place, a lovely country retreat but still close to town.
Bruce and Carole
2014-06-18T00:00:00Z
Craig and Jo's place is tucked away in the hills, but easy to find. It's a great opportunity to unwind in a pleasant setting - rise to the sound of a roosters crow, and enjoy the goodies for your brekky to set you up for a day of exploring the wonderful area. There are thoughtful touches and Craig & Jo are genuine and delightful people.
Sophie
2017-02-25T00:00:00Z
We had a fantastic getaway. Great location in the middle of the Hills region. And so wonderful to be surrounded by all those animals! Craig and Jo were terrific hosts who went out of their way to provide that personal touch and made us feel very welcome.
Matthew
2016-05-24T00:00:00Z
Rodzaj pokoju
Całe miejsce
---
Rodzaj nieruchomości
Domek gościnny
---
Mieści
2
---
Sypialnie
Oakbank, Australia Południowa, Australia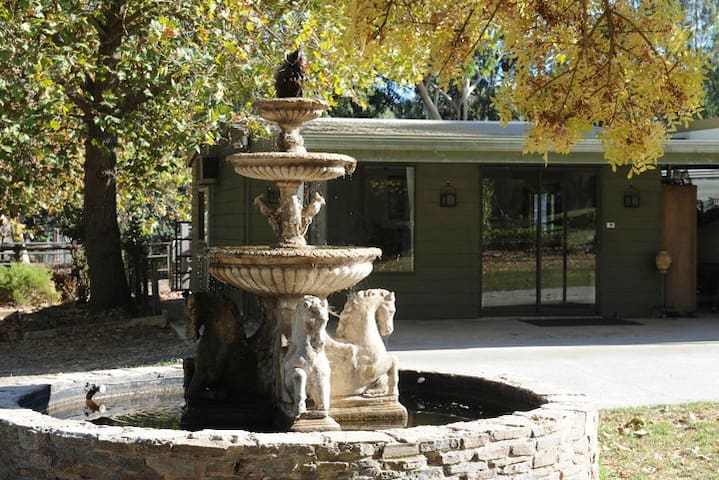 大家在汉道夫的心脏在阿得莱德山,4间卧室和真棒视图回山崇高,完美的基地,探索神奇!
对于4人,我会提供2间卧室
Rodzaj pokoju
Pokój prywatny
---
Rodzaj nieruchomości
Dom
---
Mieści
4
---
Sypialnie
Hahndorf, Australia Południowa, Australia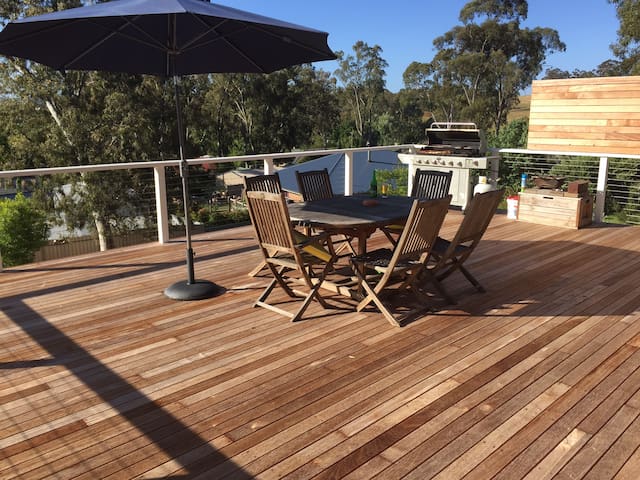 Luxury B&B accommodation. Queen bed, private bathroom. Separate private living/dining & courtyard. 4 kms drive to a thriving village township. Great restaurants, shopping, cinema. Free wi-fi. Car is best to get the most from Adelaide Hills! Enjoy.
The Bedroom: Queen bed and single bed, desk and hanging/drawers. Electric blanket. Luxurious linen. *The single bed can be made on request so book for 3 people. Add a comfy camp bed as well to host 1-4 persons in this room. (Book for 3-4 if required extra needed) *Notice IS required for single, camp bed or cot) Hotel style Kitchenette: *Includes a Fridge/freezer, microwave/convection oven, Sandwich press, egg boiler, toaster, kettle, Xpresso coffee machine, BBQ equipment for bacon and eggs or dinner and all crockery, coffee and tea making supplies and equipment etc. *Breakfast dishes are done for you. Collected after 10am. How good is that!! Other washing up by arrangement. **Please note there is no sink or cooktop. The comfy Living/dining: *Large LCD TV, FREE WiFi, Netflix, DVDs & player, comfy couch/s, fireplace/heater or fans, dining table. Private entry overlooking garden courtyard and BBQ area. The Super Large Bathroom: Large shower. All Toiletries (shampoo/conditioner, body wash) All towels, hairdryer, 1st aid kit, extra supplies and laundry bags. *Outside: Private large garden courtyard and BBQ plus seating *Other: iron and board in room. Laundry/service available for a small fee or on request use ours for long stays (week or more) Breakfast: We leave Continental Breakfast supplies (Gluten free requirements need notice upon booking) Note: Your washing up of dishes is done for you collected daily at 10am. Coffee and tea etc replenished.
Our location is quiet and peaceful. We are located on the outskirts of Mt Barker near farmland so you won't find busy traffic or the hustle and bustle of the township. You will have to drive to get to the fabulous ammenties the town has to offer. There are buses (but limited) A golf course nearby and the wonderful wetlands for an evening stroll. However we are in a quiet cul-de-sac with Birdlife in abundance. You may hear cows moo or sheep bleating!! Wineries are within easy reach on all directions. Spend a day in the hills doing the wine and cheese trail or even the chocolate trail!!! We have local markets and the acclaimed Hahndorf about 15 min drive and nearby Heyson trail. Short drive to Mt lofty or climb our Summit we can see from our place! We're 20 mins drive from Monarto Zoo and Strathalbyn. 1 hour drive to Victor Harbor, and 1 hour to the Barrossa Valley. 35mins to Adelaide CBD. Prancing Pony...... World's best beer apparently!! Is 7 mins drive. Enjoy a day at Beerenberg Farm. Pick a strawberry! 10 mins drive away. Local parks and wetlands provide bbqs for picnics! Playgrounds also for the inner child! Bike tracks.
We were made to feel very welcome, there was no attention spared to detail and we were very grateful for the help with our particular needs at the time. A good neighbourhood. Absolutely immaculate and well appointed. 10/10 On all counts.
Braden
2016-07-09T00:00:00Z
I was attending an event at Mt Barker Steiner School and Liz's accommodation was perfect for my stay and was within easy walking distance to the school. The room was well equipped, with very generous breakfast supplies and everything you would need for a short or longer stay. The accommodation was much more roomy than I expected, with a large separate bedroom, lounge, kitchenette and bathroom, and I was super comfy in the space. I love the selection of books to read and DVDs to watch during my stay. The location is quiet and tucked away, and it was a lovely retreat for me at the end of the day. I met Liz and Richard during my stay and am so glad I did! We had a great chat and they are very approachable, friendly and welcoming. I am sure I will see them again some time. Thanks guys, your space was exactly what I needed. ☺
Jarad
2016-08-15T00:00:00Z
The stay at Liz's place was my first Airbnb experience. I was SUPER happy with everything. The amenities were amazing, a great range of breakfast goodies were included, great selection of DVDs etc and the bed was super comfy. I didn't want to leave. Liz was so accommodating and helpful, nothing was too much trouble for her. This will be the ONLY place I ever stay in Mt Barker again. Thankyou Thankyou Thankyou and see you again next year !!!
Louise
2016-10-18T00:00:00Z
I quickly fell in love with Liz and Rich's little one bedroom apartment. It's beautifully cosy, peaceful, and full of everything I needed for a relaxing weekend in the Adelaide Hills. Liz is lovely and extremely hospitable, and her thoughtful hospitality and delicious spreads and teas made my stay all the more enjoyable. I didn't want to leave.
Mirjam
2016-03-22T00:00:00Z
Certainly one of the cleanest Airbnb's we've stayed at. We felt very comfortable from the minute we arrived. Great communication with our host and it had everything we needed.
Sarah
2016-11-30T00:00:00Z
The place was lovely, warm and as advertised. Clean, new, with all you could expect of a b'n'b. Bargain. Communication was excellent and Liz was extremely accommodating to us even when I'd made a mistake about our booking.
Ramesh
2016-06-20T00:00:00Z
Liz's place was extremely beautiful, and she was a very gracious host. Very friendly, helpful and kind. We also greeted her two lovely dogs and caught fleeting glimpses of the cats as well. The place was very private, it had its own mini-kitchen and the room was certainly big enough for the queen bed and the mattress on the floor. It was more spacious than many hotel rooms using an additional bed. Would love to stay there again sometime. It's a beautiful area, not far at all from Adelaide or Hahndorf, where we spent most of our time. Thank you!
William
2016-04-03T00:00:00Z
Liz stayed in touch with us from a few days before our arrival and we had a great description of how to access the place if she was not at home when we arrived, as we were a bit changeable with our actual time of arrival since the winery experience was just to go with the flow to a certain degree. Soon after we arrived and settled we got to meet her and her lovely dogs which was delightful. She is warm and welcoming and, as a dog lover, I was thrilled to have some doggy pats and cuddles.
Lyndal
2016-08-10T00:00:00Z
Rodzaj pokoju
Całe miejsce
---
Rodzaj nieruchomości
Wikt i opierunek
---
Mieści
4
---
Sypialnie
Mount Barker, Australia Południowa, Australia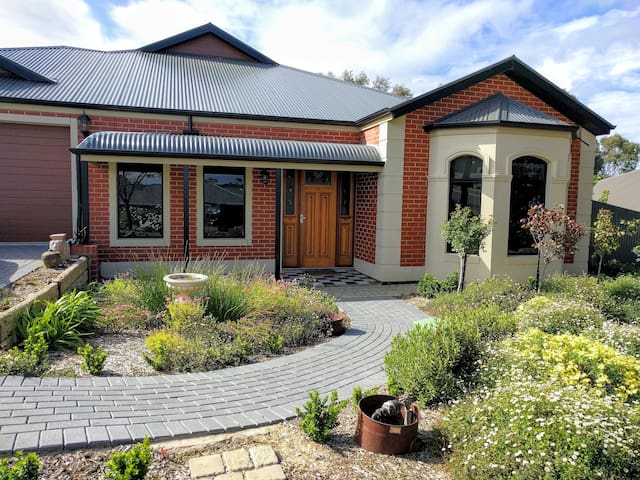 Wpisz daty, by zobaczyć pełną cenę. Obowiązują dodatkowe opłaty. Cena może uwzględniać podatek.