Alloggio ai piedi dell'etna con uso bagno e cucina. ideale per vacanze in montagna ma a soli 15' minuti dal mare. Taormina dista soltanto 25 minuti e Catania 40 minuti.
La mia casa è situata nella Via Mareneve, la strada che vi porterà direttamente sul Monte Etna. La favorevole esposizione delle piste unita all'altitudine rendono questa località un punto d'incontro favorevole per gli sciatori provenienti da tutta la Sicilia. La stazione sciistica di Piano Provenzana si estende sull'omonima pineta che conferisce un'aria alpina alla stazione. Come sfondo panoramico però non vi sono cime rocciose, ma il mare. Sciando nelle piste in quota, il blu dello Ionio crea un notevole contrasto con la neve davanti a noi e contemporaneamente rimane sempre in vista l'imponenza dei 3340 Metri del cratere di nord est innevato.
Il mio quartiere si trova nella zona residenziale del paese, è molto tranquillo, ma comunque vicinissimo al centro, dove ci si può arrivare serenamente a piedi.
Nous avons été accueilli très chaleureusement par Luana et ses enfants. Elle a été de bons conseils pour trouver un bon Resto le soir de notre arrivée (à 3 min de la maison le Gatto Blue: parfait!) , pour nous trouver un guide pour la montée de l'Etna le lendemain matin... La maison est idéalement placée pour se rendre à l'Etna. Une partie de la maison nous est totalement dédiée! C'est super En prime une terrasse avec vue sur l'Etna et le lever du soleil!!! On peut se garer devant la maison. Rien à redire! Merci Luana Melany et Anita
Melany
2016-10-07T00:00:00Z
Un accueil très chaleureux. Dommage que nous ne parlions pas italien! Les enfants de Luana étaient très discrets et sympathiques. Un appartement tranquille, complètement indépendant avec une très jolie salle de bain. La terrasse est un plus. La maison est idéalement située pour prendre la route de l Etna. Linguaglossa est une petite ville tranquille. Facile pour faire les courses, pour prendre un café en terrasse. Des renseignements précieux à l office de tourisme. En un mot nous sommes enchantés de notre séjour à Linguaglossa et si nous devons y retourner nous séjournerons si possible chez Luana.
Jean Noel
2016-04-15T00:00:00Z
Logement agréable proche de l'Etna. Nous avons regretté le manque d'ouverture et de communication de notre hôte.
Fabrice
2016-08-26T00:00:00Z
Luana was an incredible AirBnB host. She welcomed us into her house and made us feel like we were part of her family. She is truly caring, eager to help out and great at communicating. Her two sons and daughter are so wonderful and we felt like we were truly at home with them. The apartment is beautiful - it is newly renovated and very clean. It has a gorgeous view of Linguaglossa! It is very centralized, right in the heart of the town but it feels like the countryside. Walking distance to lots of incredible restaurants and bars. Everything you need. If you are coming to Etna, you must stay here! I look forward to coming back!
Maddy
2015-11-01T00:00:00Z
The room is an ideal base to discover the Etna and is located next to the railway station (Ferrovia Circumetnea), which is nice if you want to visit the Etna by train. Our room was very clean and we were very happy with our stay. The bathroom is amazing as well. Thank you for hosting us Luana, grazie!
Isabelle
2015-06-28T00:00:00Z
Nous cherchions un endroit sympathique pour nous poser avant et après notre ascension de l'Etna : et bien nous avons trouvé. Nous avons été bien accueilli par Luana qui nous a donné quelques bonnes adresses pour manger. La maison de Luana est très bien située et la chambre située à l'étage permet d'être indépendant si on le souhaite. La grande terrasse adjacente à la chambre avec vue sur l'Etna est un plus !
Jean-Sébastien
2015-06-16T00:00:00Z
Great location right next to train station. Room is spacious, clean and nicely decorated.
Chelle
2016-01-13T00:00:00Z
Luana was a good host for us. The room is very clean and cosy. Very good journey !
Quentin
2016-09-05T00:00:00Z
Rodzaj pokoju
Pokój prywatny
---
Rodzaj nieruchomości
Dom
---
Mieści
4
---
Sypialnie
Linguaglossa, Sicilia, Włochy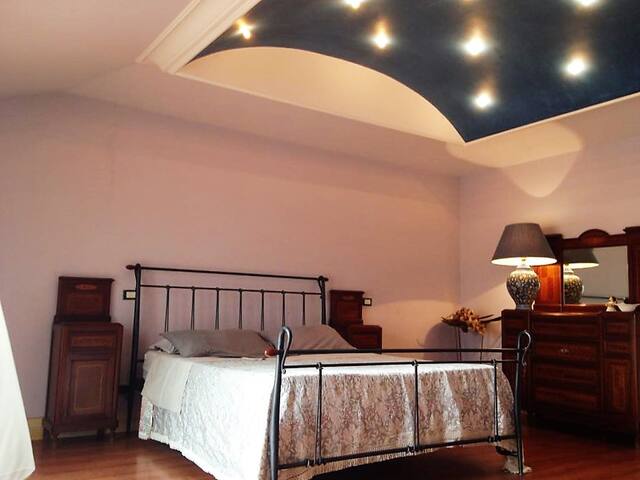 A tradionaly furnished cottage in the center of Linguaglossa , a small village on the feet of mount Etna,Unesco world heritage site, is the heaven of relaxation you have been dreaming of , set in a unique, enchanted centenary olive grove with a won
FOR STAYS OF ONE WEEK , YOU GET AWESOME DISCOUNTS ON EXCURSIONS TICKETS' PRICE ON TOP OF MT ETNA. Description : A tradionaly furnished cottage in the center of Linguaglossa , a small village on the feet of mount Etna,Unesco world heritage site, is the heaven of relaxation you have been dreaming of , set in a unique, enchanted centenary olive grove with a wonderful view of Mount Etna. It is also fully immersed in a Mediterranean Garden. If you are lucky enough you'll be treated to a performance of Etna's lava pyrotechnics from the terrace. The cottage is in the garden of XVII century Noble House. Layout : For 2 or 5 six people , 2 double bedrooms,one single bedroom , complete kitchen with fridge, comfortable living room 2 bathroom , washing machine, natural air conditioning, sunroom, terrace, grass garden, internet access, tv. Main Attractions : The location of the cottage let you to reach "Picciolo Golf club " ( 3 minutes) , the medieval city of Taormina ( 25 minutes ) ,Catania (35 minutes) Catania Airport(40 minutes) Gole dell'Alcantara ( 25 minutes ) the beaches of Giardini Naxos 20 o Marina di Cottone in Fiumefreddo (15 minutes) , the volcano Etna(north side 25 minutes) Etna south - Rig. Sqpienza = 34 km / 45 min Messina city center and harbour = 70 km / 55 min Milazzo (Boats to Eolian Islands) = 100 km / 01h15 min Siracusa = 110 km / 01h30 min Palermo = 250 km / 02h30 mn 2 minutes walk from the cottage: Linguaglossa train and bus station. The cottage is in the center of Linguaglossa, near lot's of icecream maker, patisserie, 3 restaurants, a butcher's shop , grocery shop. Everything you need is within a short walk among old fascinating building. Lady Angela who has been the main Cook of the Estate for the past 15 years will teach you how to make bread from scratch, old sicilian cuisine recipes and to make fresh sicilian strawberry gelato. Activities: ARTISTS RESIDENCE PROGRAM We firmly believe in the celebration of diversity. We value cultural exchange and mutual understanding across people, nations and borders. We thought Etna house of Stone as a meeting place and space for creatives, artists and writers. Here, at Etna house of Stone, surrounded by jasmine trees, roses gardens, wine yards and olive groves, creatives can enjoy an inspiring place to stay and a suitable working-space for their work. COOKING CLASS We can also provide a lunch OR dinner delivery service: 3 courses meal for 4 people , 100 euro per day Menu are flexible and typical sicilian/mediterranean cousine culture. * During winter time an additional fee of 25 euros per day will be applied. -the price includes free visit of the XVII century house FOOD and WINE PROGRAM * You can also have the possibility to eat fresh vegetables and fruit , cultivated in our field Etna wine tasting laundry service mountain bike rent Mount Etna excursions Bike rent
My neighbourhood is awesome,people are friendly and ready to help you in case you get lost. It is set in old seventeen century village with fascinating buildings.
Oui le logement a été bien décrfis nous avions toujours un contact par mail avec maria mais nous ne l'avons jamais vu nous avons vu Aleberto qui nous a conseillé pour les guides pour l'expédition sur l'etna avec réduction de prix
Agnès
2016-07-30T00:00:00Z
We had a wonderful experience in Linguaglossa. Maria's house of stone is just as described: a lovely oasis with a beautiful garden and view, tucked in the central part of an atmospheric but sleepy rural Sicilian town. We stayed here in order to visit Taormina and a few other destinations while still having a peaceful place to come home to, and the stone house at Linguaglossa was a perfect choice. Fresh fruit and bread were there to greet us upon our arrival, and our hosts were very kind and generous also about giving us recommendations for where to eat, and for helping us figure out how to connect to the wifi. Also, all the amenities were perfect: nice beds, nice bathrooms, etc.
Claire
2015-05-18T00:00:00Z
Un charmant coin de paradis au mileu de cette petite ville pleine de charme et d'otenticité. Alberto nous a très gentillement orienté pour faire une magnifique découverte de l'Etna… Merci !
QUENTIN
2016-08-23T00:00:00Z
Belle petite maison, cosy et bien équipée. La terrasse est également très agréable pour les repas. Il y fait très calme, la maison est située dans un beau jardin très bien entretenu et les commerces de proximité nous ont permis d'être autonome.
Caro
2013-08-08T00:00:00Z
We had a wonderful experience at Etna House of Stone in Linguaglossa! The accommodations are clean, comfortable, and nicely decorated. The family who runs the property was very welcoming, and made great restaurant and activity suggestions when we arrived. The home is situated within walking distance to many restaurants, shops and stores. Since we were driving, we appreciated that they had a safe spot to park the car on the grounds. They arranged a cooking class for us, which took place in their home's kitchen. It was one of the highlights of our entire vacation. We learned traditional recipes for Sugo, handmade pasta and focaccia. It was great to use local produce and flour, and things from the garden to make lunch. The main home has been in the family for hundreds of years. Inside, it is a museum of sorts, and you should definitely ask for a tour if possible.
mariesa
2015-09-17T00:00:00Z
If you are looking for sun, sea, volcano and country side action in a beautiful small village with exquisite views, then this is the house for you. Its one of the most peaceful places I have stayed in , surrounded by cherry trees and frames by hills and Mount Etna. Maria's son was the best host you can expect, bringing fresh fruit and home made jams for breakfast. I will love to come back here to stay for longer. Thank you for a splendid holiday. Serene and Reuben.
Serene
2012-06-06T00:00:00Z
Wunderschönes Haus, zur Begrüßung gab es Brot, Milch, Obst und Wein. Sehr freundliche und nette Gastgeber. Top Haus mit wunderschönen Möbeln und alles funktioniert richtig. Der Garten ist eine Pracht und die Terrasse vermittelt eine besondere Ruhe. Wer Sizilien kennen lernen möchte, dass perfekte Haus. Auch für Winterurlauber ideal.Für Ätna-Wanderer und Besucher der optimal Ausgangspunkt. Das Haus und die Inneneinrichtung ist schöner als die Fotos. Eine absolute Empfehlung für Sizilien.
Manfred
2014-06-06T00:00:00Z
Although we never met Maria, the house is absolutely beautiful and the surroundings are breathtaking. I would definitely return to Linguaglossa!
Alexandra
2015-06-30T00:00:00Z
Rodzaj pokoju
Całe miejsce
---
Rodzaj nieruchomości
Dom
---
Mieści
5
---
Sypialnie
Linguaglossa, Sicilia, Włochy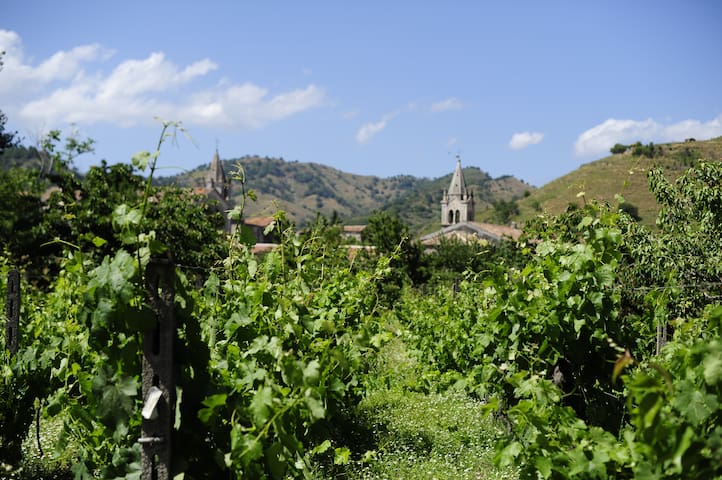 Linguaglossa, a 2,5 km dal paese, immersa nel verde del parco dell'Etna dichiarato patrimonio Unesco, casa di nuova costruzione in stile siciliano, dotata di ogni confort a pochi km dalle piste di sci di Piano Provenzana e dal mare di Taormina.
Bellissima location in posizione strategica. Permette di essere a due passi di quanto di meraviglioso l'Etna ha da offrire ma anche da Taormina, Catania, e dalla riviera dei Ciclopi. Il cottage presenta tutti i comfort: dal camino alla cucina in muratura, infissi e rifiniture di pregio, stile rustico arredato con eleganza e sobrietà. Il signor Francesco è una gradevole persona, molto disponibile e accoglie gli ospiti mettendoli a proprio agio, spiegando puntigliosamente il funzionamento di luci, cancello automatico, riscaldamenti, posizione della legna eccetera. Il giardino è curato, con un terrazzamento e da cui si gode di un buon panorama. Nei 3 giorni in cui siamo stati ospiti ci siamo rilassati, abbiamo fatto trekking sull'Etna, visitato Taormina, Catania e Linguaglossa. Ottimo punto di riferimento, torneremo sicuramente.
Marco
2016-01-03T00:00:00Z
Wonderful and fantastic spot! For sure, it is parfect home for resting as well as explorationg the area! We will come back for the next Etna activity! Thank you so much!
Christine
2016-08-19T00:00:00Z
Francesco was welcoming and made us fee like at home. The photos are great but the reality is even better! The terrasse view is outstanding.
Stéphanie
2016-06-24T00:00:00Z
Bellissimo cottage immerso nella natura...grandi spazi interni ed esterni e un bellissimo paesaggio. Ideale per chi ama la tranquillita' e il contatto con la natura. Proprietari molto cordiali e disponibili.
Viviana
2015-01-02T00:00:00Z
The country house of Francesco is very nice and quiet. It close to the little place 'Linguaglossa'; located in the mountains around the Etna, so a car is recommended. The house is surrounded by Francesco's wine garden, where he also grows tomatoes, figs, apples etc. He comes around every other day to bring some fresh fruits and to check whether everything is alright. The terrace is really relaxing and quite. Close to the house, there is another 'agritourisme' and a pizzeria. The closest beach is around 20 minutes by car. Supermarkets, bars and coffee places are in Linguaglossa, a few minutes by car. If you like nature and mountains, this is a good place!
Hannah
2016-09-25T00:00:00Z
Francesco est un hôte exceptionnel! D'une gentillesse et disponibilité remarquables, il est à l'image de l'hospitalité sicilienne. Il nous attendait, ayant préparé une corbeille de fruits de son verger, une bouteille de vin de sa production, un délicieux gâteau fait maison par son épouse. Toutes ces petites attentions qui font la différence et permettent de se sentir bienvenus immédiatement. La maison est aménagée avec soin, et le grand jardin est superbe. Depuis la terrasse une jolie vue sur la campagne et les collines au loin.La meilleure pizzeria de Sicile se trouve à quelques pas. Nous ne pouvons que recommander vivement de séjourner chez Francesco, qui vous donnera l'impression de vous accueillir comme des amis, en toute sincérité et générosité. Merci pour ces quelques jours inoubliables.
Virginie
2016-10-01T00:00:00Z
We spent a wonderful week in Francesco's country house, a beautiful, wellequipped stonehouse with marvellous views of Mt. Etna and a lovely garden. Francesco received us with fruits, wine and oil from his own farm, and he was very helpful all the way through. If you don't have a car, you have to walk or hitchhike the two kms from the station, which we did succesfully!
Jette
2016-09-16T00:00:00Z
We were welcomed by Francesco with a fresh basket of fruit and a homemade apple cake from his wife!! Over the course of the week he also brought us fresh marmalade and pesto. Fantastic! The home is in the country side, 5 minutes from town. A car is highly recommended. It was a great base for very active and outdoors people like us, that wanted somewhere private and quiet for the evenings. Being situated half way between Taormina and Mt. Etna, just five minutes uphill from the small town of Linguaglossa, it was an ideal base for the many activities we had planned. Including exploring Mt Etna, quad riding around the forests of Mt Etna, exploring Alacantara valley, SCUBA diving and squid fishing from Giardino Naxos, and shopping and dining in Taormina. This house was no more than 30 minutes from each. There is a delicous pizza place within walking distance. The house sits among Francesco's vineyard and orchards, very pretty sights. Except some of what ever is in season. Francesco loves to share! The only negatives were the lack of Wifi (which we knew about), which made planning difficult. I highly recommend renting a Wifi unit with a rental car for ease of planning and accessing the different sites. The bathroom began to have an unusual and irritating smell to me the last few days of our 8 day stay, but was fine in the beginning. There is no heat or air condition, but these are usually not needed with the nice weather. There is a wood fire place for heat and a small bathroom heater, which brings me to the main "inconvenience." The house is not wired to accommodate my heavy electrical usage aka my American standards, haha. Of the water heater (aka shower), the bathroom heater, the oven, and the water boiler for coffee...ONLY ONE should be used at a time. If you have more than one on at a time expect all the power in the house to go off, and it cannot be reset from inside the house. We had it go off on us three different times, and Francesco or his cousin had to go to another house on the property and flip the main breaker back on. Not a problem unless your in a hurry. They were nice and quick enough to resolve it when we made the mistake, but just be aware so to avoid the issue. Overall, it was a fantastic stay with an incredibly wonderful host. We highly recommend it and will likely be back if ever in Sicily!!!
James
2016-10-23T00:00:00Z
Rodzaj pokoju
Całe miejsce
---
Rodzaj nieruchomości
Dom
---
Mieści
4
---
Sypialnie
Linguaglossa, CT, Włochy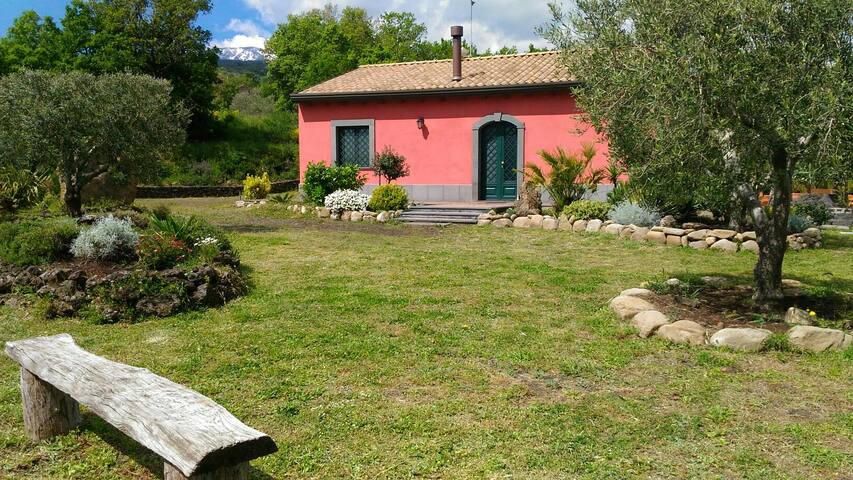 Large & modern attic with private entrance and wide terrace in the city center. It has 2 double bedrooms, fully equipped kitchen, living room, bathroom with shower, wifi, garage for the car. Comfortable to host 4 people.
It is a 150 sqm attic in the city centre of Linguaglossa, a small town at the foot of Mount Etna. From here it takes 40 minutes by car to go on the Etna (starting point for the craters excursions), 20 minutes to get to the beach of Fiumefreddo or Giardini and 30 minutes to get to Taormina. The attic is on the 2nd floor. It has a private entrance and a large terrace. The house is comfortable for 4 people, it has 2 bedrooms, a fully equipped kitchen with fridge and oven, a comfortable living room with TV, 1 bathroom with shower and a large terrace.
We had a really nice stay at Vincenzo's place. Gina his neighbour was very friendly and helpful, as Vincenzo unfortunately was not around. The flat is comfortable and clean. It was the perfect location for visiting the Etna Volcuna the next day. Really comfy place. Thanks for everything Vincenzo:)
Valentina
2015-10-05T00:00:00Z
Super nuit chez Vincenzo. Un appartement très propre et spacieux. À recommander fortement. Même si nous n'avons pas pu rencontrer Vincenzo, il semble être très sympathique et accueillant.
François
2014-08-20T00:00:00Z
Appartement propre et spacieux. Proche à l'Etna (accès Nord). Nous recommandons cet appartement.
Adeline
2016-09-19T00:00:00Z
Mūs sagaidīja Vincenzo draudzene Gina. Dzīvoklis ir ļoti plašs ar divām guļamistabām, lielu dīvānu un televizoru. Dzīvoklim ir liela terasa, no kuras var redzēt Etnas vulkānu. Ļoti stilīga vannassistaba un ērta gulta. Dzīvoklī ir viss nepieciešamais. Virtuve bija pilnīgi viss, pat vīna glāzes! :) Mēs labprāt šeit atgrieztos.
Toms
2016-09-06T00:00:00Z
Our stay at Vinchenzo attic was short but really comfortable. Stylish modern design (need to say not finished in some parts yet ) and very easy going host are the great combination. Thanks a lot, definitely recommend it to anyone.
Daniil
2014-10-06T00:00:00Z
Die Wohnung ist wunderschön, sauber, modern, neu, gemütlich. Die Kommunikation und Organisation perfekt. Vincenzo ist sehr nett und fürsorglich. Wir hatten eine schöne Zeit dort mit einzigartigen Ausblicken. Beim nächsten Mal unbedingt wieder. Danke :)
Ketino
2016-11-01T00:00:00Z
Appartamento appena ristrutturato, comodo, funzionale ed in ottima posizione. Peccato non aver potuto incontrare vincenzo, ma la signora che ci ha accolti è stata gentile e disponibile.
Fabio
2016-02-14T00:00:00Z
Nice appartment, close to Etna. Vincenzo is friendly. We enjoy time passe in Linguaglossa.
Fabrice
2016-08-05T00:00:00Z
Rodzaj pokoju
Całe miejsce
---
Rodzaj nieruchomości
Apartament
---
Mieści
4
---
Sypialnie
Linguaglossa, Sicilia, Włochy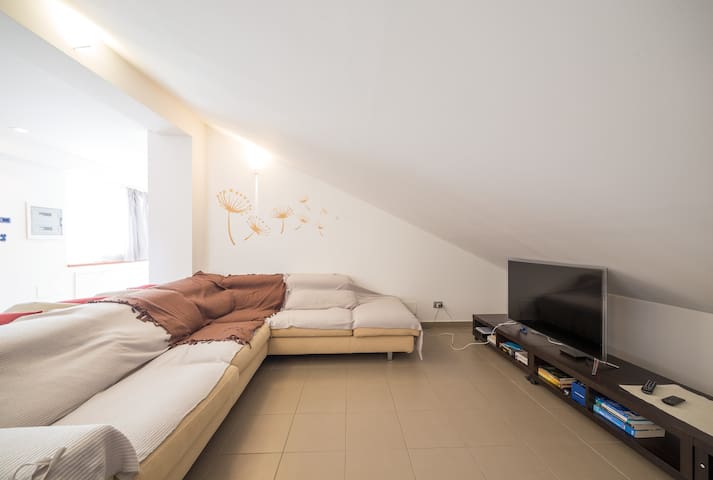 La baita è ideale -per una famiglia che voglia trascorrere una piacevole vacanza immersa negli splendidi panorami- per chi ama: percorrere sentieri naturali, sciare, gustare i piatti tipici, i percorsi enogastronomici, visitare i siti artistici e culturali, leggere un libro davanti al camino. L' alloggio è gradevole, accogliente e confortevole per i soffitti alti in legno naturale, per la ricca vegetazione che lo circonda e la tranquillità. E' ideale per coppie, per famiglie con bambini.
La baita è stata appena ristrutturata con molta attenzione e rispetto dell'ambiente. Potete trovare tanto calore e gusto nell'arredamento, che unisce elementi moderni e funzionali a qualche mobile intarsiato della prima metà del novecento. La baita ha il camino, tutti i confort , accessori assolutamente nuovi e una meravigliosa terrazza con vista mare,attrezzata con sdraio, ombrellone, tavolo sedie
Con l'auto, in estate,facilmente, si può andare al mare o sulle pendici del vulcano, fare escursioni lungo i sentieri o raggiungere il cratere; in inverno si possono praticare le piste di sci. Si possono inoltre visitare dei suggestivi paesi pedemontani (Linguaglossa, Piedimonte Etneo, Milo, Zafferana, Randazzzo (città normanna), Taormina, Catania, col suo barocco.
Geweldig! Een prachtig compact knus huisje op de Etna, van alle gemakken voorzien, met een geweldig uitzicht op Linguaglossa, Taormina en Castelmola. Een schitterende uitvalsbasis om de vulkaan en omgeving te ontdekken. Op slechts een paar kilometer van de bewoonde wereld en toch rustig gelegen midden in de prachtige natuur. Franco en Liliana zijn erg gastvrije, warme en behulpzame mensen die er alles aan doen je een fantastische tijd te bezorgen. Grazie mille Franco e Liliana!
jaimy
2016-09-26T00:00:00Z
Tutto perfetto, persone e posto fantastico, consigliato vivamente!
Massimo
2016-11-06T00:00:00Z
Franco and his wife are just amazing. Our stay was great, the house is super nice, with a great view of the sea from the terrace. Located in a good position to visit both the volcano Etna and the beautiful nearby city of Taormina. The hosts are extremely helpful and always willing to ensure that you enjoy your trip. We strongly advice their place!
jacopo
2016-12-11T00:00:00Z
Rodzaj pokoju
Całe miejsce
---
Rodzaj nieruchomości
Chatka
---
Mieści
4
---
Sypialnie
Linguaglossa, Sicilia, Włochy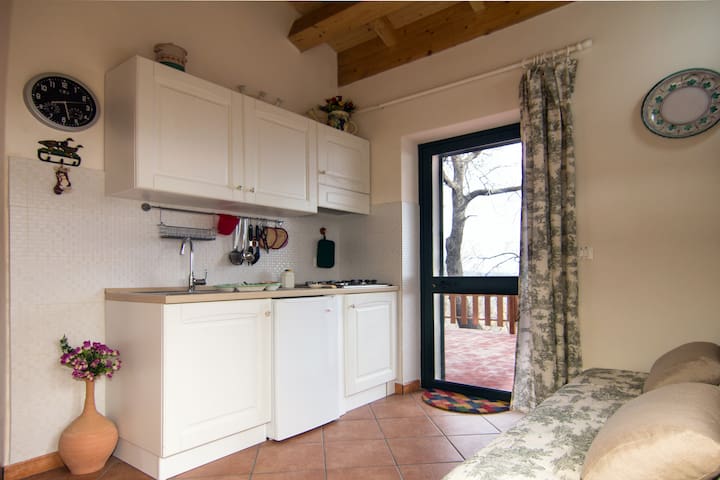 Il mio alloggio è vicino a autostrada, ristoranti, spiaggia, attività per la famiglia, splendide viste panoramiche, arte e cultura. Il mio alloggio è adatto a coppie, avventurieri solitari, chi viaggia per lavoro e famiglie (con bambini).
Rodzaj pokoju
Całe miejsce
---
Rodzaj nieruchomości
Dom wakacyjny
---
Mieści
4
---
Sypialnie
Linguaglossa, Sicilia, Włochy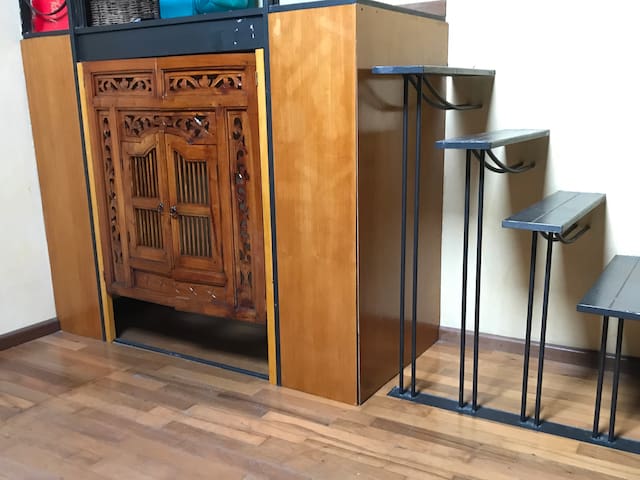 Luogo tranquillo
Rodzaj pokoju
Pokój prywatny
---
Rodzaj nieruchomości
Dom wakacyjny
---
Mieści
10
---
Sypialnie
Linguaglossa, Sicilia, Włochy
Friends, Rent a cozy room in a 3 -bedroom apartment komn.kvartire.V I live , my husband Antonio and our favorite kitty - Musia.V 2komnaty apartment and a large living room, where we will meet with you in the morning over a cup of Italian kofe.
Friends! Rent a cozy room in a 3-room apartment. The apartment I live, my husband Antonio and our favorite kitty - Musya. The apartment has 3 rooms you live in one room, the other - we. Your room is very cozy and quiet, there are 2 single beds (which can be moved at will), wardrobe, bookshelves, TV, desk, computer. Bed linen and towel, I'll give you, so you can bring it not to take. From the room there is access to a huge terrace, where you can relax among the abundance of flowers or a romantic dinner by candlelight in the evening quiet. The apartment has 2 toilets, one combined with the bathroom. We are always happy to help you and tell you what beauty and attractions can be visited on the island of Sicily. We are in love with Sicily and want to have the guests in this wonderful island left only positive emotions and impressions. We can help with car rental, prompt where to take the car for a small fee, as well as, organize the transfer from the airport of Catania (60 euros). The main attraction of Sicily is its nature. This is - majestic mountains, Mount Etna - the highest active volcano in Europe, a broad and long sandy beaches, which lie along the Emerald Coast. Our small, quiet town located at the foot of Mount Etna, but also to the sea is not far, only some 10 - 15 minutes by car or bus.
Вблизи нашего жилья расположены большое количество баров, пиццерия, супермаркет. Автобусная остановка для поездки в Катанию или на море, находится в 100 метрах.
Very good oriented place in Sicily to stay: near Etna volcano, Taormina city, Alcantara river. Natali is very friendly, helped us to plan places to visit. Room is very clean and comfortable with big terrace. Thank You for wonderful time, Ciao, Egidijus and Deimante
Egidijus
2014-08-30T00:00:00Z
Natali es una mujer muy peculiar, toda ella y todo lo que la rodea es un arco iris, enamorada de los colores su casa es un muestrario de su gusto por las manualidades, por las flores, por las mariposas, por la vida. Su piso estaba perfectamente limpio y en el nos sentimos muy agusto. Natali nos preparo unos desayunos estupendos, incluidos crepes caseros riquisimos. A la mesa del desayuno no le faltaba detalle ni colores. SI visitais Linguaglosa este B&B es una buena eleccion.
Carmen
2014-09-04T00:00:00Z
Natalie & Anthony made us feel welcome, the home was as described, clean, good wifi, nice deck to relax on and we were able to utilise the kitchen to cook an evening meal.
Peter
2016-05-20T00:00:00Z
The host canceled this reservation 3 days before arrival. This is an automated posting.
Dali
2015-11-15T00:00:00Z
Natali and Antonio's apartment is as shown in the picture. What you see is what you get. A spacious and clean room with access to a nice veranda where each evening we used to sit out sipping port. A welcome bottle of red wine and a bottle of water was already in our room when we got there. Natali makes a good cup of coffee and a decent breakfast. The hosts are super nice and friendly. The neighbourhood is pretty clean and quiet, and plenty of free space for parking. Very good value for money.
Mario
2015-05-22T00:00:00Z
Dire che ci siamo trovati bene è troppo poco. BENISSIMO, Natali è eccezionale, in casa c'è sempre un buon profumo è tutto è pulitissimo. La colazione è abbondantissima, ci ha persino preparato dei dolcetti a forma di cuore con la cioccolata sopra. Il pane caldo tostato, la marmellata fatta in casa. Impossibile trovare qualcosa di negativo. Appena arrivati abbiamo trovato la bottiglia di vino di benvenuto. Gli asciugamani ce li ha cambiati anche due volte al giorno. Sono volati i 3 giorni. Grazie pure adAntonio, molto ospitale. ❤️
Fabrizia
2014-10-13T00:00:00Z
Chambre spacieuse avec télé et wifi qui donne sur une grande terrasse équipée sur laquelle j'ai aussi pu garer la moto. Salle de bains commune très propre. Natalia et son mari ont été des hôtes prévenants et discrets. Excellent !
jan jac
2016-07-21T00:00:00Z
Nous avons passé un bon moment chez Nathalie. La grande chambre donne sur la terrasse qui amène de l'air frais en été. Nous avons passé 3j à découvrir la région et il y a plein de choses à faire à proximité. Nathalie est très accueillante et a su nous conseiller. Son marie est souriant et chaleureux. Merci à eux
Adrien
2016-08-05T00:00:00Z
Rodzaj pokoju
Pokój prywatny
---
Rodzaj nieruchomości
Wikt i opierunek
---
Mieści
2
---
Sypialnie
Linguaglossa, Sycylia, Włochy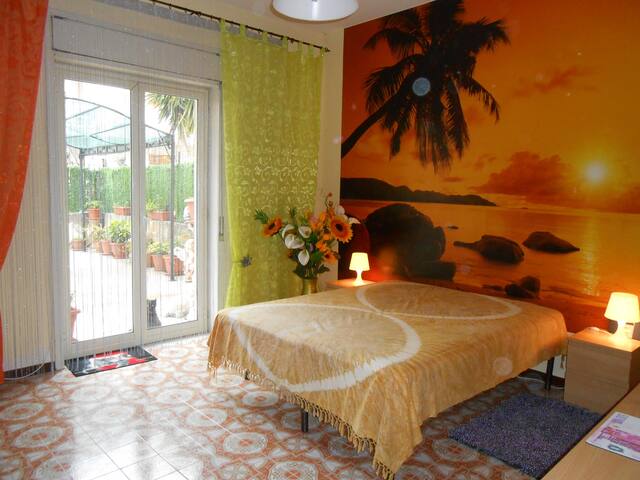 La struttura si trova a Linguaglossa, piccola cittadina alle pendici dell'Etna. La struttura dista 16 km da Piano provenzana (Etna), e 15 km dal Mare di Taormina. L'alloggio è situato nel centro storico di Linguaglossa, a pochi passi da ristoranti e bar. La casa è dotata di 6 posti letti, 2 letti matrimoniali, e due letti singoli, all'occorrenza possono anche essere modificati. Sono presenti due bagni, una cucina un soggiorno e due ampie terrazze.
Rodzaj pokoju
Całe miejsce
---
Rodzaj nieruchomości
Dom
---
Mieści
6
---
Sypialnie
Linguaglossa, Sicilia, Włochy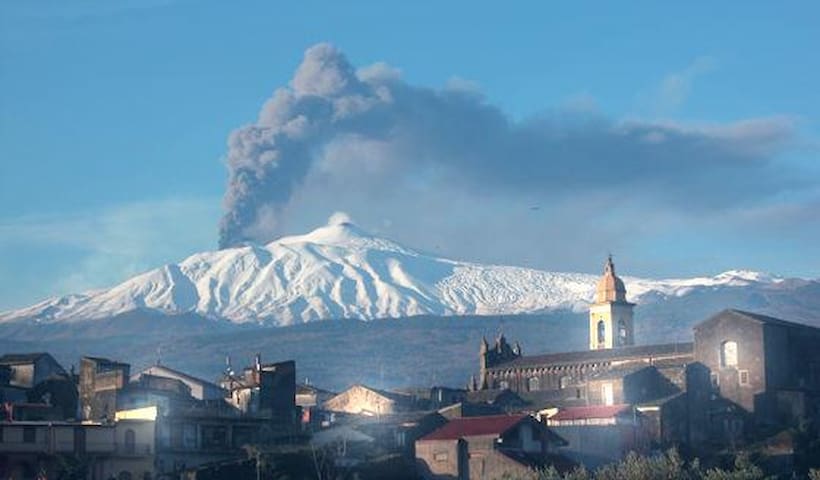 Accogliente casa dell'ottocento, in pietra lavica su tre piani, volte a damuso, torreggia, offrendo una magnifica vista sulle antiche case ed in particolare sull'Etna. Molto comode, spaziose alcune camere e bagni! Dotate di cucina o angolo cottura! Molto romantica e particolare questa sistemazione com mobili antichi ed originali.
La vista sull'Etna dalla nostra casa rende piacevole il soggiorno in particolare agli amanti dello sci e del trekking, che possono progettare o rivedere il percorso delle loro escursioni. La vicinanza del mare, più volte bandiera blu, e, di quella perla, che è la vicinissima città di Taormina, le Gole di Alcantara, il parco dei Nebrodi, e naturalmente l'Etna, offrono al turista continue emozioni. La casa posta in un'area del centro storico, mostra la reale vita del paese. La casa offre spazi adeguati agli sportivi che vogliono depositare attrezzature quali: sci, snowboard, tavole e vele da surf. L'aria condizionata solo nelle camere più calde in alto, i grossi muri in pietra mantengono con naturalità costanti le temperature notte/giorno.
Quartiere vero popolare, la gente vera dei paesi dell'Etna. Strategica vicinanza alle strade di accesso ai boschi dell'Etna, agli impianti sciistici, al mare. relax ai giardini pubblici con alberi secolari e fontane dai bei giochi d'acqua. Vicinanza dei parcheggi esempio Via Umberto (molti posti), Via Cestai, si spesso é libero proprio sotto casa, a vista.
Super endroit avant d'aller faire l'ascension de l'Etna nord. Appart très sympa. Et Mario a été très gentil avec nous. Je recommande.
Pierre
2016-08-23T00:00:00Z
Mario è stato molto accogliente e premuroso nel descriverci i luoghi da visitare nella zona circostante al suo b&b. Per le 2 notti in cui abbiamo soggiornato li non abbiamo avuto alcun problema.
Giordano
2016-08-10T00:00:00Z
Stanza spaziosa e dotata di tutto quel che necessita ad una famigliola zonzo per la Sicilia! Buona accoglienza nonostante il nostro cronico ritardo!!
Marco
2016-08-01T00:00:00Z
Rodzaj pokoju
Pokój prywatny
---
Rodzaj nieruchomości
Apartament
---
Mieści
3
---
Sypialnie
Linguaglossa, Sicilia, Włochy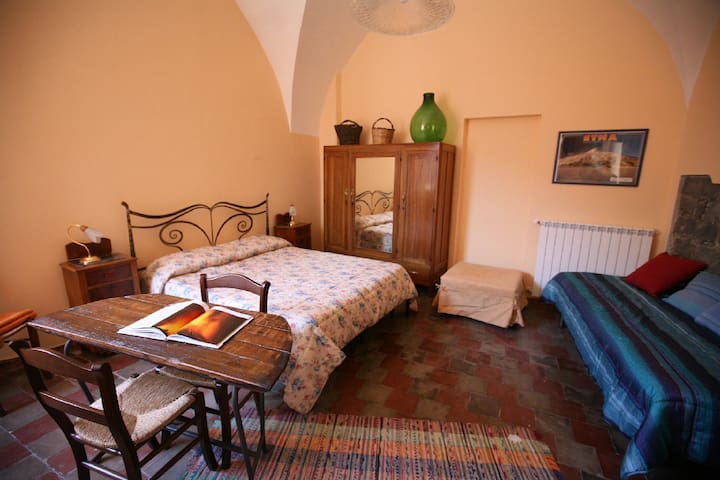 If a volcano, the sea, the Baroque was not enough for you come to Sicily for food, desserts and wines.
Residential building recently restructured, independent , from 2 to 4 beds with bathroom and kitchen, internal garden and car park in the quiet pedestrianized historical center of Linguaglossa (district of Catania-Sicly). The town of Linguaglossa (550 m , 5500 inhab.) is the natural gateway to the North side of the Etna mount with the magnificent pine forest and the ski slopes between the old crater of the volcano (3300 m). Ideal for stay in when visiting natural parks of Etna mount, Alcantara river, Nebrodis mounts and Madonie mounts, the beaches of the Ionian coast, Taormina and the Baroque towns of Eastern Sicily also such as Mount Etna UNESCO site. Visits to the summit of the volcano with expert guides to assist in safely explosive activity and enjoy the view from the central crater that ranges to the Aeolian islands . In winter cross-country country and downhill skiing on the slopes of the crater with view of the sea . With the numerous and qualified tour operators country you can participate and / or organize island tours, guided tours of Mount Etna, in the parks and reserves, in the cities of the island. For fans can follow the trekking trails and mountain biking in the nature or discover the wonders of the ancient historical centers Castiglione di Sicilia and Randazzo, is also possible rent bicycles, mountain bikes, cars, vans. Attendthe public swimming pool or the nearby golf course18 holes. The stay can become the occasion for enjoy traditional Sicilian cuisine and the full-bodied Etna wines that have recently established , for their great quality, in domestic and abroad countries. The structure is divided into several homes autonomous from their neighbors through a common garden , it can also accommodate groups and groups and is equipped with a large and characteristic common room for events, meetings, togethers, wine tasting, catering. The stays have very reasonable prices (from 20 to 40 Euro per person per day) commensurate with the required services and the chosen period . On request, hotel services are available and treatment half board at restaurants .
Nous avons passé presque 3 semaines dans la maison de Carmello. C'est une maison de village restaurée avec beaucoup de goût et de simplicité, dans une rue très calme. Plusieurs commerces à proximité,seulement à 15 min de la plage et une vue sur l'Etna absolument fascinante. Carmello et sa femme se sont montrés très disponibles et nous ont donné des conseils de visite. Ce sont des hôtes charmants et généreux. Nous avons passé un excellent séjour et gardons dans la tête et dans le coeur un grand nombre de souvenirs. Je conseille vivement cette location. Merci encore à vous 2.
Mat et Syl
2015-08-27T00:00:00Z
Carmelo con la sua cordialità e disponibilità ci ha fatti sentire a nostro agio in un appartamento bellissimo dotato di tutti i confort con vista sull'Etna. Situato al centro storico di Linguaglossa, un paese alle pendici del vulcano, dal quale con la linea ferroviaria Circumetnea è possibile attraversare paesaggi unici e suggestivi fino a Catania. Sicuramente ci torneremo al più presto per passare una nuova vacanza rilassante e indimenticabile.
Giuseppe
2016-08-28T00:00:00Z
Carmelo has several apartments in a renovated old house in the centre of the village. Due to a problem with warm water we couldn't use the apartment we had booked but Carmelo gave us another, bigger and brighter one, in the same house. Everything was clean and in perfect state (except the TV which is a little bit outdated) but the best thing was the terrace with the view to mount Etna. There was a sunshade, a table and some chairs so we could fully enjoy it. The neighborhood is very quiet, no traffic as the streets are very narrow. Our own car we could park without problems 50 meters from the house. Carmelo received us at the main crossing in Linguaglossa and brought us to the house around the corner. Then we checked the details and he offered his help but it wasn't necessary to contact him the whole week. Thank you Carmelo!
Thomas
2016-09-25T00:00:00Z
Carmela and Carmelo were great hosts! They were punctual upon our arrival and extremely helpful in offering suggestions for art tours through the towns surrounding the Etna volcano, for safe hikes in the volcano area, and for bars and restaurants. The flat was lovely: very clean and recently renovated using geometries and material of the building tradition in the area and with a wonderful patio full of flowers and fruit trees. Coffee, oil,sugar and salt were also kindly provided by the hosts; this was very helpful to do your own cooking over a short stay. In addition, the roof terrace offers an unforgettable view of the Etna! Overall, we would highly recommend Carmela and Carmelo as great hosts and the Etna area as a hidden gem in Sicily, rich in art, eno-gastronomy and natural landscapes, and made unique by the presence of the volcano!
Jana
2014-08-16T00:00:00Z
Rodzaj pokoju
Pokój prywatny
---
Rodzaj nieruchomości
Dom
---
Mieści
4
---
Sypialnie
Linguaglossa, Sycylia, Włochy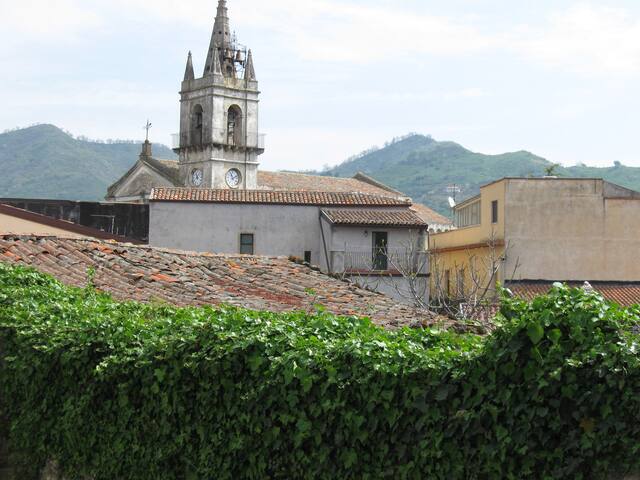 Lovely indipendent apartment with king-size bed, one single bed and a sofa-bed, private bathroom and furnished kitchen. Sorrounded by a garden and a beautiful terrace for breakfast or sunbath. For few days or longer stays. Guests will enjoy the entire apartment. Amorevole appartamento indipendente con un letto matrimoniale, un letto singolo e un comodo divano, bagno privato e cucina arredata. Circondato da un giardino con bellissimo terrazzino per la colazione o per prendere il sole.
Charming indipendent apartment with king-size bed, one single bed and a sofa-bed, private bathroom and furnished kitchen. Ideal for families (max 3 people), couples or friends travelling togheter that would like to relax on the volcan slopes. Newly refurbished and 15 kilometers far from the beach, It's an excellent base from which to explore region. For few days or longer stays. LOCAMI HOLIDAY HOUSE CERTIFICA LA TUA VACANZA Grazioso appartamento indipendente con letto king-size, un letto singolo e un divano-letto, bagno privato e cucina arredata . Ideale per le famiglie (max 3 persone), coppie o amici che viaggiano insieme e che vorrebbero rilassarsi sulle pendici del vulcano. Appena ristrutturato e a soli 15 km dalla spiaggia più vicina, è una base ideale per chi volesse esplorare la regione. Per pochi giorni o soggiorni più lunghi.
Rodzaj pokoju
Całe miejsce
---
Rodzaj nieruchomości
Dom
---
Mieści
3
---
Sypialnie
Linguaglossa, Sicilia, Włochy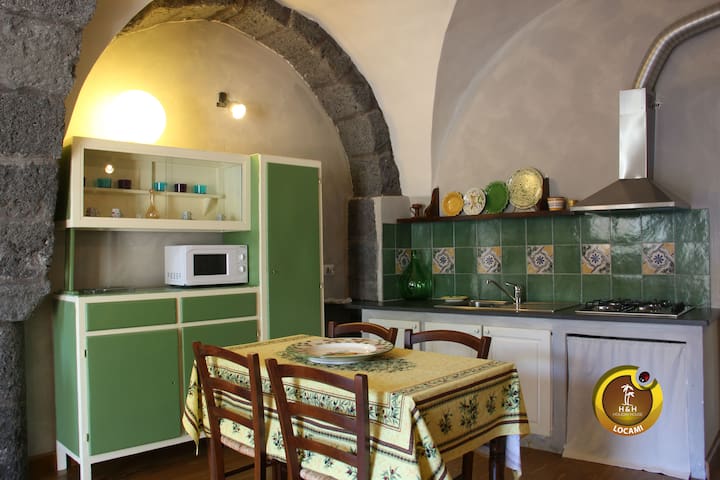 L' ospite può accedere , da giugno ottobre alla vicina piscina all'aperto. La casa è situata a 5 minuti a piedi dal centro abitato in una zona silenziosa e tranquilla . Dalla casa, inoltre, è possibile ammirare l' Etna . La casa è circondata da un giardino molto curato nel quale si può soggiornare in perfetta tranquillità. Per chi lo desidera, vengono proposte escursioni sull'Etna sia a piedi che in fuori strada ( due ruote e quattro ruote).
l'alloggio non è grande, ma è provvisto di tutto il necessario per un soggiorno comodo. Si è totalmente indipendenti dall'abitazione principale. Dalla casa, inoltre, è possibile ammirare l' Etna . La casa è circondata da un giardino molto curato nel quale si può soggiornare in perfetta tranquillità.
Amo vivere qui perché tutto attorno c'è molto verde. Inoltre, dal diardino,posso ammirare l'Etna tutto il giorno. È veramente uno spettacolo!
Me and my girlfriend went to Sicily to visit the Etna and Taormina area. The house of Agata offers a perfect location to do both. Also the little village next to the house "Linguaglossa" is perfect for grossery shopping and restaurants. The little house in the garden was really comfortable and cosy. Looks like it's a nice place for both winter & summer. Definitely recommend staying at Agata's house for a holiday. If you go please give the little dogs a kiss from us :)
simon
2017-03-04T00:00:00Z
Agata, Agati, son mari et leurs 4 chiens nous ont accueillis très cordialement. Ils nous ont conseillé des balades sur l'Etna, de très bons restaurants, qu'ils ont appelés pour nous. Leur jardin est magnifique et reposant avec pelouse verte, arbres fruitiers, palmiers. La piscine est super agréable. Une très bonne adresse. De jolis bâtiments à Linguaglossa et des commerçants très sympas (le marchand de journaux dans la rue principale et le boucher dans la rue adjacente).
claire
2016-08-04T00:00:00Z
Un lugar maravilloso, con unas vistas espectaculares... La casita está limpia y bien cuidada y tiene todo lo necesario. El wifi no llega a la casa. La zona es espectacular i Agata y su marido son muy muy agradables! Grazie mille!
Aida
2016-09-09T00:00:00Z
We've had a very pleasant few days in Agata's appartment. It's a nice little house in a beautiful garden with a nice view on mount Etna. Agata and her husband were very kind and great hosts. We especially enjoyed the company of their happy little dogs. The surroundings of the house are very beautiful. We would definitely recommend this place!
Harco
2016-07-01T00:00:00Z
La signora Agata è stata molto cordiale, simpatica e ospitale. La casa è vicina al centro abitato di Linguaglossa ma al contempo immersa nella natura con un panorama dell'Etna fantastico. Ideale per trascorrere qualche giorno in tranquillità.
Rossella
2017-01-03T00:00:00Z
Tramite amici abbiamo potuto conoscere la gentilissima signora Agata e prenotare senza problemi un weekend suoi ospiti. Siamo stati accolti con molta cordialità e disponibilità, in una location molto carina alle pendici dell'Etna poco fuori dall'abitato di Linguaglossa, facilmente raggiungibile, fornita di parcheggio, ampio giardino, piscina sicuramente piacevole da usare durante la stagione estiva. L'alloggio, separato dalla casa principale, è rustico ma completo di tutti i comfort: climatizzatore/pompa di calore, frigorifero, cucina a gas funzionante, armadio, stufa caratteristica, doccia calda, tutto ben pulito e ordinato e sebbene per 3 ospiti stringendosi poco è possibile starci pure in 4. Pure i letti presenti si sono rivelati comodi. La signora Agata si è rivelata un ospite gentile, cortese e molto disponibile, ci ha fatto un'ottima impressione e si è prodigata per venirci incontro per qualsiasi bisogno. Non possiamo che consigliare la Casa del Sole a chiunque voglia passare del tempo sull'Etna e abbia bisogno di un posto tranquillo, rustico ma accogliente e fuori dal trambusto urbano, sebbene vicinissimo al centro abitato.
Angelo
2016-02-15T00:00:00Z
Le logement est situé au milieu d'un jardin bien arboré. L'équipement sommaire comprend tout le nécessaire pour un séjour d'une semaine. La piscine, un peu fraîche, est agréable, propre et bien entretenue. Agata et son mari ont été à la fois disponibles, discrets et de bon conseil. En somme, un bon rapport qualité prix.
Matthieu
2016-07-25T00:00:00Z
Séjour très agréable dans la petite maison dans le magnifique jardin d'Agatha. Environnement très plaisant avec une piscine pour se rafraîchir. Et trois petits chiens adorables !
Adeline
2016-09-15T00:00:00Z
Rodzaj pokoju
Całe miejsce
---
Rodzaj nieruchomości
Dom
---
Mieści
3
---
Sypialnie
Linguaglossa, Sicilia, Włochy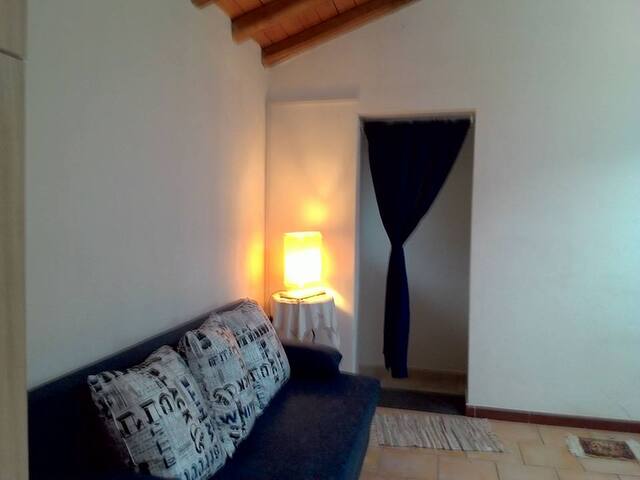 Località Linguaglossa a soli 30 minuti dal versante Etna Nord, da Taormina e dal mare, affittiamo anche giornalmente, appartamento completamente ristrutturato, 2 camere, ampio ingresso, salone, cucina, bagno, posizione centrale ben collegato, ma allo stesso tempo riservato e tranquillo, vista posteriore molto bella sulle colline circostanti, termoautonomo, posteggio auto interno.
L'appartamento è di recente ristrutturazione, tutti gli ambienti e accessori sono nuovi o comunque in perfette condizioni.
L'appartamento si trova a soli 300 metri dal centro del paese, nelle immediate adiacenze sono presenti vari servizi come supermercati, bancomat, poste, bar e tabacchi, ecc ecc. ma allo stesso tempo e riservato e tranquillo, la vista posteriore dell'appartamento è sulle colline antistanti, un panorama bellissimo e rilassante.
The host canceled this reservation 9 days before arrival. This is an automated posting.
Joanna
2017-02-15T00:00:00Z
Rodzaj pokoju
Całe miejsce
---
Rodzaj nieruchomości
Apartament
---
Mieści
8
---
Sypialnie
Linguaglossa, Sicilia, Włochy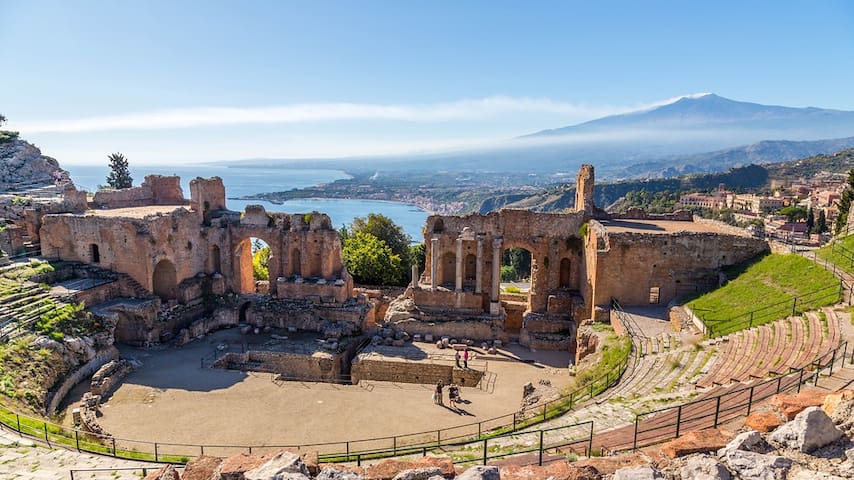 Nell'antico centro storico di Linguaglossa è ubicata una piccola dimora accogliente.Una scala interna in cotto conduce ad una deliziosa terrazza con doccia panoramica.L'interno è costituito da due locali moderni con bagno e zona cottura.
Confortevole e romantico l'arredamento per favorire un completo relax e un'immersione totale nell'ambiente circostante.
Il quartiere in cui sorge la casa è il più antico del paese, costruito sulla pietra lavica dopo le varie eruzioni. Abitazione nobiliari si alternano ad umili dimore contadine,orti e giardini colorati e profumati accompagnano il viandante lungo il dedalo di stradine che in ottobre profumano di mosto e che conducono a tre antiche chiese.
Thank you for your hospitality! A little problem with the wifi but a good appartment very nice and clean.
Julien
2015-12-31T00:00:00Z
Un très charmant appartement, avec tout ce qu'il faut pour le petit déjeuner. On s'y est sentis comme à la maison et la vue est superbe !
Flavie
2015-10-24T00:00:00Z
our host welcomed us very warmly. the description was very accurate
Dorit
2016-07-07T00:00:00Z
The apartment was absolutely beautiful and clean, situated in a calm village, with shops and cafés nearby. The bedroom is really comfortable and i could have slept for 12h every night :-) i loved spending time in the alartment. from the terrace you can even see the top of mt etna, when skies are clear. Ideal location for exploring mt. etna, the ionian coast and the aeolian islands. Very nice host, everything went smoothly.
Bianca
2015-09-27T00:00:00Z
Un accueil très agréable et chaleureux alors que nous étions arrivés tardivement. Un appartement extraordinaire : très belle décoration, vue magnifique, grand confort et pour le clou du spectacle, la douche sur la terrasse. Nous recommandons fortement B&B Vicolo Divino !
Laure
2015-08-14T00:00:00Z
The appartment is beautiful and very well situated. Thank you for everything Alessandra, our stay was perfect thanks to you !!
Emma
2016-05-02T00:00:00Z
Alles wie beschrieben, Gastgeberin sehr freundlich und hilfsbereit, jederzeit wieder!
Eva
2016-06-19T00:00:00Z
Die Unterkunft entspricht voll und ganz der Beschreibung, sehr sauber und ansprechend. Wir haben uns sehr wohl gefühlt, Allessandra ist sehr nett und hilfsbereit. Leckeres Frühstück!
Annette
2016-09-29T00:00:00Z
Rodzaj pokoju
Całe miejsce
---
Rodzaj nieruchomości
Dom
---
Mieści
4
---
Sypialnie
Linguaglossa, Sicilia, Włochy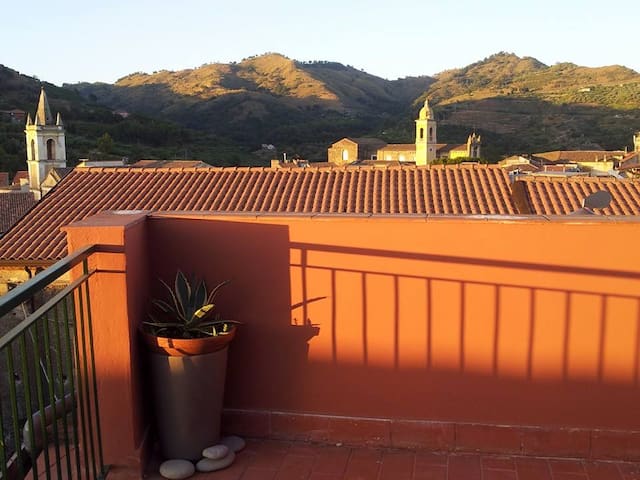 It's an a single house. A large bedroom with a little bed and a double bed., A living room with two double sofa bed, tv with satellite. Full Kitchen cabinet (no dishwasher). Possibility of Intenet. Private courtyard and terrace with beatiful view. The house is situated in the center of Linguaglossa. 100 meter to walk to arrive in the center square where is the bus stop to Giarre ande Catania. 700 meters to the little station train (Circumetnea). With half an hour to drive you arrive to Taormina, Catania, to the beach or to arrive in Piano Provenzana the famous sky station situated on the Volcano Etna where it's possible during the winter sky,and during the sping, summer and fall make trekking or to go to visit the famous volcano with the excursion of the ETNA STAR. Around Linguaglossa you found many winery where it's possible to visit the vineyards and taste the local production of nerello mascalese the famous red wine of Etna.
Rodzaj pokoju
Całe miejsce
---
Rodzaj nieruchomości
Dom
---
Mieści
4
---
Sypialnie
Linguaglossa, Sycylia, Włochy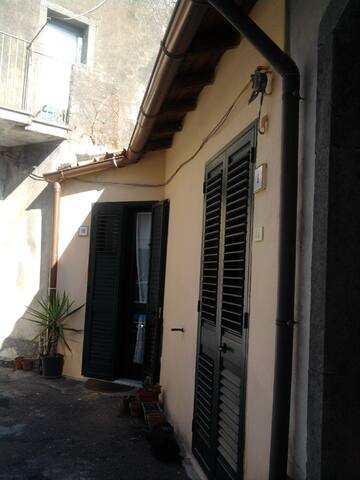 The perfect location for visiting eastern Sicily. Halfway to Mt. Etna and Taormina. Easy access to highway to Catania, Siracusa, Messina, and Palermo. Located on the foothills of Mt. Etna, provides plenty of outdoor activities for the entire family.
A three (3) bedrooms, one (1) bath apartment home on the second floor of a three level townhome. Access to the second floor is from a ground floor entryway, which opens to a marble staircase. Guests climb 32 steps to the second floor landing. Each bedroom has a queen size bed. Therefore, the unit can accommodate most comfortably a party of up to three (3) guests in individual bedrooms and a party of up to six (6) guests with two (2) guests sharing a queen size bed. The dining/living room sits four to six. It is understood that guests staying here at anytime will know each other. The well-appointed second floor apartment home features a bright and airy motif. From the foyer fan out doors into the three (3) bedrooms, a full bathroom, a small, well-equipped kitchen, and a dining/living room. French glass-paneled doors in the bedrooms and the living/dining room open to wrap around balconies. The Messina and Catania bedrooms overlook a private alley way. The Siracusa bedroom and the dining/living room overlook a lava stone paved side street. The Messina and the Siracusa bedrooms have ceiling fans. The other rooms have tower floor fans. The bathroom and the kitchen open up to a light well which runs from the first floor to the roof-top terrace. All the rooms feature high-end furnishings, quality accessories, and fine linens. The dining room and kitchen are equipped with fine tableware and kitchenware. Included are gas for cooking, electricity, Wi-Fi, linens, linen change and cleaning as needed. You can prepare your own meals in the well-equipped kitchen, purchase prepared fare in nearby shops, or have meals prepared for a fee.
The townhome is located in a residential neighborhood in the center of Linguaglossa. As such, you will experience life as the locals do: bustling with traffic and activities during the day, peaceful at night. What I love about the neighborhood is that you can walk two blocks to grocery stores, butcher shops, deli counters, produce stores, cafes/pastry shops with sidewalk seating in season. You can purchase prepared fare from a tavola calda or dine at a fine white table cloth restaurant up the street. You can walk to banks (ATM), post office, pharmacies, and first aid station. Linguaglossa, population 5,000, is a quaint town on the foothills of Mt. Etna. It is located at 550 meters (1600 ft.) above sea level and enjoys a unique microclimate: warm/hot during the day, cool in the evenings. It is 20 minutes from Mt. Etna and Taormina, 20 minutes from the sea and 50 minutes from Fontanarossa, the airport at Catania. From Linguaglossa as a base, you can experience eastern Sicily by taking day trips to the Alcantara Gorges, Taormina, Messina, the Aeolian Islands to the north east; Catania, Piazza Armerina, Caltagirone, Siracusa, Noto, and Agrigento to the south east. Many quaint and historical small towns from the Ionian sea coast to Enna in-land are a day trip away. Not to be missed is the town of Savoca, the setting for a scene of Francis Ford Coppola's "The Godfather", the medieval town of Randazzo, and the hill-top town of Agira, near Enna, once a thriving Greek colony and today the site of "Sicilia Outlet Village" with its 100+ stores of well known brands.
Linguaglossa is a wonderful little town in the shadow of Mt. Etna, an imposing and active volcano on the island of Sicily. The town house is very comfortable and tastefully decorated. The bedroom was large and well appointed. I also had access to a full kitchen and a wonderful seating/living room, excellent for reading and relaxing after a long day of touring the sites. The terrace has the most incredible view of Mt. Etna. You can sit for hours (with a glass of wine of course) watching the mountain as it constantly changes with clouds passing over, steam from the calderas, and the most amazing colors at sunset. For a close-up view of the volcano, you can take guided tours in large balloon-wheeled vehicles - don't miss it! Linguaglossa is also conveniently located for day trips around Sicily.
Vincent
2015-11-19T00:00:00Z
Rodzaj pokoju
Całe miejsce
---
Rodzaj nieruchomości
Dom
---
Mieści
6
---
Sypialnie
Linguaglossa, Sicilia, Włochy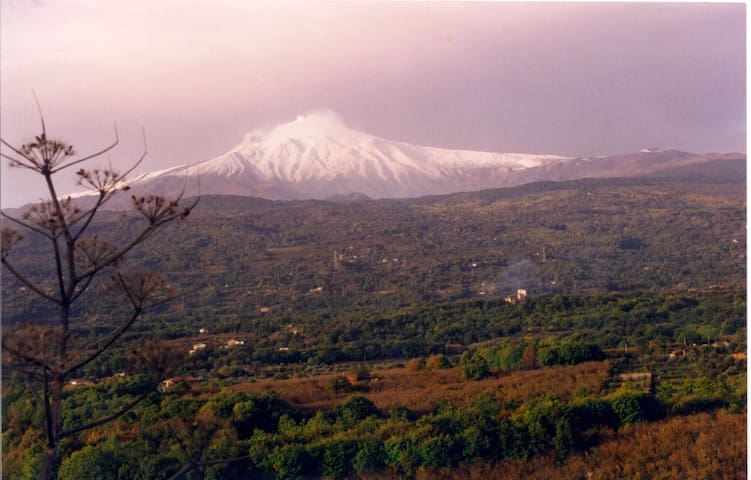 Il mio alloggio è vicino a Vulcano Etna, Taormina, spiaggia Bosco Marino Fondachello, Isola Bella, Catania, Giardini Naxos, Gole Alcantara, Castelmola, Castiglione di Sicilia, Aci Castello, Acitrezza, . Ti piacerà il mio alloggio per questi motivi: i panorami, la posizione, l'atmosfera e la gente. Il mio alloggio è adatto a coppie, avventurieri solitari, chi viaggia per lavoro, famiglie (con bambini) e amici pelosi (animali domestici).
Nel Comune di Linguaglossa, alle pendici dell' etna tra mare e montagna troverete un oasi di pace, relax e serenità... La nostra casa si trova immersa nel parco dell' Etna, ormai dichiarato patrimonio dell' UNESCO, in un punto estremamente strategico per chi volesse vivere emozioni contrastanti tra mare, montagna e luoghi mozzafiato come Taormina, Isola Bella, Castemola, Catania, Gole Alcantara, Aci Castello, Aci Trezza, etc. tutte mete di grande spessore turistico sia per la loro bellezza paesaggistica che per la loro risonanza storica. La nostra struttuira e' composta da due camere da letto, una stanza relax, una cucina e bagno il tutto contornato da un ampio terrazzo dove trascorrere dei momenti di totale relax, magari accompagnati da un barbacue che mettiamo a disposizione dei nodstri clienti. Inoltre il parcheggio privato e il verde tutto intorno vi darà ulteriore spensieratezza e tranquillità per trascorrere giorni indimenticabili.
I had a good stay, Salvatore was very useful
Vito
2017-03-04T00:00:00Z
Host molto cordiale e disponibile... CONSIGLIATISSIMO!!!
Simone
2017-01-09T00:00:00Z
Rodzaj pokoju
Całe miejsce
---
Rodzaj nieruchomości
Dom
---
Mieści
4
---
Sypialnie
Linguaglossa, Sicilia, Włochy
Wpisz daty, by zobaczyć pełną cenę. Obowiązują dodatkowe opłaty. Cena może uwzględniać podatek.