This is an upstairs small private one bedroom, full size memory foam bed, access to the kitchen, washer dryer's, bathroom, this is one of the two rooms in the house on Airbnb,
What can I say about Matty. He is a great host who has made me feel right at home at Cary's Honey Farm. I travel quite a bit for work and this was my first experience with AirBnB. I was very happy with the choice I made. It's better than an overpriced hotel. All other Airbnb hosts take notice! You have big shoes to fill. I really enjoyed meeting some of the other world travelers that shared the home while I was there. The accommodations are very comfortable, clean, and safe. I have really enjoyed my time here and will definitely come back to visit one day with my wife. Thanks again for everything Matty!!
Luis
2016-11-26T00:00:00Z
This is one of the best house I ve never been with airbnb. Everything is perfect and in the right place.
Matteo
2016-12-09T00:00:00Z
The room is great! Very clean and Matty was very hospitable. He really went out of his way to make sure we were taken care of. We will be back!
Chris
2017-01-03T00:00:00Z
Fantastic.
Jenni
2017-01-04T00:00:00Z
Our experience at Matthew's air bnb in Lindsay, CA was a surprise and delight. From the moment we arrived, we felt well prepared for, well looked after, and completely at home. The house is on a family-owned honey farm property, which provided an unexpected thrill for me, a lifelong honeybee enthusiast. Moreover, we happened to have the luck of arriving a day after Matthew's English cream retriever had puppies, and we immediately fell in love with all ten of them (very hard saying goodbye to them!) The description of the space mentions that there are dogs (that sometimes bark) and a busy road nearby (noisy at times), but the bedrooms have fans that effectively buffer those sounds, so it wasn't a problem. The house, circa 1940, is a lovely two-story with large porch and nice areas to sit in the back, weather permitting. Matthew lives there, and although he regularly travels for business, he was there off and on during our stay, and we appreciated and enjoyed his cheerful, positive personality. He is very generous with extra amenities and use of common areas, including the kitchen; we were able to cook and bake. And it was great having a washer and dryer to use, too! We also enjoyed meeting and chatting with the other air bnb guest, Jenny. We highly recommend this air bnb and look forward to staying there again. Thank you for being a superb host, Matthew!
Karen
2016-12-23T00:00:00Z
Great stay, highly recommend.
Kim
2017-01-07T00:00:00Z
Awesome place! Super nice people
Rainey
2017-01-07T00:00:00Z
Rodzaj pokoju
Pokój prywatny
---
Rodzaj nieruchomości
Dom
---
Mieści
2
---
Sypialnie
Lindsay, Kalifornia 93247, Stany Zjednoczone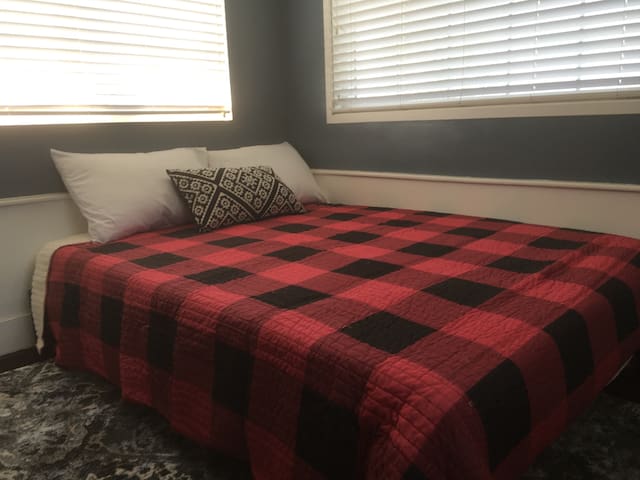 Simple, small private one bedroom. Enjoy a small house in the heart of Central California farmland where you can crash out, rest up, hangout, and relax! This is one of the two rooms in the house on Airbnb,
Quiet area, 2 minutes to a small town, 20 minutes to Kaweah Lake, 40 minutes to Sequoia National Park
I didn't meet Matty because he wasn't home on the day I stayed. However, you could see he is an Airbnb expert - everything was well prepared, he gave me detailed instructions about everything, and he was available through messages the entire time. The home is beautiful in a really nice location. The room is exactly as you would expect from the listing - you get a nice room to sleep in, for a very affordable price.
Adar
2016-10-23T00:00:00Z
Matty's place was amazing. His effort really showed. The location was great, scenic palms, the bee farm outside our kitchen window. But the best of all were the dogs. Dahlia and Poppy were the cutest animals i have ever met. Their chemistry together made it a great atmosphere. If youre a dog lover you have to come here
Andrew
2016-08-25T00:00:00Z
Thanks Matty for having us in your house,thanks for your trust,your place Is very nice and the room is as in the picture perfect for us.it is very close to Sequoia NP. We felt home I recommend Matty's place.hakima&Fatima
HAKIMA
2016-10-08T00:00:00Z
We had a great time in Matty's place. It was perfect and very clean house, conveniently located near Sequoia NP. Though we didn't have an option to meet with Matty, he was really kind and made our stay enjoyable. Thank you :)
Radka
2016-09-11T00:00:00Z
Even though we didnt get to meet in person Matty was a great host. Quick to communicate and offer advice on the area. He was more than accommodating and open with his home. And, even above expectations by offering snacks etc. Would definitely stay here again, especially with great proximity to Sequoia.
Corey
2016-10-24T00:00:00Z
My host provided a clean and very comfortable place to stay with all information needed. We had a really nice talk outside hanging out at the porch. Definitely recommend this place!
Matúš
2016-09-16T00:00:00Z
Pleasant house. We didn't see Matty but he were available. All was perfect for a good stay.
Sarah
2016-09-25T00:00:00Z
Best place I have ever stayed. Matt had great hospitality and the room was wonderful.
Temor
2016-09-04T00:00:00Z
Rodzaj pokoju
Pokój prywatny
---
Rodzaj nieruchomości
Dom
---
Mieści
2
---
Sypialnie
Lindsay, Kalifornia 93247, Stany Zjednoczone
This country style room comes complete with a private bathroom, a large closet, complementary coffee, and a view of the beautiful California countryside. Country living, yet only minutes from the quaint city of Lindsay. A perfect stop on your way to the entrance of the Sequoias.
We are close to the beautiful sequoia park about 45 minutes to park entrance We have 2 twin beds and 2 twin mattress all the bedding you need plus a portable crib for your little one
Very nice your are surrounded by farmland
We had a very cozy stay here on our way to Sequoia. The house is right on the main road, so although it was a bit noisy from traffic, it was easy to find. Henry was very accommodating to us and his roommates were lovely and polite. There is no wi fi or breakfast provided, but we were able to use the kitchen and do a load of laundry - a luxury on a road trip! Thanks for a great stay.
Jen & Matt
2016-08-09T00:00:00Z
We didn't get to meet Henry during our stay but very well communited! Our kids were bit noisy, running and playing wild in the living room and the room we're staying, but Ricardo who actually lived in this house was very kind and understood. It was very quite and safe area and so many stars!!! The only thing I was unhappy about was the bathroom, everything was clean except for the bathtub. Other than that, it was a great stay. The beds were comfortable, lots of storage, extra mattress, etc., &feels like we were staying 'entire home' not 'private room'. We definetly will visit again for our next Sequoia national park trip.
Sun
2016-08-13T00:00:00Z
I had a little difficulty finding the place, but Henry responded to my text and phone messages right away, and agreed to meet me on the main road if I wasn't able to locate the place.
Ron
2016-08-29T00:00:00Z
Thank you!
Pavel
2017-01-21T00:00:00Z
We enjoyed our stay at Henry's place. He is a welcoming host and responded to our texts and phone calls promptly. Overall, it was a warm, cozy experience. He has a cat named Charlie. Charlie is super friendly and I enjoyed playing with her. Mr. Roberts is a neighbor staying in the house. He guided us for some of the local amenities. We would recommend this place to anyone who wants to explore Sequoia National Forest.
Vinayak
2017-01-01T00:00:00Z
Staying at Henry's was amazing. Although we did not get to meet him he was very kind and quickly responded to all chats. He was very accommodating. Me and my fiancé will stay here again. Thank you!
Sylvia
2016-08-25T00:00:00Z
One night at Lindsey, before heading to Sequoia National Park. Nice and clean bedroom in an aged but beautiful house. Love the furnitures, especially the two super old and classic pianos, they look like they have a long story behind from long time ago. Henry was very responsive too. (location: it's right besides highway, easily found. And about 45 mins driving to Sequoia National Park)
Fiona
2016-09-07T00:00:00Z
Amazing place. Henry is a great host who makes sure to provide a great experience. During the 2-weeks travel across the US, it was the best place to stay. Great location and neighborhood. Fully equipped, no wi-fi inside the house, but there is access from Starbucks in 5mins. drive. Highly recommended if you plan to visit a park or other places nearby.
Elisei
2017-03-06T00:00:00Z
Rodzaj pokoju
Pokój prywatny
---
Rodzaj nieruchomości
Dom
---
Mieści
4
---
Sypialnie
Lindsay, Kalifornia 93247, Stany Zjednoczone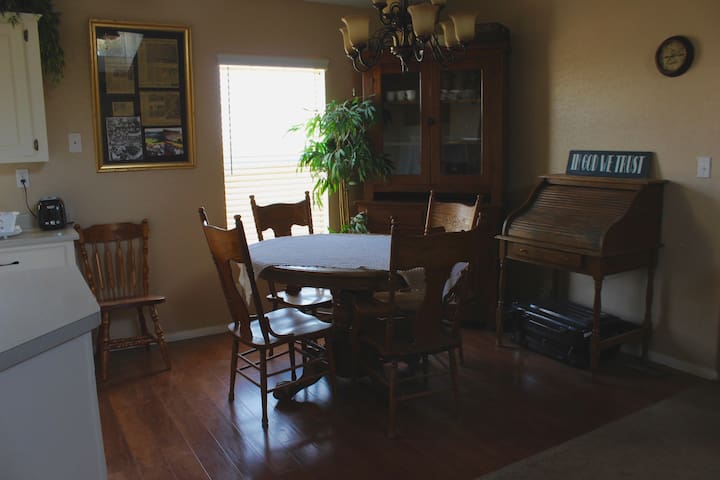 The apartment is a one bedroom, living room, bathroom, full kitchen and dining area apartment located in the back of my house. The apartment opens to the green area, the courtyard, of the house and to the pool, which guests are welcome to use. The apartment has its own private entrance and parking space.
This is a great space with a Latin America flavor. The apartment includes a queen bed in the bedroom and a futon in the living room, which converts to a full bed if needed. In addition, you have a full kitchen at your disposal.
Lindsay is a unique city because it is known for the cultivation and packing of oranges of many kinds. In March and April, the entire area smells of orange blossom, as the orange trees are blooming. This is an agricultural area, and beside the cultivation of oranges, you will find almond, olive, pistachio, and many other types of trees. From March to the first two weeks of November, Lindsay offers a market place every Friday starting at 5 pm. Here, people can find different types of food to eat, fresh vegetables and fruits, and live music to dance.
Magdalena's place was spectacular! Great energy, good location with view of the Sierras and endless orange groves. She made sure my stay was good and I have everything at the apartment. Friendly & caring host. I came for a short work assignment, but thinking about coming back soon just to relax, enjoy good company, weather, pool and tropical garden and Magdalena's casa!
Lana
2017-02-21T00:00:00Z
I had a great night. I had business that made me arrive late. But I jumped right into her awesome pool to swim away the stress of the day. The courtyard is very pretty and the apartment is nice. I would recommend staying here.
Roger
2016-08-25T00:00:00Z
We really enjoyed staying at Magdelenas place! She left bagels and the most delicious orange marmalade made locally in the refrigerator for us!
Jamie
2016-07-04T00:00:00Z
Magdalena was a wonderful host. You get a lot of privacy and space at this Airbnb. The bed was a bit small for us but maybe that's because we are Dutch ;-).. Further great experience and a good place to visit Sequoia.
Rik
2016-09-13T00:00:00Z
The host canceled this reservation 260 days before arrival. This is an automated posting.
Heidi
Magdalena's place was great. The apartment is private and the shared courtyard is beautiful and very relaxing. I'm a travel nurse and it was perfect for me for my three month contract. The internet can be a little sketchy at times, but that is an area wide problem. I really enjoyed staying here and Magdalena was such a great host!
Chris
2017-01-09T00:00:00Z
Magdalena was a wonderful hostess and her listing was like a little piece of heaven! The place was very clean, well equipped and so comfortable! Having full use of the pool and the hammocks and the beautiful courtyard was blissful. Magdalena herself was a true delight to spend time with. I feel like I made a wonderful new friend! We are excited to return! Be sure to try Anita's restaurant! This place is a huge bargain for everything that you are getting. It is like an oasis.
Leila and Josh
2016-08-06T00:00:00Z
We had a lovely stay! The apartment was cute and clean. Magdalena was very welcoming, she had fresh watermelon and plenty to nibble on in the fridge for our stay. She recommended a great street fair for dinner and it's not too far from Sequoia National Park where we were headed. I would definitely stay with her again.
Aeron
2016-07-12T00:00:00Z
Rodzaj pokoju
Całe miejsce
---
Rodzaj nieruchomości
Dom
---
Mieści
3
---
Sypialnie
Lindsay, Kalifornia 93247, Stany Zjednoczone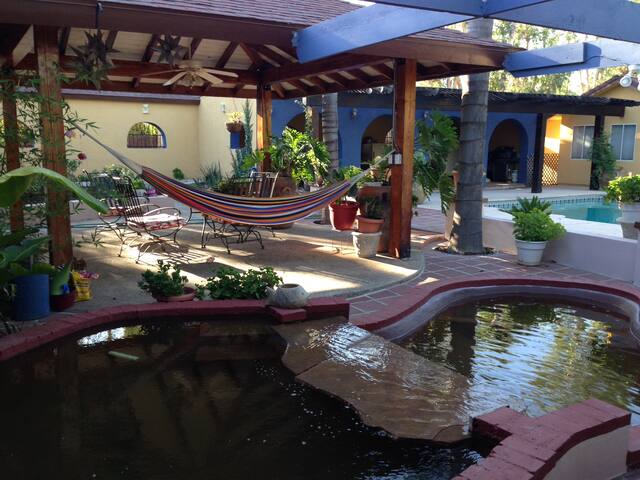 On the south entrance to Exeter, this historical home offers views of surrounding citrus, foothills and Sierras! There are four rooms. Come see our petting zoo! 2 miles to downtown Exeter, a town filled with murals, restaurants (our own Monet's), apparel and antique shops. Only one hour to Sequoia!
Our guests can enjoy the entire home. We provide breakfast often and mingle with our guests.....over glass of wine, around a campfire or at Monet's, our French restaurant! The property also includes a massage room (you may schedule), full basement with fireplace and pool table and a petting zoo! All to be enjoyed by you!
The House is just as amazing in real life as it looks in the pictures. The rooms and interior are even prettier! A very special and unique place to stay. Jennifer is a caring and welcoming host and she took care of all of our needs and questions perfectly! Her family is just as lovely. It's a great place to stay for visiting sequoia national park. Highly recommend staying there, a wonderful experience!!!
Sanna
2017-01-10T00:00:00Z
Really enjoyed our stay here. The house is so neat and Jennifer has done a lovely job decorating it. We were the only guests so we had the whole place to ourselves and had fun exploring the home. Each room has its own unique character and charm. It was really an awesome experience to stay here. We'll be back the next time we go to Sequoia!
Stephanie
2017-03-08T00:00:00Z
I came back & brought my daughter this time - We were delayed by Holiday traffic so missed out on the Historic 1st TEA PARTY!!! but they will be happening in the future & we will be back yet again - to our spirit home. We got to have late tea after the Tea & watch the supermoon rise from the balcony - WOW!
Sandia
2016-11-15T00:00:00Z
His home is everything you can ask for , it's beautifully decores and spacious , therefore you get a chance to have alone time if with a big family or there's a little fire place / tv room where you can all sit around and watch a movie , we enjoyed the family room the most since tv and a pool table are there , definitely something we need to get out of the city and just have a nice quiet weekend. There's also a small petting zoo who our 4 year old loved with chickens and bunnies and a baby goat. I can't wait to book again sometime this year .
Lizeth
2017-02-12T00:00:00Z
The host canceled this reservation the day before arrival. This is an automated posting.
Eunyoung
Terri was a great host, me and my friends had so much fun, house were nice, linens and beds were comfortable. house was quiet, we had a restful sleep after our hiking at sequoia national park. Had good communication with Jennifer, she gave us suggestions on where to go. We enjoyed feeding the animals, it was a great experience, wish we stayed longer. Awesome place to stay. Thanks Terri and Jennifer!
Meg
2016-10-16T00:00:00Z
Jennifer was very friendly host. And we loved the place. Will definitely stay here if I come back! :)
Venkatesh
2016-09-11T00:00:00Z
We had a great stay in Exeter. The house is wonderful and very generously built. The rooms are beautifully decorated and comfortable (including even a small fridge with some snacks). The hosts were wonderful. Relaxed and easy-going as well as incedible welcoming and attentive. We stayed only for one night while visiting Sequoia National. However, if we had the chance we would love to come back to spend a few days in this wonderful place.
Sabine
2016-10-11T00:00:00Z
Rodzaj pokoju
Całe miejsce
---
Rodzaj nieruchomości
Dom
---
Mieści
9
---
Sypialnie
Exeter, Kalifornia 93221, Stany Zjednoczone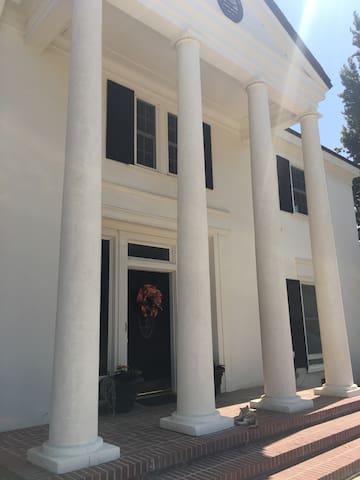 This is a great house for the entire family or a medium size group, it has a full kitchen where you can cook your own meals, or BBQ outside. Enjoy relax and hang out. I live here, so I would be able to answer any question you may have.
Super comfy queen bed private room. Full size bed 4 inch Tempur-pedic mattress private room. Full size air mattress in the living room Two comfy couches One bathroom Washer dryer Full kitchen BBQ Trampoline
Matty was a great host, it was better than I could of ever anticipated.
Nick
2016-09-14T00:00:00Z
I loved how Matty has his house all lit up with pretty lights and was so warm, generous and welcoming.
Christine
2016-11-28T00:00:00Z
We had a great stay in Matty's house, that is very well located not too far from Sequoia Park. The house was beautiful, illuminated for Christmas. And thanks Matty for the beers!
Elsa
2016-11-27T00:00:00Z
Nice older house! Comfy and clean!
jared
2017-02-21T00:00:00Z
모두 좋았어요.
Inho
2016-12-08T00:00:00Z
Matty is a very nice person. He treats hs guests very well. However I booked an entire house and I found out that Matty lives there. I thought he was just living nearby
Christian
2017-02-17T00:00:00Z
Matty kindly opened up his home to my friends and I for our pit stop to Sequoia National Park. The location is as he described, a close ~ 40 minutes to the south entrance. There's a great breakfast spot en route to the entrance from his place as well. His home is very well prepared for accommodating travelers. And his fridge was stocked and shared with us. We're very lucky he had us. His pup and cat were also friendly and darlings too! Communication with Matty prior, thru, and after was great. Awesome host even though we didn't get to meet him. We felt very supported. Thanks Matty!
Tammy
2017-02-20T00:00:00Z
Great place to stay!! I will definitely be staying here if I swing by Sequoia. It's a 40 min drive but worth it for a comfortable stay. The house is clean, quiet, and Matty is very friendly. Matty makes you feel like you've just entered your own home and when you're on the go, that's a major plus! Loved it, thank you!
Carol
2017-02-06T00:00:00Z
Rodzaj pokoju
Całe miejsce
---
Rodzaj nieruchomości
Dom
---
Mieści
7
---
Sypialnie
Lindsay, Kalifornia 93247, Stany Zjednoczone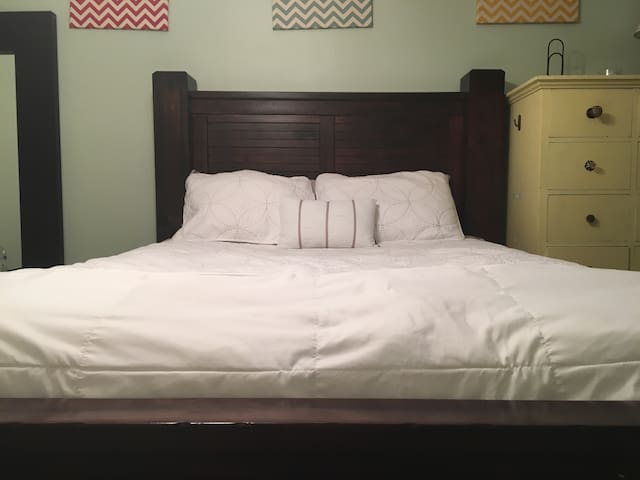 Enjoy this cozy room for two in this Exeter landmark. This 1940's home will charm you and take you back in time. Enjoy use of patio, pool, balcony, basement with pool table and kitchen!
It was the most amazing airbnb experience ever! Jennifer and the rest of her family were great hosts and made us feel at home. We stayed for one night as a pit stop before heading to Sequoia National Park and Yosemite. In the morning, we were able to catch the sunrise over the mountains from the balcony! Everything was absolutely perfect. Thanks for making our vacation so enjoyable.
lichen
2016-10-22T00:00:00Z
Overall, a good place to stay.
shu
2016-11-28T00:00:00Z
Thank you for welcoming us into your home on the busy day before Thanksgiving. That in itself was phenomenal! And what a welcome we got. We are so impressed with the incredible house and all the wonderful people there. Everybody treated us like friends and the atmosphere was genuine and generous. We really enjoyed the charming room, the character of the estate, and the menagerie of lovely animals in the side yard. Thanks again, Heidi &Gregor
Heidi
2016-11-28T00:00:00Z
Rodzaj pokoju
Pokój prywatny
---
Rodzaj nieruchomości
Dom
---
Mieści
2
---
Sypialnie
Exeter, Kalifornia 93221, Stany Zjednoczone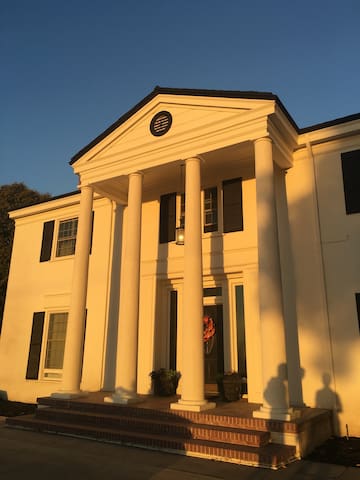 This 1946 historical home is perfectly located for enjoying Sequoia and downtown exeter......close to TULARE also, for farm show visitors! Enjoy our restaurant, Monet's, also! We will even do the driving for you!
Jennifer's house was awesome! Very spacious with lots of amenities and hosted by a super host! Definitely check out the Sequoias and Jennifer's restaurant! Will definitely say here again!
Francisco
2017-02-08T00:00:00Z
This property is as singular as it is comfortable. It's a mansion by all fair descriptions, but the vibe is surprisingly warm and soothing. It's got everything you would expect in excellent accommodations like nicely adorned private rooms, a well appointed kitchen, and sprawling communal spaces, but that's just the beginning... You'll also enjoy an unhindered view of the western Sierras, an opulent swimming pool, access to onsite massage services, and get this... a petting zoo (next door) for the kids! While we enjoyed every aspect of the stay, our host, Jennifer, was the best best part. She was unbelievably engaging, considerate, and attentive to our every need. She took what would have been a wonderful experience, and pushed it off the charts. FYI, she also operates a nearby restaurant called Monet's which is the absolute delight of downtown Exeter. Do not miss a chance to dine there as part of your visit as it was the highlight of our trip. This has been my best experience on Airbnb thus far, and I hope to visit again someday soon.
Michael
2017-02-08T00:00:00Z
Rodzaj pokoju
Pokój prywatny
---
Rodzaj nieruchomości
Dom
---
Mieści
2
---
Sypialnie
Exeter, Kalifornia 93221, Stany Zjednoczone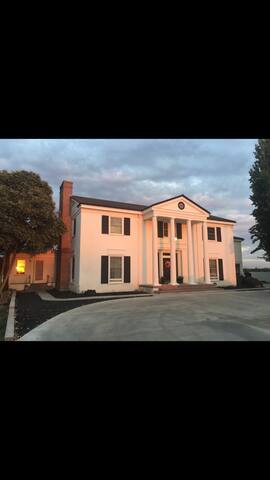 Wpisz daty, by zobaczyć pełną cenę. Obowiązują dodatkowe opłaty. Cena może uwzględniać podatek.