Take in true Delta hospitality in this charming cottage located in the heart of Greenwood. Right across the street from Little Red Park, walking distance to downtown, Yazoo River & Yazoo River Trails, this home is ideal for visitors craving a taste of the Delta.
The Northeast Greenwood neighborhood is full tree lined streets, friendly neighbors, and is a wonderful place to run, walk or bike.
Charming may be an understatement! Brantley's place is absolutely gorgeous, with beautiful décor and regional flair. The neighborhood was also very nice and quiet, and conveniently located. Brantley was incredibly accommodating and very responsive to any questions I had. My friends and I thoroughly enjoyed our time there, as it was a perfect place to relax and rejuvenate and Brantley included a guide of suggested places to visit in Greenwood. We were so glad we chose this place and will definitely be back!
Treshika
2017-01-01T00:00:00Z
The house was perfect for our trip to visit family! Exactly what we needed, beautifully decorated, and in a great location!
Aryn
2016-09-23T00:00:00Z
Everything was great and accurate! Great home!
Michael
2016-12-11T00:00:00Z
The term "charming" accurately describes this beautifully decorated home, which is full of southern character. It is easy to find in an interesting, quiet neighborhood. Brantley has thoughtfully prepared a detailed description of her home and the surrounding area along with suggestions for dining and local activities. Also, she provides brochures with the added bonus of a surprise to take home. She quickly responded to emails and answered questions before and after we arrived. The beds are comfortable, the kitchen and bath are well-stocked, and the furnishings are delightful. As a native delta girl myself, I promise you will have a dose of southern hospitality at its best if you stay here. It is a hidden gem, which will not remain a secret for long!
Paula
2016-07-13T00:00:00Z
It was an absolute honor to be Brantley's first guests! Our entire experience was great from start to finish. Brantley was very easy to get in touch with and very willing to help us out with suggestions for activities in the area. The house was super easy to find and located in a beautiful part of town. We had no problem getting in and were amazed at how gorgeous the house was (even better than the pictures)! We cooked dinner and spent the evening Netflix bingeing--loved the Apple TV! If it wasn't raining we would have enjoyed the porch with its cute patio lights. In the morning we enjoyed fresh coffee and homemade muscadine jam on English muffins supplied by Brantley. The place was clean, comfortable, and everything you'd hope a southern cottage would be. I highly recommend this place and hope to visit again!
Kait
2016-07-11T00:00:00Z
Brantley's home is amazing! Comfortable, beautifully decorated, and so close to the shops and restaurants in Greenwood. We would have walked had we not run the Viking Half Marathon that morning! We had never stayed at an AirBnB before, and Brantley answered my many questions quickly and was so friendly. Brantley thoughtfully left a list of local restaurants and shops with great descriptions. Brantley also graciously let us check-in a little earlier than scheduled since we were in need to a post-race shower. We are already planning our return trip for next year!
Jessica
2017-03-26T00:00:00Z
Brantley's home was fantastic and we thoroughly enjoyed our stay. The home was very clean, in a great neighborhood and Brantley was in communication with us the whole time. We would definitely stay there again!
Jason
2016-10-10T00:00:00Z
This home is a perfect location for everything Greenwood. It is decorated wonderfully and so much more comfortable then staying in a hotel.
Esther
2016-12-30T00:00:00Z
Rodzaj pokoju
Całe miejsce
---
Rodzaj nieruchomości
Dom
---
Mieści
4
---
Sypialnie
Greenwood, Mississippi, Stany Zjednoczone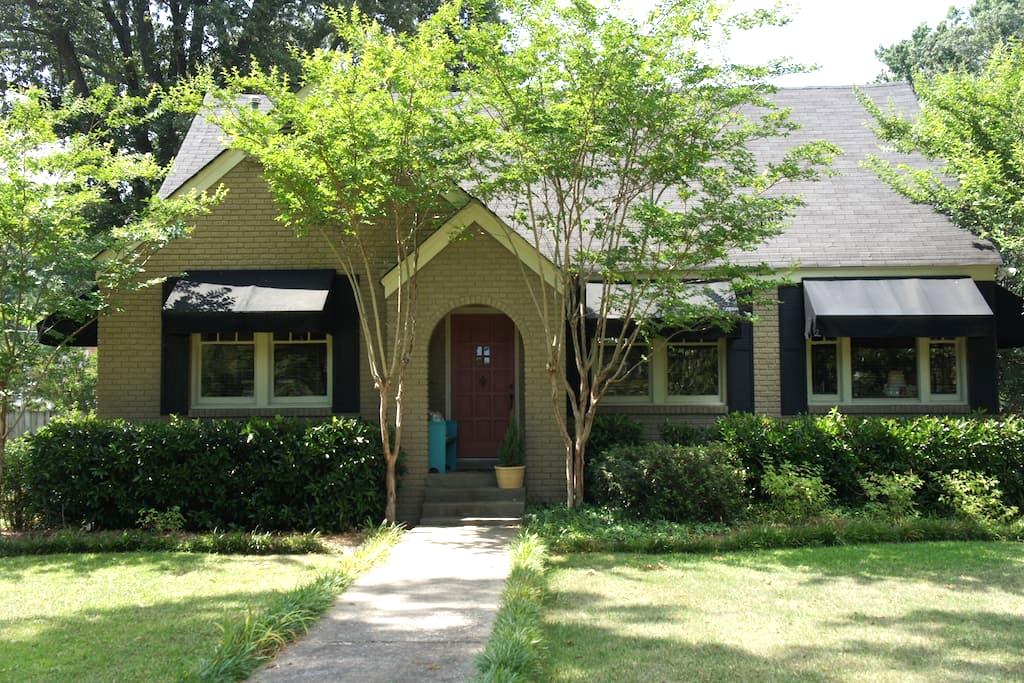 Enjoy your stay in this charming 1920's cottage, located in the historic town of Canton, MS. Canton is famous for it's bi-annual flea market, being the movie capital of the state of MS and for it's Christmas festivities on the historic square.
Historic quaint and charming home in beautiful Canton, MS. Sleeps 8
Beautiful historic charm in a quaint and safe neighborhood.
We had a great time in Canton. The house was lovely and we had everything that we needed! Would highly recommend.
Richard
2015-06-27T00:00:00Z
Susie's place was quaint and accommodating. It definitely worked for our family get-together and comfortably slept 8.
Jordan
2015-11-29T00:00:00Z
This IS THE house to rent!! Absolutely gorgeous. We were so thrilled about everything. We even cooked a full breakfast before going out and had everything we needed in the kitchen. My girlfriend and I drove down for the Canton Flea market/ craft fair. It was perfectly located for us to drop off things we bought and to rest between outings. It is located right in the middle of the activity. Highly recommend!!
Susan
2016-05-13T00:00:00Z
This house is much bigger than we all expected. This 19th century house has a lot of charm and was the perfect place to enjoy Thanksgiving. A long wooden table, a piano and a very well equiped kitchen. It was also a lot of fun discovering the historic center of Canton which is steps away from the porch. Commodities are also a 2 minutes drive from the house. Would definitely recommend this beautiful place.
mikael
2016-11-25T00:00:00Z
Beautiful house in a nice area, enjoyed our stay although brief. Lots of charm
Philip
2016-07-28T00:00:00Z
Susie was incredibly hospitable and went above and beyond to make sure we had everything we needed. The house is gorgeous and was more than we ever could have imagined. It was perfect!
Savannah
2015-10-25T00:00:00Z
Susie was an excellent host. She went above and beyond what was expected to make our stay at the Corner House feel like home. The Corner House is beautiful, beautifully furnished, well maintained, and conveniently located in the historical area of Canton. Thanks to Susie for stepping up on short notice after our first house with another person canceled the night before we were to check in.
David
2016-08-28T00:00:00Z
Wonderful house right near the town square of Canton; the four of us had a comfortable stay, thank you!
Eve
2016-05-02T00:00:00Z
Rodzaj pokoju
Całe miejsce
---
Rodzaj nieruchomości
Dom
---
Mieści
6
---
Sypialnie
Canton, Mississippi, Stany Zjednoczone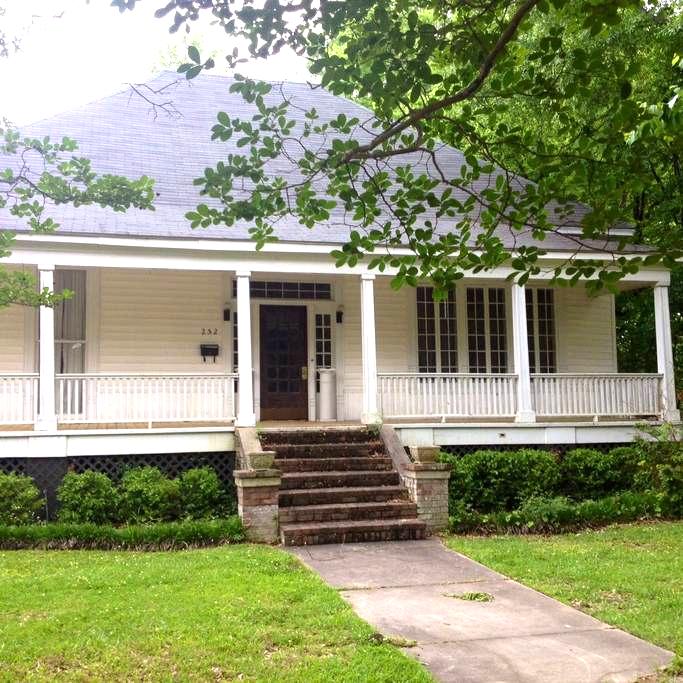 2 bedroom, 2 bath home to share with fellow lovers of travel. Heart of historical downtown: Restaurants, shopping, library, courthouse, groceries, live music, Amtrak stop, and a museum are within a 15 minute walk. Can give great area tips!
This was one of the best AirBnB I've been to. Maybe we've been lucky and Lisa liked us, but she was incredible, welcoming us with a good bottle of wine ! The rooms were absolutely amazing, beautifuly decorated, spotless, and I would have been happy to stay there for a couple of months ! We will be happy to come back probably next year if the place is not crowded with tourists from all over the world...
Florent
2015-05-03T00:00:00Z
Rodzaj pokoju
Pokój prywatny
---
Rodzaj nieruchomości
Dom
---
Mieści
4
---
Sypialnie
Yazoo City, Mississippi, Stany Zjednoczone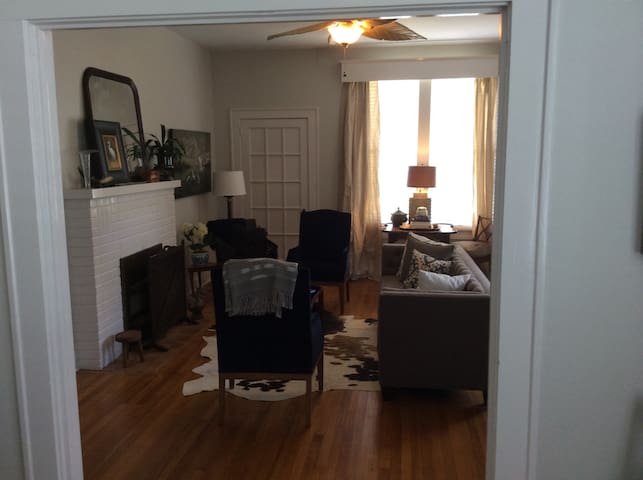 Wpisz daty, by zobaczyć pełną cenę. Obowiązują dodatkowe opłaty. Cena może uwzględniać podatek.